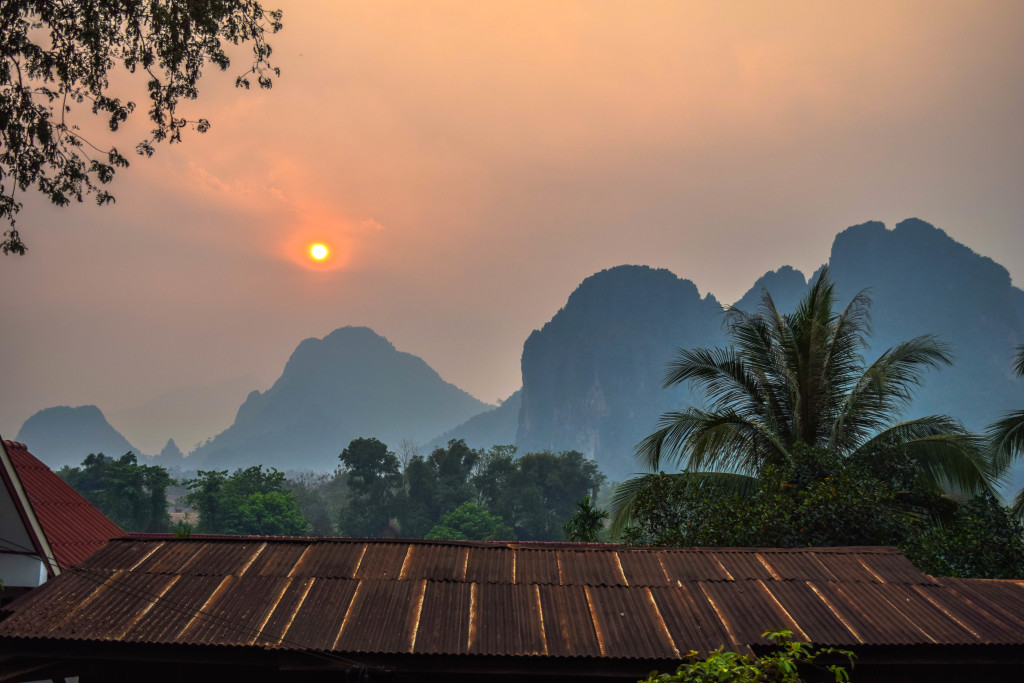 When it comes to drugs in South East Asia, the first (and best) tip I can give you is to avoid them while traveling through the region! They can be very dangerous, are extremely illegal in some countries (heard of the death penalty?), and will often lead to reckless behavior / decisions. With that being said, I've spent a fair amount of time traveling around South-East Asia, and wanted to share some of my experiences with drugs in the region. My website is filled with useful information for budget travelers and backpackers in Asia, so I wanted to finally discuss my history / knowledge about drugs like weed, cocaine, ecstasy, mushrooms, ketamine, xanax, valium, and opium (etc) in various countries in South-East Asia.
All of the information in this article is for educational purposes, and solely to give people an understanding of what to expect. Before my first visit to Bangkok, I actually didn't think there were many drugs in Thailand, especially for backpackers like myself. I assumed a lot of alcohol was consumed, but I had no idea the amount of drug use that happened in Thailand!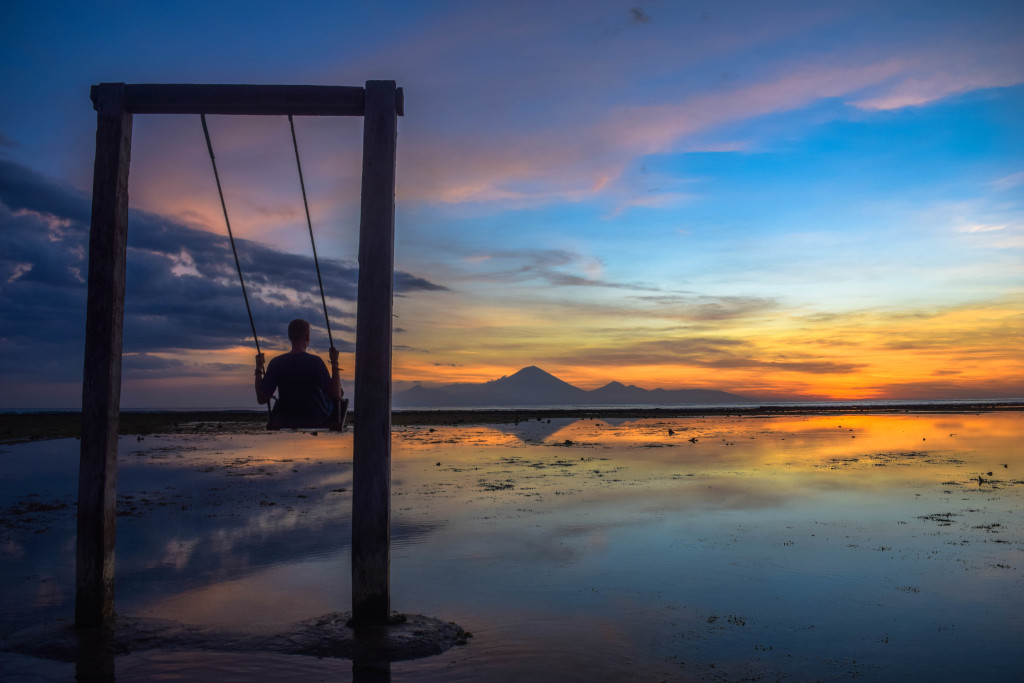 I'll never forget my first experience at the Full Moon Party, and witnessing how much drug use happens in Thailand. I saw some pretty wild stuff, and while I didn't partake – it definitely was eye-opening.
So without further ado – let's talk about the DRUGS in South-East Asia. This will cover primarily Thailand, Cambodia, Laos, Vietnam, Malaysia, and Indonesia. While I'm not the most knowledgeable about the topic – I do want to write about what I know.
---
Weed / Marijuana in South-East Asia
One of the most common (drug related ) questions I get about traveling around South-East Asia is about weed and where to buy it.
The truth is that while weed is super illegal in ALL of these countries…it is accessible in CERTAIN PLACES.
The rule of marijuana in Thailand, or Indonesia, or Cambodia — is knowing when / where you are safe to do it. There are definitely popular backpacker destinations where it's acceptable, and you won't have hard time finding any.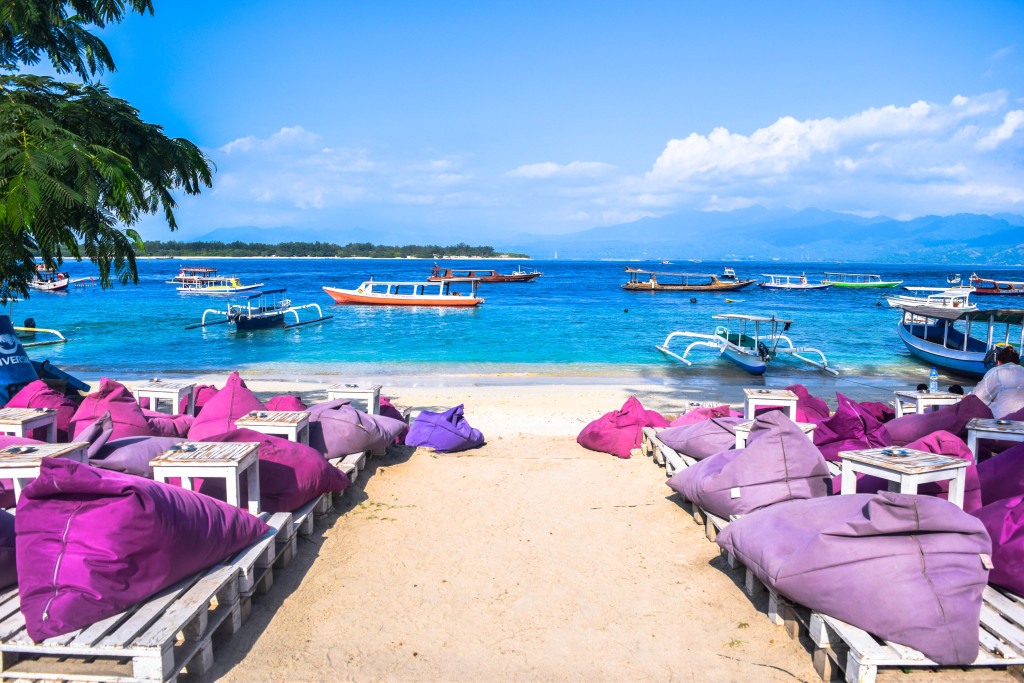 ---
Weed in Thailand
While I would NEVER smoke weed in Thailand's major cities like Bangkok, Chiang Mai or Phuket…finding and smoking weed on the smaller party islands like Koh Phi Phi & Koh Phangan is common.
Take a read through this article titled "Where to (not) smoke weed on Koh Phangan, Thailand". The title is satirical, and gives a few popular bars like Amsterdam Bar & High Bar. Where although it's "illegal"…you're 99.99% not going to get into any trouble if you buy it and smoke it there.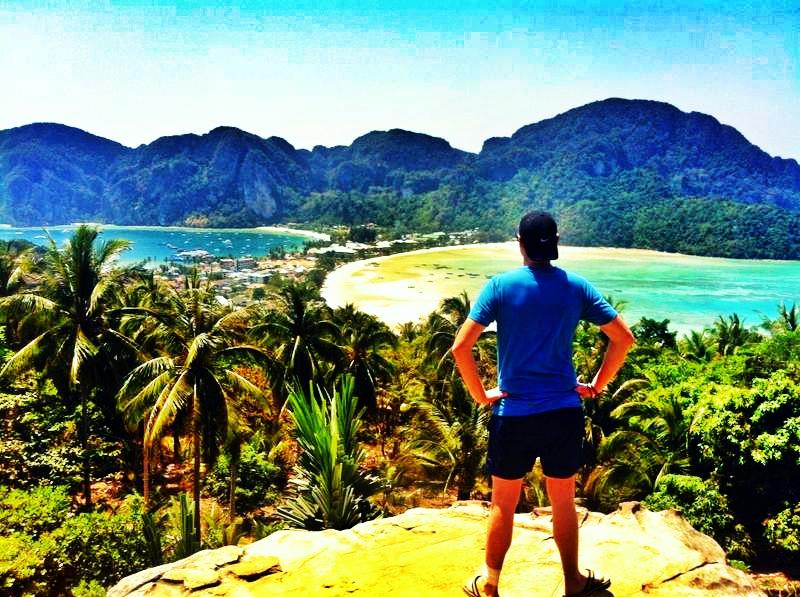 The only other place I'd say it is "okay" would be on Koh Phi Phi. There is an amazing spot called BANANA BAR! They have happy hour everyday from 4:20-6:20p.m where cocktails are "buy-one, get-one free", and you can ask the staff there for joints they have on sale. Then the whole bar becomes a giant movie theater, and everyone just smokes, drinks, and watches the movie (before it turns into a rowdy bar again at night). It's one of my favorite things to do on Koh Phi Phi.
If you're traveling to Thailand soon, make sure you check out my articles: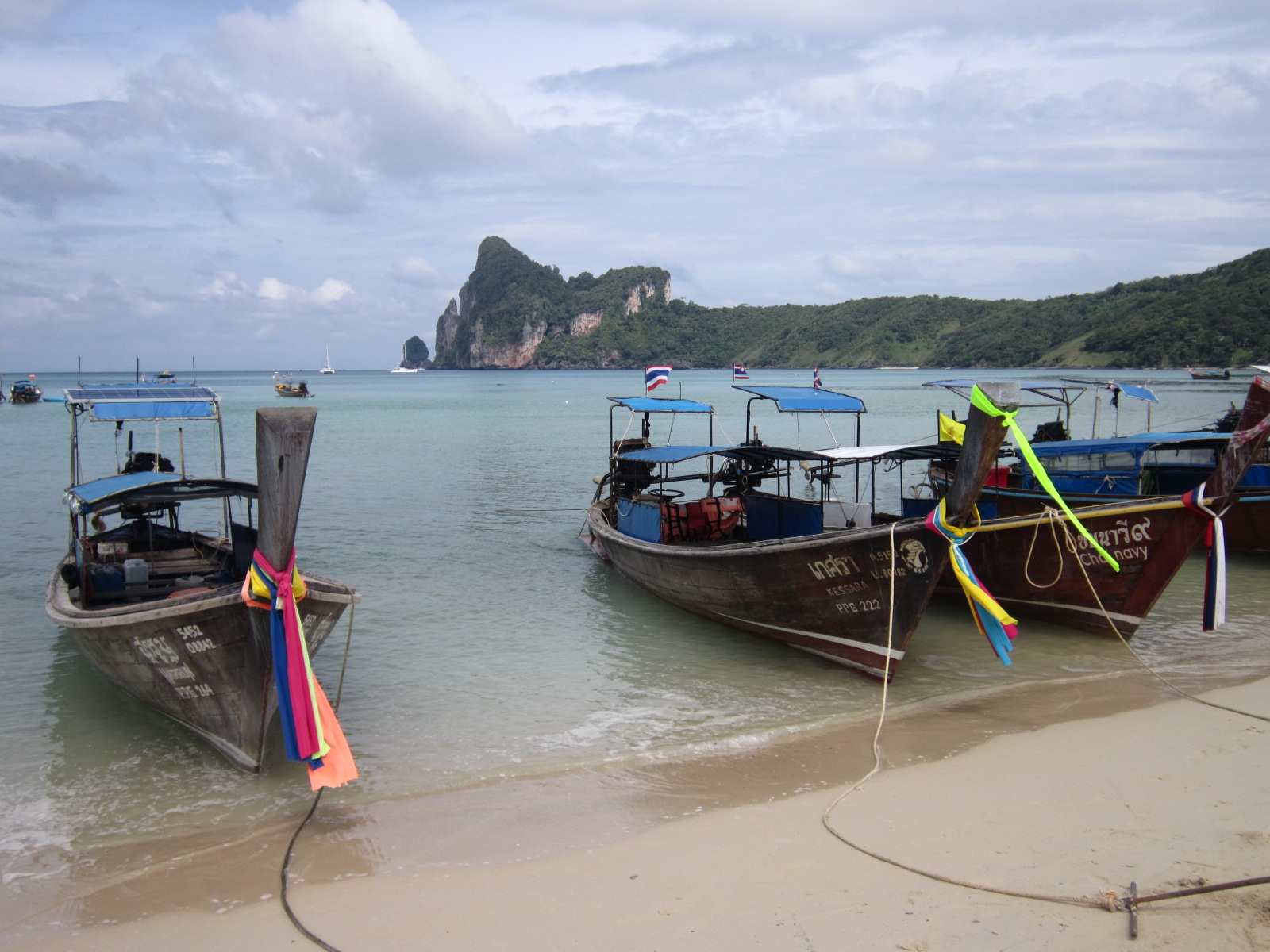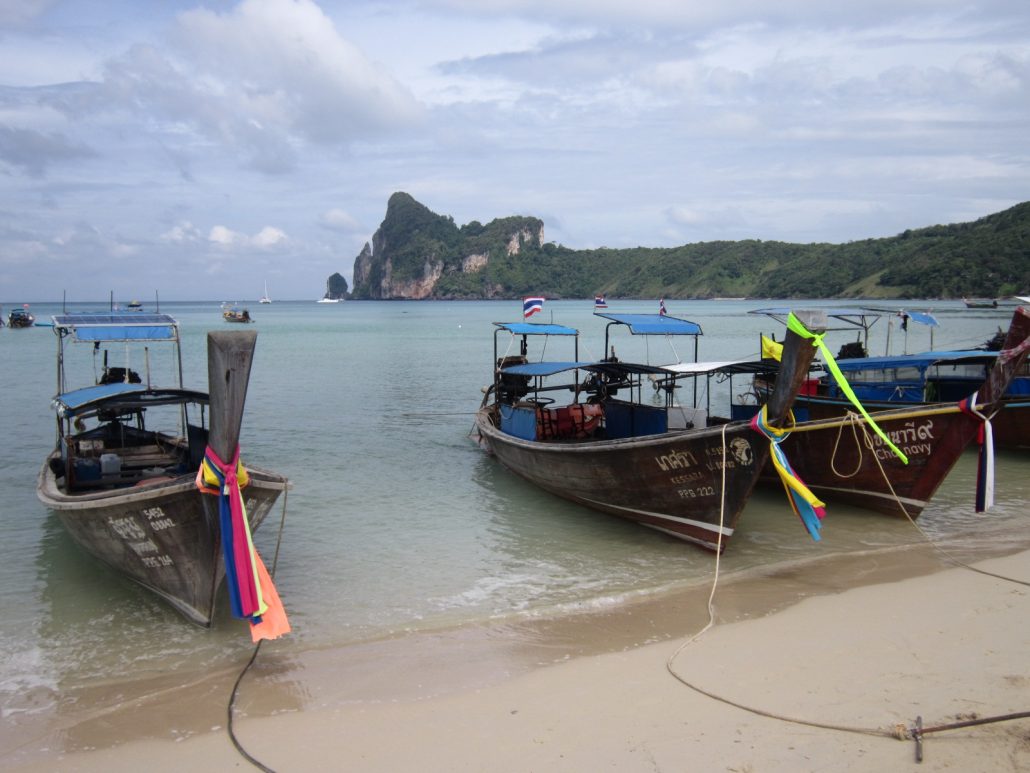 ---
Weed in Cambodia
Weed in Cambodia is actually super popular near Sihanoukville, Otres Beach, and Koh Rong Island. I'll never forget how cool it was to smoke a joint on the beach while watching the sunset without a care in the world. I'd say roughly 50% of the people around me had joints lit, and it wasn't a big deal at all. That's pretty much the vibe around these parts of the country. Life moves at a slower pace, and I've never heard of anyone getting in trouble for weed in Cambodia.
In the bigger cities like Siem Reap & Phnomh Penh, you'll find an abundance of restaurants selling "Happy Pizzas". It's just like a "pot brownie"…but you get high after eating a delicious pizza.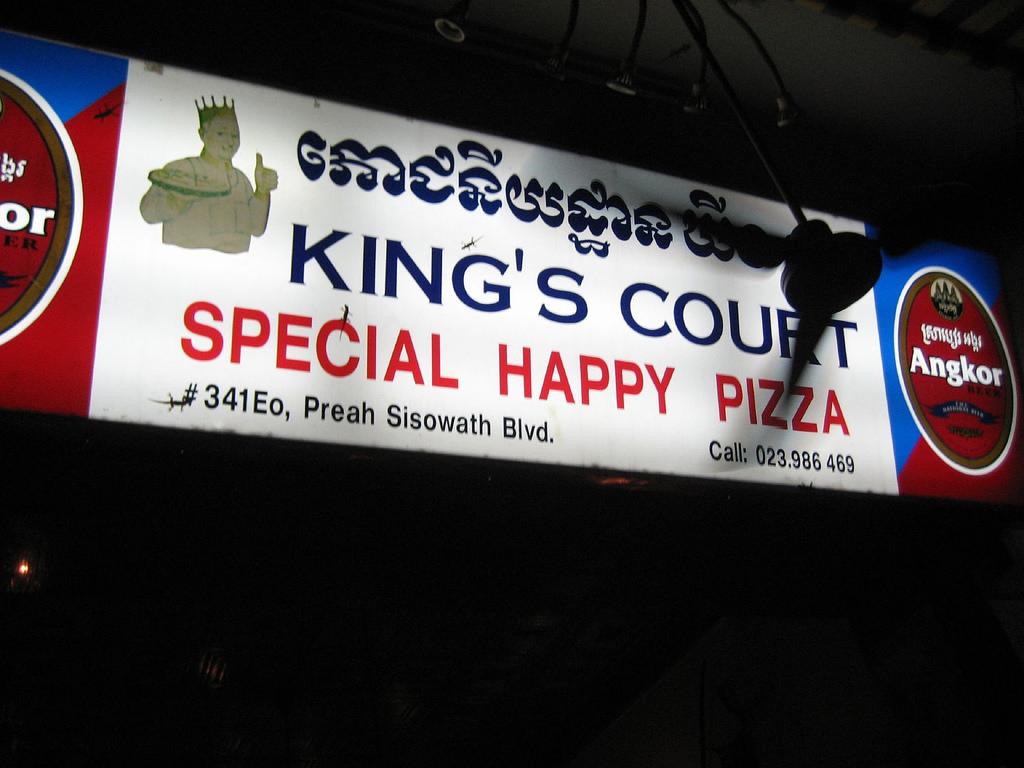 Be careful with these – they will get you HIGH AF! I tried one once in Phnomh Penh, and I think I ended up sleeping for 15 hours straight, lol. For more information about weed in Cambodia, read these articles below:
---
Weed in Laos
Laos is another country where weed is highly illegal, but it's looked at as a non-issue by the police officers in the country. While you obviously want to be "street smart", there are two places I can think of where you can enjoy a cheeky spliff and not get into trouble.
I actually wrote about it during my time on "Don Det: The Chillest Place in South-East Asia". It's such a relaxed vibe, and you can pretty much buy weed anywhere, lol. It's obviously not the best cannabis in the world, but it'll do the trick.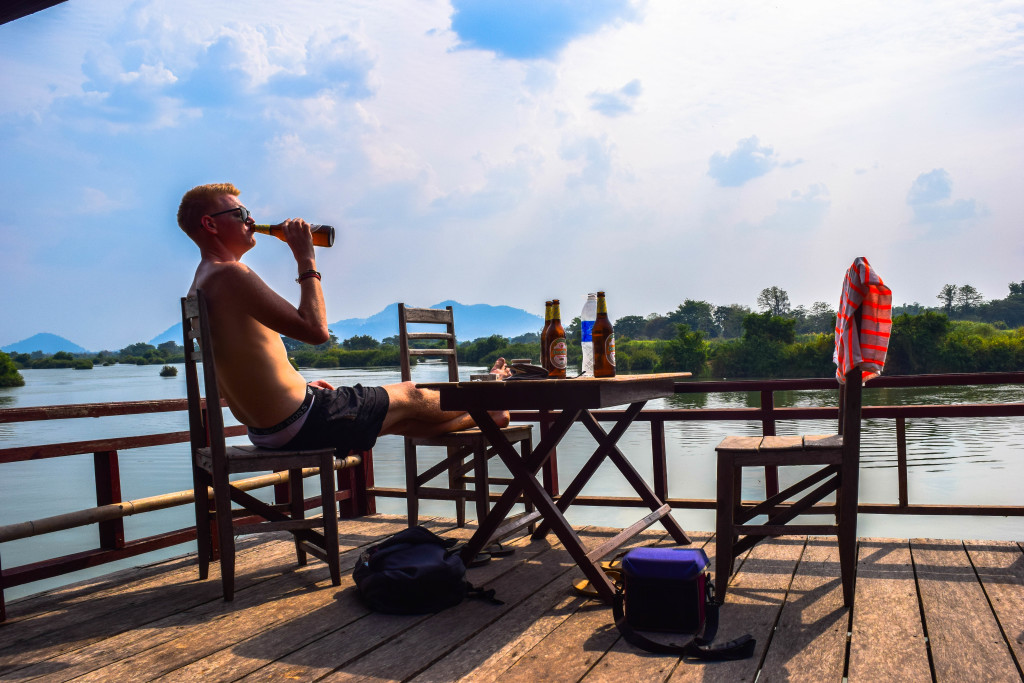 "Don't Worry…about a thing. Because everything little thing…is gonna be alright!"
The other place is the notorious backpacker party destination of VANG VIENG. There are several bars around the city center where you can buy joints from…all you need to do is ask them for the "Happy Menu".
For further reading:
Drugs in Laos: How Stupid Can You Get…? I obviously don't agree with Kate's POV about this issue, but it's a quick and easy read about a traveler's dilemma. It's good to understand that people sometimes do get into trouble with the police (they're just looking for bribes). So yes, you do still need to maintain some street smarts and avoid police while partaking in drug use in LAOS.
Vang Vieng tubing in Laos: Drug paradise isn't what it used to be. A long article discussing the part mecca that Vang Vieng is, but how dangerous it is.
Sex, Drugs, Death and Backpackers in Vang Vieng, Laos. | It's all in the title.
Vang Vieng was the world's craziest party. Here's what changed. | Really great article about the party scene in Vang Vieng. How it used to have a really bad reputation, the chaos, etc.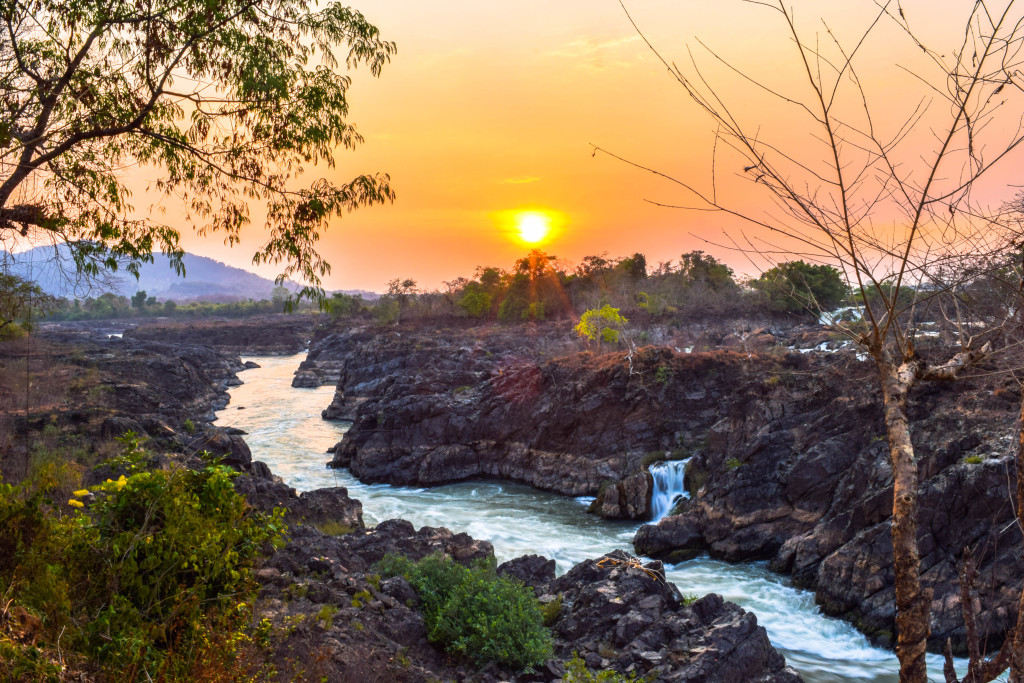 ---
Weed in Indonesia
Indonesia is one of the last places in the world you want to get caught with marijuana (or any drugs for that matter). The police are infamous for being corrupt, and there are extremely strict drug-laws!
People think that just because Bali is one of the most visited islands in the world, they can get away with smoking just a little bit of weed. WRONG.
PLEASE, NEVER SMOKE WEED ON BALI !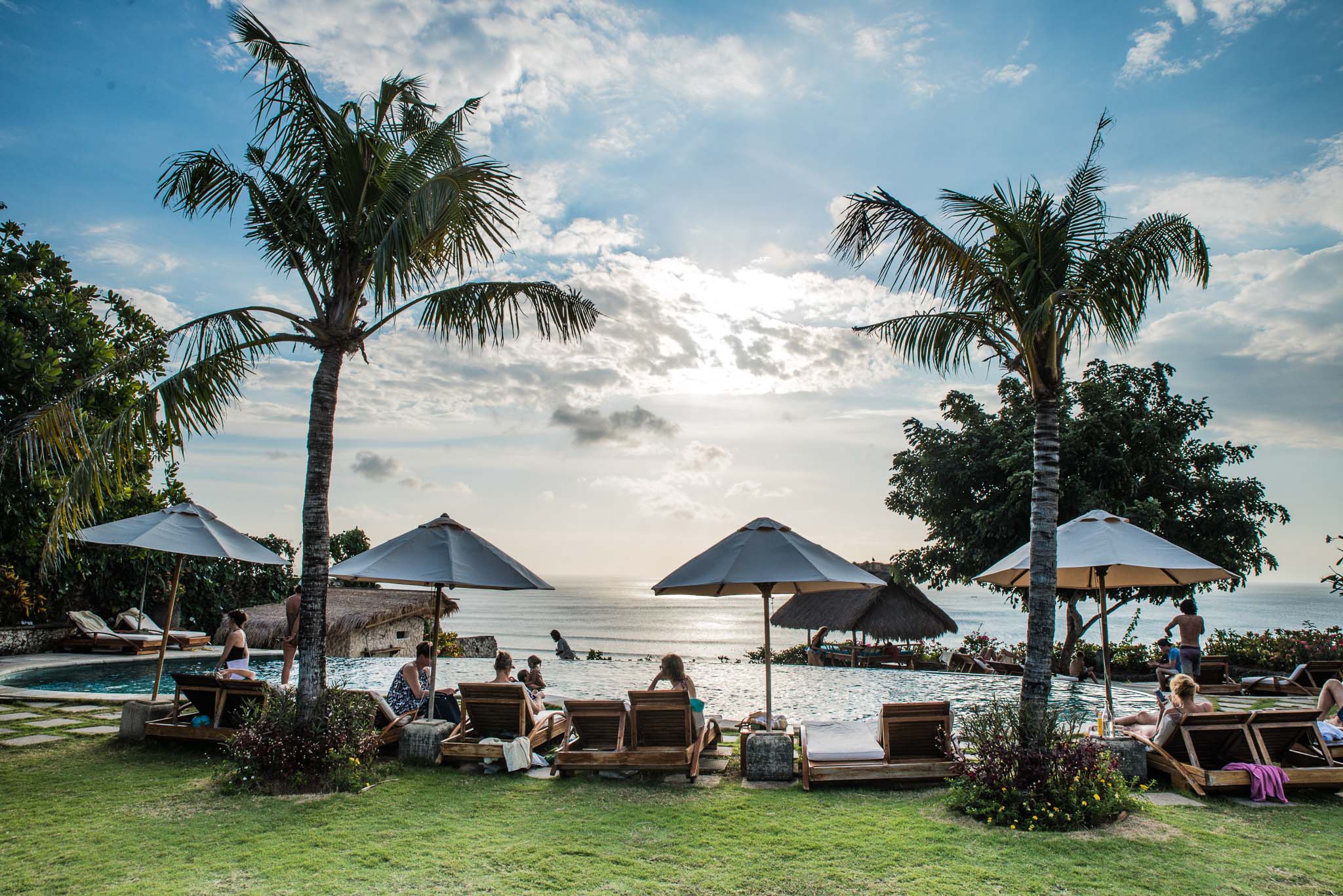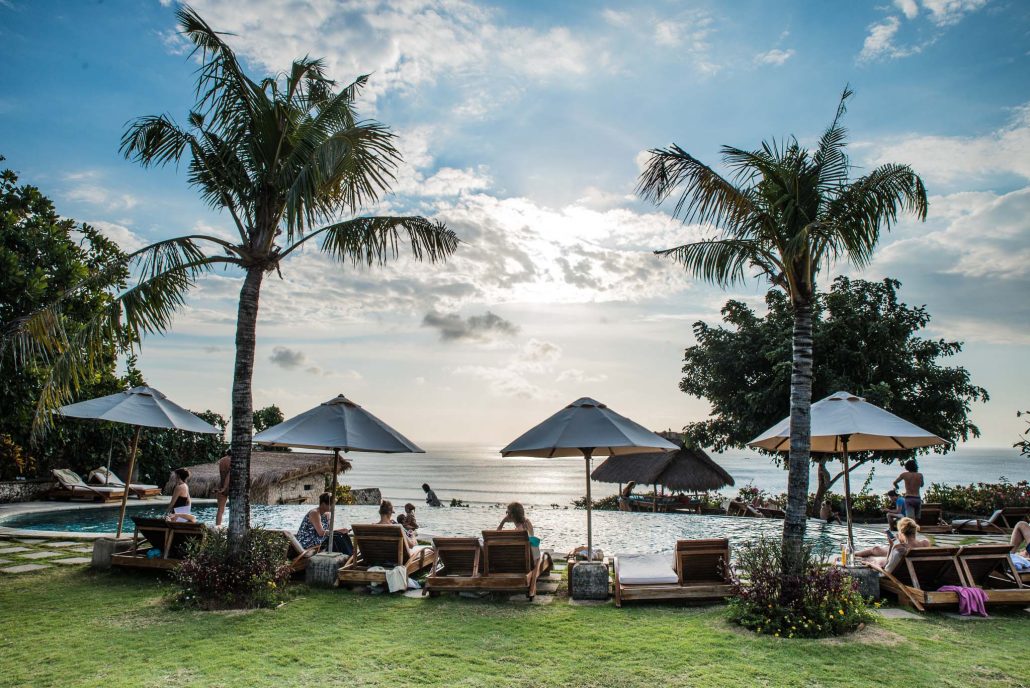 With that being said…if you make the short journey over to the idyllic "Gili Islands" — it's a much different story.
I actually used to live on Gili Trawangan, A.K.A "the party island", and it's easily one of my favorite places in the world! The scenery is absolutely gorgeous, the nightlife is incredible, and there really just a special atmosphere / vibe on these islands.
One of the "untold secrets" about the Gilis is that there is no "official police presence". They do have "Island Security", but they are there to take care of issues like thieves and trouble-makers.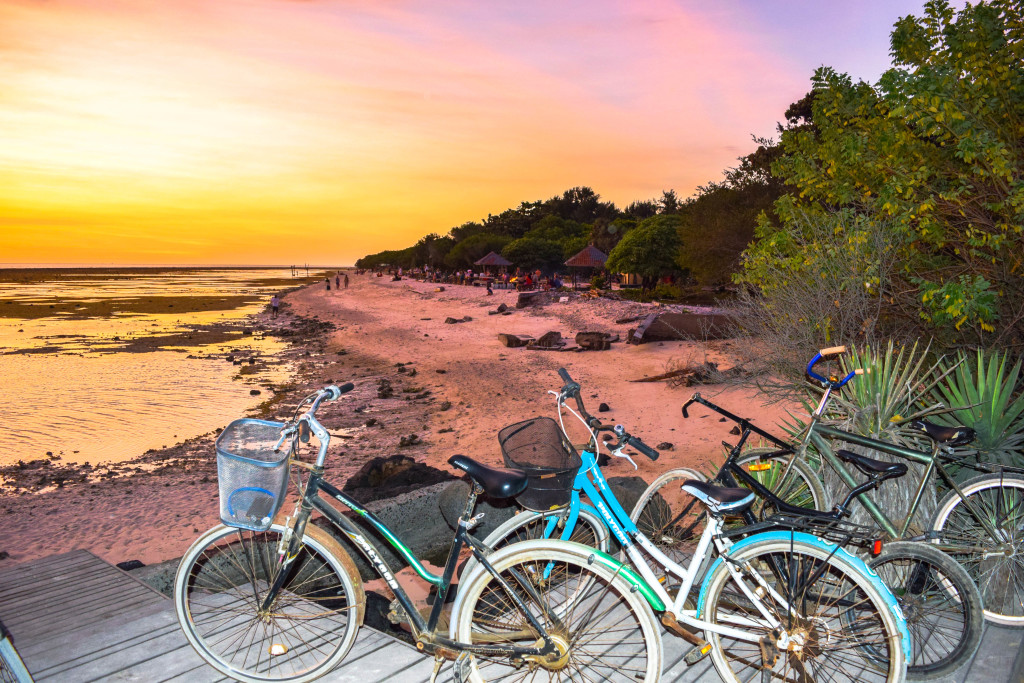 If you ask around to any of the local shop-owners, people who work at the guesthouses / hostels, or any westerner staff you see on the islands — you won't have a hard time finding some herb to enjoy in paradise.
I always did enjoy getting a little high while marveling at the sunsets on Gili Trawangan
Traveling to the Gili Islands? Check out a few of my articles:
Fun fact: I even thought about opening up my own hostel on Gili Air, but that all changed when I decided to move to Australia on a Working Holiday Visa.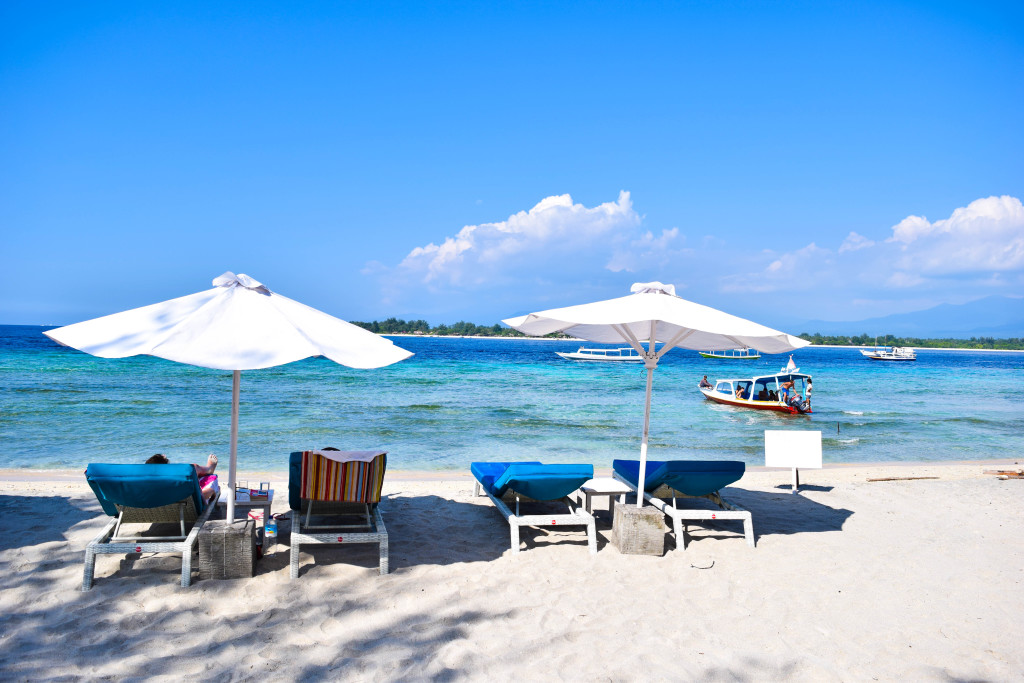 ---
Weed in Malaysia, Vietnam, Singapore, etc…
I'm not going to dive into as much detail about marijuana in all of the other countries in SEA, but I do want to bring them up as well.
First off, I wouldn't even bother trying to find / smoking weed in Singapore. It's a country that's notorious for it's ridiculous drug laws, and you're not going to have any luck. Well, I at least have never heard of any of my friends getting high in Singapore.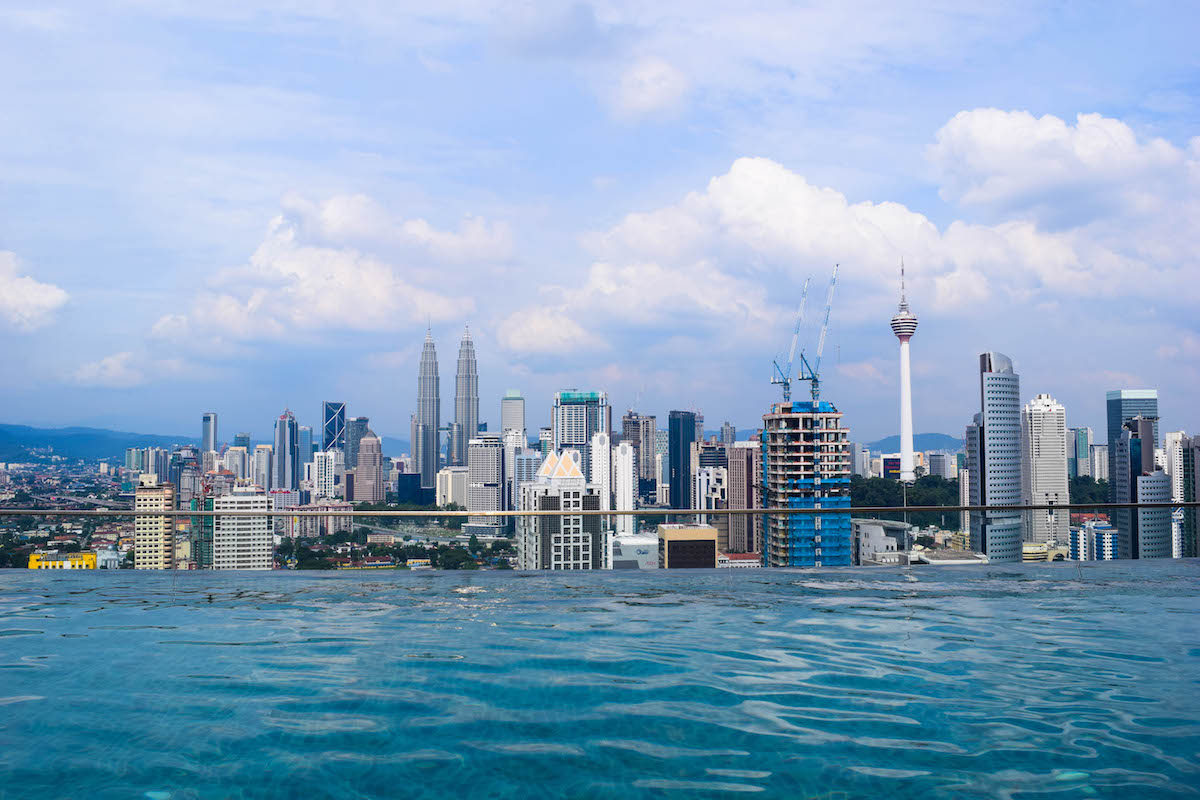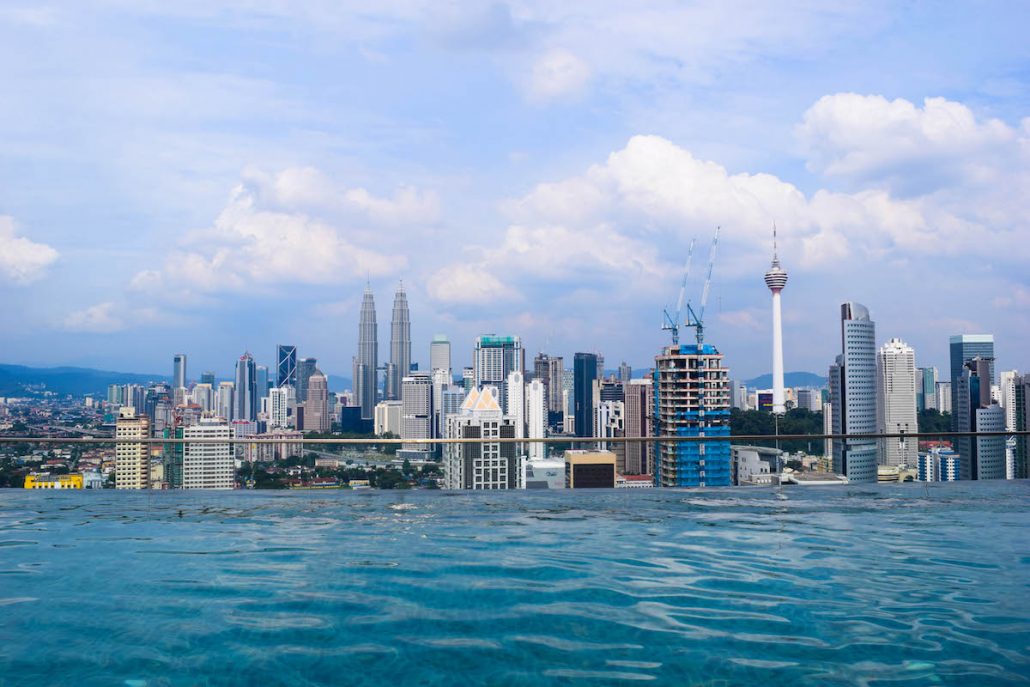 When it comes to marijuana in Malaysia – I have smoked a few times in Kuala Lumpur. That's only because I have expat friends living there, and they had found local connects. I wouldn't recommend it to random travelers though, but it definitely is around if you meet the right people. I do remember a few of my friends in a hostel on the Perhentian Islands had some herb. Proceed with caution of course!
While doing some research for this article about weed in Vietnam, I came across this short / fun video on Youtube. Check it out, because it'll definitely give you a good idea about weed in this region of the world.
---
Cocaine in South-East Asia
Alright, now that I've discussed marijuana in detail — I'll be going over some basic information about other drugs in various countries across SEA.
First off – let's talk about Cocaine. I've never done cocaine in any country in South-East Asia, and I would highly recommend avoiding it yourself.
The thing about cocaine is how well do you know the person giving it to you?
Cocaine is "cut" or "laced" with different chemicals for the drug dealers to make profit. It can be a very dangerous to put dodgy cocaine in your system, because you really have no idea what you're taking.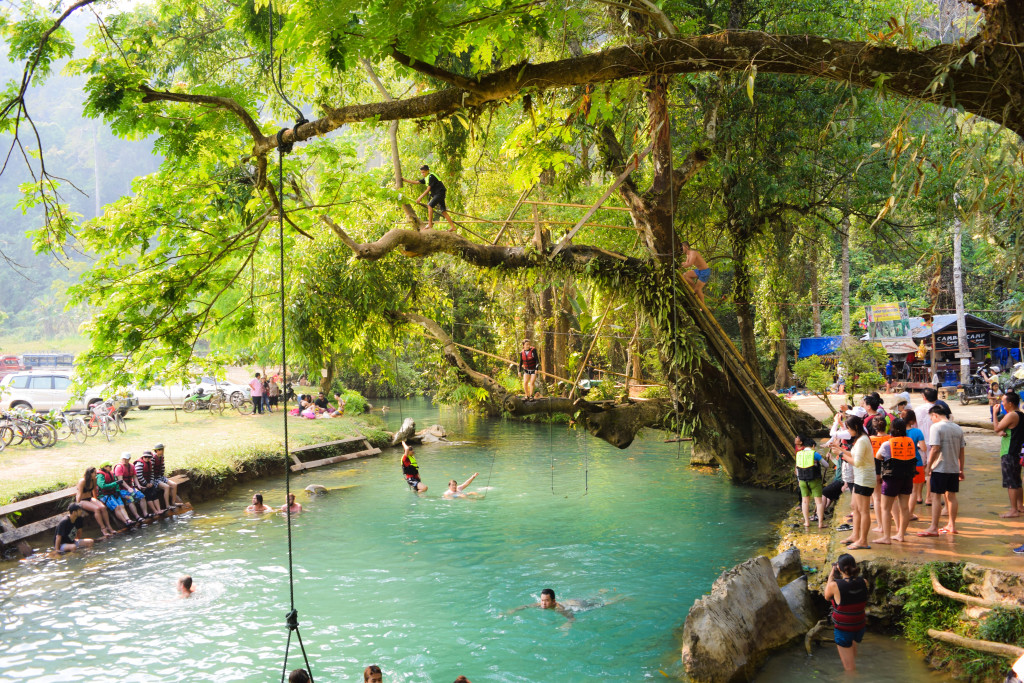 With that being said – I actually haven't even seen too much cocaine usage in Asia. I do know a few people who bought a few grams in Bangkok, Thailand, and it got offered to me several times while walking along the streets of Sihanoukville, Cambodia – but that's about it.
While I'm sure it's easy to find if you "know the right people" in some of the major party destinations in South-East Asia – I really don't think it's all that common in this region of the world. If you're looking for cocaine / drug tourism…I bet that Central / South America is the place for you.
---
Ecstasy Pills & MDMA in South-East Asia
"The Love Drug" as some say, can definitely be found in certain parts of South-East Asia, but it's not really that common.
The most popular party island to consume ecstasy or MDMA capsules is during the "Full Moon Party" on Koh Phangan, Thailand. During my first time on the island, there was actually a drug dealer walking around the hostel, asking all the travelers if they needed any MDMA! (And no. I didn't buy any).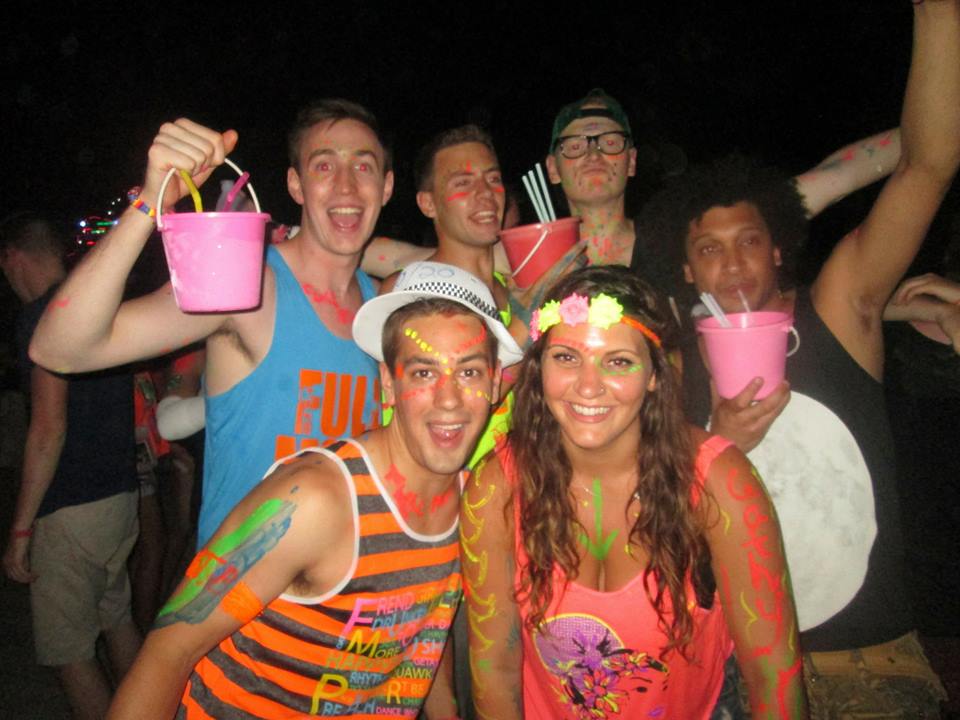 It was pretty crazy to witness, because I know the drugs laws in Thailand are super strict! What was even crazier was when I went to a party on Koh Phangan in the middle of the jungle, and you could buy MDMA at the bar!! This is the only place in the world I've seen this happen at, and apparently the venue paid off the police to allow this to happen! Crazy, huh!? (I have no idea if this still happens, but when I was there in 2015 – it definitely happened a lot).
Other than that – I've been offered (or had friends take ecstasy) at Wonderfruit Music Festival. I saw a lot of people consume drugs there, but that's pretty common at music festivals. If you attend one of the multiple music festivals in South-East Asia, there's a chance you'll find ecstasy there.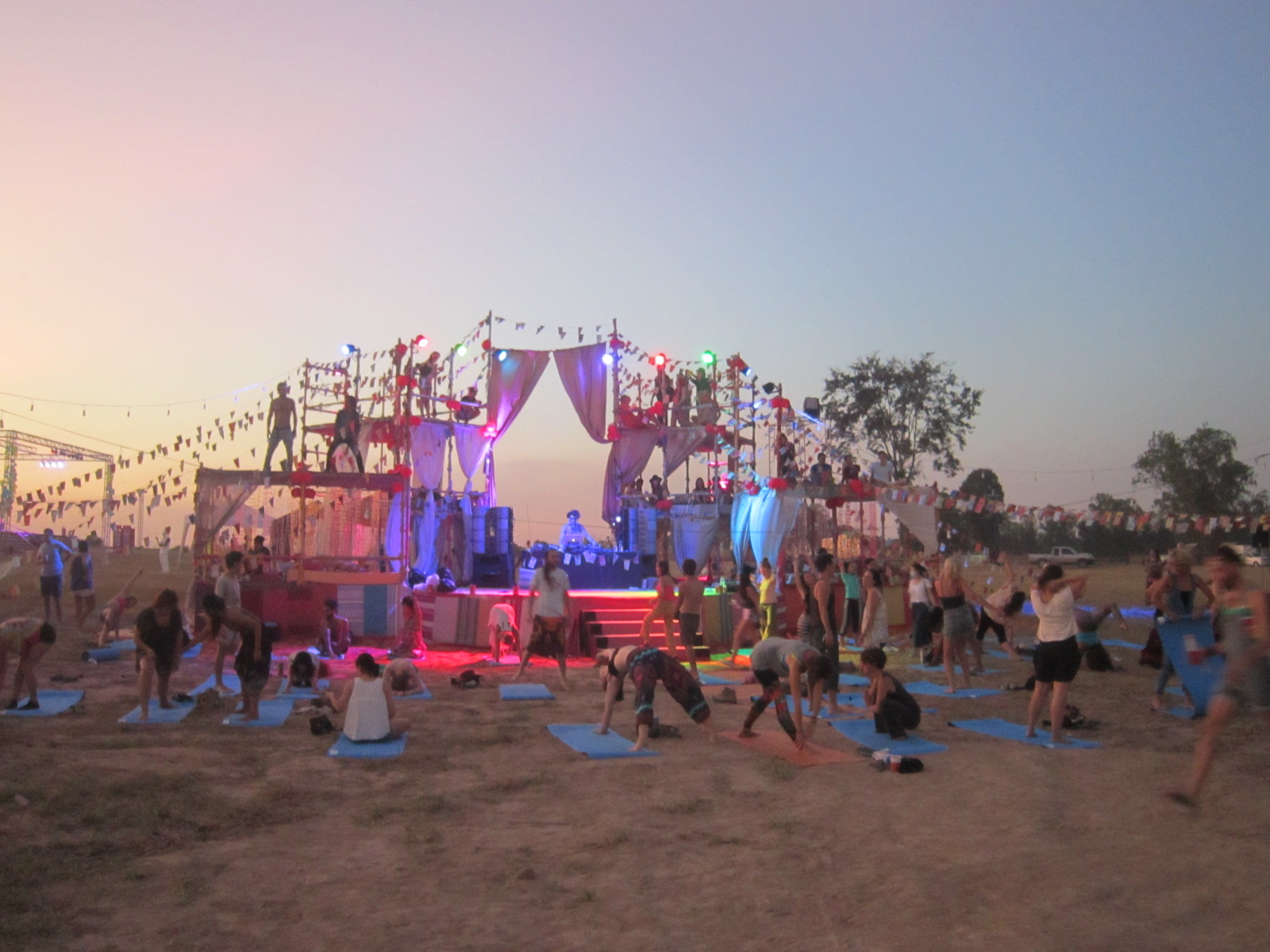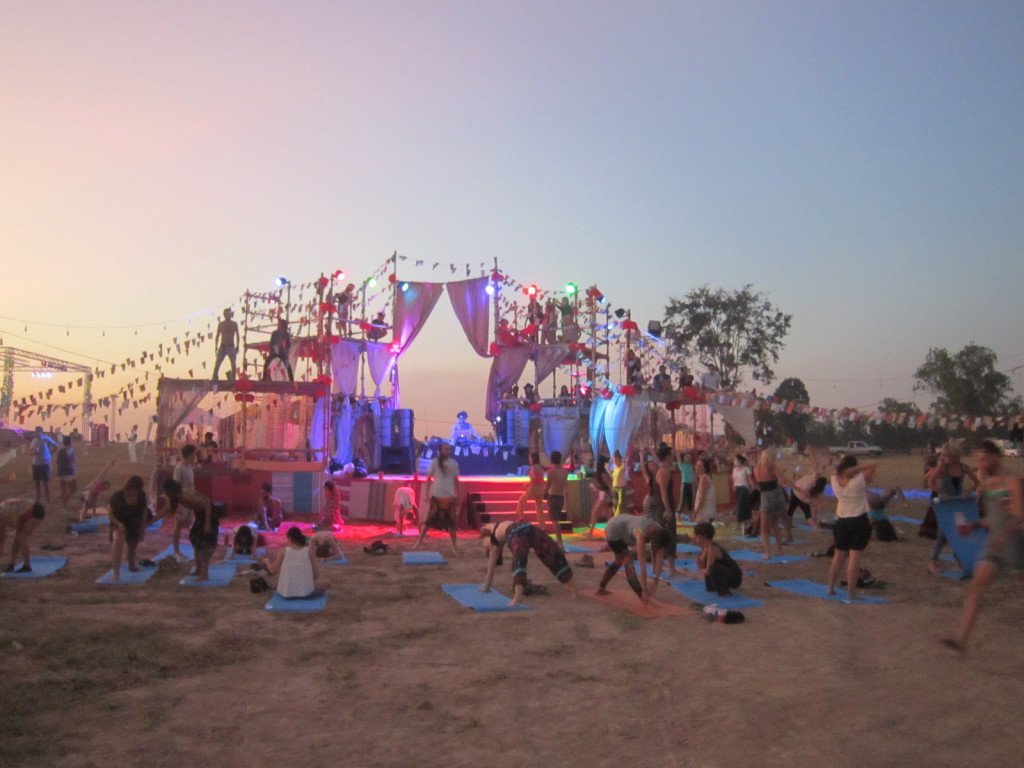 There's definitely pills being sold around Bali (Indonesia), Sihanoukville (Cambodia), and Boracay (Philippines) as well. Those are the only places I've heard of people taking ecstasy or MDMA, but I'm sure it happens all over Asia.
My advice would be to skip drug use while traveling, because this can be a very dangerous area of the word. If you do decide to partake in recreational drugs, please do so cautiously.
Further Reading: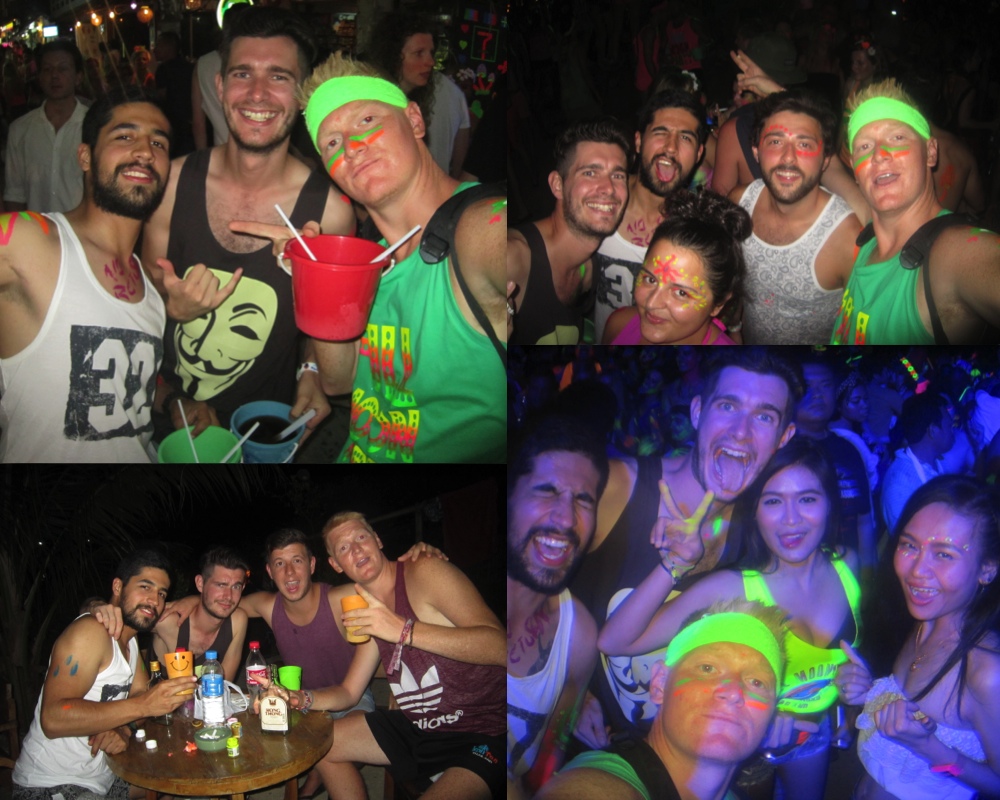 ---
Magic Mushrooms in South-East Asia
This hallucinogenic party drug is readily available in many destinations across Asia, and I'm personally a big advocate for mushroom usage. I have taken them several times, and each "trip" was a really incredible experience. Obviously, drugs affect everyone differently, so please be careful…mushrooms can get pretty intense.
I've written pretty extensively about psychedelic mushrooms on this site, so take a read through some of the posts below for more information!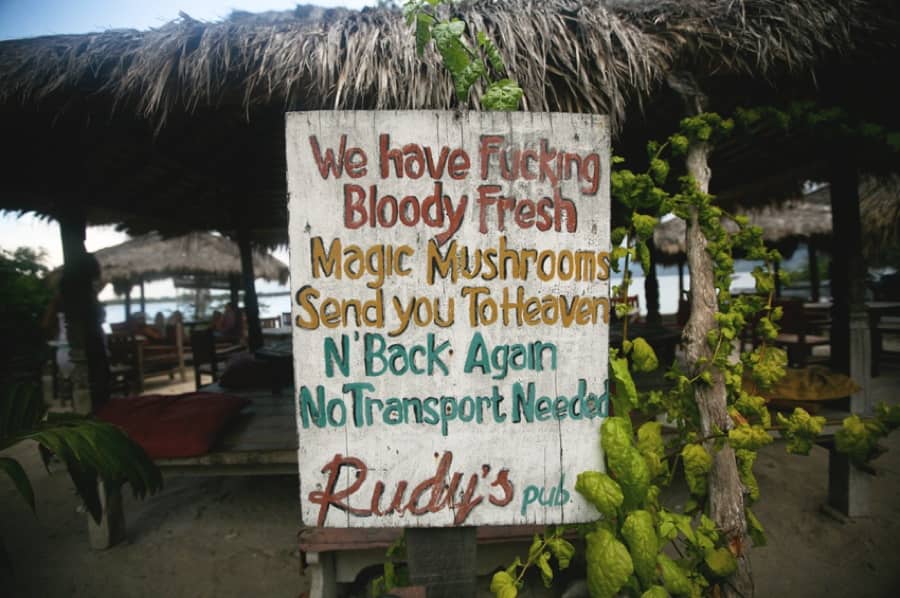 ---
Prescription Drugs in South-East Asia
When I first got to Thailand, and strolled through the night markets in Bangkok – I was shocked to see that the vendors sell all different types of prescription drugs.
Xanax, Valium, and Ritalin are the most commonly purchased from backpackers and budget travelers. I'll admit I did buy some (to help me sleep during long overnight bus journey in Laos or sleeper trains in Thailand).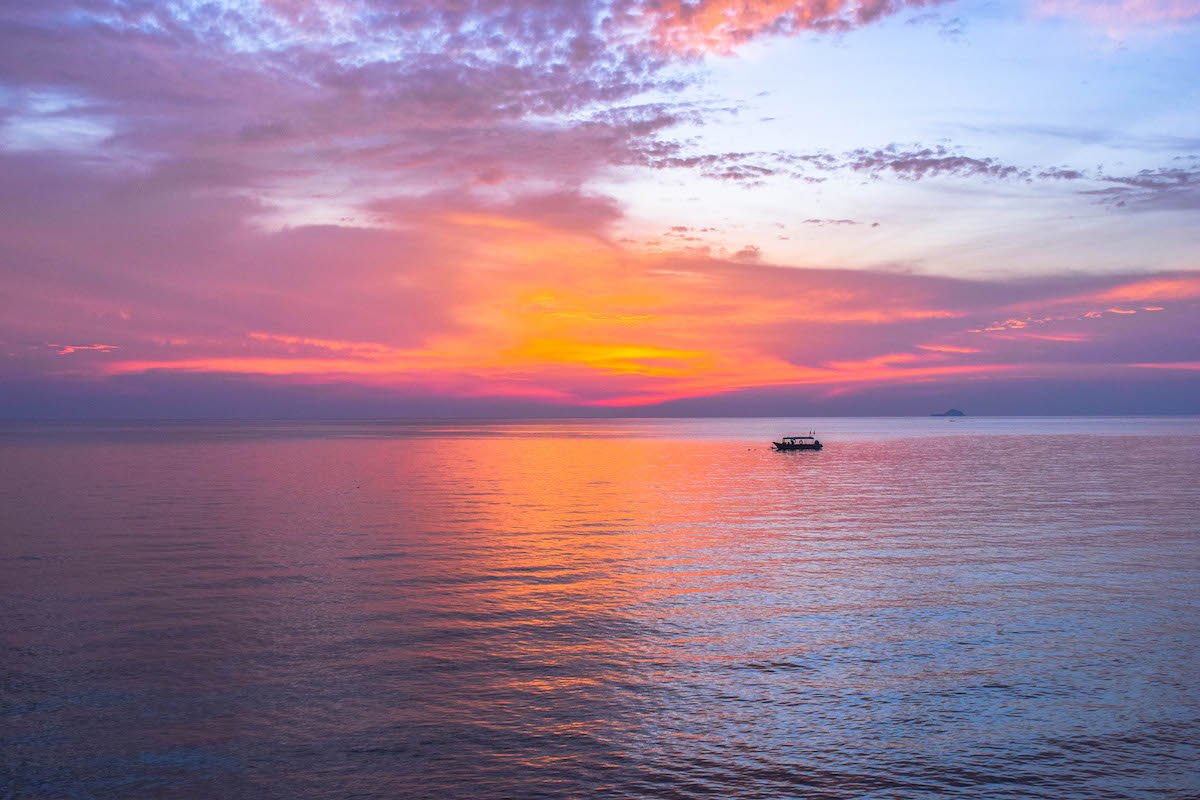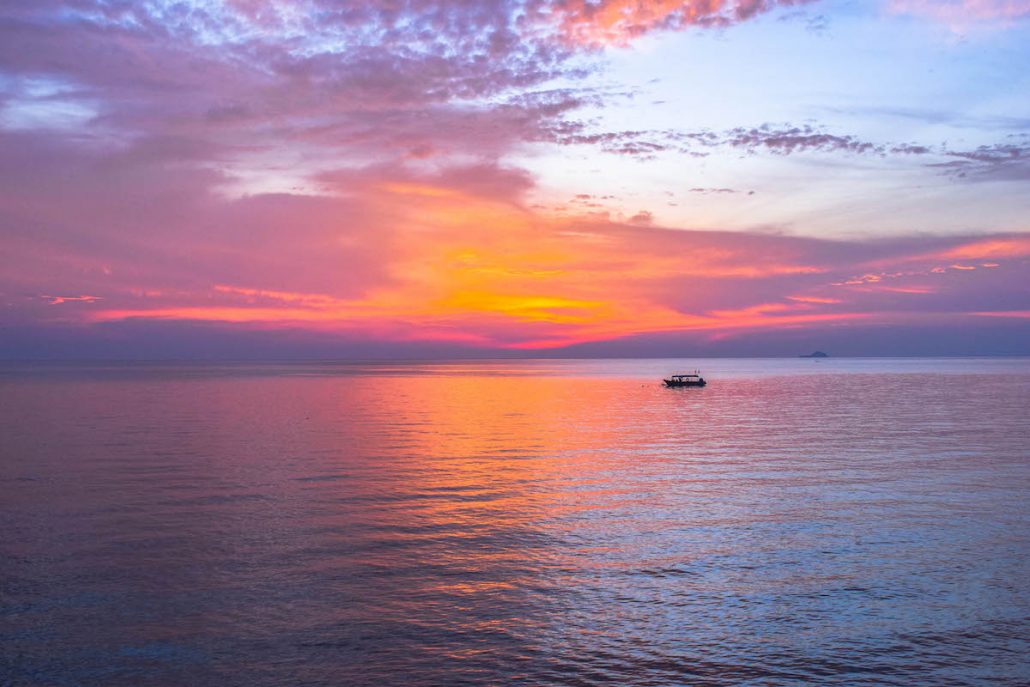 Not all pharmacies will sell them to you – but if you go in and ask, sometimes the worker will grab them from their "hiding spot". Prices vary, but I remember paying 500 Baht for one packet.
Thailand & Cambodia are the two countries that sell prescription drugs to travelers, but there are also lots of street vendors around the Kuta / Seminyak area in Bali, Indonesia. They also will have Ambien, Viagra, Cialis, etc. It's actually pretty ridiculous what they have.
---
Ketamine in South-East Asia
"Ketamine (also known as Ket, Special K) is a synthetic dissociative substance of the arylcyclohexylamine chemical class that produces dissociative, anesthetic, and hallucinogenic effects when administered. It is widely used in human and veterinary medicine, primarily for the induction and maintenance of general anesthesia for surgical procedures." — PschonautWiki
It's actually pretty messed up – because this drug is meant to be a cat / dog / horse tranquilizer!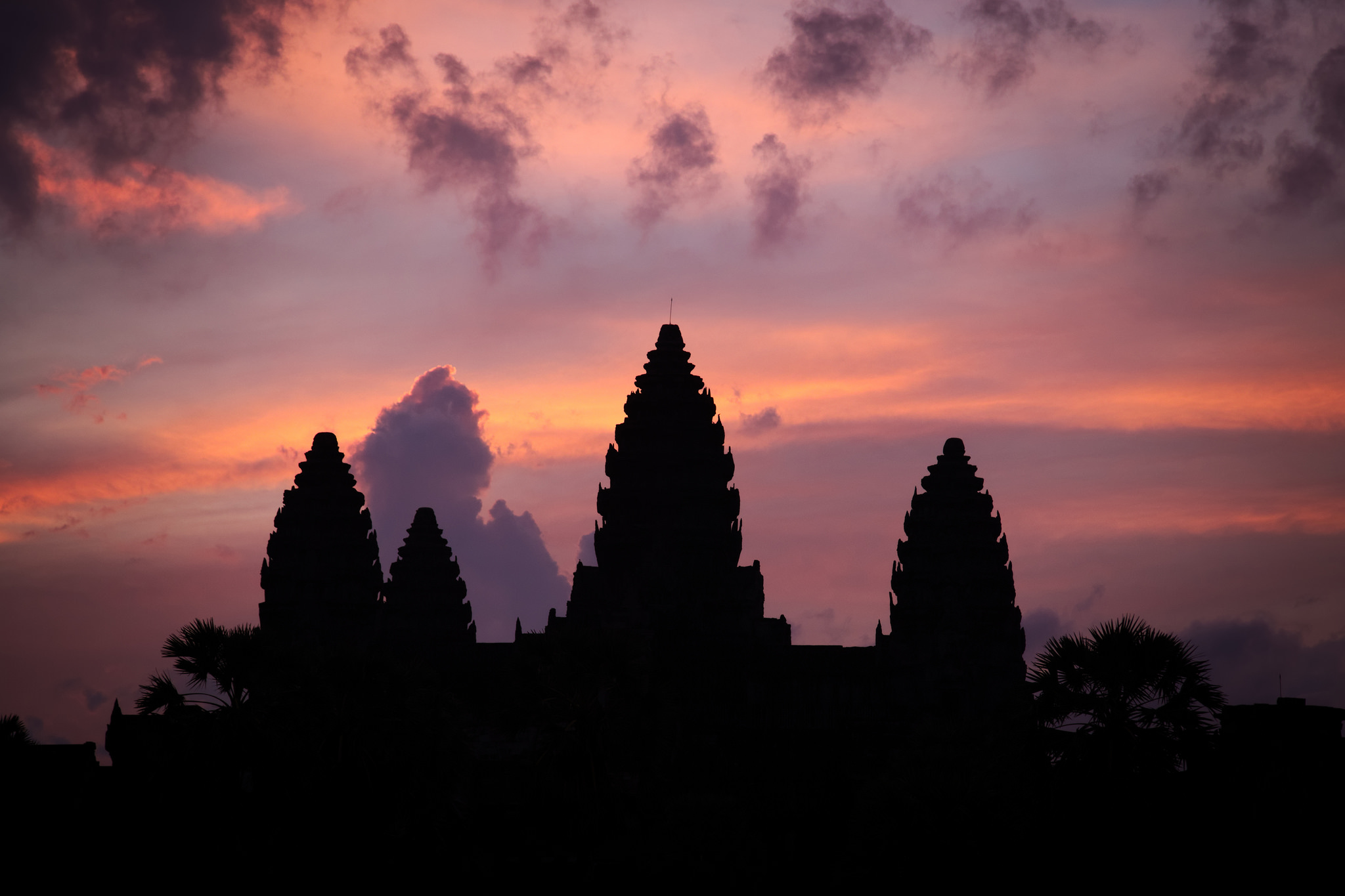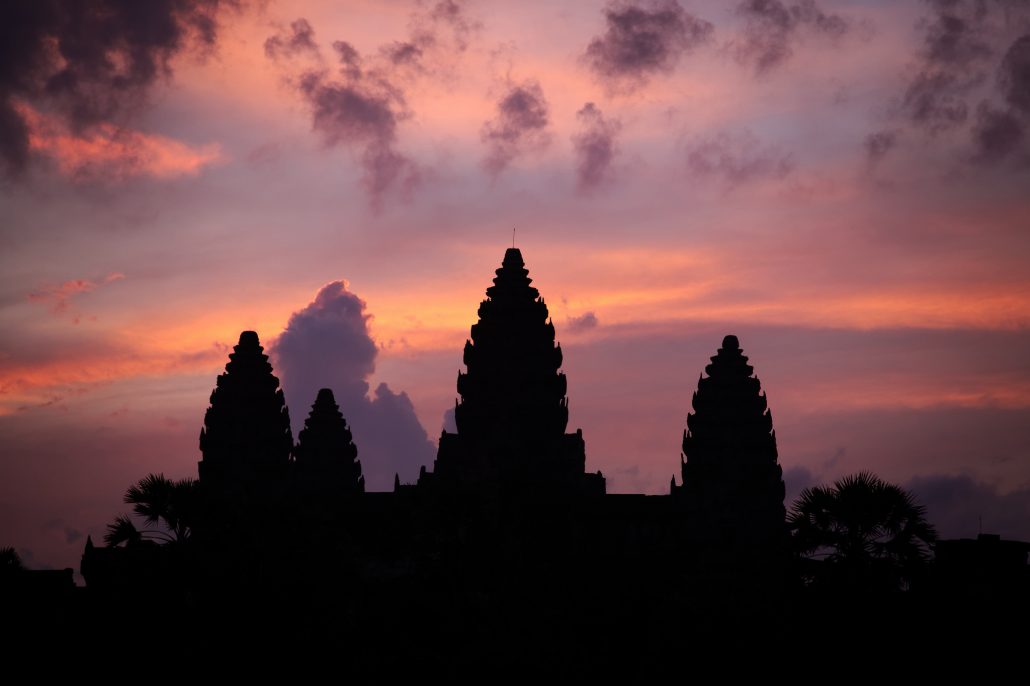 Ketamine is highly illegal all across South-East Asia – except in CAMBODIA. You can purchase the liquid form of the drug at pharmacies, and cook it yourself.
I've never done this – but I got offered Ketamine when I was traveling in Cambodia and learned all about it. I had a few friends living near Sihanoukville, and it's a pretty common party drug in Cambodia. (Image)
---
Heroin & Crystal Meth (ICE) in South-East Asia
Now, I really don't know anything about either of these – as I've never seen anyone take them, or been offered it during all my travels in South-East Asia. (But I felt like I should at least bring them up).
It's definitely a major issues with the local communities in these South-East Asian countries, and there's tons of drug violence surrounding them. If you're interested in this topic, please read the following article: Shocking photos of the crystal meth epidemic sweeping South East Asia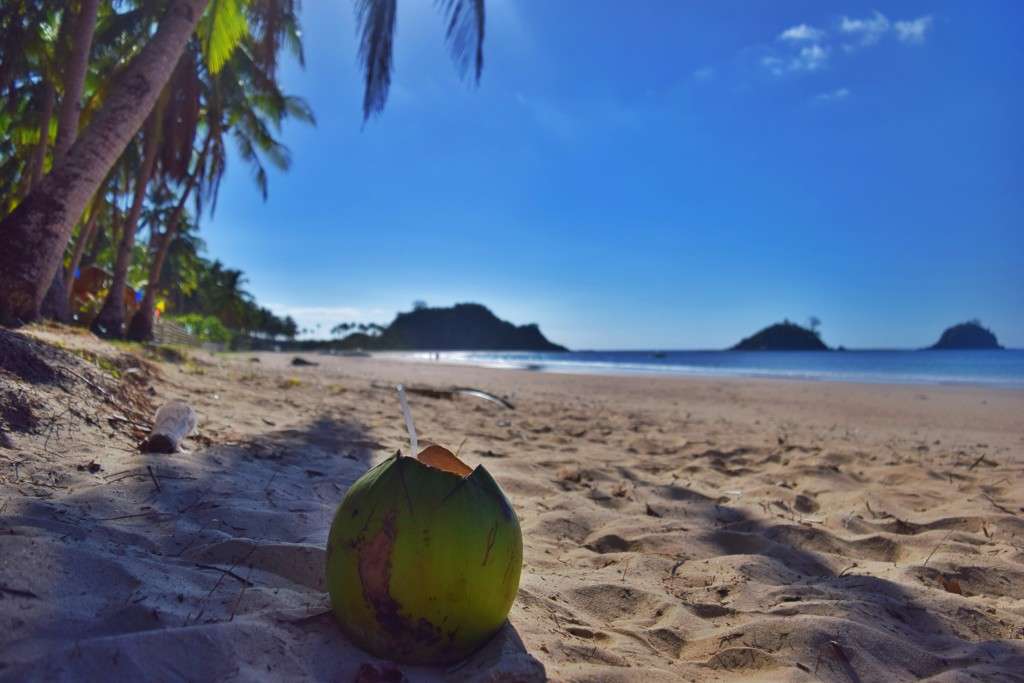 ---
Planning a trip to South-East Asia…?
Having spent so much time backpacking around Asia, I've written quite a lot about this magnificent region on my website. Feel free to browse through the Destinations page, or check out a few of these posts below: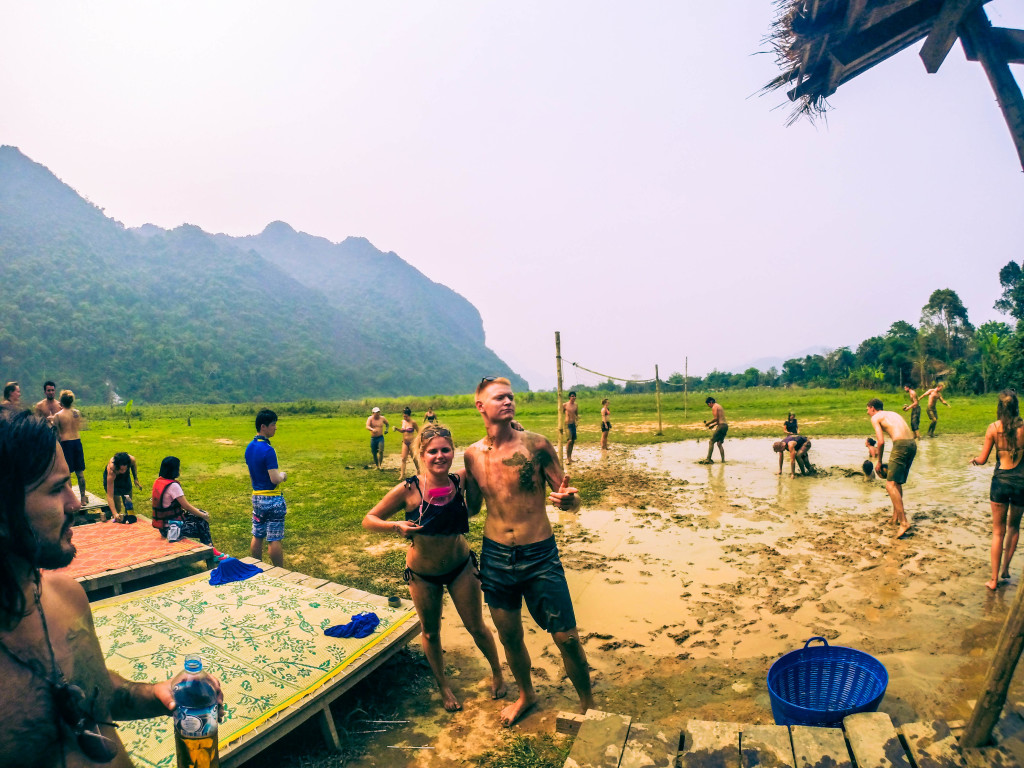 ---
If you have any questions about this post, feel free to shoot me an email or message me on Facebook! I'd be happy to chat with you about South-East Asia! :-)
SHARE THIS ARTICLE !!
https://www.jonesaroundtheworld.com/wp-content/uploads/2017/12/DSC_0267-1024x683.jpg
683
1024
Dave
https://www.jonesaroundtheworld.com/wp-content/uploads/2017/03/logotry-1-1-300x106.png
Dave
2014-10-23 07:37:57
2023-09-12 18:36:58
Weed & Drugs in South-East Asia