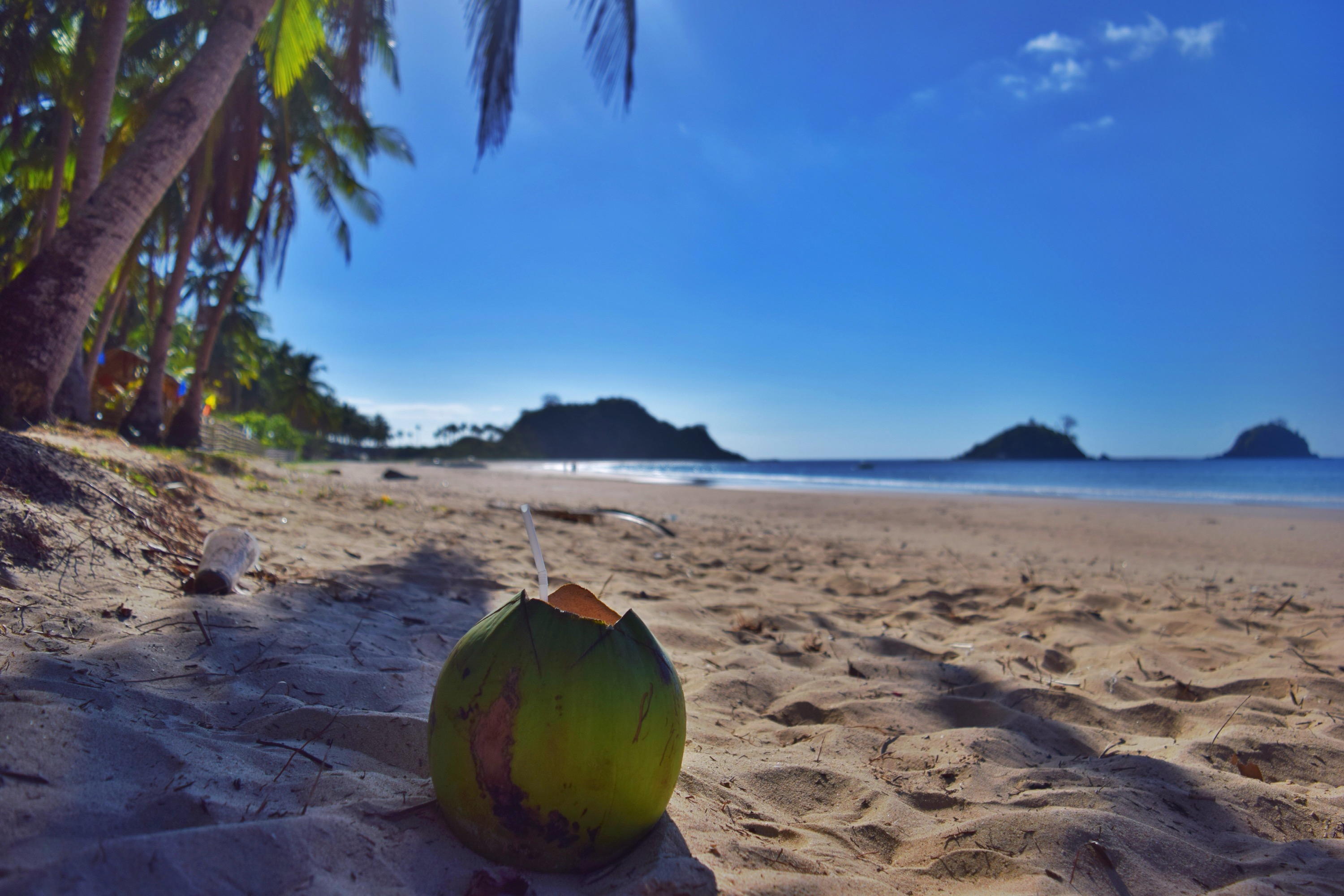 Looking for the best places to party in South-East Asia?
You've come to the right place…
Whether you move over here to teach English, book a short vacation, or embark on long-term backpacking trip — you are going to fall in love with South-East Asia. The food, the culture, the beaches, the islands, the cities, the hostels…and the epic parties. This region of the world has it all.
I've spent over 18 months in total traveling around South-East Asia, and I'm always down for a good rager. I've always said that I'm happiest when I'm on a tropical beach, listening to good music, and watching the sunset (or sunrise after a long night of dancing).
I've put together this list of which I believe to be the best 15 places to party in South-East Asia. If you've been to any of these places, I'm sure you can agree that they are all amazing places to get a little boozy, meet fellow travelers, and have a solid night. If you're planning a trip to any of these destinations, feel free to Contact Me with any questions you have. I'd be happy to help out anyway with any questions.
How many have you already visited…?
---
Planning a trip around Southeast Asia…? I'd recommend picking up a copy of the Southeast Asia on a Shoestring Lonely Planet (Travel Guide)! I had one during my backpacking trip, and it really was super helpful! If you don't want to carry one, be on the look-out for it around the hostels to browse through!
---
1) Koh Phangan, Thailand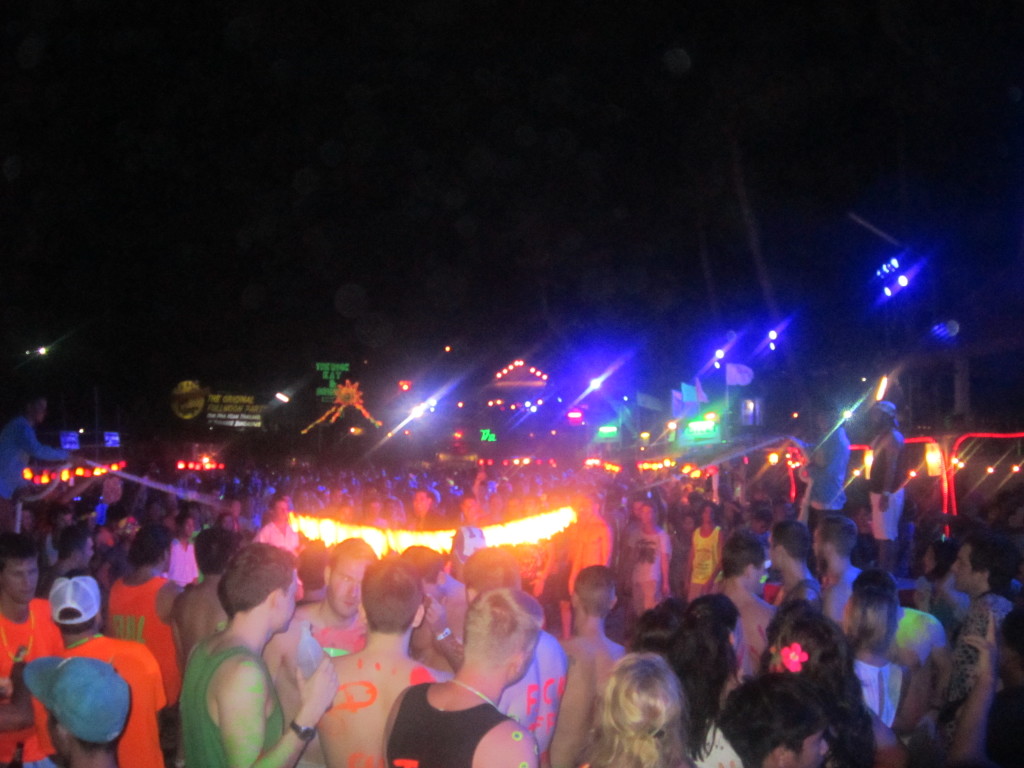 While most people head to Koh Phangan just for the infamous Full Moon Party — this island actually has so much more to offer. I like to refer to Koh Phangan as the "Ibiza of South-East Asia", because there is literally a different party every night of the week. If you're planning a trip anytime soon, make sure you check out a website called the Phanganist.com. They go over all the parties, hostel information, and other useful tips for visiting Koh Phangan.
Best Party Hostel on Koh Phangan
Echo Beach Backpackers – THIS is actually one of my favorite hostels in Thailand. It may not be the cleanest or most comfortable, but the party vibes here are incredible!!
Parties On The Island To Check Out Other Than The Full Moon Party
Merkaba Beach Club

— A really cool Ibiza style club with a pool, and amazing underground house music. Check the FB page for upcoming party dates. I actually went here one night instead of the FMP! Located just a short drive away from Haad Rin Beach.

Maya

— A beautiful and colorful venue in the jungle. The type of music varies for each party, but it's definitely worth a visit.

Guy's Bar

/

Eden

— An absolute must attend during your visit to Koh Phangan. Tucked away in the deep part of the jungle, these are two of the best places to party on the island. Known for it's long hours, it's the party that doesn't stop. It's hard to get to, where you have to take a jungle taxi or boat to get to, but it's well worth it!

The Jungle Experience

— Normally happens before and after each Full Moon. A bit expensive for the entry charge at 400 baht, but it's a solid party with amazing music. You'll meet a ton of people, and see some pretty interesting characters dressed up in crazy body paint.

Sandcastle

— A small club venue located in Haad Rin that is the best place to party during the Full Moon Party. It's not located directly on the beach, but definitely cruise here for a couple drinks.

Backyard Afterparty

— If you go to the FMP and don't see the sunrise, consider yourself a failure. As well, part of the Koh Phangan experience is going to an afterparty. Go to BACKYARD. It's amazing.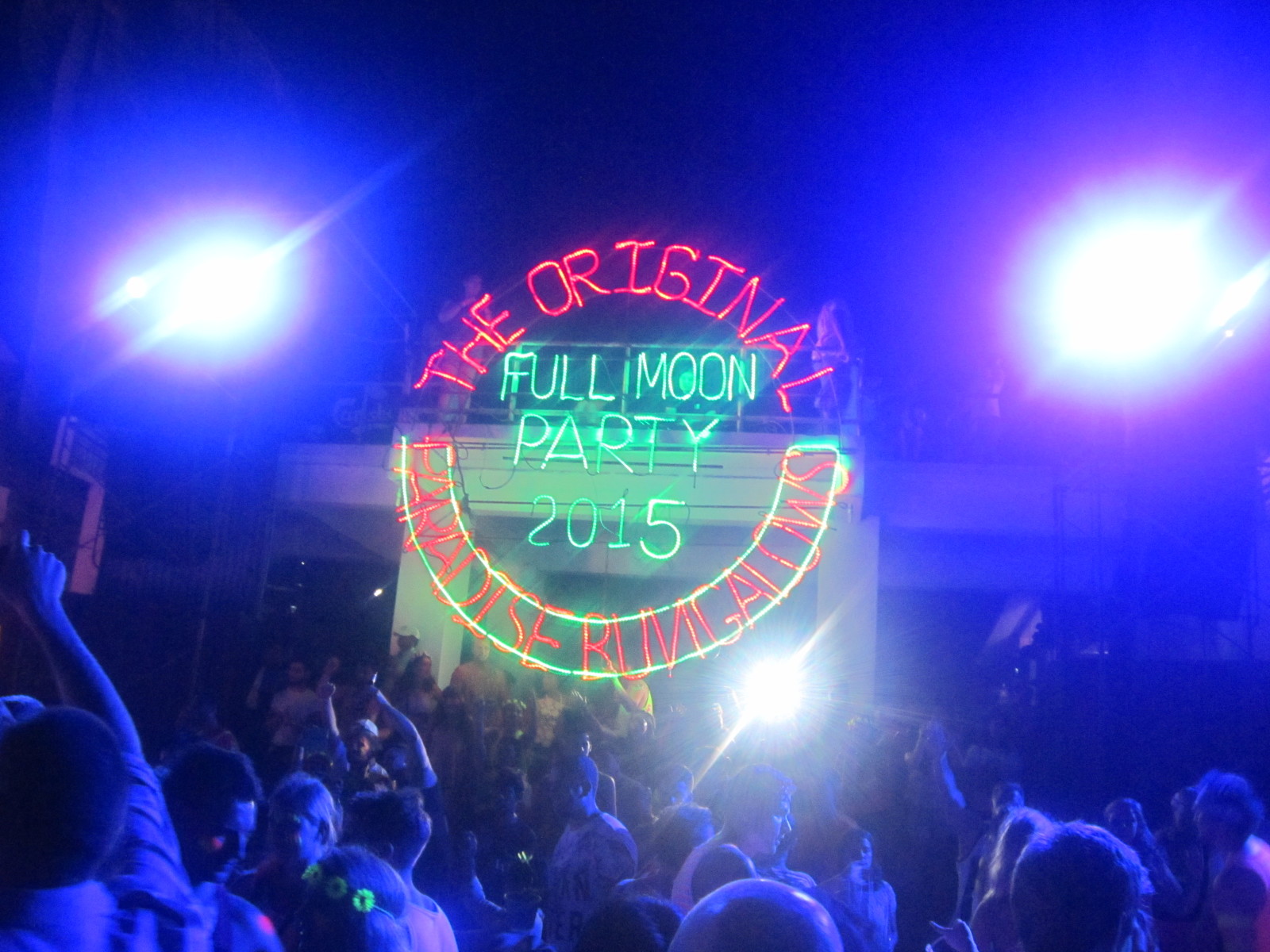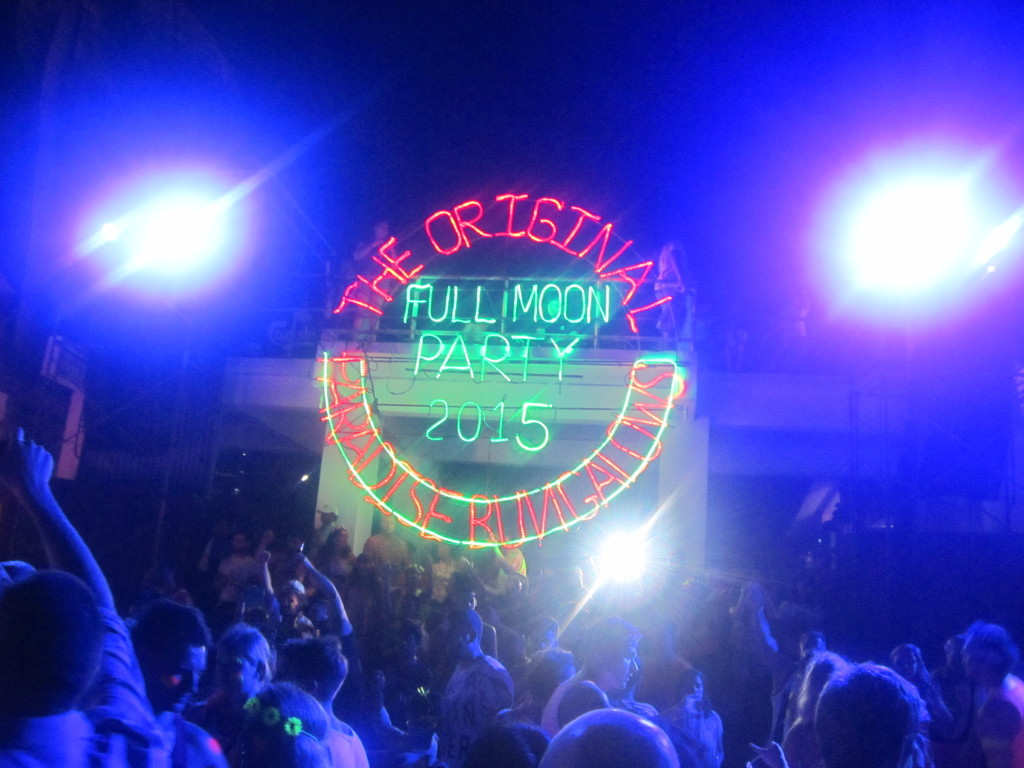 ---
2) Vang Vieng, Laos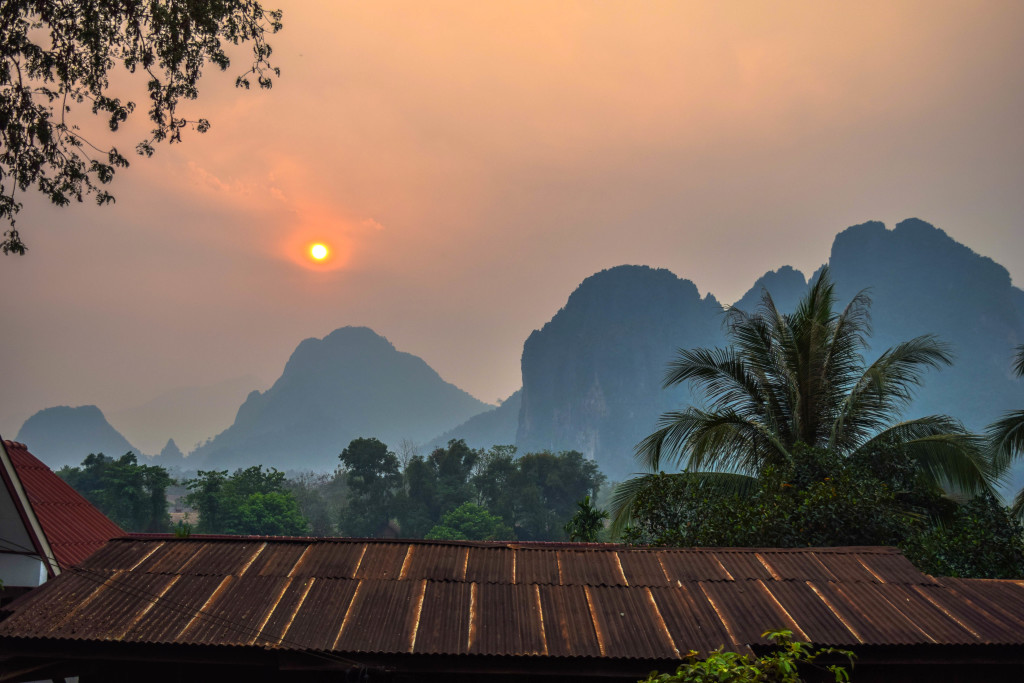 The hedonistic party capitol of Laos has gotten a bad reputation in the past decade for being a destination fueled by booze, drugs, sex, and irresponsible backpackers. Several years ago a few backpackers died in Vang Vieng, and the local authorities finally cracked down on the city.
While the current party status of Vang Vieng might be a little bit more tame than "the glory days"…have no fear– this place is still absolutely insane. If you're not careful — you will lose your mind.
Tubing in Vang Vieng is an absolute blast. It's basically a bar crawl, but instead of walking from place to place, you float down your tube (beer in hand), and get pulled back to the mainland with a rope at the next bar. The backpacker vibe is awesome. Everyone is here to meet people, drink, and have a good time.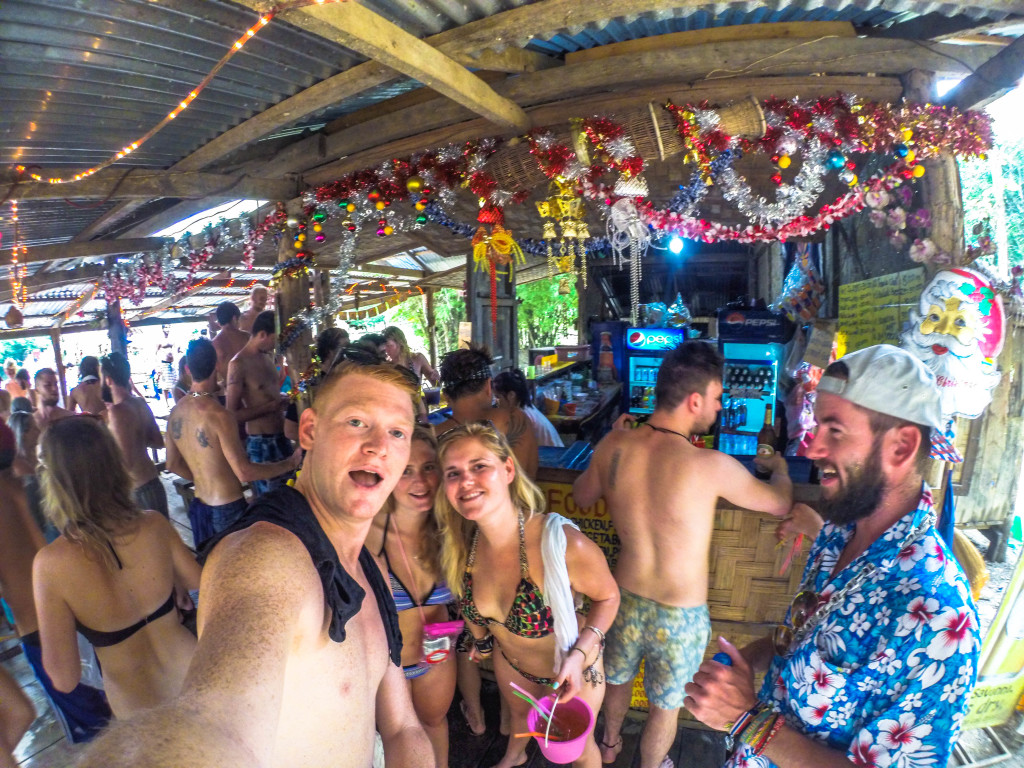 When you're not tubing, you'll most likely find yourself paryting at one place — SAKURA BAR. The motto of this place is "Drink Triple, See Double, Act Single." This place gets ridiculous at night, and you'll definitely love it. They offer free alcohol every night before 8 P.M, decent drink specials, and sell large laughing gas balloons.
If you happen to find yourself in Vang Vieng on a Friday night — make sure you check out the weekly Jungle Party. It's about a 15 minute drive away from the main strip, but there is free transportation available outside Sakura bar. The venue is really cool, the party lasts all night, and it's amazing underground house music. Don't miss out! They also sell mushroom shakes there if you're feeling like taking a trip down the rabbit hole.
Best Party Hostel in Vang Vieng
Real Backpackers Hostel – no matter where you stay in Vang Vieng, it's going to be a wild time!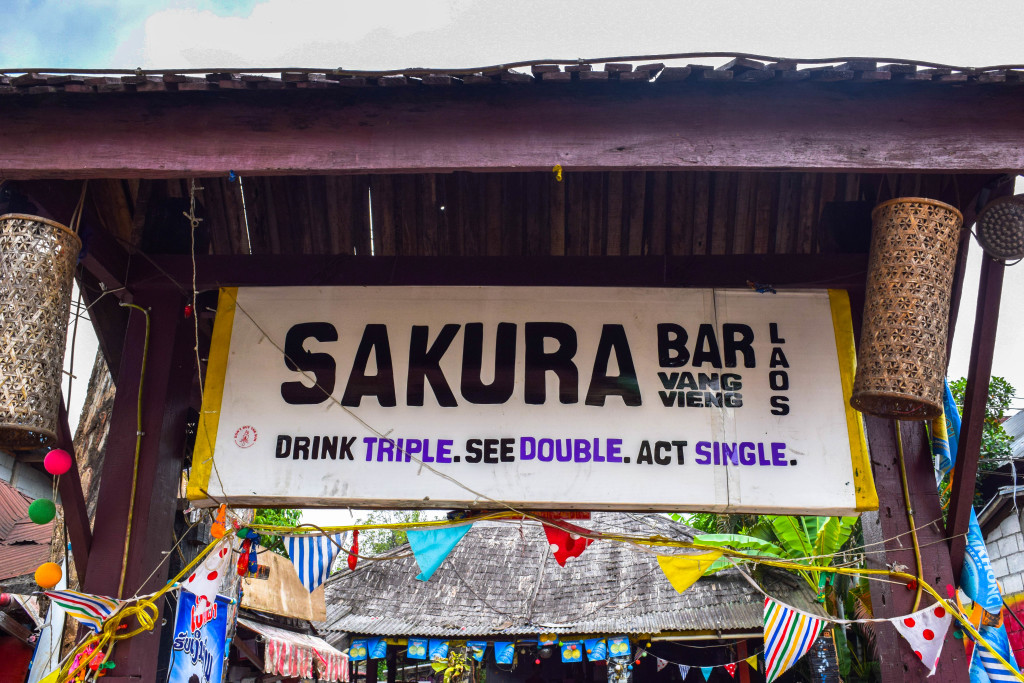 ---
3) Gili Trawangan, Indonesia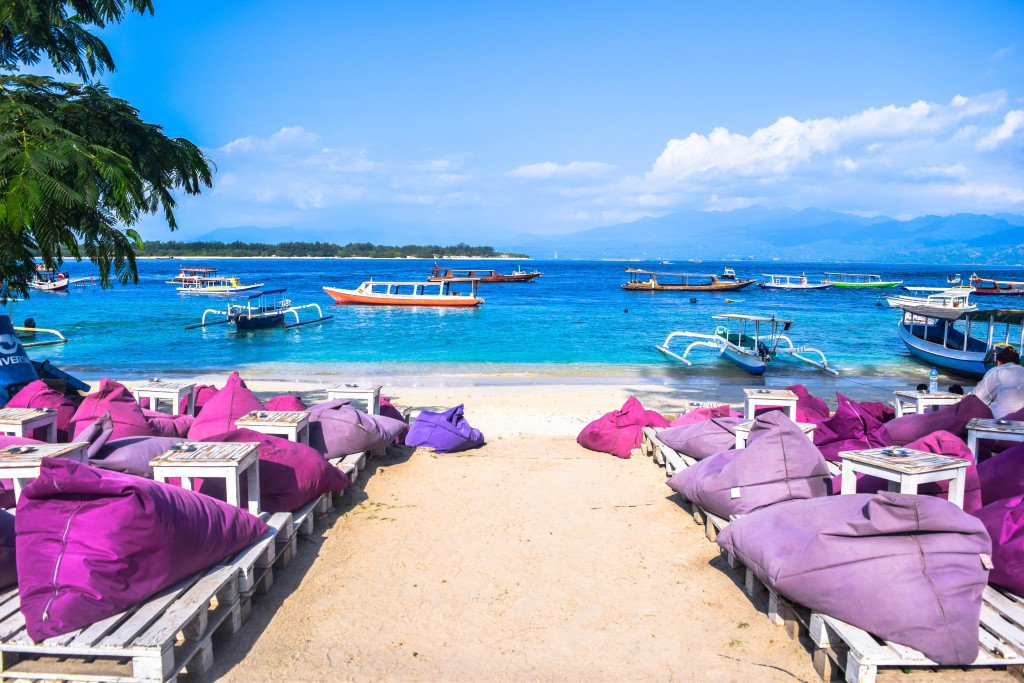 The largest of the three Gili Islands has been nicknamed "The Party Island" — and for a very good reason. Gili Trawangan isn't just one of the most beautiful places in South-East Asia, it's by far one of the craziest places to get your drink on. There is a "weekly schedule" on the island for which bars / clubs to go to, and each and every one of them is a pretty damn good time.
As well, Gili Trawangan has two booze cruise parties that are too epic for words. You join dozens of other young backpackers on a beautiful boat, sail around idyllic islands, and listen to amazing music. The booze can get really pricey, but it's all worth it for the experience. The atmosphere on the boat is awesome, and watching the sunset while sailing around Indonesia with a bintang in your hand is something you'll never forget.
Best Party Hostel on Gili Trawangan
Gili Castle (formerly known as Gili Backpackers) – I used to work here and lead pub crawls! It was tons of fun, and I ADORE this hostel. It's seriously so much fun! :-)
As well, Gili Trawangan throws their own version of the "Half-Moon" & "Full-Moon" Parties. It's basically just an all night beach rave about a 20 minute walk from the night market, but it's hands down one of the best parties on the island. If you're feeling like getting a bit more crazy, there are (practically legal) mushrooms on Gili Trawangan that are guaranteed to take your night to the next level.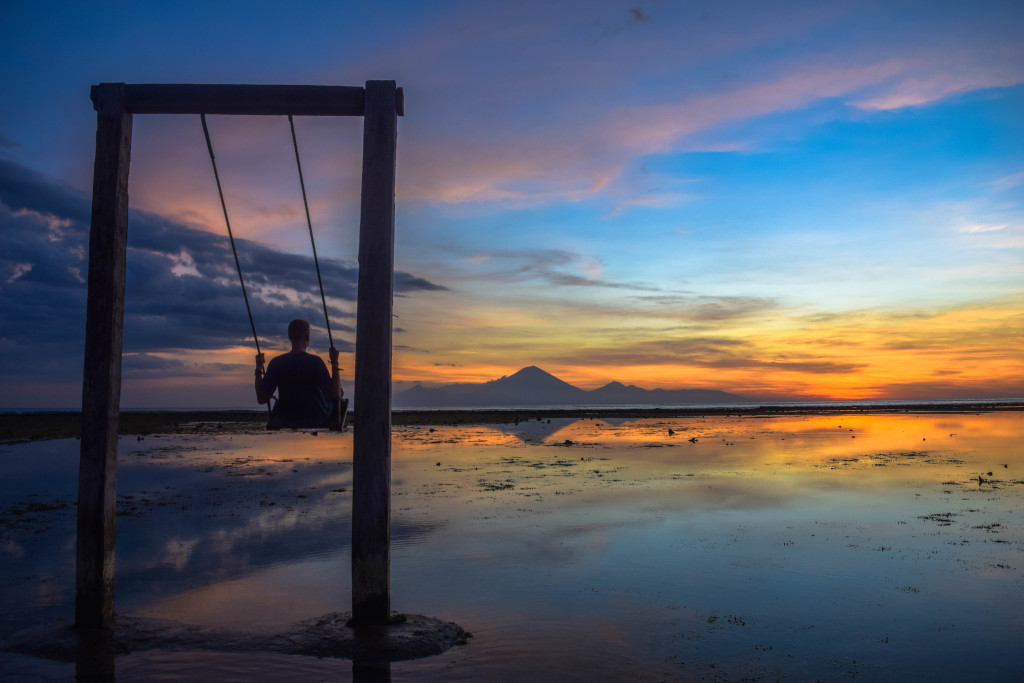 ---
4) Halong Bay Castaway Island, Vietnam
Halong Bay. Castaway Island tour. Pure debauchery. If you've been on this tour already — then you know what I'm talking about. If you're planning a trip to Vietnam and are keen for an intense 3-day booze bender while visiting one of the most stunning areas in South-East Asia, then you need to book this Castaway Island Tour. If you're a budget backpacker, than the price of the tour is probably going to piss you off. Yes, it's damn expensive — but it's honestly a really great experience.
However, I was fortunate enough to go on this trip with an incredible group of people and two awesome tour guides (Shoutout to Emilio & Tom). But just with any packaged group tour, I think a trip like this ALL depends on the people you travel with. I think the majority of the time you'll meet some great people, drink heaps, and enjoy sailing through one of Vietnam's highlights. With that being said, not everyone is lucky.
Best Party Hostel in Hanoi
Vietnam Backpackers Hostel Downtown – they've got so much to do, clean rooms, and central locations! Definitely a must for the backpacking crowd!!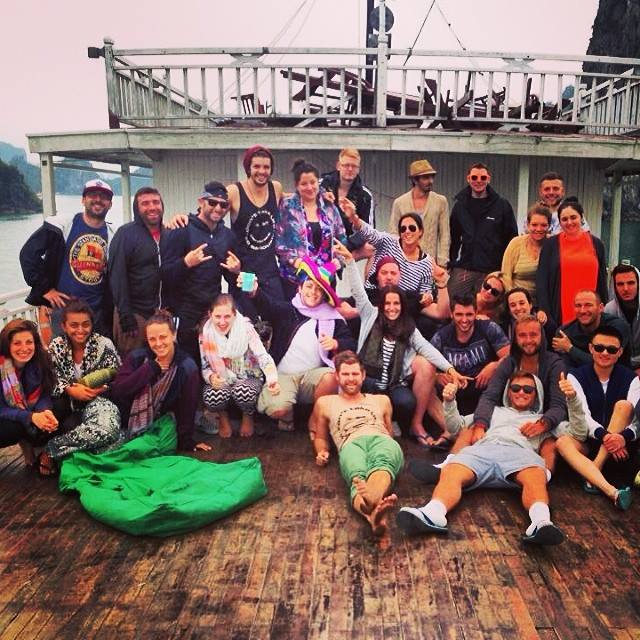 ---
5) Koh Phi Phi, Thailand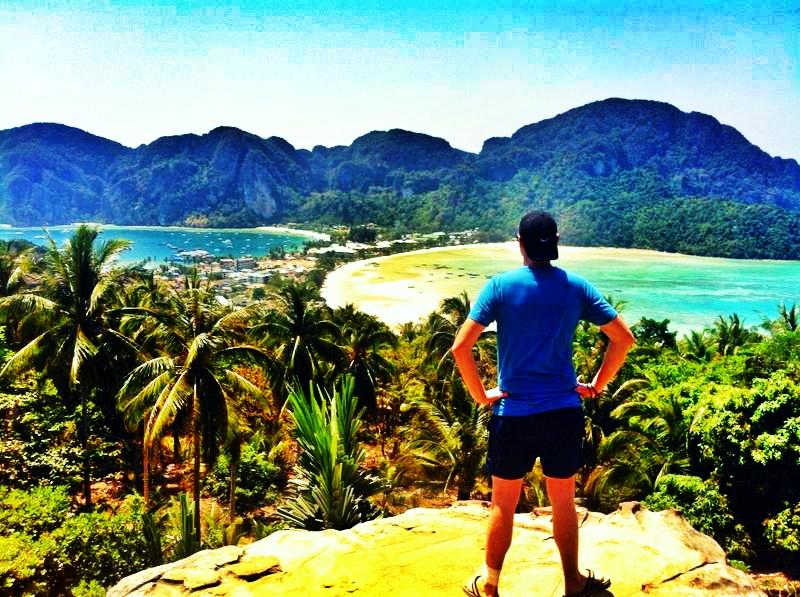 If people give you advice to skip Koh Phi Phi because it's become "too touristy" — ignore them. Yes, I'm sure visiting Koh Phi Phi 20 years ago was so much better, but it's definitely still one of the most beautiful places in Thailand! Oh, and Koh Phi Phi is one the craziest party island in South-East Asia.
In my opinion, Koh Phi Phi is a backpacker's paradise. There's tons of people everywhere, amazing and cheap food, and really great nightlife. It's not a big island, but there's still plenty to do and explore. The snorkeling trips are affordable and gorgeous, the view points are stunning, and you can't leave Thailand without visiting "The Beach"…right?
Best Party Hostel on Koh Phi Phi
Blanco Beach Bar – this place is insane!
Favorite Places to Party
Slinky's Beach Bar

— This is the place to be when the night comes to an end. Loud house music, laughing gas balloons, dancing on stages; this place is wild.

Ibiza Beach Bar

— This starts out as a really chill lounge bar during the sunset and couple hours after, but things start to pick up towards the end of the night.

Stones Bar

— Located right next to Ibiza Beach Bar, another great option to chill, play pool, and start your night.

Banana Bar

— Happy hour from 4:20-6:20, Movie's play every night at 7:00 P.M, then after the movie the party starts with beer pong, loud music, and tons of people.

Stockholm Syndrome

— A great place to beer pong, meet people, and party before making your way to the beach.

---
6) Bali, Indonesia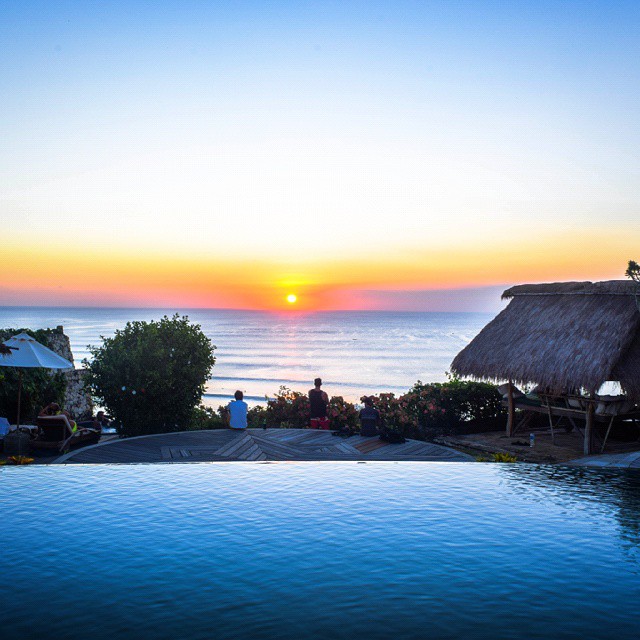 The "Island Of The [Party] Gods".
Bali is one of those destinations people visit once, and will keep going back for another stint in paradise. There's a little bit of something for everyone, and that includes those looking for an epic night of partying. There are basically two main areas to party in Bali:
Kuta, Legian, & Seminyak Area
Sky Garden — This legendary mega club is a place you need to party at least once during your time in Bali. There are so many different areas and rooms, and there are often big name DJ's that stop by and play. If you get in early, there can be ridiculous drink deals as well. Insider tip: Try to rooftop buffet for dinner…it's incredible and affordable.
Potato Head Beach Club — This probably needs zero introduction. Potato Head Beach Club is one amazing venue in Bali, and is definitely the best location for a bit of Bali day drinking! It is probably one of the most expensive places in Indonesia, but sometimes you have to forget about the budget, and "treat yo self". The pool is the perfect place to have a few beers, watch the sunset, and chat up other travelers. I'd recommend eating before you go there, because the food is heaps expensive.
Jenja — If you're in Bali on a Friday or Saturday night, this is where you want to go for a night of excellent house music. This is a much fancier and more elegant venue than the majority of other clubs in Bali. So dress in your finest, be ready to pay an entrance fee, and prepare for a quality clubbing experience. Check out their Resident Advisor page for upcoming DJ appearances.
Best Party Hostel in KUTA
Kayun Hostel – you'll meet some amazing people, go out for a wild night, and dance until the sun comes up in the Kuta clubs!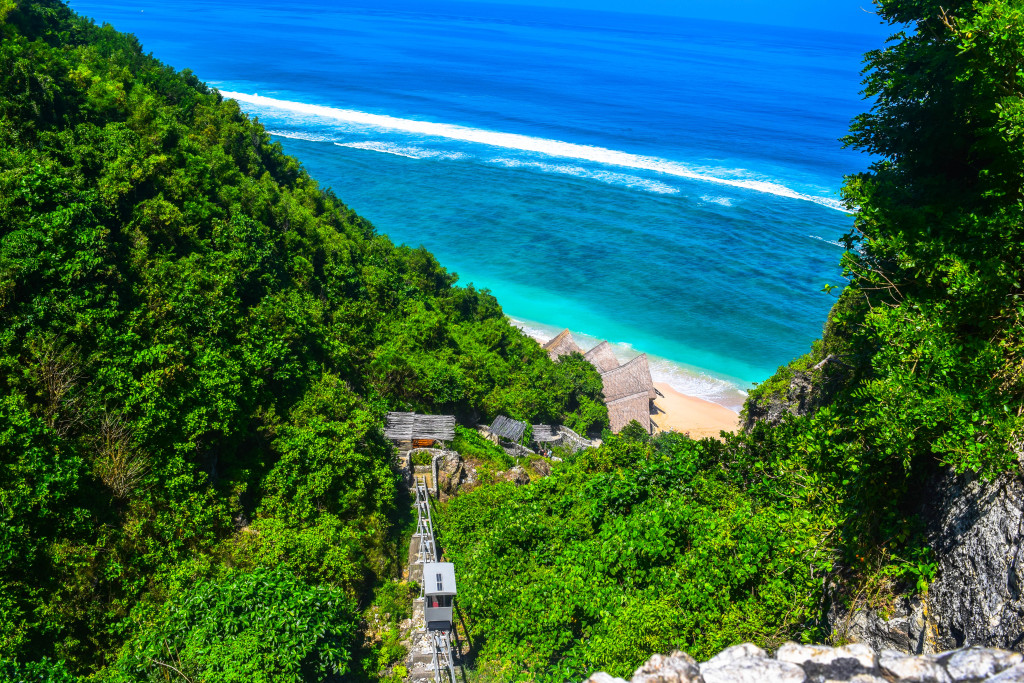 Uluwatu
Saturday Night Parties on Padang Padang Beach — Every Saturday locals, travelers, and head down to Padang Padang beach for an awesome night of live music, followed by DJ sets playing some commercial house tunes. Who doesn't love a beach party…?
Sundays Sessions at Single Finn — The absolute best party on Bali is found every Sunday night down at the beautiful Single Finn venue. Perched at the top of Uluwatu Beach, this is the ultimate place to enjoy dinner, drinks, and the gorgeous Uluwatu Sunsets. Around 9-10 P.M the place gets absolutely packed with beautiful people, and everyone dances to some top-notch electronic music. You won't be hearing any obnoxisous EDM here, just quality deep and tech house. Definitely have a few drinks before you go in, because it can turn into a pretty expensive night.
Best Party Hostel in Uluwatu
SR Hostel Uluwatu: If you're a backpacker on a tight budget in Uluwatu, then I'd recommend staying here at SR Hostel Uluwatu which has a free buffet dinner every night!! Great vibes, parties, and people!
---
7) Boracay, Philippines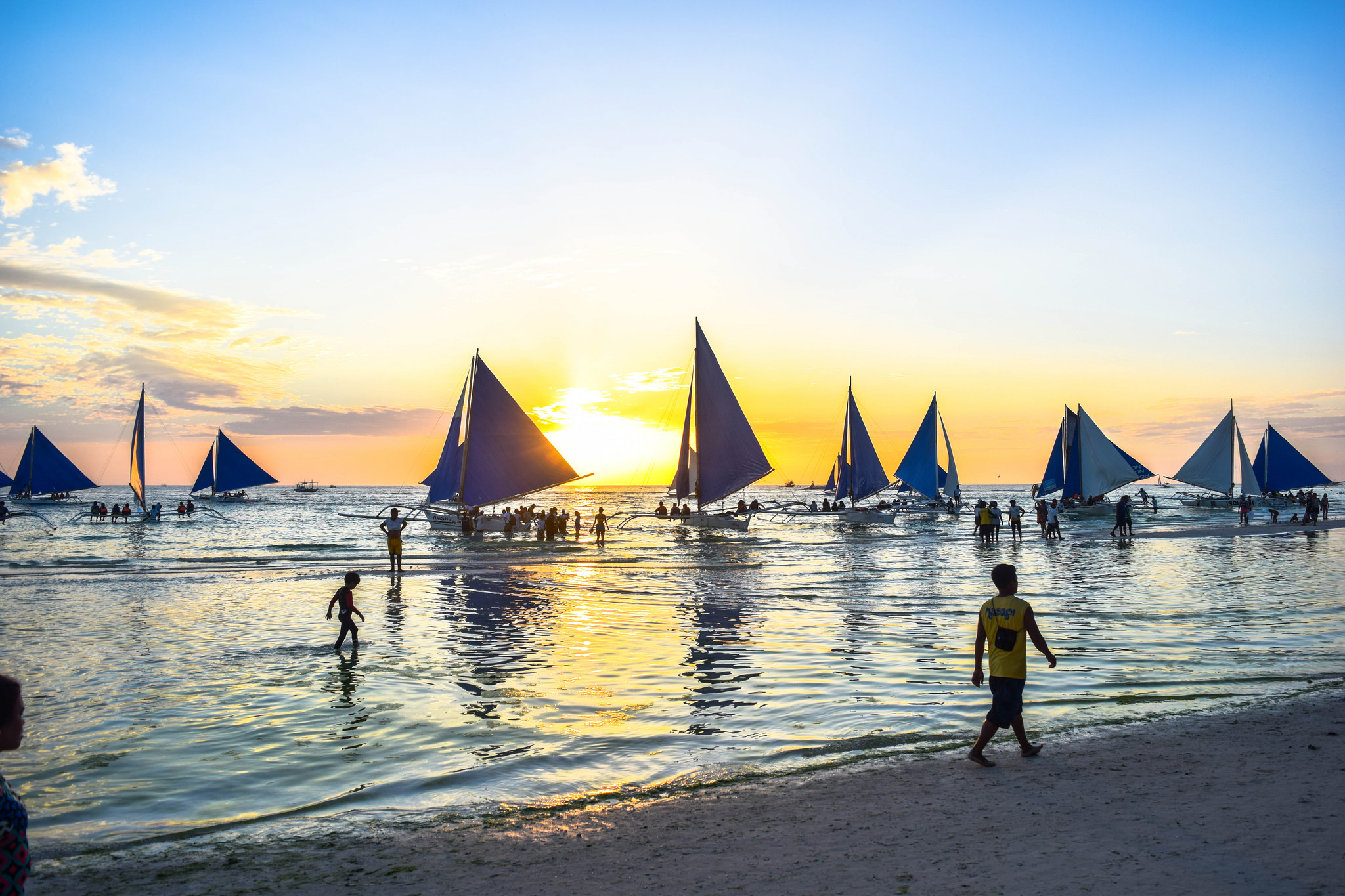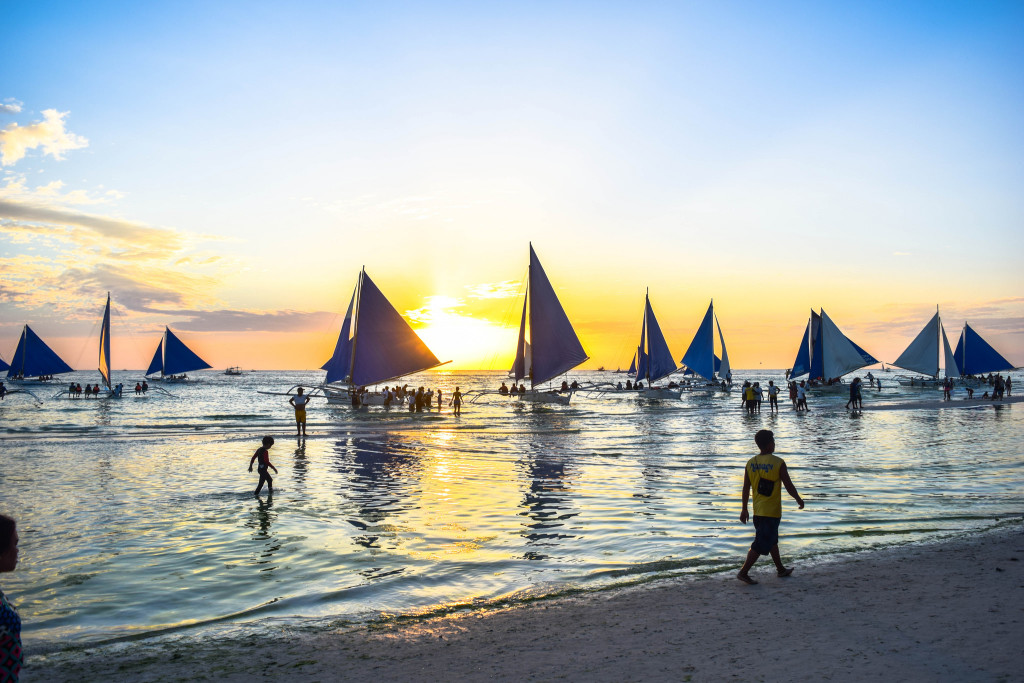 While Boracay might not be on the typical South-East Asia backpacker route, it's hands down one of the best places to party in South-East Asia. For starters, you have to experience The Boracay Pub Crawl. It's an absolute blast, and really does "Turn Strangers Into Friends! "
After that, you need to check and see if there is a party at Area 51: Top Secret Party Facility. It's an amazing venue away from the all main action, but there are only parties twice a month for the full moon and half moon parties. If this place isn't having an event during your visit, then check out what EPIC Nightclub has got going on.
There's tons of bars and nightclubs in Boracay to discover; it really just depends on what you are into and where the night takes you. Check out this Ultimate Guide to Boracay's Nightlife for a more comprehensive look at all your options.
Best Party Hostel on Boracay
W Hostel Boracay – this is definitely where I would stay when I go back to Boracay!!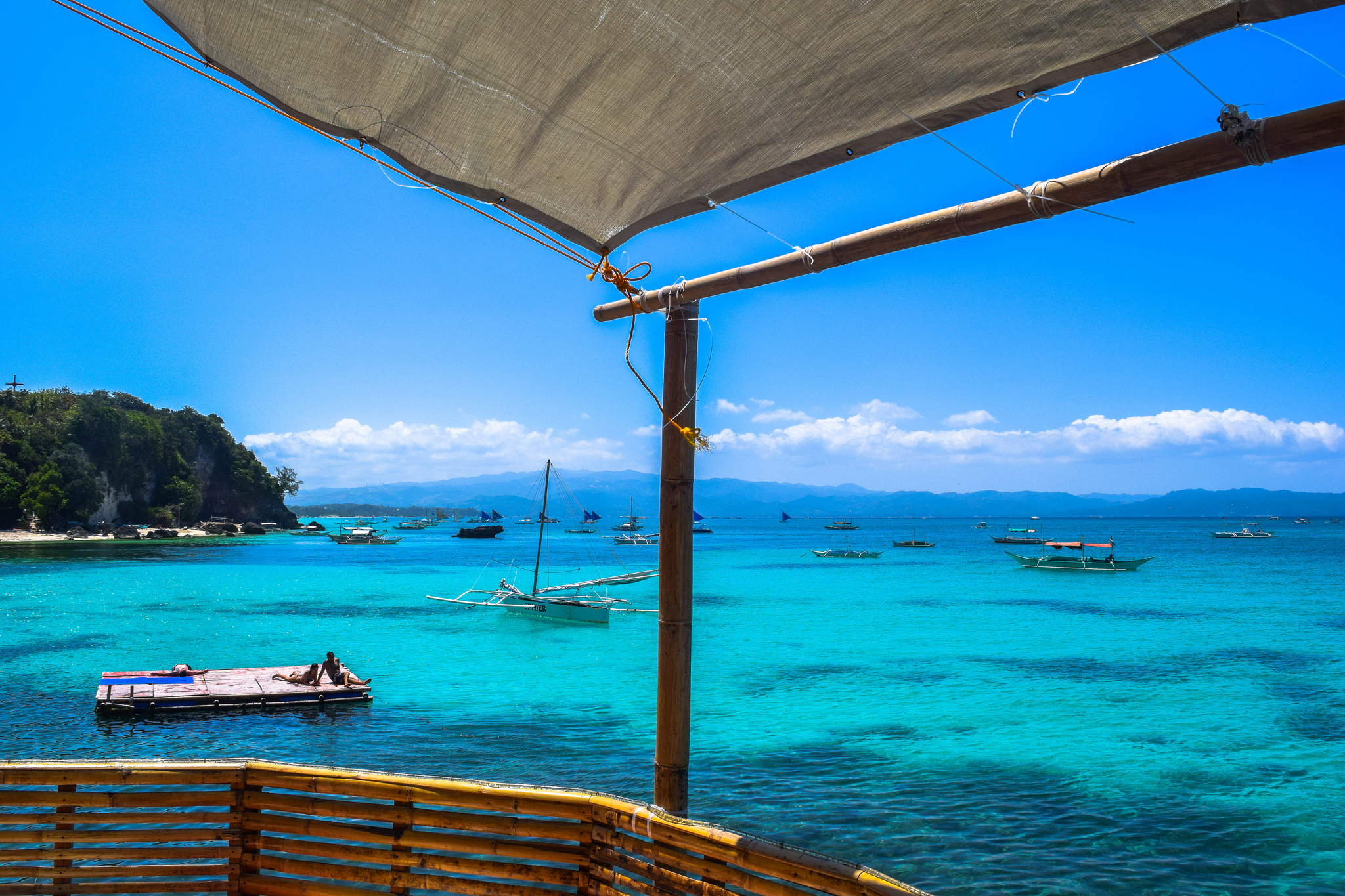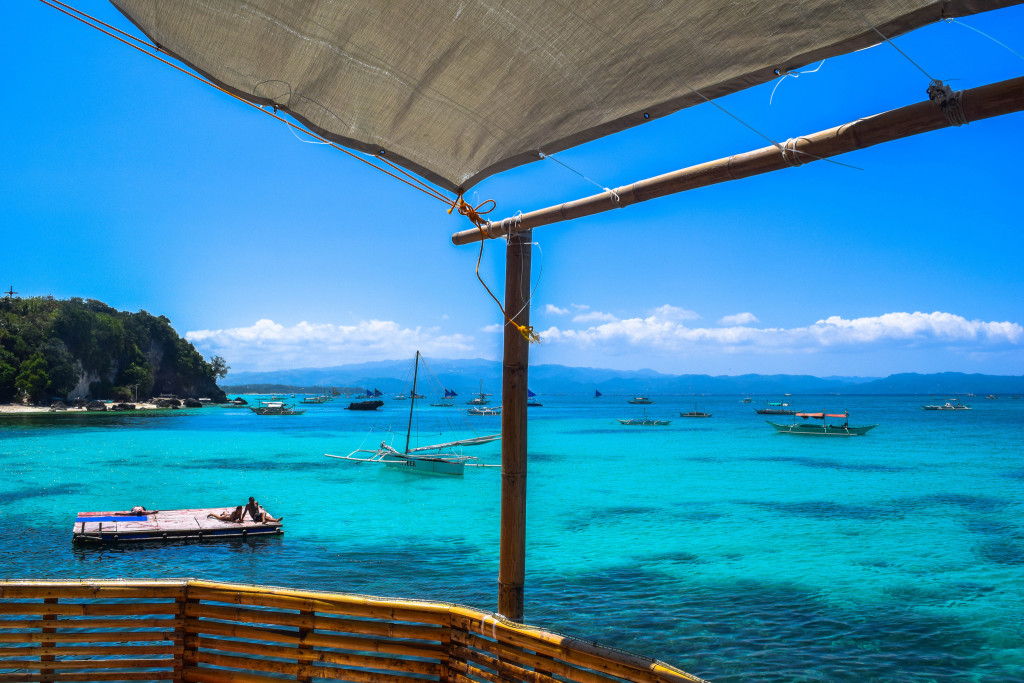 ---
8) Koh Rong, Cambodia
"Nothing Can Go Wrong on Koh Rong" is the motto of this Cambodian paradise. What is awesome about this place is that it can be exactly whatever you want it to be. If you want to relax, do nothing, and forget about all your worries; that's definitely possible. But for those looking for a good time, Koh Rong has a lively and active party scene. If there was one place to get to soon in South-East Asia, I would recommend Koh Rong. Things are changing quickly on the island, but it currently still has it's authentic charm.
Partying on Koh Rong is simply, all you have to do is walk up and down the main street, and follow the crowd.
When I was there, I spent a good amount of time at Vagabonds. Definitely swing by there for a drink or two, and then see what else is going on. The main stretch on Koh Rong isn't large at all, so it won't be too hard to find where the party people are at. As well as the above two islands, Koh Rong does offer it's own version of the Full Moon Party. There's no body paint or neon tanks, but there's a party tucked away in the jungle with amazing underground house music.
No matter whether you want to party or not, just make sure you get to Koh Rong. It's definitely one of the most beautiful places in all of South-East Asia!
Best Party Hostel on Koh Rong
Suns of Beaches – Basic accommodation, but great vibes.
---
9) Langkawi, Malaysia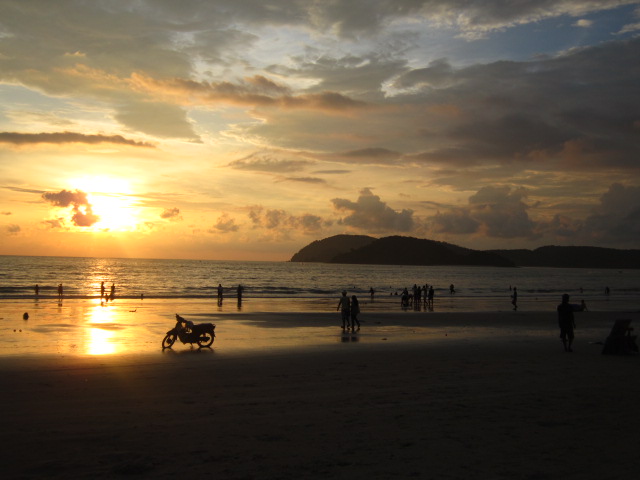 Two words come to mind when I think of Langkawi: TAX FREE. Yup, Langkawi is a "duty-free" island, which makes the price of alcohol extremely cheap compared to the rest of Malaysia. During high-season, this place is packed with budget backpackers and vacationers looking for a good time.
While there may not be heaps of options of party locations, that doesn't really seem to matter here. There are a few beach bars located on Pantai Beach which can be a great place to start the night with a few cocktails. My recommendation would be to grab dinner and drinks at Yellow Café. It's a popular spot on the island, and should be visited at least once during your time on the island.
After grabbing dinner and a few drinks, you pretty much one have option — Sunba Retro Bar. This is where you will be doing the majority of your partying when you're on Langkawi. This is pretty much the only club on the island, and it's a damn good time. It's not the biggest venue, but the music is excellent, and it's a great atmosphere inside. If you're not feeling like heading inside the club, just check out the bar right next door to Sunba.
Best Party Hostel on Langkawi
Langkawi Dormitorio – Clean rooms, well located, and party vibes on point!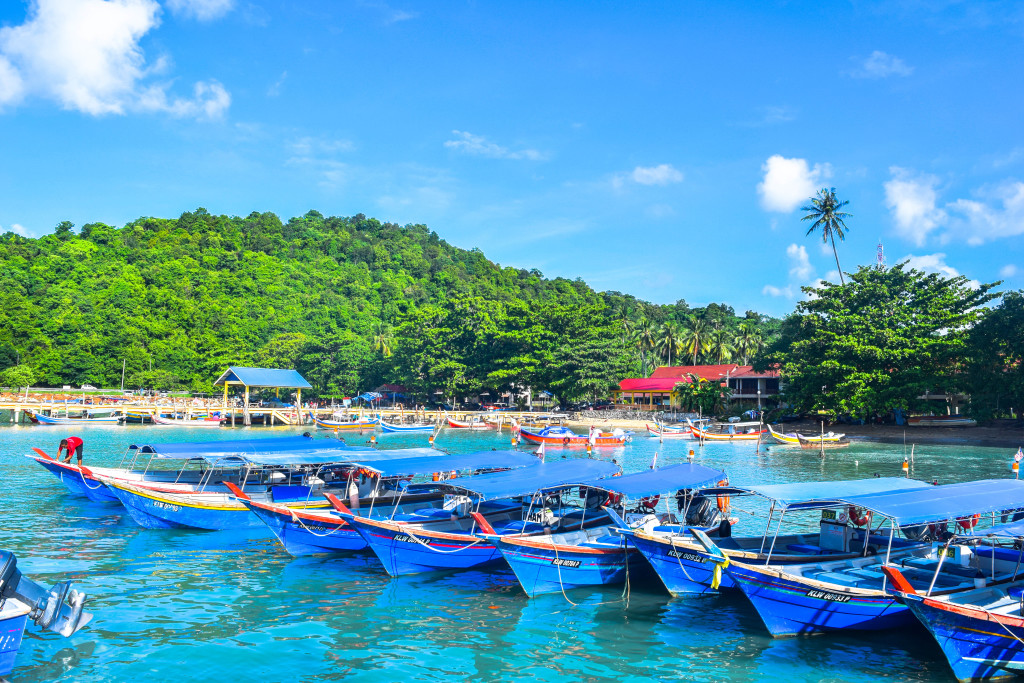 ---
10) Koh Tao, Thailand
While backpackers normally flock to Koh Tao for the affordable PADI Scuba-Diving courses and rich marine biodiversity, that is only one of the aspects that make this island a must visit during your travels in Thailand.
Koh Tao nightlife is serious business — and you're in for a couple crazy party nights here. For starters, you can't go wrong the Koh Tao Pub Crawl. This is a great way to see some of the best bars on the island, attend a Lady Boy Cabaret, and meet fellow travelers. The pub-crawl guides always do an excellent job of keeping everyone entertained, there are drink specials at each stop, and you'll be looking good rockin' a "Koh Tao Pub Crawl" singlet. Don't miss out.
Maya Beach Club — The only bar on Koh Tao that has real DJs every night and a "NO CHEESE" music policy, top shelf cocktails and an imported wine list. Both local and imported DJs spin tunes every night from sunset till late from a variety of genres that aren't crappy remixes.
The Castle — Probably the most well-known and respected venu on the island, The Castle is where you go for a quality night of dance music. It's about a 10-15 minute drive from Sairee Beach, and they host events about 2-3 times per week.
The truth of the matter is that you really don't even need any advice about partying on Koh Tao — it's as simple as partying hopping up and down Sairee Beach. There are so many different venues playing a variety of different styles of music, fire jump roping (be cautious), and heaps of people to meet. It's a damn good time.
Best Party Hostel on Koh Tao
Goodtime Beach Hostel – it says it all in the name. Good. Damn. Times. On. The. Beach!
---
11) Sihanoukville, Cambodia
The main beach area of Cambodia "snookville" is definitely one wild and crazy party destination. Start your evening with dinner & drinks at one of the many beachfront restaurants on Serendipity Beach. Enjoy a beautiful sunset, a game or two of pool, and few pints of delicious Angkor beer.
The Two Main Party Hostspots in Sihanouvkville are the Dolphin Shack & JJ's Playground. There are several other bars and places to hang-out, but if you're out partying in Sihaouvkille, there's a 99% chance you'll end up at one of two of these bars. They both play similar music of EDM, hip-hop, and throwback classics. The beers are cold, the drinks are cheap, and the backpacker vibe is amazing. You'll drink, meet people, and will have one epic party night.
Both the Dolphing Shack & JJ's Playground offer their own Booze Cruise — which I highly recommend. Is there anything better than drinking while on a boat?
Best Party Hostel in Sihanoukville
Monkey Republic – This place is WILD!!
12) Kuala Lumpur, Malaysia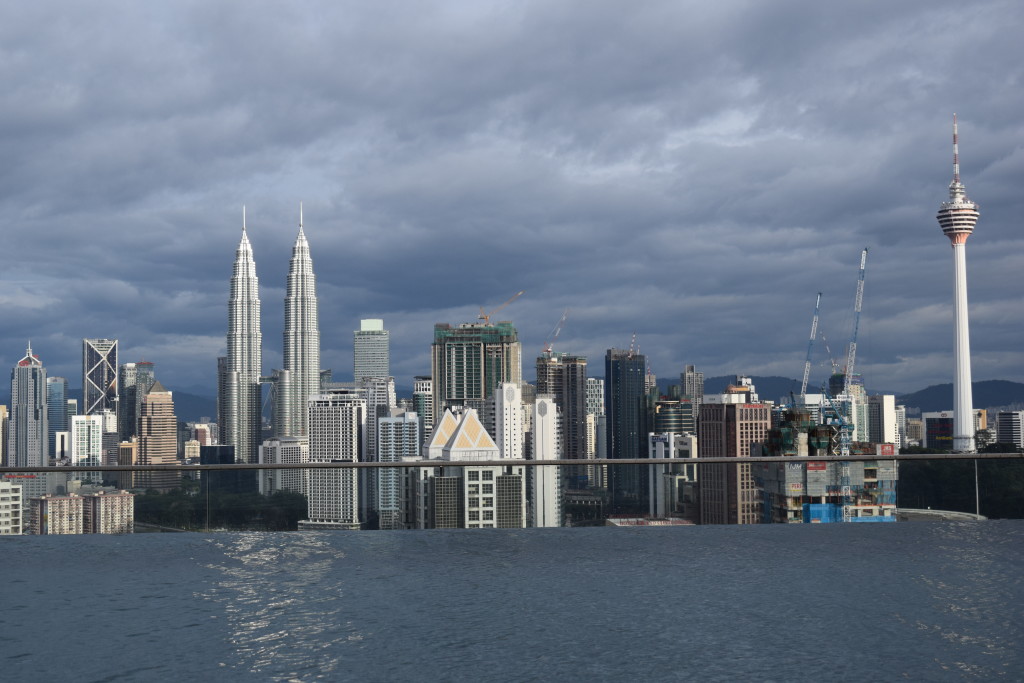 The capital of Malaysia might not be the most popular place to party among South-East Asia backpackers — but this is one incredible city with an abundance of amazing nightlife options! I've spent a decent amount of time in Kuala Lumpur, and I've had some really great nights out partying in the city.
Bar 51: Welcome to your Kuala Lumpur starting point for the night. Bar 51 is an upscale restaurant and bar located in the heart of Changkat Bukit Bintang, the main nightlife area in Kuala Lumpur. There is one reason you come to this place — 5 MYR MOJITOS. Yeah, that's right. You can get delicious mojitos for only $1.25 USD. This special ends at 9 P.M every night, but you can order as many as you'd like right before the time ends, and they'll keep bringing them out to you. It's an amazing spot, perfectly located, with very friendly staff. If you're going to Kuala Lumpur and fancy a delicious and cheap mojito, then definitely cruise over to Bar 51.
Heli Lounge: This was once a helipad, but they turned it into a bar with amazing 360 degree views of the city. Pretty cool concept, yeah? While it might not be the best place to spend your entire evening, it's definitely a must-visit during your visit to KL. Go to the top about an hour or so before sunset, enjoy the views during the day and the night, and then head out for the night.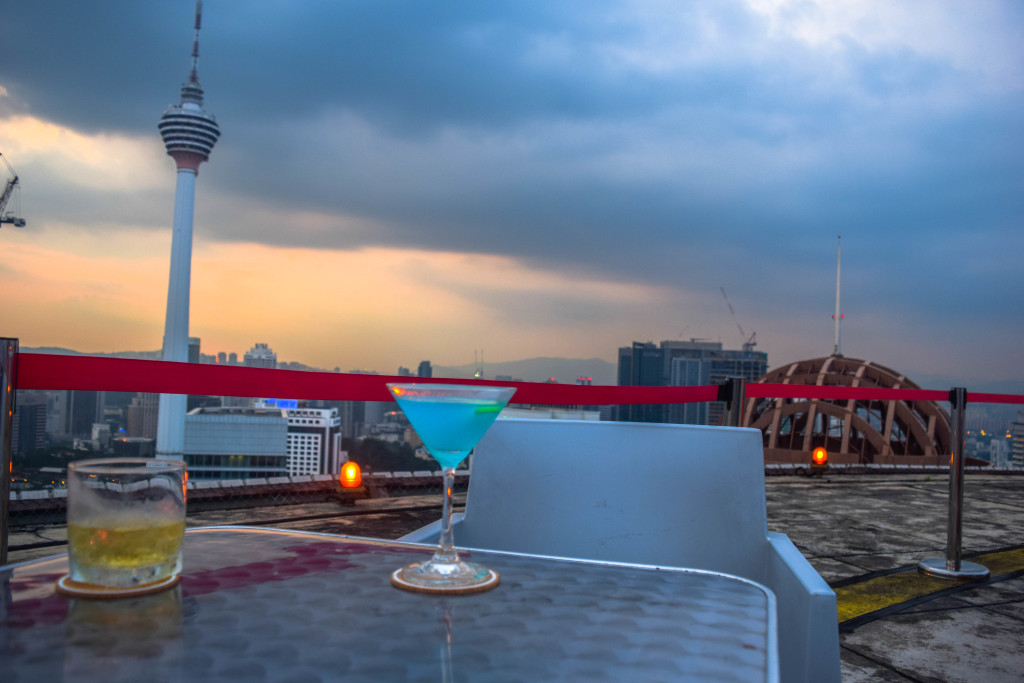 Reggae Mansion Rooftop Bar: For all the backpackers out there, this is definitely one of the most popular hostels in all of South-East Asia. The rooftop bar is a perfect place to spend a night drinking, even if you're not staying there! There is a DJ playing some fun dance music, a pool table, and decent drink specials.
Zouk KL: Kuala Lumpur's best mega club!
UnderNINE: For underground house and techno fans — this is where you'll want to go. The crowd is really great, the music is excellent, and the venue is pretty cool.
Best Party Hostel in Kuala Lumpur
Reggae Mansion – I spent my 25th birthday here, and had a ton of fun! Really cool party hostel!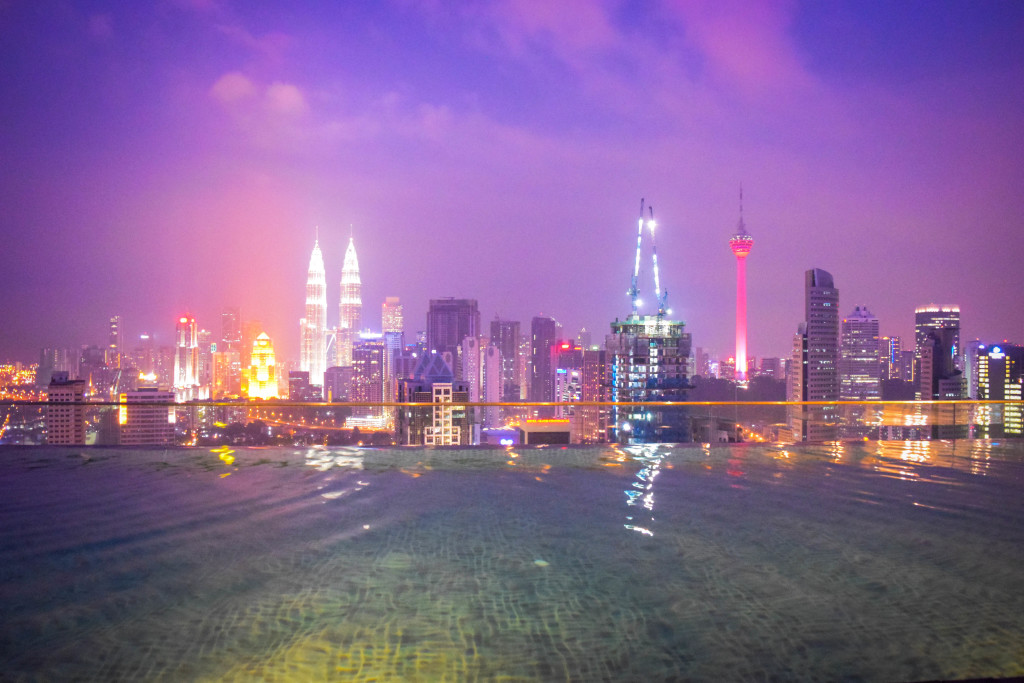 ---
13) Pai, Thailand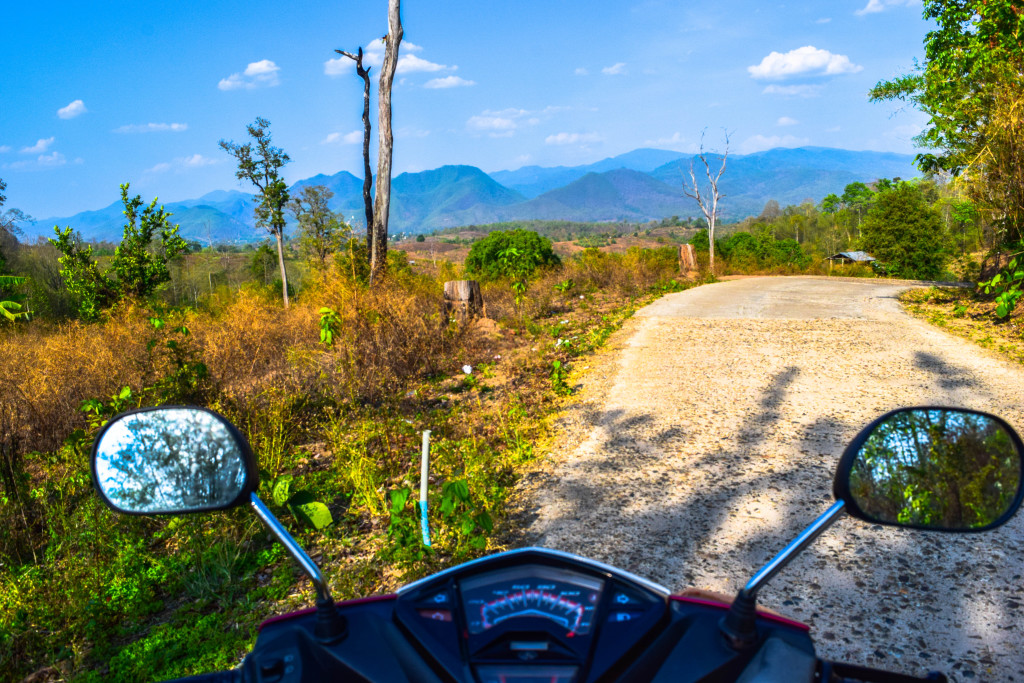 Haven't you heard…? Pai is incredible! When you're traveling around Thailand, it will be pretty damn hard to find someone who doesn't think Pai is absolutely amazing. That includes me. The whole city is so relaxed and chilled out. It's truly a backpacker / hippy's paradise. While many will often claim that "Pai is not what it used to be" or "Pai has changed so much" — the Pai that I visited was still pretty awesome. These were some of my favorite spots in Pai.
Pai Pub

— A really great spot. Decently priced beers and mixed drinks, a cool outdoor patio, a well kept pool table; a perfect place to spend a couple hours and start the night. Located just a couple minutes away from the night market, you can't miss the giant Kangaroo out front.

Sunset Bar

— This a great place to chill and spend a few hours. You'll most likely encounter some people enjoying a joint, or maybe see some people tripping on a mushroom shake. It's a cool place, good music, and you'll definitely enjoy having a drink or two. It's also a great place to watch the sunset (obviously). Located on a quiet street about a 10 minute walk from the main area of Pai.

Don't Cry Reggae Bar

— This is the "after-hours" bar that does not close until really late at night. When all the main bars and pubs close in Pai, the party crowd all flock to this one venue. Awesome music and vibe, including a campfire — you'll love ending your night at Don't Cry.
Moon Parties — In the past few months, Pai has been throwing their own version of the full moon, half moon, and black moon parties. They don't happen all the time, but if you're there, you should ask around or check online and see if there is one happening.
Best Party Hostel in Pai
The Famous Pai Circus School – learn some new tricks, swim in the epic pool, and party it up Pai style!

---
14) Perhentian Kecil, Malaysia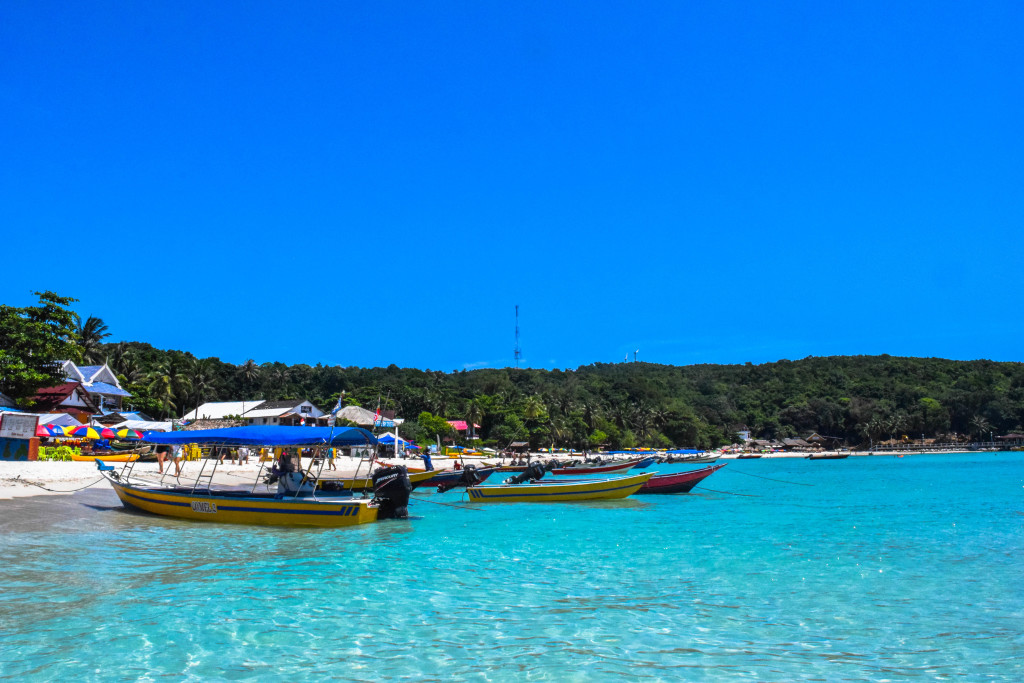 While the Perhentian Islands aren't really a destination people normally visit for it's crazy nightlife — there are still opportunities for amazing nights out drinking.
Perhentian Kecil is known as the "backpacker island", and that means that it's pretty damn easy to meet fellow travelers. The last time I visited I only planned on staying for 4 or 5 days, but I ended up staying 10. I met an amazing group of people, and practically every night we went out drinking!
What's nice is that it's just very simply to party here because people only really go to 2-3 different spots.
Panorama Bar: Probably the most lively spot with a really great atmosphere. They also have AMAZING PIZZA that you should try at least once. They are kind of expensive at 25 MYR, but definitely worth it.
Monkey Bar: This is just across the street from Panorama bar, and where I bought the majority of my alcohol. You could buy a bottle of rum, cups, ice, and two mixers for 45 MYR — which is a really great deal there!
Pirates of Perhentian: This is where the fire-show is held every night at 10:30 P.M. The entertainment is really great, they play great music, and this is where pretty much everyone who is going to party for the night will be. You sit down on the beach, order some beers, smoke some hookah, and watch some extremely talented people play with fire.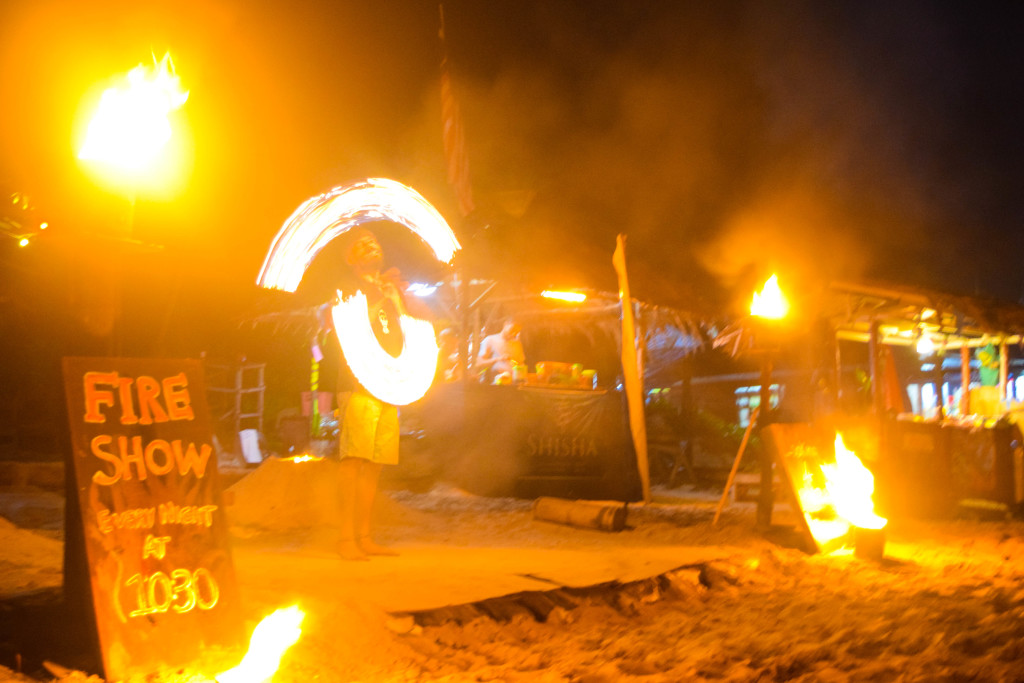 ---
15) Bangkok, Thailand
Last but not least, how could I write a post about partying in South-East Asia without mentioning "the Big Mango". Bangkok is the "Gateway to South-East Asia", and there's never a dull moment when you're exploring the city, and the nightlife is guaranteed to make you come back for another round.
Khao San Road: Street food, shopping, and tons of amazing restaurants and bars. Partying on Khao San Road is something that every South-East Asia backpacker must do before the end of their trip. You'll drink towers of Chang Beer, listen to loud electronic music, and meet fellow travelers from around the world.
Sukhumvit: This major road / district in Bangkok is your best option for when it comes to a good night out partying in Bangkok. There are tons of different clubs in Sukhumvit , it's almost intimidating trying to choose which one to go to. My advice would be to check out Resident Advisor Thailand to see if there are any special events coming up. A few clubs I have been to and would personally recommend would be BASH, Insanity, and Spicy.
While you're in Bangkok, make sure you visit all the temples, various shopping markets, and hit up a rooftop bar!
Best Party Hotel in Bangkok
NapPark Hostel – there's tons of epic party hostels in Bangkok, but this is by far the best!
---
These are the Best 15 Places to Party in South-East Asia!!
PIN ME!!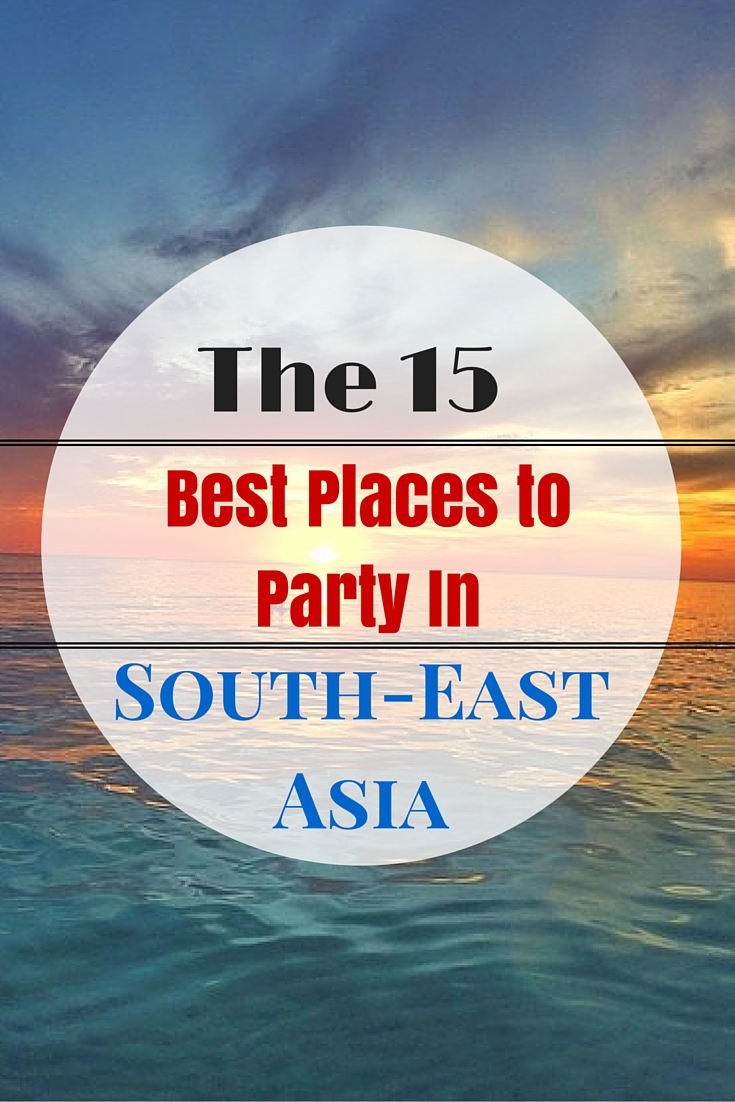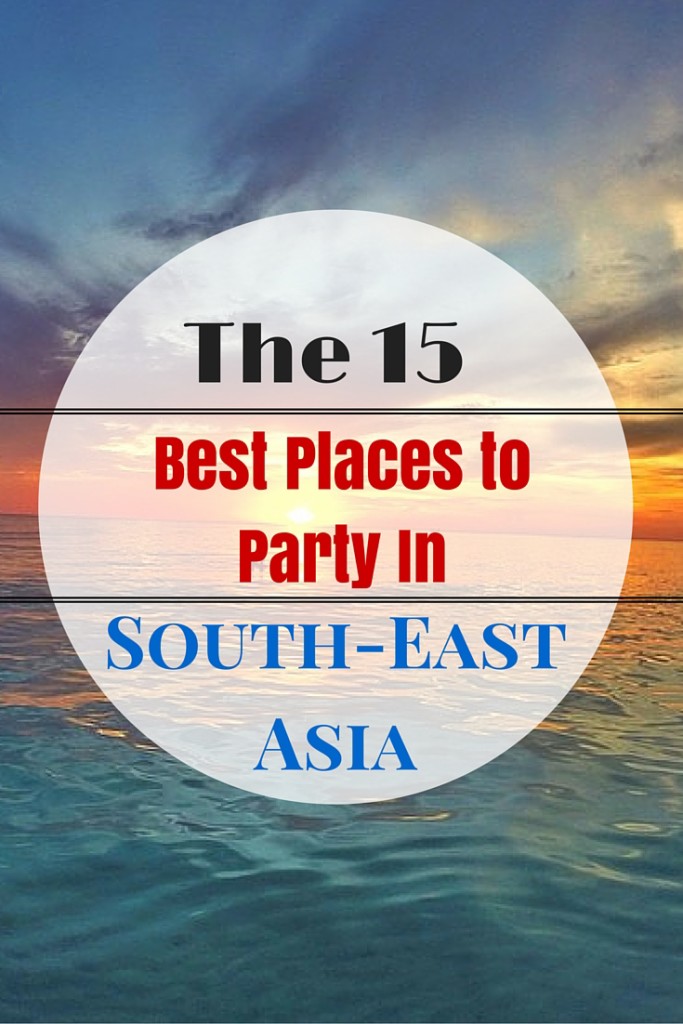 Agree? Disagree? Think I missed a certain destination?
Let me know in the comments sections!
SHARE THE PARTY!
https://www.jonesaroundtheworld.com/wp-content/uploads/2015/03/IMG_0579.jpg
2000
3000
Dave
https://www.jonesaroundtheworld.com/wp-content/uploads/2017/03/logotry-1-1-300x106.png
Dave
2015-11-29 06:08:06
2020-09-17 20:12:16
The 15 Best Places To Party in South-East Asia