Are you looking for the best rainbow quotes to accompany a photo or simply to inspire you? I've collected the ultimate list of quotes about rainbows that would be perfect for Instagram captions!
As the saying goes, "after every storm comes a rainbow," and who doesn't love witnessing a beautiful rainbow? There are few natural events that are as spectacular! I've seen many incredible rainbows along my travels, and I bet you have too!
Rainbows are a true inspiration for many – from celebrities and writers to songwriters and filmmakers. And thankfully, we have the quotes to prove it!
These are the best rainbow quotes in English to accompany that epic photograph or to simply leave you feeling all warm and fuzzy, as well as inspire you to tackle your storm!
Check out my list of the best journey quotes for more inspiration.
---
The Best Short Rainbow Quotes
When it comes to rainbow quotes, short and simple may just be the way to go. These sayings may be short, but they're some of the most beautiful, touching, and well-crafted quotes I've heard.
1) "And when it rains on your parade, look up rather than down. Without the rain, there would be no rainbow."
― Gilbert K. Chesterton
2) "Love was a feeling completely bound up with color, like thousands of rainbows superimposed one on top of the other."
– Paulo Coelho
3) "All the best things in life are free: love, smiles, friends, family, pets & companions, thoughts, sunsets & sunrises and especially rainbows."
– Anthony T. Hincks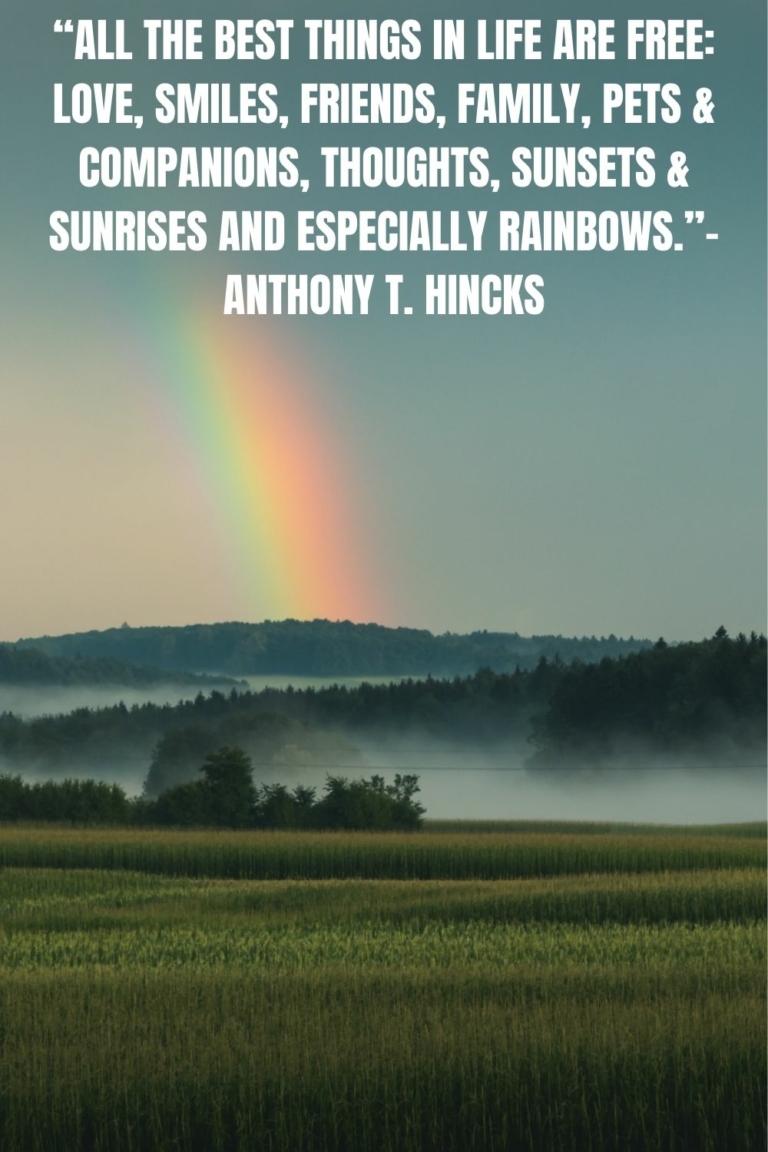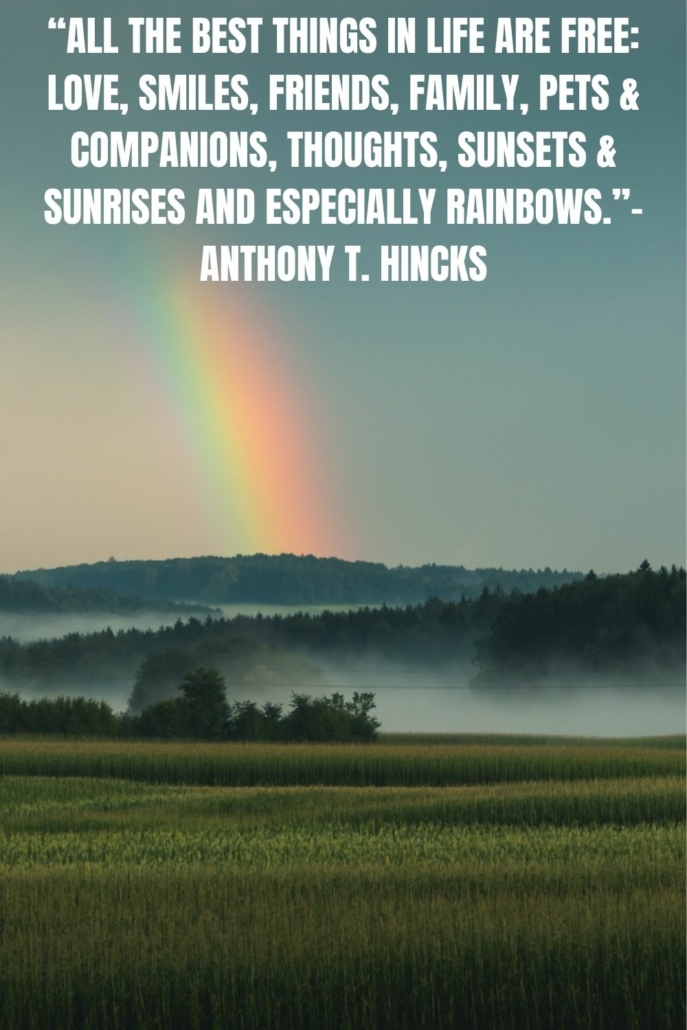 4) "I kind of view everybody like a rainbow. Everybody on the planet has all the colors of the rainbow inside."
― Alexia Fast
5) "It takes sunshine and rain to make a rainbow. There would be no rainbows without sunshine and rain."
― Roy T. Bennett
6) "A rainbow is a promise of sunshine after rain. Of calm after storms. Of joy after sadness. Of peace after pain. Of love after loss."
– Unknown
7) "No two people see the rainbow the same way…"
― Anonymous
8) "When there is love in the heart, there are rainbows in the eyes, which cover every black cloud with gorgeous hues."
— Henry Ward Beecher
9) "Rain, rain, and sun! a rainbow in the sky!" – Lord Alfred Tennyson
10) "Dare to love yourself as if you were a rainbow with gold at both ends."
― Aberjhani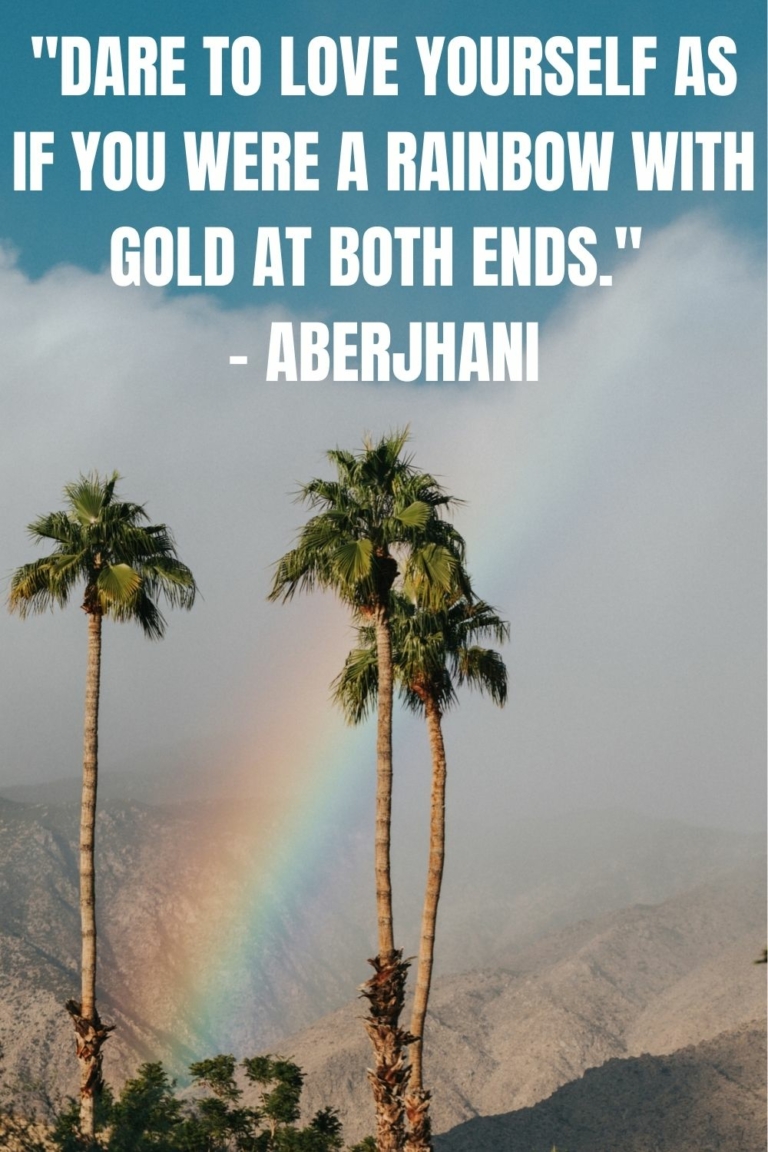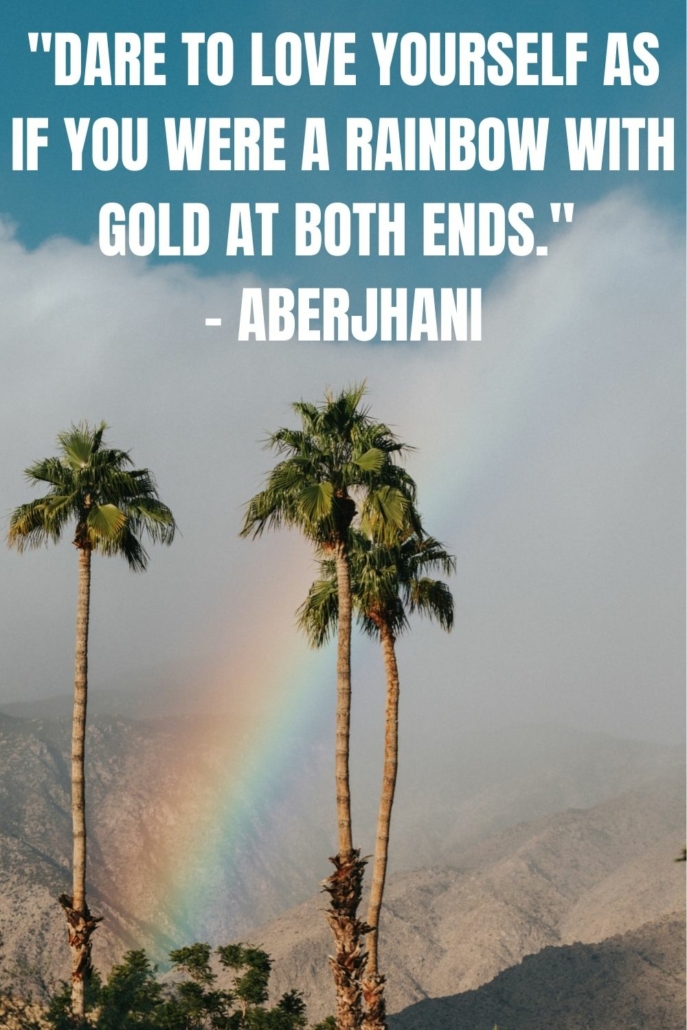 11) "A heart of gold is where the rainbow begins."
– Tammy L. Kubasko
12) "Love can form a double rainbow, connecting two hearts."
– Unknown
13) "One can enjoy a rainbow without necessarily forgetting the forces that made it." – Mark Twain
14) "Happiness doesn't always come in pink. Learn to appreciate the rainbow."
― Richelle E. Goodrich,
15) "Don't miss all the beautiful colors of the rainbow looking for that pot of gold."
― Anonymous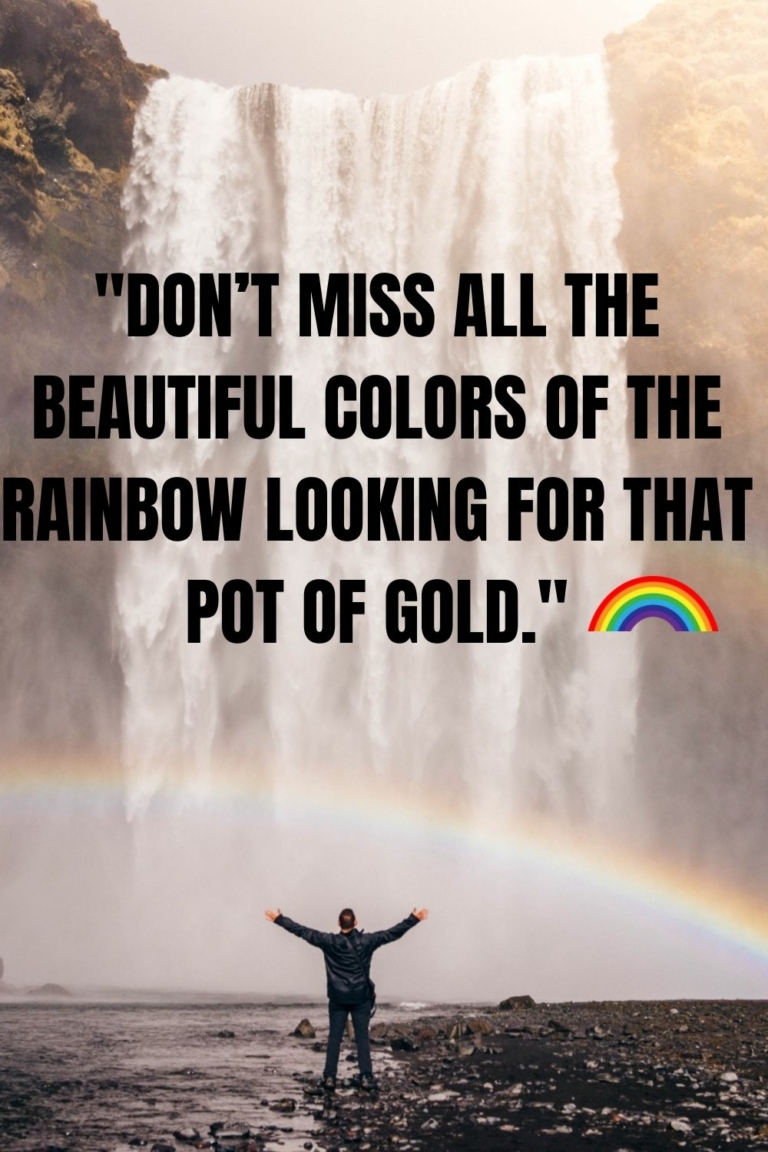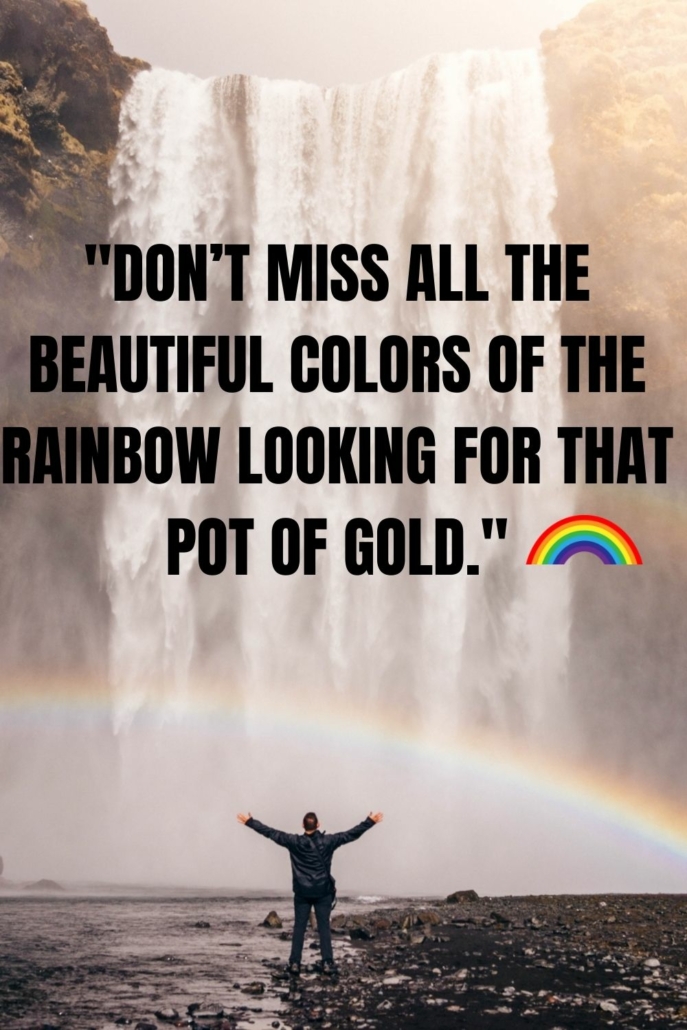 16) "If life is so blue, select another color from rainbow."
― Anonymous
17) "I'd rather see the world as a rainbow than endless shade of gray."
― Amani Abbas
18) "Where does the rainbow end,
in your soul or on the horizon?"
― Pablo Neruda
19) "Stay strong, there's a rainbow after every storm."
― Anonymous
20) "My heart leaps up when I behold a rainbow in the sky."
― Anonymous
21) "We will continue to chase rainbows unless we recognize that they are rainbows and there is no pot of gold at the end of them." — Diane Ravitch
22) "Sunset is still my favorite color, and rainbow is second."
― Mattie Stepanek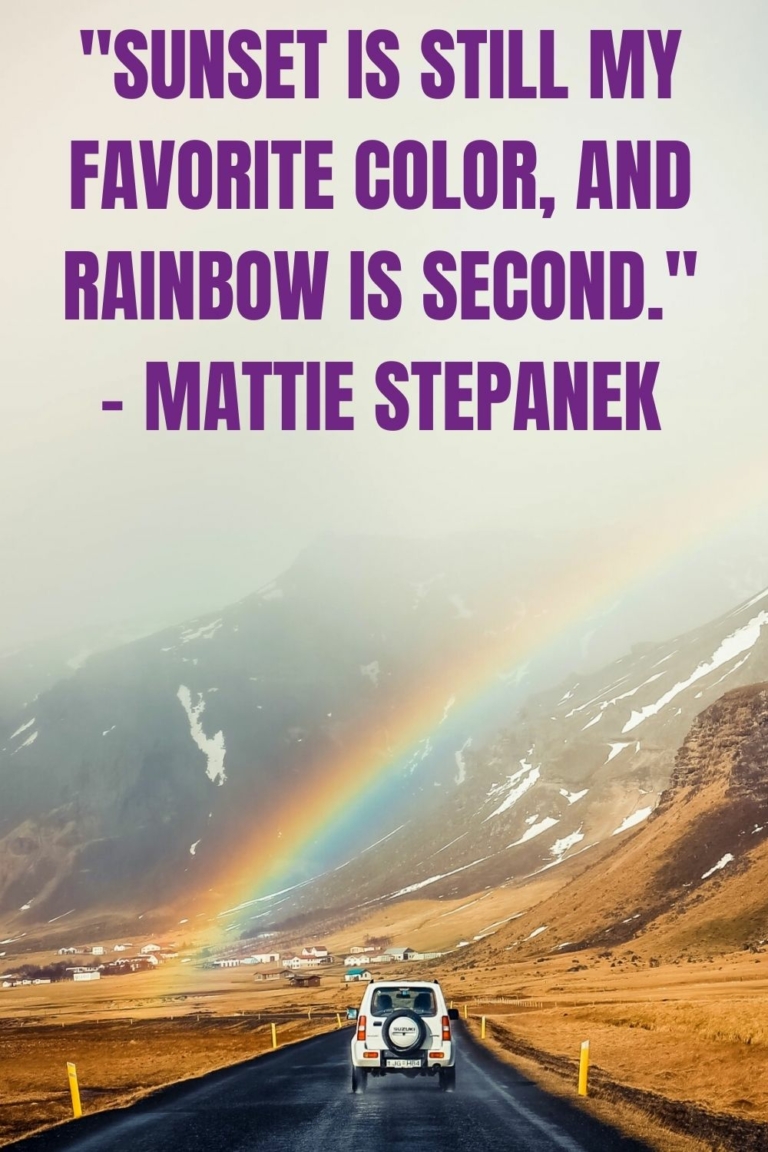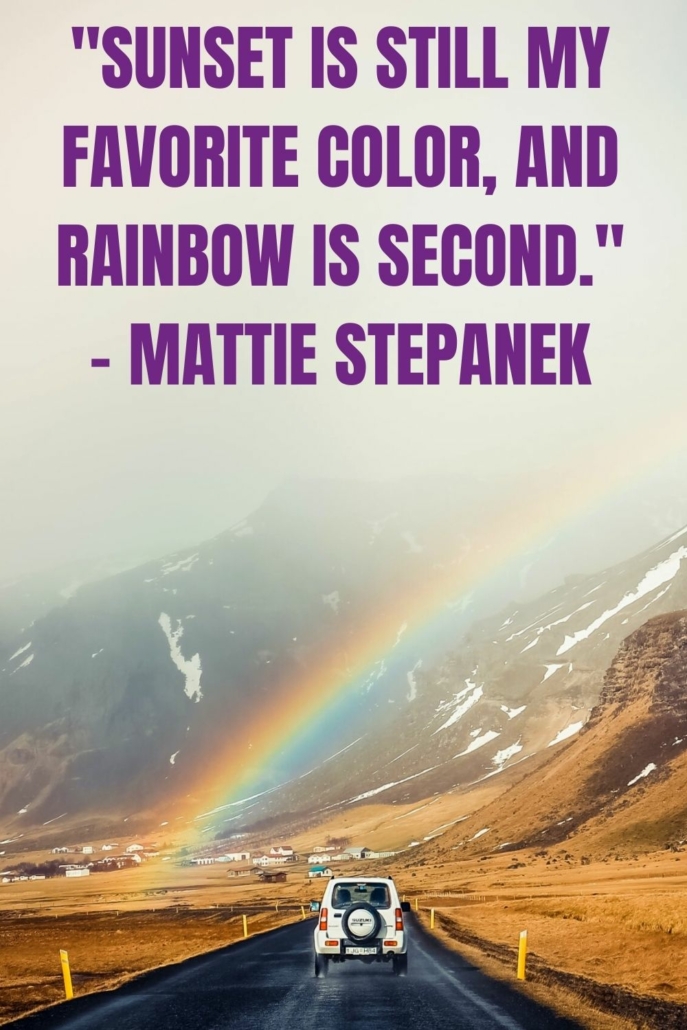 ---
The Best Quotes about Rainbows
Everyone loves a rainbow, and these writers and wordsmiths have managed to craft some of the best rainbow quotes of all time.
23) "Don't turn around. Don't look back. Keep moving forward. Keep pushing. The pot of gold is at the end of the rainbow, not the beginning."
― Ziad K. Abdelnour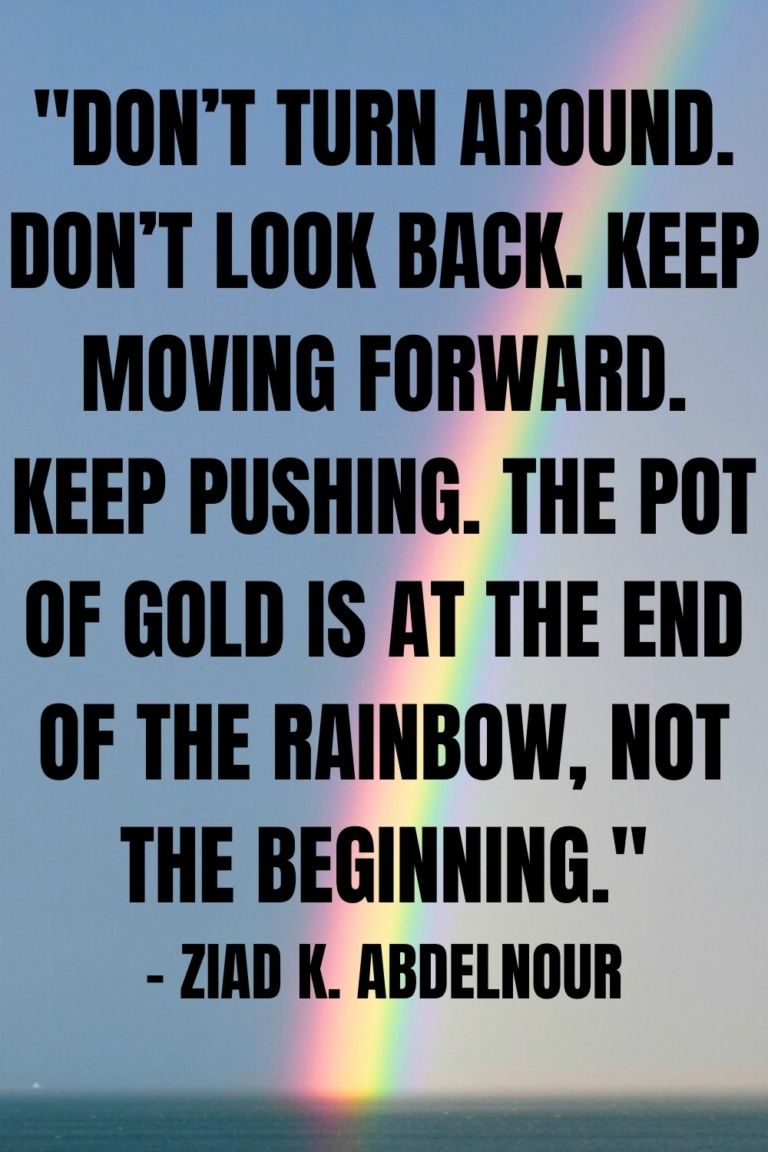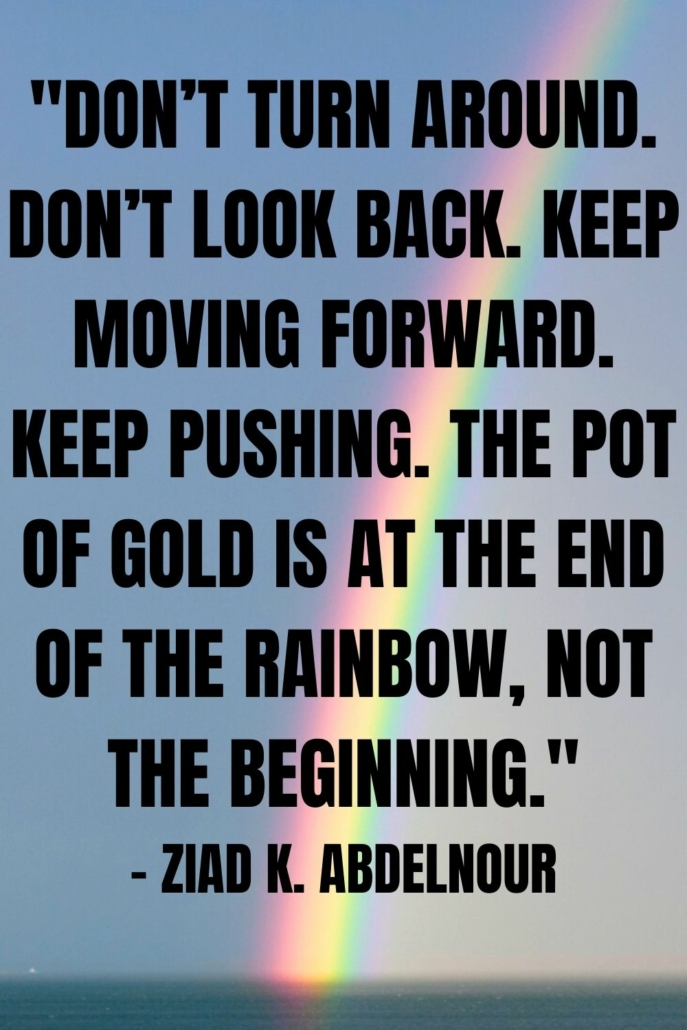 24) "He stared at her the way folks stare at a rainbow, taking in all that unexpected beauty, not wanting to look away in case it might disappear." ― Shannon Wiersbitzky
25) "Saturday is full of orange oranges, Sunday is full of pink apples, Monday is full of green limes, Tuesday is full of red watermelons, Wednesday is full of blue blueberries, Thursday is full of purple grapes, Friday is full of yellow bananas, and, The week is full of rainbow fruit."
― Anthony T. Hincks
26) "It's when you follow the rain clouds that you find out where the rainbows are hiding." — Anthony T. Hinks
27) "Like the rainbow after the rain, joy will reveal itself after sorrow." — Rupi Kaur
28) "We are all part of the same rainbow. We are all reflections of each other. As unique and diverse as we are in character and skills, the source of all creation is as multidimensional as we are."― Suzy Kassem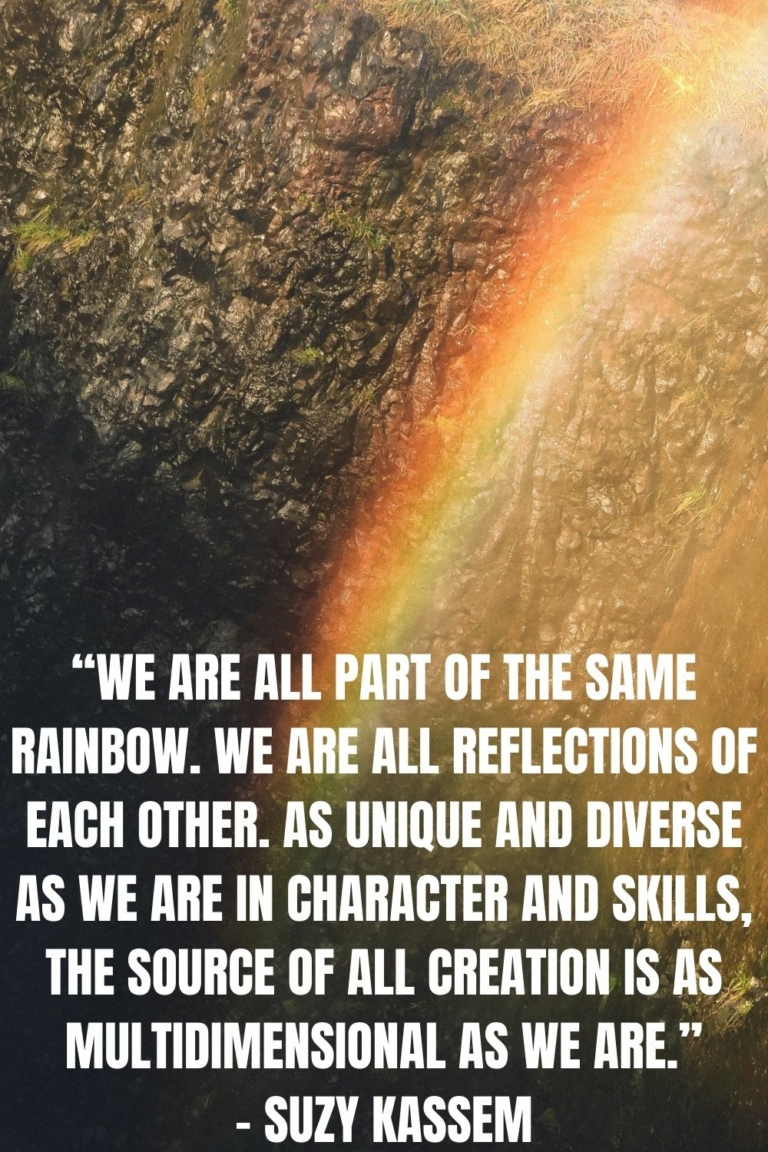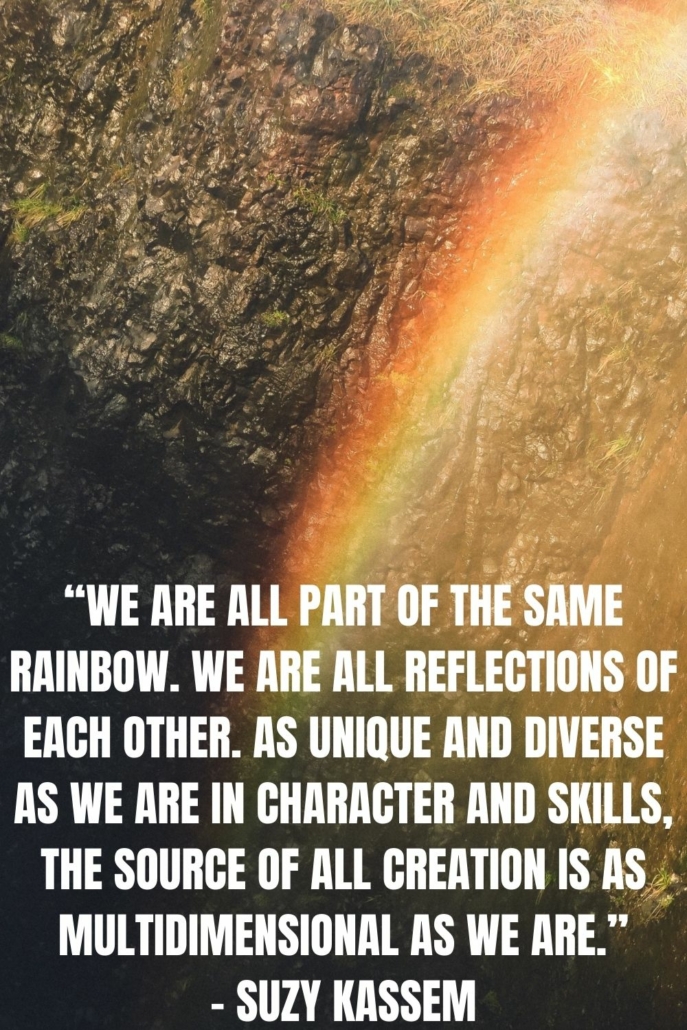 29) "Shine your soul with the same egoless humility as the rainbow and no matter where you go in this world or the next, love will find you, attend you, and bless you."
– Aberjhani
30) "I'm continually inspired by nature, and the rainbow is one of nature's greatest optical phenomenon. The sighting of a rainbow never fails to bring a smile to people's faces. They signify optimism and positivity: with them comes the sunshine after the rain."
– Matthew Williamson
31) "When you look at the world, the world isn't just one palette. It's a beautiful rainbow, and why not have someone to represent that rainbow?"
― Joan Smalls
32) "When beauty is seen through the windows of the soul – rainbows appear and everything is magical. It feels simply divine." – Angie Karan
33) "You are the rainbow that adds color to my gray skies." — Avijeet Das
34) "When it rains look for rainbows, when it's dark look for stars." ―
Oscar Wilde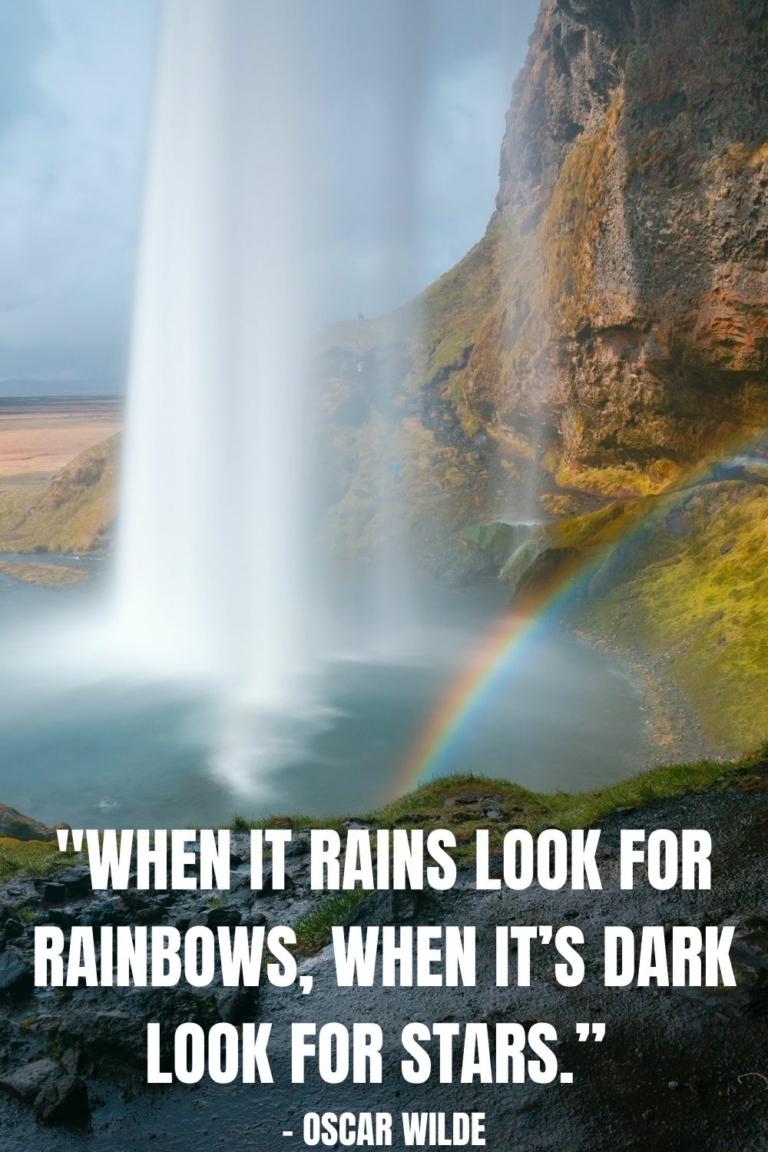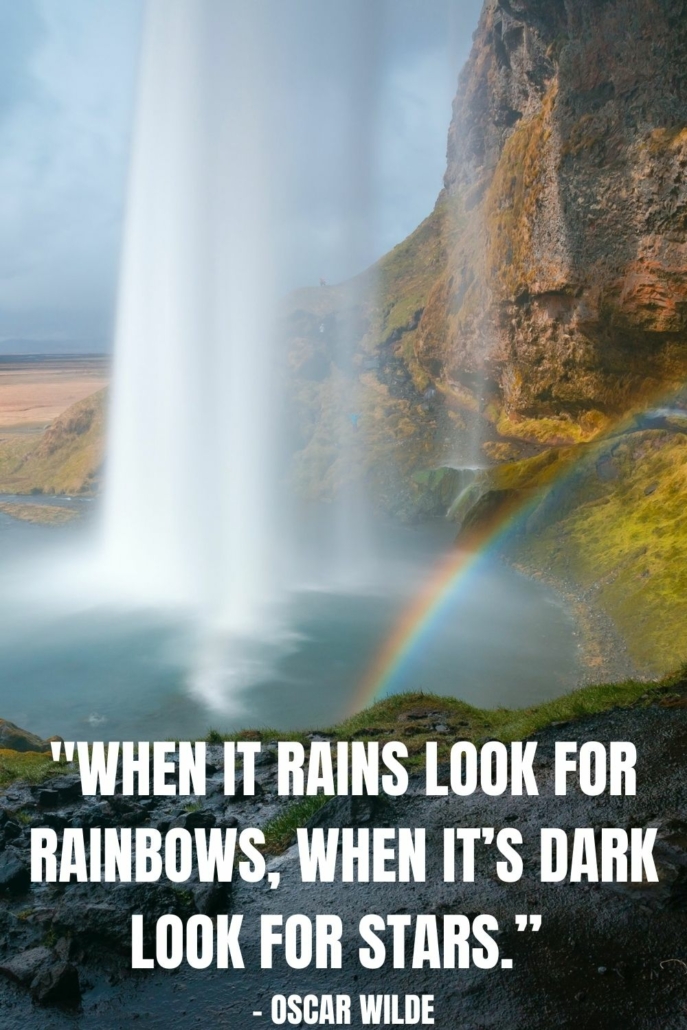 ---
Rainbow Captions for Instagram
Captured a mesmerizing rainbow snap and now need a perfect rainbow caption to pair it with? These perfect rainbow quotes for Instagram will say all you want to say in just a few short words.
35) "Try to be a rainbow in someone's cloud."―
Maya Angelou
36) "To enjoy the rainbow, first enjoy the rain."
― Paulo Coelho
37) "Life without dreams is like a rainbow without colors." ―
Greyson Chance
38) "Look at the world through rainbow colored glasses."
39) "Focus on your rainbow and not your rain."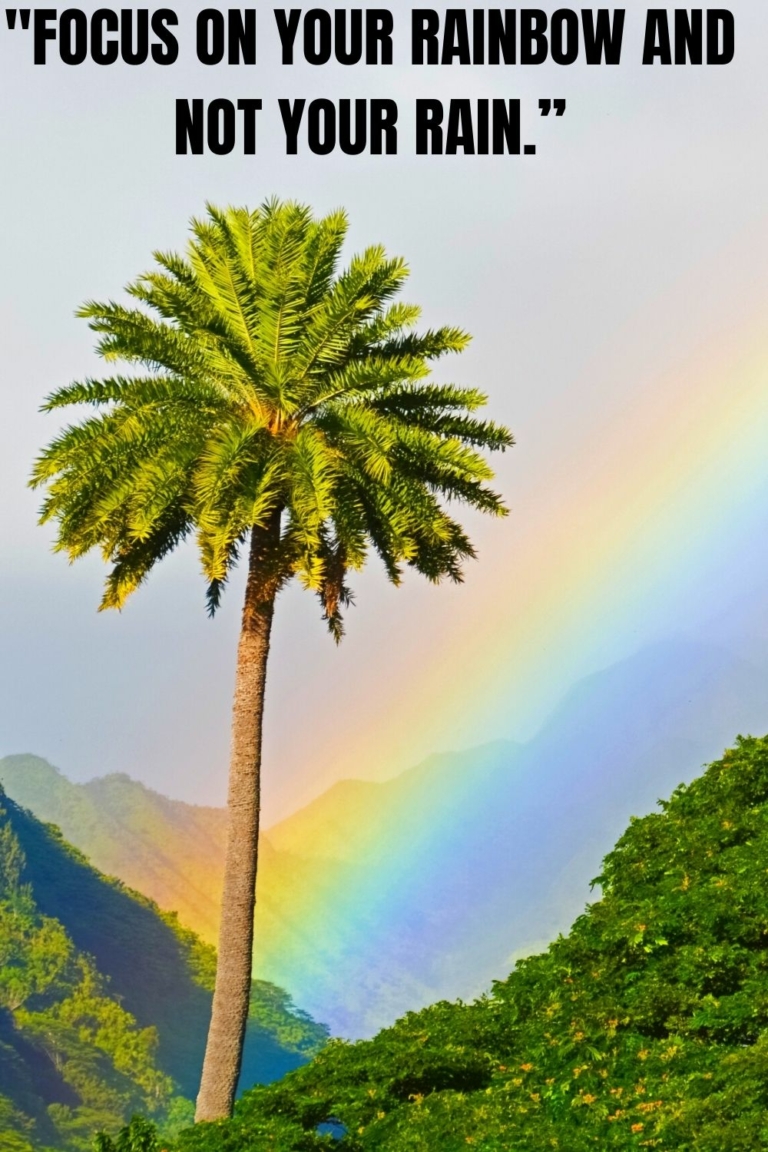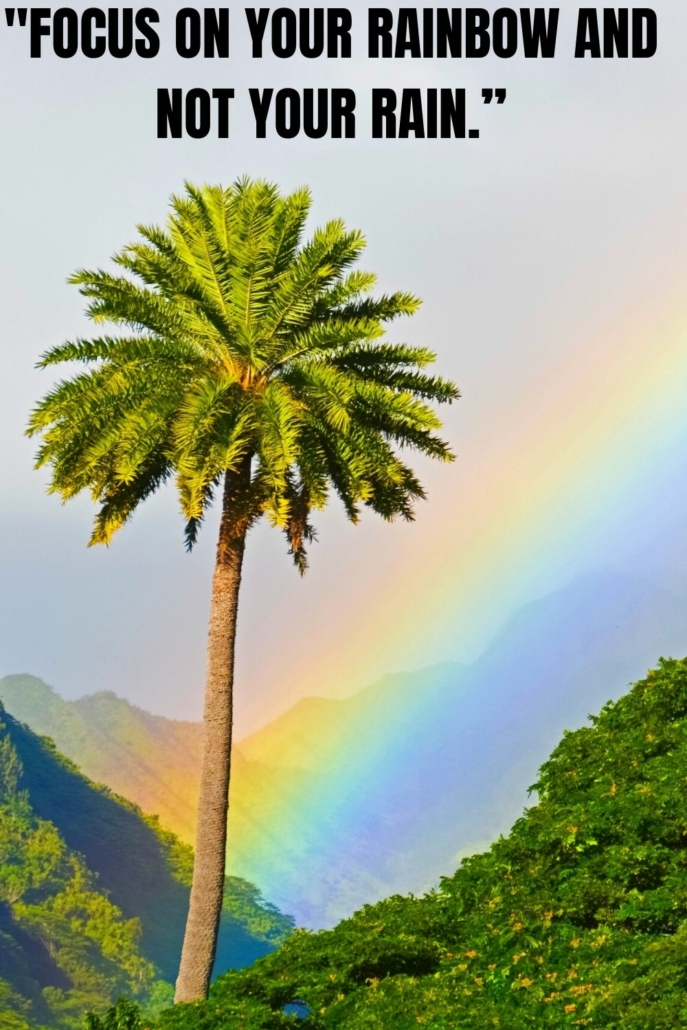 40) "Don't miss all the beautiful colors of the rainbow looking for that pot of gold."
41) "A rainbow a day keeps the blues away!"
42) "Friends are like rainbows. Always there to cheer you up after a storm."
43) "You are the gold at the end of a rainbow."
44) "Why would I spend my life chasing rainbows when I can be still and see them in their full beauty." — Rasheed Ogunlaru
45) "The greater your storm, the brighter your rainbow."
― Anonymous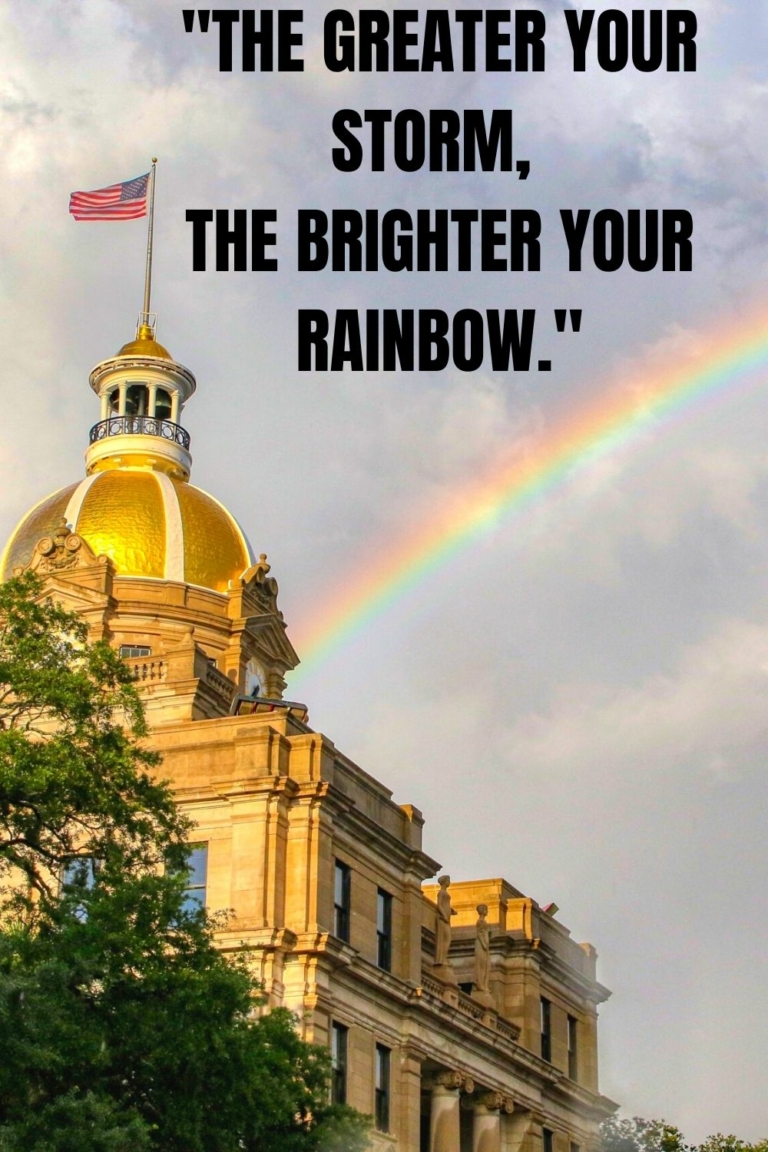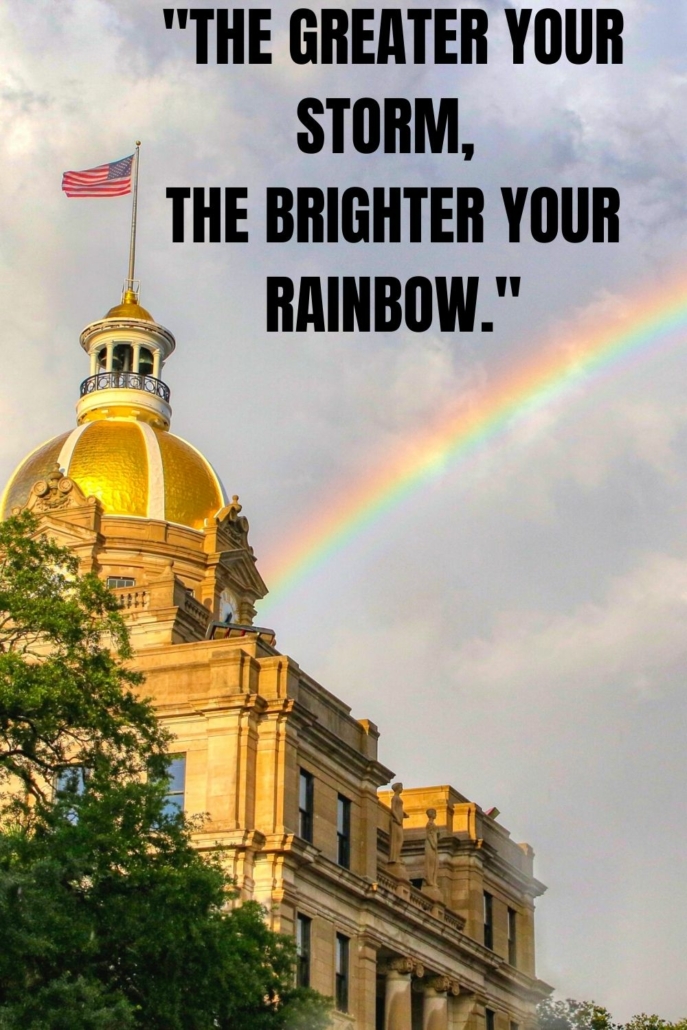 ---
Inspirational Rainbow Quotes
If you're looking for motivational rainbow quotes, these inspiring ones promise to fill your cup.
46) "You may complain that rain has stained your plans but you cannot restrain the rain; rain is water and water is life. None appreciates rainbow and sunshine better than he on whose parade it has rained." — Vincent Okay Nwachukwu
47) "Don't seek to be happy; let everyone else chase after that rainbow. Seek to be kind, and you'll find the rainbow follows you."
― Richelle E. Goodrich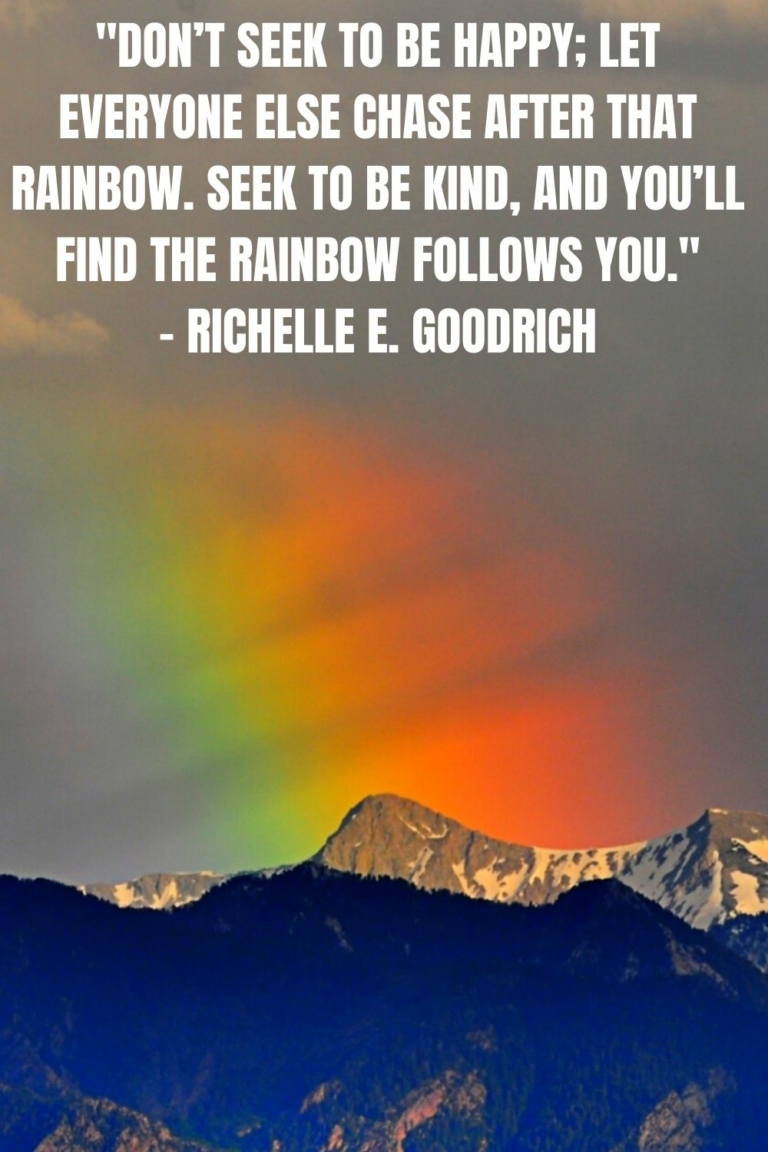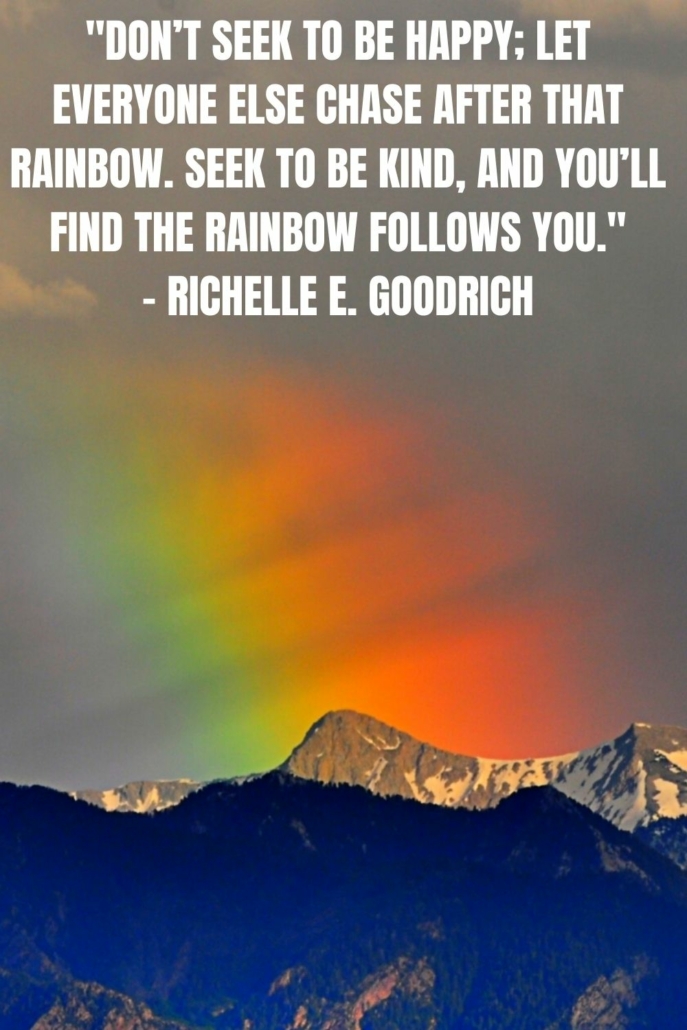 48) "Life has a lot of gray and sadness, look for the rainbow and frame it. There is beauty in everything, sometimes you just have to look a little harder to see it." —
Charlotte Kitley
49) "Be thou the rainbow in the storms of life. The evening beam that smiles the clouds away, and tints tomorrow with prophetic ray." — Lord Byron
50) "Just look at the sky when the rainbow appears and all the richness of colors will fascinate you completely."— Eraldo Banovac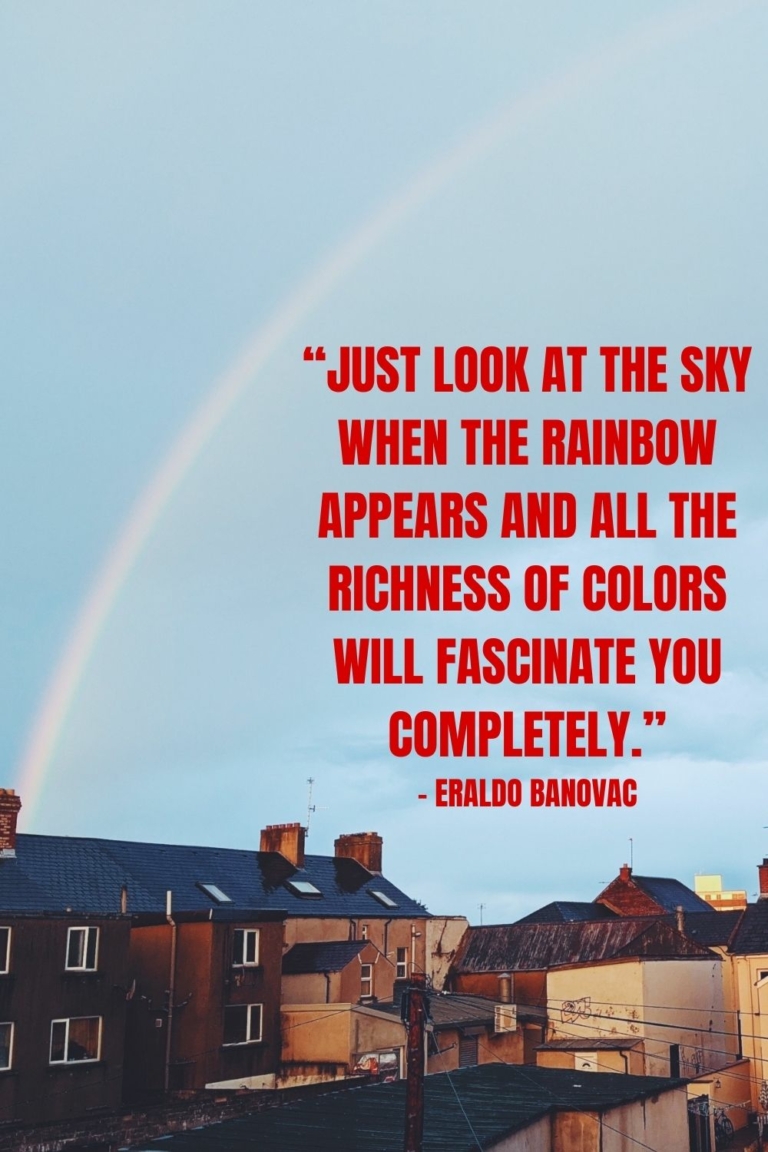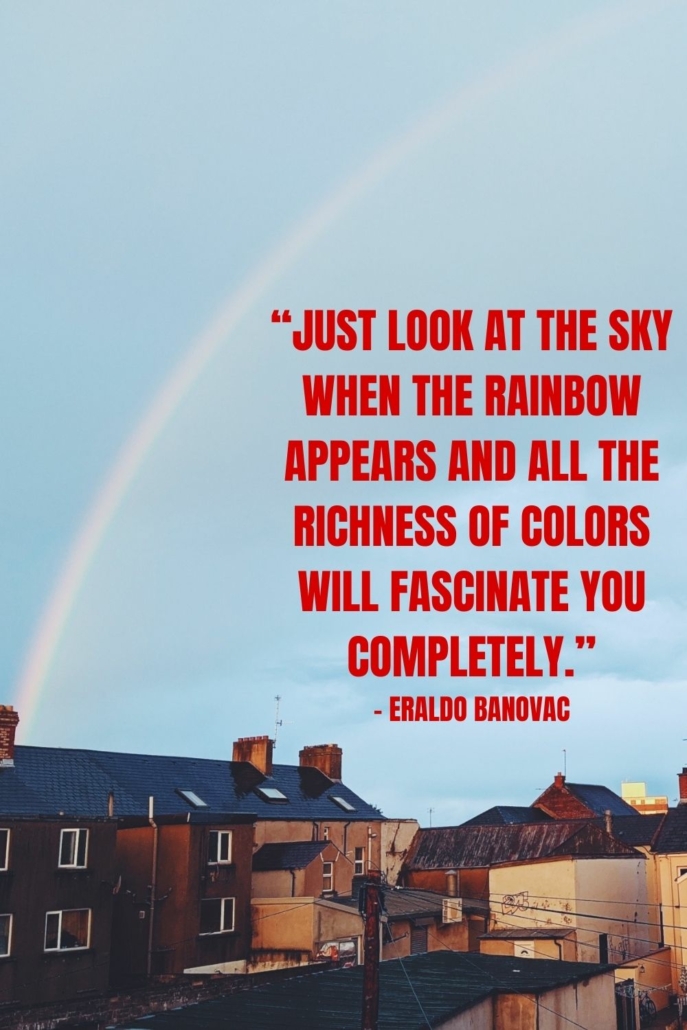 51) "If you have ever followed a rainbow to its end, it leads you to the ground on which you are standing." – Alan Cohen
52) "All these seven colors are part of one rainbow, yet they are all different. They have their own quality, their own identity, their own flavor to it. So it is a rainbow. The Divine loves diversity, that is why he made us all different. ― Sri Sri Ravi Shankar
53) "Be everything that you are unapologetically, most of you will find out that you are not just one color, you are a rainbow."
– Mridula Singh
54) "If you want to enjoy the rainbow, be prepared to endure the storm." – Warren Wendel Wiersbe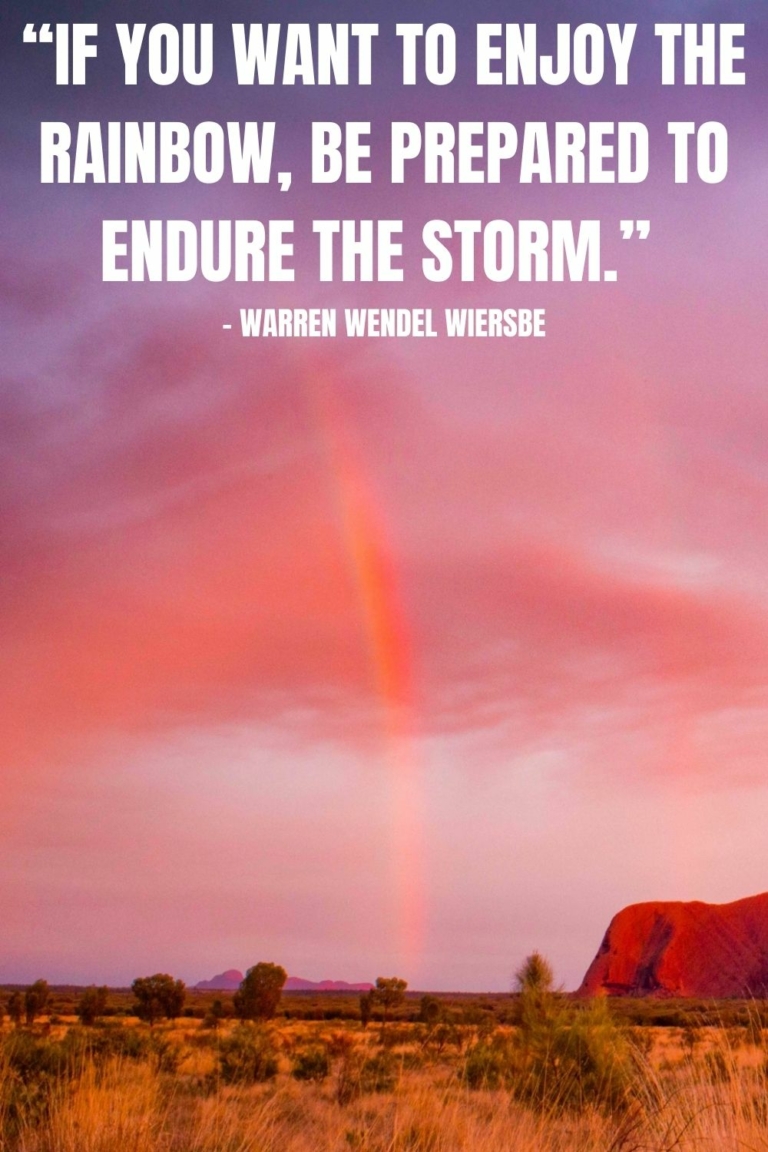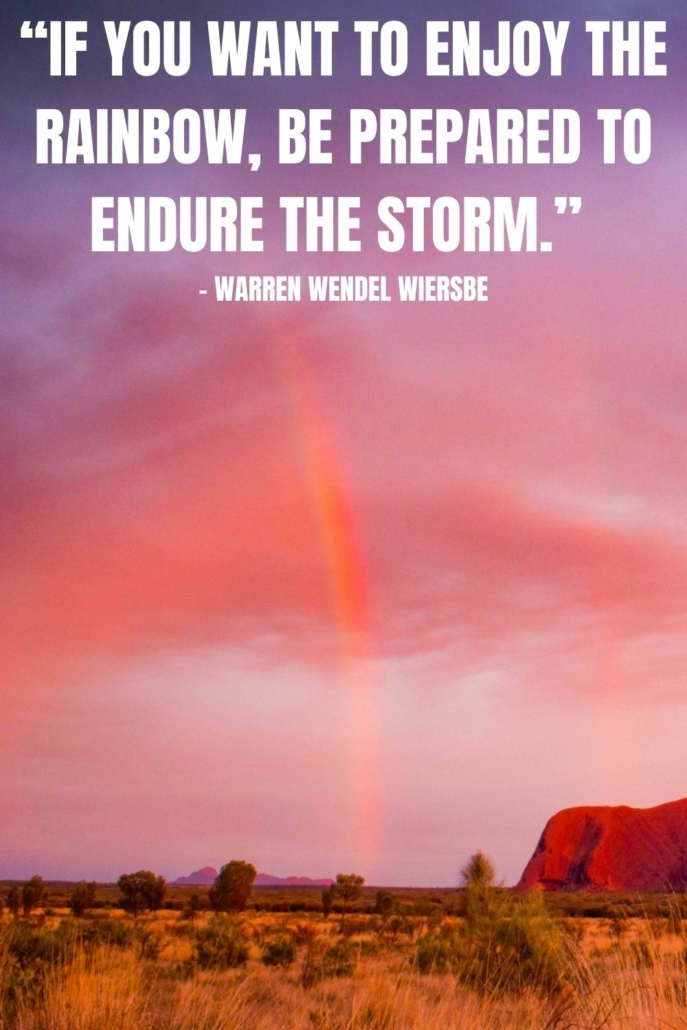 55) "Count your rainbows, not your thunderstorms"—
Unknown
56) "If life is so blue then select another color from the rainbow" —
Unknown
57) "Life's a choice: you can live in black and white, or you can live in color. I'll take every shade of the rainbow and the gazillion in between!"—
Karen Marie Moning
58)
"Life throws challenges and every challenge comes with rainbows and lights to conquer it."
― Amit Ray
59) "Facing our problems, first, and living by the seat of the pants, and opening ourselves to the world can turn life into a captivating journey on a sparkling rainbow." — Erik Pevernagie
60)
"Let your happiness be known to the world like a stunning rainbow." —
Somya Kedia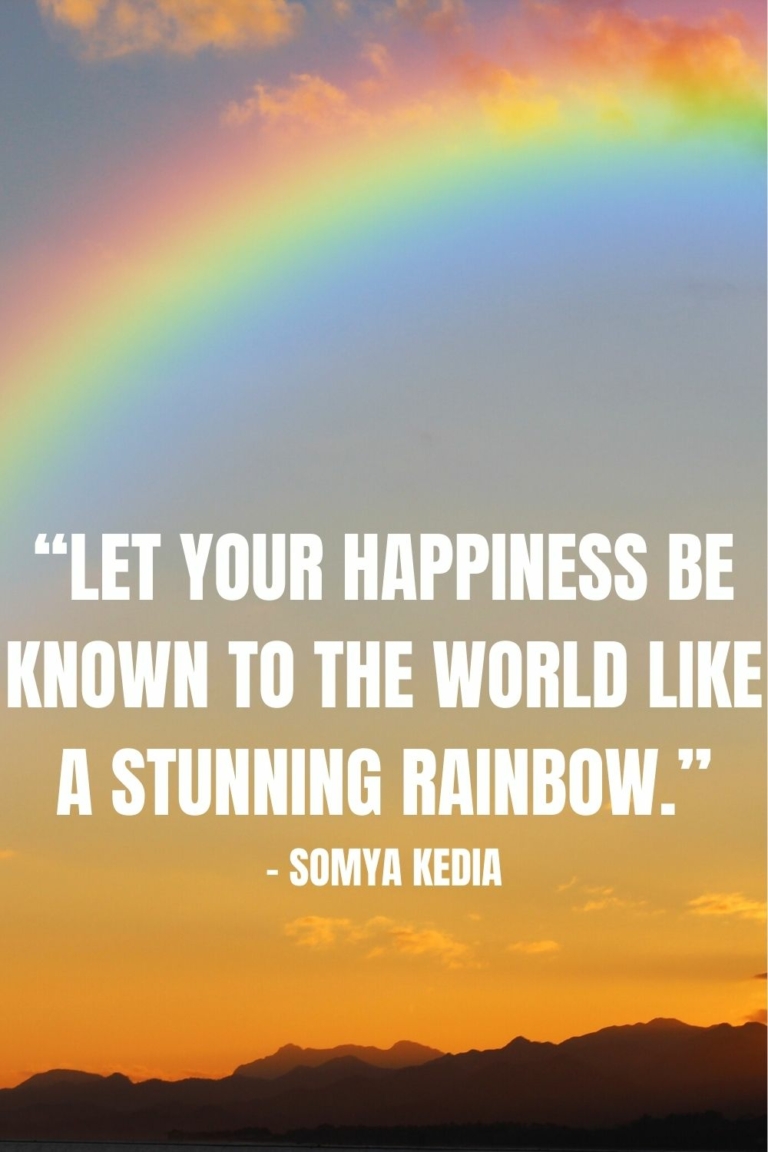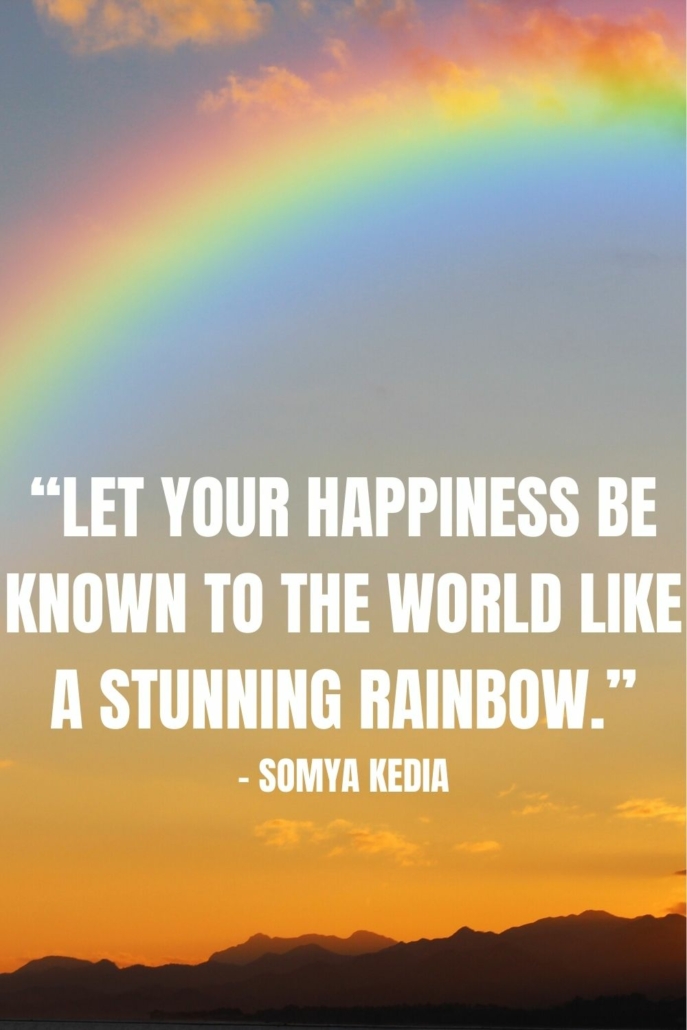 ---
Funny Rainbow Quotes
While rainbows are known for being beautiful and inspiring, these comedic minds have managed to craft some seriously funny sayings about rainbows.
61) "My two favorite colors of the rainbow are gold and leprechaun." – Jarod Kintz
62) "It's a rare occurrence, like a double rainbow. Or like someone on the internet saying, 'You know what? You've convinced me I was wrong." – Ted Danson, Michael
63) "Rainbows apologize for angry skies."
― Sylvia A. Voirol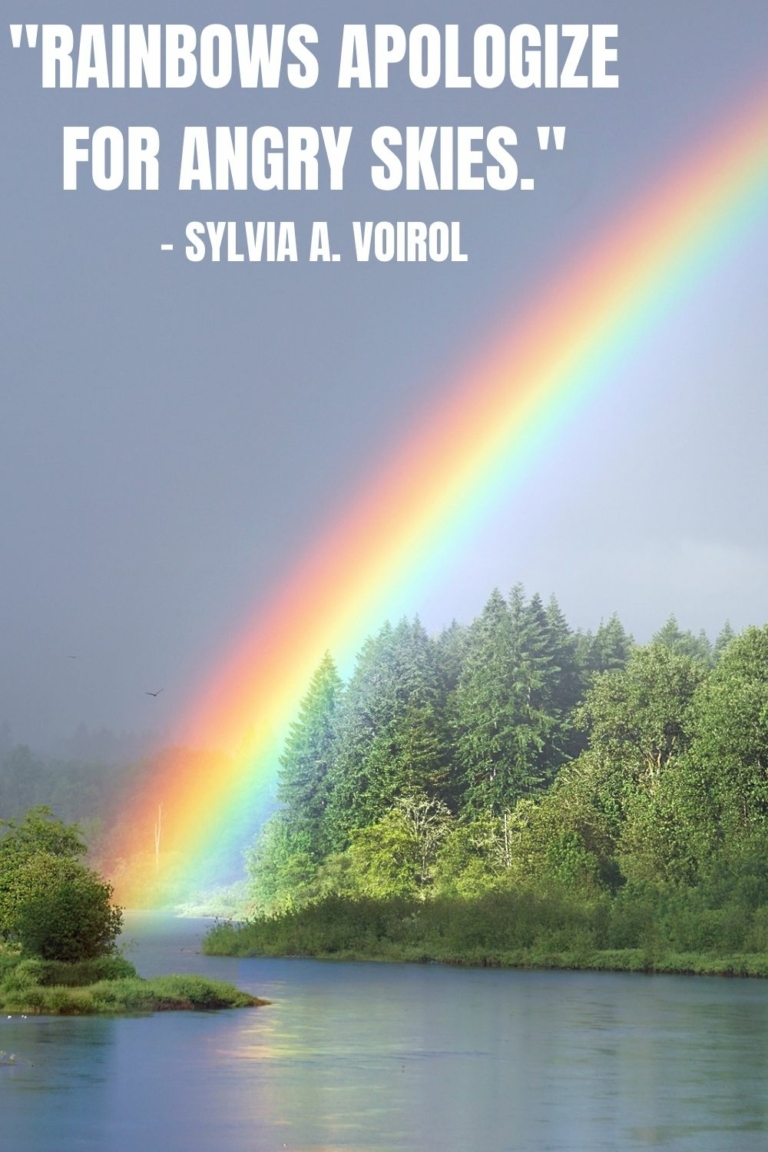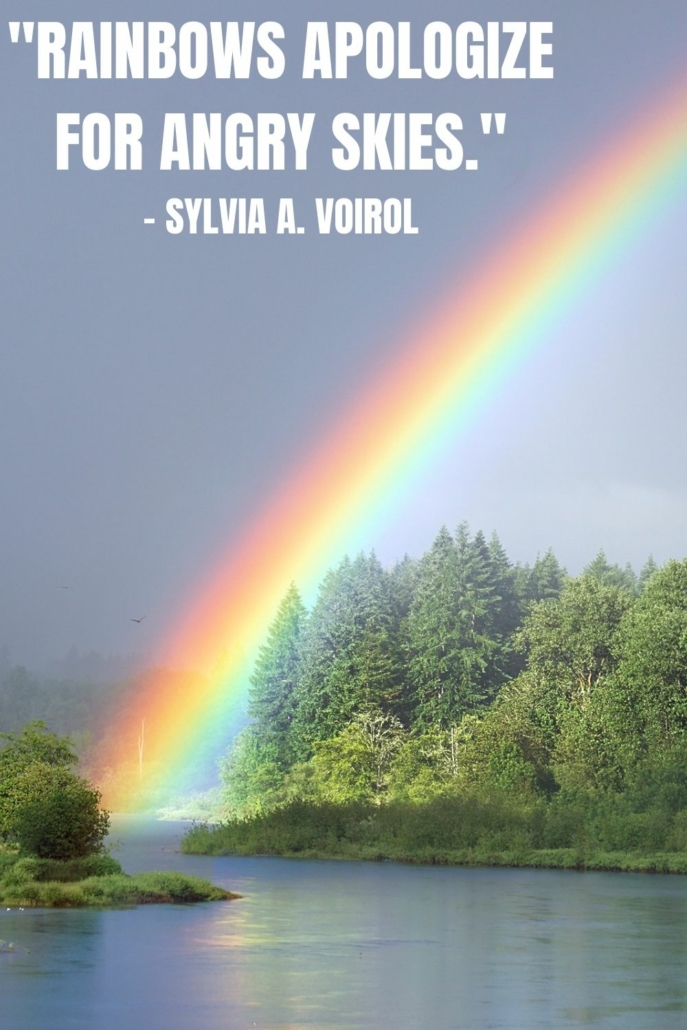 ---
Rainbow Quotes for Kids
If your child loves rainbows, here are some cool rainbow phrases to share with them.
64) "You'll never find a rainbow if you're looking down."
― Charlie Chaplin
65) "Hey glum face… Next time there's a rainbow, look up. You'll feel better."
― Rainbow Brite
66) "Teach them that rainbows appear after a storm to remind them that light begins and ends with all colors." – Frederic M. Perrin
67) "In life, you either choose to sing a rainbow, or you don't. Keep singing."
― Kathleen Long
68) "Create your own rainbow every day." ― Unknown
69) "Storm? Shine your light and make a rainbow!" – Richie Norton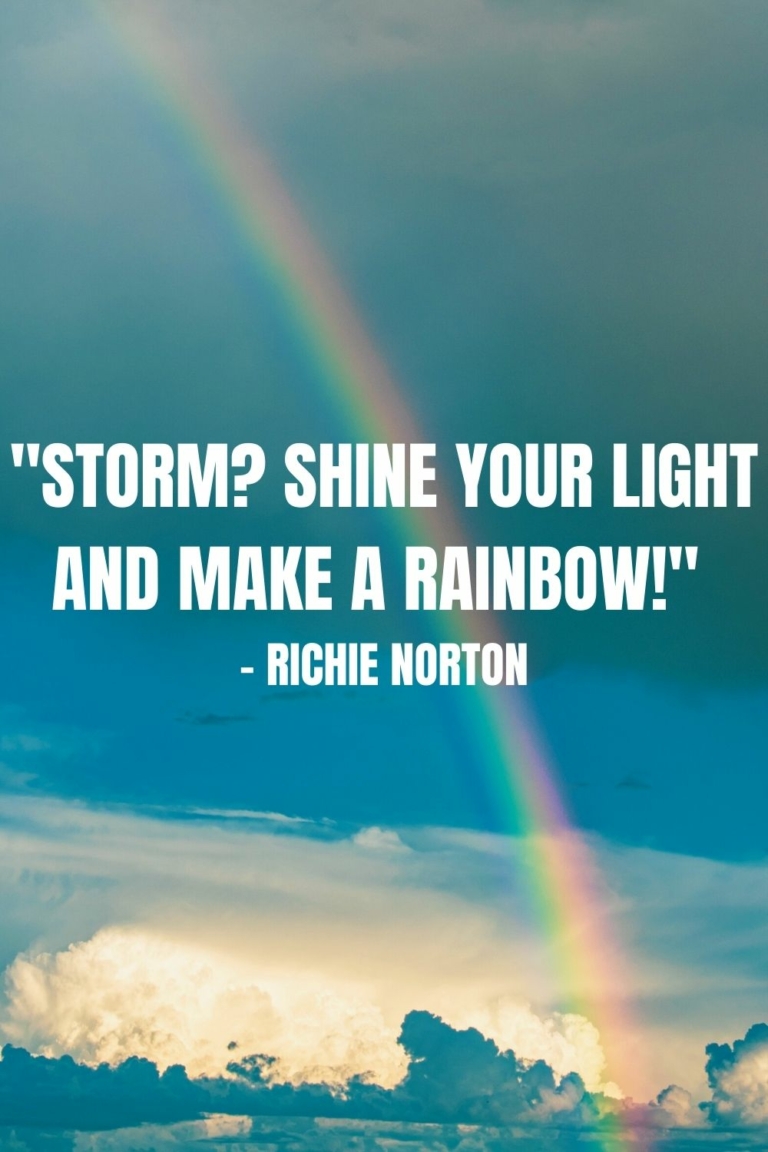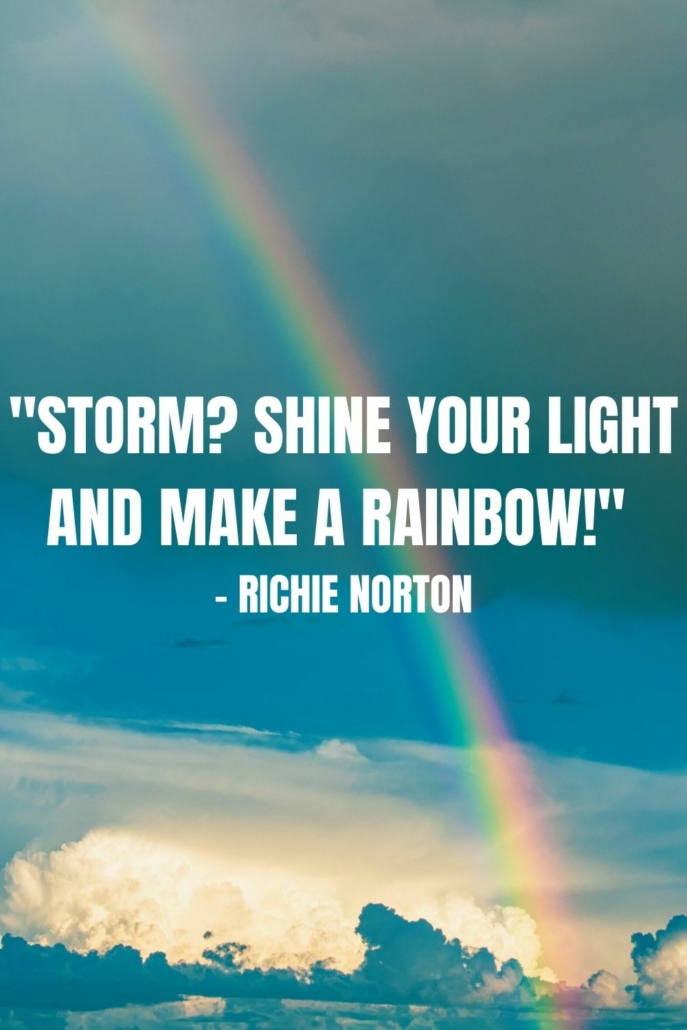 ---
Rainbow Love Quotes
Rainbows and love sure have something in common — they're both beautiful. So, it's only right to include some rainbow and love quotes to celebrate the parallel between the two.
70) "Love from novels isn't true love; it ends where it should begin. True love, deep love, grows up with time, throughout days of dullness and days of storms. It leaves in one's heart a rainbow of tenderness and forgiveness which illuminates forever the beloved one." — Gabrielle Dubois
71) "In their love, the rainbow curved in delight." — Jyoti Patel
72) "Let no one who loves be unhappy… even love unreturned has its rainbow." — J.M. Barrie
---
Rainbow After the Rain Quotes
Since rainbows (the good) follow the rain (the bad), we've all come across different variations of there's a rainbow after rain quotes that are meant to motivate people to bounce back from difficulties. These are some of the best rainbow quotes that talk about the rain.
73) "Only rainbows after rain, the sun will always come again." — Tahlia Chi
74) "There will always be darkness. There will always be more rain after the storm has ceased. But we need to search for the rainbow between those moments." — K. Weikel
75) "And sometimes you realize the value of the rain by knowing how unreliable and vanishing the rainbow is." — Nur Bedeir
76) "To be a rainbow in someone's cloud is commendable, but I prefer to be the rain because it dampens cheeks and washes away tears." — Richelle E. Goodrich
---
Rainbow Quotes from Celebrities
Celebrities love a beautiful rainbow like the rest of us and have used them as their own inspiration, resulting in these celebrity rainbow quotes.
77) "The way I see it, if you want the rainbow, you gotta put up with the rain." ― Dolly Parton
78) "God puts rainbows in the clouds so that each of us – in the dreariest and most dreaded moments – can see a possibility of hope." — Maya Angelou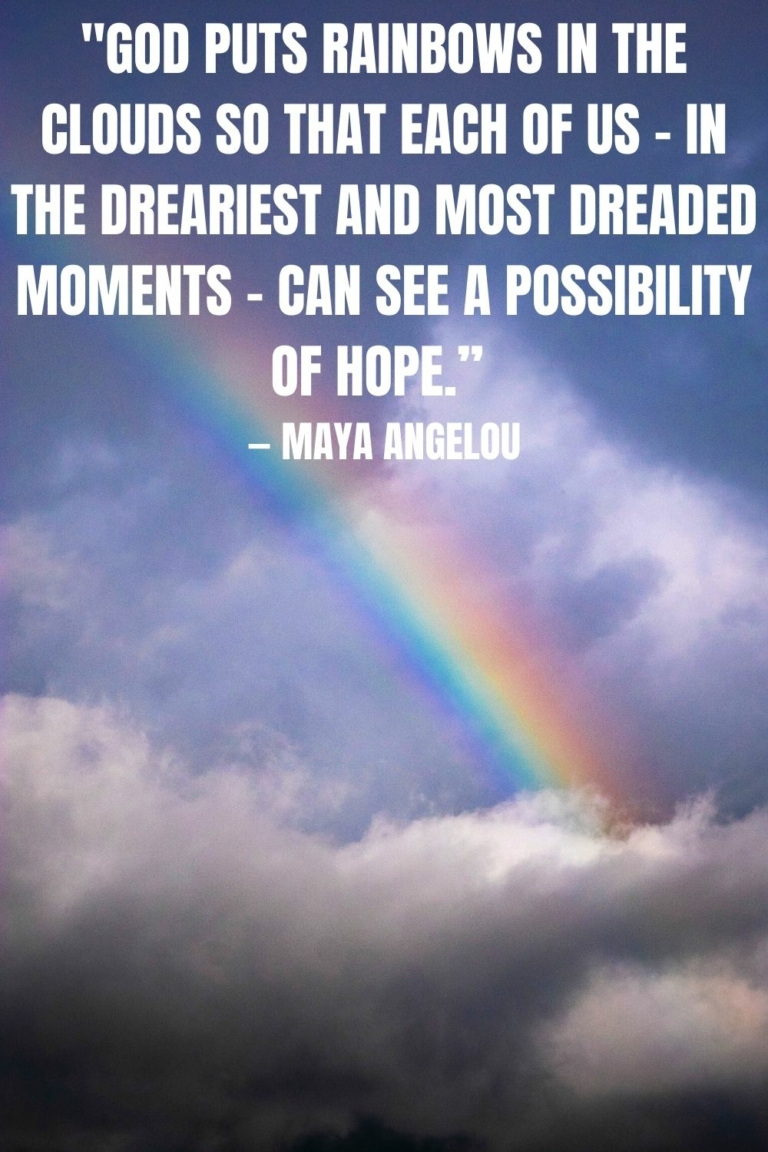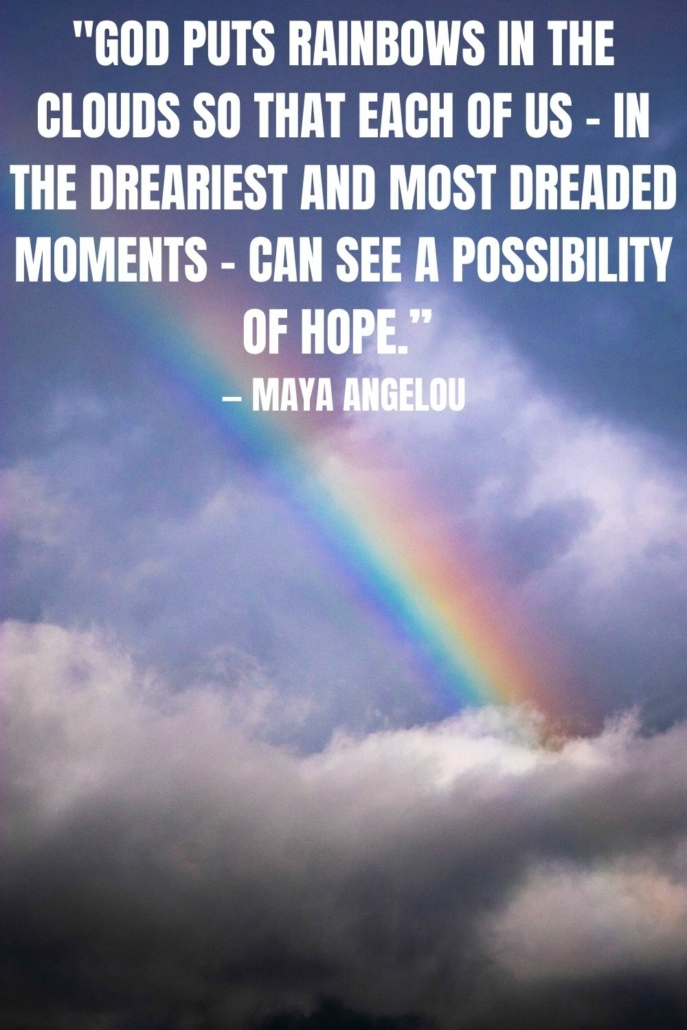 ---
Rainbow Quotes from Movies
From famous lands over the rainbow to classic children's movies with lots of magic, these are the best rainbow movie quotes from some of the greatest films ever made.
79)
"Willy Wonka: [handing something to Mrs. Teevee] Here, take these /
Mrs. Teevee: What are they? /
Willy Wonka: Rainbow drops. Suck them and you can spit in seven different colors!" – Charlie & The Chocolate Factory
80) "Toto, I've a feeling we're not in Kansas any more. We must be over the rainbow!" – The Wizard of Oz
81)
"It takes both the sun and the rain to make a beautiful rainbow."
― Cinderella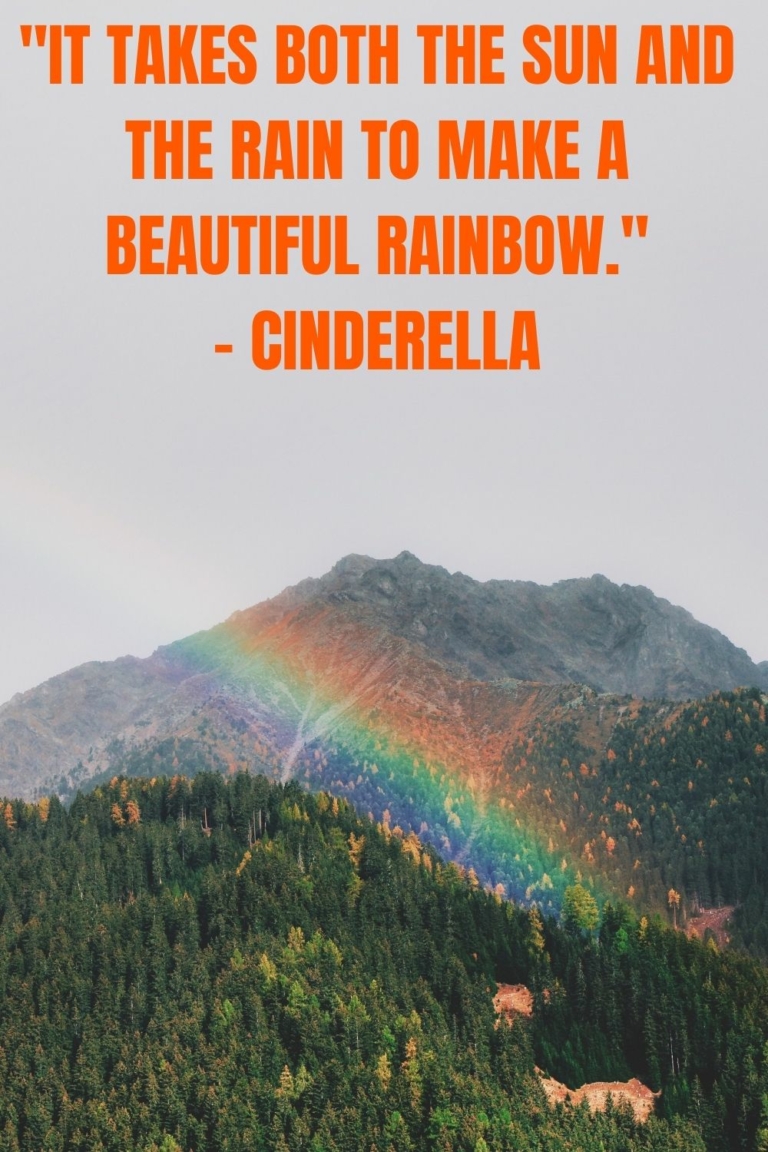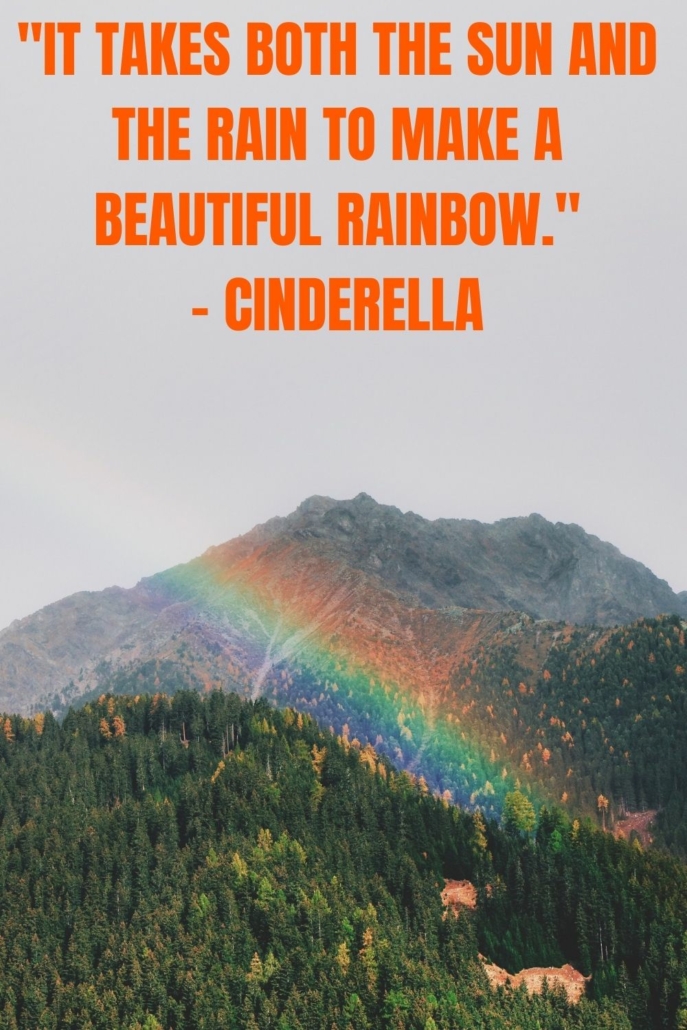 ---
Rainbows Quotes from Song Lyrics
Rainbows have even been used as inspiration by songwriters to craft some of the best-ever songs, and these song lyrics about rainbows are sure to have you singing along too.
82) "She's like a rainbow." – The Rolling Stones, She's A Rainbow
83) "There's always been a rainbow hanging over your head." — Kacey Musgraves, Rainbow
84)
"When the morning gathers the rainbow, want you to know I'm a rainbow too." ― Bob Marley, Sun Is Shining
85) "Wherever you go, so will I cause a double rainbow is hard to find." – Katy Perry, Double Rainbow
86) "I can see a rainbow in your tears as the sun comes out as the sun comes out." – Sia, Rainbow
87) "I'm always chasing rainbows, watching clouds drifting by." — Alice Cooper, I'm Always Chasing Rainbows
88) "Your true colors are beautiful like a rainbow." ― Cyndi Lauper, True Colors
89) "We are rainbows, me and you. Every color, every hue." ― Miley Cyrus, Rainbowland
90)
"Somewhere over the rainbow, skies are blue. And the dreams that you dare to dream really do come true." – Judy Garland, 'Over The Rainbow'
---
Did I Miss a Good Rainbow Quote?
There are probably a million quotes about rainbows out there, so I'm sure I've missed at least a few! Is your favorite rainbow quote not on my list? Send it to me, and I'll tack it on!
---
Need some global travel inspiration?
From Europe to Australia to the US — and everywhere in between — here is just a sample of my travel content to kickstart your own vacation planning…
I've seen some spectacular rainbows on my travels, and I'm sure you have too! Is there anything better than a brilliant rainbow after a heavy shower? Where did you see your best rainbow?
---
Thanks for reading about the best rainbow sayings!
Share this list with your rainbow loving travel crew!
https://www.jonesaroundtheworld.com/wp-content/uploads/2021/04/Best-Quotes-About-Rainbows-scaled.jpg
1707
2560
Guest Contributor
https://www.jonesaroundtheworld.com/wp-content/uploads/2017/03/logotry-1-1-300x106.png
Guest Contributor
2023-01-15 19:35:40
2023-06-05 16:12:47
90 Rainbow Quotes to Inspire the Perfect Instagram Caption 🌈