Planning an outdoor getaway and searching for some epic glamping in Oregon sites? Well, look no further, because I've found 20 incredible Glamping Oregon locations that will surely impress!
From volcanic mountains and crystal-clear lakes to deserts and stunning coastlines – there's something spectacular about the State of Oregon. What better way to explore the diverse beauty of Oregon by glamping.
Glamping is like camping – in a tent, in nature. But with the glamor of a five-star hotel, with luxury linens, a comfortable bed, and fantastic hosting. In essence, you'll get the best of both worlds. With Oregon's mild summers and snow-filled winters, you will be blown away with choices at these different sites.
Oregon is competitively-priced when it comes to glamping. Each stay provides luxurious amenities and ideal rustic elements for an unforgettable experience. Check out these desirable glamping destinations for inspiration for your next adventure.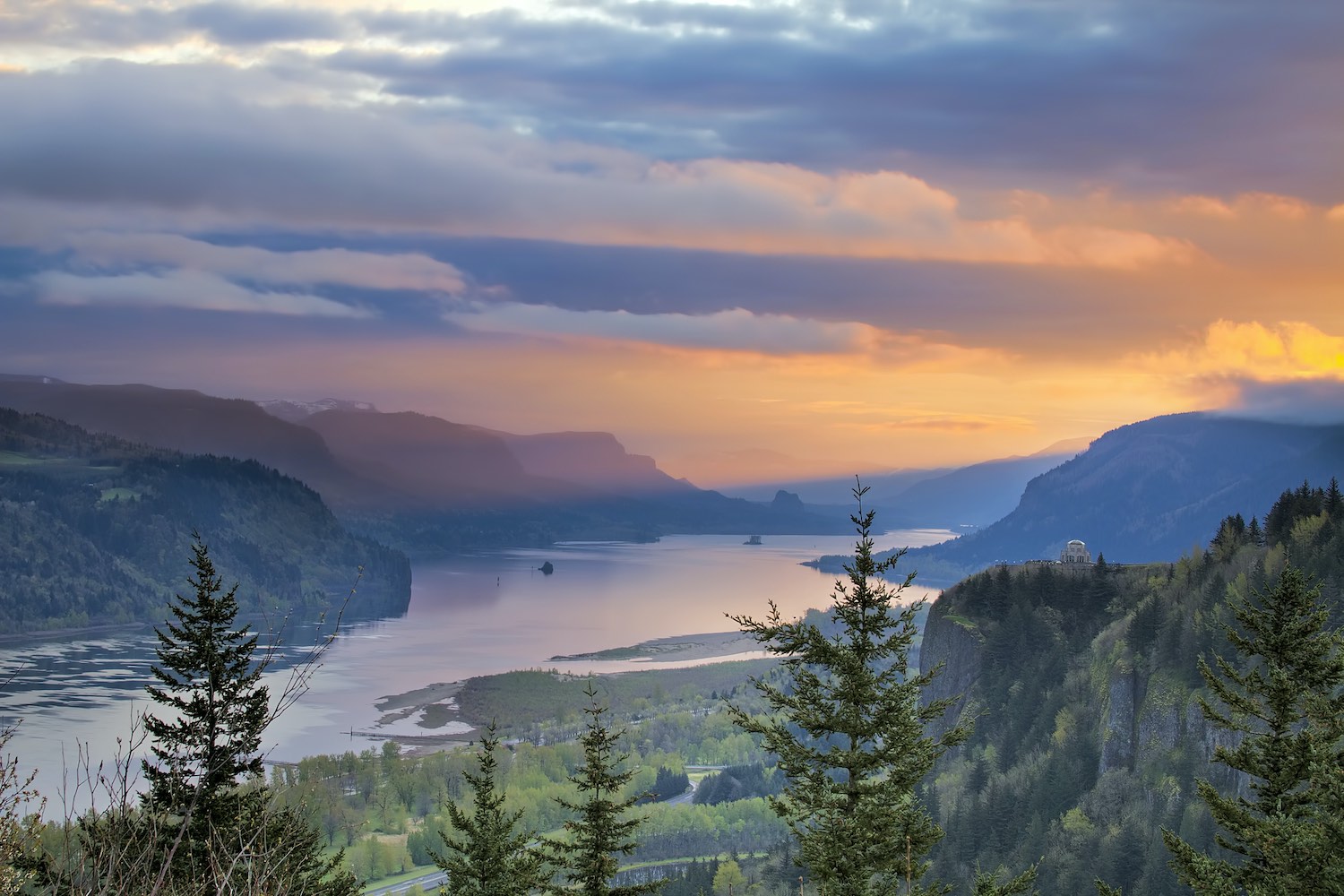 ---
Why Go Glamping in Oregon
Oregon is absolutely spectacular – plain and simple! It welcomes visitors to its rocky coasts and rolling hills. Then enchants them with its high mountain peaks, calming lakes and lush forests year-round.
Whether you are looking to strap on a rucksack to trek up a mountain, or lay back and relax in the woods. Oregon boasts luxurious campsites in a range of forms, from canvas tents and treehouses, and yurts to tipis. There is a wide selection of glamp sites ready for you to enjoy the wonders of nature at its best.
Anyone from any state or country can enjoy the bountiful wildlife while staying in one of these top glamping spots in Oregon. Let's take a look at the top Glamp grounds for an idyllic stay.
Psst… if you're heading South, towards Cali, check out these spectacular Glampsites in Southern California!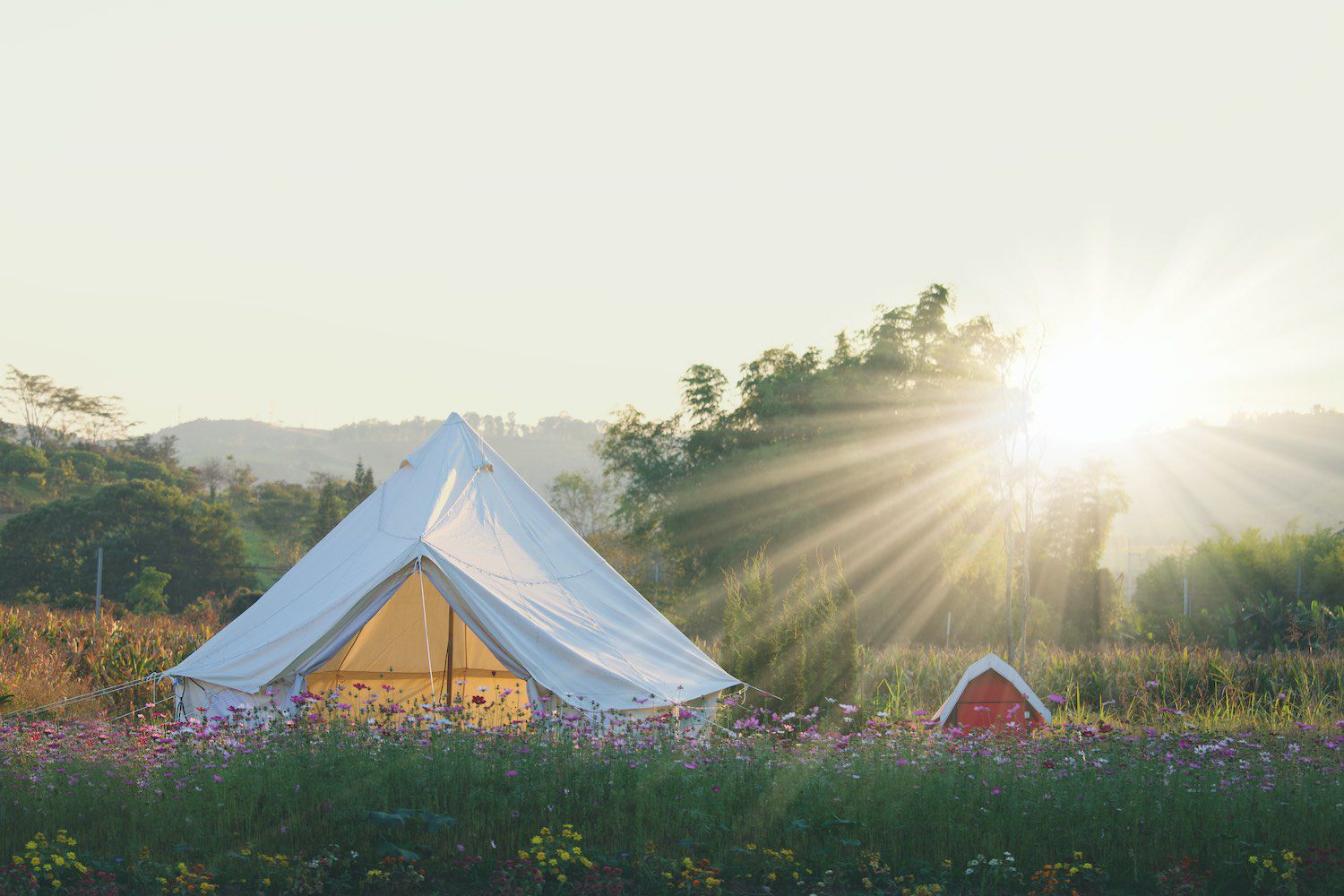 ---
Quick Breakdown of Glamping Oregon
Finding the right glamp for you can be tough. Here are my top picks for the best glamping in Oregon has to offer.
Overall Best Glamping Oregon Getaway – Lone Mountain Resort
Best Yurt Glamping in Oregon – Lost Lake Resort Yurts
Best Glamping Oregon Coast – Cozy Oceanfront Yurt
Coolest Luxury Camping Tents in Oregon – Willow-Witt Ranch Glamping
Best Luxury Camping Oregon – The Bali House
I've also added tons of fun, helpful, and inspiring travel videos for your upcoming glamping trip in Oregon! It's such an incredible and unique state with lots to do, so make sure you watch a few of them to get a few ideas on how to spend there! Also, check out my article on the Music Festivals in Oregon & The Best Airbnbs in Portland, Oregon for more trip-planning inspiration!
---
TOP 20 Places To Go Glamping in Oregon
Find your way to a luxurious camp nestled in lush forests, along river beds, or surrounded by desert. Oregon is a supreme destination to explore your natural surroundings while camping in style.
---
1) Lone Mountain Resort Glamping
Location: O'Brien, Oregon
Price: $235 avg. per night
https://www.lonemountainresort.com/
"Our beautiful grounds offer a variety of ways to stay from a large fully furnished cabin, glamping tipi's, mini-cabins, to RV spaces with full hookups. We have several on-site attractions such as our fresh water swimming pond & beach area, and communal BBQ area."
Located just a short drive away from The Oregon Caves National Monument and the Illinois River, you'll have plenty to explore in the area (as well as some amazing local wineries for some tastings.
It's also a fantastic place to stay on an Oregon road trip, as it's located just 45 minutes from the Redwood National Forest, and two hours Hours from Crater Lake National Park!
With a variety of different and amazing accommodation options, Lone Mountain Resort is a top contender for the best glamping in Oregon!
Top 10 Places To Visit In Oregon
---
2) Cozy Oceanfront Yurt — Best Glamping Oregon Coast
Location: Tillamook, Oregon
Price: $235 avg. per night
Sleeps: 4 (2 beds/1 BR/1 bath)
Location, location, location. This 525-square foot luxury yurt is plopped on the shores of Tillamook Bay, and has all the comforts of home to make your stay sensational. Aside from the modern niceties such as electricity, comfortable bed and common areas, wood fire stove, kitchenette, and full bath, the coolest part about this property is the clear dome above your bed — you can watch the moon and stars from under the covers at night!
Watch the sun set over the water as you roast marshmallows around the fire pit, and enjoy nearby sandy beaches, lighthouses, quaint towns and eateries, and various outdoor activities from hiking to fishing. Check out the listing itself for a complete virtual tour of the property.
View Photos, Read Reviews & Check Availability
---
3) Willow-Witt Ranch Glamping
Location: Ashland, Oregon
Price: $150+ per night
https://www.willowwittranch.com/farm-stays/camping
https://www.facebook.com/WillowWittRanch/
"Your adventure begins here! We provide off-grid, upscale accomodations including the Farmhouse Studio, Meadow House, Rustic Wall Tents, or the forested campground with tent sites nestled among the trees. Our friendly goats and livestock guardian dogs will bring a smile to your face.
Guests enjoy the self-guided eco tours to experience the variety of wildlife that the land has to offer. We are located in the most biodiverse region of the Cascade-Siskiyou National Monument. We have unique opportunities for birding, and a variety of hiking trails including one that leads to the turtle pond. We also offer guided goat walks to take in spectacular views!"
Offering magnificent four different furnished wall tents, Willow Ranch offers the ultimate in comfort with luxury mattresses and bedding, towels, fun woodstoves, and a secluded deck to give you privacy.
Choose between their Redwing, Bluebird, Wren, and Raven glamping tents, and you'll be enjoying a Glamping Oregon getaway in no time! For those on a budget, they also offer a variety of campsite at their location.
With so much to offer its guests, there's no wonder that Willow-Witt ranch is widely considered to be a top Oregon Glamping site!
Tour the Campground at Willow-Witt Ranch
---
4) Lost Lake Resort Glamping Yurts & Cabins
Location: 5330 Imai Rd, Hood River, OR 97031
Price: $150+ per night
https://lostlakeresort.org/cabin-rentals/
https://www.facebook.com/lostlakeresortandcampground/
The Lost Lake Resort is located in the Mt Hood National Forest, and offers a large selection of cabin rentals, yurt, and one luxurious and secluded glamping yurt which comes complete with a memory foam bed, wood burning stove and a well appointed living space. All of their yurts on site include a picnic table and fire-pit as well, and guests absolutely love their glamping experience here!
With the Mt Hood National Forest just right outside your door, there are endless amounts of things to do and discover in the area! You could easily spend a couple nights here in a yurt, and then move over to one of their amazing cabin rentals for a small taste of each accommodation.
---
5) Grande Hot Springs RV Resort with Yurts & Cabins
Location: 65182 Hot Lake Lane, La Grande, Oregon 97850
Price: $197+ per night
https://www.facebook.com/HotLakeRV
https://www.airbnb.com/rooms/9630963
While the majority of people who visit the Grande Hot Springs Resort located in northeast Oregon are RV folk looking for a full-service hook-ups, they also have two spectacular yurt rentals, a vintage airstream, and a tiny house that would make for an excellent glamping Oregon getaway!
The premium yurt can sleep two people making it an ideal romantic retreat, while their deluxe yurt can sleep up to 5 guests making it more suitable for families or groups of friends. I'd personally recommend the deluxe yurt though as it has stunning outdoor oasis with a cedar soaking tub filled with hot springs water directly from the source!
Guests will also have access to the resort amenities like the swimming pool and hot springs, and you'll be close by the attractions like the Ladd Marsh Wildlife Area and Nature Trails, Anthony Lakes Mountain Resort, and the Buffalo Peak Golf Course!
---
6) The Bali House | Unique Glamping Cabin in Silverton
Location: Scotts Mills, Oregon
Price: $170 avg. per night
Sleeps: 2 (1 bed/1 BR/1 bath)
This one-of-a-kind accommodation is a completely renovated greenhouse located on a lush and sprawling private organic farm! The highlight is certainly the spring-fed soaking tub, although the well-lit and chic common areas as well as the comfortable loft bed are noteworthy as well.
The natural surroundings include waterfalls, horses on the property, private hiking trails, and just a bit further is stunning Silver Falls State Park. You'll have your own BBQ and campfire area, and nearby Silverton or Portland provide access to wineries and any number of options for dining and drinks.
View Photos, Read Reviews & Check Availability
---
7) Oregon Glamping Treehouse at Farwood Retreat
Location: Tiller, Oregon
Price: $162+ per night
https://www.airbnb.com/rooms/49425900
This is easily one of the coolest and most unique Glamping Oregon treehouse getaways! It's off-the-grid, and nestled in a remote part of the of Umpqua National Forest!
Offering incredible views overlooking the Jackson Creek, it's an idyllic escape and perfect for those looking reconnect with nature! You will not have cell-reception, but there is wi-fi (if you need to get in touch with people or even work remote).
Backed with amazing reviews from previous travelers and a superhost who loves making sure you have a 5-star stay, you will love this treehouse retreat and all there is do in the area!
---
8) Bunkalo Glamping Tent
Location: Talent, Oregon
Price: $109+ per night
https://www.airbnb.com/rooms/3330832
Bring on country life and leave the city behind. Find your way to a charming high tent fitting most amenities of a regular room. When glamping at this site, you're sure to find a comfortable queen-sized bed, electricity, and an outside bathhouse. Enjoy fresh linens and towels that are supplied for your ultimate comfort.
For those hot summer nights, you are provided with a fan to keep you cool. For those of you who find breakfast to be the most important meal of the day, there is a B&B on-site offering a delightful morning meal, at an additional charge.
View Photos, Read Reviews & Check Availability
---
9) Cozy Glamping – Forest Oasis
Location: Banks, Oregon
Price: $126+ per night
https://www.airbnb.com/rooms/8033054
If you're looking for luxury camping, look no further than this gorgeous, private all-seasonal tent situated at the edge of a tranquil pond overlooking a spectacular 5-acre park-like setting.
It's just 30 minutes from the city and has a range of activities on site. There's a pool table, a large volleyball court, and a soccer net. You can also enjoy the hot tub variety of garden seats to relax at.
If you're keen on exploring outside the glamp site, take a 20-minute drive and visit some local wineries. Also in the area is Cannon beach, you're 55-minutes away from frolicking in the ocean. If you are looking for something a little closer, Stub Stewart State Park offers horse trails and mountain biking.
Snuggle up under the sheepskin comforter in winter or enjoy a meal from your very own kitchenette. Enjoy listening to birds greeting in the morning and bullfrogs serenading the night's sky at your own private fire pit. You will find glamping at its best at Heaven and Earth retreat!
View Photos, Read Reviews & Check Availability
---
10) Prospector Glamping Luxury Tent
Location: Douglas County, Oregon
Price: $183+ per night
https://www.airbnb.com/rooms/36200823
The Prospector luxury tent camping offers a luxury retreat and the ultimate camping dream, nestled in the forest park next to the North Umpqua River. It's a nature lover's and explorer's dream! It sits close to a range of trails, waterfalls, and the Umpqua hot springs.
The glamping tents have an elegant handcrafted wooden frame and canvas tent. You will find your private glampground to have a park-like setting with a fire ring for your BBQs and picnic table. On a hot summer day, make your way through a short forest path to a swimming area with a waterfall – you will not be disappointed.
There is an abundance of recreational activities in the area such as whitewater rafting, fly fishing, rock climbing, swimming, horse riding, hiking, and scenic tours. The friendly hosts are happy to assist you in booking some fun activities during your stay.
View Photos, Read Reviews & Check Availability
---
11) Camp Heaven
Location: Sherwood, Oregon
https://www.airbnb.com/rooms/3738251
Arrive at your fully set-up, private glamping site and enjoy the rustic outdoors in luxury. Experience glamping at its very best, enjoying the comforts of soft white robes and slippers as you sit outside enjoying your cup of tea in the morning.
Listen to the crackling of the campfire as you BBQ your marshmallows in the fire pit. Explore some established walking trails and keep your eyes peeled as several endangered species call this place home.
View Photos, Read Reviews & Check Availability
---
12) WWR Redwing 4 Person Wall Tent
Location: Ashland
Price:
https://www.airbnb.com/rooms/628051
Get in touch with nature on a stunning ranch! Enjoy an ultimate wilderness experience while glamping.
Settle into the rustic tent with the luxury of a comfortable bed and fresh linens. Your private glamp site comes with a fully- equipped kitchen where you can explore your culinary skills with fresh produce from the farm.
For organic produce lovers, there is fresh produce, goats' milk, free-range eggs, goat meat, and pork available. Enjoy a rustic experience, get in touch with nature, and enjoy some spectacular views.
Tip: If WWR Redwing Glampsite is booked out, check out WWR Bluebird 4 person Wall Tent.
View Photos, Read Reviews & Check Availability
---
13) Miranda's Private Luxury Glamping
Location: Molalla, Oregon
Price: $168+ per night
https://www.airbnb.com/rooms/36940207
For a remarkable private, romantic, relaxing glamping getaway, this fantastic luxury safari tent is just for you. A queen-size bed and dreamy linens invite you for a comfortable stay. Enjoy a complimentary breakfast gazing at mountain views and vast landscapes.
Guests can enjoy a sunshine-filled day next to the pool and sip wine in the hot tub once evening comes. An enjoyable glamping getaway experience. Treat yourself to an extraordinary experience at this enjoyable glamping getaway.
View Photos, Read Reviews & Check Availability
---
14) Tentrr Glamping – Cranberry Overlook at Black Moon Farms
Location: Bandon, Oregon
Price: $115+ per night
https://www.vrbo.com/9215196ha
An exclusive Tentrr glamp site is offering a unique outdoor experience amongst forests and meadows. Tentrr partners with ranchers, farmers, and other private property owners to provide guests with exceptional outdoor stays.
Enjoy safari-style canvas tents in Oregon on a platform, fitted with a queen-sized bed to meet your luxury comfort needs. Enjoy the outdoor fire pit ready to be lit for a BBQ at any given time. During the day, guests can enjoy hiking and other outdoor activities around the Cape Blanco or take a day trip to the Rogue River-Siskiyou National Forest.
Get a pre-eminent experience at this Coastal Oregon Farm for a peaceful getaway in nature.
View Photos, Read Reviews & Check Availability
---
15) Aslan's Retreat Glamping Farm Stay
Location: Boring, Oregon
https://www.airbnb.com/rooms/34675737
Alan's Retreat provides a genuine farm experience in a luxury canvas tent. It overlooks serene goat pastures and organic gardens. Enjoy glamping with all the amenities suited for your comfort. Fully equipped with a queen-size bed, a private kitchenette, and rustic bathroom in a vintage barn.
Guests are invited to explore livestock pastures in this charming setting. For breakfast, enjoy fresh eggs and goats milk from your friendly neighbors.
View Photos, Read Reviews & Check Availability
---
16) Lucky Stars Retreat
Location: Alma, Oregon
https://www.airbnb.com/rooms/35536553
Lucky Starts Retreat offers the ideal getaway location next to the Siuslaw and Smith River in a stunning bell tent. Nestled in the woods, enjoy the outdoor experience under the stars with the comforts of a queen-size bed and luxury linens.
For hiking enthusiasts, there are endless trails amongst the forests. Just an hour away from Oregon coast and 30 minutes away from gorgeous wineries, this is the superb location for anyone looking for the ultimate getaway experience.
View Photos, Read Reviews & Check Availability
---
17) Glowing Lotus at Dew Valley Ranch
Location: Bandon, Oregon
https://www.airbnb.com/rooms/35232809
Lotus Glamp site is a private luxury camp nestled in a small valley on a ranch, just 1.5 miles from the ocean.
The luxury tent offers a queen-sized bed and a kitchen. For those who enjoy outdoor activities, there is mountain biking nearby, as well as fishing, kayaking, and golfing just minutes away. The ideal location is surrounded by popular sites to see and fun things to do.
Relish a different take on glamping by staying in a tipi in a pasture. This magical experience offers a panoramic view of the natural landscape and river below. Enjoy two comfortable queen-sized beds, and a rustic gas fire pit for ambiance under the stars skies.
View Photos, Read Reviews & Check Availability
---
18) Cozy Southwestern Tipi
Location: Bend, Oregon
https://www.airbnb.com/rooms/38074409
Fancy a southwestern aesthetic tipi? For a real authentic feel, this tipi was locally made from nomadic people living in Tumalo, giving you a distinct feel to nature and cultural heritage. The tipi is equipped with a queen-sized bed and an indoor heater.
You will have easy access to Deschutes hiking trails nearby and you'll be just 12 minutes away from Redmond or Bend.
Enjoy the sounds of birds chirping as you sit on the handcrafted deck nestled in the woods.
View Photos, Read Reviews & Check Availability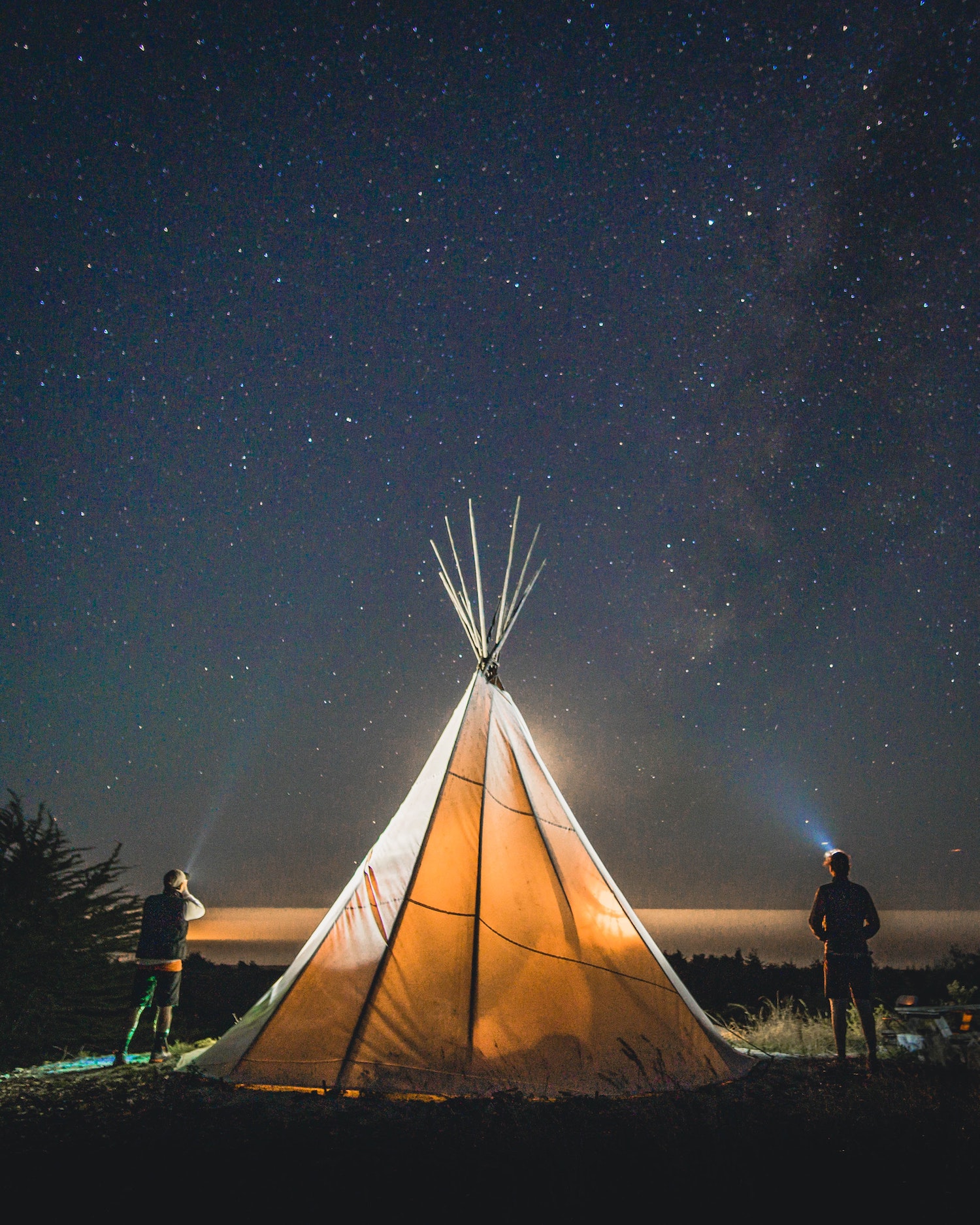 ---
19) Vintage Airstream Glamping | Romantic Getaway 1 Hour from Portland
Location: Scotts Mills, Oregon
Price: $115 avg. per night
Sleeps: 2 (1 bed/1 BR/1 bath)
Experience glamping at its finest in a vintage Airstream. The trailer is entirely modernized with modern touches and appliances throughout, and even comes with a welcome bottle of champagne! This rental is situated on 67 acres of private land, affording you the opportunity to make use of the private trails, gardens, interact with the hosts' horses, and walk the winding path to various waterfalls.
The hosts really do provide everything, offering a concierge service to stock groceries and essentials as well as the opportunity to enjoy fresh produce from the property depending on the season. This 23-foot classic accommodation is the perfect place to kick back, relax, and enjoy a few days of disconnecting!
View Photos, Read Reviews & Check Availability
---
20) Chenin Blanc Tent: Glamping in Applegate Valley, Oregon
Location: Applegate Valley
https://www.airbnb.com/rooms/32594277
The Chenin Blanc Tent is situated in 5 acres of woodlands. It's terrific for anyone looking for an authentic camping experience in the bush, without any fuss. Nestled in nature, you'll be spoiled with mountain views and a seasonal creek. Deer and wild turkeys are your only neighbors.
For outdoor lovers, there are fabulous activities to experience and explore, such as hiking trails, wine tasting, and rafting. There's also the chance to attend the Britt Music Festival and visit the historic Jacksonville.
Chenin Blanc Tent is conveniently located on the Applegate wine trail. For wine lovers (or anyone who enjoys exploring trails), this is absolute heaven. Some all-time favorite wineries in the area are Augustino Winery, Moulton's Wines and Plaisance Winery. If you're interested, ask for a wine trail map to discover your surroundings.
View Photos, Read Reviews & Check Availability
---
Planning a trip to the USA?
I've got tons more articles and would love for you to take a look at a few of my favorite posts below! And as always, if you ever have any questions about visiting California, feel free to reach out to me on social media and I'd be happy to help any way I can!
---
Final Thoughts on Glamping Oregon
Whether you're looking to find a glamp spot in the forests, along mountains sides, or in the valleys, there will be a luxurious camp readily awaiting your arrival.
A perfect opportunity for adventure seekers, families, and romantic couples who are looking for a fun experience in nature. Welcome to the luxury camping trend that makes life much easier when it comes to vacationing in the outdoors.
Oregon glamping offers guests an excellent selection of luxury destinations, with superb lodging options. Get a truly unique experience amidst nature's glory.
---
Thanks for reading my Glamping Oregon guide!
Share these Oregon Glampsites with your adventure travel crew!
https://www.jonesaroundtheworld.com/wp-content/uploads/2020/03/Oregon-Glamping-Locations.jpg
1000
1500
Dave
https://www.jonesaroundtheworld.com/wp-content/uploads/2017/03/logotry-1-1-300x106.png
Dave
2023-01-15 20:32:13
2023-01-16 02:25:45
20 Best Glamping Oregon Sites For Your Bucket List