Planning a trip and looking for the best Airbnbs in Portland, Oregon? Well, you've come to the right place, because I've put together this amazing guide covering the best Airbnb Portland rentals to help you find the perfect accommodation for your upcoming visit! Whether you're looking for a romantic getaway, weekend trip with friends, or family holiday – let me help you find the perfect accommodation for your upcoming trip!
The capital city of Oregon, Portland, is a clean and green destination with a very hip vibe. Super liberal and easygoing, Portland is home to just over half a million happy and healthy residents. The relatively small population only adds to the sense of space, and freedom visitors just can't get enough adventures from this beautiful city.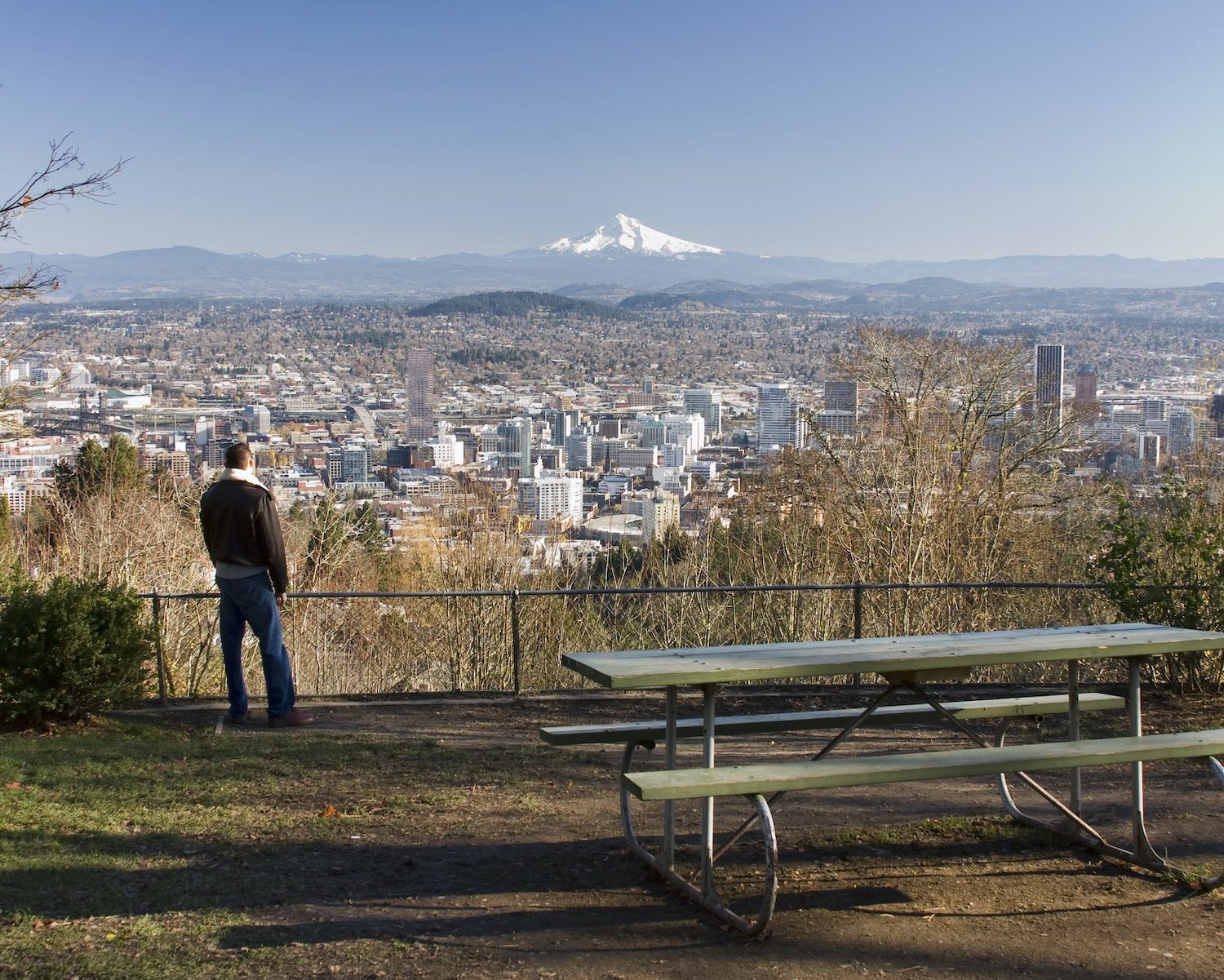 ---
Portland is named for its early 20th century beginnings as a super dangerous shipping port, but now it's a haven for hipsters, eco-warriors, and nature lovers. Sure, it rains a lot, but that doesn't get to Portland locals too much. They're too busy making the most out of their days, climbing mountains, running iconic local breweries, growing their own produce, riding bikes, and working to conserve this world-class destination and its majestic environmental offerings.
Airbnbs in Portland are just like the city's residents – ultra-hip, welcoming, and environmentally friendly. They have some of the best overall ratings I've ever seen for any global city, and it was hella tough for me to pick my favorites. But here it is – my shortlist of the best Airbnb vacation rentals in Portland!
---
Quick Breakdown of Portland Airbnb Rentals
I have a knack for picking out the best Airbnbs in a city, and I've done the same for Portland. If you don't have the time or patience to shortlist the places you most want to stay in the Oregon capital, I've done the legwork for you. Here's my "Quick 5" shortlist of the best Airbnb Portland vacation rentals!
I've also added tons of fun, helpful, and inspiring travel videos for your upcoming trip to Portland, Oregon! It's such an incredible and unique destination with lots to do, so make sure you watch a few of them to get loads of ideas for how to spend your time down there! Also, give a read through my article on 19 Amazing Airbnb Oregon Coast for a different type of getaway!
---
21 Best Airbnb Portland Oregon Vacation Rentals
Alright, let's dive in! No matter what your travel style or budget, I guarantee this list has got it covered!
---
Overall Best Airbnb in Portland, Oregon — Chic Guest House in the Heart of the City
Location: Laurelhurst
Airbnb Plus: Yes
Superhost: Yes
Price: $147+ USD per night
https://www.airbnb.com/rooms/31649731
Located in the historical Portland neighborhood of Laurelhurst, this lovely one-bedroom vacation rental is my pick for the overall best Airbnb in Portland. And it's not just its top star overall rating or affordable price that sold me on giving it the Jones stamp of approval. This verified gem is homey, warm, welcoming, and immaculate, with a fantastic host who wants to share her incredible house with you. Its white, breezy interiors and high ceilings add to its refreshing sense of space, and the local area is one of the most visitor-friendly in this charming city. This vintage district has lots of hip cafes, restaurants, a tranquil park, and is right on the dividing line between Airbnbs Southeast Portland and Northeast.
View Photos, Read Reviews & Check Availability
Guest review: "Book this one! As everyone else has noted, this place is incredibly warm and welcoming, accurately described, perfectly located and spotless clean! I was on a solo vacation for 2 weeks exploring the PNW and ended up in Portland for the last leg of the trip. This place helped me relax and feel at home as I unwinded each day. Infinitely better than a hotel with a host who cares about the full experience. I'll book again the next time I'm in the area again! :)"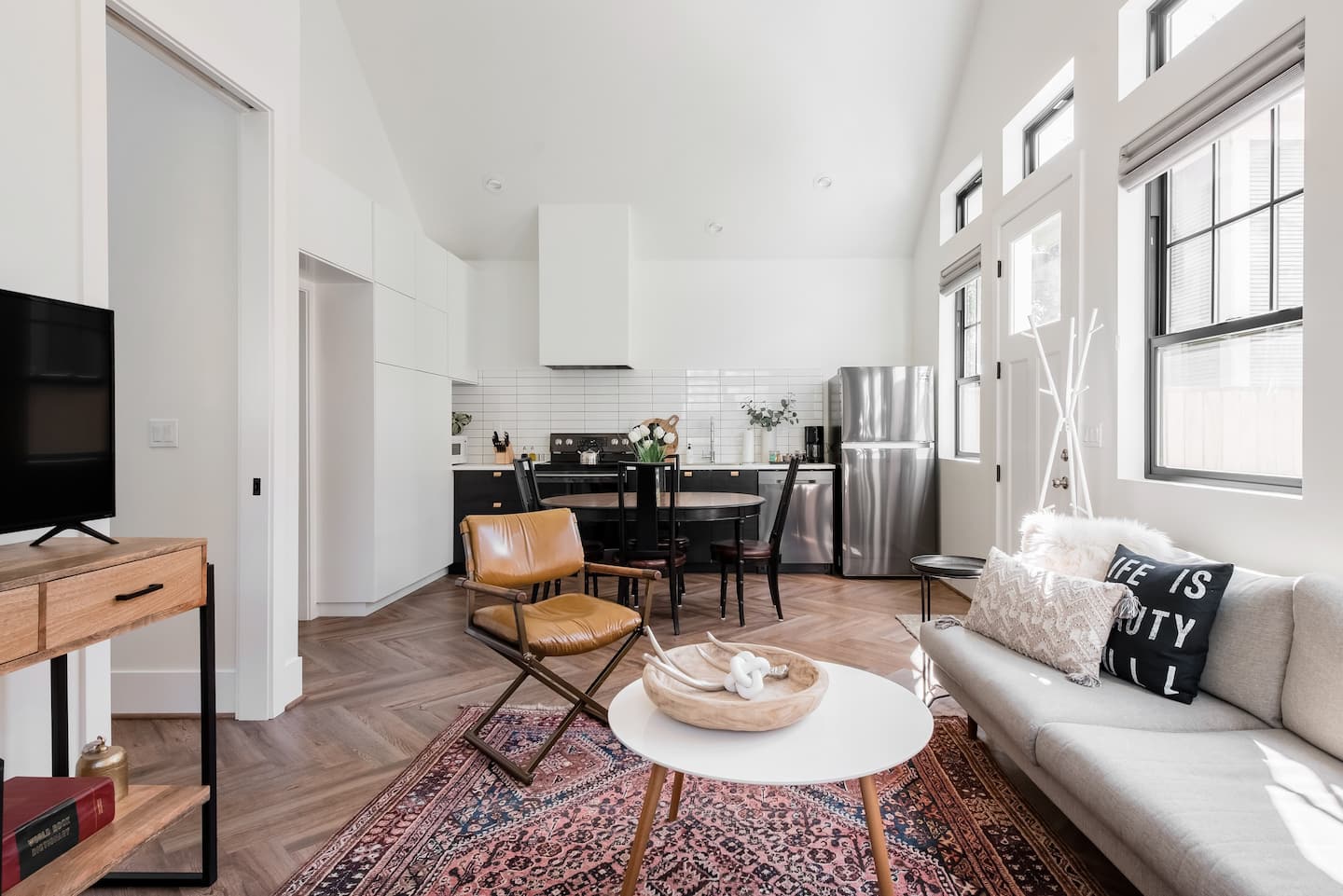 ---
Best Romantic Airbnb Portland Rental — Clinton St. Guesthouse in Perfect Location
Location: SE Portland
Airbnb Plus: Yes
Superhost: Yes
Price: $120+ USD per night
https://www.airbnb.com/rooms/15073646
Portland is a great U.S. city for a romantic couples getaway, and this private, spacious one-bedroom guesthouse is a great place to bunker down for a cozy long weekend with your honey. Also perfect for a family, this comfortable, bright, and light-filled hideaway has plush interiors, and if you have a little one tagging along, the host supplies a portable crib to make your visit that much easier. This sweet little pad is ideally located in trendy Southeast Portland, with its friendly, artistic residents, and cool vibe. There's lots of restaurants and shops, plus a nice park nearby. Downtown Portland is located close by.
View Photos, Read Reviews & Check Availability
Guest review: "The Clinton Street Guest House is just lovely. Everything is thought of and catered for to perfection, and Ed is the kind of host you wish all Airbnb hosts were like. Location can't be beat, recommendations are spot on, and the house itself really is a little haven to 'come home' to after a full day of exploring all the delights Portland has to offer. We truly hope to be back very very soon…." – Nicola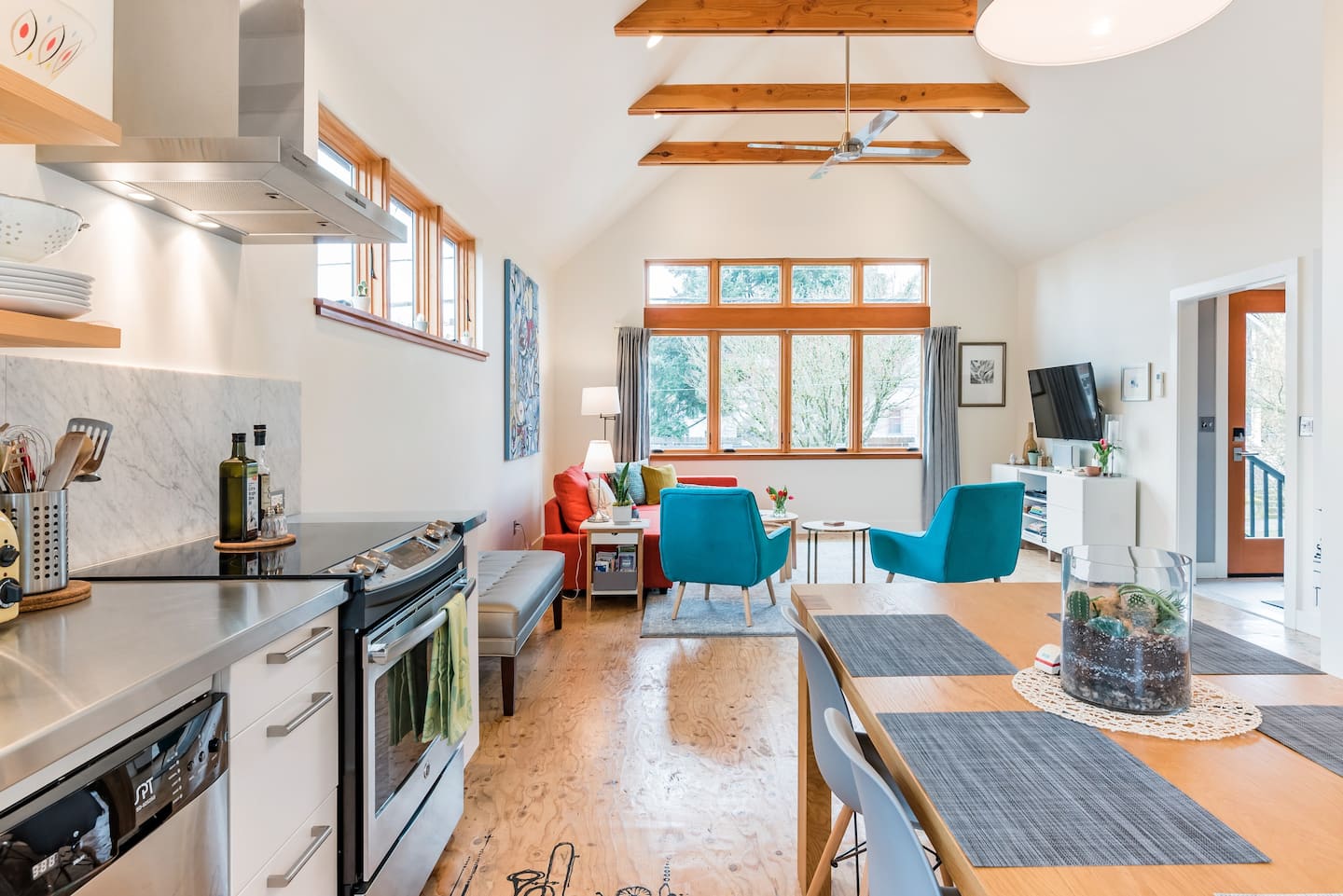 Portland, Oregon | what to eat, see & do
---
Best Cheap & Unique Airbnb Portland Rental — Lady Bluebird Converted Bus in NoPo
Location: Piedmont
Airbnb Plus: No
Superhost: Yes
Price: $76+ USD per night
https://www.airbnb.com/rooms/6389334
What if I told you that for the price of a basic dinner anywhere else in the country, you could book a night at one of Portland's cheapest Airbnbs? And arguably the most unique Airbnbs in Portland, Oregon, city! A super cool and funky 1984 bus conversion, "Lady Bluebird" has been transformed into a brilliant RV-style abode that is fully self-contained.
It has a sleeper sofa, kitchenette and meals area, bathroom and sleeping space, and sleeps up to two people comfortably. It is equipped with a portable air-conditioner and a few fans inside, and for the colder months, a number of heaters. The hosts live on-site, but Lady Bluebird is totally private, and you'll have a quiet little outdoor space all to yourself – plus free bike rental. Guests are welcome to use the spa and access the host's various natural therapy services! The bus is parked up in the awesome leafy neighborhood of Piedmont, which is close to North Portland's buzzing central districts. Certainly one of a kind experience for 2 guests.
View Photos, Read Reviews & Check Availability
Guest review: "Lady Bluebell! What a gem! It was so spacious, clean, funky and super cute! We love our 2 days in Portland, considering the temp was cracking 100 we were very comfortable in the bus." – Georgia
10 BEST Things To Do In Portland | What To Do In Portland
---
Best Luxury Airbnb Portland Oregon — Music-Themed House with a Hot Tub in Southwest Portland
Location: Southwest Portland
Airbnb Plus: Yes
Superhost: Yes
Price: $450+ USD per night
https://www.airbnb.com/rooms/26740129
This amazing home is not only the best luxury entire apartment in Portland but arguably the coolest Airbnb rental as well. Featuring four bedrooms and three baths, music fans just have to experience this home at least once. Its spacious interiors are so unique and hip; you'll be pinching yourself from start to finish. Endless pop culture, musical art, with prints peppered on the walls, and there are collectors edition guitars owned and signed by some of music's greats on display for enviable photo ops. Enjoy this modern, private, Portland Airbnb with a pool room, gourmet kitchen, patio with an outdoor sauna, and a large backyard with a fire pit – and that's just the beginning.
You'll be within walking distance to the hippest restaurants, cafes, bars, and stores in SW Portland, as well as a range of green parks and city bridges. Walk along the nearby waterfront of the Willamette River, or bike into Downtown Portland with ease. While it may be one of the most expensive rentals you can find, this is easily a top contender for the absolute best Airbnb in portland Oregon!
View Photos, Read Reviews & Check Availability
Guest review: "If you have a group that needs a place in Portland, make every effort to stay in this truly amazing house. Every design detail made us happy…the music theme, the donut bedroom and the hilarious bath mats. Not to mention the amenities such as the hot tub, fire pit and pool table. Just supremely excellent." – Kristen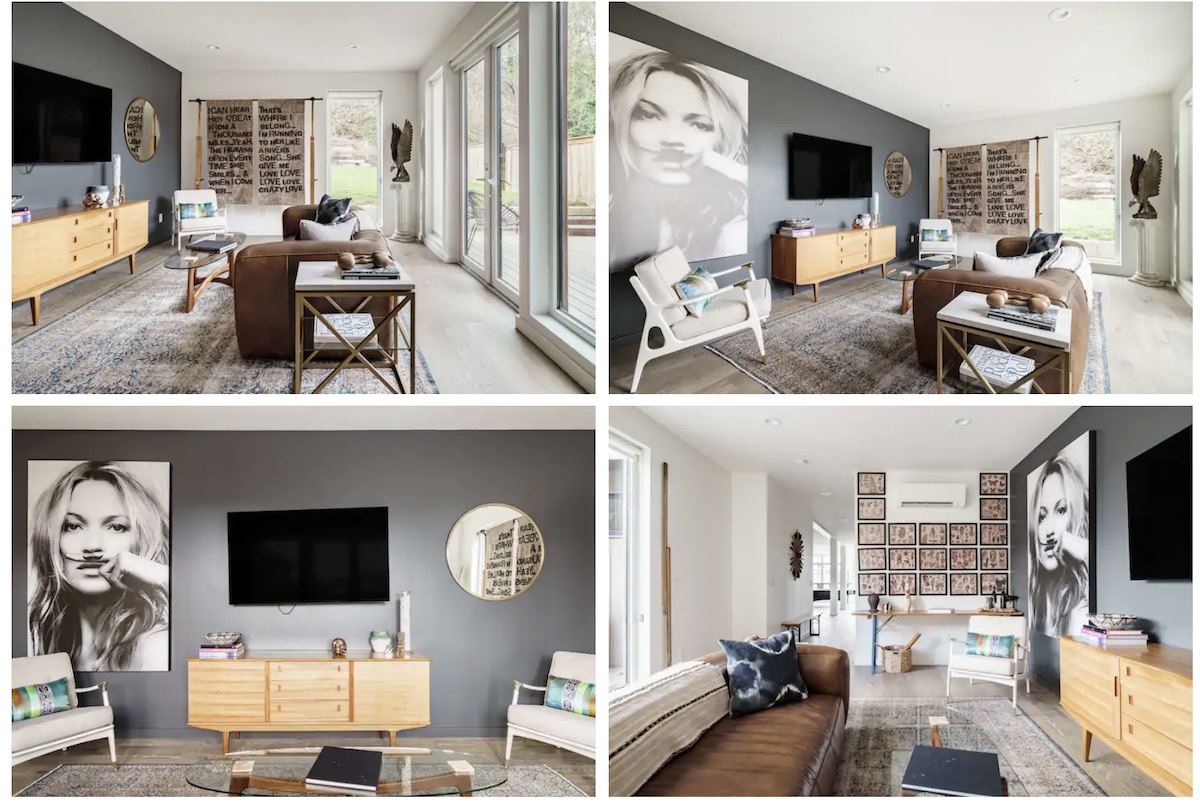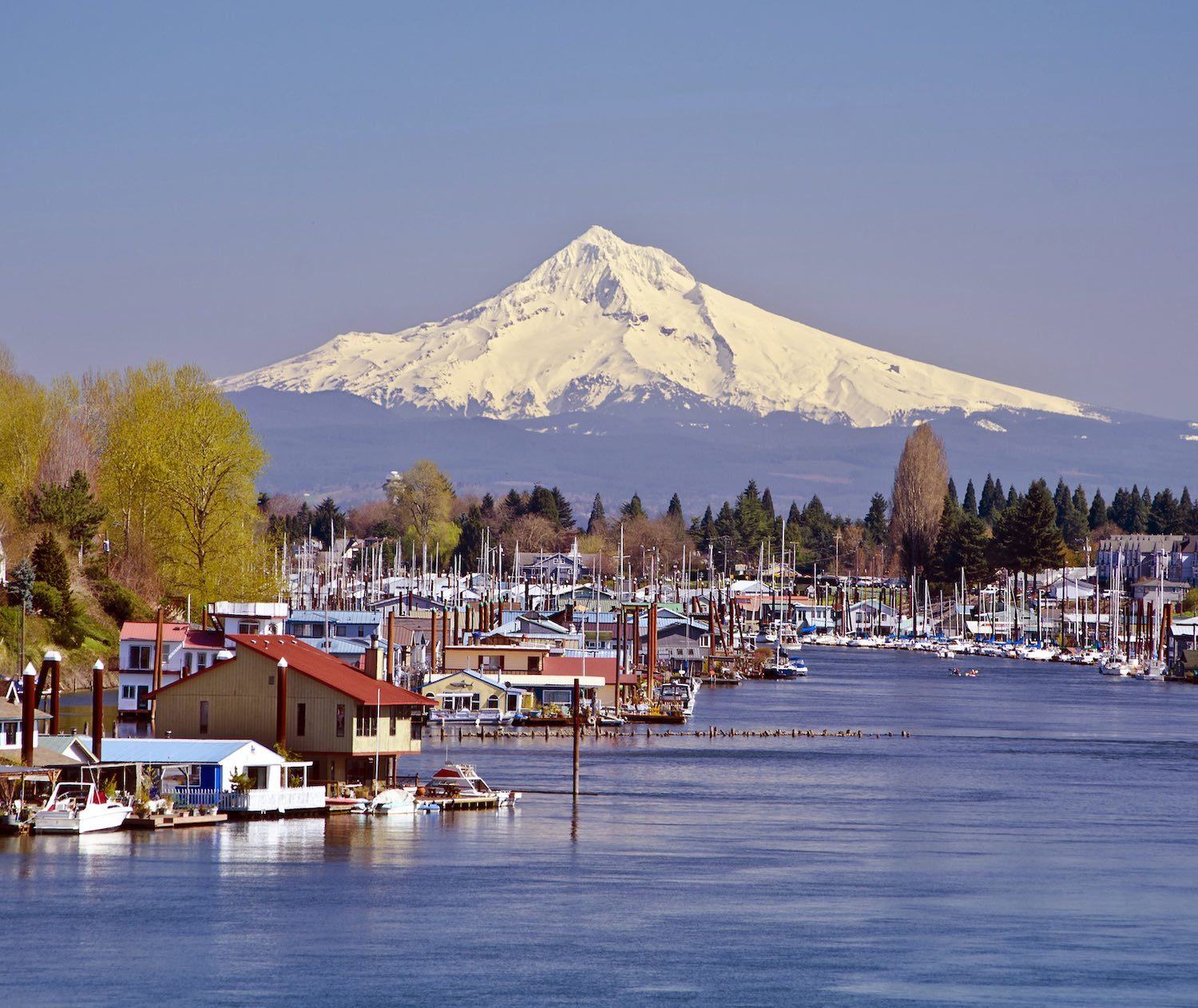 ---
Best Value for Money Airbnb in Portland — Creative & Clean Bungalow in Portland Hot Spot
Location: Mississippi
Airbnb Plus: Yes
Superhost: Yes
Price: $100+ USD per night
https://www.airbnb.com/rooms/13247486
Modern, private, and stylish, this beautiful single bedroom and bathroom Portland bungalow blends the best of classic and contemporary design to really stand out. Its location is one of the city's best, nestled within the hipster foodie haven of Mississippi. Enjoy a world-class feed at Samurai Blue, Ox, or Tasty and Sons, or the city's cool food trucks, and make the most of the neighborhood's great craft breweries that are renowned across Portland and beyond. Great shopping and coffee hotspots also await you. All this will be on your doorstep, and Downtown and Pearl District can be reached in minutes. A+.
View Photos, Read Reviews & Check Availability
Guest review: "Wow, what a cute little pad to call home in an awesome location. So close to the wonderful eat street Mississippi Ave, and an easy bus or Uber ride to Downtown or Pearl. (Btw, loved restaurant Departure downtown). The accommodation is well equipped with beers on arrival. But grab some milk for your coffee. The furniture, fittings and art are lovely. If you're a sleeper who likes darkness, then look elsewhere as the blinds aren't block out which is unfortunate. But that's my only negative. Well done Arthur & Adam for providing a great pad to crash after exploring Portland." – John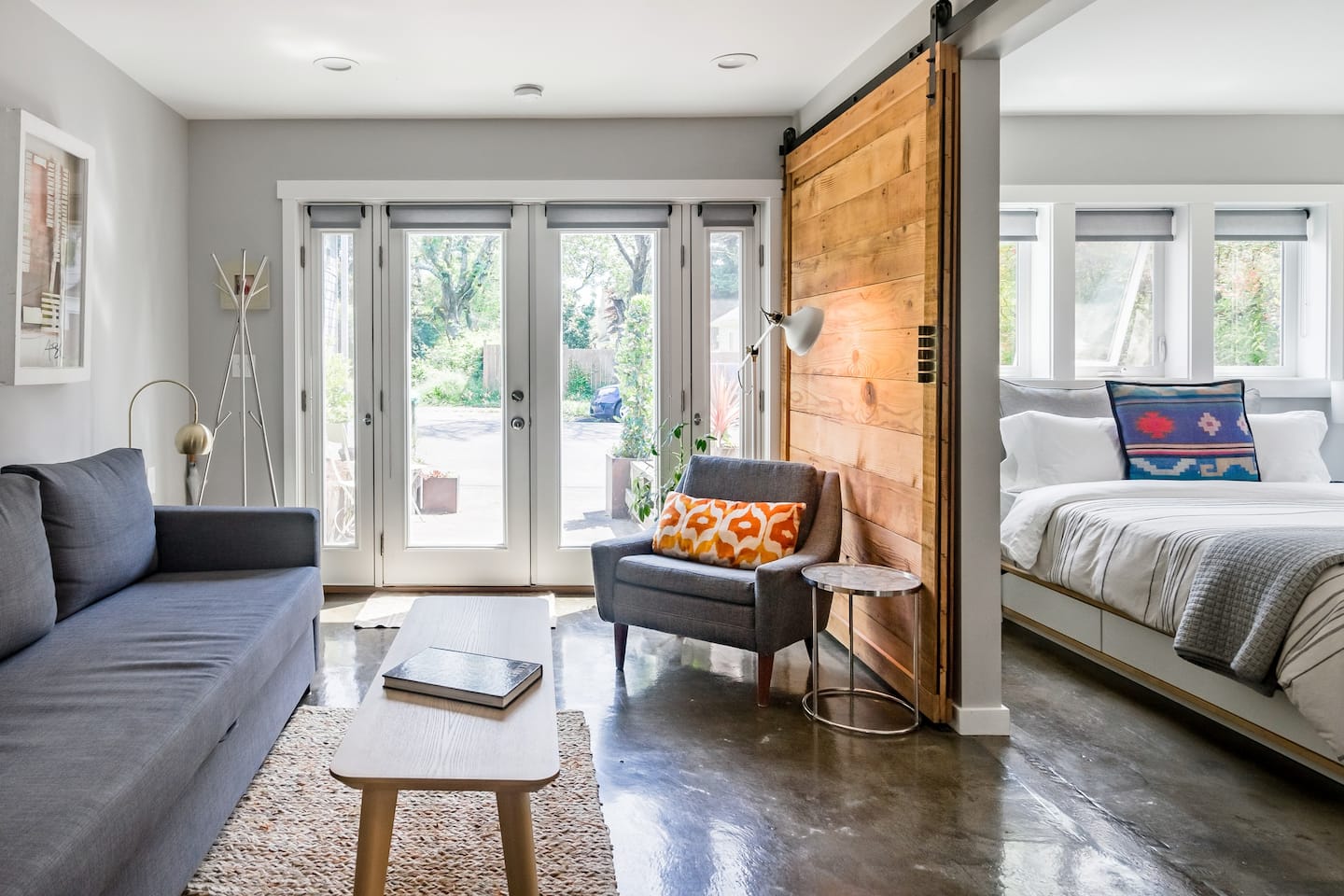 ---
Coolest Designed Portland Airbnb — Handbuilt Alberta Arts Cottage
Location: Alberta
Airbnb Plus: No
Superhost: Yes
Price: $80+ USD per night
https://www.airbnb.com/rooms/4963976
Featured in New York Times
Alberta is one of the coolest and most artistic pockets of beautiful Portland, and this hand-built, one-off cottage is nestled right in the midst of one of the top "bike boulevards" in the city. With a bedroom and bathroom, with warm interiors crafted from a range of beautiful wood finishes, you'll be astounded by the craftsmanship of this entire house, which is just a few years old. Its rustic vibe is amplified by butcher's block kitchen countertops and island benches, as the hosts wanted to make the enjoyment of food a central element of this stunning cottage.
This little house is a short walking distance from the bright lights of the Alberta arts scene, and its many restaurants, galleries, shops and parks. Rent a bike and feel like a Portland local in no time.
View Photos, Read Reviews & Check Availability
Guest review: "Easily one of our favourite stays anywhere – such a wonderful house, and James was a pleasure to deal with. It was very close to heaps of great places to eat and drink, but was nice and quiet at the same time. We loved reading about the house in its feature in the book on small houses provided!" – Harry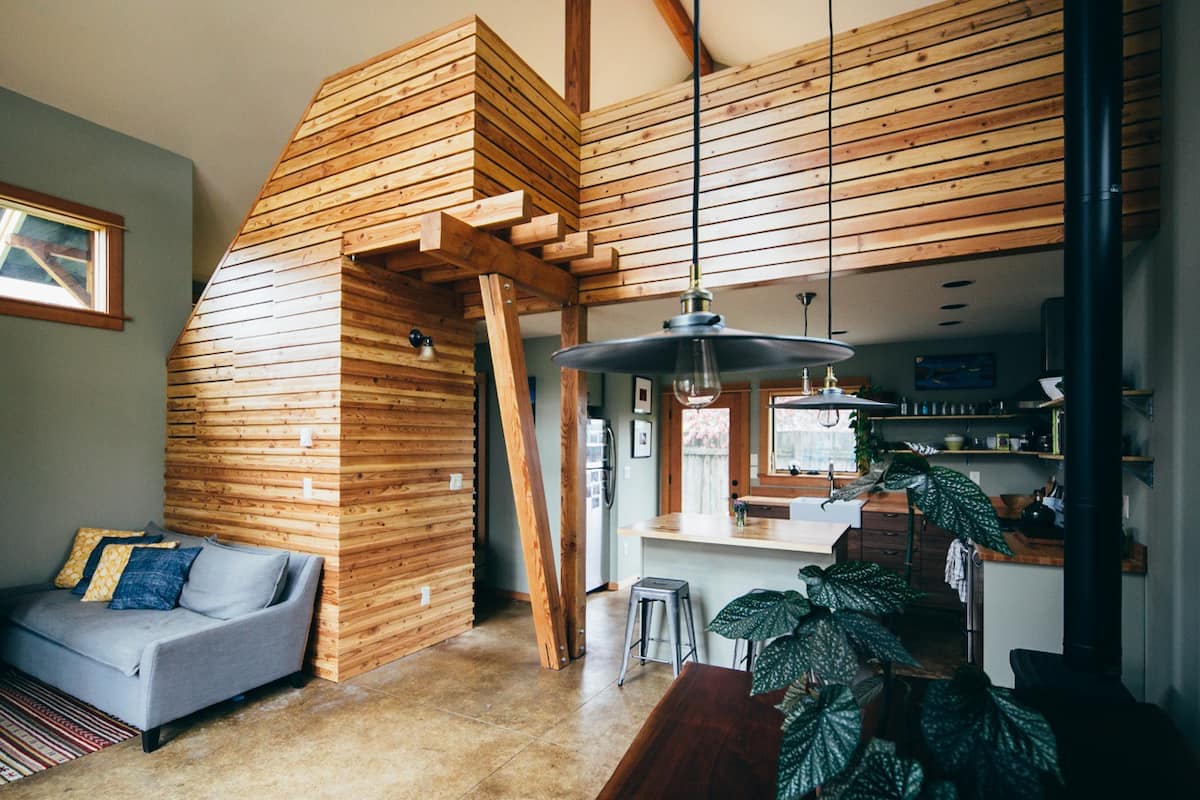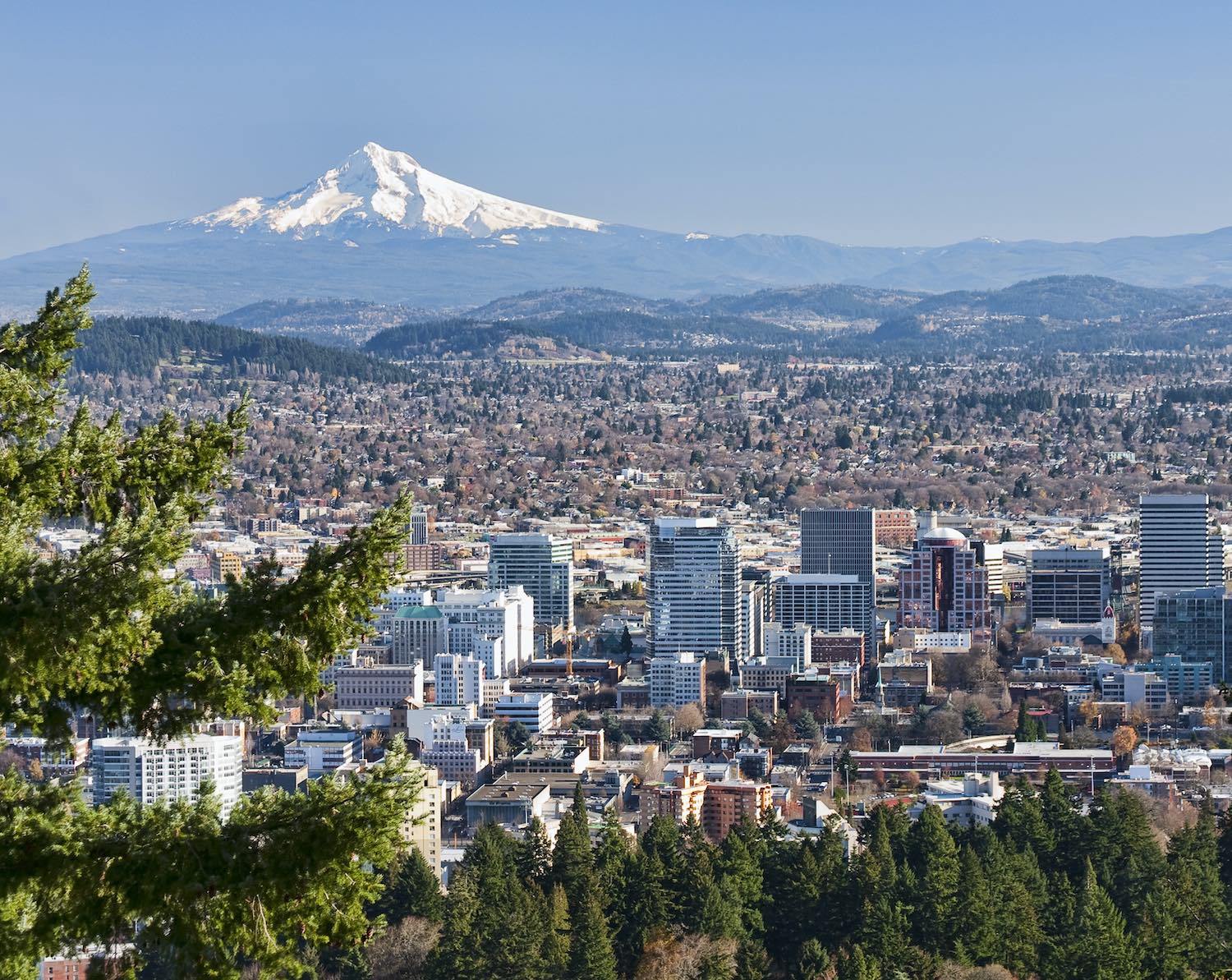 ---
Best Airbnb Portland Tiny Home — Cutest Tiny House Ever!
Location: Woodstock
Airbnb Plus: No
Superhost: Yes
Price: $50+ USD per night
https://www.airbnb.com/rooms/27331754
The tiny house movement is paving the way for more sustainable, compact, and affordable living that still has all the great features of a larger home. And this gorgeous Portland tiny house is sure to be your favorite you've ever stayed in. Like stepping into a human-sized dolls house, this cute space is all about cozy comfort, with a very French Provincial, country chic interior design. You'll sleep in the space-maximizing loft, right above the living room, kitchen, and dining nook. This tiny home is located in the very cool Woodstock neighborhood, with its iconic cafes, restaurants, farmers' markets, bookstores, and antique shops. Live small during your visit to Portland, and you'll leave feeling a million bucks in a great location.
View Photos, Read Reviews & Check Availability
Guest review: "This was the perfect place for our stay in Portland. The house was adorable and the neighborhood had great restaurants nearby!" – Samantha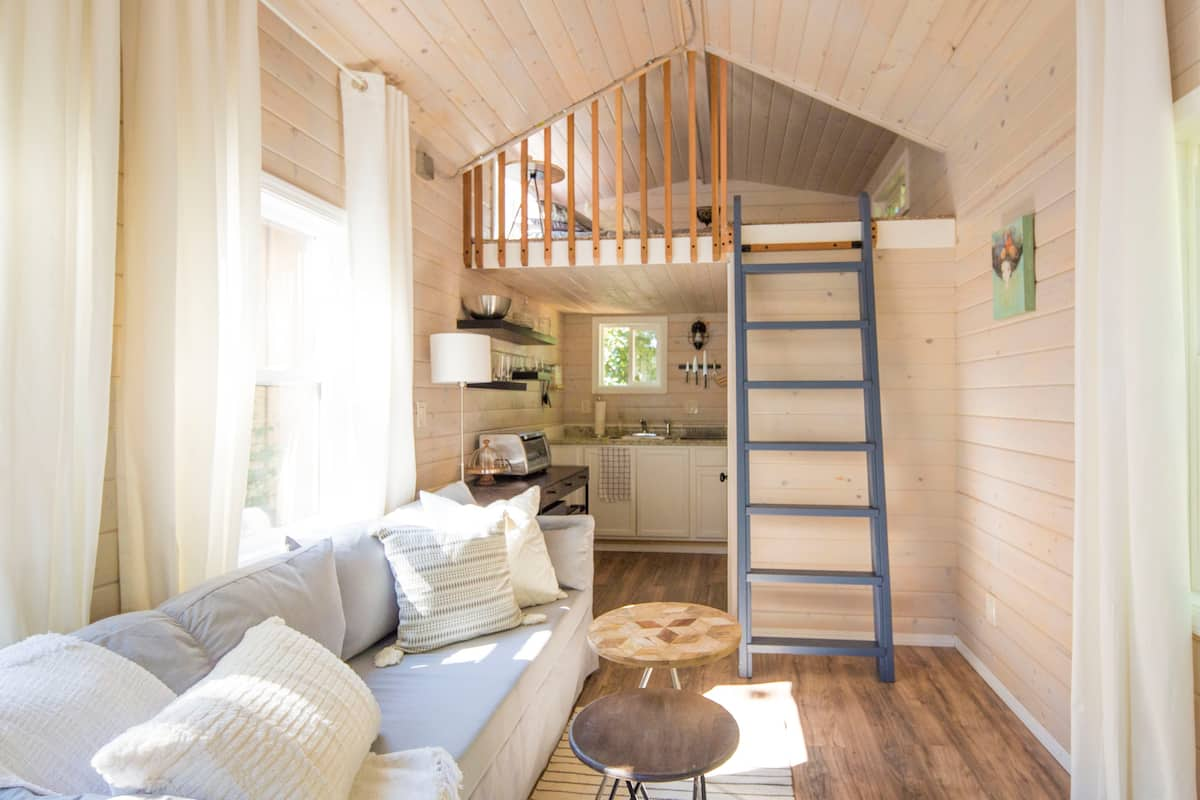 PORTLAND FOOD CRAWL (We Eat Everything) - Fung Bros Food
---
Best Pet-Friendly Airbnb in Portland — Tranquil Little House (Private)
Location: Woodstock
Airbnb Plus: No
Superhost: No
Price: $60+ USD per night
https://www.airbnb.com/rooms/19626637
Pack your pooch in the car for a relaxing visit to Portland, and book your stay at this private house in the earthy Airbnb southeast Portland neighborhood of Woodstock. This pet-friendly studio is the ideal minimalist abode to get away from it all and features a comfy bed, all new furniture, a covered patio, and a fully-equipped kitchen. Your dog will love Woodstock Park, which is just a few blocks away, while you'll love roaming around the farmers' markets, coffee shops, great restaurants, iconic ice creameries, and so much more. In this great location, you can reach Downtown Portland from this pleasant pad in just 15 minutes. It's definitely one of the top Airbnbs in SE Portland for 2 guests and a pup.
View Photos, Read Reviews & Check Availability
Guest review: "Great little space in SE PDX! Super private, it is well separated from the main house, and a very quiet neighborhood. If you have a dog the Woodstock Park just a few blocks away is great and the neighborhood is great for walks. Enjoyed our stay and highly recommended if you want a quiet PDX experience!" – Allison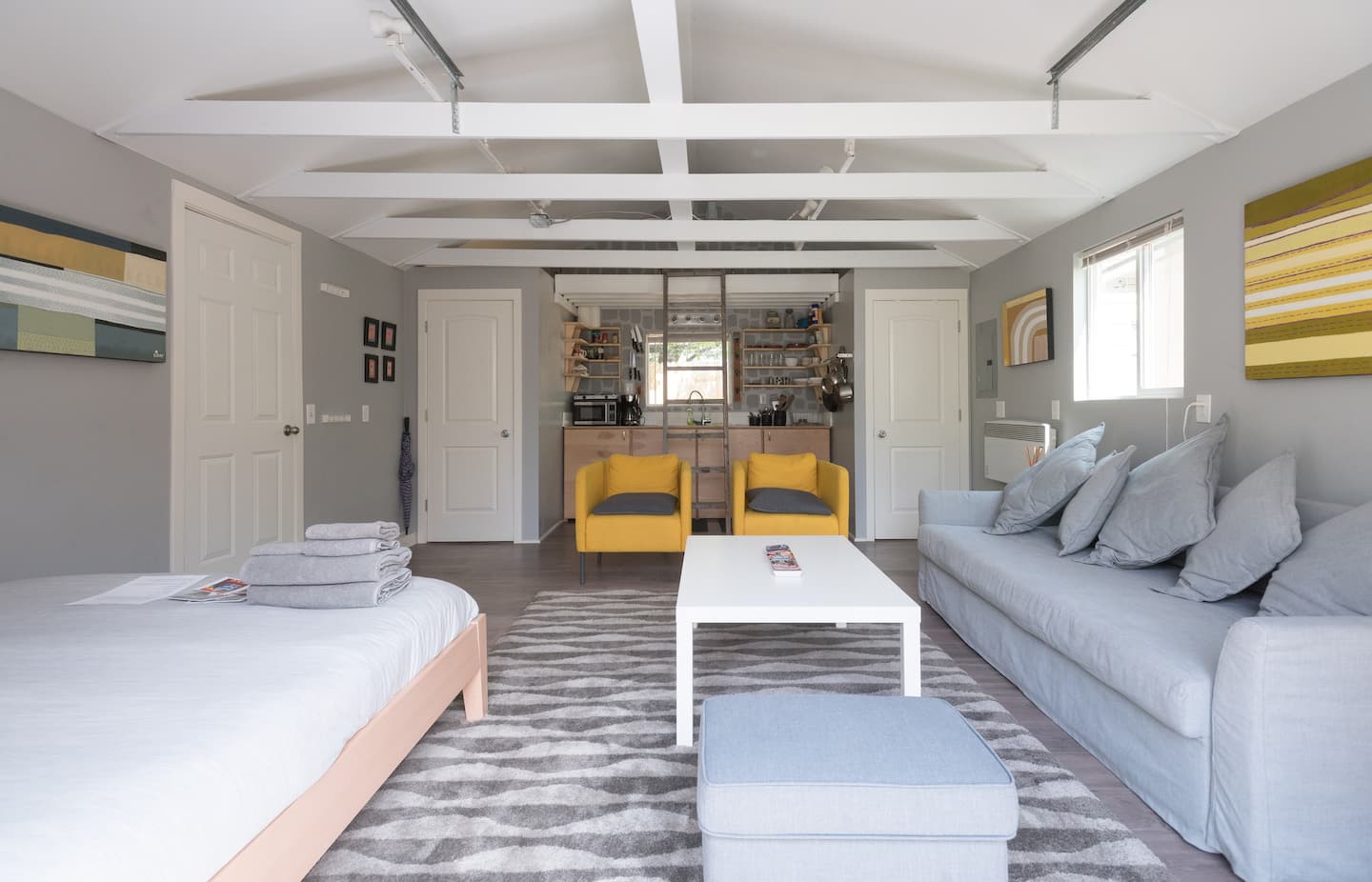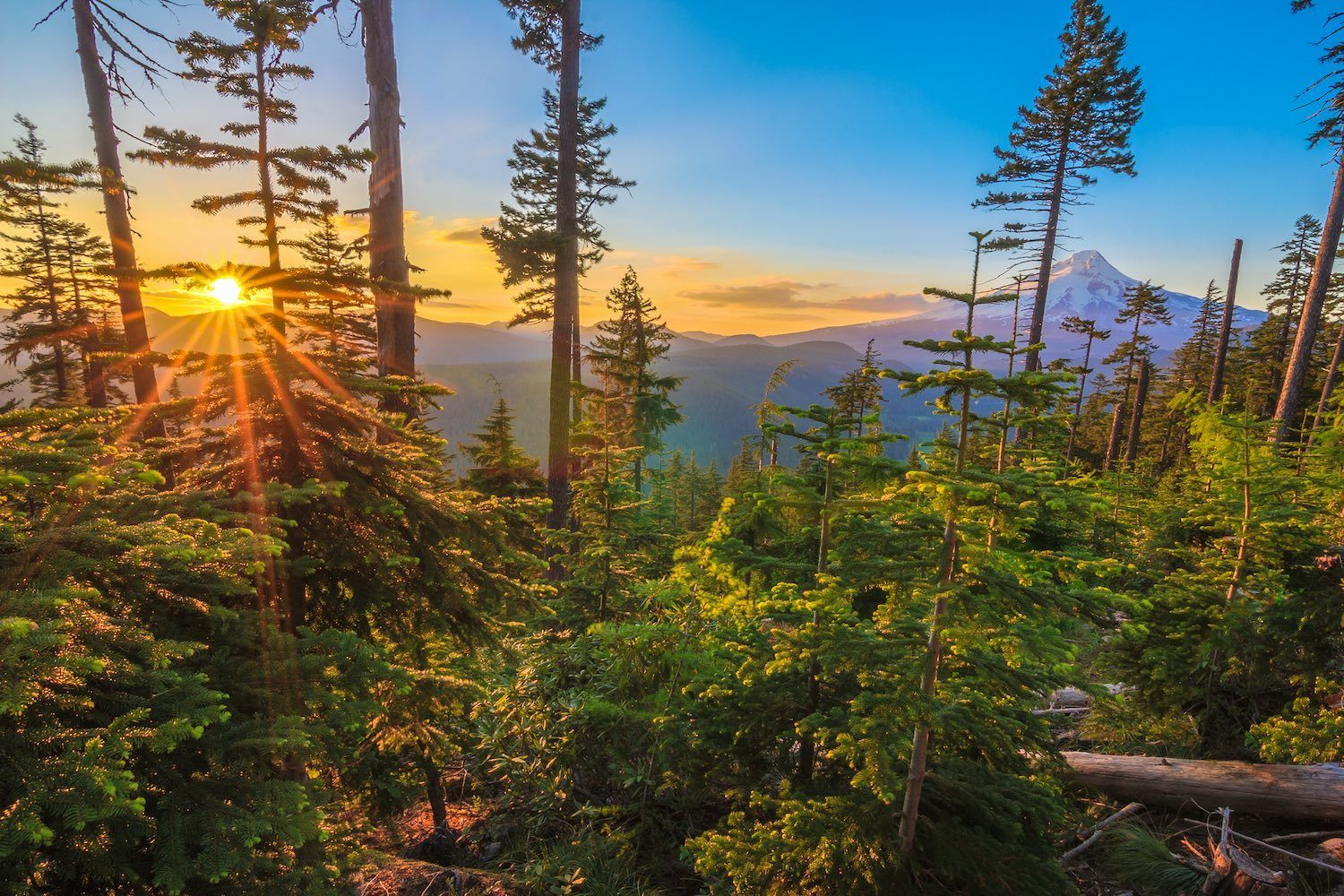 ---
Coolest Farm Stay Airbnb Near Portland — Alpaca Farm and Gardens Cottage
Location: Hillsboro
Airbnb Plus: Yes
Superhost: Yes
Price: $120+ USD per night
https://www.airbnb.com/rooms/12325678
Stay within driving distance to Portland on a tranquil alpaca farm and book your stay at this gorgeous one-bedroom verified cottage nestled within the rolling hills of Hillsboro wine country. Just 25 minutes drive to Downtown, this rustic oasis is the perfect place to recharge in style. Spend time feeding the alpacas that roam the property, bask in the lush green gardens, and meditate or enjoy a glass of local wine in the gazebo or by the koi pond. Esteemed restaurants boasting local fare dot the surrounding region, as do local coffee roasters, and farmers markets. From here, head into bustling Portland, drive to the picturesque Oregon coast or adventure to the peaks of Mt Hood – it's just an hour away.
View Photos, Read Reviews & Check Availability
Guest review: "The place was so peaceful and comfortable you really didn't want to leave. Hopefully we will get a chance to return. Loved everything from feeding the alpacas to sitting in the gazebo drinking fresh ground coffee. Lovely!!" – Inice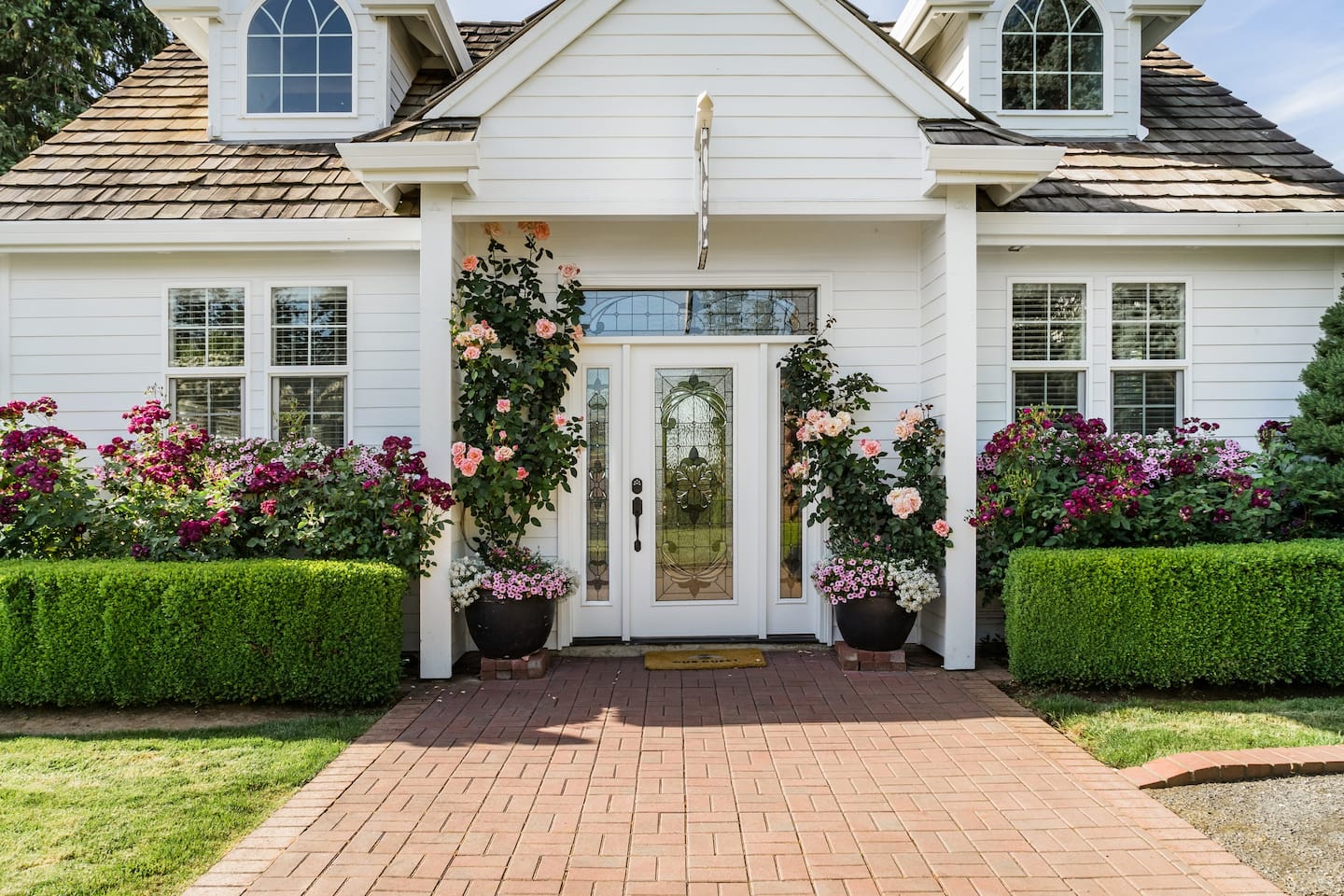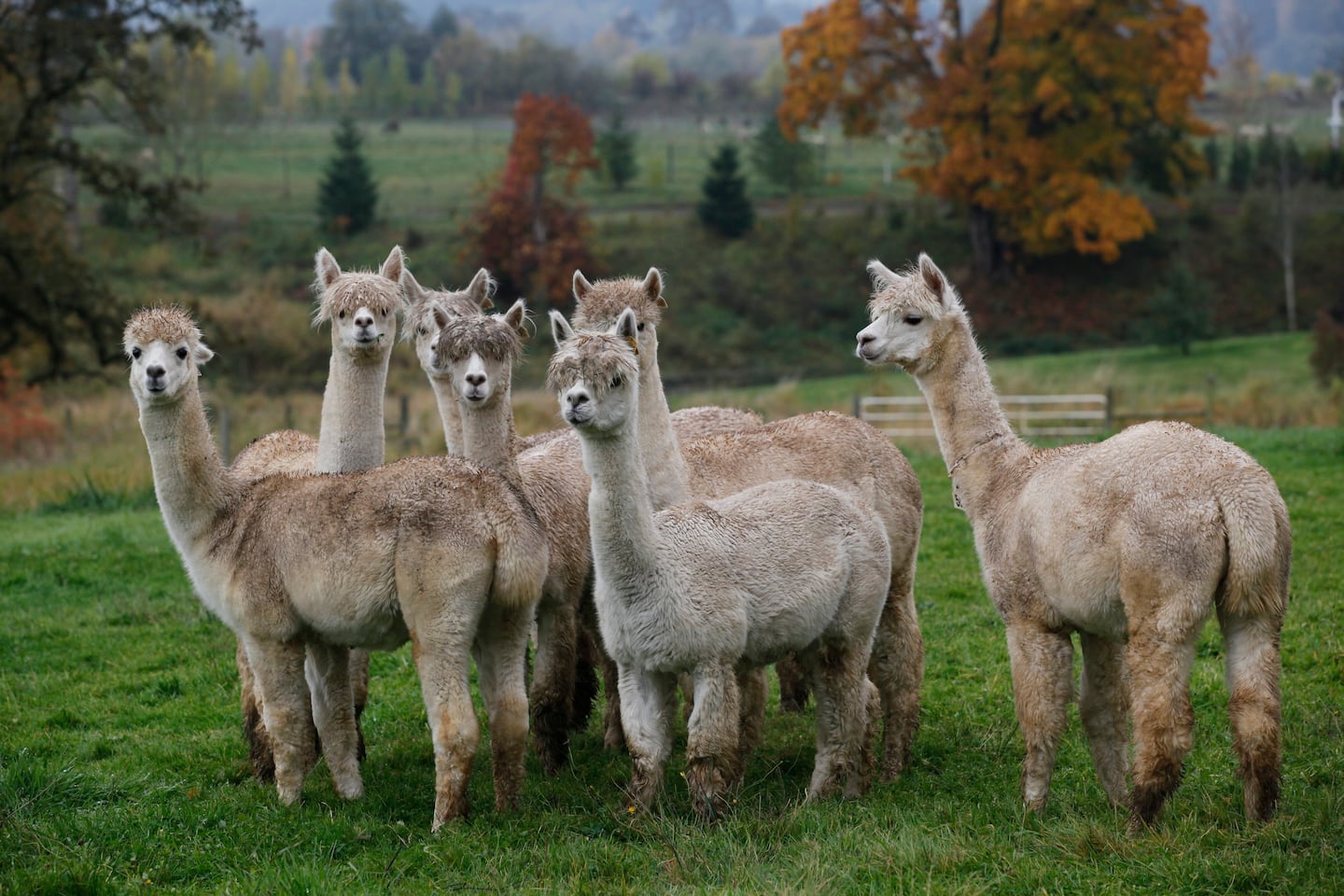 ---
Best Studio Guesthouse Portland Airbnb — The Sneakaway
Location: Woodlawn
Airbnb Plus: No
Superhost: Yes
Price: $182+ USD per night
https://www.airbnb.com/rooms/23353382
Nestled in the large yard of host Raychel's home, you'll want to move into "The Sneakaway" permanently once you experience its epic place to stay. This small guesthouse is maximized by high vaulted ceilings and was built with Raychel and her friends' love. Other than a super comfy bed in a room boasting plenty of natural light.
The piece de resistance of The Sneakaway is its two person soaking tub, which is a divine treat on a cold Portland evening. The host and her friends and family often BBQ, have a few drinks, or pass around a joint in the yard in the warmer months, and even encourage guests to join them if they want to! The charming neighborhood of Woodlawn has a range of weed shops, taverns, breweries, and cafes, and is a breezy 10-minute walk to the culturally rich Alberta Arts district. Over 200 guests have given this abode a perfect score, and I bet you will too.
View Photos, Read Reviews & Check Availability
Guest review: "Raychel's home was a peaceful retreat. She has everything you could ever want to feel cozy, relaxed, and entertained. We were especially enchanted by the soft light, ferns, and Raychel's record collection. If we didn't venture out, we would have been content with our Portland visit. But of course we did go out. And two of our favorite places to eat were nearby. Brunch at Hesler's for the Dutchbaby crepes and pork belly/chicken at Hat Yai. I also love the shoe curation at PedX and the co-op, both on Alberta. Thanks, Raychel, for sharing your home! We hope to be back soon." – Cheryl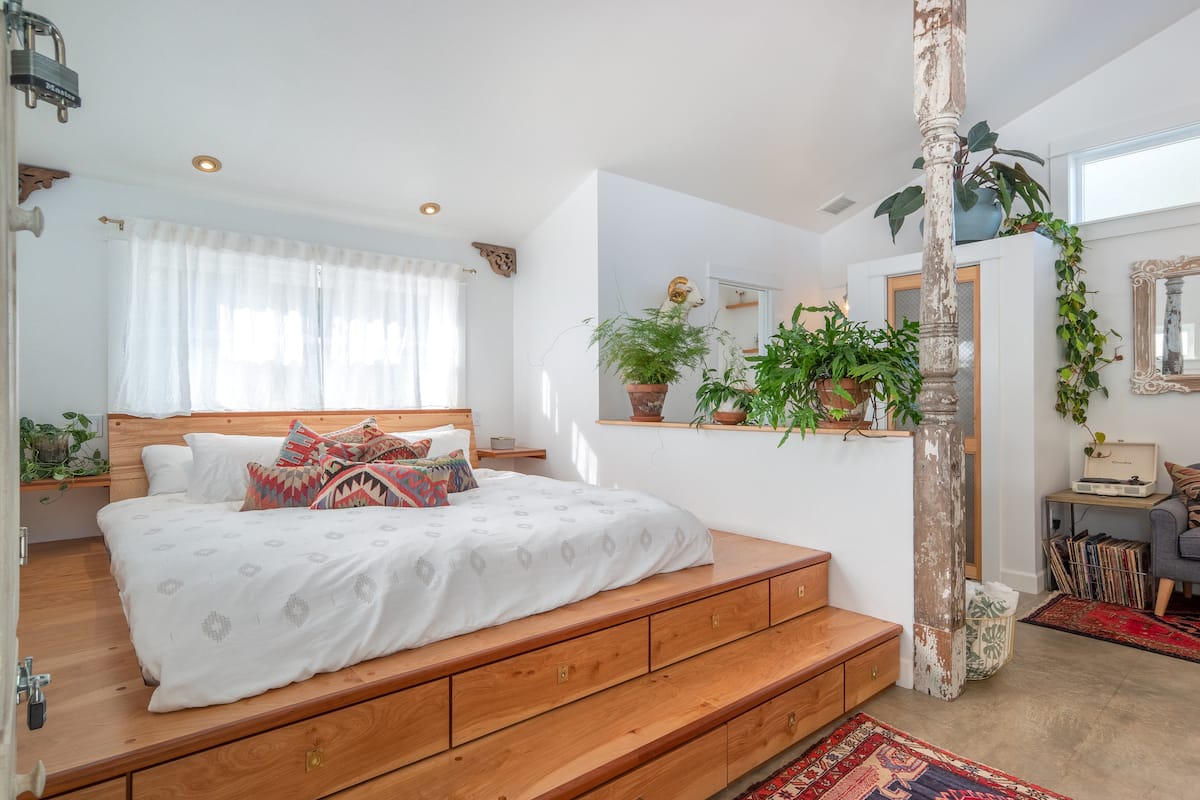 ---
Local Favorite Portland Airbnb — Island + Alpaca Farm Retreat, Near Downtown Portland
Location: Sauvie Island
Airbnb Plus: No
Superhost: Yes
Price: $100+ USD per night
https://www.airbnb.com/rooms/20722111
Located on a seven acre farm with resident sheep and alpacas, this private retreat is located on Portland's charmingly rustic and relaxing Sauvie Island. Bright and contemporary, this guesthouse is named "Tu Casa" by its friendly owners and is fully self-contained. Meander around the farm, enjoy the resident animals and lush native plant life, or pick their seasonal produce. You'll also enjoy views of Mt. St Helens and stunning local vineyards.
The hosts have young children, and there's a resident rooster that crows each morning, but this rustic slice of heaven is still a relaxing stay! There is a great little sandy river beach just 15 minutes drive away, and the nearby town of St John's is a vegan haven, with coffee shops, breweries, and markets galore. Downtown is just 10 miles away. The local eco-friendly residents catch the efficient local bus into Portland or to local towns, or they bike like so many other Oregon residents.
View Photos, Read Reviews & Check Availability
Guest review: "I've stayed at many Airbnbs in the past, and Vail's has got to be one of the best around… I don't say that lightly! It feels great to know that the money from your stay is going to support their local business with a farm that clearly a lot of time and purpose has gone into. Communication was quick and flawless, the quarters were truly built with quality and intention, and the farm animals are right out the back door. We only stayed for one night only, but would've been happy spending many nights there. We bought some of the Black Bery Port and Honey from the farm, both delicious!" – Nicholas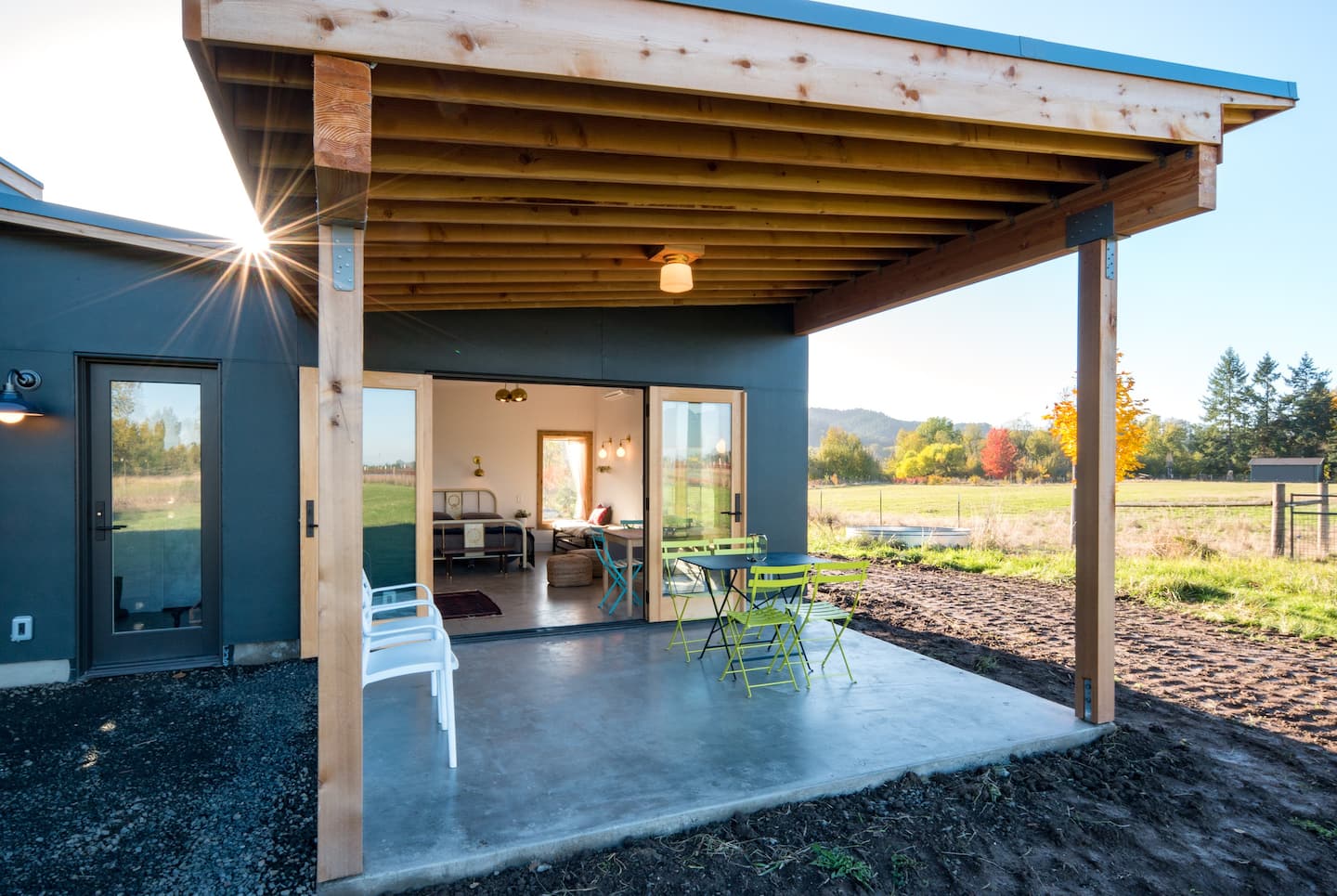 ---
Best Eco-Friendly Portland Airbnb — Eco Tiny Cabin by Mississippi/N Williams Ave
Location: Mississippi / Williams
Airbnb Plus: No
Superhost: Yes
Price: $109+ USD per night
https://www.airbnb.com/rooms/4142533
Enjoy a sustainable visit to Portland and bask in a restful retreat at this private one-bedroom cabin in one of Portland's most lively neighborhoods. The 220 sq ft cabin was built using local natural and recycled materials and has tranquil views of the local flora and fauna. There is a bedroom and a bathroom, but no kitchen, however, there is a mini-fridge, kettle, and French press to get you caffeinated and raring to go in the mornings. The lack of a kitchen won't even matter anyway, as you'll have an endless variety of cafes, restaurants, bars, breweries, and live music venues close by, in fun and friendly Mississippi. Join the Portland biking movement and pick up a bike rental at the local BikeBar. It's the best way to see the city, and you'll fit right in. Jump on a bus and be in Downtown Portland in 20 minutes.
View Photos, Read Reviews & Check Availability
Guest review: "Tracy is super sweet, a great host, and an excellent communicator. We got in around 8ish and were greeted by Tracy. She was able to give us the tour, local tips, and got time to chat about our visit. We loved that we were able to settle in and walk over to XLB restaurant within minutes! The place was cozy, simple, and clean; perfect for everything we needed. Waking up in the morning was wonderful with tea & coffee amenities plus they offered snacks and beverages as well! I would highly recommend staying here." – Julie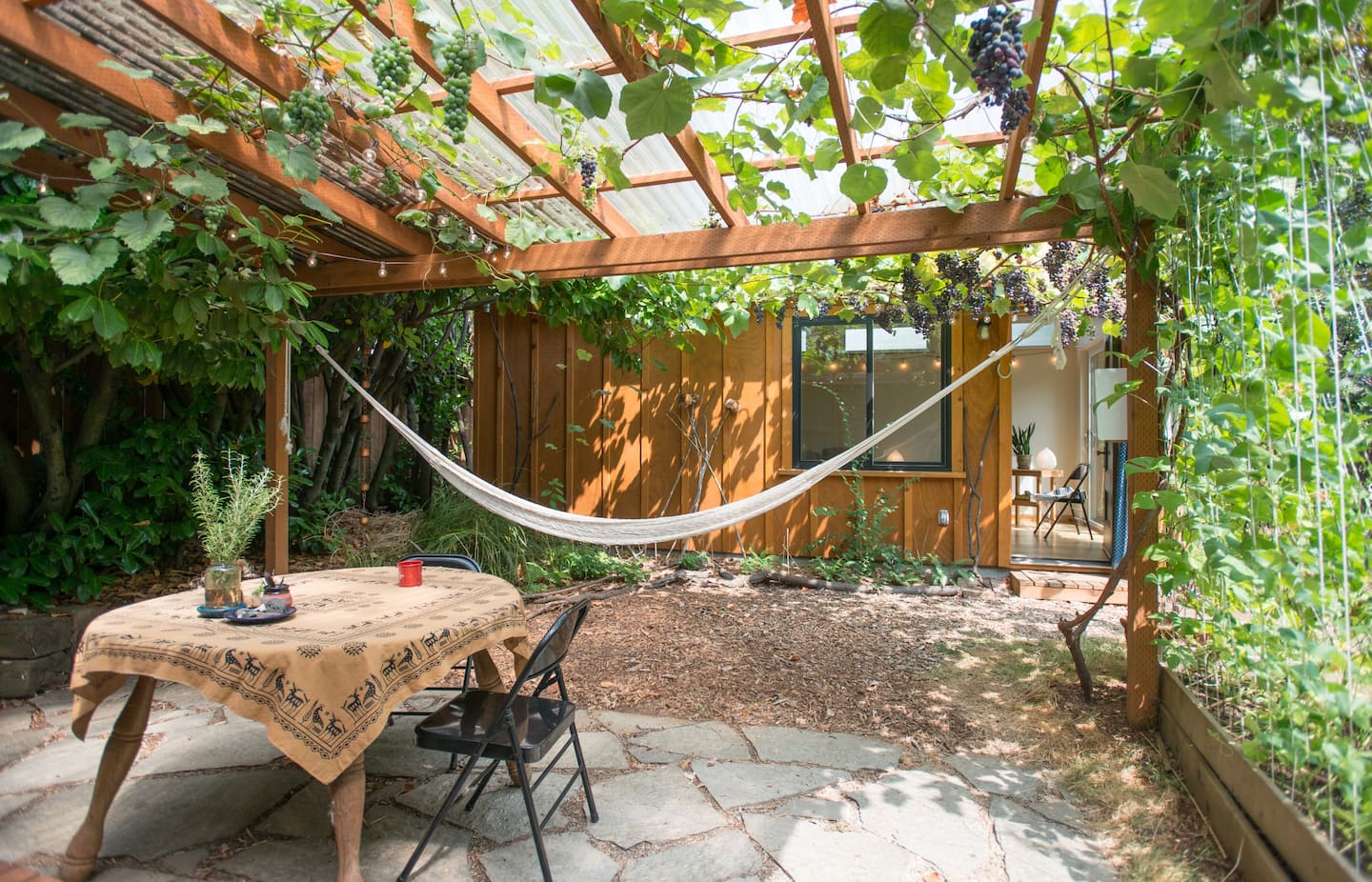 ---
Cutest Airbnb in Portland — Walk Everywhere from a Bright, Historic Home with Patio
Location: Mississippi
Airbnb Plus: Yes
Superhost: Yes
Price: $90+ USD per night
https://www.airbnb.com/rooms/27634146
Situated in the energetic and eclectic Portland community of Mississippi, this cute and cozy one-bedroom guest house is a humble little abode that will uplevel your visit to the PNW. Verified and managed by a great host, this historic Victorian home is fresh and spacious – thanks to its traditional high ceilings – and is surrounded by towering cedar trees. Just one block away, you'll reach the foodie paradise of Mississippi Avenue, with its endless array of local eating, shopping, and live music hotspots. This snug little pad is the perfect place to get out and about, to explore this healthy, active, and environmentally mindful little pocket of the United States.
View Photos, Read Reviews & Check Availability
Guest review: "This is a little gem that made an overnight business trip to Portland extra special. Naomi made checking in very easy, and the entire apartment is charming. I loved the fireplace and the decor. When booking, I didn't realize it was literally a block away from a historic Portland street with tons of restaurants and shops, but despite being within walking distance to so many great things, the place was quiet and restful. Definitely a great little place with a lot of character, perfect for a solo traveler or a couple." – Jocelyn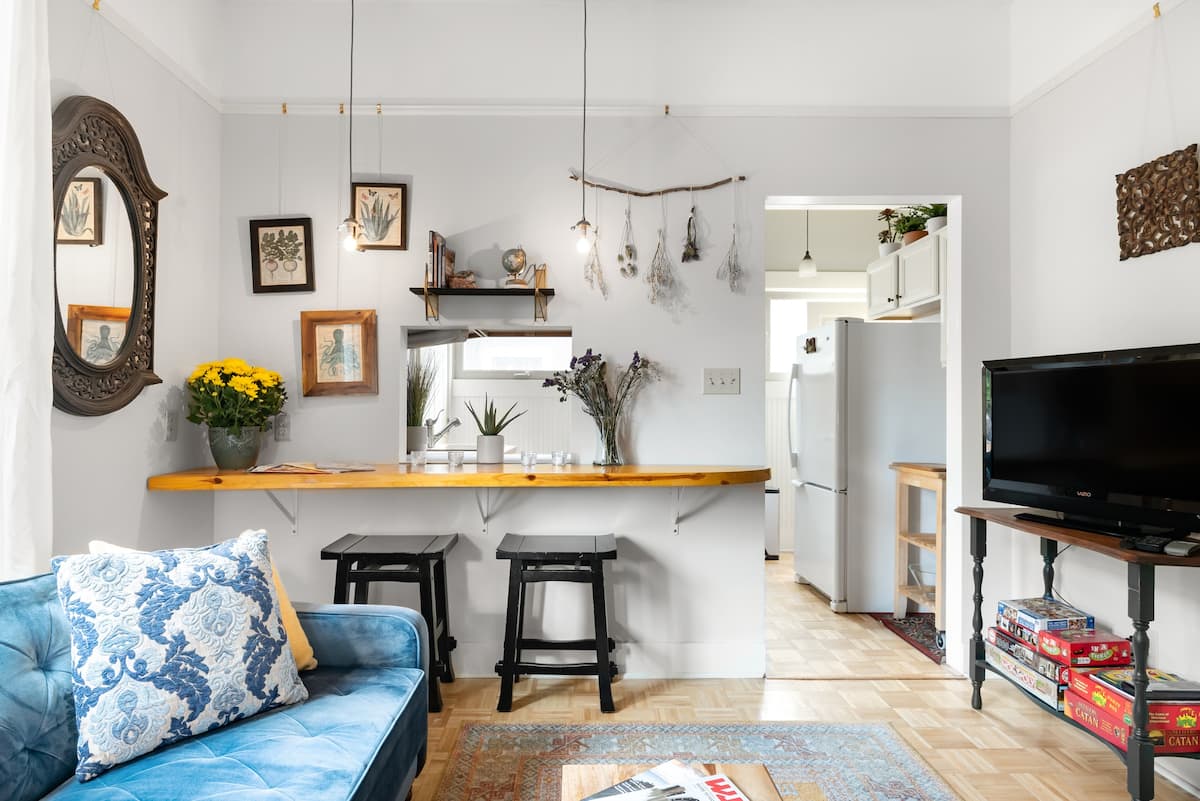 ---
Best Portland Glamping Airbnb —Garden Home Backyard Yurt Experience
Location: Garden Home
Airbnb Plus: No
Superhost: Yes
Price: $70+ USD per night
https://www.airbnb.com/rooms/7322651
A yurt may be a traditional round tent with origins in Asia, but if you're heading to Portland – you're in luck! These creative Superhosts have one of the only yurts in the city up for grabs for Airbnb guests, and you just have to experience a stay in it. This 24-foot diameter one bedroom three bed yurt is located in the yard of the generous hosts and sleeps up to 5. Your private bathroom is just a few steps away in the back of the main home. You're more than welcome to use the owner's yard amenities, including badminton set, trampoline tree swing, and children's playhouse. Next to the yurt is an atmospheric fire pit, perfect for a glamping experience under the stars. The yurt is located in the wide-open, green Portland suburb of Garden Home, with many bike and hiking trails in close proximity. Oregon Zoo is about 10 minutes drive, as are other natural attractions Portland Rose Garden and Washington Park. Downtown is just six miles away.
View Photos, Read Reviews & Check Availability
Guest review: "We absolutely loved staying with Michael. His yurt is AMAZING and so beautiful. It is decorated with gorgeous fairy lights, and is so clean and cozy and full of character. He even picked fresh flowers from the garden for us, and had a basket of toys for our 2 yr old to play with. Our daughter loved the trampoline and the hen house which is like a cubby house, Michael's gorgeous and adorable dog, and the hammock! The bed was so comfy, and the garden was beautiful. Michael is a real people person and we had lovely chats. I wish I could rate more than 5/5 stars for this exceptional place!" – Taylor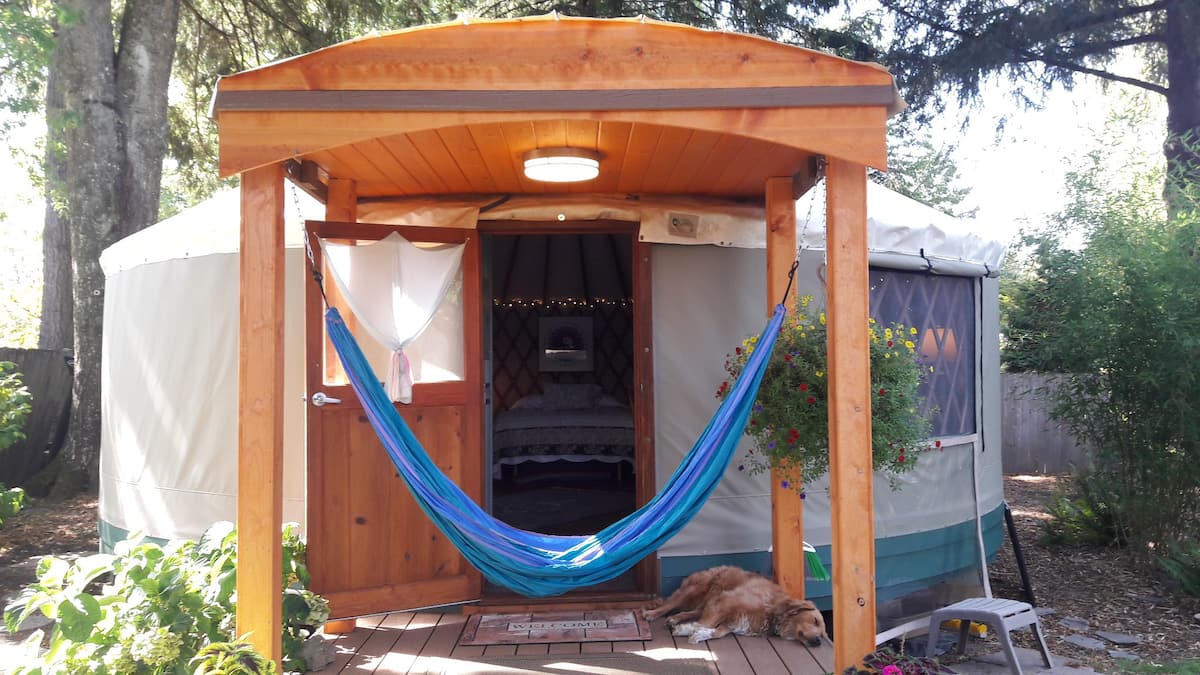 ---
Visit Award-Winning Restaurants from an Eco-Friendly House
Location: Hawthorne
Airbnb Plus: Yes
Superhost: Yes
Price: $150+ USD per night
https://www.airbnb.com/rooms/30039041
With one bedroom and two bathrooms, this private, spacious, picture-perfect house is raved about by previous guests who just cannot wait to return. Set over two compact levels, the entire house features warm timber floors and other earthy additions for a natural aesthetic. This energy-efficient home receives lots of light and has cozy heated bathroom floors you'll adore in the cooler months. Verified by Airbnb, the home has enough space downstairs for a second bedroom, and is brilliant for business or leisure visitors to Portland. It's located in the boho neighborhood of Hawthorne, which is renowned for its cool eateries, vintage record and clothing stores, and crafty residents. There's a huge 5-acre park just minutes walk away.
View Photos, Read Reviews & Check Availability
Guest review: "If only all Airbnbs were like Natalie's place! It's beautiful, spotless, and so so comfortable. Natalie made it super easy to check in and out. The house is so beautiful and is in one of the easiest places in the city to walk around in. I wish I could go back!" – Meghann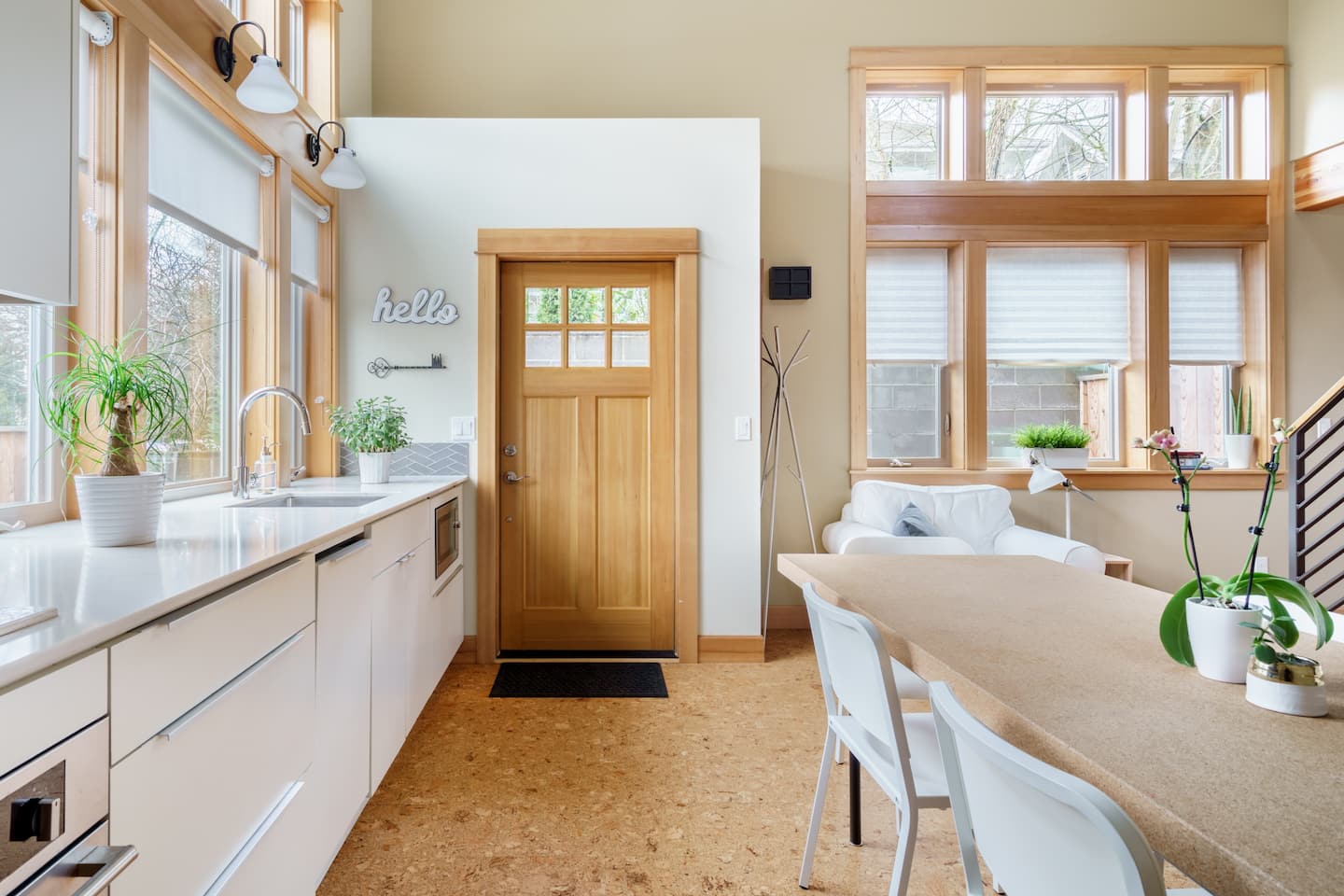 ---
Cool Cottage Airbnb Near Portland — Cozy Vintage Cottage in the Woods
Location: Glenfair
Airbnb Plus: No
Superhost: Yes
Price: $70+ USD per night
https://www.airbnb.com/rooms/13624774
Vintage Portland, Oregon, Airbnbs are a dime a dozen, and this host-designed one bedroom one bed cottage in a woodsy location just 20-30 minutes from Downtown Portland and Portland Airport. This tranquil hideaway is eclectic and mellow, with an electric gate for added peace of mind. The cottage has retained so many historical pieces of Portland's past, and its 300+ Airbnb guests so far have given it top scores. Surrounded by a yard and forest with a walking path that you are welcome to enjoy, this rustic gem is located in Glenfair, on the outskirts of the city limits. Rent a car and head to natural landmarks, Multnomah Falls, and The Gorge just 30 minutes away. There's even a railway station a block away that will take you into central Portland.
View Photos, Read Reviews & Check Availability
Guest review: "This cottage is a peaceful sanctuary close to everything you need. A short drive to any of the amazing waterfalls and hiking trails, 15 min from the airport, and near any conveniences you may need. The house is spotless and was built with most every detail for a guest in mind. Added amenities like a fire-pit, full kitchen, and laundry were so helpful on our trip. Very comfortable and hosts made us feel at home right away. I would definitely recommend this location to others and would visit again." – Brian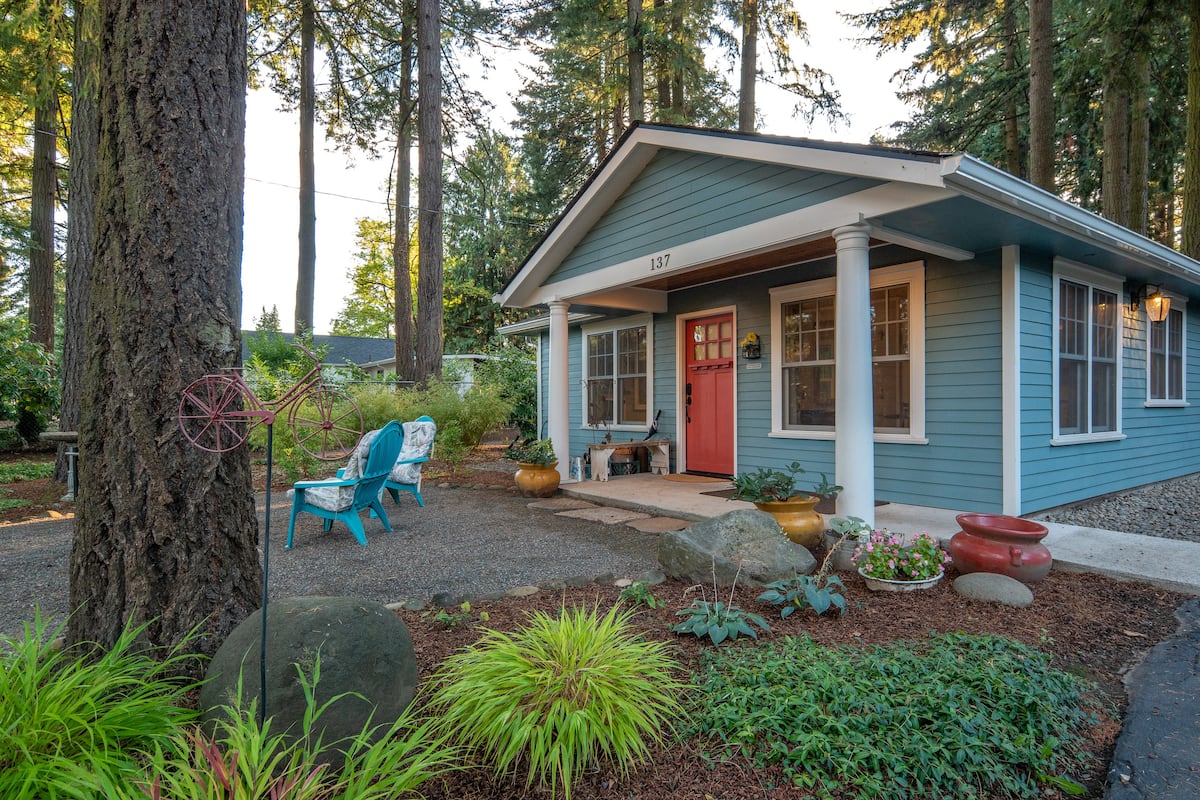 Things To Do In Portland (Hidden Gems)
---
Best Reviewed Airbnb in Portand — New Pine Street Guest Cottage near Laurelhurst Park
Location: Laurelhurst
Airbnb Plus: Yes
Superhost: Yes
Price: $200+ USD per night
https://www.airbnb.com/rooms/7132347
Boasting a perfect 5-Star Rating from nearly 300+ happy travelers!
If you're heading to clean and green Portland for some fresh Oregon air and a relaxing and restorative getaway, you can't go past this verified two bedroom retreat set over two levels. Brand new and impeccably designed and decorated, this light and fresh home boasts natural timber floors and finishes for an authentic, down-home feel. It's even on the esteemed American Institute of Architect's tour.
Bask in the natural wonders of Laurelhurst, like its large public parks and gardens, or become a bonafide Portland food critic and eat at some of the best local restaurants and health food hubs. Downtown Portland is just a 10 minutes drive, or rent a bike and ride around Portland like the locals do.
View Photos, Read Reviews & Check Availability
Guest review: "Michele's place is an absolute dream to stay in. The house is styled to perfection and you really feel like you're on a getaway/vacation. Michele's tips were very helpful, the check in process was very quick and easy and the location is just right – close enough to walk to coffee/great pizza/little boutique stores – it was fantastic. If we get another chance to come to Portland again, we will most definitely love to stay here again. Highly recommended!" – Jacinta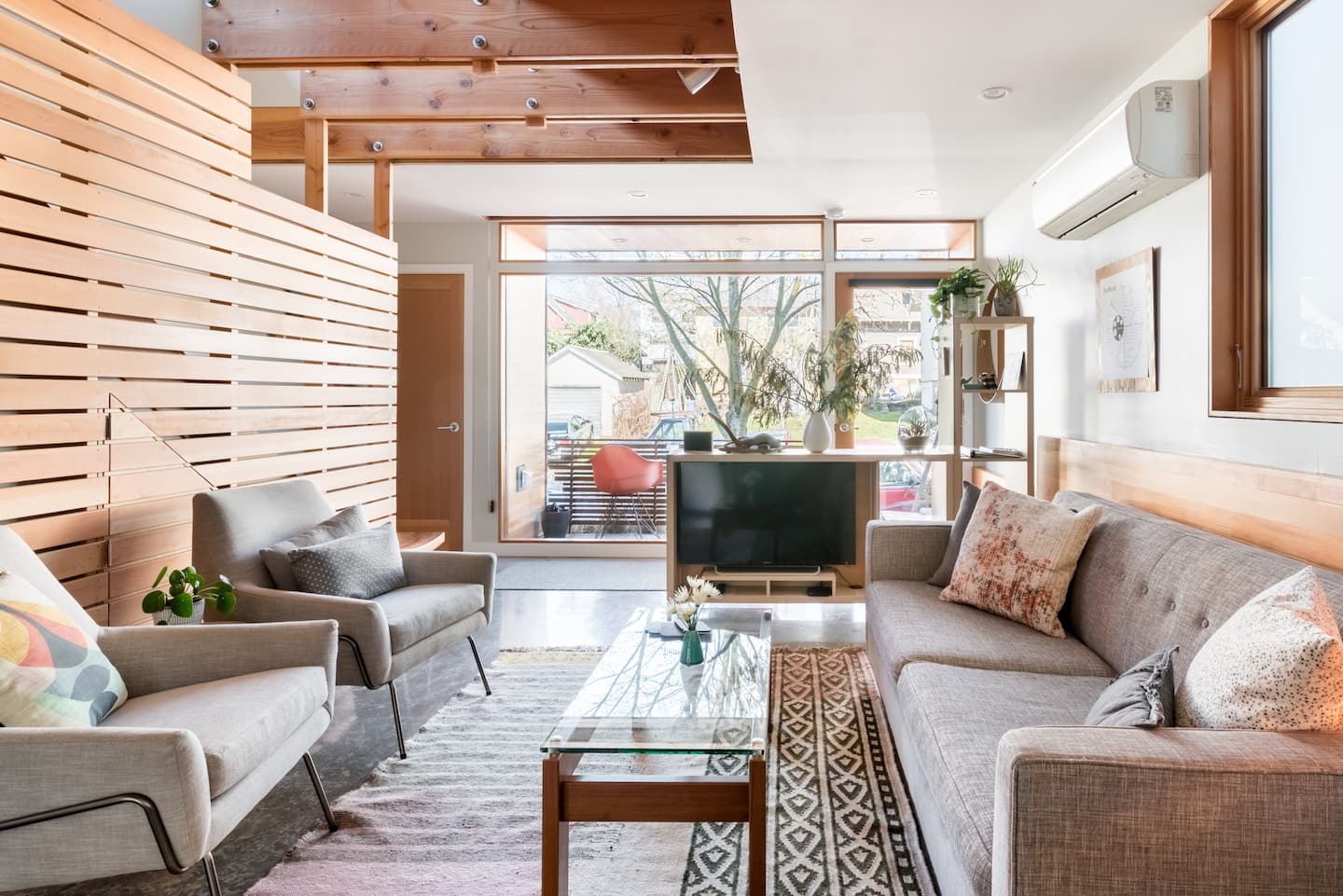 Portland Vacation Travel Guide | Expedia
---
Most Stylish Airbnb in Portland — Savor the Laid-Back, Bohemian Feel at a Sunny Urban Abode
Location: Boise
Airbnb Plus: Yes
Superhost: Yes
Price: $113+ USD per night
https://www.airbnb.com/rooms/19683221
Peppered with local artwork, hanging plants, and natural wooden design elements, this one-bedroom guest suite offers both style and substance in one of Portland's most artistic hipster neighborhoods. Spotless and impeccably maintained, this affordable abode has some of Boise's best visitor attractions on its doorstep. Walk to incredible restaurants, charming local brewpubs, health food stores, and bike-share services that dot this eclectic neighborhood. Downtown and the Pearl District can be reached effortlessly in as little as 10 minutes by car.
View Photos, Read Reviews & Check Availability
Guest review: "We had such a lovely stay at the Sunny Urban Abode. The place is spotless and very well designed — also I should say that the bed is the MOST comfortable bed we've ever slept in. I would literally return for that alone. Location is wonderful, a 1-minute walk to restaurants and coffee shops and a 15-minute scenic walk to Mississippi Ave (tons of restaurants and bars!). Short 20-min Lyft from the Airport and 9-min from downtown / Pearl District. Would book this again in a heartbeat!" – Megan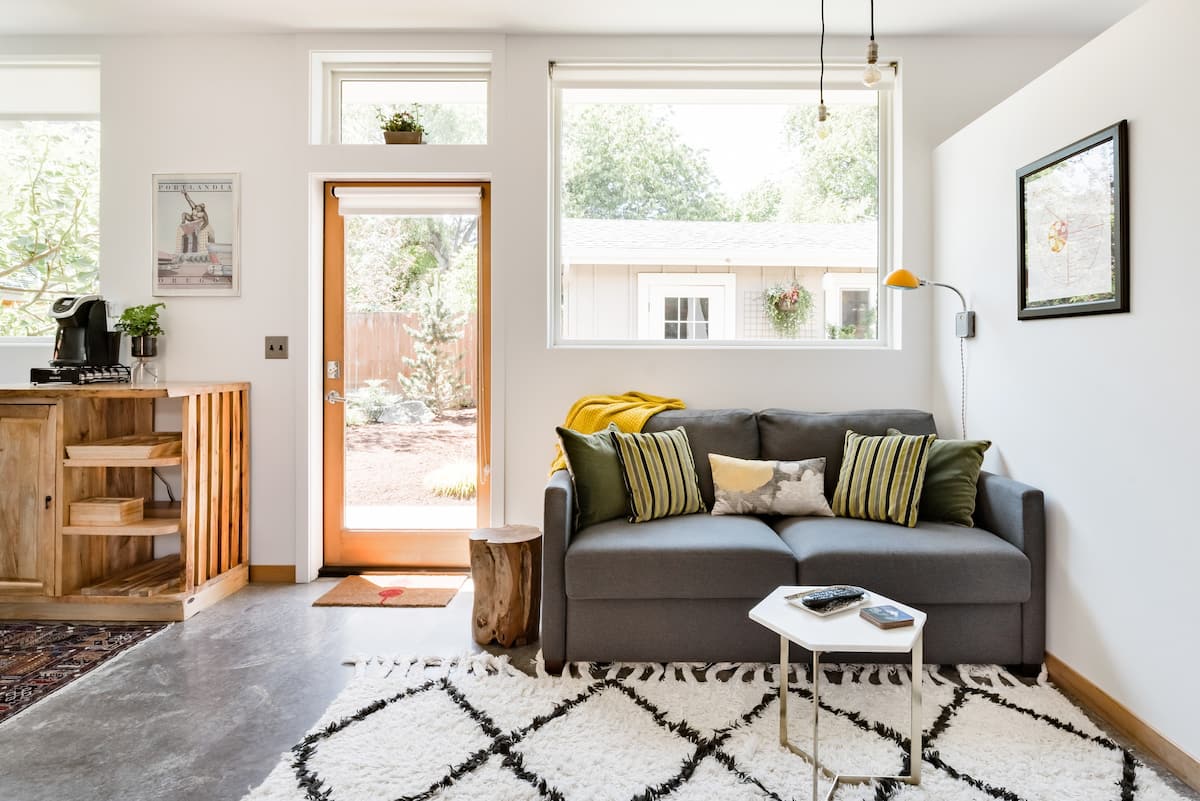 ---
Best Portland Airbnb with pool — Poolhouse of Portland Architectural Gem
Location: West Hills (minutes from Downtown)
Airbnb Plus: Yes
Superhost: No
Price: $226+ USD per night
https://www.airbnb.com/rooms/26396810
This private pool house is absolutely dreamy, and is located next to Pietro Belluschi's "Sutor House", which was featured in the December 2017 issue of Dwell Magazine! Complete with a gorgeous master bedroom, full bath, living area, kitchenette, and access to the swimming pool (during the warmer summer months), this luxury Airbnb portland booking is guaranteed to be a highlight of your trip!
View Photos, Read Reviews & Check Availability
Guest review: "We had a wonderful time staying at this luxurious space, which felt like a destination spot though we were in our own city. The poolhouse is cozy and stylish, and is private even though you can see the main house. The pool is glorious and just the right temperature. We will definitely book again!"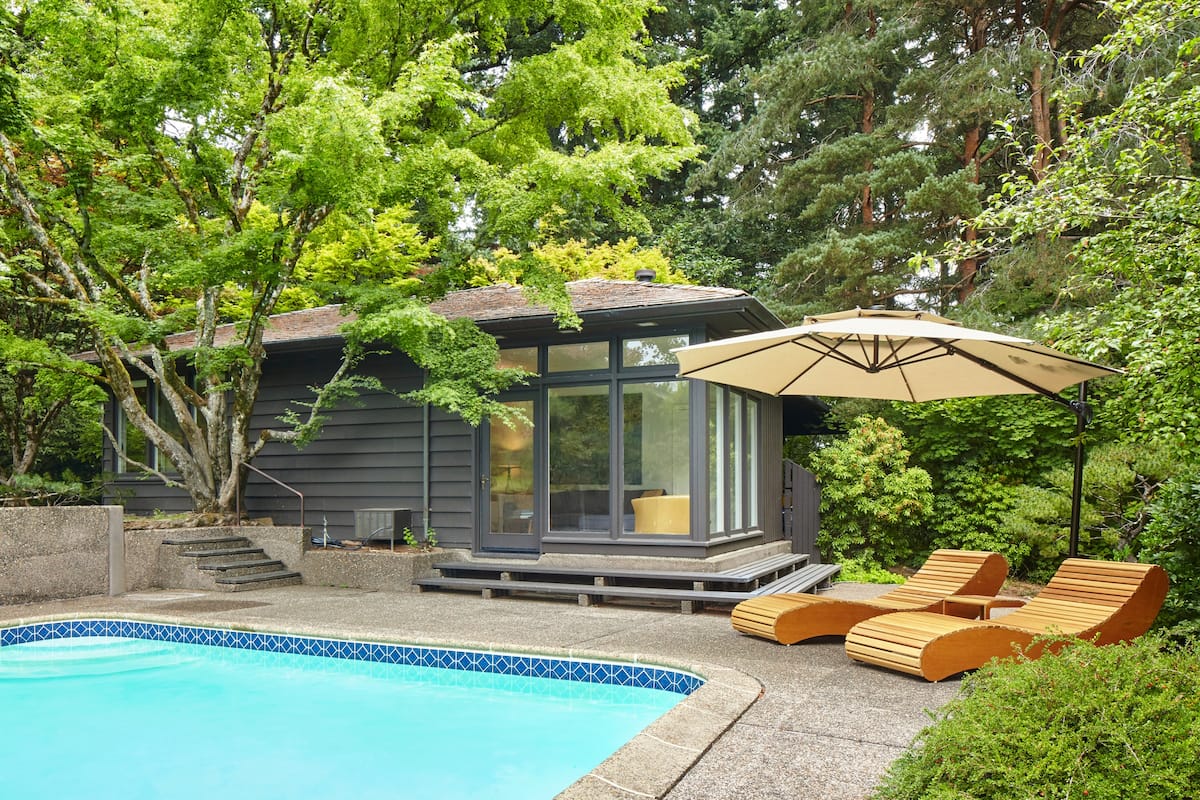 ---
Tours & Day Trips from Portland to Consider Booking
The fun and folksy city of Portland is at the epicenter of the incredible natural landscape that is the state of Oregon. This healthy and sustainable city has some enriching tours and experiences you can't miss. From city walking tours to a bucket-list-worthy trip up famous Mt. St Helens, these are the best Portland tours you absolutely should squeeze into your itinerary. Book via my links below!
---
Best of Portland 2-Hour Walking Tour
https://www.getyourguide.com/portland-oregon-l1024/best-of-portland-walking-tour-t37828/
Price: From $35 USD (2.5 hours)
"Discover Portland the green and eco-friendly way. This award-winning 2-hour walk clarifies why Portland is regularly recognized as one of the best places to live. By the end of the walking tour, you'll most likely want to move here too."
Review: "Delicious blend of the history of Portlandia, with humorous tidbits throughout, and clever details. Our Resident Expert, David, was beyond entertaining! His knowledge, quick wit, and stage presence, made for a fast-moving tour, that had a wee bit of something for everyone that whirled along with him. Highly recommended for locals and visitors alike." – Earl, United States
View Photos, Read Reviews & Check Availability
Portland, Oregon | One of the Coolest Cities in America
---
Portland: Columbia River Gorge Waterfalls Morning Tour
"Drive the scenic Columbia River Highway on a 3.5-hour tour to some of the beautiful waterfalls, and visit sites such as the Portland Women's Forum, Crown Point Vista House, Latourell Falls, Multnomah Falls and HorseTail Falls."
https://www.getyourguide.com/oregon-l951/columbia-river-gorge-waterfalls-multnomah-falls-t29793/
Price: From $96 USD (3.5 hours)
Review: "Excellent tour & tour experience–one of the best I've taken. Although the places we went had no entry fee, the stories related to the sites (insight into the areas) & surrounding areas are well worth the cost of the tour. Enjoyed the short walk to the falls & the fact that we were able to get so close to the falls without getting all wet." – Janice, United States
View Photos, Read Reviews & Check Availability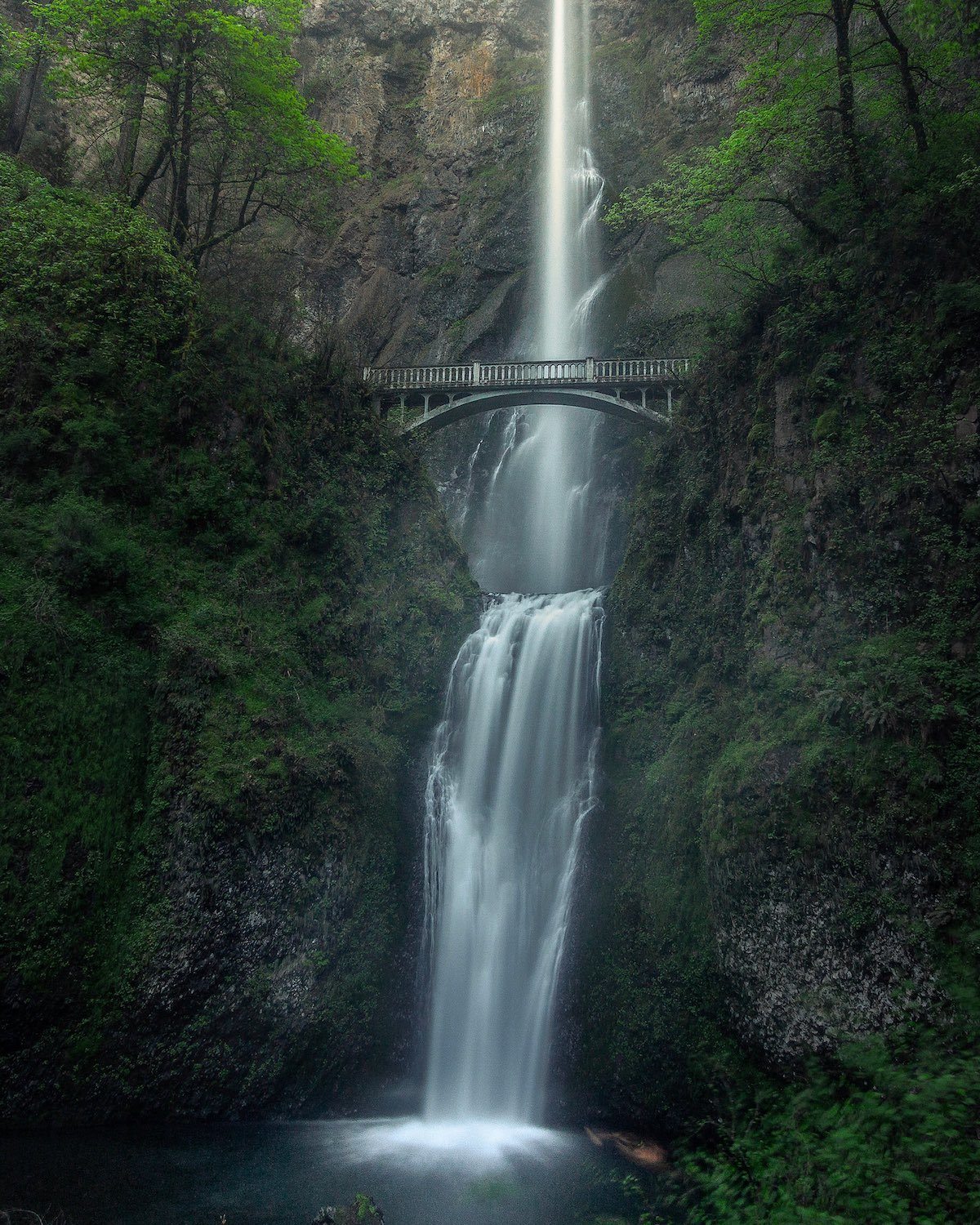 ---
Portland: Mount St. Helens Full-Day Tour
https://www.getyourguide.com/portland-oregon-l1024/mt-st-helens-day-trip-from-portland-t14062/
Price: From $335 USD (10.5 hours)
"Experience how volcanoes are monitored and discover how Mount St. Helens has taught new answers to old mysteries. Look for native wildlife including deer, elk, beavers, and otters. See a diverse array of bird species in their natural habitat and more."
Review: "This trip was the best. My guide was brilliant -good company and knowledgeable. The weather certainly helped as it was perfect. There was also time to take a helicopter ride into the crater, a real bonus." – Jan, New Zealand
View Photos, Read Reviews & Check Availability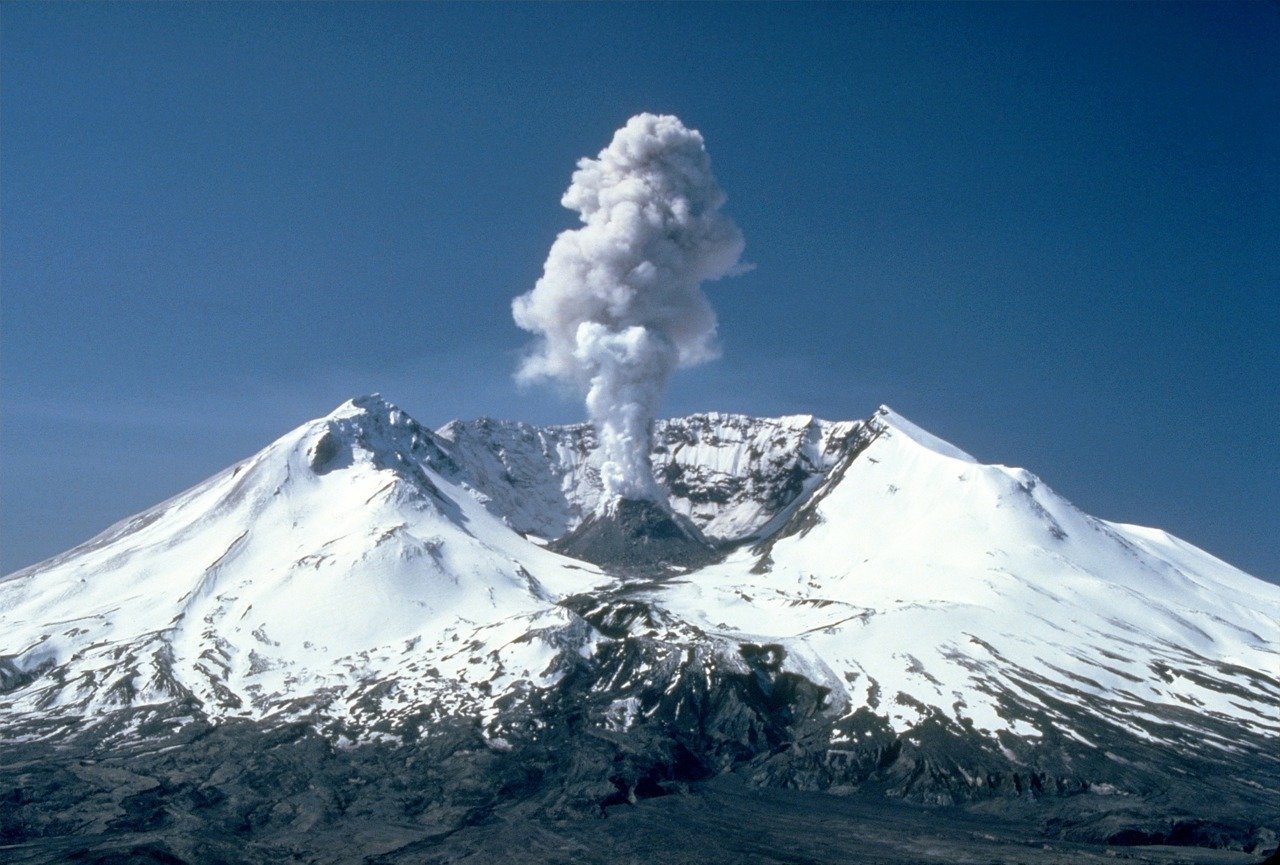 ---
Am I Missing Any of the Best Airbnb Portland Oregon Rentals?
Have you visited Portland recently and stayed at an awesome vacation rental that you think should be included on this list? Or maybe you're a new Airbnb Host in Portland and would like to have your property featured? Please, do let me know! I'd love to keep my list of vacation rentals in Portland for as up-to-date as possible!
I also just found this awesome video about this cute little cabin Airbnb in Portland that I didn't include, but should receive an honorable mention! Definitely would be another solid option! Check out the details for this space below.
THE CUTEST AIRBNB TOUR ▹ Portland, Oregon
---
Planning a Trip to Oregon?
I've got tons more articles and would love for you to take a look at a few of my favorite posts below! And as always, if you ever have any questions about visiting California, feel free to reach out to me on social media, and I'd be happy to help any way I can!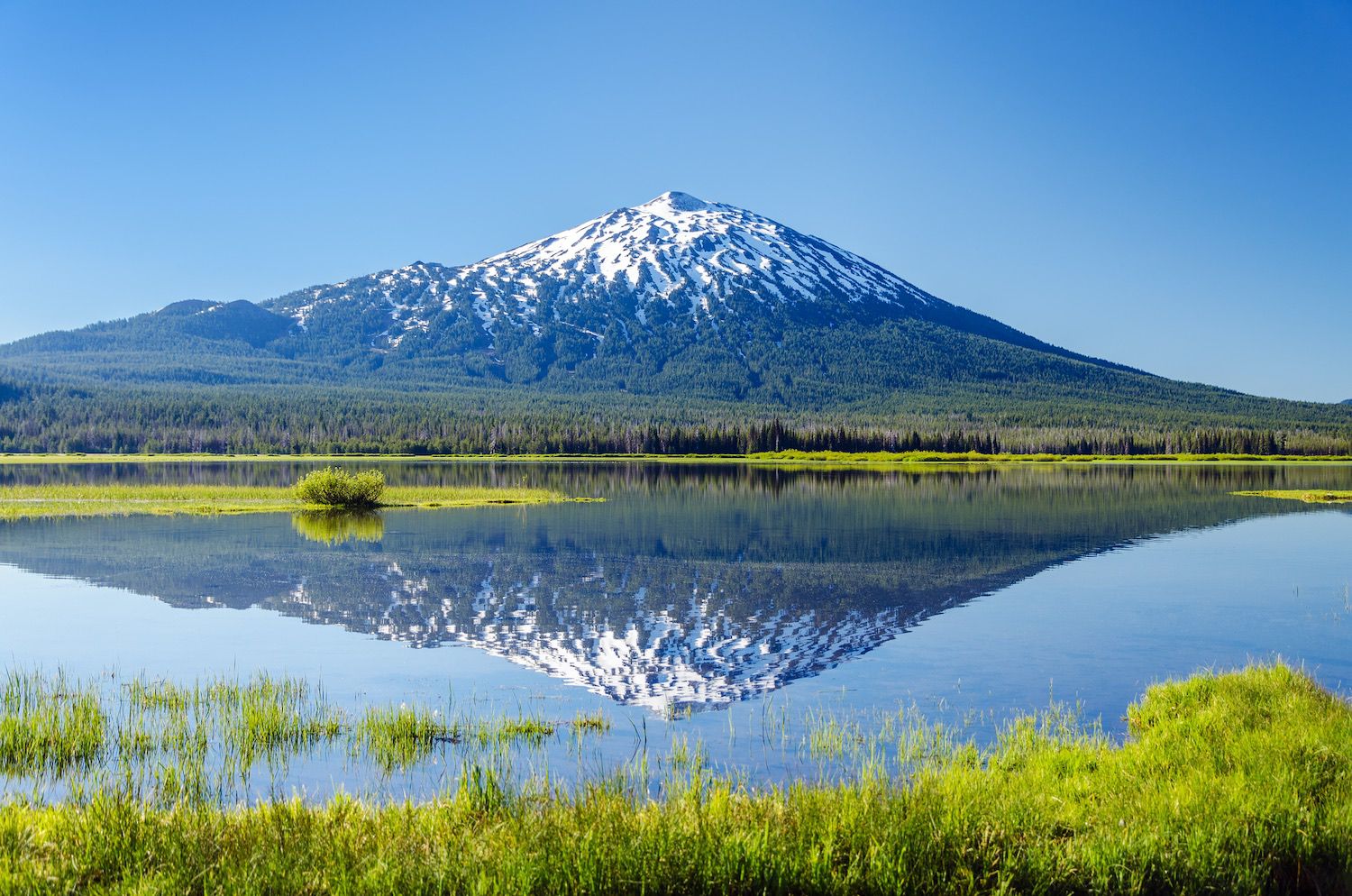 ---
Thanks for reading about the best Airbnbs in Portland, Oregon
Share these Portland Airbnbs with your Oregon travel squad!
https://www.jonesaroundtheworld.com/wp-content/uploads/2019/12/Portland-Airbnb-Apartments-.jpg
1114
1500
Dave
https://www.jonesaroundtheworld.com/wp-content/uploads/2017/03/logotry-1-1-300x106.png
Dave
2021-02-19 04:35:07
2021-04-01 17:46:04
Best Airbnbs in Portland Oregon | 19 Amazing, Luxury & Unique Stays