Planning a road trip along the west coast and looking for some amazing Airbnb Oregon Coast vacation rentals? Well, look no further, as I've put together this list of incredible places to stay that you'll fall in love with!
One stunning beach after the next, jaw-dropping coastal views and breathtaking landscapes, is what you'll be treated to on a trip to the Oregon Coast.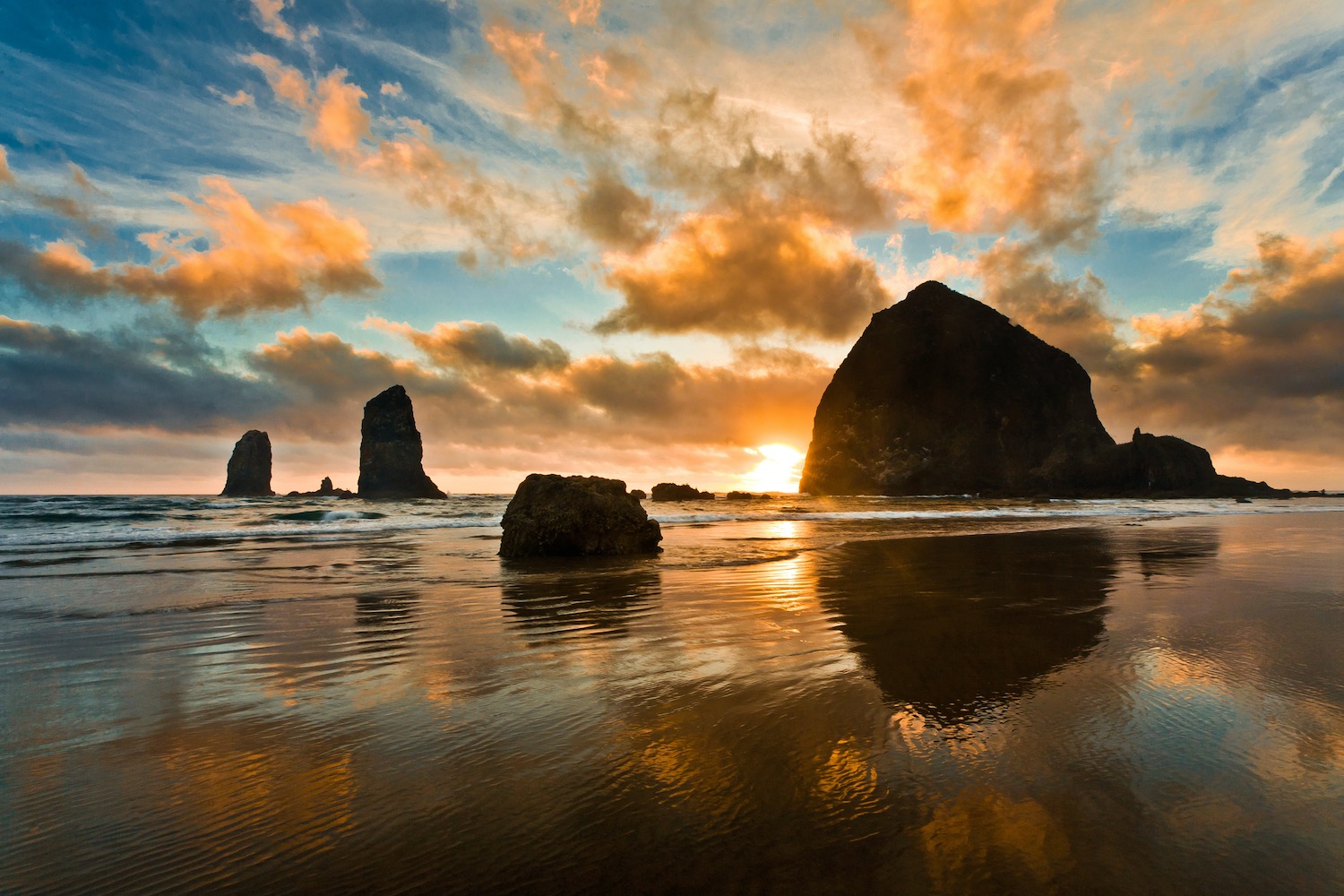 ---
This Pacific Northwest Coastal Highway region is famed for being beautiful and packed with outdoor activities. Keen hikers will delight in the endless trails which run through forests and along the coast. Water babies will have a ton of opportunities to enjoy water sports, such as kayaking. And then there's horse riding, boating, and birding, just to name a few more.
The astounding natural scenery and quirky towns of the Oregon Coast make it the ideal getaway destination bound to impress you.
If you've decided on an equipped self-catering place instead of camping or glamping in Oregon, we've got your back. With this guide, you'll have no problem finding the best place to stay for every leg of your journey or in one of your favorite areas.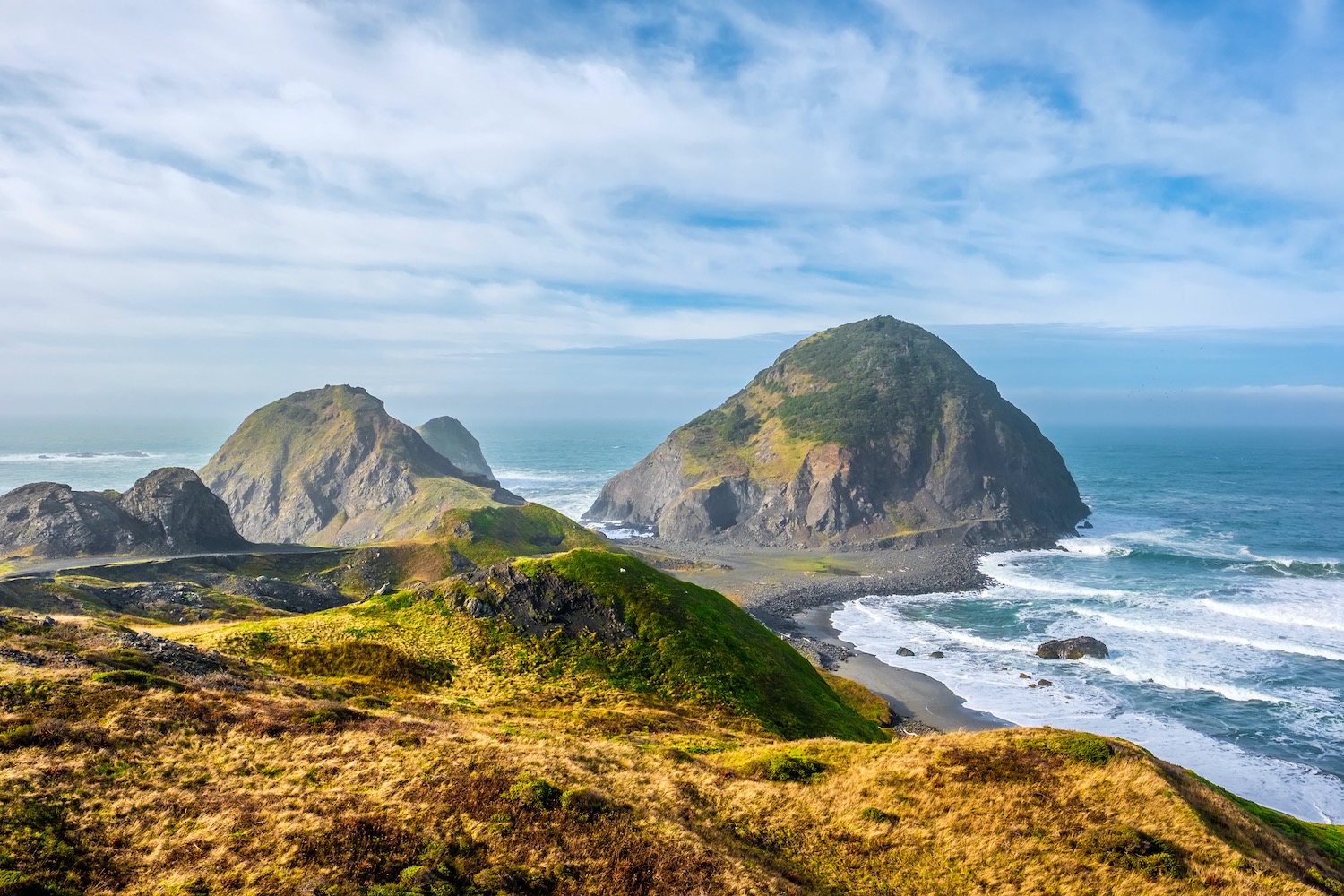 ---
A Quick Breakdown of the Best Oregon Coast Airbnbs
Jump straight to what you're looking for with our quick breakdown of the best Airbnbs in Oregon to suit your exact needs. Looking for the perfect family home? Or the best bang for your buck? Here are the top 5 Airbnbs to choose from:
I've also added tons of fun, helpful, and inspiring travel videos for your upcoming getaway to Oregon! It's truly a stunning state with lots to do, so make sure you watch a few of them to get tons of ideas for how to spend your time there! Also, be sure to read my article on the best music festivals in Oregon for future trip ideas!
2021 Update: Due to the unethical of the Airbnb Associates program, some of the properties listed on this article have been switched to other booking platforms!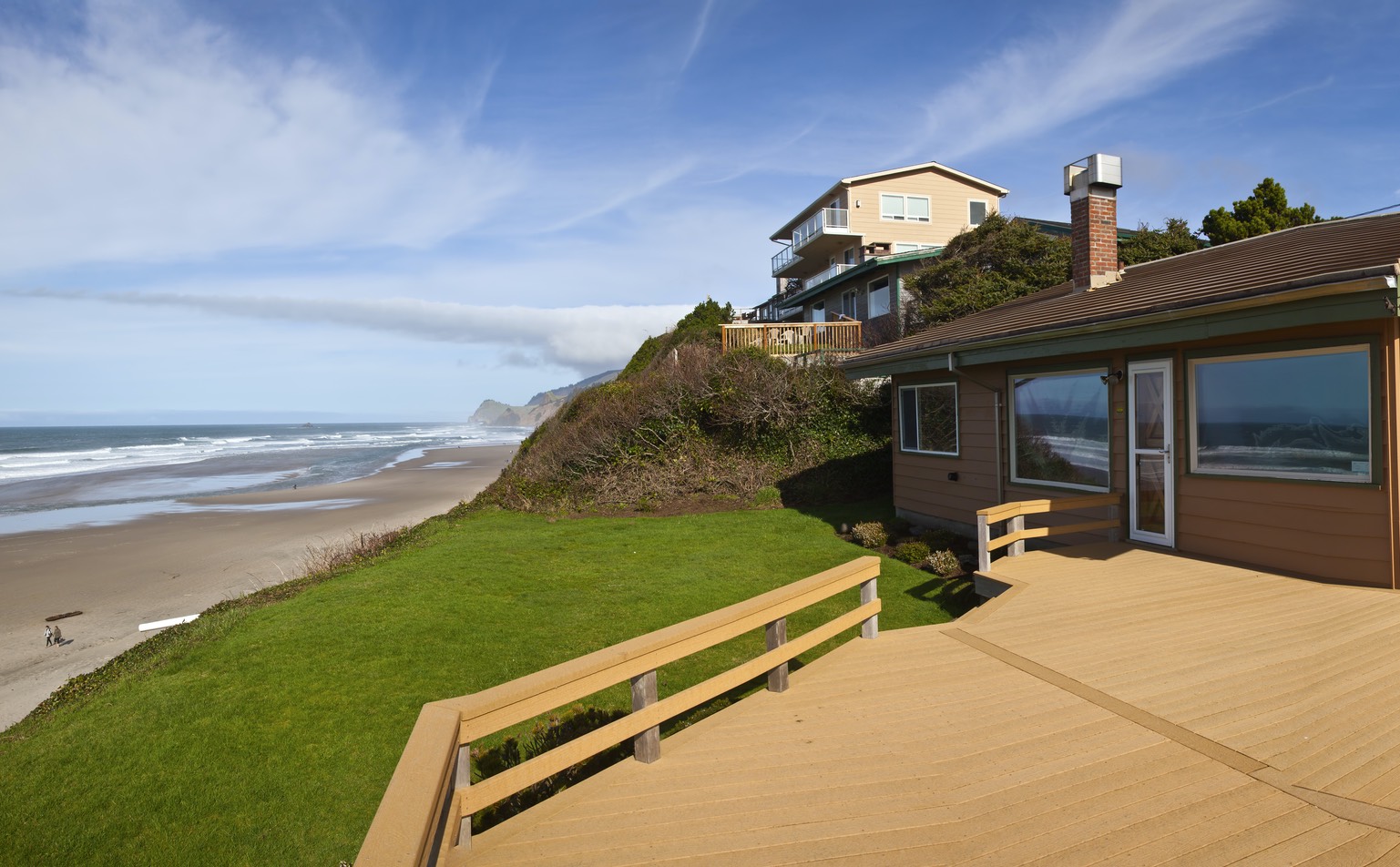 ---
The Best Oregon Coast Destinations
If you have the time, making a road trip out of your Oregon Coast holiday is the best way to get the full experience. However, if you're short on time or looking to mellow out in one place, there are many amazing destinations that you won't want to leave.
Either way, I've put together a list of the best beaches and towns to visit on the Oregon Coast.
Newport: A strange mix of quintessential Oregon beauty and unusual attractions make this a fun and interesting place to visit. There is so much to do in Newport that you'll have a hard time deciding between visiting the spectacular Yaquina Head or an eerie wax museum!
Yachats: This town has been bestowed the name 'the gem of the Oregon Coast' and deservingly so. The rugged basalt rock shores and unusual rock formations make for phenomenal, unique views. The town itself has a number of amazing restaurants and art galleries.
Florence: The sand dunes, freshwater lakes, ancient forests, and Siuslaw River create the playground of the Oregon Coast. There are so many adventure activities in this area that you'll be hard-pressed to find time to relax. Sandboarding, crabbing, horseback riding, beachcombing, and so much more to be enjoyed in Florence.
Astoria: This is a good place to start your road trip if you're coming from Portland or Seattle and want to see the whole coast. Astoria is an eclectic coastal town with the typical Oregon quirkiness and a bunch of interesting sites for history enthusiasts.
Cannon Beach: One of the most popular beaches on the Oregon Coast. If "I like long walks on the beach" has ever featured on your dating profile, you'll love Cannon Beach. It is a long stretch of gorgeous beach where you can surf, whale watch, hike, or just take pleasure in the stunning views. It was named one of the 100 most beautiful places in the world, after all.
Seaside: With a name as adorable as 'Seaside', you can be sure the town lives up to it. This is a great destination for a family trip with countless fun activities to suit everyone. The Seaside Aquarium is one of the oldest Aquariums on the West Coast. It is an awesome place to spend the day learning about the region's marine life.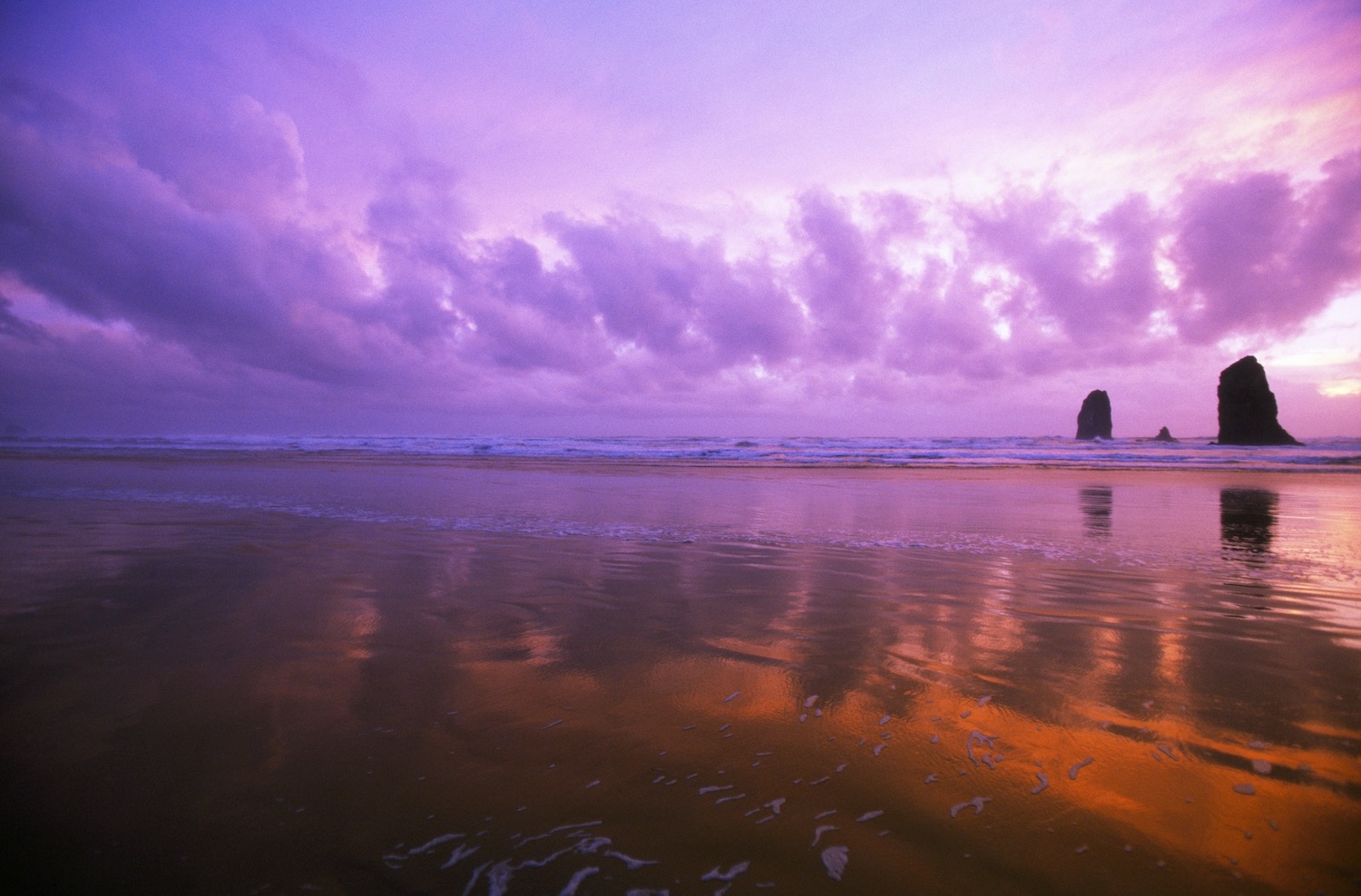 ---
The 19 Best Airbnb Oregon Coast & Vacation Rentals
Without further ado, here are the top Airbnbs on the Oregon Coast. The list includes all types of vacation rentals in a variety of amazing destinations on the coast. There is something for everyone!
---
1) Dog-Friendly Oceanfront Home Minutes From Beach
Best Affordable Vacation Rental on the Oregon Coast
Location: Cannon Beach
Price: $132+ USD per night
This stunning home is all you can ask for a quality weekend getaway on the Oregon Coast! Walking distance to the beach, shopping, and plenty of restaurants. This pet-friendly home can sleep up to six people, has ocean views, and would be the perfect & affordable retreat you're looking for!
View Photos, Read Reviews & Check Availability
Guest Review: "We have stayed here many times. It's our go to for Cannon Beach. The house is cozy and close to everything!"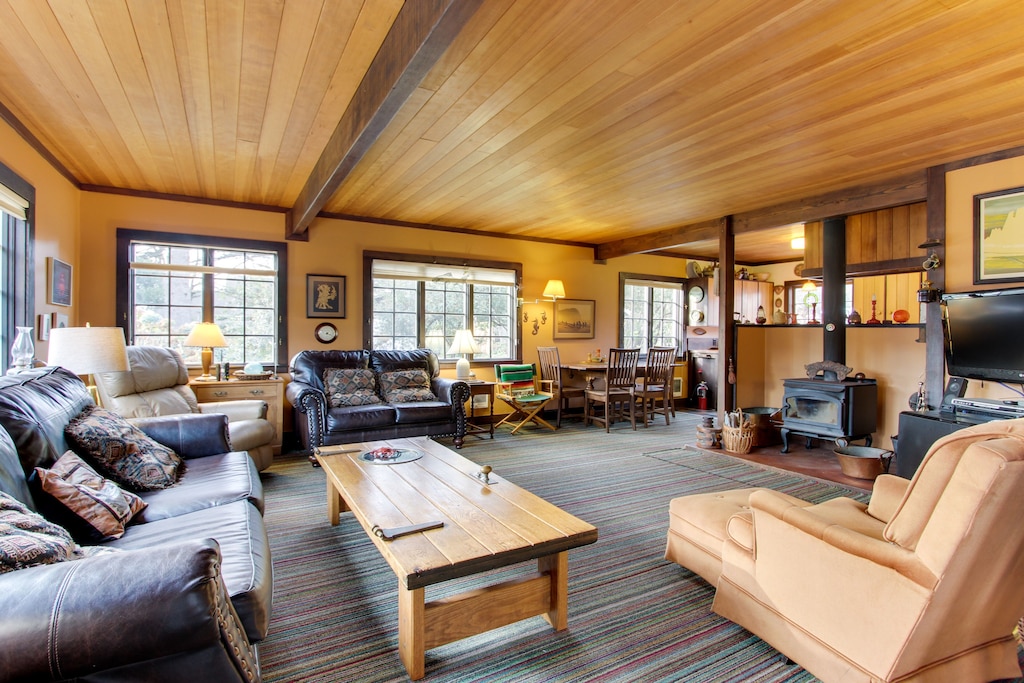 ---
1) Cozy Downtown Retreat
Overall Best Airbnb in Oregon
Location: Astoria
Airbnb Plus: Yes
Superhost: Yes
https://www.airbnb.com/rooms/plus/23063752
Price: $57+ USD per night
A gorgeous vintage style apartment in a central location, close to all of Astoria's attractions. This one-bedroom place is the perfect collision between cozy and elegant, impeccably decorated with everything you need.
It is just a few blocks away from downtown Astoria with restaurants, museums, and attractions within easy reach. You can take a stroll along the river and to the waterfront. And there are nearby breweries to quench your thirst after a day of exploring. This is possibly the best Airbnb on Oregon Coast for budget travelers. A wonderful spot for two people with every amenity under the sun!
View Photos, Read Reviews & Check Availability
Guest Review: "My wife and I spent three nights here for our anniversary and loved every minute of it. The place was super comfy, really well stocked, in a great location, and super clean. Host even made a bunch of wonderful eating/shopping/exploring recommendations that were spot on. This is exactly how Airbnb is supposed to be. Would have given 6 stars if allowed."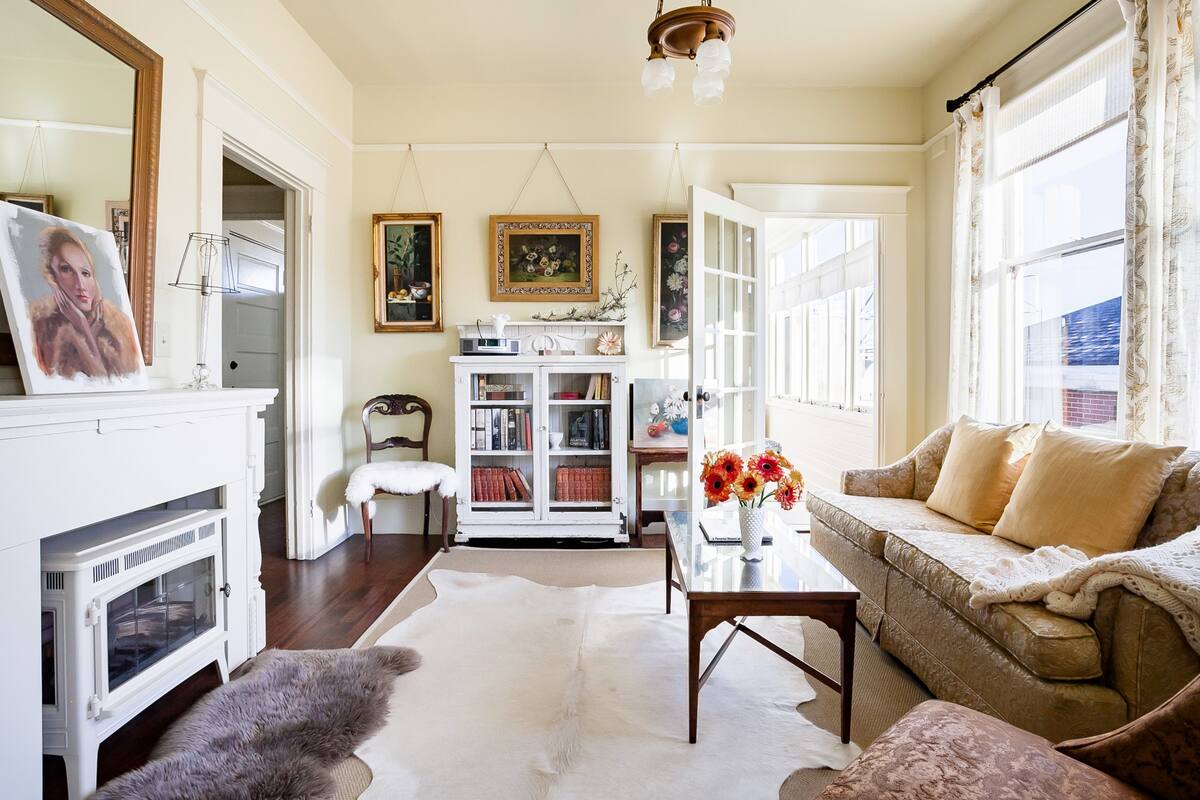 ---
2) Nye Beach Retreat
Top Romantic Airbnb in Oregon
Location: Nye Beach, Newport
Airbnb Plus: Yes
Superhost: Yes
https://www.airbnb.com/rooms/plus/19914268
Price: $185+ USD per night
A one-bedroom ocean front condo with not one, but two bathrooms! It is tastefully decorated with thoughtful touches throughout the condo. And the location is everything.
You can walk straight out of your front door onto the beach, or sip a sundowner with a sea view on your balcony.
This is a great self-catering option for couples who want to be close to the beach but not too far from some fabulous bistros and fine dining restaurants. You'll have no trouble seeing why it's so highly rated for location.
The beach access, the attention to detail throughout the condo, and the brilliant coastal vibe are just a few reasons why this is one of the top picks for an Oregon Coast Airbnb.
View Photos, Read Reviews & Check Availability
Guest Review: "Great little place to stay. Close to the beach, shopping & restaurants. Had a great time and would recommend it to anyone that is visiting the coast."
Ultimate Tour of the Oregon Coast
---
3) Beachfront Family Home
Best Oregon Airbnb for Groups
Location: Lincoln City
Airbnb Plus: Yes
Superhost: Yes
https://www.airbnb.com/rooms/plus/13640406
Price: $245+ USD per night
The nightly price for this gorgeous family-friendly home is a bargain! Featuring a fully-equipped kitchen for a big cookout after a day at the beach, and three large bedrooms. It is a warm and comfy home.
Oh, and it's walking distance to the beach. With big, comfortable common spaces and three private decks, this spot has a bunch of places for everyone to hang out. But, also a few nooks and crannies to have a bit of alone time.
This is the ideal vacation rental for families. It's cozy and welcoming, beautifully decorated, fully kitted, and super close to scenic beaches. You'll have a hard time leaving this picturesque beachfront home.
View Photos, Read Reviews & Check Availability
Guest Review: "Very clean and stylish home. The hosts have created a wonderful space to stay. The beds were very comfortable! Beautiful kitchen with all we needed and plenty of space to hangout with the family."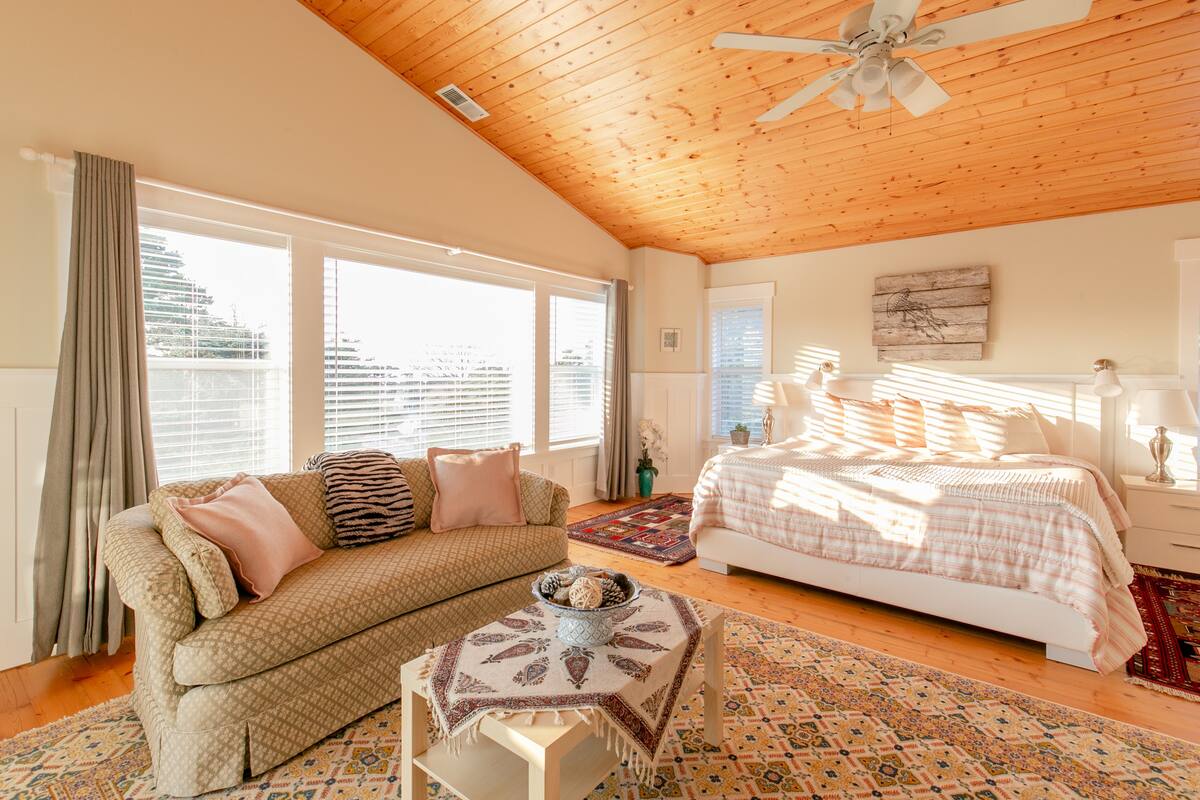 ---
4) Modern Oceanfront Luxury
Finest Luxury Airbnb in Oregon
Location: Cloverdale
Airbnb Plus: Yes
Superhost: Yes
https://www.airbnb.com/rooms/plus/16489836
Price: $593+ USD per night
Four out of five bedrooms in this gorgeous, contemporary beachfront Airbnb Oregon home have amazing sea views. That just gives you an idea of the spectacular location of this Airbnb. Right on the beach of Tierra Del Mar.
The layout of the house is perfect for large groups or multiple families with kids. A huge, fully-equipped kitchen with enough seating space for 12 around the island and three en-suite bathrooms to accommodate over a dozen people.
Of course, the proximity to the beach is unbeatable. You can watch your children playing on the beach from the house!
View Photos, Read Reviews & Check Availability
Guest Review: "By far one of the best Airbnbs I've stayed at. The house is clean, modern, convenient, and very well thought out. Gorgeous beach views from every room in the house except the kids bunk room which is on the roadside of the house. The kids still loved the room! It was such an added plus that three of the bedrooms were an en-suite. The kitchen island is large enough to seat 12 people around for meals. The cutest part is there is a small play area under the island with its own light for little kids to play. The kids could play on the beach and we could see them from the house. We will definitely be staying here again!"
Pacific Northwest, Oregon Coast. Part 1 - 5K Nature Documentary Film with Narration (English)
---
5) Oregon Coast Modern Home at Neahkahnie Beach
Coolest Airbnb in Oregon
Location: Neahkahnie Beach
Airbnb Plus: Yes
Superhost: Yes
https://www.airbnb.com/rooms/plus/28564523
Price: $314+ USD per night
A five-minute walk away from Neahkahnie beach is this unique six-sleeper house, sitting on a hilltop. It is a contemporary take on a treehouse, with sleek wooden finishes and all the modern comforts.
The entire house is filled with natural light throughout the day, elevating the tranquil atmosphere. The architecture is incredible, and offers beautiful retreat space for up to six people.
The living room has enormous windows framing the surrounding trees, which makes you feel as if you're in a stylish bird nest. The small outside decks are great in summer, and you'll have fleeting glances of ocean views through the trees.
View Photos, Read Reviews & Check Availability
Guest Review: "We had a terrific time at Cole & Lea Anne's place. The place is beautiful and made us feel at home from the first moment. The location is also perfect, just a couple of minutes walk from the beach. Would be happy to go back!"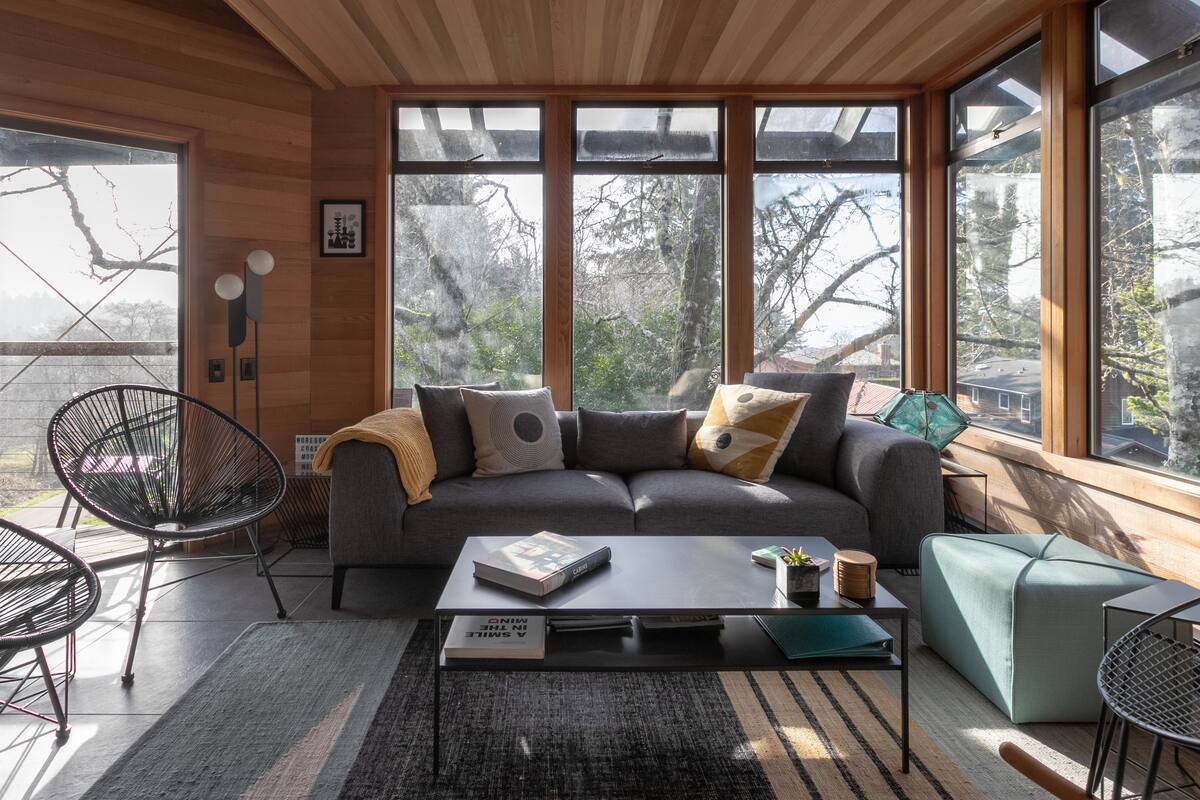 ---
6) Ocean View Retreat
Location: Florence/Yachats
Airbnb Plus: No
Superhost: No
https://www.airbnb.com/rooms/662392
Price: $175+ USD per night
This forest-dwelling one-bedroom cabin is full of character, with quirky finishes, and extraordinary views. It offers a real escape and a chance to relax close to nature – or in a claw-foot bathtub!
Perched among the trees of the Siuslaw forest, the blue cottage has a wrap-around balcony with panoramic sea and forest views. The interior is warm and a little eccentric in all the best ways.
It is secluded, peaceful, and a total treat for those looking for a private retreat in a beautiful location. Plus, it's pet friendly!
Spend your evenings eating dinner on the terrace and admiring the view, or curled up by the fireplace inside. Either way, the cabin lives up to its French name Sans Souci – without worry or trouble.
View Photos, Read Reviews & Check Availability
Guest Review: "WOW! If you want a place to clear your mind and hear the whispers of your inner voice while drinking in the beauty of the coast, this is the place. We are contemplating doing a monthly retreat weekend here!"
6 STOPS YOU HAVE TO MAKE ON THE OREGON COAST | Oregon Coast RV Travel from Florence to Cannon Beach
---
7) The Bluebird House
Location: Gold Beach
Airbnb Plus: No
Superhost: Yes
https://www.airbnb.com/rooms/14538686
Price: $165+ USD per night
Turn your childhood dreams into a reality with this unique Oregon Airbnb. It's a true adventurers' spot for romantic getaways or a fun family trip up in the trees.
The four-sleeper treehouse has spectacular views of the famous Samuel Boardman Corridor. It's 700 feet above the beach, backed up against The Cape Sebastian State Park. There are a ton of hiking trails, but the best one is the 45-minute hike down to the coast featuring mini donkeys!
The rustic cabin in the trees is well-equipped, in a stunning location with epic views. Adventure meets comfort here.
View Photos, Read Reviews & Check Availability
Guest Review: "The Bluebird House is the ideal peaceful getaway if you're looking to escape into the woods. The view from the deck is awe inspiring. It's a perfect spot to unwind after a long hike or if you were just chilling at the river. There is nothing quite like watching the sunset on the ocean while donkeys are running around in the yard. A soulful retreat far away from the noise of the city."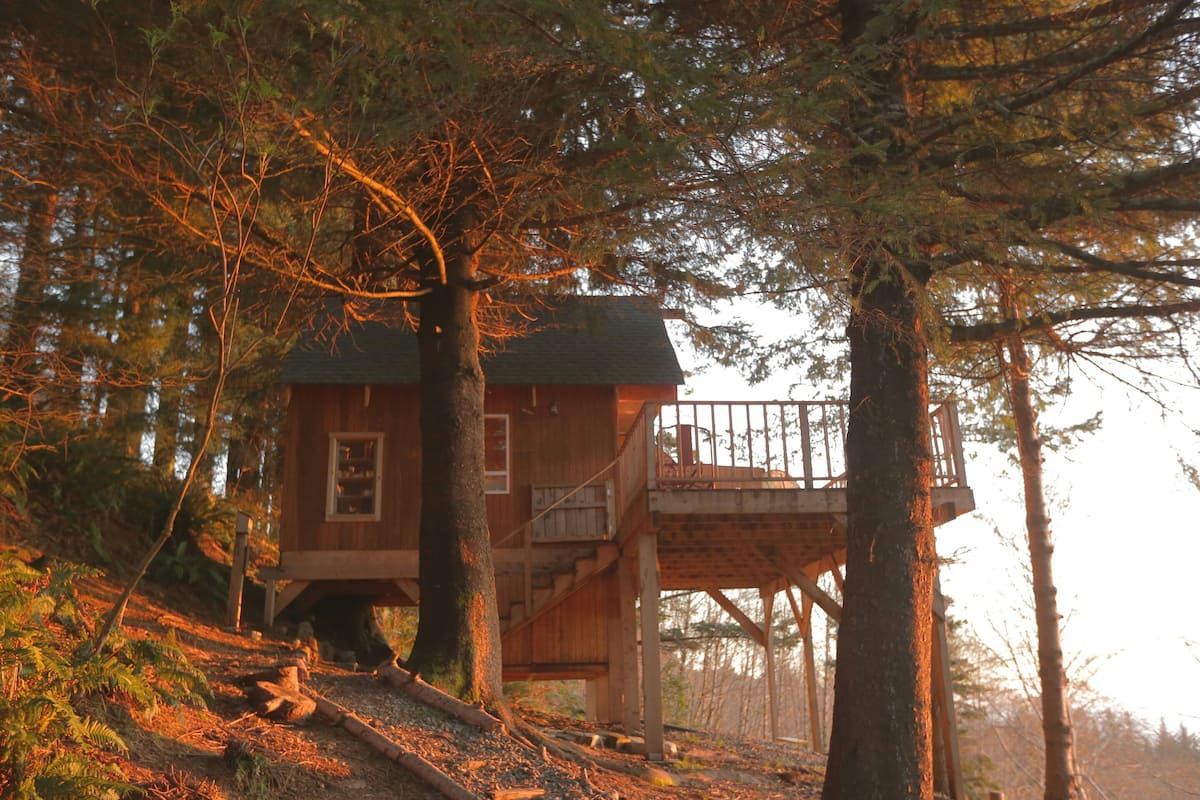 ---
8) Oceanfront Cottage
Location: Newport
Airbnb Plus: No
Superhost: Yes
https://www.airbnb.com/rooms/33393697
Price: $225+ USD per night
A charming, quaint little cottage perfect for two that sits on the coast with amazing ocean views. The rustic deck faces the ocean with unobstructed views of the long, tranquil beach. The beach is accessible by a trail leaving the peaceful village.
The cottage is simple but comfortable, with everything you need for your holiday on the Oregon Coast. It has just been renovated, so the furnishings are brand spanking new with a kitted out kitchen.
This Oregon vacation rental is a pocket-sized dream rental that packs a whole lot of punch for its small size.
View Photos, Read Reviews & Check Availability
Guest Review: "This is such a sweet little cottage with a jaw-dropping view! Comfortable bed, nice furnishings, well stocked kitchen, beautiful light – perfect for an Oregon coast getaway."
Oregon Coast Road Trip Highlights: 4 Days from Brookings, OR to Seattle, WA
---
9) Three-Bedroom Dog-Friendly Home
Location: Lincoln City
Airbnb Plus: No
Superhost: No
Price: $234+ USD per night
Affordable, large home – check. Unbelievable views – check. Hot tub – check. Dog friendly – check. It sounds like the perfect vacation rental, and it just might be! With a duplex-like setup, it is a suitable spot for multiple couples or families.
Just a couple blocks from the beach there are a number of awesome activities, such as kayaking and hiking, on your doorstep. The jewel of this place is the hot tub sitting on the deck, with jaw-dropping views and the sound of waves crashing.
View Photos, Read Reviews & Check Availability
Guest Review: "Very clean home. Jacuzzi was great. View was great. Home matches the pictures. Appreciate the home being supplied well with towels, soap, etc."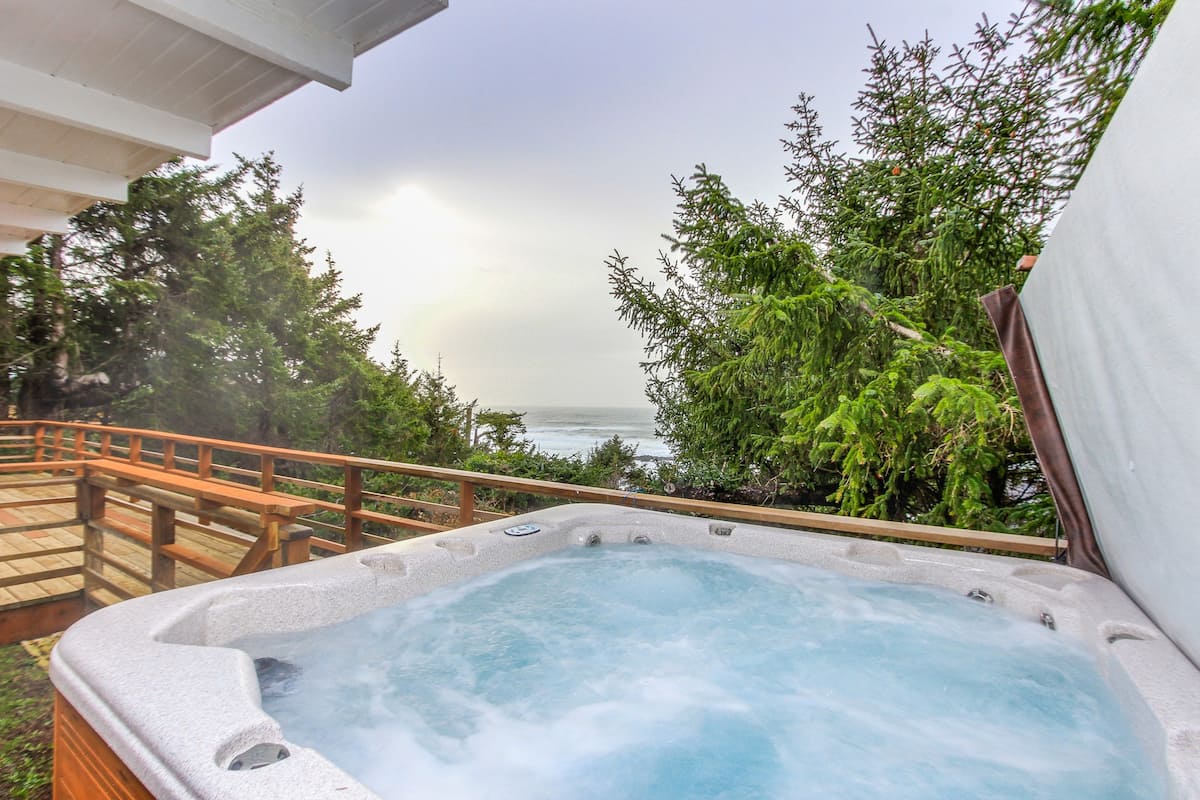 ---
10) Quiet Home in the Woods
Location: Cannon Beach
Airbnb Plus: No
Superhost: No
https://www.airbnb.com/rooms/20807912
Price: $119+ USD per night
This stilted, wooden holiday cabin offers the best of both worlds and is an amazing Cannon Beach Airbnb. A two-bedroom retreat in the woods, surrounded by greenery and massive evergreen trees. And it's within walking distance from beach access and the famous Haystack Rock. A blissful combination of forest and ocean.
The cabin is only a mile or so from Cannon Beach downtown, and there are some amazing cafes and bistros even closer than that.
View Photos, Read Reviews & Check Availability
Guest Review: "My college age daughter and I stayed 3 nights. Great location for coastal driving and exploring. Very comfortable and safe. Can walk to coffee shops, the beach ,and is close to Fresh Foods for grocery shopping. Would stay here again."
OREGON | From Coast to Mountain (incl. Drone/Aerials) • 4K
---
11) Renovated A-Frame Just Steps from the Beach
Location: Rockaway Beach
Airbnb Plus: Yes
Superhost: Yes
https://www.airbnb.com/rooms/plus/30719878
Price: $136+ USD per night
Near the Old Growth Nature Preserve and only 600 feet from Rockaway beach is this unique A-frame home. It features a cozy wooden interior, floor-to-wall windows and a fire pit. It is a relaxing and fully-equipped getaway spot.
The location is super convenient, with easy access to some of the best areas on the Oregon Coast. Thoughtful touches, such as the dog kit for your pets, will make you feel at home instantly.
It is stylish and homey, and the A-frame design adds to the warm ambiance of the house. This is definitely one of the best Airbnbs on Oregon Coast.
View Photos, Read Reviews & Check Availability
Guest Review: "Cute little A-frame cabin one block from the beach in Rockaway. My husband and I stayed here last weekend. The location is great – halfway between Cannon Beach and the Tillamook creamery. We would stay here again."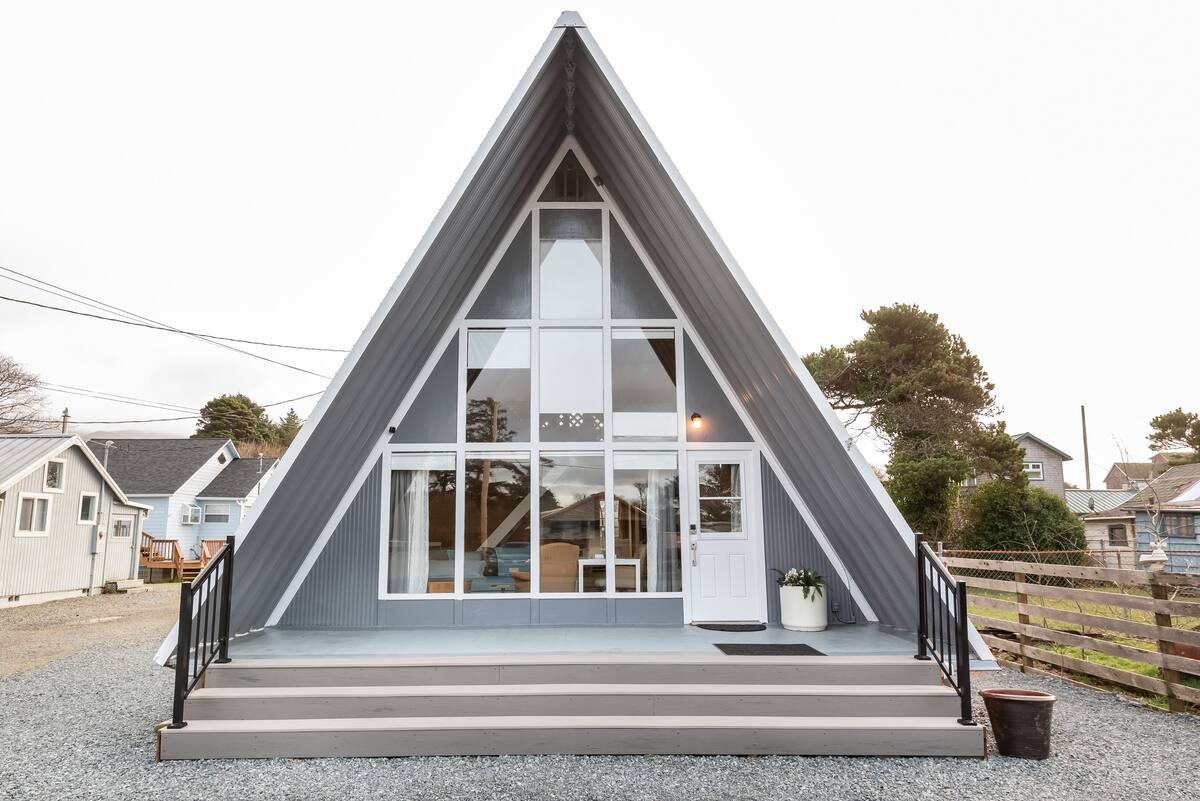 ---
12) Ocean Front Cliffside Oasis
Location: South Beach
Airbnb Plus: No
Superhost: Yes
https://www.airbnb.com/rooms/17190856
Price: $142+ USD per night
This breathtaking cliffside bungalow is an awesome choice for couples, groups, and guests of all ages. The wrap-around deck is covered, making it a perfect place to relax and appreciate a stormy coastal day.
The best part is that the private beach access, which is only a few steps away from the home, is exclusive to residents and guests. You have miles of serene, quiet beachfront to stroll along without maddening summer crowds.
You're tucked away in a peaceful spot but close enough to everything you need.
View Photos, Read Reviews & Check Availability
Guest Review: "This space was beautiful! The ocean-view windows spanning the wall made for relaxing views. If in the area again and available, I would return."
Best Oregon Coast Towns - Top 5
---
13) Pacific Breeze Beach Townhouse
Location: Manzanita
Airbnb Plus: Yes
Superhost: Yes
Price: $289+ USD per night
This is a really affordable house accommodating up to 8 guests, in a fantastic location. The townhouse is tastefully decorated to suit the coastal region, without being beach kitsch. The BBQ area is an awesome spot to unwind after a long day at the beach.
Almost everywhere is in walking distance, so you can put your car keys away and enjoy the slow pace of beach living. The beach is one block away, and Manzanita downtown is a 15-minute walk. And if you're keen on hiking, biking, or horse riding, Nehalem Bay State Park is just a 10-minute walk away.
View Photos, Read Reviews & Check Availability
Guest Review: "My family and I had a lovely stay! The place was so clean and cozy. We had a small issue during our stay – we contacted the host and the issue was resolved quickly, easily and did not inconvenience us at all. Would definitely stay again!"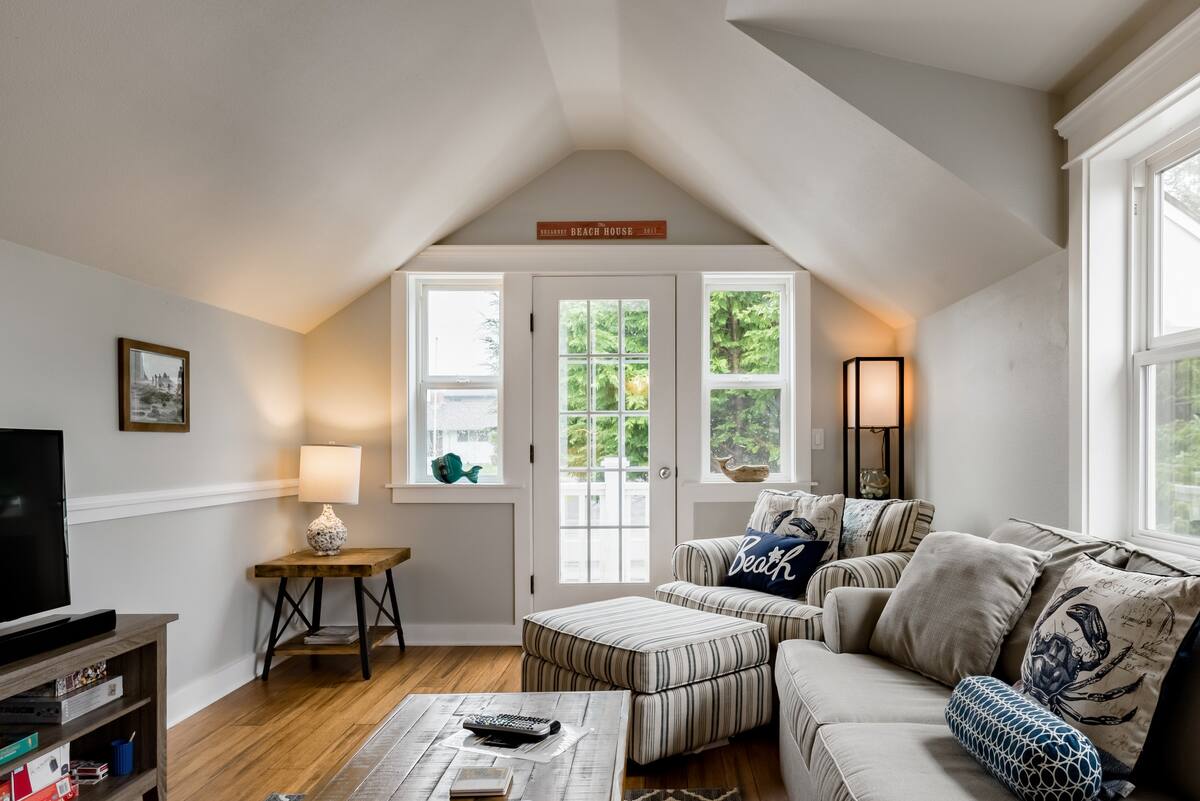 ---
14) Oceanfront Duplex
Location: Cannon Beach
Airbnb Plus: No
Superhost: Yes
https://www.airbnb.com/rooms/26079414
Price: $409+ USD per night
This is a fantastic Airbnb in Cannon Beach, where you can park your car and leisurely stroll everywhere you need to for the remainder of your stay. And, since this spot is dog friendly, your furry friend can come along for the walk.
The circular architecture creates an open-plan space that comfortably accommodates five guests. The wrap-around deck provides the perfect spot to have a BBQ dinner with views over the Pacific Ocean and Ecola Creek.
The location is everything with this cozy duplex. Just steps away from the beach and half a block from town. If you get tired of drinking coffee on the fantastic deck overlooking spectacular views (as if), there are a bunch of coffee shops and restaurants a few minutes walk away.
View Photos, Read Reviews & Check Availability
Guest Review: "This place was unreal. Steps from the beach, half a block from downtown, customer service was impeccable, and the place was immaculate. Beds were comfortable, kitchen was fully equipped, and the views were spectacular. Exactly what my husband and I needed. Perfect beach getaway."
10 Best Places to Visit in Oregon - Travel Video
---
15) Country Cottage on the Pacific Coast
Location: Brookings
Airbnb Plus: No
Superhost: Yes
https://www.airbnb.com/rooms/13006469
Price: $186+ USD per night
A real country getaway, this charming cottage is a secluded retreat surrounded by wildlife and nature. It is a one-bedroom cottage that is spacious enough to accommodate four people and is a restorative space to completely relax.
Despite not sitting on the beachfront, the views are still phenomenal from the deck. Especially watching the sun dip over the ocean at dusk. Watch the fog clear over the ocean, sipping on a cup of coffee while listening to the birds singing around you. And you'll be treated to incredible starry skies because of the absence of light pollution.
View Photos, Read Reviews & Check Availability
Guest Review: "Unbelievable views and just an absolute gem of a place to stay and get away. Peter is an excellent host and makes himself available if needed. I look forward to my next Oregon adventure and returning here to stay."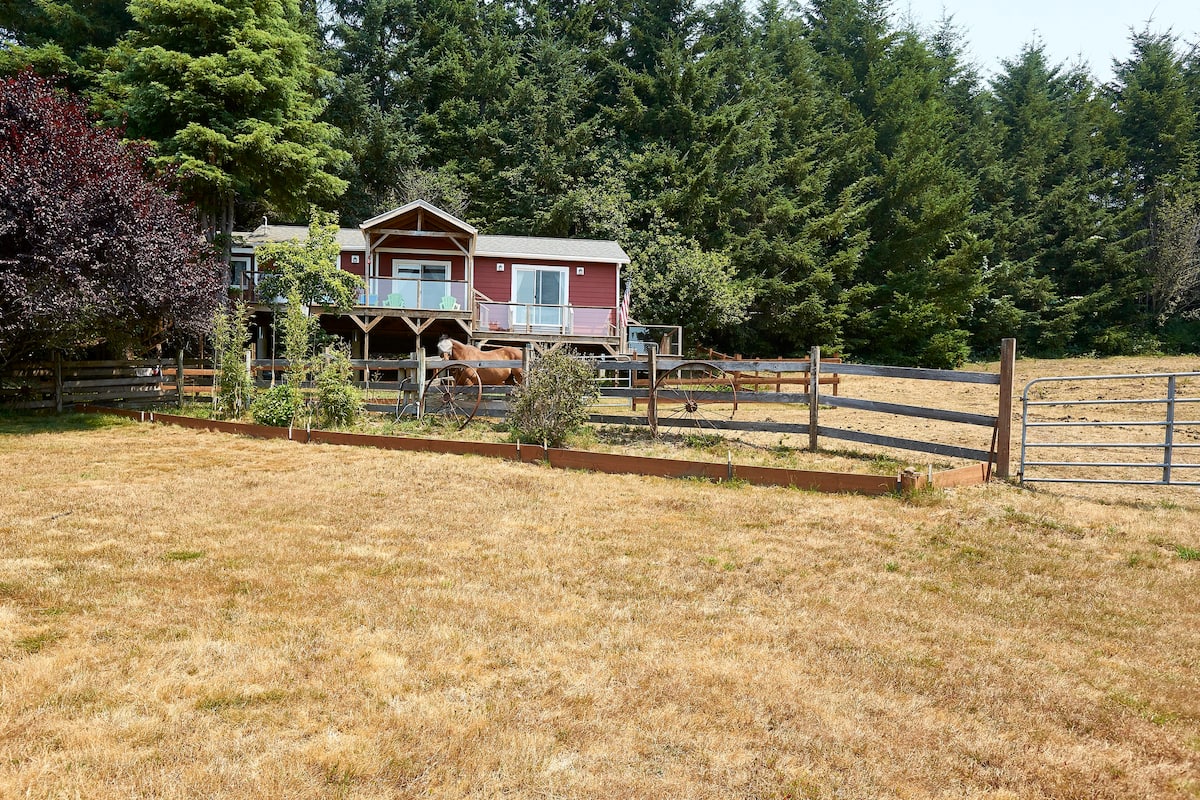 ---
16) Yachatian Safari Suite at the Drift Inn
Location: Yachats
Airbnb Plus: No
Superhost: Yes
https://www.airbnb.com/rooms/13309350
Price: $85+ USD per night
Are you looking for a comfortable and eclectic suite without too much fuss, at one of the best inns in Yachats? Well, you've found it. This room will make you feel like you've just stepped into a jungle hideout.
The huge bathroom and exquisitely tiled shower is an experience all on its own. The room has a private entrance and the bits and bobs that you need to make a coffee or keep your beers cold.
The 'inn' is situated in the center of town, conveniently close to everything. There are two public patios that you can hang out on, and free use of kayaks!
View Photos, Read Reviews & Check Availability
Guest Review: "Wow, this is an awesome place to stay. Best night's sleep we've had so far – bed was so comfy. We had dinner at The Drift Inn which was just a few steps away and it was great too. Highly recommended for anyone wanting to stay in this area."
The Best Travel Destinations in Oregon USA
---
17) Harbour View Condo
Location: Gold Beach
Airbnb Plus: No
Superhost: Yes
https://www.airbnb.com/rooms/18912573
Price: $125+ USD per night
Start your morning on the balcony, searching for sea otters frolicking in the harbor. This condo has the trifecta view of the Pacific Ocean, Rogue River, and the mountainside.
This is an excellent Airbnb for solo travelers looking to unwind, or a couple seeking a relaxing getaway. It features a compact but fully-equipped condominium with breezy sea decor and a ton of natural light.
It is a great value for money choice. A good bang for your buck without sacrificing the epic coastal views or the central location.
View Photos, Read Reviews & Check Availability
Guest Review: "This place is such an amazing stay in Gold Beach. Looking over the river from the balcony is so gorgeous, the apartment is beautiful & so comfortable. Mehlin is such a fantastic host & we had everything we needed. I would highly recommend it!"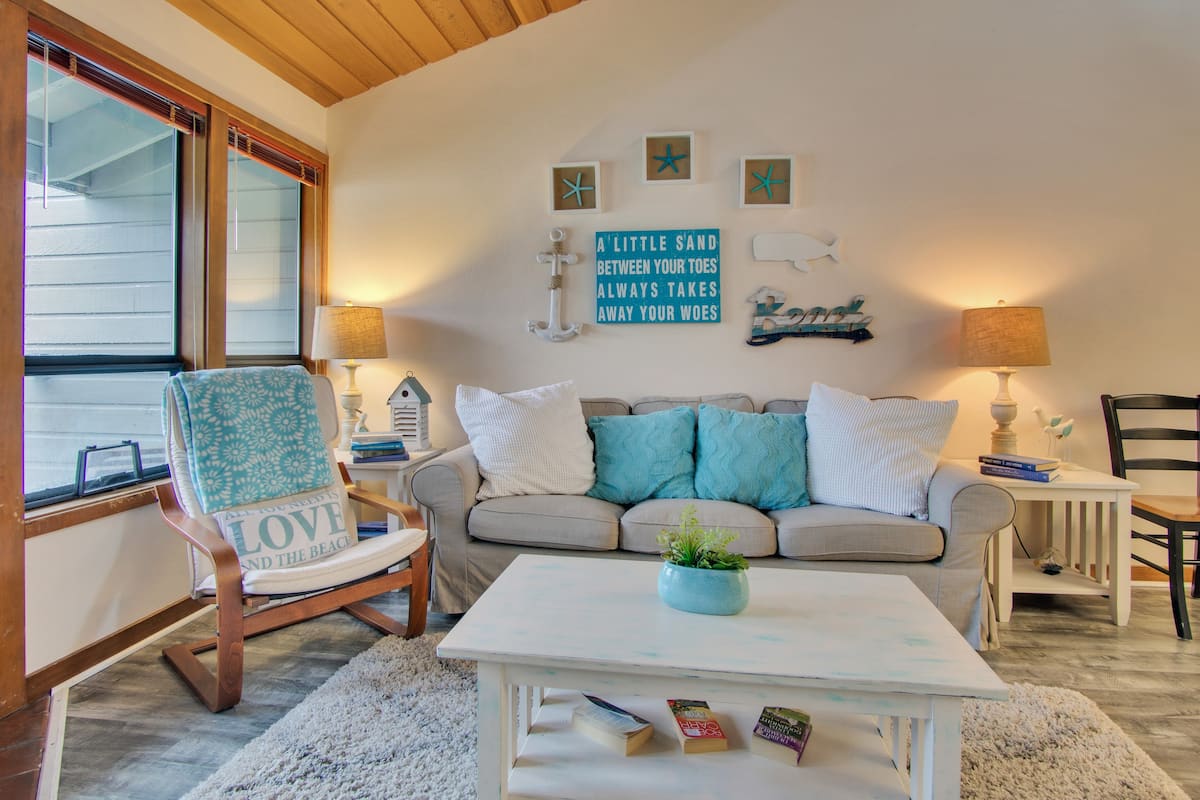 ---
18) Oceanfront Studio Cottage
Location: Newport
Airbnb Plus: No
Superhost: Yes
https://www.airbnb.com/rooms/803020
Price: $157+ USD per night
This minimalist and rustic studio cottage sits on over two acres of oceanfront. The location is completely private with a tranquil atmosphere, you'd never guess that Newport town is just a few minutes drive away.
The views from the studio and the deck are gorgeous, with large glass doors and windows spanning the entire front of the cottage. The wood fireplace creates a cozy atmosphere and is great for when the night chill sets in. It is a romantic and secluded hideout that couples will love.
View Photos, Read Reviews & Check Availability
Guest Review: "This is hands-down the best Airbnb you will ever rent. It is breathtaking. Louis is so hospitable and the property is the perfect secluded getaway. The view is beyond description, the fireplace is so cozy (bring extra Duraflame logs, you'll never want to be without a fire!) and the location is so convenient. You feel like you're worlds away from everyone else, but you can pop over to Fred Meyer in five minutes! Highly recommend Cobblestone Pizza nearby as well – we loved grabbing a pizza and eating by the fire! We got engaged during this trip and are already considering booking this property for our honeymoon. It is 10/10 outstanding!"
The Seven Wonders of Oregon
---
19) Seaside Beach Cottage
Location: Seaside
Airbnb Plus: No
Superhost: No
https://www.airbnb.com/rooms/27129311
Price: $170+ USD per night
This two-bedroom place is the epitome of an Airbnb seaside Oregon cottage. With a firepit, backyard, and hot tub, you'll find it difficult to leave, but thankfully, the beach is only a few steps away.
The shed is thoughtfully stocked with beach essentials (umbrella, chairs, etc.) for your use, supplying you with everything you need for a beach holiday. This seaside Airbnb cottage in Oregon has warm and open decor and a fully-equipped kitchen.
It is a great base to explore Seaside and enjoy your coastal getaway! Plus, it's one of only two Oregon Coast Airbnbs with a hot tub, so it's a real gem.
View Photos, Read Reviews & Check Availability
Guest Review: "Awesome location, and amazing amenities! The owner is always very quick to get back to you and answer any questions you might have! Will absolutely be our first choice for any of our future trips! Thanks again for EVERYTHING!!"
Things to do in Seaside, Oregon
---
Top Oregon Airbnb Experiences To Check Out
The Oregon Coast is simply stunning, and enjoying it by participating in one of these Airbnb Experiences will give you an expert-led look at this beautiful part of the world.
---
Dynamic Oregon Coast Tour & Top Guide
"First, we'll loop along the cliffs of Neahkahnie Head, eagle and whale-watching as we go. Next, Oswald West Park offers a great old-growth forest and trails to a breathtaking bay called Short Sands! Then, we'll reverse back to Cannon, our state's classic coast town where Haystack Rock awaits--our most famous ocean monolith! We can walk up close, possibly seeing puffins, tide pools, or rock pounding surf! ! We can stroll main street, searching the cedar-shake shops and eateries for saltwater taffy, fresh seafood, souvenirs or microbrews. Finally, in a breathtaking climax, we'll visit Ecola State Park for indescribable views--where movies like The Goonies and Point Break were filmed--that showcase the mind-blowing beauty of the Oregon Coast."
https://www.airbnb.com/experiences/2093111
Price: From $96 USD per person (6 hours)
Review: "Wow! I left this experience knowing I've got a friend for life in Adam, I know much more about Portland than most Portlanders, and I know how to say Willamette (damn it)! Adam was thorough in history of the place, very connected to the city, and has deep roots. He presented information in story form that drew you into each location as if you've known it all your life. The places he takes you on this experience are jaw dropping. Leaves you in a state of wonderlust! What an incredible experience that EVERYONE should do!" – Meiko
View Photos, Read Reviews & Check Availability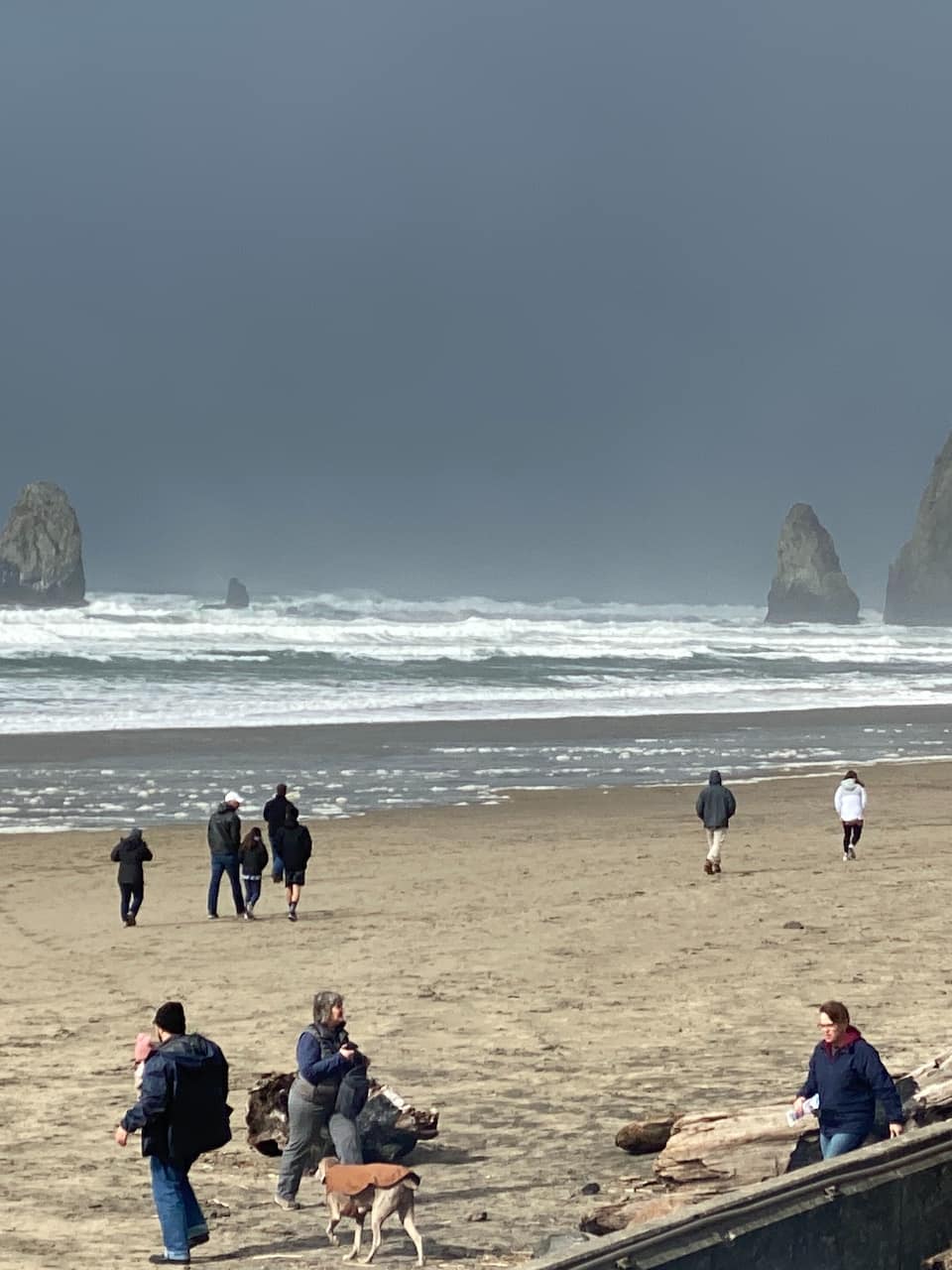 ---
Rock Painting
"First you'll tour the garden to view the rocks I've painted so you get an idea of what you'll be doing. Next we will go out to the studio, choose your rock or sand dollar that I've already prepped and decide on the colors of paint you'd like to use. Then, we'll get to work! I will guide you the entire time, taking into account your choice of learning styles."
https://www.airbnb.com/experiences/890515
Price: From $50 USD per person (2 hours)
Review: "This was a great afternoon of learning and laughter and fellowship! We had such fun! She taught us and shared how we could get supplies to continue, which we have done ✅ and we have great memories of an afternoon spent with them as we continue to Paint Rocks!" – Carlene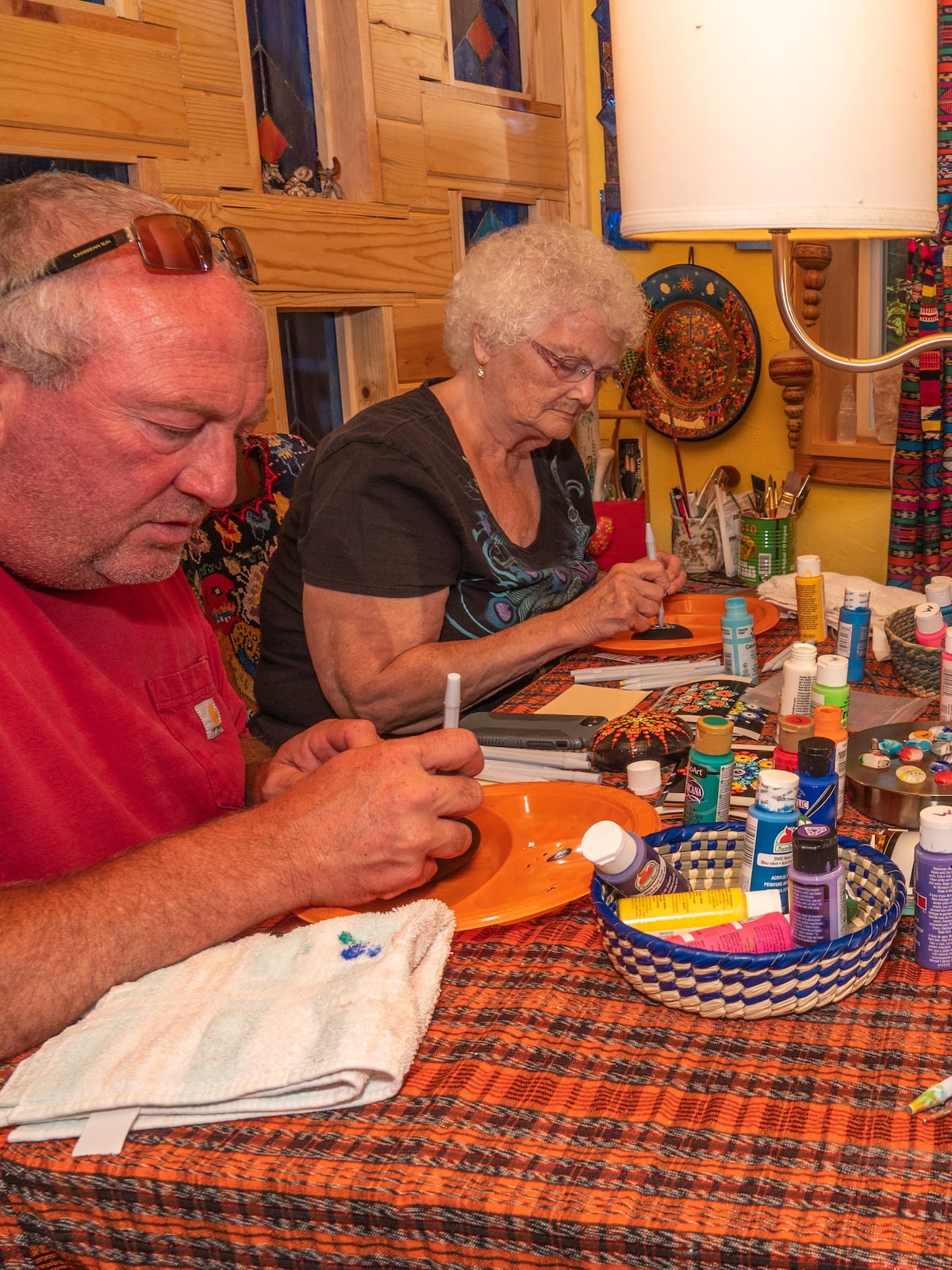 ---
Chainsaw Carving in Salem Oregon
"Safety – The group will start the class with a safety lesson to learn the safe way to operate the equipment. Participants will be geared up for the class with protective gear. Learning to Carve – Once you're protected it's time to get busy. Each participant will carve a small bear during the class. You will be coached and mentored throughout the class by one of our master carvers, Kevin or Tyler Strauslin, who will provide expert guidance and training every step of the way."
https://www.airbnb.com/experiences/134936
Price: From $250 USD per person (4 hours)
Review: "Gave this experience to my husband as a birthday gift and my 14yo son joined him. They had the best time! Enjoyed everything about the experience and came home with two impressive chainsaw bears. They may have found a new hobby. Thank you Susan, Kevin, and Tyler!" – Stacie
View Photos, Read Reviews & Check Availability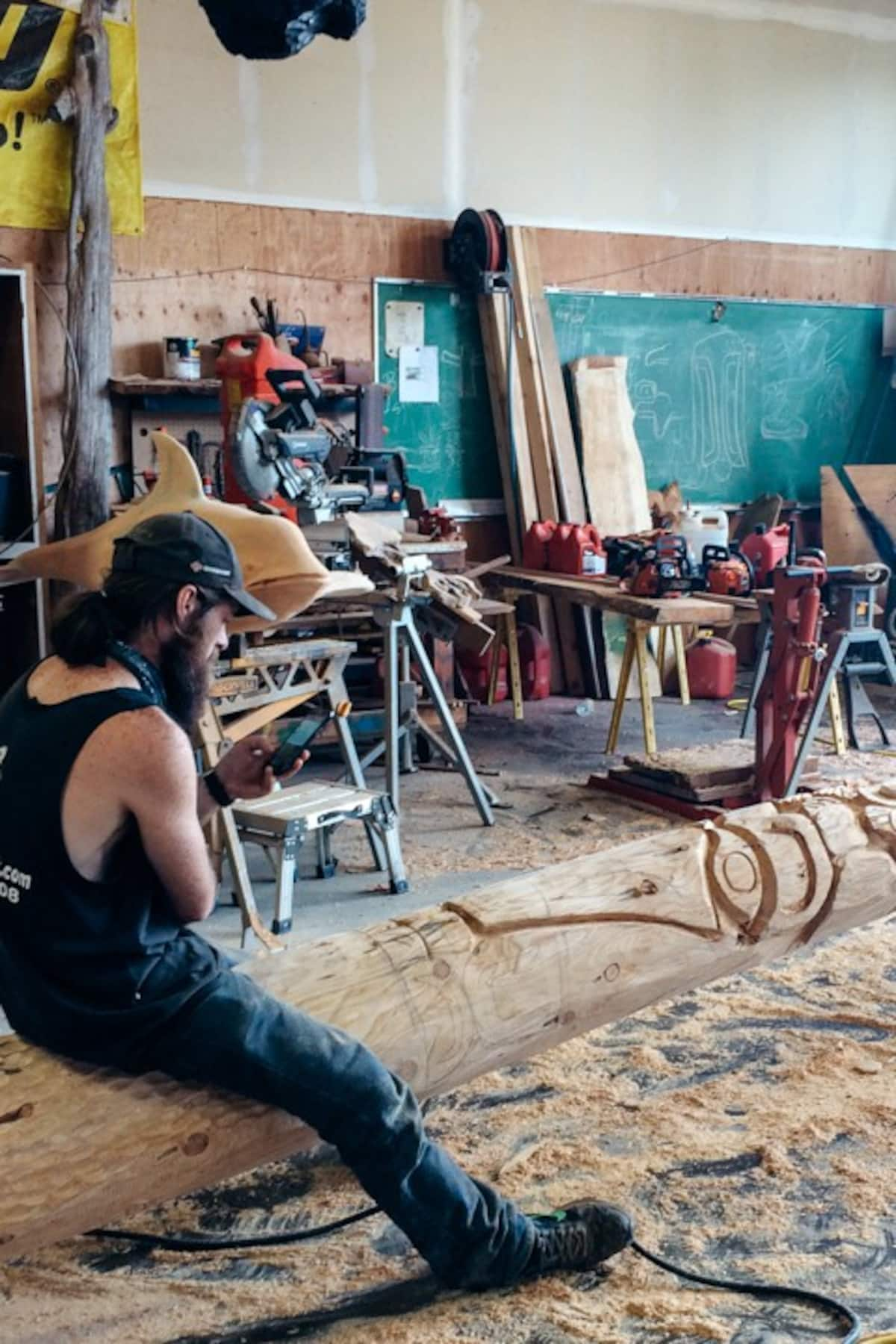 ---
Other Oregon Coast Day Trips and Tours
There is so much to do and see along the Oregon Coast Highway. From visiting renowned natural areas to marveling at marine life, or exploring the hiking trails.
It can be overwhelming trying to plan the perfect Oregon Coast itinerary to ensure that you make the most of your trip. Take a look at these excellent tour options for day-trip excursions designed to maximize your time on the coast.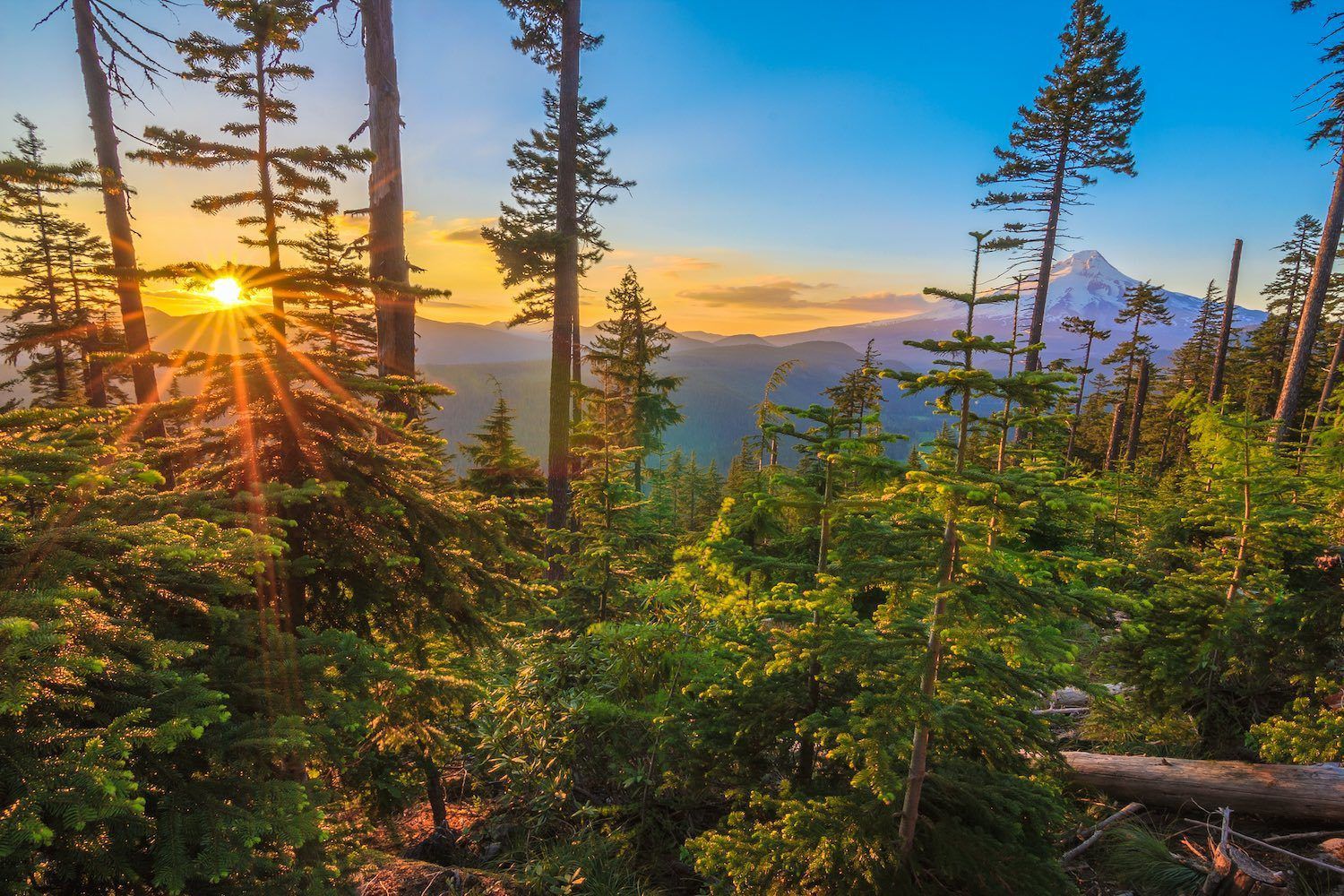 ---
Cannon Beach and Haystack Rock Tour
"On this full-day tour, explore Oregon's coastline and discover unforgettable vistas of the Pacific and its wide sandy beaches. Stroll through the region's characteristic old-growth forests, and quaint beach towns, home to artists and artisans."
https://www.getyourguide.com/activity/oregon-l951/northern-coastal-tour-astoria-to-cannon-beach-t29815/
Price: $100+ USD
---
From Portland: Northern Oregon Coast Day Trip
"Explore the beaches, marvel at the plants and animals, and behold the majesty of the rock formations along the Oregon Coast. Learn about the past, and taste the present with culture-related stops."
https://www.getyourguide.com/activity/portland-oregon-l1024/from-portland-northern-oregon-coast-day-trip-t280807/
Price: $110+ USD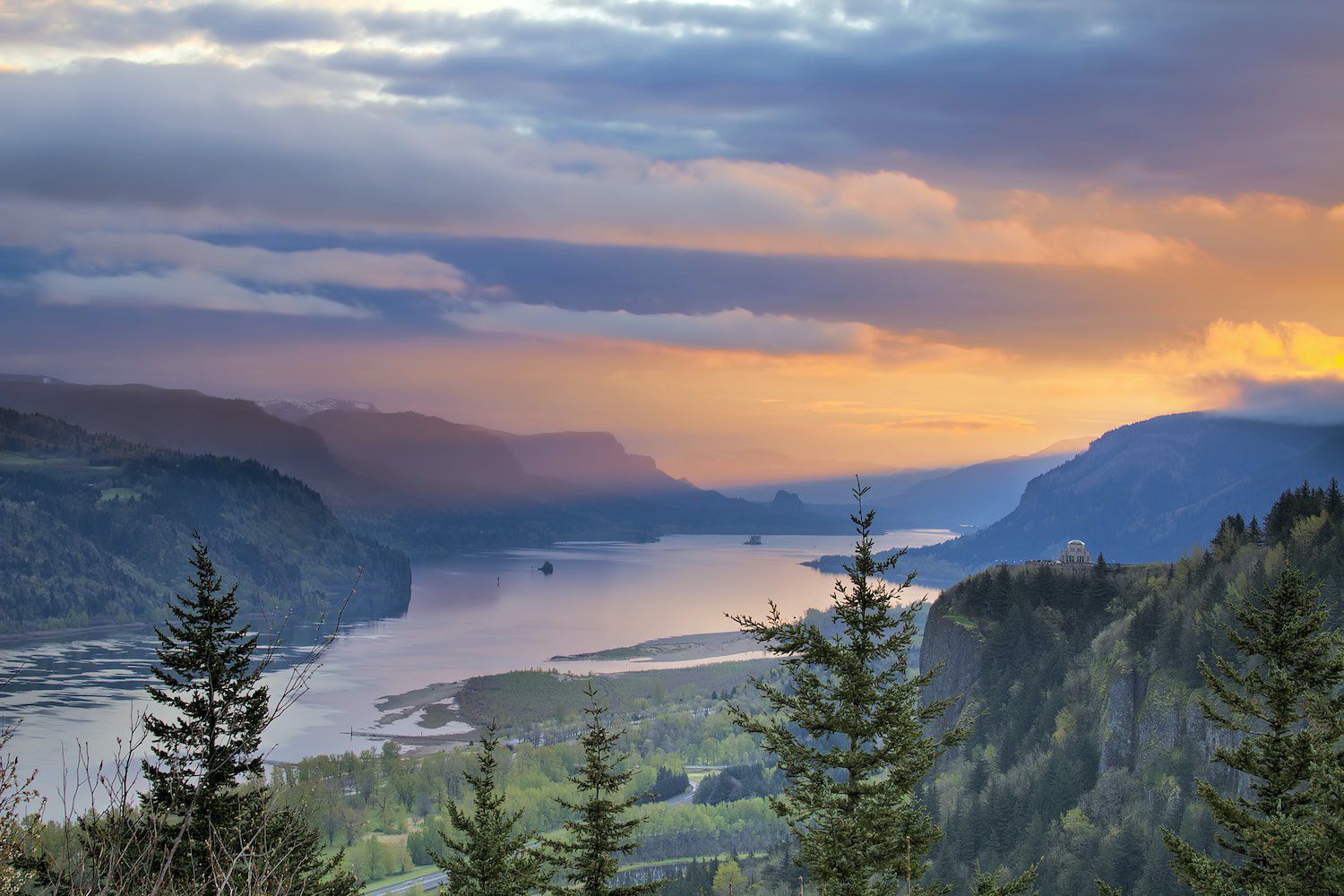 ---
Am I Missing Any Awesome Airbnb Oregon Coast Rentals?
Have you visited Portland recently and stayed at an awesome Airbnb that you think should be included on this list? Or maybe you're a new Airbnb host in Portland and would like to have your property featured? Please, do let me know! I'd love to keep my list of Airbnbs in Portland as up-to-date as possible!
---
Planning a Trip to Oregon & the USA?
I've got tons more fun travel articles and would love for you to take a look at a few of my favorite posts below! And as always, if you ever have any questions about visiting Oregon, feel free to reach out to me on social media and I'd be happy to help any way I can!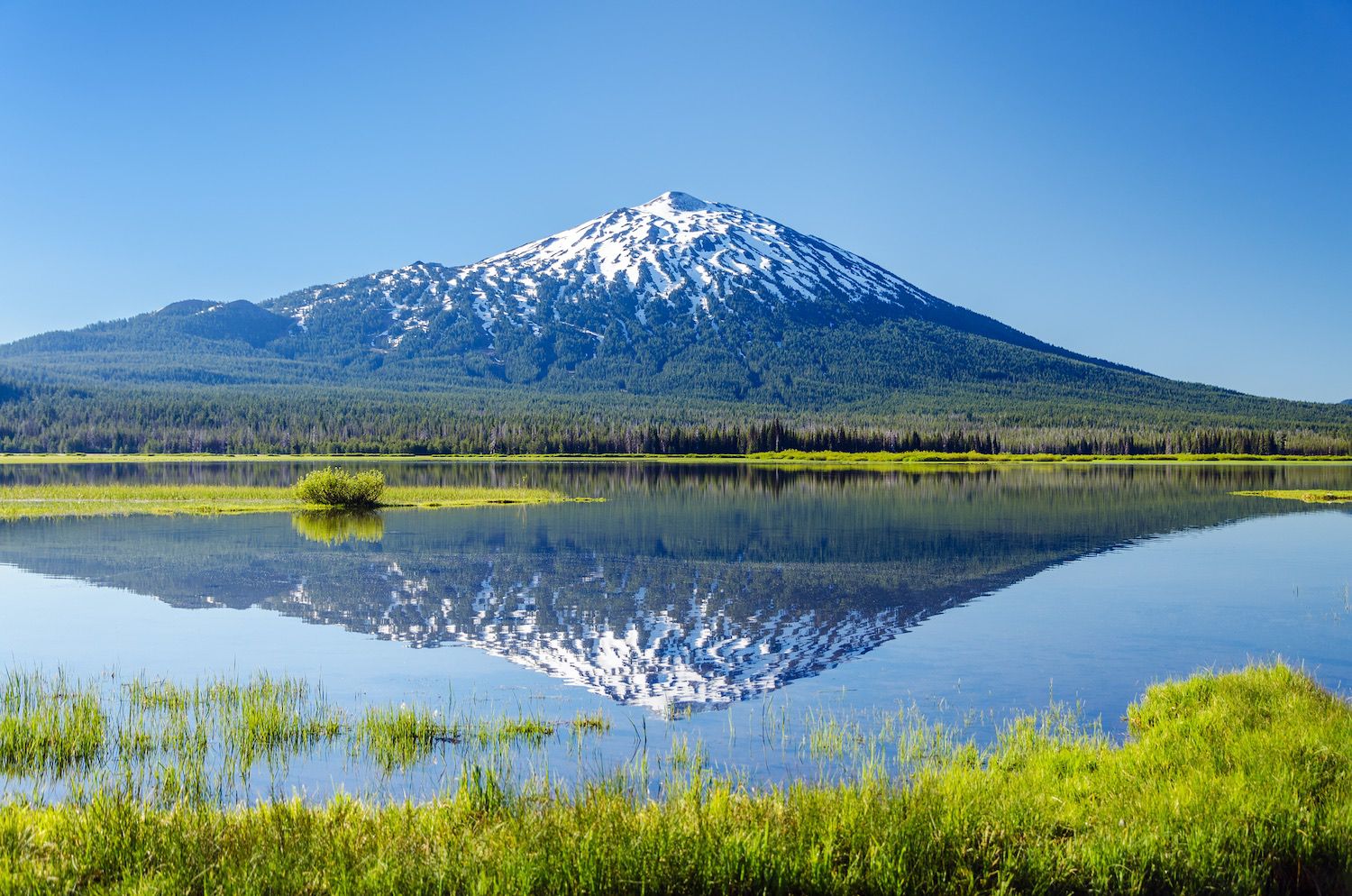 ---
Final Thoughts on the Best Airbnbs Oregon Coast
Wow, the Oregon Coast is packed with remarkable beach rentals destined to be the cherry on the top of your epic coastal holiday.
When you're not hiking, lazing on the pristine beaches, or exploring the fascinating towns, it's important to have the perfect place to relax. Airbnb is one of the best travel resources to find your ideal holiday rental, and this guide is filled with the absolute best Airbnbs Oregon has to offer.
---
Thanks for reading my Airbnb Oregon Coast guide!
Share this list of Airbnbs on the Oregon coast with your travel crew!
https://www.jonesaroundtheworld.com/wp-content/uploads/2020/05/Airbnb-Oregon-Coast.jpg
1000
1500
TravelTractionsJATW
https://www.jonesaroundtheworld.com/wp-content/uploads/2017/03/logotry-1-1-300x106.png
TravelTractionsJATW
2020-10-06 01:07:46
2021-04-07 02:24:18
Airbnb Oregon Coast: The 19 Best Stays on Cannon Beach & Beyond