Planning a nature-filled getaway and looking for the coolest Glamping Maryland sites in 2023? That's a solid plan, as Maryland is fast becoming a glamping hotspot of the USA, and it deserves all the praise.
The Mid Atlantic state, more famous for its cities than its countryside, is showcasing its wide-open spaces to the masses and putting on unique glamping experiences that will suit any style of traveler.
There are huts and cabins, tents and cabooses, treehouses and yurts, and they are all available for you to rent for the glamping trip of a lifetime.
These are the 15 best Glamping in Maryland experiences that are guaranteed ti please everyone!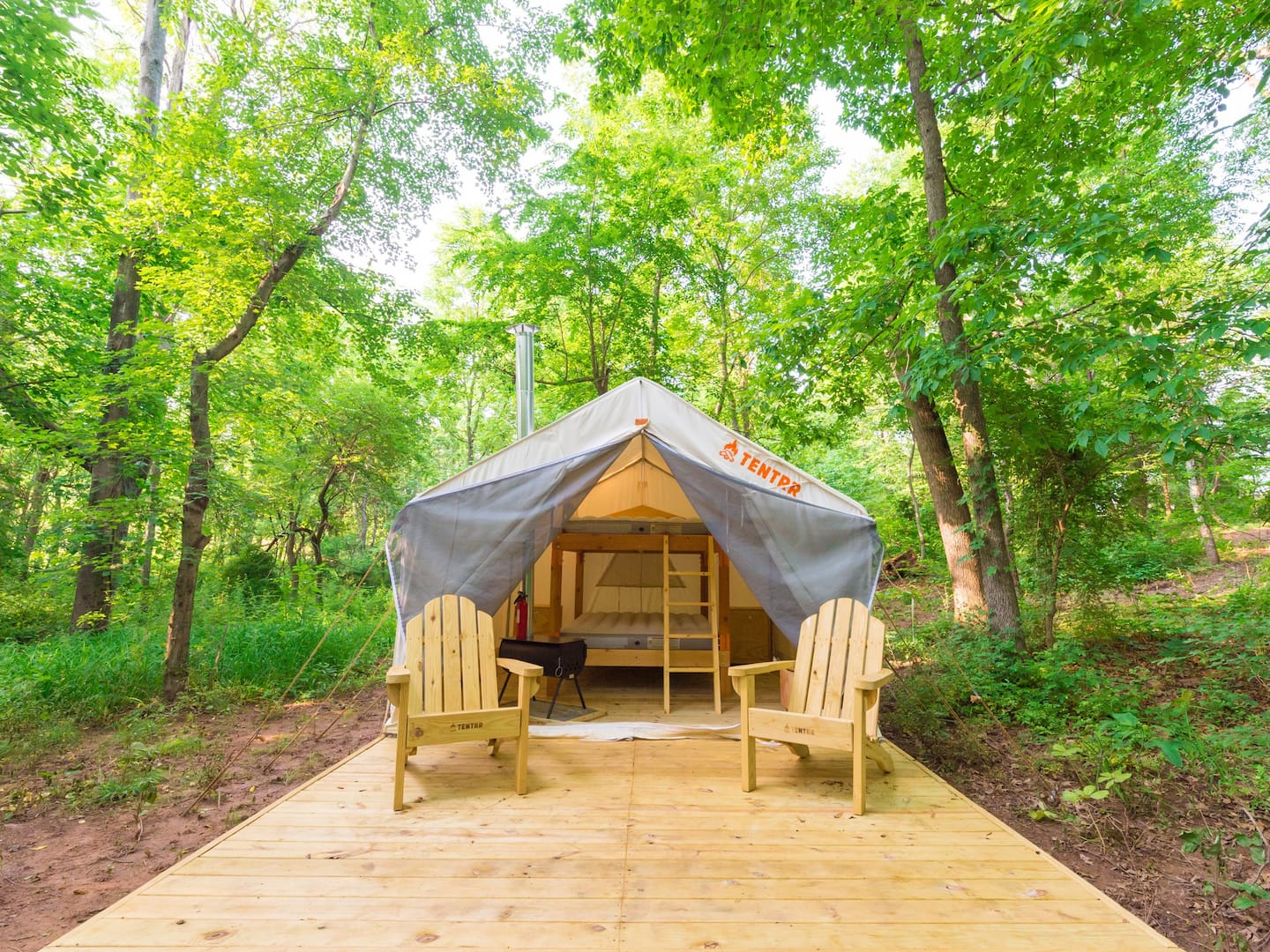 ---
1) The Treehouse – Lakefront w/ Hot Tub
Location: McHenry
Price: $593+ per night
Sleeps: 16 people (8 beds/6 BR/5 bath)
This massive luxury accommodation is a can't-miss rental for large groups or a family vacation in the heart of the Maryland wilderness. You'll be provided not only with sweeping lake views from the balconies, fire pit, or backyard dock, but also from the hot tub! Modern rustic touches throughout, you'll feel pampered and at the same time unplugged and in touch with nature.
The Treehouse is a wonderfully whimsical getaway for those wishing to relax as well as anyone who enjoys any number of outdoor activities.
Guest review: "The house was very spacious, clean, and well maintained. I would certainly recommend The Treehouse and Taylor-Made to my friends and family. We are already thinking about returning in early fall. This was my first experience in Deep Creek Lake but will not be the last."
View Photos, Read Reviews & Check Availability
---
2) Glamping Yurt at Yorkie Acres Farm
Location: Friendsville
Price: $90+ USD per night
Sleeps: 4 people (1 beds/1 BR/1 bath)
The Yurt at Yorkie Acres Farm is a budget-friendly glamping offering in Maryland, with space to sleep up to four guests comfortably. The spacious yurt is located on a working farm, and features a king bed, sofa bed and air mattress.
Guests will find a pavilion right next door with a kitchen, as well as a bathhouse with a hot shower. If you visit in the summer, there's an AC in the yurt, and a heater for winter stays. Friendsville is near to Pennsylvania and West Virginia and has wide open spaces as far as the eye can see.
Guest review: "This place was super super cute, they had a nice area to sit outside by the creek and the whole space was decorated beautifully! The stars out here are also beautiful! We had a great stay, i wish we would have been there longer! Would definitely come back."
View Photos, Read Reviews & Check Availability
---
3) Quaint Cozy Deep Creek Lake Log Cabin
Location: Deep Creek State Park
Price: $249+ per night
Sleeps: 6 people (4 beds/2 BR/2 bath)
Deep in iconic Yellowstone Village, this lavish log cabin is perfect for a family get together or a couple's getaway. The accommodation is expertly crafted and equipped with heat, AC, a full kitchen, and all the amenities home home such as appliances, TV's, and even a hot tub!
Just a short distance from the water and nearby golf courses, shops, restaurants, and trails, this is an idyllic rental for relaxation and recreation alike.
Guest review: "Michelle was such a great host! The cabin was clean and stocked full of everything you'd need in a home away from home. We throughly enjoyed the hot tub and front porch sitting area. I'd book this cabin again in a heartbeat! :)"
View Photos, Read Reviews & Check Availability
---
4) Tentrr Signature Site – Good Intentions Farm "Encore"
Location: Keymar
Airbnb Plus: No
Superhost: No
Price: $150+ USD per night
https://www.tentrr.com/explore/Maryland/Good-Intentions-Farm-Encore
This fab one bed glamping tent in Keymar, Maryland, and has so far received a resounding five-star perfect Airbnb score. Located on a farm with miles of hiking trails and meandering streams, the tent features a double bunk bed and heating, as well as a deck and campsite.
The nearby barn is where you'll find kitchen amenities and bathroom facilities. Nearby you'll find some leading local wineries, and the historic site of Gettysburg, Pennsylvania is just 30 minutes drive away.
View Photos, Read Reviews & Check Availability
Guest review: "Hello, future travelers! If you are looking for a glamping experience with a touch of outdoors, then Tentrr is perfect! The luxury of sleeping on a bed paired with cooking over the campfire made for a wonderful balance of comfort and "roughing it." Tucked under the canopy of trees surrounded by farms, the sites (Chrome and Encore) offered the peaceful seclusion I was looking for as well as being less than a half-hour from Catoctin Mountain Park. I loved my first Tentrr experience! And am excited to look for more!" – Sarah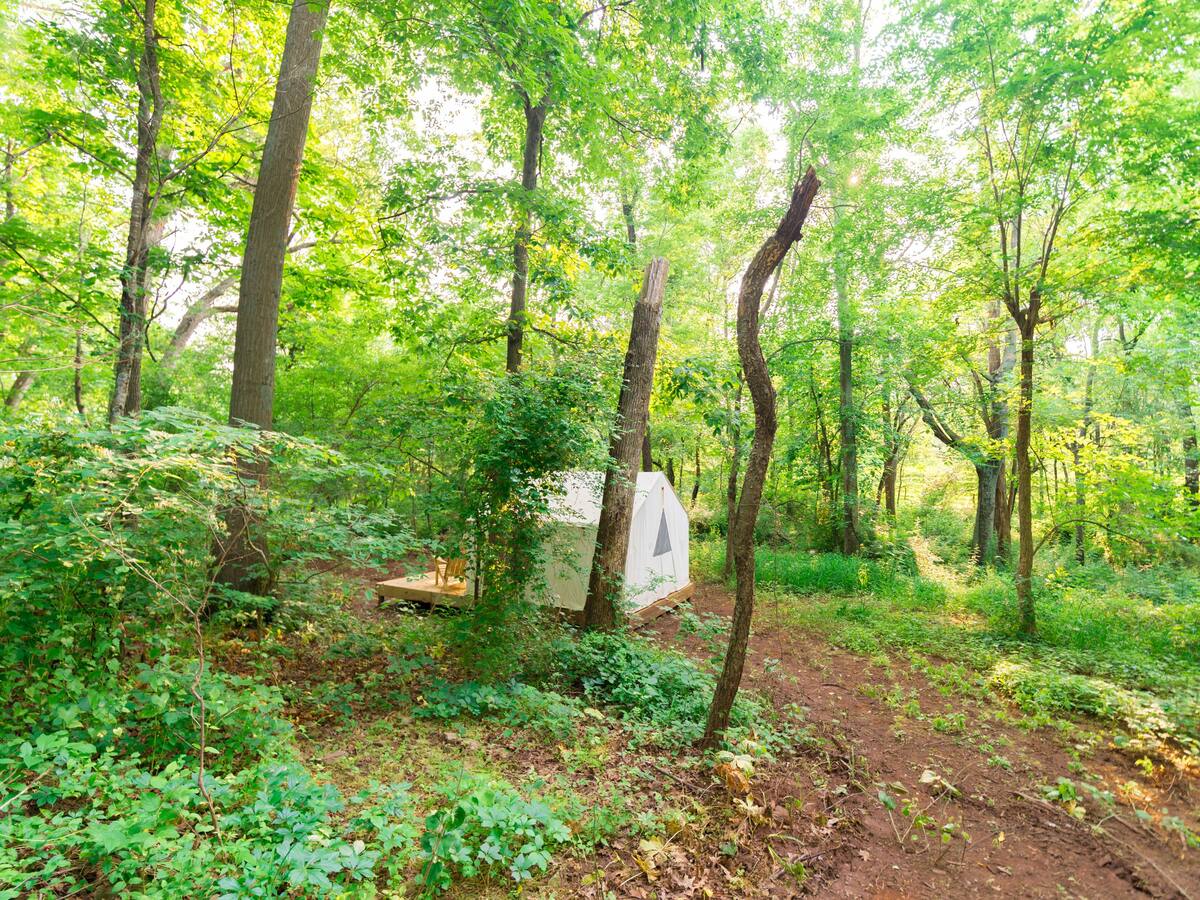 ---
5) Ella's Enchanted Treehouses
Location: Bittinger
Price: $300+ USD per night
https://www.facebook.com/eetreehouses/
Ella's Enchated Treehouses is a glamping destination in Bittinger, Maryland, that I have chosen as my pick for the best Maryland glamping stay. Why, you ask? Well, one look at the treehouse retreats on offer here, and you'll have no doubt either. From the Eagle's Nest to the Gathering Tree, these treehouses come in a range of sizes and are nestled in the woods. Fully-equipped and reading to impress the entire family, there are many activities near the treehouses to get involved in, such as hiking, snowmobiling, swimming, skiing, fishing and so much more.
Guest review: "We found this little gem accidentally while exploring options for a visit to the Deep creek area. We were only able to squeeze in 3 nights last minute, but we are so glad we did and enjoyed every minute. Clean, private, serene, and so much to do for all the outdoor and nature lovers! Our kids are already talking about our NEXT trip. Extra perk was to meet/greet the owners and Ms. Ella herself. Thanks so much for allowing us to stay and enjoy such an awesome little getaway." – Stacey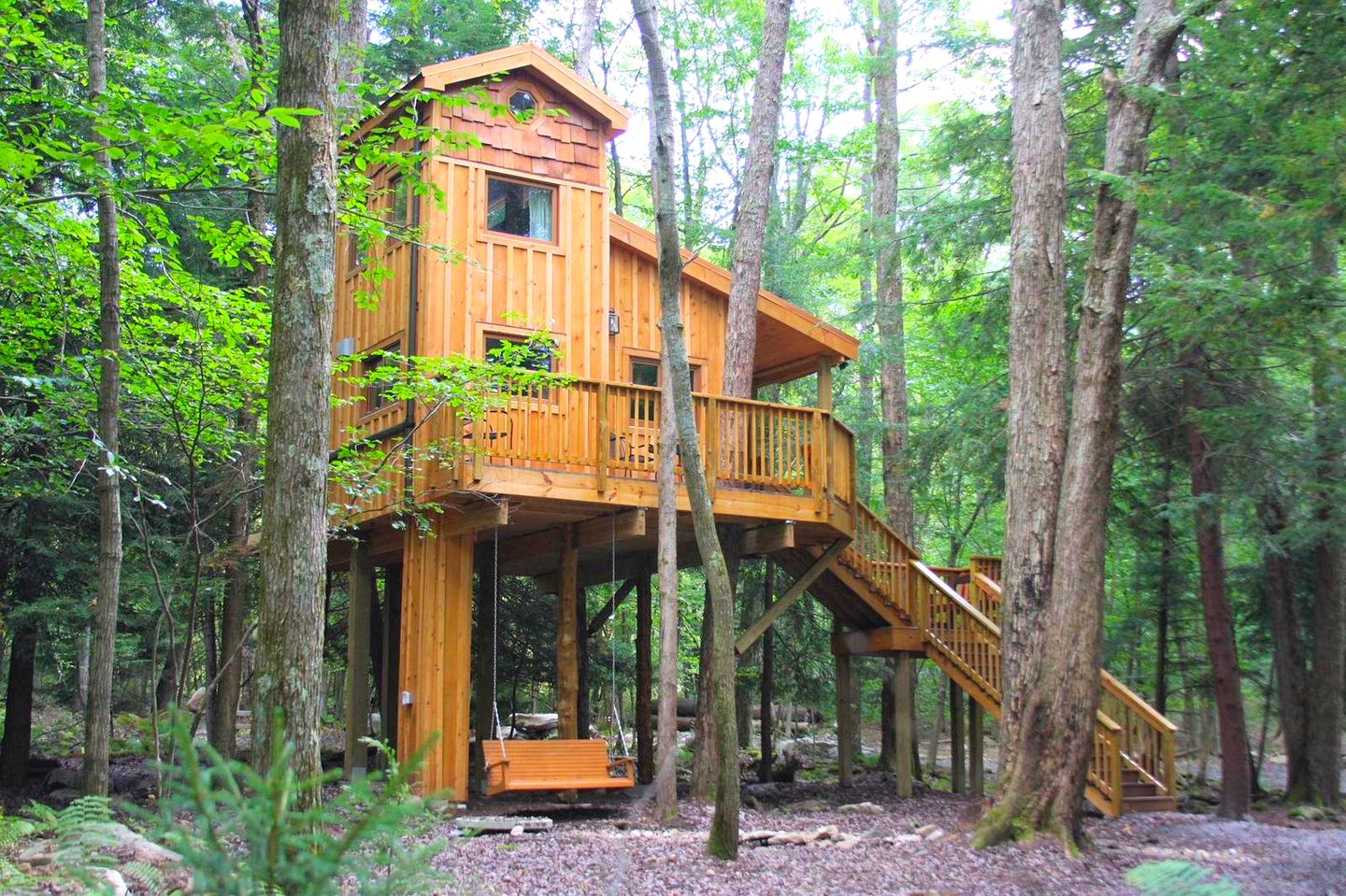 ---
6) Savage River Lodge | Luxury Glamping in Maryland
Location: Frostburg
Price: $250+ USD per night
https://www.savageriverlodge.com/yurts
https://www.facebook.com/SavageRiverLodge
Savage River Lodge is one of the most highly-rated glampsites in Maryland, and is a luxurious little escape ideal for cozy couples or family trips. Located on 700 forested acres in Frostburg, Savage River Lodge is open year-round and offers glamping accommodation that ranges from yurts to cabins. There are packages available, with add-ons like massage and golf, There is also on-site catering, dining and a bar in the restaurant. This is the place to go to completely unwind and get back to nature in Maryland.
Guest review: "Absolutely magical place nestled in the Savage River state forest. Very quiet and peaceful with a great restaurant (and well curated wine list – you cannot go wrong with any of the bottles). The hiking trails are well marked and incredibly secluded." – Amanda
---
7) Cherry Hill Park Glamping Pods
Location: College Park
Price: $150+ USD per night
https://www.cherryhillpark.com/glamping-pods
https://www.facebook.com/CherryHillPark/
These fun glamping pods at Cherry Hill Park are a unique way to experience glamping in Maryland. The compact and cozy pods are fully powered and feature build-in beds with linens, and an outside picnic table, fire ring and grill. There's a nearby wash station and bathhouse that is shared with others staying in the pods.
The pod sizes on offer are the Couples Pod (sleeps 2), Family Twin Style (sleeps 4) and Family Queen style (sleeps 4). College Park is located 17 miles from the heart of Washington DC and 29 miles from the Maryland capital of Annapolis.
Review: "Love it here! Staff is awesome, bathhouse are updated and clean all the time. Lots of room and even though it's packed here with RVs and people camping you never have a wait. Cafe is great, quick and food is good. Store has everything you need and isn't over priced for buying on-site. Plenty of trails, paved roads and fields to use. Everyone here is nice, waves and joins to play ball or activities. You can tell guests are happy and care free." – Morgan
---
8) Yogi Bear's Jellystone Park Glamping Maryland Resort
Location: Williamsport
Price: $100+ USD per night
https://www.facebook.com/JellystoneMD
There's no better family-friendly glampsite in Maryland than Yogi Bear's Jellystone Park Camp-Resort in Williamsport. Located in the foothills of Western Maryland and in close proximity to the Appalachian Trail, the resort features so many activities and things to keep the entire family entertained from April to November.
With camp and RV sites and cute cabins, you choose the way you want to stay here. There's a spectacular swimming zone with tons of fun games, a ninja course, lazer tag, pony rides, live music, mini golf, basketball, movies, playgrounds, mining and SO MUCH MORE! This is the place to take your family for a getaway they will never forget.
Guest review: "Great little campground. The staff was friendly and the kids enjoyed it. They got to see Yogi and the team. Plenty of activities like laser tag, archery, mini golf, and arts and crafts. Something for everyone." – Dennis
Yogi Bear's Jellystone Park™ in Williamsport, Maryland
---
9) Wild Yough Glamping Huts
Location: Oakland
Price: $70+ USD per night
"Wild Yough is proud to have introduced glamping to the beautiful mountaintop playground of Garrett County, Maryland. "Yough" is short for Youghiogheny River, a state-designated wild and scenic river which runs through the heart of the property."
Tucked deep in Maryland's Garrett County public land with lakes, rivers and beaches on your doorstep, Wild Yough Glamping Huts are a beautiful way to get away from it all. Their range of huts come in a variety of sizes and styles, with most perfect for accommodating between 2 and 4.
On-site, you'll find a bathhouse and pavilion where those staying can mingle, grill or just breathe in the fresh Maryland air. There's also a huge number of local activities to enjoy, like hiking and swimming. Oakland is not far from the Pennsylvania and West Virginia border, just two hours from Pittsburgh.
Guest review: "So beautiful in day and at night. This place felt so cozy. Me and my girlfriend love this place so much. We will definitely be back to stay again." – Cole
12 Best Tourist Attractions in Maryland USA
---
10) Treehouse Glamping Camp at Maple Tree
Location: Rohrersville
Price: $120+ USD per night
http://www.thetreehousecamp.com
The Treehouse Camp At Maple Tree in Rohrersville, Maryland, is set on twenty acres of woods with the Appalachian Trail as a backdrop. The glampsite offers a range of seriously cool glamping options, from treehouses to hobbit houses.
Each pet-friendly lodging comes in a range of sizes and styles, and includes a fire circle, outdoor seating and a charcoal grill. There's also hot showers in the bathhouse and a camp shop to stock up on all those camping essentials you could need. This is a Maryland glamping site that is located close to Washington DC and West Virginia, and is available for wedding or event rentals.
Guest review: "Loved the cottage and wood stove. My wife and I had a lovely weekend with our son and dogs, even though we had to leave a bit early. Nick was extremely friendly and helpful – he even called us a few days ahead of our stay to let us know about the recently snowy conditions. Highly recommend!" – Andy
Tree Cottages at The Treehouse Camp at Maple Tree Campground
---
11) 1976 Airstream Glamping
Location: Knoxville
Airbnb Plus: No
Superhost: Yes
Price: $200+ USD per night
https://www.airbnb.com/rooms/38048671
This wildly popular Airstream in Knoxville, Maryland is one of the state's best Airbnb glamping offerings. The updated and super cute RV is entirely equipped with all you could need for an epic stay.
There's a king sized bed, full kitchen, bathroom, a dining area and both heating and AC. Outside, there's a large covered deck and a private fire pit. This area of Maryland is renowned for its wineries, breweries and Harpers Ferry.
Guest review: "Tiny Haven's Gypsy airstream was the perfect off-beat getaway to celebrate a birthday. It's clean, surprisingly spacious, and warm. Spectacular views, proximity to other activities, and most importantly the wonderful touches and amenities offered by the hosts made this truly memorable for us. Can't wait to be back." – Shruthi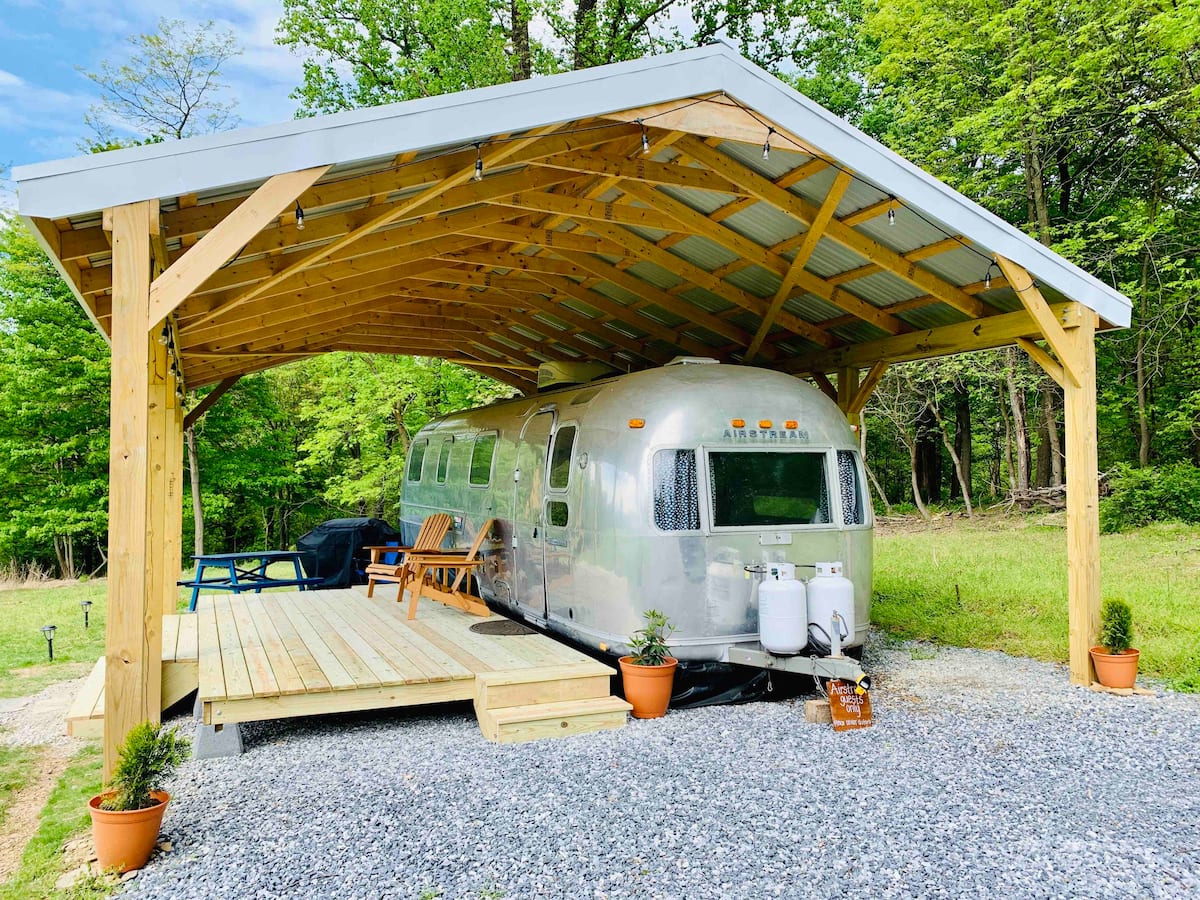 ---
12) Blue Moon Rising Cabins on Deep Creek Lake
Location: McHenry
Price: $200+ USD per night
https://bluemoonrising.org/explore-cabins/
https://www.facebook.com/visitdeepcreeklake
Blue Moon Rising Cabins on Deep Creek Lake is a terrific little glampsite in McHenry, Maryland. The glampsite offers a range of custom-built cabins that range in style and design, with each spanning around 250-30o square feet.
The dog friendly destination is nestled amongst picturesque trees and Deep Creek Lake, with unreal views to enjoy in this part of West Maryland. Deep Creek Lake is one of Maryland's leading resort spots, and I guarantee it will became a favorite for you and yours.
Blue Moon Rising Review - Cutest Cabins in Deep Creek Lake
---
13) Canal Trust Lockhouses
Location: Montgomery County
Price: $100+ USD per night
https://www.canaltrust.org/programs/canal-quarters/
https://www.facebook.com/CanalFriends
The Canal Trust Lockhouses in Maryland are one of the most unique ways I have seen to offer a top glamping experience while using historic and often forgotten buildings that still have so much to offer.
These nostalgic lockhouses date back up to 150 years years ago and were once home to the keeper of the canals. There are so far seven lockhouses the Canal Trust have renovated and updated into cozy and cute stays all over Montgomery County, Maryland.
---
14) Trout Meadow Glamping Tent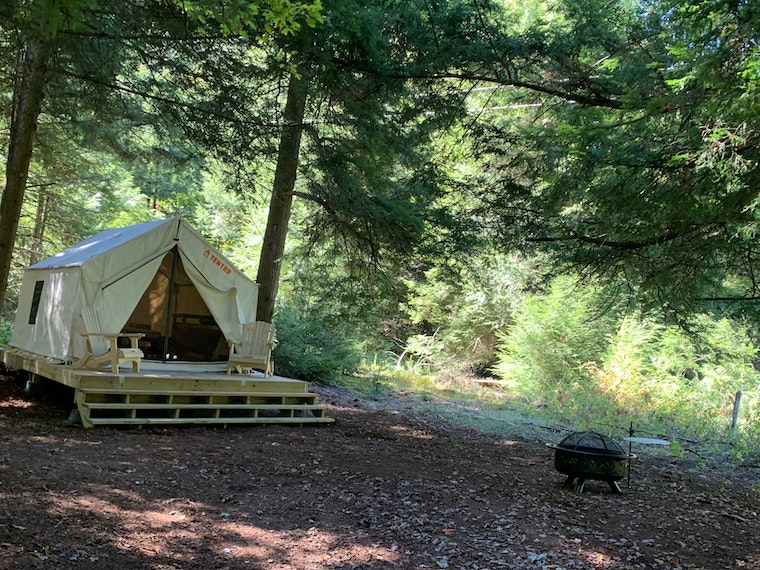 Location: Accident
Price: $125+ USD per night
https://www.tentrr.com/explore/Maryland/Trout-Meadow/?start=&end=
Trout Meadow may be in a Maryland town called Accident, but its no accident that I found this epic glamping tent that I know you'll love. A highly-rated glamping pad, the tent is available for rent year-round, and is located on a trout stream at the end of a stunning meadow. It is equipped with a queen bed inside and a camp table, chairs, a fire pit, grill, sun shower and camp bathroom outside. Aforementioned Deep Creek Lake is just 15 minutes away.
Guest review: "Great stay at Trout Meadow! The site was secluded, but very easy to access. You can hear the nearby stream from the tent, which creates a relaxing atmosphere. Access to the stream is also very easy from several points. The hosts even refreshed our firewood after the first night. And last but not least, the hosts also gifted us a delicious blueberry coffee cake from a local bakery. Highly recommend this site!" – Michael
View Photos, Read Reviews & Check Availability
The Best Places to Visit in Maryland
---
15) Royal Blue Caboose Glamping
Location: Laurel
Airbnb Plus: No
Superhost: No
Price: $100+ USD per night
https://www.airbnb.com/rooms/32814357
If you love renovated and refurbished trains, you can't go past this fantastic caboose in Laurel, Maryland. Pack your sleeping bag, pick up some fire wood, and head to this train glamping getaway that is equipped with three beds of varying sizes, a potbelly stove, a bathroom and a whole lot of character. This is a quiet city located between Washington DC and Baltimore.
Guest review: This train is absolutely adorable and completely restored with the original furnishings, such a sight to see! I am in love with trains and railroad history so this was a total blast for me. One thing to note, if you come in the fall/winter, it can get very cold, so bring firewood to run the potbelly stove and know how to use it first! We had such an amazing time and can't wait to come back!!" – Katie
View Photos, Read Reviews & Check Availability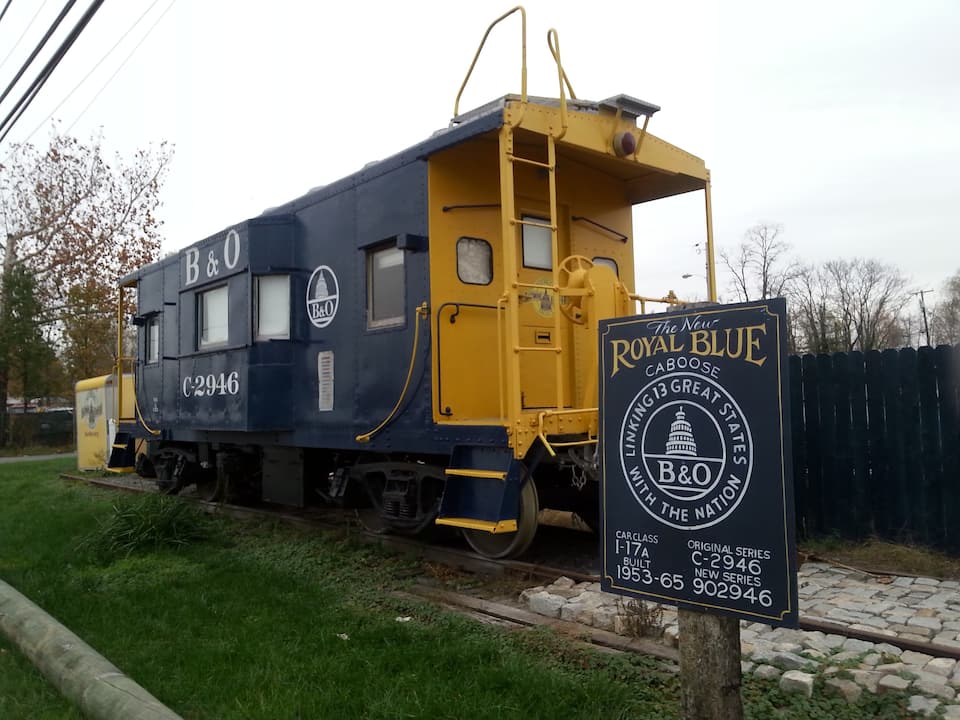 ---
Did I miss any top Maryland glamping destinations?
There are many great glamping sites across Maryland, so I couldn't include them all on this list. However, if you have stayed at a five-star Maryland glamping destination and it didn't make the cut – send me the details! I'll look at the glampsite to see if it has the goods to make the cut.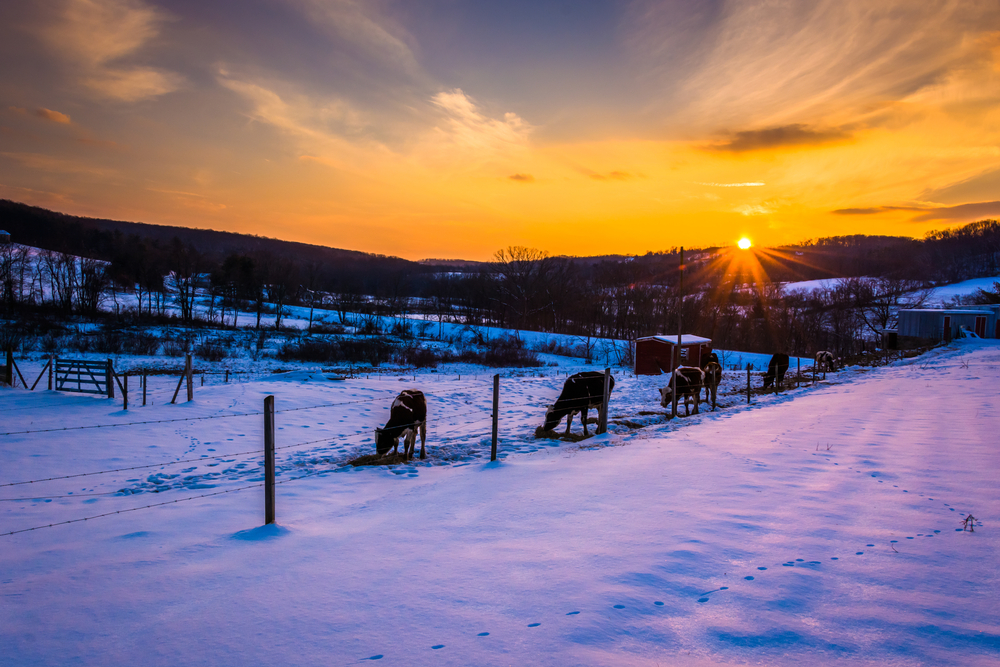 ---
Planning a trip to the USA?
I have created so much USA travel content, which I'm sure will come in handy if you're planning a big trip across the United States. Below is just a sample of the USA content I have created for you to check out.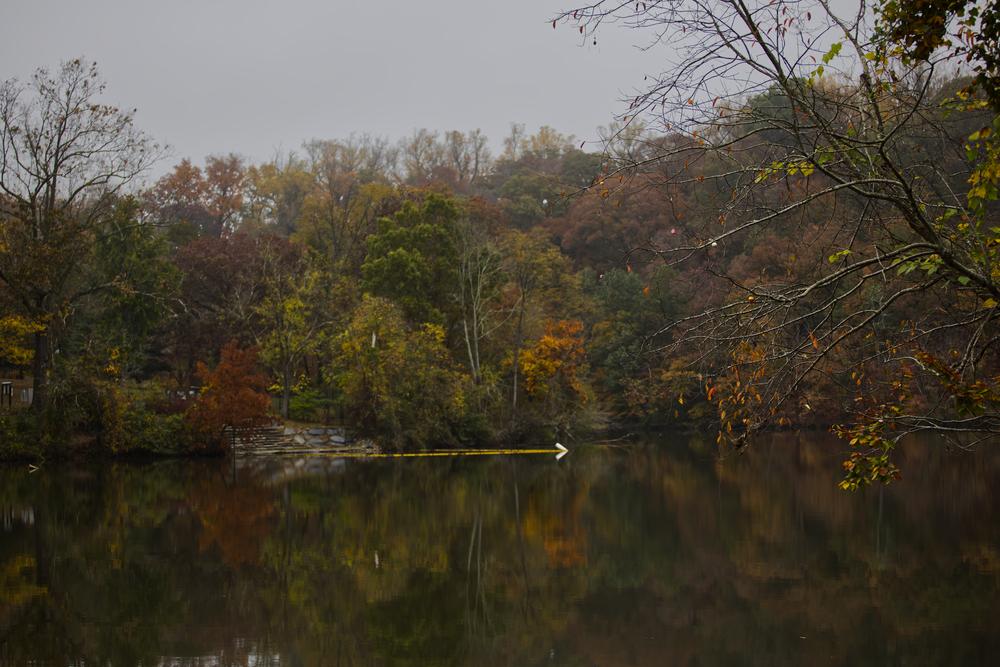 ---
Final thoughts on Maryland glamping…
Maryland has such a fantastic range of glamping experiences. From tents to huts, cabins to trains, there's truly something for everyone. Whether you're a single traveler looking for adventure, a cozy couple in need of a romantic retreat or a family with kids to entertain, you'll find the perfect Maryland glamping match for you on this list!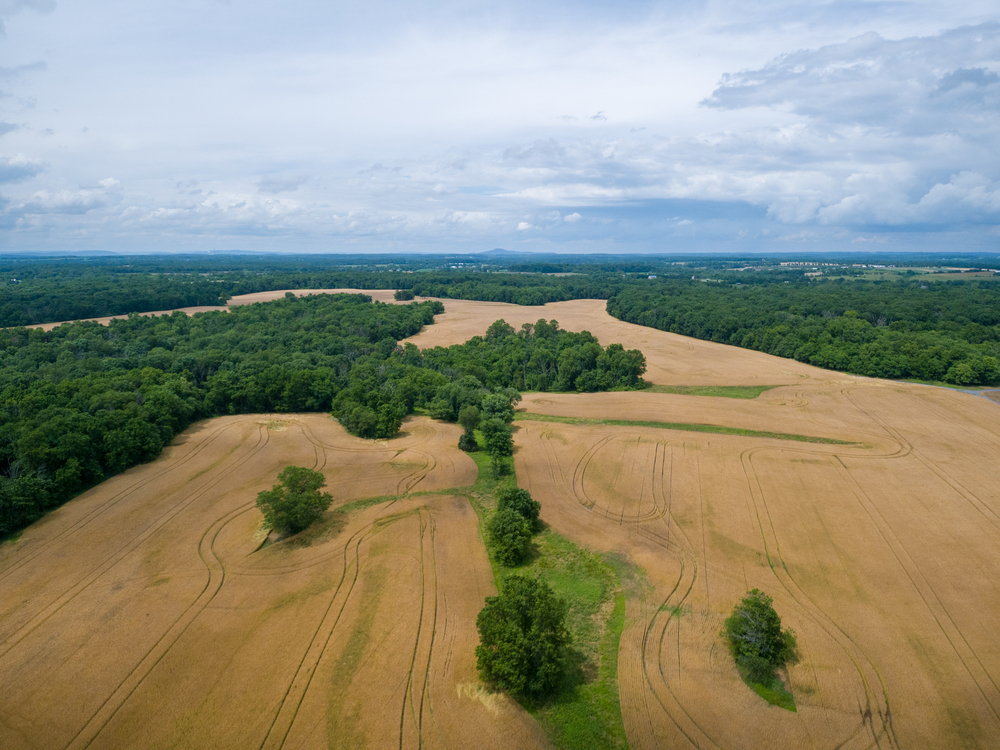 ---
Thanks for reading about the best Maryland glamping destinations!
Share this list with your glamping crew!
https://www.jonesaroundtheworld.com/wp-content/uploads/2020/12/Best-Maryland-Glamping.jpg
667
1000
Guest Contributor
https://www.jonesaroundtheworld.com/wp-content/uploads/2017/03/logotry-1-1-300x106.png
Guest Contributor
2023-01-13 22:00:00
2023-04-18 16:39:23
15 Best Glamping Maryland Stays: Huts, Yurts, Tents & Cabins