Planning your vacation and searching for the best Airbnbs in Hawaii? Well, look no further, because I've put together the ULTIMATE Airbnb Hawaii guide filled with the best, coolest, unique and most stunning rentals on Airbnb across all the major tourist islands.
"Hawaii is paradise born of fire." – Rand McNally
Who hasn't dreamed of escaping to the tropical islands of Hawaii and losing themselves for a little while? Surfing at Honolulu's famous Waikiki Beach, immersing themselves in the laid back vibe of Maui, exploring volcanoes on The Big Island or unwinding in a treetop hideaway deep in the lush rainforests of Kauai?
Hawaii offers up the best endless summer imaginable, and thanks to AirBNB, you can now choose from an equally endless variety of stay experiences. Confused by the sheer number of Hawaii AirBNB's to choose from? That's okay! I've compiled a shortlist of the best 22 Hawaii AirBNB's that cover a variety of islands and stay styles.
Whether you're dreaming of staying in visitor hotspot Honolulu or on Oahu, Kauai or the The Big Island, I've got you covered. I've even listed out the best honeymoon and family-friendly AirBNB's in Hawaii. Just promise me you'll send me a postcard! ;-)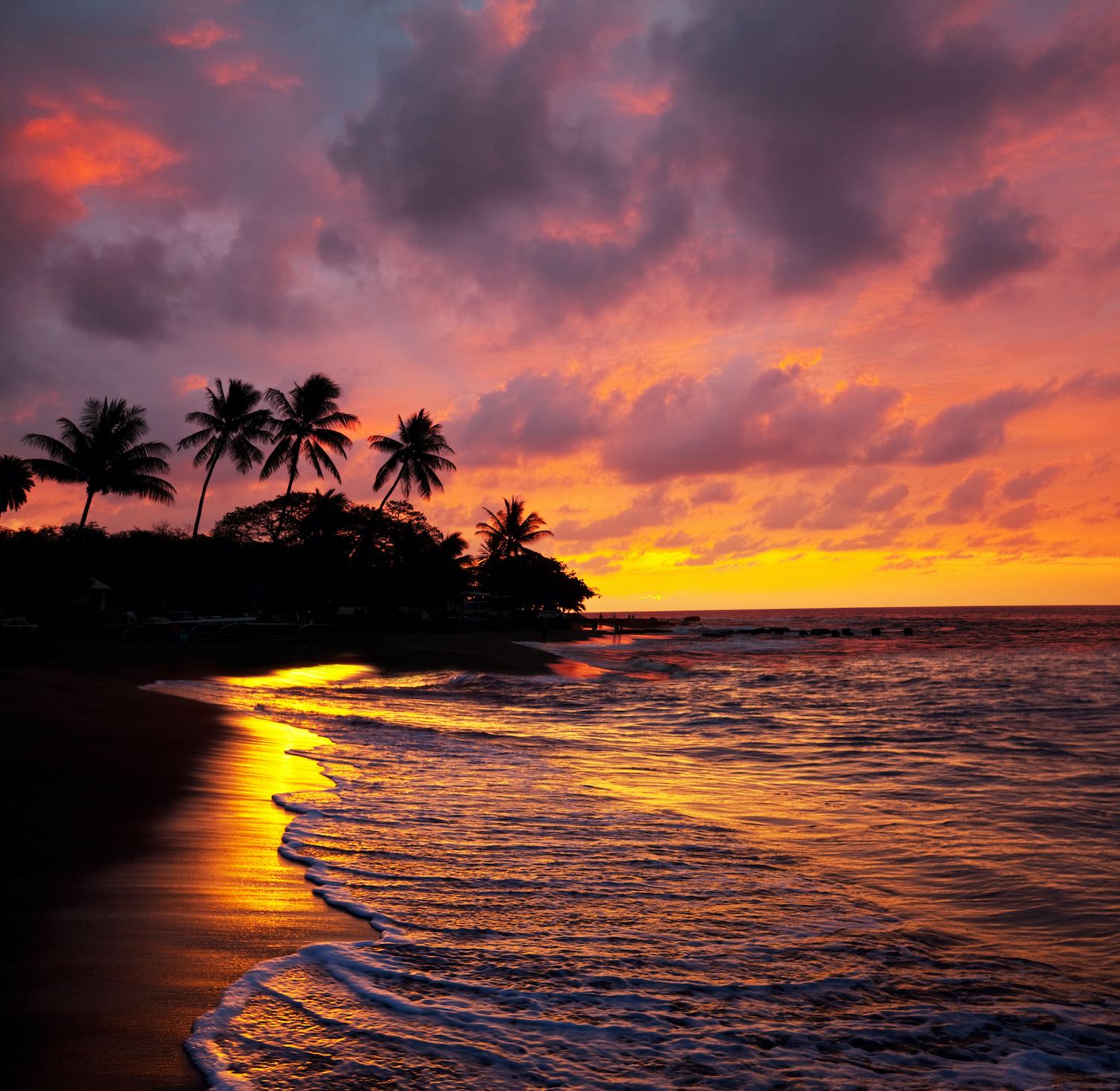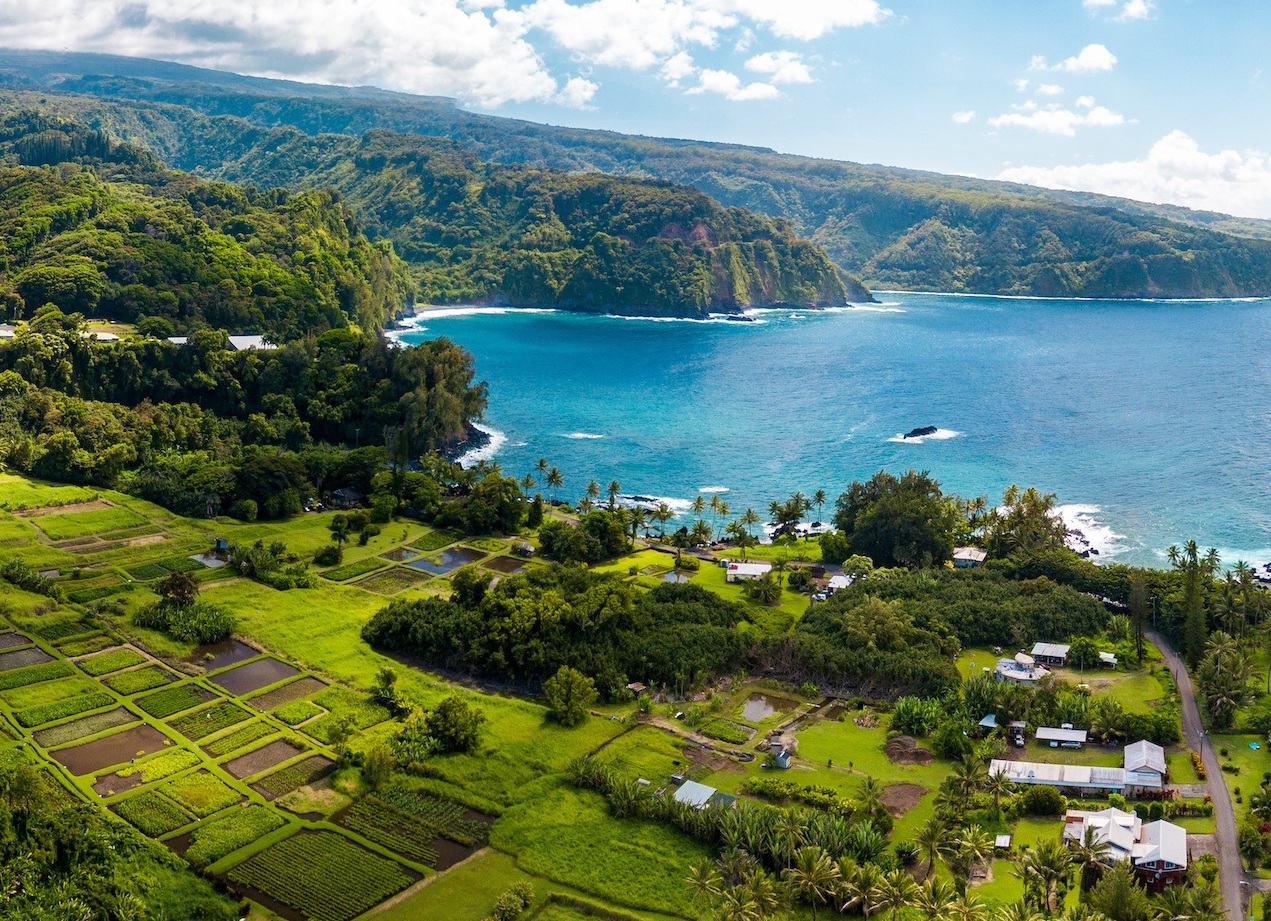 ---
Quick Breakdown of the Best Airbnb Hawaii Rentals
A vacation to Hawaii is a good idea any time of the year, and choosing your accommodation is part of the fun! But if you're pressed for time and need the best Hawaii AirBNBs recommended to you by someone in the know, you're in luck.
In this post, I've included tons of entertaining, helpful, and inspiring travel videos for your upcoming trip to Hawaii! It's personally one of my favorite places to visit in the USA, and each of the islands offers up some truly memorable and magical attractions! So while browsing through this post, be sure to watch a few of the videos to get some ideas on the best things to do, food recommendations, nightlife, and so much more!
Also, I've written an article about "The 17 Best Cultural & Music Festivals in Hawaii", so I'd recommend bookmarking that to see if your Hawaii trip lines up with any of the state's best events!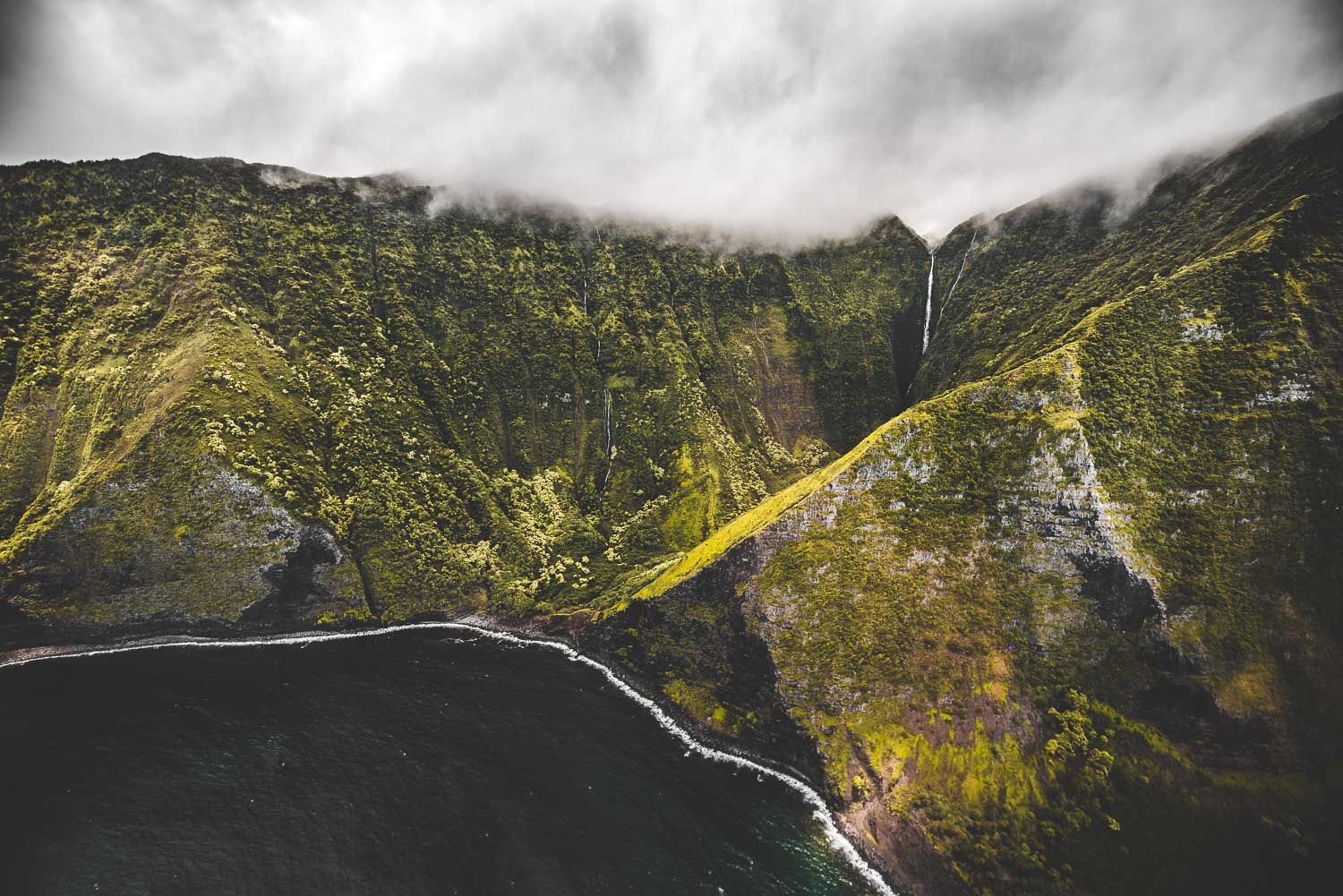 ---
The Best Airbnbs in Honolulu, Hawaii
Honolulu is the capital of the U.S state of Hawaii and the biggest visitor magnet on any of the island chain's. The largest city in Hawaii is also the main destination on the island of Oahu, and is world famous for its beaches, namely Waikiki Beach.
There's so much to do in Honolulu. Take a surfing lesson, visit historical landmark Pearl Harbor, see traditional Hawaiian hula dancing and simply bask in the sun and fun of this vibrant city. These are the best AirBNB's in Honolulu.
---
1) Newly Renovated Studio in Center of Waikiki
Location: Waikiki, Honolulu
Superhost: Yes
Price: $120+ USD per night
https://www.airbnb.com/rooms/33074207
A breezy two blocks from famous Waikiki Beach, this renovated one bedroom studio unit is a pretty pink dream, oozing warmth and style. Just outside your door, the entirety of Waikiki is at your fingertips, including fantastic restaurants and shops. This long-term friendly AirBNB is perfectly situated and the Superhost has thought of everything. That's why it's my pick for the "Best Airbnb in Waikiki, Hawaii".
View Photos, Read Reviews & Check Availability
Guest review: "cannot recommend this space highly enough. We had 8 amazing nights in sunnys airbnb and loved every minute of it. Spotlessly clean and such a cute space. The kitchen was so useful and the nice deep bath helped after those long days of walking/hiking. Such a great location as well. Minutes to the beach and right near the main strip of Waikiki. I definitely loved the location and it felt away from the touristy parts like down near the lagoon. Will definitely be staying again on my next trip. Thanks for being such an amazing host Sunny." – Cassie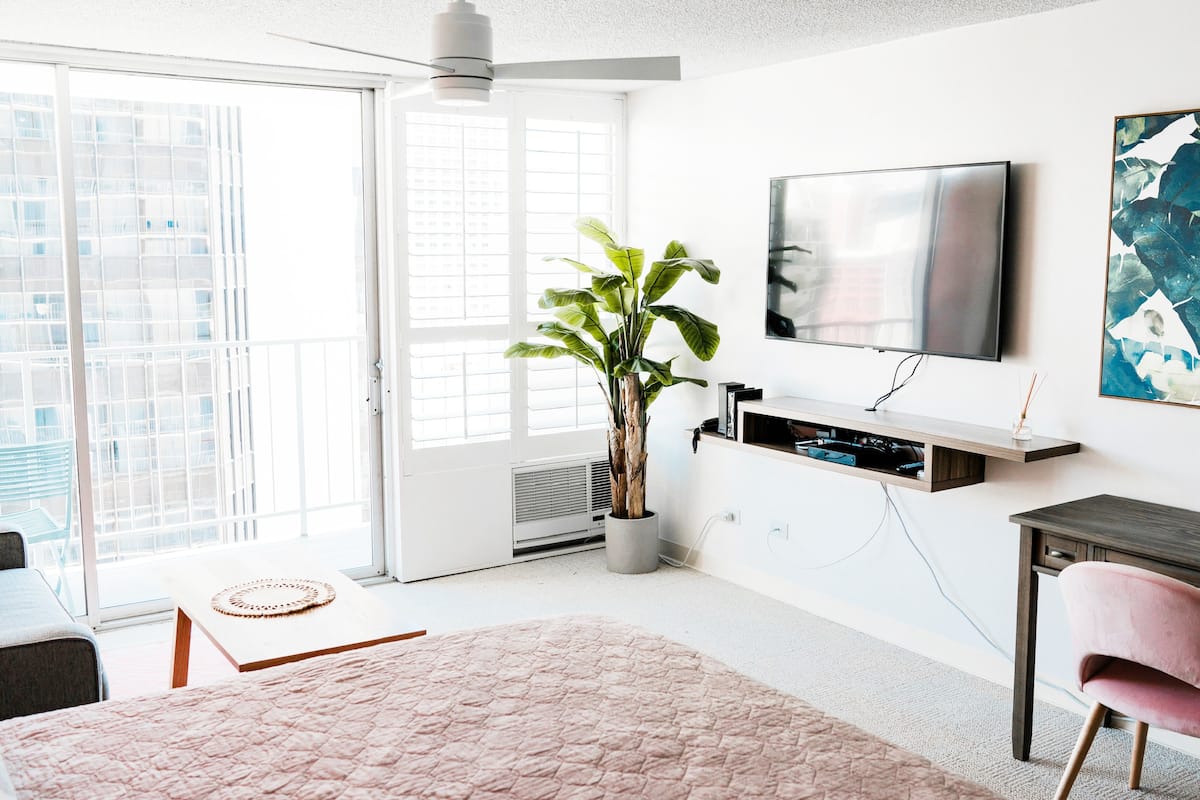 ---
2) Waikiki Renovated Modern Studio
Location: Waikiki, Honolulu
Superhost: Yes
Price: $60+ USD per night
https://www.airbnb.com/rooms/17000968
Located right in the heart of the buzzing Honolulu hotspot of Waikiki, this renovated one-bedroom apartment is clean, neat and attractive. Just minutes walk from the golden sand of Waikiki Beach, you'll enjoy city views, and complete access to the apartment complex's many handy facilities. Take full advantage of the on-site gym, pool, hot tub, BBQ, bar and massage service. All this for such a budget-friendly price. What's not to love?
View Photos, Read Reviews & Check Availability
Guest review: "The place was great for us. Location to get to Waikiki and Ala Moana was perfect. Comfy bed with great views out over the island. Ash was easy to communicate with. Would stay here again." – Ben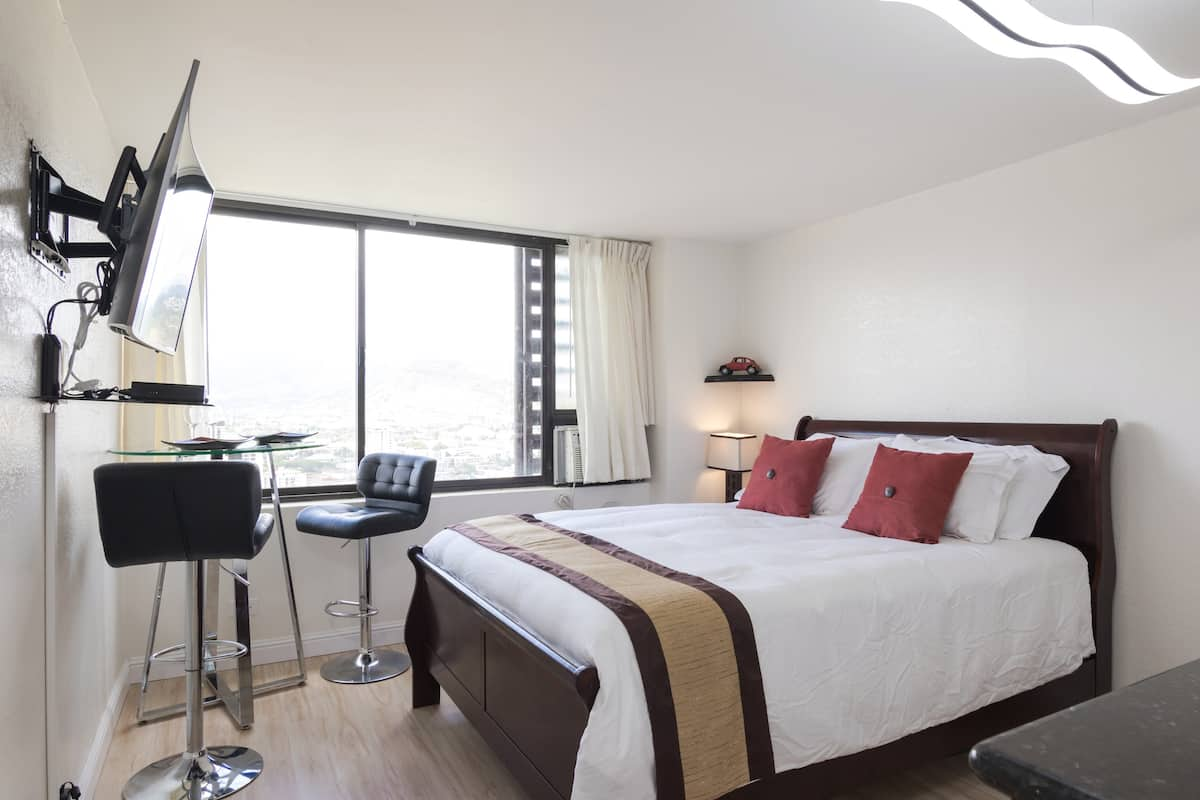 ---
3) A View to Die for! 3bedroom 3bath on Waikiki Beach
Location: Waikiki, Honolulu
Superhost: Yes
Price: $600+ USD per night
https://www.airbnb.com/rooms/22774941
Few AirBNB's in Honolulu offer the Waikiki Beach vistas this three-bedroom beachfront condo does, and it allows you to step from your front door onto the the world-famous beach. It is right on the sand and the only Waikiki accommodation that is! The condo offers two large patios boasting views of Waikiki Beach, the lights of Waikiki and even further to the mountains of Oahu. AirBNB guests will enjoy complete access to the Outrigger Reef Hotel next door, and its many restaurants, shops, lagoon-style swimming pools, hot tubs, gyms and spa services. Don't wait – book this luxury Honolulu AirBNB now!
View Photos, Read Reviews & Check Availability
Guest review: "This location was absolutely amazing. We felt like we paid so much more for this spot than we did. You can hear the slight ocean waves on the shore just right outside of the building. We spotted a lot of turtles in the area. A fun place to swim. A note though do bring slippers you can get wet because the rocks are a bit sharp and uncomfortable. The rooms were in an open area but there were slide doors to get some privacy. There was an outdoor patio that had a dining table which was just an amazing experience to eat and just relax. One master bedroom which was very nice and you can see the sunrise and sunset also, the lights from the downtown area. The restrooms were great and clean. Great Place especially with a large group." – Eric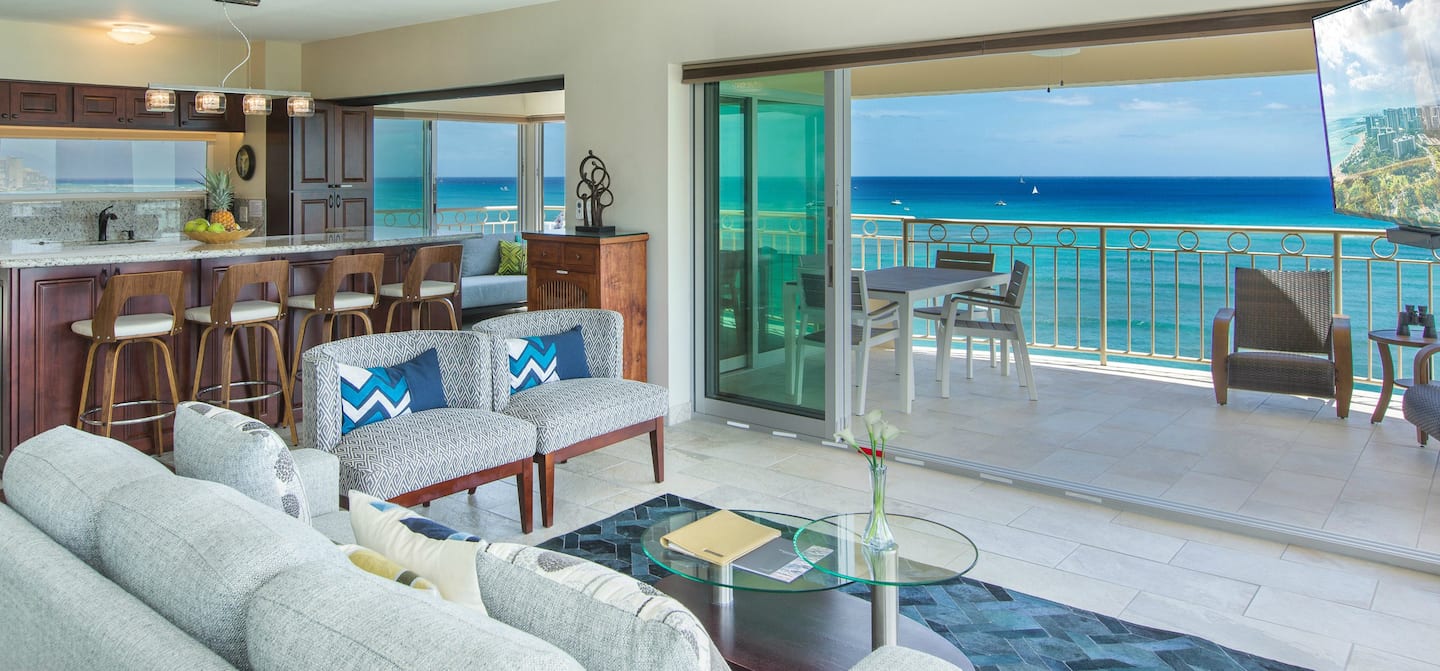 ---
The Best Airbnbs in Oahu, Hawaii
I just listed out my Airbnb recommendations for the city of Honolulu. Now it's time to share with you my favorite stays on the island of Oahu as a whole, which Honolulu is the major city of. These great Oahu Airbnb rentals are all stylish, tranquil and come highly-rated for a brilliant stay on Hawaii's third largest island.
---
4) Secluded Kailua Beach Bungalow with Private Garden
Location: Kailua, Honolulu
Superhost: Yes
Price: $400+ USD per night
https://www.airbnb.com/rooms/4705987
Offering perfect views of the turquoise water of Kailua Beach, this island-inspired two bedroom cottage is the perfect Oahu AirBNB. The natural and vintage interior elements blend together to create the perfect tropical aesthetic, and the beach is just a few minutes walk away. The host even offers guests guest gear to make traveling light that much easier. The only catch is that this is a long-term Oahu AirBNB stay, and the owner only takes bookings of 30 days or more. If you're heading to Oahu for an extended break or for business, this is the place to be.
Guest review: "Words sometimes aren't enough to express how much we loved Noni and her gorgeous cottage. Noni is an amazing host and truely went out of her way to make us welcome and help us with everything we needed to make the most of our time. The cottage is a dream. It exceeded all our expectations. It is homely, comfortable and the view truly beautiful. The beaches are stunning and so many amazing places a short drive away. We would totally recommend this airbnb to anyone. Thank you Noni we are leaving with so many special memories X Mahalo X" – Cam & Claire
View Photos, Read Reviews & Check Availability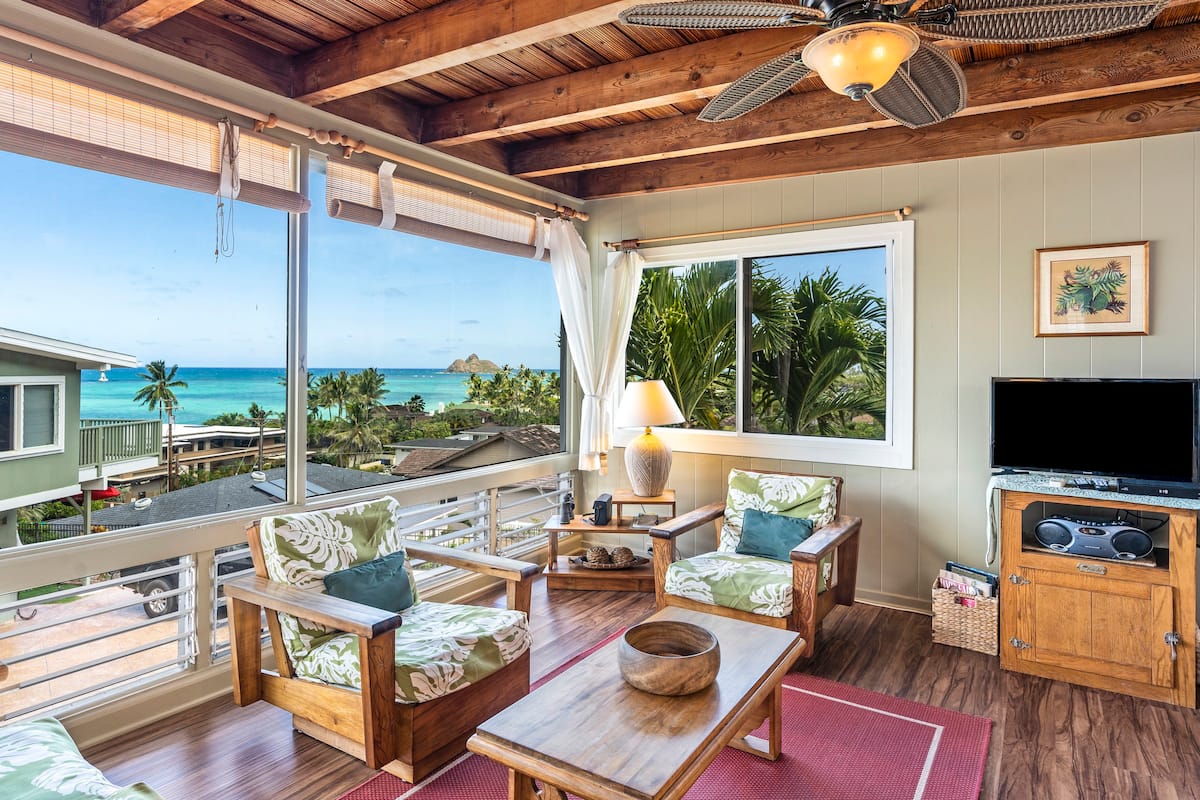 ---
5) Secluded Kailua Beach Bungalow with Private Garden
Location: Kailua, Oahu
AirBNB Plus: No
Superhost: Yes
Price: $220+ USD per night
https://www.airbnb.com/rooms/307004
Outside of bustling Honolulu, Kailua is one of Oahu's most sought-after and popular beach towns, and this one bedroom garden apartment will situate you just steps from its turquoise waters. It has air-conditioning, modern amenities and its own private garden with a BBQ. This beach bungalow is the perfect place to unwind on beautiful Oahu, and the nearby beaches offer a range of water and adventure sports. The community is located just 12 miles from Honolulu, and has a great dining and shopping scene visitors love.
View Photos, Read Reviews & Check Availability
Guest review: "The Secluded Beach Bungalow was everything we'd hoped for after a crazy week in Waikiki. It was cosy, quiet, very close to the beach and gave us the opportunity to shop and cook for ourselves. We loved sitting in our private garden and also in the sitting room. The bungalow was very clean and we were provided with everything we required – the beach items were very appreciated! The hosts – Jenn, Cheri and Michael were present if needed but really stepped back and allowed us our space. Kailua beach is so idyllic! The bungalow is very close to a market and we walked into town on numerous occasions. I highly recommend this accommodation to any couples."- Hendi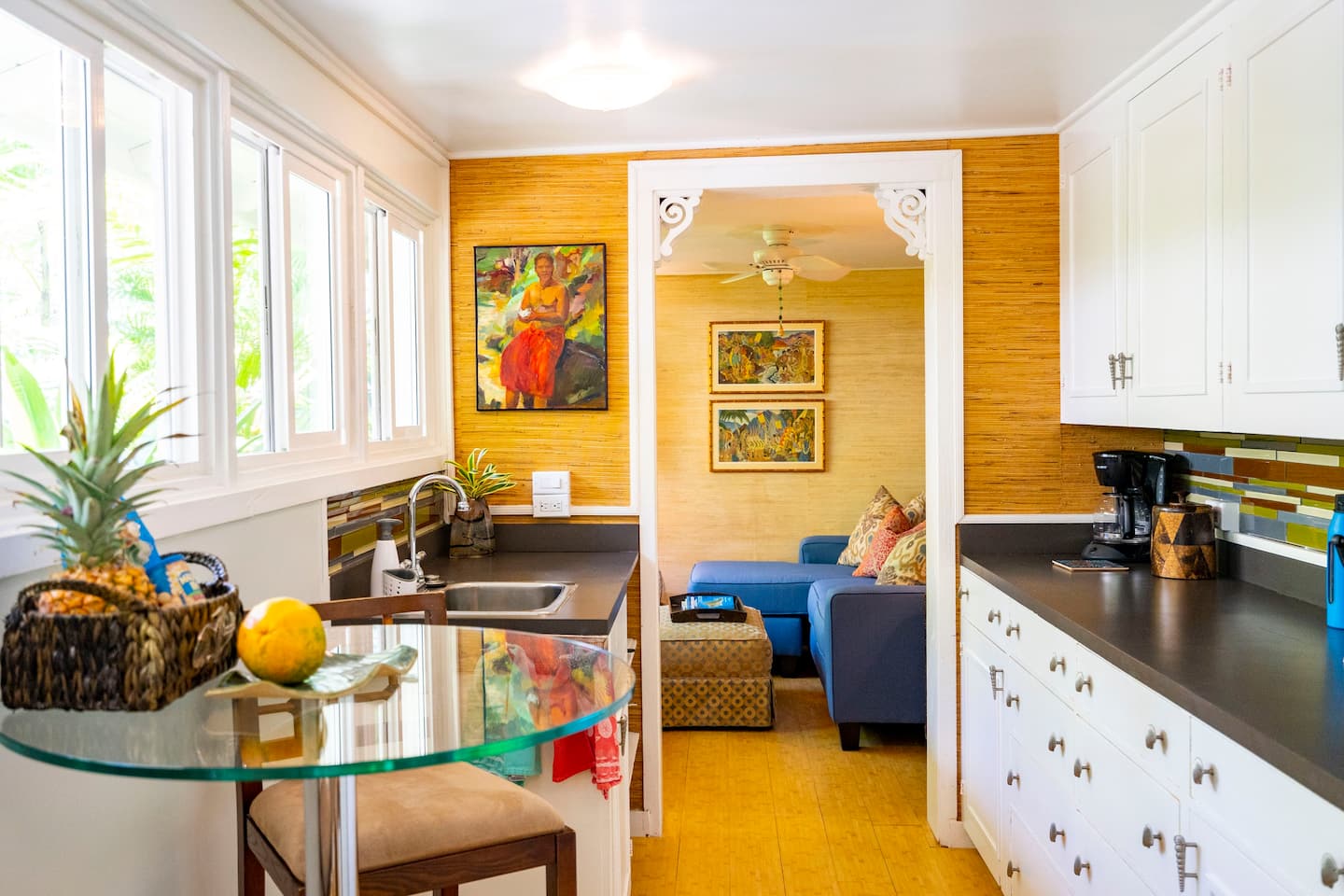 ---
The Bests Airbnbs in Maui, in Hawaii
Maui is one of Hawaii's most popular islands and is a picturesque destination that is brimming with natural wonders. Volcanoes, hikes with majestic lookouts, national parks, waterfalls and gorgeous beaches pepper this epic island, which offers a world class vacation in the sun for lovers of the outdoors. These are my picks for the best AirBNB's in Maui.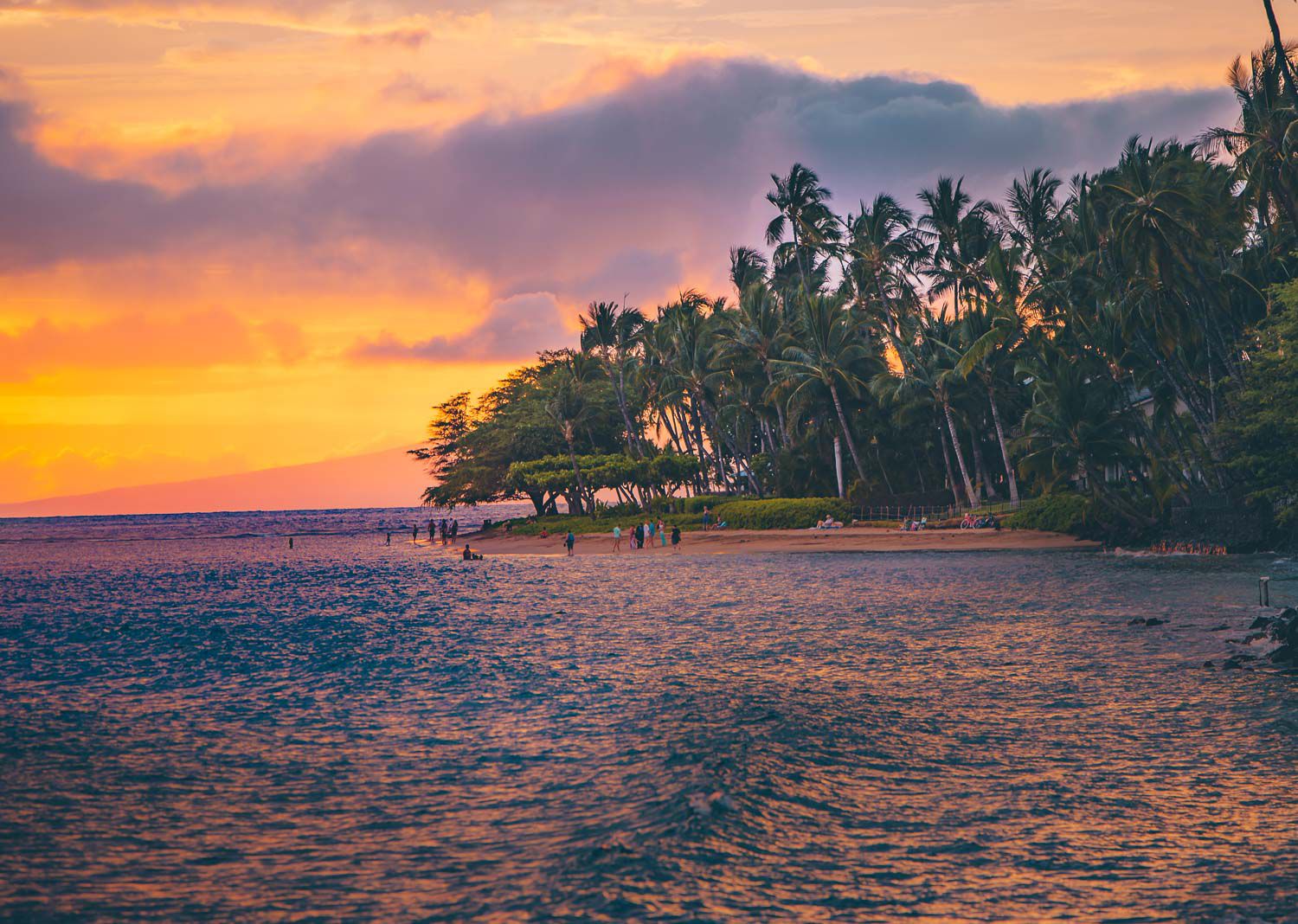 ---
6) Charming Artist's Studio on a Scenic Mountain Slope
Location: Kula, Maui
AirBNB Plus: Yes
Superhost: Yes
Price: $200+ USD per night
https://www.airbnb.com/rooms/11456514
Built on five acres of lush Maui land, this one bedroom guest suite is the perfect hideaway on the island, owned and hosted by local painter Curtis Wilson Cost. His handiwork is evident throughout this cozy retreat, surrounded by leafy native plants and boasting a tranquil outdoor shower. You'll love basking in the balmy Maui evenings from the private deck with fire pit, as well as the close proximity to all the East Coast of the Hawaiian island offers, including horse riding and wine tasting. This verified abode is also a great spot to stay at if you plan on doing the popular Road to Hana, or wake up early and watch the magnificent sunrise from the Haleakala Crater (which I'd highly recommend)!
Guest review: "Wow!! This place is fantastic! Quiet location with brilliant views from upcountry Maui. Forget about beaches and resorts…..this is where you must stay to experience Maui. Perfect location! Great hosts and accommodation!!" – Hayden
View Photos, Read Reviews & Check Availability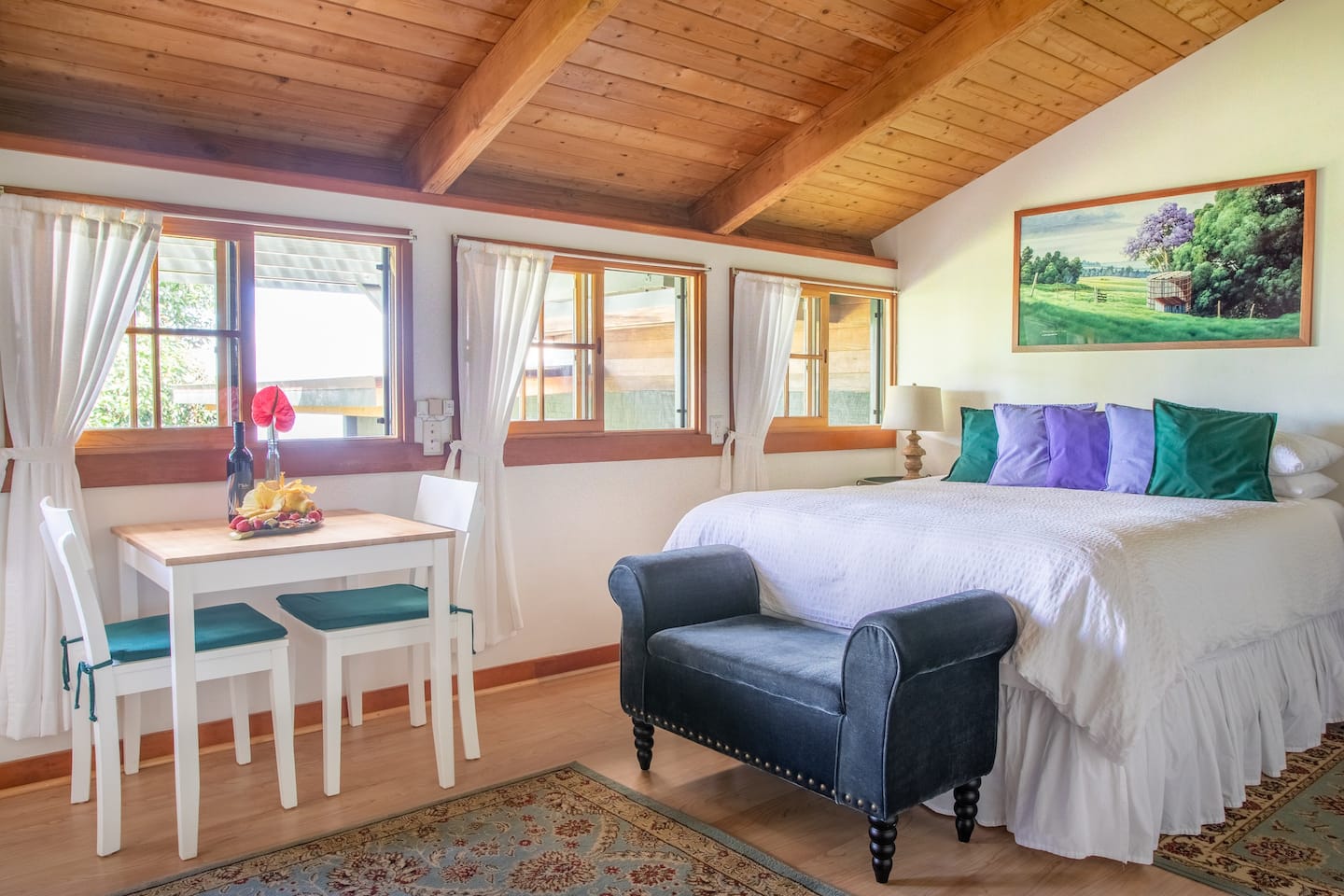 ---
7) Luxury Cottage, Saltwater Spa, Walk to Beach/Dining/Shops
Location: Kihei, Maui
AirBNB Plus: Yes
Superhost: Yes
Price: $400+ USD per night
https://www.airbnb.com/rooms/23561999
Verified by AirBNB Plus and managed by a first class host, this incredible one bedroom cottage is my choice of the "best luxury AirBNB in Hawaii." Why, you ask? For starters, it has a private saltwater hot tub surrounded by lush tropical palms that you'll have a tough time dragging yourself out of. Adding to the island oasis vibe, there's an outdoor shower, spacious patio, and breezy, romantic interiors with all the mod cons. This luxury Maui AirBNB is just ten minutes walk to Kihei's centre, and its many shops, restaurants and markets. The Kihei beach and foreshore is a brilliant location to swim, surf and spot native turtles.
Guest review: "Jenni's place is absolutely gorgeous and her hospitality was amazing. Super easy check in, clear instructions, a stylish and thoughtful place with everything you possibly need and great local tips. Kihei is an awesome location. The cottage is located away from the crowds but a super close walk to everything. I would highly recommend Jenni's place to anyone looking for an easy break in luxury." – Susan
View Photos, Read Reviews & Check Availability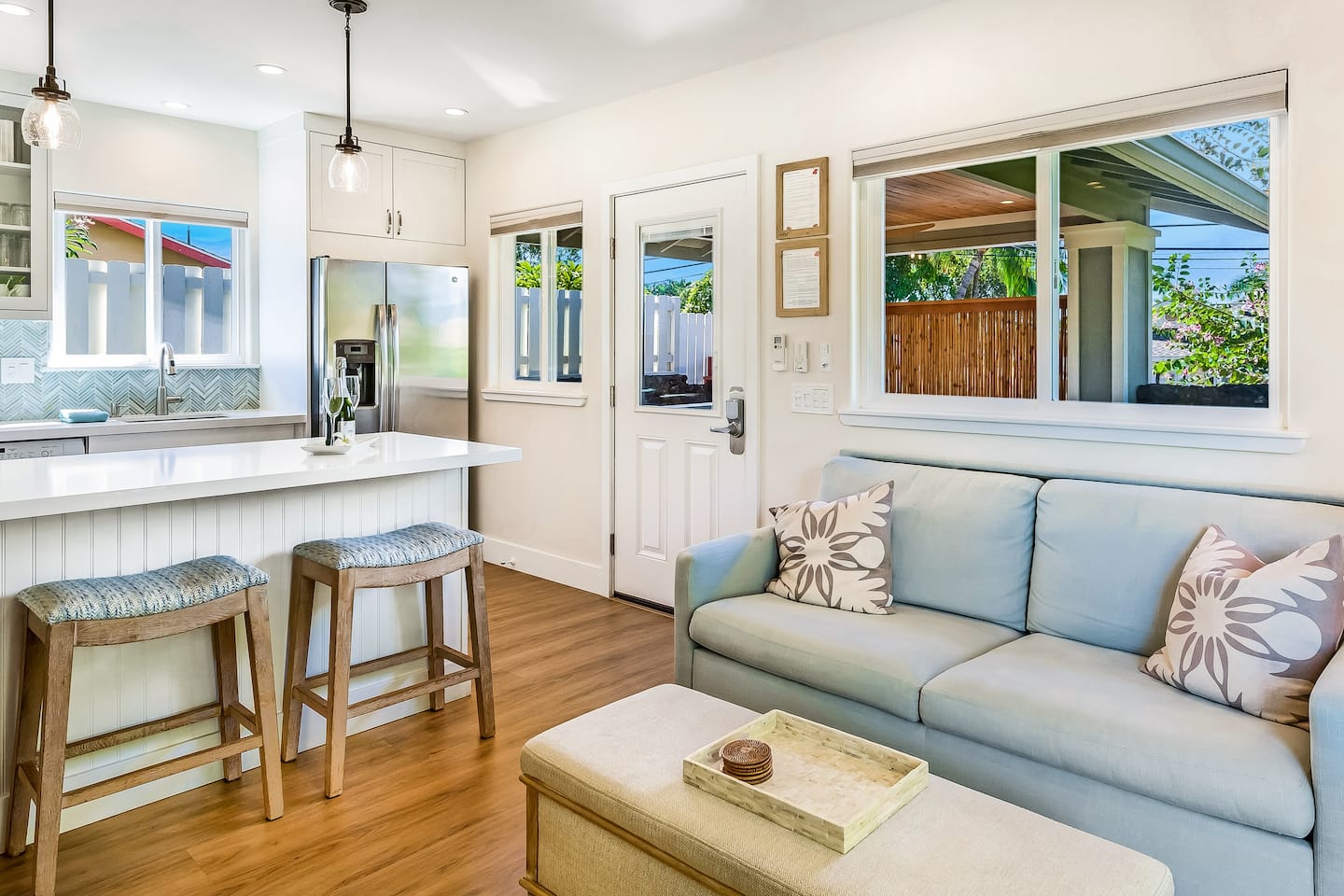 ---
8) The Sunset Stowaway—A Peaceful Napili Ridge Studio
Location: Lahaina, Maui
AirBNB Plus: Yes
Superhost: Yes
Price: $120+ USD per night
https://www.airbnb.com/rooms/19981253
With private entry and a palm-lined shared pool, this studio apartment has been recently updated and remodeled, and is the perfect blend of contemporary sophistication and island charm. Light and airy, the apartment includes an outdoor common area, and sliding bedroom rooms that lead to a private lanai (deck). Guests will enjoy access to handy beach gear to take to the nearby Lahaina coastal hubs, including snorkelling hotspot Kapalua Bay. There's also a variety of fantastic local restaurants and golf courses in close proximity for the perfect Maui getaway.
Guest review: "It was an absolute delight to stay in this beautiful home, my partner and I really enjoyed our stay. Linsay is a fantastic host, she went above and beyond with any needs we had. The bed is a king size and was super comfortable, we appreciated this alot as we are quite tall. The unit is well equipped and the location is the best for beach activities, especially snorkeling. Will definitely stay here again. Mahalo :)"
View Photos, Read Reviews & Check Availability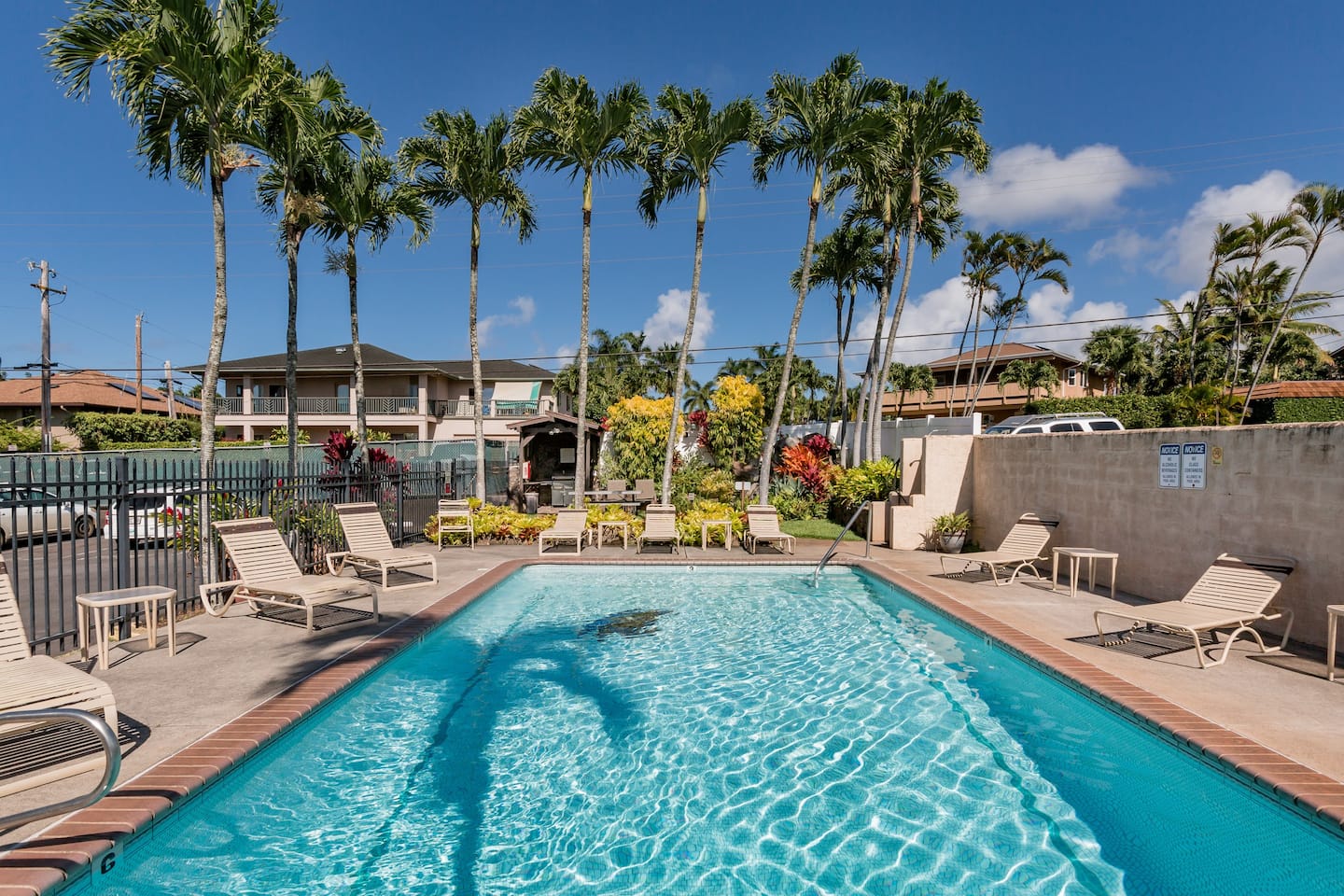 ---
The Best AirBNBs in Hawaii | Kauai
Kauai is the oldest of Hawaii's islands and is largely blanketed by lush rainforests and bordered by pristine coastline. On Kauai, you can discover roaring waterfalls, lush green state parks and turquoise bays, and the island is very visitor friendly. These are my favorite Kauai AirBNB's that will guarantee an unforgettable stay.
---
9) Garden Isle Oasis near Wyllie Beach
Location: Princeville, Kauai
AirBNB Plus: Yes
Superhost: Yes
Price: $220+ USD per night
https://www.airbnb.com/rooms/16572884
With tropical turquoise and green feature walls, teak and wicker furnishings and chic design elements at every turn, this two-bedroom garden apartment is one of Kauai's best AirBNB Hawaii stays! There's a wrap-around verandah for enjoying the picturesque sunrises and sunsets the island offers, and the condo complex includes a pool that is the largest of any complex on the island! This Hawaii Airbnb Plus is ideal for couples, families or groups, and is in close proximity to beautiful Hanalei Bay. Princeville is brimming with great restaurants and shops – many of them just minutes walk from this apartment – and active types will love the many hiking trails and kayaking hotspots in the area.
Guest review: "Caitlin's place was fabulous! My family of 5 thoroughly enjoyed this space and all it had to offer for a week. The space is bright and welcoming, the layout is great with lots of space for everyone, and the amenities and location can't be beat! We loved the large windows and open air concept that the condo had to offer – felt very Hawaiian. We had three kids traveling with us so the giant beautiful swimming pool was perfect! Princeville was a great area for home base as the north shore of Kauai is stunning and offers something for everyone! We would absolutely book this rental again! Thank you, Caitlin." – Kirsten
View Photos, Read Reviews & Check Availability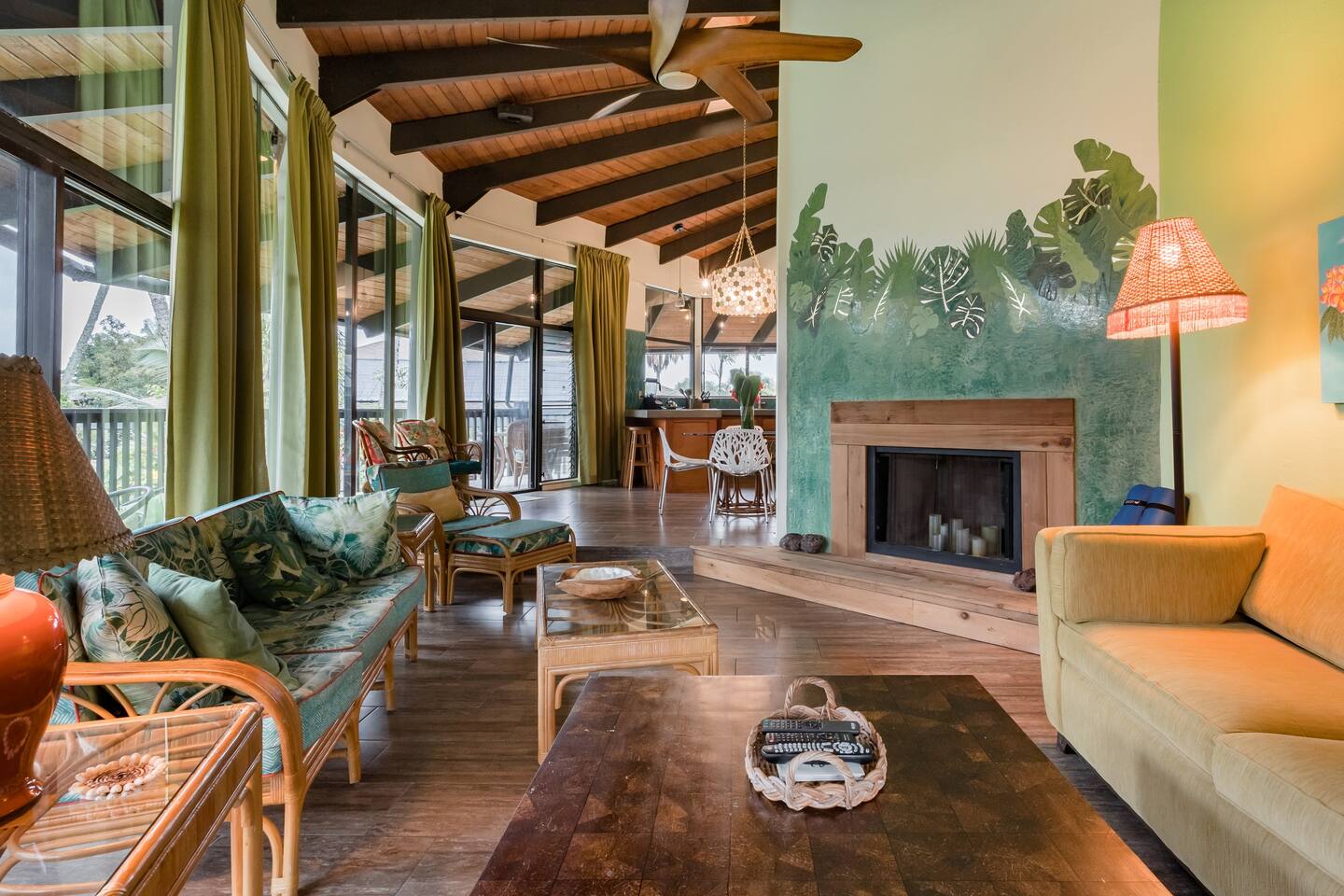 ---
10) Poipu Modern Island House with AC & Pool/Gym Access
Location: Koloa, Kauai
AirBNB Plus: Yes
Superhost: Yes
Price: $300+ USD per night
https://www.airbnb.com/rooms/26008466
Located in an upscale residential community in Koloa, this elegant three bedroom house promises a luxurious stay on the Hawaiian island of Kauai. The sprawling home looks out over the community's golf course. It is equipped with a chef's kitchen plus outdoor lanai and BBQ, and you'll have shared access to a pool, hot tub and gym. The highly rated Poipu Beach is just minutes away, as are many other hidden seaside gems. Old Koloa Town and Kukuiula are both popular dining and shopping locations that are very close by.
Guest review: "Our family of 4 had a wonderful time in Jessica's house. It is wonderfully presented with lovely artwork throughout. So spacious! Also having access to the Poipu Athletic Club was brilliant – our kids loved the pool and we enjoyed the poolside cocktails. Thank you!" – Shih-Ning
View Photos, Read Reviews & Check Availability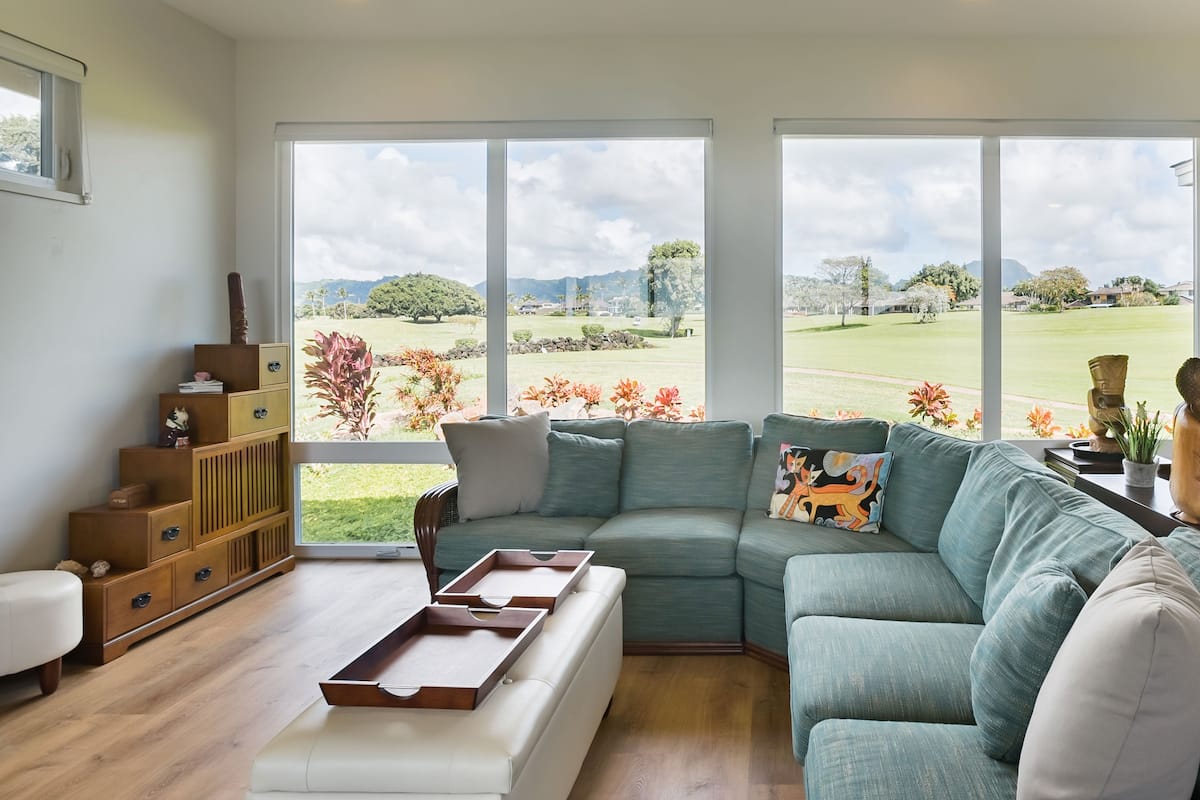 ---
The Best Airbnbs on The Big Island, Hawaii
To avoid confusion, "The Big Island" is what most locals and visitors call the actual island off "Hawaii". "The Big Island" is unsurprisingly the chain's largest island, and like its neighbors, it offers an endless variety of gorgeous beaches, tranquil rainforests and fascinating national parks – many of which are home to famous active volcanoes like Mauna Loa. On top of that, visitors will enjoy all the same tourist amenities and attractions of other islands to ensure a comfy stay.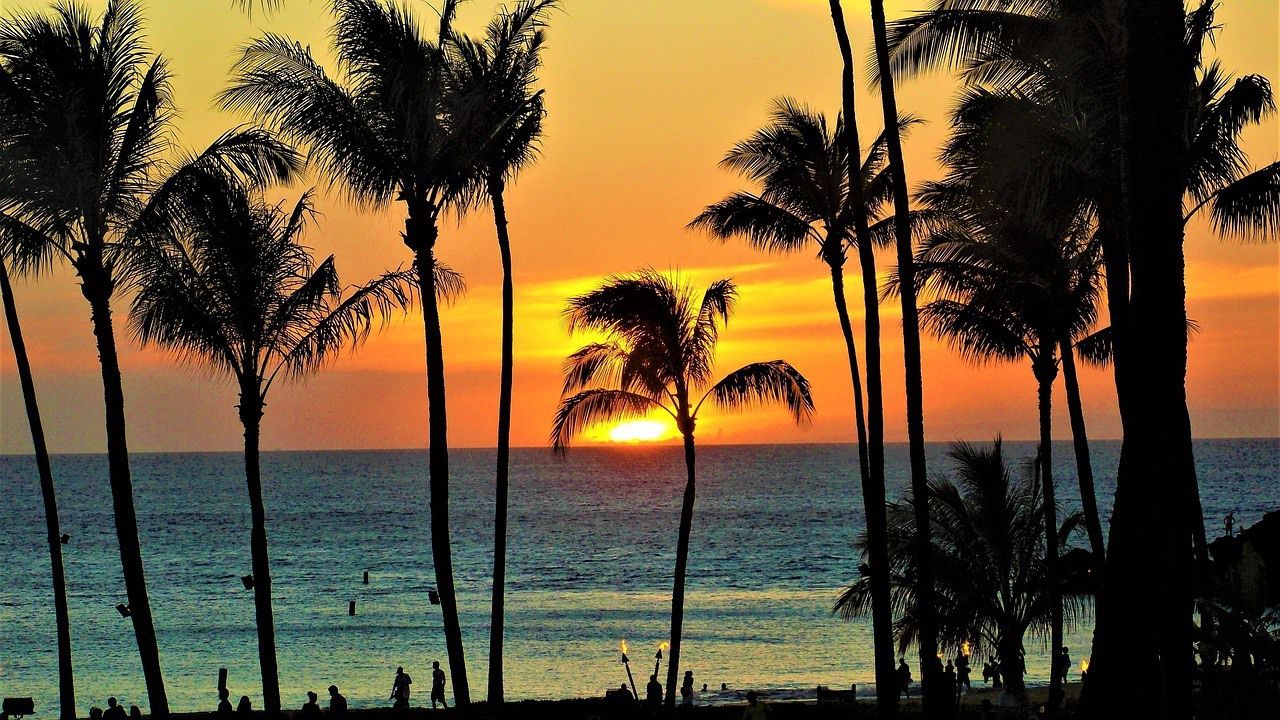 ---
11) Peaceful Rainforest Treehouse Retreat
Location: Volcano, Hawaii
AirBNB Plus: No
Superhost: Yes
Price: $80+ USD per night
https://www.airbnb.com/rooms/20151984
Tucked away in a peaceful rainforest location a mile from the main road and just 8 miles from Volcanoes National Park, this tranquil treehouse retreat personifies the perfect Hawaiian hideaway. This one bedroom elevated oasis has two spacious lanais, an array of native plants and eco-friendly solar powered hot water and lights. Immerse yourself in the tranquility of The Big Island's rainforest setting and enjoy the sounds of local wildlife going about their business. The nearby town of Volcano has a range of eateries, farmers markets and tourist offices. Such a unique AirBNB experience at a great price!
Guest review: "What an experience! I cannot recommend this place enough. My wife and I spent a few nights on our honeymoon here. Hilo is a short drive for food and shopping. No fridge/kitchen area just an ice box, but there are plenty of places to eat within 20 minutes. Britt and Michael were very easy to get a hold of to answer questions, and the bed is like a cloud. If you're looking for seclusion and the sounds of the forest, this is the place for you. Thank you for sharing your beautiful home!" – Scott
View Photos, Read Reviews & Check Availability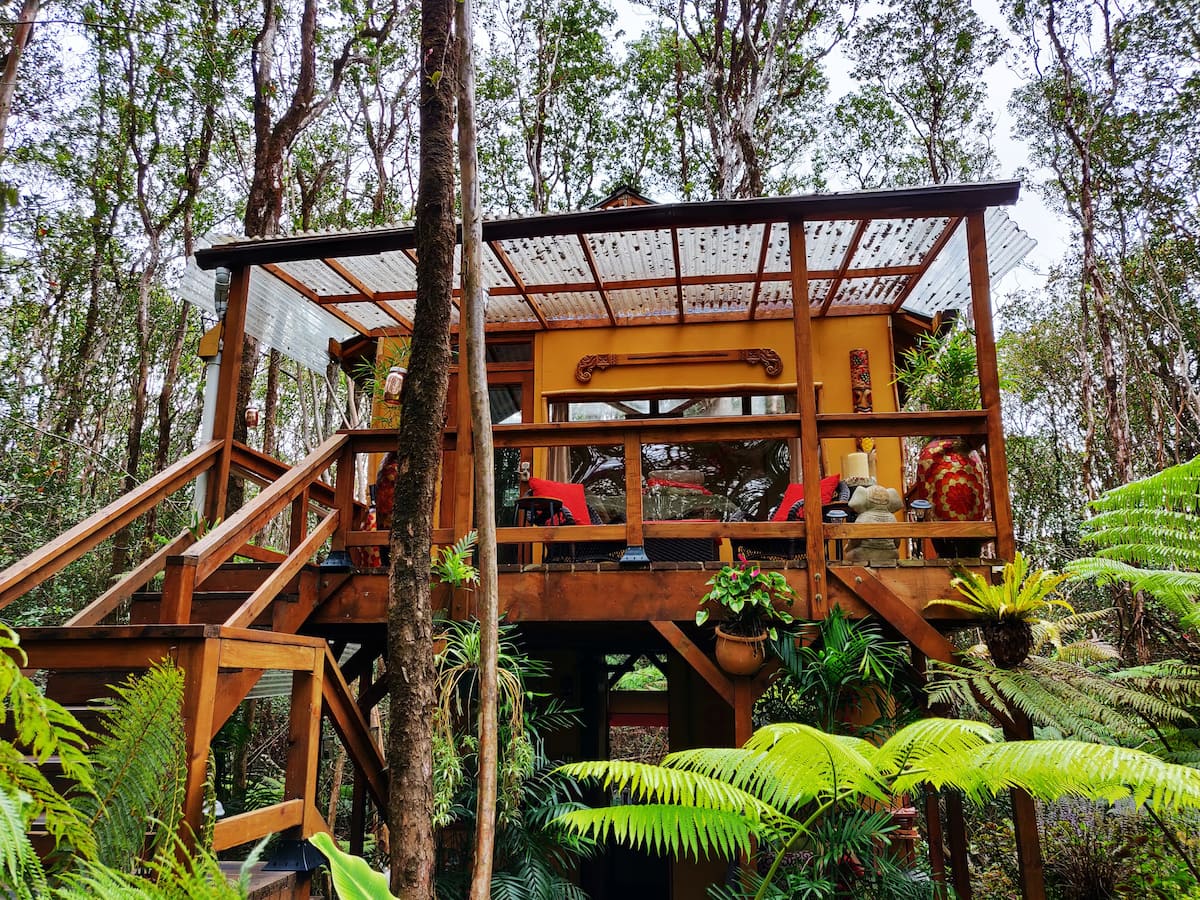 ---
The Best Airbnb Hawaii Rentals for Families
Hawaii is the best family vacation! The kids won't even think about looking at their phones or laptops – there's just so much to do and see. Hawaii has always been a family-friendly destination, and its main islands have something for little and big kids alike. These Hawaii family AirBNB's are ideal for a memorable island getaway with the fam.
---
12) The Hula Girl Cottage close to Kailua beach & town
Location: Kailua, Oahu
AirBNB Plus: No
Superhost: No
Price: $150+ USD per night
https://www.airbnb.com/rooms/16007018
This stylish one bedroom Kailua cottage is a gorgeous little abode at a value for money price, and one of the best family friendly AirBNB's in Oahu. Newly renovated and featuring open, light-filled interiors, the cottage is just over one block from the best section of The Big Island's stunning Kailua Beach. The equally gorgeous Lanikai Beach is right nearby too, and the generous hosts provide beach gear to make your stay so much easier. Kailua Town Centre is just five minutes walk away, where you'll find coffee shops, restaurants, shops and bars.
Guest review: "The cottage is gorgeous and perfectly situated, and incredibly well equipped with everything you could possibly want or need during your stay. Barbara really has thought of absolutely everything and it was great to have her so close by if we had any questions. I cannot recommend it more highly!" – Sarah
View Photos, Read Reviews & Check Availability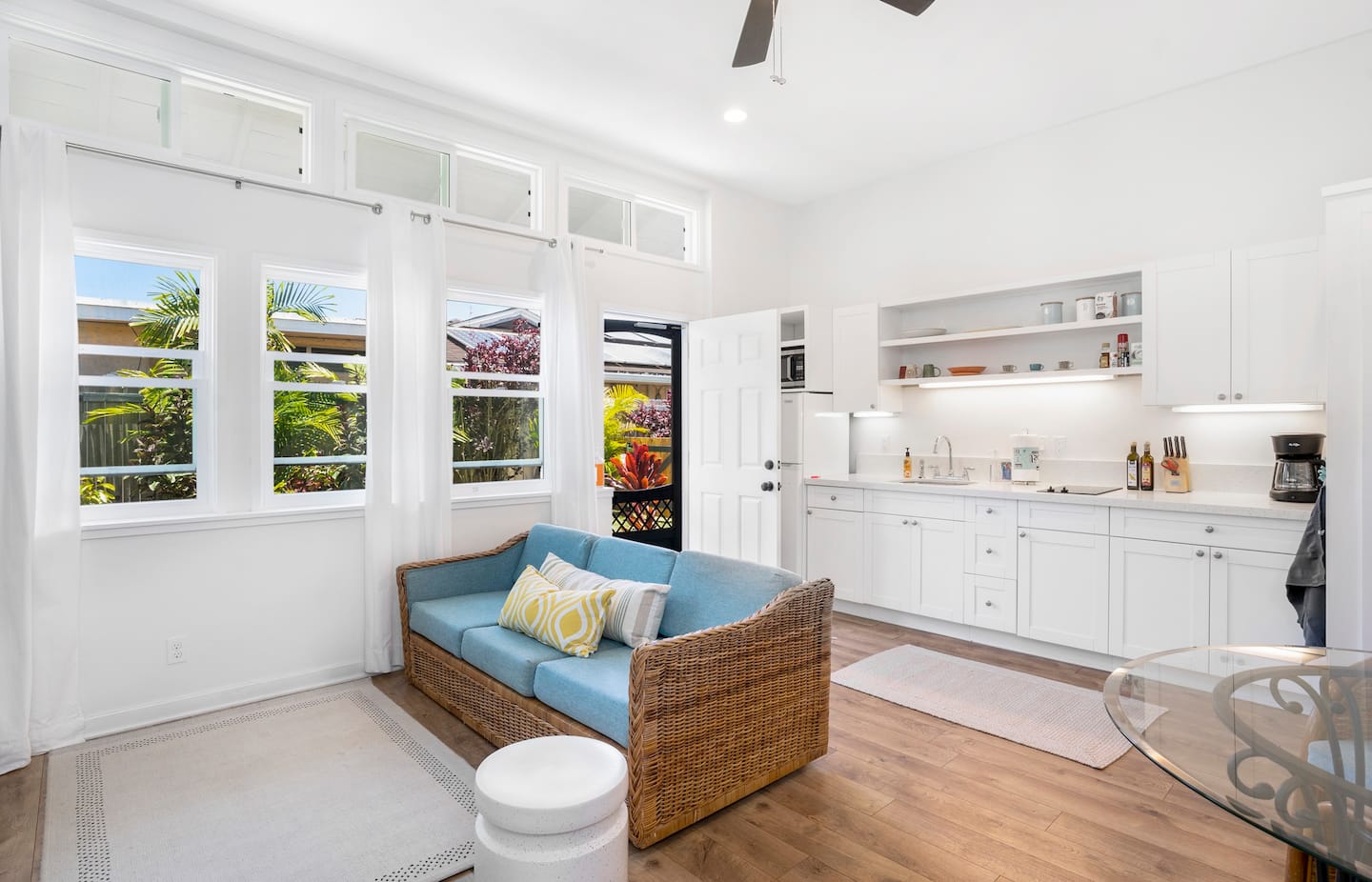 ---
13) Modern Tropical Residence w Indoor/Outdoor Living
Location: Princeville, Kauai
AirBNB Plus: No
Superhost: Yes
Price: $175+ USD per night
https://www.airbnb.com/rooms/21256064
Nestled within one of Kauai's best resort communities, this modern two bedroom guest house is one of the best Hawaii AirBNB's for families. You'll be staying amongst one of the island chains most lush natural landscapes in a secure and exclusive neighborhood. This property is open, airy and spacious, and surrounded by native palms. The town of Princeville is one of Kauai's main hubs, and has stunning beaches, coves, gardens, walking trails and opportunities to take part in adventure sports. If the lights of the town are enticing you, enjoy its superb variety of restaurants, spas, shops and bars.
Guest review: "This was my second time staying at Emily and Rob's place and it was just as wonderful as the first experience! The place was super clean, check-in was easy, and the beds were comfortable. I highly recommend it!" – Kasheda
View Photos, Read Reviews & Check Availability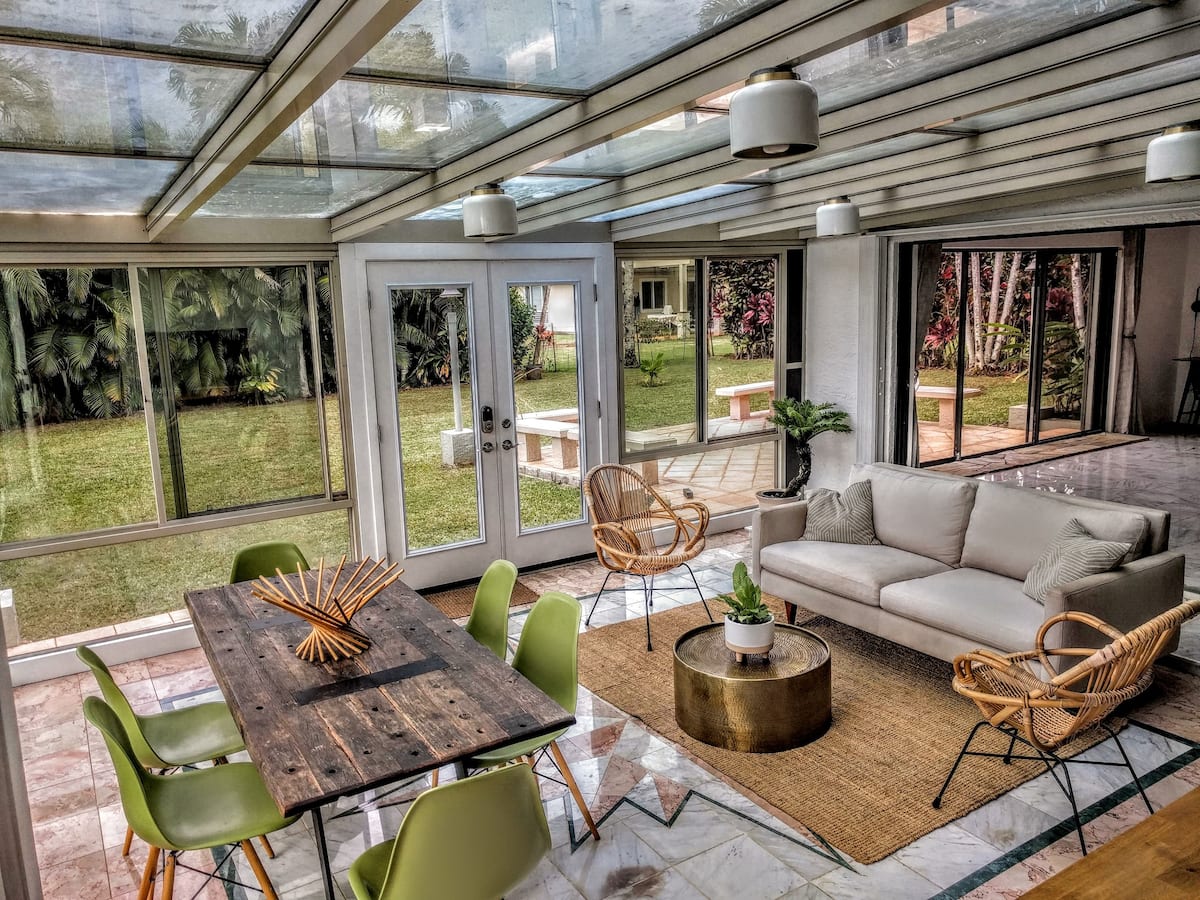 ---
14) Luxury Oceanfront—Fully Remodeled —Big Ocean Views
Location: Wailuku, Maui
AirBNB Plus: No
Superhost: Yes
Price: $200+ USD per night
https://www.airbnb.com/rooms/27558377
This two bedroom Maui condo is my choice for the "best Hawaii AirBNB for families", and one glance at it you won't have any wonder why! This newly remodeled home offers perfect ocean views and a position just steps from the ocean. You can even see distant islands from this slice of paradise island on beautiful Maui. There's a large patio, ultra modern technology and appliances and plush furnishings. From these digs in serene Wailuku, it's a breezy walk to the white sand of nearby Haycraft Beach, as well as many of Maui's best restaurants, shops and bars. Tourists facilities and tours such as snorkelling cruises leave from close by.
Guest review: "Josh and Rebecca were both great hosts, with an amazing apartment, stylishly decorated and comfortable for our family of 5. It was a perfect location for our needs, close enough to most things and who could ever complain about being right on the Maui coastline, where turtles hangout." – Brad & Vania
View Photos, Read Reviews & Check Availability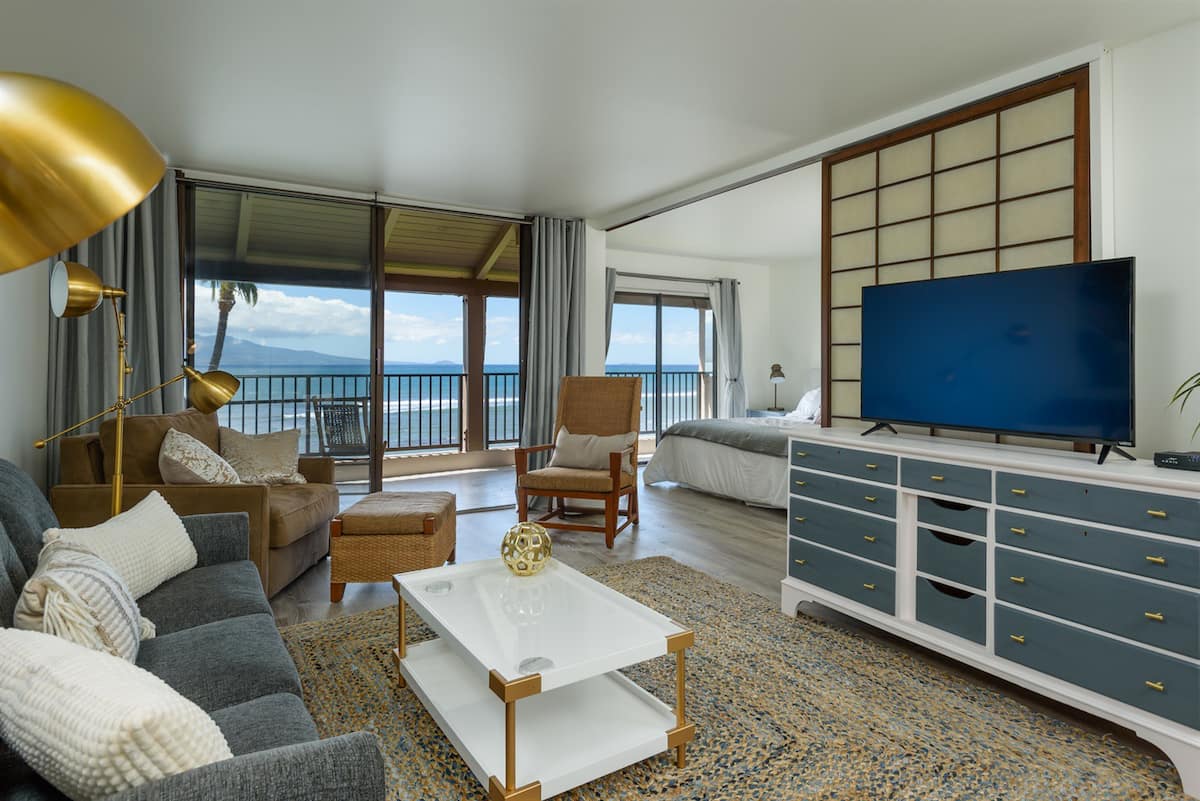 ---
The Best Honeymoon Airbnb Hawaii Rentals
Hawaii is one of the most popular honeymoon destinations in the world, and there's no doubt why. After the hectic task that is planning and pulling off the perfect wedding, what better place to escape to than an island paradise with amazing accommodation offerings, friendly locals, jaw-dropping natural wonders and of course – miles and miles of pristine beaches to laze the days away on as newlyweds. These are the best Hawaii honeymoon AirBNB's that have been raved about by newlyweds on the trip of a lifetime.
---
15) OCEANFRONT PARADISE Tennis Pool Jacuzzi A/C W/D
Location: Makaha, Oahu
AirBNB Plus: No
Superhost: Yes
Price: $150+ USD per night
https://www.airbnb.com/rooms/13019918
Located in one of Oahu's most historic regions, this sleek and stylish one bedroom apartment in Makaha is ideal if you're searching for the perfect Hawaii honeymoon AirBNB. Many honeymooners have raved about their stay in this renovated abode, with its plush furnishings and state-of-the-art mod cons. It is located within a gated community with a pool, jacuzzi, outdoor showers and a great outdoor lifestyle. There is 24/7 security on-site. Nearby attractions include Wet and Wild Water Park Hawaii, a number of caves and lookout point hikes, a turtle beach, a marina and a brand new mall. It is just 60 minutes to Oahu hotspot Honolulu.
Guest review: "Tess's place was beyond our expectation. It was an amazing start to our Honeymoon. The space is so stylish and modern. Definitely the feel of luxury with amazing views of the beach from the balcony. Ashlee was super responsive and very helpful in getting us into the place with lots of tips for places to go. Would highly recommend staying here!" – Daniel
View Photos, Read Reviews & Check Availability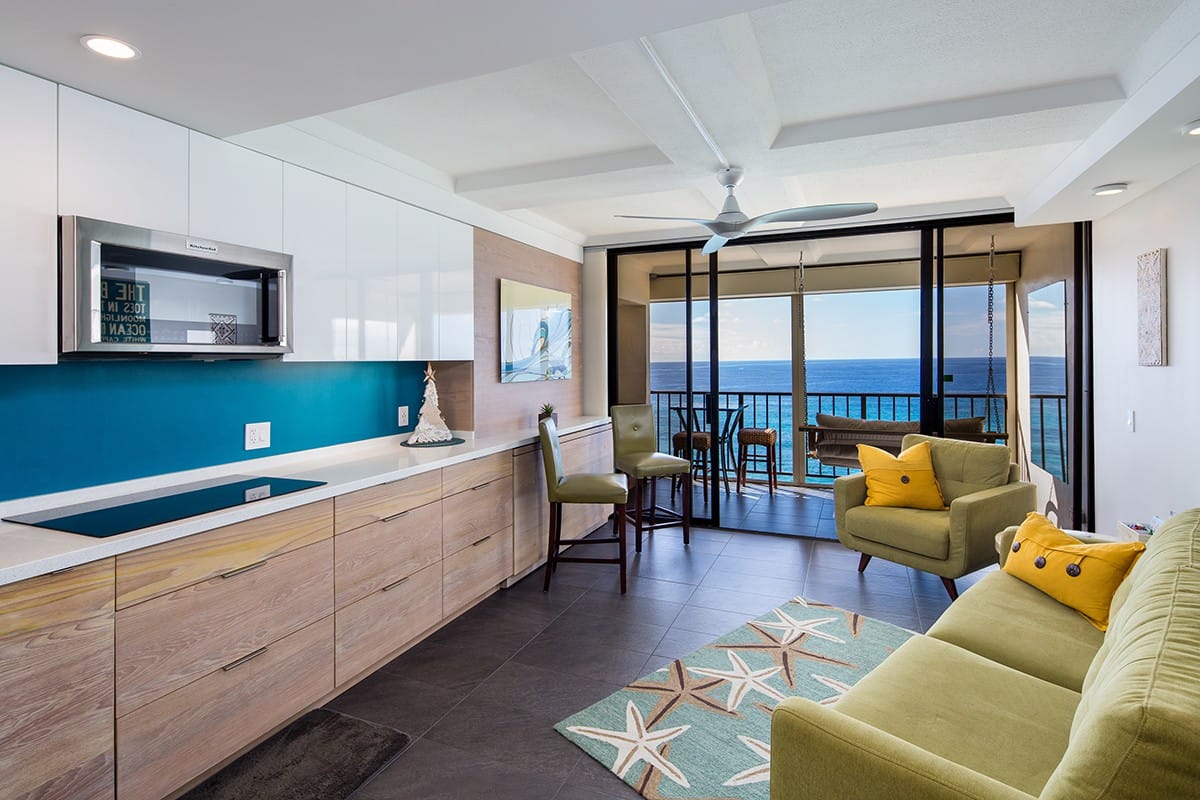 ---
16) Secluded Jungle Penthouse with Rooftop Observation Deck
Location: Kehena Beach, Hawaii
AirBNB Plus: Yes
Superhost: Yes
Price: $300+ USD per night
https://www.airbnb.com/rooms/22943917
If part of your Hawaiian honeymoon is going to be spent on "The Big Island", you just have to book your stay at this stunning Pahoa studio apartment nestled within a lovely neighbourhood. Open plan, breezy interiors with high ceilings open up to a number of balconies with jungle canopy views and al fresco dining areas. Verified by AirBNB Plus, this highly-rated honeymoon hotspot is tucked away in a quiet and rural Big Island area, right in the lush tropical jungle. There's unique black sand beaches within walking distance, as well as a range of restaurants, bars, shops and local markets. An unmissable romantic escape on Hawaii's largest island.
Guest review: "My wife and I arrived here the day after our wedding and stayed for 9 days for our honeymoon and LOVED IT! When we told some people that we were staying south of Hilo they seemed to think being in that location wasn't ideal but we loved being in such a rural part of Hawaii where we could see the clearest and prettiest stars we had ever seen and to be in the jungle with such a beautiful view from our window. The Hosts also even left us some Hawaiian chocolates, macadamia nuts, and a bottle of champagne as a welcome basket! We loved being so close to the black sand beach, and everything we wanted to do was a bit of a drive around the island but we knew we could come back to a comfortable home with everything we needed to relax and enjoy our nights on the back porch, the rooftop porch, or inside and it was all well worth it!" – Lane
View Photos, Read Reviews & Check Availability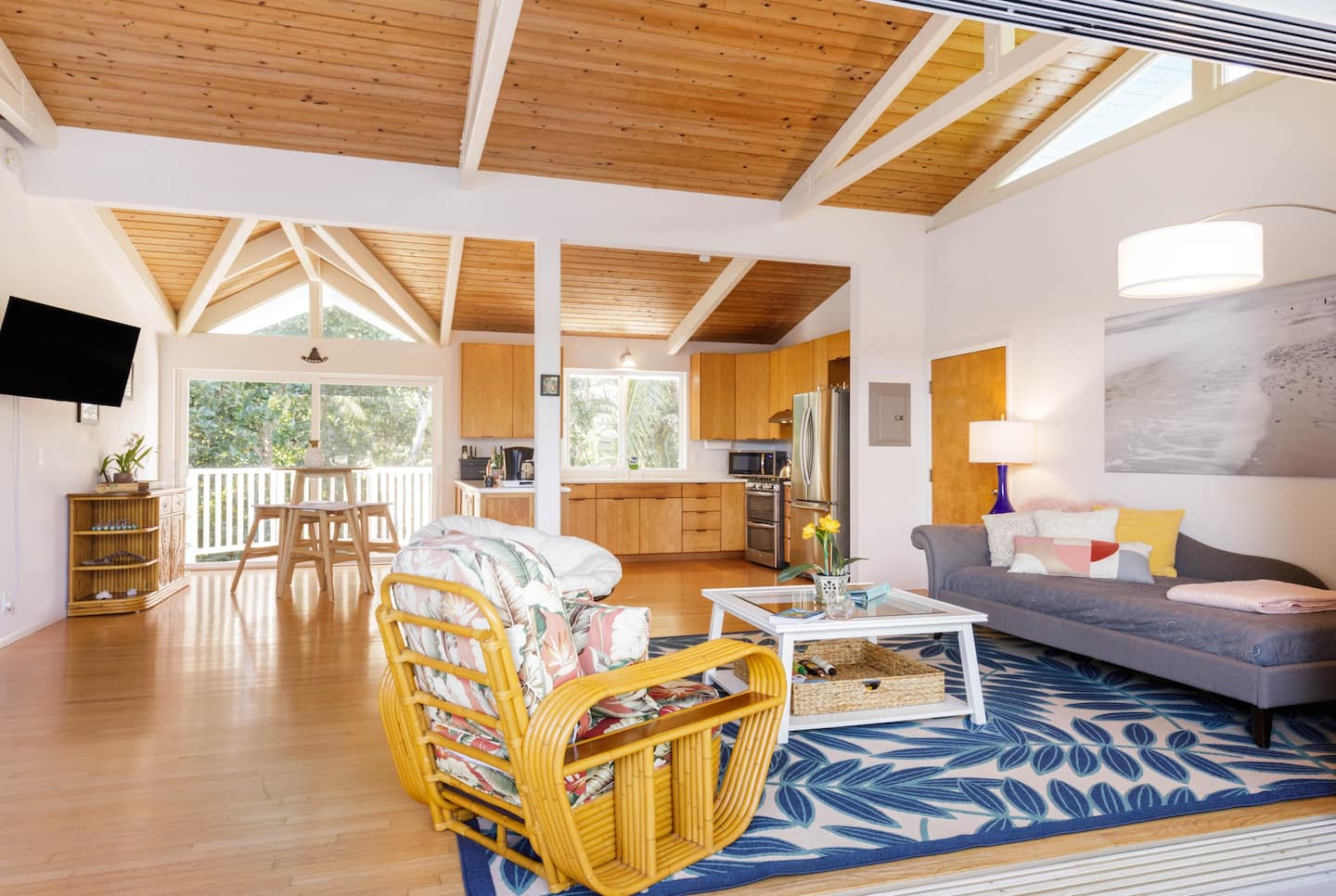 ---
17) Fall Asleep to the Sound of Waves at a Chic Island Getaway
Location: Kihei, Maui
AirBNB Plus: Yes
Superhost: Yes
Price: $450+ USD per night
https://www.airbnb.com/rooms/15842367
This is the romantic abode I am naming as the "Best Hawaii Honeymoon AirBNB" (in my humble opinion). Stunningly beautiful with soft pastel designer interiors and thoughtful additions everywhere, this spacious one-bedroom condo is the ultimate romantic hideaway on Maui. Every room offers amazing ocean views, and there is a rooftop garden with BBQ for dining al fresco with a backdrop to die for. The resort has a luxurious outdoor common area with a large lagoon swimming pool looking out to the ocean. Kamaole Beach is just steps from your front door. The region of Kihei was once where Hawaiian royalty took their vacations, and has some of the best beaches, restaurants, shops and visitor experiences on the island of Maui.
Guest review: "My husband and I stayed here for our honeymoon – This condo is a DREAM. We stayed for a week and had basically everything we needed. We loved to wake up and sit on the lanai every morning to watch the sunrise. Just a glance down into the ocean and there are sea turtles nearly every day swimming right in front of us. (Diazepam) Kihei is a great location too! Tons of options and not too far from grocery stores or activities! Stacey is an amazing host! She was so thorough from the moment we booked to the moment we checked out. I've only been home for 2 days and I am already dreaming about booking my next trip with Stacey back at her beachside condo. I can't say enough great things about my entire experience with Stacey and how amazing the condo was. Every detail anyone could possibly think of was covered. We were blown away." – Karis
View Photos, Read Reviews & Check Availability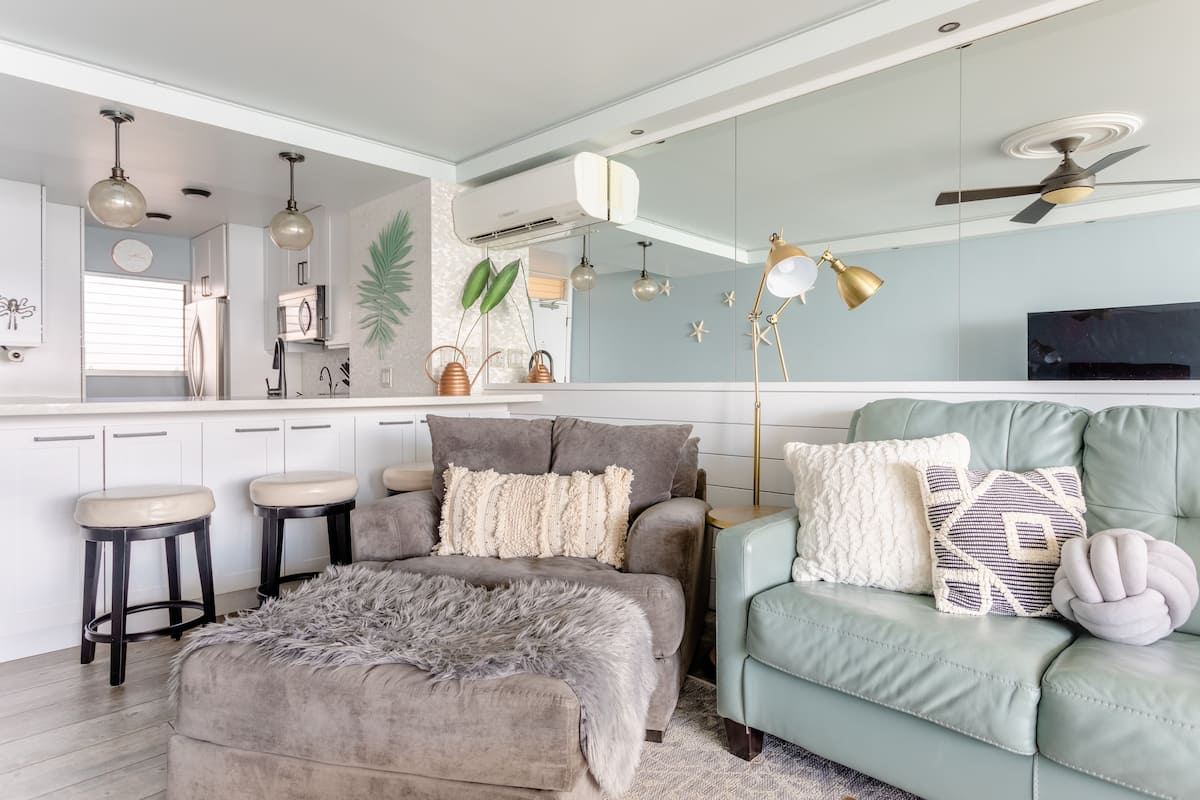 ---
Hawaii Day Trips & Tours To Consider for Your Upcoming Vacation!
It was SO HARD to put together a shortlist of the best experiences and tours in Hawaii as there are just so many amazing ones. From visiting world famous volcanoes to swimming under waterfalls, visiting icons of American history to surfing on arguably the most famous beach in the world – these activities in Hawaii must be ticked off your travel bucket list.
---
Big Island: Volcano Discovery Small Group Tour from Hilo
"See the top sites of the "Big Island". Throughout your journey, your experienced guide will help you deepen your understanding of how the powerful forces of the volcanoes have shaped the people and landscapes of Hawaii's largest island."
https://www.getyourguide.com/big-island-hawaii-l661/from-hilo-big-island-volcano-discovery-small-group-tour-t177837/
Price: From $280 USD (6-7 hours)
Review: "Good tour if you want a sampler of Volcano National Park. Would have been nice to spend longer and do more of the trails around the park. Was very lucky there were only three of us on the tour that day. It was like a personalised tour! P.S. The brownie at lunch was delicious!"
View Photos, Read Reviews & Check Availability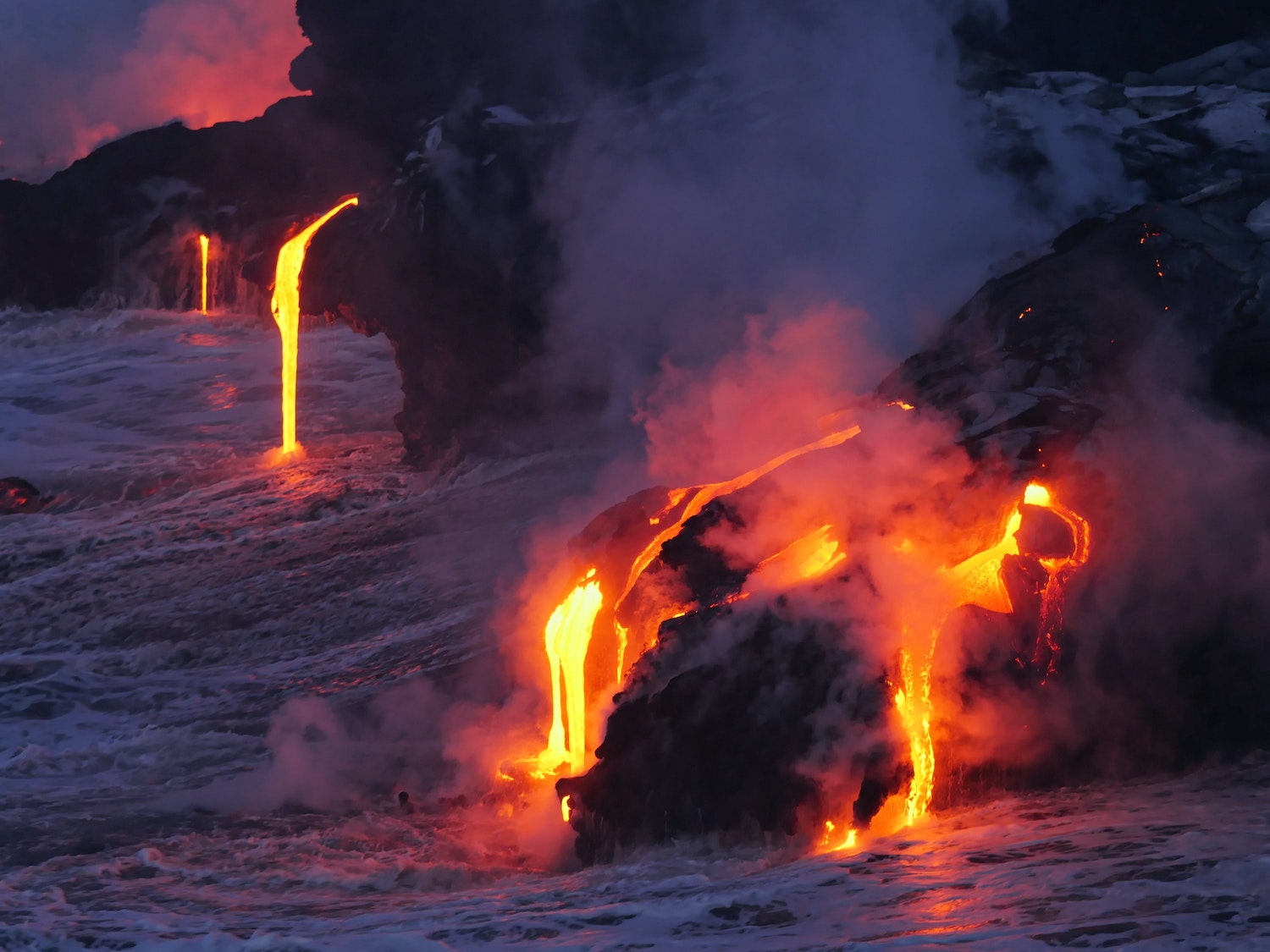 ---
Pearl Harbor & USS Arizona Memorial Tour with Pick-Up
"Skip the long lines to the Pearl Harbor attraction on a small group tour from Waikiki. Learn more about the events that led to the US joining World War II at the USS Arizona Memorial."
https://www.getyourguide.com/oahu-l4966/delxue-pearl-harbor-uss-arizona-memorial-group-tour-t73694/
Price: From $80 USD (5 hours)
Review: "Thank you for a fabulous tour! We were very pleased with all aspects of the tour. The transport vehicle was very comfortable. Our driver, Chris was fantastic. He explained everything before we departed and after the Arizona, his tour of the area was great. I would highly recommend your company and our driver Chris to all." – Joan, United States
View Photos, Read Reviews & Check Availability
---
Oahu: Group Surfing Lesson in Waikiki Beach
"Put yourself in the middle of the Hawaii Surf Experience on this group surf lesson. Surfer Girl Academy ensures a level of excellence and service you won't find anywhere else. Share your Hawaii experience with us, and hit the waves in no time!"
https://www.getyourguide.com/oahu-l4966/group-surf-lesson-41-ratio-t15224/
Price: From $150 USD (2.5 hours)
Review: "I highly recommend this surf school! They are very nice, friendly and take great care of you. I was lucky because I get a private lesson by chance. I did it for the first time and was able to stand up and surf for some seconds. I think it is a nice experience having a try here in Hawaii…" – Silke, Germany
View Photos, Read Reviews & Check Availability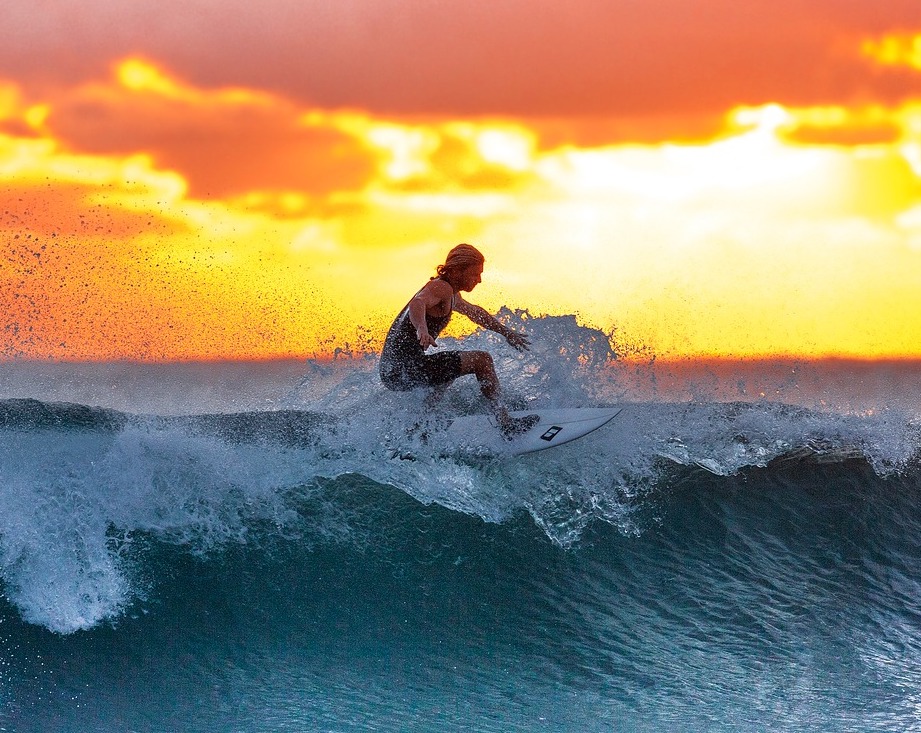 ---
Kauai: Luau Kalamaku
"If you only experience one thing in Hawaii, make sure you don't miss this spectacular extravaganza – filled with graceful Hula dancers, fire poi ball twirlers, traditional fire knife dancing, a lavish buffet of local delicacies and vivid storytelling."
https://www.getyourguide.com/kauai-l659/kauai-luau-kalamaku-t75874/
Price: From $87 USD (1.5 – 3.5 hours)
Review: "Good food, great hospitality, amazing show….a must adventure!" – George, United States
View Photos, Read Reviews & Check Availability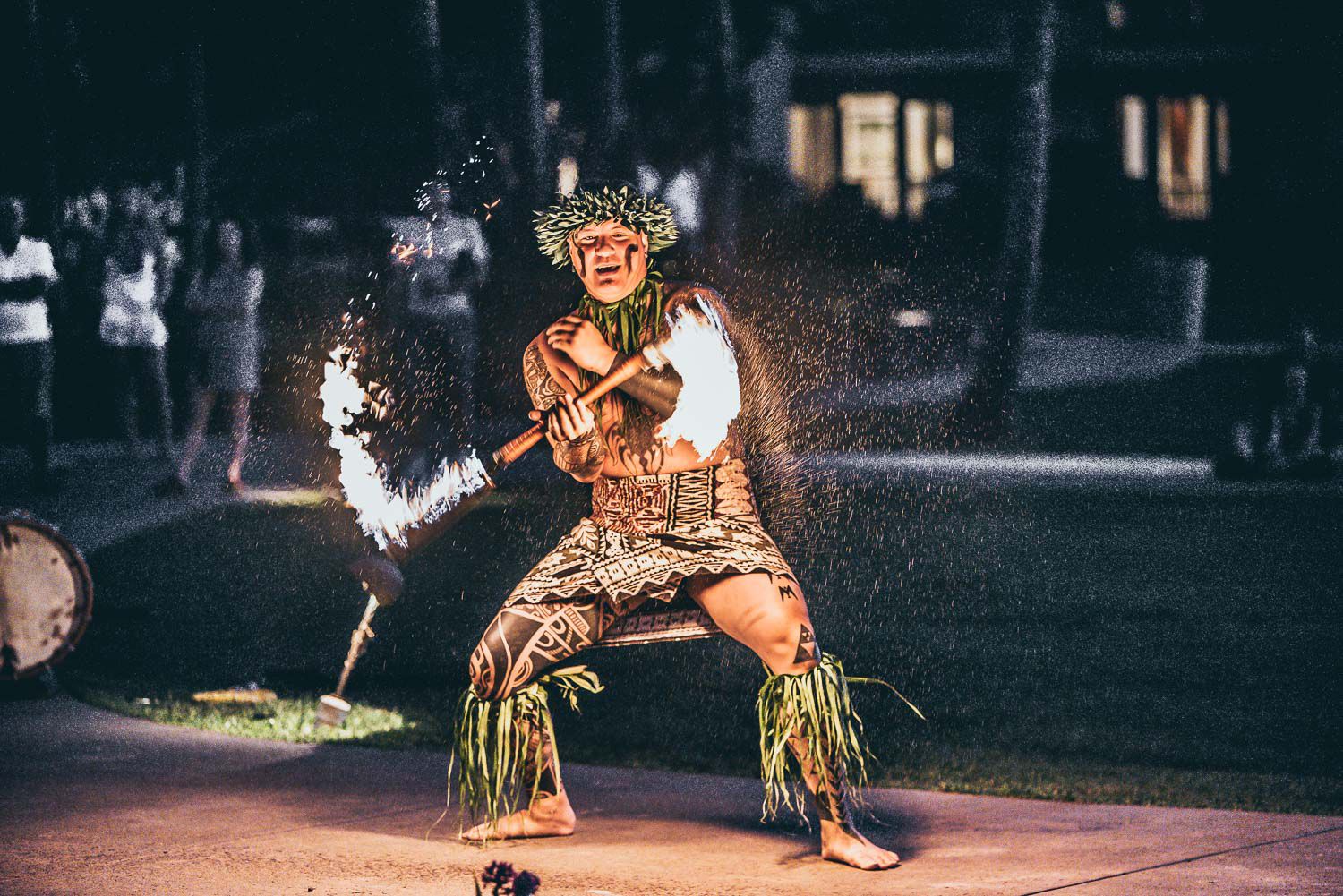 ---
Oahu: Majestic Full-Day Circle Island Tour
"Come and experience the top sightseeing tour on Oahu. This tour features Oahu's natural wonders, cultural sites, surfing spots and best shopping experiences. This full-day tour is approximately 9 hours."
https://www.getyourguide.com/oahu-l4966/oahu-majestic-full-day-circle-island-tour-t156465/
Price: From $150 USD (10 hours)
Review: "Our tour guide was cousin K (tour #11) and she taught us so much about the culture and the island of Oahu. You'll also find out why they call her cousin. =) Very knowledgeable women, we were fortunate to have her as our guide. We had about 5 days in Oahu and wanted to make the most of it by going on this 9 to 10 hr tour. Saw and learned so much of the island that there would be no way for us to cover it on our own if we had rented a car. Thank you cousin K!!" – Anonymous, United States
View Photos, Read Reviews & Check Availability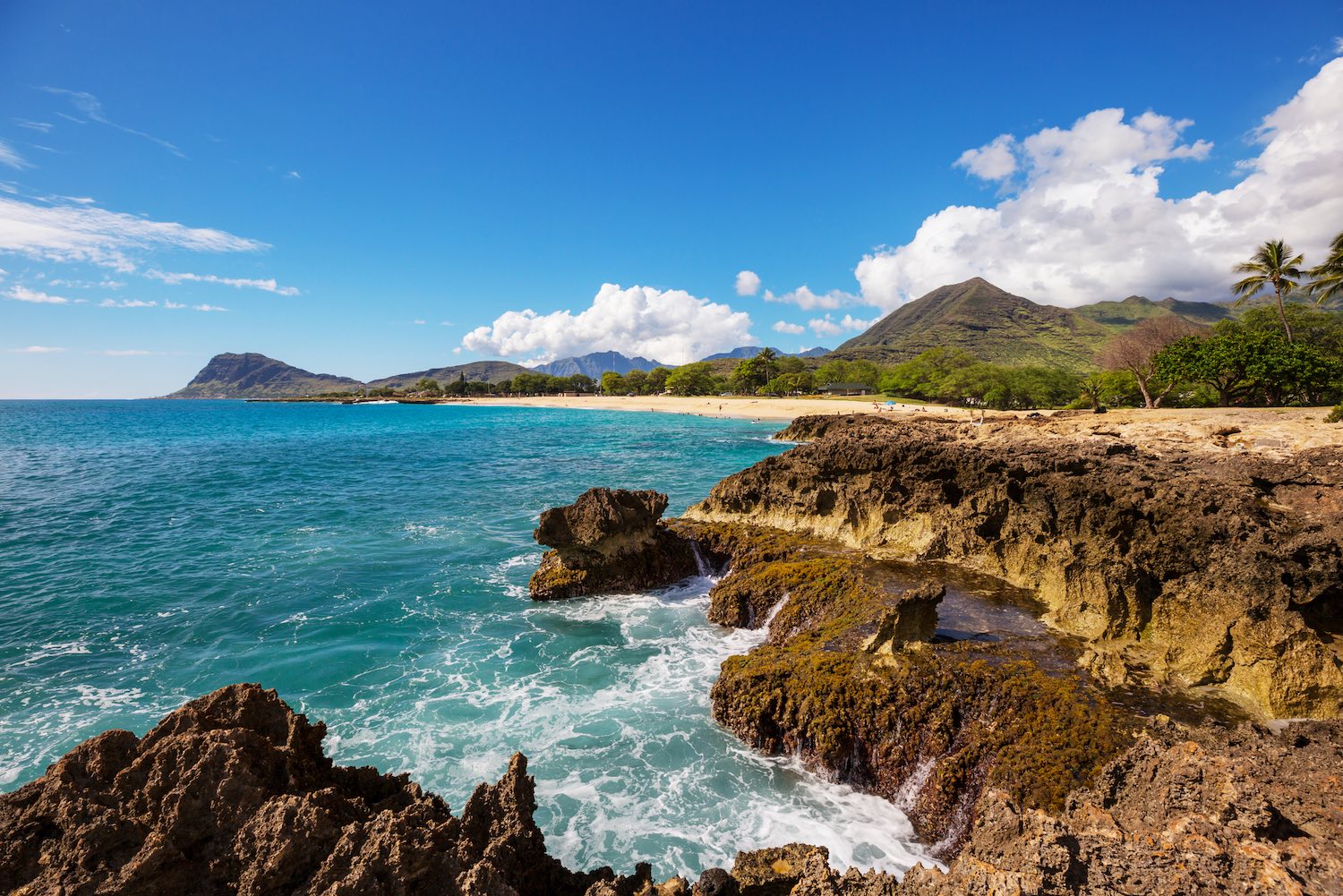 ---
Maui Goat Yoga with Miniature Goats
"Enjoy beautiful views of Maui's breathtaking coastline and relish the psychological benefits of animal-assisted therapy while practicing yoga and challenging your physical and mental capacity. Maui Goat Yoga is much more than just a yoga class — it's about removing yourself from day to day stress and anxiety and focusing on optimistic and happy thoughts and feelings. It's about health, wellness, smiles…and goats! Our miniature goats are very friendly and love to cuddle and play with guests both during and after class."
https://www.airbnb.com/experiences/125756
Price: From $39 per person
Review: "Such a unique and cool experience that I would highly recommend. The setting is unreal and the experience is genuinely special & unique. My husband and I throughly enjoyed it!! "
View Photos, Read Reviews & Check Availability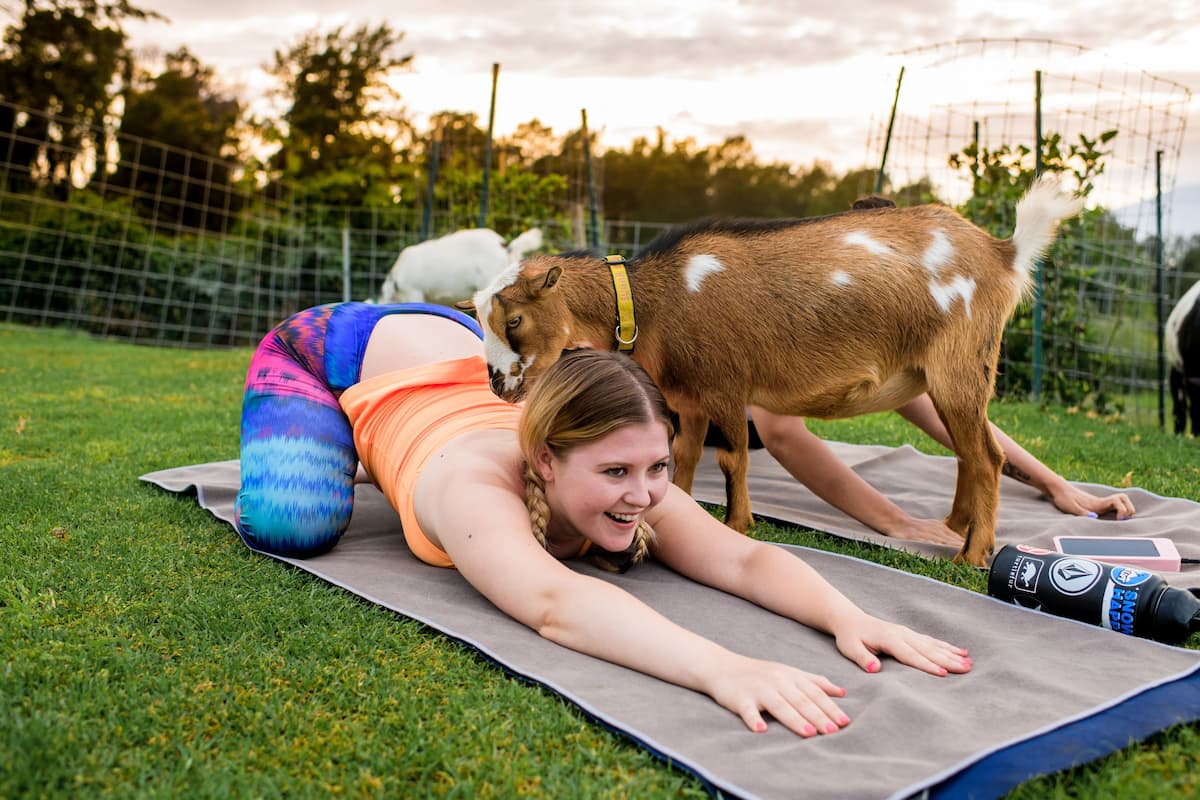 ---
Am I Missing Any Amazing Airbnbs in Hawaii?
With Hawaii being one of the most popular destinations in the world, there are obviously TONS more amazing Airbnbs across the islands, but I think I did a pretty amazing job picking out some of the best Airbnb Hawaii has to offer! If you think there is a specific Hawaii Airbnb that should be included on this list, or maybe you're an Airbnb Hawaii host and would like your property featured here, please do let me know, as I'd love to keep my list of the best Airbnbs in Hawaii as up to date as possible!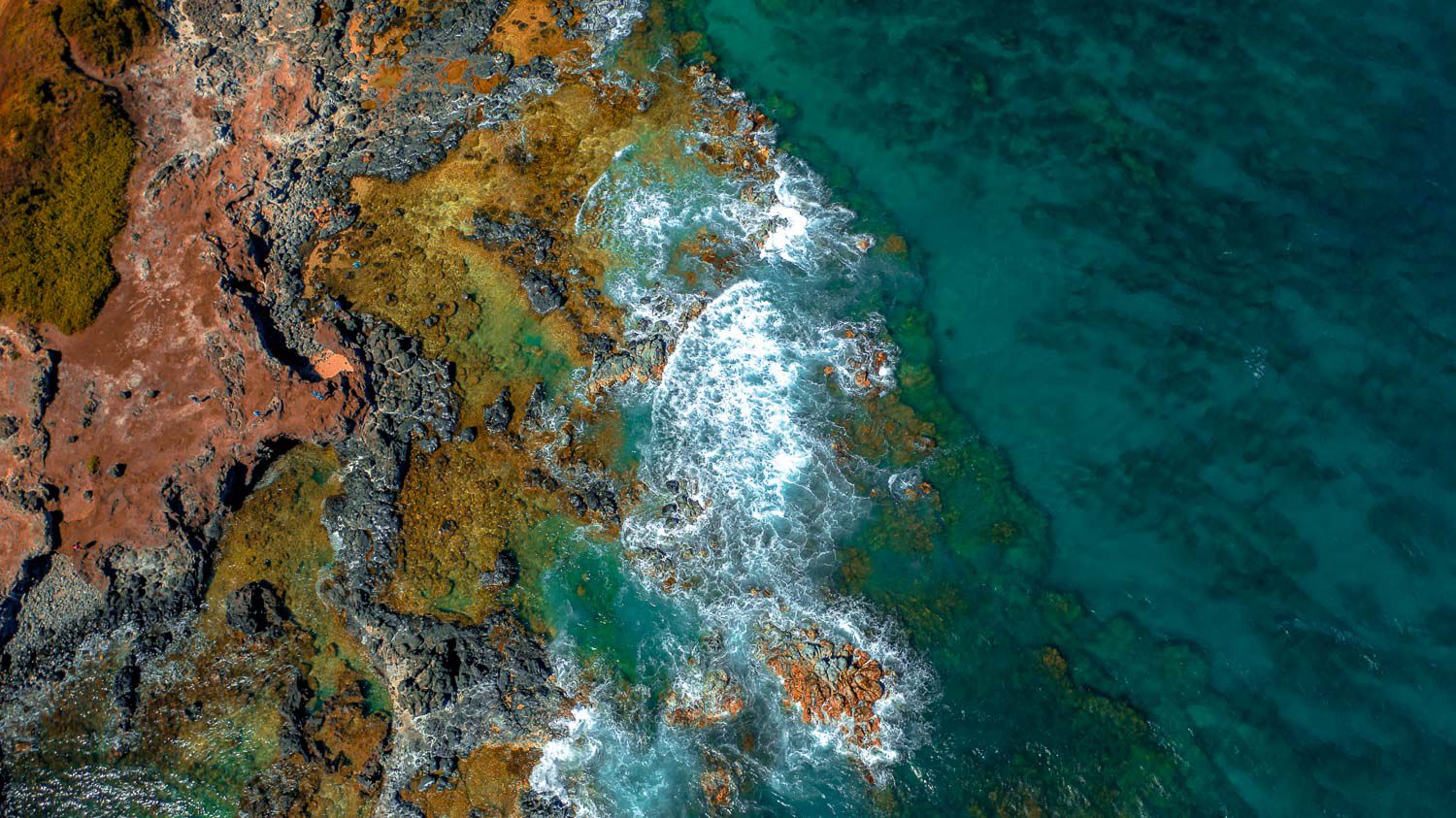 ---
Planning a Trip to Hawaii?
While I haven't spent too much time writing/ blogging about Hawaii, I do have a couple of articles that would be worth checking out!
As well, these are fun posts to check out to inspire your future travels & adventure!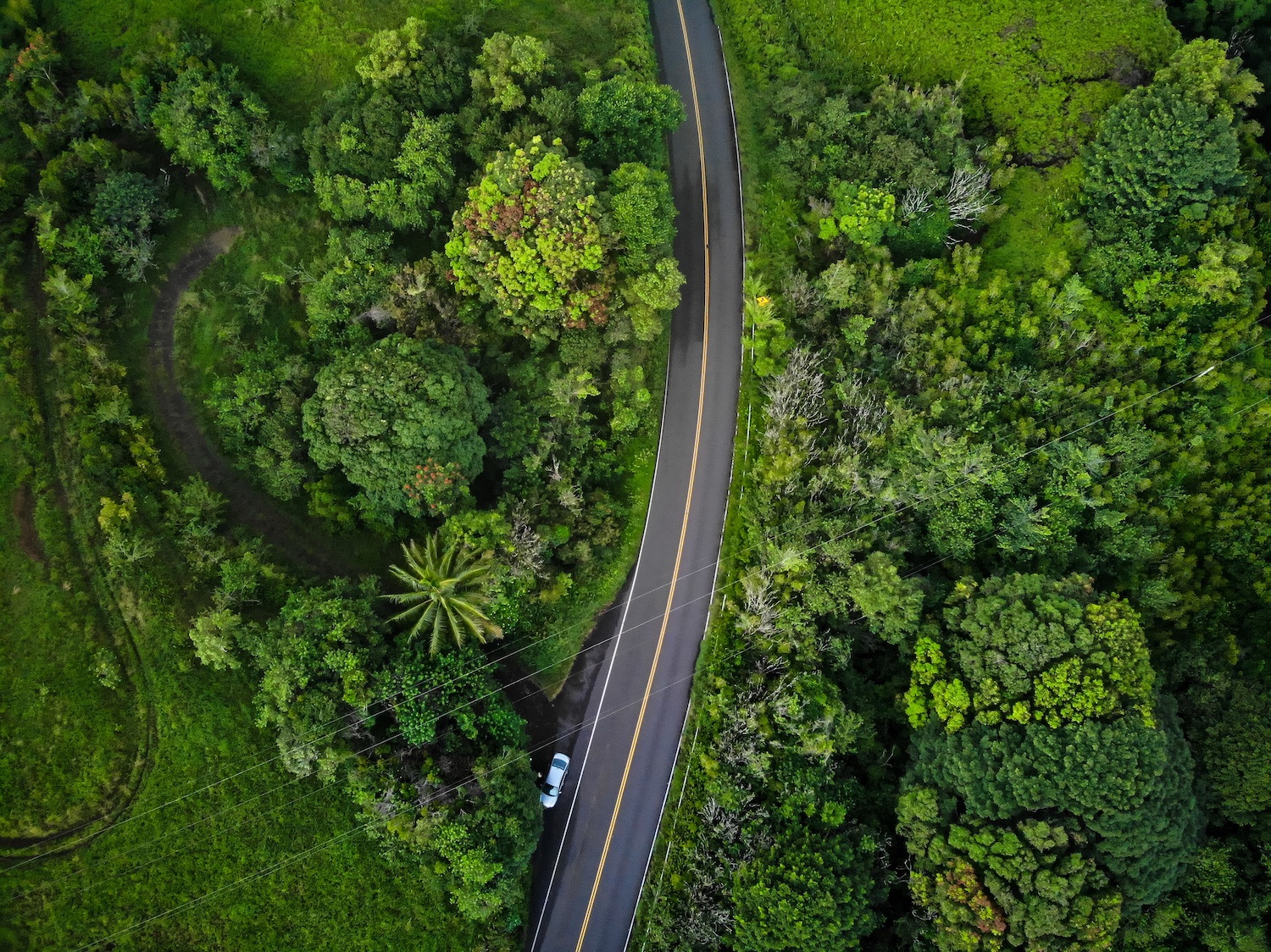 ---
Thanks for reading my Airbnb Hawaii Travel Guide!
Share these amazing Airbnbs in Hawaii with your Vacation crew!
https://www.jonesaroundtheworld.com/wp-content/uploads/2019/12/Airbnbs-in-Hawaii.jpg
1461
1500
Dave
https://www.jonesaroundtheworld.com/wp-content/uploads/2017/03/logotry-1-1-300x106.png
Dave
2021-07-19 07:50:36
2023-08-26 12:01:46
The 17 Best Airbnbs in Hawaii For The Ultimate Vacation Experience