Planning a trip to Kentucky? These are the best Airbnbs in Kentucky for any occasion…
Known as the Bluegrass state, Kentucky is home to bustling cities and endless pastures, and of course, the iconic Kentucky Fried Chicken. A wide variety of activities draws visitors all year round and offers activities for families, couples, and everyone that is looking for a wonderful weekend experience.
Whether you are looking for fun and cool things to do, or a romantic cabin, beautiful state parks, or natural attractions, Kentucky will give you exactly what you are looking for.
---
Experience Kentucky. The state offers remarkable beauty and resources, from it's magnificent mountains, unique cave system and recreation lakes, to it's one-of-a-kind Kentucky Bourbon Trail destinations and world-famous thoroughbred industry. Bourbon, horses, music, food and drink, outdoors, and the culture – all these experiences will definitely keep you busy.
Explore the Kentucky destinations. Kentucky also offers a wide range of fun, unique, historical locations. Wherever your trip to Kentucky takes you, you are sure to enjoy, learn and relax. Some of the best sights and places to visit: Mammoth Cave National Park, Kentucky Horse Park, Louisville Slugger Museum & Factory, Lost River Cave, Cumberland Falls State Resort Park. On a budget? The state has a variety of natural attractions that you can visit without spending a dime.
Kentucky is a state to visit, but finding a good accommodation in such a big state can be tough. Lucky for you, I have refined some of the best places to stay in Kentucky. Let's go!
Also, I'd recommend checking out this guide the best treehouse rentals in Kentucky for super cool and unique stays!
---
Quick Breakdown of Kentucky Airbnb & Vacation Rentals
In this article, I have listed 18 Airbnbs that are as unique and "home-y" as it can be. Kentucky has a bit of everything, from art-inspired to rustic, to a more lavish and luxurious stay according to your taste and budget. Wherever you decide to stay in Kentucky, you will surely find a place you can call your "Kentucky home".
I have included a range of Kentucky video guides throughout this list, which you should definitely watch to get ideas on what to see and do in the state. If you are sticking around Kentucky, make sure to check out The 25 Best Country Music Festivals in the USA.
Note: Due to the closure of the Airbnb Associates program, some of the properties listed have been changed to other booking platforms (which can have lower rates and less cleaning/service fees!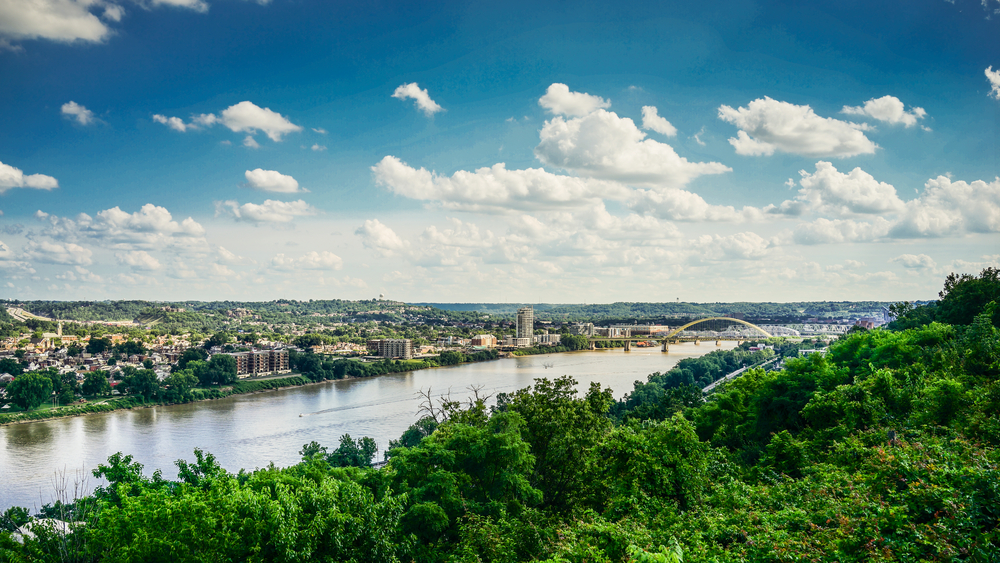 ---
1) Whispering Woods Cottage in a Gated Community
"The Best Overall Vacation Rental in Kentucky"
Location: Burnside
Price: $120+ USD per night
https://www.vrbo.com/7060923ha
With hundreds of rave reviews, this rustic cabin escape is easily one of the most in-demand and popular vacation rentals in the state of Kentucky. The one bedroom cabin is cozy, warm and tucked away in the woods, and its located in a gated community that promises privacy and peace. The dual level cabin features highlights such as a stone fireplace, queen bed and sleeper and a spacious patio with seating, a hot tub and a gas grill. Locally enjoy nature, state parks, falls, wineries and golf courses. The perfect pocket of Kentucky to sit back and enjoy!
View Photos, Read Reviews & Check Availability
Guest Review: "My wife and I had a wonderful time at Sue's cabin. It was the perfect getaway for two. The cabin was neat, clean, warm and cozy. We loved the location closer to the Daniel Boone National forest. Sue was a great host. Everything was as advertised and she was a great communicator. My wife and I look forward to renting it again, hopefully in a warmer time next year. We would highly recommend!" – Gregory
---
2) Nolin Lakefront Resort
"The Best Luxury Rental in Kentucky"
Location: Bee Spring
Price: $2000+ USD per night
If you're planning an event, or simply have a big group to book a Kentucky escape for, you can't go past Nolin Lakefront Resort in Bee Spring. The ten bedroom resort retreat boasts so many highlights to keep the group of up to 60 entertained. There's the main cabin, with its spacious interiors and roomy decks. The cafe, a large kitchen space with a dining area to seat every guest. Two fire pits. The party barn, spanning 2000 square feet, with tons of indoor games and so much more. A bunkhouse and caboose for additional sleeping quarters. A smoking hut for cooking up big outdoors. A playground for the kids, and a wedding pavilion for the big events that take place here. There's also a large hot tub. Locally, there's a range of caves, state parks and lakes to enjoy, as well a superior golf courses.
View Photos, Read Reviews & Check Availability
Guest Review: "My daughter got married this weekend. We fed friends and family, swam, hung out at the party barge, in the Party Barn, playground, wherever. There was such a variety of ways to entertain everyone: young, old, and in-between. Tina was so lovely to work with as was the owner, Davey, and his daughter Chelsea. Mother Nature cooperated with a drop in temp and a full harvest moon. Many of our guests said: Best wedding ever! We truly hated for the celebration to be over." – Margaret
Pine Paradise Drone Video
---
3) Spacious New Home Perfect for KY Derby
"The Best Kentucky Vacation Rental For Groups"
Location: Louisville
Price: $2000+ USD per night
Book this incredible five bedroom home for a memorable family or group trip away in Louisville, Kentucky! With space to sleep up to 10 comfortably, the brand new home is modern, spans 4500 square feet, and has everything from a gourmet eat-in kitchen, a master retreat with a soaking tub, a basement with tons of living space and an outdoor patio, bar area and heated swimming pool. This high end family home is located in a residential area of Louisville, a short journey from Louisville Zoo, the University of Louisville and the annual Kentucky Derby.
View Photos, Read Reviews & Check Availability
---
4) The Guest House on 300 Acre Horse Farm
Location: Lexington, Kentucky
Airbnb Plus: Yes
Superhost: Yes
https://www.airbnb.com/rooms/plus/28490058
Price: $475+USD per night
My choice for the "Best Overall" Airbnb in Kentucky is The Guest House in Old Frankfort Pike, Lexington. While the guest house is tucked a few extra miles away, the drive to the main attractions in Lexington and Frankfort is already a spectacular experience. The Guest House is beautiful inside and out. It is wonderfully designed in simple monotone tones with classic and luxurious furniture. It has 3 bedrooms where guests can sleep soundly thanks to the high-thread-count sheets, linens, and down comforters. The guest house also features a beautiful full kitchen, dining room, laundry room, and living room. Before the day ends, guests can gather around the fire pit and enjoy the beautiful view as the sun sets over the distant silo. Outdoor activities can also be enjoyed in the area like hiking and picnics by the creek. The drive to downtown is the best scenic drive you can experience as you will pass many of the Thoroughbred Farms and famous limestone rock walls.
View Photos, Read Reviews & Check Availability
Guest review: "Teresa and The Guesthouse surpassed all of our expectations. She was quick to respond and had great recommendations for the area. The Guesthouse was so very warm, inviting and spotless. We felt at home immediately. Also, the setting in the heart of the Lexington horse farm country was stunning. We enjoyed the serenity and privacy but could get anywhere within 10 minutes. One of our favorite memories was watching the sunset and all the stars while sitting around the fire. We both would highly recommend a stay at The Guesthouse." – Bill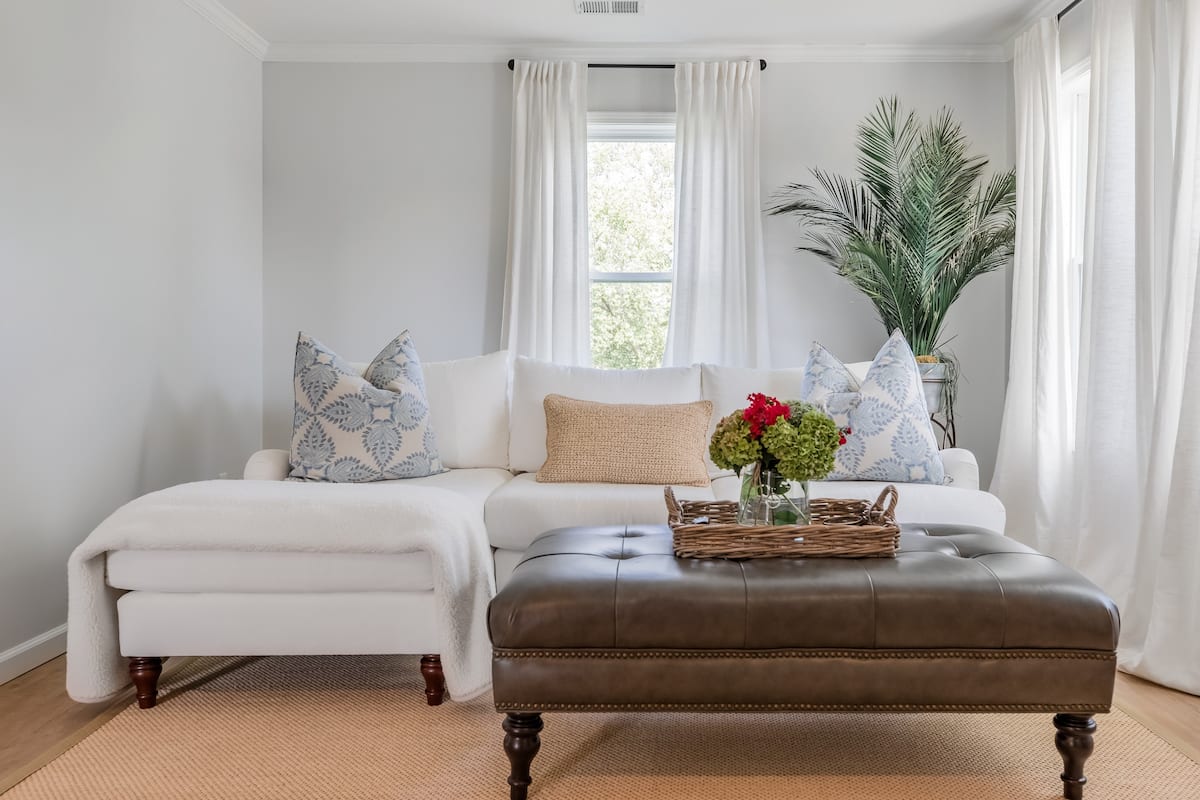 ---
5) Private Oasis of Calm, Luxury in Quiet Setting Near Downtown
Location: Lexington, Kentucky
Airbnb Plus: Yes
Superhost: Yes
https://www.airbnb.com/rooms/plus/4921542
Price: $107+USD per night
This 2-bedroom home is private and lush, it is my choice for "The Best Luxury Airbnb" because of it's open interior, high ceilings, antique Persian rug, fireplace, and original artworks. The elegant interior of the home, the exclusivity, and the location is one of the reasons many guests book it on their visit to the state. The reviews and rating of this Airbnb is proof that guests love this property. Large and spacious, and glamorous interiors are featured in all areas of the house including the bathroom, dining room, study, and living room. The rooms have homey details – beds with pillow-top mattress, memory-foam mattress, AC, room-darkening shades, and a travel crib. Enjoy a BBQ party with your family on the patio. It is a great base for exploring the famed horse attractions in Lexington.
Guest review: "Kate's place is the perfect spot for ultimate at-home comfort and relaxation. It is so elegantly designed and put together, but all the furnishings and amenities are so cozy, you feel as though you are staying in your own home. She has thought of all the details, so that you don't have to think about anything- and just relax. Plus- finding a king size bed on Airbnb feels like winning the lottery- especially with the ultra luxurious mattress topper! The neighborhood is quiet, safe, and very nice, and just a short drive to downtown, where you can find some great cafes and restaurants. We recommend Carson's! It was excellent. Magee's has delicious bagels and breakfast options. We spent our weekend browsing antique shops and touring distilleries, and coming back to a comfortable, beautiful home made our anniversary getaway just perfect. If we ever plan to stay in the Lexington area again, this will be the first place we book!" – Elise
View Photos, Read Reviews & Check Availability
Unboxing Kentucky: What It's Like Living in Kentucky
---
6) Sleep in Style at This Restored Antebellum Church in Nulu
Location: Lexington, Kentucky
Airbnb Plus: Yes
Superhost: Yes
https://www.airbnb.com/rooms/plus/31473122
Price: $500+USD per night
If you are searching for an Airbnb that can accommodate a large group, I got you! This restored Antebellum Church is "The Best Airbnb for Groups" you can find in Lexington, Kentucky. The best option for a family getaway as it has 4 spacious bedrooms that can sleep 8 guests comfortably. Each bedroom is decorated with different styles, giving a unique experience for every guest. The house is lovingly styled with touches of modern and vintage, high ceilings and big windows. It features two (2) spacious living rooms, a full kitchen and a kitchenette, dining room, and laundry room. Guests can enjoy romantic dinner and wine nights in the courtyard. Your family can visit some of the nearby attractions like the Kentucky Kingdom – a seasonal amusement & water park with thrill and children's rides, waterslides, and wave pools.
Guest review: "Jessi was a great host and super responsive. The property is very unique and thoughtfully arranged, including a nice welcome package. She was on top of any issues that arose. Would recommend this property to other people visiting Louisville. Location was also excellent with lots of restaurants, bars and shops within a few blocks walking." – Aaron
View Photos, Read Reviews & Check Availability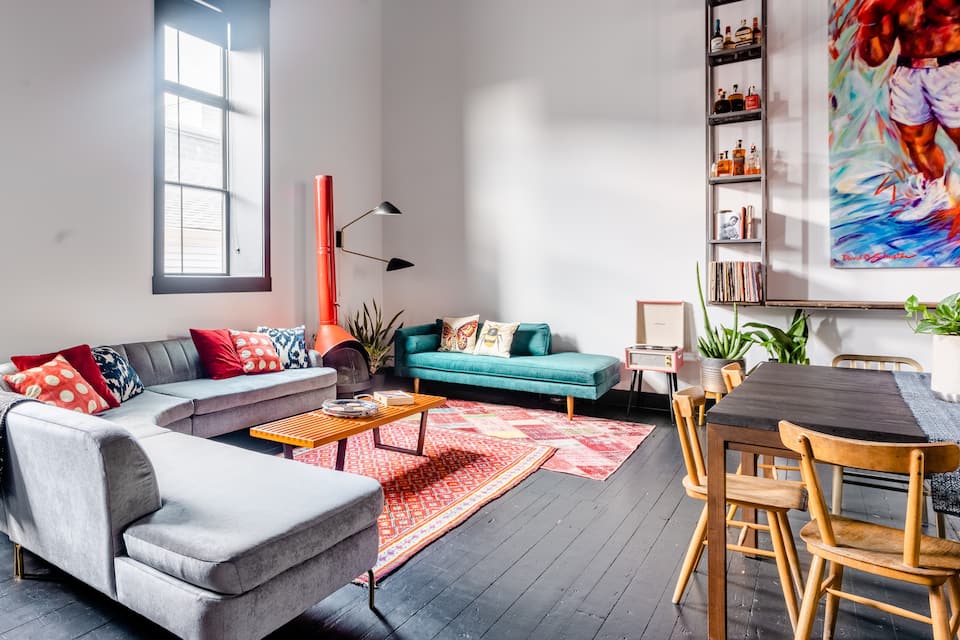 ---
7) Boho Loft, Walk out the door and step into downtown life!
"The Best Cheap Kentucky Airbnb"
Location: Covington, Kentucky
Airbnb Plus: Yes
Superhost: Yes
https://www.airbnb.com/rooms/plus/31223482
Price: $100+ USD per night
This boho loft is a great choice if you are traveling on a budget. It is located in Covington along Licking Riverside, a quaint, historic area with some of the most beautiful Italianate and Victorian-style houses. The boho loft is my choice for "The Best Cheap Airbnb" in Kentucky. The experience you get is much more than the price you are paying in this urban oasis. The loft has an open-concept design with warm decor, shades of gray, and curated artwork from local artists displayed around the house. Guests can move freely from the living room to the kitchen and the dining room and a common area and patio is also open for guests to use. Experience the city and check out the charming MainStrasse Village district that features classic pubs and chic eateries along Main Street, or see the Goebel Park's quirky clock tower, or take photos of the beautiful Cincinnati skyline views from Huge Devou Park.
Guest review: "Simply stunning apartment! Thoughtfully curated decor with clean and modern touches. Location couldn't be better and the convenience of designated parking made coming and going a breeze. I look forward to renting this space again on my next visit to Covington/Cincinnati!" – Abigail
View Photos, Read Reviews & Check Availability
15 Things to do in Louisville, Kentucky
---
8) Historic Parsonage in the Heart of NuLu Action
"The Best Unique Airbnb in Kentucky"
Location: Louisville, Kentucky
Airbnb Plus: Yes
Superhost: Yes
https://www.airbnb.com/rooms/plus/32334811
Price: $120+ USD per night
A historic, charming Airbnb that features exposed brickwork and beams, street art, and a bathroom with creative tilework. If you're looking for a trendy and stylish accommodation, this is your best choice. This retro home offers a living room, full kitchen, a full bathroom, and laundry room. The cozy bedroom features white walls, white linens and beddings, white furniture accented with brick walls and wood panelling ceiling. Some furnishings that are available for guests to use include a record player, an espresso machine, and a patio with fire pit and outdoor seating. For activities in Louisville, guests may explore the Kentucky Derby Museum or visit the Louisville Slugger Museum and Factory where Major League bats are produced and a giant baseball "slugger" marks the entrance.
Guest review: "Had a great time at the Parsonage! It's just the right size for 2 people looking for a getaway. The place is very creatively appointed and comfy. The location is perfect – walkable to a lot of great restaurants and shops in the area. The Parsonage is in the middle of all the action but yet has its own secluded pocket of the NuLu neighborhood. We did get a fair bit of outside noise on Saturday night from the folks out in the street nearby, but nothing more than the usual city noise. Overall we really enjoyed our stay, thanks Jessi and Creighton!" – Ryan
View Photos, Read Reviews & Check Availability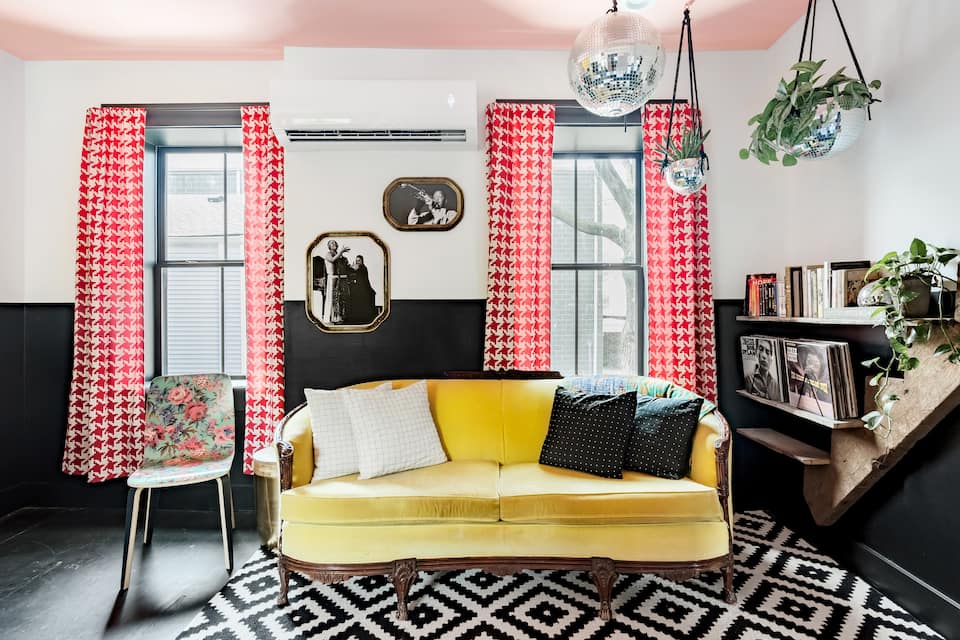 ---
9) Chic, Luxurious Carriage House in Ideal Location
Location: Louisville, Kentucky
Airbnb Plus: Yes
Superhost: Yes
https://www.airbnb.com/rooms/plus/28179433
Price: $120+ USD per night
Stay in this chic, luxurious carriage house and plan your itinerary for exploring the attractions and activities of Kentucky. This 1-bedroom house is perfect for couples who are looking for a romantic getaway. The open-concept floor plan joins the living area, full kitchen, and dining room giving a sense of openness and larger space. The barn door opens to the beautiful and cozy guest room. Guests especially love the 6-foot soaking bath with nice water pressure, surrounded by sash windows. Amenities are provided and available for guest's comfortability including a dishwasher, quality bath towels, walk-in closet, WiFi, smart TV. The main attraction in the area that guests can visit are the following: Cherokee Park, Deer Park, restaurants, bars, and boutiques.
Guest review: "What a wonderful place to stay! The space is so well-designed to be modern and comfortable while also retaining beautiful historic/ character features. You really do get what's in the photos, but it's even better in person. Well- equipped kitchen, large walk-in closet, deep tub for baths (and nice shower pressure), and great A.C, which is a must in the humid summer. Great location as well– very quiet neighborhood but only a short walk to a main road with lots of restaurants, shops etc. Can't wait to stay again!" – Katherine
View Photos, Read Reviews & Check Availability
7 Facts about Kentucky You Should Really Know
---
10) Turquoise Suite in Nulu Arts District
Location: Louisville, Kentucky
Airbnb Plus: Yes
Superhost: Yes
https://www.airbnb.com/rooms/plus/23801537
Price: $100+ USD per night
Book the Turquoise Suite in Bed and Bike and experience New Louisville. Enjoy exploring NuLu, browse the bookstores restaurants, and antique shops with the complimentary bikes available for guests that are booked in this Airbnb. Come home and end the day, cozy up on a quilted teal couch while drinking a glass of wine. The Turquoise Suite has an industrial-style interior and offers a lovely living room, kitchenette, a modern bathroom, and a bedroom. Located in Louisville, guests can never be bored with the many activities and attractions like the Louisville Mega Cavern, Muhammad Ali Center, and many more.
Guest review: "As a couple staying in Louisville for several days, this was a wonderful location to take advantage of the vibrant Nulu neighborhood. Bed & Bike was very accommodating for our needs – comfy bed, adjustable temperature & fan in the room, clean bathroom, etc. Scooters were abundant up & down market street in addition to the host's bikes which allowed us to access adjacent neighbors easily without driving. We stayed during the weekday. It's possible you may not get parking right in front of the building if you stay on the weekend (it's a popular neighborhood). Would stay again!!" – Monica
View Photos, Read Reviews & Check Availability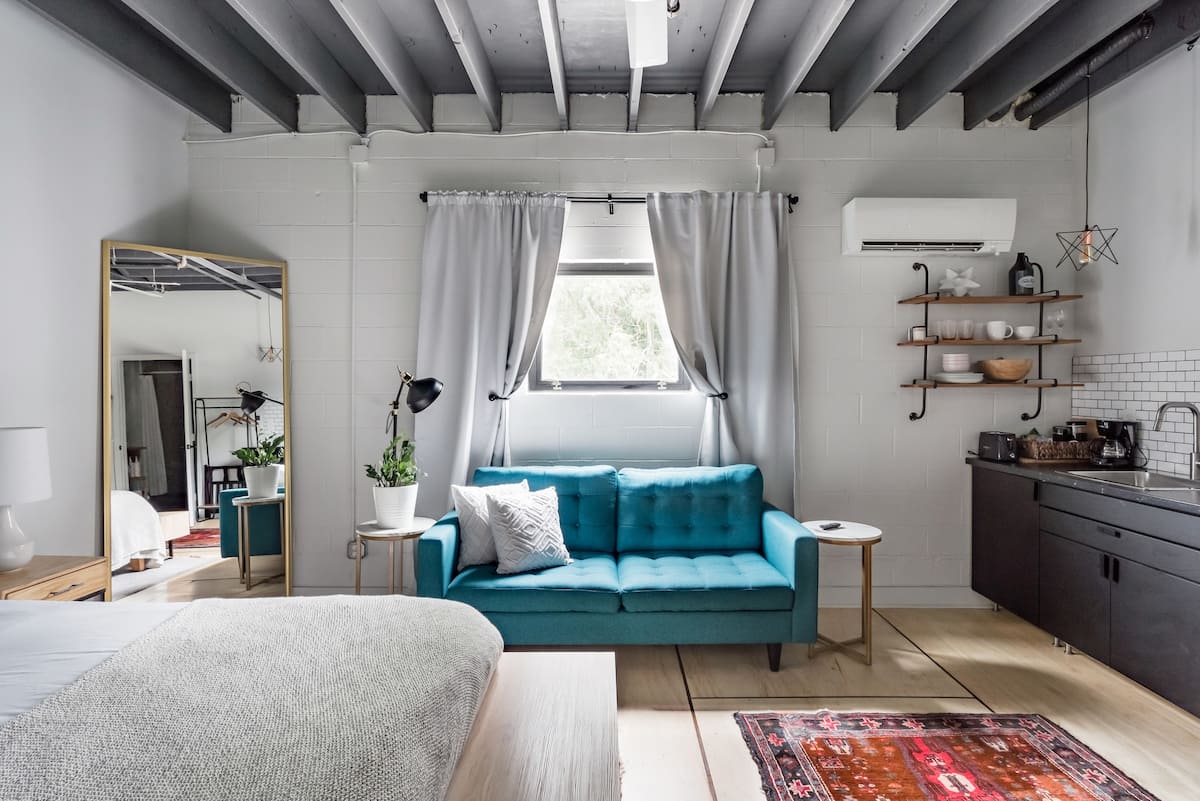 ---
11) Antebellum James C. Butler House in Downtown
Location: Lexington, Kentucky
Airbnb Plus: Yes
Superhost: Yes
https://www.airbnb.com/rooms/plus/28934809
Price: $300+ USD per night
The Antebellum James C. Butler House in Lexington is perfect for families or groups coming to have a relaxing and fun getaway. The house offers 3 cozy guest rooms with 2 private baths and a beautiful patio with outdoor seating. It also has a living room, full kitchen, laundry room, and garage. A coffee bar is set up in the kitchen for guests to give a caffeine boost to start their day. For activities, guests can Get in the saddle at the Kentucky Horse Park, Get up-close-and-personal with Union history at the Mary Todd Lincoln House, Get your wings at the Aviation Museum of Kentucky, and many more. You won't have to worry how to spend your day in Kentucky!
Guest review: "My husband and family thoroughly enjoyed our stay. The home had tons of character, plenty of space, great outdoor patio with cute seating areas, new well maintained appliances and tons of extra touches to make us comfortable like a fully stocked Keurig coffee bar with pods, hand sanitizer and wipes and even a new sealed pack of disposable face masks. I highly recommend this AirBnB!" – Ted
View Photos, Read Reviews & Check Availability
10 Best Travel Destinations in Kentucky USA
---
12) Sip Bourbon on the Custom Brick Patio at Heartpine and Soul
Location: Louisville, Kentucky
Airbnb Plus: Yes
Superhost: Yes
https://www.airbnb.com/rooms/plus/33554759
Price: $150+USD per night
Guest review: "We wanted to get away for our anniversary weekend and this place went above and beyond. It was a home away from home: from the comforting color schemes to the soft blankets and pillows. The house itself is tucked away in a cute neighborhood filled with great eats (that are all available for take out or non-contact pickup/delivery) and coffee spaces a short walk away. We couldn't have asked for a better place to stay. We will most definitely stay here again." – Mary Catherine
View Photos, Read Reviews & Check Availability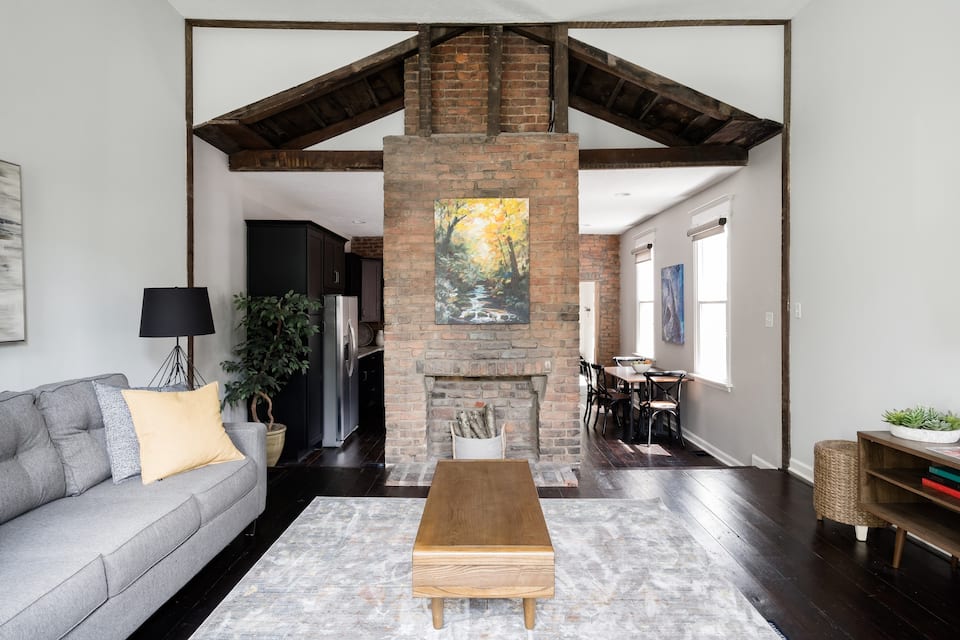 ---
13) Eclectic Loft in Historical Building close to the River
Location: Covington, Kentucky
Airbnb Plus: Yes
Superhost: Yes
https://www.airbnb.com/rooms/plus/29205057
Price: $110+ USD per night
You can escape from the hectic life in this bohemian inspired home that showcases colorful artwork, rich textures, an open-plan living room, and plants scattered throughout to add lively touches of green. This loft is a comfortable accommodation after a full day of touring the city. For a relaxing evening, you can sit by the couch near the window and drink your bourbon drink while watching the neighborhood. The loft features a living room, full kitchen, and two bedrooms with amenities like dishwasher, fireplace, and soaking tub. Located in Mutter Gottes Historic District, it is dotted with relaxed taverns, bistros, and waterfront hotels and restaurants that guests can visit.
Guest review: "We really enjoyed our stay in the eclectic loft. The location is perfect and the neighborhood is very quiet. It sits across from a beautiful church, worthy of exploring. The loft is very inviting and cozy… I loved the natural lighting, the coffee bar, the collection of art, and the super comfortable beds. This is the perfect place to unwind and relax. The parking space provided and the keyless entry was very convenient. We highly recommend this place!!" – Ashley
View Photos, Read Reviews & Check Availability
Kentucky Top 10 - Travel Guide for Louisville and Lexington
---
14) Bed and Bike with Private Patio in Historic Highlands
Location: Louisville, Kentucky
Airbnb Plus: Yes
Superhost: Yes
https://www.airbnb.com/rooms/plus/17024751
Price: $100+ USD per night
Bed and Bike offers a relaxing and "homey" getaway for guests. There are two cozy bedrooms that feature minimalist design, a living room, kitchenette, laundry area. Other luxuries available for guests include organic towels and linens, a Smart TV, and a bathroom with subway-tiled shower. For guests traveling with a car, there is a designated parking space in the premises. While guests can prepare easy meals in Bed and Bike, there are nearby restaurants and coffee shops they can go to. It is also easy to get around on the bikes that are provided.
Guest review: "We liked that it was central, but private. We could walk the block of neighborhood homes or walk to the nearby restaurants! But, being in the back, we didn't hear noise and felt safe. Our family of five with our small pup was very comfortable." – Melissa
View Photos, Read Reviews & Check Availability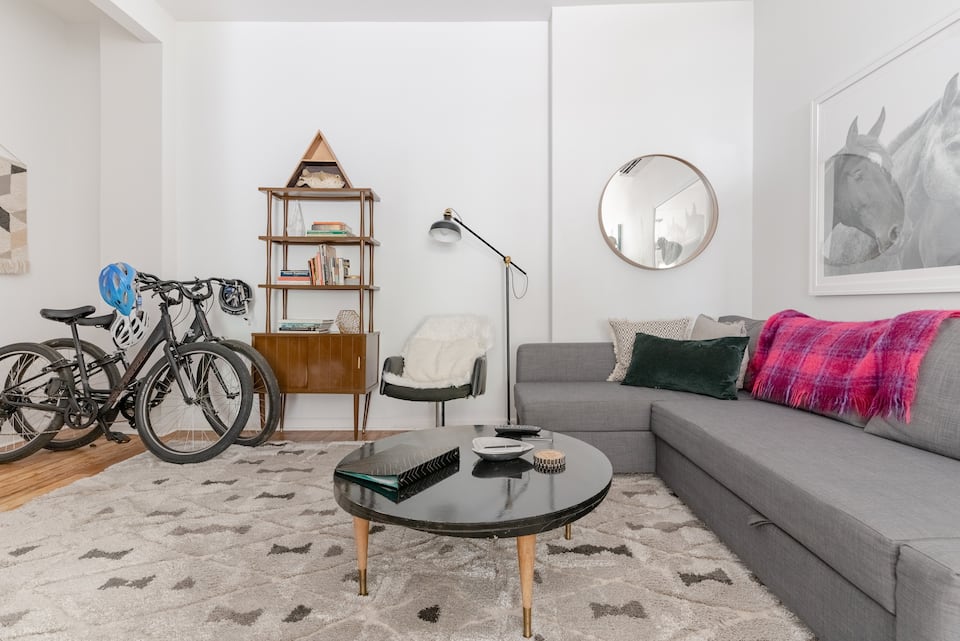 ---
15) Fully Renovated 1960s Urban Chic, Deer Park Retreat
Location: Louisville, Kentucky
Airbnb Plus: Yes
Superhost: Yes
https://www.airbnb.com/rooms/plus/17154340
Price: $200+USD per night
This urban chic retreat is and has seen history. Built in 1960, it was renovated to provide a home for guests visiting the city. This 4-bedroom home is decorated with a mix of retro and eclectic art, vaulted ceilings, and modern furniture. It features a spacious living room, kitchen with soapstone surfaces, 2 full bathrooms, and a laundry area. Guests can also dine al fresco at the old-school table on the patio. Located in Deer Park, it is steps away from the trendy stretch of eateries, craft beer taverns, fashion shops, and cocktail bars along Bardstown Road.
Guest review: "This place is a hidden gem. Super well styled and comfortable house. ( beds were super comfy !! ) Loved the outdoor space !! Great location with quick and easy Uber's to downtown. Donna was very helpful in getting us recommendations as well!" – Tara
View Photos, Read Reviews & Check Availability
12 Best Tourist Attractions in Kentucky USA
---
16) Historic Highlands Cherokee Park
Location: Louisville, Kentucky
Airbnb Plus: Yes
Superhost: Yes
https://www.airbnb.com/rooms/plus/30166341
Price: $225+ USD per night
Step back in time while staying in this restored 1900's duplex in Cherokee Park, Louisville. Guests are welcomed by the elegant chandelier and fireplace in the living room. The large vanity double mirror, the heated towel rack, and walk-in shower is such a deluxe experience. The 2 bedroom feels like a 5-star hotel with the plush pillows and high quality mattress and linens. Other amenities that add to the experience include a dishwasher, a breakfast bar, workstation.
Guest review: "We thoroughly enjoyed our stay at Deborah's gorgeous historic home. The home was spotless and had everything we needed and then some! Deborah was a wonderful communicator and offered many tips on local activities. The location of the property was excellent- so close to restaurants and shops and a beautiful park. We loved walking everywhere. When we return to Louisville we hope to stay here again!" – Julie
View Photos, Read Reviews & Check Availability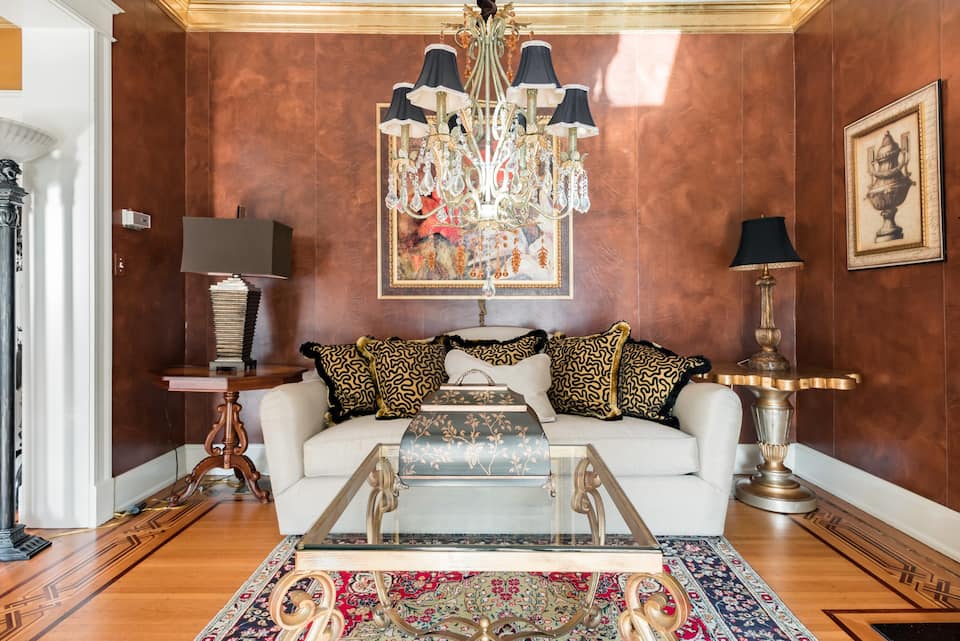 ---
17) Admire the Fresh Take on Bohemian Chic at the Cobalt Suite
Location: Louisville, Kentucky
Airbnb Plus: Yes
Superhost: Yes
https://www.airbnb.com/rooms/plus/23686760
Price: $90+ USD per night
Hop on the complimentary bikes and explore the beauty of Louisville. Explore the different restaurants, coffee shops, distilleries, book shops, and many more with the bikes available for you when you stay at the Cobalt Suite. The open-space layout of the unit gives the illusion of a bigger space. It has a minimalist design but still very stylish and furnished with excellent features to provide comfort to each guest. Cobalt Suite offers a living area, queen bed with memory foam mattress, a full bathroom; and features keyless entry, smart TV, a coffee maker, and many more. Finding a good restaurant and dining in the location is easy, so you won't really mind only having a kitchenette in the unit. This Airbnb is another favorite in Louisville, check it out!
Guest review: "Simple but full of style!! Comfortable bed and everything we needed for our stay! Location was central allowing us to utilize the supplied bikes to visit both downtown and the various neighborhoods up and down Bardstown Road!! The hosts went above and beyond to accommodate us switching units to have minimal disruption and had ample recommendations for dining!! This place is well thought out and lovely!! Perfect place for my tween daughter and I to have a quick getaway weekend one on one! We will definitely return!" – Shannon
View Photos, Read Reviews & Check Availability
Traveling the Bluegrass | Kentucky Life | KET
---
18) Sleep in a Restored 175-Year-Old-Church
Location: Louisville, Kentucky
Airbnb Plus: Yes
Superhost: Yes
https://www.airbnb.com/rooms/plus/33529992
Price: $500+ USD per night
A beautiful, charming Airbnb. The Holy Goat is a one of a kind stay in Kentucky! It is uniquely decorated and designed with elements reflecting both Louisville and Brooklyn. This antebellum church was renovated and turned into a beautiful home that features streaming light and soaring ceilings, a stunning collection of eclectic items like the hanging chair, an intriguing artwork, bold feature walls. With 3 bedrooms, this lovely house accommodates 6 guests. Each bedroom in the house has a different design; the bathrooms are clean and modern, the common space and living area have a "homey" ambiance that guests love, and the patio is perfect for hanging out. The Holy Goat is a stunning house, you definitely consider staying here!
Guest review: "I can't say enough good things about our stay. Beautiful, thoughtful, inspiring space. Very comfortable, had everything we could possibly need and more. Incredible neighborhood, we didn't even scratch the surface of fun places to go. Lovely outdoor space. The kids were in heaven and it was tough to get them to leave to go anywhere else! Spotlessly clean everywhere. The hosts were helpful and kind and welcoming. We will absolutely be back! Thank you!" – Laura
View Photos, Read Reviews & Check Availability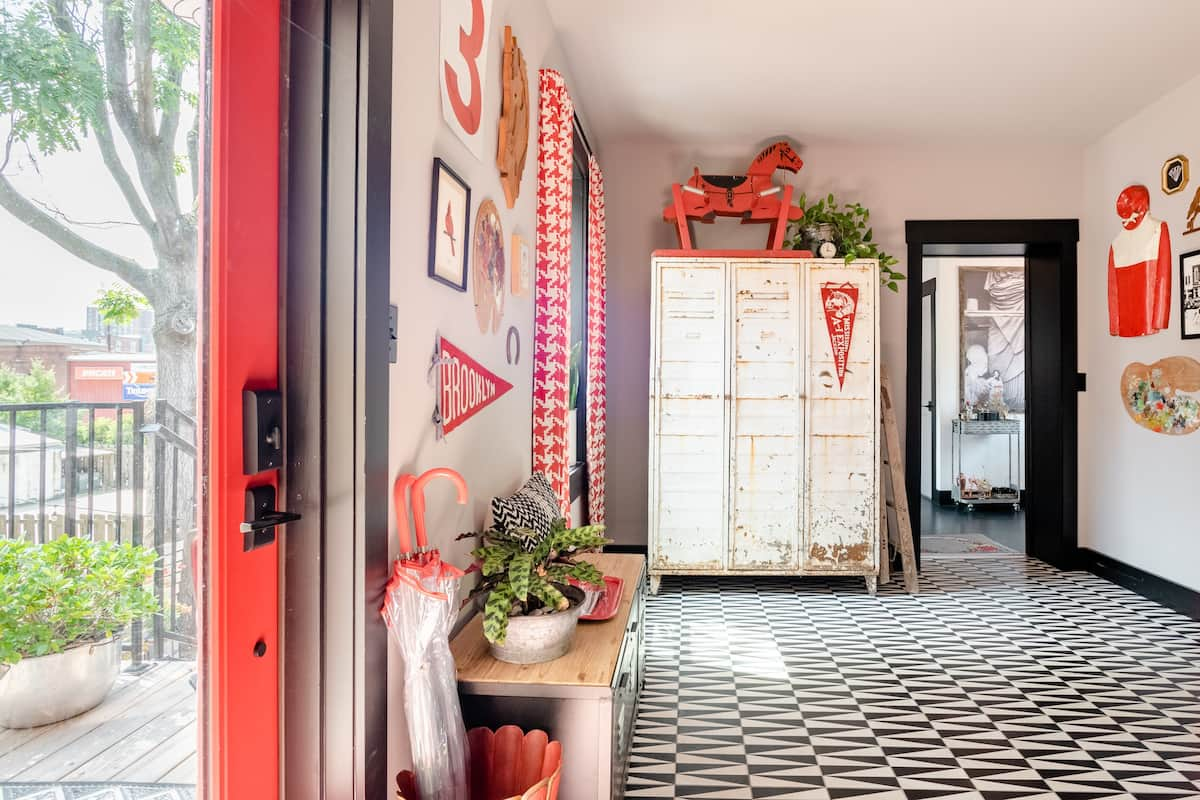 ---
KENTUCKY TOURS & DAY TRIPS TO CONSIDER BOOKING
There's so many cool things to do in Kentucky, and doing them with a local is even better. These are the best Kentucky Airbnb Experiences to book your spot on!
---
Bowling Green: National Corvette Museum Admission
Discover why Corvette is America's sports car. Relive the drama of the sinkhole that swallowed 8 iconic automobiles. Explore the museum at your own speed, drive the racing simulator, and then make a pit stop at the Corvette Cafe for refueling.
https://www.getyourguide.com/activity/bowling-green-l108572/bowling-green-national-corvette-museum-kidzone-admission-t251792
Price: $ 12+ USD per person (valid 1 day)
Guest review: "The Corvette Museum is truly a wonderful, amazing place; if one has any interest in classic sports cars, the exhibit of these cars, from the '50's to the present, really is amazing! In particular, the history and evolution of the Corvette into its present form is explained in such detail, with excellent pictures, videos and audio." – diverbud1, United States
View Photos, Read Reviews & Check Availability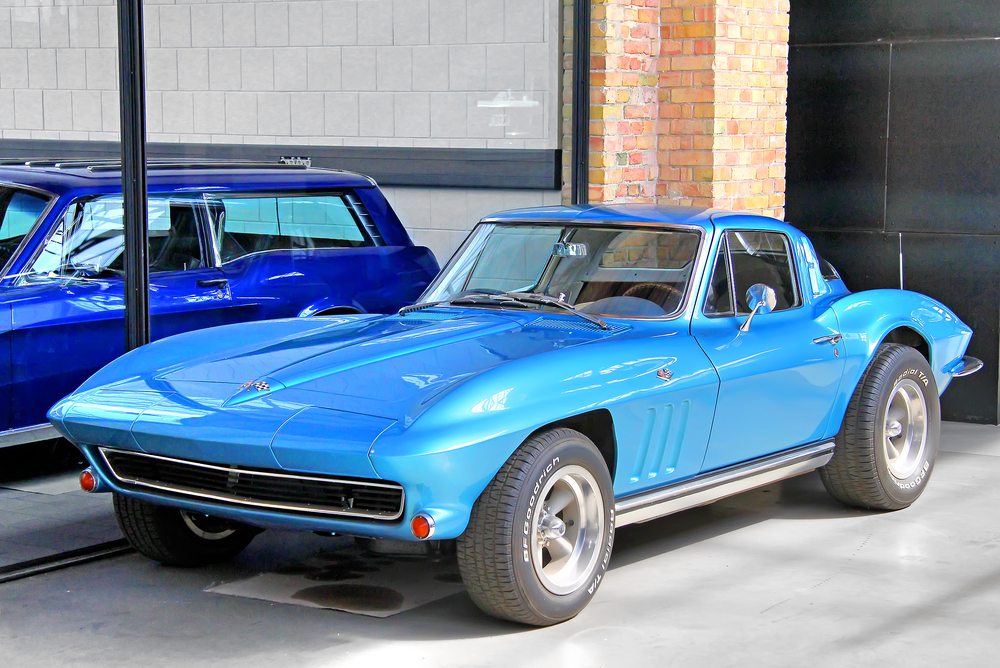 ---
From Lexington: Horse Farm Tour & Keeneland Race Track Visit
Spend an unforgettable day in Lexington's Bluegrass Country, home to some of the world's finest horse farms and race tracks. Explore the luscious Kentucky countryside, visit famous horse farms, and enjoy a tour of Keeneland Race Track.
https://www.getyourguide.com/activity/lexington-l1084/from-lexington-horse-farm-tour-keeneland-race-track-visit-t363970
Price: $ 42+ USD per person (3 hours)
Guest review: "⭐ ⭐ ⭐ ⭐⭐" – David, United States
View Photos, Read Reviews & Check Availability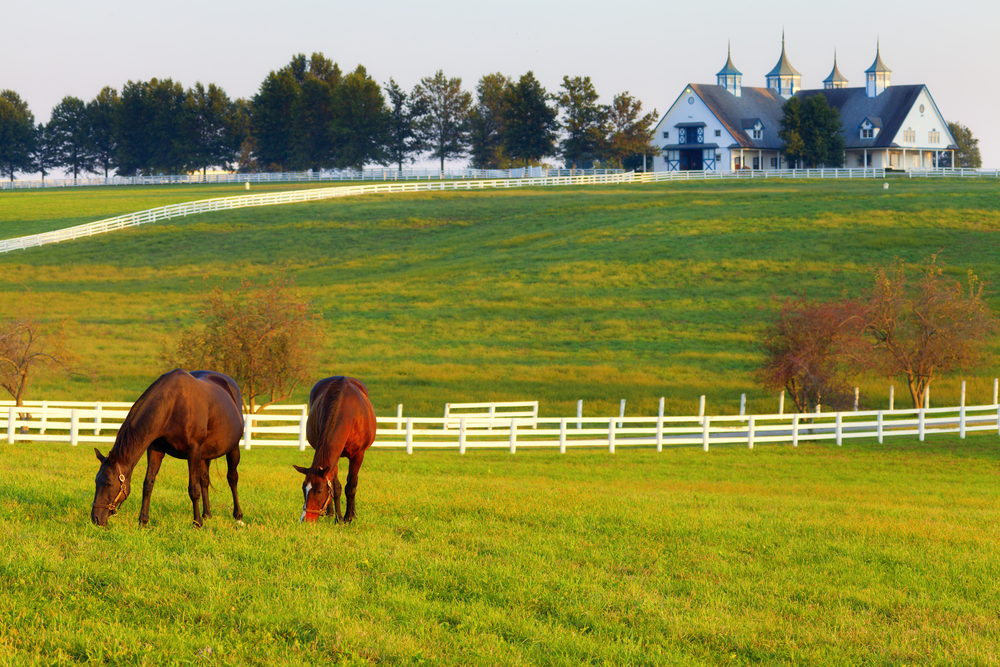 ---
Lexington: Ashland Henry Clay Estate Ticket with Guided Tour
Explore the 18-room mansion of Ashland while learning about the life and legacy of Henry Clay, one of Kentucky's most famous statesmen. Choose from several tour options which each give a deeper context to Clay's legacy and American History.
https://www.getyourguide.com/activity/lexington-l1084/lexington-ashland-henry-clay-estate-ticket-with-guided-tour-t357765
Price: $ 25+ USD per person (1 hour)
Guest review: "⭐ ⭐ ⭐ ⭐⭐" – Cheryl and Will, United States
View Photos, Read Reviews & Check Availability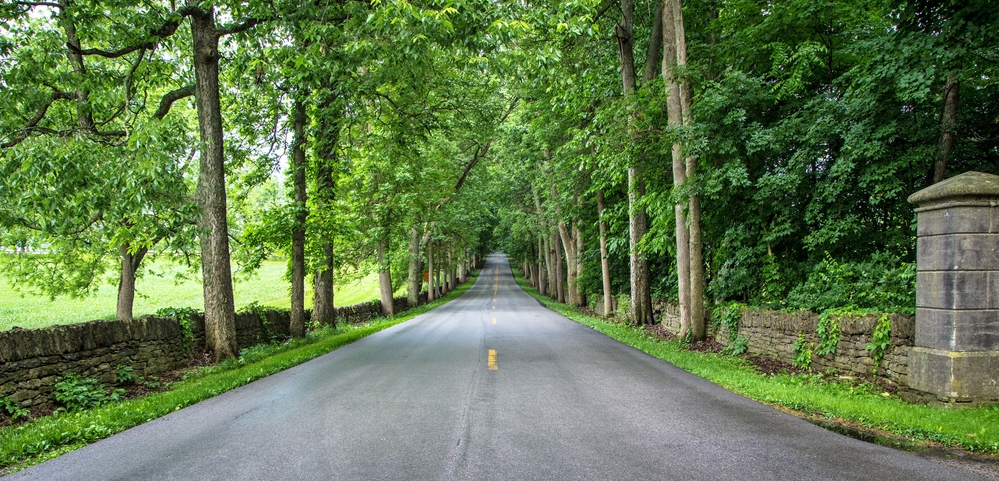 ---
Did I miss any top Airbnb Kentucky Airbnbs?
There are so many fantastic Kentucky Airbnb rentals to choose from, that I couldn't possibly include them all on my list. However, if you yourself have stayed at a five-star Kentucky Airbnb and think it deserves to be added on – reach out with the link. I'll check it out to see if it has the goods to get on the list!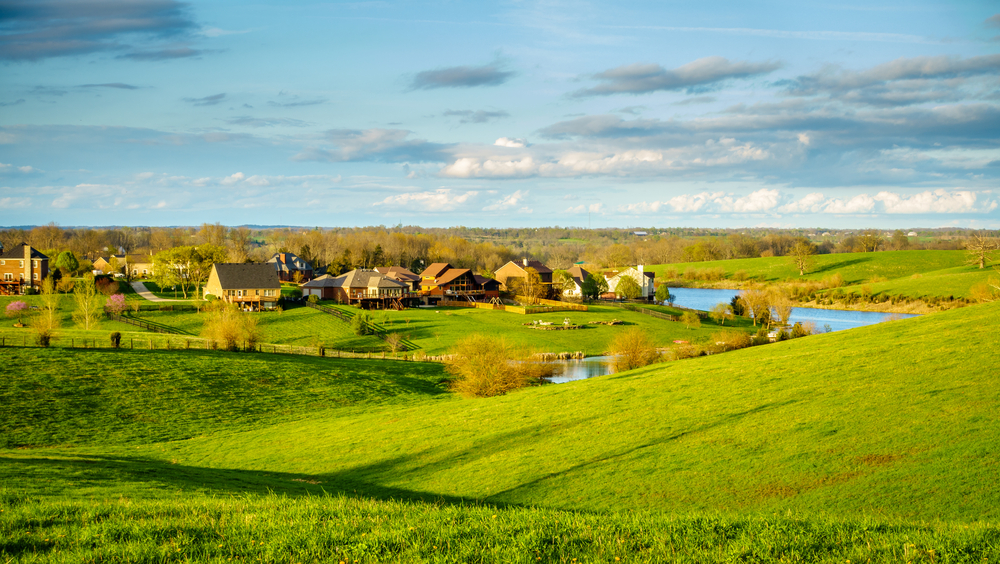 ---
Heading to the USA?
The USA is a melting pot of incredible destinations to add to your bucket list. If you're planning a big road trip, make sure to check out my USA content. Below is just a sample of some of my blogs, guides and lists.
---
Final thoughts on Airbnb Kentucky…
Kentucky Airbnb's are just like the state they call home – charming, southern and unique. Not only are the cities of Kentucky fascinating, but the countryside is a national treasure. Make sure to spend time exploring the wide open spaces of this stunning state and indulging in that iconic southern food – fried chicken included!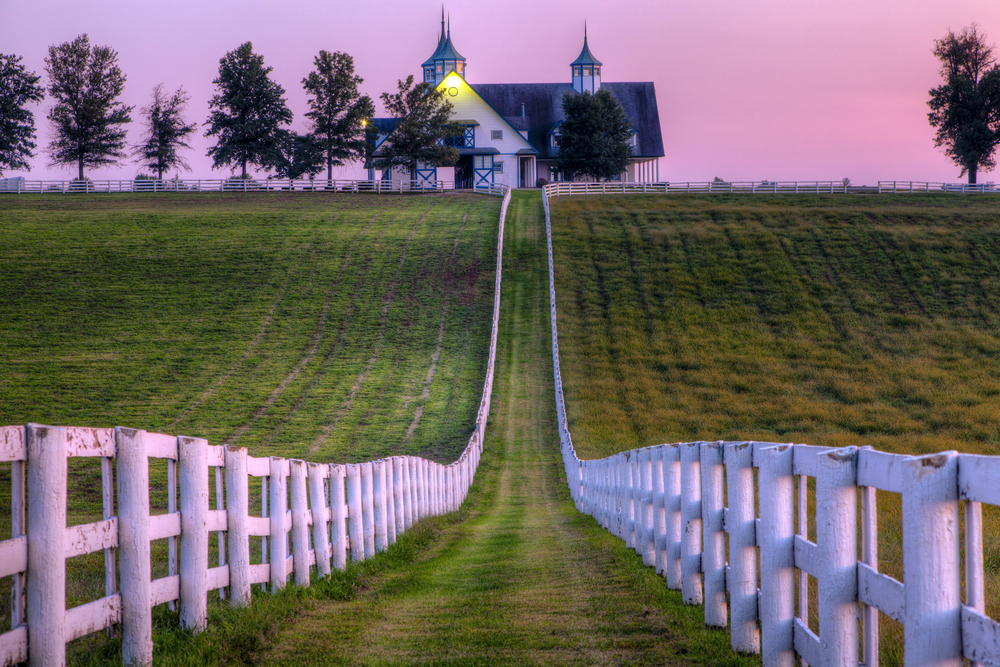 ---
Thanks for reading about the best Kentucky Airbnb highlights!
Share this with your travel crew!
https://www.jonesaroundtheworld.com/wp-content/uploads/2021/01/Kentucky-Airbnb.jpg
667
1000
Dave
https://www.jonesaroundtheworld.com/wp-content/uploads/2017/03/logotry-1-1-300x106.png
Dave
2021-02-01 18:18:36
2022-03-17 23:36:16
18 Best Kentucky Airbnb Rentals For A Southern Adventure You'll Never Forget