Are you planning a trip to the marvelous Hawaiian islands and searching for that perfect Vrbo or Airbnb Oahu rental? Excellent decision! I've put together the ultimate list of the best Oahu Airbnb rentals for an ideal Hawaiin vacation experience!
"Whether a visitor or kama'aina (resident), the beauty of the Hawaiian Islands inspires the heart and mind." — Unknown
One of the most popular islands in the U.S island chain of Hawaii, Oahu is a picturesque, culturally rich destination that welcomes nine million visitors annually.
These visitors come to swim, surf, sunbake, snorkel and hike during the day, and eat, drink, dance and get lei'd all night. Not to mention marvelling at epic landscapes and soaking up those zen vibes that are unique only to Hawaii and its people.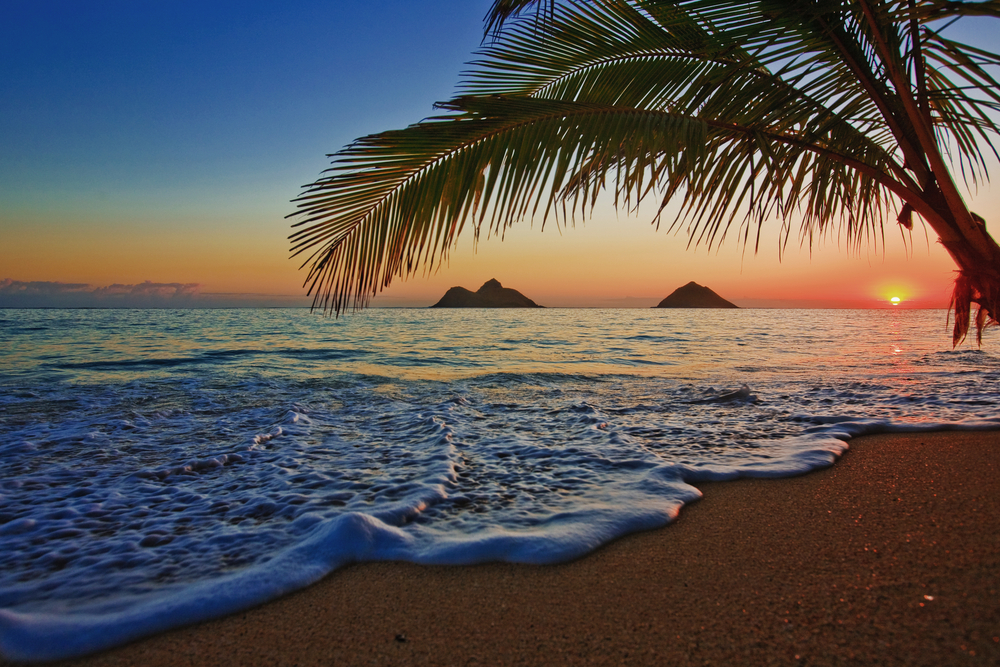 ---
Whether you're heading to Oahu to live it up in the at age capital of Honolulu, heading up to the exclusive North Shore for a bit of R&R or planning the Oahu road trip to end all road trips – stopping in at its many beautiful towns and cities from the city to the sea – you'll need somewhere to rest your head each night.
I've scoured the endless offerings on vacation rentals and AirBNB Oahu to bring to you the ultimate list of the 20 best VRBOs & AirBNBs in Oahu. From serene beach bungalows to luxurious oceanfront villas, compact city condos to opulent yacht stays, your only decision to make is where you're staying and when you're going.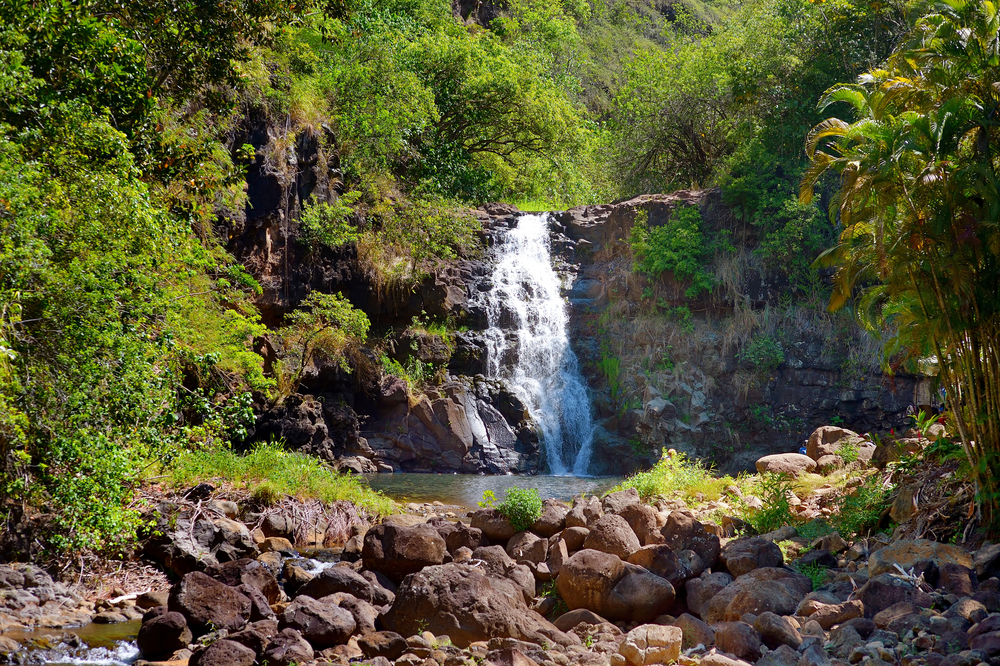 ---
Airbnb Oahu | Quick Breakdown Of The Best Oahu Airbnb & VRBO Rentals
I've done the hard yards for you, and chosen the Top 5 Oahu vacation rentals for you below to suit any travel style, budget or occasion. If you don't find what you're looking for in this quick guide, keep scrolling and I'm sure you'll find the tropical hideaway that's perfect for you!
I've included a number of YouTube videos throughout this list, all filmed on Oahu. Be sure to check these out for insider guides on what to see and experience on the Hawaiian island and don't forget to check out my other Hawaii AirBNB blog, The 22 Coolest And Best AirBNBs In Hawaii For The Ultimate Vacation Experience and 17 Fun Cultural & Music Festivals in Hawaii! These can be a great resource for if you're planning visits to other locations in the island chain.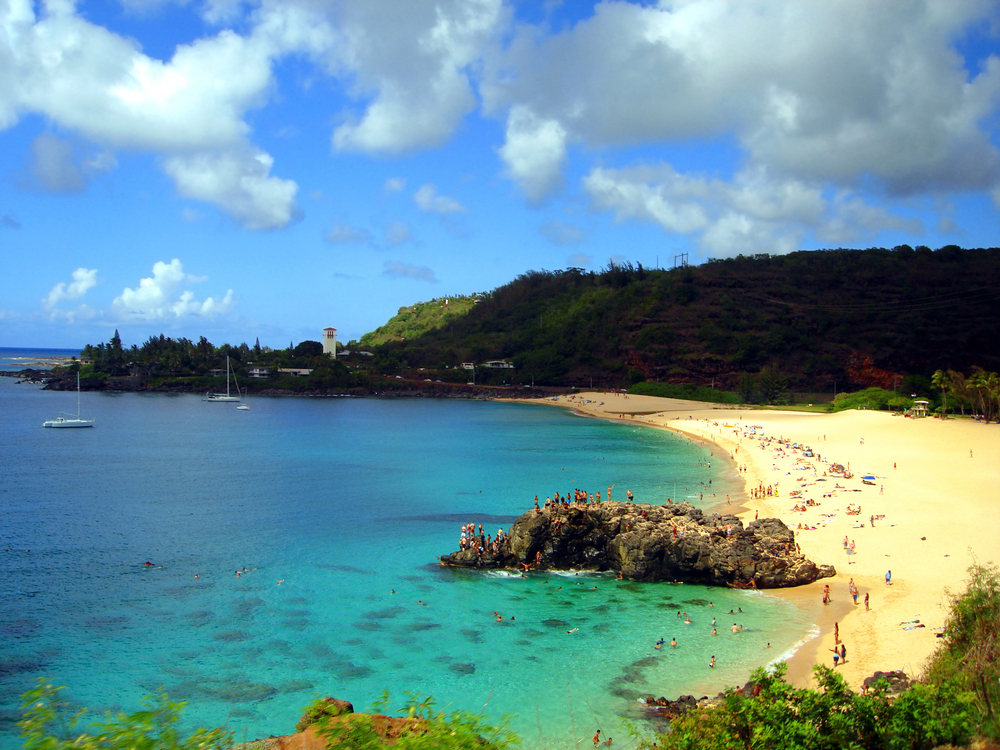 ---
1) Luxurious Ocean Front Condo with Wrap Around Lanai
The Best Overall Oahu Vacation Rental
Location: Makaha, Waianae
Price: $215 avg. per night
Sleeps: 4 (1 BR/1.5 BA)
It's not easy to pick a singular overall best Oahu vacation rental with so many awesome options, but this secluded condo sitting atop the ocean is by far the most magnificent!
The wraparound Lanai gives you an undisturbed view of the pacific ocean, as well as a beach just below your balcony that's so serene it seems private just for you and your group. The unit comes with comforts such as AC, high speed wifi, flat screen TVs, and perhaps what guests are raving about most, a well-stocked and fully equipped kitchen for all of your culinary needs.
You can watch the sunrise of the Makaha Valley Mountains and sit down and sip a cocktail while watching the sun set over Lahilahi Point. The apartment is a corner unit, and in addition to spacious and well-lit bedrooms, the common area is the perfect place to take in views of the island and enjoy your Oahu experience.
View Photos, Read Reviews & Check Availability
Guest review: "We loved this place! The view from our balcony was incredible, and it was so convenient to be located right on the beach. The condo was well-stocked with kitchen items and beach items (two things we appreciate most). The bed was comfortable, and everything felt clean and fresh. We liked that the condo is located in an area that's not very touristy, and pretty off-the-beaten-path. For some people this might feel like a negative (it does take at least 45 minutes to get to most of the well-know tourist destinations), but for us this was just what we were looking for!"
---
2) Honey Moon Suite – One Bedroom – Romantic
The Best Oahu Honeymoon Vacation Rental
Location: Kahuku
Price: $325 avg. per night
Sleeps: 2 (1 BR/1 BA)
Hawaii honeymoons are popular for a reason — it's the ideal island getaway and has plenty of properties catering to couples! This listing is my pick for top honeymoon vacation rental due to its luxurious interior, proximity to the beach, and on-site amenities.
This one-bedroom property at Turtle Bay Resort is just steps from the sand, allowing you the opportunity to wake up as well as drift off to sleep to the sounds of the crashing waves. Common areas include a pool which is private to the complex, as well as BBQ grill and chill out area to make use of. The interior of the apartment itself is sleek and stylish with hardwood floors and modern touches throughout.
You and your partner will be in paradise here!
View Photos, Read Reviews & Check Availability
Guest review: "My husband and I loved staying at the villa 120! It's just steps away from the beach and has everything you need to enjoy your vacation. It's perfect for a couple 😊 Maile was great! so friendly and helpful! We would definitely recommend this place to our friends, and would love to come back whenever we are back on Oahu."
---
3) Beachfront Luxury Home With Spacious Yard
The Best Luxury Oahu Vacation Rental
Location: Haleiwa
Price: $3500 avg. per night
Sleeps: 18 (5 BR/5.5 BA)
Ho'Onenea is a 6000 sq. ft. luxury property located on Oahu's north shore and is truly something to behold. The name itself means "to relax" in Hawaiian, and your family or large group of friends will be doing just that in this massive and marvelous vacation rental.
The location provides panoramic view of a beach undisturbed by tourist crowds or towering condos, allowing you to experience the best oceanfront views Oahu has to offer just steps away from your very own sprawling, lush, green backyard. The house itself is a modern masterpiece and the hosts provide everything you can think of for a comfortable and stylish stay.
This spacious Hawaiian home is the one for you if you're looking to splash some cash and get away from it all!
View Photos, Read Reviews & Check Availability
Guest review: "We absolutely loved this property!! It was perfect. It was extremely clean and well appointed. Every detail was thought of! This house is one of the best locations in the North Shore to stay!"
HO'ONANEA Beachfront Home on Hawaii's North Shore
---
4) A View to Die for! 3bedroom 3bath on Waikiki Beach
Location: Honolulu
Superhost: Yes
Price: $350+ USD per night
https://www.airbnb.com/rooms/22774941
Located right on the famous sands of Waikiki Beach, this luxurious three-bedroom condo is one of few that is actually located ON THE BEACH! Experiencing this world-famous beach is at your fingertips at this exclusive abode, which features breathtaking ocean, city and mountain views and two covered lanais to take it all in from.
What's more, guests receive full access to the adjacent Outrigger Reef Hotel, with its pools, hot tubs, gym, car rental, shops, tour desk and live entertainment…Can I come too?
Guest review: "AMAZING VIEW…even better in person!! Clean, quick service and response from the owner and management company, very accommodating to all our needs. We appreciate the fully equipped kitchen and the boogie boards. Conveniently located, easy short walk to Waikiki Beach Walk and all the excitement of Waikiki. I hope to be back again someday and will recommend it to friends and family!" – Ann
View Photos, Read Reviews & Check Availability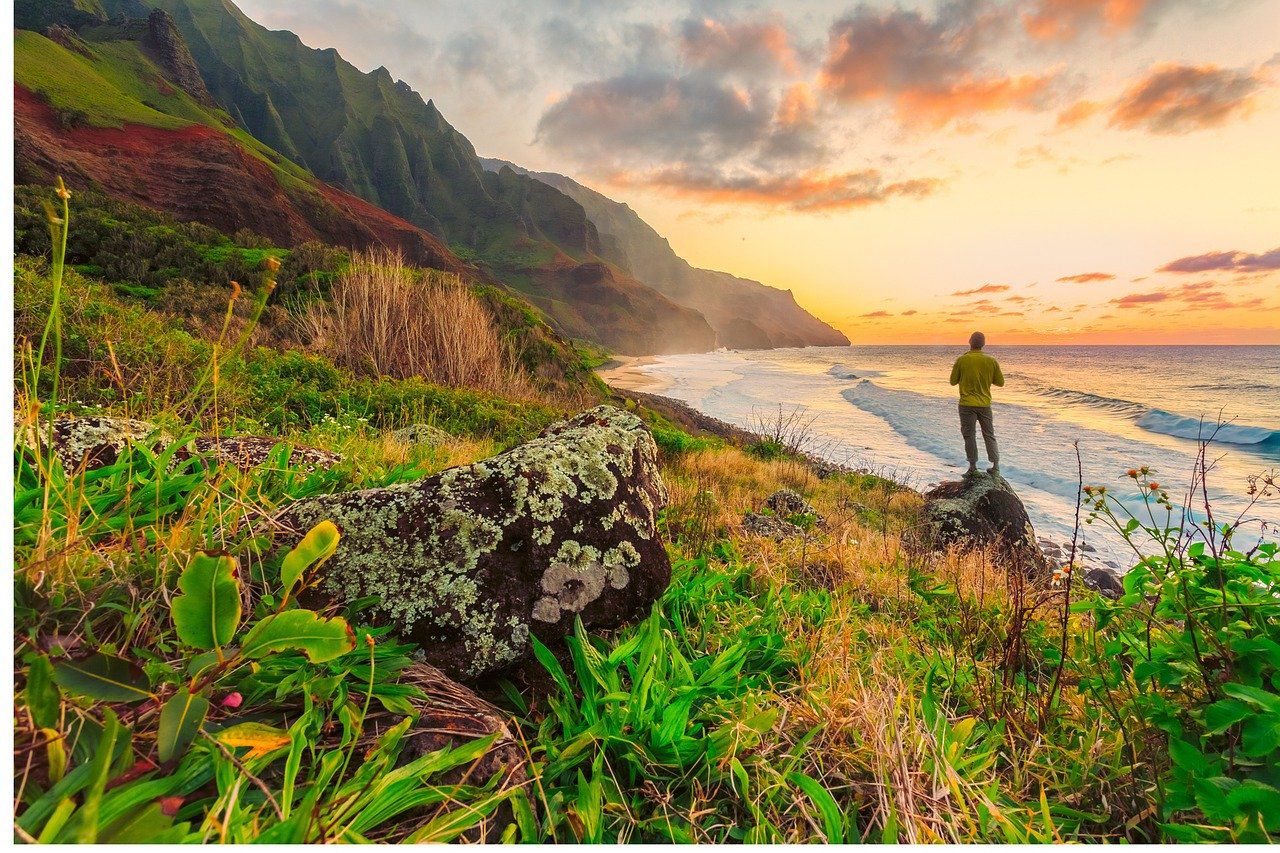 ---
5) Experience Oceanfront Paradise on O'ahu
Location: Honolulu
Superhost: Yes
Price: $2500+ USD per night
https://www.airbnb.com/rooms/29396979
Nothing will reinvigorate and generate you more than a restful stay in a luxury Oahu AirBNB, and this five star rated, five bedroom oceanfront home is the place to experience Hawaii like royalty. Ideal for a large group or family getaway, the estate features airy interiors and a generous oceanfront lawn with tiki torches and gas fire bowls for serious Hawaiian ambiance. It also has a private pool and spa, an upper veranda with gorgeous views. This resort-style home is conveniently located 10 minutes from Kahala and offers easy access to Honolulu and Waikiki.
Guest review: "We loved the house. It was clean, beautiful, comfortable and equipped with everything we needed especially those kitchen and cooking related items. We barely left the house during our 5 day vacation. Jon always responded immediately to any requests and quickly resolved any mishaps that occurred. I would definitely recommend this house and if I get a chance to come back, I would stay here again." – Siriwan
View Photos, Read Reviews & Check Availability
Top 10 Places To Visit In Oahu Hawaii
---
6) Newly Renovated Studio in Center of Waikiki
"The Best Cheap Oahu AirBNB"
Location: Honolulu
Superhost: Yes
Price: $50+ USD per night
https://www.airbnb.com/rooms/33074207
Hawaii isn't the cheapest place on Earth to visit, but that doesn't mean a visit here isn't a possibility for everyone! AirBNB has made affordable Hawaii accommodation accessible, and this budget-friendly studio apartment is the best cheap AirBNB in Oahu! The cozy Honolulu hideaway is stylish, contemporary and boasts a lanai with a great view – and an epic location. Just minutes walk to the beach and Honolulu's best bars, restaurants and shops, this Oahu apartment allows you to save that hard earned cash for more of those fruity Hawaiian cocktails!
Guest review: "I cannot recommend this space highly enough. We had 8 amazing nights in sunnys airbnb and loved every minute of it. Spotlessly clean and such a cute space. The kitchen was so useful and the nice deep bath helped after those long days of walking/hiking. Such a great location as well. Minutes to the beach and right near the main strip of Waikiki. I definitely loved the locatation and it felt away from the touristy parts like down near the lagoon. Will definitely be staying again on my next trip. Thanks for being such an amazing host Sunny." – Cassie
View Photos, Read Reviews & Check Availability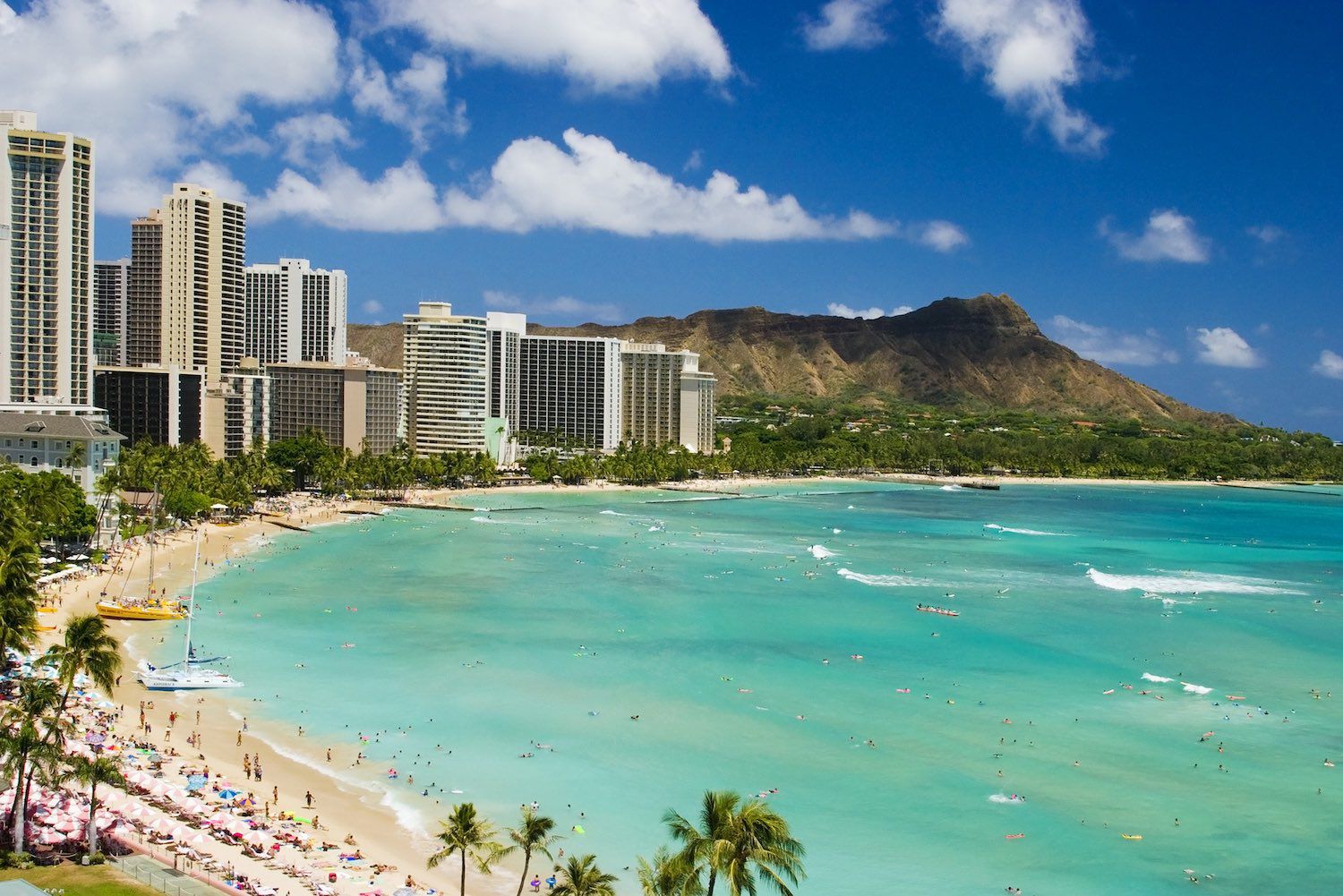 ---
7) Ho'okipa Yacht – Private Charters in Honolulu
"The Best Unique Oahu AirBNB"
Location: Honolulu
Superhost: Yes
Price: $275+ USD per night
https://www.airbnb.com/rooms/22262566
Heading to Hawaii and looking for a unique AirBNB in Oahu that you'll look back on fondly for years to come? This luxury 57" Honolulu yacht has three comfortable bedrooms cabins, air conditioning throughout, a full bathroom and your own crew to ensure your stay goes swimmingly. Swim, sunbake, sightsee and cruise around the area with professionals in the Oahu yachting community. The yacht is moored in Honolulu's Kaka'ako District, a hotspot for the islands most elite water babies. You'll make your friends back home green with envy!
Guest review: "This boat was just so luxurious, the absolute best way to stay in HI. Everything about it was beyond expectations, stunning views in the day and night with all the harbour and city lights. Felt like a millionaire with the fit out inside the boat and loved sunbaking on the front deck area. Surfing and SUP only just across the road in the beautiful aqua waters of ala moana bay, bloody brilliant!!" – Georgia
View Photos, Read Reviews & Check Availability
Hawaii Travel Guide - 13 Tips for a FANTASTIC Trip to Oahu
---
8) Luxurious Upscale Beachfront Cottage, ❤️Romantic
Location: Waialua
Superhost: Yes
Price: $400+ USD per night
https://www.airbnb.com/rooms/6748302
Oahu is one of the most popular honeymoon destinations in the world, and the stunning oceanfront locale ticks all the boxes for the most romantic getaway ever. This beautiful one bedroom cottage is one of my favorites for a romantic getaway. The newly remodeled space features luxurious interiors, an outdoor shower, freestanding tub and a private lanai. The two-acre property is just steps to a "secret beach", which is quiet and pristine. The cottage is tucked away on the North Shore of Oahu, and a car rental is a must to get around due to its remote location.
Guest review: "This is an amazing studio (thoughtfully and elegantly designed) and situated at an incredible location on the North Shore, where you can step into the ocean each morning and watch the sunsets in the late afternoon. We absolutely loved waking up with the view of the ocean each morning. There are plenty of activities and food choices in the local town of Hale'eiwa. We would highly recommend it as a beautiful place to unwind." – Patrick
View Photos, Read Reviews & Check Availability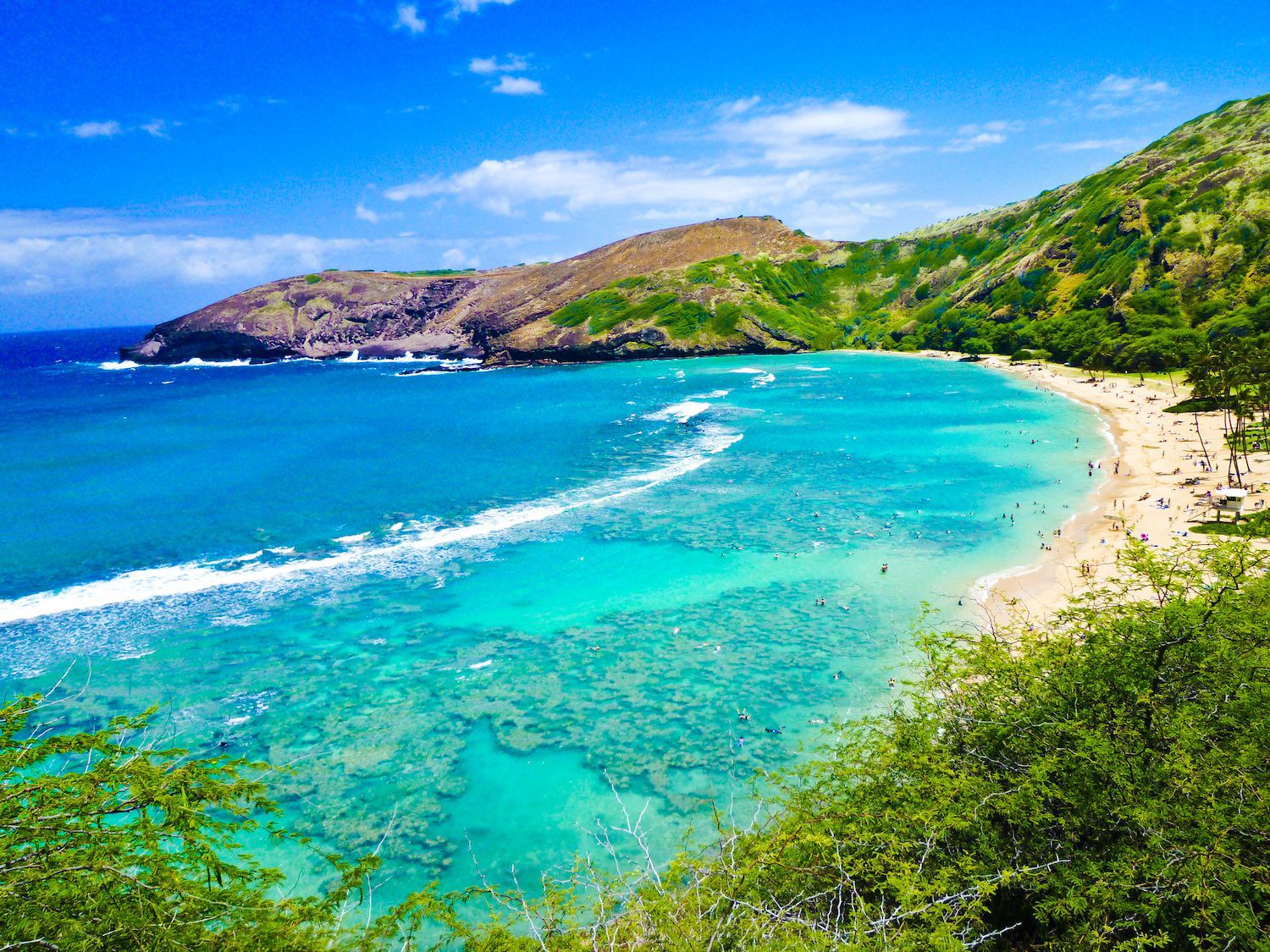 ---
9) Lanikai Ocean View Cottage
Location: Kailua
AirBNB Plus: No
Superhost: No
Price: $350+ USD per night
https://www.airbnb.com/rooms/4705987
This open and airy two-bedroom cottage has a teak-inspired tropical style that just screams "Oahu!" The oceanfront hillside AirBNB boasts incredible views and the world famous beaches of Oahu are just minutes walk away. This stylish Oahu AirBNB is located in Lanikai, one of the islands most beautiful areas in the Kailua region. If you fancy a day and night on the town, it's a breezy 30 minute drive to Honolulu's Waikiki Beach.
Guest review: "A magic little spot out of the way in Lanikai. We stayed at Noni's place on the back end of a 12 day trip to Hawaii and probably would have spent more time here and less in Honolulu if we had known how chilled it would be. The cottage is a classic 50's building which has everything you need to just dump your stuff and head to the beach. Walking distance to Kailua and Lanikai it's perfectly positioned away from the hustle and bustle a few streets back. Snuck in a few loads of last minute washing too ;) We didn't bother with cooking… We just made the most of the local eating suggestions and checked out Buzz's and Nico's at the pier (both good) and stocked up at Kalapawai Market on snacks and breakfast. A great old school coastal vibe with just enough of the shops and other stuff you need to not have to head back into the city. Well worth the stay." – Todd
View Photos, Read Reviews & Check Availability
Oahu Hawaii Travel Guide: Everything you need to know
---
10) Newly Remodeled w/CALIF KING – Laie – 30 Days
Location: Laie
Superhost: Yes
Price: $80+ USD per night
https://www.airbnb.com/rooms/36213283
This modern yet island-inspired three-bedroom apartment is a classy gem on the breathtaking island of Oahu. I beg you to check out the photos of the master bedroom bed. It's a bamboo dream I just need in my life. The ground level apartment is located in the northern Oahu area of Laie, just five minutes to the nearest beach, restaurants and shops. The laid back coastal town of Laie has world-class beaches, waterfalls and walking trails, and is an authentic taste of Hawaii. Waikiki Beach and Honolulu are around 50-60 minutes drive away.
Guest review: "Thank you Liane and family, for being such amazing hosts throughout our trip to Hawaii. Your home was way beyond our expectations. I would 10/10 recommend your airbnb home to anyone planning a trip to Hawaii. It checked all the boxes, it was clean, cool and cosy. It was home away from home. Thank you again for your amazing hospitality." – Mamele
View Photos, Read Reviews & Check Availability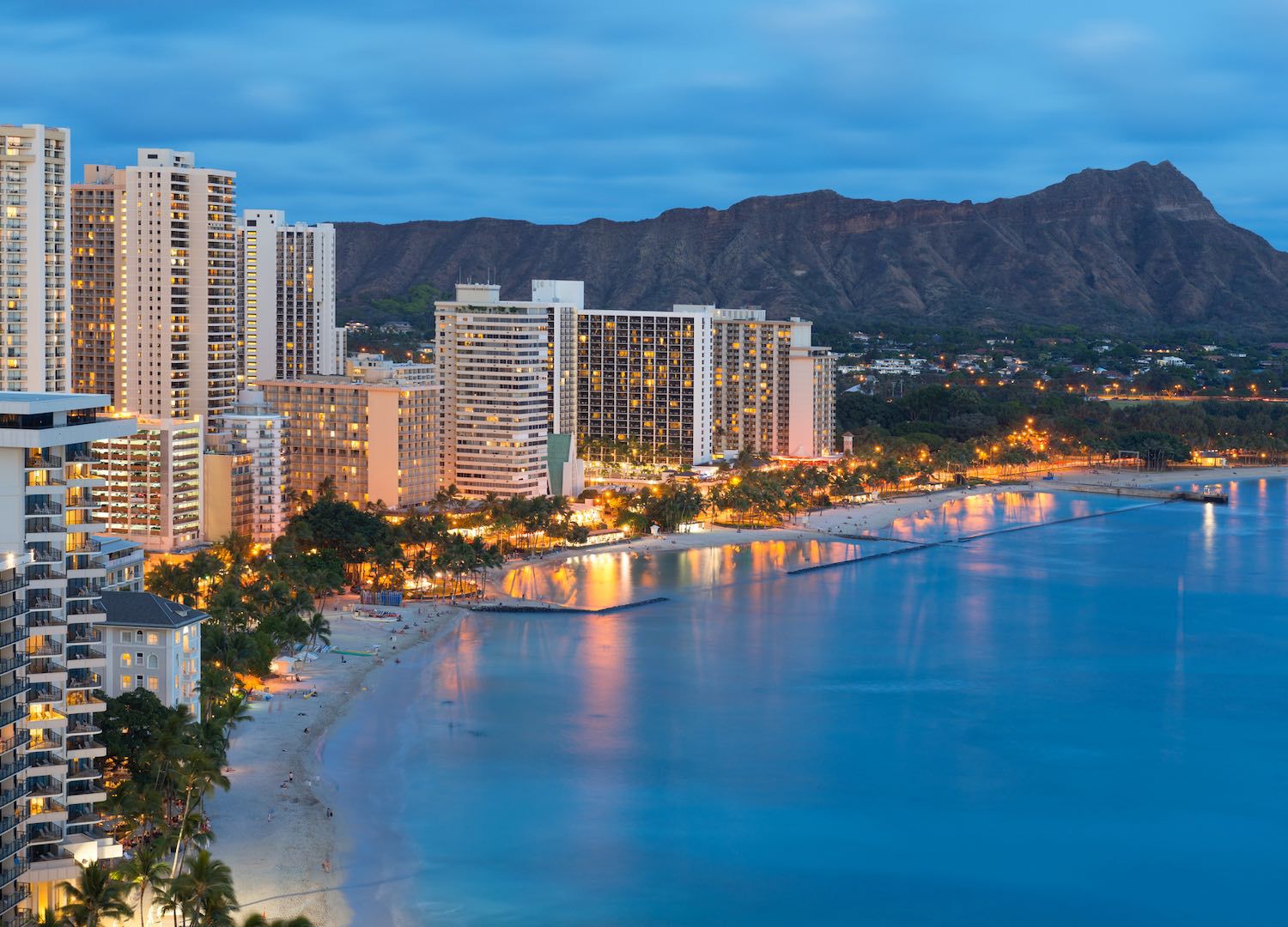 ---
11) Beautiful Boutique Beachside Cabin
Location: Waianae
Superhost: Yes
Price: $175+ USD per night
https://www.airbnb.com/rooms/23635605
Nestled on a half acre lot, this one bedroom Oahu beach house has so much to offer guests. Fresh, earthy interiors, a private deck, fruit trees, outdoor seating, and a communal garden patio with fire pit and BBQ. The ocean is just steps away and the surrounding mountains ranges promise an incredible backdrop for happy holiday snaps. Waianae is a thriving habitat for Oahu's marine life, including dolphins and turtles, so be sure to keep your eyes peeled! Waikiki Beach is a 45 minute drive away.
Guest review: "Great host. Lovely space in a genuinely hawaiian part of Oahu. Great access to the beach and walks although quite a distance from other island attractions. Excellent small house with a good layout and lovely garden. Very relaxing atmosphere." – Tim
View Photos, Read Reviews & Check Availability
Travel OAHU HAWAII On A BUDGET
---
12) Valhalla Paradise Coffee Farm Retreat Studio
Location: Haleiwa
Superhost: Yes
Price: $100+ USD per night
https://www.airbnb.com/rooms/19471491
With thoughtful hosts and offering serious value for money at an affordable price, this private studio apartment is tucked away on a startup coffee farm – and you're welcome to plant your very own coffee tree to leave a part of yourself on this tranquil island to grow and thrive! The semi-rural valley location of Haleiwa has top golf courses and is just a short drive from the iconic surfing town of Haleiwa. A car rental is a must in this remote pocket of the island.
Guest review: "Stayed at this lovely place for our honeymoon and on arrival there was a bottle of wine provided as congratulations. Mark & Christine are super friendly and offer great local tips. Awesome spot to access all that the north shore has to offer. Not far from a foodland. Would recommend hiring a car. Really is a slice of paradise." – Joel
View Photos, Read Reviews & Check Availability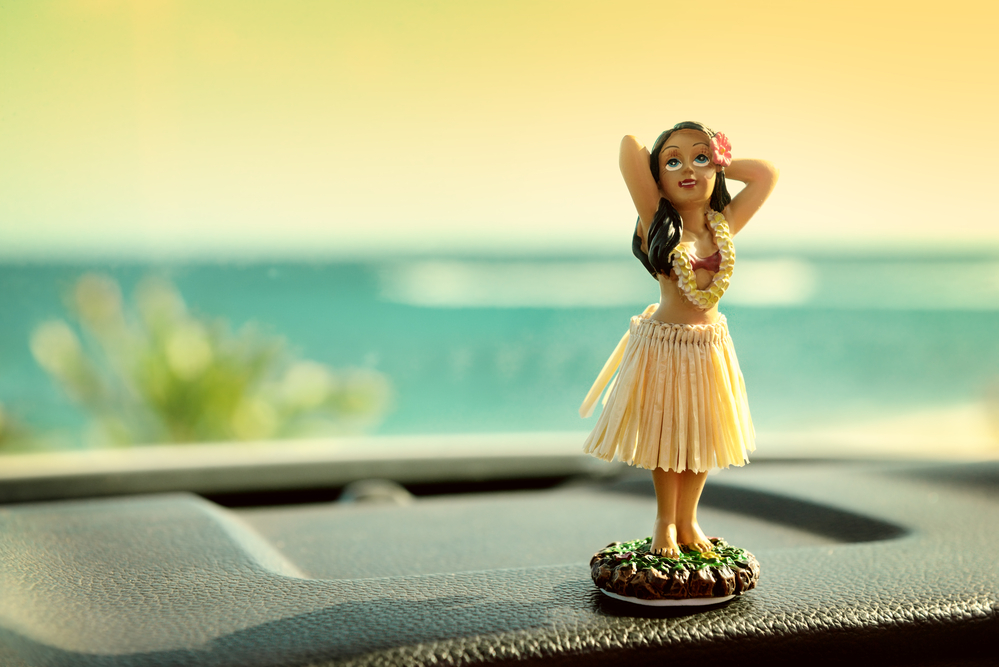 ---
13) Plantation-Style Beauty in Country Setting
Location: Wahiawa
Superhost: Yes
Price: $225+ USD per night
https://www.airbnb.com/rooms/31481251
If staying in a beautiful plantation style home on Oahu is on your bucket list, don't miss this one! The spacious and breezy two bedroom abode is located within a quiet neighborhood in Wahiawa, home to a large protected forest. Guests will enjoy access to an outdoor area with grill and seating, a shared hot tub and a covered patio. Honolulu and the sands of Waikiki Beach are just 30 minutes away. Wahiawa is bordered by Oahu's famous volcanoes and is a pineapple farming hotspot of the island.
Guest review: "Absolutely LOVED staying here and would love to come back. This house has EVERYTHING you need and exceeded our expectations by far. It was a quiet and cosy area too." – Paris
View Photos, Read Reviews & Check Availability
Where YOU MUST EAT in Hawaii (10 incredibly delicious spots) - Hawaiian Food Tour Oahu
---
14) A Marriott's Ko Olina Beach Club Studio
Location: Kapolei
Superhost: Yes
Price: $175+ USD per night
https://www.airbnb.com/rooms/17325597
The Oahu city of Kapolei is often referred to as the island's second city (behind Honolulu), and this modern studio is located within the Marriott on stunning Ko Olina Beach. The complex features pools, a kids waterslide, a golf course and onsite restaurants and shops. The studio offers mountain views, and is a short walk from other off-site Kapolei landmarks and features. To Honolulu it's a 30 minute drive. If you love this location, but are looking for a larger suite or villa in the resort, contact the host directly to see what's available.
Guest review: "Amazing place. We did not want to leave at the end of the stay. We are now planning annual visits to Ko Olina. I can't thank Michelle enough for organising fantastic rooms and being responsive to all our concerns. The resort has great facilities for all. Several restaurants, multiple pools, fantastic beaches, spa and activities are held every day." – Kavita
View Photos, Read Reviews & Check Availability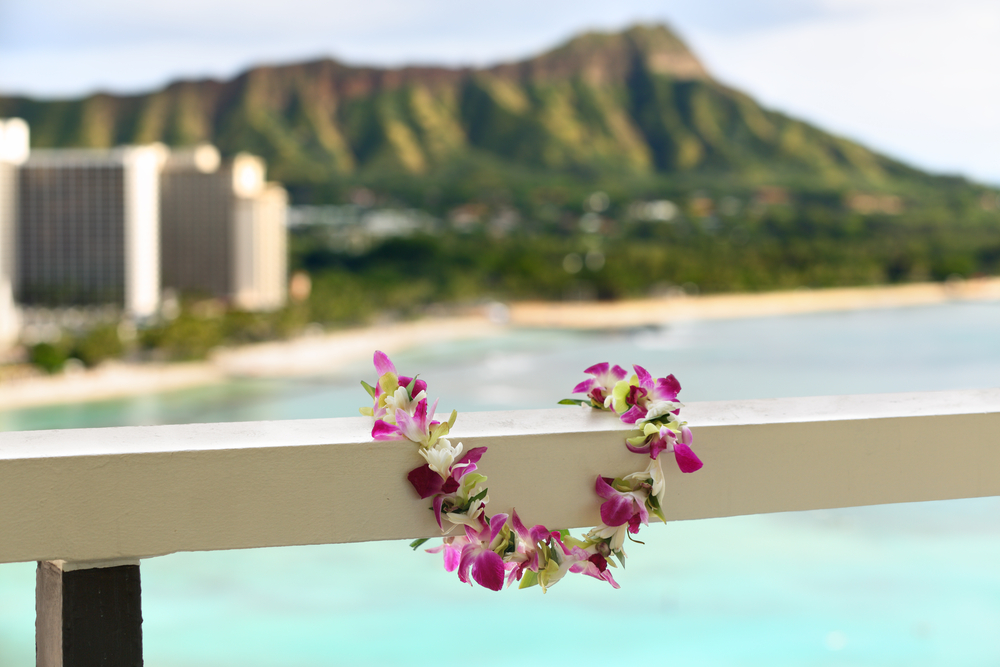 ---
15) Islander's OCEAN VIEW-Legal Unit 2 blocks to beach
Location: Honolulu
Superhost: Yes
Price: $100+ USD per night
https://www.airbnb.com/rooms/37667703
Stay right in the heart of vibrant Waikiki Beach at this colorful and fun studio Honolulu apartment. The sunny space has been recently renovated and is steps from everything this famous island city offers. Restaurants, bars, clubs and an endless range of outdoor activities await you with a stay at this budget-friendly Oahu pad.
Guest review: "Amazing host! Loved my stay here, everything was so close by and loved that all the beach necessities you need are provided. I will definitely be booking again, Mahalo!" – Tina
View Photos, Read Reviews & Check Availability
Exploring OAHU, HAWAII in 72 HOURS! A NEW Travel Itinerary Challenge Series
---
16) **Your North Shore Ohana Awaits**
Location: Kuilima East
Superhost: Yes
Price: $200+ USD per night
https://www.airbnb.com/rooms/6796322
Located in the exclusive private community of Turtle Bay in north shore Kuilima, this modern and stylish one bedroom condo promises a stay you'll rave about. A tropical, tranquil beach is just steps away, as is a leading Oahu golf course. This secure community boasts pristine swimming pools, excellent restaurants and luxe golf courses and tennis courts. This region is an outdoor activities wonderland, with hiking, surfing and snorkeling opportunities aplenty.
Guest review: "Really feels like a home away from home. Spacious, updated interior and everything you need for a holiday stay. This place was perfect for our family. Some highlights for us where that: – The car park is right at the front – Beach is a short 10 min walk – There is a pool in the vicinity via swipe access – Food and supplies are a 15 min drive away Would definitely stay here again." – Johnny Hai
View Photos, Read Reviews & Check Availability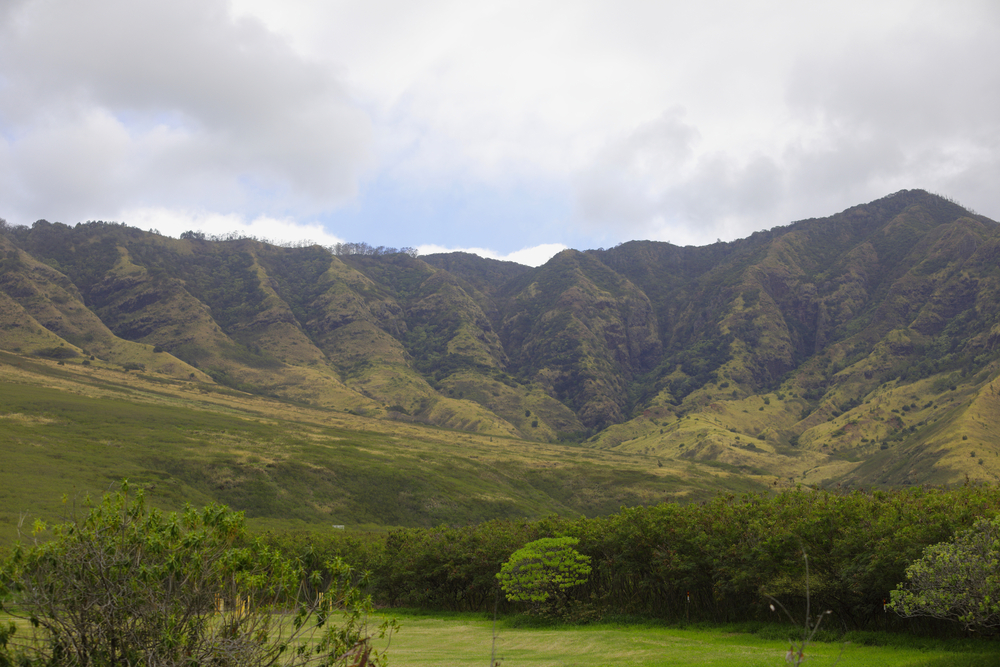 ---
17) Secluded Kailua Beach Bungalow with Private Garden
Location: Kailua
Superhost: Yes
Price: $200+ USD per night
https://www.airbnb.com/rooms/307004
Located in the Hawaiian water sports hub of Kailua, this highly-rated beach bungalow is located just 100 steps from the white sand beaches of Kailua. It has its own parking spot, private garden with BBQ and is fully air conditioned. With a breezy 30 minute commute to the capital of Honolulu, Kailua is a popular Oahu town with surfing, swimming, kayaking, hiking, snorkelling and amazing sightseeing on tap.
Guest review: "It is difficult not to overload a review of Cheri's place with superlatives. The location is outstanding as you walk out of the back gate straight into Kailua beach park. It's also only 30 minutes from Honolulu. The accommodation is great with everything you could possibly need. The garden is simply superb. Cheri and Scott are brilliant hosts who achieve a perfect balance between warm hospitality and respect for privacy. They also gave us lots of local tips on bars, restaurants, things to do and places to go." – Alistair
View Photos, Read Reviews & Check Availability
Exploring HONOLULU, HAWAII: Walking to Waikiki Beach
---
18) Sunset Beach Pool Oasis: 2 BR/2B w/Split AC
Location: Haleiwa
Superhost: Yes
Price: $275+ USD per night
https://www.airbnb.com/rooms/30010128
This lush tropical oasis is difficult to beat. The newly renovated two-bedroom home in Haleiwa is just two minutes' walk to pristine untouched Oahu beaches, but that's if you can drag yourself away from this luxurious AirBNB. The home features a heated saltwater pool, air conditioning throughout and a sprawling outdoor lanai to enjoy balmy evenings from. Guests at this tranquil retreat will also enjoy handy inclusions like beach gear, an outdoor shower and two bikes to explore the local area. This Oahu AirBNB is 60-90 minutes from Honolulu Airport, and nestled in a quiet beachside community. Oh – and it has an overall five star rating from many thrilled guests!
Guest review: "We had a great stay at James' place. A lovely beach-style apartment well located on the north shore. The pool was a treat after a long day out – as was the deck area (for catching afternoon breezes). A/C throughout was also welcome. A few minutes walk from gorgeous, secluded Velzyland Beach. James was a great host and gave us some excellent tips for dining and sightseeing." – Michael
View Photos, Read Reviews & Check Availability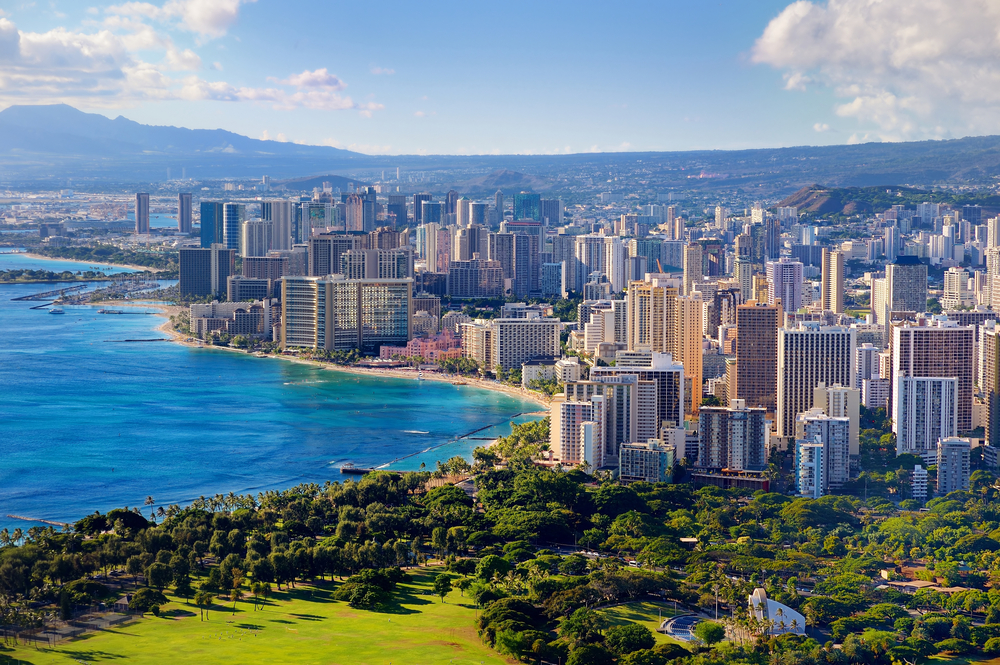 ---
19) Modern/Surf Condo in IDEAL LOCATION *Legal Airbnb*
Location: Honolulu
Superhost: Yes
Price: $130+ USD per night
https://www.airbnb.com/rooms/23079048
Oahu's capital Honolulu welcomes 9 million visitors per year, and if you're the next to touch down in this island city, this renovated condo is a great place to stay. The immaculately presented, modern one bedroom abode has top of the line features and an unbeatable location three minutes from Waikiki Beach.
Guest review: "Take's place is amazing – stylish, clean and the location is perfect. We were only a few minutes away from the beach. Lots of dining options on the same street. Take was also a great host – friendly, responsive and accommodating. We wouldn't hesitate to stay here again." – Rosie & Dan
View Photos, Read Reviews & Check Availability
DIAMOND HEAD VOLCANO CRATER, OAHU HAWAII, 4K DRONE
---
20) Amazing Home~Steps to Beach~Hot Tub~Private Garden
Location: Waimanalo
Superhost: Yes
Price: $800+ USD per night
https://www.airbnb.com/rooms/15673769
This luxury Oahu AirBNB will be the icing on the cake of the trip of a lifetime. The sprawling oceanfront home has five bedrooms, three bathrooms, a plethora of living areas, a large deck. hot tub, private waterfall and a tropical garden – and it's all yours! The pristine beaches of Waimanalo are right across the street, which have been the location for some of the most famous shots of Hawaii seen on the silver screen. Sea Life Park is five minutes by car, stunning Kailua and Lanikai are 10 minutes and Honolulu is 20 minutes. A five star stay in a five star location.
Guest review: "Are you looking for a trip in a tropical paradise? Do you need some piece and quiet? Well you found the right place, this home was gorgeous and just as advertised. The host was very responsive and provided us with a lot of tips for places to eat and snorkel. The hot tub was amazing and fully functional, the beach itself is a short 3-5 minutes walk. I will definitely recommend this property to friends and family!" – Carlos
View Photos, Read Reviews & Check Availability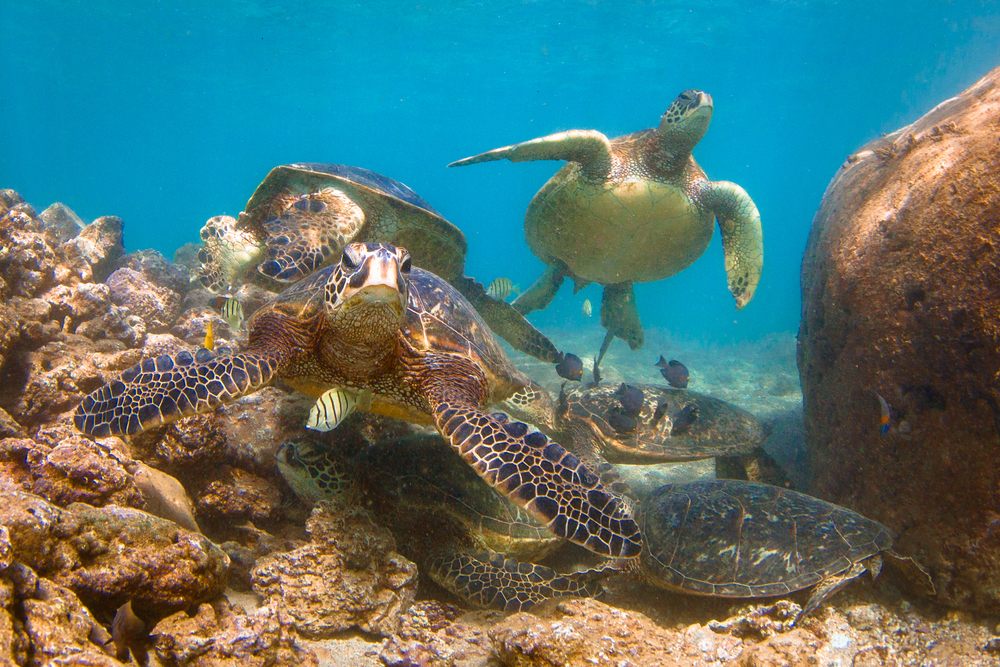 ---
Oahu Tours & Experiences To Check Out
Oahu is not only a world class holiday destination for fun in the sun, but it's also an important historical site in both American and world history. Pay your respects at Pearl Harbor, swim with dolphins in the Pacific Ocean or join a day tour of the island of Oahu with these bestselling Oahu tours and experiences. Book via my links and secure your place today.
---
⭐️ PHOTOSHOOT WITH JURASSIC VIEW – OAHU
Airbnb top-rated *Most popular photography experience in Oahu*
Want to leave Oahu with some AMAZING photos? Well then don't hesitate and book a photography session with local photography expert Mikey. With over 76 happy guests leaving perfect 5-Star reviews, he really does go above and beyond to make sure you not only have an amazing time and visit cool places, but leave the island with some dreamy Instagram worthy photos!
https://www.airbnb.com/experiences/667438
Price: $120
Review: "I came to Honolulu to celebrate my 30th birthday. I am leaving with BEAUTIFUL family photos with my aunt and mother. It was raining at our scheduled time. Mikey was so patient. We grabbed lunch at a local fish market as we waited for the rain to clear up. Boy was I happy when the sun came out! The rain made our pictures even more beautiful once it cleared up. Truly grateful for Mikey and this experience. Book this experience. You won't be disappointed.
View Photos, Read Reviews & Check Availability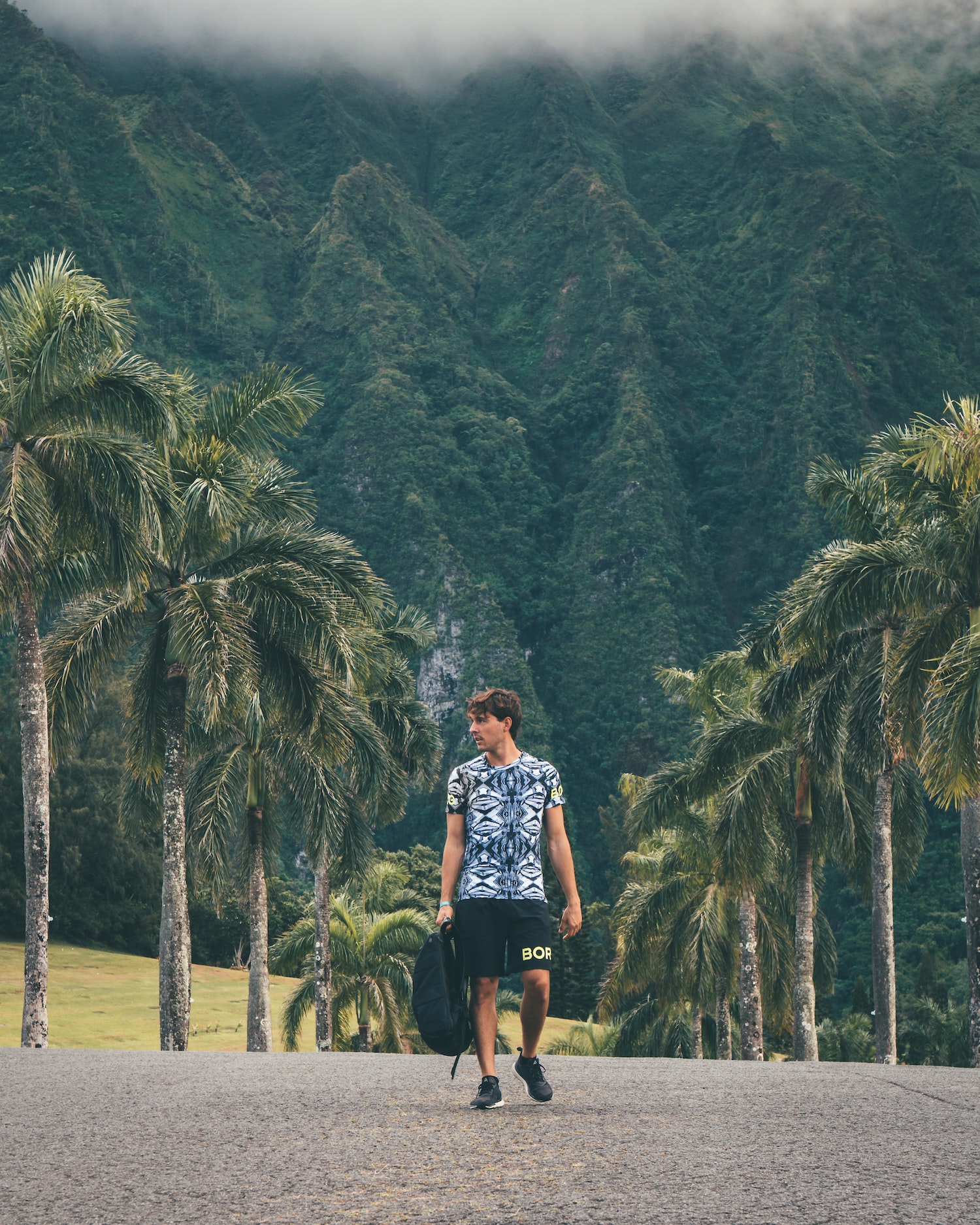 ---
Oahu 120-Mile Full-Day Tour Including Dole Plantation
"See the many offerings of Oahu, from Hanauma Bay to the North Shore, on this 120-mile trip around the island. The tour includes a visit to Kualoa Ranch and Dole Pineapple Plantation, as well as amazing views at every bend in the road."
https://www.getyourguide.com/oahu-l4966/oahu-120-mile-full-day-tour-including-dole-plantation-t6923/
Price: From $177 USD (10 hours)
Review: "It was a great tour with Garfield. He is well informed on the history of the island and also of his ancestors who took the amazing voyage across the ocean to settle in Hawaii. His depth of knowledge is amazing and he told us many stories along the journey around the island." – Anonymous, United States
View Photos, Read Reviews & Check Availability
FLYING OVER OAHU [4K] Hawaii Ambient Aerial Film + Music for Stress Relief - Honolulu to North Shore
---
Pearl Harbor & USS Arizona Memorial Tour with Pick-Up
"Skip the long lines to the Pearl Harbor attraction on a small group tour from Waikiki. Learn more about the events that led to the US joining World War II at the USS Arizona Memorial."
https://www.getyourguide.com/oahu-l4966/delxue-pearl-harbor-uss-arizona-memorial-group-tour-t73694/
Price: From $83 USD (5 hours)
Review: "The comfortable and clean coach picked us up right in front of our hotel. The driver was personable and knowledgeable. He organized us for our self guided tour of Pearl Harbor and gave us tickets to USslS Arizona. On the way back we had an interesting city tour. An excellent day!" – Stephen, Canada
View Photos, Read Reviews & Check Availability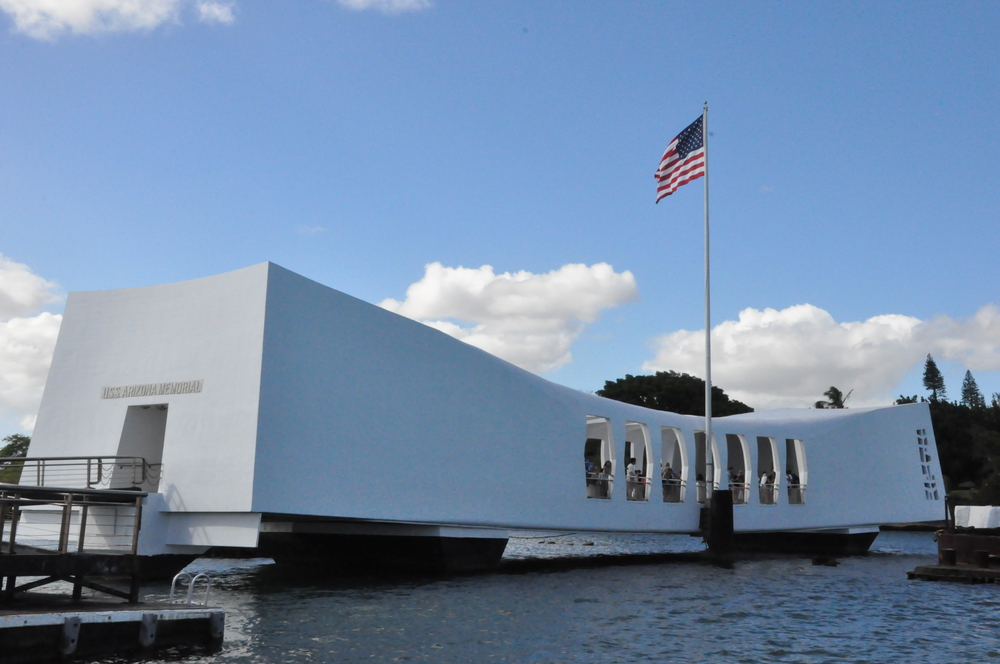 ---
Oahu: 3-Hour Dolphin Watching & Snorkel Excursion in Waianae
"Look for dolphins and whales on a snorkel excursion at 2 of the best snorkel sites in Oahu. See spinner dolphins and look for whales breaching from the comfort of a state-of-the-art cruise vessel."
https://www.getyourguide.com/oahu-l4966/dolphin-snorkel-excursions-hawaii-t28824/
Price: From $230 USD (3 hours)
Review: "This excursion was incredible! We saw so many sea turtles, dolphins and whales. We got to get in the water and swim with the dolphins, a huge pod swam directly under us. We also watched the humpback whales for a long time. We went at the end of March. It was an incredible experience! Also, the crew were very friendly and informative." – Britney, United States
View Photos, Read Reviews & Check Availability
Things to do in Oahu - Swimming with Wild Dolphins
---
Did I leave out any epic Airbnb Oahu Rentals?
I do my best to showcase only the best quality AirBNB offerings to my readers, and Oahu is no exception. Have you stayed at a top notch Oahu AirBNB or do you manage an AirBNB in Oahu that you believe has the goods to make it on my list? Shout out via my email or social media channels, and I'll see what I can do to get you on my list.
Airbnb Oahu Coupon Code
Did you know when you register for a new Airbnb account you will save $40+ Off Your First Night! It's a great way to save a bit of cash before your Hawaiin vacation (especially since it's notoriously famous for being expensive).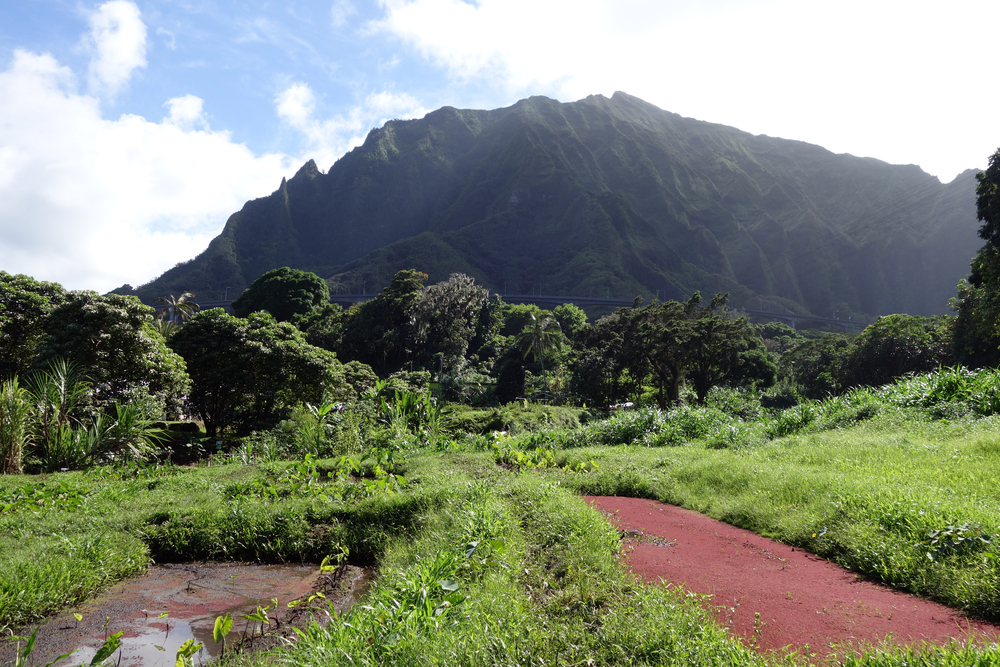 ---
Planning a trip to Oahu, Hawaii or yearning for an island getaway?
You're in for a treat! While you're planning your vacation to the 50th state of the U.S.A, check out my other Hawaii guides, blogs and lists. If you're in the mood for planning even more relaxing island getaways for the future, I've also included below a range of tropical island blogs to get you in the mood to pina coladas and sunshine…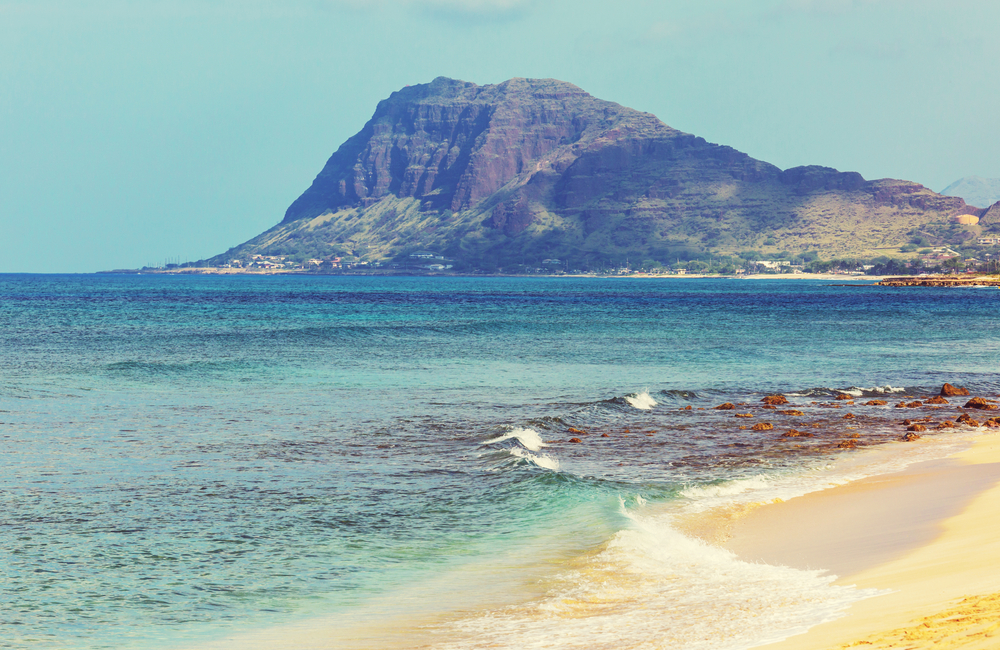 ---
Final thoughts on Airbnb Oahu…
Oahu is heaven on earth, and it's impossible not to be so enchanted by the lifestyle and charm of the island that you consider throwing it all in and moving here to live that Hawaiian lifestyle we've all dreamed of. Wherever you stay, be sure to soak up as much of the way of life and unique culture of the people of Oahu, and you'll be guaranteed a soulful escape.
"A hui hou." – (Hawaiian for "until we meet again")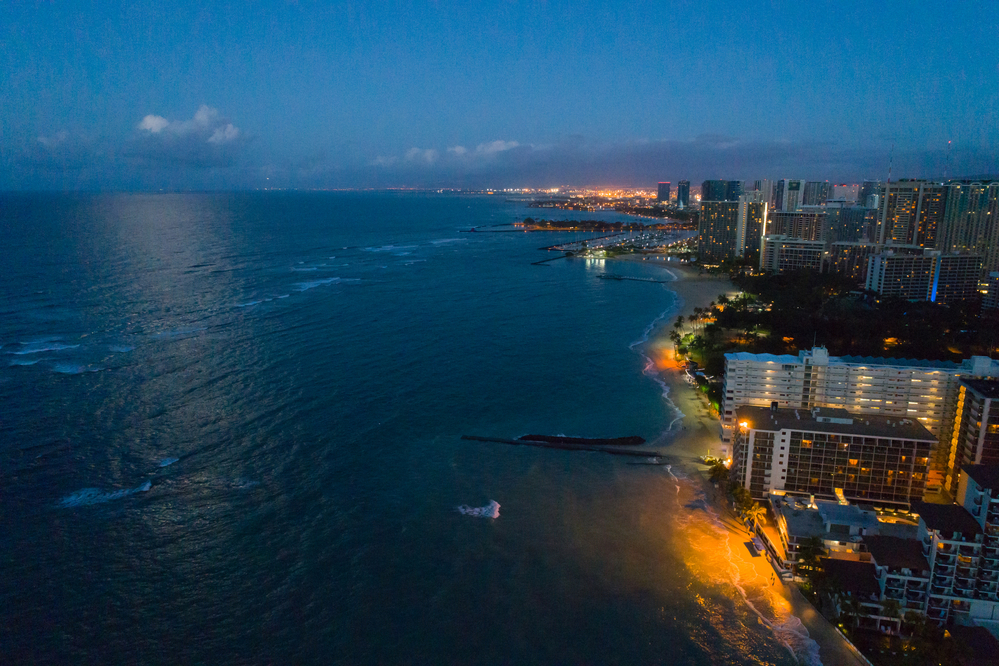 ---
Mahalo for reading about the best Oahu Airbnb rentals!
Share this list of Airbnbs in Oahu with your Hawaii travel crew!
https://www.jonesaroundtheworld.com/wp-content/uploads/2020/02/Best-Oahu-Airbnbs.jpg
1001
1500
Guest Contributor
https://www.jonesaroundtheworld.com/wp-content/uploads/2017/03/logotry-1-1-300x106.png
Guest Contributor
2020-08-15 10:49:05
2021-05-01 18:10:56
The 20 Coolest & BEST Airbnbs in Oahu For an Amazing Hawaii Vacation