Looking for the best Gili Trawangan villas for your upcoming trip to paradise…? Well, you've come to the right place, because I used to live on Gili Trawangan, and am truly in love with this unbelievably gorgeous destination. Finding the perfect Gili Trawangan accommodation can seem a little intimidating at first (as there are A LOT of options), but I'm here to help you out, and find something that suits your needs!
Whether you're on a short 1-2 day visit over from Bali, or planning on spending a few weeks, these are my top Gili Trawangan villa recommendations!
---
1) BEACHFRONT Villa Sunset Beach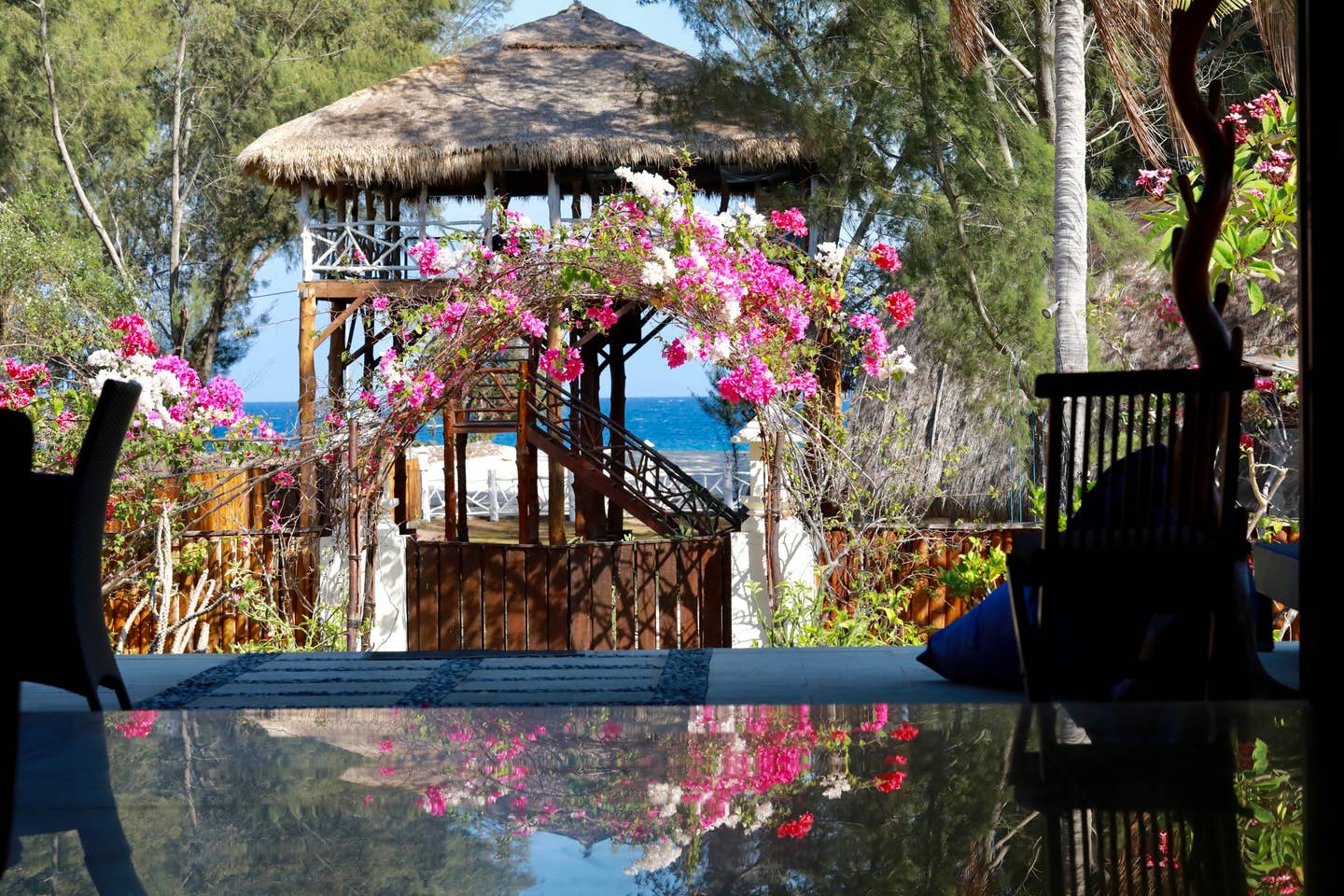 "Villa Sunset Beach is located on a beautiful stretch of beach on the lovely north side of Gili Trawangan. We are away from the hustle and bustle of town with fantastic snorkelling, a white sand beach, clear turquoise water and unforgettable sunsets at your doorstep. Its an oasis of peace & tranquility with beautiful beach views from the Villa's windows & terraces."
Complete with 4-bedrooms, 6 beds, and 3 bathroom – this is the Gili Trawangan villa you'll want to book if you're traveling with a large family, or pulling your money together with a group of fellow travelers!
https://www.airbnb.com/rooms/1481807
"Our treehouse yoga studio- Sunset Beach Yoga offer 2 daily yoga classes. Vinyasa Flow at 8:30am and FlyHighYoga at 4:30pm. The price is 130,000 Rupiah for outside guest and discounted to 100,000 Rupiah for our guests."
Review: "Picturesque Villa in the most tranquil heavenly spot! Good amenities. Close to fabulous restaurants and great pools that can be accessed. Amazing snorkeling right out the front off the shore. Thank you Yoga for being so lovely, we thoroughly enjoyed our stay!!
View Photos, Check Availability, and Reserve Now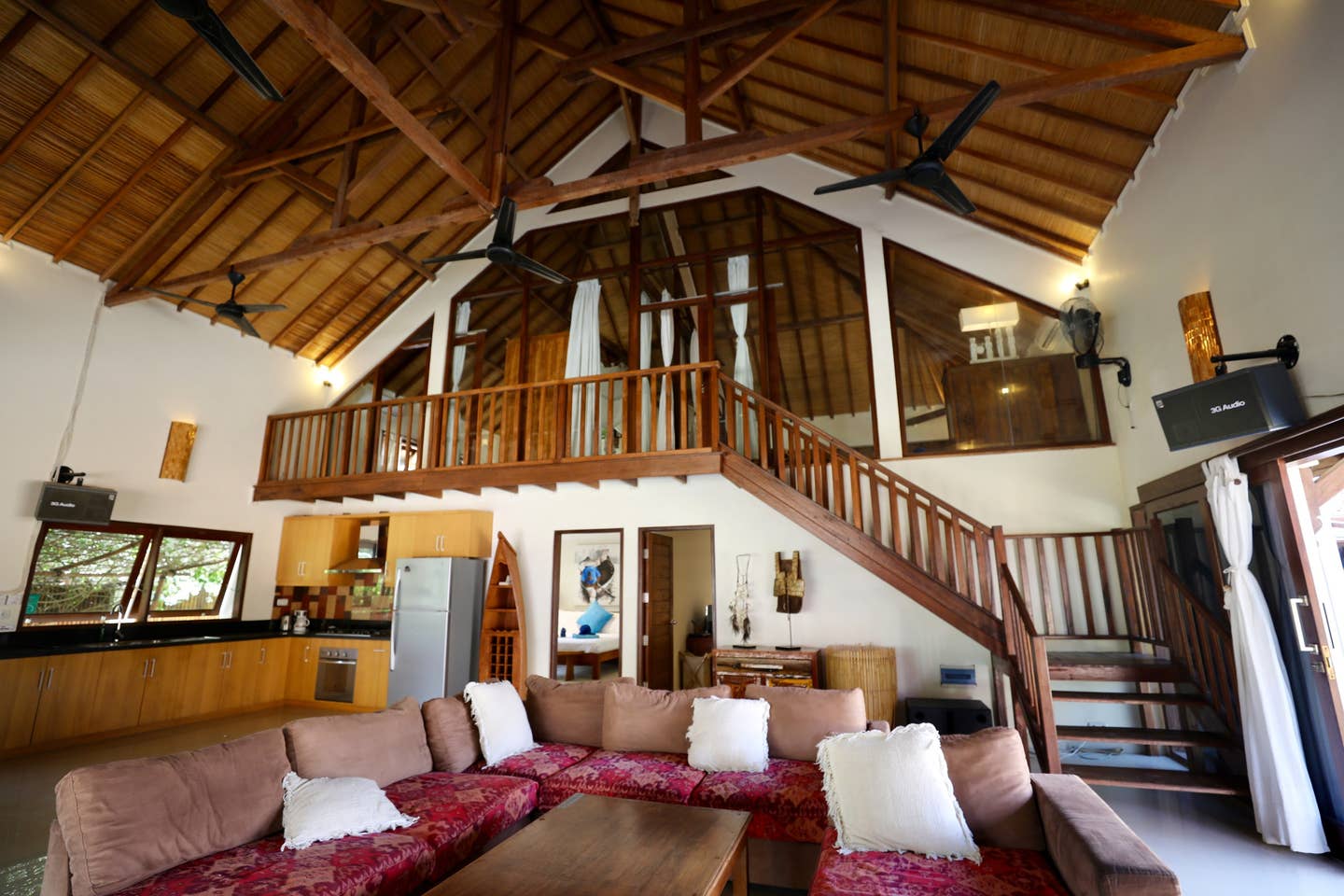 ---
2) Gili Treehouses Villa Romane and Lucas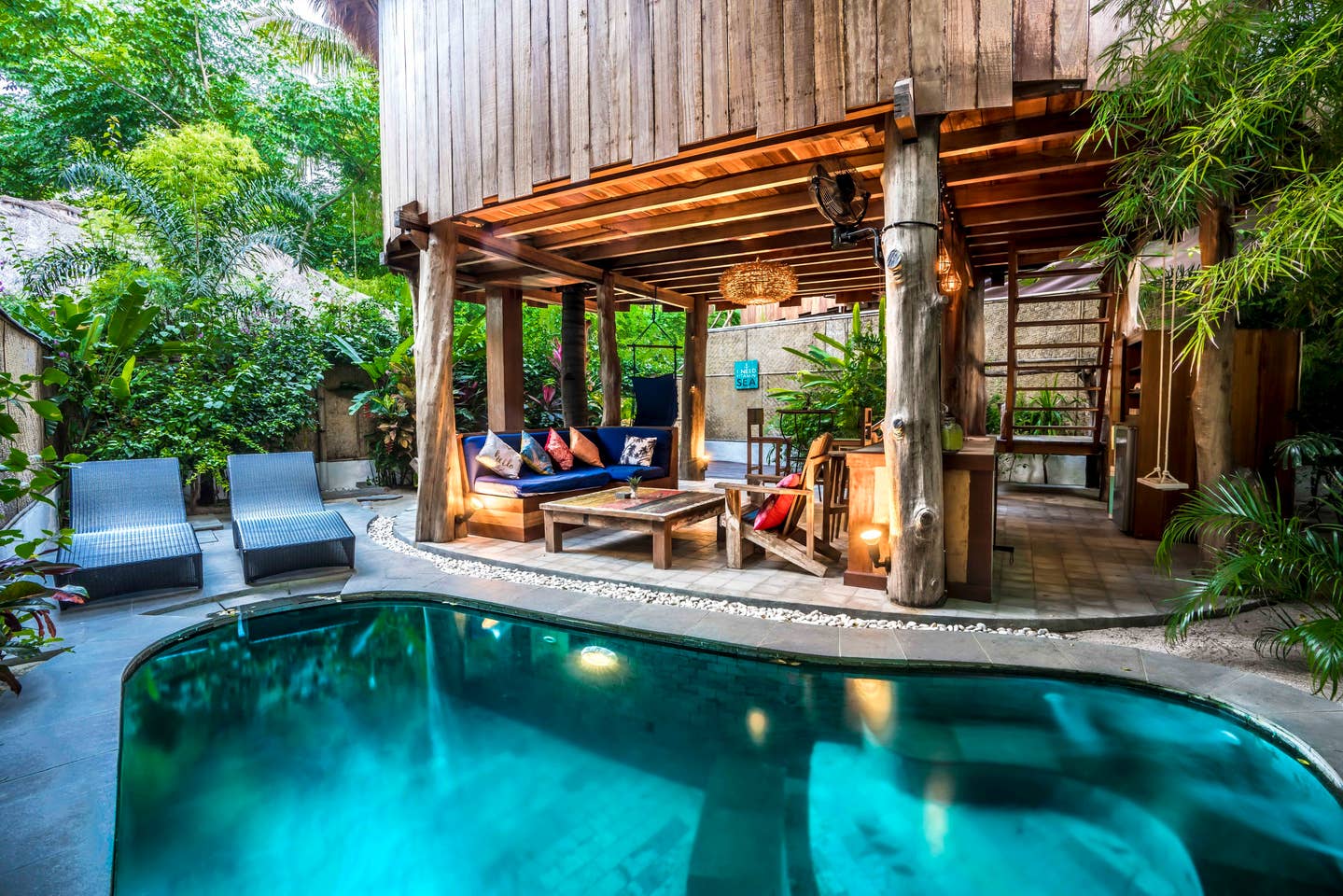 "Want to go out on a limb for your next vacation—literally? Treehouses Gili Resort offers travelers a unique natural beauty experience in an age of the boring corporate hotels. All this with comfort of nature chic design equipement, your private swim"
How cool does this look!? This private tree-house villa on Gili Trawangan is the perfect little oasis from the rest of the island, and includes top-notch amenities, private pool, and a thoughtful super host! I'd say this would be ideal for couples looking for a romantic getaway in this Gili Trawangan villa!
https://www.airbnb.com/rooms/10596808
Review: "Samuel made us feel at home straight away! He gave us a thorough overview of Gili T, including places to eat and drink! The treehouse itself was absolutely amazing! Secluded in the middle of the island away from all the noise and hustle and bustle, yet still a quick ride from anywhere you need to be. Everything about our stay was absolutely perfect, and we will most definitely be back again!!"
Read Reviews, View Photos, and Reserve NOW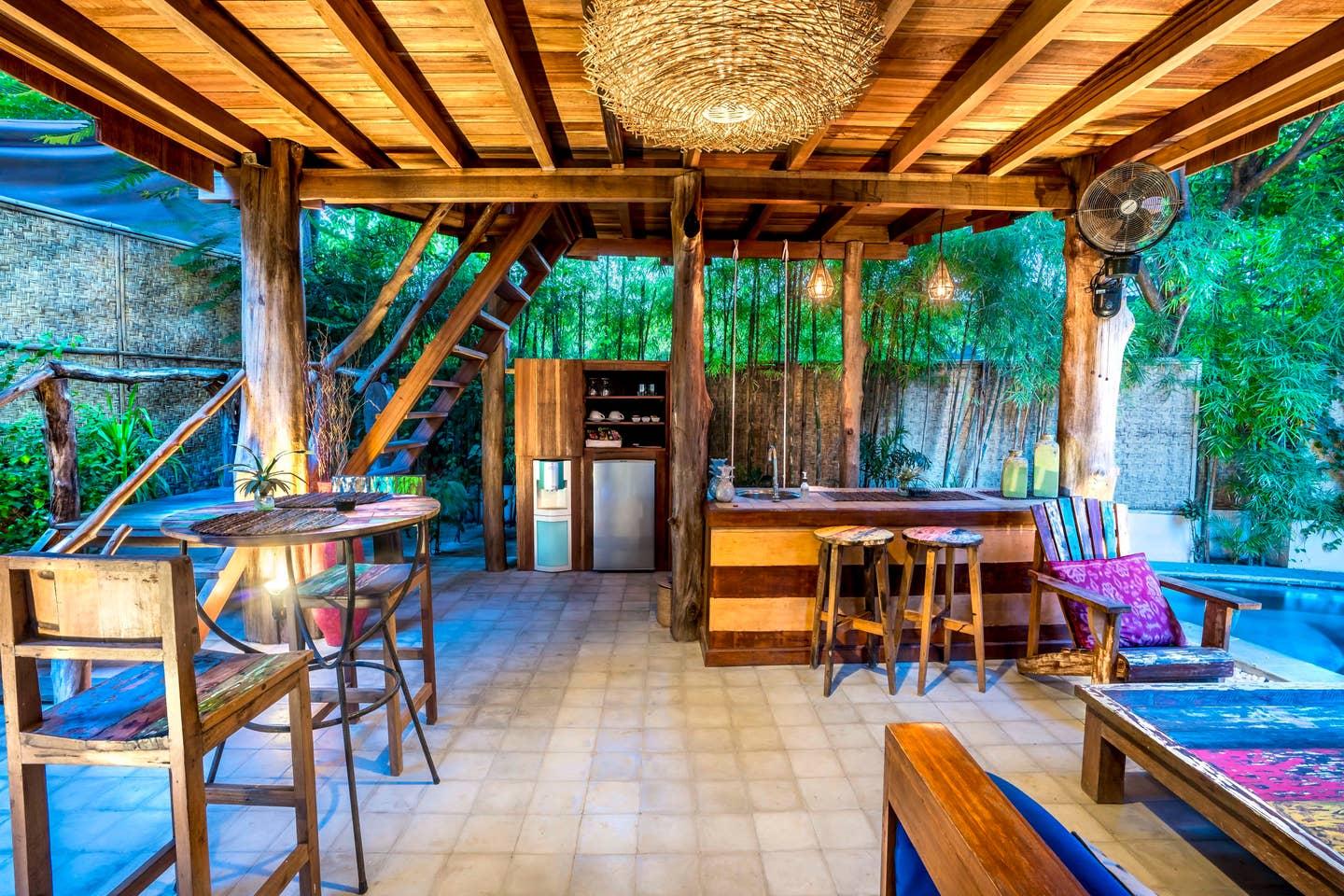 ---
3) Luxury Bhuvana Gili Trawangan Villa with Private Pool and Garden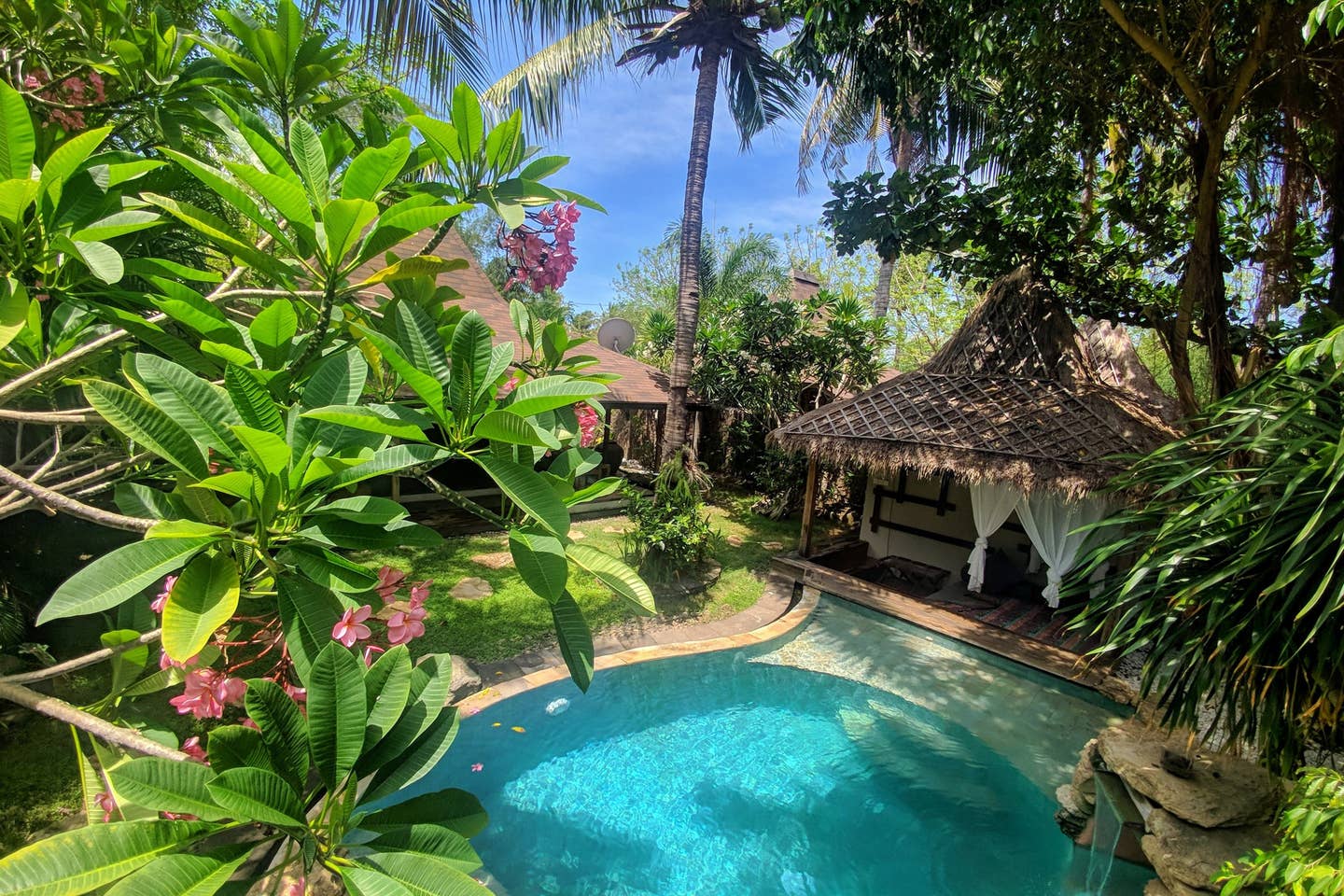 "Villa Bhuvana is luxurious one-bedroom villa with private pool and beautiful tropical garden, located on the north part of Gili Trawangan. A peace of paradise hidden among idyllic shores – perfect for honeymooners and couples who relish peaceful and hedonistic surroundings just a heartbeat from the powdery white sand beach, bars and restaurants. Including free breakfast & unlimited mineral water and a full-time maid at your disposal!
https://www.airbnb.com/rooms/4810774
Review: "This villa was the perfect haven for our 2-week honeymoon. We loved how private and quiet it was. The villa was beautifully decorated and equipped with everything we needed. For anything else, villa staff were available 24/7 to assist. The villa is in the perfect location: in the quiet part of the island, but still only an easy 10 minute bike ride to the main strip of shops, or a 10 minute ride to the sunset side of the island. It's only a 2 minute walk to the beach and there is excellent snorkelling right nearby. From the time of our booking, Rien was very communicative and organized any transfers we needed leading up to our stay (driver on Lombok, private speedboat and horse and cart on the island). The villa staff, Yanti, Habibie and Ilham are truly wonderful people who made our stay even more comfortable. They were always helpful, happy, friendly and kept the place spotless. Yanti is an amazing cook and made us delicious and interesting breakfasts to look forward to each morning. She even made us some local food for dinner for our last night! She is also an excellent massage therapist and did our laundry immaculately. We could not recommended this place more highly, we had a perfect trip and can't wait to come back."
Read Reviews, View Photos, and Reserve NOW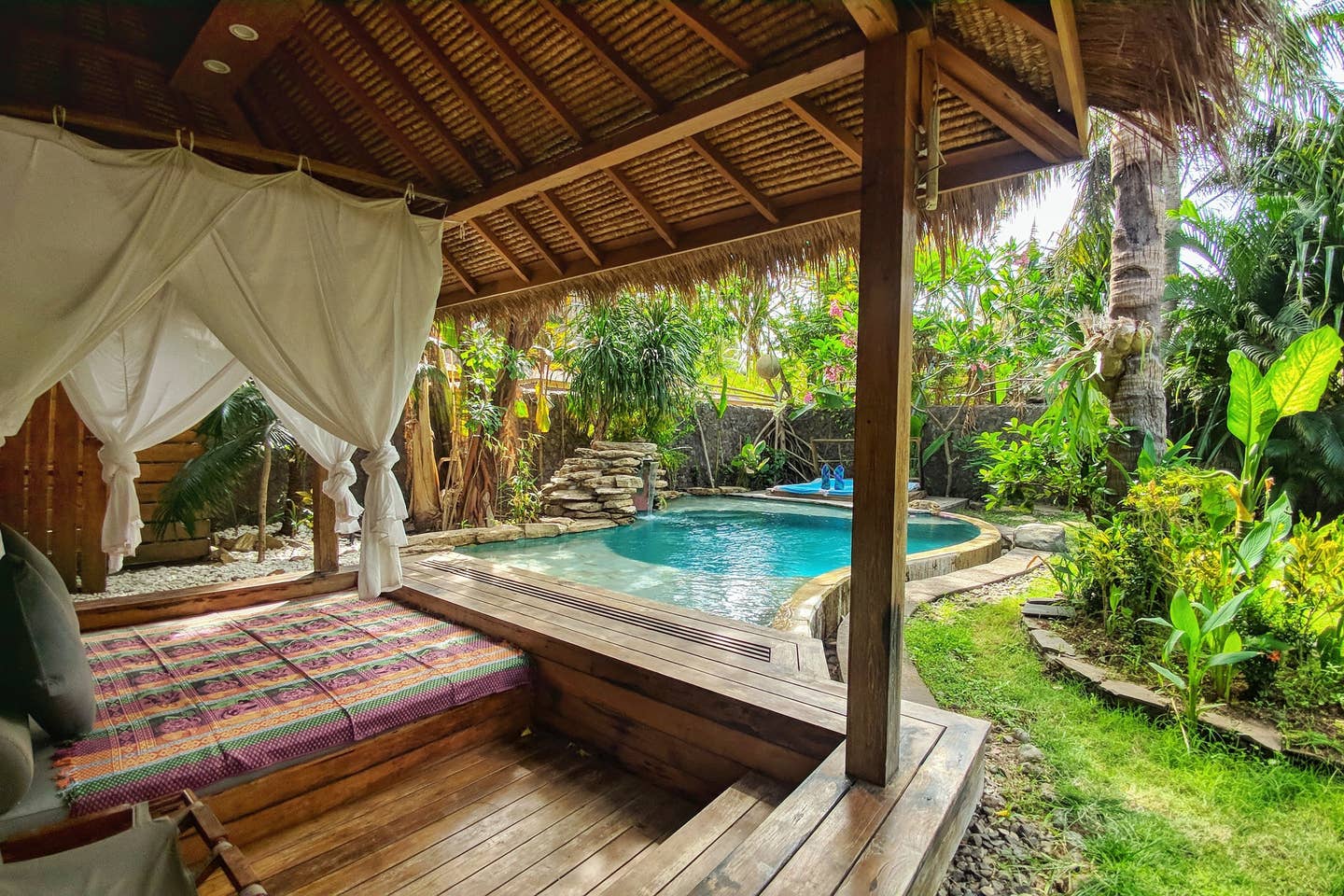 ---
4) Gili Trawangan 2 Bedroom private Pool Villa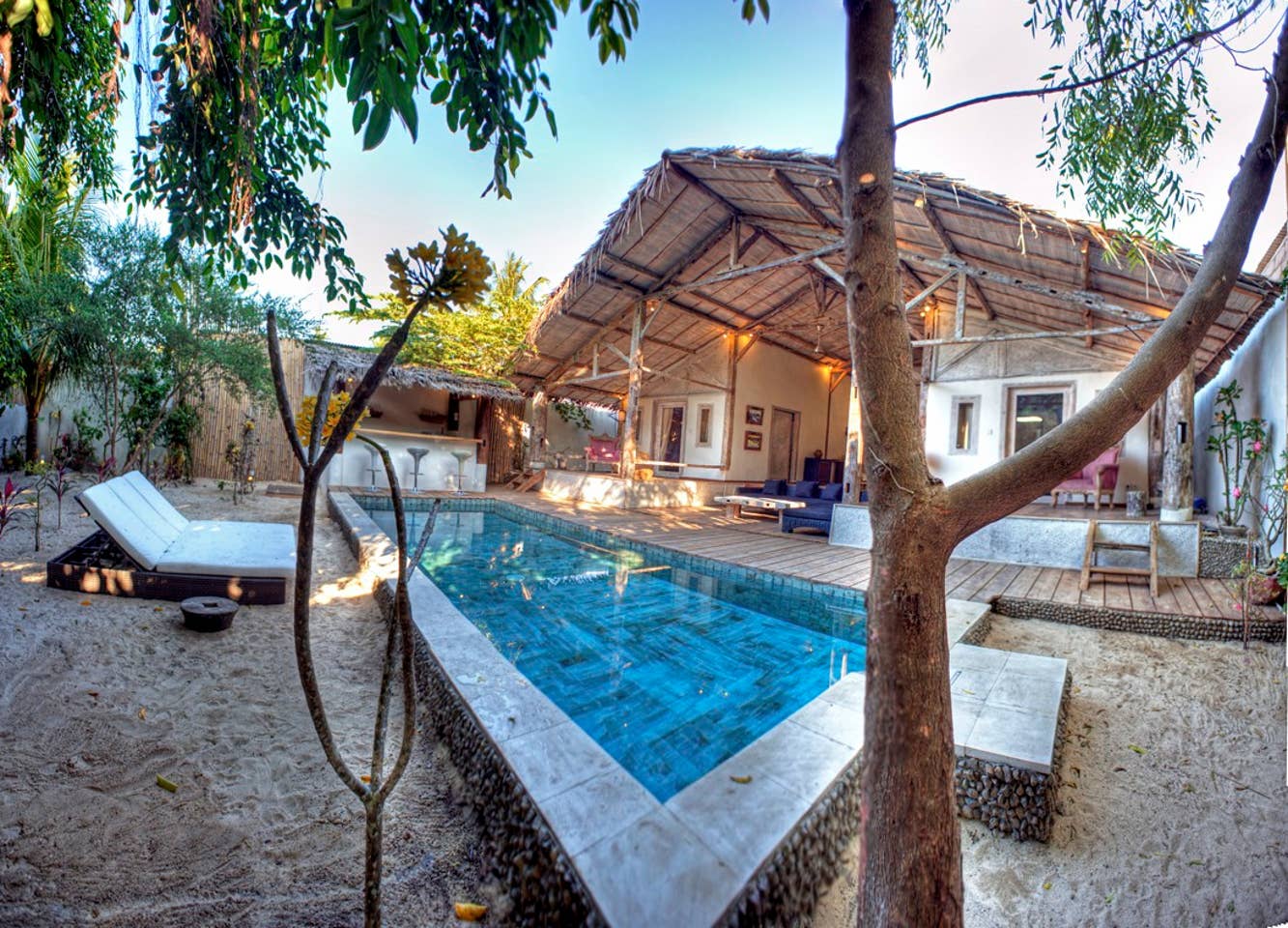 "Villa Rumah Rindah is a classic french designed, with mixed Rustic, Antique, modern furniture to make a perfect relaxing holiday vacation, Opened planned living and kitchen area, with a large swimming pool, Fully Air Conditioners in both bedrooms, with ceiling fans to the living and dining area. Equipped kitchen, Sun lounger next to the Pool. Satellite TV in main room and bedrooms, making a perfect, Relaxing vacation home."
https://www.airbnb.com/rooms/33475661
Review: "illa was an easy and close walk to the main strip. The host Adie was great to deal with and helped out with any requirements. Filtered water was provided and the kitchen facilities were great. The villa is spacious, the beds & pillows comfortable. We had a great time and if were ever back in Gili T would not hesitate to stay here again!"
Read Reviews, View Photos, and Reserve NOW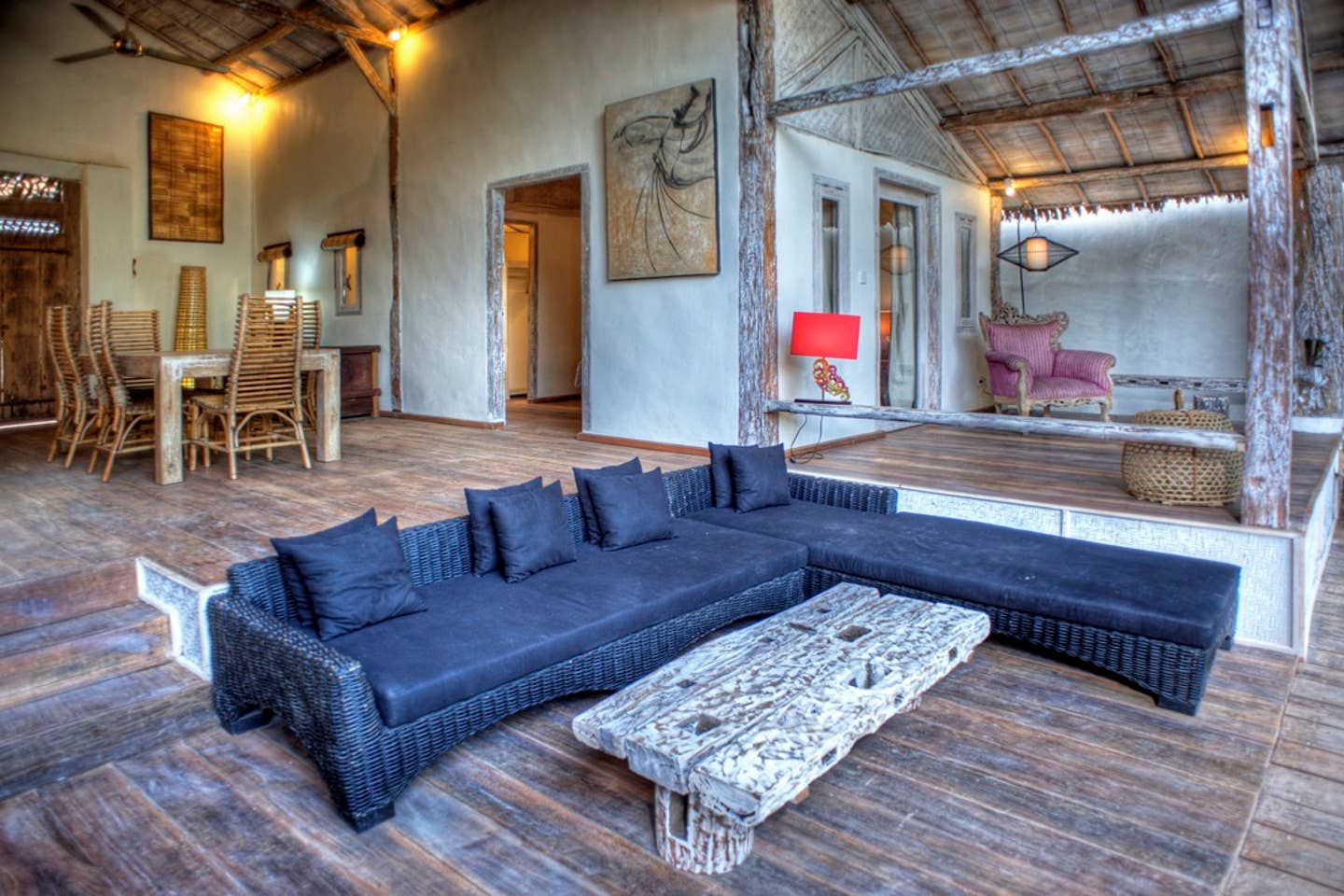 ---
5) Pandawa Beach Villas & Resort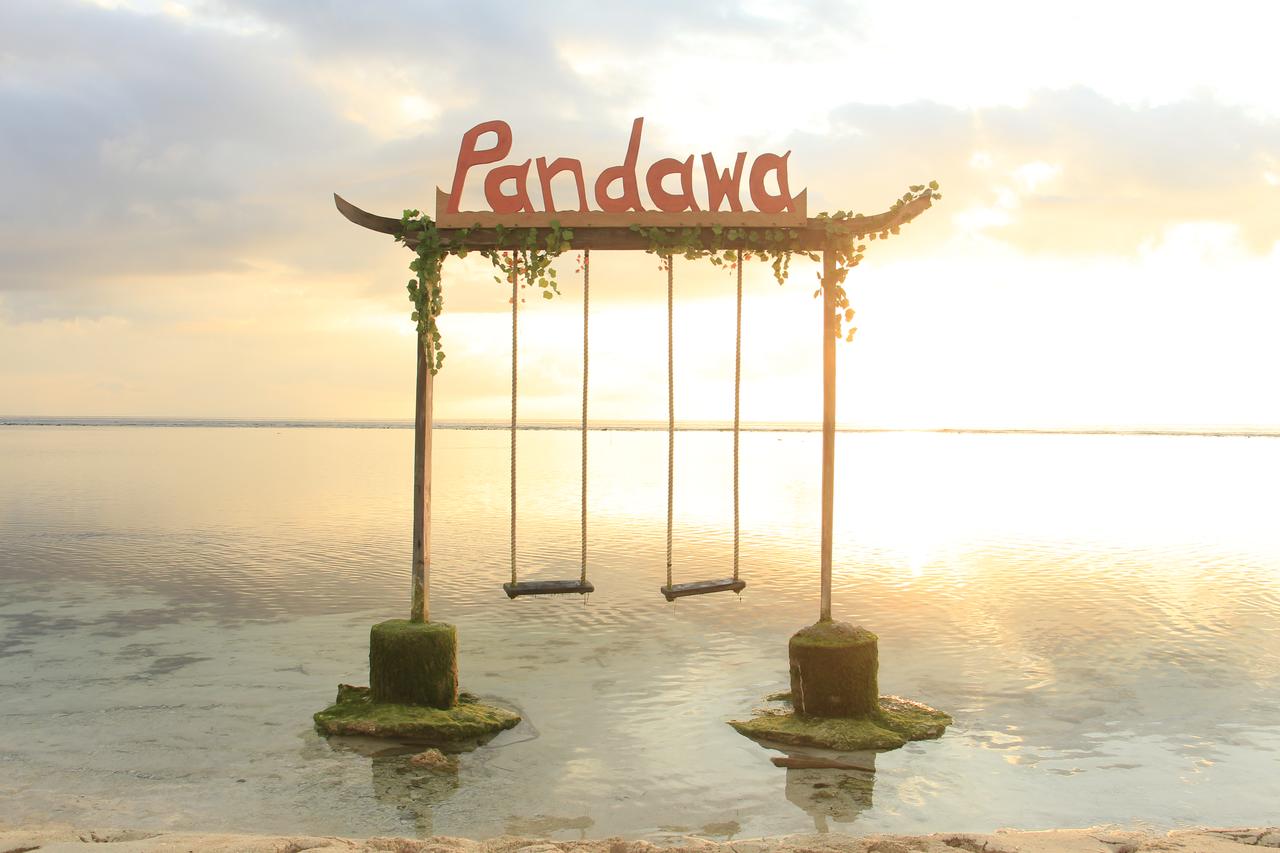 Rooms Available: Double Room, Pandawa Suite, or the Joglo Suite
Pool: YES
Wifi: YES – Free
Breakfast: Yes – Continental Breakfast included
Location: Beachfront on the iconic Gili Trawangan Sunset point, but far from the harbor.
The rooms at Pandawa Beach Villas & Resort are all absolutely gorgeous, the staff are incredibly helpful, and you really can't find a better beachfront location on the sunset side of the island. There's also their own swing for the classic Gili Trawangan sunset photo, which will really make your Instagram pop!
Read Reviews & Compare Villa Prices:
---
6) Gili Teak Resort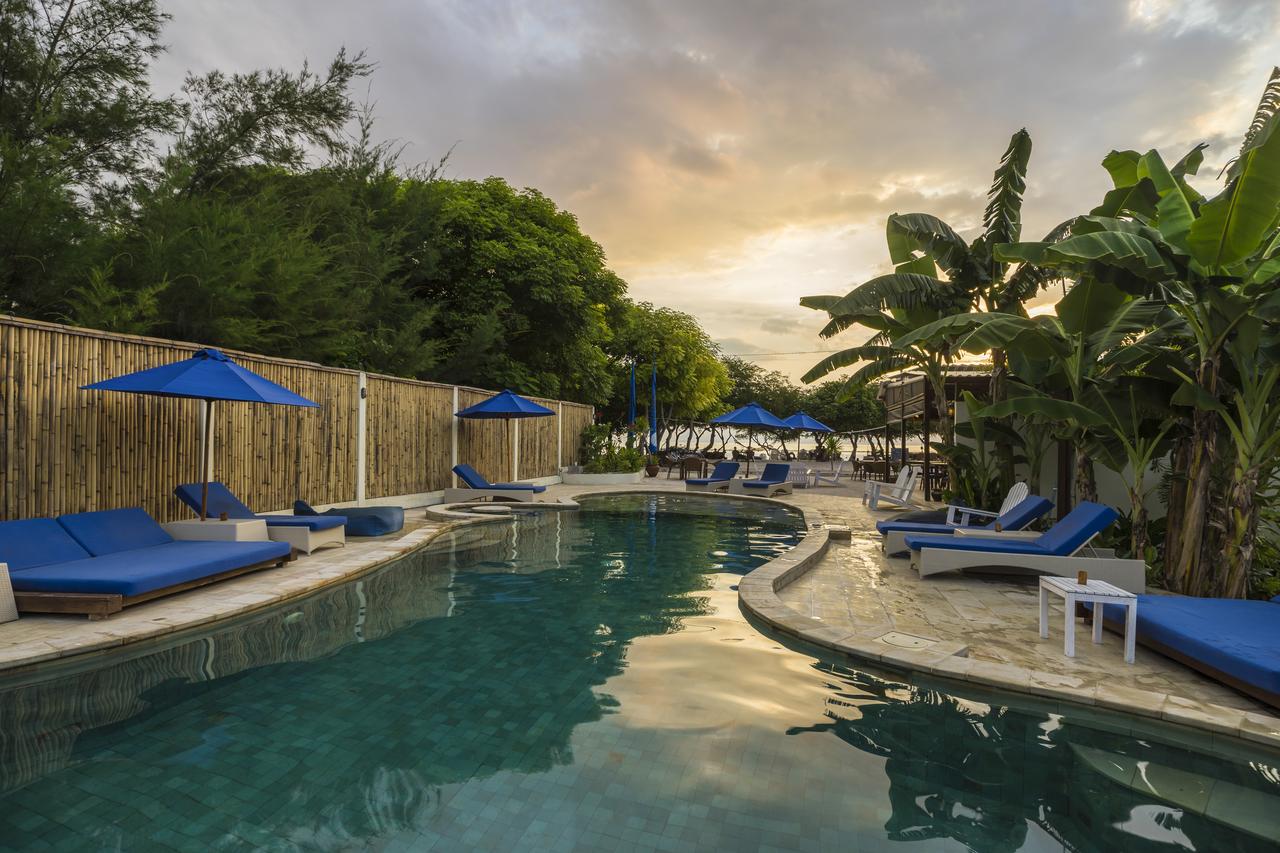 Rooms Available: Superior Double, with Balcony, & Sea Room Views
Pool: YES
Wifi: YES – Free
Breakfast: Yes – Delicious Breakfast included
Location: Perfect! Beachfront property on the Gili Trawangan sunset side. Close enough to nightlife / main part of town.
The staff are super friendly and helpful (as most Indonesians are), the location could not be more perfect, and the luxury style villas are truly incredible! It's one of the most popular resorts on the island, and comes very well reviewed!
Read Reviews & Compare Villa Prices:
---
7) Villa Luna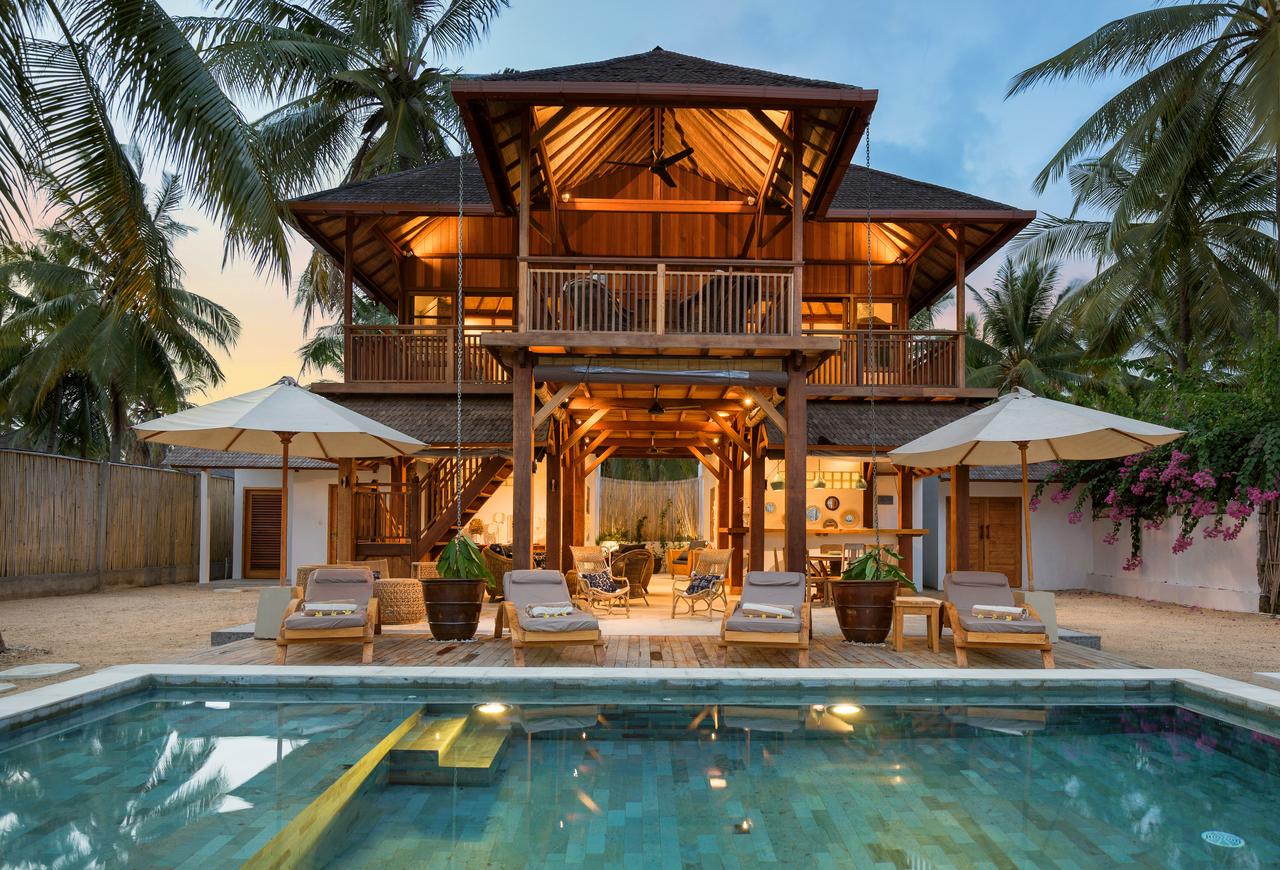 Rooms Available: ONE (Entire Property)
Pool: YES
Wifi: YES – FREE
Breakfast: Yes – Exceptional Breakfast included
Location: 3 Minute Walk from the Beach. North section of the island.
Property Requires a Minimum Two-Night Stay
Are you traveling with a large group of people and want to have your own private Gili Trawangan Villa? Then Villa Luna is the absolute best choice! This 4-BEDROOM Villa sleeps 8 people, is incredibly gorgeous, and will easily become your favorite accommodation during your time in Indonesia.
The local hosts are friendly, and will answer any questions you have about what to do on Gili Trawangan. Free bicycles rentals are included with the property, there's an entire kitchen (if you feel like cooking family dinners), and the place is simply super clean and comfortable. While the size may be unnecessary for 2-4 people, if you're with a large group – it's a no brainer!!
"Near by Villa Luna there are some of the nicest diving and snorkeling spot where guest will enjoy their encounters with giant turtles and other beautiful fishes."
Read Reviews & Check Availability
---
8) Pearl of Trawangan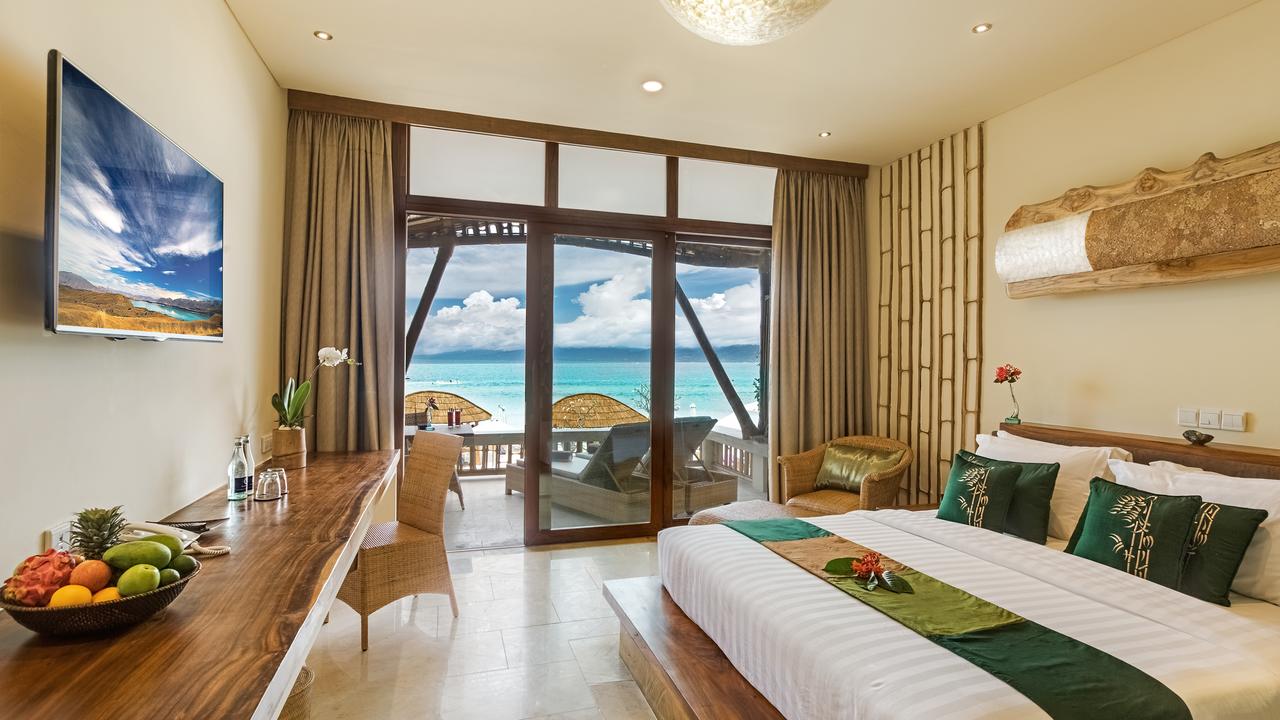 Rooms Available: Double Room, Teak Cottage, 1 & 2 Bedroom Villas, + more
Pool: YES
Wifi: YES – FREE
Breakfast: Yes – Exceptional Breakfast included
Location:
If I had to personally pick one of the Gili Trawangan Villas, this would most likely be my preferred choice! The location is superb (close to the main promenade), the facilities are spectacular, and some of the luxury villas are mind-blowing!! It's one of the top-choices on Gili Trawangan, and will definitely be a solid choice for your stay.
Read Reviews & Check Availability
---
9) Aston Sunset Beach Resort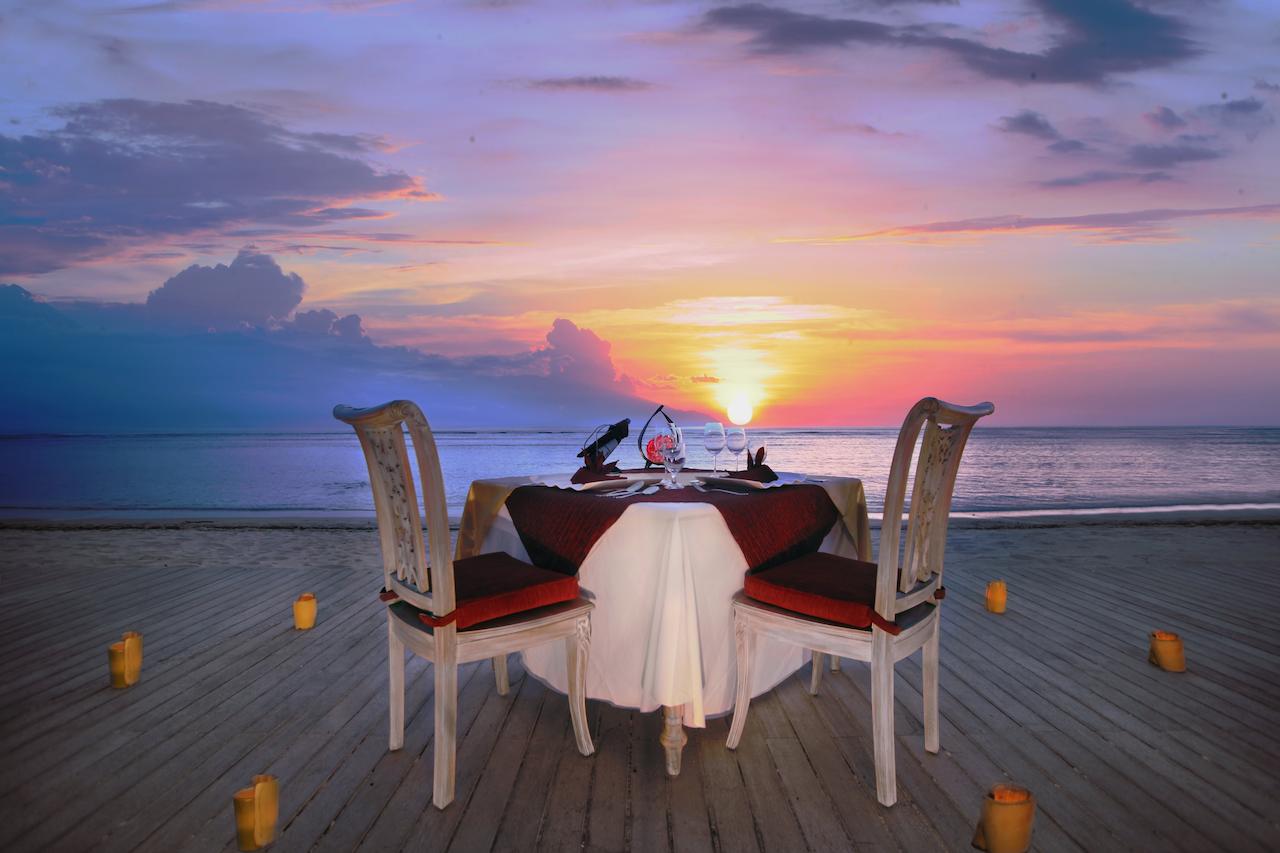 Rooms Available: Deluxe, Superior, and One-Bedroom Villa with Private Pool
Pool: YES
Wifi: YES – FREE
Breakfast: Yes – Breakfast included
Location: Excellent! 2 minute walk from the beach. Sunset side.
Last, but certainly not least, the Aston Sunset Beach Resort is another top-pick for Gili Trawangan Villas! The property is stunning, the prices are budget friendly, and the beds are amazing (according to many reviews). Enjoy a bit of luxury for the fraction of the cost.
Read Reviews & Check Availability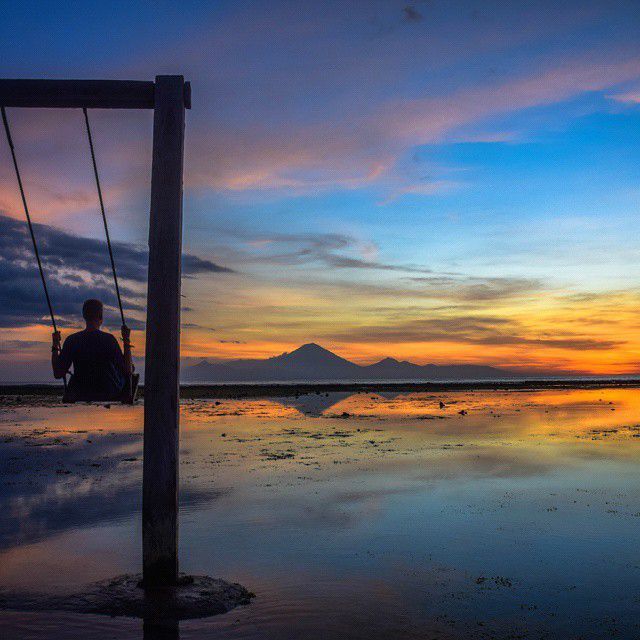 ---
Planning a trip to the Gili Islands…?
I've written tons of articles about Gili Trawangan & Gili Air, so make sure you give them a quick browse to help maximize your vacation fun! :-)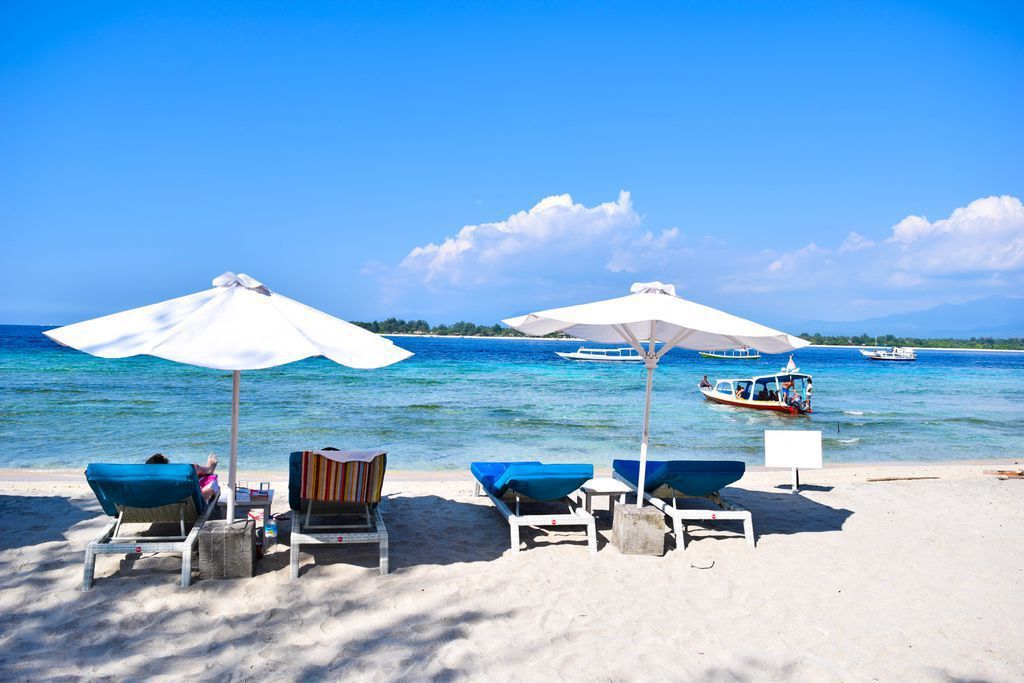 ---
Indonesia Travel Guides & Insurance
Whenever I travel anywhere, I love having a copy (or Kindle version) of the destination I'm going. I'm always surprised at how helpful they can be, and this Bali & Lombok Lonely Planet Guide are my top picks.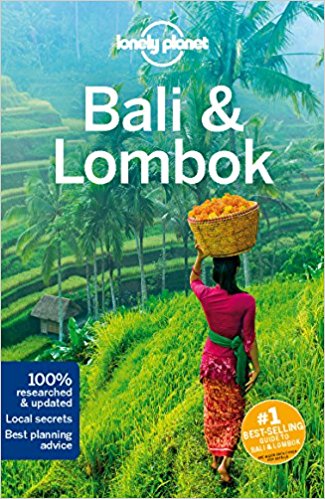 While I never travel anywhere without booking a travel insurance policy, this is absolutely essential for all visitors to Bali!
So I'll repeat…
Please, do NOT visit Indonesia WITHOUT Travel Insurance!
It's unfortunately all too common that people come to Indonesia, get into a scooter accident, and end up needing a lot of medical attention! This, as you can imagine, is not cheap, and while the Bintangs and good vibes are, don't expect medical treatment as a foreigner to also be great value!
I highly recommend HeyMondo due to their extensive range of cover for all situations and trip lengths, their fair pricing, and their handy app which allows you to not only manage any claims within the app, but also access free assistance online so you don't need to rack up an expensive phone bill while in Indonesia where the charges are steep!
So, whether you need a single trip cover for two weeks in Bali, or an affordable annual cover for multiple trips worldwide, be sure to buy your travel insurance before you travel, and relax during your trip knowing that HeyMondo has your back. Nowadays I would never travel without insurance again, especially after hearing so many of those (expensive and dangerous) horror stories from other travellers I've met!
---
Thanks for reading about my favorite Gili Trawangan Villas!
If you liked this post, I'd invite you to follow along on my personal travels around the world on Facebook & Instagram. If you ever have any questions about traveling around Southeast Asia, feel free to shoot me an email or message me on Instagram. I'm always happy to help out in anyway I can!
Pin this post for later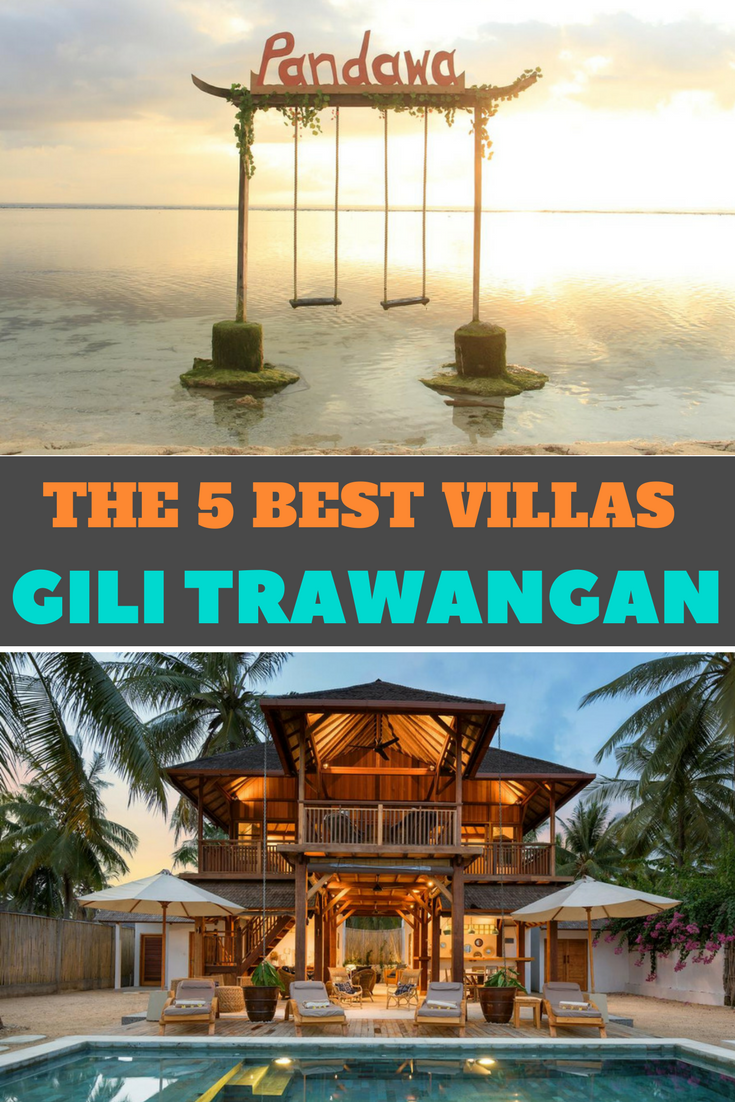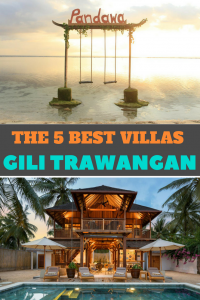 Safe Travels & Share This Article!
https://www.jonesaroundtheworld.com/wp-content/uploads/2018/04/88184297.jpg
870
1280
Dave
https://www.jonesaroundtheworld.com/wp-content/uploads/2017/03/logotry-1-1-300x106.png
Dave
2019-11-10 01:00:22
2022-06-13 10:55:55
The 9 Best Gili Trawangan Villas & Accommodation