Looking for the best rap and hip-hop festivals in 2022!? Well, look no further, because I've put together the best upcoming festivals in the U.S.A that showcase some of the world's best hip-hop artists!
"Hip-hop gave a generation a common ground that didn't require either race to lose anything; everyone gained." – Jay Z
Hip-hop is a globally appreciated music genre, but nobody does it better than where it all began – the USA!
There's nothing quite like the energy you can find at a USA hip hop music festival. It's electric, it's authentic and it's a loud voice for many. It has grown from its beginnings within African American and Latino communities of The Bronx in New York City to being embraced and loved by all races, creeds, ethnicities and genders.
And with the popularity of hip hop comes an explosion in the number of amazing USA hip hop music festivals across this great country.
From the West Coast to the East Coast and everywhere in between, my list of the 20 best hip hop festivals in the USA is bound to fill your summer music festival calendar and beyond. While a few of these festivals aren't solely focused on hip-hop, they book incredible artists that hip-hop fans will love!
2022 Update: A few of these festivals haven't made official announcements yet, but be sure to stay tuned for dates and line-ups that I'm sure will come soon!
Also, be sure to read my guides on Top 50 USA Music Festivals, California Music Festivals, Florida Music Festivals, and New York Festivals for more epic events around the country.
---
1) Rolling Loud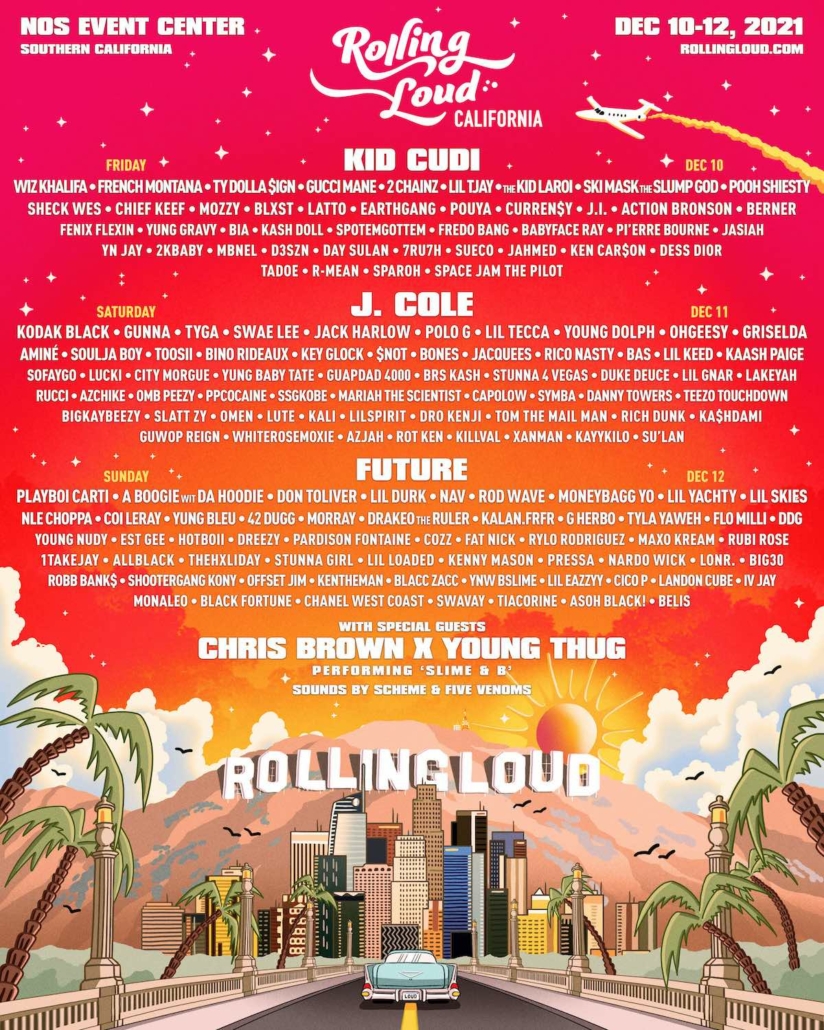 When: December 10-12, 2021,
Where: Miami, Flordia | Oakland, California | Queens, NY
"Rolling Loud Festival is a 3-day music event that started in Miami, FL and is now the largest Hip-Hop festival in the world. We now also hosts festivals in Northern California and Southern California, with plans to expand internationally to Japan, China and Europe in the near future.
Some of the biggest names that have performed on the Rolling Loud stage includes the likes of Kendrick Lamar, J. Cole, Future, Lil Wayne, A$AP Rocky, Travis Scott, Young Thug, Post Malone, Migos, Kodak Black, Lil Uzi Vert, 21 Savage, Lil Yachty, Lil B, and many more."
While 2022 shows have not been announced yet, I'm sure they'll be making a return to Miami and New York.
Rolling Loud Miami 2019 Aftermovie
---
2) JMBLYA


When: May & October 2022
Where: Rogers, Arkansas – Various cities, Texas
"Texas is the land of top-notch live music. Not only is it home to the Live Music Capital of the World, a.k.a. Austin, Texas, it's the second largest state in the U.S., so there's plenty of room for musicians.
JMBLYA helps solidify that title for Austin and tells the tale of music in the Lone Star state. Hosted in both Austin and Dallas, JMBLYA boasts a bill full of the best hip-hop artists around."
---
3) Tycoon Music Festival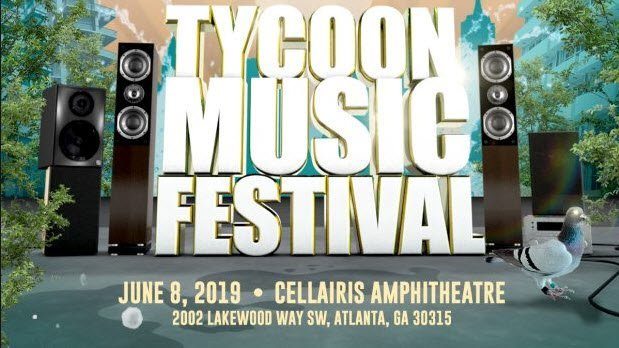 When: June 2022 (Dates TBA
Where: Atlanta, Georgia
https://v103.radio.com/categories/tycoon-music-festival
"The Tycoon Music Festival brings together some of the biggest names in Hip-Hop/R&B of today's generation in Atlanta in June. Kendrick Lamar, Chris Brown, T.I., and Trey Songz are all set to grace the stage at Cellairis Amphitheatre at Lakewood.
There's no telling what other surprises are in store. The festival is presented by V-103 Atlanta and Anthony Wilson, Chris Brown's longtime manager. "We're excited to launch this special festival and deliver an unforgettable, star-studded hip-hop concert to Atlanta," said Anthony Wilson, TycoonMusic Festival host."
Tycoon Music Festival 2019! V-103 Highlight Reel
---
4) Broccoli City Festival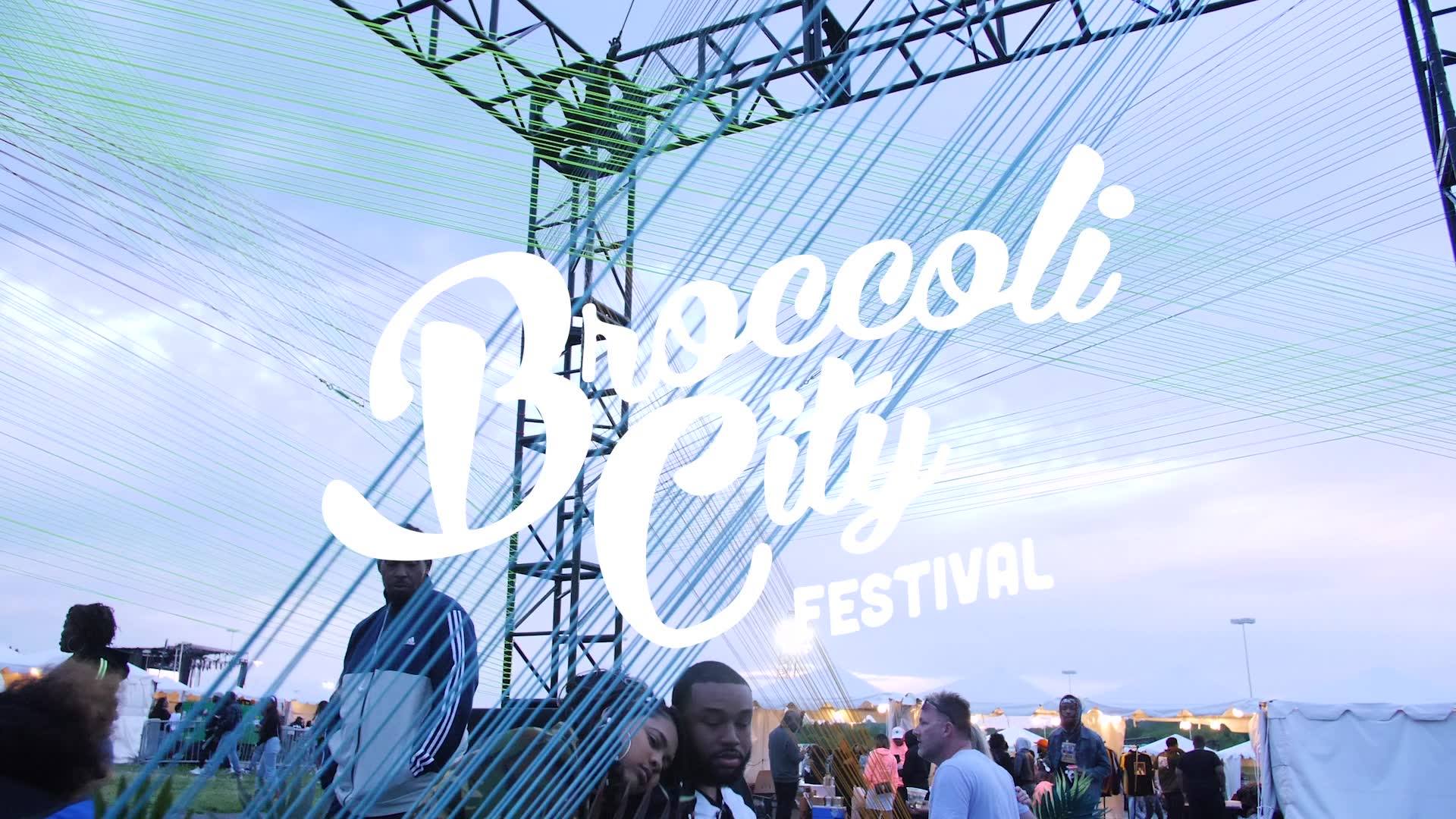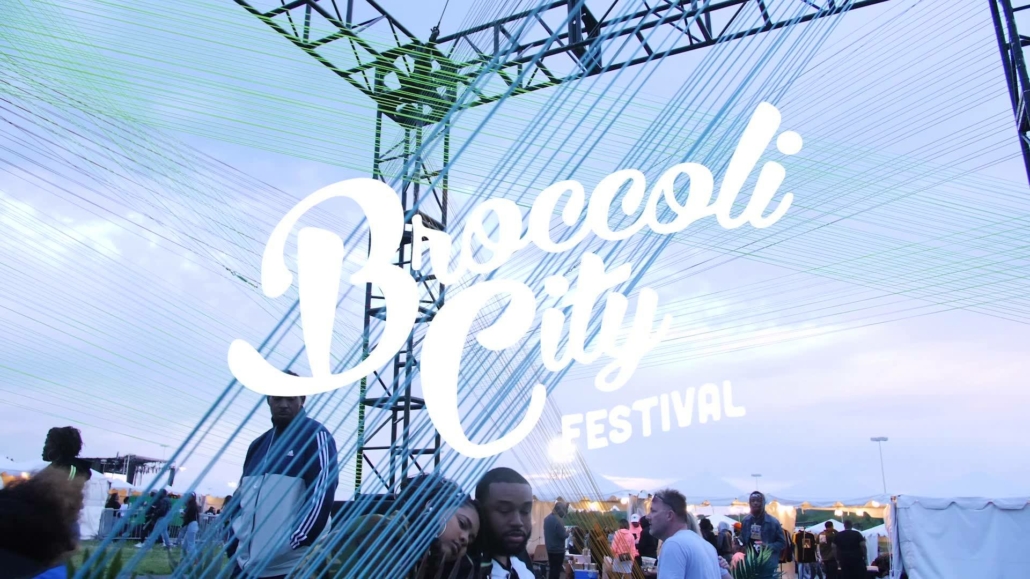 When: April 2022
Where: Washington, DC
"Broccoli City is redefining cool by mobilizing & educating urban millennials on how to create a better world. Through our programs we are creating pathways to higher standards of sustainable living, environmental education, economic opportunity, and access to high quality food and shelter.
"Hailed by Blavity as "vibrantly contributing not just to the city's culture, but political voice — without picking sides" our signature event– Broccoli City Festival — has gathered more than 75,000 millennials for a celebration of music, art, food, culture and community service.
The 2018 festival sold out to a crowd of 35,000 across two stages and featured some of today's most talented artists including Migos, Cardi B, Miguel, Nipsey Hussle, H.E.R, Daniel Caesar, Rich the Kid and more."
2018 Broccoli City Festival Recap
---
5) Soundset Festival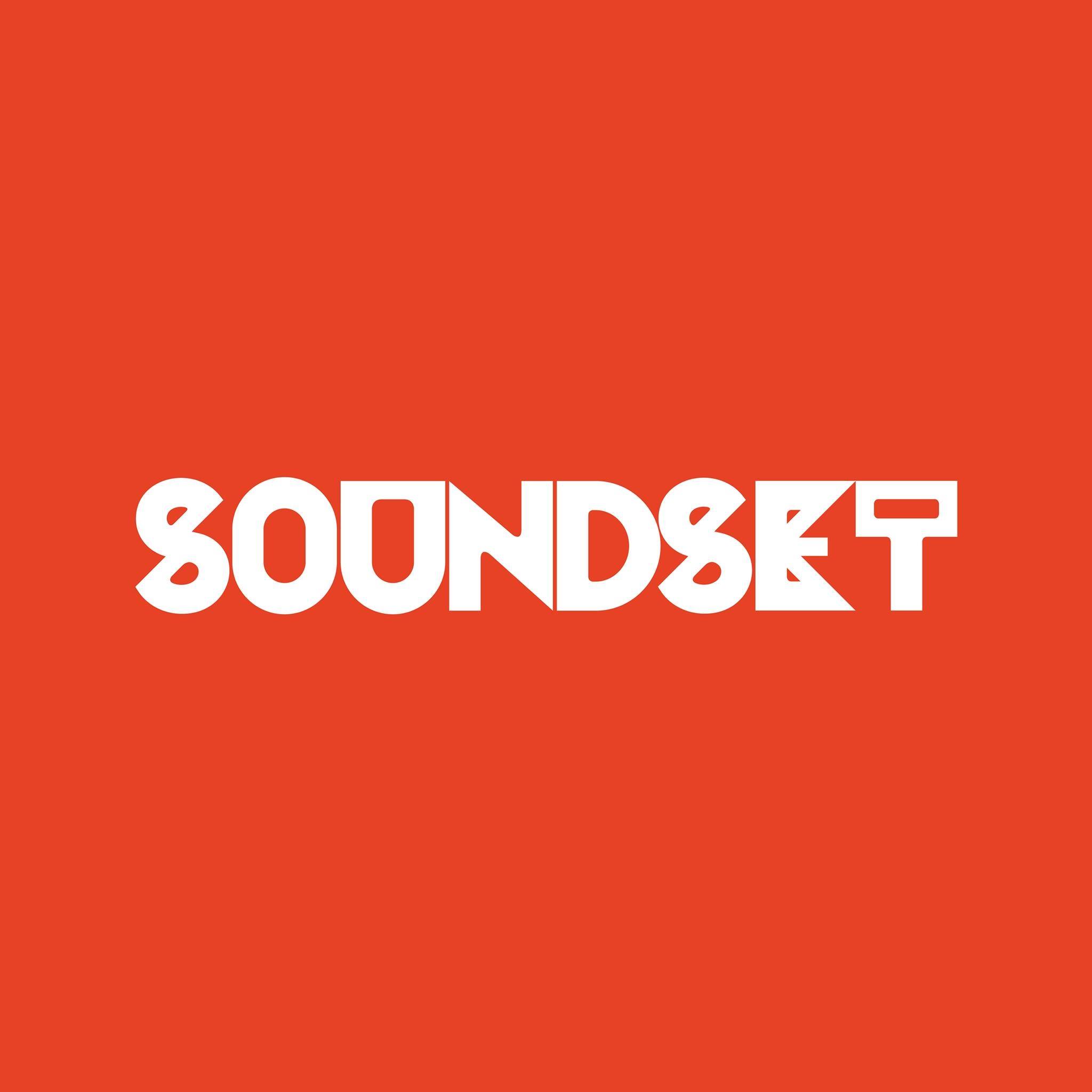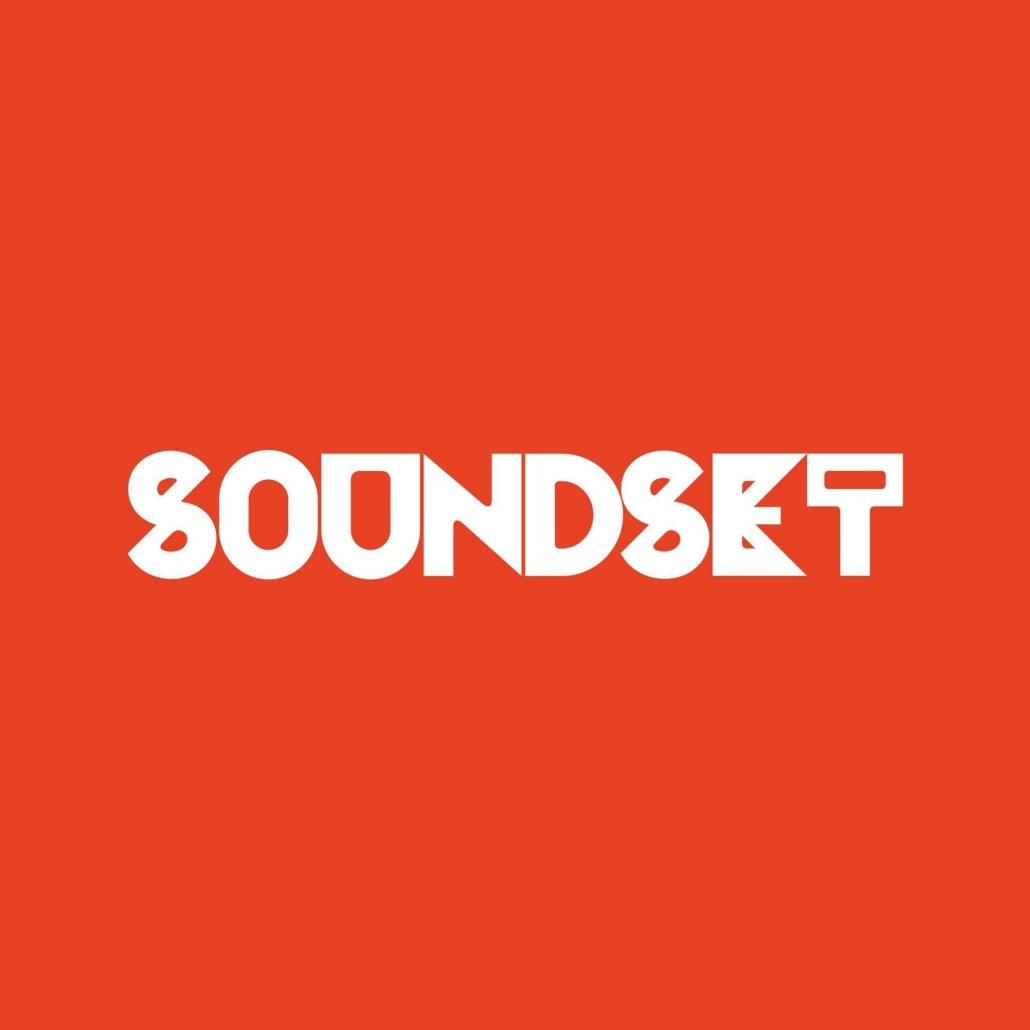 When: May 2022 (TBC)
Where: Minneapolis-Saint Paul, Minnesota
https://www.facebook.com/soundset/
"In the eleven years since Soundset began in the Metrodome parking lot in 2008, our attendance has grown from 12,000 to over 30,000 consistently since 2014.
Over 280,000 all aged fans have traveled from fifty U.S states, Canada, Mexico, Puerto Rico, Costa Rica, Africa, Europe, Asia, South America, Australia and New Zealand to experience Soundset in Minnesota. Rhymesayers' artists are the foundation of Soundset, with Atmosphere performing every year since the beginning. Since 2008, Soundset has had over 400 different-non repeat performers."
While no official announcement has been made for 2022, I'd expect a big return from Soundset festival!
---
6) Something in the Water Festival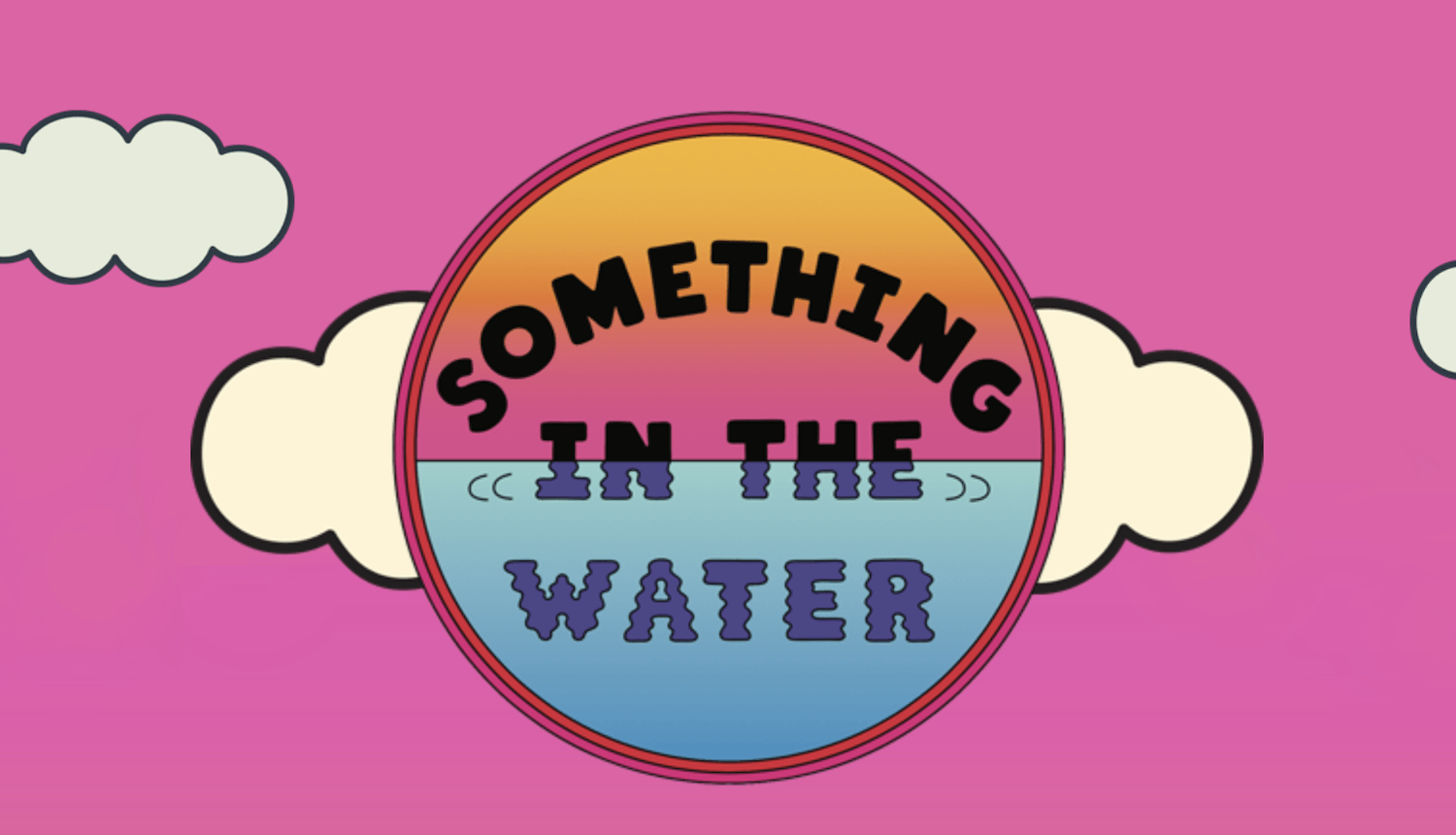 When: April 2022
Where: Virginia Beach, Virginia
https://www.somethinginthewater.com
"Something in the Water is a new multi-day music festival and cultural experience put on by Pharrell Williams in his hometown of Virginia Beach, Virginia. The inaugural edition took place April 26th-28th, 2019.
Something in the Water's mission is to unite the community and celebrate the diversity and magic of Virginia Beach. It is an opportunity to bring the best of what Pharrell has encountered around the world back to his hometown. The weekend celebrates opportunity and the chance to empower everyone from the youth to the small business owners."
SOMETHING IN THE WATER 2019 RECAP
---
7) Greatest Day Ever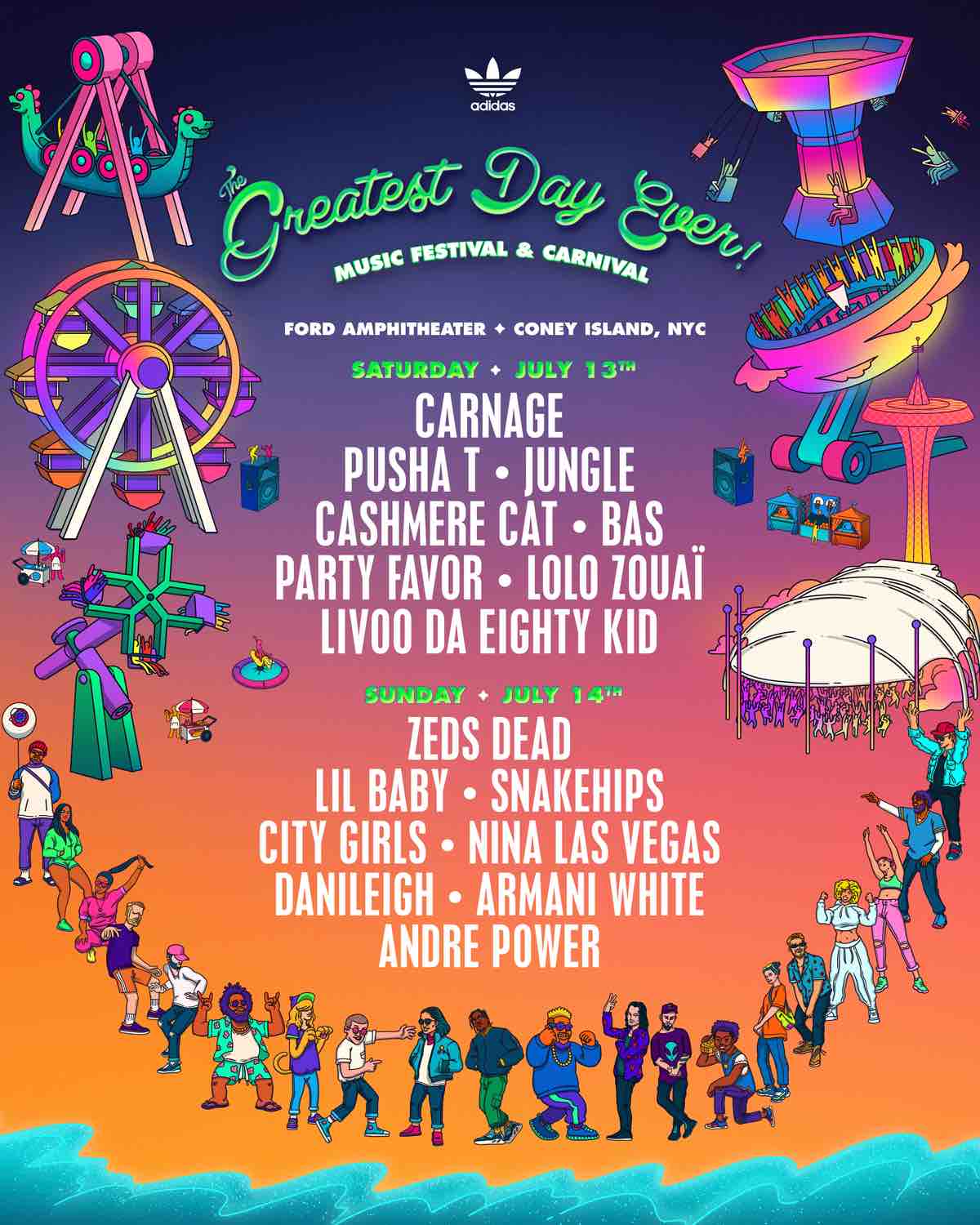 When: July 2022 (TBC)
Where: Coney Island, New York
https://www.thegreatestdayever.com
"New York dance music and rap festival Greatest Day Ever's 2019 lineup was incredible, featuring Carnage, Pusha T, Zeds Dead, Jungle, Lil Baby and more.The annual festival presented by Adidas has previously hosted RL Grime, Young Thug, Diplo, Dillon Francis, Travis Scott and M.I.A.
The two-day festival has also announced a new location, moving from The Bronx to Coney Island, New York."
While no official statement has been made for a 2022 edition, I'd bet this genre-bending festival will make a massive return in 2022!
The Greatest Day Ever! 2018 Official After Movie
---
8) Neon Desert Music Festival
When: May 2022
Where: El Paso, Texas
https://www.neondesertmusicfestival.com
"Neon Desert Music Festival is a multi-day music festival held each year on Memorial Day weekend in El Paso, Texas. From the festival's inception in 2009, Neon Desert Music Festival has continuously strived to be a yearly music event for El Paso by El Pasoans, while providing the local artistic community with an outlet to showcase their talents alongside national and international headliners.
Featuring multiple outdoor stages, local and regional artist displays, and a diverse music lineup with acts from across the globe, Neon Desert Music Festival continues to be the Southwest's premier music festival every Memorial Day weekend."
---
9) Head In The Clouds Festival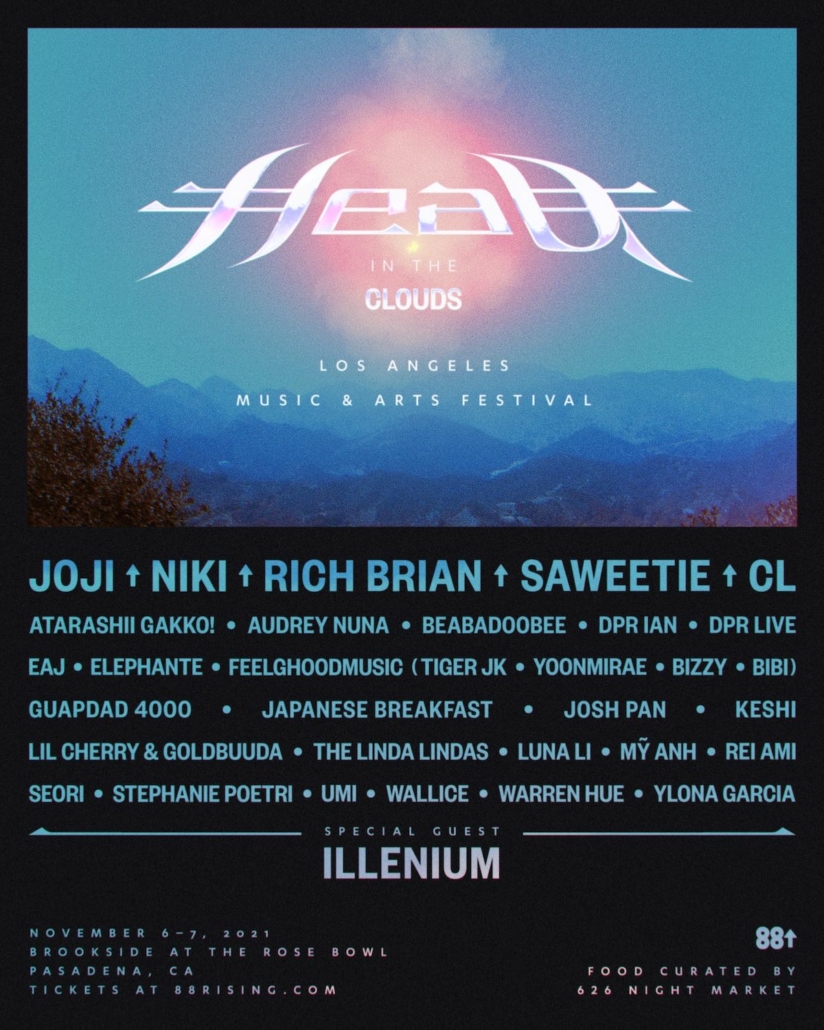 When: October 2022
Where: Los Angeles, California
"88rising's Head In The Clouds Music & Arts Festival made a massive return in 2021 in L.A The single day event will feature performances from the 88rising roster, as well as some of the biggest music acts from around the world.
Praised by Billboard as "The Asian Hip-Hop Festival You Need To Know," the inaugural Head In The Clouds Festival made a groundbreaking impact in September 2019 as the first Asian-centric music festival to launch in the United States. Returning for year two, the festival will be a day long celebration of Asian youth culture and creativity, highlighting the best in music, food, art, and fashion from around the globe."
HEAD IN THE CLOUDS FESTIVAL 2018 RECAP ☁️☁️
---
10) Days of Summer Cruise Hip Hop Festival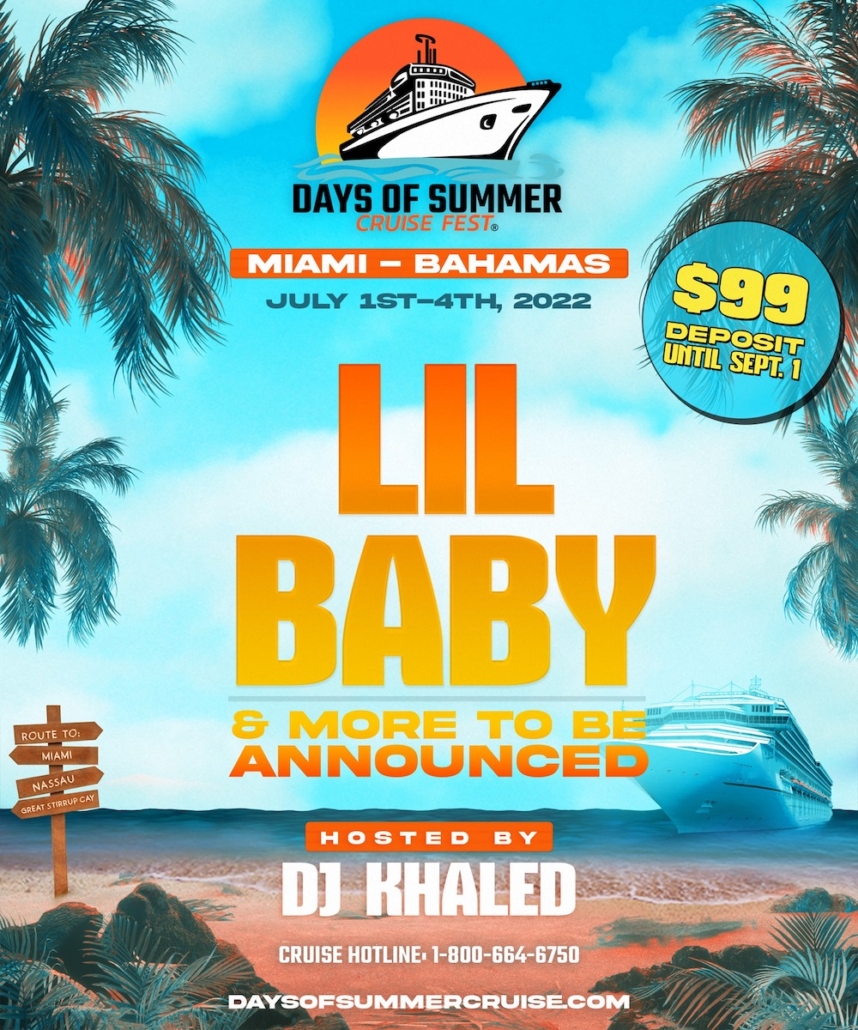 When: July 1-4, 2022
Where: Miami, Florida – Bahamas
https://www.daysofsummercruise.com
"Days of Summer Cruise Fest is an annual hip hop music cruise sailing to various Caribbean islands from the port of Miami Florida. Days of Summer Cruise Fest will be sailing out of Miami, Florida to a Private Island and Nassau, Bahamas for 4 days and 3 nights cruise onboard the Carnival Victory."
2022 they're making a big return for a hip hop party at sea, with Da Baby & DJ Khaled, with many more to be announced! This is guaranteed to be a nautical adventure that rap and hip-hop fans will love!
DJ Khaled Days of Summer Cruise Fest Aftermovie 2019
---
11) Breakaway Music Festival
When: August 2022
Where: Multi-city Festival
https://www.breakawayfestival.com
"Breakaway is the fastest growing multi-city music festival with events in the mid west including Ohio, Michigan, The Carolinas and Tennessee. While primarily a hip-hop festival, Breakaway also throws in some top electronic and pop acts for good measure. Previous lineups include Young Thug, Wiz Khalifa, Future, Travis Scott, and many more.
Offering stacked line-ups, stunning stages, and an overall incredible festival experience – Breakaway is easily one of the best Hip Hop Festivals that'll happen in 2022.
"If you are ready to breakaway from reality and enjoy a rad weekend filled with great music, then head down to Charlotte, North Carolina! The festival will take place in Uptown Charlotte at the Avidxchange Music Factory, enjoy an unlimited amount of live music, and get ready for a spectacular weekend filled with live performances from well known artists, and dank food.
2018 Breakaway Columbus: Official recap
---
12) Coachella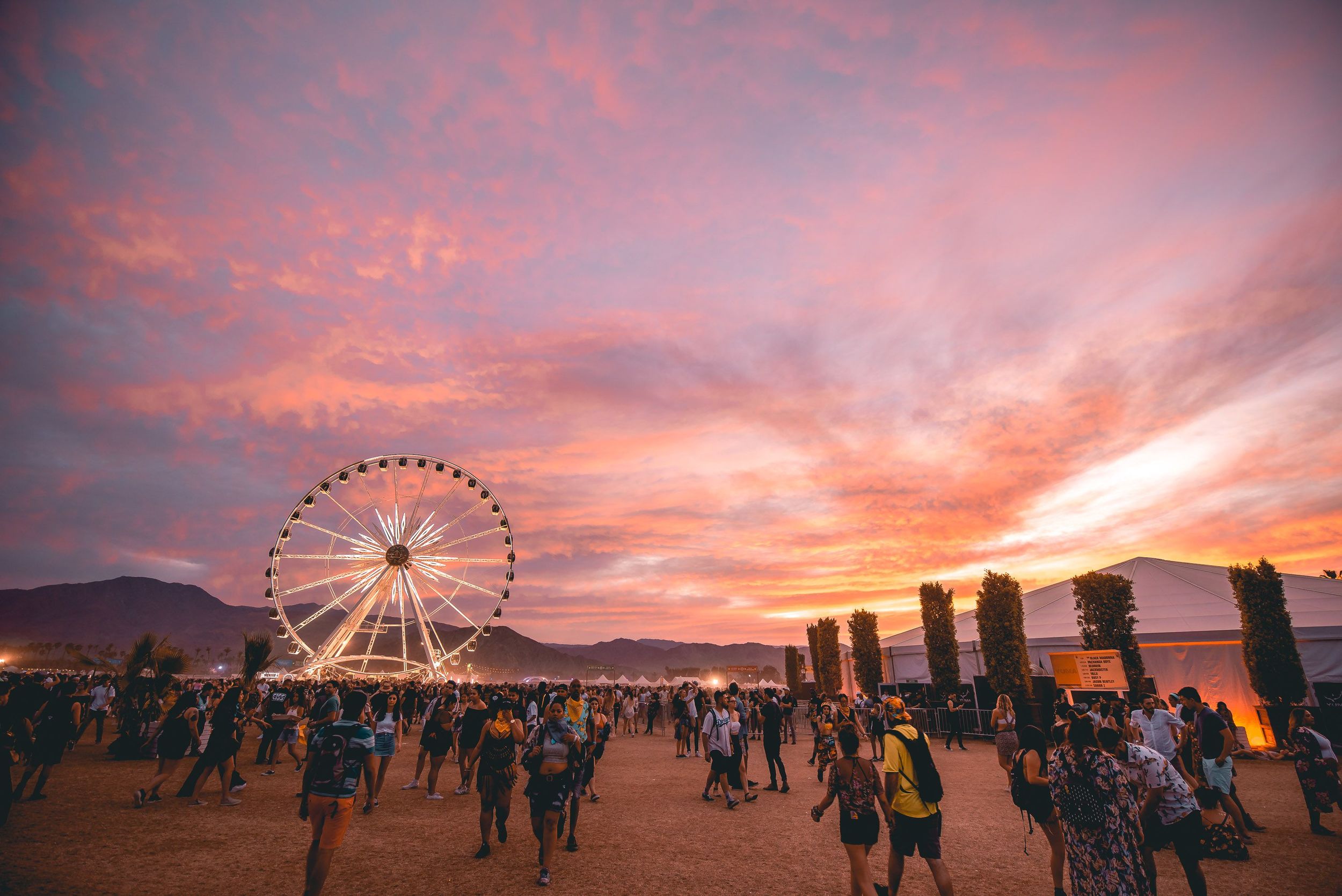 When: April 15-17 & April 22-24, 2022
Where: Indio, California
"Coachella is a massive zeitgeist-chasing music festival in Indio, California. The biggest musical celebration in the world, the festival has to be on any music fan's bucket list. Annually curating a lineup of the biggest and most buzz-worthy artists across all popular genres, Coachella has hosted some of the most historic sets in festival history, with the likes of Beyoncé, Daft Punk, Prince, Radiohead, and Bob Dylan playing the main stage over its two decade-long history.
Taking place over two weekends in the middle of April, the opening of the festival gates acts as the official unofficial start to the festival season. While not a purely hip hop music festival, Coachella's sheer number of top hip hop acts puts it on the list of the best in the USA."
2022 Rap & Hip Artists at Coachella include: Travis Scott, Frank Ocean, Megan Thee Stallion, Big Sean, and many more!
Coachella 2016: Thank You
---
13) Roots Picnic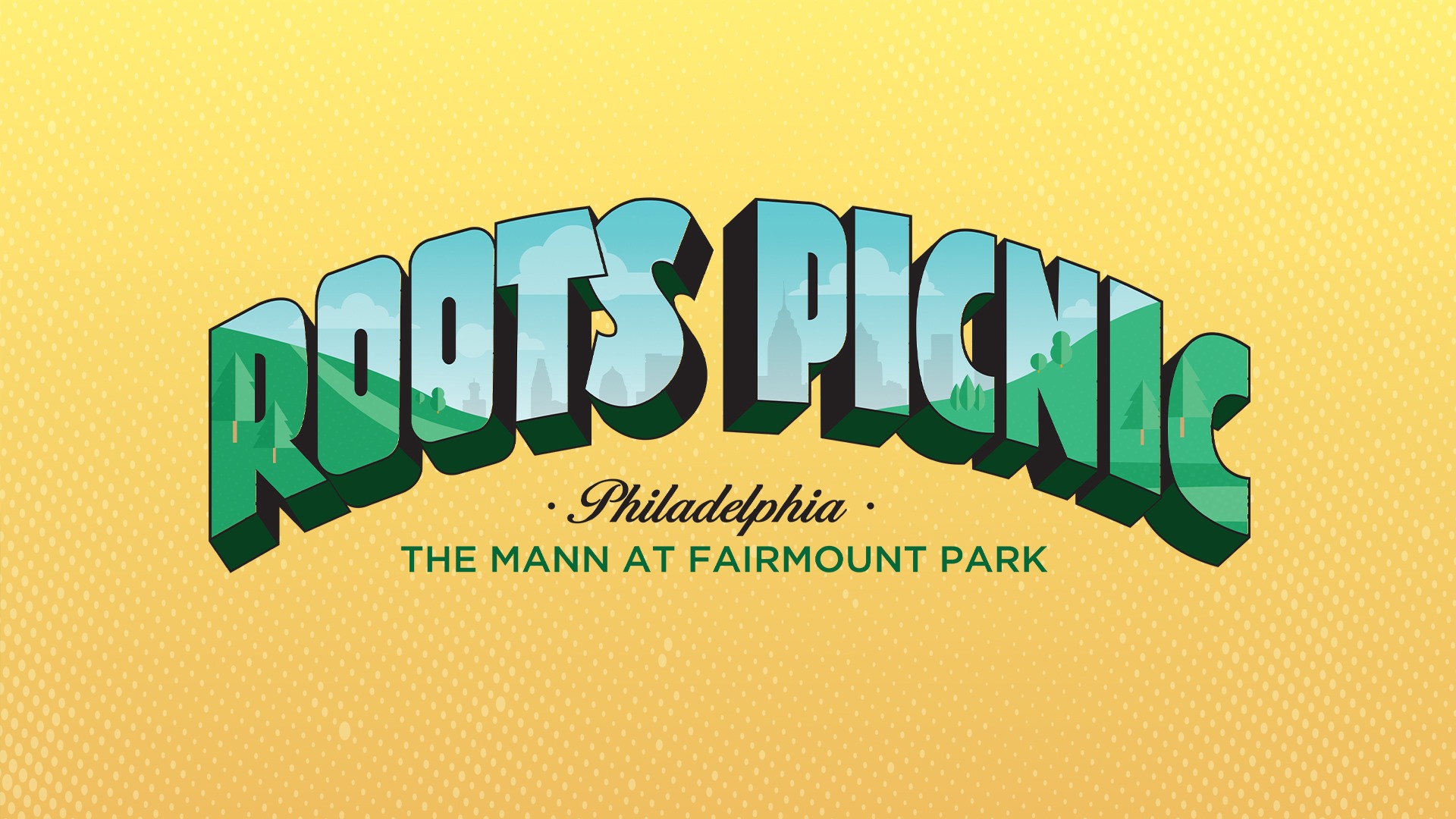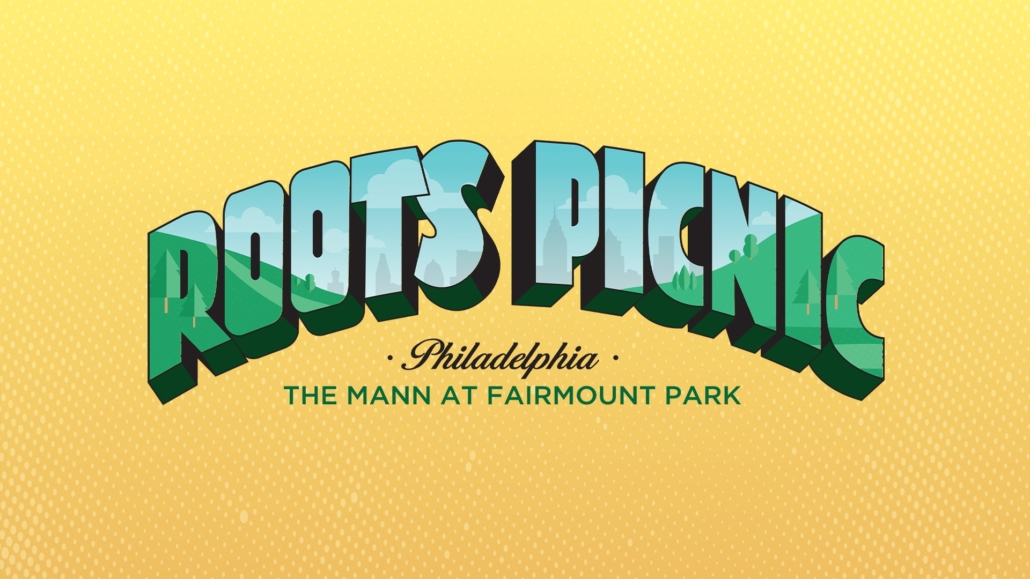 When: June 2022 (TBC)
Where: Philadelphia, Pennsylvania
http://rootspicnic.com/philly/
"Roots Picnic is a day of incredible hip-hop and R&B music festival in Philadelphia. Its recent lineups have included Lil Uzi Vert, Dirty Projectors, The Diplomats and more.
In addition to the Music Stage, Roots Picnic will also feature a Podcast Stage which plays host to live podcasts such as Drink Champs, On One with Angela Rye, Questlove Supreme and more. The Lifestyle Stage offers a MADDEN & NBA2K Tournament as well as a Fashion Panel, an Art Panel, Hustle Panel and an art market featuring local vendors called The mARkeT."
While no official announcements have been made by the promoter Live Nation, I'd expect news to be announced soon for the return of Roots Picnic Festival 2022!
Roots Picnic 2016 Highlight Reel
---
14) Grizzly Fest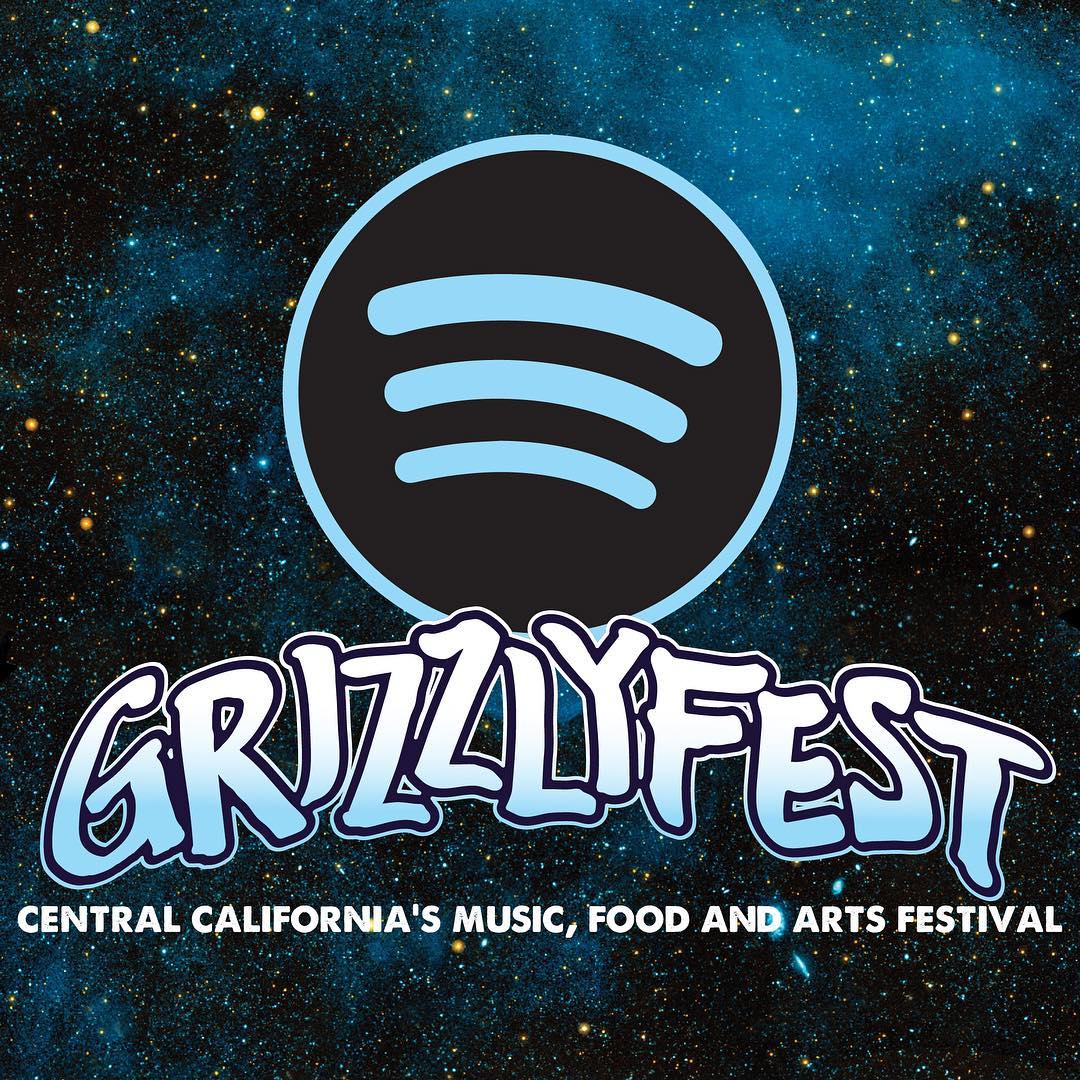 When: May May 2022 (TBC)
Where: Fresno, California
Central California's premier Music and Arts Festival held every Spring.
"Grizzly Fest is a hip-hop music festival in Fresno, California. A classic two day weekender, the festival marks the beginning of spring with an intimate and welcoming atmosphere. Curating a lineup that spans indie, hop hop, reggae, and beyond, Grizzly Fest offers a little something for everyone in a scenic location. Though music is the main event, the festival features art installations, activities such as arts and crafts, carnival rides, and culinary delights."
GrizzlyFest 2019 - Thank You!
---
15) Life Is Beautiful
When: September 16-28, 2022
Where: Las Vegas, Nevada
"Life is Beautiful Festival is a three-day, pop music festival in Las Vegas, USA. As its name suggests, Life is Beautiful is all about creating an enriching and life-affirming experience of music, art, comedy, workshops and cultural exchanges.
Taking over 18 blocks of downtown Las Vegas, the festivals draws in the worlds biggest names in the pop, hip hop and alternative spectrum! After a wildly successful return in 2021, Life Is Beautiful 2022 is guaranteed to be one of the best festivals for hip hop fans!
Year in Review | Life is Beautiful 2018
---
16) Made In America Festival
When: September 2022
Where: Philadelphia, Pennsylvania
"The Made in America music festival is a massive musical celebration that takes over the Benjamin Franklin Parkway each Labor Day weekend in Philadelphia. With dozens of top performers and multiple stages on the Benjamin Franklin Parkway, the two-day music festival curated by Jay-Z is one of the year's can't-miss events.
Every year, Jay-Z hand-picks a lineup of both established and up-and-coming musicians to perform throughout the weekend — and sometimes, you can even find Jay-Z singing along in the crowd."
---
18) Outside Lands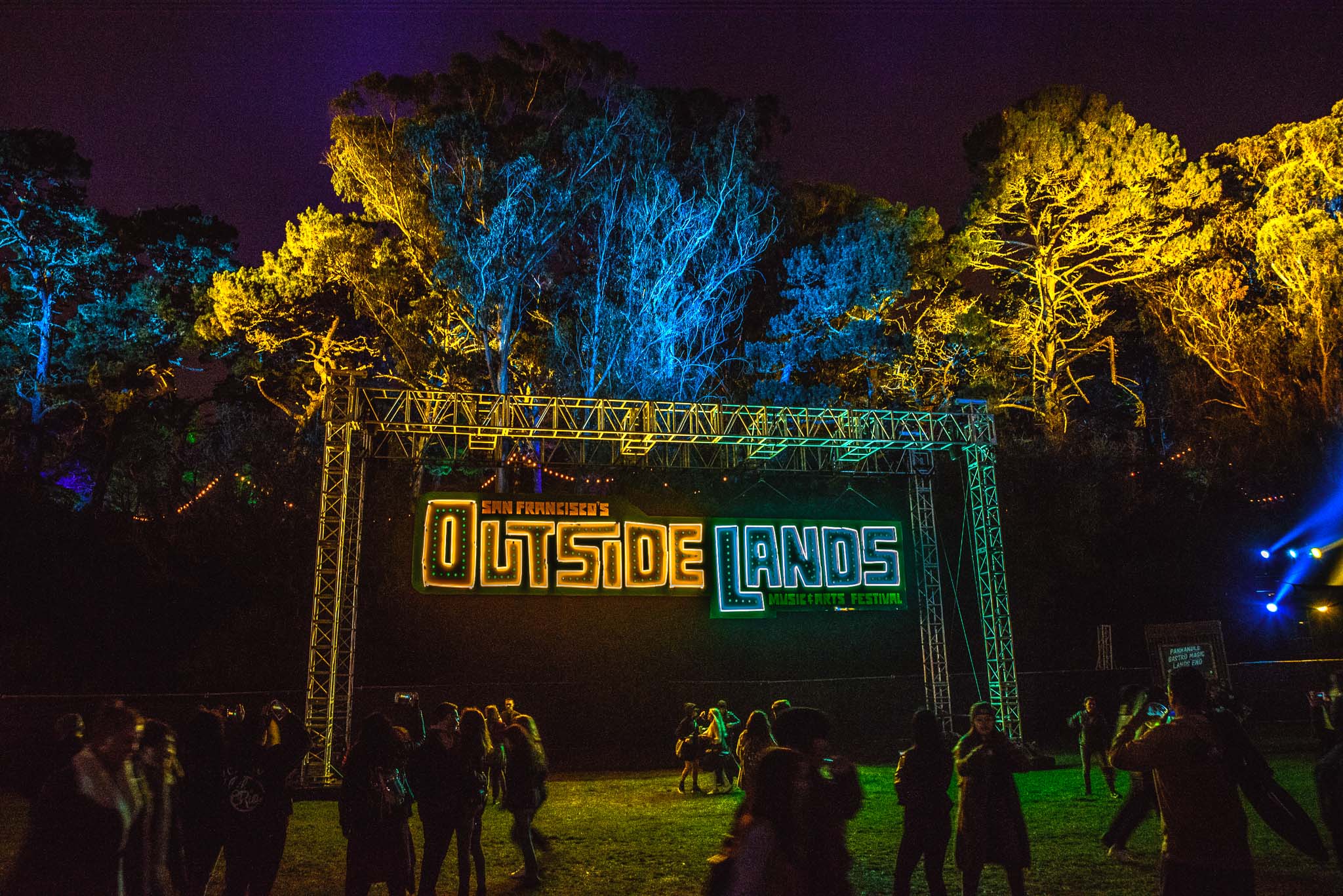 When: August 2022
Where: San Francisco, California
https://www.sfoutsidelands.com
"A bike valet, wine tasting tent, and local organic food vendors are just a couple of signs that you're in San Francisco at Outside Lands. The quirky and wonderful Golden Gate Park hosts a wide range of acts and has quickly grown into a highlight of the San Fran summer. Bring a hoodie with you. Just because it's August doesn't mean that the fog won't join the party."
I've personally attend two different Outside Lands editions, and it's truly an incredible experience! While the festival is not strictly hip hop, the line-ups are always super diverse and I know rap fans will find plenty of acts they'll want to see! Plus – San Francisco as a city is always worth a visit!
Outside Lands 2018 - Official Recap Video
---
18) Flyover KC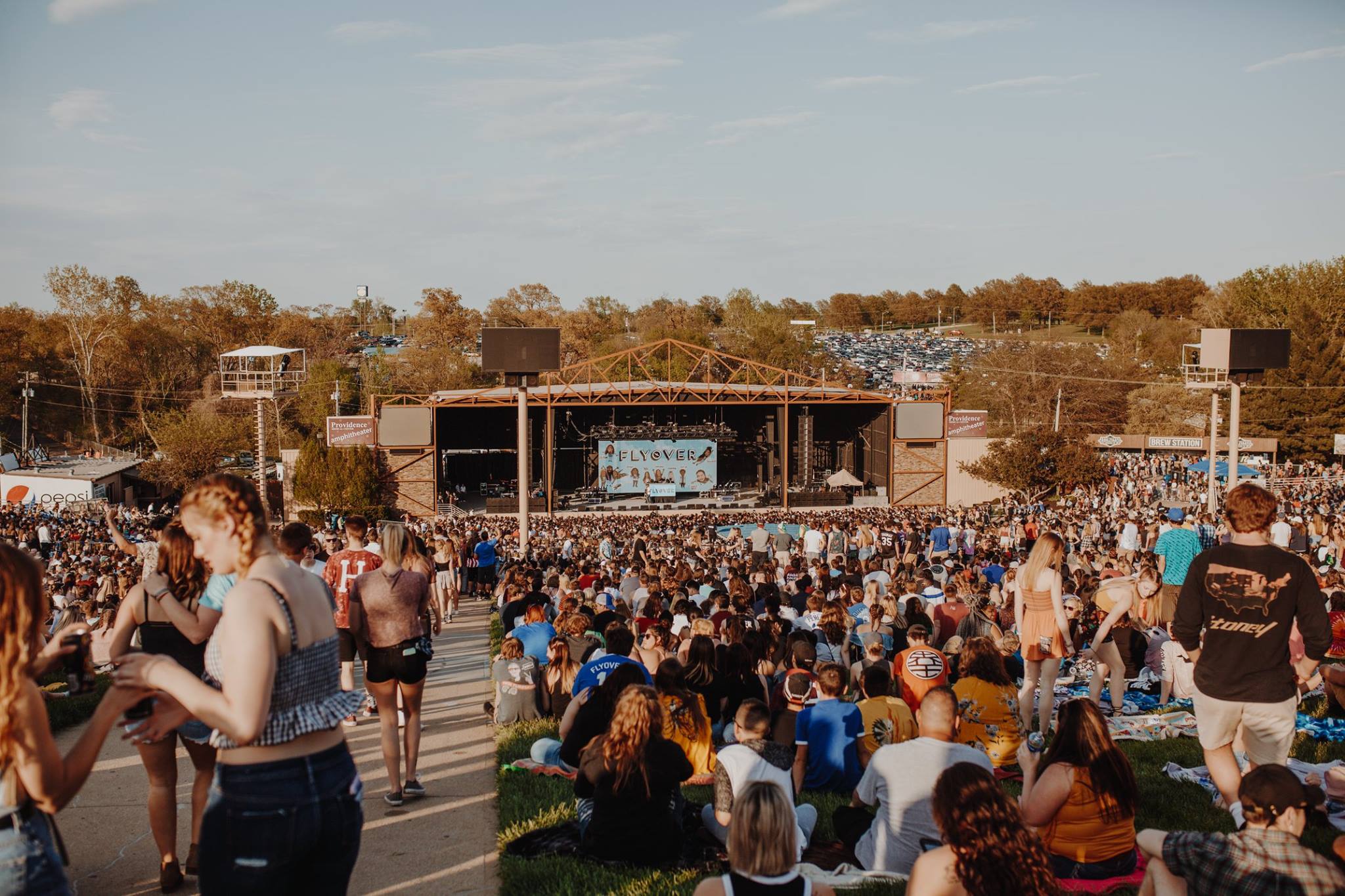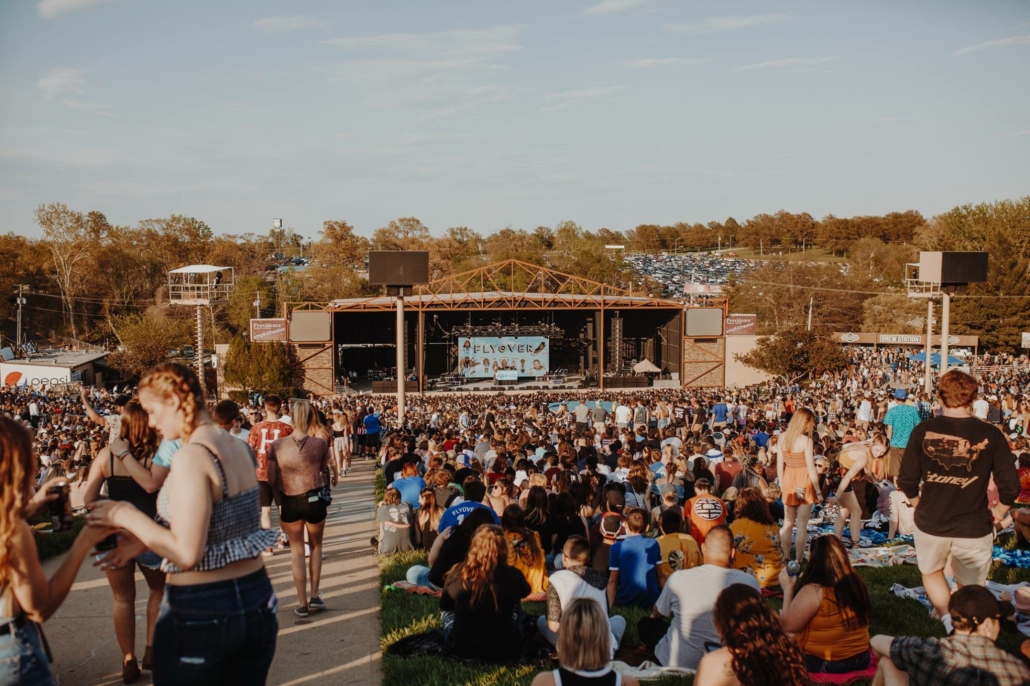 When: May 14, 2022
Where: Azura Amphitheater , Kansas
"Live concert series featuring the hottest names in hip- hop. Grammy winning star CARDI was our 2019 headline act. The announcement continues Flyover's progression from spunky upstart with little name recognition to a highly anticipated event. Other past line-ups include Atlanta rap stars 21 Savage and Lil Baby, G Herbo of Chicago, Lil Mosey, YBN Cordae, Splurge and Blaatina & Yusee, as well as K-pop star Tobi Lou."
FLYOVER FESTIVAL 2018 Feat. POST MALONE, LIL PUMP, SAINt JHN +more
---
19) Lil WeezyAna Festival
When: September 2022
Where: New Orleans, Louisiana
"Lil Wayne will host the 5th annual Lil WeezyAna Fest in his hometown of New Orleans, Louisiana. This year's event takes place at a new location, NO Lakefront Arena Festival Grounds, and promises a lineup featuring Wayne alongside fellow rap titans Travis Scott and Meek Mill. Other confirmed acts include Trey Songz, Megan Thee Stallion, Kash Doll, Saweetie, and Melli, along with surprise guests."
Lil Wayne's Lil Weezyana Fest Recap
---
20) Brooklyn Hip Hop Festival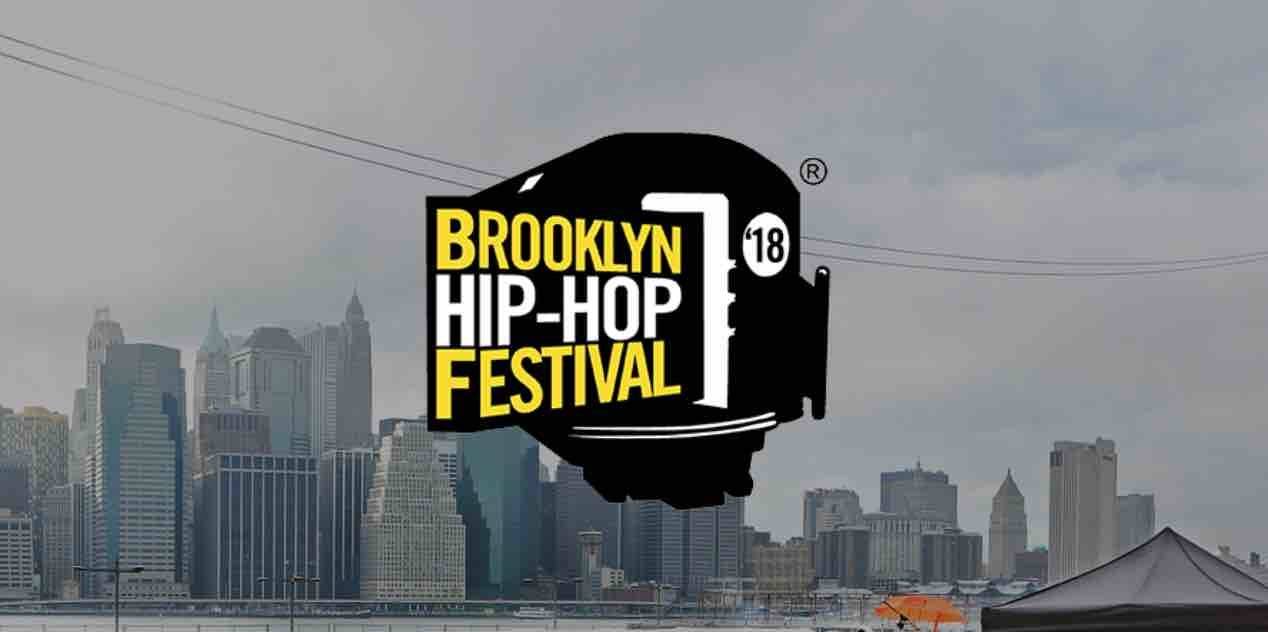 When: July (Future Dates TBA)
Where: Brooklyn, New York
"Established in 2005, The Brooklyn Hip-Hop Festival is New York City's largest Hip-Hop cultural event that showcases the positive aspects of Hip-Hop culture by highlighting Hip-Hop's legacy as an agent of artistic progression, community building and social change.
In addition to musical performances, the Festival offers a number of activities for its audience, including: panel discussions, exhibitions, parties, an award show and a family-friendly block party. The Festival is more than a concert or outdoor fair. It is a family reunion for lovers of this great culture."
Brooklyn Hip Hop Festival
---
Am I Missing Any Epic Hip Hop Festivals in the U.S.A?
There really are so many incredible festivals around the country with world-famous hip-hop stars! If you think I need to add any specific hip-hop/rap festivals to my list, please let me know!
---
Looking for more music festivals in America?
My travel blog is filled with articles that discuss the best parties, events, and music festivals all over the world! Check out a few of these articles below and start planning your next big adventure! There are tons of after movies to check out, awesome line-ups, and much more!
---
Thanks for reading about these Hip Hop Festivals!!
Share the Hip Hop love with your festival squad!
https://www.jonesaroundtheworld.com/wp-content/uploads/2019/08/Hip-Hop-Festivals-in-the-USA.jpg
1001
1500
Dave
https://www.jonesaroundtheworld.com/wp-content/uploads/2017/03/logotry-1-1-300x106.png
Dave
2021-11-17 20:57:17
2021-11-18 03:30:50
The 20 Best Rap & Hip Hop Festivals in the U.S.A