Before the touring industry kicks into high gear in late summer, music festivals will be some of the first places to check out live music since March 2020 — including several music festivals in Wisconsin.
Wisconsinites surely knows how to please all music lovers. Below is the list of top music festivals in Wisconsin that will keep you thrilled throughout the summer.
Also, be sure to read my guides on Festival Hydration Backpacks, Festival Camping Packing List, Festival Shoes, and Festival Gadgets to help you make the most of your time!
---
1) Rock Fest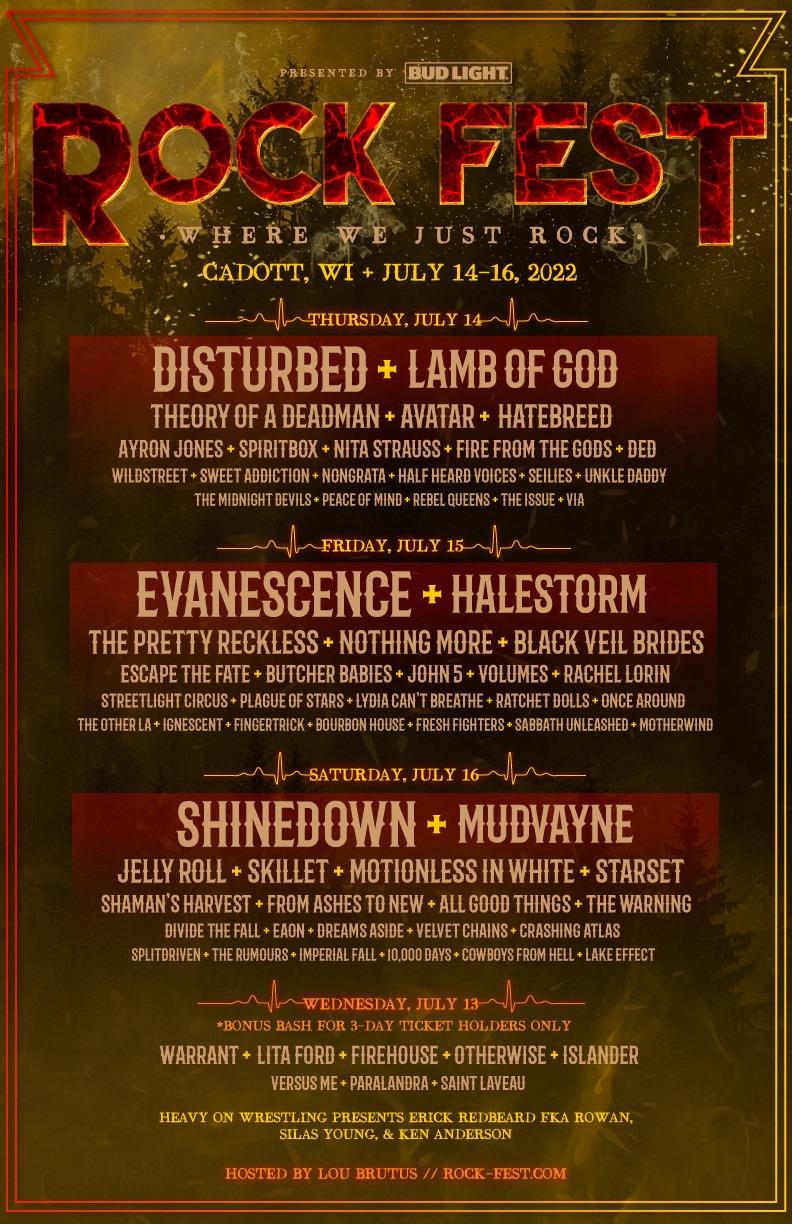 When: July 15-17, 2022
Where: Cadott, Wisconsin
"A City literally built on Rock n' Roll in Cadott WI, Rock Fest is the true Rock experience you can't miss. In its 28th year, it is THE top venue for people of all ages to come together for one common purpose: to congregate with other rock fans from across the world, in a place where rock music still matters. Featuring the very best of active and classic rock and legendary names in Rock Music, entertainment and experience are first priority. Aerosmith, Iron Maiden, Avenged Sevenfold, Kiss, Motley Crue, Fleetwood Mac, Tom Petty, Kid Rock, Shinedown, Five Finger Death Punch, Rob Zombie, Korn & many more rock legends have graced this permanent Main Stage over the course of the last two and a half decades.
Rock Fest is set on 360 acres of picturesque land in Central Wisconsin, and is home to nearly 7,000 campsites all within easy walking distance of the concert grounds. With major airports and hotels nearby, as well as daily shuttle service, there is literally something for every rock music fan here. Experience the Amphitheater Venue for yourself, and find out why Rock Fest Fans keep coming back every year to the Largest Rock & Camping Festival in the US. "
Rock Fest '21 Weekend Recap
---
2) Milwaukee Irish Fest
When: August 20-22, 2022
Where: Milwaukee, Wisconsin
https://irishfest.com/Milwaukee-Irish-Fest
"Milwaukee Irish Fest is produced by CelticMKE, a non-profit organization focused on the promotion and preservation of the Irish and Celtic cultures. Your support enables us to produce the festival and to provide Celtic resources to people across the world.
CelticMKE is a nonprofit organization dedicated to sharing Celtic music, history and culture with people in the Midwest and all over the world! You'll find virtual programs for the whole family, lectures from leading experts in Celtic culture, Irish music classes and more. Whether you want to reconnect with your roots, or explore a culture that's new to you, CelticMKE is here to help."
Milwaukee Irish Fest | "Paradise" by Skerryvore
---
3) Blue Ox Music Festival
When: August 19-21, 2022
Where: Eau Claire, Wisconsin
https://www.blueoxmusicfestival.com/
"The Blue Ox Music Festival in Eau Claire, Wisconsin was founded in 2015 with the vision of an intimate Bluegrass and Americana music experience. Both the festival and campgrounds are family owned and operated by a team with over 30 years of music festival experience. It is our goal to provide a fan-centric festival experience that is welcoming and approachable for people of all ages. Blue Ox features over 35 artists spread across 3 days on three stages and on-site camping."
2022 Blue Ox Music Festival Lineup Release - Eau Claire, WI
---
4) Country Thunder Music Festival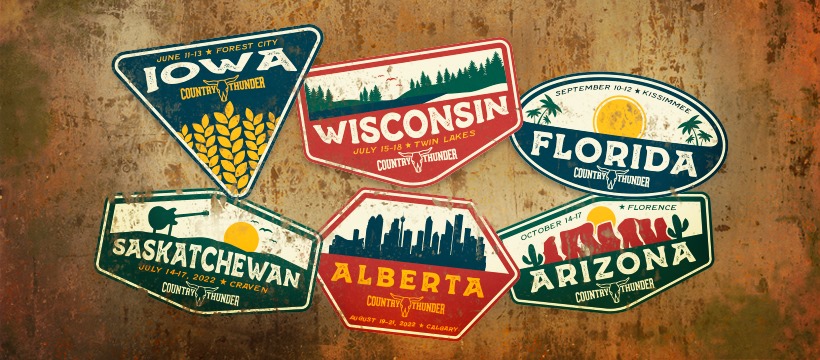 When: July 15-18, 2022
Where: Lance Drive, Twin Lakes, Wisconsin
https://www.countrythunder.com/wi
"For over 23 years, Country Thunder Music Festivals has brought fans the best artists Country Music has to offer!
"Country Thunder is a music festival brand that hosts several concerts in North America each year. They have operated festivals in Wisconsin and Arizona since 1996, and shows in Saskatchewan since 2005 and in Alberta since 2016. In 2019, Country Thunder Florida joined the family!
Past acts include: Garth Brooks, Kenny Rogers, John Denver, Dolly Parton, Willie Nelson, Tim McGraw, Clint Black, Alan Jackson, Brad Paisley, Reba McEntire, George Strait, Taylor Swift and Kenny Chesney plus many many more!"
Country Thunder in Wisconsin!
---
5) Summerfest
When: September 1-4, 8-11, & 15-18, 2022
Where: Maier Festival Park, Milwaukee, Wisconsin
"Summerfest presented by American Family Insurance is the World's Largest Music Festival and Milwaukee's cornerstone summer celebration that attracts the music industry's hottest stars, emerging talent and local favorites."
It's all about bringing you shows you'll brag about and moments that you just can't miss. More stages and picture-perfect spaces on the lakefront, local eats, drinks, shopping, and even an all-new children's area for your up-and-coming little rockers.
Whether you're coming here by plane, train, boat, car, or bus – it's easy to get to Summerfest. Located in Downtown Milwaukee, we're only a 10-minute drive from Mitchell International Airport!"
Inside SUMMERFEST - The World's Largest Music Festival!
---
6) Brat Fest
When: May 2022
Where: Madison, Wisconsin
"Since 1983, the World's Largest Brat Fest has sold more than 4 million brats to help raise almost $2 million to benefit 100+ local charities. Brat Fest brings the community together each Memorial Day weekend—rain or shine—for 3 days of free music, fantastic food and family-friendly fun to help kick off the start of summer in the heart of downtown Madison, Wisconsin.
Brat Fest is a volunteer-run nonprofit event that provides an opportunity to be part of something larger than yourself, something that has evolved into a yearly tradition of honoring Wisconsin history and heritage, as well as showing appreciation to community leaders who help make Madison such a great place to live.
Brat Fest is much more than just a festival—it's an opportunity to build a better community while having fun and creating cherished memories with family and friends. Your support of Brat Fest is essential in helping us help others to succeed. Come join us to celebrate the warmth of summer and the warmth of giving back to the community."
Worlds Largest Brat Fest Madison Wisconsin 2019
---
7) Steel Bridge Songfest
When: June 12, 2022
Where: Sturgeon Bay, Wisconsin
https://steelbridgesongfest.org/
https://www.facebook.com/SteelBridgeSongfest
"Steel Bridge Songfest is an annual volunteer community event produced by the Steel Bridge Creative Foundation (previously CfOB) and is the only songwriter festival of its kind in the world.
Preceded by a 4-day songwriting marathon, the celebration is designed to promote community awareness, enrich the local economy, and to champion historic preservation through the use of artistic expression and experience. We also raise awareness through CD compilations of original songs written and inspired by the bridge, and through volunteer public performances."
Join us for Steel Bridge Songfest!
---
8) Hodag Country Music Festival

When: July 7-10, 2022
Where: Oneida, Wisconsin
http://www.hodag.com/country-music/
"The Hodag Country Festival, founded in 1978, is an outdoor music festival held each summer in Rhinelander, in Oneida County, Wisconsin, United States. When the first festival was held August 4–6, 1978, it featured Freddy Fender and Jana Jae and had an attendance of about 500.
We will be putting more of the Overflow campsites up for reservation. Please refer to this map to see where these sites are located. These sites are not electric, so price for each site is $120. Sites will go on sale on March 8th and we will sell through May 31st, or until they are sold out. A two-ticket minimum is required per site, just like our other reserved sites."
Hodag Country Festival 2021
---
9) Mile of Music Festival
When: August 4-7, 2022
Where: Appleton, Wisconsin
"Mile of Music kicked off in 2013 as a cover-free festival highlighting handcrafted artistry. The theme quickly caught on with music lovers everywhere and is still the focus today as The Mile continues to make music accessible to everyone with nearly all shows FREE to attend.
We welcome the finest talent, including singer-songwriters, duos and multi-piece bands showcasing original roots music ranging from indie and folk-rock to soul, to folk, bluegrass and more! On top of that, we highlight homegrown talent and recruit the best emerging artists from all over the U.S."
---
10) Voices of Peace Gospel Music Fest
When: August 19-20, 2022
Where: Hilbert, Wisconsin
http://www.voicesofpeace.net/gospel_music_festival
"On Friday & Saturday, August 19 & 20, 2022, at the Hilbert Civic Park located on Highway 57/32, in Hilbert, WI. The "Voices of Peace" will host their 17th annual Gospel Fest from 11 AM to 9 PM on Friday, and from 10 AM to 8 PM on Saturday. No admission fees will be charged, just a freewill donation with 100% of the monies going back to the bands.
Bring your lawn chairs, bring your family, and be ready for a wonderful, spirit filled weekend! There will be 15 performing groups, playing country, bluegrass, and southern gospel music. Food, snacks & refreshments will be available on the grounds, Brats and hamburgers, Friday and Saturday, Fish Fry on Friday and chicken breasts on Saturday."
---
Am I Missing Any Wisconsin Festivals 2022?
If you've heard of any cool festivals, events, or concerts that deserve a place on this list, be sure to reach out!
I'd love to keep my list of music festivals in Wisconsin as up to date as possible!
---
Looking for More Incredible Festivals in the USA?
Check out some of my favorite posts below for more incredible live-music events and festivals around the world!
---
Thanks so much for reading!
https://www.jonesaroundtheworld.com/wp-content/uploads/2022/03/Summerfest-Music-Festival-Wisconsin.jpg
998
1500
Dave
https://www.jonesaroundtheworld.com/wp-content/uploads/2017/03/logotry-1-1-300x106.png
Dave
2022-03-08 17:56:37
2022-03-21 01:53:34
Top 10 Music Festivals in Wisconsin For Your Bucket List