Top 20 Music Festivals in Canada to Experience Before You Die
When it comes to music festivals in Canada, it saddens me to share that I haven't been to a single one yet!  I've been dying to make the trip to the magical Shambhala Fields, and to party it up in Toronto at VELD, but I unfortunately haven't found the time.
I was wondering what other major festivals are up in Canada, so I decided to do some research and put it all together in this post.
Take a look at what I believe to be are the Top 20 Music Festivals in Canada!!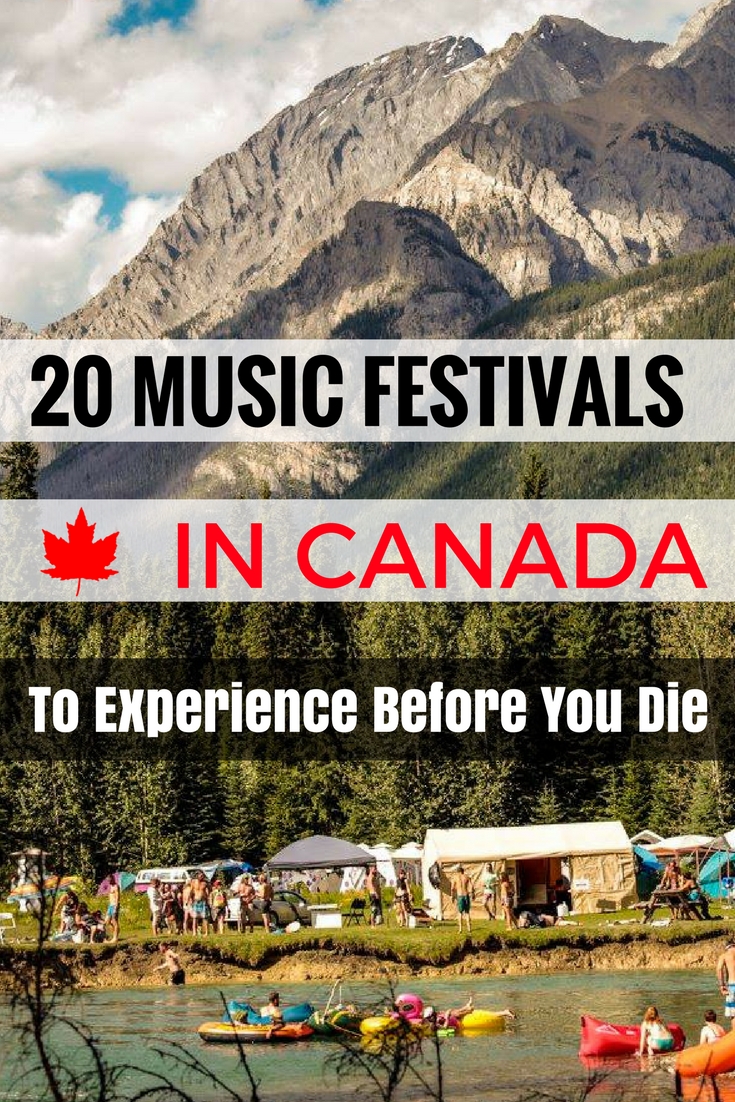 ---
If you're planning on hitting up a festival this summer, make sure you check out The Ultimate Packing Guide To Camping Music Festivals!
---
1 ) Shambhala Music Festival
When:  August 11-14, 2017
Where:  Salmo River Ranch, British Columbia
"This is Canada's premiere Electronic Music Festival. Cutting edge Talent, Lights and Sound come together in Paradise to give life to a non -sponsored family run anomaly. Seeing it for yourself is the only way to understand exactly what is Shambhala."
---
2 ) Veld Music Festival
When:  August 5-6, 2017
Where:   Downsview Park, Toronto, Ontario
This two-day festival brings an impressively stacked line-up that would please just about any fan of electronic music.  Tiesto, Major Lazer, and W&W will be bumping some heavy hitting EDM.  Claptone, Mark Knight, Nicole Moudaber, and Sasha & John Digweed will be delivering the sweet sounds of the underground.
---
3 )  Snowbombing Canada
When:  Beginning of April
Where:  Sun Peaks, British Columbia
"Coors Light Snowbombing is a festival filled with fresh air, blue skies, black runs and white-hot parties. An exhilarating week-long whirlwind of brilliant bands and world class DJs in the unrivalled setting of Sun Peaks, British Columbia, Canada.
Canada's Greatest Music Festival On Snow…"
---
4 )  Future Forest
When: July 28-31, 2017
Where:  Fredericton, New Brunswick
Future Forest is an outdoor camping festival with a focus on electronic music and art. The festival originated in 2012 as a fundraiser for a friend and accomplished DJ, Jay Hamilton, who was diagnosed with cancer. Future Forest proudly embraces the perspective that there are no spectators at the event but rather participants who in some way contribute to the overall experience.
---
5 )  Dreams Festival
When:  July 7-8, 2017
Where:  Echo Beach, Toronto, Ontario 
"Dreams Music Festival is a 19+ boutique festival experience for a discerning electronic music fan, taking place at Echo Beach in downtown Toronto, on the shores of Lake Ontario. A new luxury festival with a familiar feel, Dreams is a two day, three stage, outdoor, sensorial celebration of Toronto's music and arts community."
---
6 )  Osheaga Festival
When: August 4-6, 2017
Where:  Parc Jean-Drapeau, Montreal
"Osheaga is a unique and eclectic music and arts festival staged in the breathtaking landscape of Montreal's Parc Jean-Drapeau."  Spread out over 3-days with a massive line-up, this is a festival that will please just about everyone!
---
7 )  North by Northeast (NXNE) Festival
When:  June 23-25, 2017
Where:  Toronto, Ontario
"NXNE is a raging annual 10-day summer festival and conference, featuring music, gaming, comedy, interactive and more at this packed cultural explosion. The U.K. Guardian says "NXNE has crowned itself Toronto's leading music event." NXNE celebrates its 23rd year in 2017 and takes over Toronto with showcases, panels, parties, installations, and more. NXNE includes a major three-day music festival that also features comedy, food, art installations and midway rides and games at NXNE's Port Lands festival site. NXNE Game Land will present Canada's largest-ever, free outdoor e-Sports competition at Yonge Dundas Square. We take over Toronto's best live music clubs to present our must-see Club Land series of emerging music with extended last calls at your favourite sweaty club/bar/pop up venue."
---
8 )  Quebec City Summer Festival
When:  June 6-16, 2017
Where:  Toronto, Quebec 
"300 shows, 10 venues and 11 days of music make the Festival d'été de Québec one of Canada's biggest music festivals. Every year, the Festival d'été attracts over one million festivalgoers to Quebec City's historic district for concerts by international superstars and top new talent. In 2016: Sting and Peter Gabriel, Red Hot Chili Peppers, Brad Paisley, Duran Duran, The Lumineers, Ice Cube, Selena Gomez, Flo Rida, Half Moon Run, Hedley and Rammstein."
---
9 )  Pemberton Music Festival
When:  July 13-17, 2017
Where:  Pemberton, British Columbia  
"Grab your friends and leave the world behind for a four-day celebration beneath epic Mount Currie in Pemberton Valley. Full of dancing, food, friendship, and of course — the best music EVER!"
#PEMBYFEST #SMILE
---
10 )  Motion Notion Festival
When:   August 24-28, 2017
Where:   Beaverfoot Lodge, British Columbia
"Motion Notion lives in the heart of the Canadian Rocky Mountains and in the heart of Canadian underground electronic-music culture. We invite you to the spectacular Beaverfoot Lodge near Golden BC to experience the bliss we and the attendees have created over the past 18 years!  The festival has always been something off the beaten path and a thing of discovery and amazement for all"
---
11 )  Pop Montreal
When:  September 13 – 17, 2017
Where:  Montreal, Quebec
"POP Montreal International Music Festival is an annual not-for-profit curated cultural event that champions independence in the arts by presenting emerging and celebrated artistic talents from around the world."
---
12 )  Chasing Summer
When:  August 5-6, 2017
Where:  Calgary, Alberta
"The largest EDM event in Western Canada returns to Calgary for two epic days!  Living in the prairies of Canada is the pursuit of the fleeting. Winter dominates the calendar, while the most desired season of them all – summer – is heartbreakingly short by comparison. It becomes an obsessive pursuit for all, eager to grab what they can before the leaves change to herald the impending harvest and snowy landscape to come. This is the reason why Canadians love summer so desperately. CHASING SUMMER is a celebration of this passion."
---
13 )  Meme Festival
When:  August 17-21, 2017
Where: Winnipeg, Canada 
"The Manitoba Electronic Music Exhibition (MEME) is the only annual event in Western Canada that highlights local and international electronic musicians at such a high profile and free public venue (The Cube). MEME is a festival that presents refined cutting edge electronic music performed using the latest in new creative technologies. MEME is a combination of 21st century artistic exploration and a collective celebration of human creativity expressed through a symbiotic relationship with technology. MEME is an experience that delivers a wide array of eclectic sonic soundscapes that are intellectually stimulating and also beckoning to the dancefloor. Some of the musical styles you can expect to hear at MEME include a broad spectrum of house, techno, deep dub, psychedelic, world, nu-jazz, ambient and experimental sounds."
---
14 ) Mutek Montreal
When:  August 23- 27, 2017
Where:  Montreal, Quebec
"A beacon signaling the beginning of the summer festival, MUTEK returns to the heart of the Quartier des spectacles and the Museum of Contemporary Art of Montreal (MAC) for 5 days and nights of carefully curated performances. Emphasizing live and original expressions of contemporary electronic music and audiovisual arts, the festivities run at a breakneck pace at various indoor and outdoor downtown locations."
---
15 )  Center of Gravity
When:   July 28-30, 2017
Where:  Kelowna, British Columbia
"Canada's Hottest Beach Festival is back! Now in it's 10th year, the much anticipated Monster Energy Center of Gravity returns to Kelowna's City Park July 28 – 30, 2017. Produced by Wet Ape Productions and Live Nation Canada, the biggest, adrenaline-pumping festival to hit the Okanagan includes three days packed with extreme sports, sandy beaches, bikinis, and some of the biggest DJ names in the world."
---
16 )  Escapade Music Festival
When:  June 24-25, 2017
Where: Ottawa, Canada
"Escapade Music Festival is the first festival of its kind in the NCR. It's a festival dedicated to the development of the electronic music scene movement and demographic in the greater Ottawa area. Escapade Music Festival's goals are to produce a festival during Canada Day that is unrivalled in the country by combining the following items; most sought after international talent, best and most accomplished local talent, over the top production, great service, amazing ambiance and most of all, an experience that will excite all your senses whether it be visually, auditory or by touch by creating different "WOW" factors that will keep every person in the audience wanting more.
---
17 ) Evolve Festival
When:   July 13-16, 2017
Where:  Moncton, New Brunswick
Voted "Best Festival in Canada" 2010
by listeners of CBC Radio 3 Searchlight all over Canada!
"The Evolve Music and Awareness Festival is an annual 3-day summer celebration of music, culture, and social awareness. From its start in 2000 as a grassroots music and awareness festival featuring local bands, the festival has grown to showcase world-class performers from around the globe.
Evolve also plays host to workshops that inform spectators about social issues such as personal wellbeing and environmental awareness."
---
18 )  Field Trip
When:  Fort York & Garrison Common, Toronto, Ontario
Where:  June 3-4, 2017
"Field Trip is about so much more than just great, world-class music.  Food, art, comedy, family, fashion and a spirit of discovery are among our many inspirations and each year's Field Trip is dedicated to collaborative explorations of these themes."
---
19 )  Bass Coast Festival
When: Merritt, British Columbia
Where:  July 7-10, 2017
"Bass Coast Festival is an independent international exhibition of electronic music and art. Founded in 2009 by Andrea Graham and Liz Thomson, the artist owned and operated event is a distinguished platform for Canadian artists and a destination for innovative international talent.
The natural beauty of British Columbia is a quintessential element of the Bass Coast experience. Our festival site, located outside the city of Merritt, in the picturesque Nicola Valley, invites attendees to be present with nature.
Bass Coast prides itself in being an inclusive gathering that brings together people from diverse backgrounds and inspires them to participate to the fullest."
---
20 )  Canadian Music Week
When:  April 18-23, 2017
Where:  Toronto, Ontario
"Now in its 35th year, Canadian Music Week (CMW) is recognized as one of the premier music conferences and festivals in North America. Known for its world class and expert keynote speakers, CMW has established itself as one of the largest and single longest running entertainment and networking events, attracting delegates from around the world. With seminars, keynotes/celebrity interviews, international match-making, mentoring sessions, networking & Canada's largest new music festival – 1000+ artists, 40+ countries, 60 venues and 9 days – it is the official meeting ground for those leading and shaping our industries. For artists, it is a chance to learn and network with pros from all sectors of the industry who are at your disposal with the tools and knowledge to build your career in music."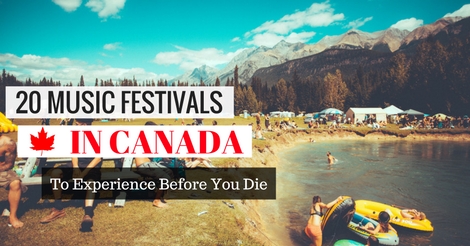 So am I missing any major festivals?   Let me know!
I'm not quite sure where my summer travels will take me this year, but I'm always on the hunt for my next music festival.  If you're new to this site, check out my Facebook & Instagram to follow along on my international adventures. 
And how about sharing the article, eh?
Related Posts