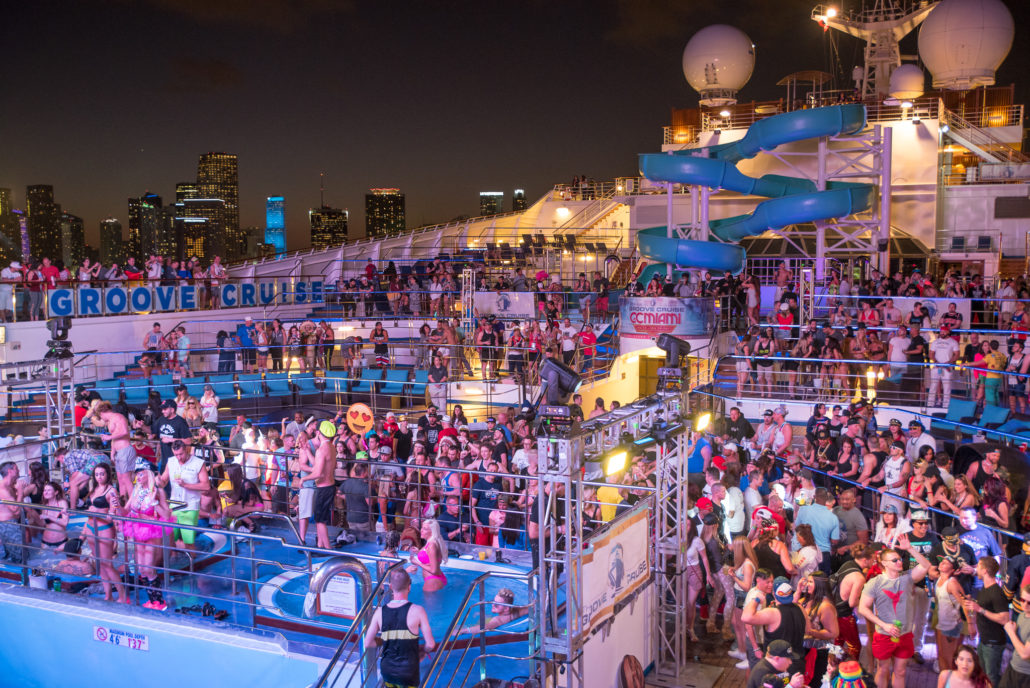 Attending a music festival on a cruise ship is definitely something you must experience at least once in your life.  However, I should warn you, that after you spend a few days raving at sea, the idea of going back to camping festivals might not sound too great.  It's honestly the most comfortable way to enjoy a festival, because it's also an incredible vacation.  The destinations are always beautiful, the cruise amenities are top-notch, and the sunrises / sunsets you'll witness while onboard the ship will leave you speechless.  If you're looking for the best cruise music festivals, I strongly suggest you add these to your festival bucket list.
---
1 ) Groove Cruise
When:  October 7-9, 2017 (Los Angeles) — January Dates TBS (Miami)
Departing:  (January) Miami, and (October) Los Angeles
Destination:  Various locations.  Bahamas, Grand Turk, Mexico, etc…
Website:  https://www.groovecruise.com/
Groove Cruise is the OG festival at sea, and will definitely be one of the best experiences your life!  I've now attended two different Groove Cruises, and it's simply unlike any other festival I've ever attended.  Check out my articles on why Groove Cruise is the Ultimate Festival Vacation & Groove Cruise Miami:  96 Hours of Atmospheric Bliss to get a better understanding why.  There are two separate editions every year, so start planning now and join the loving #GCFAM !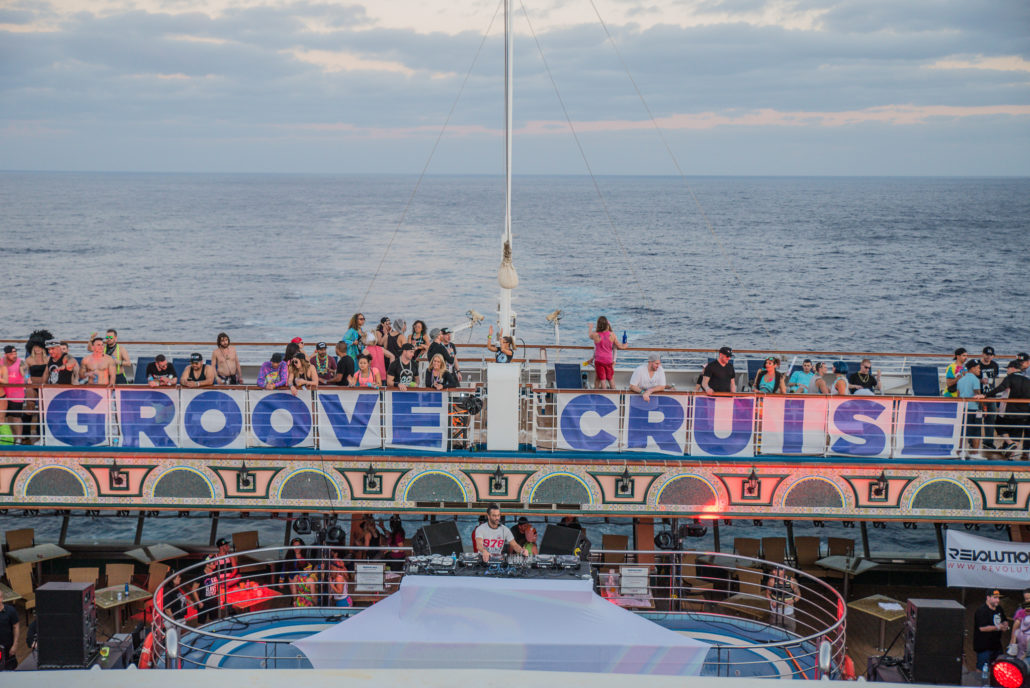 ---
2 ) HOLY SHIP
When:  Every January (2 Weekends)
Departing:  Port Canaveral, Florida  
Destination:  Various locations:  Great Stirrup Cay, Bahamas, etc.
Website:  http://www.holyship.com/
Having just successfully finished their 8th and 9th voyages, HOLY SHIP has made some major waves in the cruise festival scene.  Their line-ups are always stacked with an eclectic mix of bass / electro/ G-House artists, and the previous destinations they've sailed to are absolutely gorgeous.  The main reason I want to go on Holy Ship is to witness the legendary Destructo Sunrise Sermon Set!
---
3 ) Shipsomnia
When:  June 14-18, 2017
Departing:  Barcelona, Spain
Destination:  Ibiza, Spain
Website:  http://www.shipsomnia.com/
Unoffficially nicknamed "Tomorrowland Of The Sea", Shipsomnia is guaranteed to be a party you never forget.  It's maiden voyage sailed from Singapore – Thailand, and was one of the best festivals in South-East Asia.  They are now preparing for it's second edition leaving from Barcelona, and making it's way to everyone's favorite party island. This event is likely to sell-out rather quickly, so plan well in advance to ensure your spot on the "Tale of the Kraken".

---
4 )  Inception At Sea
The world's first ever floating spring break music festival!
When:  March 13-17, 2017  
Departing:  Miami, Florida
Destination:  CocoCay & Nassau, Bahamas
Website:  http://inceptioncruise.com/
"The second annual Inception at Sea Spring Break Cruise will be setting sail March 13-17, 2017 from Miami to multiple destinations in the Caribbean for a 4-night music festival experience, with 96+ straight hours of music and partying."  I'm personally going on this festival in just a few weeks, and can't wait to share my experience with everyone!
---
5 ) Anchored By Unique Cruise
7 Days.  7 Events.  7 pool Parties.  2500 People!
When:  June 11-18, 2017  
Departing:  Rome, Italy   
Destination:  Santorini -> Mykonons -> Monte Carlo -> Cannes  
Website:  http://unique-cruise.com/
This week long voyage sounds almost too good to be true.  Sailing to four destinations, in three different countries, this will be a vacation of a lifetime  This is the first ever edition, so if you don't have plans in mid-June, you should definitely check this out!  The line-up is looking amazing already, and I know this is going to be a full-week of nothing but groovy house and techno.
"A fresh and innovative cruise looking to combine some of the very best of the nightlife you would normally find in Ibiza along with all the glamour of yachting and cruising.  Our vision is to be an exclusive holiday choice for the influential and glamorous."

---
6 ) The Ark
When:  August 31 – September 3, 2017
Departing:  Barcelona, Spain
Destination:  Ibiza, Spain & Marseille, France
Website:  http://www.theark.cruises/en
ELROW ON A SHIP FOR FOUR DAYS!?  Is this real life…?  This cruise simply looks like it's be the experience of a life.  Take a look browse through the website and check out all the incredible stages, trip packages, and information about the venue of "the Feedom Of the Seas".  It honestly won't take you much convincing to start planning your trip!
"Four days long the ship will cruise the Mediterranean Sea in a tropical setting making sure mankind would not only survive, but to be fruitful, joyful and most of all: for mankind to create. To create an atmosphere in which any animal would duplicate. To create an environment in which everybody is loved, accepted and musically connected. To create conversation where likeminded people share stories and discuss the strings of life."

---
7 ) Mdrinity Cruise
The First 100% Underground Electronic Music Cruise
When: September 16-20, 2017
Departing:  Genova, Italy
Destination:  Barcelona -> Mallorca -> Ibiza  
Website:  http://www.mdrnty-cruise.com/
"Setting off from Genova, this wild 4-night Mediterranean voyage, with stopovers at Barcelona, Mallorca, and Ibiza, will soon be the exclusive settings for an unforgettable party experience!
Each of 5 stages, including the main dance floor which is located above deck, will have its own unique atmosphere and a befitting line-up to go with it, providing an insane 24h a day music offer!"

---
8)  It's The Ship *BONUS*
When:  November (2017 Dates TBA)
Departing:  Singapore
Destination:  Langkawi, Malaysia
Website:  http://www.itstheship.com/
This is Asia's largest festival at sea, and should absolutely be added to your travel / festival bucket list!  They've had two successful voyages in the past that both have had massive line-ups, and sailed to beautiful tropical destinations!  I spent almost two years traveling around South-East Asia, and one of my biggest regrets is not attending It's The Ship!  While 2017 dates / information haven't been released, you should definitely keep this in mind if you're planning a trip out to South-East Asia!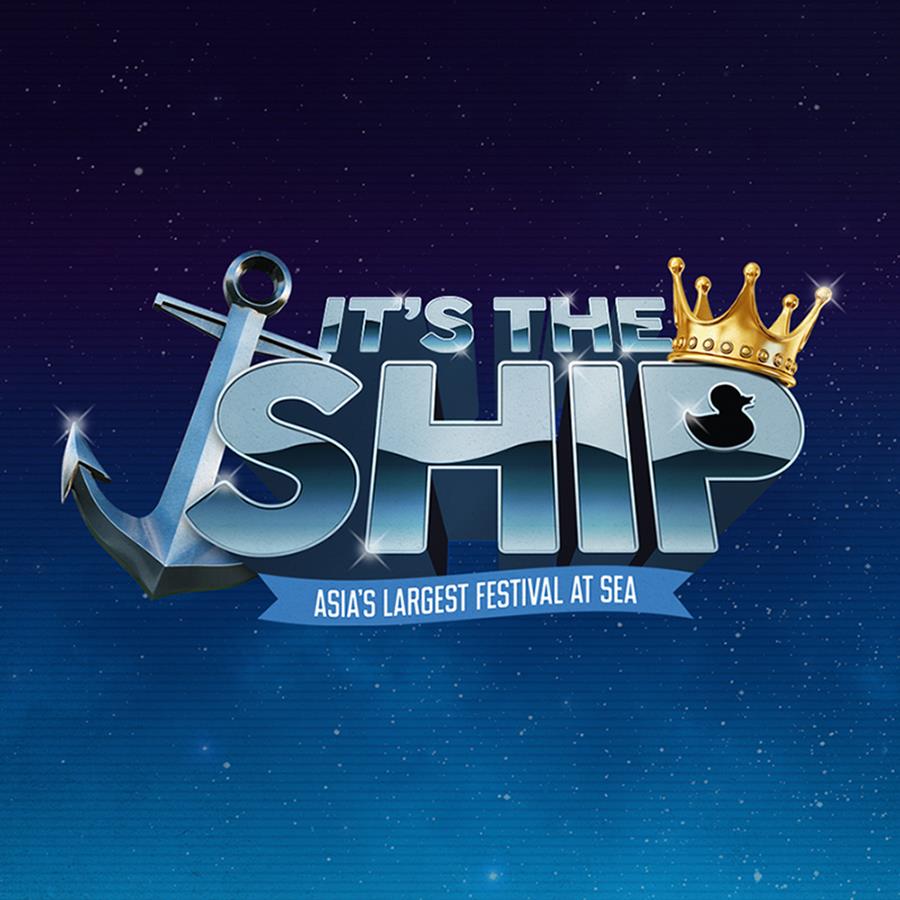 ---
Am I Missing Any Epic Cruise Festivals…?
LET ME KNOW!
THANKS FOR READING!!
FOLLOW MY ADVENTURES AROUND THE WORLD ON

FACEBOOK

, 

INSTAGRAM

,

TWITTER

 & ADD ME ON SNAPCHAT: — JONESATW
https://www.jonesaroundtheworld.com/wp-content/uploads/2017/02/DSC_6664.jpg
1367
2048
Dave
https://www.jonesaroundtheworld.com/wp-content/uploads/2017/03/logotry-1-1-300x106.png
Dave
2017-02-23 20:05:15
2017-03-20 04:49:30
The 7 Best Music Festival Cruises To Experience Before You Die