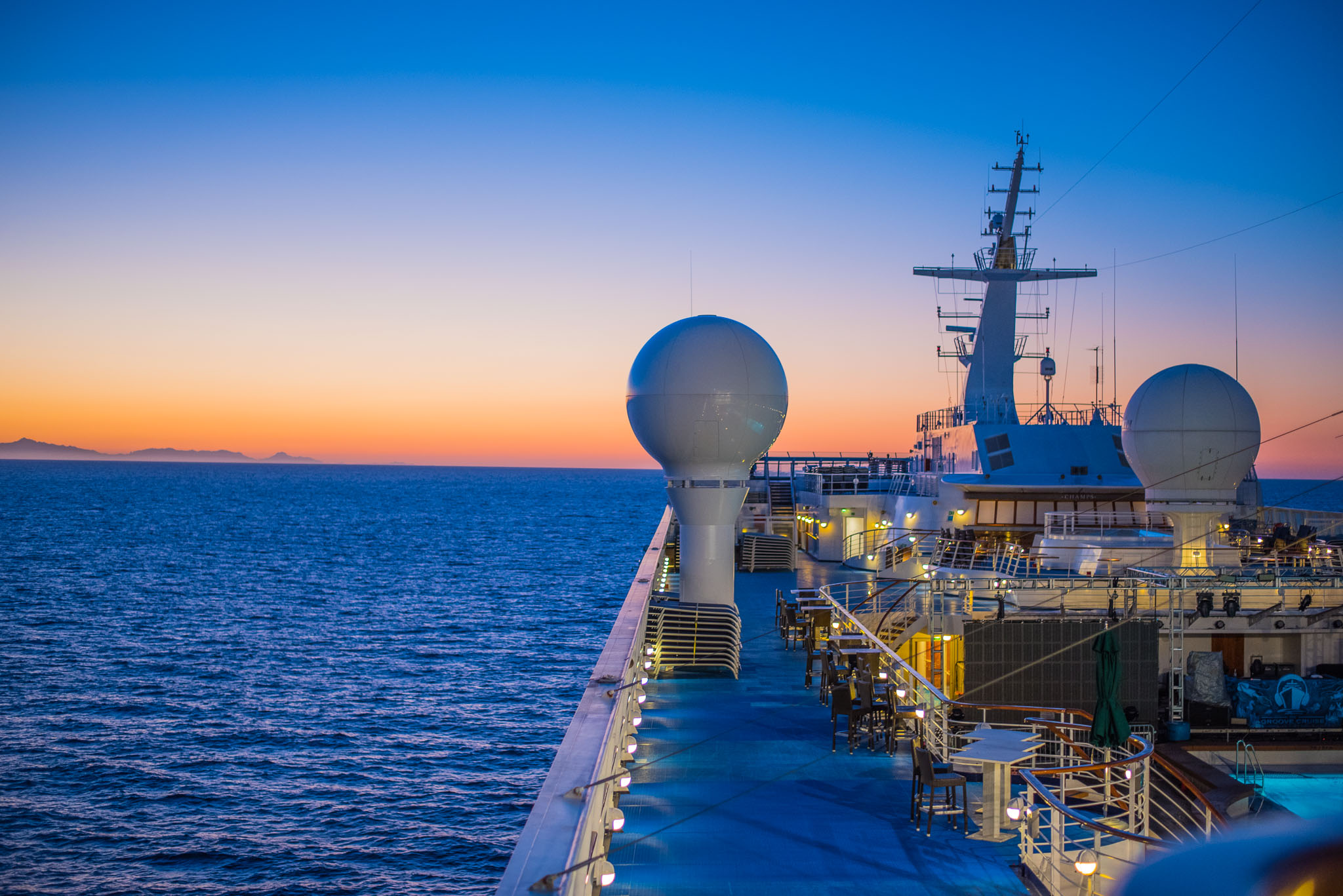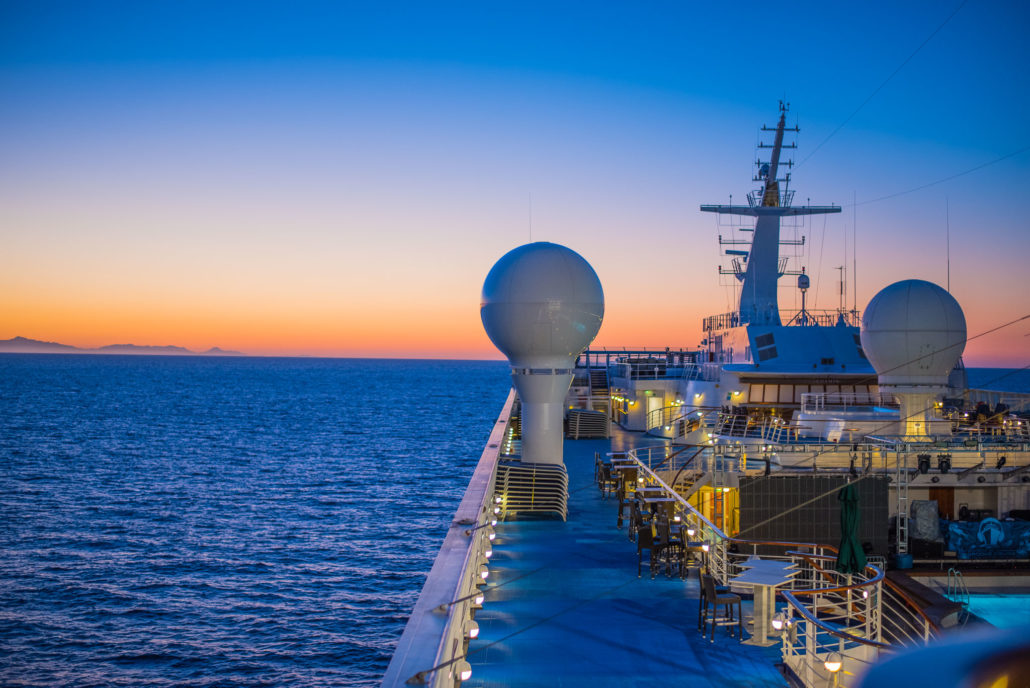 It's been one week since I got off The Groove Cruise, and I've have had a bit of time to reflect on what just happened.
I feel like I've said this quite often — about a lot of different experiences…but I think it needs to be said once more.
The Groove Cruise was by far the best music festival experience I have ever attended…
But to be fair — I don't even think you can call it a music festival, because it's just sooo much more than that.
It's a Family.  It's a Festival.  It's a Cruise.  It's a Vacation.
And it's truly magical…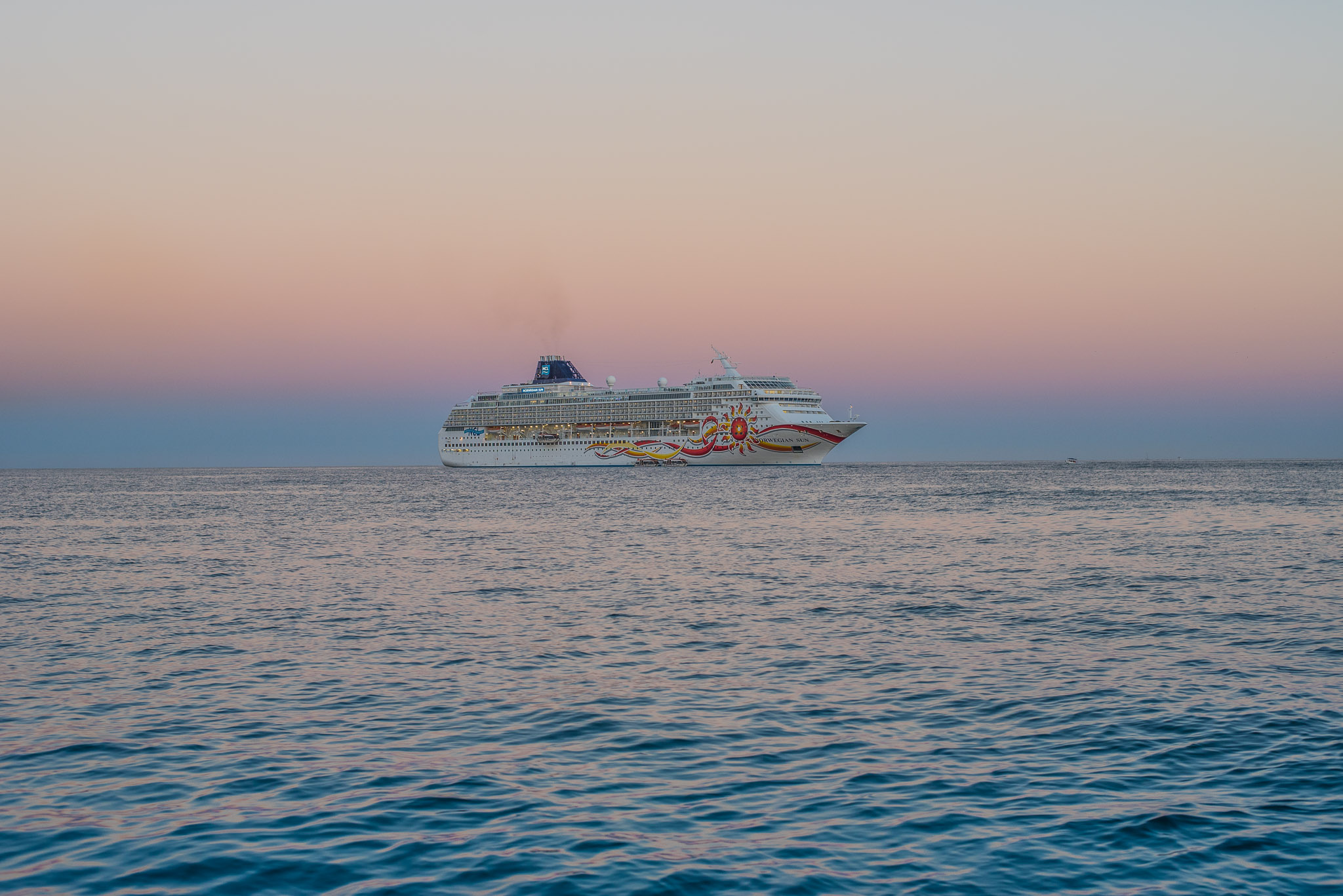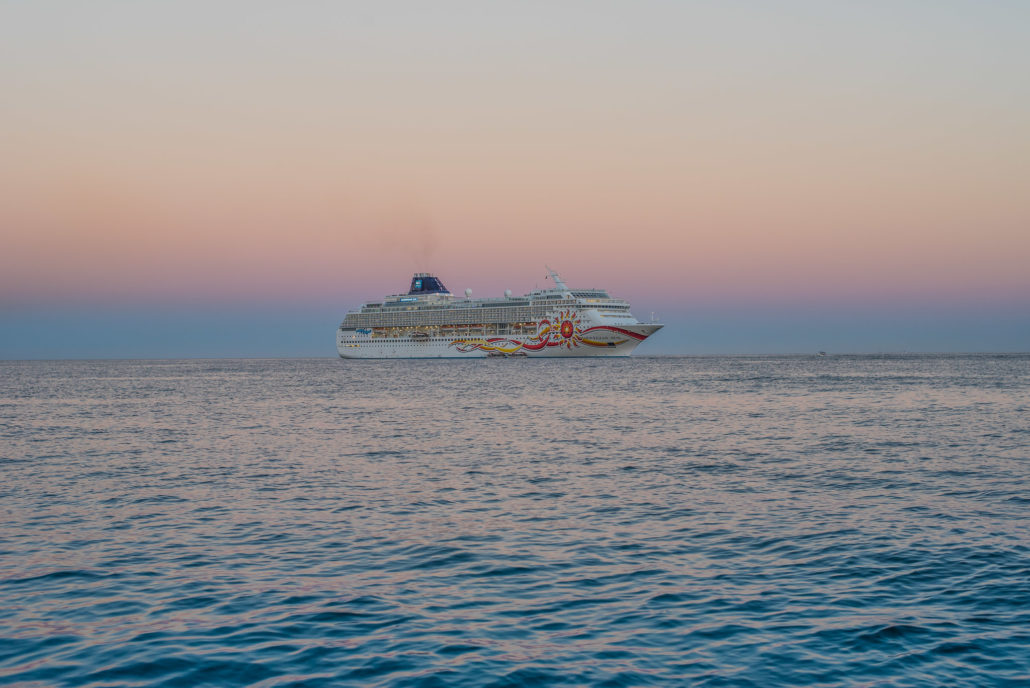 I've been to my fair share of music festivals around the world, and nothing can even compare to what I just experienced.  
Normally after attending events, I review them and discuss things like the venue, the best sets, and various other aspects, but today my goal is to share with you what made this experience so unique and incredible!
---
1) The Groove Cruise Family #GCFam
I've honestly never felt a stronger community vibe…
I went on Groove Cruise completely alone, and I left that ship with countless new amazing friends.  By the end of Day 5 — there were no longer dance floors packed with strangers, but rather my various groups of "family members" spread throughout different areas of the stage.
Everyone was just extremely happy and positive all the time, and were sending their love in all directions.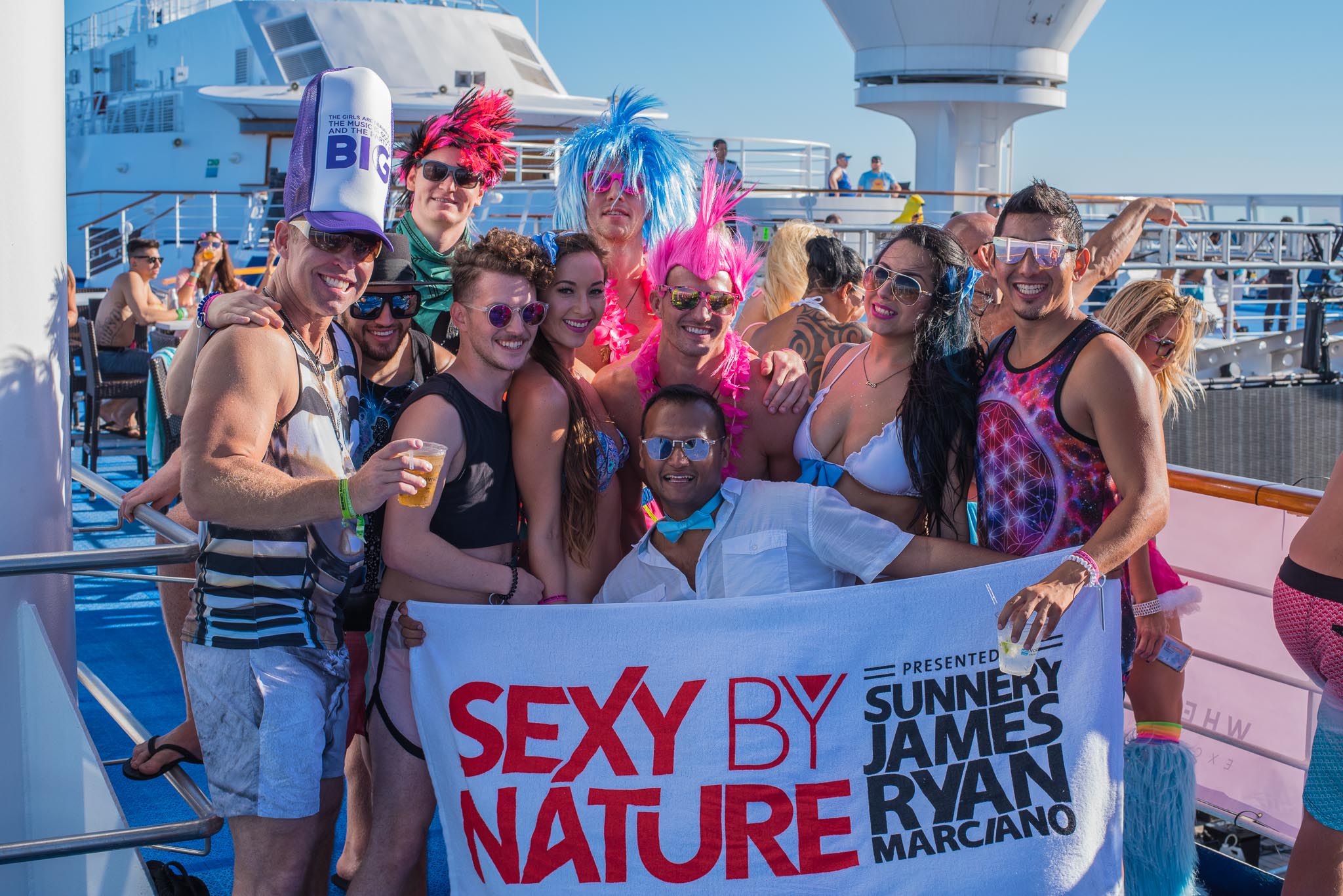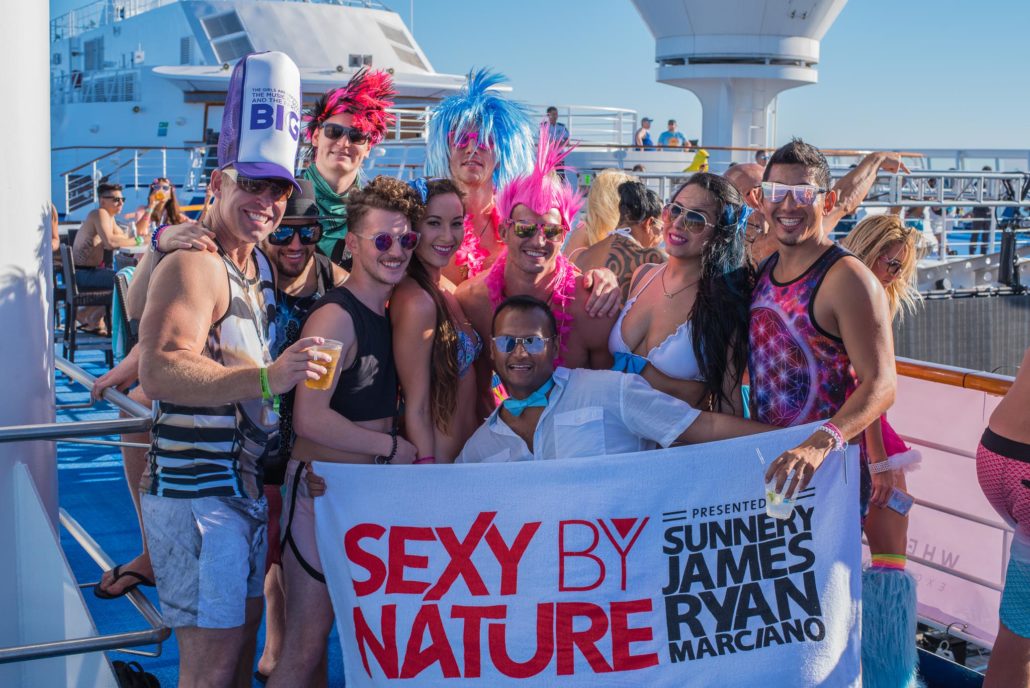 There was something special in that ocean air that is unexplainable.  Awkward elevator silences were non existent, and you would never make eye contact with someone without greeting them with a smile.
Even if people didn't know each other, we all understood that we were apart of this legendary experience together.
I'm getting goosebumps as I write this, because it's just so damn true.  Anyone who was on Groove Cruise will agree with me, that the energy that we created together on the Norwegian Sun for those 5 days was something truly magical.  I'll honestly never forget it.
I might have been a Groove Cruise virgin going into this, but now my cherry is popped and I am a loud and proud member of the #GCFam!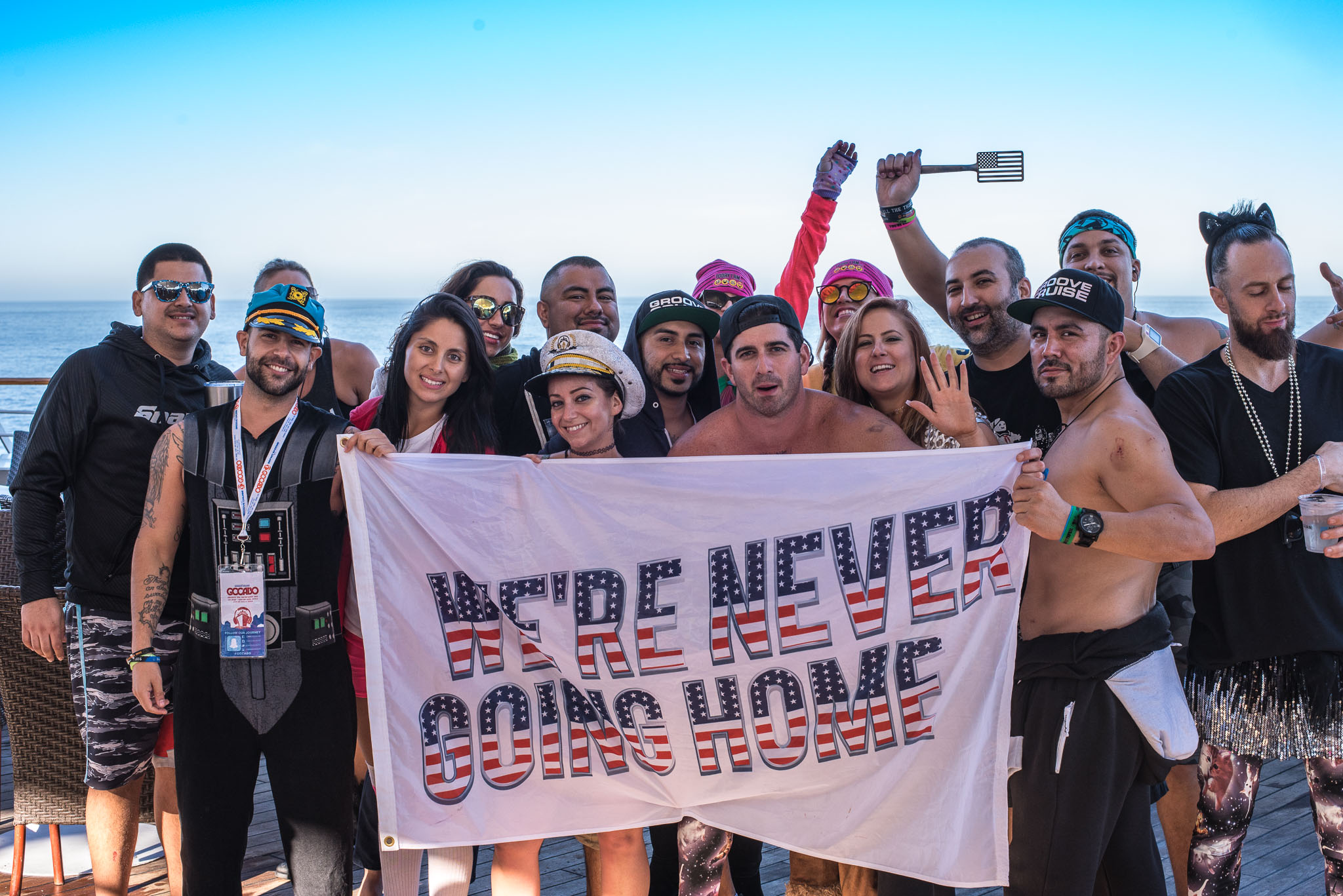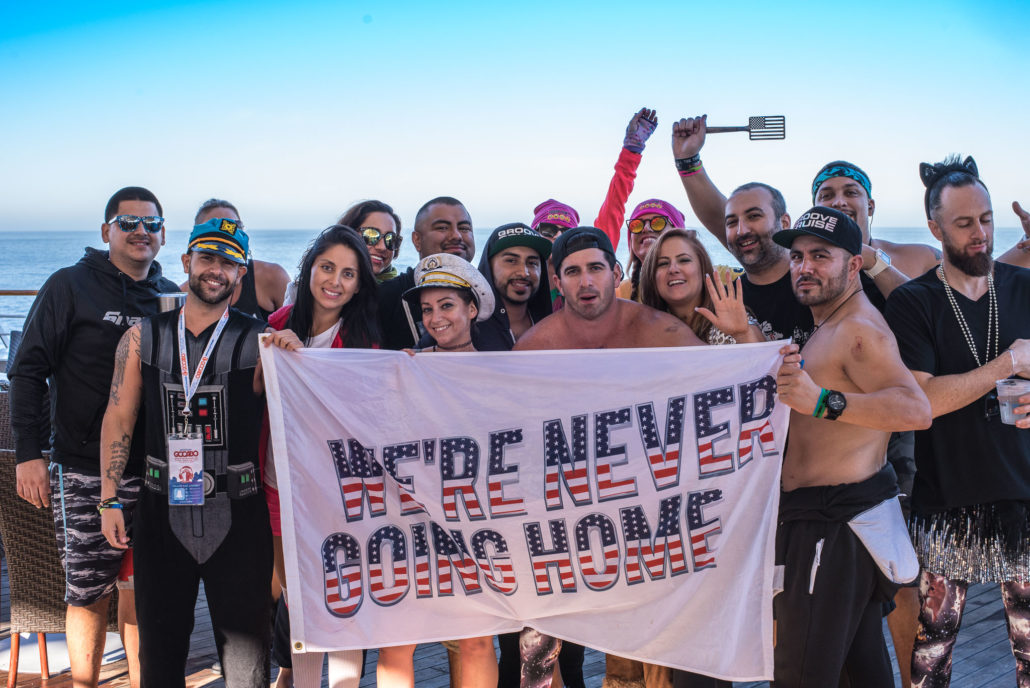 ---
2) Artist Interaction
You're in the buffet line – creeping on Sunnery James while he gets an ice cream cone.  You're walking to a different stage, glance to your left and there is Fedde Le Grand right next to you.  You timidly walk up to Orjan Nilsen and ask for a selfie, which he of course agrees to because he's one of the friendliest DJ's you'll ever meet.
The artists are all about this experience, because they too can feel this special atmosphere just like everyone else.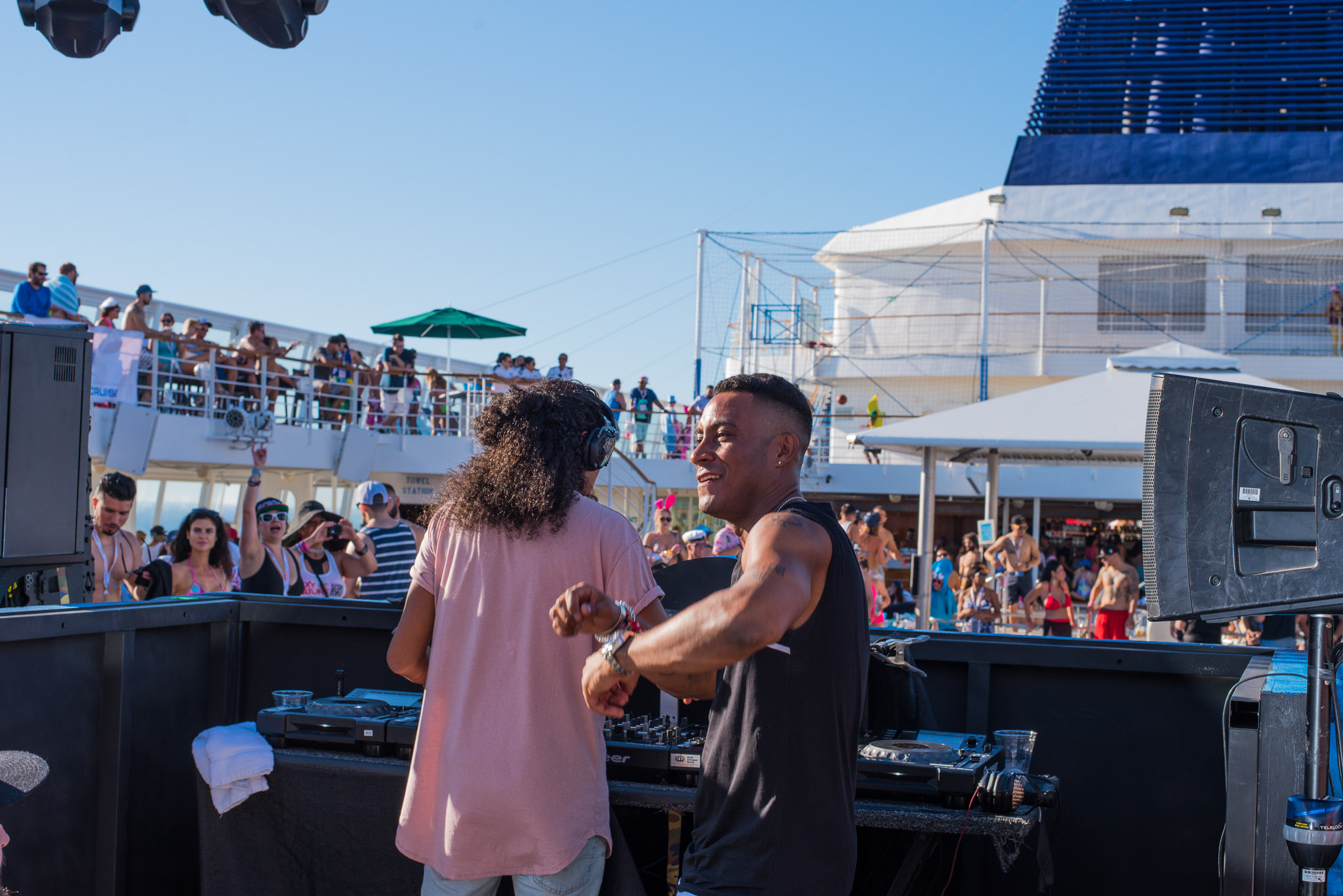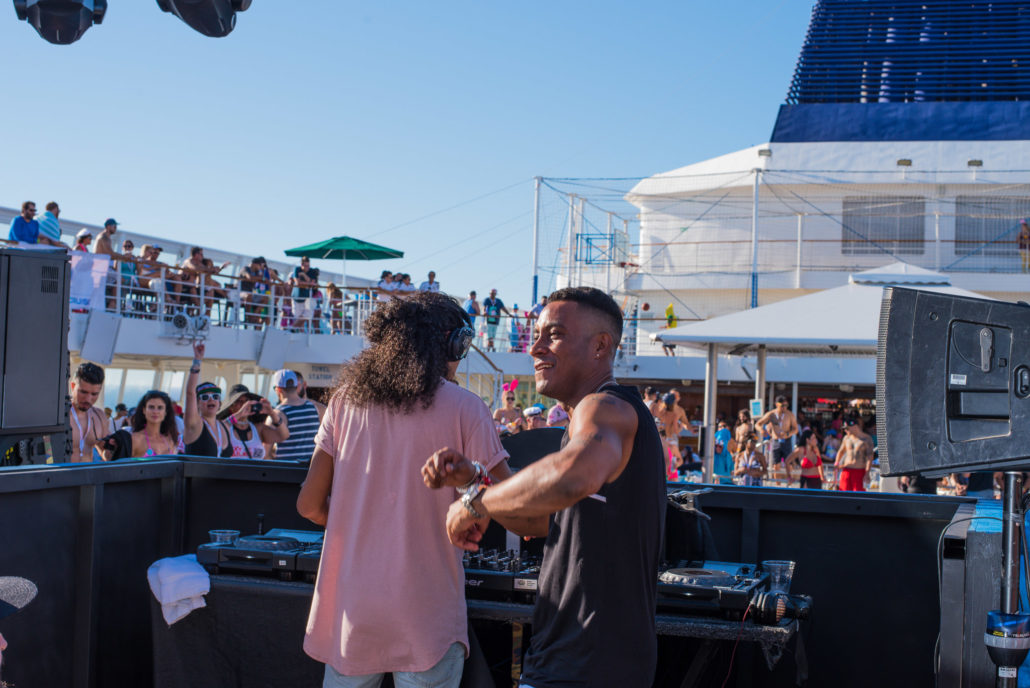 I actually heard that it's in their contracts that the DJ's have to be onboard (get it?) with the artist/guest interaction that occurs during Groove Cruise.  I mean unless the DJ's just want to stay in their rooms the entire time, it's pretty obvious that they are going to run into their fans in the hallways.
I had the pleasure of meeting so many amazing DJ's.  These are artists that I've looked up to for years, and have seen play to stadiums of 20,000+ people — and here I am just hanging out with them.  Pretty dope, yeah?
---
3) Non-Stop Music
Let that sink in.  This is 5-straight days of non-stop music! 
However, this goes hand in hand with the biggest struggle of all – dealing with the F.O.M.O (Fear of Missing Out). Unfortunately, it's simply impossible to catch every set you would like to see, no matter how hard you try.
The party was always pumping.  You wake up, fall out of bed, head to the buffet for some morning grub, and you can already see the Pool stage going off.  Grab yourself a piece of bread, a cuppa'joe, and then get after it!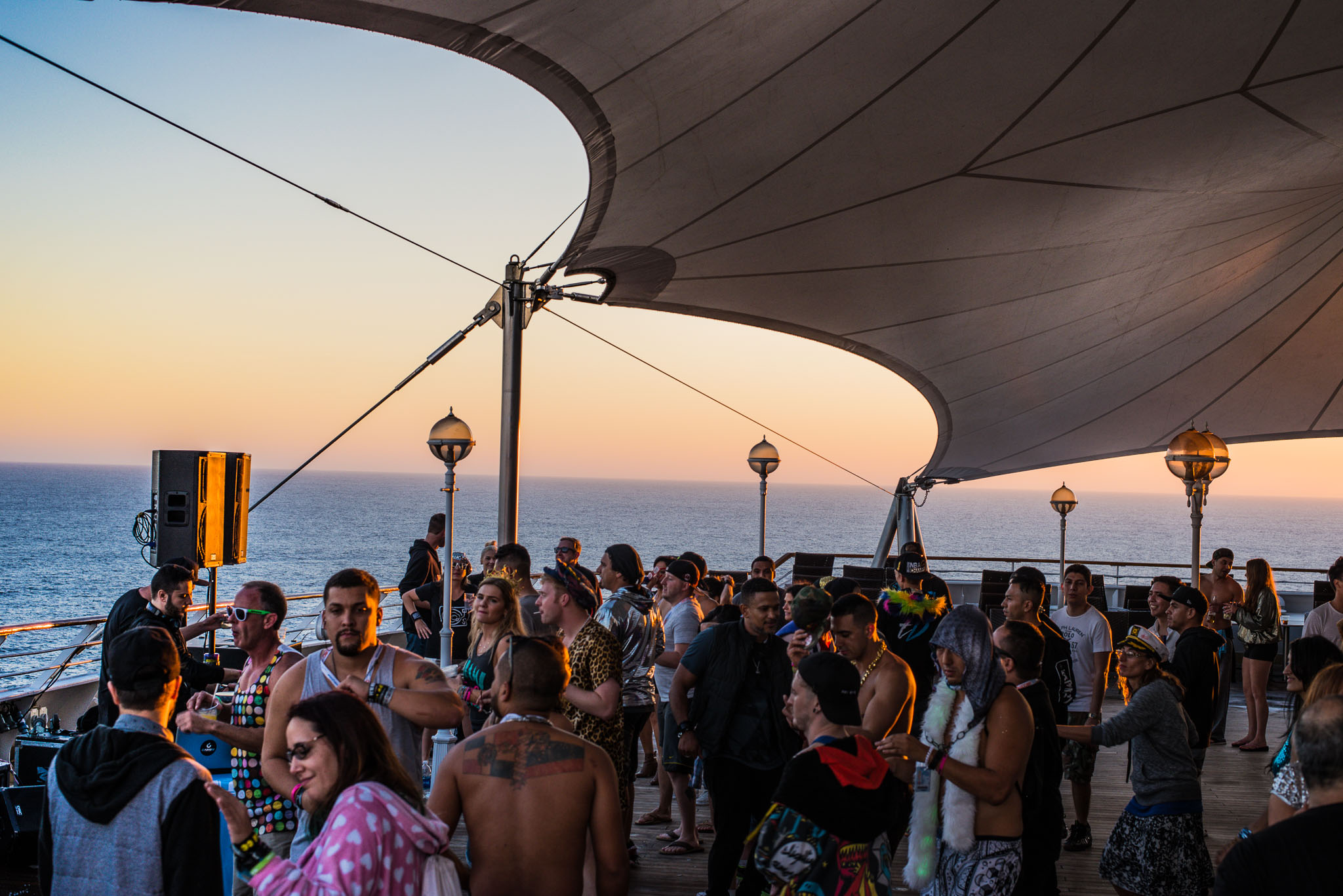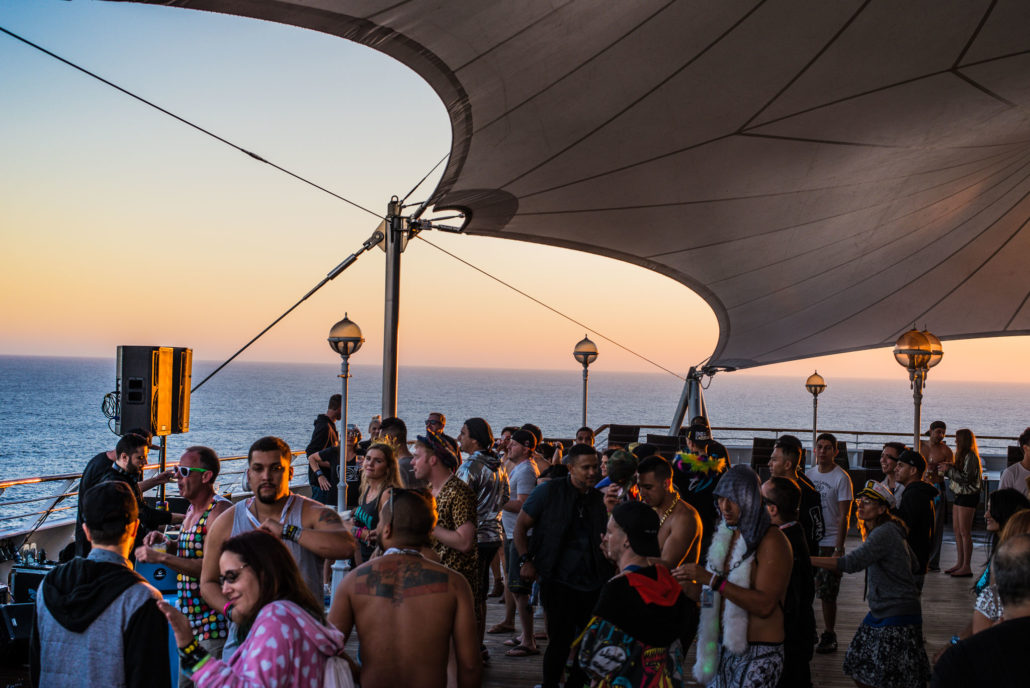 ---
4) Themed Parties
I have to give major props to everyone who attended Groove Cruise Cabo, because you all showed ready to go with suitcases full of elaborate costumes and accessories!  I didn't fully understand this before hand, but dressing up is half the fun of GC!
---
Check out my Groove Cruise Album on Facebook for more photos of everyone's amazing costumeS!
---
Friday:   SHINE THE FUCK UP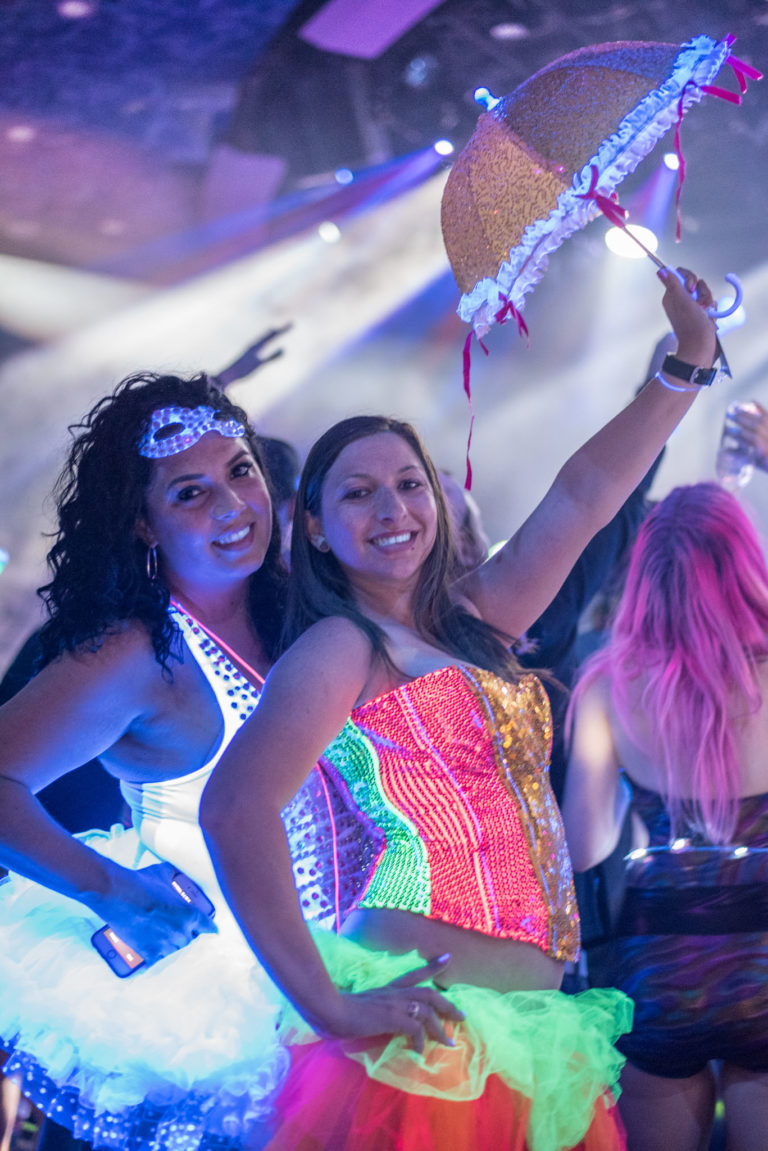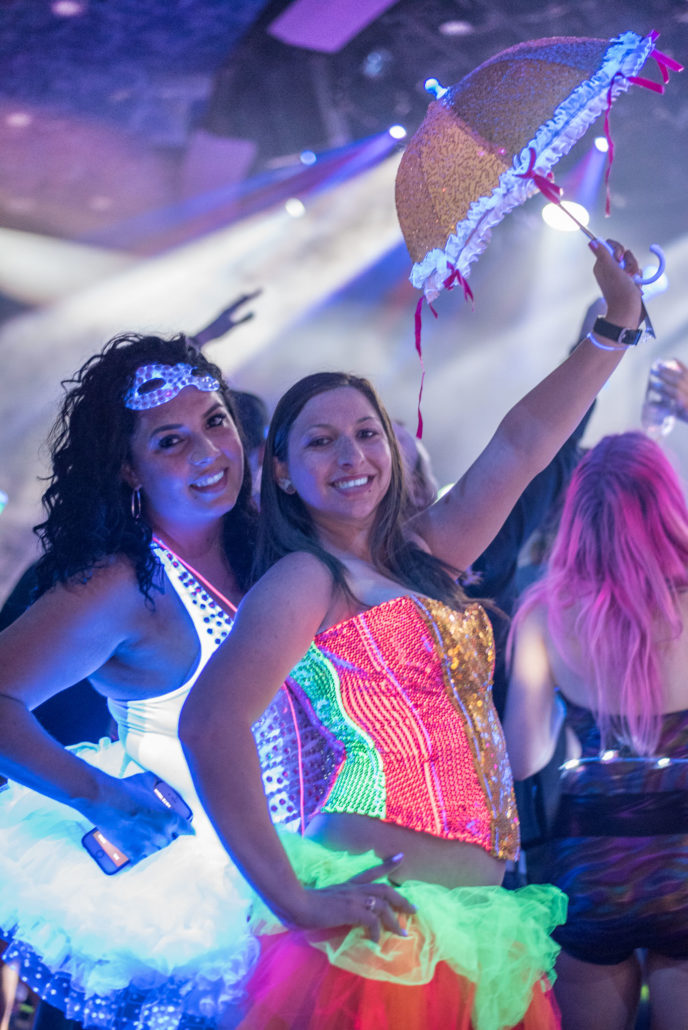 ---
Saturday: Baby Blue & Pink Party ///  YOU CELEBRITY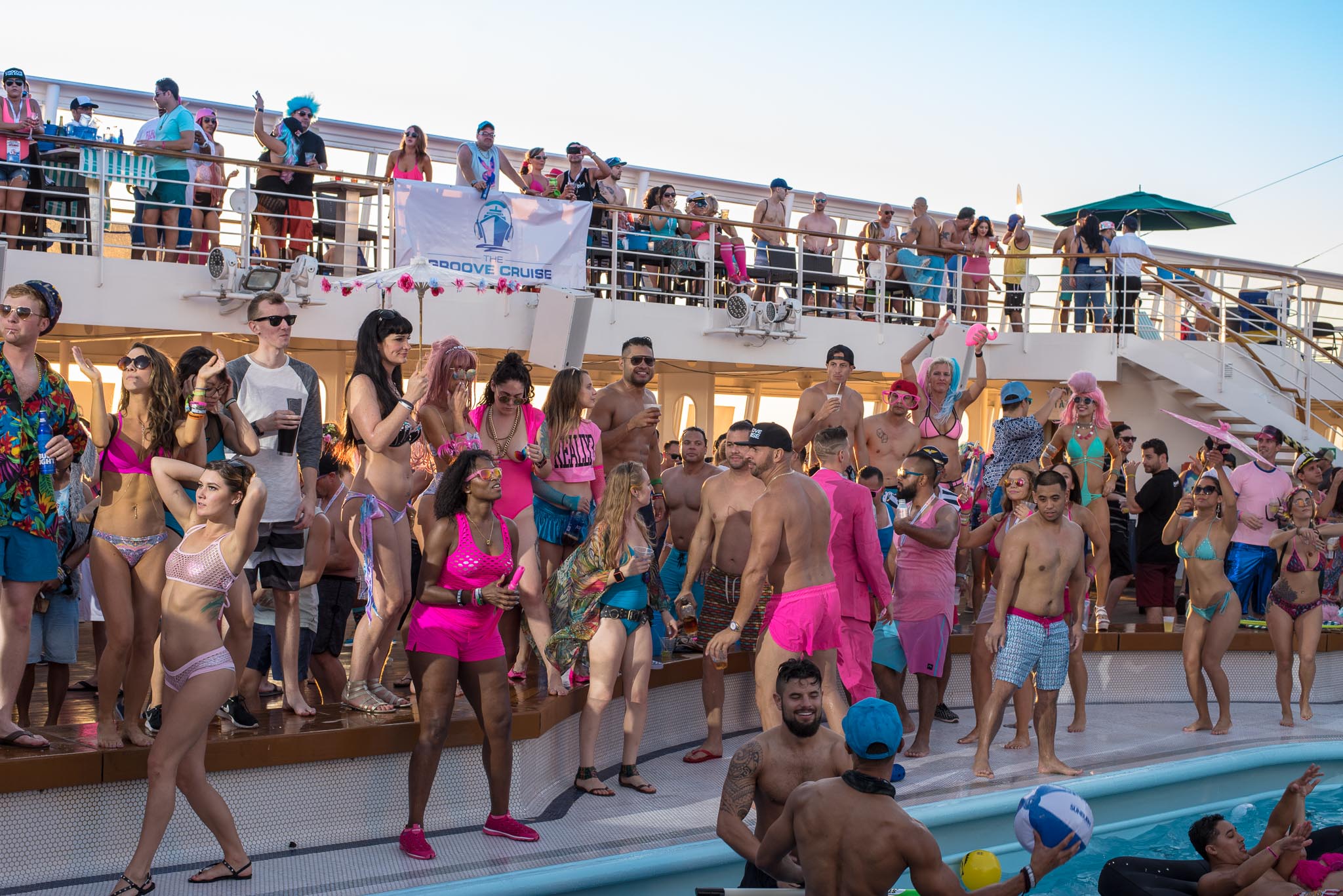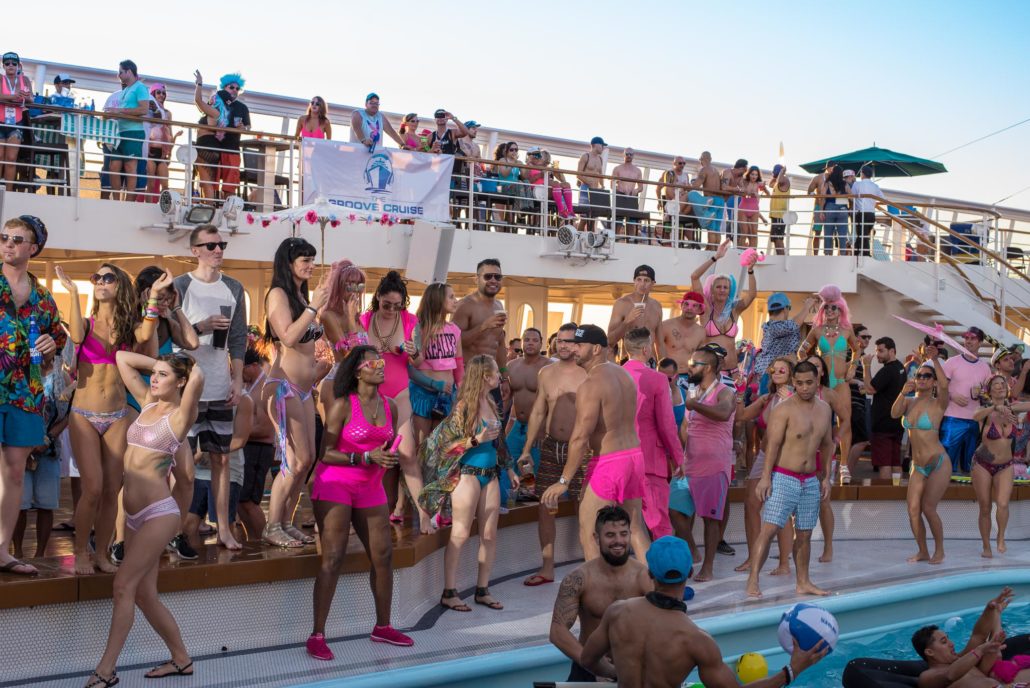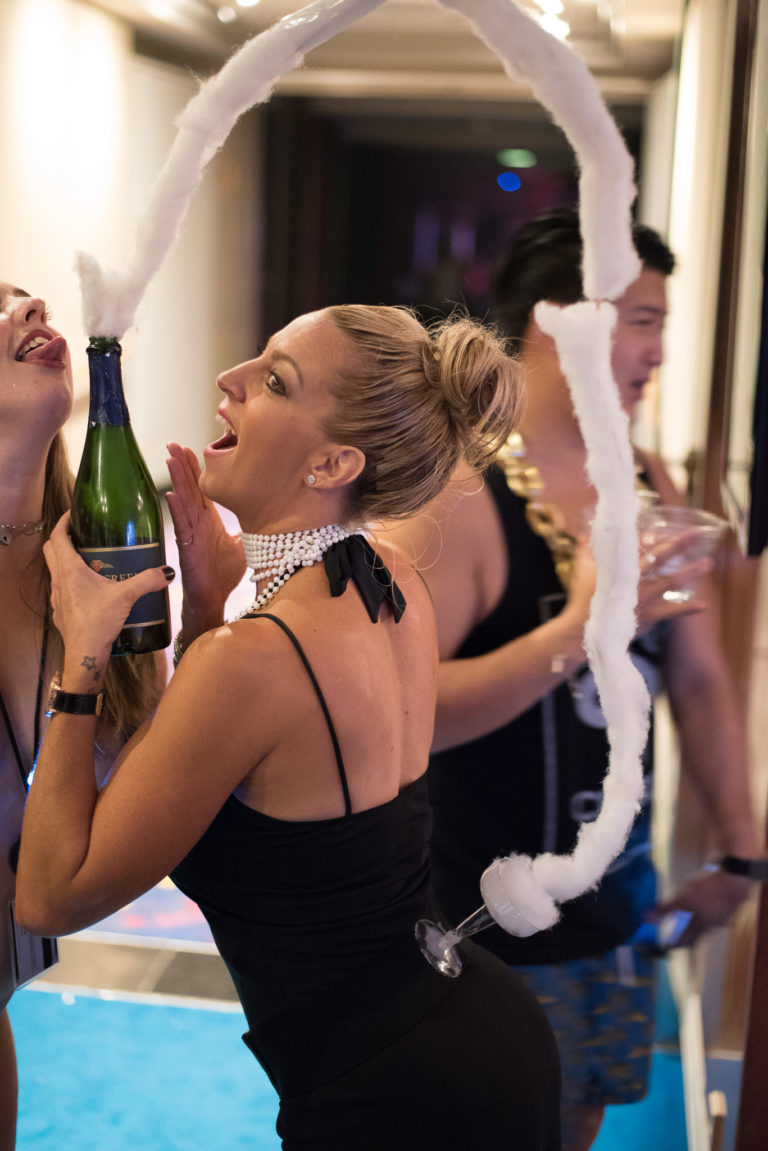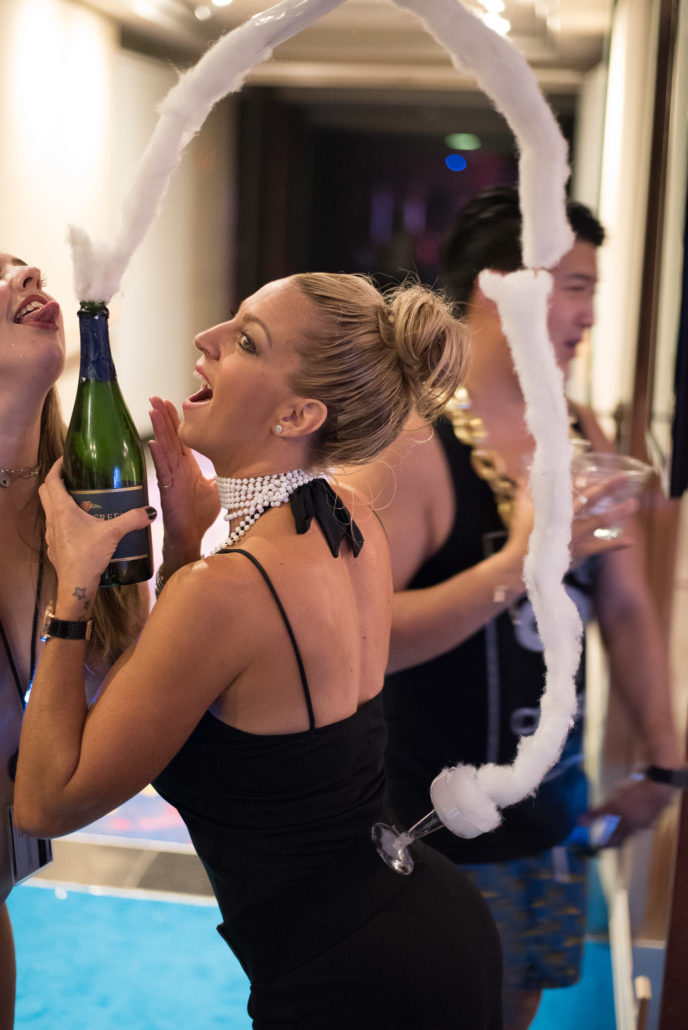 ---
Sunday:  FUTURISTIC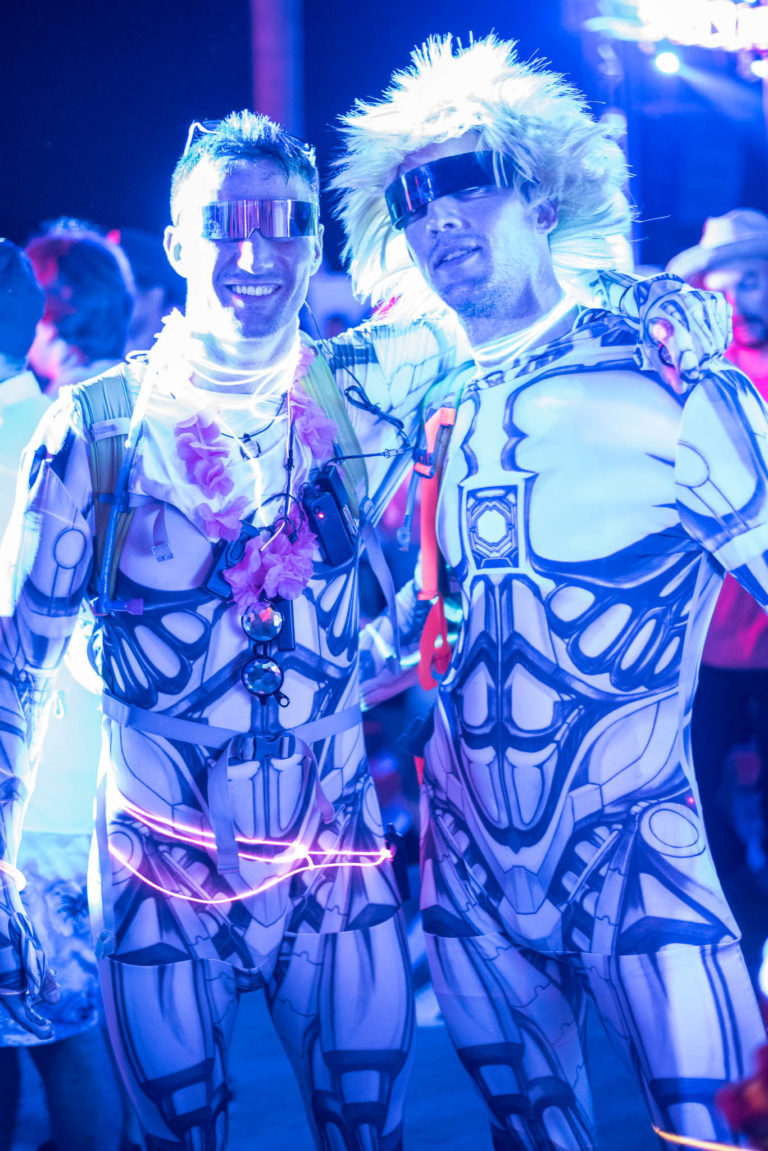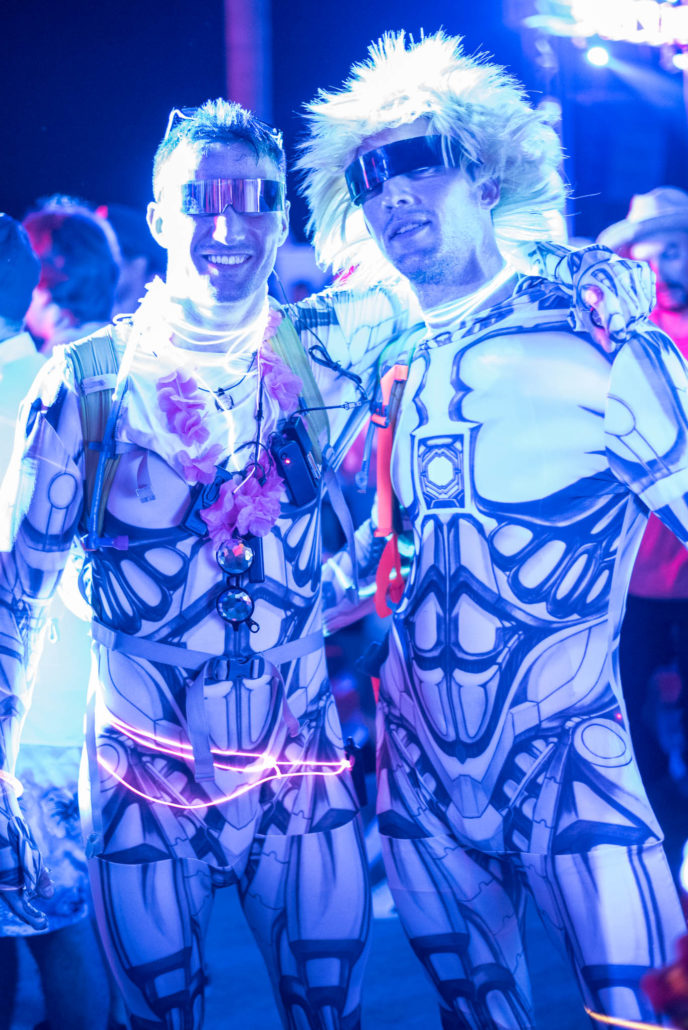 ---
Monday:  HALLOWEEN ON THE HIGH SEAS

---
Tuesday:  DEVIL & ANGEL /// ARABIAN NIGHTS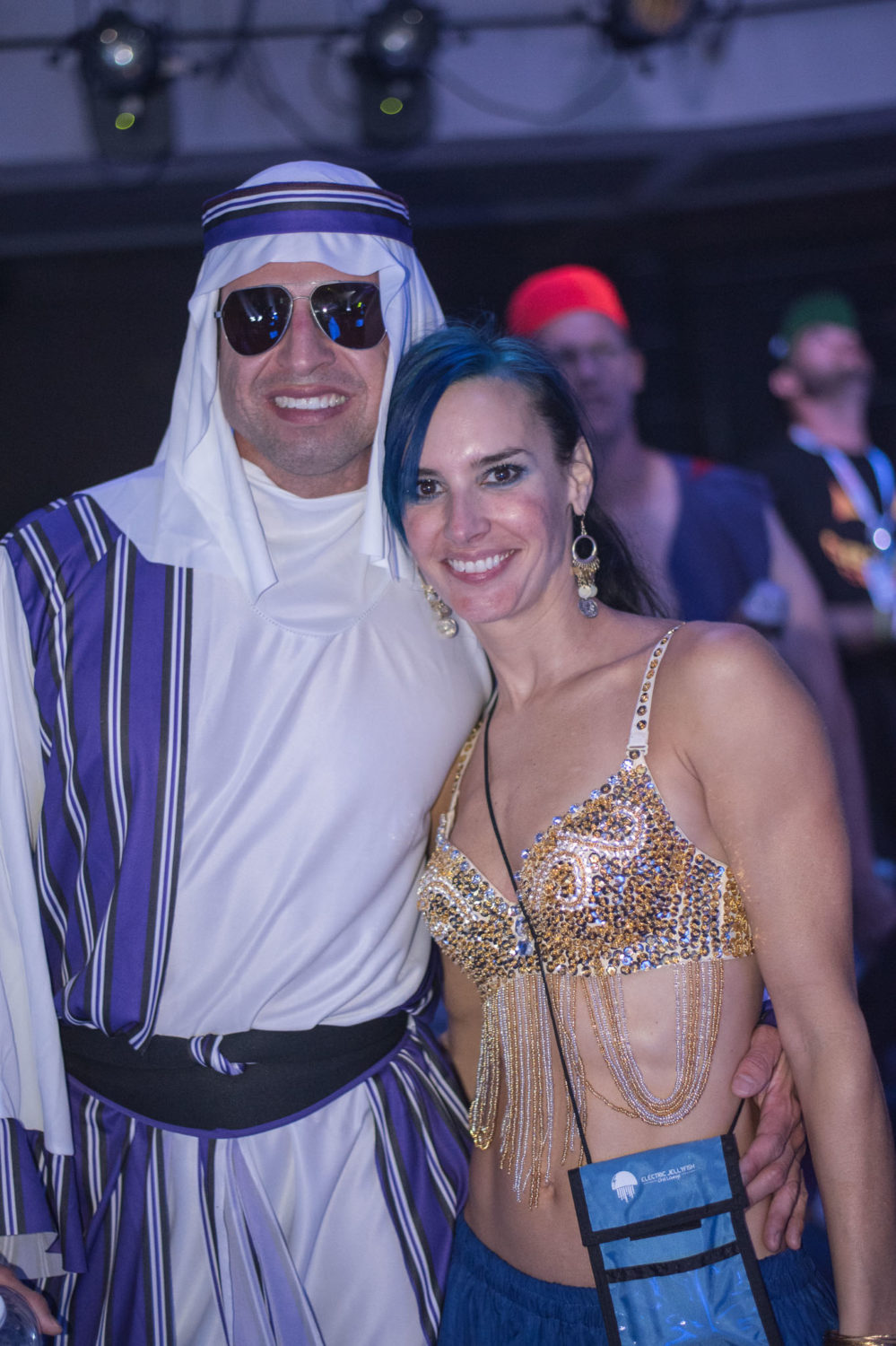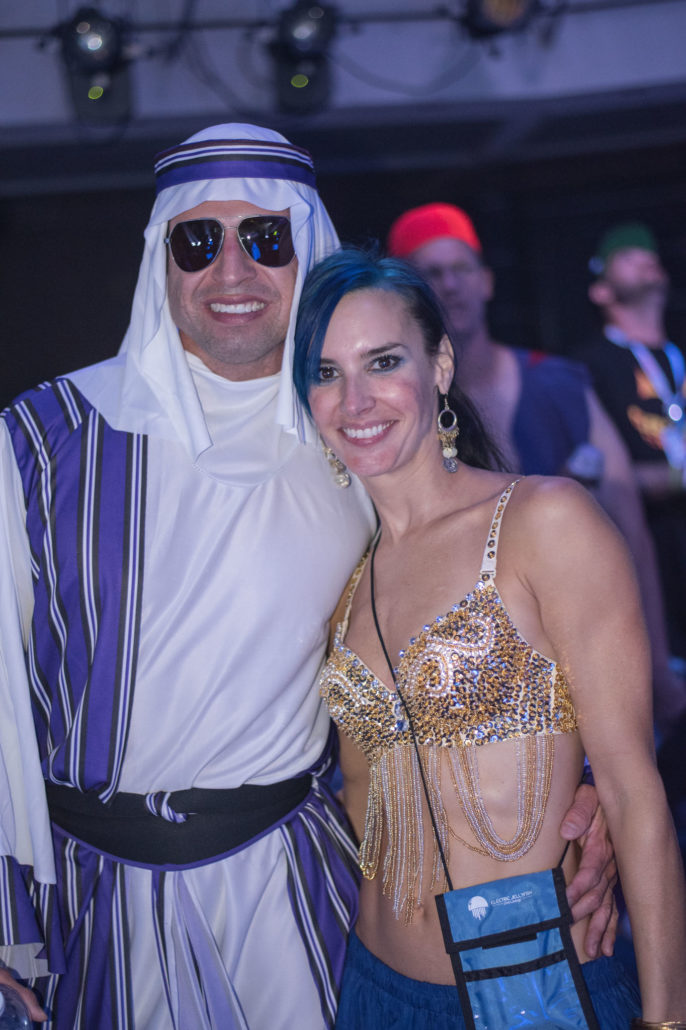 ---
Groove Cruise Miami Themes (January 23-27, 2017)
These sound incredible!  Wouldn't mind being there to photograph everyone's costumes!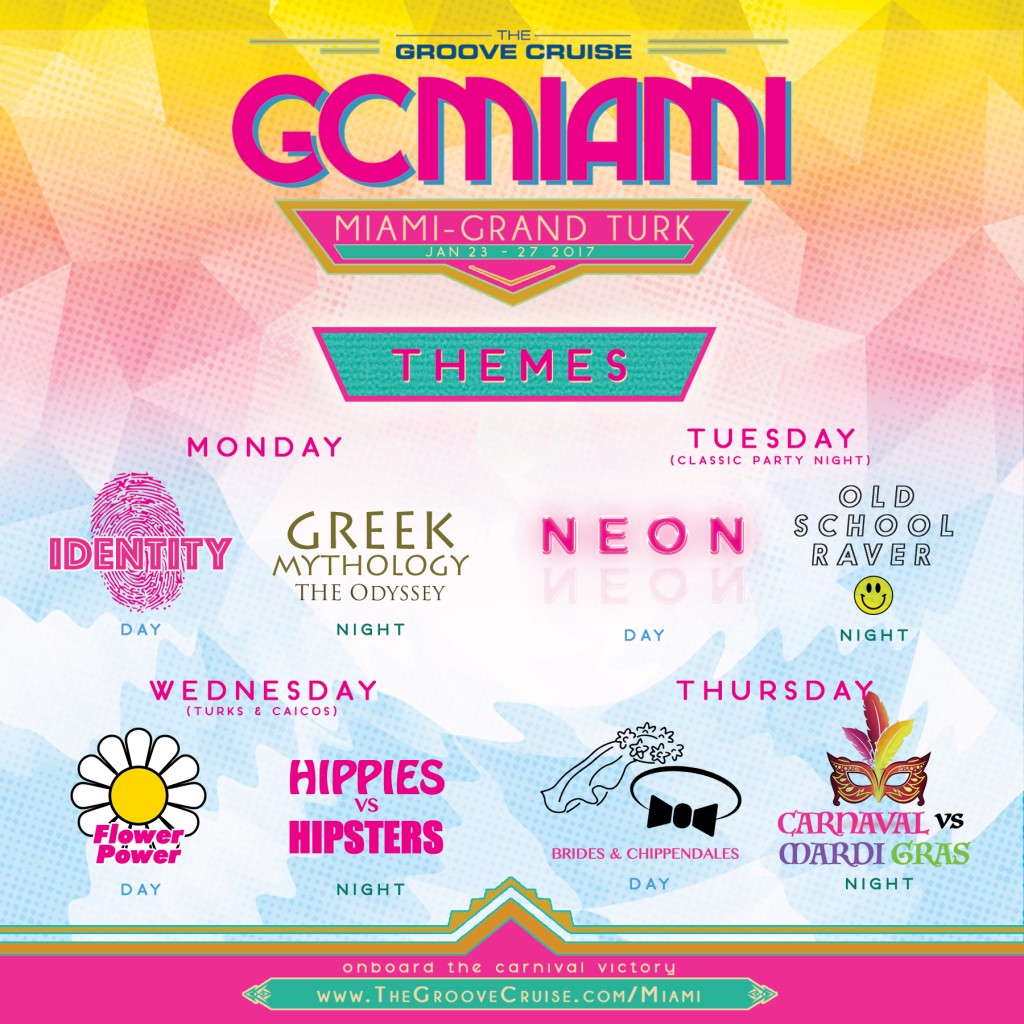 ---
5) The Cruising Convenience
As much as I love camping festivals, nothing will ever beat the convenience of having your room just a short walk away.
Want to take a shit in the privacy of your own room?  Go for it.  
That tequila shot not sitting well and think you need a vomit?  Head back to your room.  
Need a quick little disco nap to recharge your batteries for the sunrise techno sessions?  That's easy to do.
It honestly was so damn convenient being on a cruise ship, because you could always go back to your room and chill whenever necessary.  Better yet – when you decide you're ready to emerge from your room the party was still poppin' off just a few steps away somewhere around the ship.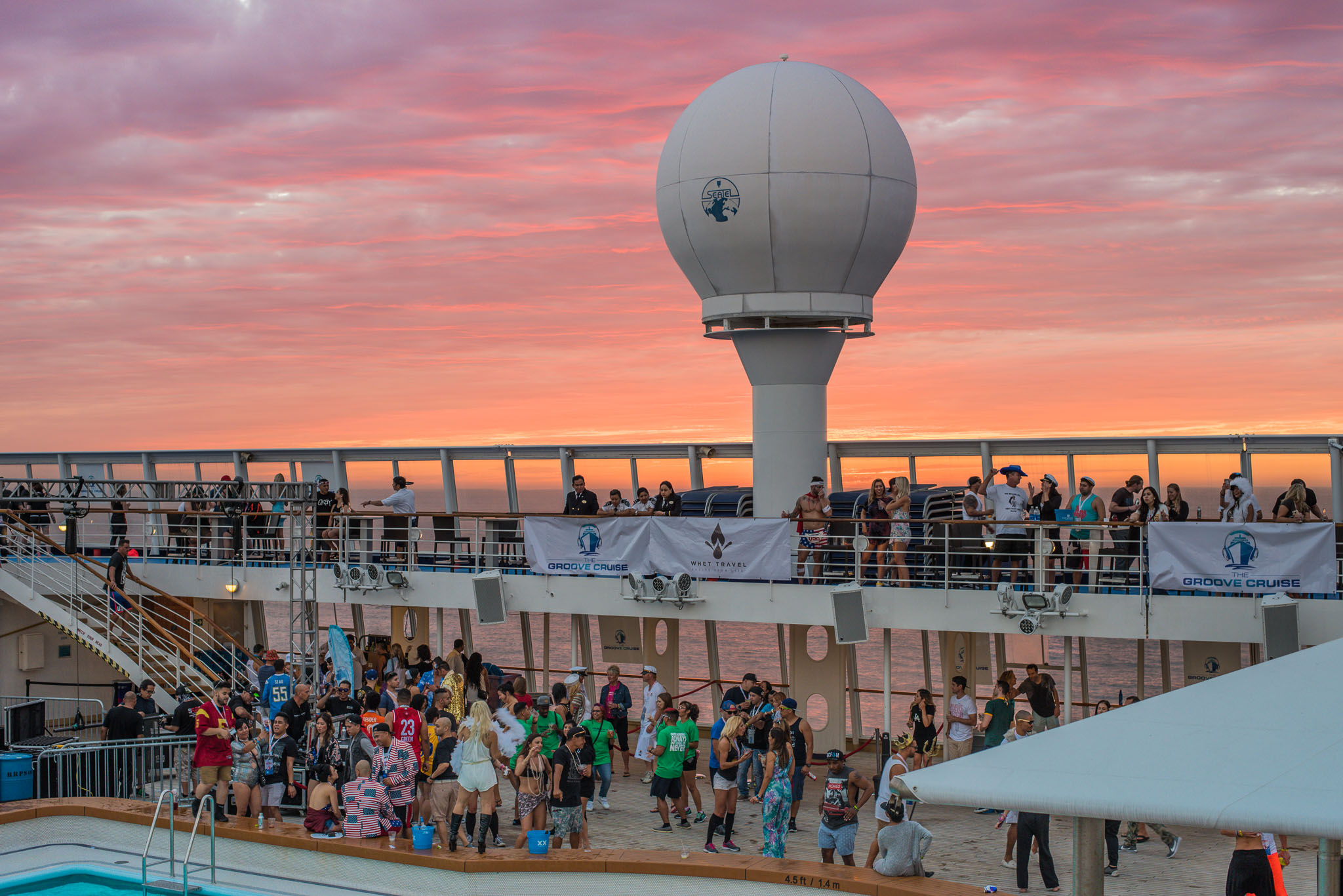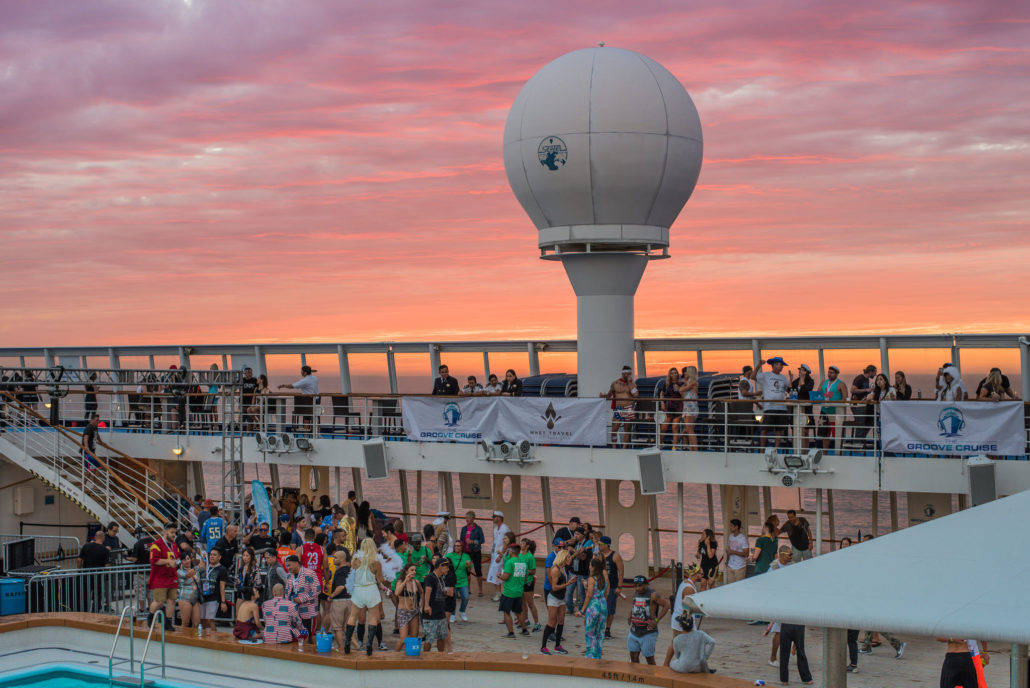 ---
6) Cruise Activities & Amenities
Ever wanted to sit in a jacuzzi, sip on a cocktail (or five) on the side of the ship watching the sun set to some sick techno beats? You can do it!  Feel like a bit of competition? Go ahead and sneak away from the stage and show your sporting prowess with a quick game of basketball, ping-pong, or soccer.  Love a cheeky punt? Well you're in luck – there was a full casino on board for the gambling addicts and card counters who just can't resist that blackjack table.
I actually had never been on a cruise before!  So I was in awe of all these cruise amenities.
You see…?  Much more than a music festival.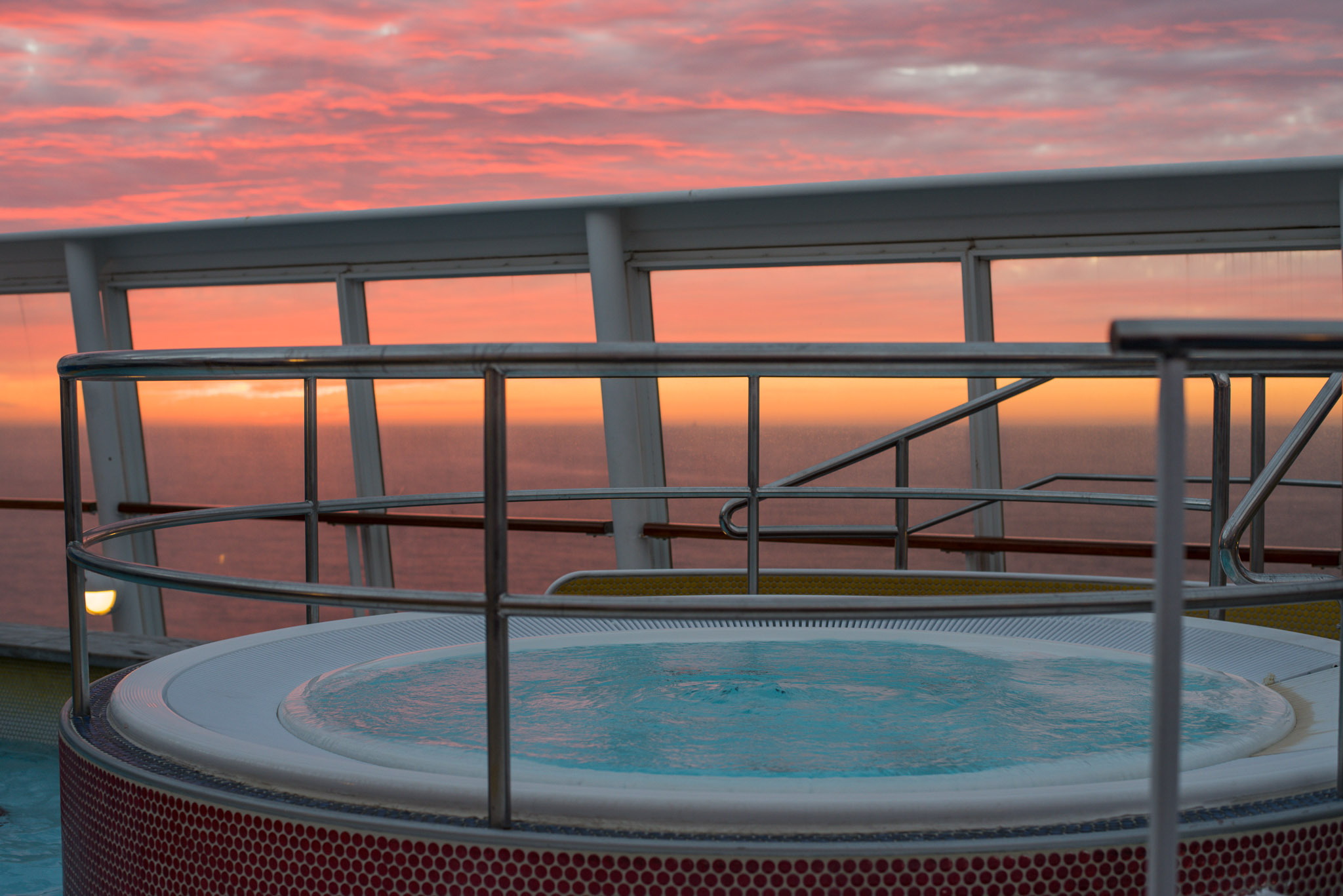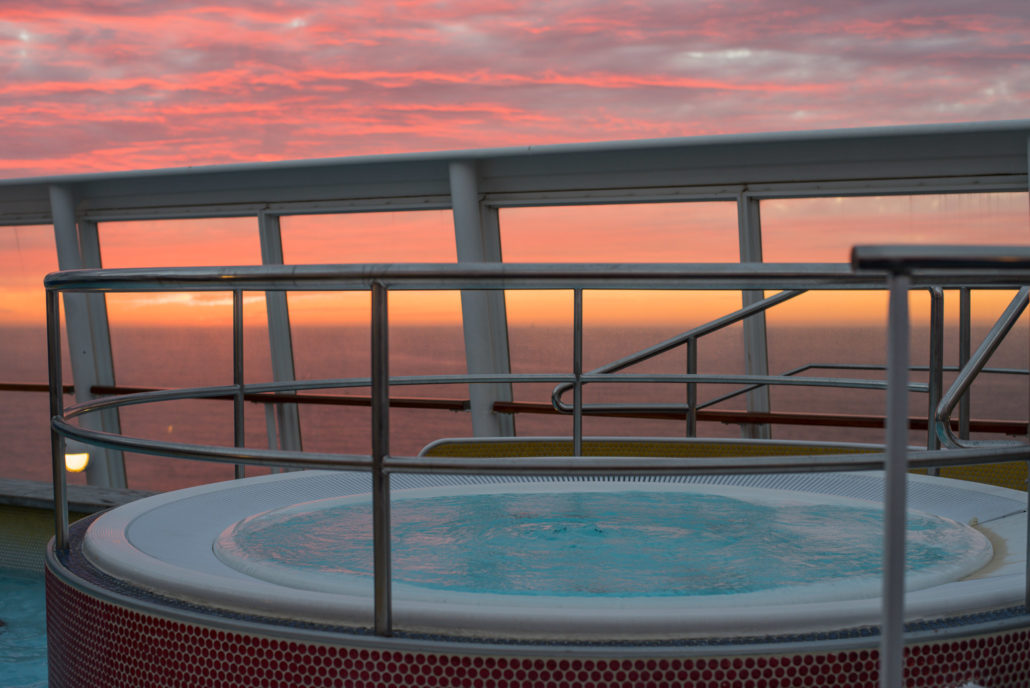 ---
7) The 24/7 Buffet
You know what tastes amazing at 9:00 A.M when Mendo is finishing up his absolute monster set?
B-A-C-O-N
When it comes to parties that last for 5-days straight, remembering to eat is of the upmost importance.
Food = Calories = Energy
I absolutely loved the buffet on the ship, and I always found myself going back for seconds and thirds.
---
8) Incredible Organization
I have to give a massive shout-out to everyone at Whet Travel for organizing this event.  From a first timer's point-of-view, everything went absolutely perfect!  I thought that every email we received with information prior to the event was really helpful, and while we were on board we were always kept up-to-date with the important changes to stages, set-times, and activities.
Oh, and a crowd favorite — every morning we were greeted with the incredible "GOOOD MORNING GROOVE CRUISE" by CEO & Founder Jason Beukema who would tell us what we had in store for the day.  I believe there are many of us who are still waiting for a recording of this to use as our alarms.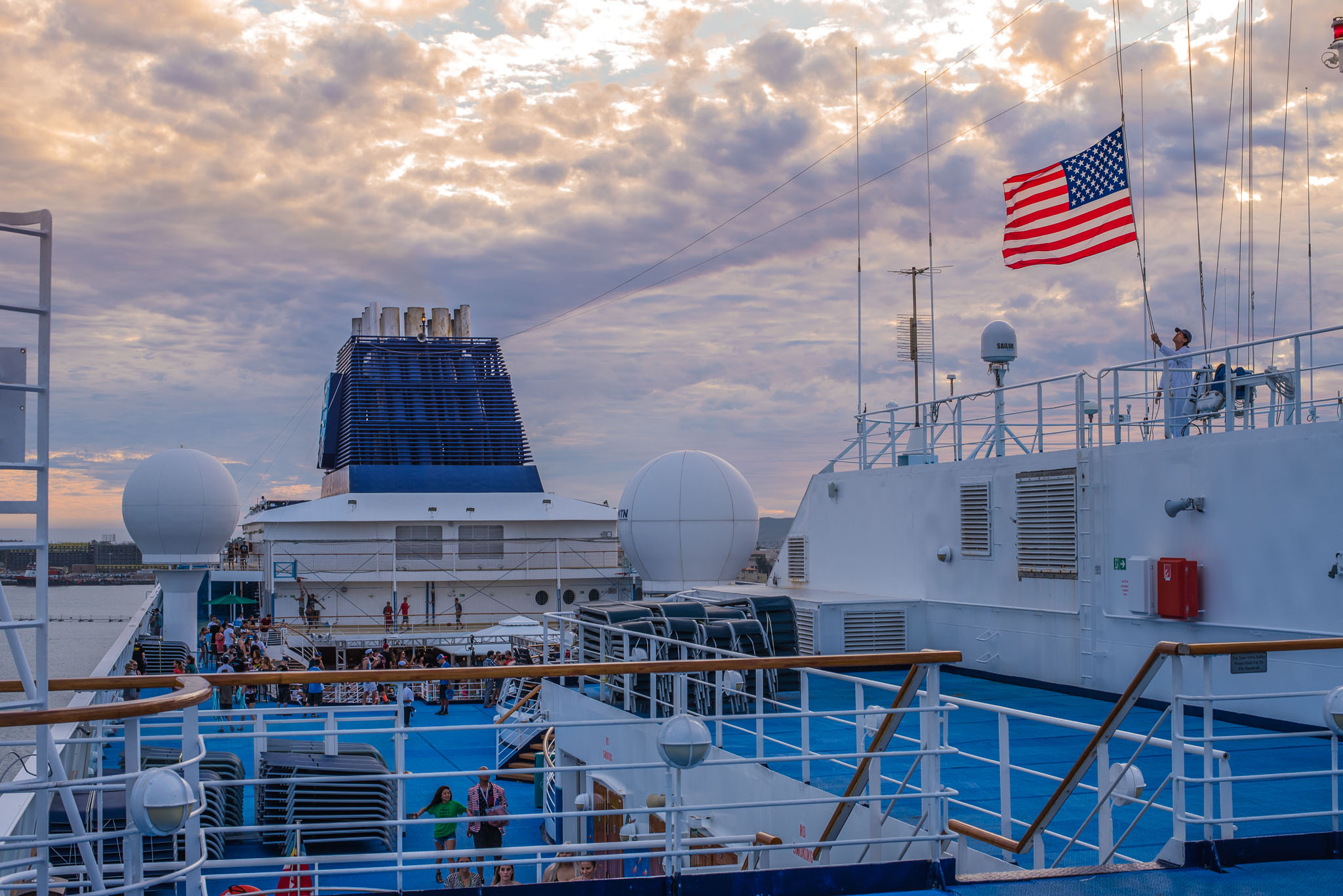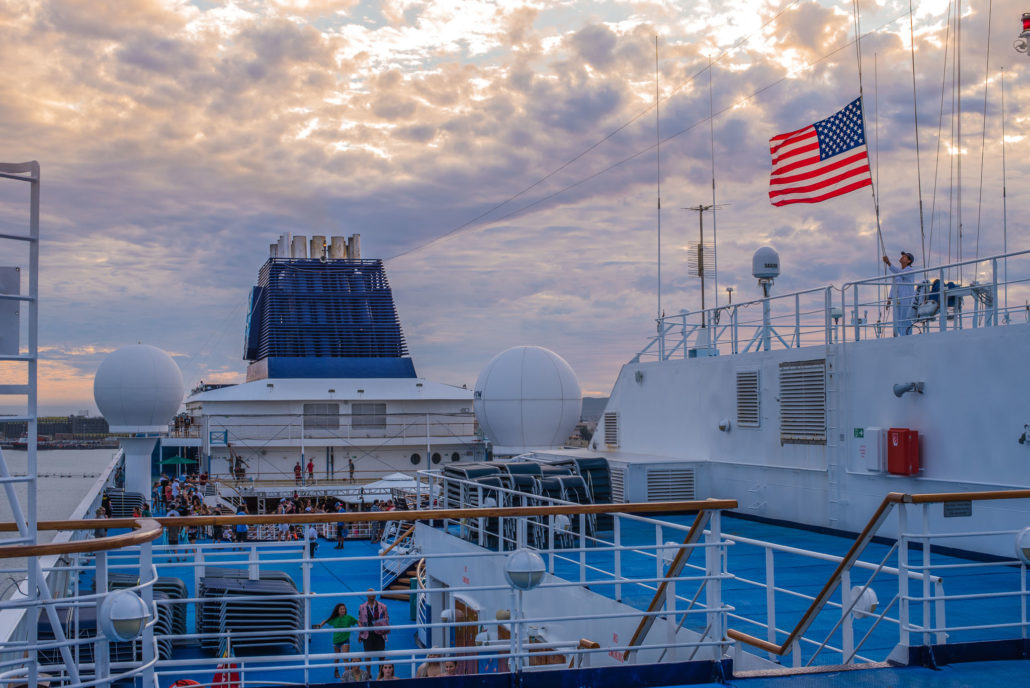 ---
9) The Destinations
For this year's west coast edition, The Groove Cruise decided to make it's way down to Cabo San Lucas, and it was a phenomenal choice!  I had never been to Cabo before, and let me tell you – it's truly gorgeous.  I'll admit that I actually missed out on a lot of day-time exploring due to catching up on sleep, but the city was lovely, and the nightclubs were awesome.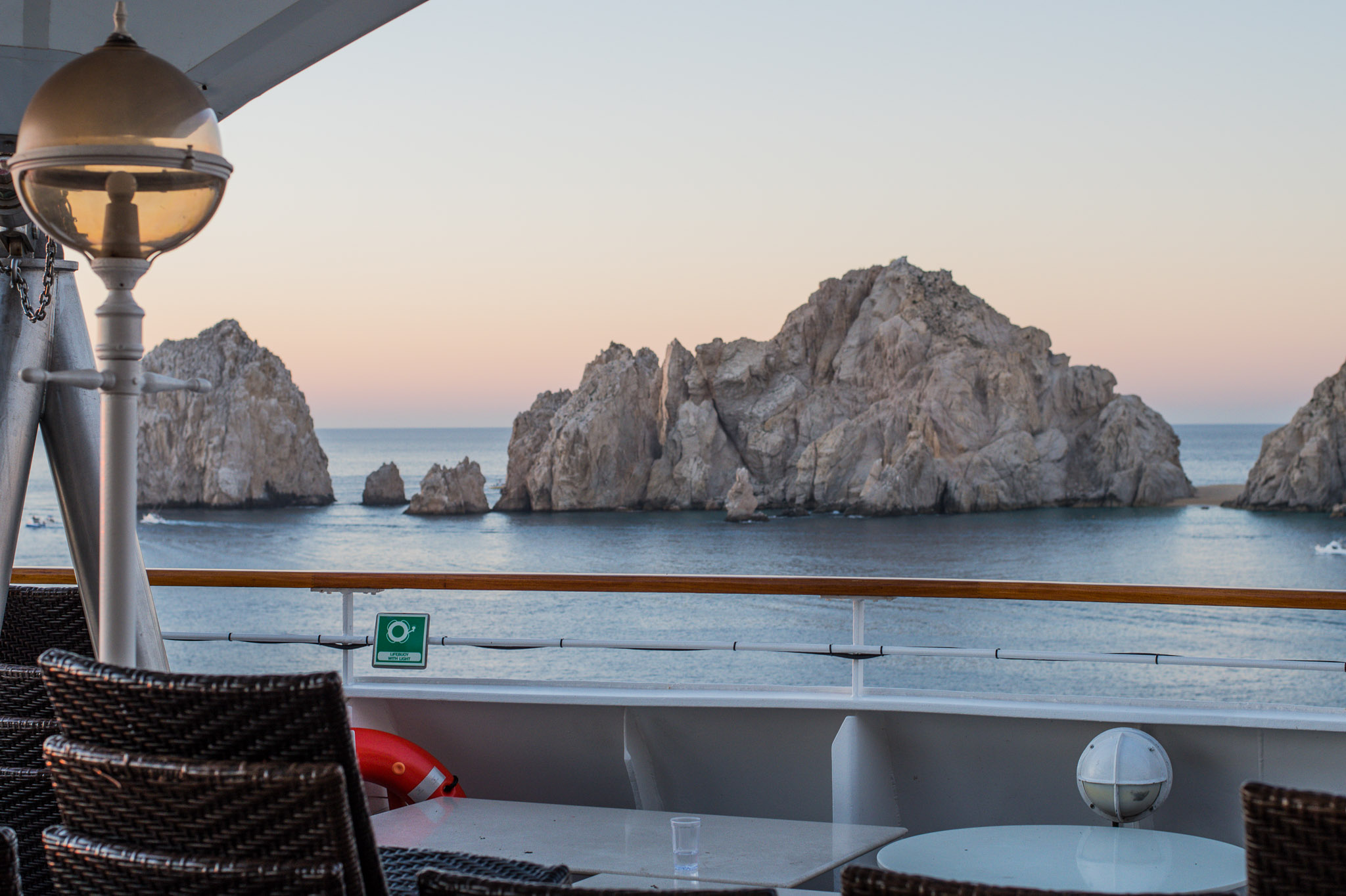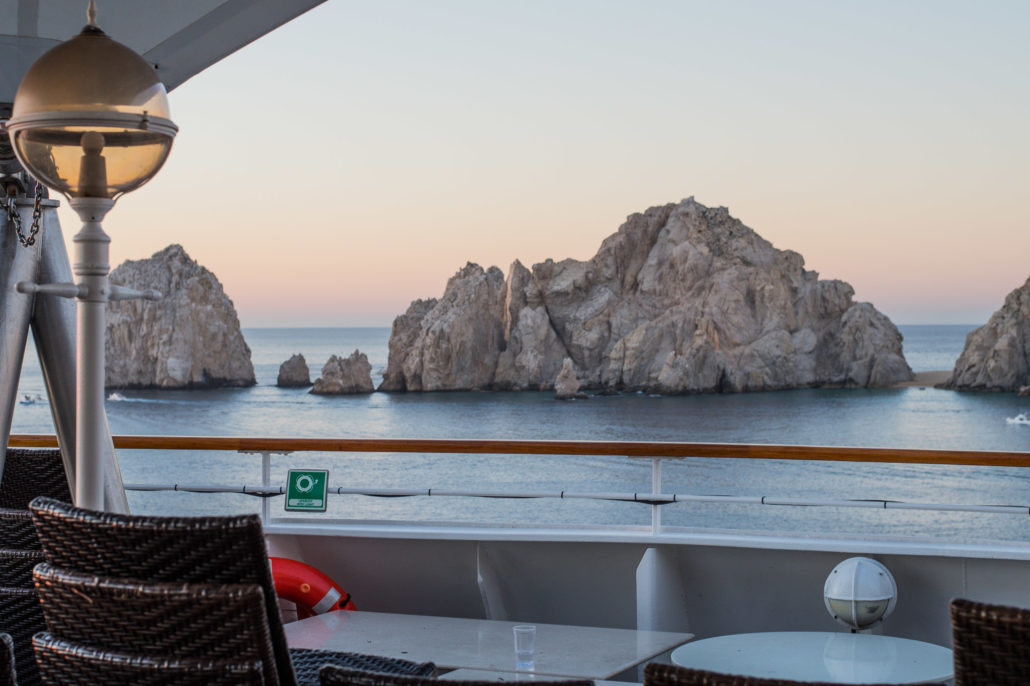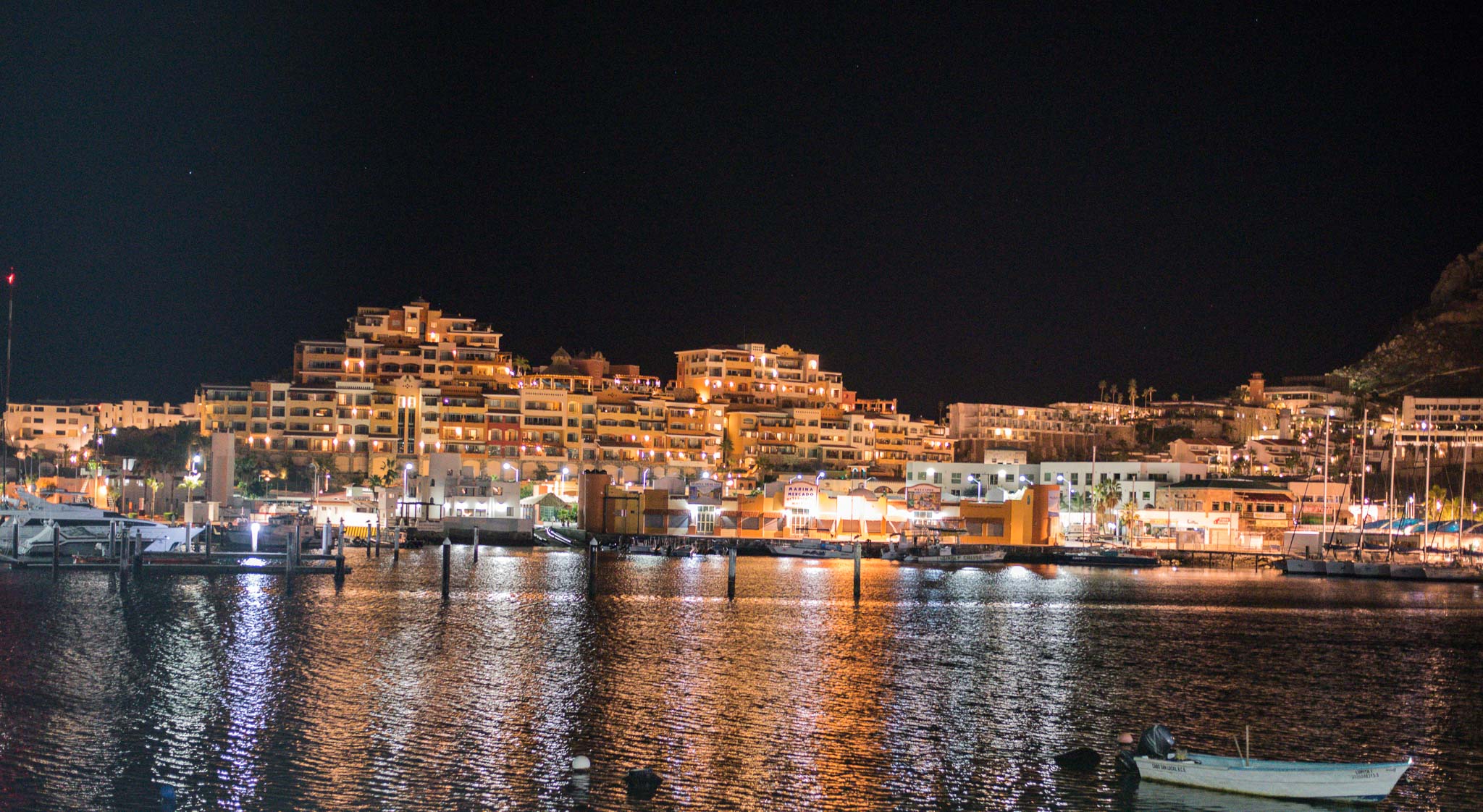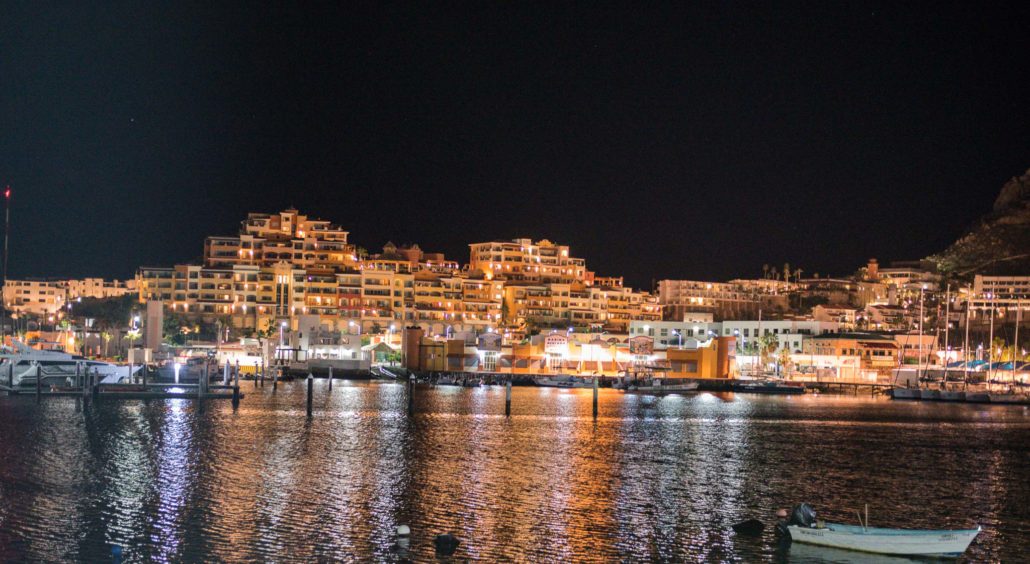 ---
ME CABO
This is where the pool party was held all day long, and this venue honestly could not have been more perfect.  With the massive pool, swim-up bar, and beachside location with the view of the cruiseship in the distance — everyone had a blast at ME Cabo.  The highlight of the night would definitely be Dubfire, because he absolutely destroyed that place.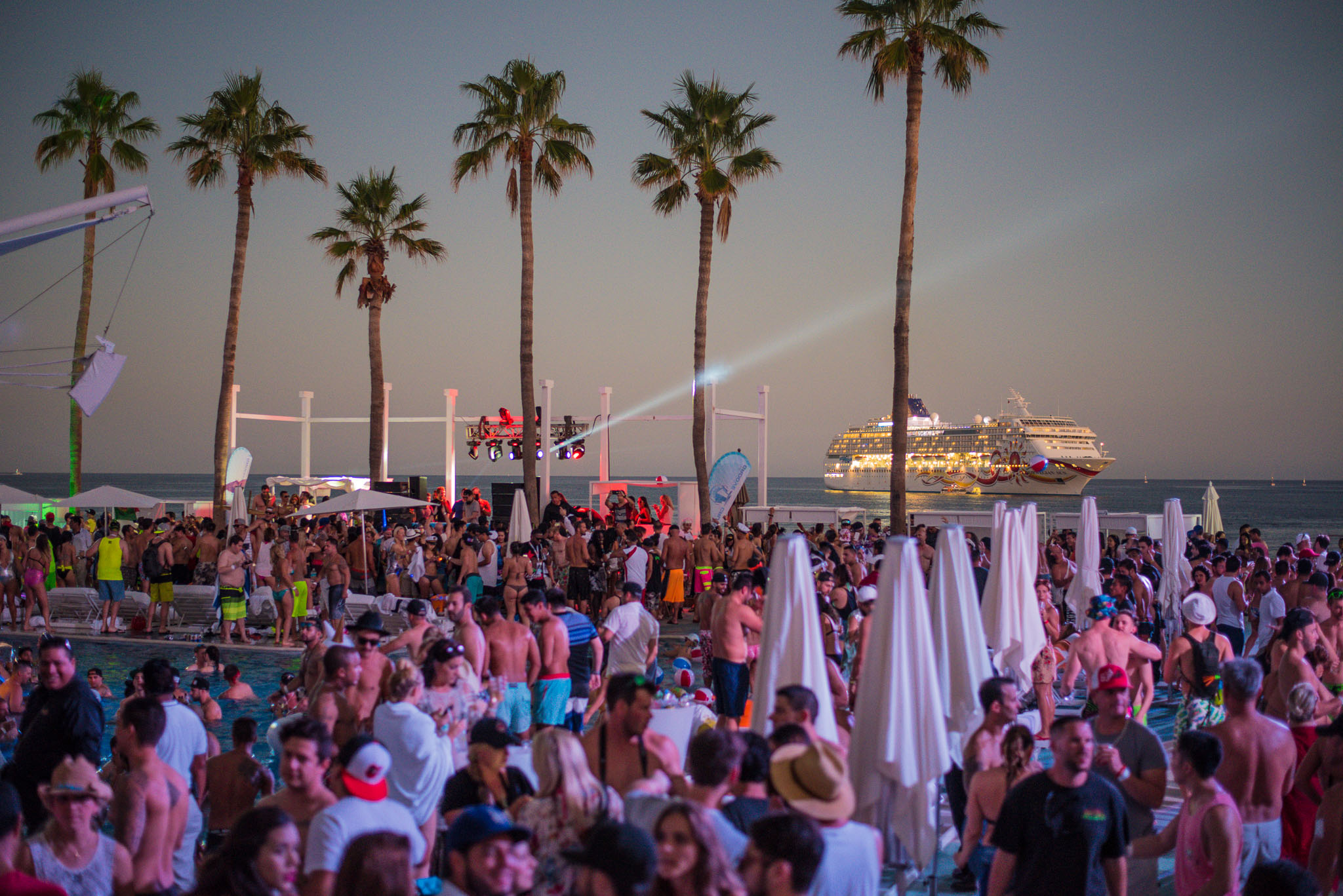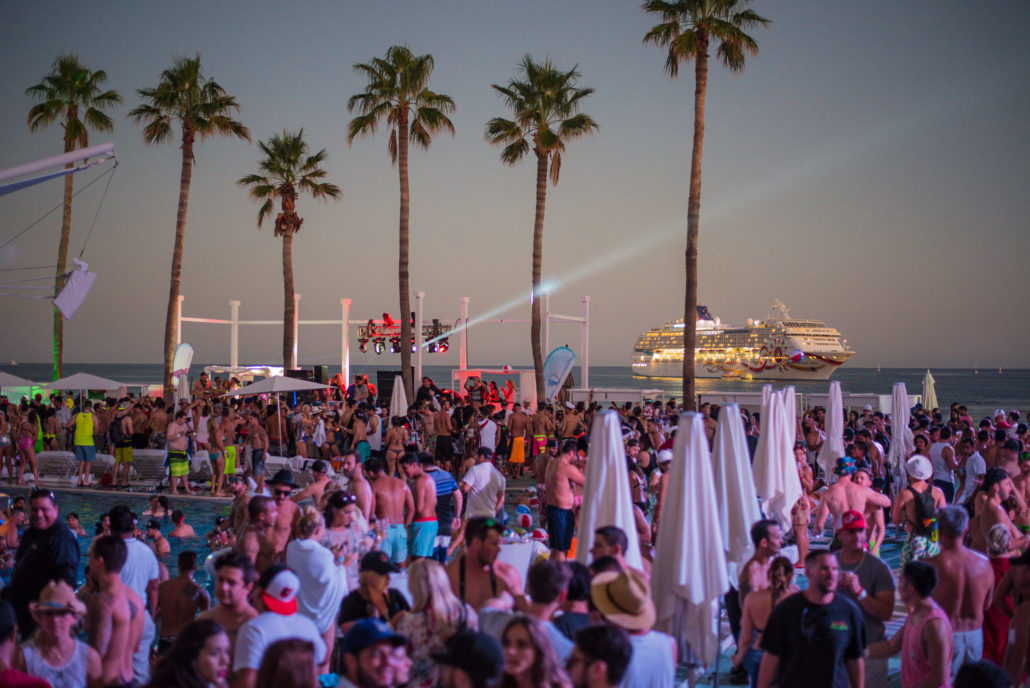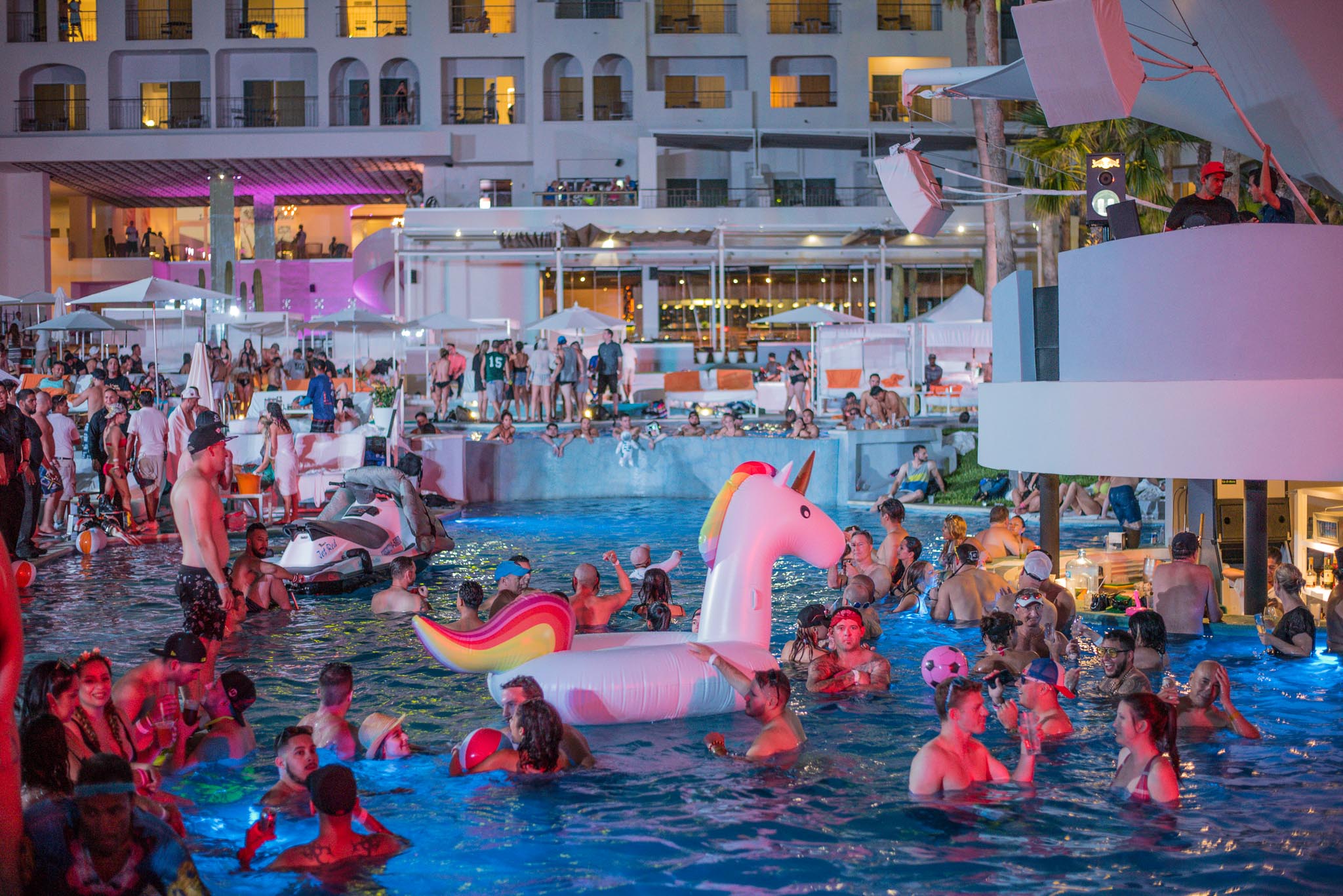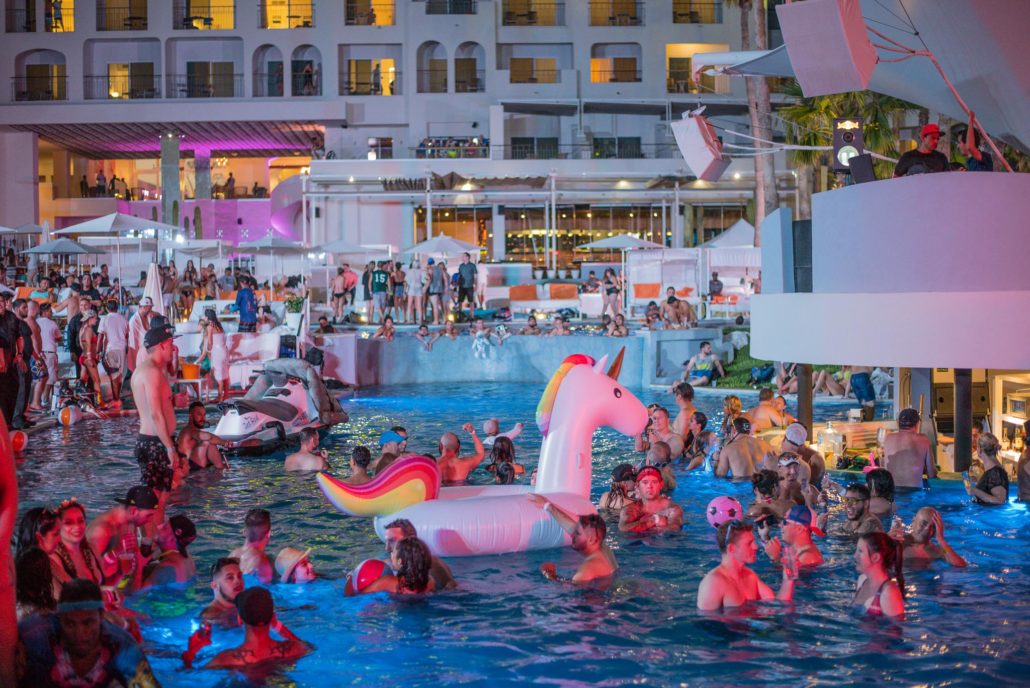 ---
BREATHLESS
After ME Cabo ended, everyone made the short trek over to the afterparty at this beautiful venue called Breathless.  The music was on point, the atmosphere was quality, and everyone was looking sexy as hell in their various costumes.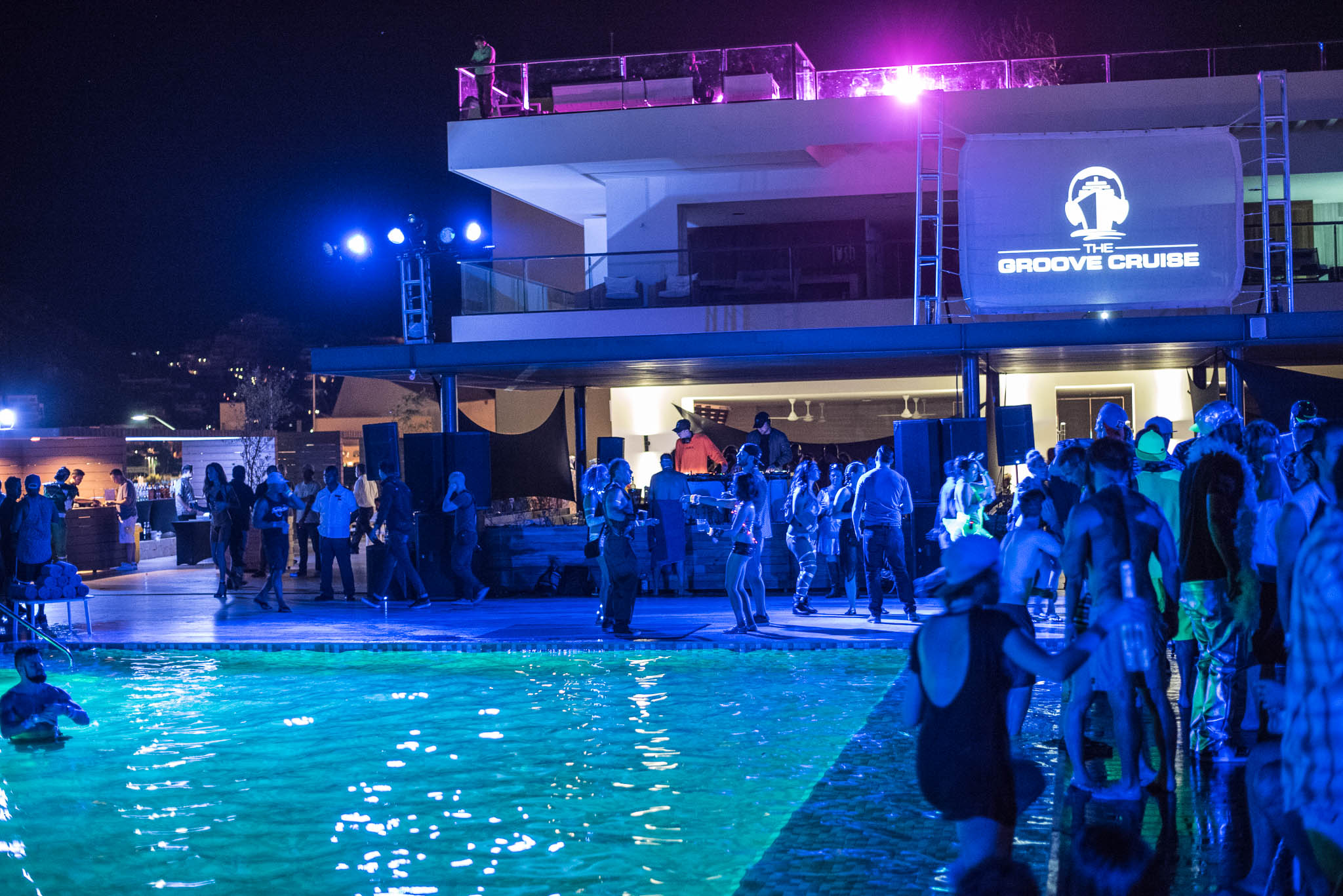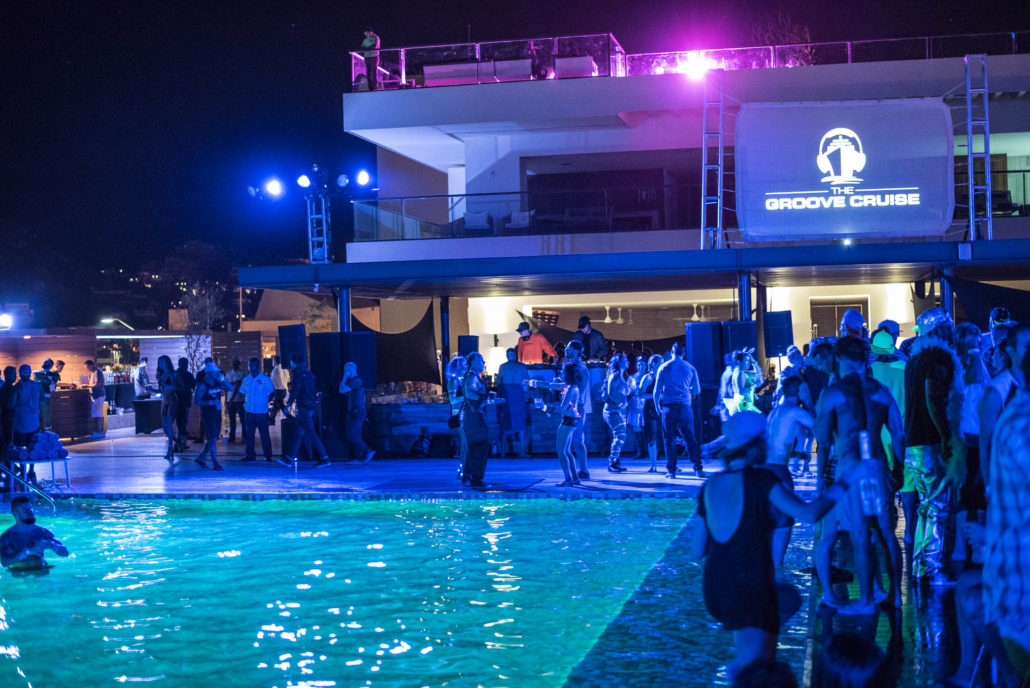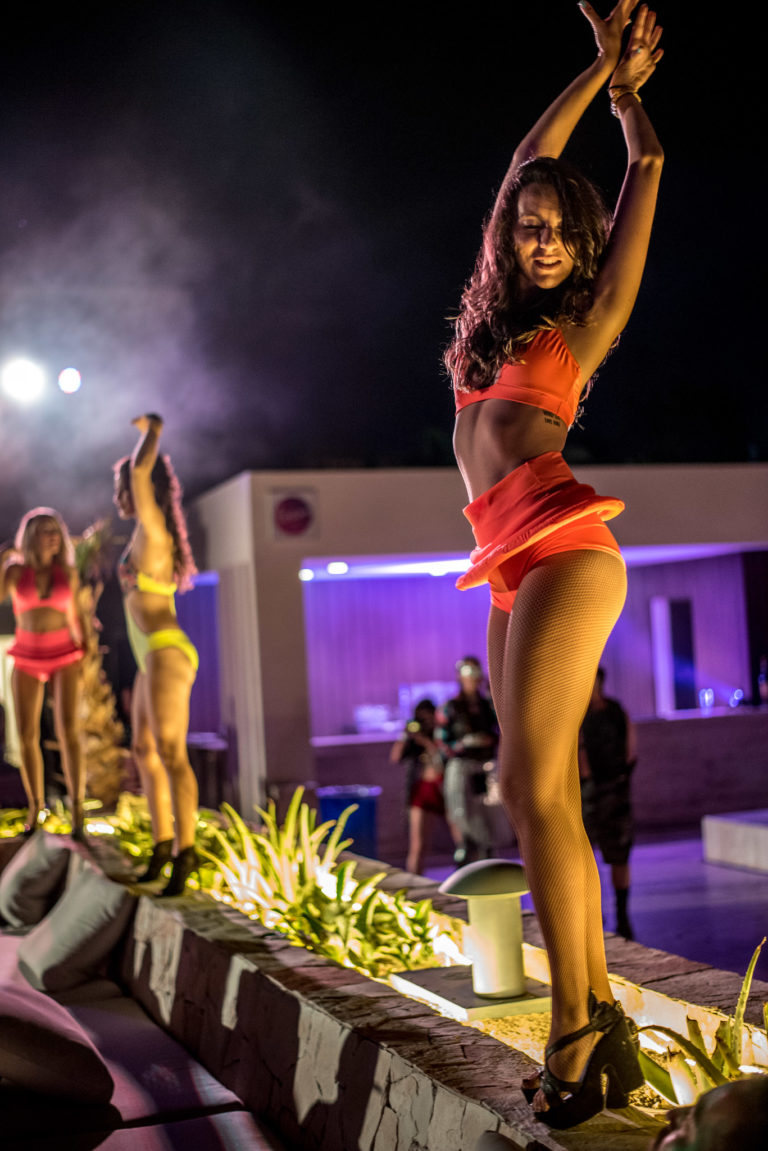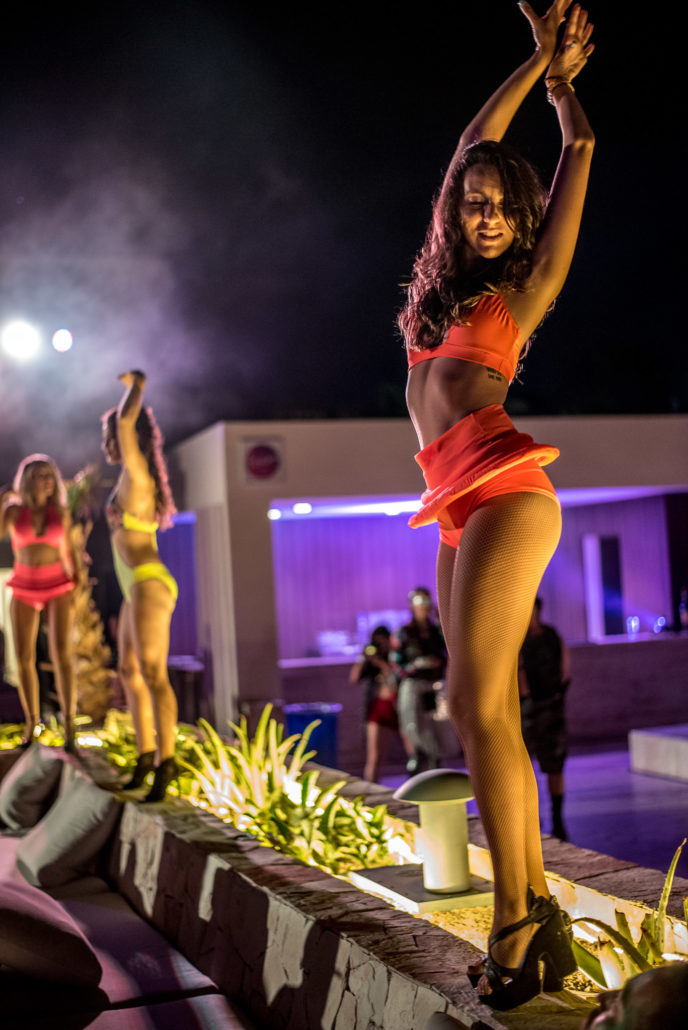 ---
10) The Sunrises & Sunsets
There really is nothing better than watching the sunrise or set while you're on a boat and listening to quality music.  I made it my mission to watch and photograph as many as I could, and I think I did a pretty damn good job!  I will never forget watching the sun come back while on the top of the cruise listening to Prok + Fitch play one of the best sets of the festival.  It was surreal.
My favorite Instagram photo of the first sunset!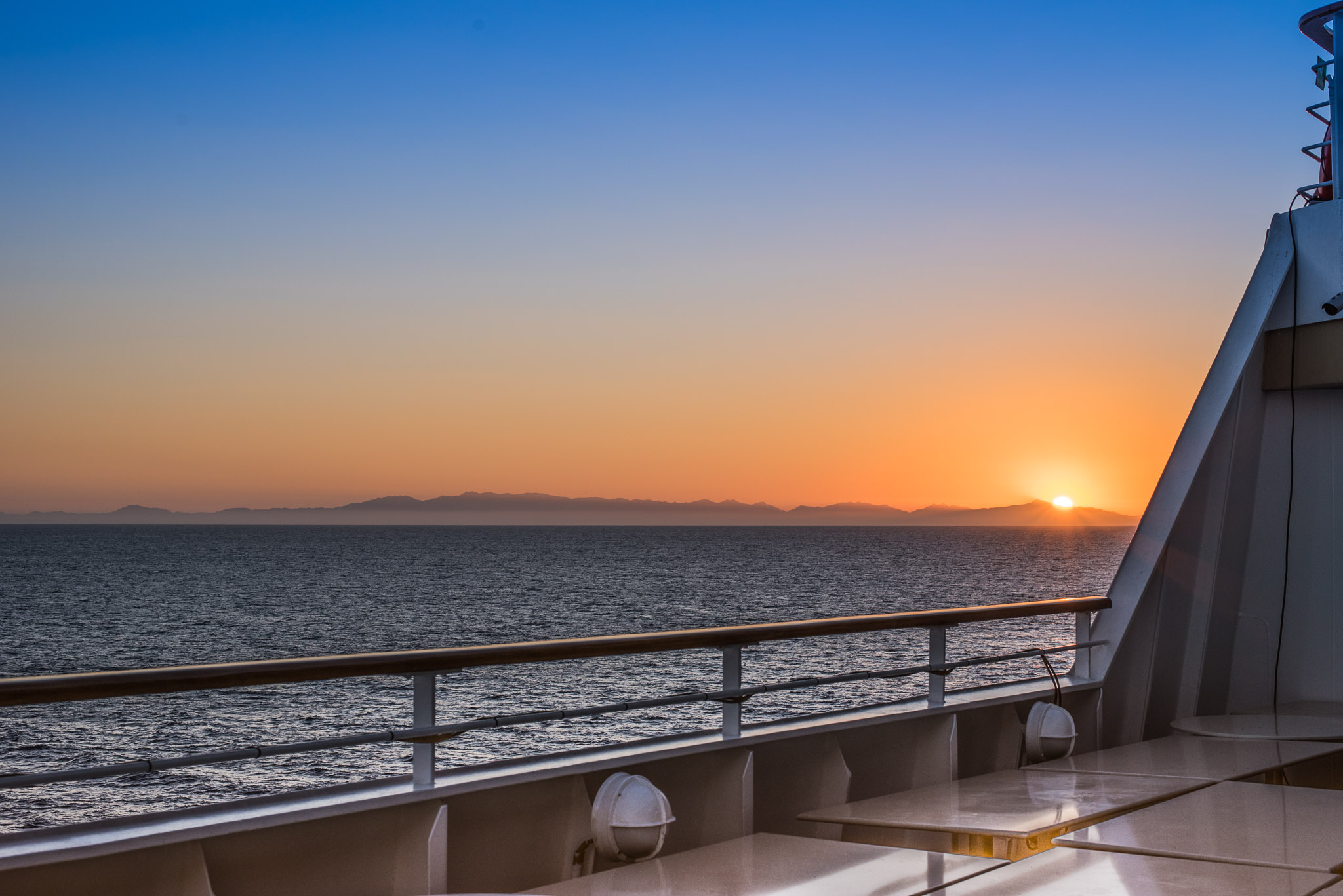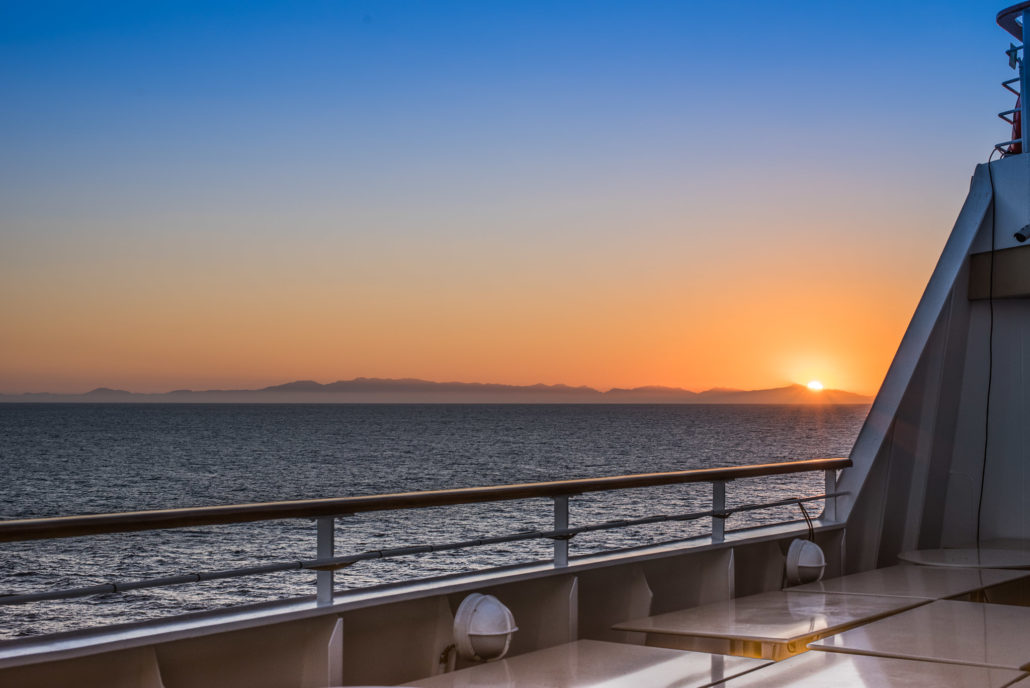 ---
11) The Facebook Groups
Hands down one of my favorite aspects of joining the Groove Cruise Family, is being able to take part and interact with everyone before / after the trip.  It was really helpful before-hand because first timers could join the Groove Cruise Virgins group and ask all their questions about what to expect.
The best part though was after the festival because people write the most beautiful and heart-warming posts about their experiences on board.  You can really feel the love in this Facebook group. I've literally checked in on it everyday, and it's all positive vibes.
Thanks to everyone for sharing their pictures, videos, memes, etc.  It's helping me cope with my post holiday depression and separation anxiety!!  Easily my favorite group on Facebook now.  The GCFAM love is real.

---
The Aftermovie
---
THANK YOU GROOVE CRUISE!!
This was so much more than just another music festival…this was truly a life-changing vacation.
The people I had the pleasure of meeting during these 5-days will forever be apart of my life, and I consider myself extremely lucky to have been initiated into this loving and accepting Groove Cruise Family!
If you're reading this, I invite you to keep up with my travels around the world.  I've got some really exciting plans coming up in the next few months, and am pretty much always traveling and raving in different countries.  :-)
Follow along here:   
Instagram | Facebook | Twitter | Snapchat
---
Groove Cruise Miami
January 23-27, 2017
If you're looking for one of the best parties and have some vacation time saved up, I would strongly recommend you fly out to Florida for Groove Cruise Miami!  I'm not sure where I'll be in January (possibly Australia, New Zealand, or back in America), but I'm definitely trying to attend, because I know it's going to be an another life-changing experience!  They will be on the largest cruise they've ever sailed, and are going to the gorgeous island of Grand Turk.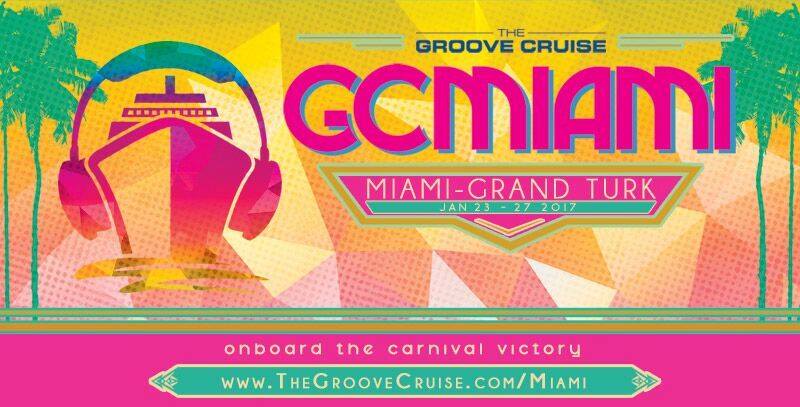 ---
Follow Groove Cruise:
Facebook | Instagram | Twitter | Youtube
---
THANKS FOR READING!
https://www.jonesaroundtheworld.com/wp-content/uploads/2016/11/DSC_7305.jpg
1367
2048
Dave
https://www.jonesaroundtheworld.com/wp-content/uploads/2017/03/logotry-1-1-300x106.png
Dave
2016-11-10 05:01:06
2016-12-08 06:12:21
11 Reasons Why The Groove Cruise Is The Ultimate Festival Vacation