Looking to be taken to new heights with some of the best hot air balloon festivals in the US? Then you've come to the right place.
The USA is renowned for hosting tons of great music festivals, but have you ever considered attending a hot air balloon festival?
Watching a hot air balloon ascend into the sky is quite a spectacular sight, but it's even more magical when hundreds of them take off and fill the blue sky simultaneously. Hot air balloon festivals celebrate this unique mode of transport and bring together people of all ages.
You may be wondering, which hot air balloon fiesta is near me? Keep reading to discover the best ones in your state or a state near you with this list of hot air balloon festivals in the US.
---
1) Albuquerque International Balloon Fiesta
When: October 7-15, 2023
Where: Albuquerque, New Mexico
Bringing together more than 900 000 visitors over nine days, the Albuquerque International Music Fiesta is the biggest hot air balloon festival in the USA. This exciting festival features over 600 balloons in all sorts of special shapes, themes, and characters.
The backdrop of this thrilling event is the incredible Sandia Mountains and New Mexico desert. With a history that dates back to 1972, it's arguably the best hot air balloon festival in USA history, as it's popular to this day.
The first balloon launches at around 6 am, and if you're an early bird, you can watch as the sun rises and fills up with hundreds of balloons. If early mornings are not your thing, you can always watch as the balloons take to the air at sunset. Both occasions will provide you with excellent photo opportunities.
Throughout the day, the festival is lined up with an exciting array of activities, from flying competitions to public balloon rides. While most do take to the sky, there are tethered rides for those with a serious fear of heights.
There are also a ton of vendors selling all sorts of tasty foods, gifts, and clothing. This New Mexico hot air balloon festival also features live entertainment, car shows, and a firework show.
Albuquerque Balloon Fiesta | 8K Ultra HD Timelapse
---
2) Colorado Springs Labor Day Lift Off
When: September 2-4, 2023
Where: Colorado Springs, Colorado
https://coloradospringslabordayliftoff.com/
Taking place in the heart of the Rocky Mountains, the Colorado Springs Labor Day Lift Off is a hot air balloon event you don't want to miss. Each year during Labor Day weekend, around 70 balloons take to the sky between 7 and 9 am in majestic fashion.
This event has taken place in Colorado Springs for the past 40 years and draws thousands of visitors to its ground each year. Compared to other hot air balloon festivals in the USA, this one is relatively small.
But that doesn't mean that it lacks entertainment and beautiful scenery. Watching the balloons fly over the Rocky Mountains and its surrounding area is really quite a spectacle to behold. So don't forget to pack in your camera to capture some unforgettable memories.
Its additional events include a hot air balloon race, a donut-eating competition, and a skydiving contest. Since Colorado Springs is a popular outdoor destination, visitors can also enjoy stand-up paddleboarding and wakeboarding in the nearby Prospect Lake. There are also numerous biking and hiking trails.
After a full day of fun, you can stand back and watch as the balloons take to the sky again or join in on the fun of hot air ballooning with a ride.
2021 Colorado Springs Labor Day Lift Off
---
3) Teton Valley Balloon Rally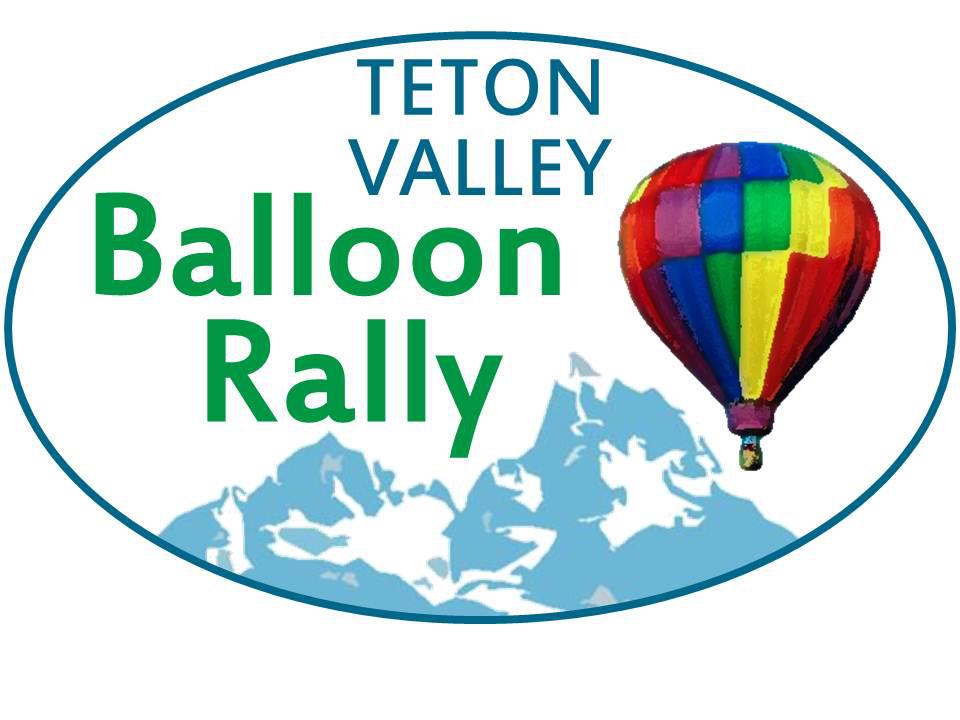 When: July 1-4, 2023
Where: Driggs, Idaho
https://tetonvalleyballoonrally.com/index.html
There's no better place to spend Independence Day than at the Teton Valley Balloon Rally, one of the best balloon festivals in the US. With the amazing Teton Mountains as the backdrop, this hot air balloon festival takes place over three days and provides top-class entertainment.
This festival has been taking place for about 40 years and features about 15 to 20 balloons. Each day begins with an early morning ascent. You can watch as the pilots and crew prepare the balloons for take-off, then watch them ascend into the sky as the first rays of light appear.
What's great about this festival is that you can camp on the grounds where the balloon festival will be held, so you'll be close to all the exciting action. Start the day off by grabbing some pancakes and other delicious food and prepare to be blown away.
If you're keen on some thrilling action, you can pre-book tickets to enjoy a hot air balloon ride. If you're lucky, you may find walk-in flights and tethered balloon rides available in person during the festival.
Throughout the day, you'll enjoy various activities on the Driggs grounds, like parades, a fiddlers contest, and much more. To end off the weekend, you can catch the exciting 4th of July fireworks display to celebrate Independence Day.
Sundog Balloon Co at the Teton Valley Balloon Rally 2021
---
4) New Jersey Lottering Festival of Ballooning
When: July 28-30, 2023
Where: Reading, New Jersey
This epic event in New Jersey is highly regarded as one of the best hot air balloon festivals in USA history — yes, it's an all-timer. Running for nearly 40 years, it attracts over 100 000 people each year. It takes place every year on the 744-acre grounds of the Solberg Airport in Readington.
This festival is one of the biggest events in New Jersey, taking place during the summer and featuring over 100 balloons. Here, you'll find all sorts of balloons, including giant pandas, astronauts, and emoji-themed ones.
Each day starts with a morning take-off and ends with an evening ascent and descent. There are also plenty of other activities to enjoy, including a 5k race, a thrill show, and food and craft stalls to explore.
What makes this festival unique is that you can book a VIP experience. This will include perks like front seats to balloon take-offs, access to private parties, and a sunrise brunch.
During the day, it also doubles as a music festival where artists from different genres take to the stage. You can end the day off by watching the balloons take off into the night sky, followed by a grand fireworks show.
2021 NJ Lottery Festival of Ballooning - Saturday highlight
---
5) Temecula Valley Balloon & Wine Festival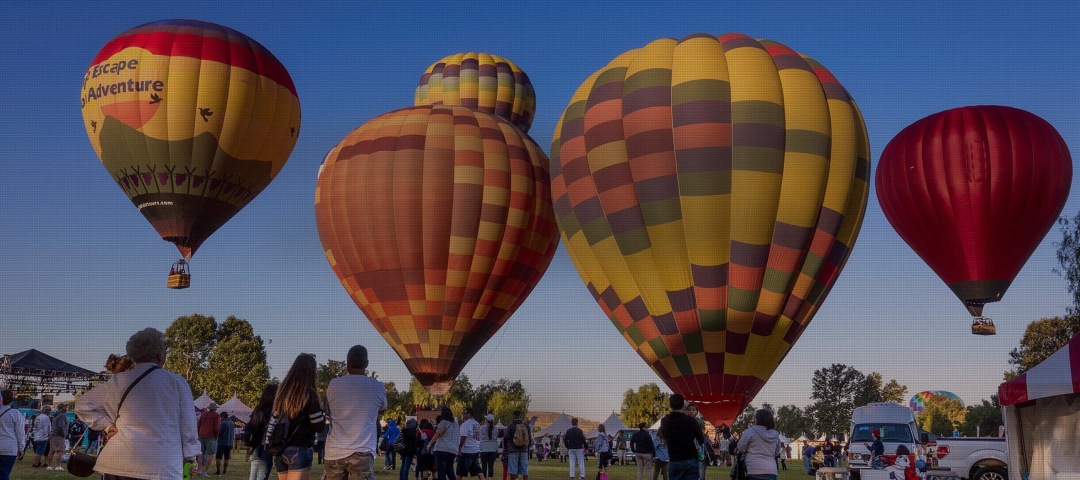 When: May 19-21, 2023
Where: Lake Skinner, California
Picture this. You're staying in a luxurious Airbnb in Temecula Valley, California's wine country. You're about to attend one of the most romantic festivals in the valley and have a good time.
No, it's not a dream. This could be you having the time of your life on one of the Temecula Valley Balloon and Wine Festival 2023 dates. It is one of the coolest hot air balloon festivals in California and should definitely not be missed.
The festival takes place in the picturesque landscapes of the Lake Skinner Recreation Area and a number of stunning vineyards. This epic three-day festival combines the best hot air balloon experiences with some of the best food and wine in California.
In the morning, you can enjoy a balloon ride or watch as the balloons take off. Then, throughout the day, you can enjoy wine tasting and sample wines and craft beers from over 20 wineries.
Pair your wine tasting with an array of delicious cuisine from over 100 vendors. If you're not keen on drinking or taking to the sky, you can always enjoy some of the wine barrel races or live concerts. Or just soak in the atmosphere.
In the evening, you can watch the balloon glow show as a number of hot air balloons take to the sky just before sunset.
Temecula Valley - Balloon & Wine Festival 2015 (4k UHD)
---
6) Great Forest Park Balloon Race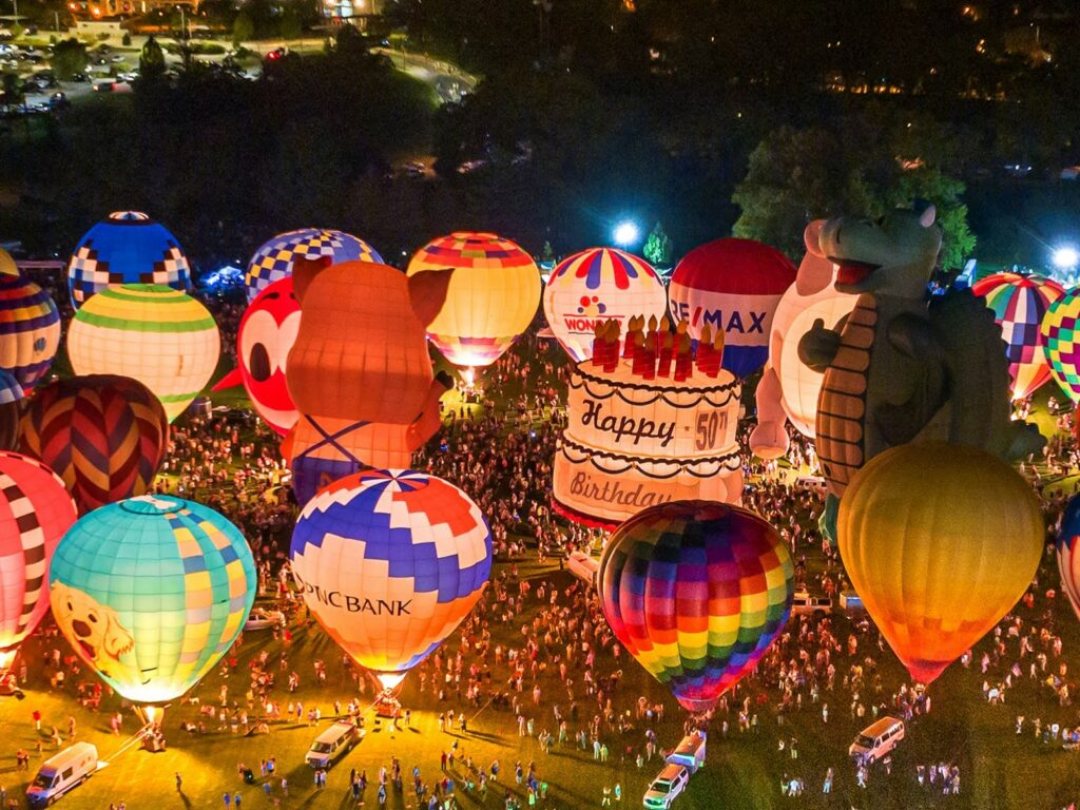 When: September 15-16, 2023
Where: St. Louis, Missouri
https://greatforestparkballoonrace.com/
The Great Forest Park Festival is the second-oldest hot air balloon festival in the USA and will celebrate its 51st edition in September 2023. For the last 50 years, it has been attracting over 100 000 people to St. Louis for a weekend of fun.
And the best part? Due to the event's generous main sponsor, PNC Bank, it is completely free to attend. The only thing you'll need to pay for is your food and drinks, with food trucks and festival food tents available. You can also bring your own refreshments, but you can't bring cooking appliances or glasses.
The event usually starts on Friday evening when thousands gather to enjoy live entertainment. Shortly after opening, the balloon glow starts just before sunset, when the balloons light up like fireflies.
The final day features hot air balloon races, an exciting skydiving performance, and an air race between over 70 experienced pilots. The day ends with crowning the winner and more entertainment.
2021 Balloon Glow & Race PSA with Fox 2 & KPLR 11
---
7) Great Reno Balloon Race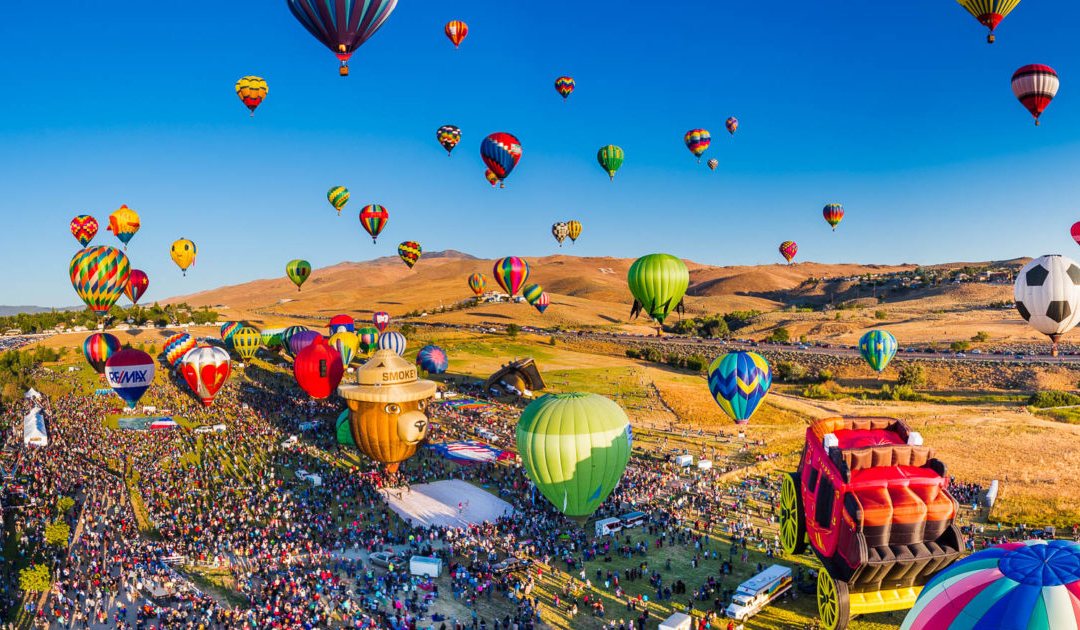 When: September 8-10, 2023
Where: Reno, Nevada
The Great Reno Balloon Race is the largest hot air balloon festival in the US when it comes to free festivals. It attracts over 140 000 people a year from all around the globe. If you love hot air balloons, then you'll enjoy this event.
The event has humble beginnings starting off with a mere 20 balloons in 1982. Today more than 100 balloons can be viewed over the three-day event. Each day starts off bright and early when a few balloons rise up into the dark just before sunrise.
You can sign up for an early morning ride or just stand back and watch this marvelous display. Throughout the day, there are numerous activities that can be enjoyed by everyone.
Some highlights of the Great Reno Race include the world's biggest pajama party, the Balloon Blackjack competition, and the tissue paper hot air balloon launch. The toilet paper launch is the perfect event for kids, as they can show off their creative side. It features a number of balloon creations in all shapes, sizes, and colors made completely out of toilet paper.
There's also Balloon Boulevard, where you'll find numerous food vendors and stalls selling gifts and souvenirs.
4K TIME-LAPSE: GREAT RENO BALLOON RACE 2018
---
8) National Balloon Classic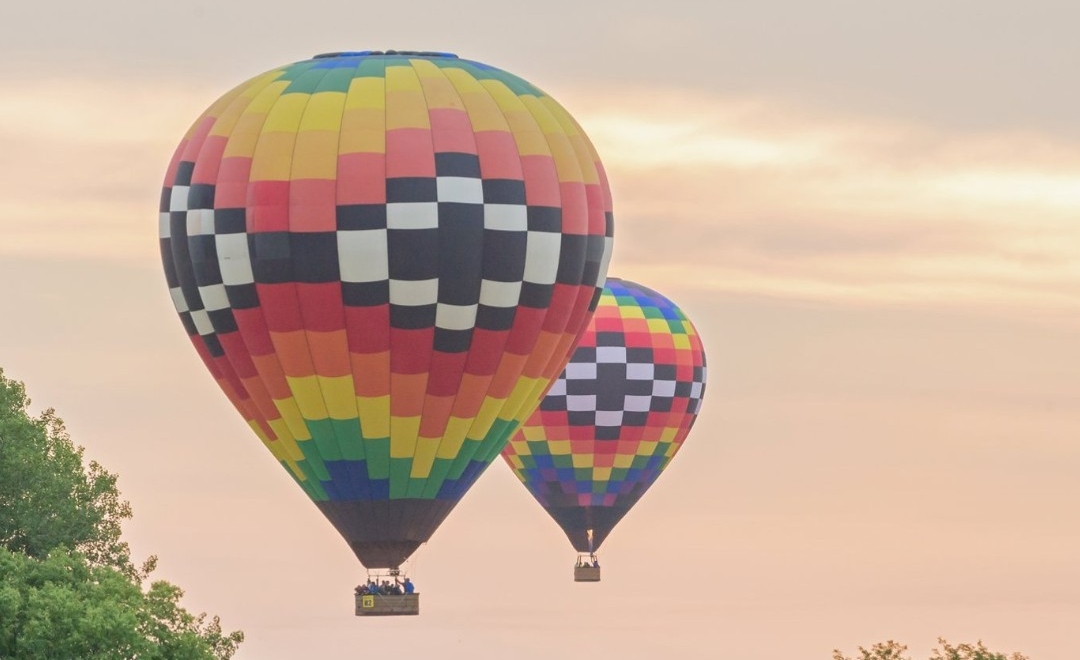 When: July 28 – August 5, 2023
Where: Indianola, Iowa
https://www.nationalballoonclassic.com/
The National Balloon Classic is one of the longest hot air balloon shows in the USA, taking place over a nine-day period. It's been one of the most exciting Indianola events for the past 40 years. The opening night starts off with an evening take-off followed by a fireworks show.
Every day, over 100 colorful balloons paint a majestic picture in the sky as they float around the Indianola area. There's also plenty to enjoy on the ground, where you can watch balloon races, skydiving demonstrations, and even a 5k race. There's a stage featuring various live performances and food vendors serving up tasty treats.
While you're here, check out the National Balloon Museum, where you can learn more about the history of hot air balloons and view artifacts and exhibitions. In the evenings, you can watch as the balloons prepare to take off for the balloon glow. On the final night, this exciting event will be closed off with a cracking firework display.
National Balloon Classic 2021
---
9) Havasu Balloon Festival and Fair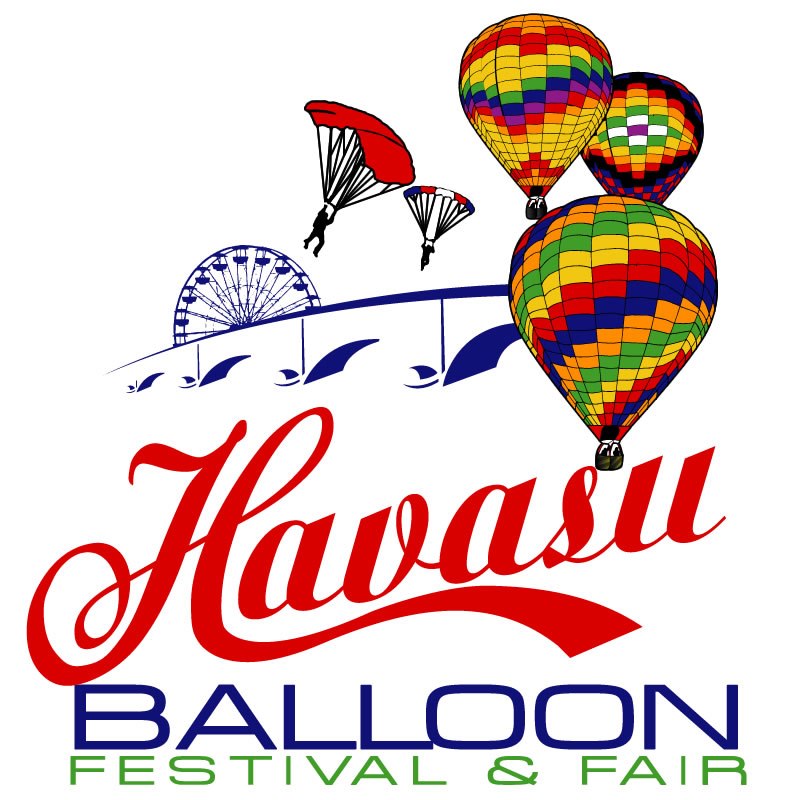 Where: Lake Havasu City, Arizona
When: January 19-23, 2023
https://havasuballoonfestival.com/
Voted as one of the best hot air balloon festivals in Arizona, the Havasu Balloon Festival and Fair is one of the best events that you can attend in the state. Set against the stunning scenery of Lake Havasu and the peaks of the rugged Mohave Mountains, this event is quite exciting.
The festival takes place yearly over a weekend in late January. Every day starts off with an early morning ascension at around 6 am. After that, the funfair begins. Here you can enjoy live music, carnival rides, and all the delicious foods and treats associated with fairs.
There are also numerous vendors selling cute arts and crafts. As evening approaches, enjoy basking in the glow of 100s of hot air balloons.
Havasu Balloon Festival 2019
---
Am I Missing Any Amazing Hot Air Balloon Festivals?
There are a ton of hot air balloon festivals 2023 has in store for people who're gaga about hot air balloons, including the ones I've listed above. However, I'm sure there are more that I haven't mentioned here and I'd love to learn about them. So please do reach out if you know of any others!
---
Looking for More Exciting Festivals and Things to do in the USA?
The USA is filled with a range of exciting things to do and places to stay. Check out some of my other articles to help you plan your next trip: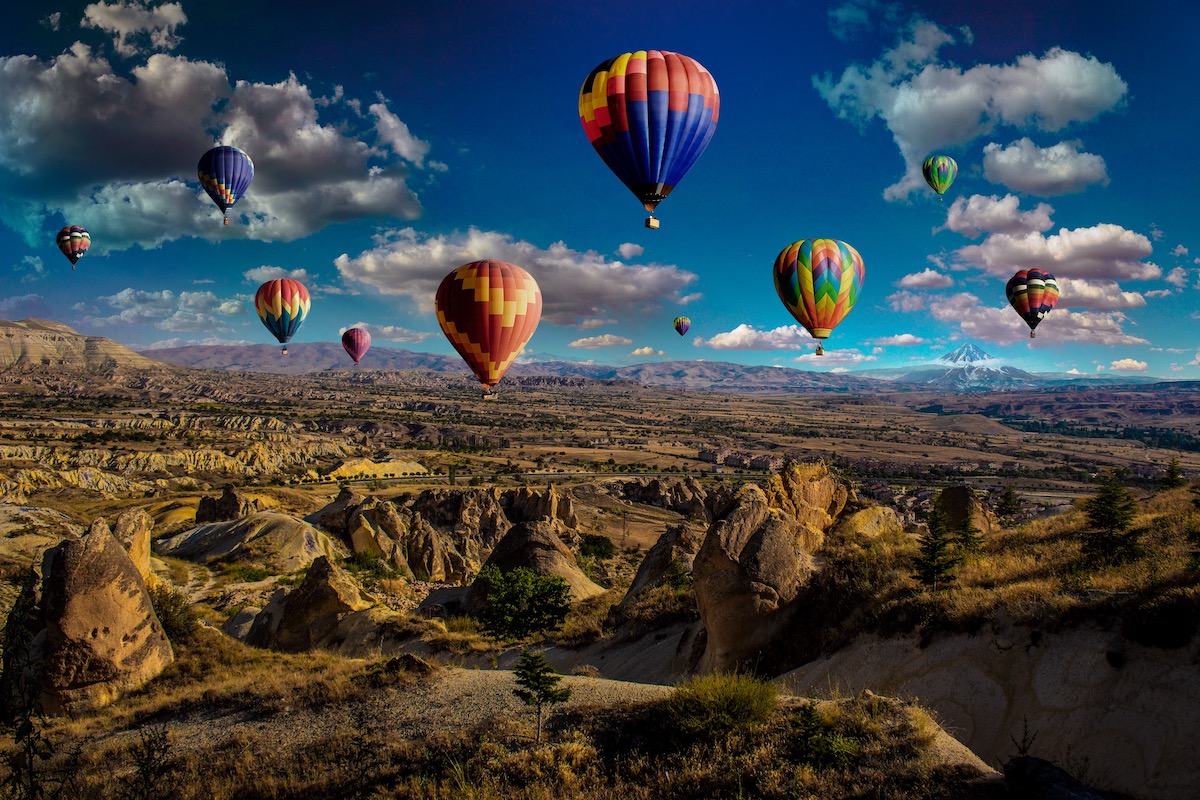 ---
THANK YOU FOR READING THIS LIST OF MY FAVORITE US HOT AIR BALLOON FESTIVALS !
SHARE THIS HOT AIR BALLOON FESTIVAL USA 2023 WITH YOUR FAMILY AND FRIENDS TOO!
https://www.jonesaroundtheworld.com/wp-content/uploads/2022/05/Albuquerque-International-Balloon-Fiesta.jpg
820
1200
TravelTractionsJATW
https://www.jonesaroundtheworld.com/wp-content/uploads/2017/03/logotry-1-1-300x106.png
TravelTractionsJATW
2022-05-19 21:28:15
2023-06-26 08:59:49
9 Best Hot Air Balloon Festivals in the US | 2023 USA Balloon Dates