Looking for the best music festivals in Colorado in 2023? Well, I'm here to help, because I've compiled a solid list of upcoming Colorado Festivals and events that'll keep you grooving all year long!
The Rocky Mountains. Celeb spotting in Aspen. World-class skiing. The bizarre case of JonBenét Ramsey. There are a bunch of things you probably picture when you think of Colorado – and music festivals should definitely be one of them! Traditional bluegrass music is iconically celebrated here in its truest form, while rock and roots, country and even EDM are well represented during the summer music festival season.
So dust off your sturdiest pair of cowboy boots, because my pick of the best Colorado music festivals mostly takes you away from the capital of Denver, and into the rolling ranches of the high country and beyond. After, all John Denver didn't write "Rocky Mountain High" for nothin'.
So read all about the best Colorado Music Festivals 2023 has to offer, and feel free to leave a comment if you think I'm missing any important ones!
---
1) Sonic Bloom Festival
When: June 15-18, 2023
Where: Spanish Peaks Country, Colorado
http://sonicbloomfestival.com/
"SONIC BLOOM is a 4-day camping festival that brings electronic music, dance, art and human performance together in an atmosphere that inspires open channels of co-creativity for everyone involved."
Out of all the music festivals in Colorado, this is the one I'm DYING to go to. It looks like such an amazing festival, and I know many friends who have gone and said how amazing it is. The line-ups are always awesome, but the reason people go to is the VIBE. If you're looking for a good Colorado festival, then this should be a top priority (in my opinion at least).
One of my good friends Melissa attended Sonic Bloom last year though, and wrote up this review for me! Give a quick read through the article, "Sonic Bloom | Musical Magic in Colorado"
Join the SONIC BLOOM Facebook Event for more details
SONIC BLOOM 2022 Hyperlapse
---
2) Hanuman Festival
When: July 13-16, 2023
Where: Boulder, Colorado
"Join the Global Yoga Tribe. Honor the Practice, Create Magic, Raise the Vibration!"
Yoga, Music, Celebration: Transformation Begins Here
"Join us for our 10th year anniversary in beautiful Boulder, Colorado for Hanuman Festival 2020. Open your heart and experience awakening, belonging and connection in a four-day celebration of world-class yoga, mind-blowing music, inspirational experiences and nourishing community."
Hanuman Festival 2018 Recap
---
3) The RIDE Festival
When: September 2023
Where: Telluride, Colorado
Bringing stellar rock n roll to the most stunning venue in the world
"Since its debut in 2012, The RIDE Festival has quickly garnered a reputation among music fans for its thoughtful performance curation – handpicking rootsy, rocking talent whose music flawlessly compliments the festival's stunning Telluride, Colorado setting.
There's something magical about Telluride. Celebrated for its rugged ski terrain, majestic mountains, rivers and waterfalls, and panoramic views, the tiny historic mining town-turned-tourist-hot-spot is one of Colorado's most renowned mountain towns. Known to music aficionados, the annual RIDE Festival draws 8,000+ fans to the picturesque Telluride Town Park to experience seasoned and emerging performers in an intimate setting unlike any other.
The RIDE Festival is a destination event featuring rock 'n' roll music, kid-friendly festival programming, and a varied late-night live music schedule. The RIDE Festival's proximity to many outdoor activities makes this a unique opportunity to extend your stay. Enjoy world class hiking, mountain biking, river rafting, fishing, visit area hot springs or delve into the history of the west.
The Ride Festival 2018, Telluride,Co
---
4) Global Dance Festival
When: July 2023
Where: Broncos Stadium at Mile High, Denver, Colorado
https://globaldancefestival.com/
Global Dance Festival is one of Colorado's biggest and best EDM Festivals, bringing in an unbelievably stacked line-up spanning nearly every genre of electronic music across five amazing stages!
"Embrace your sense of adventure and get your heart-racing on one of the many carnival rides, dance like no one's watching at the Silent Disco, wander amongst the many striking art installations and discover other hidden gems throughout the GDF grounds while you meander from stage to stage."
Global Dance Festival 2022 Trailer
---
5) Apogea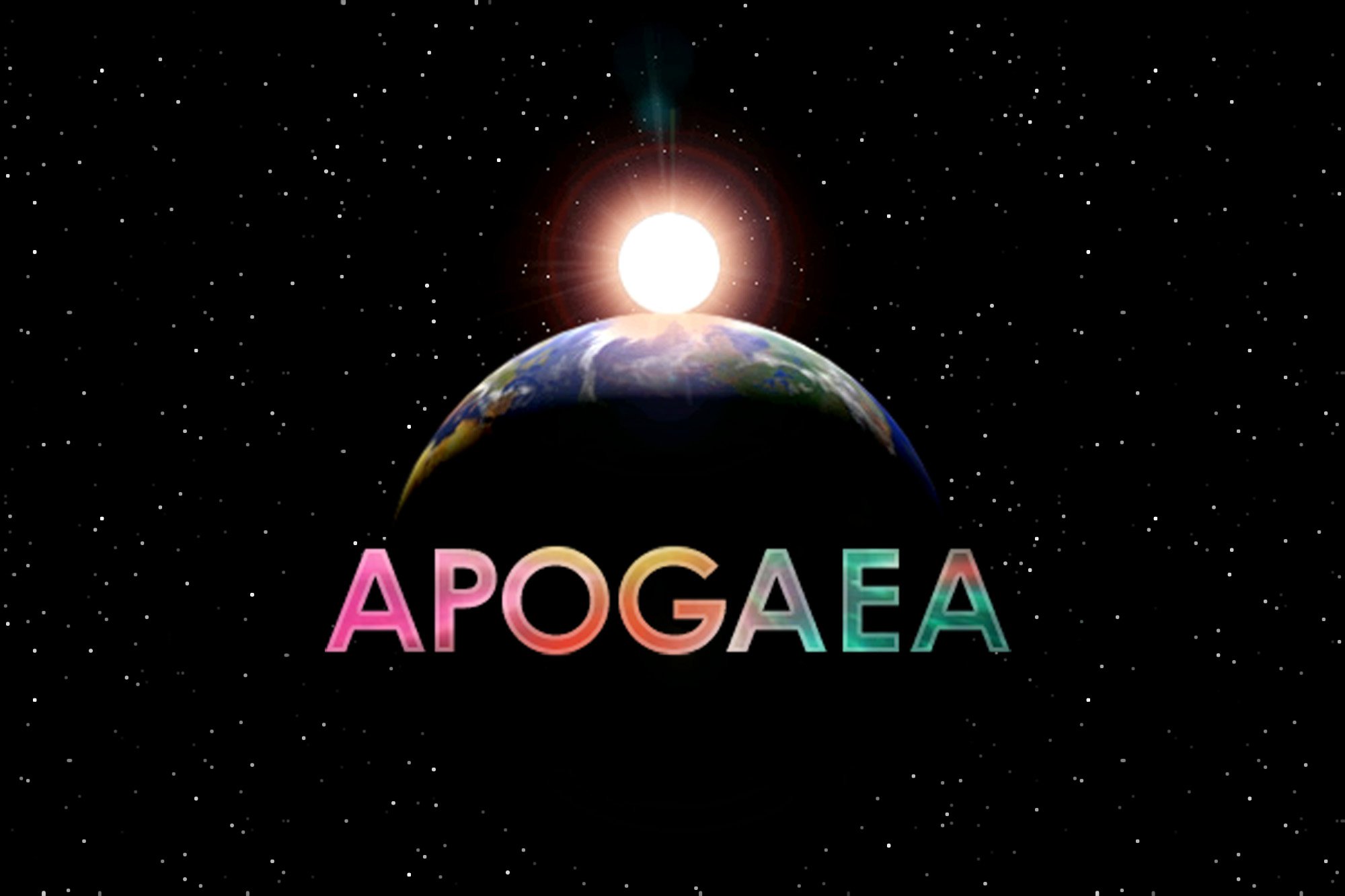 When: June 2023
Where: Valdez, Colorado
This is the official Colorado Regional Burning Man Event.
"Art, performance, sustainability, radical inclusion, and radical self-reliance. Join us, all are welcome! Here you will find an experiential forum where our ever-expanding community practices freedom of expression in an environment of participation, sharing, and creativity. We invite you to join us in a place where our spirits are as high as the mountains and our minds are as wide open as the plains!"
Check out my article on Burning Man Accessories, Clothing, and Outfit Essentials, as well as my blog on The Best Burning Man Goggles to look your best out there!
---
6) PoloFest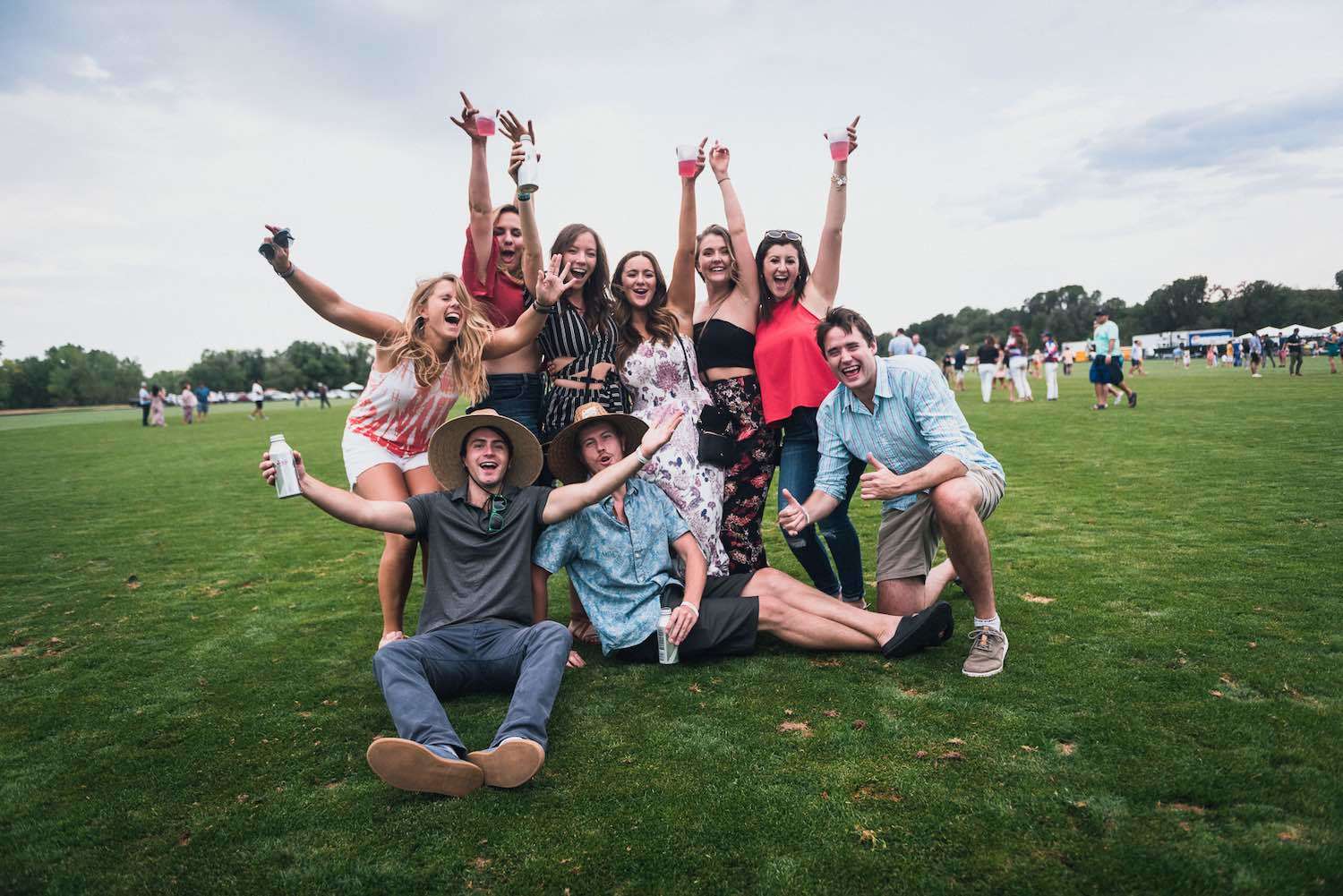 When: August 2023
Where: Denver Polo Club
PoloFest is a one-day outdoor summer festival, that combines live music and the unique sport of polo, and will help raise money and awareness for the Equine Partnership Program (EPP). The EPP's mission is to assist children on their personal journey toward healing with hands-on equine-assisted therapy. The EPP is committed to providing the tools to awaken and sustain people's values, voices, and hopes through healing experiences with horses, for the betterment of our communities.
Their first edition was in 2019, and was a day filled with entertainment including; polo matches featuring the world's top players and horses, live music performances from Kygo, Sofi Tukker, Chelsea Cutler and Zach Heckendorf, and more, along with the opportunity to interact and ride horses with the EPP and the Denver Polo Club. Attendees will see the #1 professional polo player in the world, Adolfo Cambiaso. A variety of highly skilled polo players from around the world will be giving riding lessons to Denver's at risk youth, who are served by the non-profit Equine Partnership Program!
The Denver Polo Club is unlike any other venue in the Denver area with expansive green fields, nestled in a beautiful forest along Plum Creek with views of the front range. Come out and enjoy a fun-filled day in casual, comfortable attire with a variety of activities, food truck vendors, and bars. No fancy clothes necessary. The audience will get up close and personal while watching the players and feel the power of the horses as they gallop at record-breaking speeds. Prepare for summer sun and dancing around on some green grass into the night.
PoloFest 2018 Festival Highlights
---
7) Telluride Bluegrass Festival
When: June 15-18, 2023
Where: Telluride, Colorado
https://www.bluegrass.com/telluride/
"Festivarians, virtuosic bluegrass superpickers, soulful songwriters, and some of the most inspiring artists in the rootsy Americana landscape worldwide make their annual pilgrimage to the historic mining town of Telluride, Colorado. It's an unforgettable 4 days of music, mountains, and magic in the breathtaking box canyon of the San Juan Mountains at 8,750′.
Held the weekend closest to the Summer Solstice each year, Telluride Bluegrass is the grand kickoff to Colorado summertime when the high country puts away its skis and grabs hiking boots, guitars, and low-back festival chairs for "Bluegrass."
50th Annual Telluride Bluegrass Festival Teaser
---
8) Grandoozy Music Festival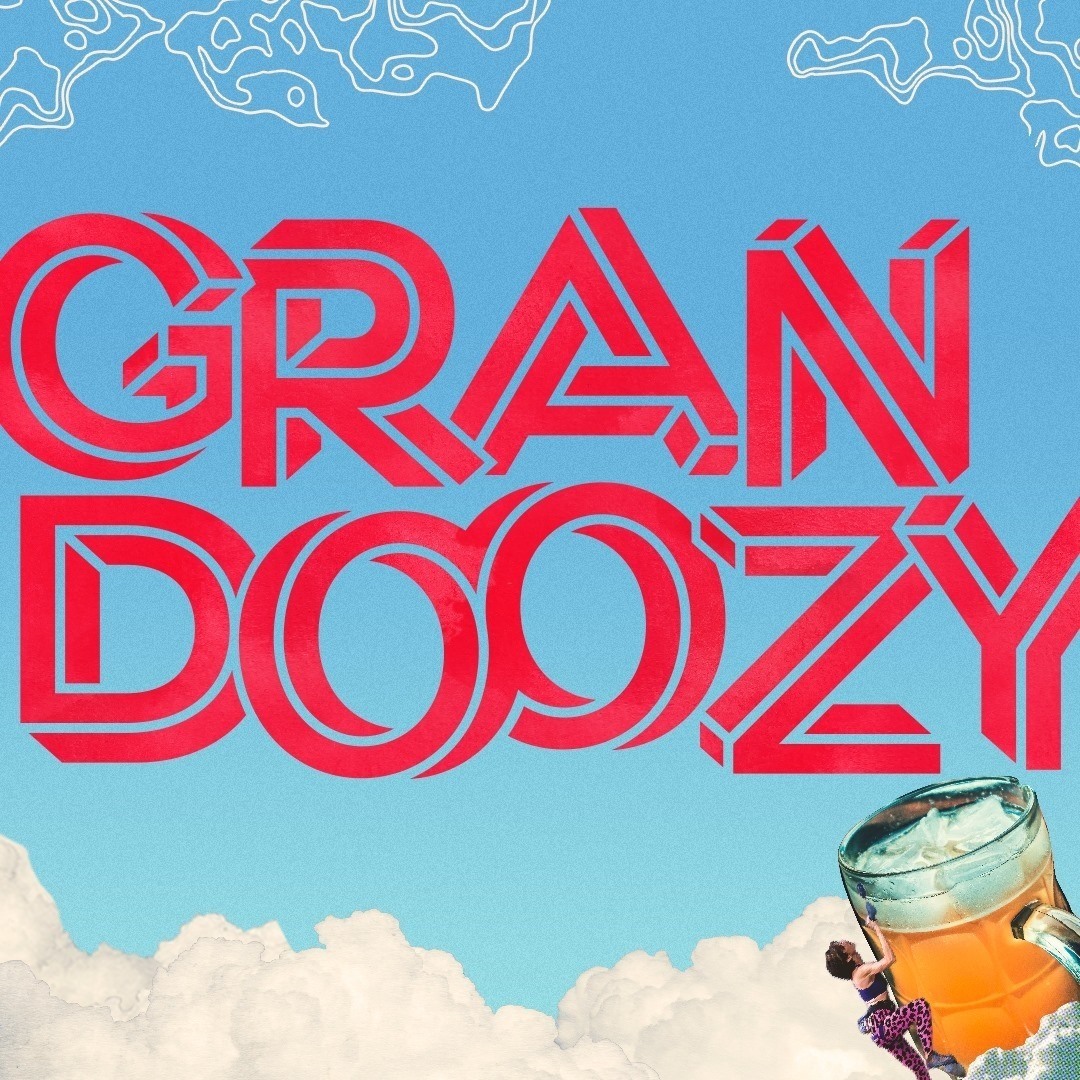 When: 2023 (TBC)
Where: Overland Park, Denver, Colorado
From the co-creators of Bonnaroo and Outside Lands…
"After a successful debut in September of 2018, Grandoozy will be taking a hiatus in 2019. We feel a special connection to Denver and its people and intend to use this hiatus as an opportunity to create a festival that is even more unique, sustainable, and integrated into the region's local and creative community. We're proud of the world-class festival we delivered for a world-class city and are truly humbled by the praise and support Grandoozy received in its inaugural year from the fans, artists, vendors and the city of Denver."
Grandoozy 2018 - Official Afterglow Video
---
9) Country Jam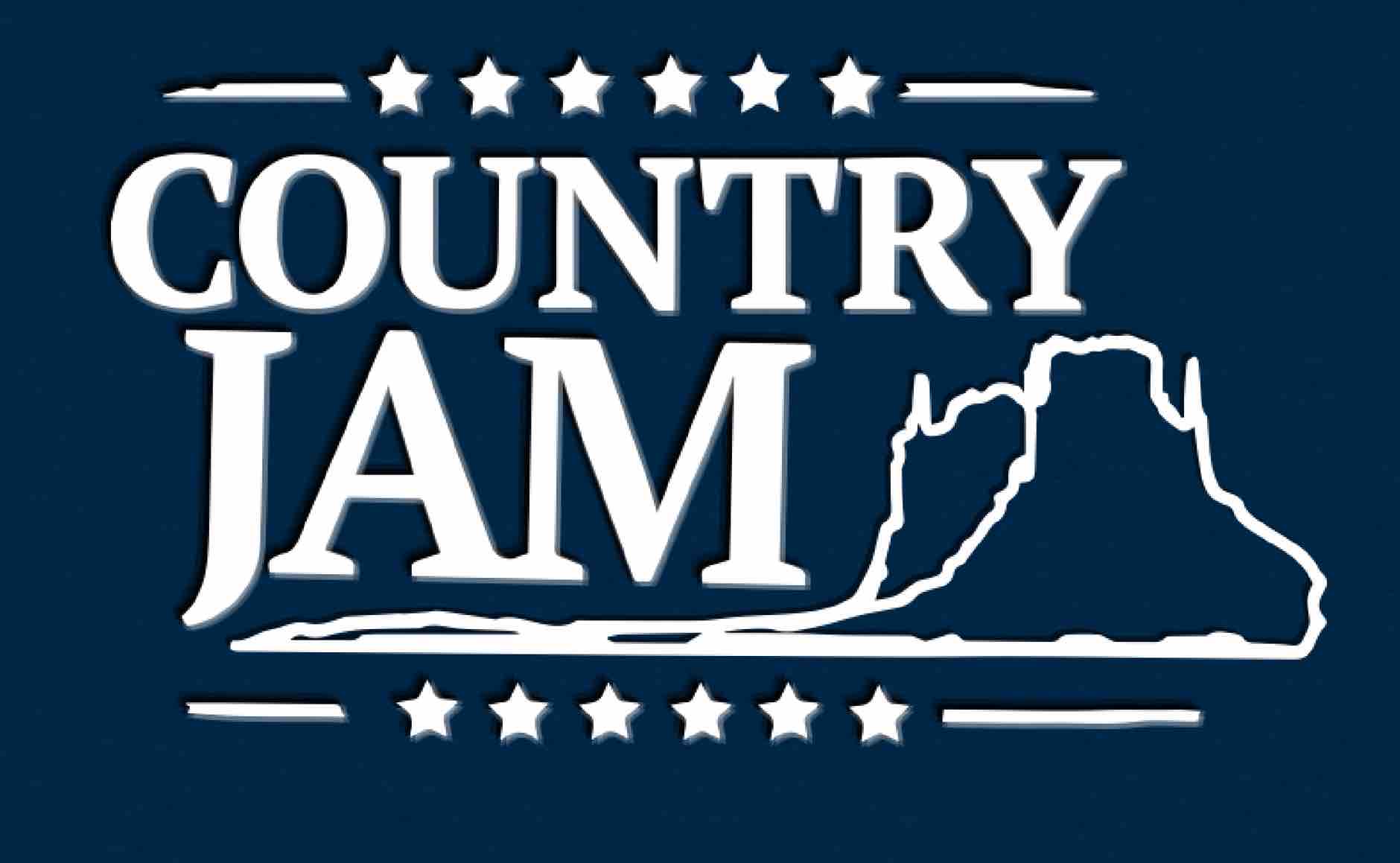 When: June 22-24, 2023
Where: Grand Junction, Colorado
"Country Jam is the largest country music and camping festival in Colorado, featuring the biggest names in country music over four days at Jam Ranch just outside of Grand Junction. A weekend you'll never forget."
For nearly three decades Country Jam has launched itself to the forefront of the country music festival scene, hosting the biggest names in country music amongst the Red Rock landscape of Western Colorado. The 28th edition of Country Jam features Luke Bryan, Sam Hunt, Little Big Town, Alabama and more of country's biggest stars. Combine that with a weekend full of camping with all your friends, and you've got the biggest party in Colorado. Come join us."
Check out my article on the best country music festivals in the U.S.A for similar festivals!
A Day in the Life of Country Jam Fans
---
10) Rockygrass Festival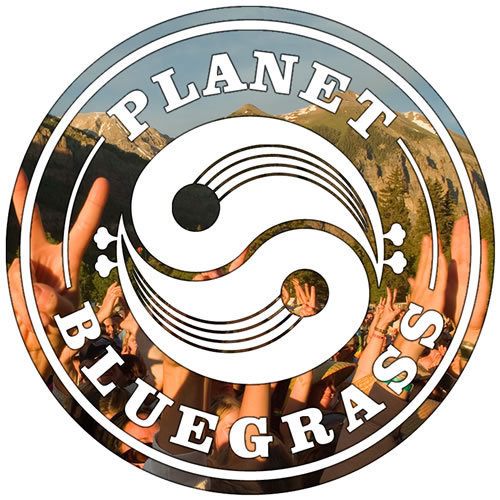 When: July 28-30, 2023
Where: Lyons, Colorado
https://www.bluegrass.com/rockygrass/
"The last weekend of July, 5,000 Festivarians descend on the historic quarry town of Lyons (just 15 minutes north of Boulder in the Rocky Mountain foothills) for one of the world's premiere traditional bluegrass festivals.
With recent headliners Steve Martin, Ricky Skaggs, Peter Rowan, The Infamous Stringdusters, Del McCoury Band, and Alison Krauss, RockyGrass has consistently sold-out in advance for the past decade. Renowned as a picker's festival, the week leading up to the event, the RockyGrass Academy offers three hundred musicians of all ages an opportunity to learn bluegrass from many of the festival performers, including instrument building and a Kids Camp."
Just the right amount of people, superb transitions and timing, great food and drink, well-kept facilities… a superb example of a small society.
Bluegrass festival keeps Colorado town afloat after flood
---
11) Bohemian Nights Festival
When: June-September, 2023
Where: Fort Collins, Colorado
https://www.bohemiannights.org/
"Bohemian Nights shares the gift of live Colorado music with the Northern Colorado community. Bohemian Nights exposes community members to new, emerging and established Colorado artists; reveals Fort Collins as a music city; and shares the gift of live music with the community.
The Downtown Fort Collins Business Association produces an annual festival in August as a part of the NewWestFest celebration. This free community music festival features a variety of genres and includes a family-centered Kids' Music Adventure. Bohemian Nights Presents Thursday Night Live is a series of free summer concerts performed in Old Town Square. This series showcases Colorado's finest established and emerging musical talent."
---
12) Powabunga Festival
When: December 2023
Where: Vail, Colorado
Colorado's Ultimate Festival Snow Getaway
This is one of Colorado's newest festivals on the list, but after a wildly successful inaugural edition in 2019 being headlined by the likes of ZHU, Bob Moses, and Justin Jay, it's safe to say this is new boutique ski resort event is a Colorado festival that'll be amazing for many years to come!
"Complete with stacked afterparties, funky costumes, and fresh mountain air – this is a winter festival experience you don't want to miss!
Powabunga 2021 Aftermovie
---
13) Bravo! Vail Music Festival
When: June-August, 2023
Where: Vail, Colorado
The Sound of Extraordinary
Four of the world's greatest orchestras make their summer home at Bravo! Vail Music Festival!
"Highlights include Bravo! Vail's first-ever staged opera, an innovative premiere production of Tosca; North American debut of Chamber Orchestra Vienna – Berlin; premieres of new works by Philip Glass and Edgar Meyer; plus performances by Anne-Sophie Mutter, Yefim Bronfman, the Takács String Quartet and more Vail, CO
New York Philharmonic Opening Night At Bravo! Vail 2018
---
14) Denver Day of Rock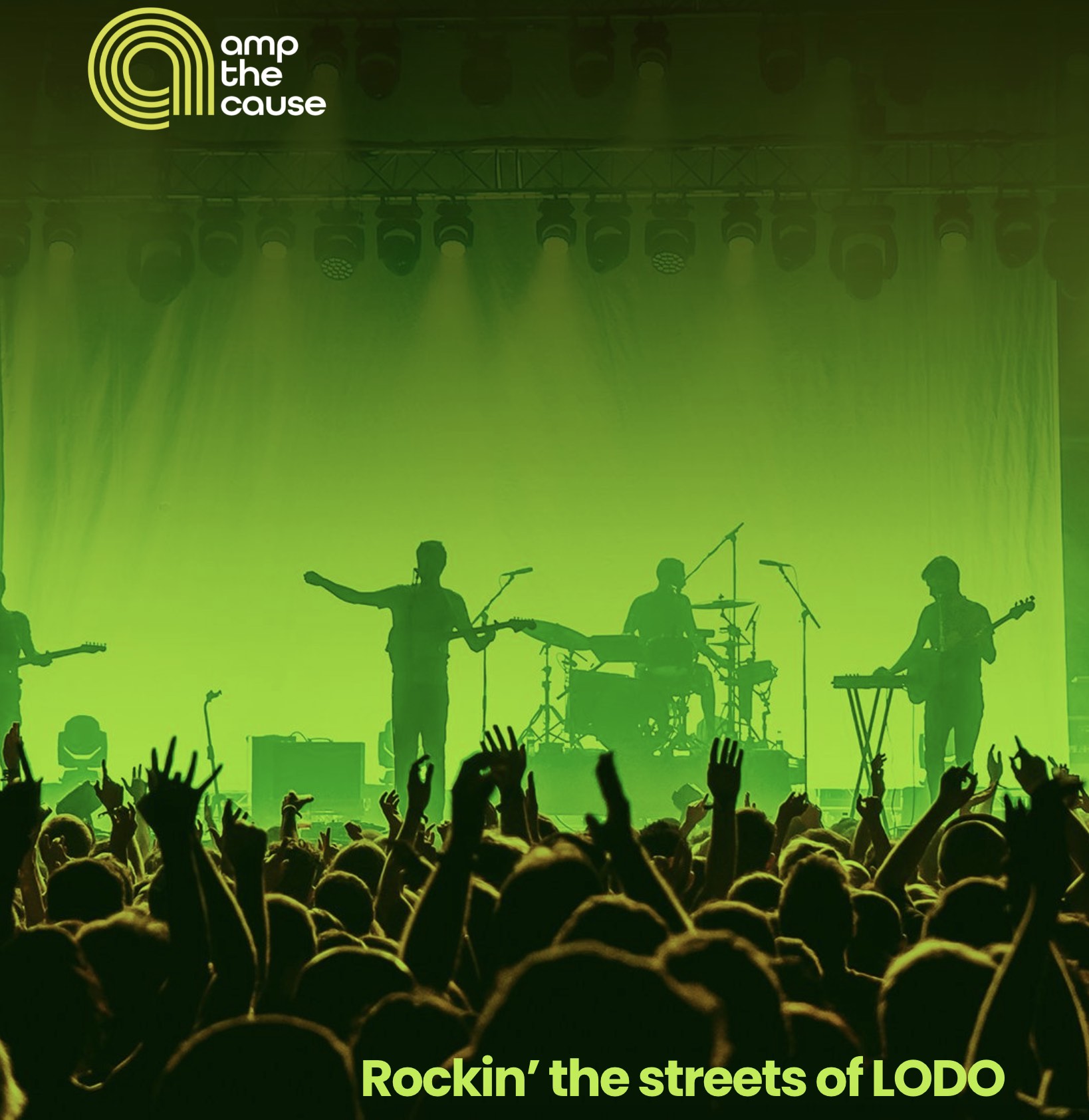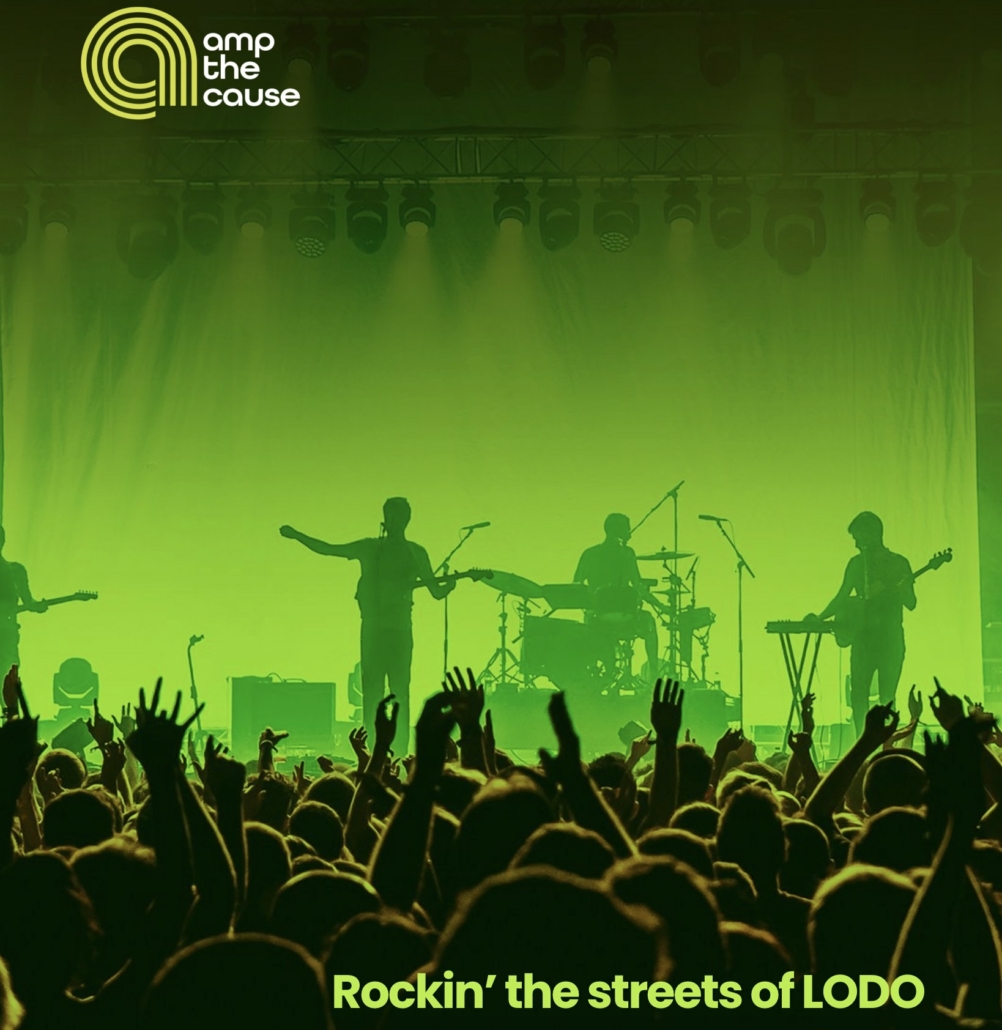 When: May 2023
Where: Denver, Colorado
"Denver Day of Rock is a one-day music festival benefitting the work of Amp the Cause. This free event features four stages of live music along Denver's LoDo District. Denver Day of Rock unites the community through music and family friendly entertainment while also raising funds to help Amp the Cause continue to support non-profits in the community."
---
15) Westword Music Showcase

When: September 2023
Where: Golden Triangle, Denver, Colorado
"The Westword Music Showcase will return to the RiNo Art District on September 9-10, 2022, filling the area with music from local and national acts alike in the city's longest-running celebration of the scene. From the first Showcase in LoDo in 1995 to big bashes in the Golden Triangle a decade later to our current festivals in RiNo, the Showcase has only gotten bigger and better.
Friday, September 9, will be a real party, with dozens of talented local acts playing in ten-plus venues throughout the district – and admission is free! Discover your new favorite band and buy the members a drink; revel in the streets all night long. But make sure you save energy for day two.
On Saturday, September 10, enjoy a full day (and night) of music at the Mission Ballroom Outdoors, with psych-rockers extraordinaire The Flaming Lips, raucous indie-funk band Saint Motel, alt-rock trio X Ambassadors, mishmash of retro yet classic rock Jukebox the Ghost, the indie-electronic Cannons, funk-rock group The Main Squeeze, performances by some of Denver's best bands. Fortify yourself for all the action with food options from some of the best restaurants and trucks in town, as well as beverages from our deluxe, on-site bars."
Westword Music Showcase 2022
---
16) Mountain Town Music Festival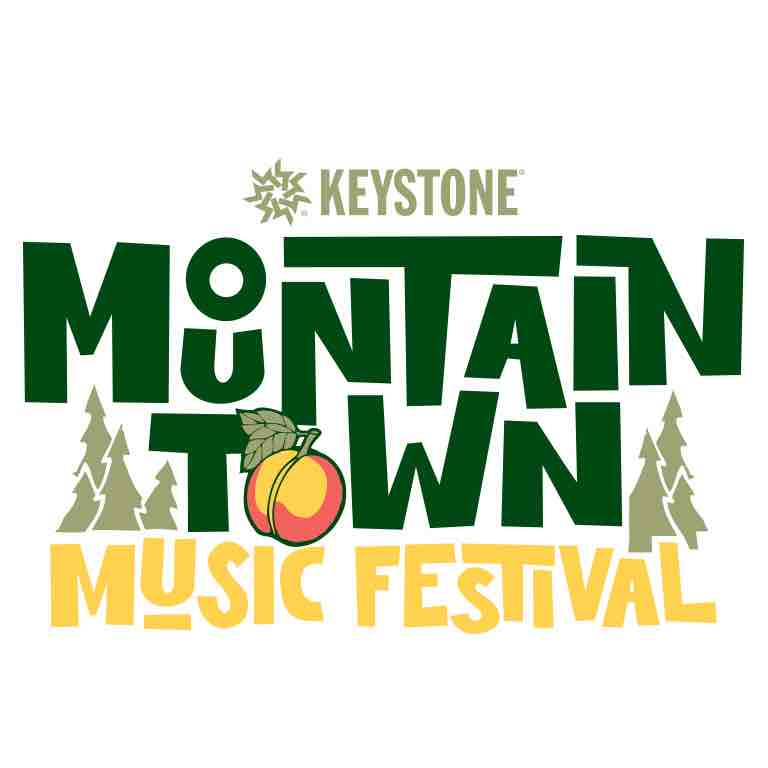 When: August 19, 2023
Where: Keystone, Colorado
www.keystonefestivals.com/festivals/mountain-town-music-festival/
"A celebration of all things Colorado. Warm summer days, free live music from national acts and the harvest season for our colorful state. Come spend the weekend in Colorado's high country and celebrate the waning of summer and squeeze in that one last mountain adventure before the aspens start to turn their golden hues.
National acts grace the River Run Village stage and local food vendors will line the streets concocting their best peach recipes as well as other harvest favorites such as; Rocky Ford melons, Olathe sweet corn & elk. Both the sweet and the savory, for you to enjoy. Dance the day away with free live music, performers include Josh Hoyer & Soul Colossal, Jared and the Mill , The Brother's Comatose and headliner TBA! The festival will also feature vendors from across Colorado highlighting hammocks, original art, pet goodies, jewelry, clothing and more! As always there will be activities for the kiddos with face painters and plant your own flower pot. Join us for this family-friendly, music-filled day at Keystone and help us welcome in the cooler days!"
Mountain Town Music Festival 2019
---
17) Jazz Aspen Snowmass – June Experience 2023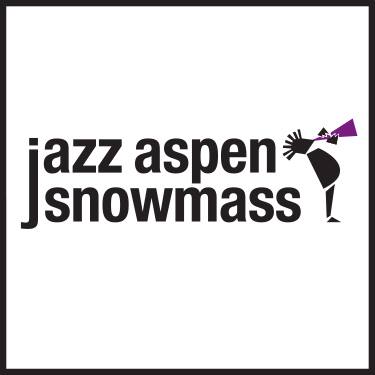 When: June 22-25, 2023
Where: Downtown Aspen, Colorado
http://www.jazzaspensnowmass.org/june-experience
"Enjoy a Jazz Walk, Soul Stroll, Blues Shuffle, Funk Ramble, World Dance at Multiple Venues Across the Downtown Core at the JAS June Experience.
Taking place June 22-25, the Experience will consist of multiple staggered shows daily, allowing attendees to the opportunity to walk from venue to venue for a diverse mix of music genres, in settings for listening as well as dancing. Inspired in part by the original HBO Comedy Fest, as well as Food & Wine, the event will bring musically focused lanyard wearing attendees to the downtown core and the vitality of mixing multiple events and guests all across downtown.
Your June Experience Pass allows entrance to performances in all participating venues including: Belly Up, Wheeler Opera House, 39 Degrees at W Hotel, Limelight Hotel, Sterling Lounge, Here House and Felix Roasting Co. & Bad Harriet at the Hotel Jerome. VIP Passes also include dinner & shows rooftop at the Aspen Art Museum."
JAS 2017 June Experience Highlight Reel
---
18) Jazz Aspen Snowmass – Labor Day Experience 2023
When: September 1-3, 2023
Where: Snowmass, Colorado
http://www.jazzaspensnowmass.org/labor-day-experience
Founded in 1991 and now in their 32nd season, Jazz Aspen Snowmass (JAS) presents and preserves jazz and related forms of music through world-class events, performances and education programs. The JAS Labor Day Experience brought out names like Stevie Nicks, Chris Stapleton, and Leon Bridges for their 2022 festival. Tickets are available now for 2023!
2022 JAS Labor Day Experience - Sunday Recap
---
19) Seven Peaks Music Festival 2023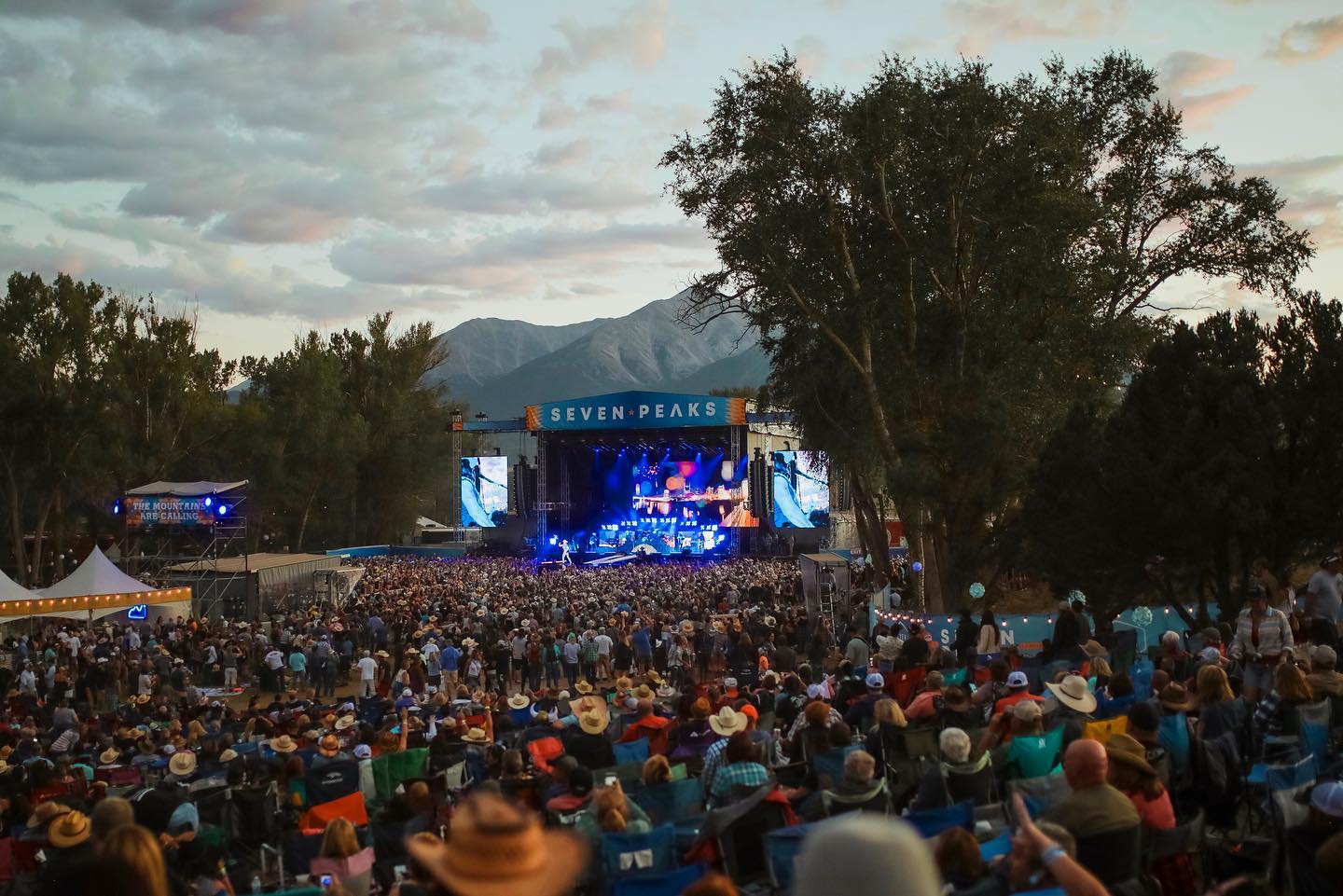 When: September 2023
Where: Villa Grove, Colorado
https://sevenpeaksfestival.com/
Seven Peaks festival is ready to bring some of the biggest names in Country Music to the gorgeous mountains of Colorado! From Dierks Bentley and the creators of massive country festivals like Tortuga, Watershed, and Faster Horses – you know you're in good hands! If you're into country music, then this is where you should be Labor Day weekend!!
Seven Peaks 2022 is Coming to Villa Grove, CO!
---
20) Juneteenth Music Festival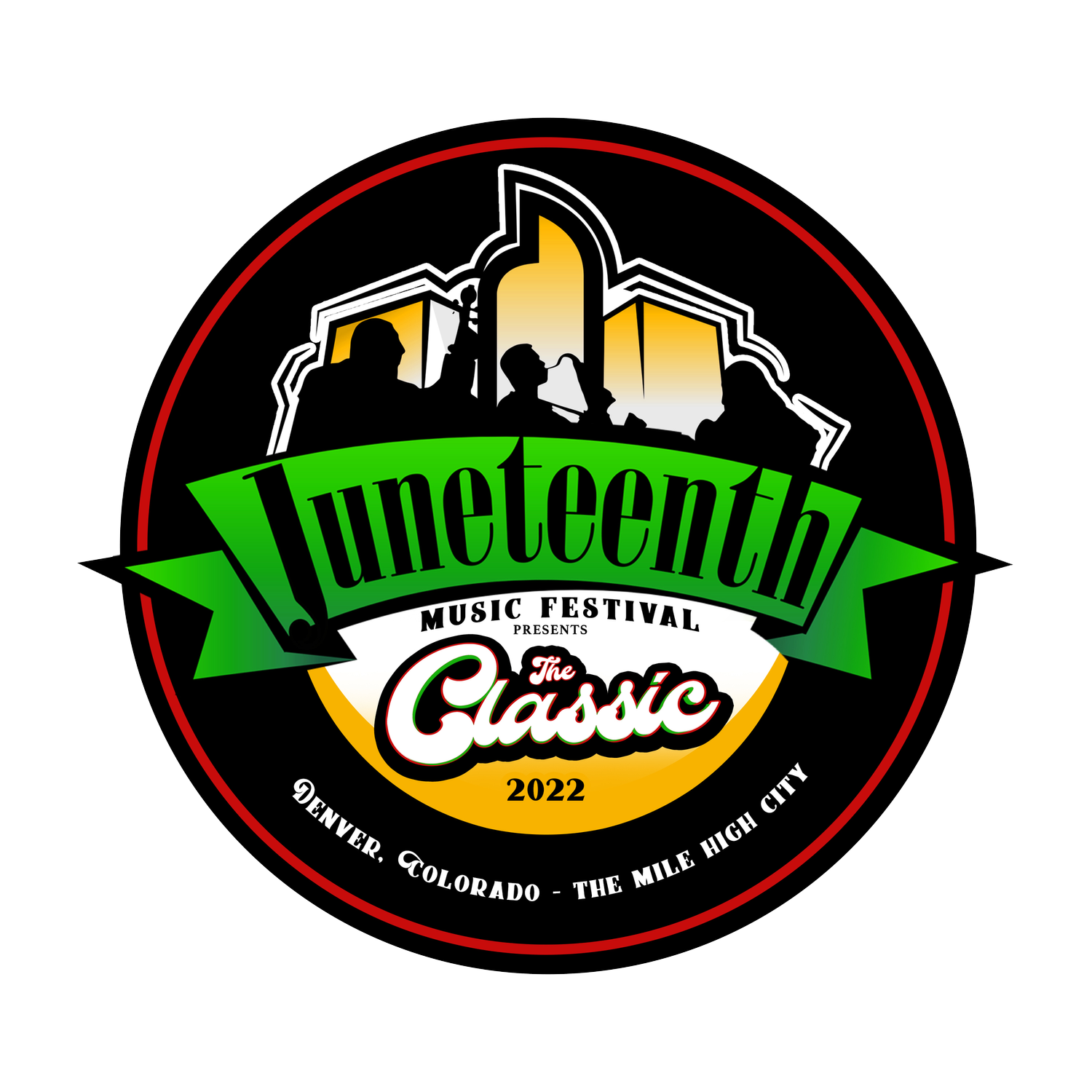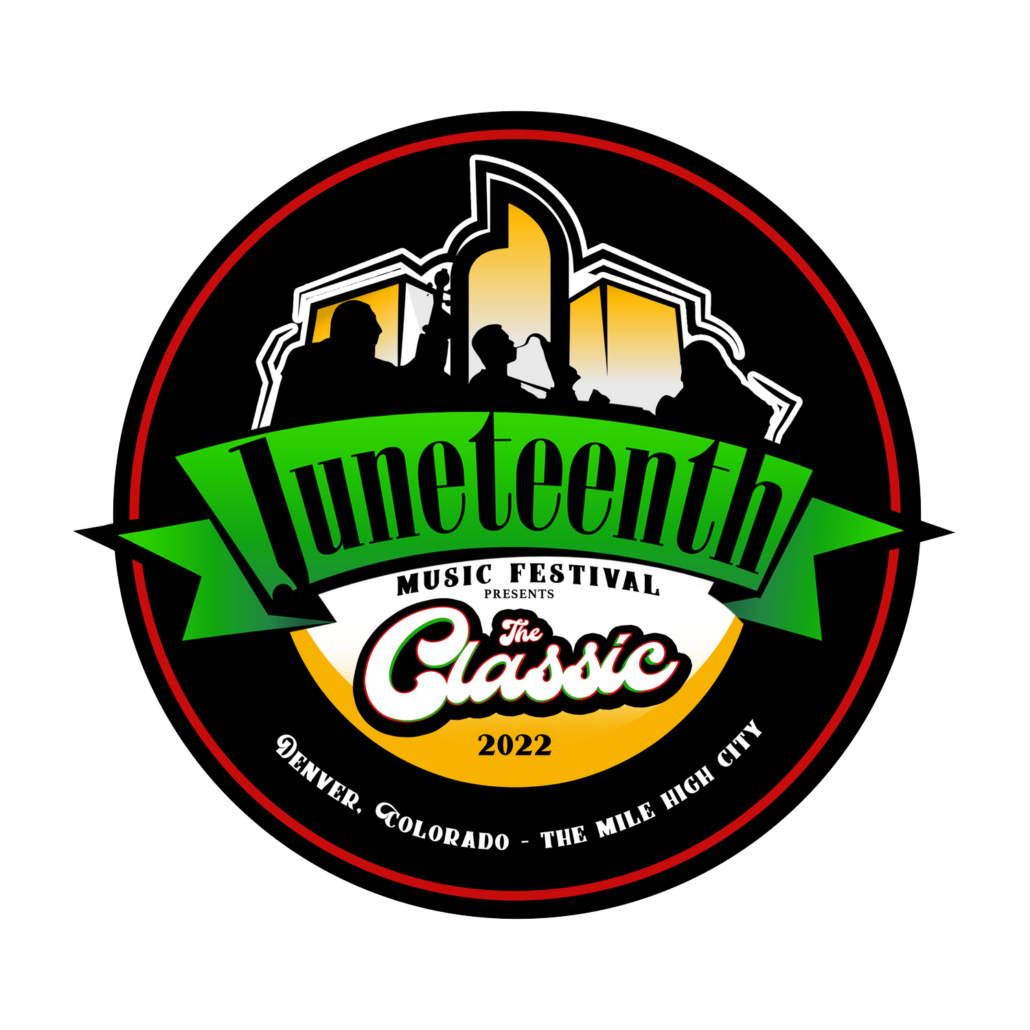 When: June 2023
Where: Five Points, Denver, Colorado
https://www.juneteenthmusicfestival.com/
Five Points: A place where Duke Ellington played and Billie Holiday sang, people gathered for a cold drink after a long day's work and African Americans, segregated by racist housing laws, made a life and a living. Five Points honors Juneteenth by throwing an annual Parade and Music Festival.
---
21) Drishti Beats Yoga & Music Festival
When: July 2023
Where: Snowmass Village, Colorado
https://festival.drishtibeats.com/
A 3-Day Yoga & Music Festival
"Awaken The Soul, Deep Within The Mountains of Colorado for Three Days and Nights of Transformative Music, Heart-Opening Yoga, World-Renowned Speakers and So Much More.
While soaking in the vibrant summer Snowmass Village community, festival goers are invited to embark on an incredible journey filled with soul-shaking music, heart-opening yoga, mind-expanding workshops, lectures, art and more, from some of the most eclectic yet refined selection musicians, yoga instructors and speakers.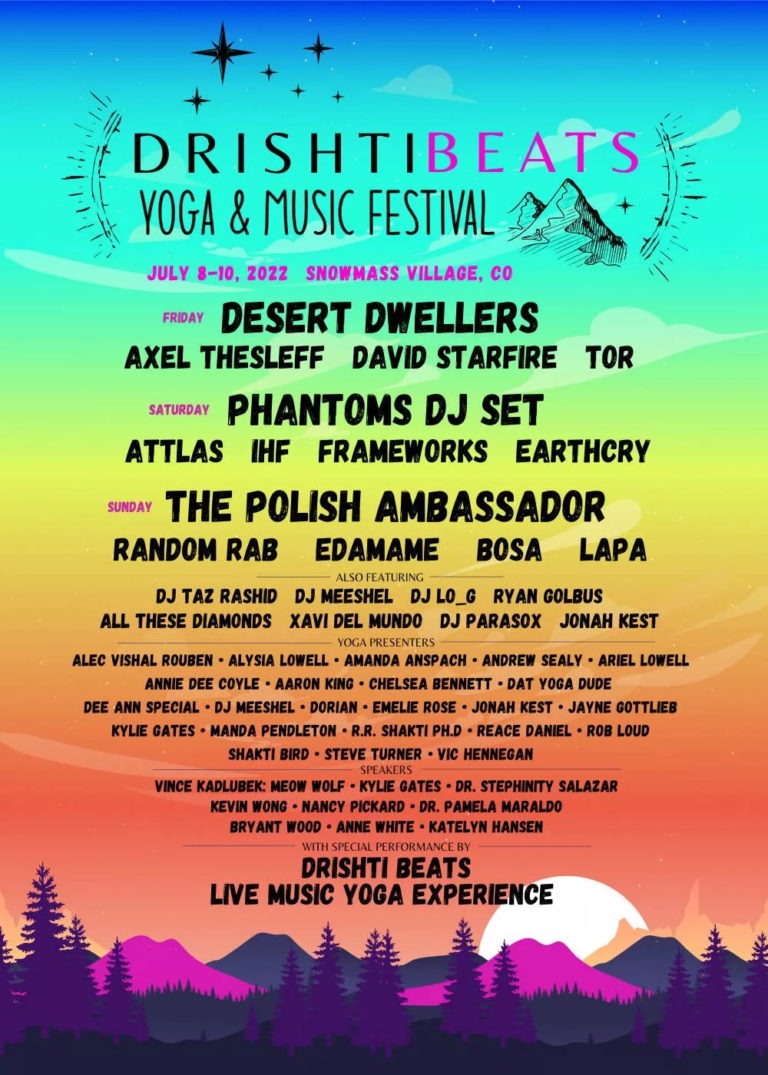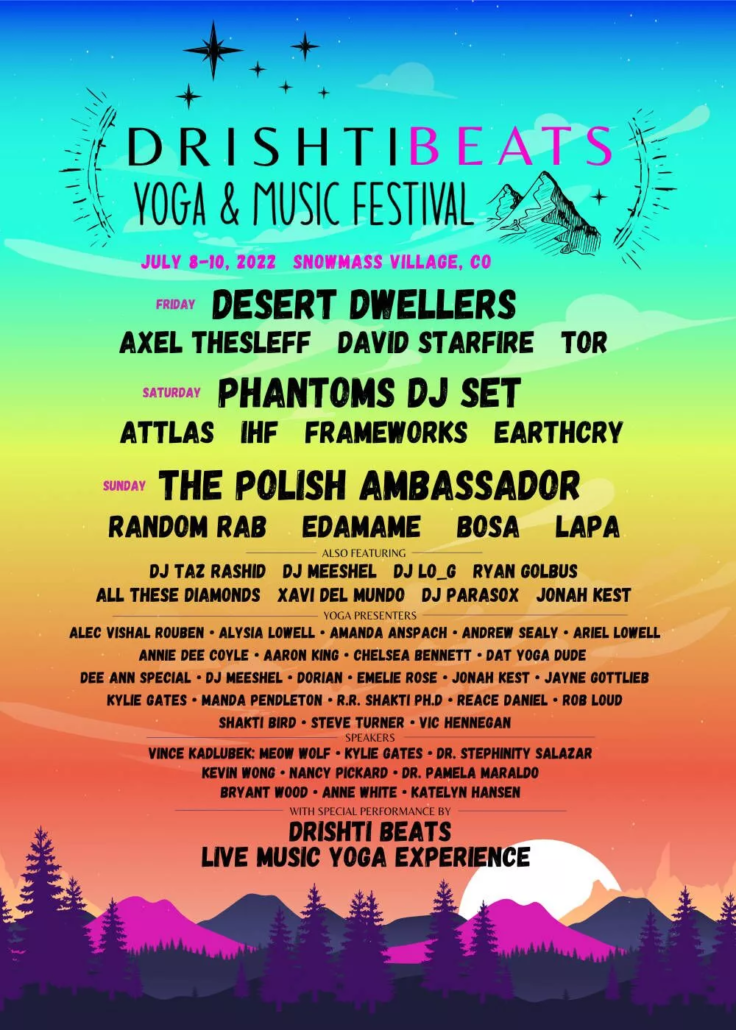 ---
21) High Ground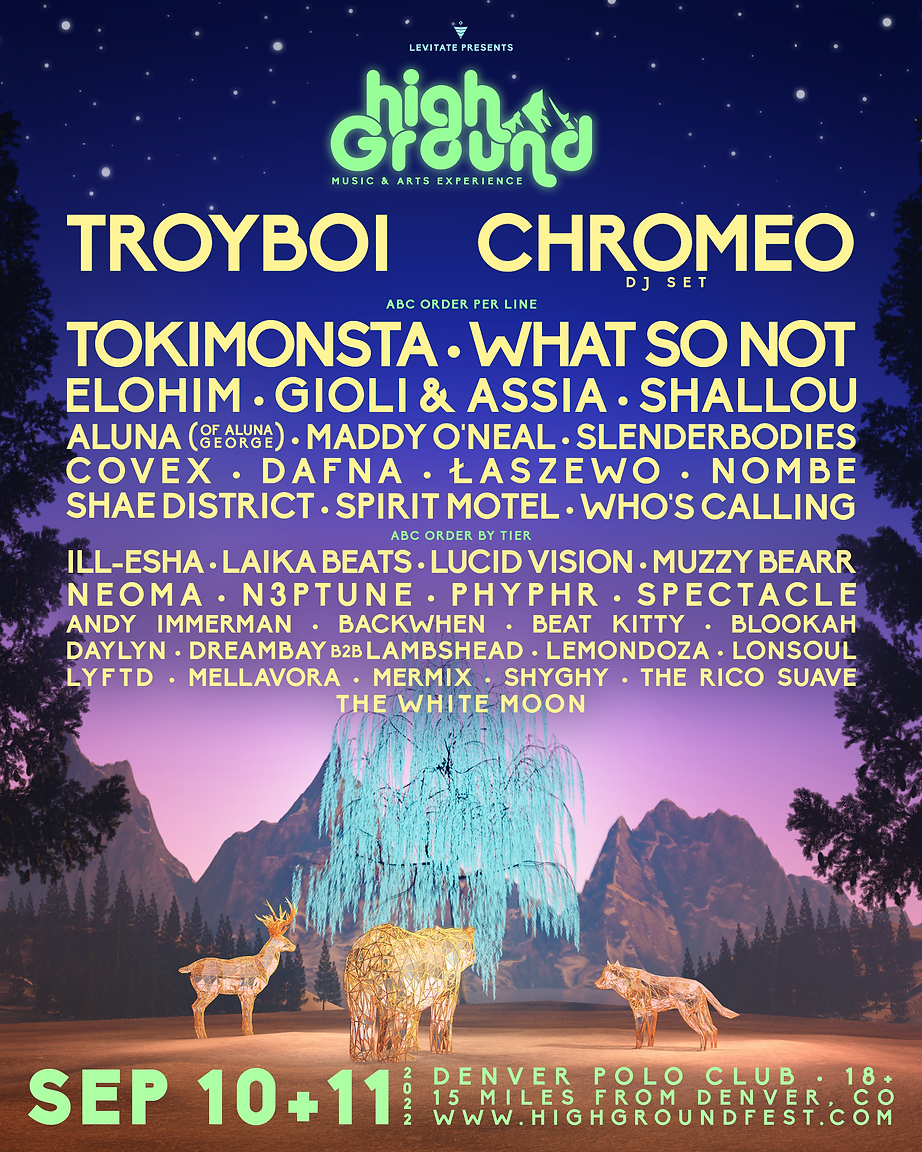 When: September 2023
Where: Denver, Colorado
https://www.highgroundfest.com
"High Ground fuses music, narrative, immersive art, "chill" yet vibrant culture, and nature. In 2022, High Ground evolves into a 2-day experience that embraces all things Colorado. This is a festival for those who wish to dive deeper and experience more. The Revelers of High Ground are a community that connects, explores, grows, and experiences something new together."
---
22) Caveman Music Festival
A one-of-a-kind music event created by songwriting troubadour Red Shahan and bandmate Parker Morrow, and hosted by the Lake Monument Resort in the bucolic village of Weston, Colorado.
This 3-day music festival happens Labor Day weekend, and the lineup is fantastic and includes artists like Shane Smith and the Saints, one of the most played artists on the hit TV show Yellowstone and hit songwriter/GRAMMY-nominated artist Brent Cobb.
The Monument Lake Resort has been completely renovated turning out a state-of-the-art destination resort that sits on 368 gorgeous mountain acres. So whether it's hiking along mountain vistas, fishing at the mile-long private lake, boating on cool clear waters, or just basking in the tranquility of nature, Caveman Music Festival offers it all along with the perfect soundtrack at this secluded little piece of heaven.
Caveman Music Festival 2023 - Weston, CO - Labor Day Weekend
---
23) Block Party Music Festival
When: August 2024
Where: Eagle, Colorado
https://blockpartyeagle.com/lineup/
A three-day outdoor music festival, showcasing 13 bands on three stages, offering an eclectic mix of live blues, funk, and rock in the heart of Downtown Eagle.
Block Party specializes in recruiting the finest bands from some of the best names around the world from bluegrass, rock, jazz, and beyond to bring vibrant energy to their festival.
Colorado is on its way to becoming a globally recognized music hub with locally organized festivals like Block Party leading the shift towards more immersive, live music events. Block Party is the perfect representation of the vastness of incredibly talented artists from in and around the Rocky Mountain area, showcasing the region's growing music scene.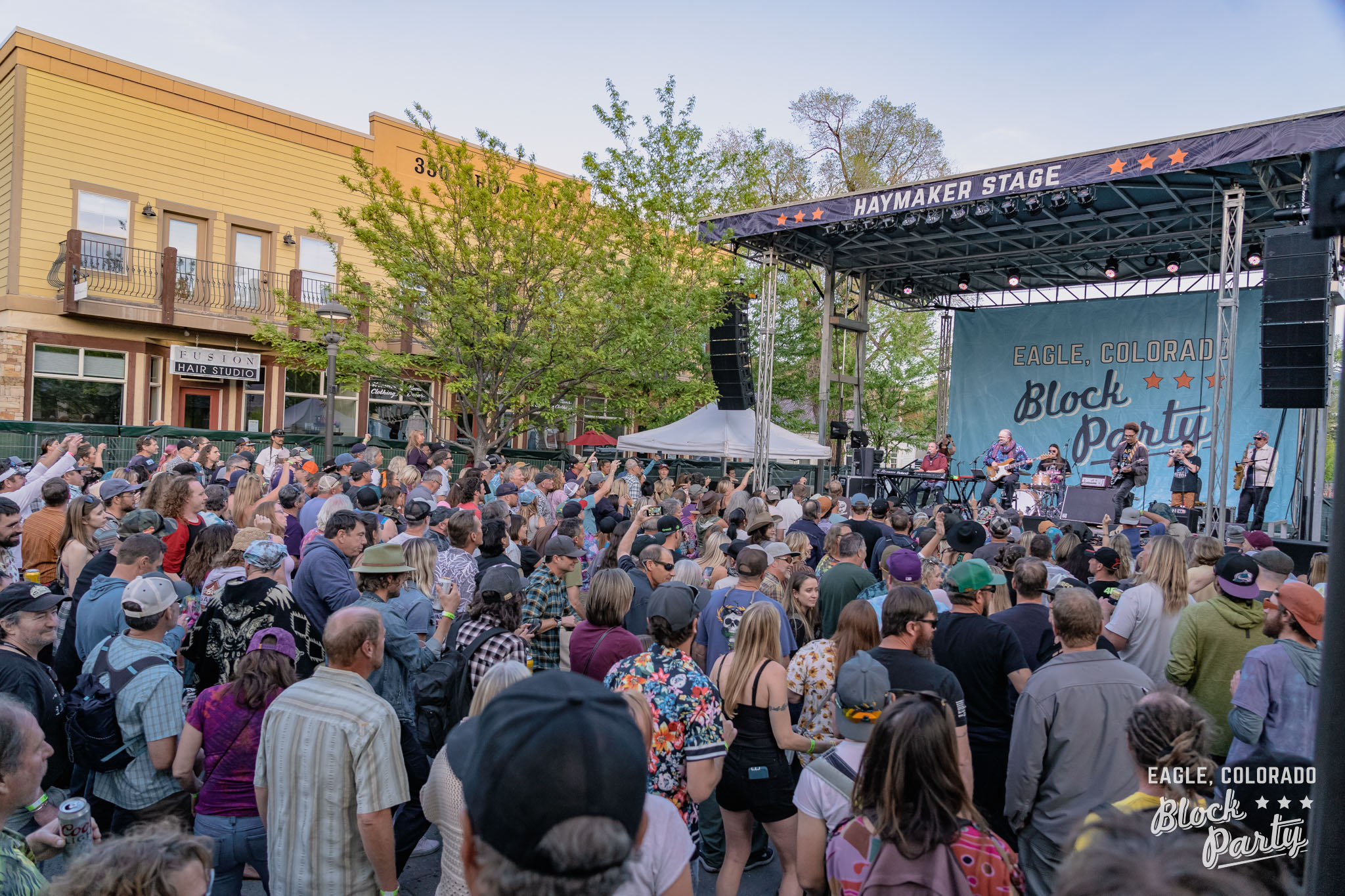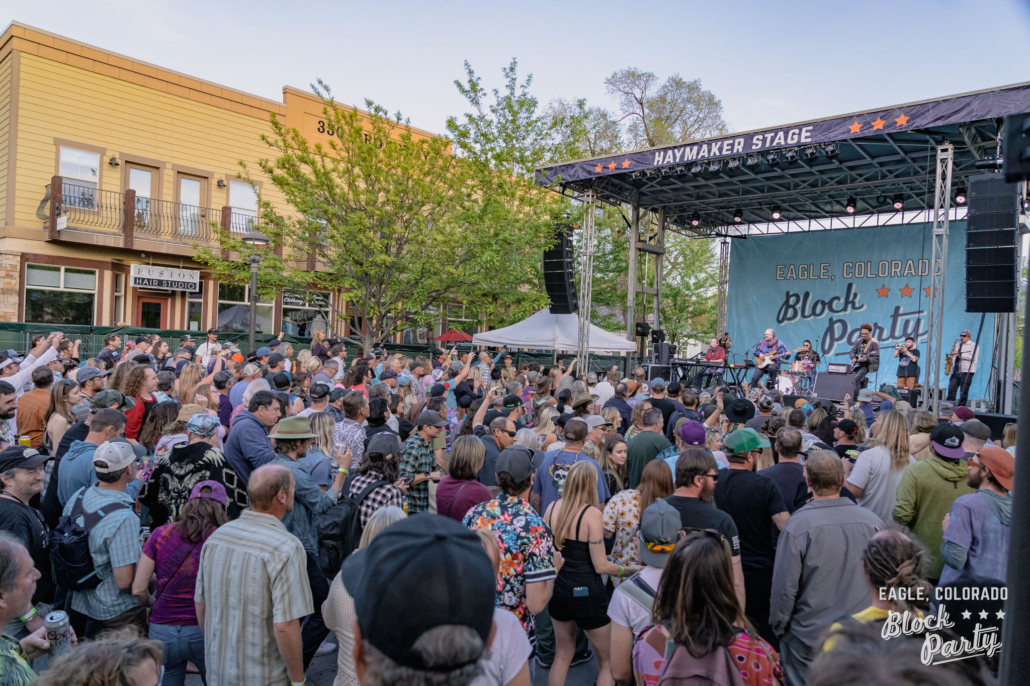 ---
Am I Missing Any Epic Music Festivals in Colorado 2023…?
There are tons of amazing events spread around this gorgeous country, and it's hard to include every one of them on these lists! So please do let me know if you think I need to add a specific music festival! I'll be personally attending several of these in the next year or two as I'm spending a lot more time in Colorado now! Can't wait to finally check out Red Rocks, camp at Sonic, and jam out to music on the ski slopes!
---
Looking for more music festivals…?
I've written a ton of articles about different music festivals around the world, as well as in the U.S.A. Check out a few of these below, and get ready for your next big event!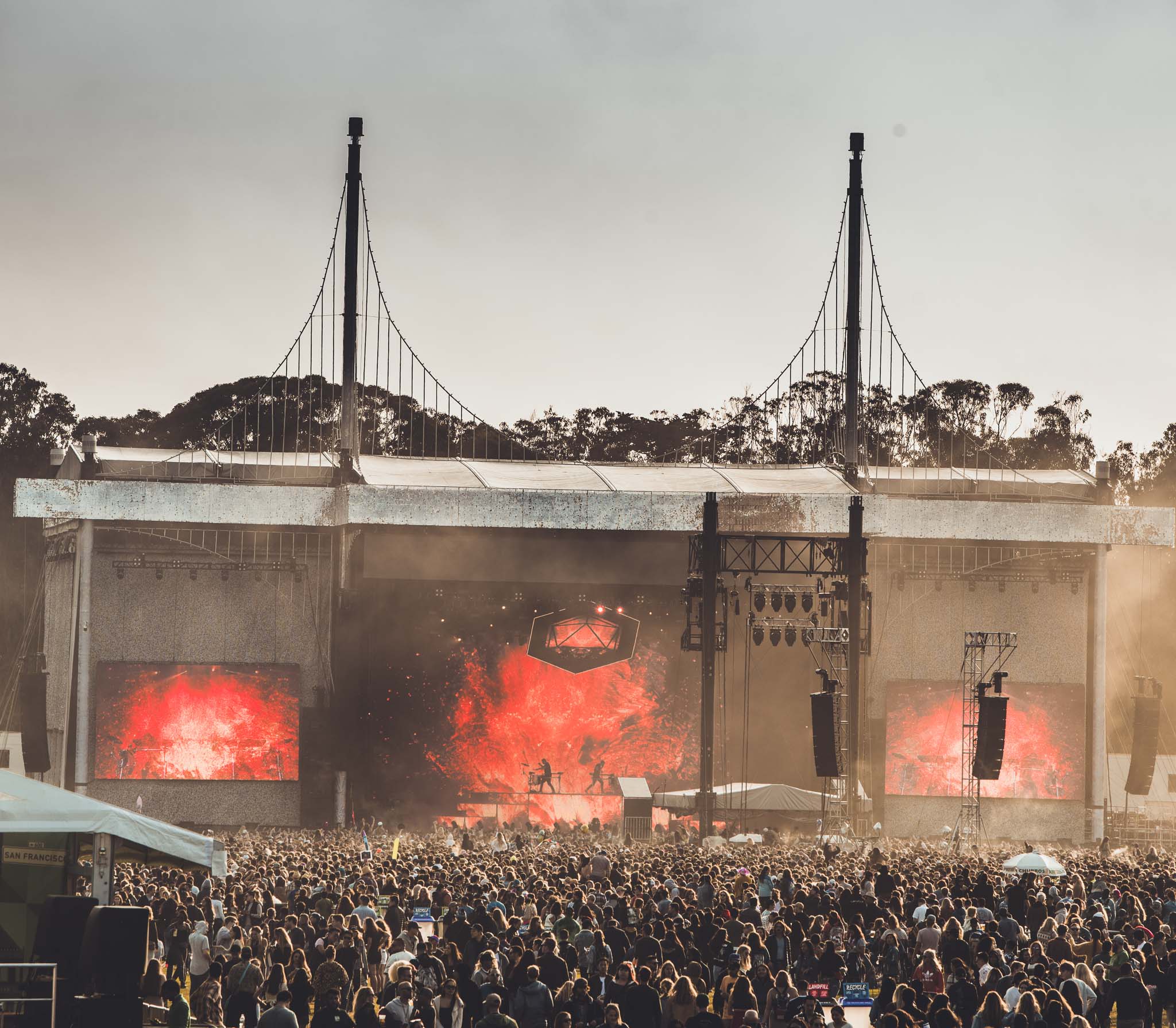 ---
Planning a trip to Colorado?
I'm a BIG fan of Colorado, and hope to live here someday! Check out some of my other Colorado articles for more trip ideas and inspiration!
---
Thanks so much for reading about these Colorado Music Festivals!
Share this article with your Colorado Festival squad!!
https://www.jonesaroundtheworld.com/wp-content/uploads/2017/08/DSC3599.jpg
1367
2048
Dave
https://www.jonesaroundtheworld.com/wp-content/uploads/2017/03/logotry-1-1-300x106.png
Dave
2022-12-23 01:40:21
2023-08-09 23:07:21
Top 23 Music Festivals in Colorado to Experience Before You Die