Planning a unique trip to the beautiful state of Colorado? If you're looking to get away from it all and explore the great outdoors in style, I've got the best glamping Colorado list for you.
Colorado is such a laid back, cool, and unique place, I'm not surprised that they've embraced the concept of glamping with such joyful abandon. The entire state offers an endless variety of jaw-dropping natural landscapes with the famed Rocky Mountains as their towering backdrop. Apart from spending time in the best Colorado Airbnbs, visitors want to enjoy it all at a grassroots level. Enter the booming glamping scene.
Glamping is ideal for outdoor lovers who prefer a more luxurious spot to rest their heads under the Colorado stars. And the state has delivered, with incredible tents, yurts, secluded cabins, and other glamping abodes popping up everywhere. Many in some of the most secluded, off the grid, and majestic landscapes in the country. You'll be pinching yourself. The mountains are calling – will you answer?
Immerse yourself in the wilds of Colorado with my list of the best Glamping Colorado destinations & accommodations for your bucket list!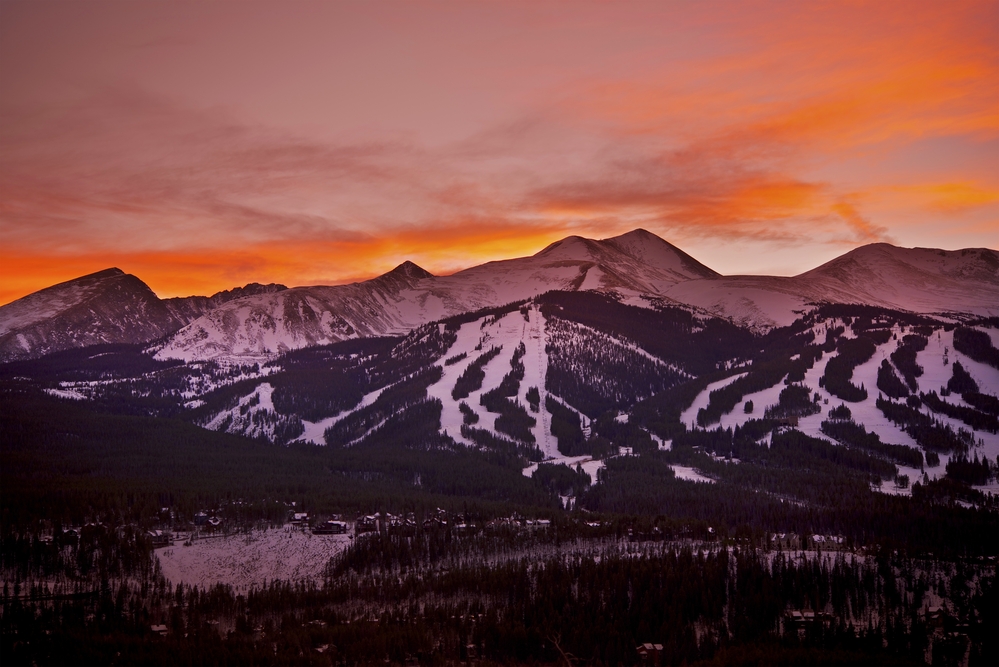 ---
Quick Breakdown On Glamping Colorado
Glamping is a comfortable and stylish alternative to traditional camping, and I've shortlisted the best 5 Colorado glamping offerings below. Cheap and cheerful, luxe and lavish, unique, cozy couples retreat and the best of the best all make an appearance. If you find what you're looking for, book via my links. If not, keep scrolling to find the best places to glamp in Colorado – I got a lot more where that came from!
At the end of this list, I've provided links to a bunch of other Colorado and USA content so you can plan the best trip possible. I highly recommend checking out the Top 22 Music Festivals In Colorado To Experience Before You Die.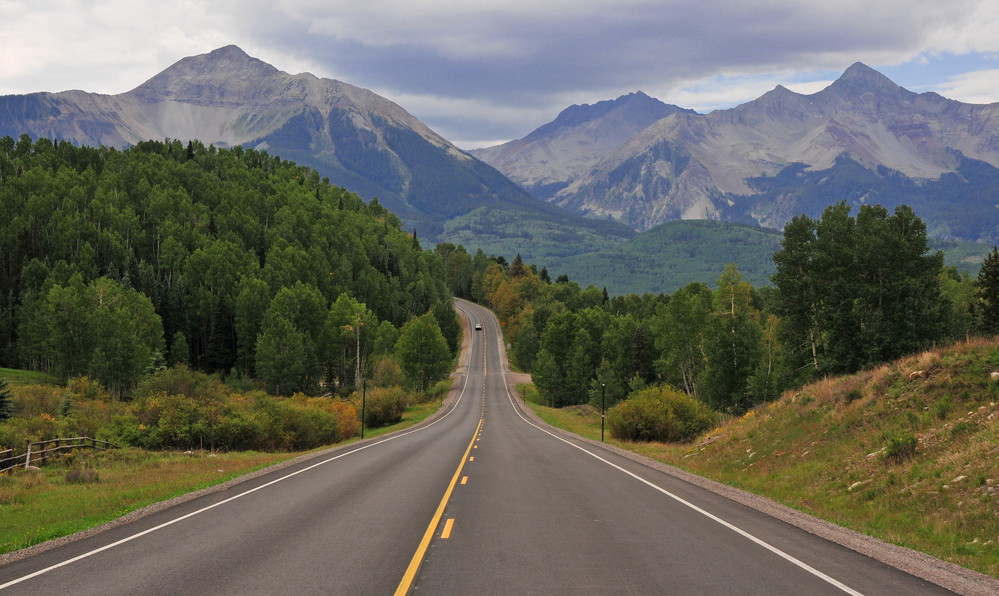 ---
1) Glamping Tent Double Queen | Royal Gorge Cabins
Location: Canon City, Colorado
Price: $259+ per night
Sleeps: 4 (1 BR/1 bath)
Luxury linens, a down duvet, and in-floor heating… this place is the definition of glamping! Just one hour from Colorado springs, this pristine property offers the outdoor experience while being close enough to civilization for you to go to out for a nice dinner and drinks. You'll have high speed internet, power outlets throughout the accommodation, and a relaxing designer interior for you to spread out and and chill out. The hosts will even have a fire prepared for you each night — how much easier can it get? You can't beat the location and elegant amenities at this ritzy retreat.
View Photos, Read Reviews & Check Availability
Guest review: "Everything was just as described in the listing. Loved that there was firewood and a starter package every night. Love that housekeeping freshened up the room. Loved the clean bathrooms with hot showers. Loved playing tether ball. The town was 10 mins away and the restaurants were close by. Can't wait to go back."
---
2) Secluded Glamping in the Beautiful San Juan Mountains
Location: Pagosa Springs, Colorado
Price: $250-375+ per tent
Sleeps: 20 (up to 6 per tent)/3 bathrooms/modern renovated barn common area
I'd love to include every photo of this property in this post if I could – the natural surroundings are nothing short of incredible! Perfect for large groups and special events, this is where rustic meets palatial, modern, and pampered. Each glamping tent comes with comfy pillow-topped mattresses, and the barn/reception area is a luxury lodge renovated from a dairy barn originally constructed in 1932. You can play pool, cook, host lavish dinners, or kick back and relax. This space is equipped for everything from hunting or fishing groups, yoga retreats, weddings, anniversaries, family gatherings, or simply an opportunity to cleanse the soul and get away from it all for a few days.
View Photos, Read Reviews & Check Availability
Guest review: "The property is dreamy and full of history and Sandlin and her family were absolutely amazing! They went above and beyond to ensure our family's stay was special. Time spent here is good for the soul. We hope to return again soon."
---
3) Leave the Cities Behind & Travel to the Rural Western Slope!
Location: Paonia, Colorado
Price: $225+ per night
Sleeps: 4 (1 BR/1 bath)
This 700 square-foot 14′ tall yurt is tucked away in the temperate zone between the high desert and the Rocky Mountains, and nestled near the North Fork of the Gunnison River, the natural beauty of the property is impossible to describe with words alone. The interior is spacious and more than modern, boasting 8 windows and 2 french doors to let in maximum light, along with a queen bed, sitting area, fireplace, dining area, and walkway to a unique deck sitting right on top of the river itself. Outdoor activities, sporting, and relaxation are all just a few steps out your door at this lavish listing.
View Photos, Read Reviews & Check Availability
Guest review: "This is our third visit to this gem and over the past year if has become such a sanctuary for us. It's an absolutely incredible retreat and we are so grateful George and Devon share it with the world!!"
---
4) Red Rocks Glamping
Location: Morrison, CO
Price: $65+ USD per night
https://www.redrocksglamping.com
Red Rocks Glamping is the acclaimed best glamping experience in the whole of Colorado and will provide you with a visitor experience you won't soon forget. This is the one to beat for campers who want to experience the wild outdoors while you enjoy luxury glamping tents in Colorado, which are available in a range of sizes.
Just 30km from Denver, the site is located in Morrison – home to the famous Red Rocks Amphitheater. Hike, stare up at the crystal clear stars in the night sky, or use your on-site grill to have a get-together with your favorite camping pals. They even offer regular campsites should you want to bring your own equipment for the best Colorado glamping experience.
View Photos, Read Reviews & Check Availability
Guest review: "Red Rocks Glamping was the perfect location for our music-filled weekend. The service is amazing. Thank you for making our experience spectacular!"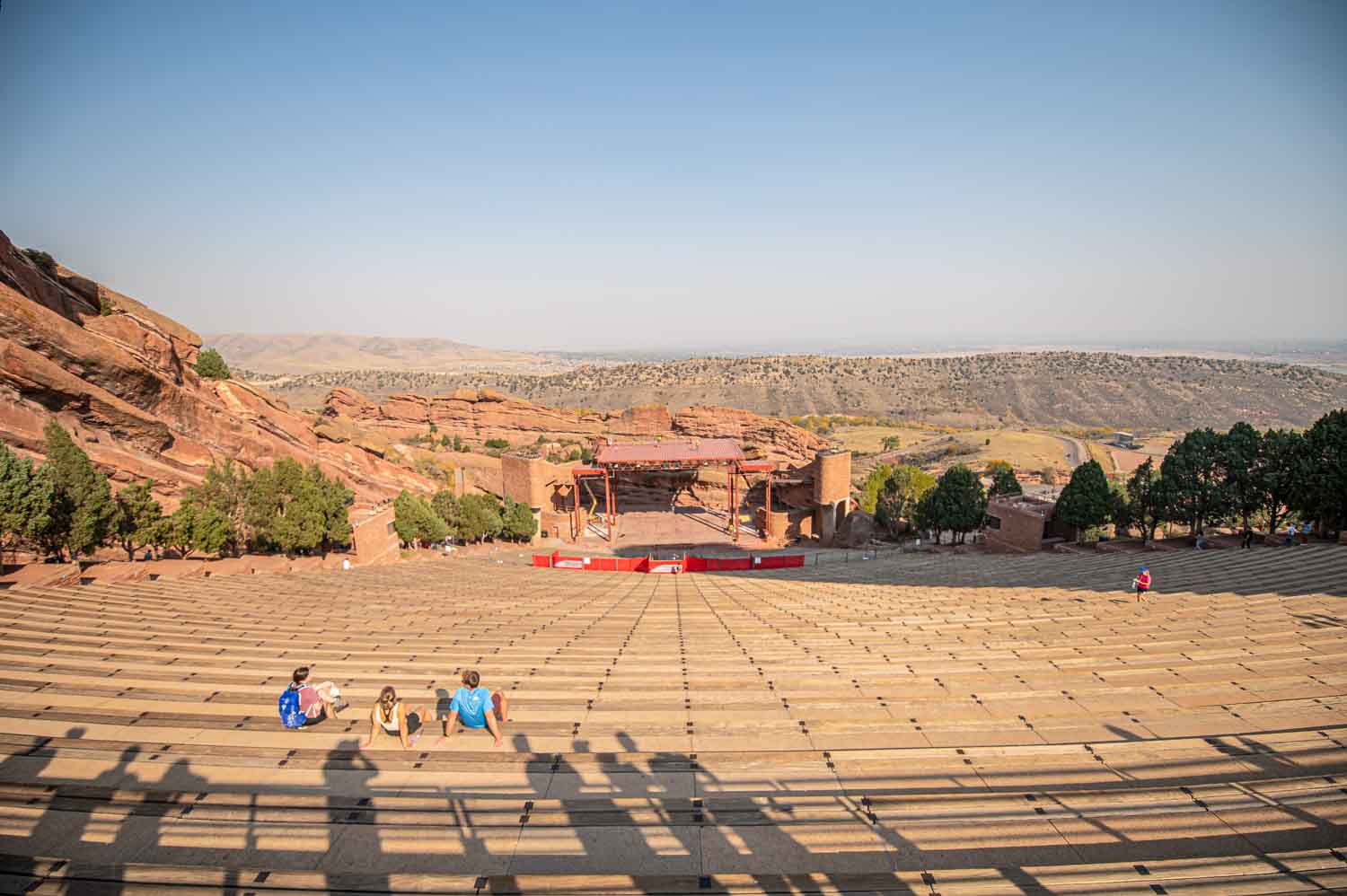 ---
5) Dunton River Camp
Location: Dunton, CO
Price: $1775+ USD per night
https://www.duntondestinations.com/river-camp/
A stay at Dunton River Camp doesn't come cheap, but it's luxury glamping, Colorado, at its best and will be an experience you'll never forget.
This five-star glamping experience – on a 500-acre former cattle ranch – is open for guests throughout the summer, and a stay here includes a large 640 square foot safari tent with luxury inclusions with your own bathroom with a soaking tub. You also receive two mountain bikes for the duration of your stay. The price also includes all top quality organic meals and use of the sauna.
There's only eight tents here, so privacy and serenity are paramount. You'll spend your days' horseback riding, walking by the river, enjoying hiking trails, soaking in hot springs, and indulging in the best food and drinks in Colorado's great outdoors. The adventures are endless. Open from June to mid-October.
Dunton River Camp - Colorado
---
6) 4 Corners Tiny House (Socially Distant & Clean)
Location: Cortez, CO
Price: $50+ USD per night
https://www.airbnb.com/rooms/32019215
Get away from it all and do it on a budget with a stay at the best cheap Colorado glamping experience. This Airbnb tiny house is just minutes from the town of Cortez, Colorado, and the brand new custom build has all the comforts of home from a rustic setting.
The tiny handcrafted house features two beds, a cooking area, and a bathroom with hot water. The property has lots of animals you're welcome to cuddle up to, fantastic views, a fire pit, and a pond. If your desired dates are booked out, the hosts have another tiny home on offer, as well as a casita. The closest major city is Albuquerque, New Mexico, which is 190 miles away.
View Photos, Read Reviews & Check Availability
Guest review: "We had the best stay. The tiny home is amazing with everything you need to make it feel like a mini version of home-literally. Great views topped it off with lovely hosts. Loved it so much." – Megan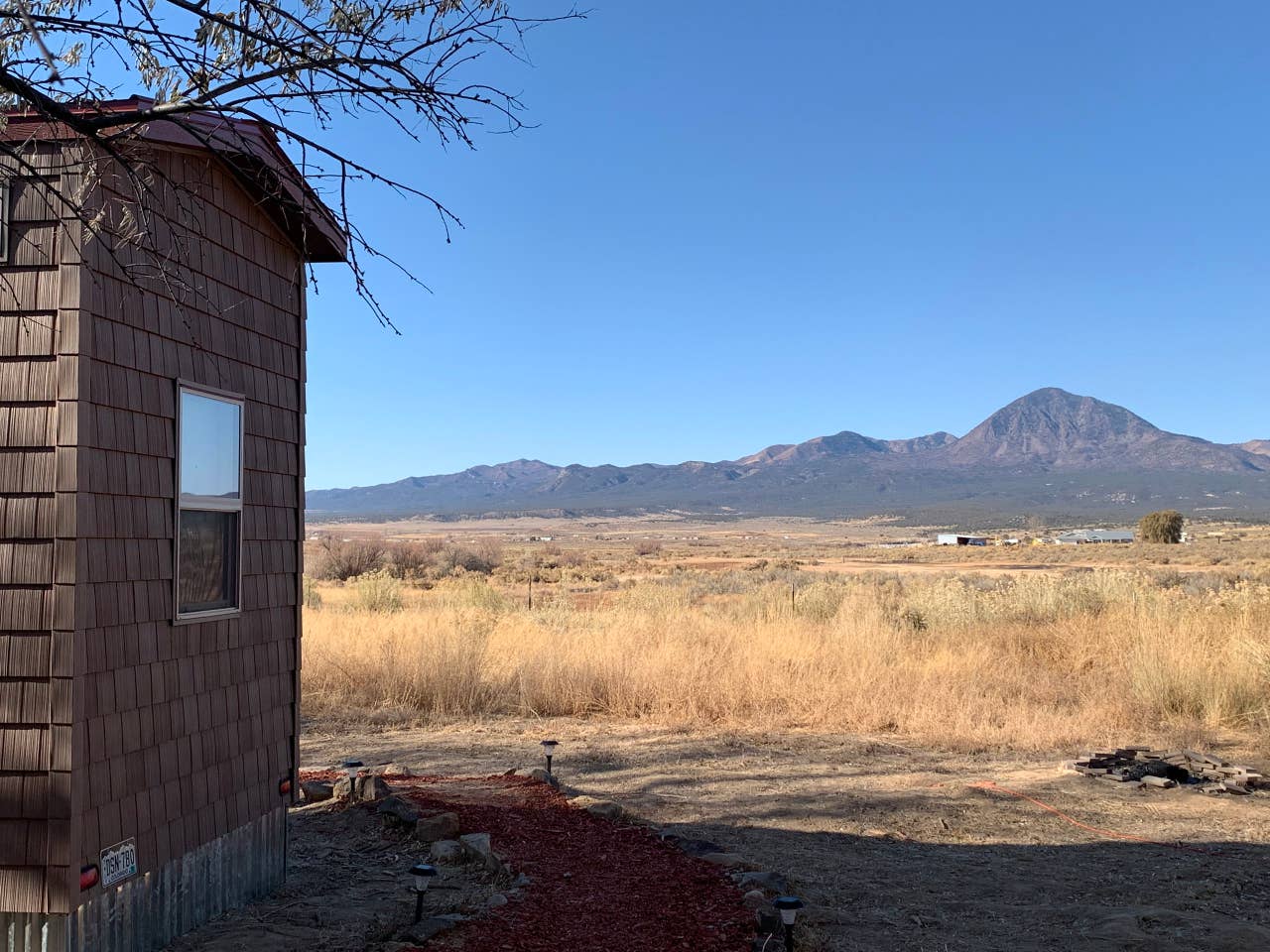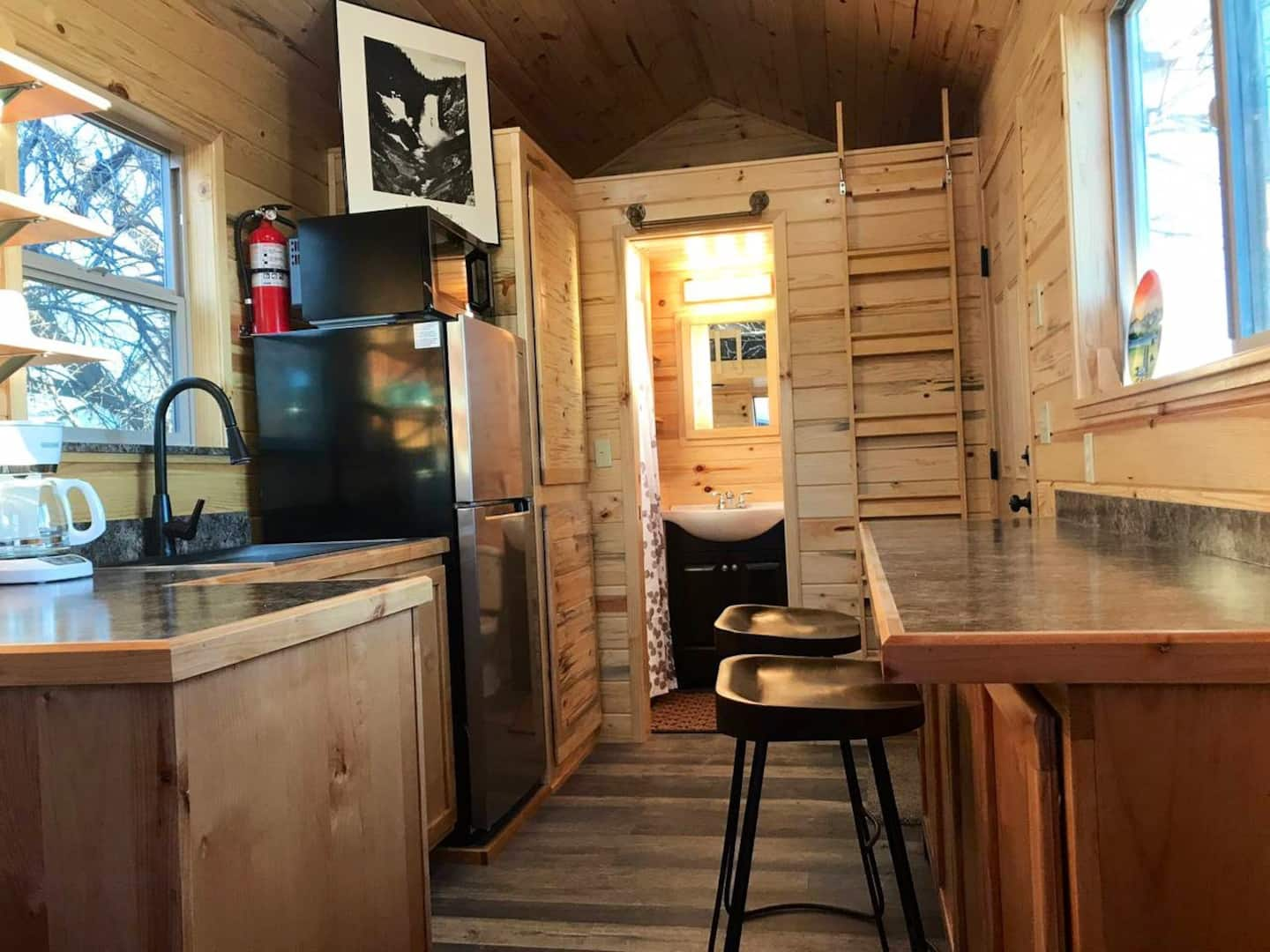 ---
7) Creekside Glamping Teepee on Colorado Horse Ranch
Location: Hudson, CO
Price: $80+ USD per night
https://www.airbnb.com/rooms/20302789
Staying in an epic teepee should be on your bucket list, and this Colorado glamping teepee offers you a rare chance to tick this one off!
The luxury teepee is nestled on a horse ranch in Hudson, Colorado, and has stylish, rustic interiors, a portable toilet just outside, and an elevated log deck to state up at the night sky from. There's also a fire pit, a heater, a coffee maker, a grill, and electric lanterns to ensure your stay is comfortable.
The ranch is just 35 minutes from Downtown Denver, so if you want to escape the big city for a chance to breathe in that crisp Colorado air – here's your chance to go glamping near Denver. Perfect for a winter or summer escape!
View Photos, Read Reviews & Check Availability
Guest review: "Cannot recommend this place enough! Ted/Erica were very accommodating and the space is unlike any other. It snowed the night we stayed and temperatures dropped to the mid-20s, but we stayed cozy with the fire/space heater and the extra blanket we brought. What an incredible experience!" – Shelby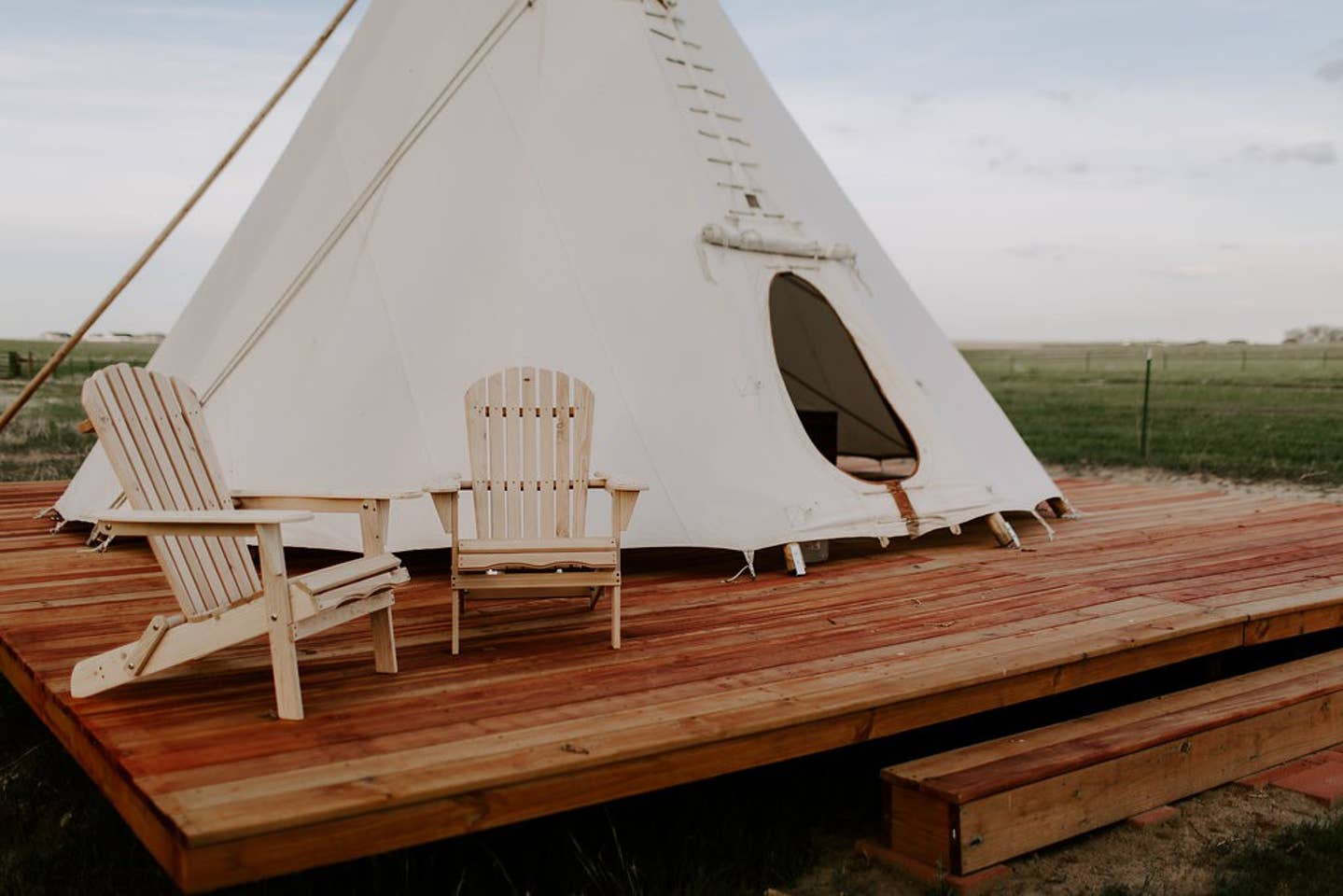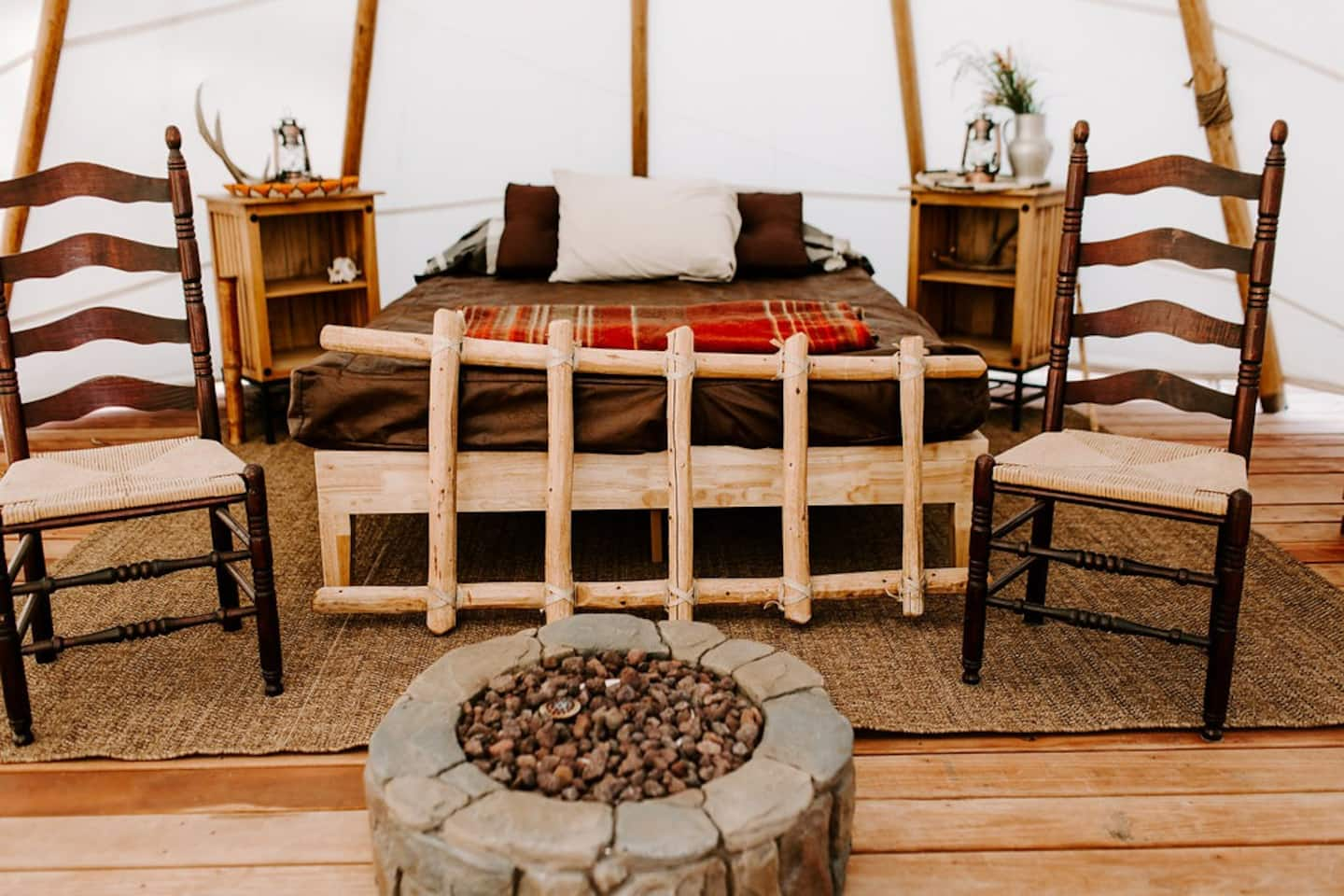 ---
8) Canyon Hideout Bungalow
Location: Cortez, CO
Price: $130+ USD per night
https://www.airbnb.com/rooms/20333588
Luxury glamping in Colorado is a unique experience to have as a couple, and this bungalow is a top choice for any dynamic duo to escape it all in complete privacy and seclusion. The refurbished vintage Airstream trailer is on its own 80-acre property, surrounded by stunning Colorado red rocks.
The interiors are entirely new and feature a bathroom, heating and cooling, a front patio, outdoor BBQ with seating, and a plush queen bed and kitchenette. Spend your days on hiking trails and discovering this incredible landscape – including the jaw-dropping Canyon of the Ancients – watching the flora and fauna, and simply enjoying the tranquility of this amazing location.
View Photos, Read Reviews & Check Availability
Guest review: "This slice of heaven is amazing!!! The airstream was such an awesome experience! The location was perfect. We so enjoyed waking up and going to sleep every morning and night in the airstream. Mark has everything you could need or want to have an incredible time. We so enjoyed looking at the stars (heater provided), grilling our dinner, having coffee on the chairs, etc. We met Mark and he told us about the land, places to go, hikes to take, etc. The time was too short and we will most definitely be back. Thank you Mark!!" – Alexis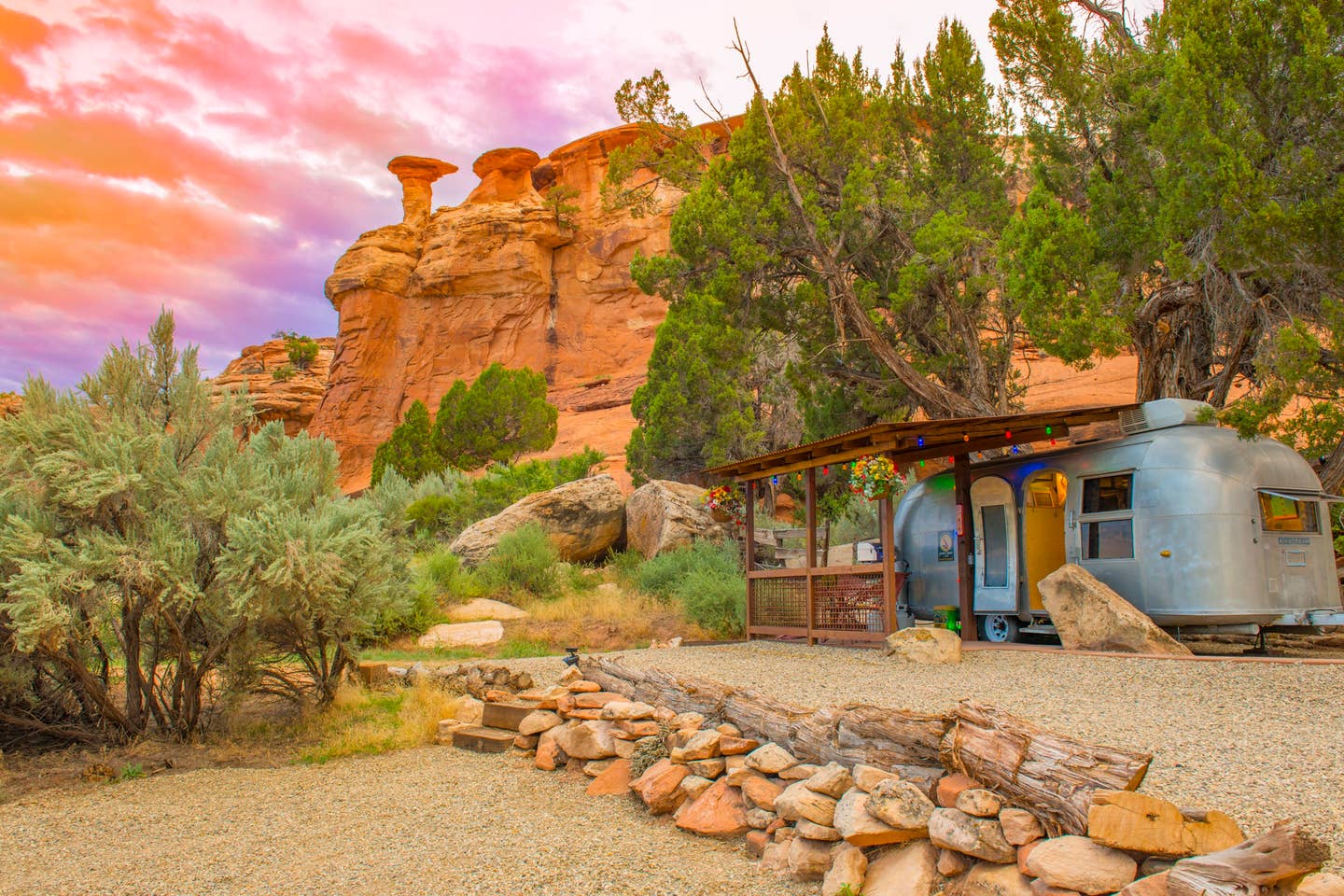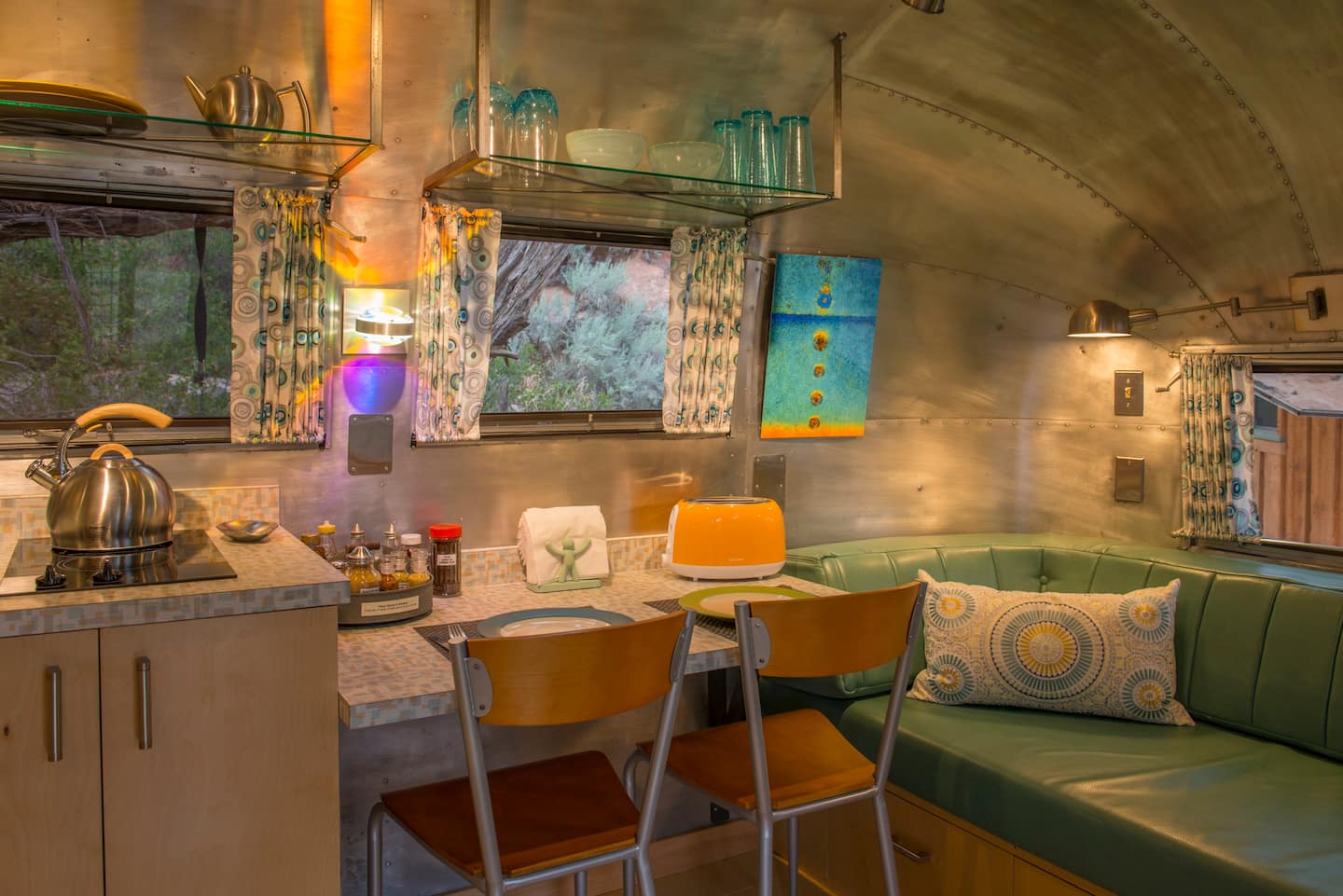 ---
9) Serenity Yurt
Location: Greeley, CO
Price: $80+ USD per night
https://www.airbnb.com/rooms/19716945
This is one of the most beautiful Airbnb yurts on offer and is a unique glamping opportunity at a value-for-money price. The one-bed yurt is stylish, spacious, well-equipped, and offers super comfortable lodgings that can sleep up to two people.
The yurts here are designed for summer or winter visits, and features carpeted floors, good insulation, and riverside seating. This glamping Denver, Colorado experience is located in the municipality of Greeley, just 50 miles from the state capital of Denver.
View Photos, Read Reviews & Check Availability
Guest review: "We had an amazing time. The yurt was exactly how it was pictured. Such a fun experience and great price." – Codie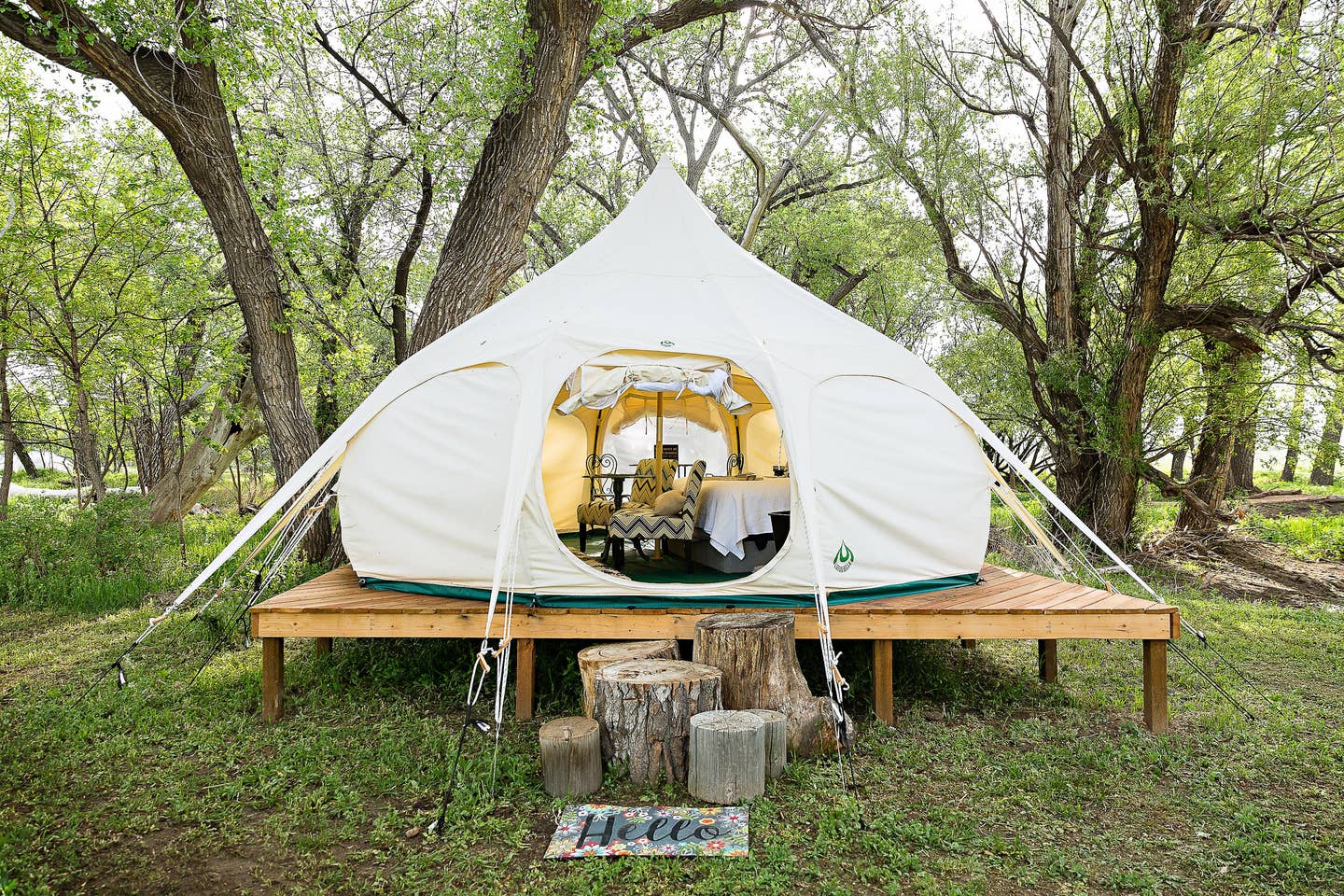 ---
10) Cozy Yurt Near Town, Skiing and Trails
Location: Leadville, CO
Price: $80+ USD per night
https://www.airbnb.com/rooms/30206786
With rave reviews from over 200 thrilled Airbnb guests, this cute and cozy two-bed yurt offers an affordable glamping Colorado experience to remember.
The pet-friendly yurt features a loft bedroom, a living area, a half bath, kitchen facilities, a TV, and a private patio. Note that there's no shower, but there are toilets. Explore nearby Turquoise Lake and the mineral belt trails, or stock up on essentials in nearby Leadville.
The nearest major locations to this yurt experience are Denver, which is approximately 77 miles away, glamping near Colorado Springs, which is 84 miles away, and Aurora, which is 85 miles away. This is guaranteed to be a Colorado Glamping experience you'll never forget!
View Photos, Read Reviews & Check Availability
Guest review: "This was our second time staying here. We love the space and how we can walk to the main street. It is perfectly appointed and cozy warm." – Jayson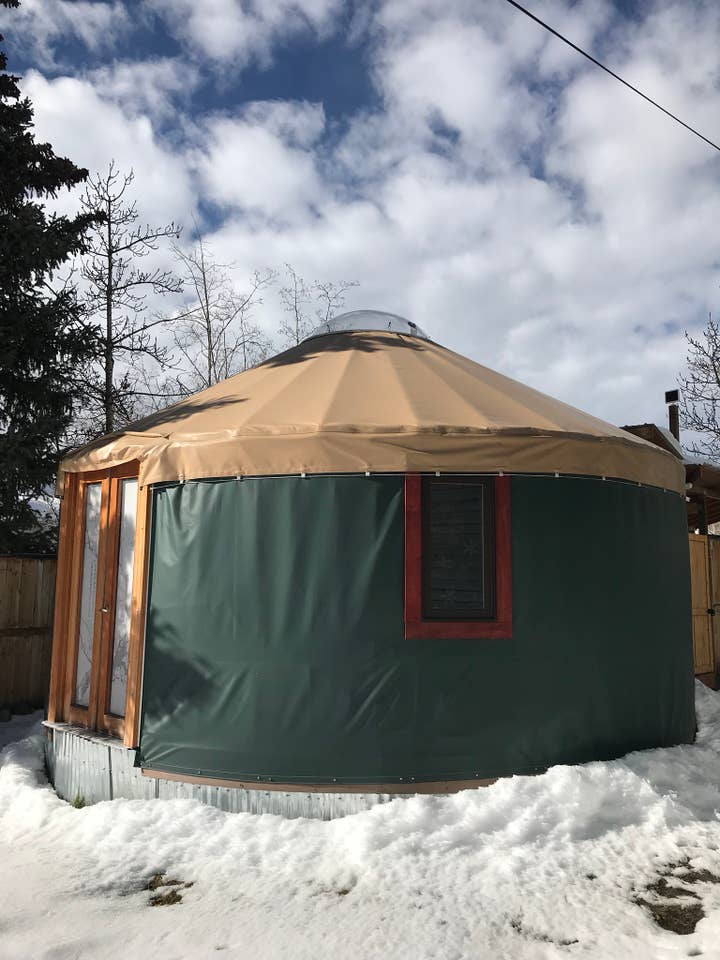 ---
11) High Desert Glamping
Location: Cortez, CO
Price: $120+ USD per night
https://www.airbnb.com/rooms/16497200
This Colorado glamping tent shows the rest how it's done! Located just minutes from the town of Cortez, the wood and canvas luxury tent offers a stunning natural escape from the outside world.
The eco-friendly, spacious tent runs entirely on solar power and has an outdoor kitchen, a kitchen area, a workspace, and an outhouse. There is no running water or heating, but you can shower next door.
Get totally in touch with nature on this isolated property, which offers epic sunsets and mountain views, which is also within walking distance of a range of sustainable living and alternative ranches. Who knows – maybe you'll love it so much you'll throw it all in and move out here to live a sustainable and free-spirited life.
View Photos, Read Reviews & Check Availability
Guest review: "Juniper's Tent is absolutely amazing. We were greeted upon arrival and given a helpful tour, then invited to the main house for coffee the next morning. My husband and I were on a getaway to reset and recharge and what we received during our stay is more than we could have hoped for. We enjoyed some incredible fellowship during a community meal hosted at the main home and were treated like family. We have made some wonderful friends and can't wait to return. This place was an answer to prayer and God is so good! The amenities were carefully explained with thoughtful touches throughout the space. We are so impressed with the permaculture ranch!" – Amber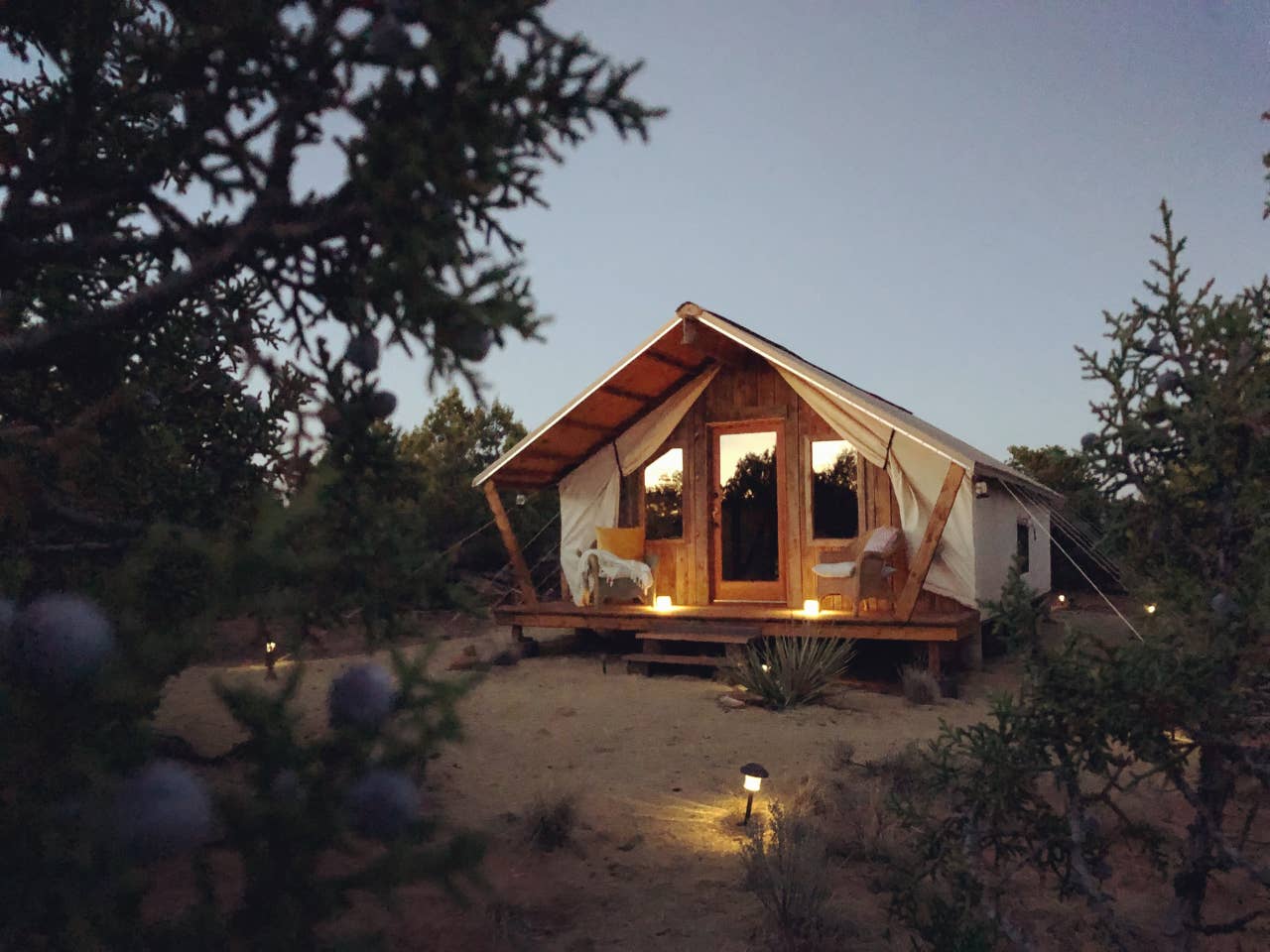 ---
12) Collective 4 Eagle Ranch Vail
Location: Vail, CO
Price: $175+ USD per night
https://www.collectiveretreats.com/retreat/collective-vail/
Collective Retreats know how to put on a glamping experience of a lifetime, and their site in Vail, Colorado is no exception. They offer a range of luxury tent styles on their 1000 acres ranch, and guests spend their days hiking, horse riding, fly fishing, stargazing, or sampling the best cuisine at the on-site restaurant.
A stay at 4 Eagle Ranch rivals any 5-star hotel stay, and you can easily head into Vail at any time to check out the phenomenal ski resort town. It doesn't get better than this!
Guest review: "It was the most beautiful place I have ever spent, it was a breathtaking sunset, & the stars at night! Love making s'mores by the campfire. The dinner & breakfast were phenomenal! Had a wonderful time with Patrick tasting all the wonderful wine! I would definitely recommend this to my friends!" – Joanne
Collective Retreats on The Denver Channel 06/02/17
---
13) Little Red Treehouse
Location: Lyons, CO
Price: $250+ USD per night
https://www.airbnb.com/rooms/12701197
If glamping tents aren't for you, you can still glamp from the comfort of this gorgeous treehouse Airbnb in Lyons, Colorado. The log cabins are spacious and comfortable and are the perfect glamping option for a couples retreat or a solo expedition. It has heating, cooling, and electricity, as well as wifi.
Enjoy the outdoor pergola, gardens, and swing, go hiking or on riverside walks locally, or wander into Lyons to try out their restaurants and shopping. The treehouse is right opposite the RockyGrass festival grounds, so if you're heading here for the famed bluegrass festival, you can't get more convenient digs!
View Photos, Read Reviews & Check Availability
Guest review: "This is a one-of-a kind home with amazing hosts. Everything was better than we thought- the uniqueness of the home, the helpfulness of the host and the location was just spectacular. We will be back. Thank you so much Leam!" – Lucy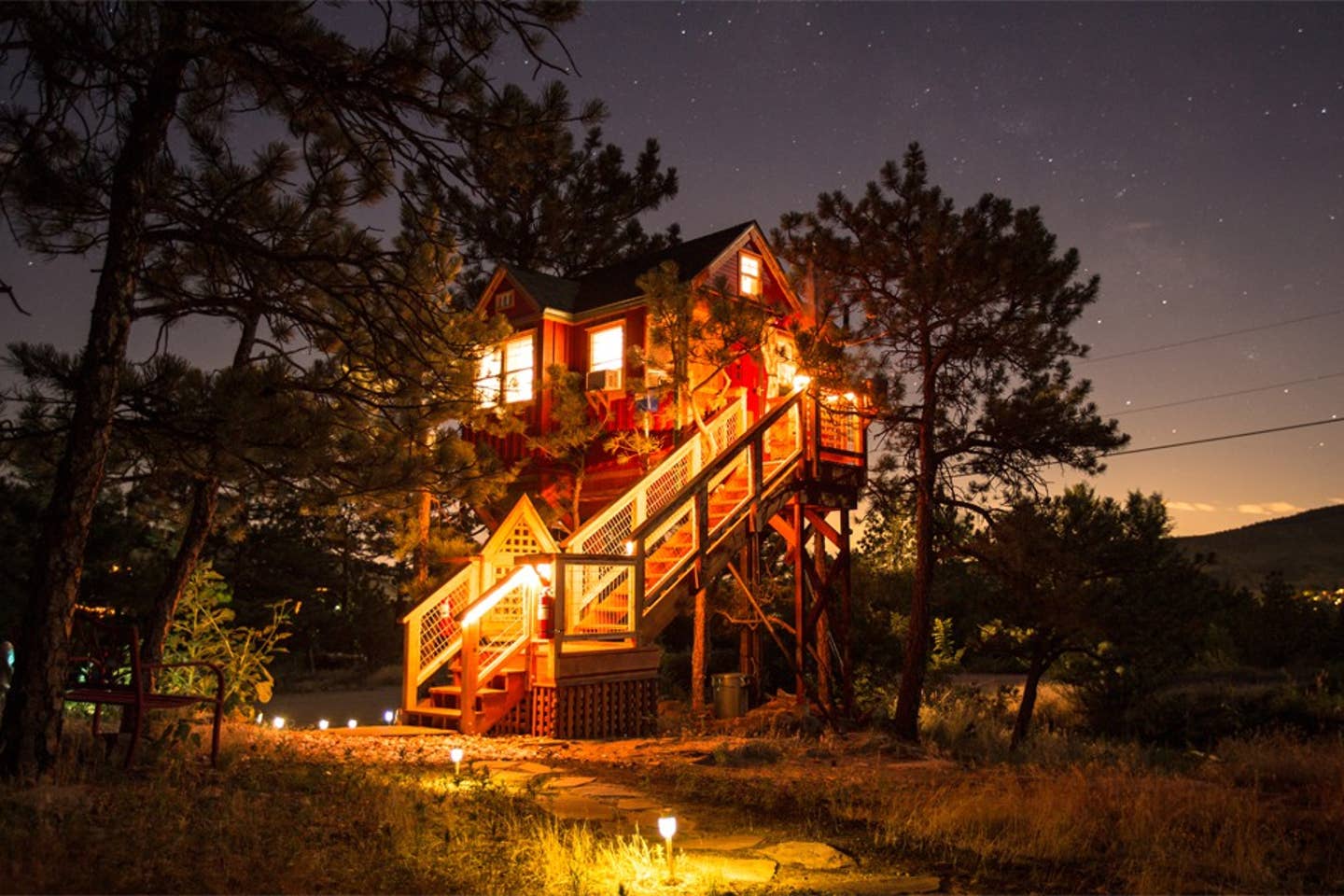 ---
14) Echo Canyon Campground
Location: Canon City, CO
Price: $190+ USD per night
https://www.echocanyoncampground.com
Echo Canyon Campground is a fan favorite for glamping in Colorado. Just an hour from Colorado Springs, the campsite offers glamping tents in two sizes – single and double.
Each awesome tent is equipped with electricity, lighting, and wifi, as well as cooling for summer guests. You'll have your own patio with seating, round-the-clock access to the on-site bathrooms, and showers. For when you need to stock up on snacks and wine to enjoy under the stars, Canon City is just a short drive away.
---
15) Iconic Airstream with Mountain Views on 35 acres!
Location: Bayfield, CO
Price: $100+ USD per night
https://www.airbnb.com/rooms/24918481
If an Airstream is more your style of glamping, you'll love this one-off retro experience. Parked up on a 35 acre Colorado ranch, the one-bedroom Airstream retreat includes a bathroom, kitchen, heating, wifi, a deck with seating, a fire pit, a grill, and access to the entire property.
The hosts have thought of everything in order to make your stay as cozy and memorable as possible. The town of Bayfield is close by and is the best place to pick up essentials, while the nearest major cities are Albuquerque, New Mexico (157 miles) and Denver (250 miles).
View Photos, Read Reviews & Check Availability
Guest review: "Staying in Alice the airstream wasn't just accommodation or a place to sleep, it was an experience. From the scenic views of snow capped mountains to the toasty fire pit and beautiful interior, this was by far our best stop off on our trip here from Australia. Kate and Ryan have the most perfect set up in the airstream, the thoughtful interior touches make You feel so comfortable and at home and that bed is so very cosy and comfortable. The property is so serene and peaceful and we loved coming back in the evening to this blissful and cosy spot to set up by the fire with a glass of wine and to watch the sunset. Kate and Ryan are such lovely, kind accommodating people! Highly recommend staying here :)" – Tiffany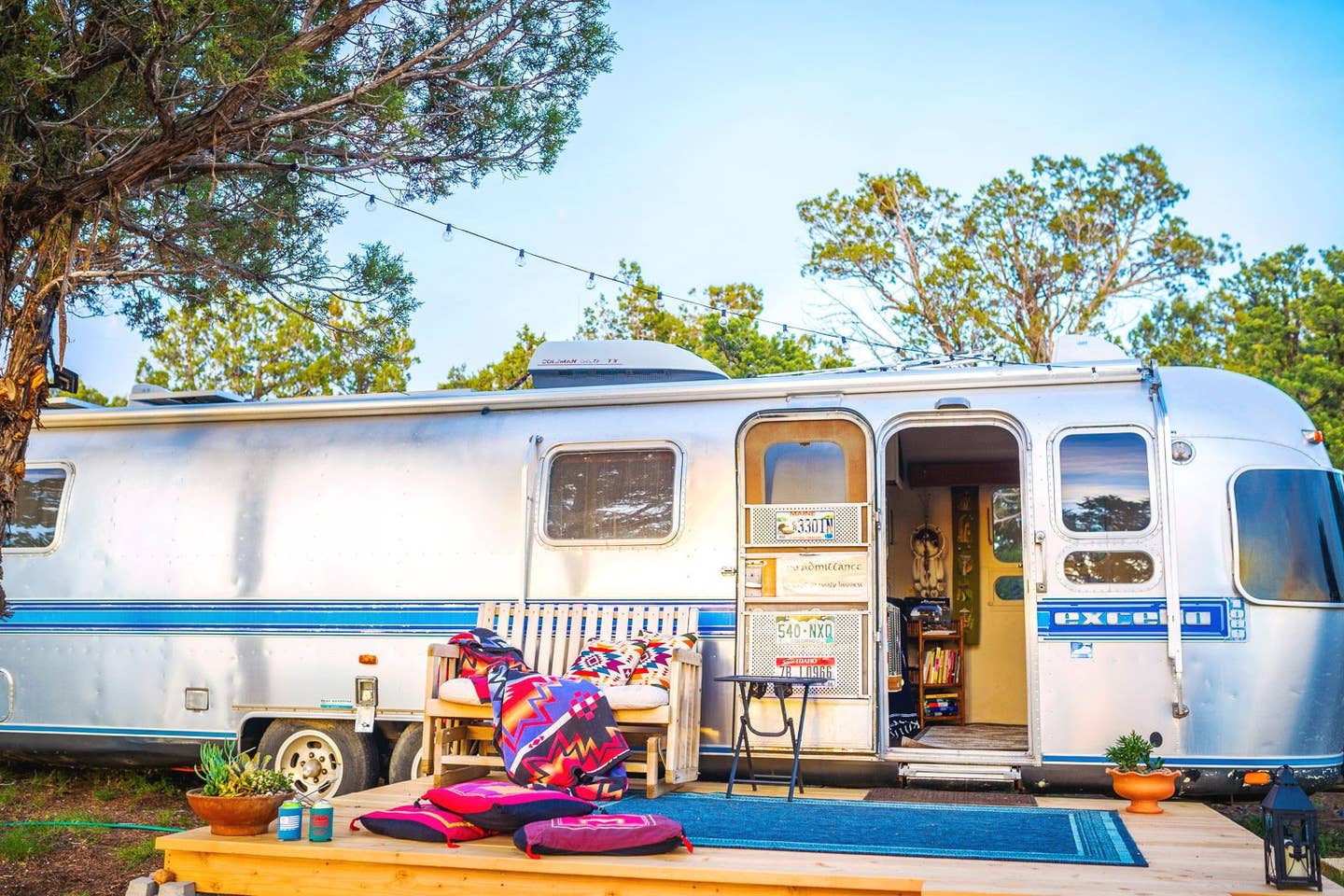 ---
16) Bison Creek Lodge
Location: Lake George, CO
Price: $200+ USD per night
Just over 100 miles from Denver, Bison Creek Glamping is nestled within the wilds of the Colorado forest and makes for superb glamping options. They offer a range of unique glamping tents, including teepees and bubble tents, with perfect views of the stars.
This is the place to hike, fish, mountain bike, ATV or simply just get in touch with nature in a world-class glamping location. Bison Creek is located in the Puma Hills mountain range, near the community of Lake George. The historic city of Colorado Springs is just 30 miles away and is a highly-recommended day trip.
Guest review: "Incredible place, incredible hospitality. James and Lily are angels. Teepees are gorgeous, 10/10 would recommend." – Caitlin
---
17) Fort Collins Yurt Off-Grid Living – Unplug!
Location: Fort Collins
Price: $150+ USD per night
https://www.airbnb.com/rooms/35612502
A yurt is a traditional round tent of Asian origin, but more and more are popping up across the globe, offering intrepid travelers a truly unique experience. This bohemian yurt is for those looking to enjoy complete off the grid serenity. There's no power and no bathroom in this rustic abode – but there is an outhouse to use.
The hosts, however, provide guests with portable chargers, oil lamps, and other helpful essentials. There's a grill, a cooler, a Mongolian log stove, and an outdoor fire pit, and guests can use the on-site kayaks and paddleboards to head out on the property's private lake. The eclectic town of Fort Collins is a short drive away, and Denver is 60 miles away.
View Photos, Read Reviews & Check Availability
Guest review: "Stayed here for a second time. We were able to stay much longer this time and I still can't believe how amazing this place is! Everything that Daniela has done adds such an inviting touch to the stay. If you're on the edge about staying here, do it! It's completely worth it!" – Lakyn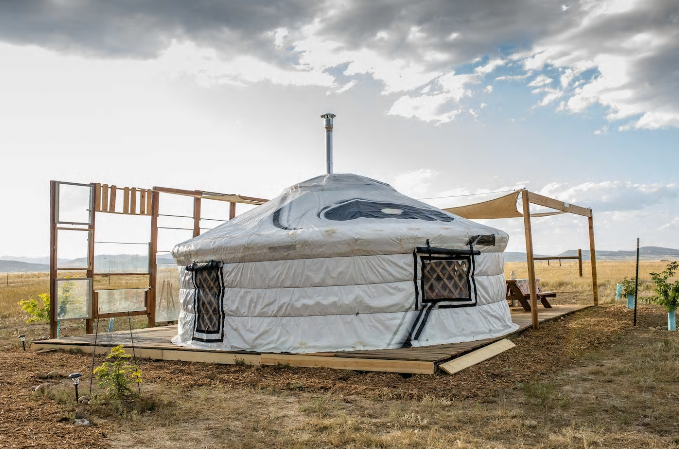 ---
18) Stunning Yurt Property Near Creede, Colorado
Location: Creede
Price: $150+ USD per night
https://www.airbnb.com/rooms/8286641
Arguably one of the most rustic, off the grid properties in all of Colorado, this yurt is tucked away in the breathtaking San Juan Mountains. To access the property, you'll need a tough 4WD to get there.
There's no power up here, no water, no phone service, and no wifi – so it's just you and nature. It does have a top wood stove with unlimited firewood provided, a queen-size bed, a propane oven and BBQ, and a separate compost bathroom. There's endless cliffs, waterfalls, and woods out here. This is a truly stripped back wilderness experience option, but don't worry! The town of Creede is just 15 minutes drive away.
View Photos, Read Reviews & Check Availability
Guest review: "This is an amazing property that provides a wonderful, unique experience! Mark provides super thorough directions and details for operating everything in the yurt. It's so cozy and has lots of games and books to enjoy! The snowshoe in was not bad at all (much easier early morning though when the snow hadn't had a chance to soften). The ridge above the yurt was a beautiful spot to watch the sunset. All in all, this is the best view from an Airbnb you can get and such a fun place to spend a weekend!" – Kelsi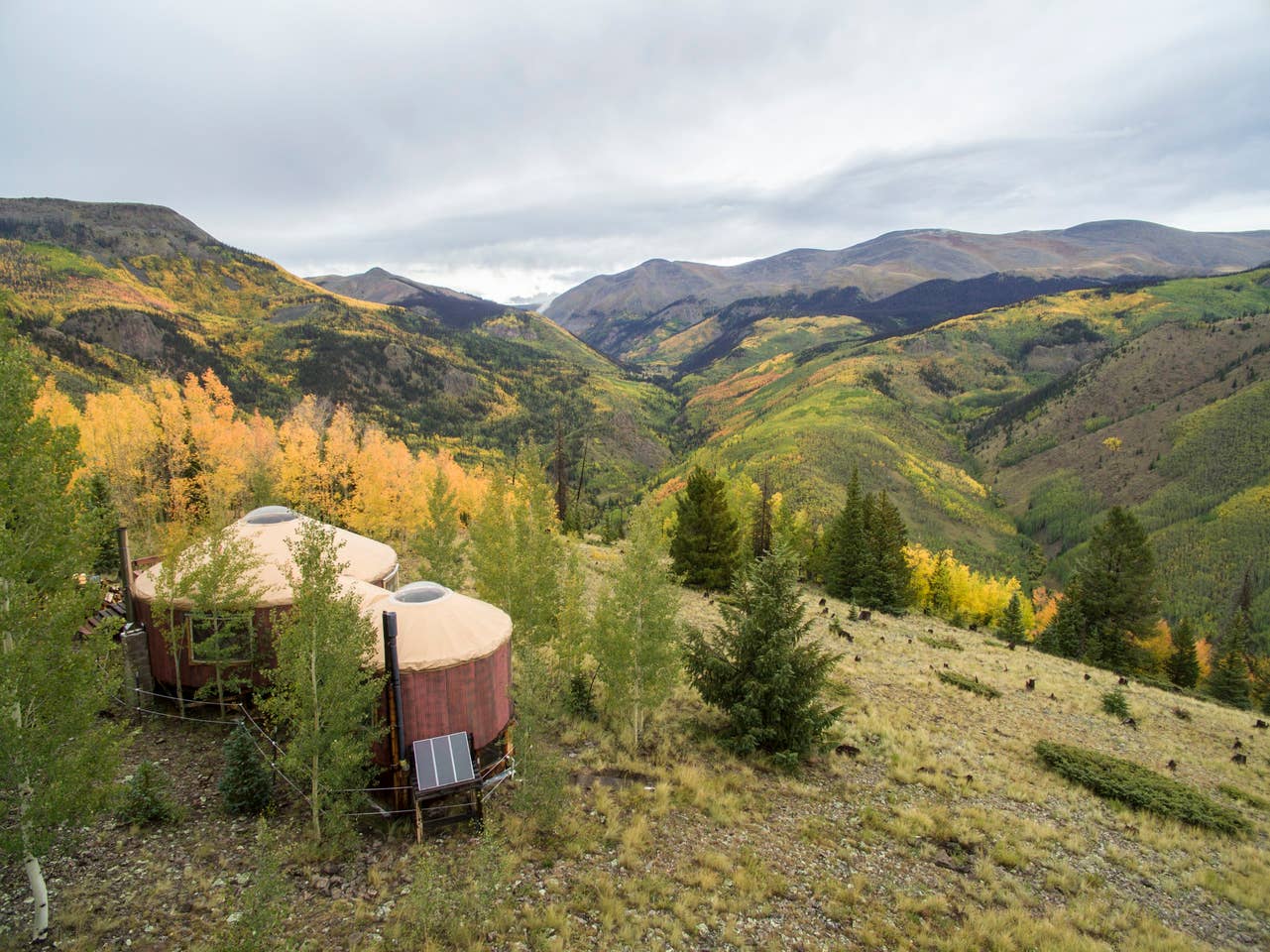 ---
19) Private Lux Tent Glamping Adventure Mesa Verde
Location: Mancos, CO
Price: $150+ USD per night
https://www.airbnb.com/rooms/37021805
"Cedar Summit" is a dream getaway in the mountains and an ideal space for family glamping, Colorado, options. The spacious and stylish one bedroom, three-bed glamping cabin can easily fit up to 5 people. The pet-friendly and equipped luxe tent comes with top quality essentials and facilities, as well as a covered deck to enjoy the outdoors from.
The private 40-acre property is woodsy and tranquil, and provides endless opportunities to walk, hike, and rejuvenate at 7500ft. There's a few towns in close proximity where you can pick up what you need before returning to your mountain oasis.
View Photos, Read Reviews & Check Availability
Guest review: "If you are thinking of staying here go for it!!! This tent is way more beautiful than you can tell from the pictures. The hosts are super nice and even allowed me to have multiple boxes delivered from Amazon to their house and dropped them off for me at the tent! They bring breakfast by every morning in a cooler(my fav part) and provide juices/coffee/water…The beds are ultra comfortable and they have heated blankets/heated mattress pads(heaven) I can't stress enough how kindhearted and genuinely welcoming the hosts are. The place is super beautiful but the family that hosts the tent really are the best part and they truly made it the highlight of my cross country roadtrip for sure. Looking forward to making it back one day!" – Brandon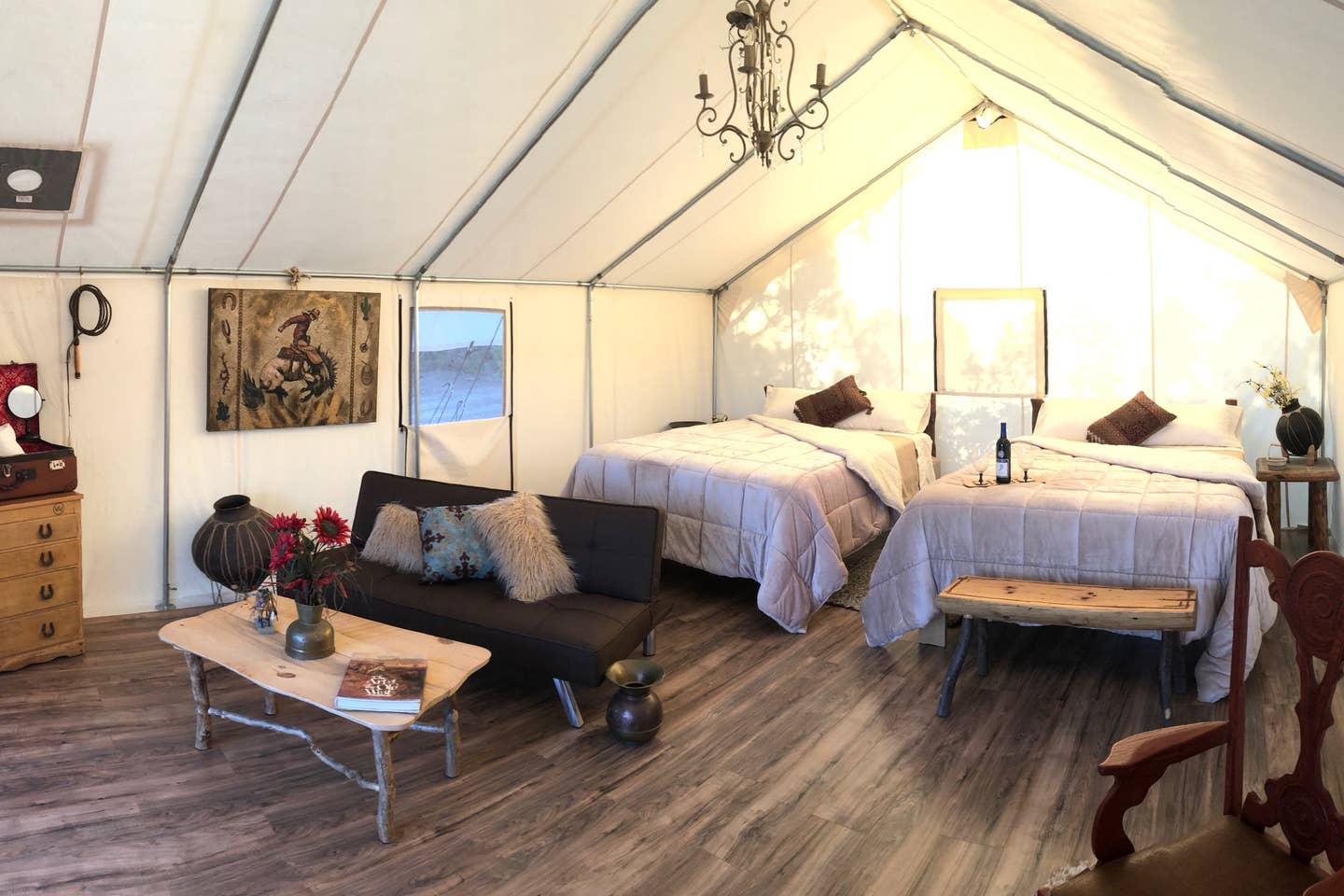 ---
The Best Colorado Tours & Experiences To Check Out
Colorado serves up some of the best natural landscapes in the entire United States. Explore Red Rocks Park or the Rocky Mountain National Park or stick around the capital of Denver and enjoy the nightlife and 420-friendly atmosphere. These are the best Colorado tours and experiences you need to sign up for.
---
Red Rocks Sunrise or Lunch Hike inc Meal
"Throughout the roughly 70-minute hike, we'll share the history of the area with you, from the development of the park, to stories of the artists who have played at the amphitheater, to the dinosaurs who used to roam the area. You'll finish your experience with a delicious breakfast or lunch in the world famous Red Rocks Amphitheater, where you'll have time to relax and eat at your leisure."
https://www.airbnb.com/experiences/296184
Location: Morrison, CO
Price: From $60 USD per night (1.5 hours)
Review: "The sunrise hike is a must do at Red Rock Mountain. Such a beautiful, peaceful and amazing experience to connect with nature during that time when no one is at the park. It was AMAZING!" – Michelle
View Photos, Read Reviews & Check Availability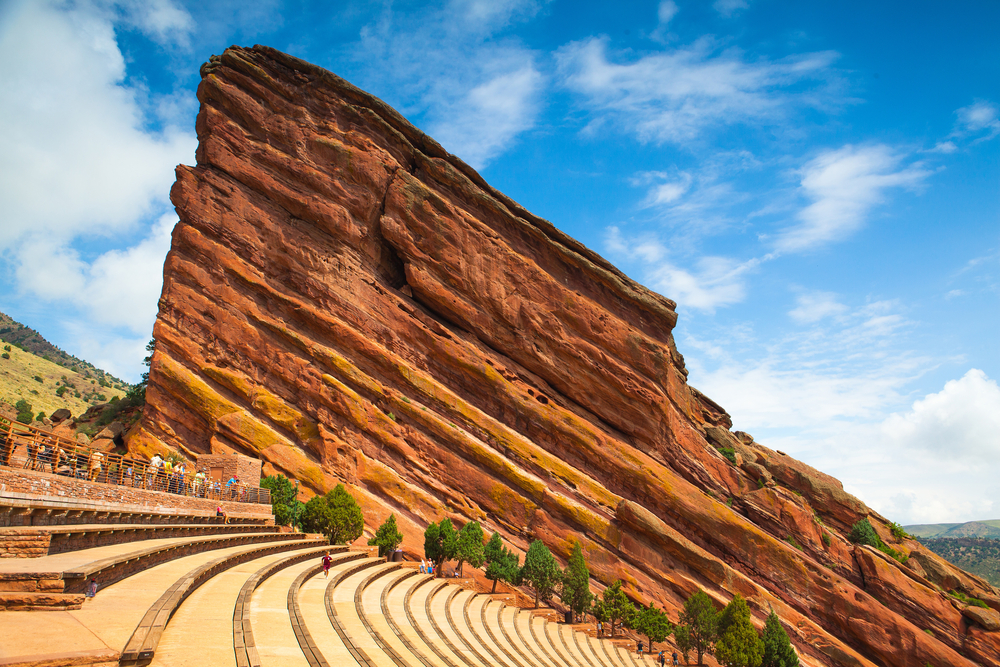 ---
Rocky Mountain National Park Tour from Denver and Boulder
"No matter what time of the year you visit the Rockies, you will always walk away with a unique experience. The Rocky Mountains are renowned for their scenery, peaks, alpine lakes, wilderness, and wildlife."
https://www.getyourguide.com/denver-l948/rocky-mountain-national-park-tour-from-denver-and-boulder-t178026/
Location: From Denver or Boulder
Price: From $230 USD (8 hours)
Review: "Went on the trip to the Rocky Mountains last Saturday. An amazing trip and would highly recommend it. Our guide Ryan Dee was exceptional. He was a fountain of knowledge on the Rocky Mountains and delivered this in a very clear and distinct manner and was more than willing to answer any questions we had. It flowed very naturally as we moved along our journey. We enjoyed the stops along the way and the whole experience. The schedule ran perfectly within the times given. And enjoyed lunch!" – Mary, Ireland
View Photos, Read Reviews & Check Availability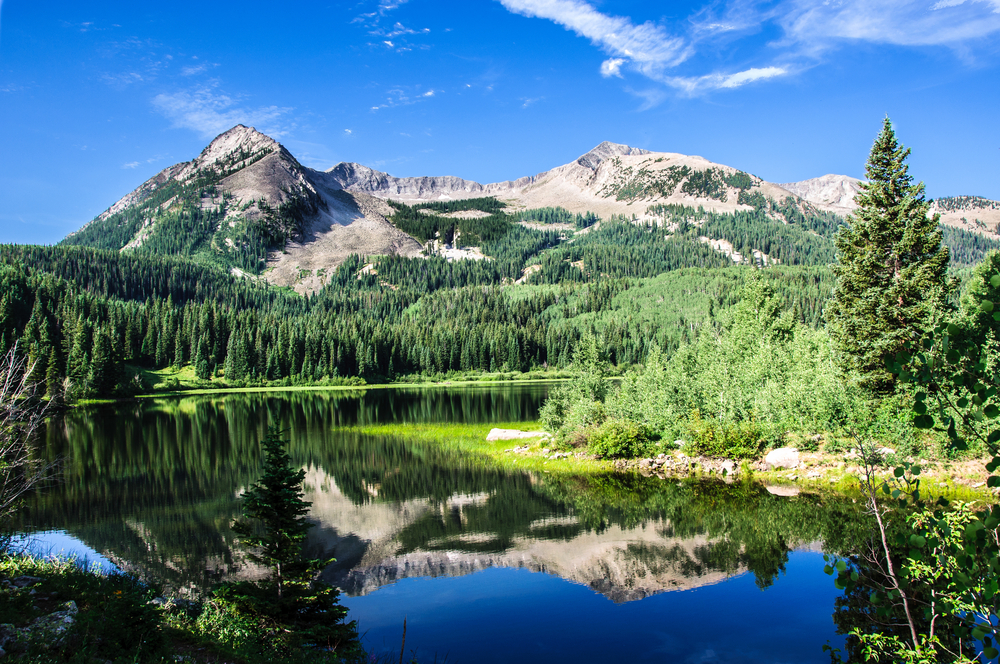 ---
Did I Leave Out Any Epic Colorado Luxury Glamping Experiences?
Colorado certainly doesn't have a shortage of exceptional glamping opportunities. I was really amazed by how much the chilled-out state has embraced the outdoor experience, but then again, it's Colorado. They are a cool lot. However, if you've recently stayed at a great Colorado glamping site that isn't on my list – and you think it deserves to be – just email me or DM me via my social media channels and I'll take a look to see what I can do!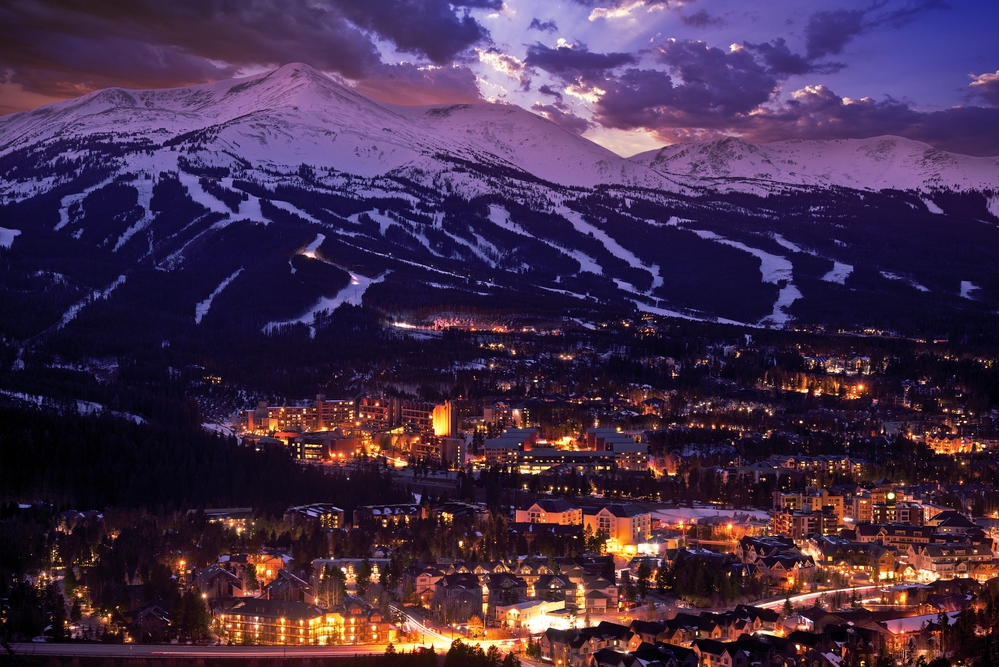 ---
Planning a Trip to Colorado or the USA?
Who wouldn't want to? There's a reason visitors fall in love with Colorado quickly and deeply – myself included! I have a range of Colorado content on my site – and the collection is always growing. For now, check out these epic Colorado blogs. I've also provided links to a few other USA blogs that might interest you while you're in the same pocket of the country. Enjoy!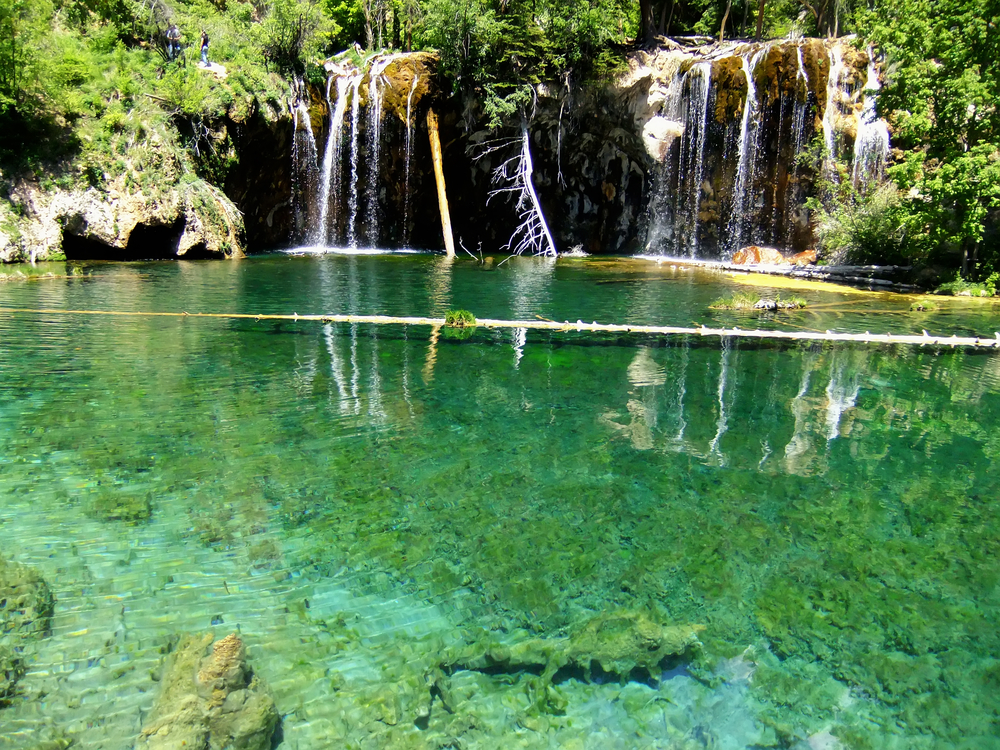 ---
Final Thoughts on Glamping Colorado…
WOW! Colorado has taken the benchmark for glamping to a world-class level, and I would personally stay in every single one of these tents, yurts, and campers if I could!
I can't wait to get back out to Colorado and try my hand at a little wilderness living! If you're searching for a destination where you can be one with nature in the truest sense, Colorado is the place to do it. Have an amazing time.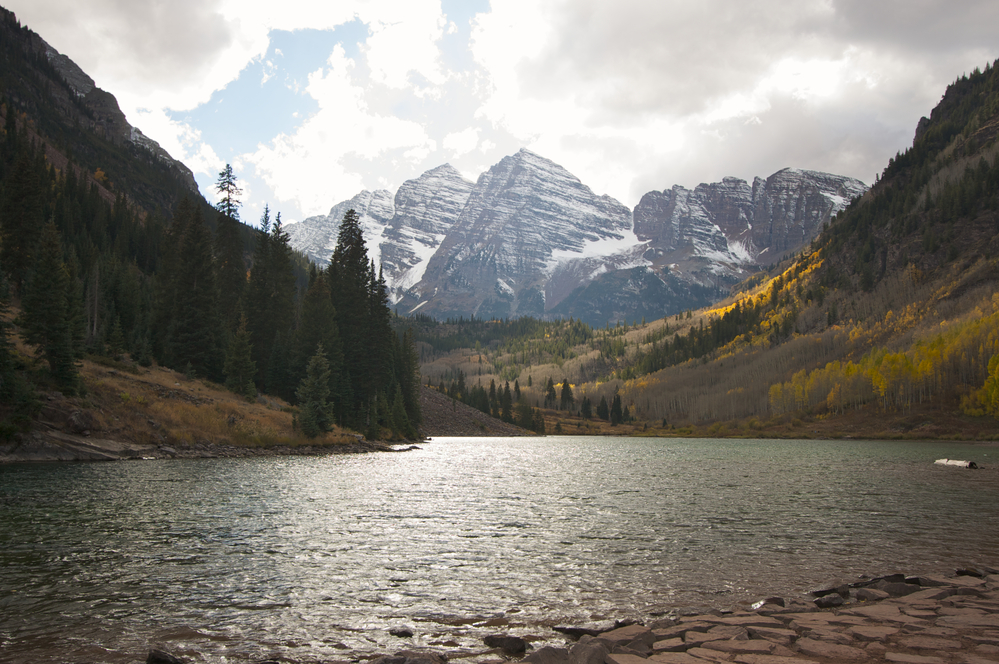 Amazing Colorado Glamping Spots You Should Visit
---
Thanks for reading about the best glamping in Colorado!
Share this list with your camping and glamping crew and head into the wild!
https://www.jonesaroundtheworld.com/wp-content/uploads/2020/03/The-Best-Glamping-In-Colorado.jpg
666
1000
Guest Contributor
https://www.jonesaroundtheworld.com/wp-content/uploads/2017/03/logotry-1-1-300x106.png
Guest Contributor
2021-07-25 02:56:57
2021-07-26 19:30:55
TOP 19 Glamping Colorado Sites For Your Bucket List