Planning a trip to the beautiful state of Colorado? If you're looking to make the most of this stunning countryside, I've got the ultimate and best glamping Colorado list for you!
Colorado is such a laid-back, cool, and unique place. I'm not surprised it embraces the concept of glamping with such joyful abandon. The entire state offers an endless variety of jaw-dropping natural landscapes, with the famed Rocky Mountains as their towering backdrop.
Besides spending time in the best Colorado Airbnbs, you may want to enjoy the Centennial State at a grassroots level. Enter the booming Colorado Glamping scene!
Few things pair as well as stargazing, glamping, Colorado, and a good time. And the state has delivered this magical mix with incredible tents, yurts, secluded cabins, and other glamping abodes.
With iconic destinations at your doorstep, like the Rocky Mountain National Park and Mesa Verde National Park, there's no doubt glamping in Colorado is an unforgettable experience. You'll be pinching yourself. The mountains are calling — will you answer?
---
Colorado Glamping Breakdown
Glamping is a comfortable and stylish alternative to traditional camping, and I've shortlisted my top 5 Colorado glamping offerings below. Cheap and cheerful, luxe and lavish, unique, cozy couples retreat, and the best of the best all make an appearance.
If you find what you're looking for, book now! But be sure to keep scrolling to find the best places for glamping in Colorado — I got a lot more where that came from!
The Best Luxury Camping Colorado — Collective Retreats Vail
The Best Colorado Glamping For Groups — Camp V
The Best Glamping Near Denver — Creekside Glamping Teepee
The Best Affordable Glamping Colorado — Monument Glamping
The Best Unique Colorado Glamping — Echo Canyon Campground
At the end of this list, I've provided links to a bunch of other Colorado and USA content so you can plan the best trip possible. I highly recommend checking out the top Colorado music festivals before embarking on an adventure you'll always remember.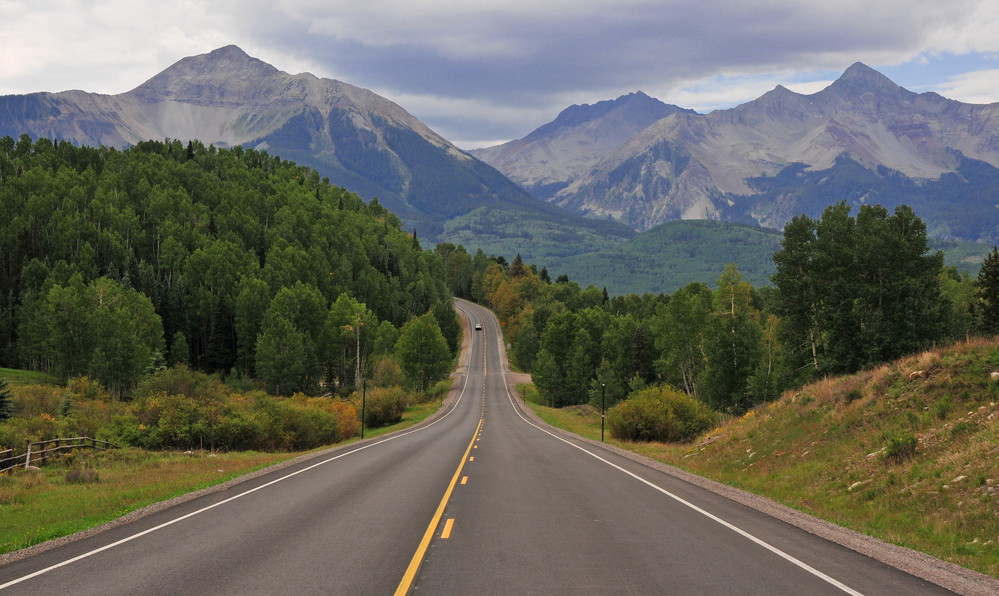 ---
20 Best Glamping in Colorado Spots You'll Love
Alright, now let's dive into the full list. Buckle up because we have 20 amazing and romantic glamping options across the state that will leave you absolutely speechless!
---
1) Collective Retreats Vail
Credit: Collective Retreats[/caption]
Location: Vail, Colorado
Price: $219+ USD per night
https://www.collectiveretreats.com/retreat/collective-vail/
https://www.booking.com/hotel/us/collective-vail-retreat.en-gb.html
"Surrounded by 1,000 acres at 4 Eagle Ranch, Collective Vail gives you a taste of pristine Colorado while still being an easy drive from the modern resort town. Plenty to do or nothing at all, from exploring the surrounding trails by horseback, or sipping the best varietals the region has to offer, there's a little something for everyone."
Collective Retreats know how to put on a glamping experience of a lifetime, and their site in Vail, Colorado, is no exception. They offer a range of luxury tent styles on their 1000-acre ranch. Spend your days mountain biking, hiking, horse riding, fly fishing, stargazing, or sampling the best cuisine at the on-site restaurant.
A stay at 4 Eagle Ranch rivals any 5-star hotel, and you can easily head into Vail at any time to check out the phenomenal cross-country skiing resort town. It doesn't get better than this!
View Photos, Read Reviews & Check Availability
---
2) Gateway Glamping
Location: Gateway, Colorado
Price: $97+ per night
http://www.gatewayglampingco.com/
https://www.airbnb.com/h/gatewayglamping
The Palisade Tent at Gateway Glamping (one of two tents at this small off-grid glamp-ground) is simply magnificent! Located about 1-hour southwest of Grand Junction, this small rural community sits high at 4,600 feet and offers guests tons of amazing outdoor attractions.
Indulge your sense with some scenic hiking and biking trails, or venture out to John Brown Canyon and the Dolores River just minutes away!
The glamping itself is fitted comfortably with vinyl wood flooring, king-sized beds, pillows, luxury sheets, and a heavyweight duvet to ensure a restless night of blissful sleep!
It's got it all, from a private camp kitchen with an outdoor grill to a picnic table and gas fire pit with two Adirondack chairs. Before you think it can't get any better, you'll have access to a shared off-grid bath house for a hot shower — it's the epitome of luxury camping in Colorado that you'll cherish forever!
View Photos, Read Reviews & Check Availability
---
3) Black Tree Resort
Location: Pike National Forest, Colorado
Price: $655+ per night
https://blacktreeresort.com/accommodations/
"Black Tree was created to connect families and loved ones to each other and to nature. Leave behind the hassle of buying, packing and assembling camp equipment, and preparing meals. Camping made easy and enjoyable for everyone."
Perfectly located on 80 acres of beautiful and secluded private property bordering Pike National Forest, staying at Black Tree Resort is a glamping experience that deserves a place on every person's Colorado travel bucket list!
Activities include hiking, horseback riding tours, ATV tours, massages, white water rafting, zip-lining, fishing, and much more. Or, just soak up the views from your luxury tent equipped with solar power, artisan-crafted furnishings, luxury bedding, and a private bathroom.
It's roughly a 2.5-hour drive from Denver International Airport or just about an hour from Colorado Springs. Be sure the passengers have their cameras ready, as it's quite a scenic journey to Black Tree Resort!
View Photos, Read Reviews & Check Availability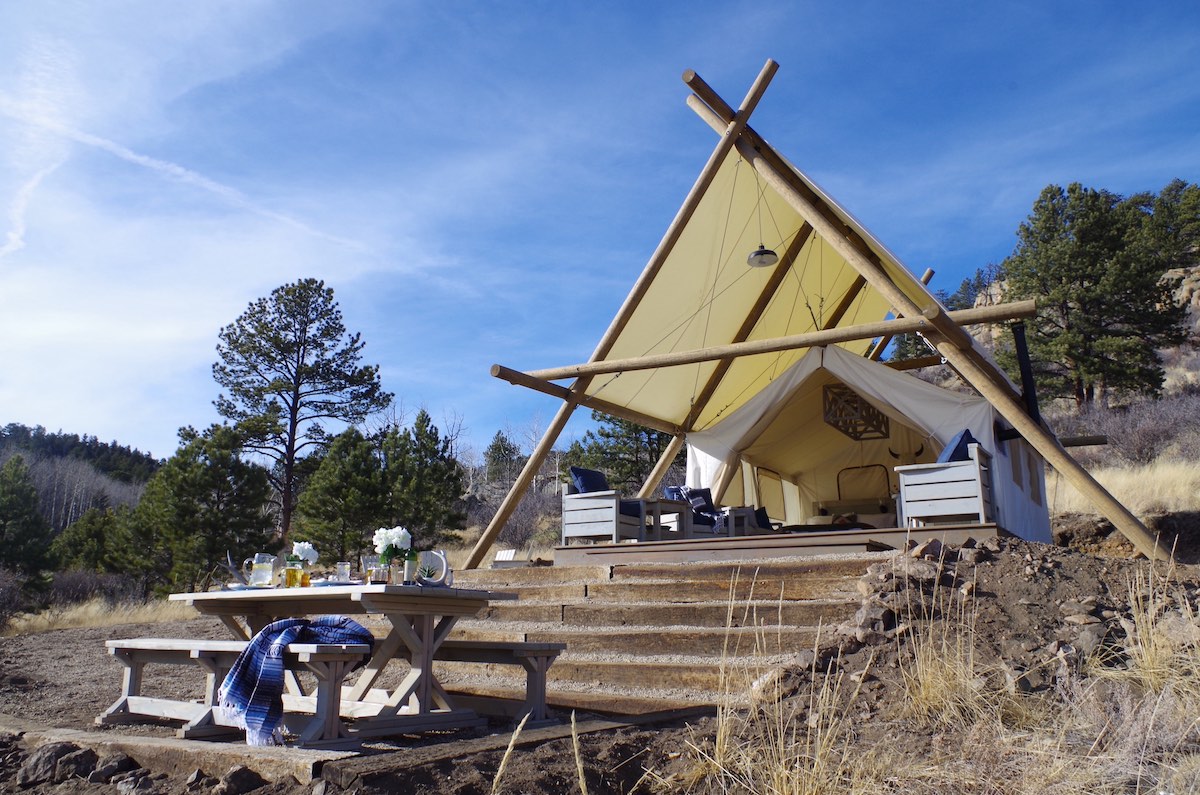 ---
4) Monument Glamping Colorado
Location: Monument, Colorado
Price: $129+ per night
https://www.airbnb.com/rooms/49230919
https://www.airbnb.com/rooms/44256236
Best Glamping Near Denver and Colorado Springs
Now offering two different glamping sites in Colorado at Monument Creek and Pine Cone Ranch, Monument Glamping delivers an incredible outdoor accommodation that has become a favorite among Colorado locals and tourists!
With stunning safari tents, bell tents, cool container homes, treehouses, and unique cabins with hot tubs — they really do have something for everyone! Their flagship location at Monument Creek offers some of the best luxury camping Colorado has to offer. There's also so much to do in the area that's easily accessible off the main highway!
Spend your days on self-guided hiking trails in Pike National Forest. Or explore the iconic Garden of the Gods, and soak up all the recreation opportunities at Pikes Peak, commonly known as "America's Mountain."
It's a luxury experience that won't break the bank, as they offer incredibly affordable rates!
View Photos, Read Reviews & Check Availability
---
5) Royal Gorge Cabins
Location: Canon City, Colorado
Price: $219+ per night
https://www.royalgorgecabins.com/glamping/
https://www.booking.com/hotel/us/royal-gorge-cabins.en-gb.html
Luxury linens, a down duvet, and in-floor heating — this place is the definition of glamorous camping! Just one hour from Colorado Springs, this pristine property offers the outdoor experience while being close enough to civilization for you to go out for a nice dinner and drinks.
You'll have high-speed internet, power outlets throughout the accommodation, and a relaxing designer interior to make you feel at home. The hosts will even have a fire prepared for you each night — how much easier can it get?
You can't beat the location and elegant amenities at this ritzy retreat. The Arkansas River Valley is just half an hour away, and who can say no to the scenic nature trails at the nearby Temple Canyon Park?
View Photos, Read Reviews & Check Availability
---
6) Arapaho Valley Ranch
Location: Arapaho Valley, Colorado
Price: $140+ per tent
https://arapahovalleyranch.com/glamping/
https://www.booking.com/hotel/us/arapaho-valley-ranch.en-gb.html
Arapaho Valley Ranch is an off-the-grid mountain resort with camping, glamping, cabins, and a lodge that will ignite all your senses!
Offering a wide variety of accommodation options to suit every traveler and budget, adding the Arapaho Valley Ranch to your Colorado Glamping bucket list is a no-brainer! Choose between their stunning Gold Home, glamping tents, charming cabins, and fun tipis, or simply book out one of their campsites!
It's now officially open year-round, offering tons of activities in both the winter and summer. That said, key highlights include hiking, fishing, wildlife spotting, and visiting local attractions like The Granby, Grand Lake, and Hot Sulfur Springs!
I'd personally recommend embarking on the Cascade Falls hike while staying here for a spectacular trek into the Coloradan wilderness. It'll tire you out, and you'll fall fast asleep once back in your luxurious glamping tent!
View Photos, Read Reviews & Check Availability
---
7) Dunton River Camp
Location: Dunton, CO
Price: $2138+ USD per night
https://www.duntondestinations.com/river-camp/
https://www.facebook.com/duntonhotspring
"Just across the mountain from Telluride, Dunton Hot Springs is a romantic 1800's ghost town set in an extraordinary alpine valley!"
A stay at Dunton River Camp doesn't come cheap, but it's luxury glamping in Colorado at its best and an opportunity you'll never forget.
This five-star glamping experience — on a 500-acre former cattle ranch — is open for guests throughout the summer. A stay here includes a large 640-square-foot safari tent with luxury inclusions like a private deck and a bathroom with a soaking tub.
You also receive two mountain bikes for the duration of your stay. The price also includes all top-quality organic meals and the use of the sauna.
There are only eight tents here, so privacy and serenity are paramount. You can spend your days horseback riding, walking by the Dolores River, enjoying hiking trails, soaking in hot springs, and indulging in the best food and drinks in Colorado's great outdoors.
You'll be shouting adventure quotes at every possible chance after exploring the stunning region. It's only open from June to mid-October, so you better book your spot now while you still can.
View Photos, Read Reviews & Check Availability
Dunton River Camp - Colorado
---
8) Camp V
Location: Naturita, Colorado
Price: $125+ per night
https://www.campv.com/glamping
https://www.airbnb.com/rooms/46768980
"CampV is more than just a place to stay, it's a space to inspire … both the creators and the guests. The concept of CampV was born from a desire to spark creativity, transform a community and utilize our talents to create an authentic experience and concept that can be brought to other rural communities."
Camp V is located in Western Colorado (pretty close to the Utah border), but it'd be well worth the scenic drive to get there and experience this place for yourself! They offer various accommodation options, including luxury cabins, jupes, Airstreams, glamping, RV sites, and camping!
They often host live music events and art festivals, which adds to the vibrant atmosphere you'll feel while exploring the grounds. Out of all the Glamping Colorado sites listed here, Camp V might just have the strongest personality of them all!
Another fun aspect of this place is that it is perfect for large groups, as you can rent out the entire place. Be it a friend's weekend away or a family glamping in Colorado experience you seek, Camp V has you covered.
Backed with glowing reviews and a loyal customer base, Camp V has proven they're a staple in the glamping scene!
View Photos, Read Reviews & Check Availability
---
9) Rustic Rook Resort
Location: Mosca, Great Sand Dunes National Park, Colorado
Price: $145+ per night
https://rusticrookresort.com/lodging-options/
https://www.airbnb.com/rooms/42041096
"Our version of glamping is a cross between your traditional lodging (like a hotel room) and camping (like with a tent). Imagine if Miss Hotel Room and Mr. Tent fell hopelessly in love and despite their families warnings about their different lifestyles, got married and had a child. That child is Glamping at Rustic Rook."
This charming glamping resort is just a short drive from the mesmerizing Great Sand Dunes National Park. It would be an amazing place to stop for a couple of nights as you travel across Colorado (or for a quick weekend getaway)!
Offering three different types of glamping tents, it'll provide a simple yet luxurious stay while you hike, sandboard, and explore the amazing dunes and nearby attractions!
View Photos, Read Reviews & Check Availability
Glamping in Colorado at Rustic Rook Resort Great Sand Dunes
---
10) Echo Canyon Campground
Location: Canon City, CO
Price: $219+ USD per night
https://www.raftecho.com/glamping/
This is a lodging owned and operated by one of Colorado's leading white water rafting companies. So there's no better way to end your rafting adventure than to extend your stay and book a night or two in one of their beautiful glamping tents, which have become a fan favorite for glamping in Colorado.
It's also the ideal glamping in Colorado Springs opportunity, as it's just an hour's drive away. The campsite offers glamping tents in two sizes — single queen for up to two guests and double queen tents for up to four guests.
Each incredible tent is equipped with electricity, lighting, and WiFi, as well as cooling for summer guests. You'll have a private patio with seating and round-the-clock access to the on-site bathrooms and showers. And when you need to stock up on snacks and wine to enjoy under the stars, Canon City is just a short drive away.
They're also a really fantastic romantic glamping treat, and they love helping plan a special honeymoon or anniversary for those couples looking for a unique and nature-filled trip!
View Photos, Read Reviews & Check Availability
Colorado White Water Rafting and Cabin Rentals at Echo Canyon River Expeditions
---
11) Bison Peak Lodge at Puma Hills
Location: Lake George, Colorado
Price: $358+ USD per night
https://www.facebook.com/pumahills
Just over 100 miles from Denver, Bison Creek Glamping is nestled within the wilds of the Colorado forest and makes for superb glamping options. They offer some of the best bubble tents Colorado has to offer and a magical array of teepees, too, each with perfect views of the stars.
This is the place to hike, fish, mountain bike, ATV, or simply get in touch with nature in a world-class glamping location. Bison Creek is located in the Puma Hills mountain range near the community of Lake George. The historic city of Colorado Springs is just 30 miles away and is a highly-recommended day trip.
Browse their amazing accommodation options like The Bison Peak Lodge, Private Cabins, Custom Crafted Tipis, Conestoga Wagons, Geodesic Domes, Bubble Tents, Tree Tents, and Tent Camping!
View Photos, Read Reviews & Check Availability
---
12) Secluded Glamping in the Beautiful San Juan Mountains
Location: Pagosa Springs, Colorado
Price: $250+ per tent
I'd love to include every photo of this property in this post if I could — the natural surroundings are nothing short of incredible! Perfect for large groups and special events, this is where rustic meets palatial, modern, and pampered.
Each glamping tent comes with comfy pillow-topped mattresses, and the reception area is a luxury lodge renovated from a dairy barn initially constructed in 1932. You can play pool, cook, host lavish dinners, or kick back and relax.
This space is equipped for everything from hunting or fishing groups to yoga retreats, weddings, anniversaries, and family gatherings. Or simply enjoy the opportunity to cleanse the soul and escape it all for a few days in the San Juan National Forest.
View Photos, Read Reviews & Check Availability
---
13) Riverwalk Yurt Perched Above the Roaring River
Location: Paonia, Colorado
Price: $225+ per night
This 700 square-foot, 14′ tall yurt is tucked away in the temperate zone between the high desert and the Rocky Mountains. It's also nestled near the North Fork of the Gunnison River, a natural beauty of the property that's impossible to describe with words alone.
The interior is spacious and more than modern, boasting eight windows and two French doors to let in maximum light. With so much space on offer, you can enjoy everything, like the queen bed, lounge area, fireplace, dining area, and walkway to a unique deck sitting right on top of the river itself.
Outdoor activities, sports, and relaxation are all just a few steps out the door at this lavish listing.
View Photos, Read Reviews & Check Availability
---
14) Grand Lake Lodge
Location: Grand Lake, Colorado
Price: $105+ USD per night
https://www.booking.com/hotel/us/grand-lake-lodge.en-gb.html
The name says it all, this is a grand estate that offers simply the best stay imaginable at an affordable price. It may be two hours from Denver, but it's nothing short of spectacular. It has everything from heated pools and live music events to games rooms and stunning views of Grand Lake to enjoy.
When you're not exploring Denver or the Arapaho forest, you can lounge about at the magnificent communal patio with a bar and mesmerizing mountain views. The glamping sites have a simple elegance, from the cozy double beds to the unique lighting.
And to put the cherry on top of an already luxurious experience, the on-site restaurant will cater to your every need.
View Photos, Read Reviews & Check Availability
---
15) Creekside Glamping Teepee on Colorado Horse Ranch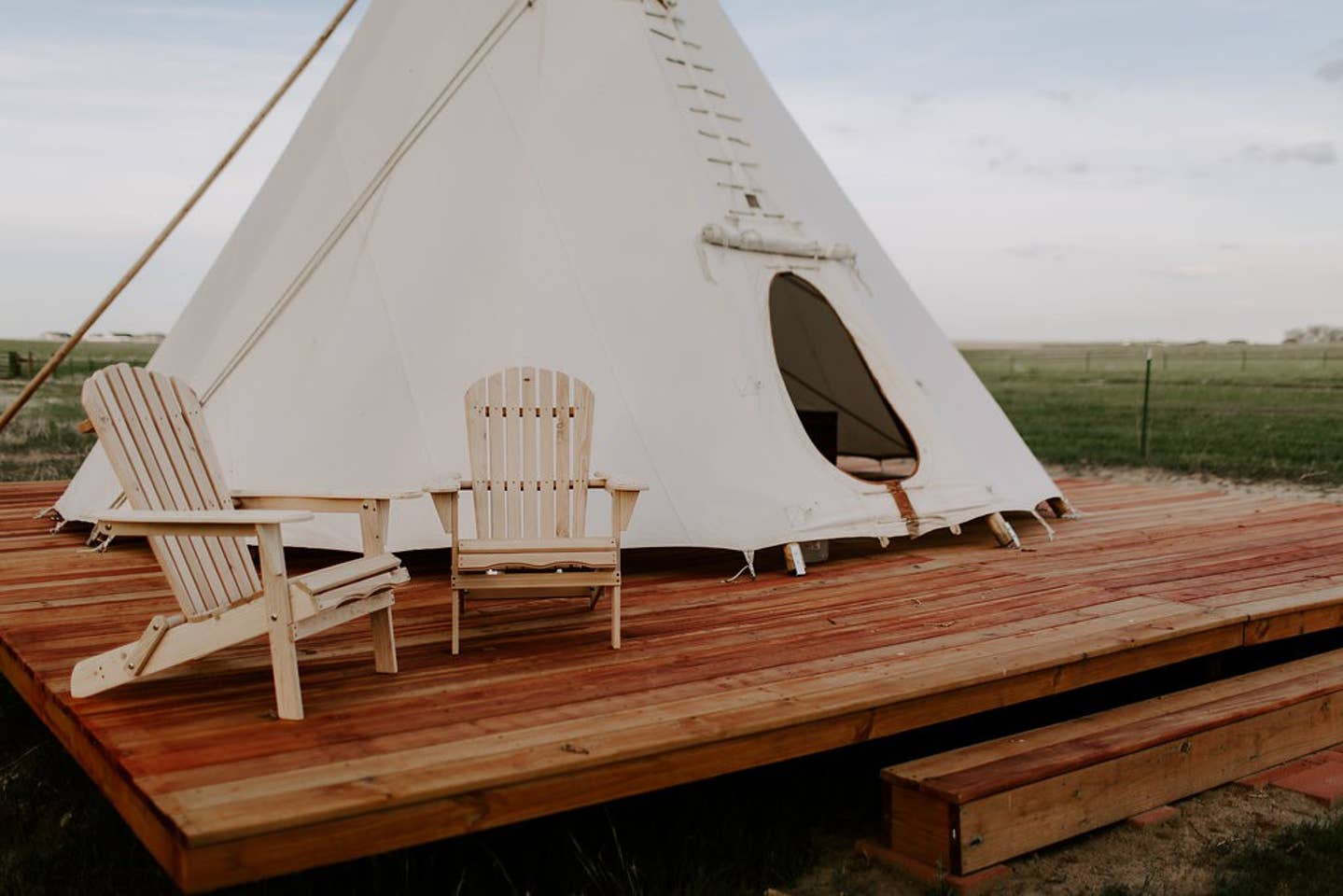 Location: Hudson, CO
Price: $91+ USD per night
https://www.airbnb.com/rooms/20302789
Staying in an epic teepee should be on your bucket list, and this picturesque spot will help you tick this one off!
The luxury teepee is nestled on a horse ranch in Hudson, Colorado. It has stylish, rustic interiors, a portable toilet just outside, and an elevated log deck, perfect for staring at the starry night sky. There's also a fire pit, a heater, a coffee maker, a grill, and electric lanterns to ensure your stay is comfortable.
The ranch is just 35 minutes from Colorado's capital, making it one of the best Denver glamping options around. Its close proximity to the city makes it the ideal way to escape the big city for a chance to breathe in that crisp Colorado air. It's simply perfect for a winter or summer escape!
View Photos, Read Reviews & Check Availability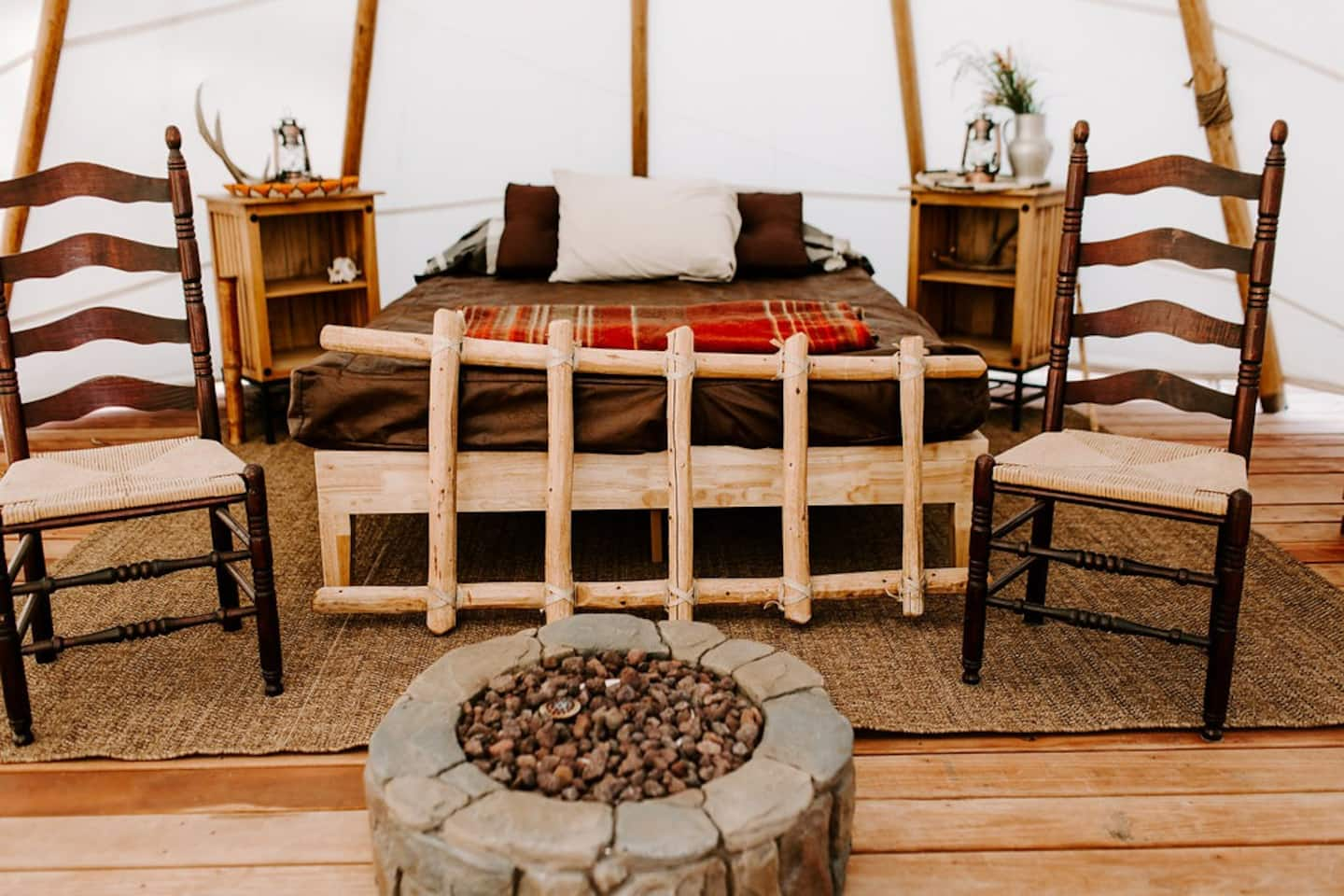 ---
16) Great Sand Dunes Lodge
Location: Mosca, CO
Price: $129+ USD per night
https://www.booking.com/hotel/us/great-sand-dunes-lodge.en-gb.html
If you're looking for something simple that offers stellar access to Rio Grande National Forest, these luxury tents might be for you. You can sit on the front porch and admire the rustic scenery as the sun sets beyond the horizon.
If you're looking for an early start to the day, the lodge offers a great continental breakfast, while the hiking spots around the property are simply breathtaking. And to make things even better, your favorite pet can come along for the adventure.
The timber flooring will keep you toasty all night, while the skylight provides unadulterated starstruck views. It's a destination with simplistic beauty for everyone to enjoy.
View Photos, Read Reviews & Check Availability
---
17) Cozy Yurt Near Town, Skiing, and Trails
Location: Leadville, CO
Price: $80+ USD per night
https://www.airbnb.com/rooms/30206786
With rave reviews from over 300 thrilled Airbnb guests, this cute and cozy two-bed yurt offers an affordable glamping Colorado experience to remember.
The pet-friendly yurt features a loft bedroom, a living area, a half bath, kitchen facilities, a TV, and a private patio. Note that there's no shower, but there are toilets. Explore nearby Turquoise Lake and the mineral belt trails, or stock up on essentials in nearby Leadville.
The nearest major locations to this yurt are Denver, approximately 77 miles away; Colorado Springs, 84 miles away; and Aurora, only 85 miles away. This is guaranteed to be a Colorado Glamping experience you'll never forget!
View Photos, Read Reviews & Check Availability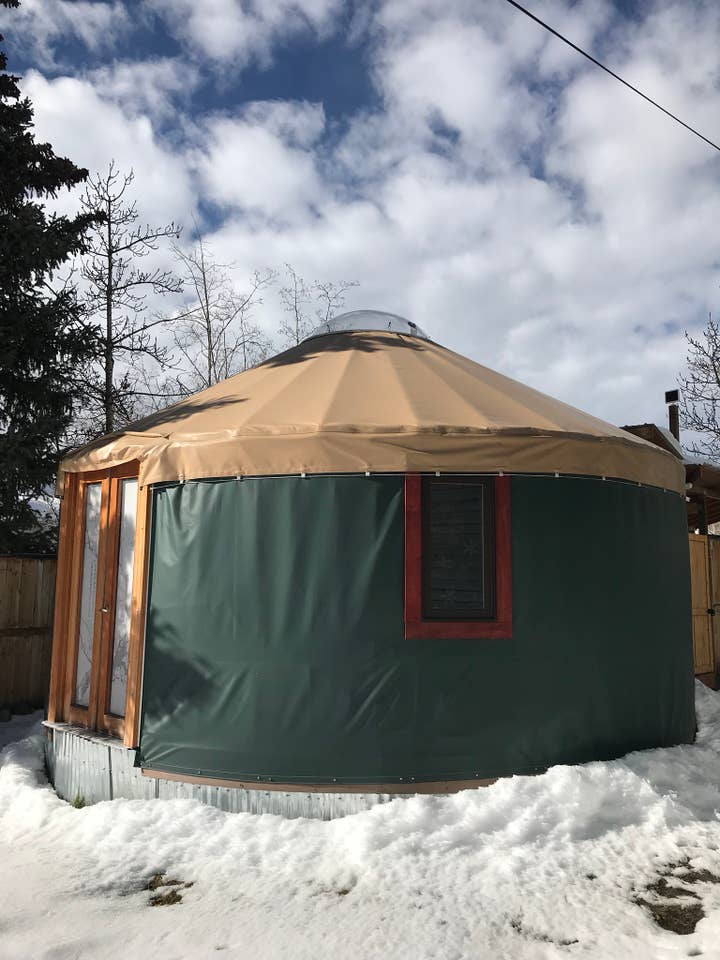 ---
18) Juniper's Tent — Desert Glamping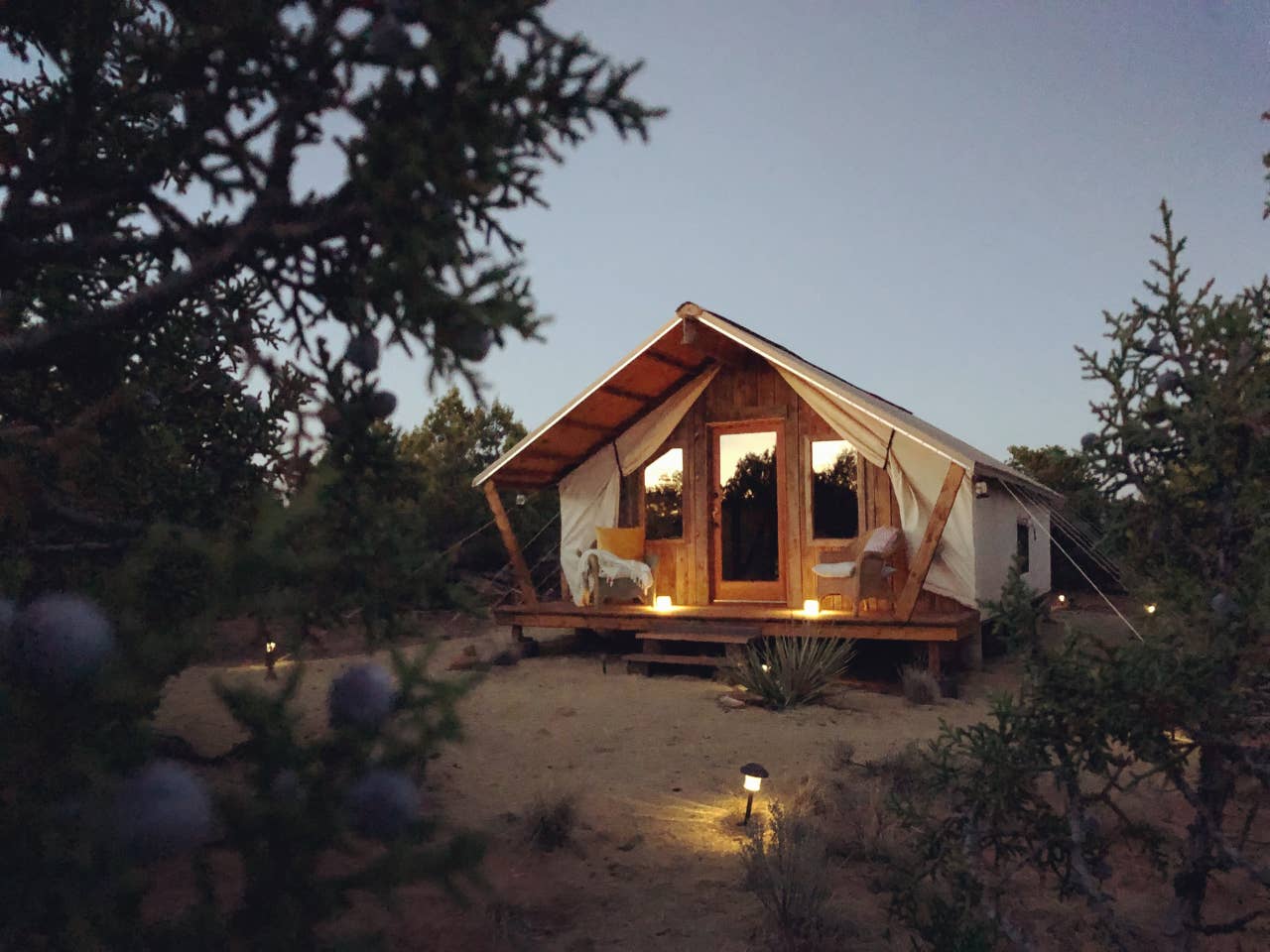 Location: Cortez, CO
Price: $150+ USD per night
https://www.airbnb.com/rooms/16497200
This Colorado glamping tent shows the rest how it's done! Located just minutes from Cortez, the wood and canvas luxury tent offers a stunning natural escape from the outside world.
The eco-friendly, spacious tent runs entirely on solar power and has an outdoor dining area, a kitchen, a workspace, and an outhouse. There is no running water or heating, but you can shower next door.
Get totally in touch with nature on this isolated property, which offers epic sunsets and mountain views. It's also within walking distance of a range of sustainable living and alternative ranches. Who knows — maybe you'll love it so much that you'll throw it all in and move out here to live a sustainable and free-spirited life.
View Photos, Read Reviews & Check Availability
---
19) Yurt Retreat — Unplug and Recharge!
Location: Fort Collins
Price: $125+ USD per night
https://www.airbnb.com/rooms/35612502
A yurt is a traditional round tent of Asian origin, but more and more are popping up across the globe, offering intrepid travelers a truly unique experience. This bohemian yurt is for those looking to enjoy complete off-the-grid serenity.
There's no power and no bathroom in this rustic abode — but there is an outhouse to use. The hosts, however, provide guests with portable chargers, oil lamps, and other helpful essentials.
There's a grill, a cooler, a Mongolian log stove, and an outdoor fire pit, and guests can use the on-site kayaks and paddleboards to head out on the property's private lake. The eclectic town of Fort Collins is a short drive away, and Denver is 60 miles away.
View Photos, Read Reviews & Check Availability
---
20) Stunning Yurt Property Near Creede, Colorado
Location: Creede
Price: $199+ USD per night
https://www.airbnb.com/rooms/8286641
Arguably one of the most rustic, off-the-grid properties in all of Colorado, this yurt is tucked away in the breathtaking San Juan Mountains. To access the property, you'll need a tough 4WD vehicle. Trust me. The road is pretty gnarly.
There's no power up here, no water, no phone service, and no WiFi — so it's just you and nature. It does have a top wood stove with unlimited firewood provided, a queen-size bed, a propane oven and BBQ, and a separate compost bathroom.
There are endless cliffs, waterfalls, and woods to soak up. This is a truly stripped-back wilderness experience, but don't worry! The town of Creede is just a 15-minute drive away.
View Photos, Read Reviews & Check Availability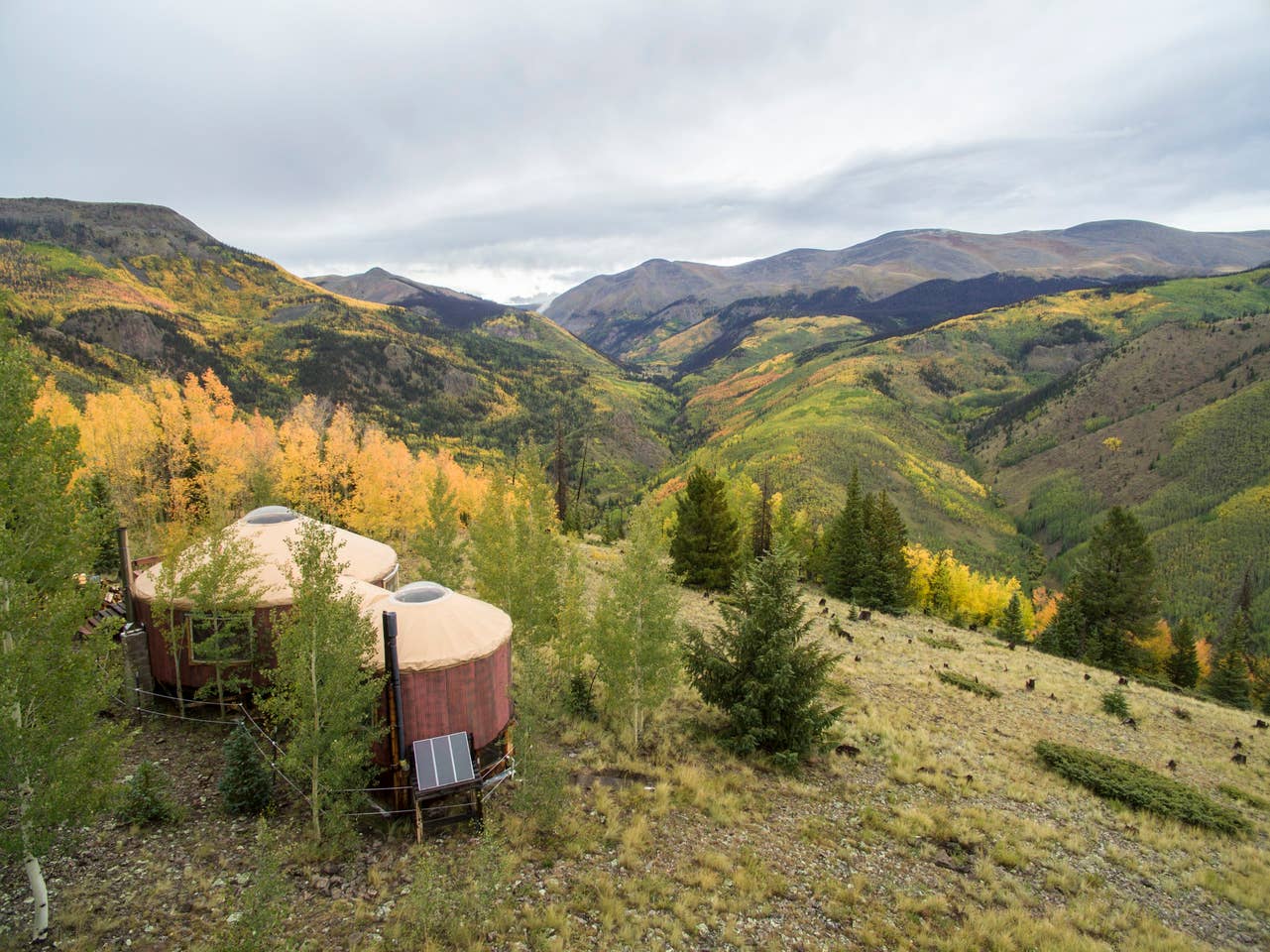 ---
Did I Leave Out Any Luxury Glamping Colorado Experiences?
Colorado certainly has no shortage of exceptional glamping opportunities. I was really amazed by how much the chilled-out state has embraced the outdoor experience, but then again, it's Colorado.
They are a cool lot. However, if you've recently stayed at a great Colorado glamping site that isn't on my list — and you think it deserves to be — just email or DM me via my social media channels, and I'll take a look to see what I can do!
---
Final Thoughts on Unique Camping Colorado
WOW! Colorado has taken the benchmark for glamping to a world-class level, and I would personally stay in every single one of these tents, yurts, and campers if I could!
I can't wait to return to Colorado and try my hand at a little wilderness living! If you're searching for a destination where you can be one with nature in the truest sense, Colorado is the place to do it. Have an amazing time.
Amazing Colorado Glamping Spots You Should Visit
---
Planning a Trip to Colorado or the USA?
There's a reason visitors fall in love with Colorado quickly and deeply — myself included! I have a range of Colorado content on my site — and the collection is always growing.
So if you're looking for more Colorado and USA inspiration, take a look at these blogs:
---
Thanks for Reading About the Best Luxury Camping in Colorado!
Share This List With Your Camping and Glamping Crew and Head Into the Wild!
https://www.jonesaroundtheworld.com/wp-content/uploads/2023/01/Glamping-Colorado-1.jpg
628
1200
Guest Contributor
https://www.jonesaroundtheworld.com/wp-content/uploads/2017/03/logotry-1-1-300x106.png
Guest Contributor
2023-04-17 02:56:57
2023-08-03 15:56:20
20 Best Glamping Colorado Sites | Top Luxury Camping Stays