If you're scouting for luxury cabins in Tennessee, you've come to the right place. The state boasts diverse terrain and mountain views, making it a perfect host for cabin retreats.
On Tennessee's eastern border are the Great Smoky Mountains, and thus, the state is home to the famous Great Smoky Mountains National Park. These mountains are a part of the Blue Ridge Mountains range, which has some of the highest heights in North America.
Due to Gatlinburg's proximity to the Smokies, the city hosts the majority of Tennessee's cabins. If you're on the hunt for a place in the woods, Eastern Tennessee is where you should be looking. This article will list the most luxurious cabins in Gatlinburg, TN, and others from around the state.
Those who have rented an Airbnb in Tennessee before will be well aware of the charm of this place. Whether it's for a couple's getaway, family vacation, special occasion, or wedding, the cabins below offer ample luxury with top-notch facilities and amenities.
Keep scrolling for more information on these dreamy cabin rentals in Gatlinburg, TN. I've also included a few Tennessee cabin rentals from nearby places like Pittman Center and Pigeon Forge, as well as some further off options like Tellico Plains and Goodlettsville.
---
1) Bear Paw Lodge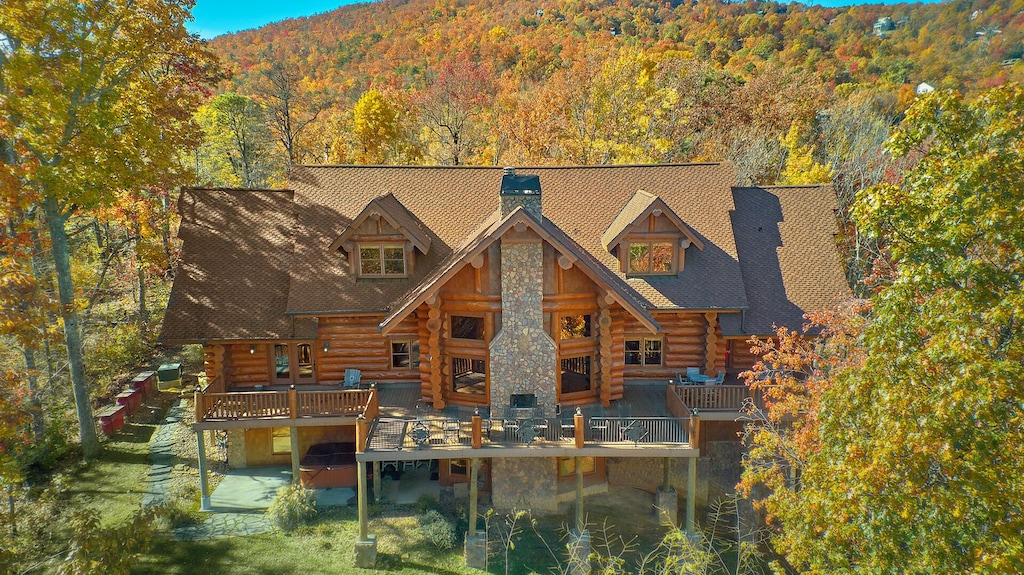 Where: Gatlinburg, Tennessee
Price: $1,440+ USD per night
Have you ever wanted to see a Smoky Mountain bear? This lodge, bordering the Smokies National Park, takes its name from the bears surrounding the area. If you're lucky, you may spot a real-life teddy or two and even catch sight of some deers, rabbits, and wild turkeys.
With its lengthy list of luxurious amenities and thrilling activities in and around the cabin, Bear Paw exceeds expectations. It has seven bedrooms and can accommodate up to 24 people. You and your travel crew can comfortably space out on the five king-sized beds, two king-sized bunk beds, a futon, and two sofa sleepers.
The game room has a billiard table, air hockey, mini-kitchen, snack bar, and a seating area with a large flat-screen TV to fuel the entertainment scene. More features include a gourmet kitchen, eight-person hot tub, spa-like bathrooms, and wireless internet.
Apart from the indoor fireplaces and a built-in outdoor gas fireplace, there's also a fire pit area in the backyard, so your crew can chill here without freezing to death in winter.
The lodge's most notable feature is a private hiking trail that begins directly from the cabin's driveway. It then takes you through the Covemont hiking route and, for the grand finale, into the Smokies National Park.
View Photos, Read Reviews & Check Availability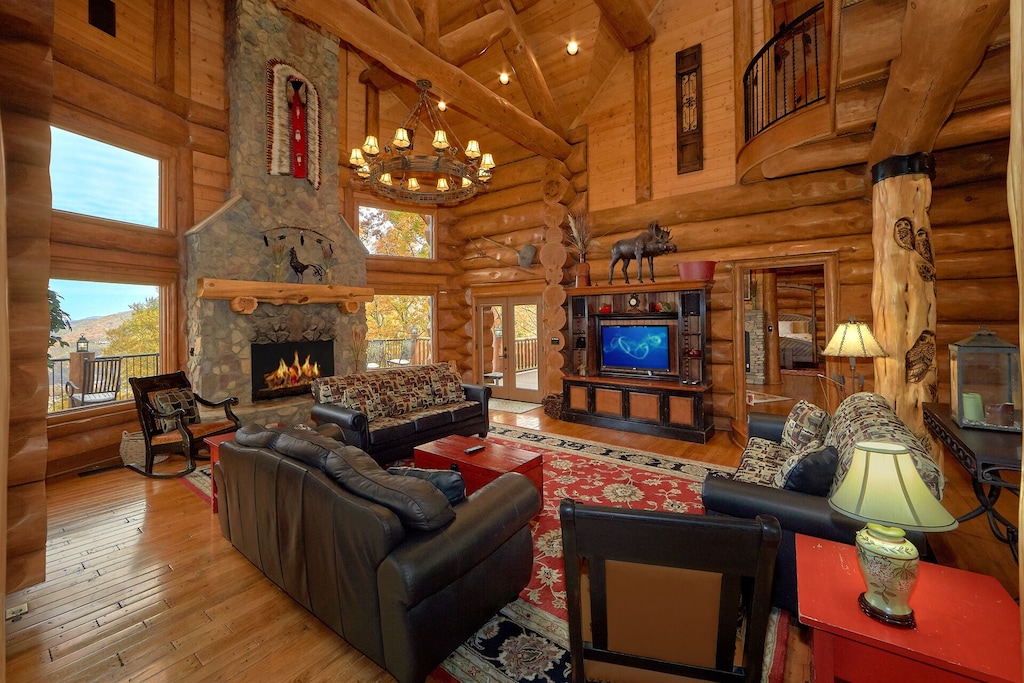 ---
2) Cedar Forest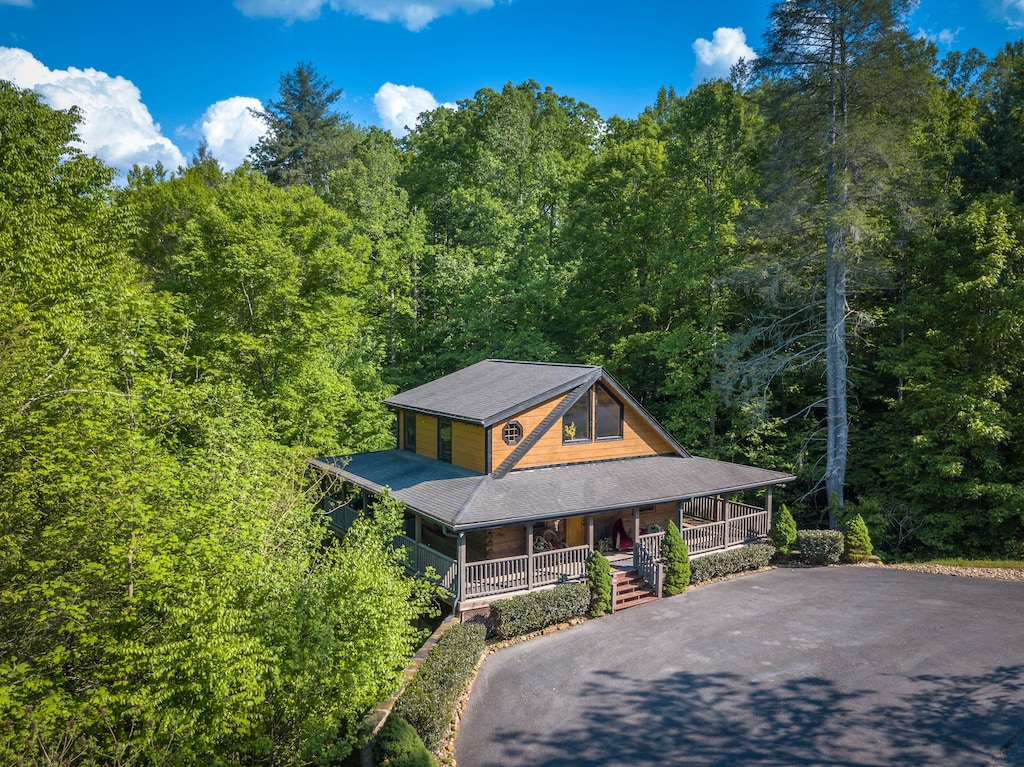 Where: Pigeon Forge, Tennessee
Price: $280+ USD per night
https://www.vrbo.com/3617714ha
A part of the elite gated community of Cedar Falls is this luxury cabin. Cedar Forest provides picturesque views of the surrounding trees and lots of luxurious amenities and facilities.
The cabin is three stories high and features a home theater, five HDTVs, and a gourmet kitchen. Floor-to-ceiling windows and cathedral ceilings in the living room area, along with a stone stacked fireplace, add to the cabin's rustic theme and beauty.
With just one king bedroom, couples will find the cabin to be an ideal romantic getaway. However, the house can sleep up to six people with a queen-sized bed in the loft bedroom and a sleeper sofa.
Say bye-bye to your stress as you relax in the private hot tub or read a book on the porch swing while listening to the sounds of nature. Treat yourself and your company to a mean meal cooked on the outdoor gas BBQ grill as you share stories on the porch's picnic tables.
View Photos, Read Reviews & Check Availability
---
3) Heaven's Landing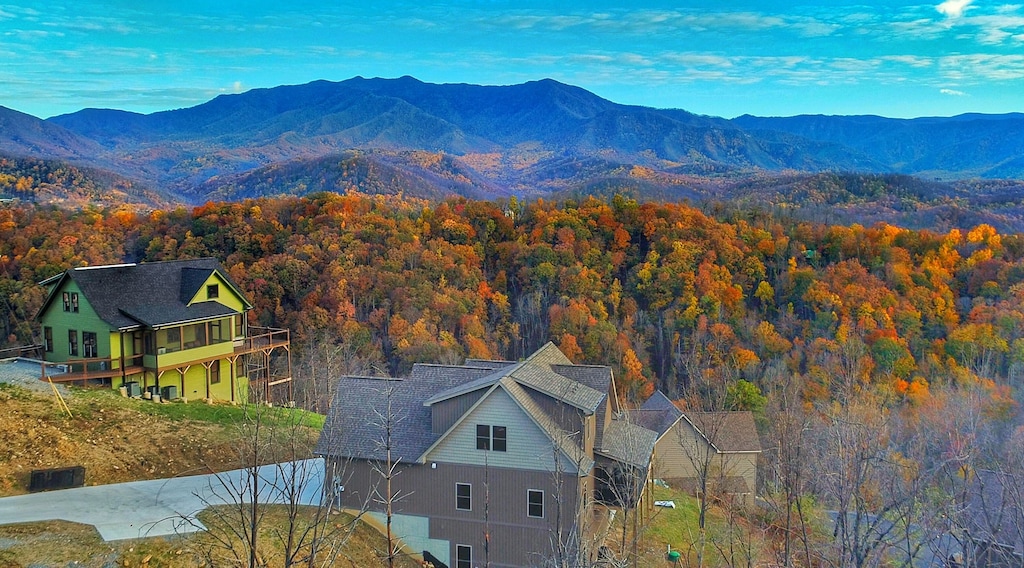 Where: Chalet Village North, Gatlinburg, Tennessee
Price: $425+ USD per night
https://www.vrbo.com/7408121ha
With four bedrooms and three bathrooms, Heaven's Landing is a gorgeous cabin that can accommodate up to eight people.
The cabin provides spectacular unobstructed views of Mt. Leconte. It's in a convenient location too – only two miles away from downtown Gatlinburg and seven miles from Pigeon Forge. So, you can spend your days lounging in the cabin or venture out to explore these towns.
A king bed, flat-screen TV, fireplace, and en-suite bathroom with a walk-in closet make up the master bedroom. The other three bedrooms feature queen-sized beds, flat-screen TVs, and closets.
Enjoy the stellar views from the comfy lounge chairs or the spacious deck. Cozy up with a cup of hot chocolate and book next to the fireplace or relax while watching a movie on the reclining seats in the theater room. For dinner, fire up the grill or cook up a storm in the contemporary kitchen.
End the day unwinding in the hot tub and then retire to bed early to get some extra z's. Or, if you're a night-owl, grab your family for a competitive night in the game room.
View Photos, Read Reviews & Check Availability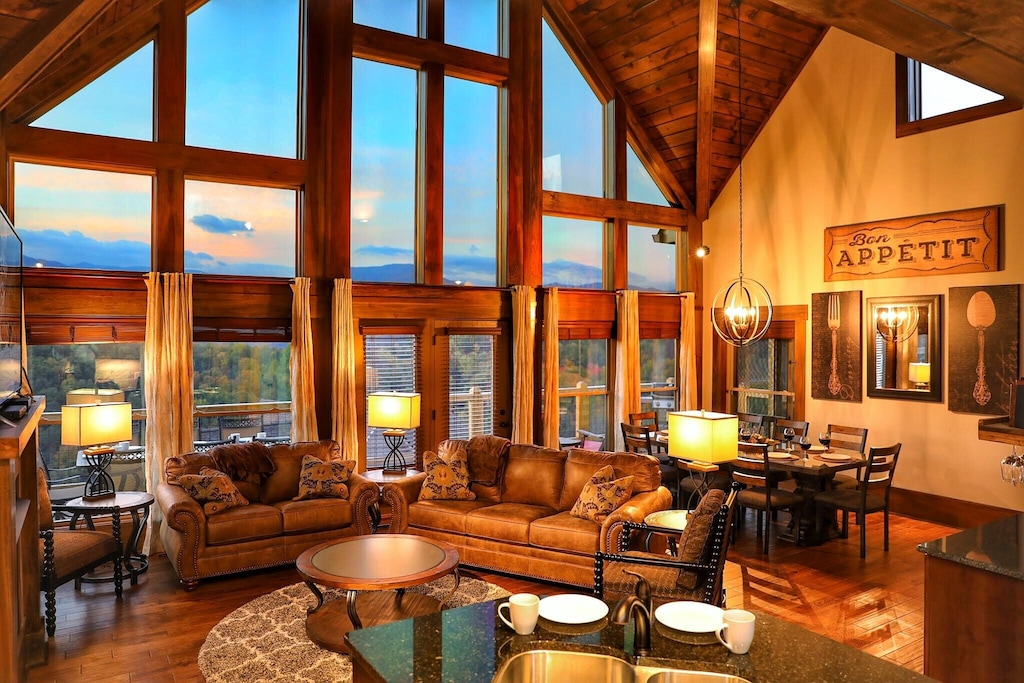 ---
4) Mountain Memories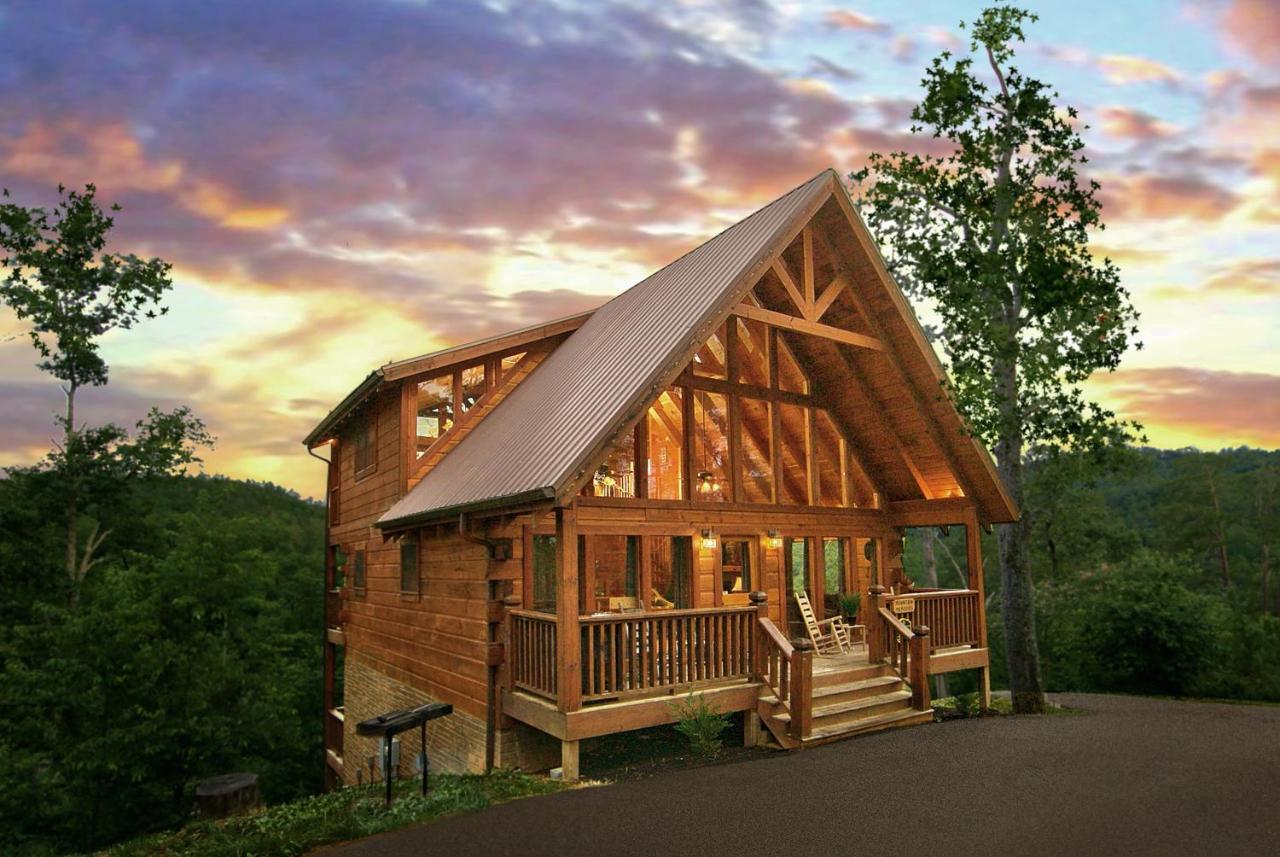 Where: Pigeon Forge, Tennessee
Price: $550+ USD per night
https://www.vrbo.com/7596311ha
Perched high on a hill, Mountain Memories is a three-bedroom, three-bathroom cabin with stunning views of the surrounding emerald trees.
Set in Pigeon Forge, the cabin is in an ideal, convenient location. It's about five miles from Old Mill, six miles from Dolly Parton's Stampede, and eight miles from the Grand Majestic Theater.
Mountain enthusiasts will be pleased to know that the area offers thrilling activities like hiking and skiing. For a more relaxed timepass activity, go fishing nearby.
The accommodation itself goes above and beyond when it comes to modern amenities. Amongst the many features is a hot tub, barbecue, and well-equipped kitchen. A stone-stacked fireplace will keep you warm and a DVD player is available to watch movies on the flat-screen TV.
View Photos, Read Reviews & Check Availability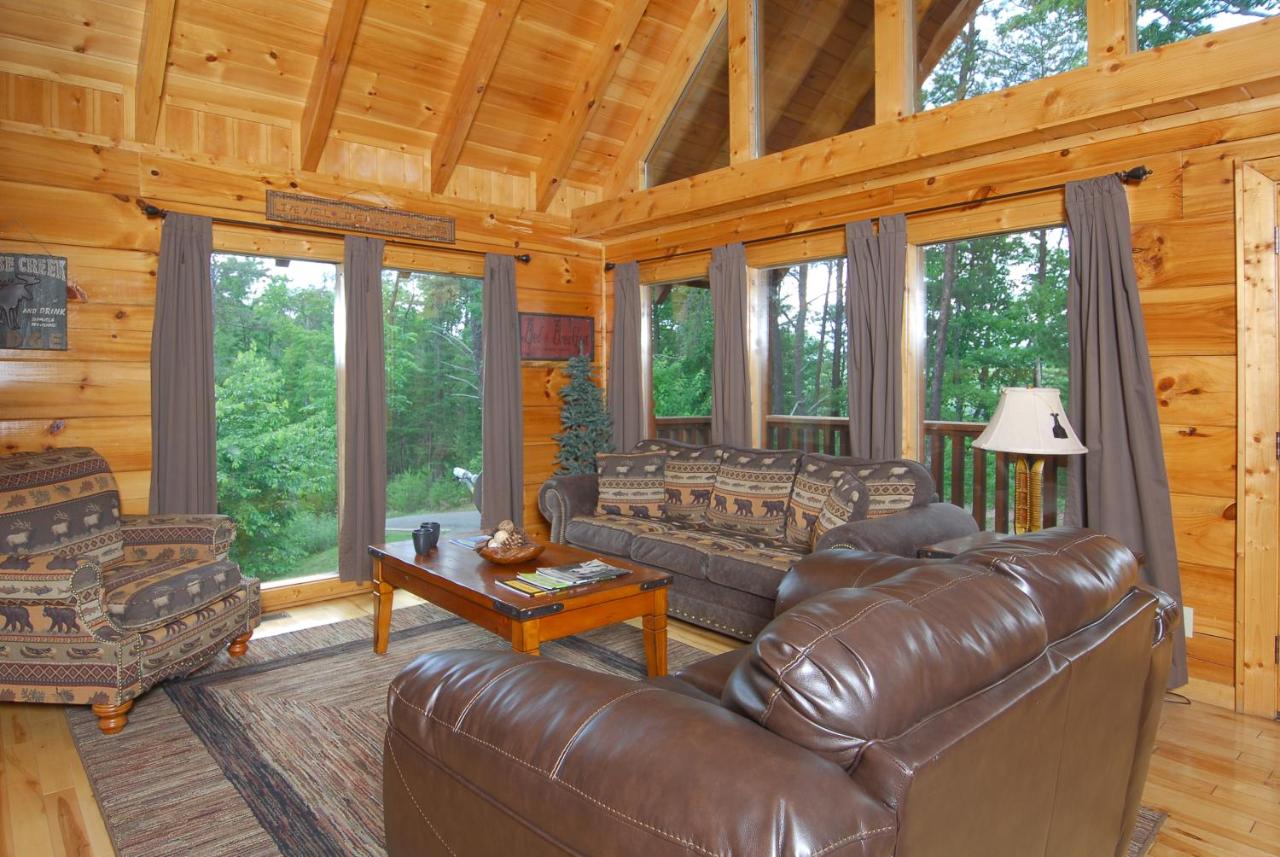 ---
5) Creekside Lodge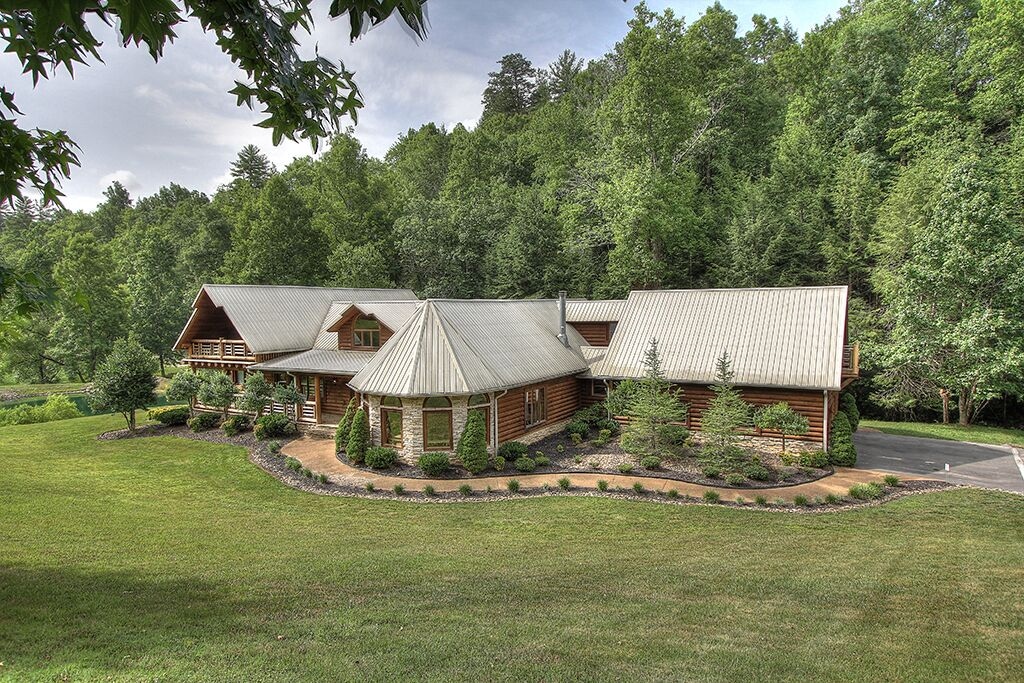 Where: Pigeon Forge, Tennessee
Price: $930+ USD per night
Creekside Lodge has a lovely fairytale aesthetic with its octagonal dining room and opulent wood interior. It's close to the Smokies National Park so guests have access to hiking trails and horseback riding.
The house boasts six bedrooms and can sleep up to 18 people. A massive stone-stacked fireplace sits in the living room, where you can kick back and relax on the comfy leather couches.
Kids can battle it out on the video arcade system in the game room, which also has an arcade racing game, air hockey, football, billiards, ping pong table, and shuffleboard. While the kids take each other on, parents can team up for a cooking competition in the gourmet kitchen.
Amongst the cabin's many luxurious features is a hot tub, high-speed WiFi, and an outside fire pit. Since the place is a part of the Cedar Falls Resort, guests also have access to the resort's swimming pool, fishing pond, children's playground, picnic pavilion, and chapel.
View Photos, Read Reviews & Check Availability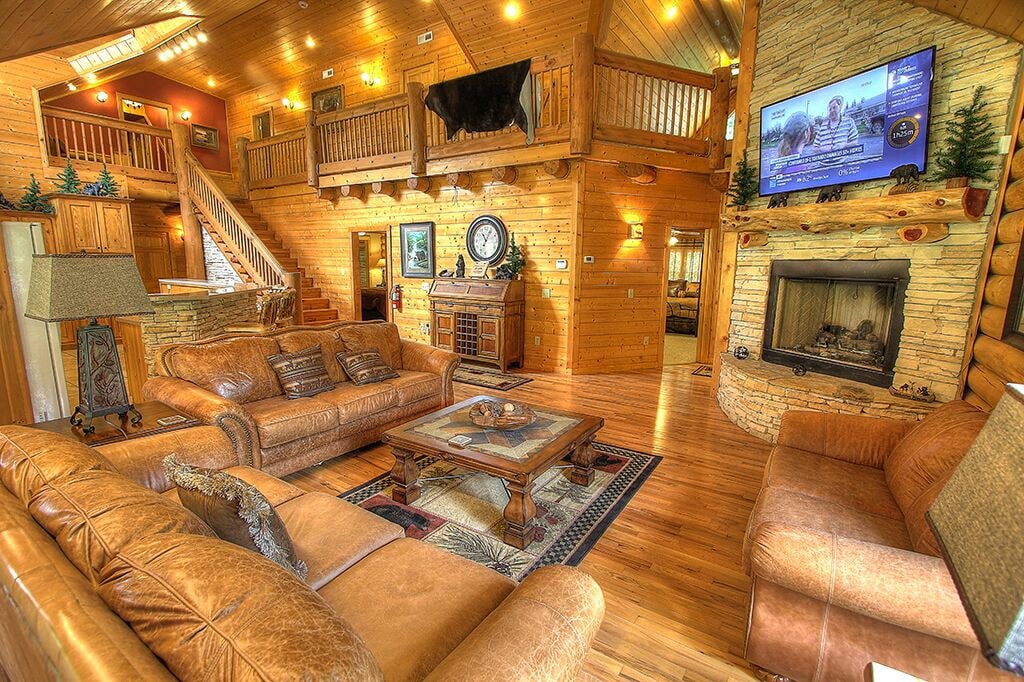 ---
6) Living The Dream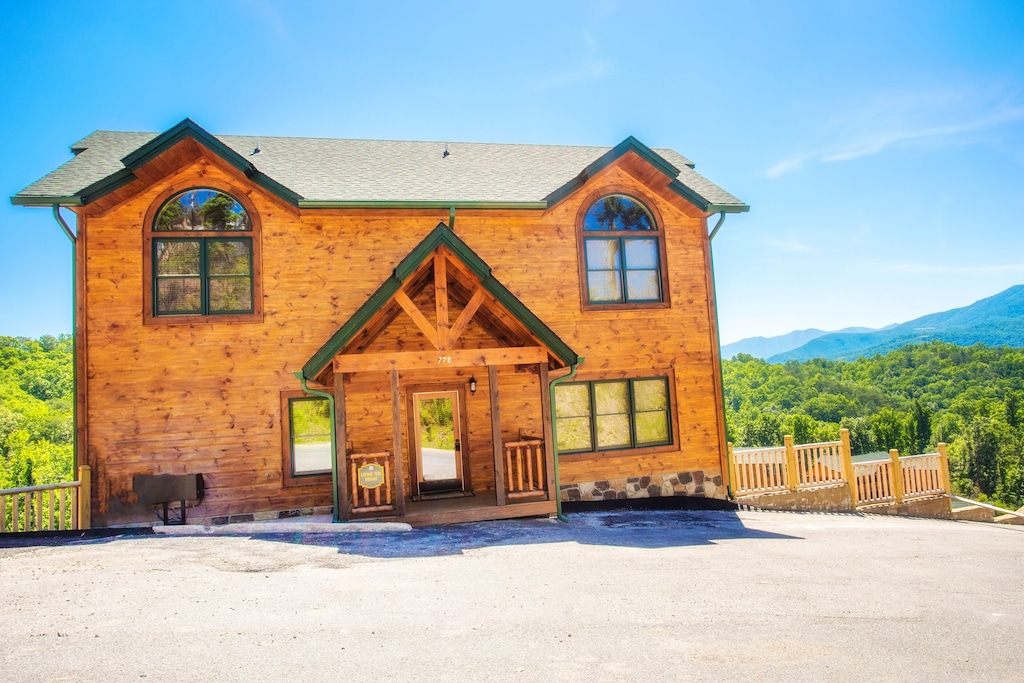 Where: Gatlinburg, Tennessee
Price: $947+ USD per night
A luxurious cabin that can sleep up to 16 people, Living The Dream is a five-bedroom accommodation at Gatlinburg Falls Resort. It's located near the top of the resort, providing excellent views.
The cabin is spacious and boasts state-of-the-art furnishings and decor. It offers five king bedroom suites and each suite has its own fireplace and adjoining bathroom. Up to fourteen people can indulge in delicious meals together at the massive dining room table.
Guests also have access to the resort's swimming pool. If the pool isn't your scene, gaze at the sunset from the hot tub on the deck. The game room has plenty to offer with digital pinball, a four-player Madden Arcade, more arcade-style games, and shuffleboard.
View Photos, Read Reviews & Check Availability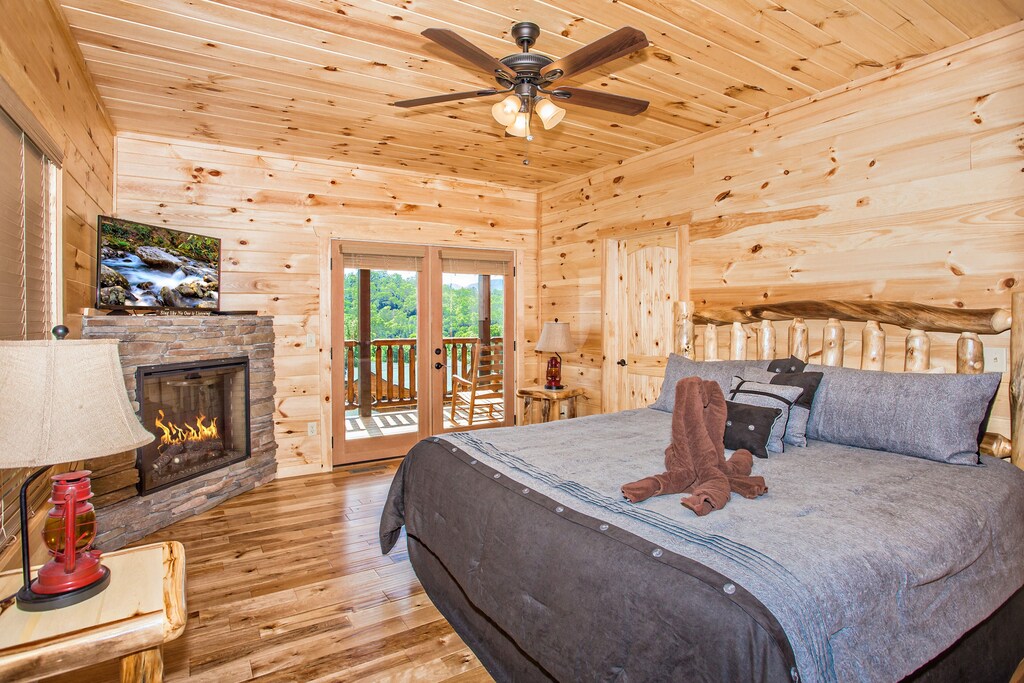 ---
7) Skyline Cabin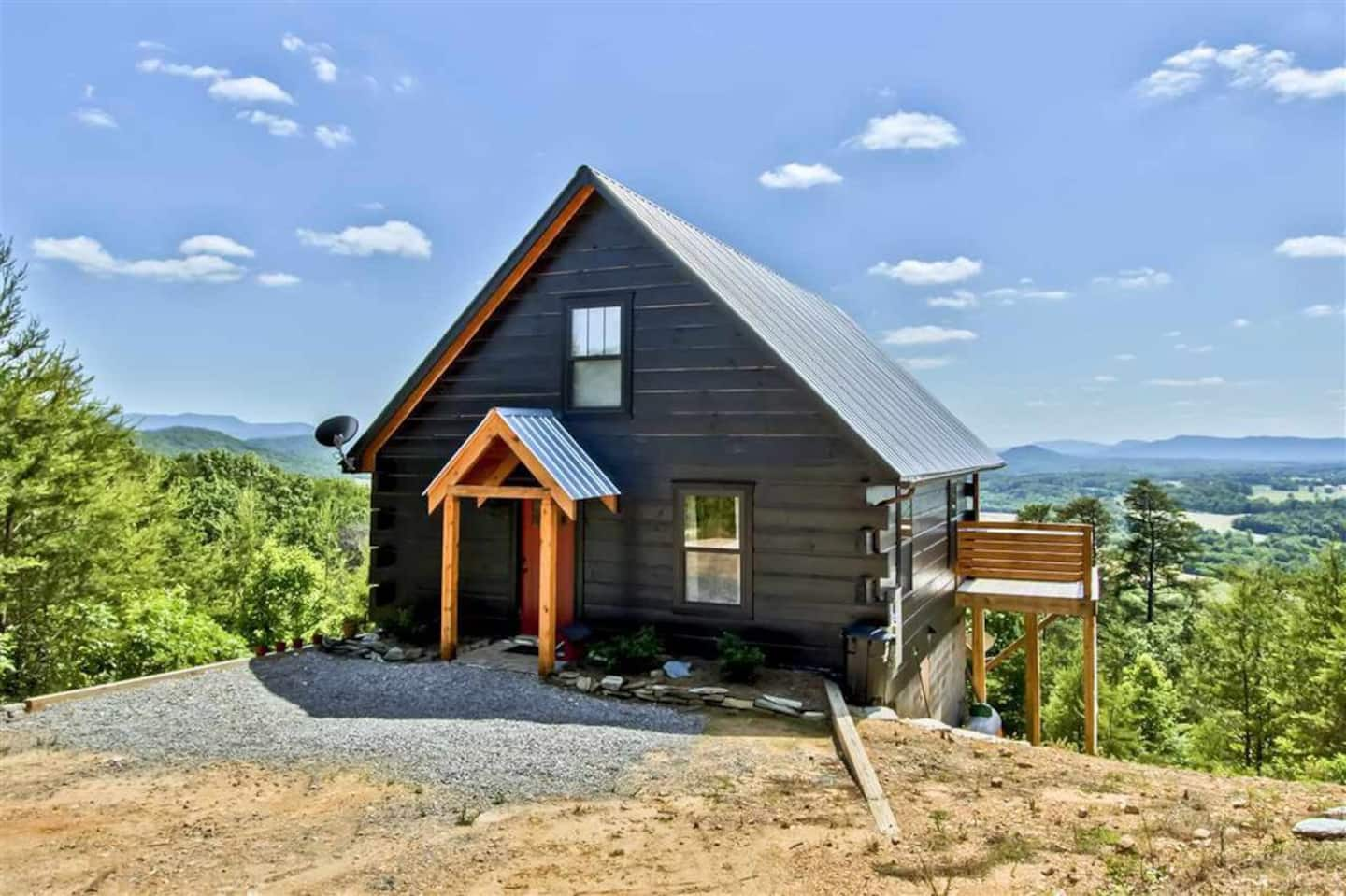 Where: Tellico Plains, Tennessee
Price: $170+ USD per night
https://www.airbnb.com/rooms/44087370
Skyline Cabin is a two-bedroom accommodation offering some of the best 180-degree views in Tennessee. The cabin has a wide-open deck and an open floor plan with large, towering windows so you can spend hours enjoying the view.
It's located in one of the best spots with the Tellico River and town only three miles away. Other nearby places include Creek Falls, The Lost Sea, and Savannah Oaks Winery.
A Wi-Fi-enabled smart TV is available, so you won't miss out on new episodes of your favorite show. The deck is a perfect spot to admire the sunset from the hot tub or heat the charcoal grill for dinner.
With a dedicated workspace, you can attend meetings and stay up to date with your team while enjoying remote working. Or, remember that novel you've been putting off for years? Now's the time to start writing it! What better place to work on a fictional universe than a cabin in the woods?
View Photos, Read Reviews & Check Availability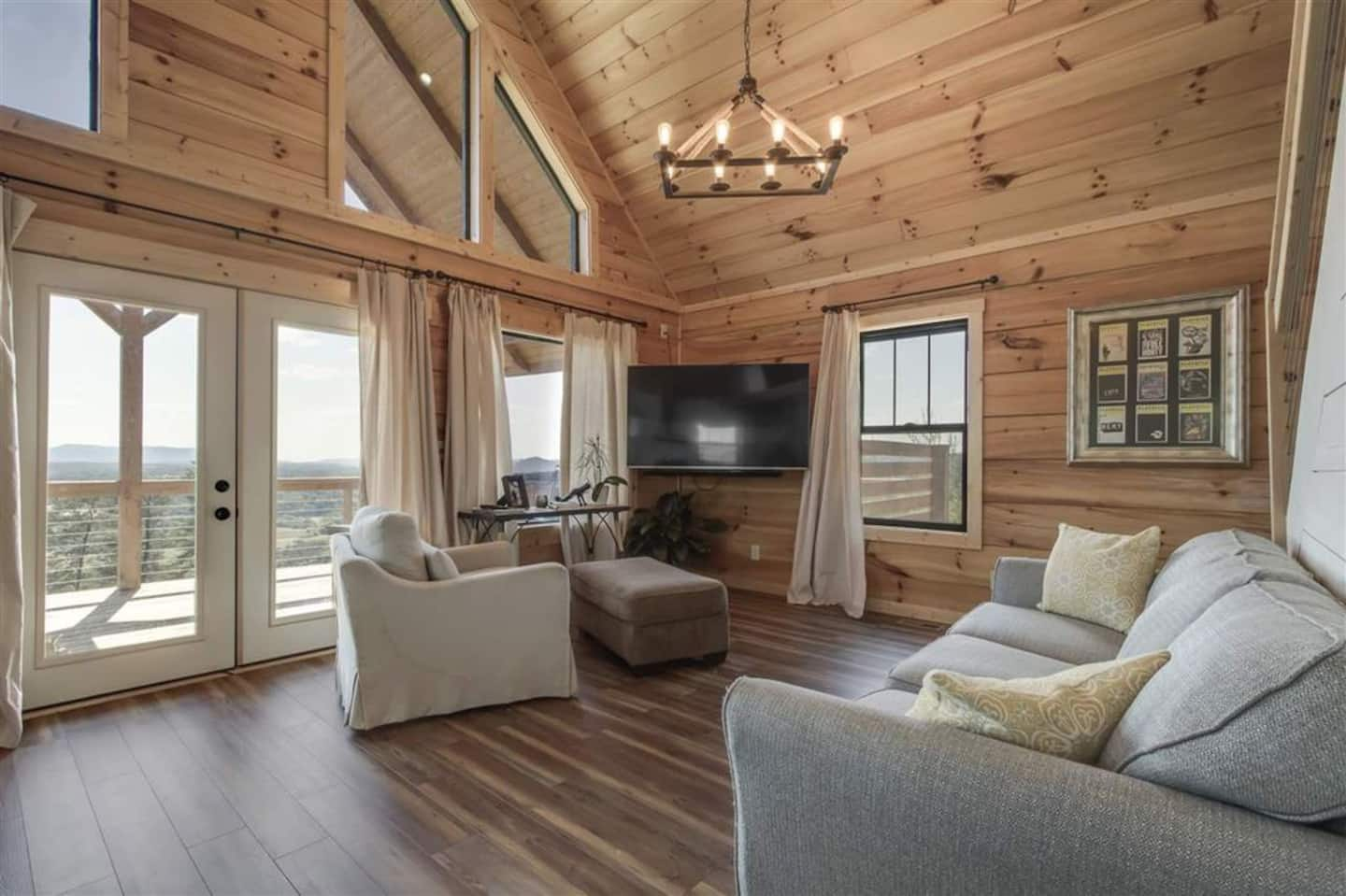 ---
8) Secluded Cabin Near Nashville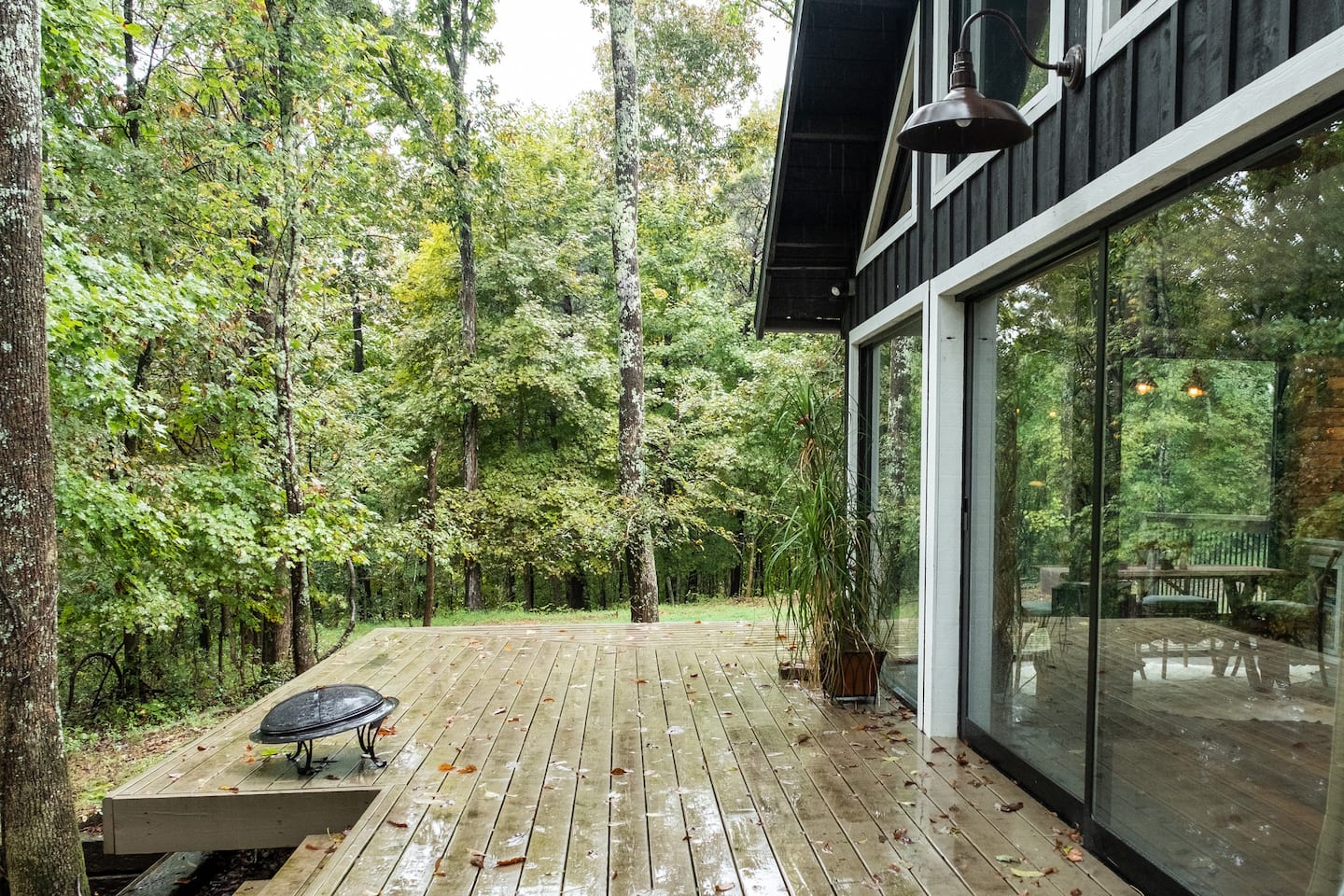 Where: Goodlettsville, Tennessee
Price: $190+ USD per night
https://www.airbnb.com/rooms/plus/11074483
This cabin near Nashville offers seclusion with lots of nature. The floor-to-ceiling windows allow for a 180-degree view of the forest. You'll feel like you've been tucked away in a cabin from the movies.
The cabin is impressively made from reclaimed materials. It has a vintage style and open floor plan with clean and spacious rooms. The living room area is fitted with a TV, sound system, and terrace where you can spend hours breathing in the fresh forest air.
The fully furnished kitchen has a contemporary, rustic aesthetic with a stove, double oven, fridge, dishwasher, and coffee maker. With two bedrooms, the cabin is perfect for a family of four or a couple's retreat.
View Photos, Read Reviews & Check Availability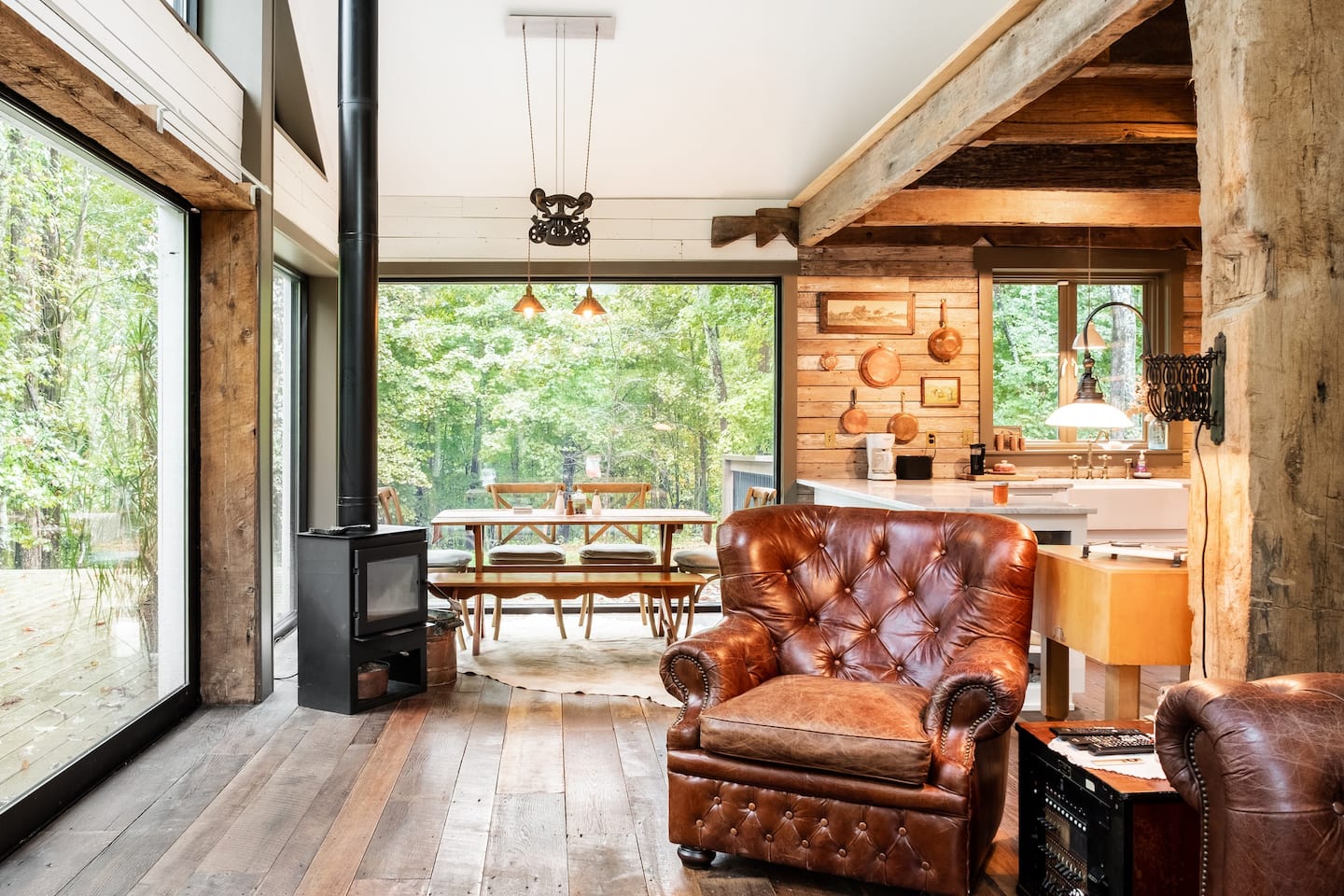 ---
9) Smoky Mountain Splash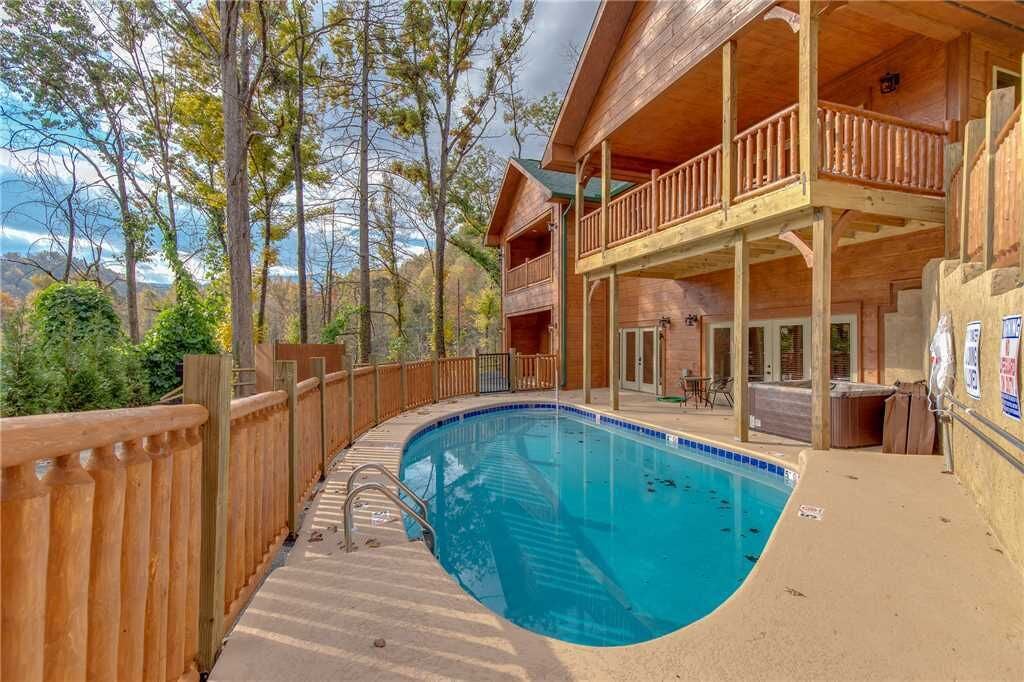 Where: Gatlinburg, Tennessee
Price: $650+ USD per night
Another huge Gatlinburg cabin rental, but one-bedroom smaller and hundreds of dollars cheaper than the Bear Paw Lodge, is this six-bedroom accommodation.
The name speaks for itself. Smoky Mountain Splash is a massive cabin located on the outskirts of the National Park with a huge swimming pool on the lower deck. Enjoy the incredible view while splashing around in the water, or opt for the hot tub during winter.
Spend your days on the upper deck sipping coffee as you watch the sun's golden rays penetrate the woods.
The gourmet kitchen has two stoves with ovens, two refrigerators, and two microwaves to cater to the big crowd. Indulge in delicious meals with your group on the harvest table and take full advantage of the game room with its pool table, foosball, and multiple board games.
For more adventure, round up your circle for zip lining at the Anakeesta theme park, where you can also ascend and descend a 600-foot mountain on a gondola.
View Photos, Read Reviews & Check Availability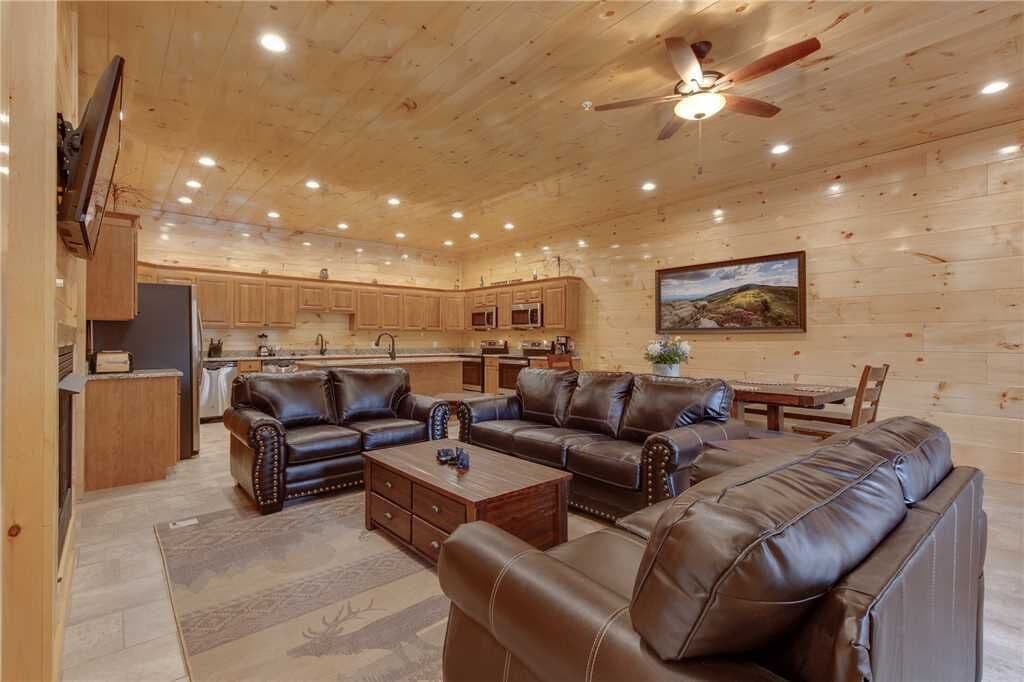 ---
10) Lodge of Gatlinburg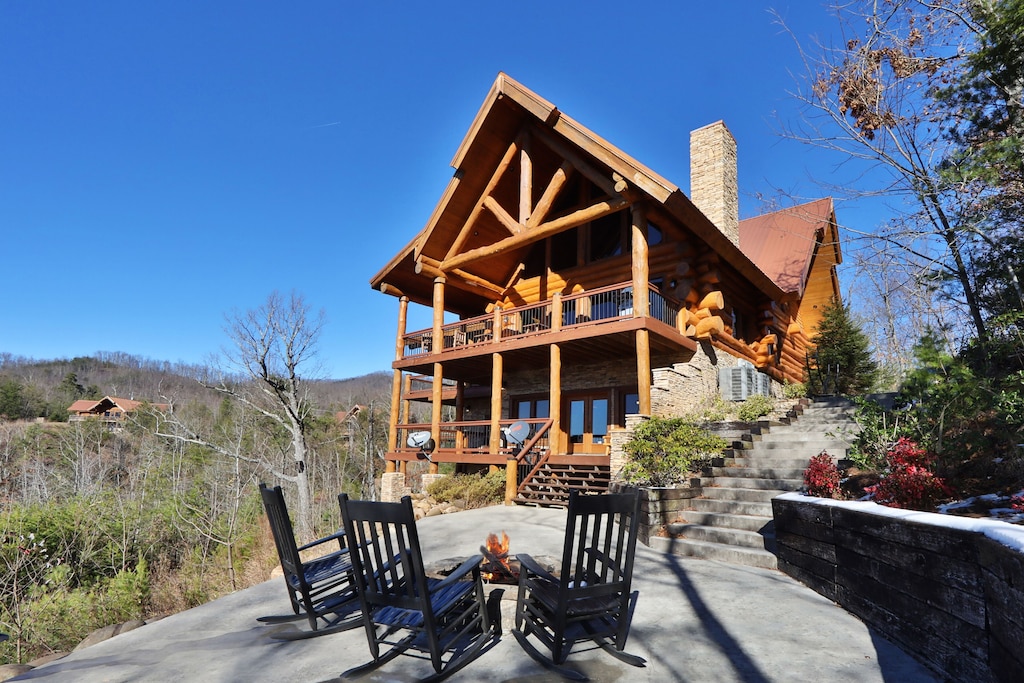 Where: Pittman Center, Tennessee
Price: $1,140+ USD per night
Most of Gatlinburg's cabin rentals provide unobstructed mountain views, and this cabin is no exception. Named the Lodge of Gatlinburg, it's a six-bedroom luxury accommodation situated near the National Park and the Little Pigeon River.
An abundance of thrilling activities like hiking trails, kayaking, white water rafting, tubing, and swimming are available nearby for adventure seekers.
Unwind in the outdoor hot tub, brush up on your pool table skills, or watch a game on the 65-inch flat-screen TV. And if you don't like to skip leg days, tone your muscles with the available workout equipment.
View Photos, Read Reviews & Check Availability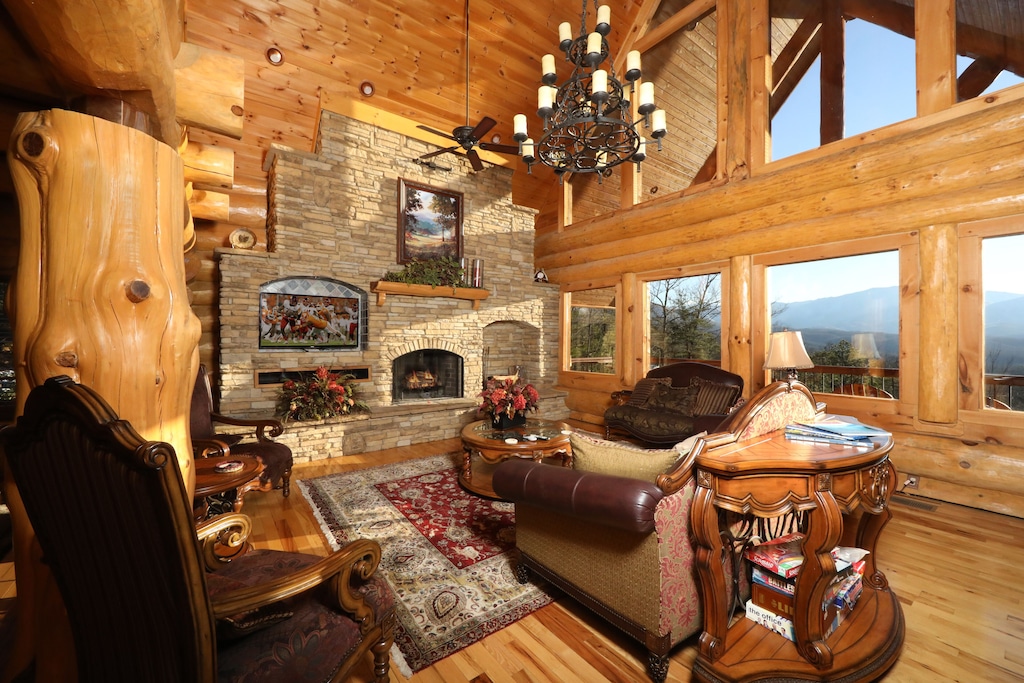 ---
11) Gatlinburg Mansion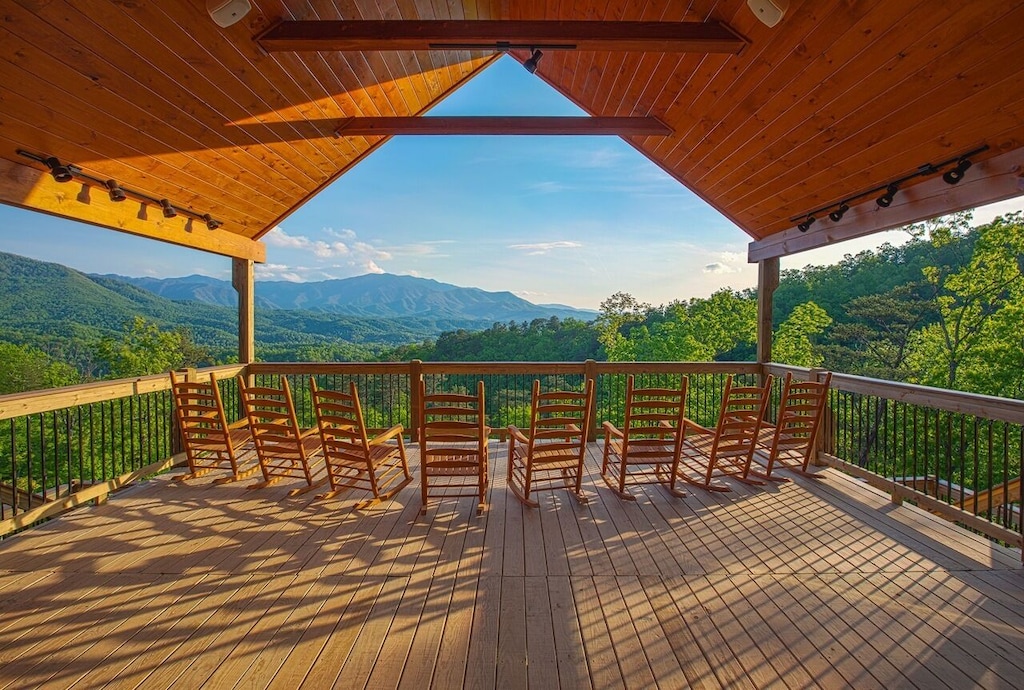 Where: Pittman Center, Tennessee
Price: $1,900+ USD per night
https://www.vrbo.com/3484046ha
Are you a big family? Or a huge gang of friends? Then this luxurious, fourteen-bedroom mansion-cabin might be the ideal mountain retreat for you. It can accommodate up to 44 people!
The massive cabin is three stories tall with huge windows to allow for ample natural light. The main level deck holds million-dollar views of the Smoky Mountain peaks and forests.
Do you know what happens when a big group of family or friends get together for game night? Chaotic fun! Let there be complete mayhem as the quiet cabin turns into a madhouse over a game of pool, foosball, air hockey, and arcade games.
All that strategizing, teaming up, and fighting over lost points sure will be tiring. Loosen up tense muscles in the hot tub or gather the teams to watch a movie on the 15-foot screen in the home theater. The surround sound amplifies the experience.
The cabin further outdoes itself with three balconies, rocking chairs, books for all ages, a fully furnished kitchen with sophisticated kitchenware, and a spa whirlpool.
View Photos, Read Reviews & Check Availability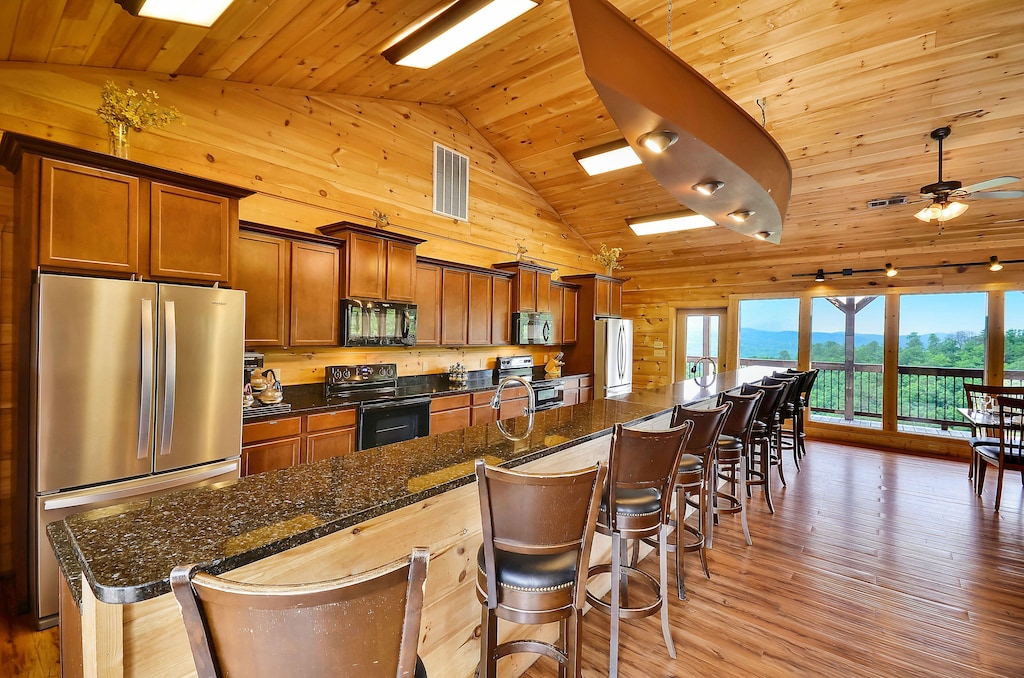 ---
THANKS FOR READING THIS LIST OF MY FAVORITE LUXURY CABINS IN TENNESSEE!
SHARE THIS LIST WITH YOUR FAMILY & FRIENDS SO YOU CAN BEGIN YOUR CABIN GETAWAY TODAY!
https://www.jonesaroundtheworld.com/wp-content/uploads/2021/07/Heavens-Cabins-Tennessee-.jpg
683
1024
TravelTractionsJATW
https://www.jonesaroundtheworld.com/wp-content/uploads/2017/03/logotry-1-1-300x106.png
TravelTractionsJATW
2021-07-28 18:26:44
2022-06-30 16:04:20
Top 11 Luxury Cabins in Tennessee – Gatlinburg & Beyond