Planning a nature-filled Glamping Tennessee trip? The mountains are calling and I have put together a list of the best and most unique luxury camping spots for a memorable stay across this wondrous destination!
Tennessee is a nature lover's paradise, and it's home to some of the coolest glamping spots. From hiking, camping and cycling, you won't run out of options to take advantage of its beautiful landscapes.
The cities in Tennessee encapsulate Southern charm and many people visit for its rich music culture. If you have stayed in a Nashville Airbnb you will be aware that it is known as the 'Music City'. It also hosts the CMA Music Festival, one of the largest country music festivals in the world.
The beauty of the Great Smoky Mountains attracts outdoor enthusiasts and carries the title of most visited National Park year on year. The mountain range treats you to spectacular views, waterfalls and roaming wildlife.
There's no better place to stay than nestled in nature in a unique treehouse, dome or campervan. So take your pick below and make your glamping trip to Tennessee a reality!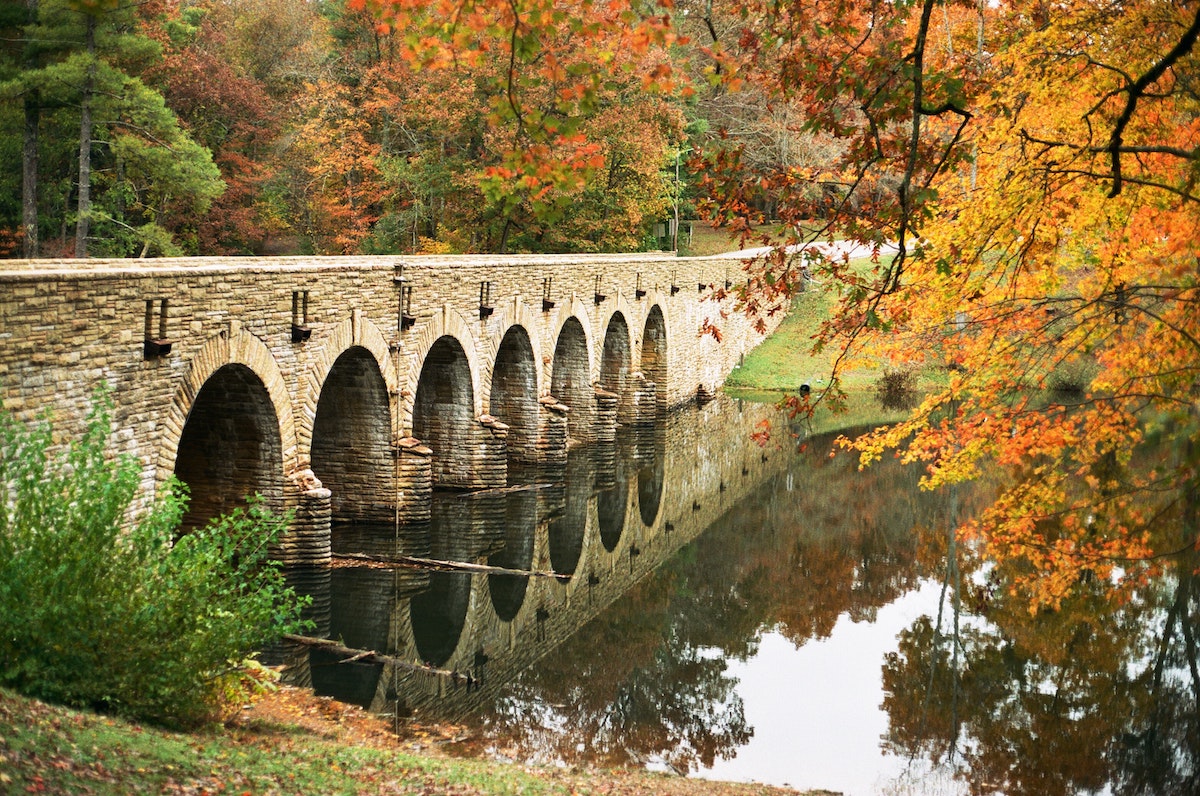 ---
Quick Breakdown of the Best Glamping Tennessee Spots
Here are my top picks for the best and most unique glamping Tennessee spots. Take your pick of what suits you best!
I've included some great videos throughout the post to give you a taste of the beauty you will be immersing yourself in when glamping Tennessee. Take a look and get excited!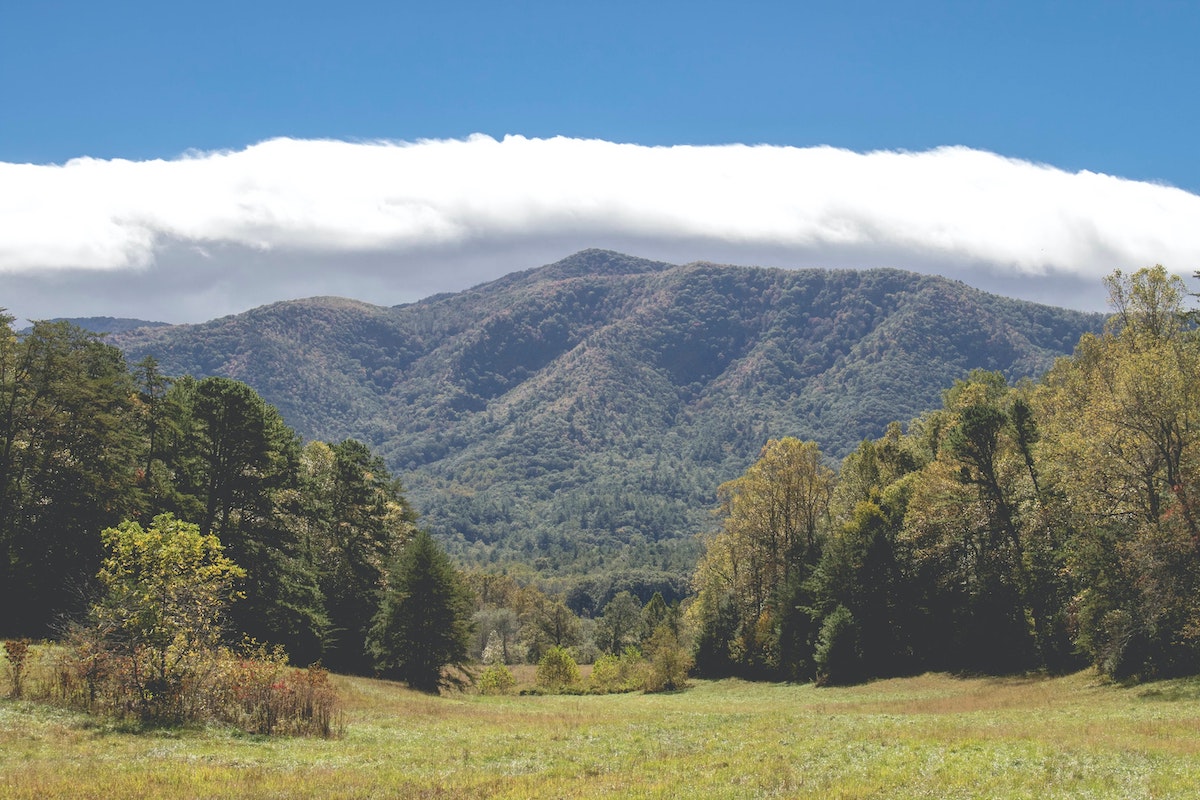 ---
Best Glamping in Tennessee – Fantastic Accommodation Options
Let's dive straight into our list of glamping spots immersed in nature. From luxury to rustic, and everything in-between, you will find a variety of options to suit all budgets and preferences.
---
1) Canopy Ridge Safari Tent 3
Best Glamping Yurt in Tennessee (Great Smoky Mountains)
Location: Pigeon Forge
Price: $149+ USD per night
https://www.airbnb.com/rooms/24853829
Canopy Ridge tents are a great way to experience nature in modern comfort and are my top pick for an authentic glamping experience. Choose from four different tent sizes and bathroom options. Each tent is elevated off the ground to ensure you are 'roughing it' in style.
You will also have your very own outdoor fire pit and tents are spaced out well to ensure maximum privacy. Situated within the Great Smoky Mountains you will be able to take advantage of exploring this beautiful National Park during the day.
View Photos, Read Reviews & Check Availability
Guest Review: "Most beautiful two nights up in the heart of nature! Tent was spacious and had everything you need for a night in the woods. So beautiful. Falling asleep to the sounds of nature is something everyone should do and I recommend you stay here to experience it."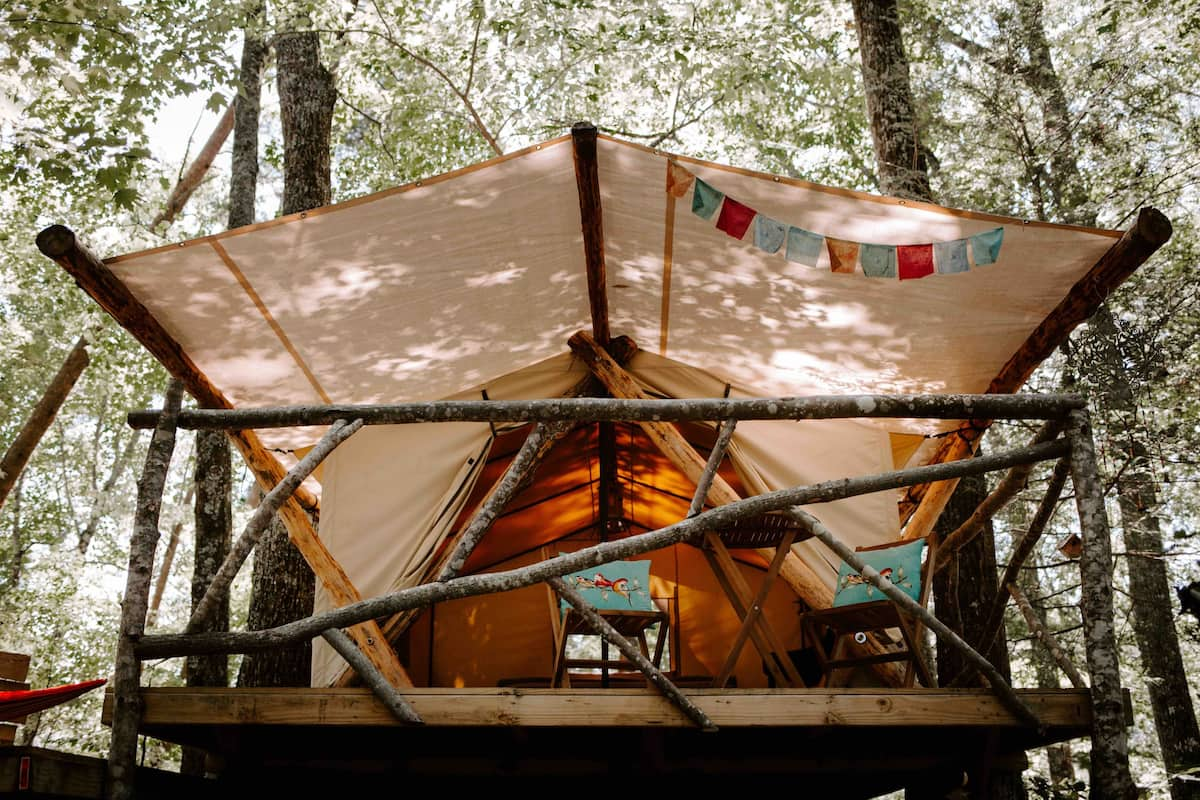 ---
2) Dreamy Tiny House Cottage: Most Wish-Listed Airbnb in Tennessee
Best Unique Glamping Nashville Tennessee
Location: Nashville
Price: $105+ USD per night
https://www.airbnb.com/rooms/plus/6247676
This tiny house is cute, compact and absolutely perfect. It's the most wish-listed Airbnb in Tennessee and has been featured in Travel+Leisure and USA Today among others. The interior is charming and cleverly thought out given the small space.
Modern appliances and vintage cabinets make for the perfect mix of old and new. You'll be comfy in the queen-sized bed in the loft and be able to cook in the kitchenette. Do not miss a fairytale getaway at this charming spot.
View Photos, Read Reviews & Check Availability
Guest Review: "What a great place to stay, everything was arranged in the tiny home to get the most out of the space and the bed was incredibly comfortable. The location is very close to everything in Nashville and downtown, but you feel secluded in the lush backyard environment."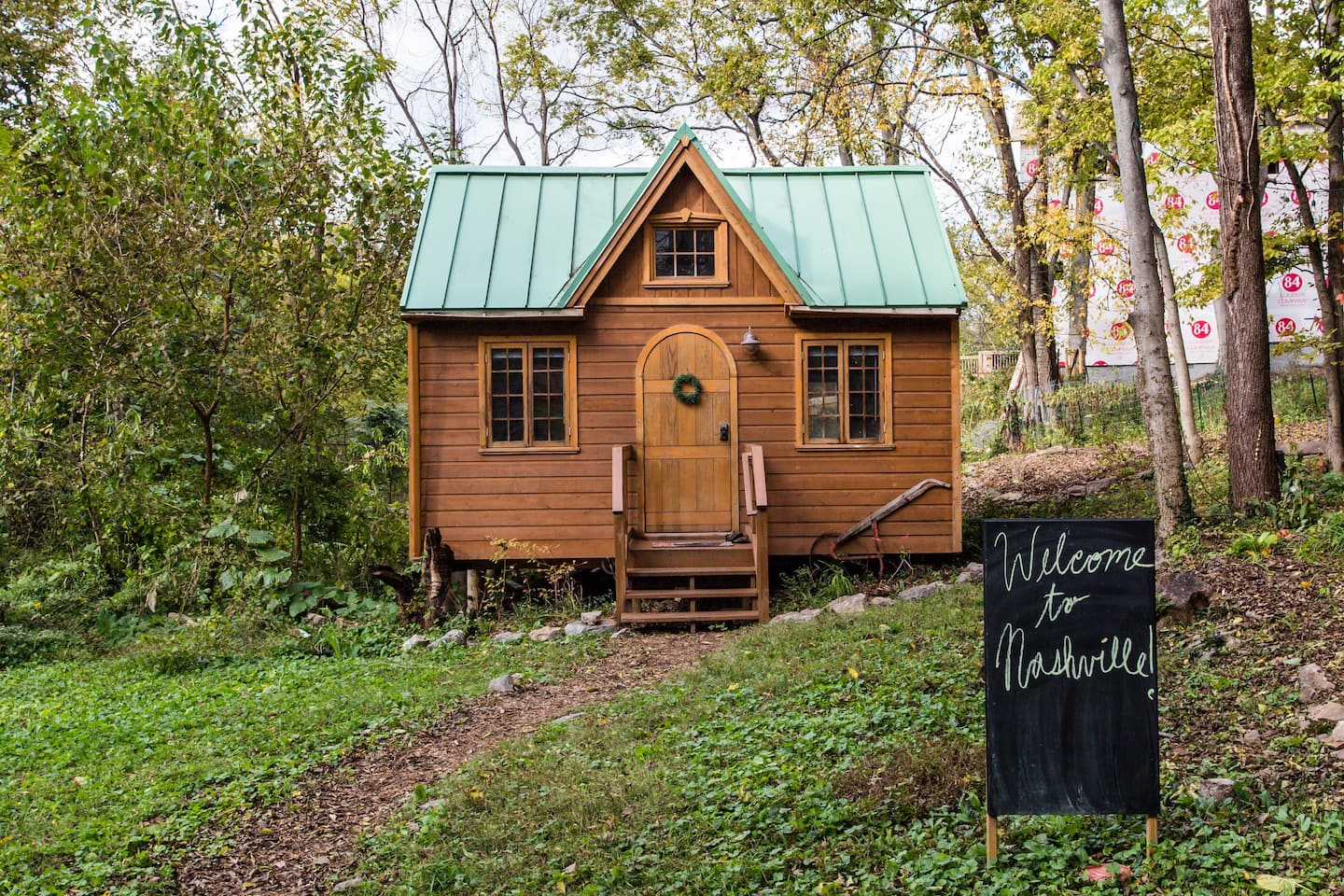 ---
3) The Bostonian
Best Treehouse Camping Tennessee
Location: Johnson City
Price: $130+ USD per night
https://www.airbnb.com/rooms/36447849
This treehouse accommodation encapsulates a truly unique getaway experience. Nestled among the trees, next to an abandoned rock quarry pond, this charming treehouse is situated on a secluded 34 acres of land.
Relax on the porch with a good book, overlooking the pond. And in the evenings cozy up in the simple yet beautifully furnished interior. Trade-in TV and WiFi for roasting marshmallows and stargazing at this magical location.
View Photos, Read Reviews & Check Availability
Guest Review: "This place is absolutely charming. Touchless check-in/check-out could not be easier. Host is prompt in responding. The tree house is so quaint, and the grounds are so lovely. Thanks for an enchanting experience."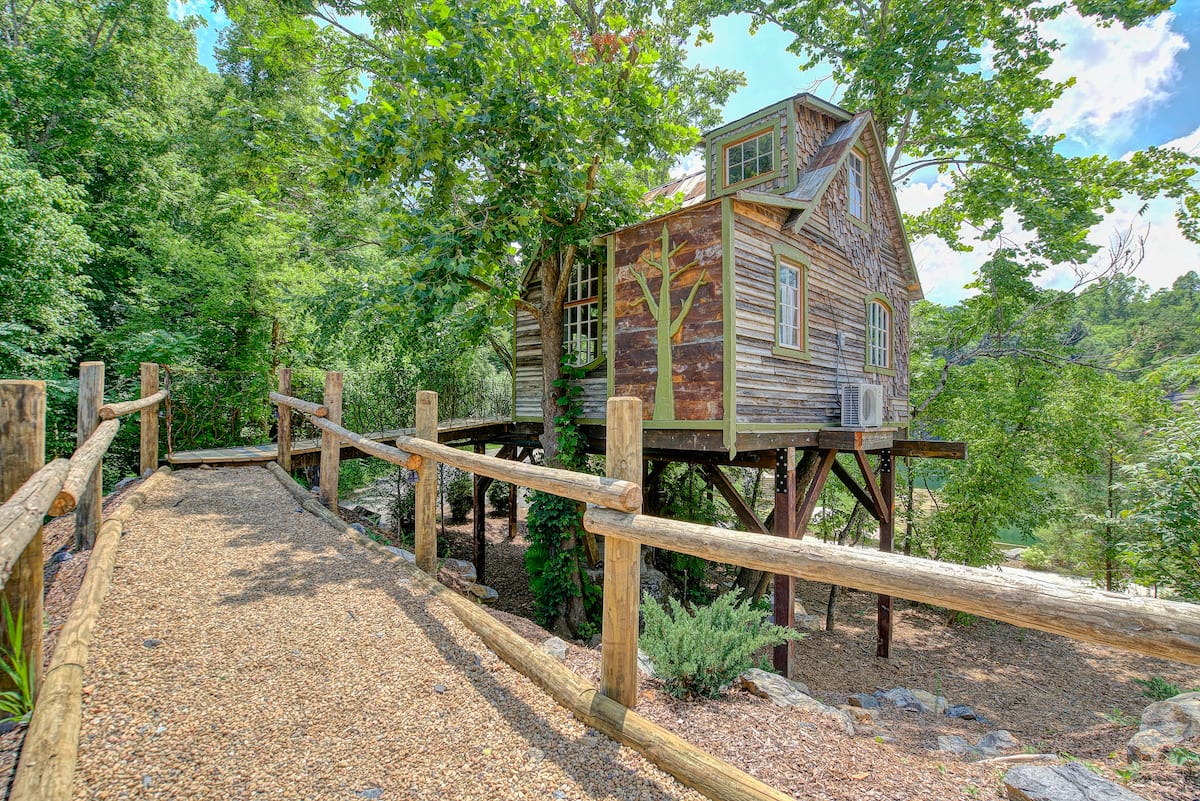 ---
4) The Double Bell
Best Affordable Yurt Rental Tennessee
Location: Morrison
Price: $75+ USD per night
https://www.airbnb.com/rooms/34470123
This yurt will give you the real-deal glamping experience at an affordable price without compromising on quality. You will feel as though you have stepped into a fairytale as you walked down the lit-up path to your yurt.
And the fairytale doesn't end here. There is an abundance of outdoor activities on the property to keep you entertained during the day. After your hiking or fishing adventures, relax in one of the oversized rustic baths. This tent is perfect for a family trip, as it has 3 beds. The shared community center also has a kids area, kitchen and bar area (BYOB) meaning you will never have to leave this secluded oasis.
View Photos, Read Reviews & Check Availability
Guest Review: "Home away from home! Such a beautiful place. They do everything to make you feel at home and fulfill your needs. Can't wait to come back!"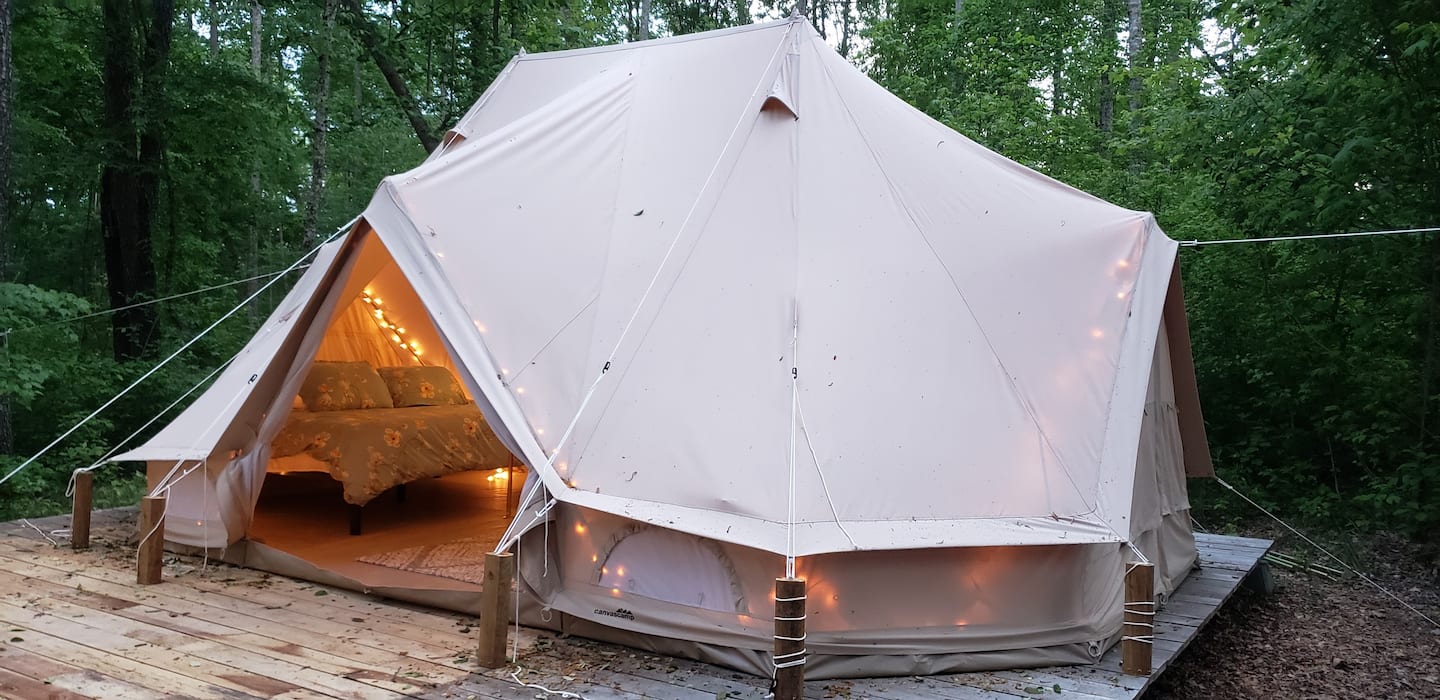 ---
5) Camp G.R.I.T.S Camper
Best Cheap Glamping in Tennessee
Location: Cosby
Price: $62+ USD per night
https://www.airbnb.com/rooms/3482377
If you are looking for a simple, rustic glamping experience with all the comforts then this camper won't let you down. This is one of the most affordable glamping options in Tennessee and makes for great camping near Smoky Mountains.
Perfect for two people in search of tranquility and seclusion, the campervan is situated right in the middle of a forest of gum trees. You'll be given fresh farm eggs and homemade bread on arrival for you to cook up a delicious farm breakfast the next morning.
View Photos, Read Reviews & Check Availability
Guest Review: "We loved the bonanza jellybean! It was a perfect stay in the woods. Appreciated the provided amenities. We really loved the milk, eggs, and bread that were left for us! Would definitely stay here again."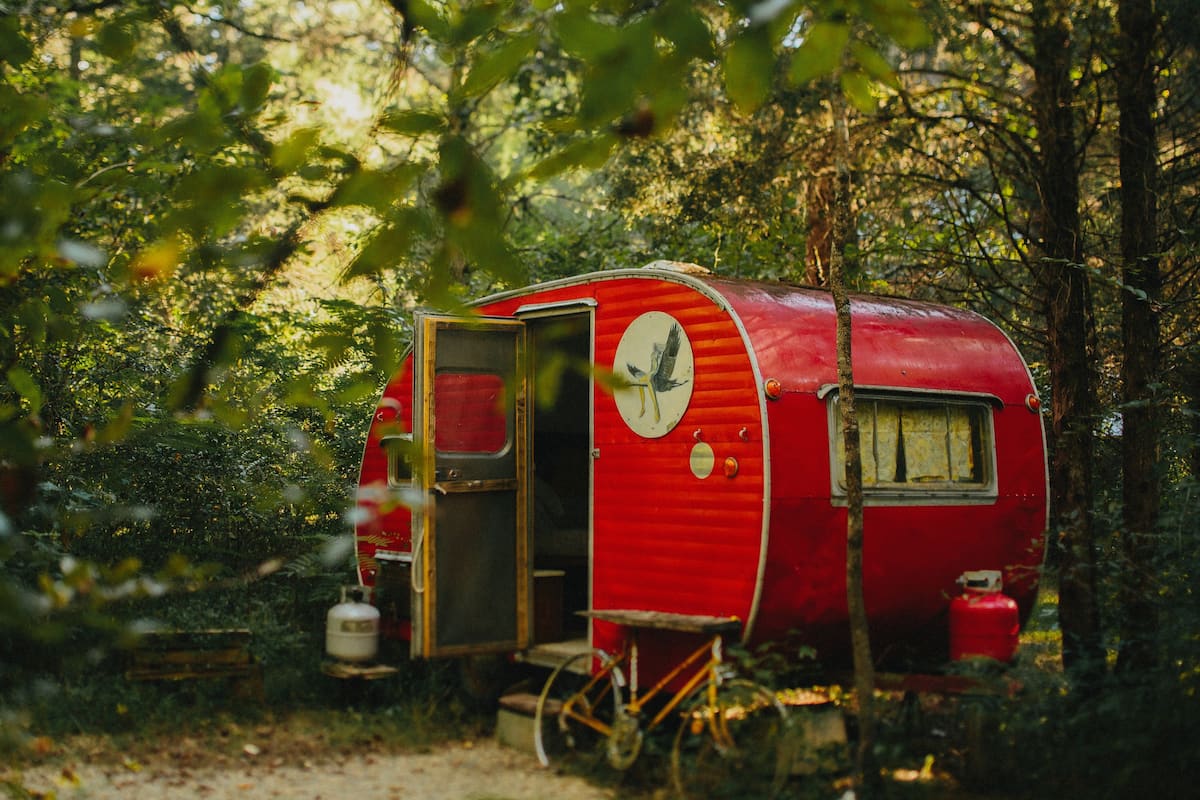 ---
6) Dreamy Vintage Trailer at No.9 Farms
Location: Ashland City
Price: $206+ USD per night
https://www.airbnb.com/rooms/20565816
This magnificently restored vintage camper is the ultimate glamping experience. This camper is situated in a wooded area and adorned in fairy lights, making for a whimsical setting. This spot is perfect for a couple wanting to get away from the busyness of the city and relax.
With an outdoor bathhouse, cozy sleeping arrangement, kitchen and fire pit you really won't have to leave your secluded paradise. If you are up for a bit of an adventure, explore the creek and woods around the farm and be sure to pick up some fresh farm produce on your way back!
View Photos, Read Reviews & Check Availability
Guest Review: "Would definitely come back to this little slice of heaven! It was perfectly located close enough to town but secluded away. Brian was extremely communicative and helpful and the stay itself was amazing. The RV decor was so cool, glamping at its finest!"
Best Day Hikes in the Smokies (Alum Cave Trail to the LeConte Lodge)
---
7) Tennessee Glamping at Deer Park
Location: Dunlap
Price: $148+ USD per night
https://www.airbnb.com/rooms/21239789
Stellar reviews from Airbnb users give this glamping spot a deserving all-around 5-star rating. This tiny treehouse is cozy and comfortable and the perfect Tennessee camping cabin. It is close to great hiking trails should you feel like a day out. If not, spend the day playing board games or grab a book and relax around the fire pit.
A newly added outdoor theatre available from March – December adds an extra dimension to your glamping experience. Make some s'mores and cozy up in a hammock chair to watch a movie in a fairy-lit theatre.
View Photos, Read Reviews & Check Availability
Guest Review: "It was a wonderfully quiet and restful place to stay! The cabin was cozy, the lights and fire were welcoming and romantic. And we love to cook campfire meals so that suited us fine!"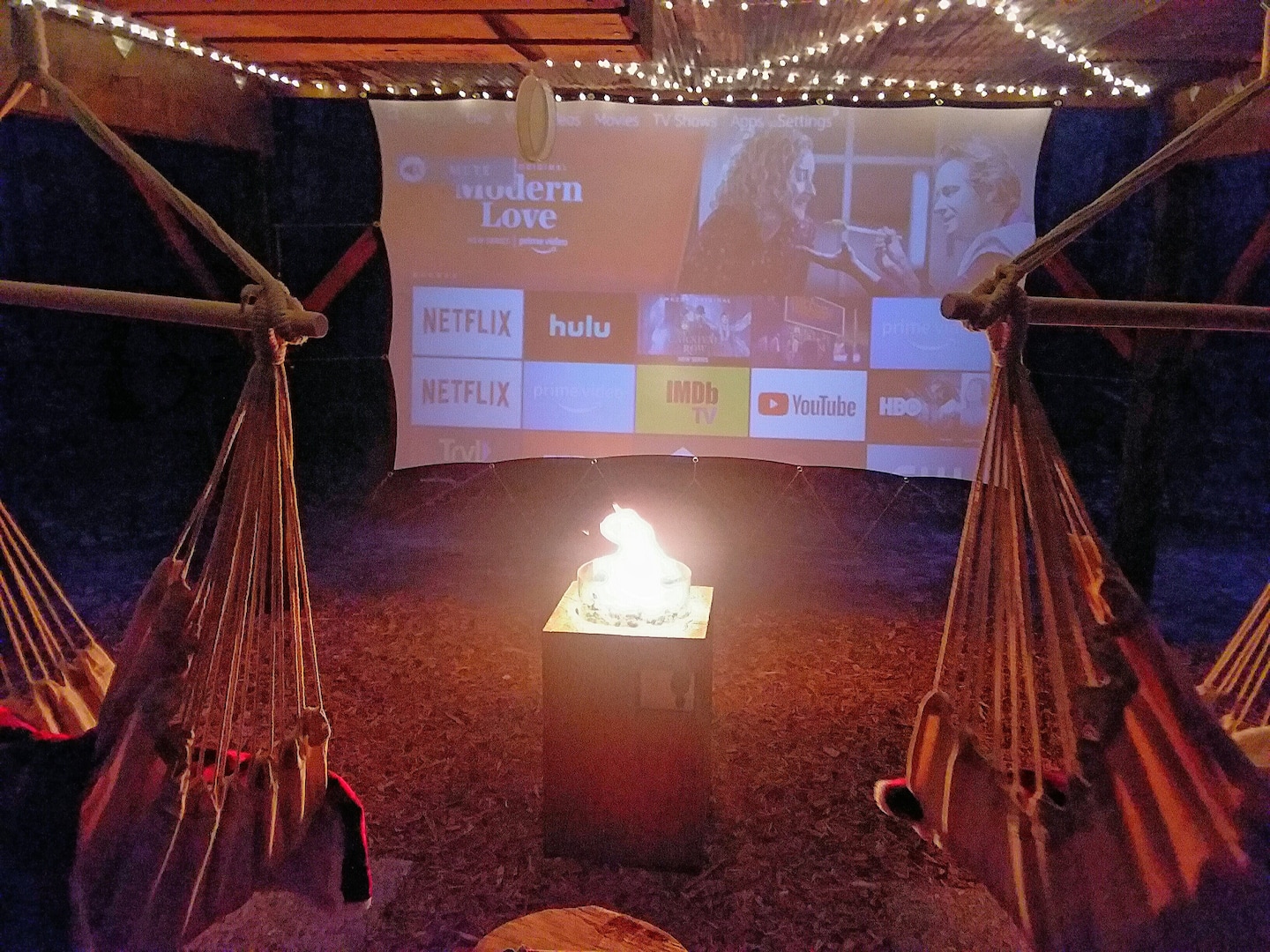 ---
8) Dogs Stay Free! Treehouse Stamish Castle
Location: Copperhill
Price: $219+ USD per night
https://www.airbnb.com/rooms/36025522
Accessing this treehouse via a suspension bridge creates an authentic treetop living experience. Located in the heart of the woods enjoy spectacular views of the forest from every direction. This magical spot comfortably sleeps four and you are encouraged to bring your dog along on the trip!
Freely explore the 30 acres of wooded land which is home to creeks and ponds. In the evenings, relax around the fire together. This idyllic treehouse is the perfect wooded fairytale accommodation.
View Photos, Read Reviews & Check Availability
Guest Review: "Magical. Whimsical. Just book it. It's as magical in person as it is in the pictures. The fire pit being all set up was one of the hidden touches that we loved so much."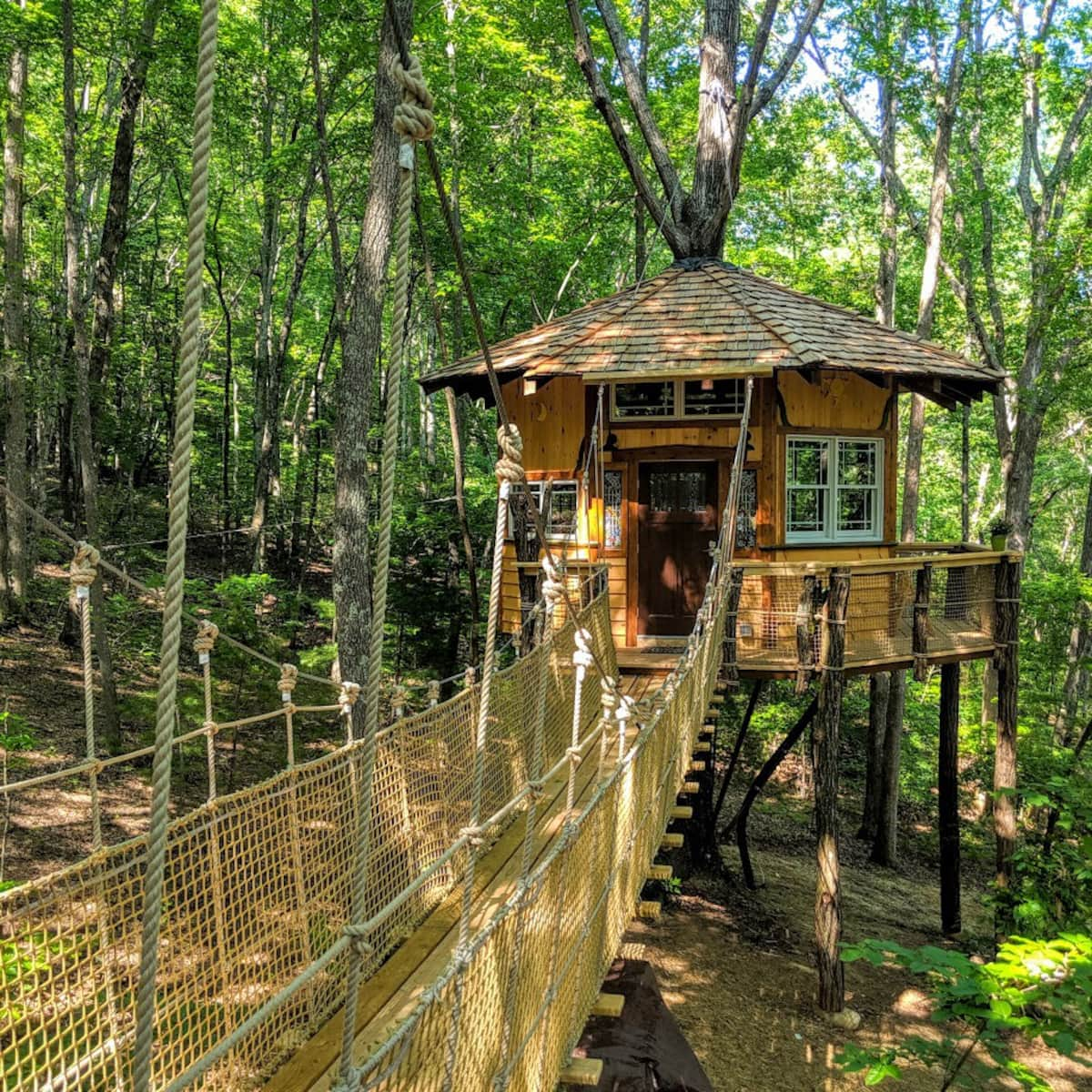 ---
9) Smoky Mountains Glamping Dome #1
Location: Sevierville
Price: $103+ USD per night
https://www.airbnb.com/rooms/37934907
Enjoy a truly unique camping experience in this glamping dome in the Smoky Mountains. The domes are furnished with comfortable queen-sized beds for a sound night of sleep. Watch the night sky through the four skylights from the comfort of your bed. And since these interesting spaces are equipped with aircon, you don't need to worry about getting too hot. Explore Tennessee by day and in the evenings relax on your porch eating s'mores before bed.
View Photos, Read Reviews & Check Availability
Guest Review: "Great stay! We loved the personal touches and the amazing amenities. Loved the heated outdoor shower, fire pit, and cozy dome."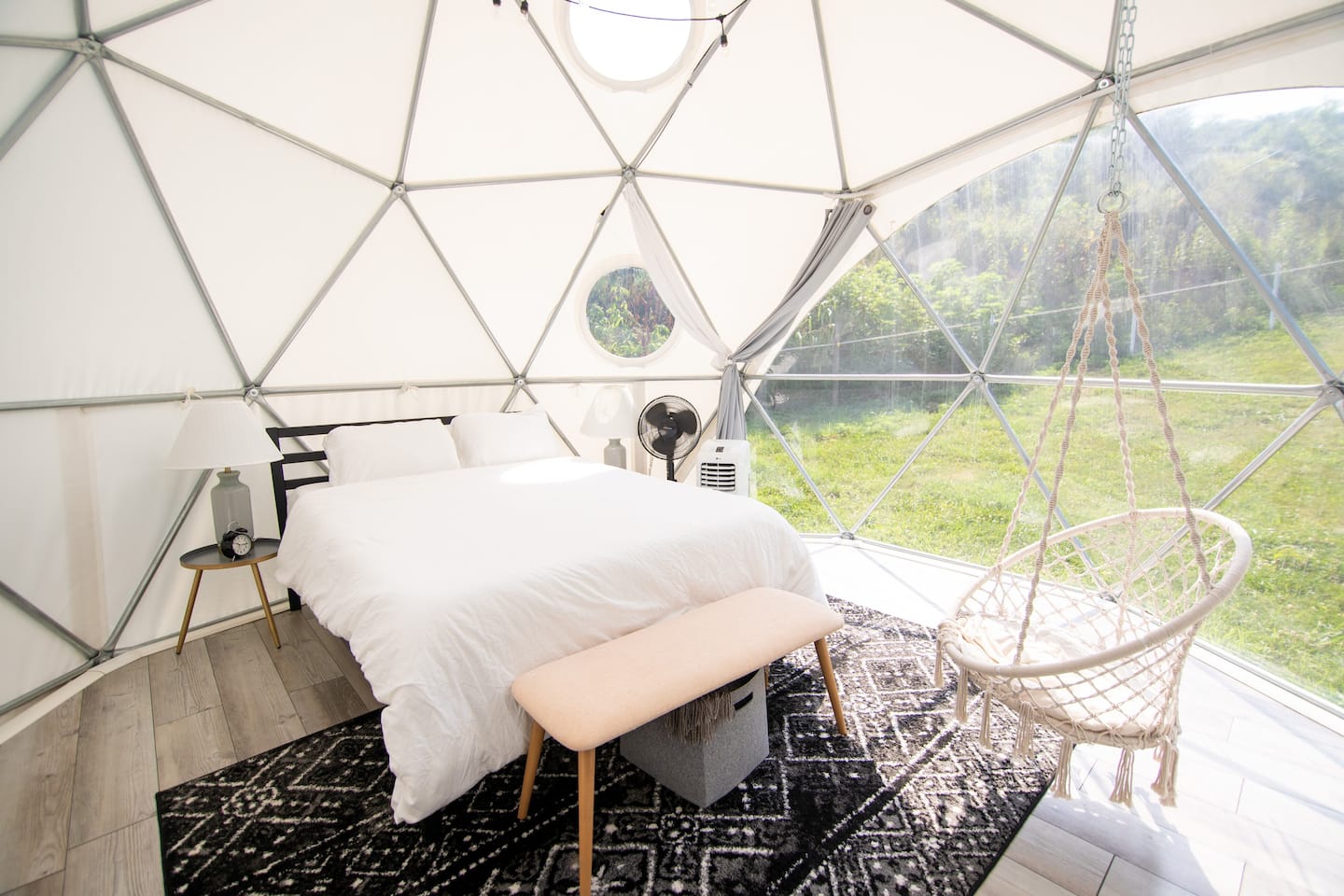 ---
10) Forest Gully Farms
Location: Santa Fe
Price: $325+ USD per night
https://www.airbnb.com/rooms/16839529
Stay in a Hobbit House for a few days! This is a real bucket-list experience. The accommodation is aptly named by Forest Gully farms as the 'Earth House' as it is built into the ground. There are three huts and your booking gives you all three for your stay, ensuring absolute privacy and seclusion.
Explore the 15-acre farm which is home to two small waterfalls. You are also encouraged to embrace the farm life and gather fresh eggs and pick fruit and herbs to use to your heart's content. A unique experience in Santa Fe not to be missed!
View Photos, Read Reviews & Check Availability
Guest Review: "Forest Gully is the exact whimsy you need. This is our second year here – the second of many. Go there. Book it."
Top 5 Tennessee Hiking Spots
---
11) Under Canvas Great Smoky Mountains
Location: Gatlinburg
Price: $209+ USD per night
https://www.undercanvas.com/camps/great-smoky-mountains/
Under Canvas is the ultimate glamping experience. Located within the Smoky Mountains and with exceptional eco-friendly facilities, it's no wonder this haven was recognized as one of the 'Top 20 US Resorts – South' by Conde Nast Traveler.
Tent sizes differ but all come fully kitted with luxurious linen and amenities. And the real bonus is you can choose tents that come with private ensuite bathrooms! After a day of outdoor adventures spend the evenings stargazing on your private deck before cozying up in your tent heated by the wood-burning stove.
---
12) One of only two Silos in Tennessee on AirBnB!!!
Location: Mt. Juliet
Price: $99+ USD per night
https://www.airbnb.com/rooms/42860770
Staying in a converted grain silo is truly a one-of-a-kind experience and now you can do it just 25 minutes away from downtown Nashville. The silo is tucked away in the trees and sleeps two in the comfy queen-sized bed.
All reviewers give justified praise to the host, who goes above and beyond to ensure your stay is special and memorable. Don't miss staying in this unique silo when visiting Nashville.
View Photos, Read Reviews & Check Availability
Guest Review: "This place is wonderful and such a unique stay. Dawn and her husband are very friendly and make sure you feel at home. She was very helpful and responsive. Would definitely recommend staying."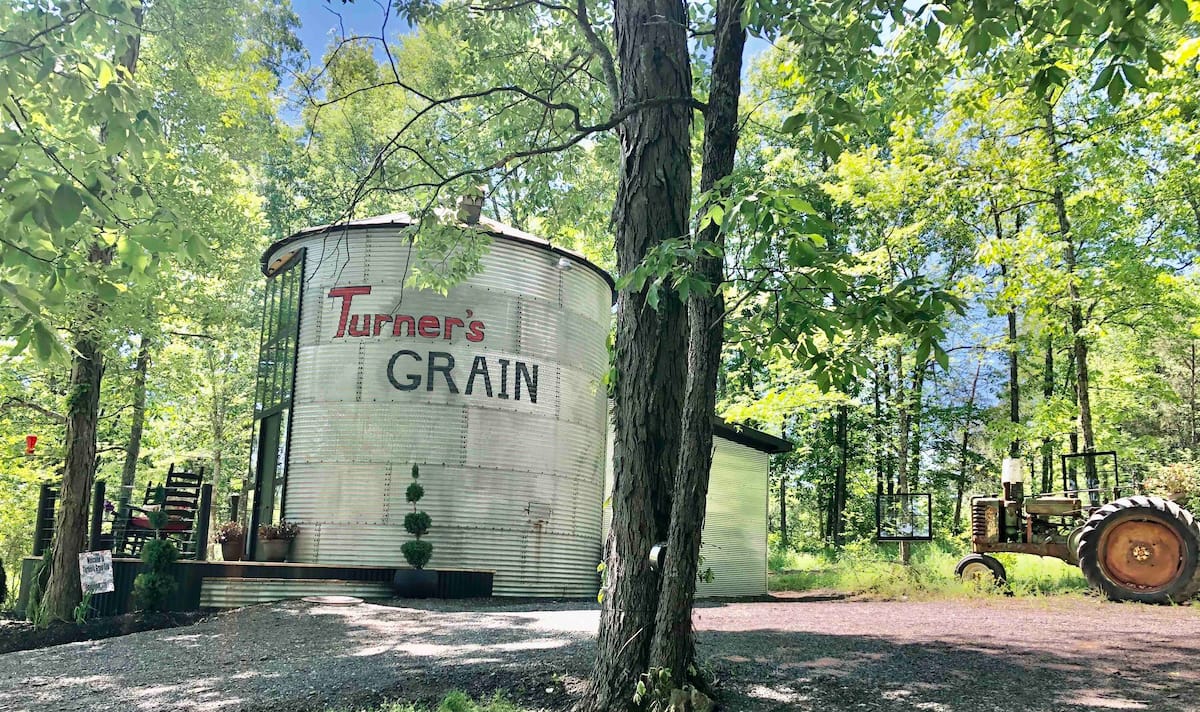 ---
13) Private Tent in the Mountains Song Sparrow Hill
Location: Hartford
Price: $98+ USD per night
https://www.airbnb.com/rooms/6425737
This is my pick for the most off the grid glamping experience! So secluded that you'll have to take a mini hike up to your tent nestled in the woods. Your tent comes equipped with a bed and linen and you'll wake up in the morning to the sound of birds chirping.
There is no cellphone reception and you should take all your groceries along with you at check-in as the nearest store is 45 minutes away. A beautiful spot to completely disconnect from everyday stresses as you embrace the tranquility of the great outdoors.
View Photos, Read Reviews & Check Availability
Guest Review: "Best place to stay in the Smokies. An absolutely unbelievable location and truly unique experience!"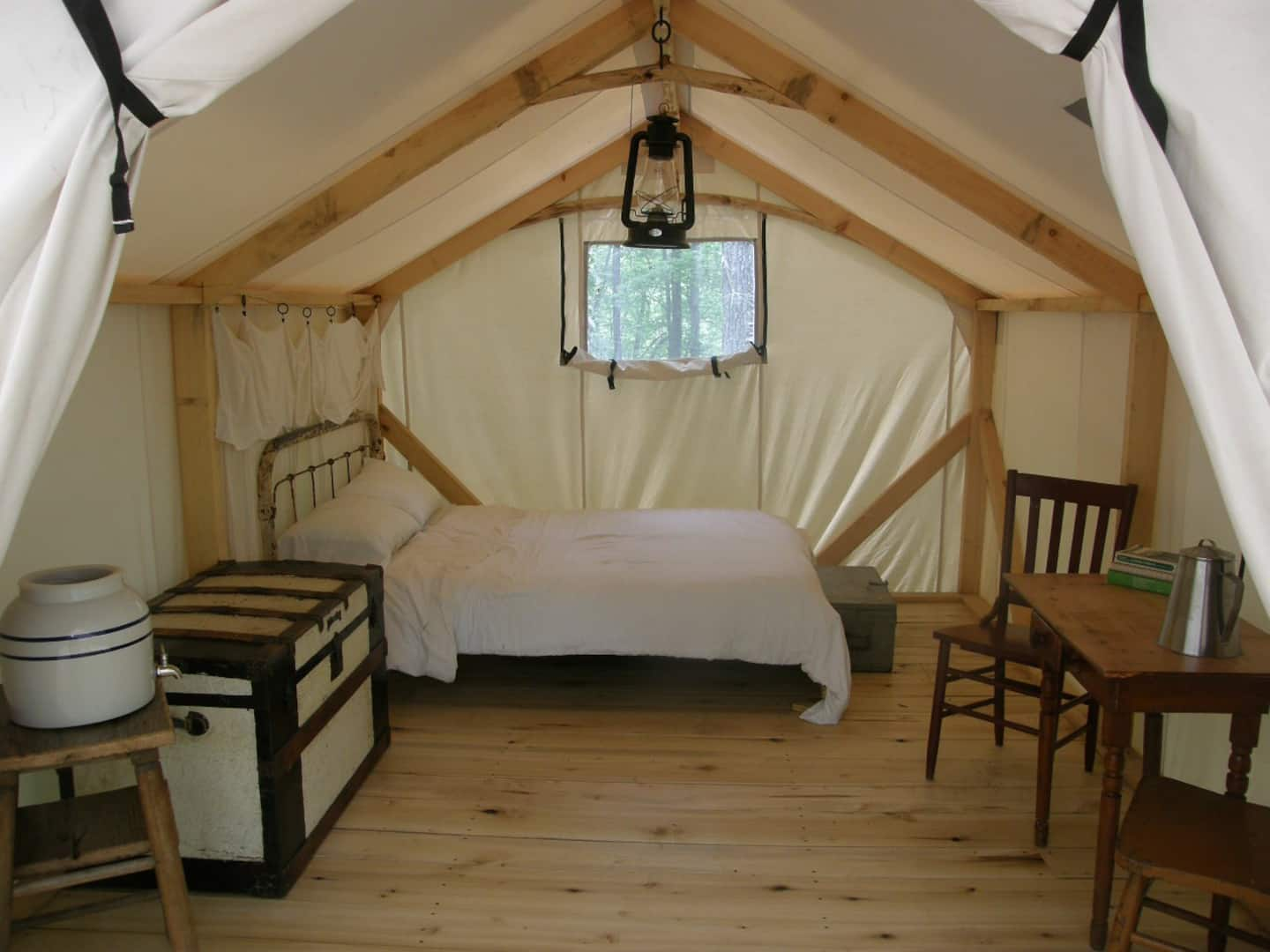 ---
Great Tennessee Tours to Consider
There is so much beauty to see in Tennessee. From the charming cities to the incredible landscapes and National Parks. Check out the diverse tours below to make sure you don't miss out on anything!
---
Smoky Mountains: Roaring Fork 2.5-Hour Jeep Tour
"Travel through Roaring Fork Motor Nature Trail. Take in the sights of the shops and Smoky Mountain attractions from your seat in a custom-built, open-air Pink Jeep Wrangler. Finish your 2.5 hour tour with an exciting 4x4 off-road adventure."
https://www.getyourguide.com/activity/pigeon-forge-l1698/smoky-mountains-roaring-fork-25-hour-jeep-tour
Price: $67.35+ USD
Best Of Great Smoky Mountains National Park | America's National Parks
---
Memphis: City Discovery 3-Hour Bus Tour
"See the best of Memphis on this comprehensive, chock-full 3-hour city tour. Visit the Rock 'n' Soul Museum, the Peabody Hotel, the Lansky Brothers clothier, and so much more. Dine on delicious traditional barbecue at BBQ Central for lunch."
https://www.getyourguide.com/activity/memphis-l1700/memphis-city-discovery-3-hour-bus-tour-t292525
Price: $46.10+ USD
---
Nashville: Night Tour of Music City
"Experience Nashville after dark with this open-air trolley tour. Enjoy an evening filled with music, history, and fun. Stop along the route for an up-close view of some of the most legendary spots in the city."
https://www.getyourguide.com/activity/nashville-l1279/nashville-2-hour-night-tour-of-music-city-t216858
Price: $43.65+ USD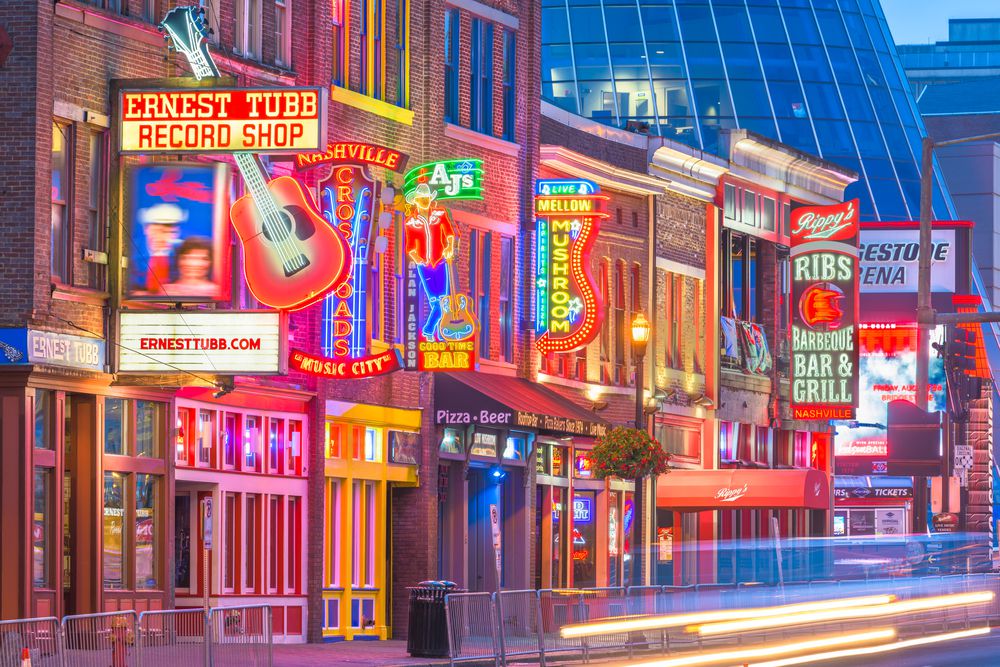 ---
Am I Missing Any Tennessee Glamping Spots?
With Tennessee being home to incredible nature and the famous Great Smoky Mountains it is the perfect spot for glamping. This and the rising desire for unique camping experiences means new spots are popping up all the time.
My current list is curated of only the best and highly rated glamping spots in Tennessee. However, if I have missed any great places that you have stayed at recently, send me a message and I'll see if I can add them to this list.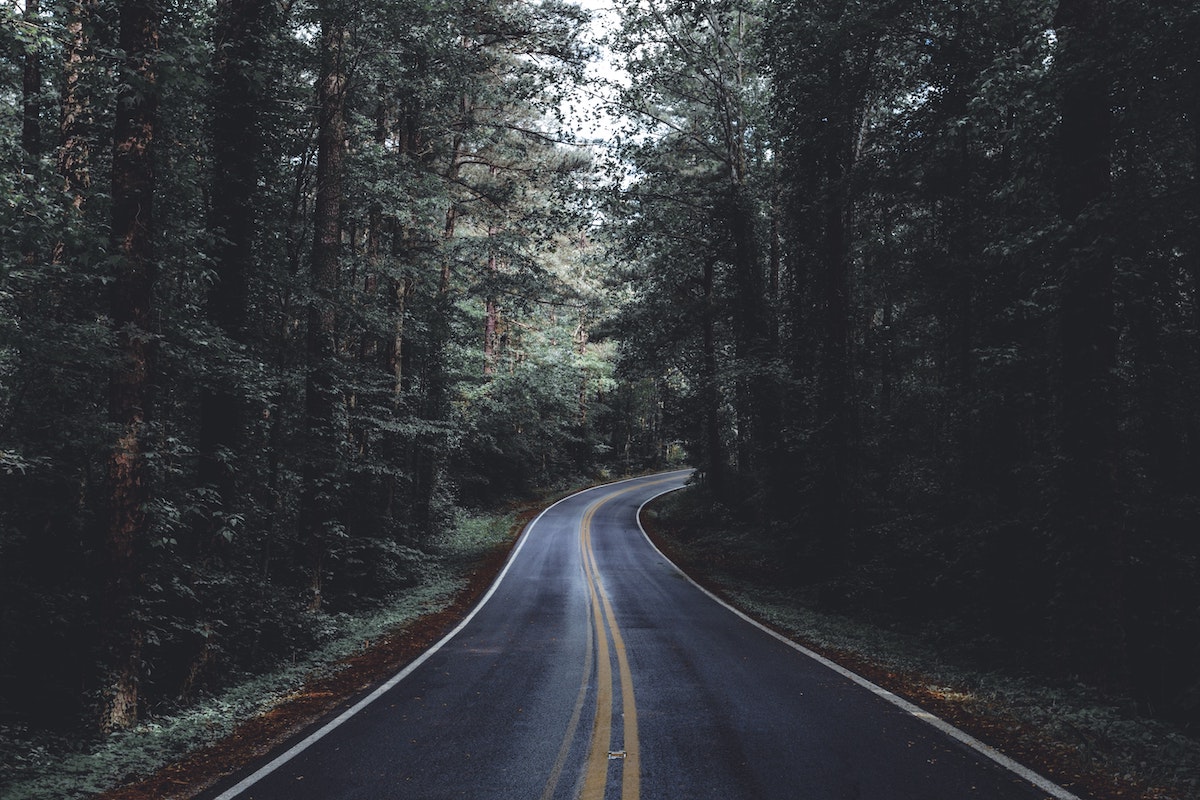 ---
Planning a Trip to the South?
If you are visiting the South you now know exactly where you will be staying on your glamping trip to Tennessee. Check out some of my other links below to stay in the coolest spots and experience the epic music festivals on your Southern adventure.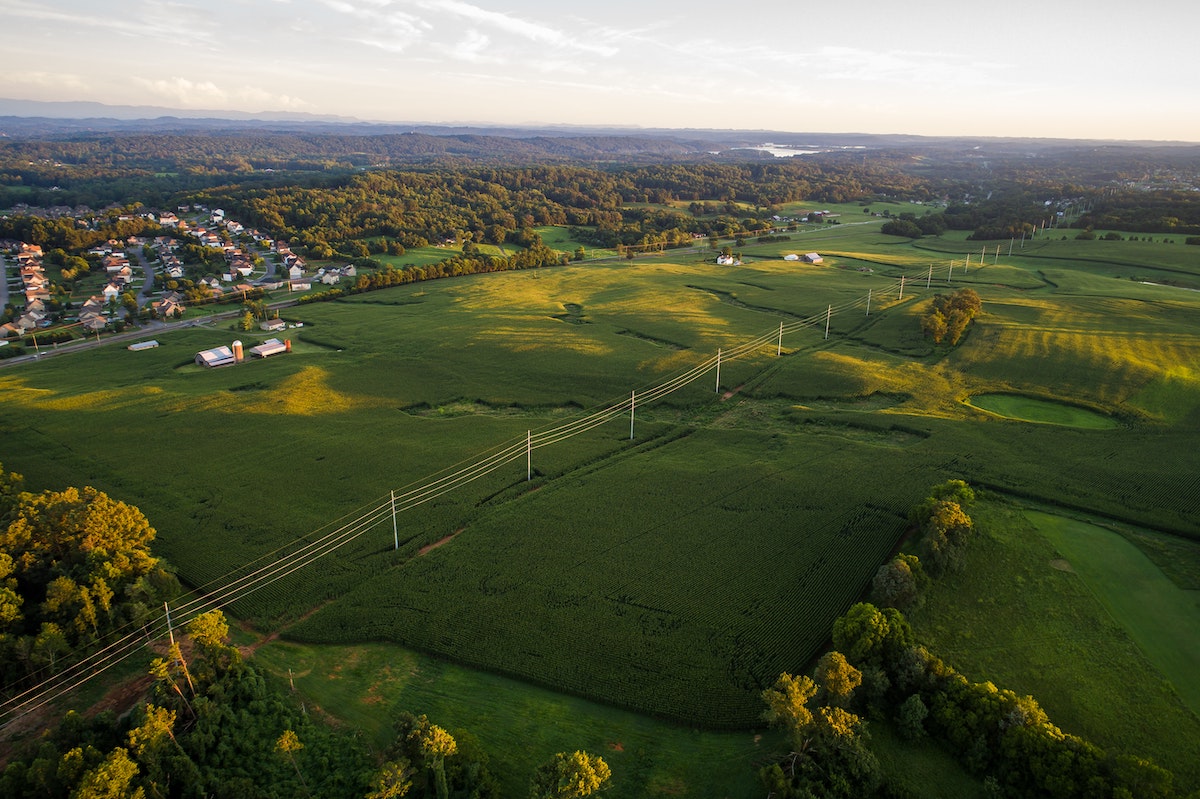 ---
Final Thoughts on Glamping Tennessee
Tennessee truly is a charming place filled with expansive natural beauty and bustling cities. It's a no brainer to go glamping in this part of the world. From treehouses to domes and campervans you are guaranteed a once in a lifetime experience no matter which option you opt for.
---
THANKS FOR READING ABOUT MY GLAMPING TENNESSEE GUIDE!
SHARE YOUR FAVOURITE TENNESSEE GLAMPING SPOTS WITH YOUR FRIENDS & TRAVEL CREW
https://www.jonesaroundtheworld.com/wp-content/uploads/2020/11/Glamping-Tennessee-.jpg
796
1200
TravelTractionsJATW
https://www.jonesaroundtheworld.com/wp-content/uploads/2017/03/logotry-1-1-300x106.png
TravelTractionsJATW
2020-11-18 22:44:57
2020-11-18 22:46:05
Glamping Tennessee | 13 Best Yurts, Tiny Houses, Treehouses & More