Heading away on a trip and on the hunt for the best Airbnb Memphis TN rentals? I've shortlisted the best sweet 16 Vrbos & Airbnbs in Memphis for any stay style, budget or group size. You won't wanna leave…
"I'll stay in Memphis." – Elvis Presley
"The King" may have officially put it on the map, but the city of Memphis still continues to draw in crowds of visitors over 40 years after the death of Elvis Presley – and rightfully so.
One of the largest cities in the southern state of Tennessee (but not the capital – that's Nashville), Memphis is a music, food, history and culture paradise, with something to fascinate around every corner. One of the most important cities in the history of blues, rock and soul music, the people of Memphis are proud of their musical roots and its many attractions are a testament to that.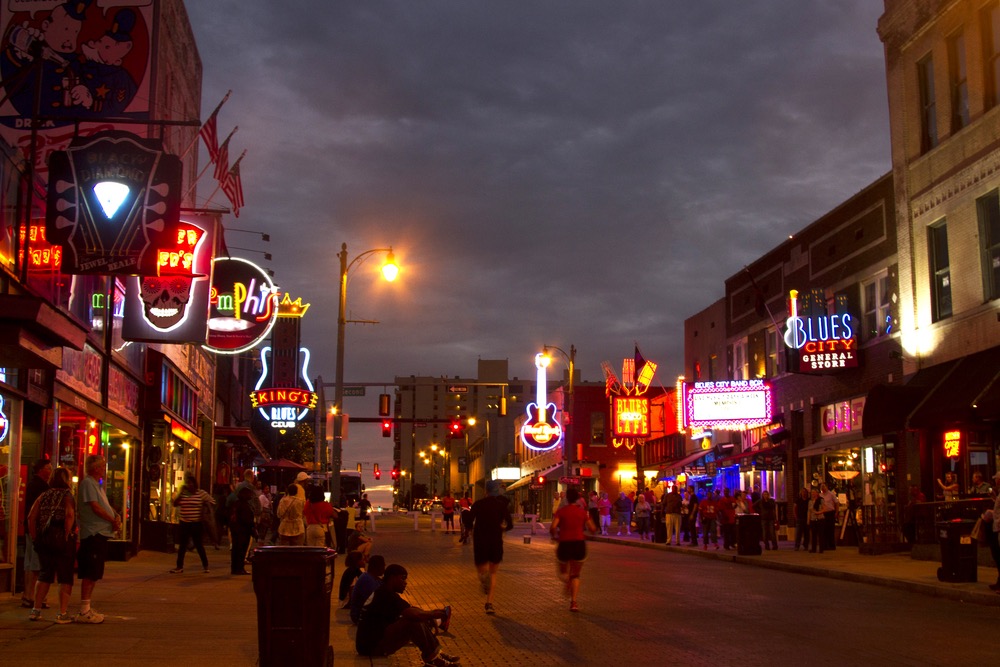 ---
While there isn't an option to stay the night in Graceland just yet, I've put together the ultimate list of the 16 best Memphis vacation rentals that are just as good. From the banks of the Mississippi in Downtown to the hippest neighborhoods of Midtown, you're guaranteed to find what you're looking for.
Prepare yourself for the best BBQ you've ever tasted and the best tunes you've ever heard in the flesh. Memphis awaits….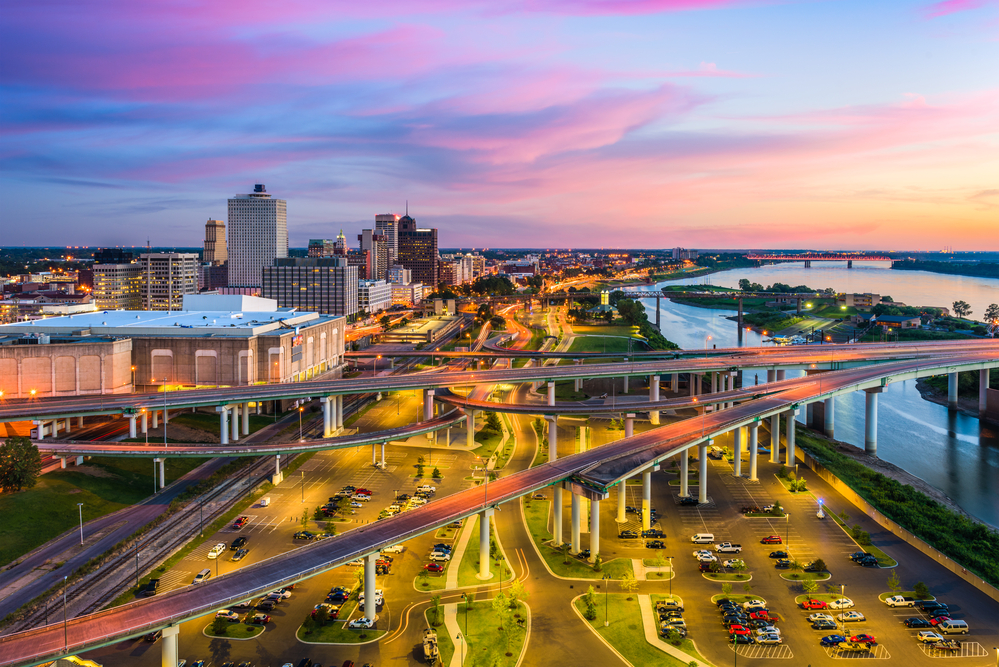 ---
Airbnb & Vrbo Memphis: The Best Vacation Rentals
If time is of the essence, I've made choosing your dream Memphis accommodation as easy as southern apple pie! Check out my "Quick Top 6" below, which shortlists the absolute best AirBNBs & Vrbos in Memphis for any budget, group size – and of course my "best overall" choice. Book today and secure your very own Graceland getaway!
Included in this list of the best Airbnbs in Memphis, I've embedded the best Memphis video guides for you. Hopefully these help you plan what you want to do in the Tennessee city – once you've picked out the AirBNB you're going to call home during your trip. Be sure to check out my other blogs linked at the end of this list for more U.S.A city guides, AirBNB countdowns, music festival lists and so much more!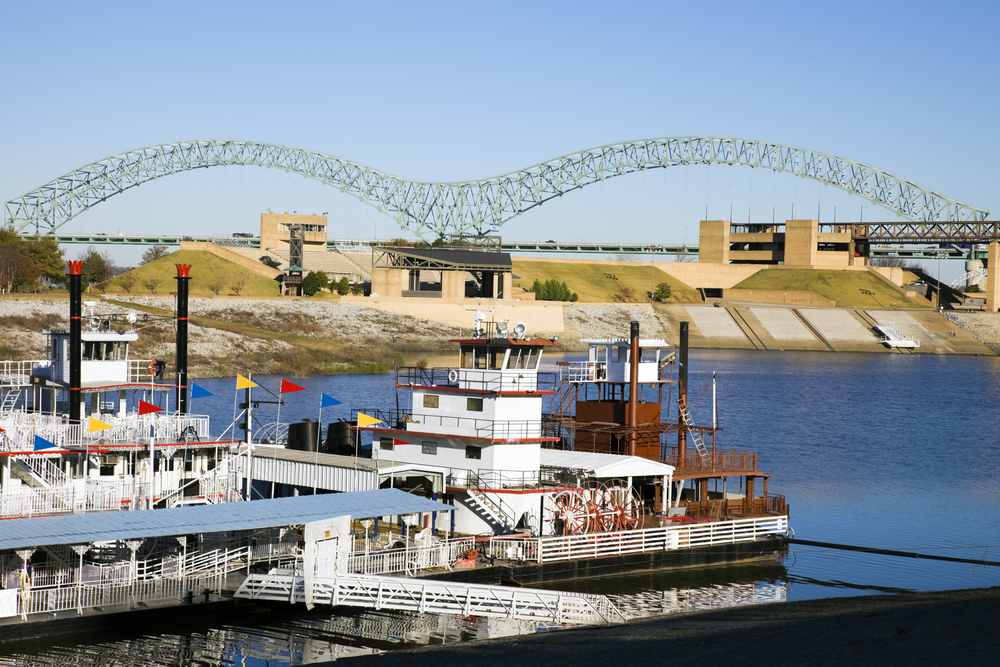 ---
1) Trendy Loft on S. Main Street
The Overall Best Memphis Vacation Rental
Location: Downtown
Price: $137 avg. per night
Sleeps: 8 (2 bedrooms/2 bathrooms)
This upscale downtown loft is a hidden gem with exposed brick from front to back! Downtown Memphis is literally a step outside your door, and due to that and the fashionable features of the space itself, this is my pick for best overall Memphis vacation rental. I'm a sucker for large lofts with plenty of light, and this listing certainly checks those boxes. It even has putt putt and foosball! This is the perfect home base for friends, couples, or groups looking to make the most of their Memphis vacation at a stylish stay.
Guest review: "We ABSOLUTELY loved this property. Some friends and I stayed here during our trip to Memphis for my bachelorette party, and we couldn't have been happier. Everyone was able to fit comfortably, and there was much more room than expected. The property was fully stocked with all of the essentials, and the owner kept checking in to see if we needed anything. The property is very secure, and the renters are the only ones with access to it. There was a trolley that ran right in front of the property so getting around Memphis was very easy! Definitely planning on visiting again and staying at this rental!!"
View Photos, Read Reviews & Check Availability
---
2) The Magnolia House
The Best Luxury Memphis Vacation Rental
Location: Midtown (Overton Park)
Price: $430 avg. per night
Sleeps: 8 (3 bedrooms/3 bathrooms)
This Memphis mansion has rave reviews, and I think I'm safe in saying that its guests would agree with me in picking it as the best luxury vacation rental in Memphis! Perfect for events such as weddings or reunions, or simply a fancy family getaway, you won't be disappointed with all that this listing has to offer. It overlooks Overton Park, and is near to any number of some of the city's best eateries. You can reach concert venues, world famous Beale Street, Sun Studios, and other attractions in minutes. What's more, this place lacks absolutely nothing in terms of thoughtful touches, modern appliances and TVs, and space to relax and recharge. Should you even leave the property, you'll have the perfect vacation rental to return to at the end of the day after exploring this Tennessee treasure.
Guest review: "The southern hospitality at the Magnolia house can't be beat. The thought little touches made our stay even better. The house is spotless as well as beautifully decorated. The beds are very comfortable as well. We went an event at the Memphis Zoo and the location is perfect. It's just across the street. Our host, Elizabeth, is wonderful. She made us feel right at home from the minute we met her. We will definitely be back!"
View Photos, Read Reviews & Check Availability
---
3) Artsy Raised Cabin Near Everything
The Best Cheap Memphis Vacation Rental
Location: Uptown
Price: $69 avg. per night
Sleeps: 2 (1 bedroom/1 bathroom)
This unique stay is easy on the wallet and eyes like, and takes my top spot for best cheap vacation rental in Memphis! Highlights from guest reviews include the rental's rustic charm, amazing neighbors, and perfect location for visiting the city's best sites. The property itself has everything you need for a comfortable and quality experience, and won't break the bank. Enjoy the smart TV, kitchenette, and artsy sunflower shower, or mosey on downstairs and relax in the trendy common space below the apartment itself. This is the spot for budget-conscious travelers looking to stay somewhere delightfully different.
Guest review: "Our stay was wonderful! The host was very friendly and welcoming as well as the neighbors. The location was perfect for a quite relaxing stay but close to everything."
View Photos, Read Reviews & Check Availability
---
4) Luxurious Condo Downtown Memphis
Location: Madison/ Monroe, Downtown Memphis
Superhost: Yes
Price: $130+ USD per night
https://www.airbnb.com/rooms/27806305
This industrial one-bedroom Downtown Airbnb Memphis condo has it all. Open, airy interiors, top quality modern amenities, hotel-quality furnishings and bedding – and a whole lotta happy Memphis Airbnb guests are raving about it! Walk to so much that the heart of Memphis has to offer from this stunning stay in the historic Madison / Monroe District. You'll have so many museums, shops, restaurants, bars and Mississippi riverfront attractions at your fingertips, you won't know where to start!
Guest review: "Luxury indeed!! – Aircon was excellent. – Wifi was perfect. – Fridge was icy cold & had an inbuilt ice maker – Great location in Memphis. Walk almost anywhere – comfortable bed – big bathroom – the hairdryer will blow you away – nice patio/balcony 5 STARS!!!!!" – Lauren
View Photos, Read Reviews & Check Availability
---
5) Heart of Memphis, A gift from Elvis to his doctor.
Location: Poplar, East Memphis
Superhost: Yes
Price: $800+ USD per night
https://www.airbnb.com/rooms/21066619
You may not be able to stay in Graceland itself, but I've seriously found you the next best thing. This luxury Memphis AirBNB was a gift from "The King" himself to his personal doctor – and a pretty generous one if you ask me! This huge seven-bedroom home can host up to 14 guests, and its features are endless. An enormous swimming pool and a full racquetball court that Elvis regularly utilised, and massive interiors that still have their original retro aesthetic are just the beginning.
This home is a piece of history you just have to experience for yourself, and knowing Mr Presley helped design it himself makes it a once-in-a-lifetime event. Located in a ritzy East Memphis neighborhood, you'll be able to reach Downtown in around 15 minutes by car and Graceland is in close proximity too. While it's easily the most pricey on the list, it might just be the best Airbnb in Memphis if the price is no concern!
Guest review: "If you wonder what it was like living in the 1970's with Elvis playing racquetball in your house, this house is it! It is amazing! The pictures just don't do it justice. We rented the house for the week of my daughters wedding. There was plenty of room for us to all spread out and keep the kids entertained between the pool and the racquetball court. The decor was in keeping with the decade the house was built all down to the original wallpaper. This is a Memphis gem with the history of Elvis attached. The whole stay was an experience that I will never forget and want to repeat soon!" – Heather
View Photos, Read Reviews & Check Availability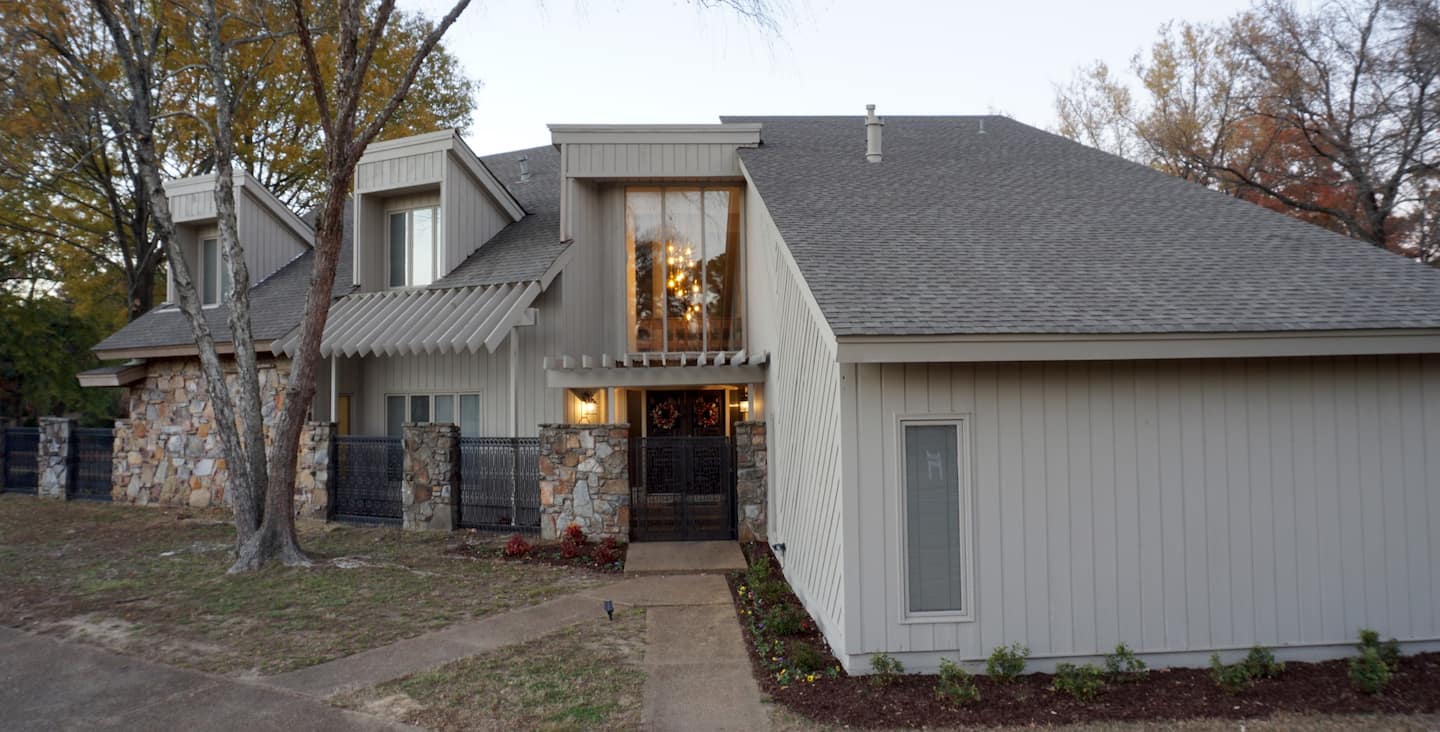 ---
6) Stylish Retreat in the Heart of Midtown Memphis
Location: Idlewild, Midtown Memphis
Superhost: Yes
Price: $50+ USD per night
https://www.airbnb.com/rooms/34184517
You don't have to spend a fortune to have an epic Airbnb Memphis experience! For as little as $50 per night, you can enjoy a clean, comfortable and centrally-located stay in this modern one bedroom Midtown apartment. The historic building has been converted into a cool, contemporary space with a living room, bedroom, kitchen and bathroom. The Idlewild neighborhood is a quiet and friendly yet super central one, with the best of the city right nearby. You'll love the one mile walk to the hip Cooper-Young neighborhood with its famous restaurants and the Overton Square entertainment district. Downtown Memphis, Beale Street and Graceland are all only 15 minutes by car, taxi, Uber or Lyft.
Guest review: "This trip was our second to Memphis, and I'd highly recommend this unit. Fantastic location, nice neighborhood, super cool space inside & out. We spent almost all our time in Midtown – Overton Park, Overton Square, Cooper Young District – it has everything you could want. Josh's place is definitely a place we would love to stay again, next time we're in Memphis." – Sharon
View Photos, Read Reviews & Check Availability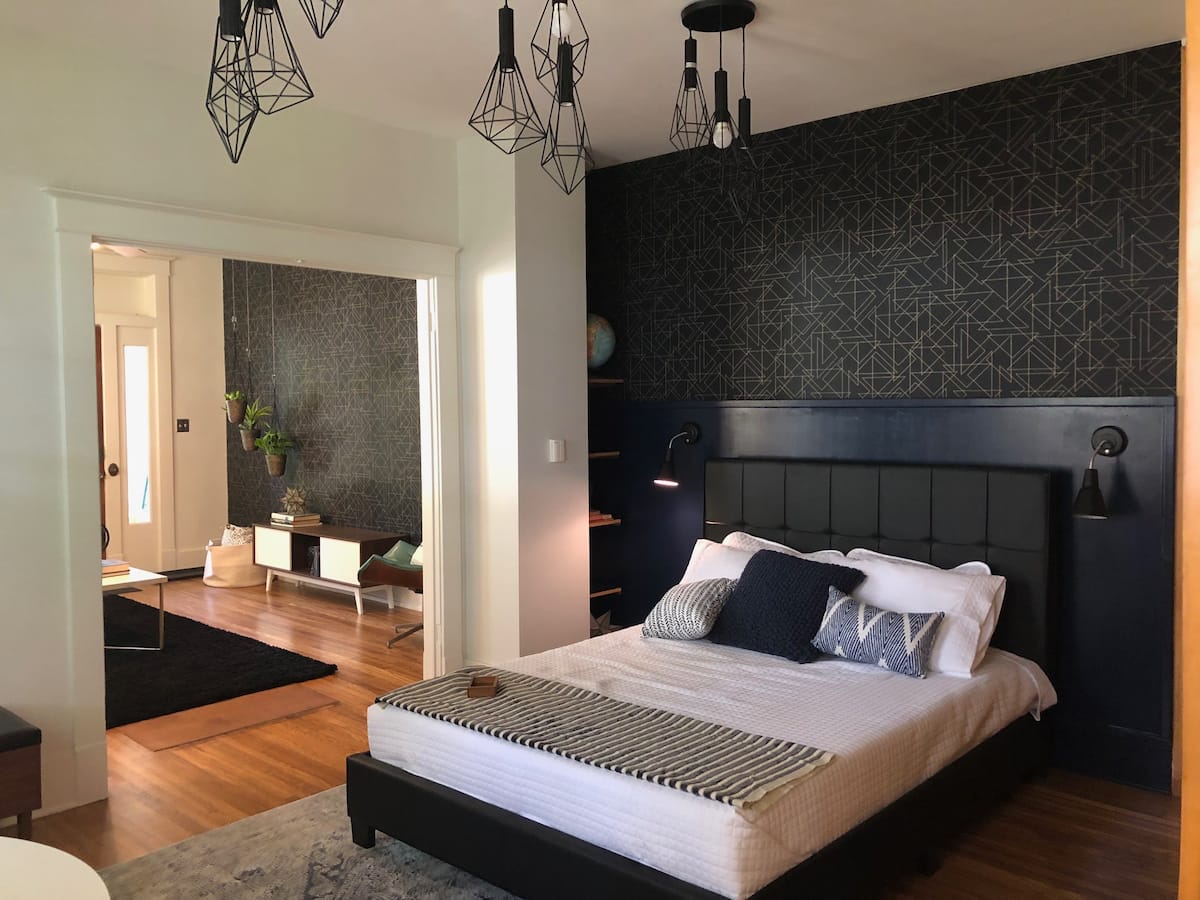 ---
7) Newly Renovated Home in the Heart of Memphis
The Best Memphis Airbnb For Families
Location: High Point Terrace, East Memphis
Superhost: Yes
Price: $70+ USD per night
https://www.airbnb.com/rooms/32317919
Memphis is a top family vacation destination, and this three-bedroom newly renovated home is the place to lay roots with your fam during your trip to Tennessee. The home is the perfect mix of contemporary and rustic design and decor, with loads of fun additions that really scream "Memphis!". What's even better than the home itself is its proximity to everything this great city has to offer. The popular foodie and entertainment districts of Cooper-Young, Overton Park, Downtown and Beale Street are just a few miles away – a maximum of 15 by car or rideshare. Give the kiddos a historical education and a trip to remember for your next vacation! With a near-perfect rating from over 180+ happy guests, this is an Airbnb Memphis rental that the whole family will love!
Guest review: "Ashley's space was beautiful and cozy. Unique, tasteful, and high-quality decor. Small space perfect for our group of 4. Very clean. We will absolutely stay again next time we are in Memphis." – Wendy
View Photos, Read Reviews & Check Availability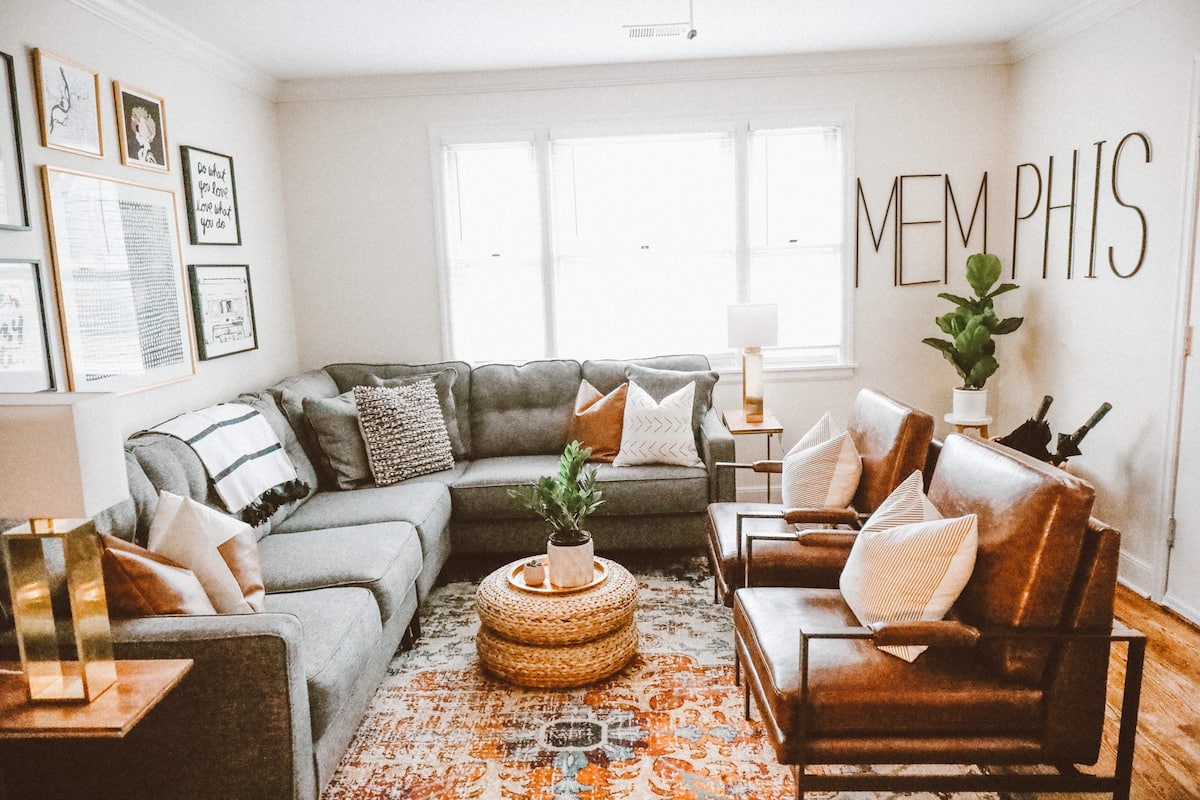 ---
8) **Heart of Downtown Memphis / Walk to Beale/ FREE Breakfast***
The Best Memphis Airbnb For Couples
Location: South Main Arts District, Downtown Memphis
Superhost: Yes
Price: $80+ USD per night
https://www.airbnb.com/rooms/21383656
Wandering the charming streets of Downtown and Beale Street is easy from this amazing Memphis Airbnb that is perfect for a cozy couple. The one bedroom abode is eclectic, spotless and tastefully designed, and will place you just a short walk from the historical blues hotspot of Beale Street. From there, immerse yourself in Memphis nostalgia at the Orpheum Theatre, the Blues Hall of Fame, Sun Studios and the Civil Rights Museum. Don't forget to jump on the historic Main Street Trolley at the end of the street which is a unique way to discover this culturally rich city.
Guest review: "My partner and I stayed in Bridget's apartment for a few nights. We appreciated the homely touches, super clear check-in process, and local tips for where to eat and drink. The walk to and from Beale St felt safe (it is well lit), and there are good eating options nearby. The apartment is quiet, and the bed is comfy. We would definitely stay here when we find ourselves in Memphis again, and would highly recommend it!" – Katherine
View Photos, Read Reviews & Check Availability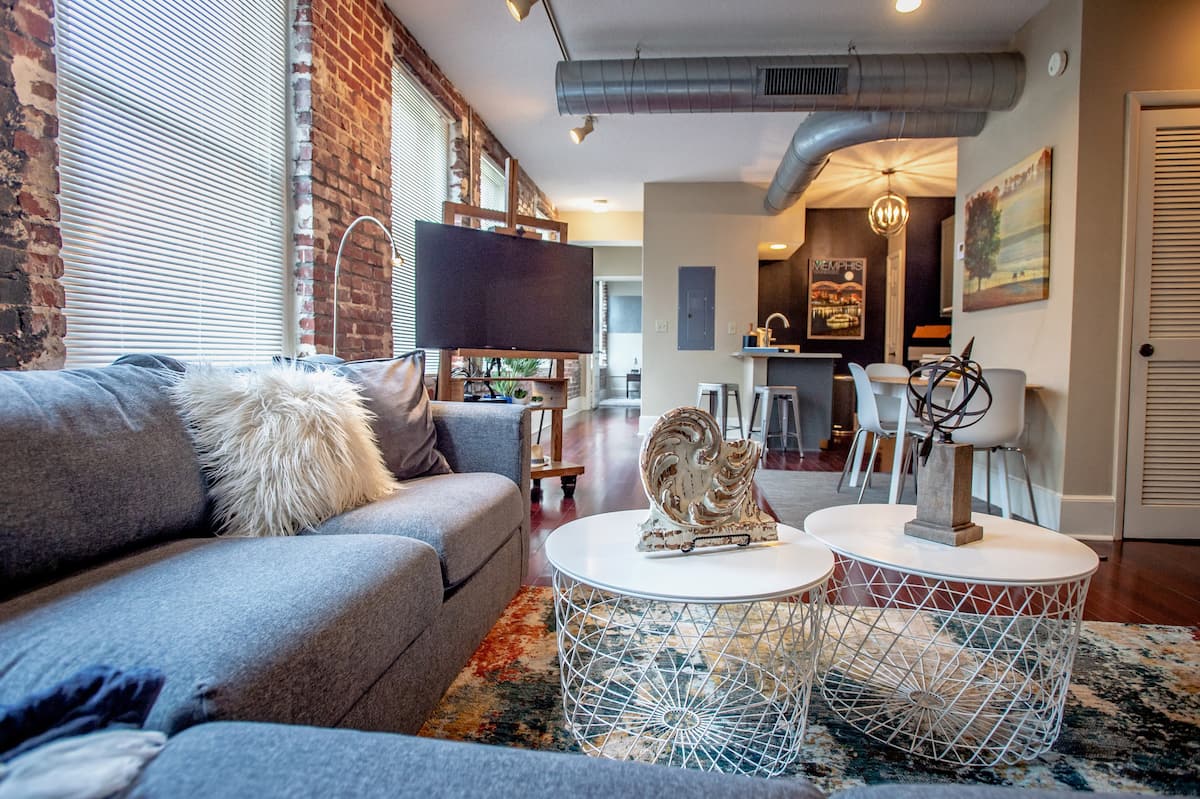 ---
9) Sleeps 8♬Walk to CY♬Free Coffee♬Off-Street Parking
Location: Cooper Young, Midtown Memphis
Superhost: Yes
Price: $150+ USD per night
https://www.airbnb.com/rooms/28023683
The super hip Cooper-Young neighborhood of Memphis is a food and art paradise, and you'll be steps from the heart of it all in this beautiful three-bedroom bungalow. This 5 star rated Airbnb in Memphis is roomy, comfortable and feels just like home. Walk around the trendy district and discover the church that Johnny Cash recorded his first record in, its many stunning historic homes and an endless array of restaurants, cafes, bars and art galleries. From "CY" to Downtown Memphis it's just a 10 minutes drive, and take advantage of the awesome host's free Uber or Lyft credit to get around.
Guest review: "We loved Chris and Debbie's place, it is very spacious as we had 5 of us and there were 4 bedrooms with the upstairs space included. Love the coffee stations! Heating is brilliant. It's really close to the Cooper-Young area as well. We had one little issue and Chris responded and dealt with it immediately which was great. Would definitely stay again if in Memphis." – Tamzyn
View Photos, Read Reviews & Check Availability
Memphis Vacation Travel Guide | Expedia
---
10) Historic but Modern with Relaxing Natural Light
Location: Idlewild, Midtown Memphis
Superhost: Yes
Price: $60+ USD per night
https://www.airbnb.com/rooms/19625005
Nestled within an elegant historic building in one of Memphis' most cool suburbs, this one-bedroom apartment is contemporary, cozy and stylish. There's a brand new bathroom and kitchen, and the home that has been converted into eight separate apartments is surrounded by towering trees and has a backyard. Just two minutes walk away you can enjoy live jazz, and a range of ethnic eateries – including BBQ of course! Entertainment centre Overton Square is just one mile away, and Downtown is just a five minute drive. Midtown never looked so good!
Guest review: "Tim's place was exactly what we needed for our stay! The location was perfect and everything was comfortable and stress free. Our last accommodation fell through and this was a last minute booking and it was amazing. We should have booked here from the start! Highly recommended!!" – Jenny
View Photos, Read Reviews & Check Availability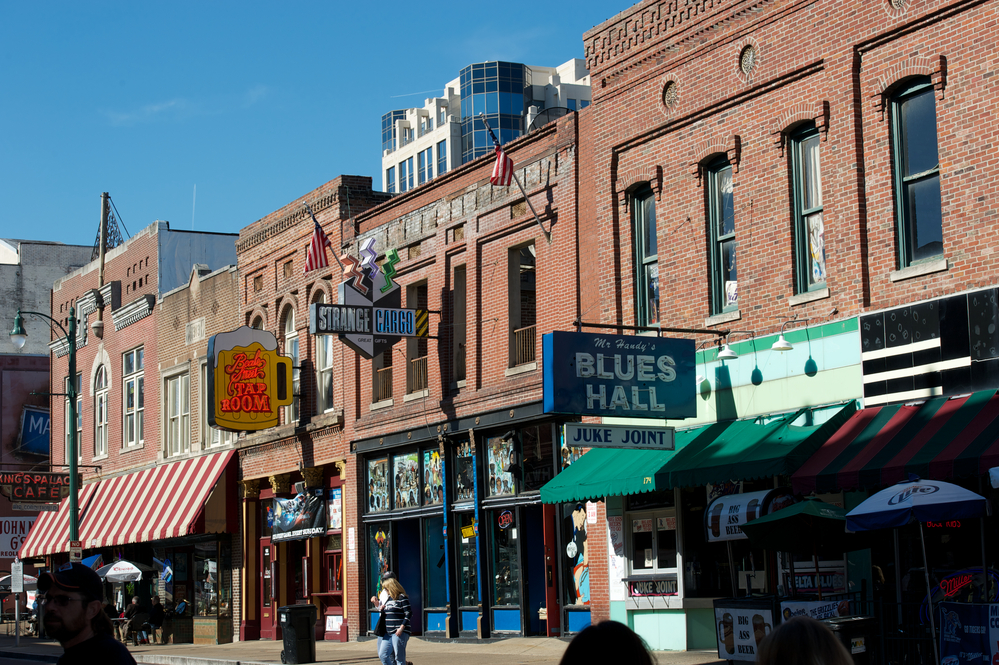 ---
11) The WareHouse-2 room modern condo in Crosstown.
Location: Crosstown Concourse
Superhost: Yes
Price: $130+ USD per night
https://www.airbnb.com/rooms/21198593
Two bedrooms, two bathrooms, plush furnishings and views to Downtown Memphis await you at this 5 star rated Memphis Airbnb. Tucked away in a renovated historic warehouse in a cool neighborhood, you'll love the shops, juice bars and restaurants in the same building. And to cap it all off, it's just a 10 minute drive or 20-minute bike ride into Downtown Memphis and to the shores of the Mississippi River.
Guest review: "What a cool apartment. So clean, quiet and comfortable. The restaurants and marketplace were an added bonus. Our host, Amy, was so friendly and welcoming. All in all a five star stay and we'll be recommending it to our friends back home." – Julie
View Photos, Read Reviews & Check Availability
A Visitor's Guide To Memphis
---
12) 1-Bedroom Cozy Cooper-Young Home-Former Recording Studio
Location: Cooper Young, Midtown Memphis
Superhost: Yes
Price: $60+ USD per night
https://www.airbnb.com/rooms/15833874
One of Memphis' most popular and hip neighborhoods, Cooper Young is where to go for a good time with a unique crowd. This one bedroom home was originally a historic shotgun house, then was converted into – in typical Memphis style – a recording studio, and now is a roomy, neat and attractive little home. Explore the history of this incredible district, with so many cafes, restaurants, galleries, bars and points of interest within blocks. The value for money at this one is second to none.
Guest review: "Patrick's place was super cool! It was something very different and special to stay in a former recording studio, and Patrick made sure we had everything we needed. The washing machine was a great bonus, and the bed was super comfy (and massive!). Make sure you venture down the street and check out the local neighbourhood as there are so many great cafes and bars. Thanks so much Patrick!" – Kathleen
View Photos, Read Reviews & Check Availability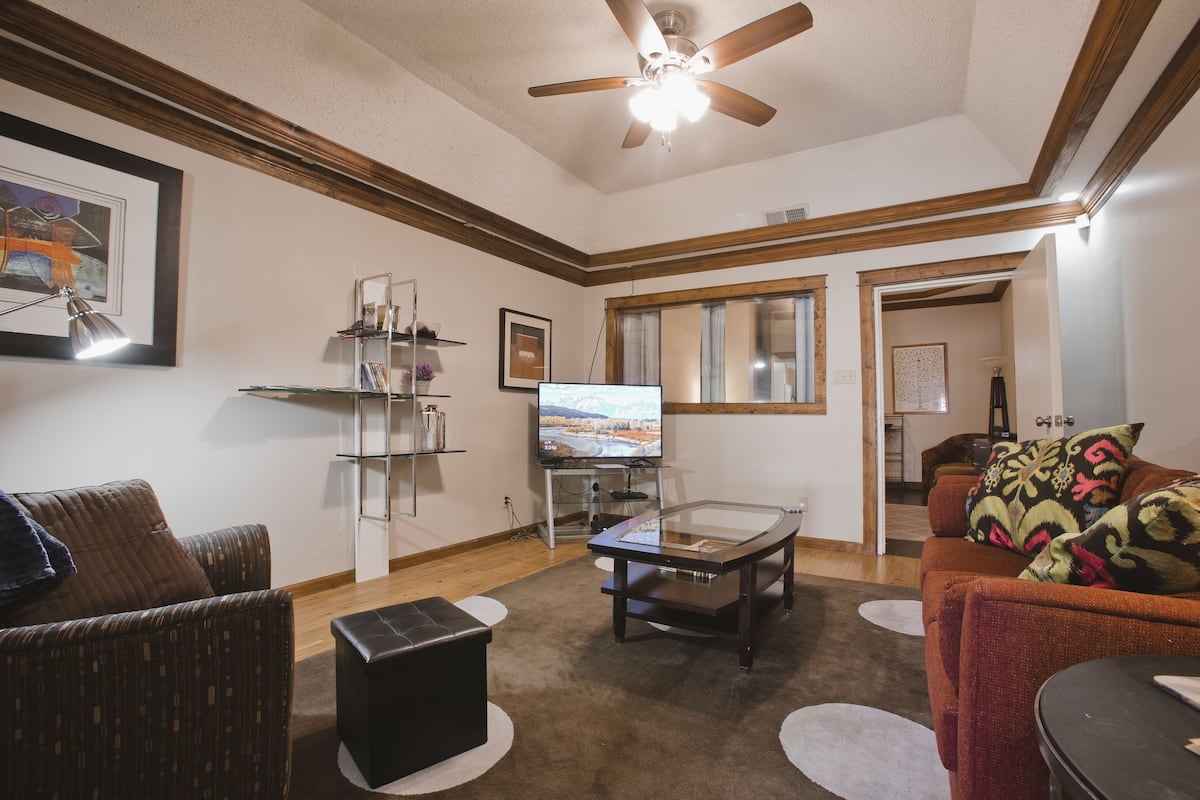 ---
13) Retro-contemporary 2 bedroom downtown apt.
The Best Airbnb Downtown Memphis Rental
Location: South Main, Downtown Memphis
Superhost: Yes
Price: $120+ USD per night
https://www.airbnb.com/rooms/33019138
Located in one of Downtown Memphis' best districts, this sleek, stylish and modern two bedroom loft apartment is the cherry on top of an epic trip to the Tennessee city. The apartment is nestled within a building that was a hotel over a century ago, and the renovated space is in a prime location. Walk to bustling Beale Street, The Orpheum, The Civil Rights Museum and the Mississippi River in 10 minutes or less. Downtown is the perfect location to base yourself in Memphis, and you can reach Graceland, Midtown and Cooper Young easily and quickly from here.
Guest review: "David's place was a little oasis on our travels. The apartment is cosy and warm with lovely character and provided the perfect location to explore Memphis. And thanks David for all the great local tips!" – Cathy
View Photos, Read Reviews & Check Availability
What to Do in Memphis, Tennessee | 36 Hours: Video Travel Tips | The New York Times
---
14) Luxury Condo–Heart of Downtown Memphis!
Location: Downtown Memphis
Superhost: Yes
Price: $150+ USD per night
https://www.airbnb.com/rooms/1101643
This two-bedroom condo is in what is arguably the best location in all of Memphis, with the front door opening out into Downtown's Main Street Mall. The space oozes retro vibes, with two levels of spacious rooms, with views of the horse-drawn carriages and trams making their way down the thoroughfare outside. From here, walk-in minutes to buzzing Beale Street, the Mississippi River and many of Downtown Memphis' major attractions, or jump in an Uber or Lyft and head over to the hip neighborhoods of Midtown or to Graceland – it's just a 15-minute drive away. It's an incredible luxury Airbnb Memphis listing that is guaranteed to please!
Guest review: "This place is THE place to stay in Memphis. Walking distance to Beale street, tram stop right in front, places to eat and drink literally two doors down. The accommodation was spot on with perfect touches with a laidback feel. Great host as well. A++" – Belinda
View Photos, Read Reviews & Check Availability
---
15) Cozy Duplex in "Historically Hip" Cooper-Young
Location: Cooper Young, Midtown Memphis
Superhost: Yes
Price: $80+ USD per night
https://www.airbnb.com/rooms/32424566
Eat at an amazing range of restaurants, drink at hip bars and absorb the super cool aesthetic of Memphis' Cooper Young neighborhood from this cute as a button two bedroom home. The natural interiors are country chic, light-filled and breezy, and it's the perfect base for a laidback family vacation. The newly renovated duplex is just a few minutes walk to the heart of "CY", and local attractions include the popular Memphis Made Brewery and Overton Square. Just a couple of miles away you'll find Downtown Memphis, Sun Studios and Beale Street, and Graceland is a 15 minute car or rideshare away.
Guest review: "We had such a great stay at Maggie's house. Not only was it super comfortable (that bed!) and inviting, but it is also in a really great position. Close to downtown and in a really cool neighbourhood with a lot of great restaurants and bars – all in walking distance. Maggie was a great communicator, checking in and out was easy and the house had everything we needed. We wouldn't book anywhere else in Memphis." – Matthew
View Photos, Read Reviews & Check Availability
View Photos, Read Reviews & Check Availability
TOP 15 THINGS TO DO IN MEMPHIS, TENNESSEE | Travel Guide
---
16) The Frances Grace House
Location: Victorian Village
Superhost: Yes
Price: $350+ USD per night
https://www.airbnb.com/rooms/37452801
With an regal exterior and elegant, contemporary interiors, the brand new Frances Grace House is truly a southern speciality. You'll enjoy the entire double storey, four bedroom house and courtyard all to yourself, and it makes for the ideal group getaway. Victorian Village is a centrally located historic neighborhood of Memphis, with Downtown, Midtown, Beale Street, Cooper Young and the Mississippi all nearby. There's also a range of charming bars and restaurants just a short walk away, for nights when you feel like being a little low key.
Guest review: "Teena's place was such a great find for the seven of us! We have Memphis roots and most of our family lives in Memphis, so it was wonderful to be able to visit everyone without having anyone need to try to house our big group! The home is beautifully decorated and absolutely immaculate. We enjoyed walking to Sunrise Memphis for two days for breakfast and a brunch with family. Just the two of us walked to Molly Fontaine's for cocktails and Tapas one night. My husband and a cousin went for a sightseeing jog one morning and we celebrated Christmas with grandchildren. Teena surprised us with several beautiful poinsettias that helped so much to make Christmas away from home more Christmas-y! Thank you, Teena!" – Sandra
View Photos, Read Reviews & Check Availability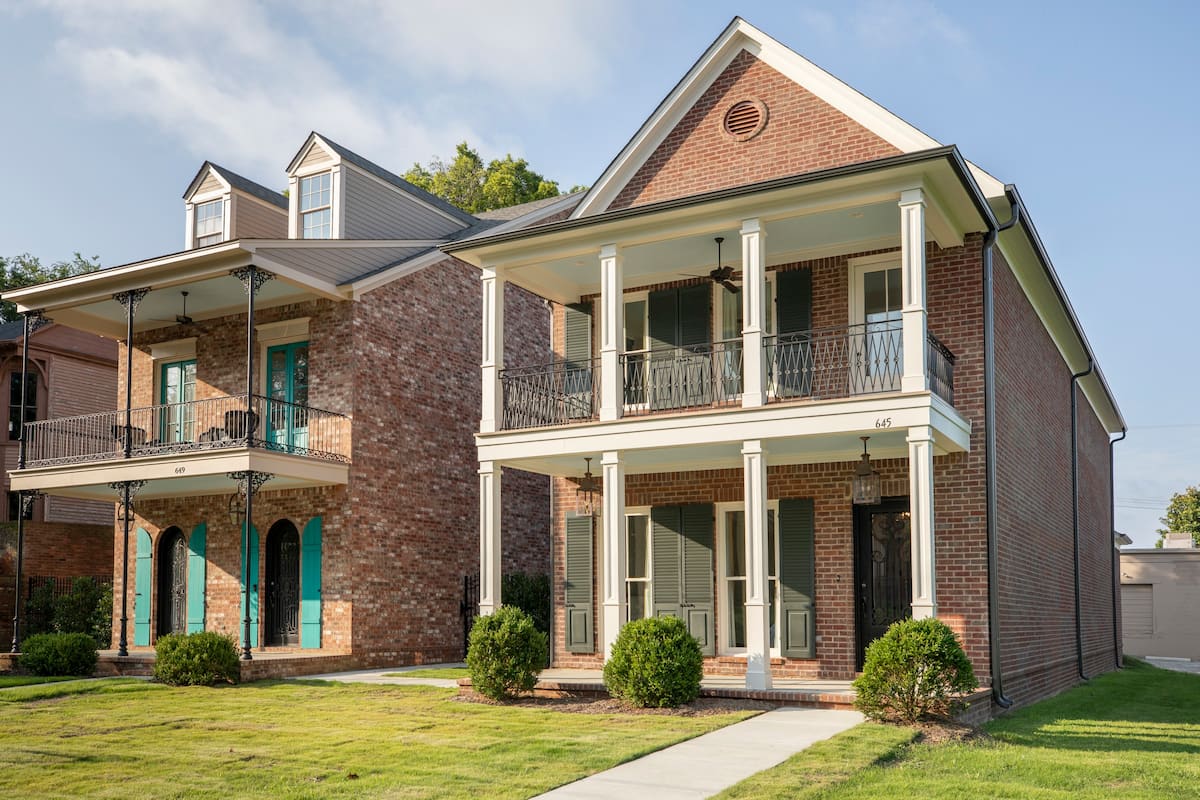 ---
17) Charlie's farmhouse 7 min.d'town Mem., Pet❤️.
Location: Mound City, Arkansas
Superhost: Yes
Price: $150+ USD per night
https://www.airbnb.com/rooms/21680547
Located just 10 minutes from Downtown Memphis on a private acreage, this farmhouse is actually not in Tennessee – it lies just over on the Arkansas side of the border. Tick two states off your southern U.S
bucket list, while still being close to the action. This is the ideal Memphis Airbnb for those who want to get away from it all. The brand new farmhouse sits on a 500 acre working farm, and this animal-friendly paradise is perfect if you're bringing your pooch with you. This Mound City landscape is steeped in history, and so far, this epic home has achieved a 5/5 overall Airbnb guest rating. Will you be the next happy camper?
Guest review: "Third time we've stayed in Charlie's Farmhouse. Need I say more! Great kitchen – we booked a Christmas brunch without any problems. Grandkids had a ball playing in the yard. We love it!" – Bill
View Photos, Read Reviews & Check Availability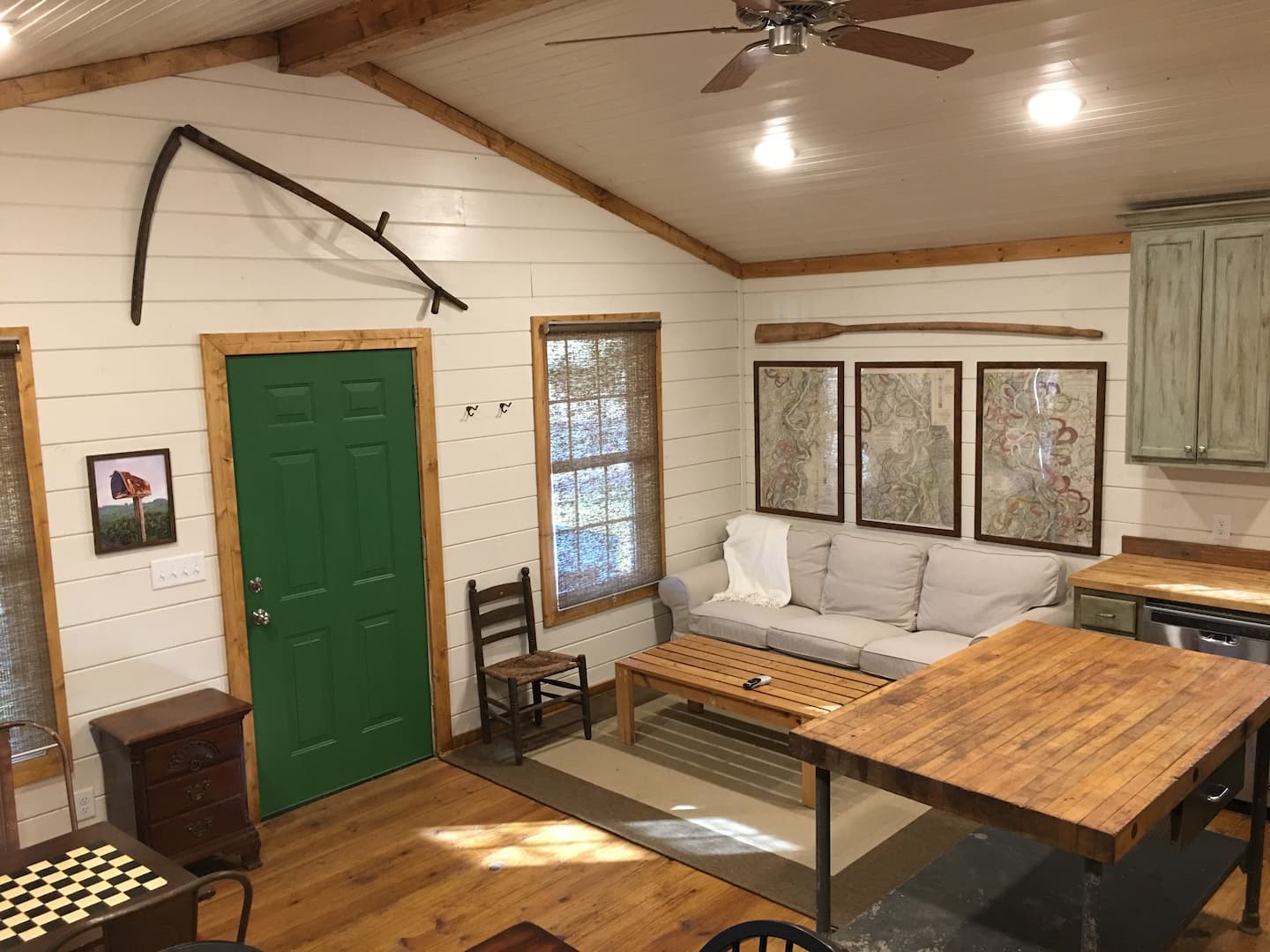 ---
18) Steps 2 Nightlife Rooftop Deck View Private Garage
Location: Downtown Memphis
Superhost: Yes
Price: $200+ USD per night
https://www.airbnb.com/rooms/37431744
Perched on the banks of the Mighty Mississippi in Downtown Memphis, this hip Airbnb boasts the best views in the city. If your group is looking for a huge, cool space with heaps to offer, you'll love this four bedroom / six bathroom multi-level townhouse that spans 3000 square feet. The outdoor deck with BBQ has amazing views of the Memphis Bridge, and happening Beale Street is just three blocks away. Satisfy your cravings at the many famous eateries of Downtown Memphis, ride the historical trolley network and learn about the history of the city at the many museums in the area. If location is key on your trip to the Tennessee hotspot, this is for you.
Guest review: "This was my first Airbnb experience and I must say that I am impressed. This property is everything that you see in the photos and more! No detail spared. Even corkscrews and wine glasses. My family and guests were able to come and relax with no worries. Tatiana and Sheila are very helpful and receptive. The property is extremely clean. The decor is modern and trendy with a warm Southern zeal. All steps from the world famous Beale Street! Would gladly stay with them again." – Elizabeth
View Photos, Read Reviews & Check Availability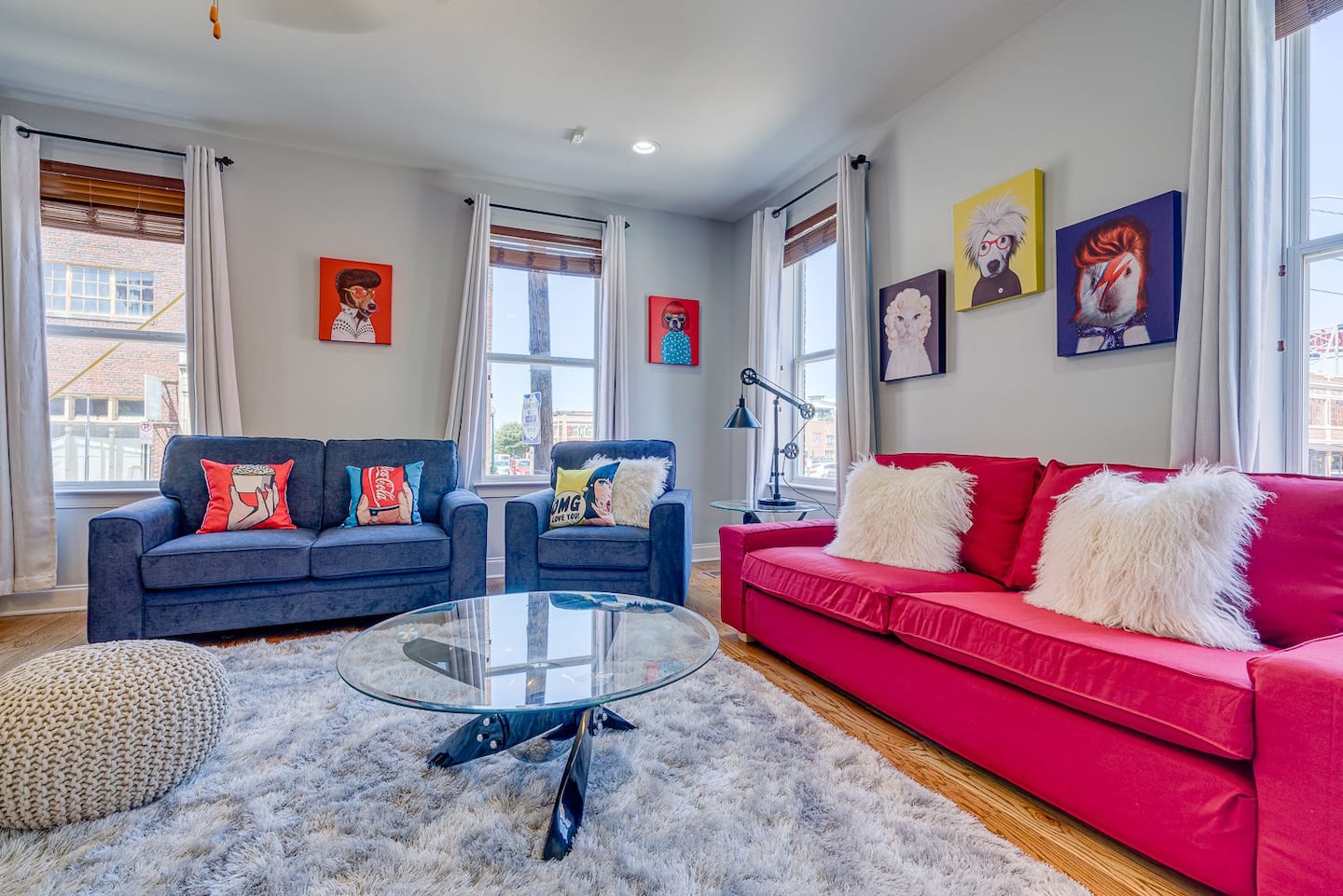 ---
19) Entertainers dream! Luxury Estate w/ custom pool
Location: Olive Branch
Superhost: Yes
Price: $300+ USD per night
https://www.airbnb.com/rooms/30290873
Located on three private acres in an exclusive community just 15 minutes from Downtown Memphis, this stunning five bedroom home is the ideal place to unwind and recharge in luxurious surroundings. Spanning 6500 square feet, the estate has plush interiors, a swimming pool to cool off in on those hot Memphis days, a chef's kitchen, a range of dining spaces, a games room, a theatre and luxe bathrooms. There's an outside entertaining area with a grill, a balcony with tranquil views and deer even roam here during the early mornings. A slice of paradise just a stone's throw from the hustle and bustle of Memphis!
Guest review: "This property was nothing short of amazing. My husband & I hosted our annual Friendsgiving here in Memphis & our guests were blown away. The host responded back so quickly when there were questions & was very flexible with check-in/out times. We had plenty of towel, bed linen, & anything else that you could think of. It was beyond great! We will definitely be booking them again. Money well spent." – Natasha
View Photos, Read Reviews & Check Availability
---
Memphis Tours & Experiences With Serious Southern Charm
I'm sure you've got a list a mile long of things you want to see and do in Memphis, but booking ahead on a tour or securing a VIP pass can save a helluva lot of money and time! Grab your Graceland & Memphis pass or learn a ton on a top city tour and ensure you have an amazing trip you'll never forget.
---
Memphis: VIP Graceland Mansion & Memphis Attractions Pass
"Walk in the footsteps of the King as a Graceland VIP. Receive front of line access to the Graceland Mansion, access to an exclusive VIP-only exhibit, and a souvenir backstage pass. Visit Sun Studio, Stax Records, and the Rock'n'Soul Museum."
https://www.getyourguide.com/memphis-l1700/memphis-vip-graceland-mansion-memphis-attractions-pass-t292315/
Price: From $220 USD (14 day validity)
Review: "Staying in Downtown Memphis means you are close to the majority of attractions. The Best Tours company transported me to and from Graceland at minimal cost, which proved vital, but the Graceland experience was well worth the effort. No problems getting my vouchers accepted – highly recommend this company." – Sue
View Photos, Read Reviews & Check Availability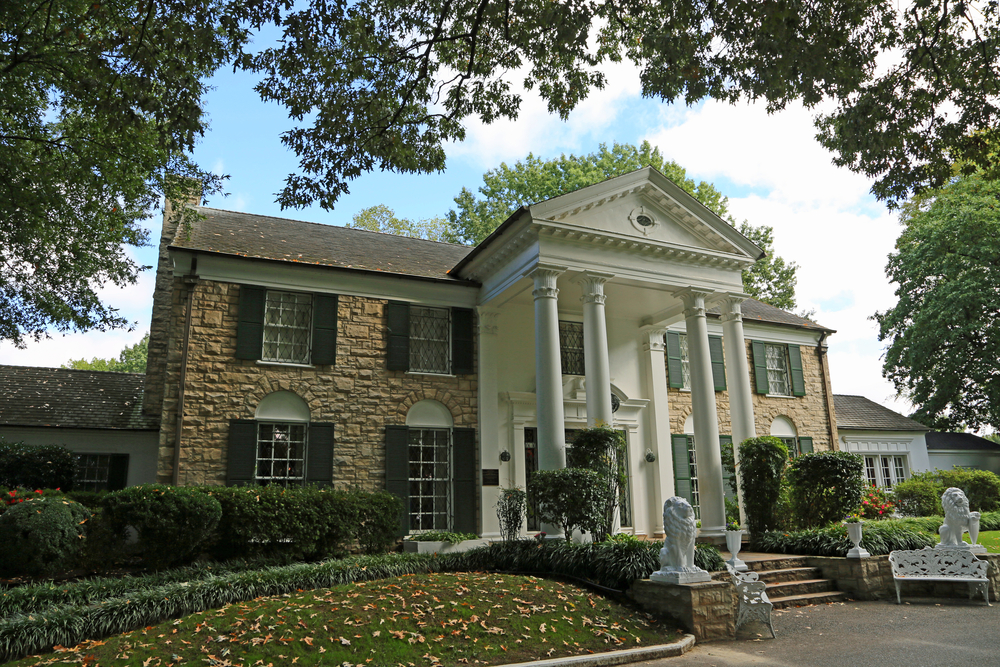 ---
Memphis: City Discovery 3-Hour Bus Tour
"See the best of Memphis on this comprehensive, chock-full 3-hour city tour. Visit the Rock 'n' Soul Museum, the Peabody Hotel, the Lansky Brothers clothier, and so much more. Dine on delicious traditional barbecue at BBQ Central for lunch."
https://www.getyourguide.com/memphis-l1700/memphis-city-discovery-3-hour-bus-tour-t292525/
Price: From $67 USD (3 hours)
Review: "It was what we expected. Nice ride with great information." – Anonymous, United States
View Photos, Read Reviews & Check Availability
---
Did my list miss any great Airbnb Memphis Rentals?
The standard of these Memphis Airbnb rentals set the benchmark so high, I easily could have chosen a list of at least 100! My Airbnb lists are a way to help my readers easily choose the stay of their dreams, so if you have stayed at a great Memphis Airbnb – or are the host of one – feel free to get in touch with me to see if I can add your pad to the list! You can reach me via my social media channels or my email. Speak to you then!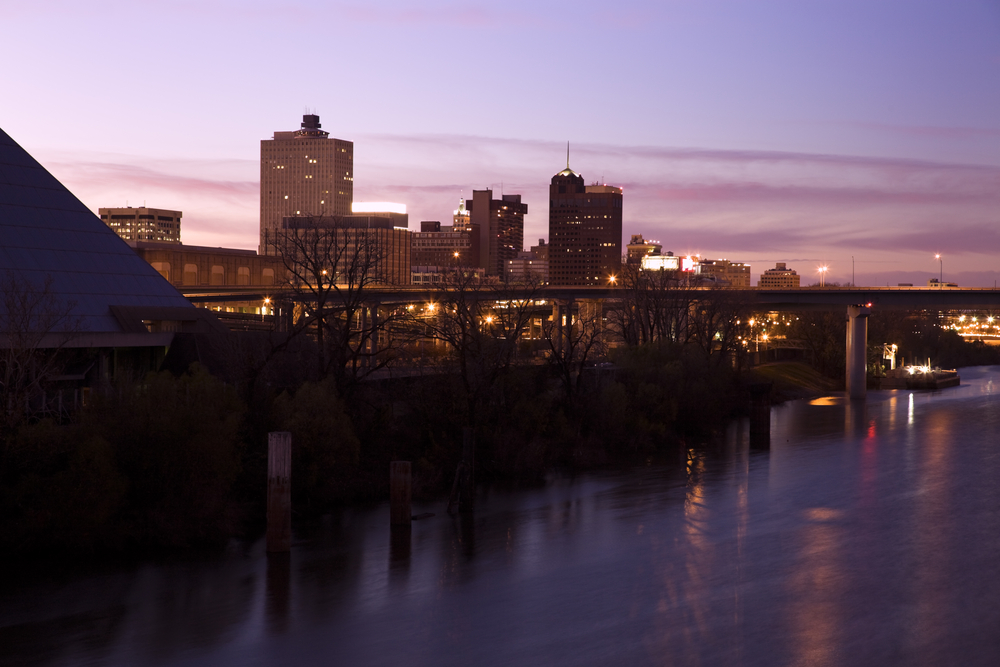 ---
Planning a trip to Memphis, Tennessee or the U.S.A?
Even though I'm an American, I love discovering new destinations to showcase to my readership, and Memphis has definitely made my bucket list now. While I'm only just beginning to build my Memphis travel content, my blog does have a huge variety of inspiring U.S travel guides, Airbnb and music festival lists and so much more.
To get you started, I've linked some of the best U.S travel blogs below. Be sure to click through and see which destinations would want to add to your own travel bucket list.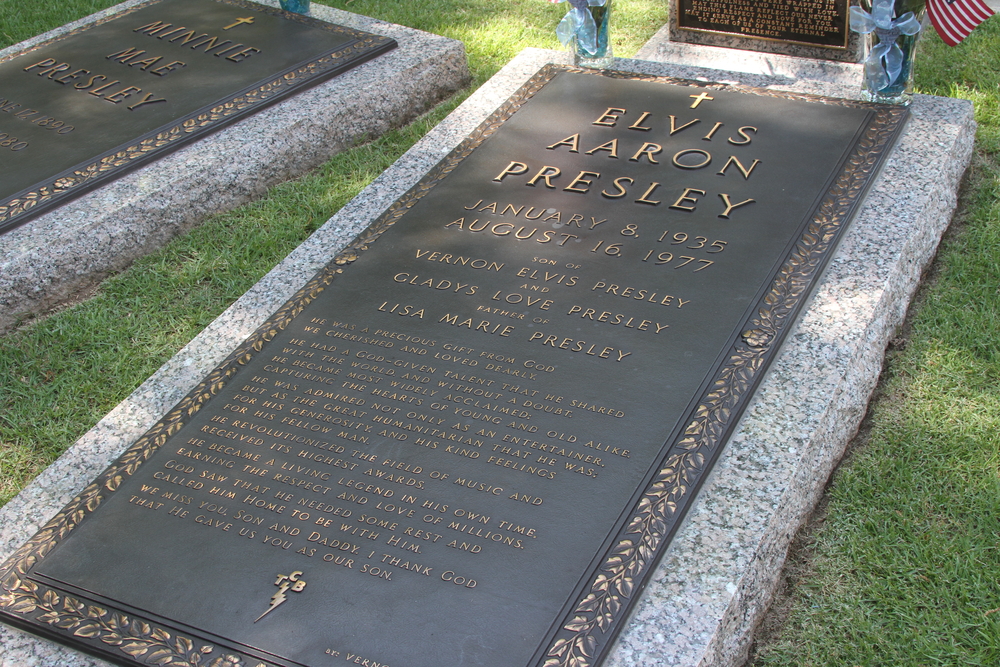 ---
My final thoughts on Airbnb Memphis TN….
Memphis is a cool, unique and historically rich city to visit, and wandering its streets is literally walking the path so many greats throughout history have. While you're in Tennessee, you should head over to Nashville and have a true taste of southern hospitality at Airbnbs there too. Memphis Airbnbs have tons of space, character and charm, and I guarantee you'll love every minute of your trip down south.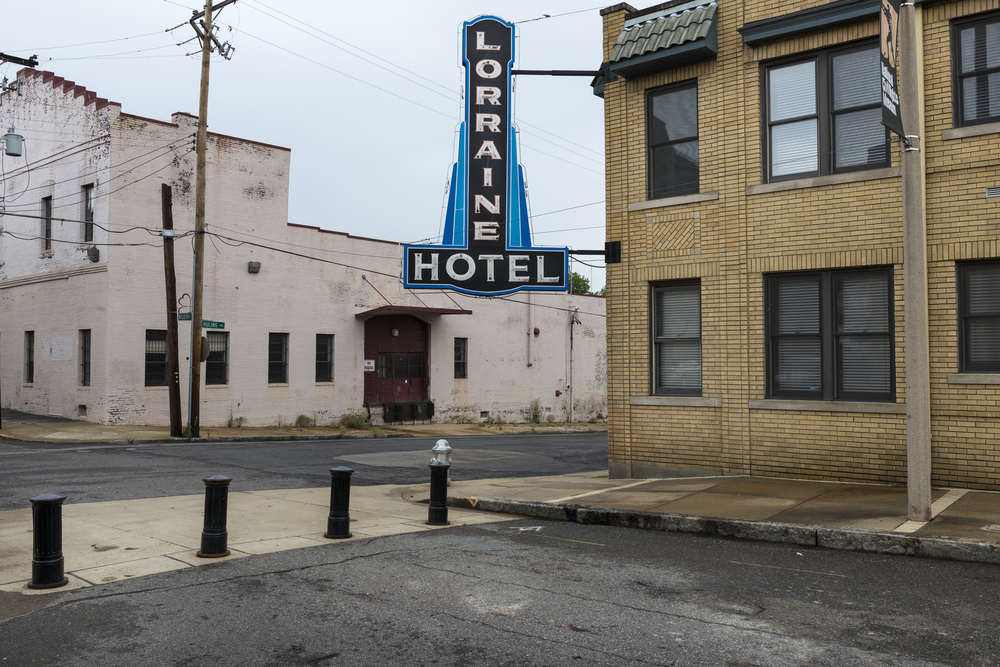 ---
Thanks for reading my Airbnb Memphis Guide!
Share your favorite Memphis Airbnb with your favorite travel buddies!
https://www.jonesaroundtheworld.com/wp-content/uploads/2020/01/Airbnb-Memphis-1.jpg
667
1000
Guest Contributor
https://www.jonesaroundtheworld.com/wp-content/uploads/2017/03/logotry-1-1-300x106.png
Guest Contributor
2020-10-15 10:31:36
2021-04-28 14:52:02
19 Coolest & Best Airbnb Memphis Vacation Rentals For a Tennessee Getaway