Planning an upcoming getaway and searching for the best Airbnbs in Portland, Maine? Well, look no further, as I've put together this amazing vacation rentals Airbnbs in Portland guide for the best and most unique places to stay in this fascinating destination!
One thing you've got to know about Portland is that it's a city bursting with history, primarily because it was once a popular shipping port. Buildings and mansions have been around for centuries, and old school Victorian architecture creeps in around every corner. But that's not to say that the city's frozen in time. In fact, it's quite the opposite.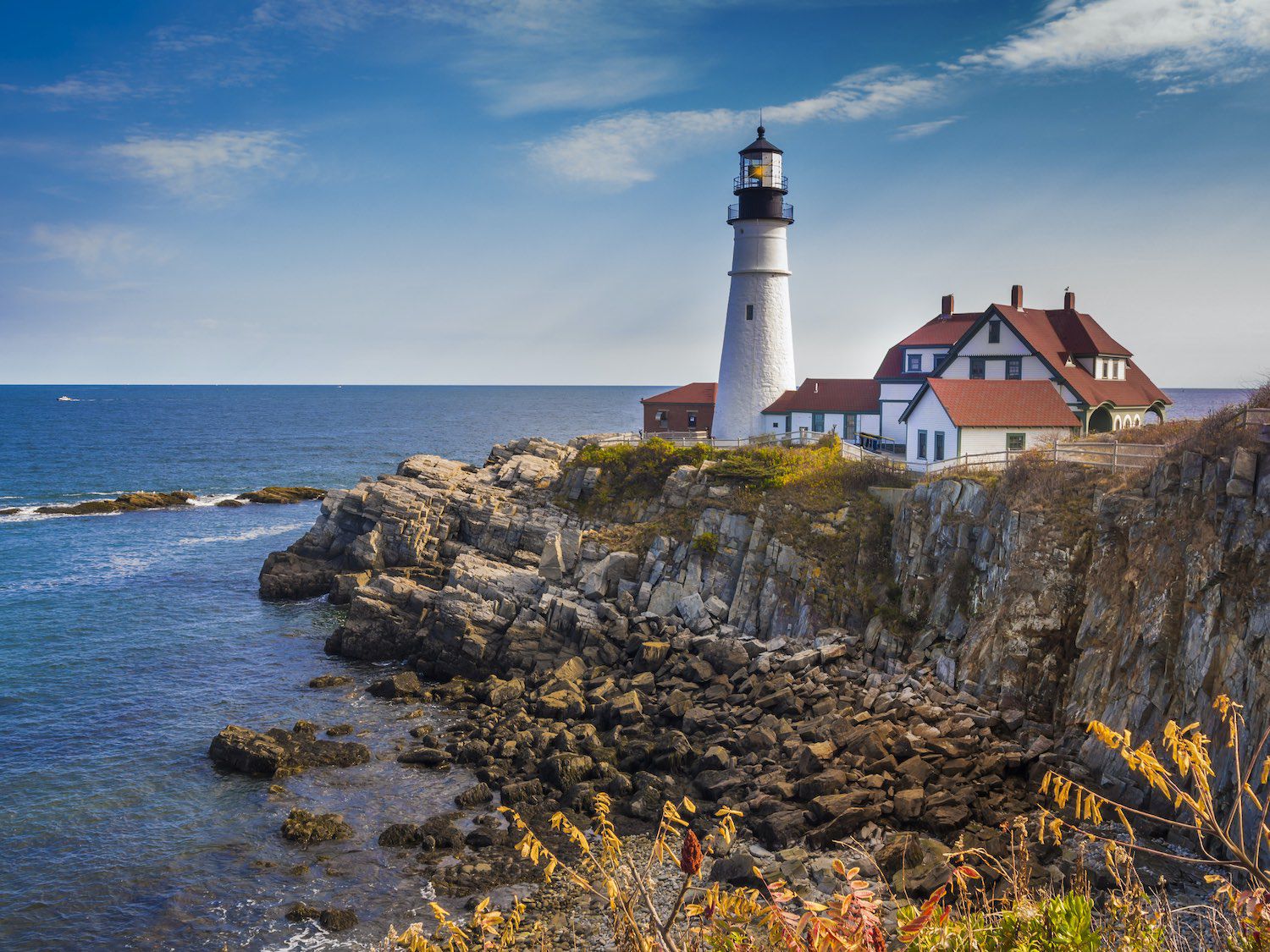 Instead of being known for its history, Portland has transformed the once-quiet streets into a lively, tourist hub. With a perfect combination of art, the thriving music scene, the outdoors, and Portland heritage.
Today the bustling city is loved by all kinds of people. From foodies, musicians, nature enthusiasts, and art admirers. Take a paddle on the waters, hike along gorgeous trails, or hop from bar to bar around the buzzing Downtown area. Whatever you fancy, with all the epic things to do in Portland, it's no surprise the city invites a sense of adventure And to make it even greater, Portland hosts some awesome accommodation spots, making it a comfortable and exciting place to stay at.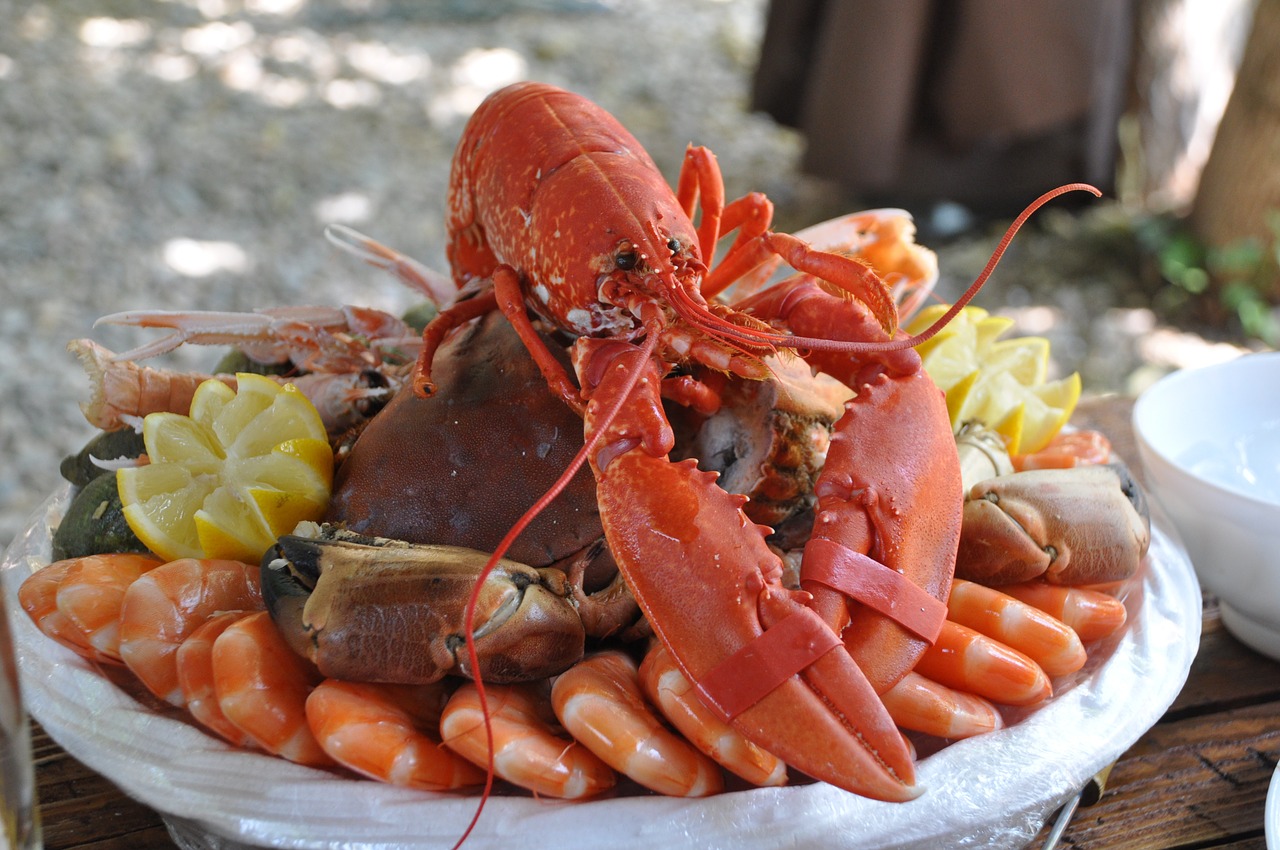 ---
Quick Breakdown of Vacation Rentals & Airbnbs in Portland Maine
In a hurry? No worries, below is a brief summary of Portland, Maine, vacation rentals with a range of popular categories.
I've also added a ton of fun and helpful travel videos for your upcoming trip to Portland & Maine, so be sure to watch a few of them for some inspiration for things to do, places to eat, and loads more!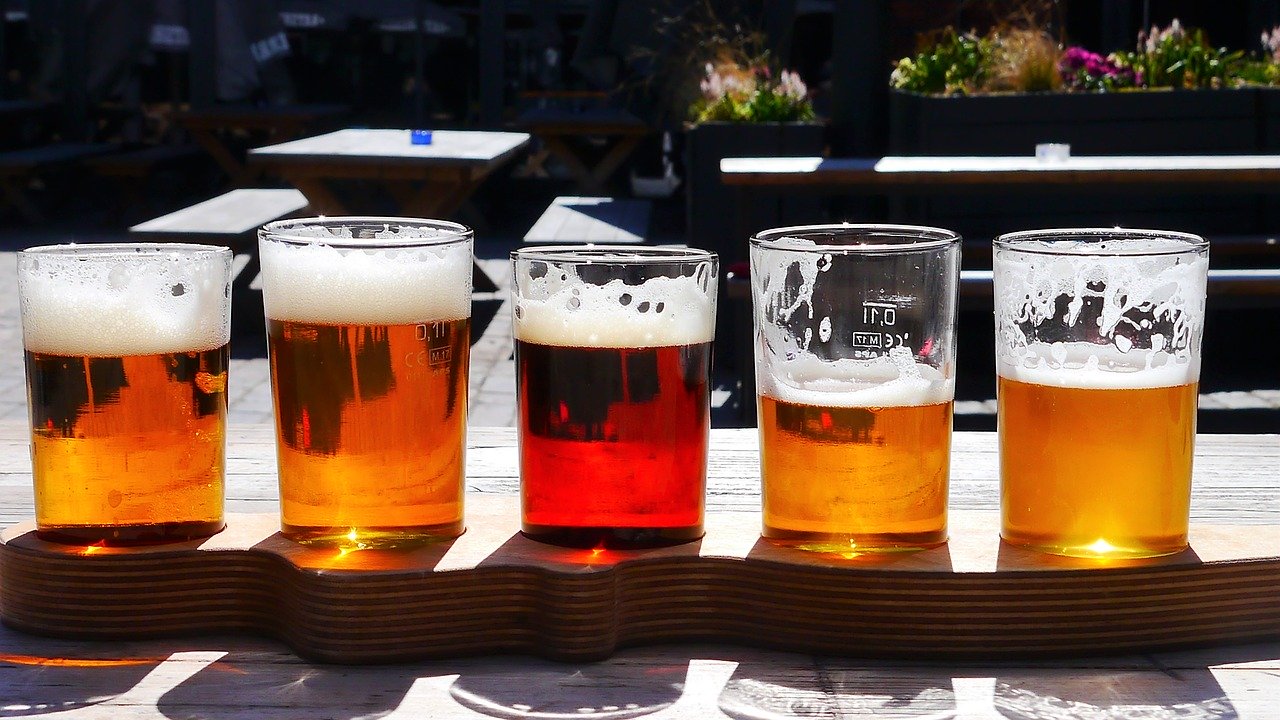 ---
The Best Areas to Stay for Airbnbs in Portland Maine
In Portland, location means everything. It can save you travel time, but it also means getting the best experiences over your stay. Because there's so much to do in the city, I've provided a breakdown of the most popular neighborhoods that are all fantastic to explore, and located fairly centrally.
Downtown: Lined with trees and murals, Downtown Portland is one of the city's main attractions. You'll find all the trendy bars, local breweries, cafes, and quirky shops along the main street. It's also the place to be if you're keen on checking out the music scene and hitting up the clubs.
West End: West End is made up of a collection of green parks and walking trails. The area also overlooks the Fore River, making it a prime spot for an Airbnb. Hip beach bars and popular restaurants are found around the area, but it also shows off impressive architecture amongst the greenery.
Munjoy Hill: Munjoy Hill, also known as East End, has a chilled-out attitude and laidback lifestyle. The area sits along the grassy Eastern Promenade and has views of Casco Bay, which has been a long time favorite of the locals. When it comes to entertainment, you'll find an intimate and eclectic music and art scene.
Willard Beach: The beach covers 4 acres and an awesome place for dipping in the waters and bringing out the SUP board. As well as the area offering walking trails, oceanfront rentals in Maine, and a collection of beach restaurants. A great choice for traveling families.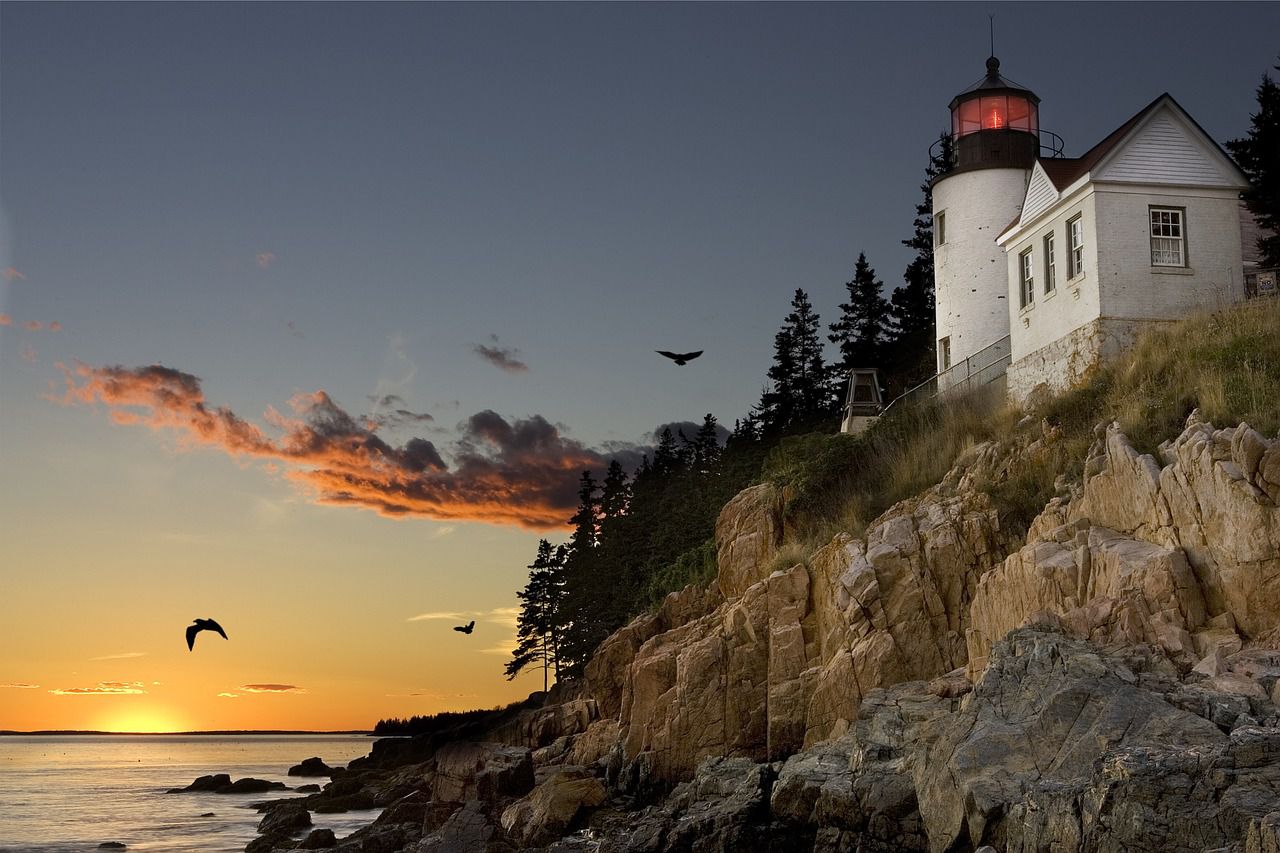 ---
Top 20 Airbnbs in Portland Maine Vacation Rentals
I've included a variety of accommodation options below, to suit all kinds of travelers. You'll find some luxury options, budget-friendly spots, awesome farmhouses to enjoy nature, and beautiful apartments right in the middle of Portland's Downtown.
---
1) Ocean Views at Willard Beach | Close to Downtown
Best Luxury Vacation Rental in Portland, Maine
Location: Willard, South Portland
Price: $895 avg. per night
Sleeps: 8 (3 bedrooms/1.5 bathrooms)
https://www.vrbo.com/4019326ha
Portland is consistently rated as one of the top cities in the United States to eat, drink, and vacation, so why not splash a little extra cash and live the luxury life in this northeastern paradise for a few days? This quintessential coastal chateau is my pick for Portland's best luxury listing, in large part due to the seaside location and rave reviews. With nearly 50 reviews and a perfect 5-star rating, you won't be disappointed by the this wonderful Willard Beach vacation rental. Situated in an upscale quiet and private neighborhood, you'll feel secluded in style while actually being within walking distance to incredible beaches and some of the best restaurants and sites Portland has to offer.
Guest review: "The cottage in South Portland is really great. The owners go out of their way to make your stay the best. The house is very clean, has all the amenities, and the owners are quick to remedy any issues. The setting is beautiful and the location is close to downtown Portland, with easy access to the beach in a quiet and friendly neighborhood. Highly recommend!"
View Photos, Read Reviews & Check Availability
---
2) Downtown Portland Apartment
Best Vacation Rental in Portland, Maine, for Couples
Location: Downtown
Price: $200 avg. per night
Sleeps: 2 (1 bedroom/1 bathroom)
Portland is an ideal city for couples with its quaint cafes and romantic restaurants, and this downtown apartment is perfect for you and your partner. Enjoy downtown Portland and a plethora of nearby activities, eateries, and sites, as well as being within walking distance to the beach and the port. You'll be staying in a thoughtfully decorated and cozy third-floor apartment with WiFi, fully equipped kitchen, and plush comfortable bedding. The West End is full of historic homes with beautiful architecture and interiors, and this listing is no exception! Make it your home base for exploring one of the United State's best vacation city's — you won't regret it!
Guest review: "Awesome location in West End with easy access to great restaurants and bars. Clean and spacious walk-up apartment was really comfortable and well-appointed. Owner was easy to communicate with and made check in/out very simple."
View Photos, Read Reviews & Check Availability
---
3) Spacious & Contemporary Condo in the Heart of Portland
Best Vacation Rental in Prime Portland Location
Location: Downtown
Price: $109 avg. per night
Sleeps: 4 (1 bedroom/1 bathroom)
This is where price meets prime location for the perfect pairing! I've picked this downtown Portland, Maine, vacation rental as my pick for best location due to everything being walking distance and the space itself being comparatively easy on the wallet (things can tend to get a bit pricey around this area). Fashionably furnished as well as having all new appliances and amenities such as high speed WiFi and a flatscreen TV with Netflix, this apartment is ideal for experiencing everything from the the West End to Munjoy Hill within walking distance. Within a mile you've got East End Beach to play in the sand, Old Port for fine dining and casual eats alike, and the Casco Bay Lines ferry to take you out on the water for a day trip full of incredible views. Additional nearby attractions include Merrill Aquarium and the Portland Observatory.
Guest review: "Accurately described, nice TV set-up, extra blankets. Thanks!"
View Photos, Read Reviews & Check Availability
---
4) Loft Apartment on Tree-Lined Street in Falmouth
Location: Falmouth
Airbnb Plus: Yes
Superhost: Yes
Price: $224 USD+ per night
https://www.airbnb.com/rooms/plus/21052343
Enjoy this beautiful loft apartment that's about 3 times as big as an average hotel room, which includes so much more than you'll receive during a hotel stay. With sophisticated decor, cathedral ceilings, air-conditioned rooms, and exceptional hospitality, this charming loft is more than perfect for a stay in Portland.
It's ideal for those looking for their own bit of comfort and privacy. Soak up the sun in the pool that's available during summer. During the chillier months, relax in the private backyard hot tub.
Just a short stroll to the Presumpscot River, and a 15-minute drive to the heart of Old Port, you'll find some brilliant restaurants and beautiful, eye-catching homes.
View Photos, Read Reviews & Check Availability
Guest Review: "We thoroughly enjoyed our time here. Pam and Tim have done a wonderful and fantastic job creating this beautiful, modern and creative apartment/ suite. It is spacious yet cosy, bright, fresh, airy, and beautifully furnished. It felt like we were staying in a luxury hotel suite. We could have just hung out there all day :) It's in a great location – 10-13mins drive from downtown Portland and 20mins to Freeport. We found the 'efficient kitchen' suitable for making our breakfast and salads. We would definitely stay here again and highly recommend it to others!"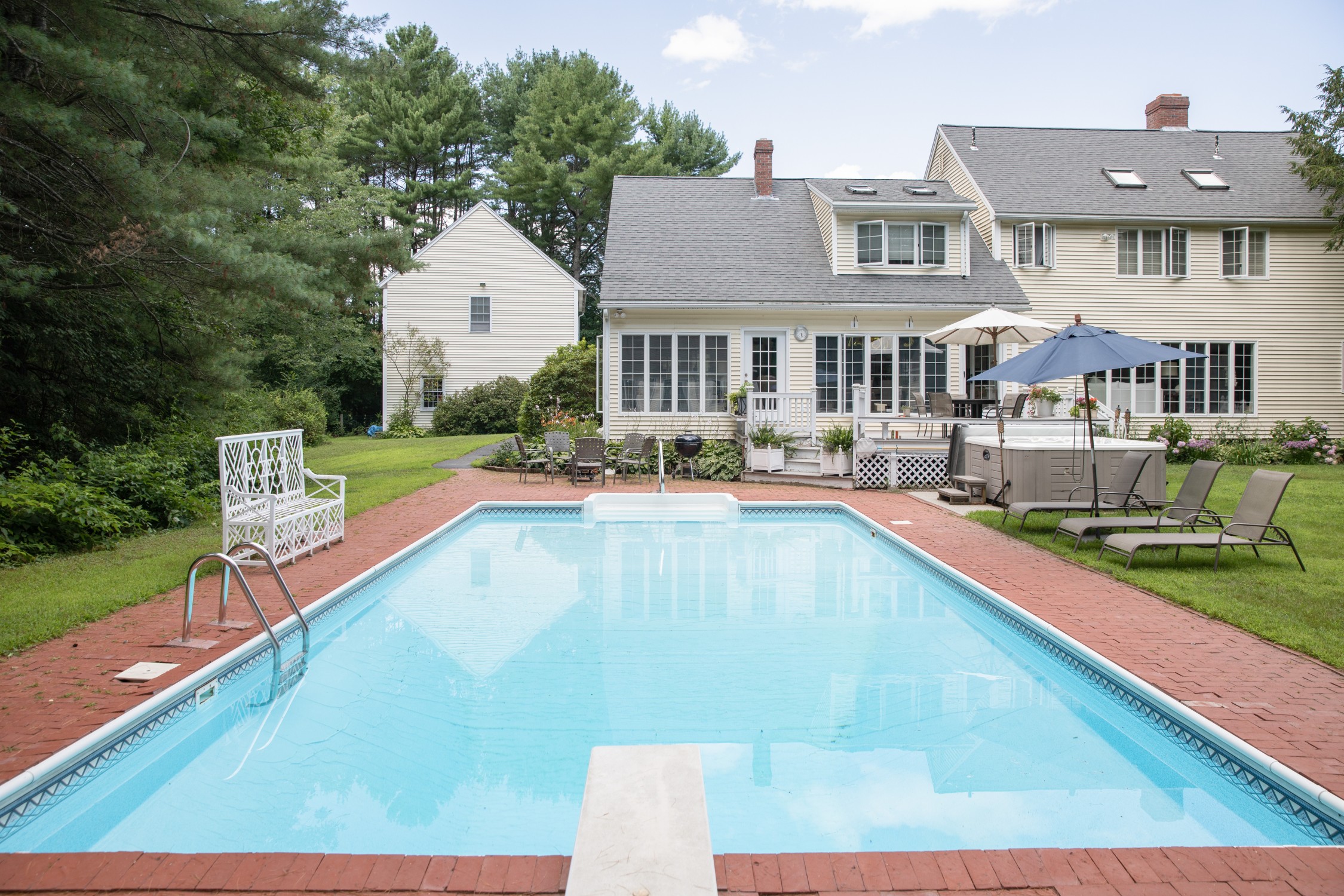 ---
5) Private Room in 100 Year Old Portland House
Location: Woodfords Corner
Airbnb Plus: No
Superhost: Yes
Price: $54 USD+ per night
https://www.airbnb.com/rooms/2532791
Think art, jazz, and a whole lot of bright colors. The 100-year-old home features beautiful glass stained windows and old wooden finishes. Combine it with the newly painted exterior and you get a feel of the old and new aspects of Portland.
The upstairs area is all yours and fitted with 2 bathrooms. Although it's ideally for 2 people, it can fit up to 5 guests.
Take a walk along the tree-lined streets to get to nearby coffee stores, pizza bars, ice cream shops, and a forest. Stretch out the legs for 2 miles and you'll get to Downtown Portland, where you'll find the beach and local museums.
View Photos, Read Reviews & Check Availability
Guest Review: "This place was in the perfect location and the hosts were so welcoming and had tons of great local tips! It made our spontaneous trip to Portland a blast since the local tips got us a long way."
Portland, Maine Vacation Travel Guide | Expedia
---
6) Fresh East End Apartment Walkable to Downtown Portland
Location: Munjoy Hill
Airbnb Plus: Yes
Superhost: Yes
Price: $245 USD+ per night
https://www.airbnb.com/rooms/plus/24693518
In an absolutely prime location, this gorgeous, minimalist loft space sits right along the beautiful waters of the peninsula. Release your inner child and climb the ladder to the mezzanine bedroom, fit with a comfortable double bed.
With open shelves displaying an impressive collection of reads and eclectic ornaments, and dreamy wooden finishes, it's worth treating yourself with a stay here.
The apartment is in a safe and quiet neighborhood, but a short walk or Uber ride will transport you to the bustling Old Port, where you'll find famous Portland breweries.
View Photos, Read Reviews & Check Availability
Guest Review: "Best nights sleep in a bnb EVER! The loft bed was soooo comfortable we opened the window and slept amazing! Close to everything not exactly walking distance especially in November but still close & free parking! Susan was available for questions and super friendly we would 100% stay again if in Portland."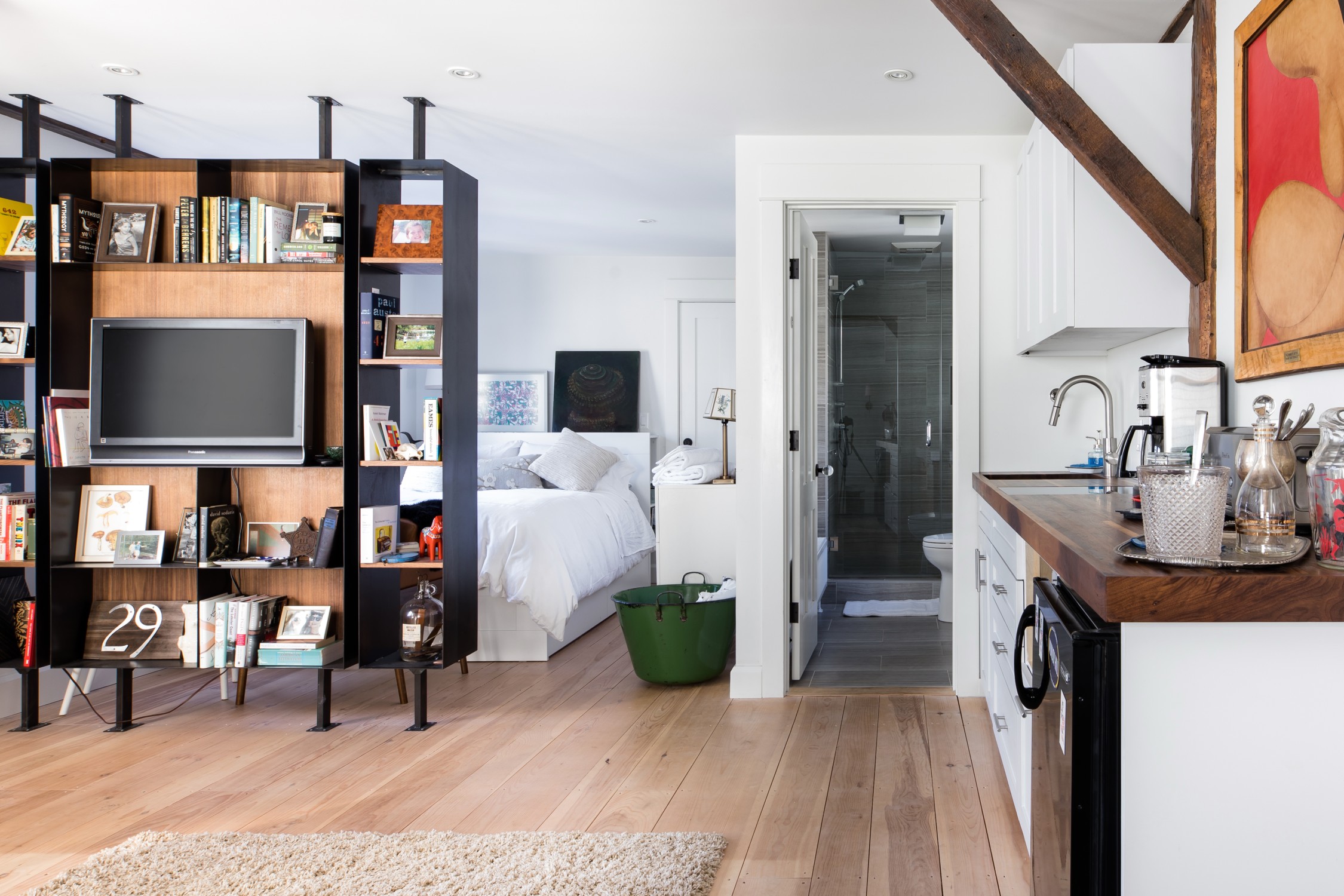 ---
7) Walk to the Bay from an Apartment in a Foodie District
Location: Downtown Portland
Airbnb Plus: Yes
Superhost: Yes
Price: $295 USD+ per night
https://www.airbnb.com/rooms/plus/25265719
The apartment is found in a trendy neighborhood that's within walking or cycling distance of the top places in Portland. The surrounding area also has some epic biking and walking trails.
Gentrification has brought the newest food hub to Washington Avenue, which is only 2 blocks away.
And if you feel like taking a break from all the eating out, enjoy cooking up a storm in the spacious, kitted-out kitchen. With the colorful artwork, light open spaces and bright furniture, it's a great place for continuing the fun of your stay.
View Photos, Read Reviews & Check Availability
Guest Review: "Shira has a beautiful apartment that is spacious & spotlessly clean. Thank you Shira for the welcome bottle of wine, we thoroughly enjoyed it. The house has all the amenities you need , & everything is thoughtfully labeled. It's walking distance to Old Port, restaurants, shopping & groceries. I would definitely stay here again & recommend it to friends."
Tour of Portland, Maine: Top 10 Portland Maine Things To Do and See ✔️
---
8) Visit Local Galleries from a Cozy House Filled with Art
Location: East End
Airbnb Plus: Yes
Superhost: Yes
Price: $442 USD+ per night
https://www.airbnb.com/rooms/plus/21040147
Yes, I know this place is crazy expensive, but hear me out.
With space to sleep 6 people, it's the perfect place for a friend's getaway, fit with everything you could possibly need. Just as the sun starts to set, mission up to the rooftop and marvel at the views of the port, the traditional Portland neighborhood, and everything beyond.
Or discover the nearby coffeehouses, bakeries, restaurants, and occasional markets.
When you're not exploring the local galleries, hide away in the comfy indoors and continue the exploration by reading books, looking at the artwork, and enjoying the board games.
View Photos, Read Reviews & Check Availability
Guest Review: "Susan was a wonderful host. Everything we needed to make our stay pleasurable was available . We greatly enjoyed our stay and would return. Susan had everything arranged a very comfortable manner with excellent recommendations in the neighborhood. Everything we wanted to do was within walking distance from the house."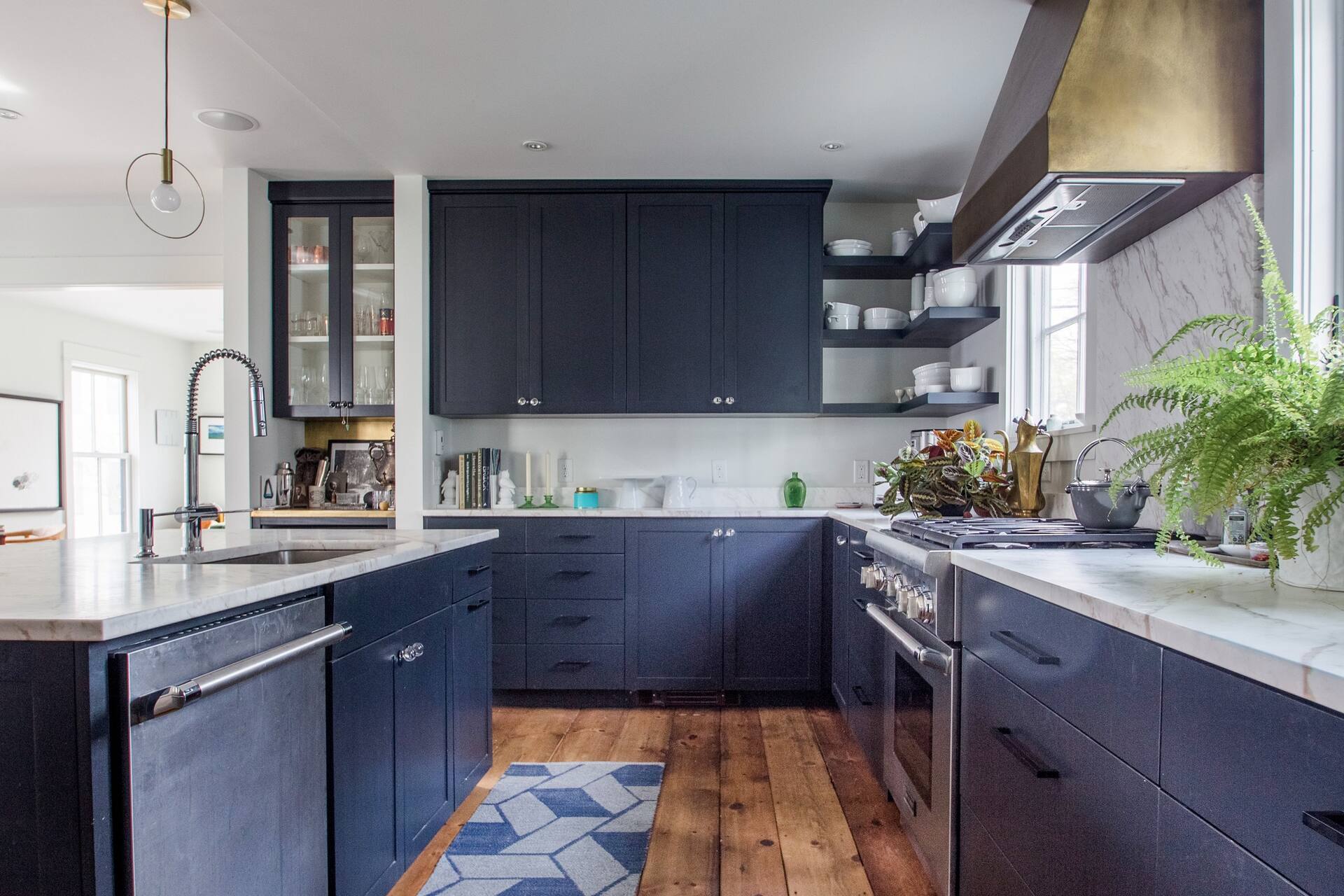 ---
9) Charming & convenient farmhouse near beaches
Location: Scarborough
Airbnb Plus: No
Superhost: Yes
Price: $52 USD+ per night
https://www.airbnb.com/rooms/35315017
Have the chance to enjoy the liveliness of the city, but then retreat to an idyllic farmhouse only 10 minutes away from Scarborough's famous beaches and Portland's Old Port. Enjoy the private, spacious bedroom and outdoor patio in the sun.
Whether you've come for work, play, or both, you'll be glad to know that the house has its own yoga space (with mats available), as well as a private working space. And the option to bring your furry friend.
View Photos, Read Reviews & Check Availability
Guest Review: "Allison's home is so welcoming and convenient for us to stopover one night. We did have a very good stay."
The BEST Food & Beer in PORTLAND, Maine
---
10) Garrison Cove Studio
Location: Stroudwater
Airbnb Plus: No
Superhost: Yes
Price: $147 USD+ per night
https://www.airbnb.com/rooms/37171134
An urban hideaway that's a pretty rare find on Airbnb. The newly developed waterfront studio is placed along the banks of Fore and Stroudwater Rivers, and occupies a 150-year-old post and barn.
It's utter relaxation once you've left the city. Spend your days meditating in the stunning outdoor nature, enjoy your morning coffee next to the river. Sip on your wine next to the grape arbor, or have some fun and swing on the awesome river swing.
And it couldn't get more luxurious with organic cotton sheets, down pillows, and a hotel-quality queen mattress.
View Photos, Read Reviews & Check Availability
---
11) Sweet Bedroom Steps from Restaurants and Breweries
Location: Inner Washington Ave
Airbnb Plus: No
Superhost: Yes
Price: $69 USD+ per night
https://www.airbnb.com/rooms/3894141
This Airbnb room is ideal for couples who're looking to explore the best parts of Portland and know that when the exploring is over, they'll have a comfortable place to get back to. In the mornings check out Portland Pottery Cafe for delicious brunch, but come evening time, a visit to Craft Distilling for cocktails is such a vibe.
With access to the front yard and front porch, and a stone's throw away from the breweries, you get the comforts of home mixed with the joys of travel.
One thing to note is that the hosts have kids who get up pretty early. But they're generally not a bother and it's why the hosts keep the price low.
View Photos, Read Reviews & Check Availability
Guest Review: "Rosalee and Toby are fantastic hosts! Their house is a very short walk to anything you would want to do in Portland, they also have fantastic restaurant suggestions! I loved staying here."
Let's Explore! // Portland, Maine
---
12) Huge 1 Bedroom in Downtown Portland
Location: Downtown
Airbnb Plus: No
Superhost: Yes
Price: $81 USD+ per night
https://www.airbnb.com/rooms/18004291
Keep in line with the Portland style and book a stay in this classic "triple-decker" apartment right in Downtown Portland, and just two blocks away from the ocean.
The Victorian styled building features the basic essentials, like a kitchen and a living space with stunning architecture. The bedroom sleeps two on a queen bed, but if you're traveling with friends, there's a futon that sleeps up to four people.
Staying here means you get the chance to walk everywhere around this historic and central part of the city. Don't forget to look up and appreciate the retro architecture and old mansions.
View Photos, Read Reviews & Check Availability
Guest Review: "Great place in a great location. A short walk to the downtown and old port areas. Very spacious. It's an old place with older furnishings, but it has great charm and everything works perfectly and everything is super clean. It's nice and warm and comfortable. The staircase is very steep, which might be an issue for some people and is a bit of a challenge with luggage."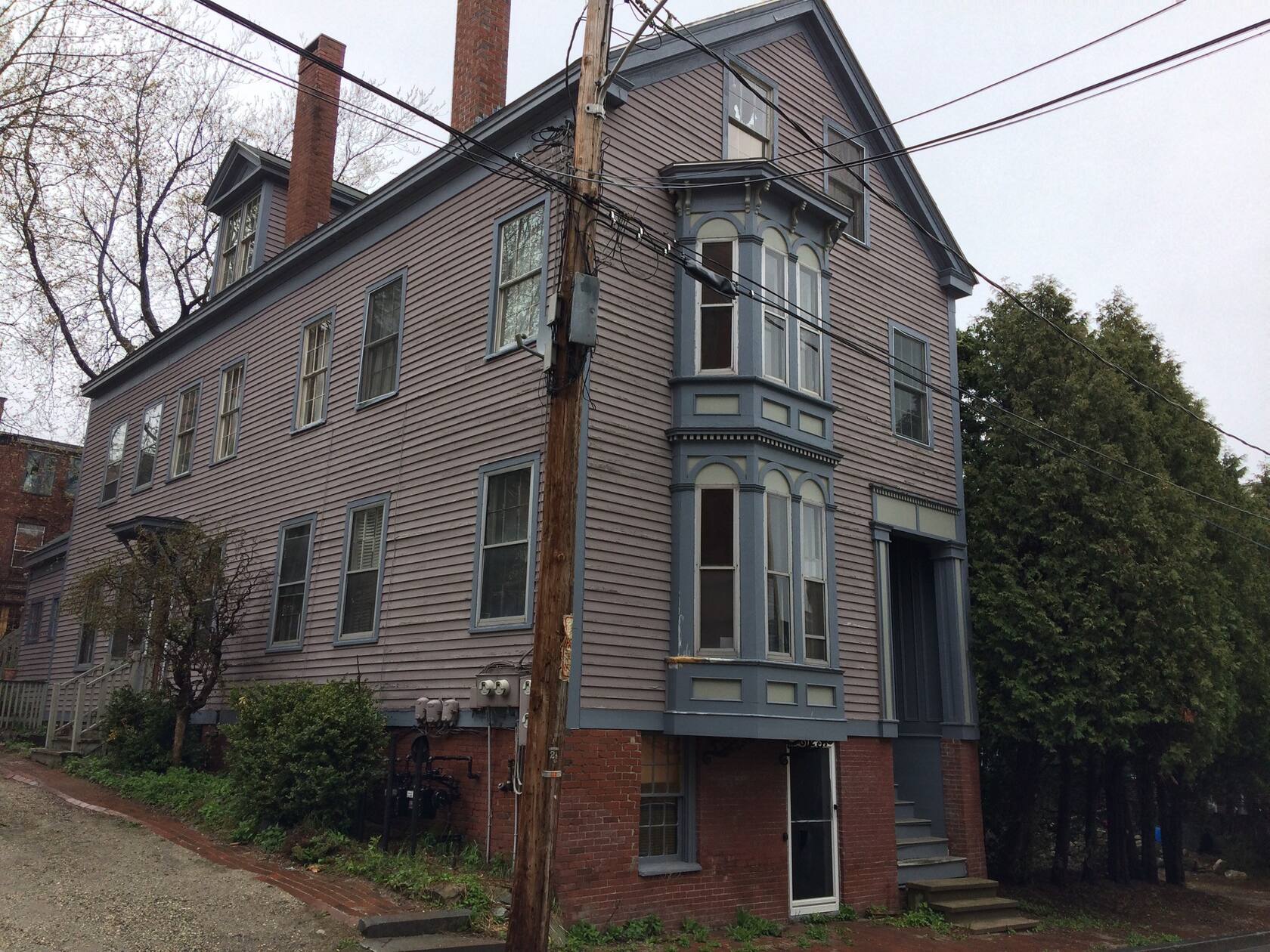 ---
13) Private Studio in Portland's East End
Location: East End
Airbnb Plus: No
Superhost: No
Price: $115 USD+ per night
https://www.airbnb.com/rooms/6607842
Yet another fantastic Portland apartment that's been around for over 100 years. The charming second-story apartment still has its original framework, with beautiful old windows and open spaces.
Guests have full access to the outdoor patio, where they can enjoy lounging in the sun or chilling out with a book picked up from one of the old Portland bookstores.
You'll have the best food recommendations, too, as the hosts have lived there for a while and are happy to share their secrets. And with just a 20-minute walk to the Eastern Promenade, guests can enjoy the outdoors as well.
View Photos, Read Reviews & Check Availability
Guest Review: "We loved our stay at Birch's – the place was nicely appointed with everything you would need for a short vacation. Walking distance to many cafes and restaurants. It made the perfect base for our stay in Portland!"
A taste of Portland, Maine
---
14) Entire Condo With Harbor Views
Location: East End
Airbnb Plus: No
Superhost: Yes
Price: $223 USD+ per night
https://www.airbnb.com/rooms/34337645
Another pricey Airbnb, but wow, having this entire condo to yourself is a dream. The historic brick building, that's recently been renovated, shows off 360-degree views of the waterfront and city.
And if the insane views from the apartment aren't enough, try not to let the beautiful decor keep you at home too often. But given that it's in a fantastic location, it'll be easy to whizz around the city.
The place is literally steps away from Portland's best restaurants, such as East Ender, Honey Paw, Hugo's, and Duckfat. It's a quiet and sunny spot that can comfortably sleep 4 people, making it a great option for family or friends getaways.
View Photos, Read Reviews & Check Availability
Guest Review: "If you're planning a visit to Portland, John and Alex's place is the absolute best spot to stay! It's a gorgeous and thoughtfully designed space with tons of thoughtful amenities. The location can't be beat, it's right in the heart of everything Portland has to offer. This is hands down one of the best Airbnb's I've ever stayed in!"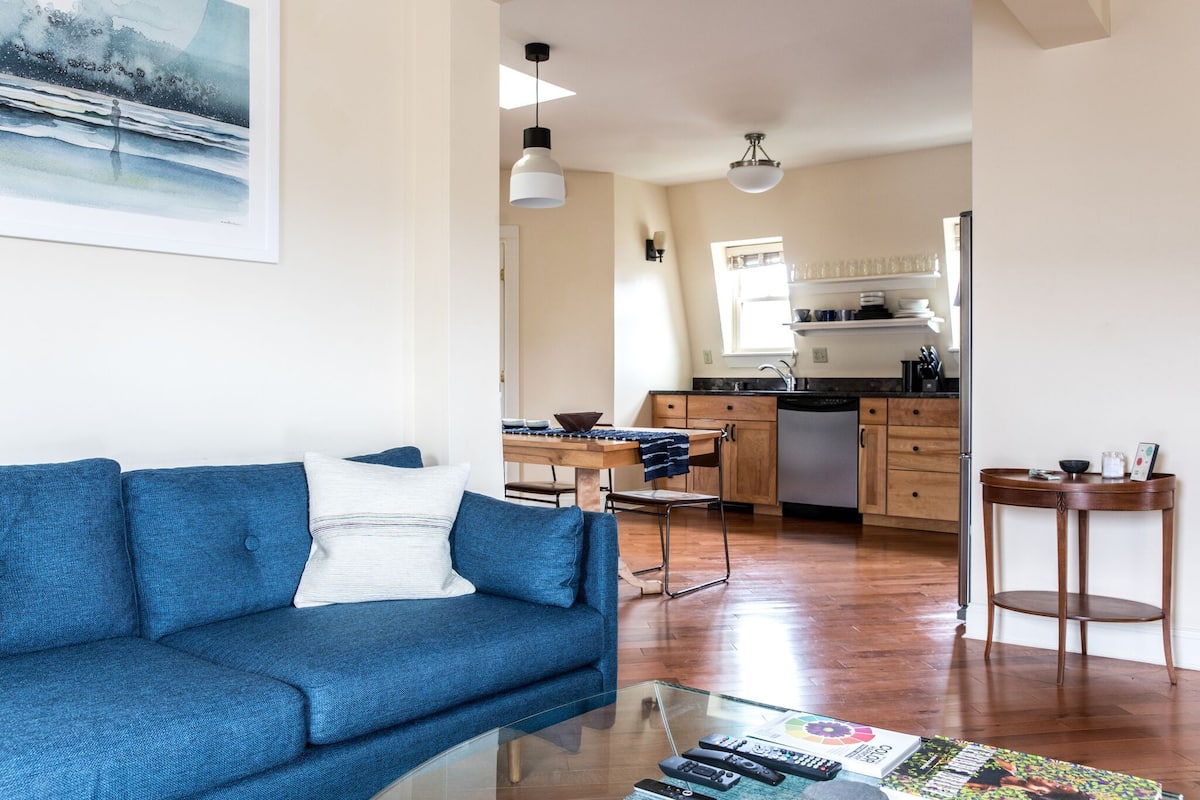 ---
15) Cute One Bedroom Apartment
Location: West End
Airbnb Plus: No
Superhost: No
Price: $163 USD+ per night
https://www.airbnb.com/rooms/12091168
An adorable central apartment that's close to everything you want to be doing while in Portland. The space features a living room, coffee and tea supplies, a separate sleeping area, and clean linen and towels. And if there are more than 2 people, a pull-out couch and air mattress can be easily arranged.
The place is surrounded by a beautiful park, many portland eateries, museums and art galleries, and even performing art theaters.
View Photos, Read Reviews & Check Availability
Guest Review: "The location was perfect for walking around most of Portland, parking was problematic but after figuring out a garage pretty far away everything went smoothly. Cute space, great response time from owners, and a nice price as well."
We Found The Best Lobster Roll In Portland Maine • Quest For The Best
---
16) Joyful Munjoy Hill Garden Suite
Location: Munjoy Hill
Airbnb Plus: No
Superhost: Yes
Price: $115 USD+ per night
https://www.airbnb.com/rooms/20849673
Just minutes away from central Portland, markets, restaurants, breweries, museums, and unique shops. But what makes this place great is the space you'll have for enjoying some downtime.
The sitting room overlooks the shared garden and is a beautiful space for sipping on your morning coffee or evening glass of wine. Before you head out to the beach, pick up a complimentary beach towel.
Another perk of the Airbnb is that it's within reach of beautiful nature trails, bike paths, the central beach, where you can rent kayaks and SUP's, and the picturesque Casco Bay.
View Photos, Read Reviews & Check Availability
Guest Review: "Lovely space in a quaint neighbourhood by the water. Walking distance from downtown Portland and many nice shops. Very clean and George was a wonderful host, highly recommend!"
---
17) Chickadee Cottage at Willard Beach
Location: Willard Beach
Airbnb Plus: No
Superhost: Yes
Price: $104 USD+ per night
https://www.airbnb.com/rooms/17188379
If you're looking to explore the quieter, natural parts of Portland, even throughout winter, this charming cottage is a great alternative to the classic city vibe. It's just three blocks from Willard Beach and a short walk to Greenbelt, a trail that spans 5.6 miles.
The clean, colorful, modern room has its own entrance and is a separate part of the house, with its own pergola you can sit beneath in the wild garden.
There are plenty of dining options within walking distance, and a 10-minute drive will lead you into Portland where you'll find even more options.
View Photos, Read Reviews & Check Availability
Guest Review: "A great place for a nice getaway. The cottage is very nicely decorated and you'll find anything you need. The place has a great feel to it and the kind host tops of this great place. We had a great time here and would not hesitate to come again!"
Top 10 Best Places To Visit in Maine
---
18) Coastal Penthouse – Portland's Historic District
Location: Casco Bay
Airbnb Plus: No
Superhost: No
Price: $236 USD+ per night
https://www.airbnb.com/rooms/39950902
An absolutely gorgeous coastal penthouse for enjoying the best of the best in Portland. It's located right along the most vibrant street in Portland, accompanied by countless 5-star restaurants and bars. You may have heard of the famous Holy Donut? It serves Portland's best donuts and is conveniently situated directly across from the penthouse.
Now let's get to the part where you get the entire condo to yourself. The space sticks with the coastal harbor kind of vibe, with classic wooden finishes, blue tones, and white wooden paneling.
And during the evening, when the city comes to life, you can gaze outside the windows and watch the city start to sparkle.
View Photos, Read Reviews & Check Availability
Guest Review: "Weston's place is clean, convenient, and peaceful. It looks just like the pictures and is filled with thoughtful touches that make your stay that much easier. I would certainly stay here again."
---
19) The Summer House at Conant Homestead
Location: Westbrook
Airbnb Plus: No
Superhost: Yes
Price: $75 USD+ per night
https://www.airbnb.com/rooms/26926349
This summerhouse is a quaint, cozy little escape from the city. You're greeted by nature around every corner, with a permaculture farm that's home to chickens, pigs, and cute goats. To complete the farm living, guests can take strolls through the walking trails and take trips to the Presumpscot River.
The summerhouse is fit with a comfy queen-sized bed and lovely sitting area. And when the summer sun is shining, take a shower in the outdoors and enjoy the sun from above.
And if you need a break from the farm life, it's close by to a bus stop, where you can jump on bus number 4 and head directly into downtown Portland.
View Photos, Read Reviews & Check Availability
Guest Review: "The Summer House was spectacular and a little bit magical. The screened room was homey, spacious, and had everything you could need to serve as a home base while you explore the surrounding area. The composting toilet was efficient and the outdoor shower was SUCH a treat–I really enjoyed it! Malory and Michael were welcoming and super friendly (and the goats, pigs, and chickens were, too!). Whenever I had a question, they were really quick to respond. I had a great time and I'll definitely be booking again in the future!"
The TOP 5 Neighborhoods in Portland Maine - Where to live on the Portland, ME Peninsula
---
20) Historic Apartment in the West End
Location: West End
Airbnb Plus: No
Superhost: Yes
Price: $222 USD+ per night
https://www.airbnb.com/rooms/31671097
Built-in 1835, this breathtaking apartment is absolutely great for families traveling in Portland. With more than enough space to sleep 4 people, it also has a pack and play travel crib available. During the colder months, heat up by the fireplace and lounge on the comfy couches.
It's right in the middle of the best parts of Portland. Although there are many trendy bars, cocktail lounges, music venues, and jazz clubs, families can visit The State Theater, the Victorian Mansion, and the Portland Museum of Art.
If you're not traveling with the family, you should definitely stop at The Jewel Box, Speckled Ax or Bao Bao, for live music and entertainment!
View Photos, Read Reviews & Check Availability
Guest Review: "Jennifer's place in Portland was fantastic! Very centrally located to some great restaurants and coffee — and all of what Portland has to offer. It was super clean and having off street parking was a plus. Would absolutely stay here again! It was the perfect place to stay while in Portland."
---
Tours and Day Trips from Portland, Maine
To start off your vacation, it's always a cool idea to join a tour and get to know the area and vibe of the city. Hopping on a day tour of Portland means you get to be a part of a hassle-free experience to see the best parts of the area.
Below I've compiled a list of the best tours for sightseeing around Portland.
---
Portland, Maine: City & Lighthouse Tour
https://www.getyourguide.com/activity/portland-maine-l108672/portland-maine-city-lighthouse-tour-t252112/
"Enjoy a fully narrated tour along the coast of Portland, Maine. See the remarkable Portland Head Light and two other historic lighthouses. Walk around the quaint Old Port district and learn about the working waterfront."
Price: $45+ USD
Review: "This tour was great. The weather was terrible but the tour guides were awesome giving us all the info for the highlights of Portland. They dropped our group off right in front of the Best Lobster restaurant instead of returning to the pickup spot where the tour originated and us having to find it."
View Photos, Read Reviews & Check Availability
---
Walk Portland & Try Maine's Best Beers
"We'll stroll around the eastern end of Portland, visiting some of my favorite local craft breweries and trying a wonderful selection of Maine craft beers, curated by one of the few Certified Cicerones® in the world. You'll get to try various styles of craft beer, have a fun & relaxed time, get a little exercise (nothing too strenuous!) and fresh air, and visit some cool spots that you may not have found on your own."
https://www.airbnb.com/experiences/290065
Price: $59 per person
Review: "Great intro and history of Portland breweries. Alan is worldly and articulate in his knowledge of beer history and brings that to straight to this tour. Highly recommended"
View Photos, Read Reviews & Check Availability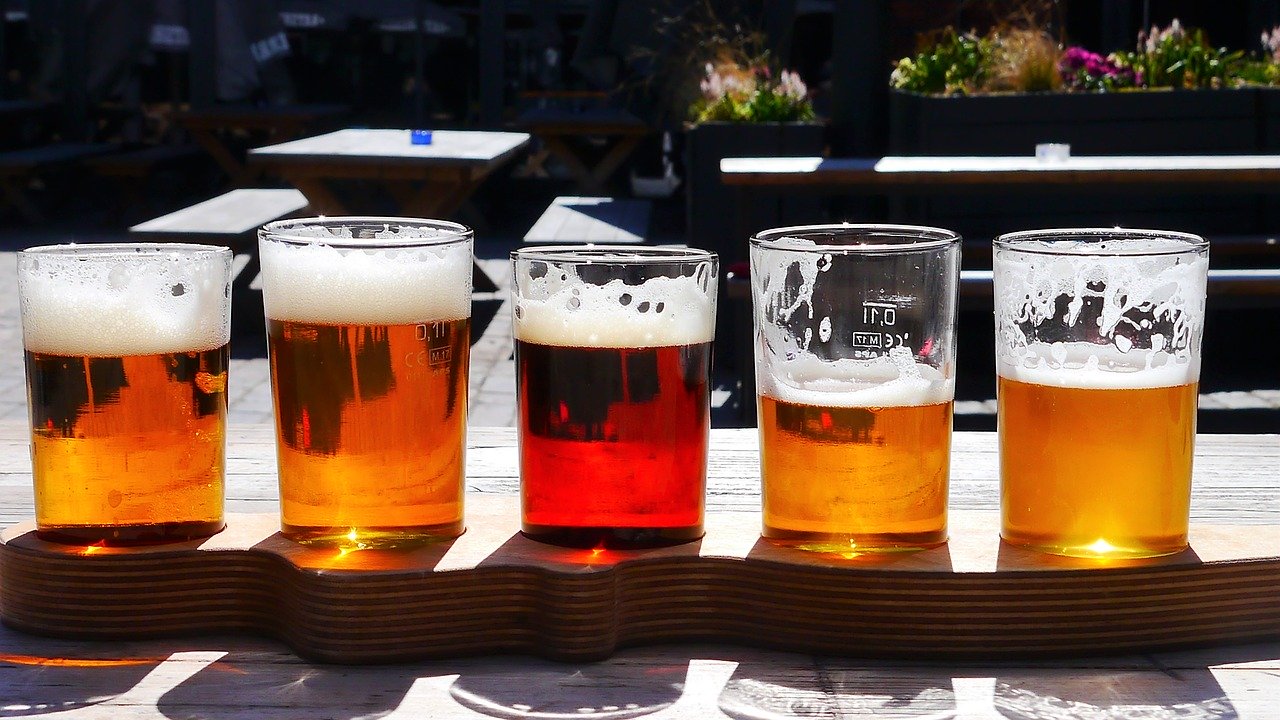 ---
Maine: Coastal Maine Private Half-Day Tour
https://www.getyourguide.com/activity/portland-maine-l108672/maine-coastal-maine-private-half-day-tour-t277027/
"Enjoy the sights of Southern Maine as you drive by the coast and into towns to discover the area. Discover walking paths, museums, and beaches as you explore Maine."
---
Airbnbs in Portland Maine Coupon Code
So if you're new to Airbnb or happen to be traveling with someone who hasn't used it before, here's a fun travel hack! You can sign up for a new account and save $40+ Off Your First Night! I try and do this regularly to save money, and would be a great way to lower the price on your Airbnb Portland Maine rental! It's super easy and only takes a few minutes, and will automatically come off the total price of the booking!
---
Am I Missing Any Amazing Airbnbs in Portland, Maine?
Have you visited a Portland Maine Airbnb or vacation rental that you think you should be mentioned here? Or perhaps you're a new Vrbo or Airbnb Portland, Maine host and would like to see your property featured on this list? I'd love to hear from you so I can make this list complete with the BEST and most beautiful vacation rentals this charming destination has to offer!
---
Looking for more travel inspiration?
I've included links to a range of other great U.S.A blogs, city guides, music festival lists and AirBNB breakdowns to help you plan your dream American road trip.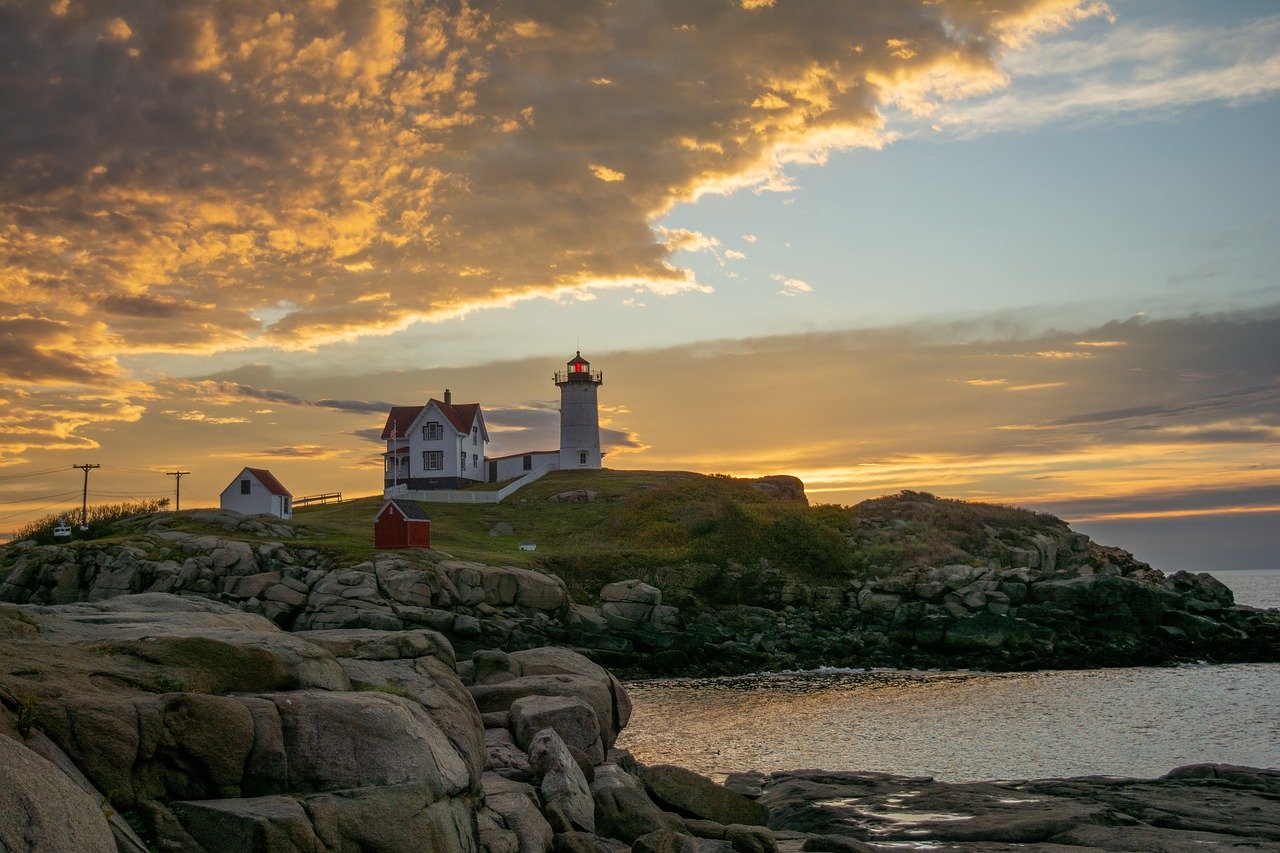 ---
Final Thoughts on Airbnbs in Portland, Maine
What's great about Portland is that with a host of awesome activities and things to do in the city, you can create the right kind of holiday for yourself. So if you're keen on spending time in nature, hitting up the beach, getting dressed up to experience the buzzing nightlife, or putting on your trainers for a tour around the city, you've come to the right place.
Whether you're looking for a place to crash after a day of adventuring, or you've got your heart set on spending some quiet time in a cozy place, the accommodation in Portland is fantastic.
These vacation rentals and Airbnbs in Portland are the best of the best and I hope you've found the perfect one to make your trip even more amazing!
---
Thanks for reading my Airbnbs in Portland Maine guide!
Share these Airbnbs in Portland with your Maine travel crew!
https://www.jonesaroundtheworld.com/wp-content/uploads/2020/05/Best-Airbnb-in-Portland-Maine.jpeg
1500
2250
TravelTractionsJATW
https://www.jonesaroundtheworld.com/wp-content/uploads/2017/03/logotry-1-1-300x106.png
TravelTractionsJATW
2020-08-01 23:46:21
2021-04-28 16:31:34
20 Amazing Airbnbs in Portland, Maine For an Ideal Getaway