Planning a trip and wondering how to spend 2 days in New Orleans?
Well, you've come to the right place! Let me start by saying spending 48 Hours in New Orleans really isn't long enough to explore this multicultural city. That doesn't mean I won't try. I've compiled this awesome travel guide for experiencing the city (particularly helpful for first-time visitors).
New Orleans. N'awlins. The Big Easy.
I had always heard such great things about this city, and now that I've experienced its bold personality for myself, I finally get it. There's simply no other destination in the United States that can compare to its unique charm.
While I must have gained at least 5 lbs during my visit to New Orleans due to devouring as many Creole dishes, beignets, and po'boys as humanly possible, I'd do it all again in a heartbeat.
ART. MUSIC. FOOD. DRINK. FESTIVALS. HISTORY. VOODOO. JAZZ. ARCHITECTURE.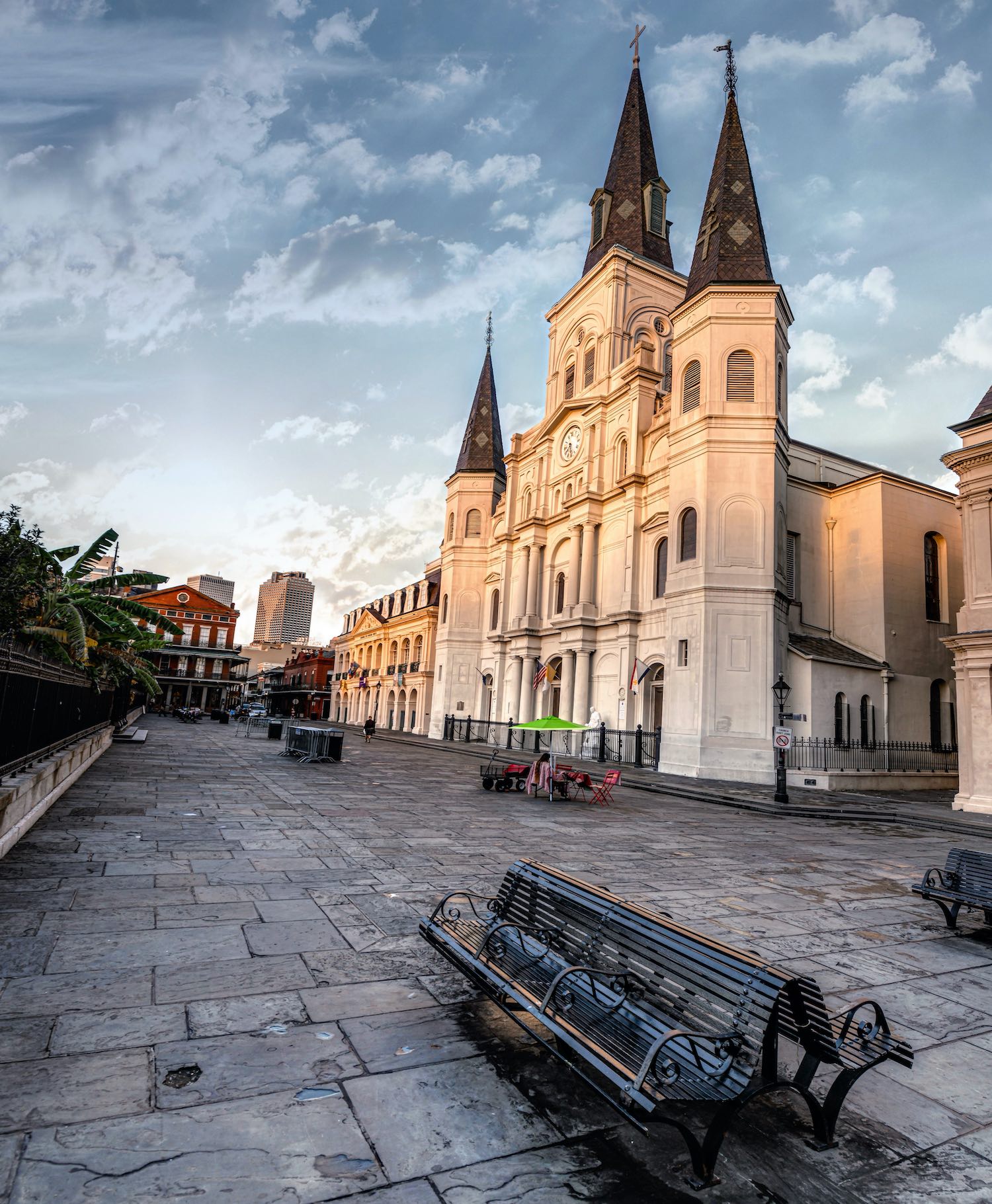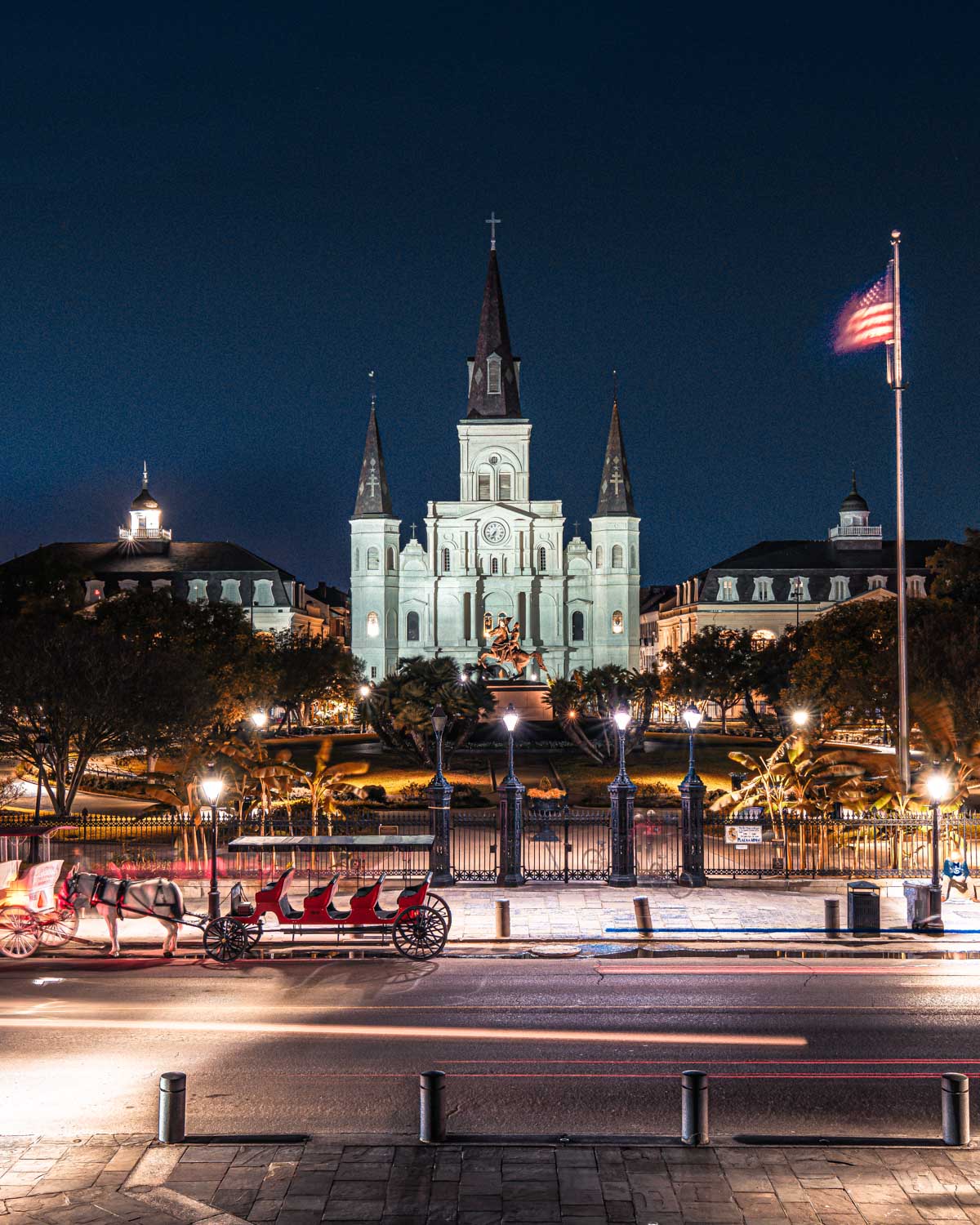 ---
There's just so much to admire and marvel at in New Orleans. While I may have only just visited for the first time, I have a strong feeling that I'll be making regular return visits to The Big Easy from here on out!
It's jam-packed with tons of incredible things to do, places to visit, fun tour ideas, and of course, food & drink recommendations. Plus, so much more! Whether visiting one of many magical New Orleans festivals or simply wanting to explore the city, this itinerary will make your life a little easier.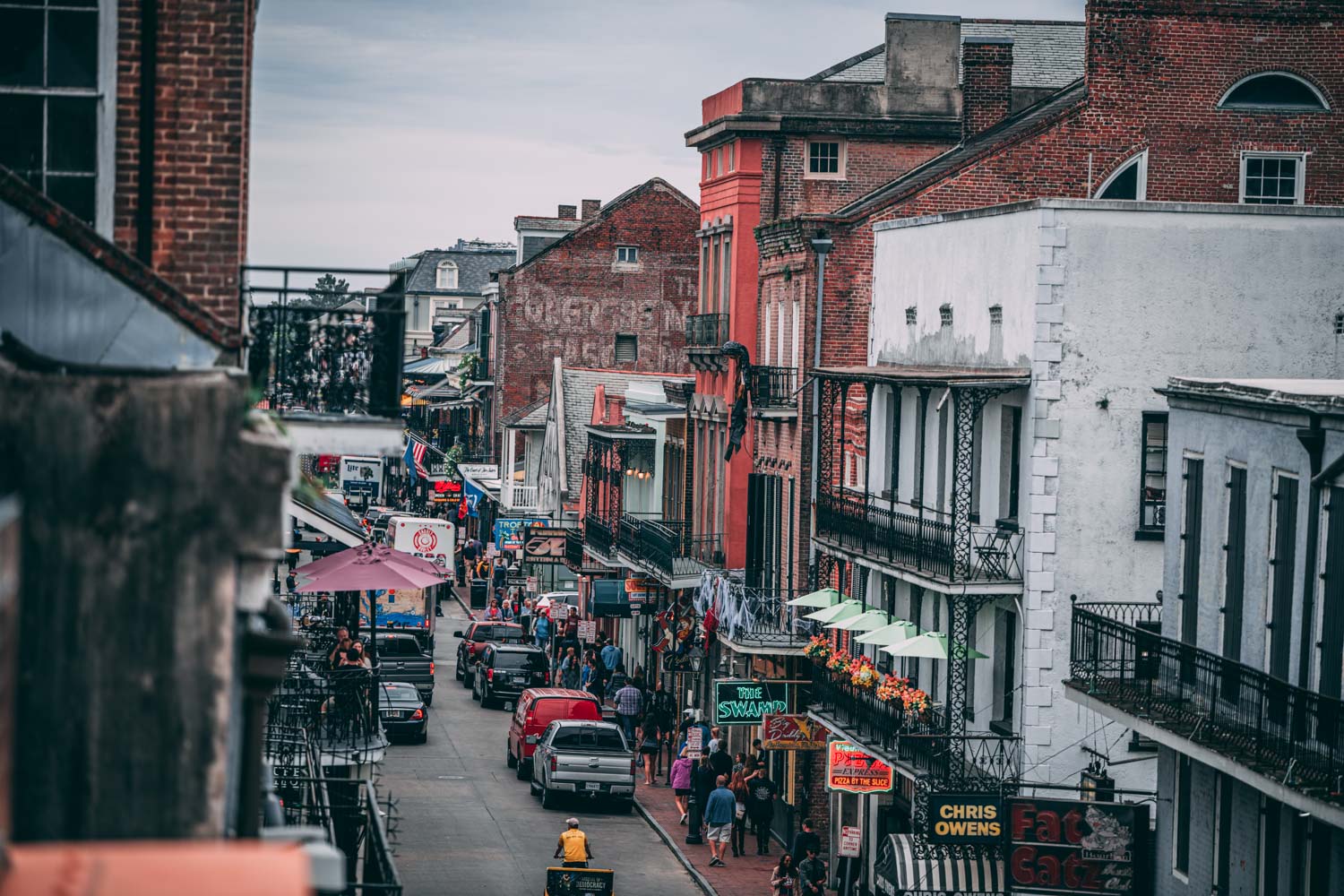 ---
Where to Stay in New Orleans for 2 Days
For starters, you're going to need to book some accommodation! For such a short visit to NOLA, you'll want to stay right in the heart of the action, and that's definitely the FRENCH QUARTER!
The French Quarter is New Orleans' main historic district and is stacked with tons of things to do, charming architecture, amazing restaurants, vibrant nightlife, and so many unique accommodation options!
Keep in mind that if you plan on visiting New Orleans during one of the city's popular festivals, you'll want to book your accommodation several weeks (sometimes months) in advance!
Here are a few of my top picks:
Dauphine Orleans (HOTEL): This is where I stayed during my recent visit to New Orleans, and I definitely loved it! The rooms at the Dauphine Orleans are super comfortable, the staff is helpful, it's got a crazy haunted history, and it's one of the few hotels in the French Quarter with a pool. This really comes in handy amidst the intense New Orleans heat. The hotel is just one block from the infamous Bourbon Street and a 6-minute walk to Jackson Square! Read Reviews & Check Availability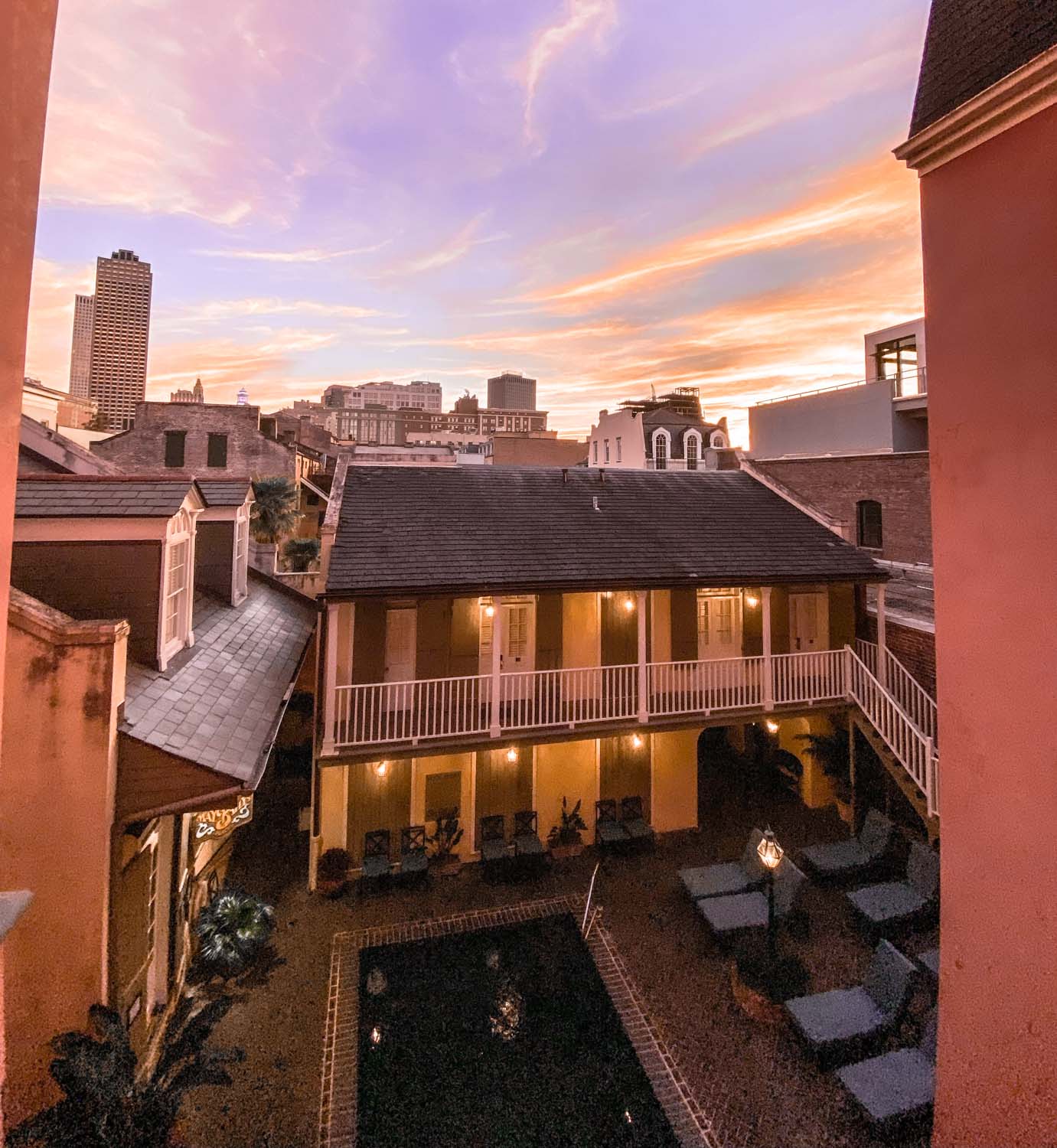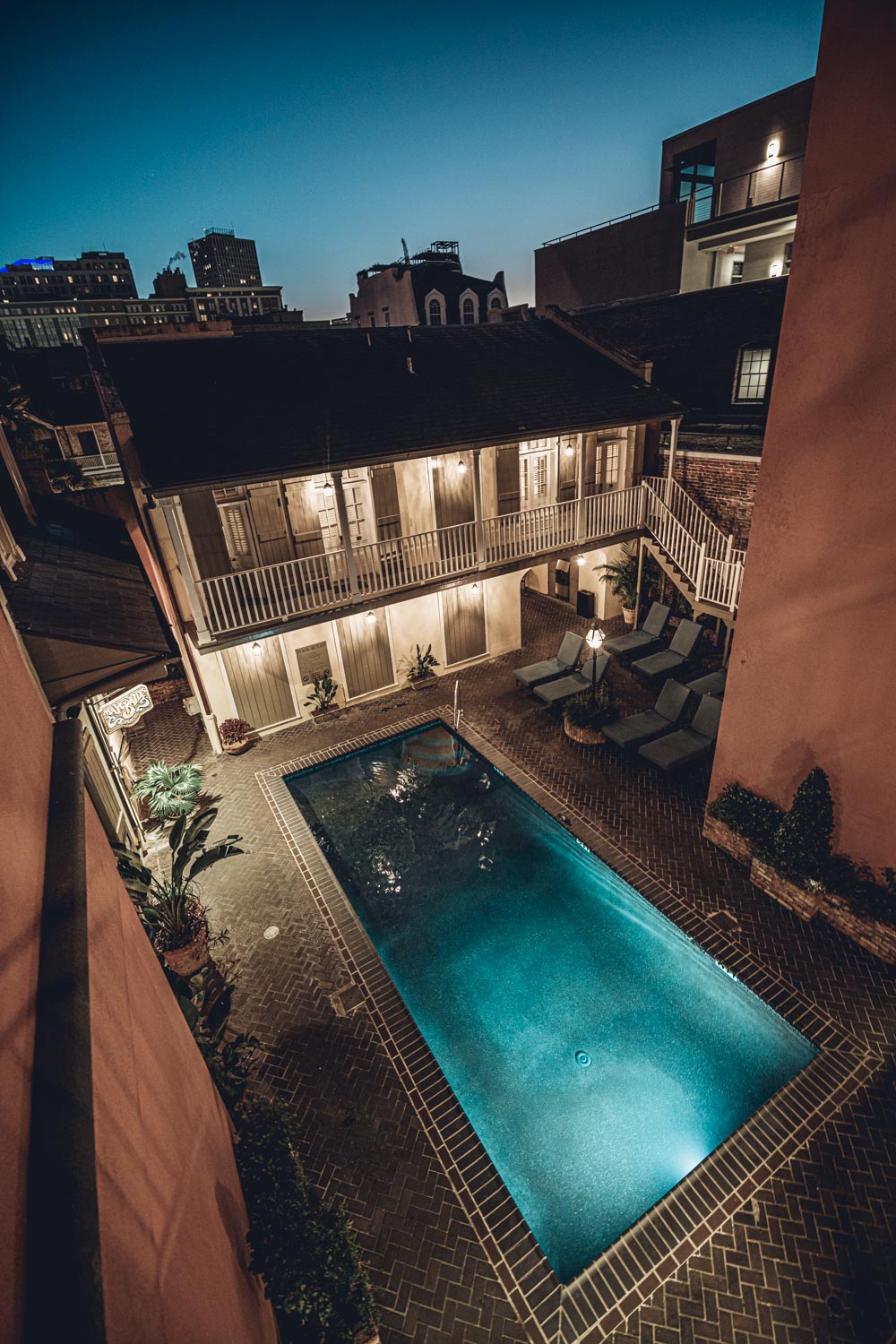 HI New Orleans Hostel (HOSTEL): If you're a solo traveler or budget backpacker coming to New Orleans, then this hostel is where you'll want to stay! A top-notch location on the border of the French Quarter and Downtown New Orleans, it has hundreds of excellent reviews and incredible prices! HI New Orleans Hostel is regularly listed as one of the best hostels in New Orleans and will provide a comfortable stay at an unbeatable price! Read Reviews & Check Availability
The Roosevelt Hotel | Waldorf Astoria (LUXURY): With its elegant rooms and wondrous lobby, the Roosevelt Hotel is a favorite among New Orleans visitors! I made my way here to grab a couple of mouth-watering cocktails at the famous Sazerac Bar. I was left in awe while walking along its gleaming marble floors underneath decadent crystal chandeliers. It's also equipped with a beautiful rooftop pool, the exclusive Waldorf Astoria spa, and the award-winning rustic Italian Domenica Restaurant. While it's not technically in the French Quarter, it is just a couple of minutes walk away from the iconic Canal Street. When I make my return to New Orleans, this is definitely where I want to stay. Read Reviews & Check Availability
If you like the sound of these hotels but want something a little more low-key and personal, look at the best Airbnbs in New Orleans.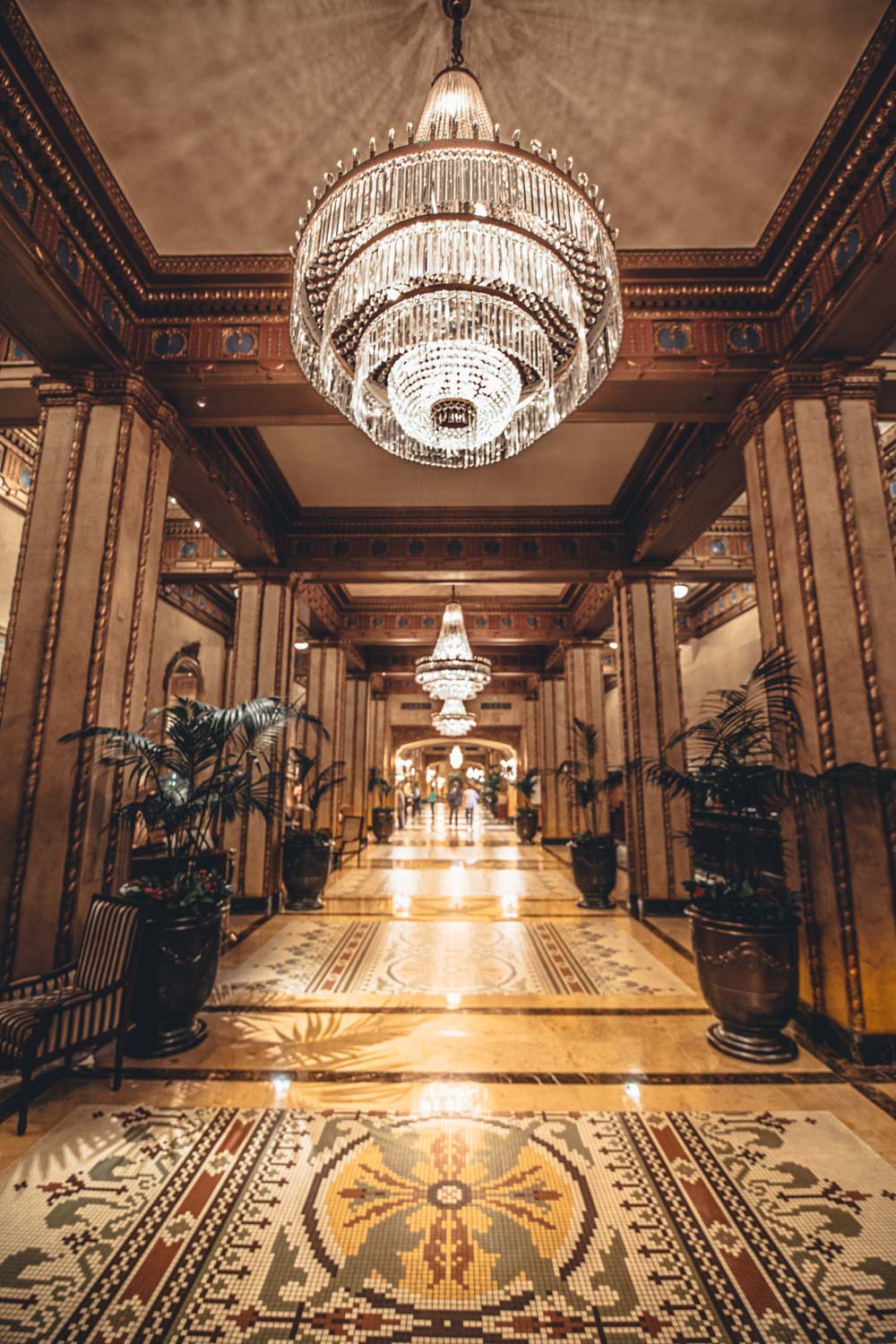 ---
Best Itinerary for New Orleans Day 1: Explore the French Quarter
With its unique colorful architecture, charming boutique shops, and a wide variety of popular restaurants and bars – it's no mystery why the French Quarter is considered The Crown Jewel of New Orleans. It simply has everything I personally look for in a travel destination!
The historic French Quarter is packed with so much personality that I couldn't believe I was in the United States, and at many times felt like I was on the set of a movie or transported back in time. There are so many amazing things to do and places to explore in the French Quarter that you'll definitely wish you had more than 48 hours in the city.
Simply put, it's impossible to experience everything, but that doesn't mean I didn't have a swing at it. With limited time, you'll want to get up bright and early so you can fit in as much as possible.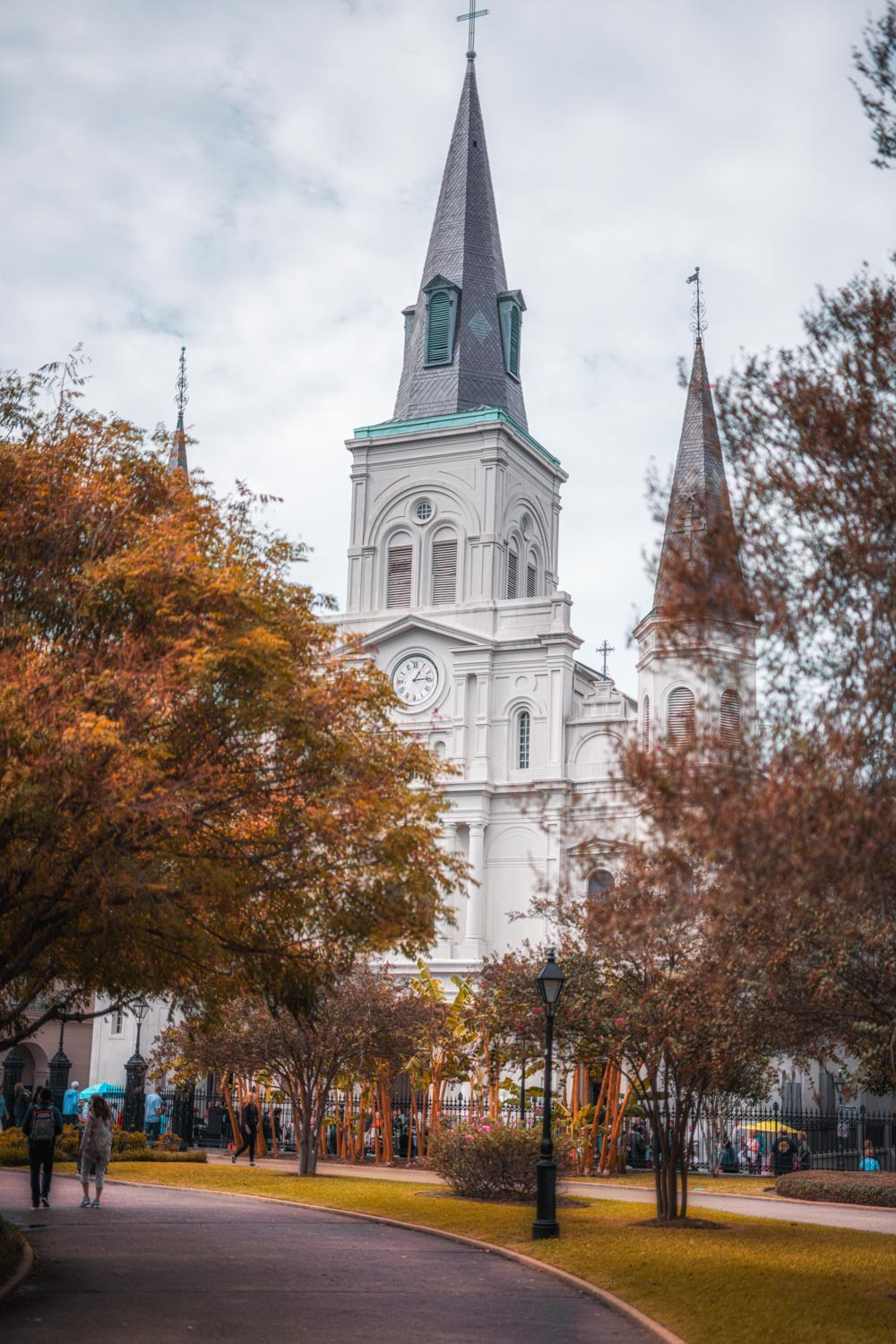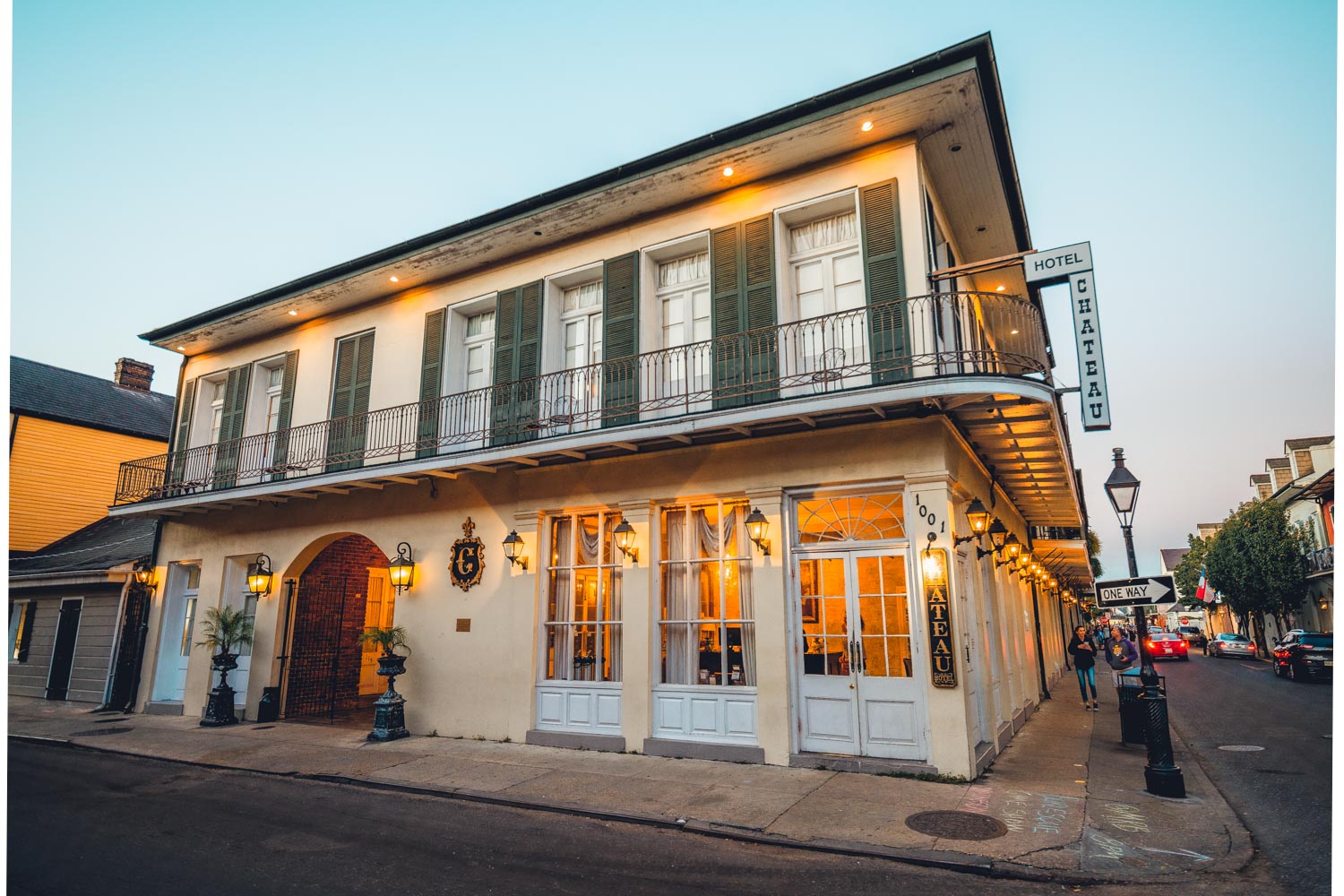 ---
Cafe Du Monde
First things first, start your exploration of this great city with a delicious cafe au lait and some tasty beignets (French donuts) at New Orleans' most iconic establishment, Cafe Du Monde. During my recent trip to NOLA, I came here nearly every day because the coffee and pastries were just that good!
It's open 24 hours if you need an early-morning caffeine hit or late-night snack, but I seriously think it's the best place to start your day. There tend to be live musicians playing jazz every morning (as it's always guaranteed to be buzzing with tourists), and they'll definitely get you into the New Orleans spirit.
The tables are self-seated, so be prepared to wait (and be on the lookout for people leaving). Or you can wait in line, take your coffee and beignets to-go, and enjoy them in Jackson Square across the street. Just keep in mind that Cafe du Monde is a cash-only establishment, so make sure you've got some bills on hand.
Why not make your first morning in New Orleans that extra special with a food history tour? Enjoy the delights of Café Du Monde and several other fantastic spots in the French Quarter on this food tour.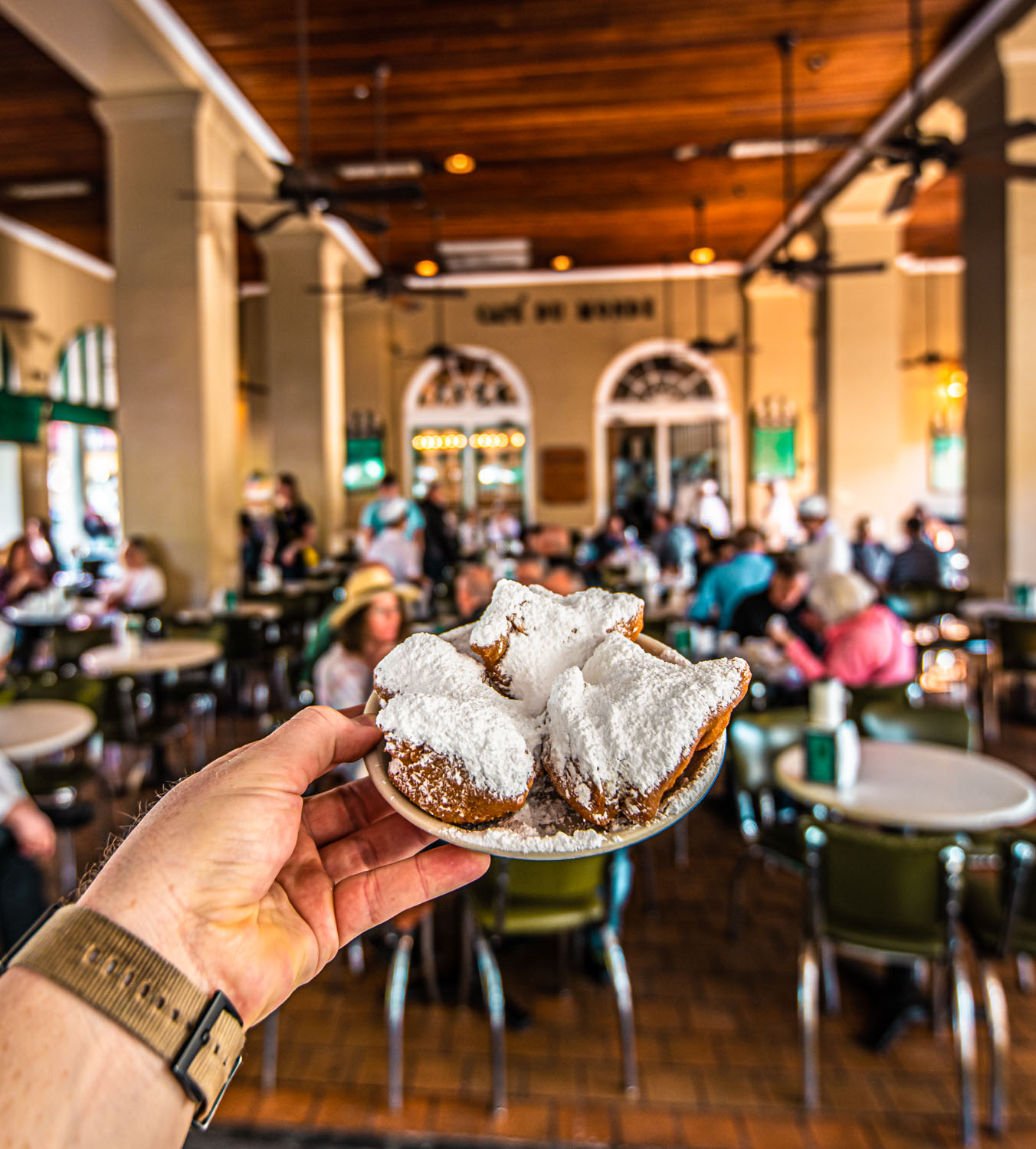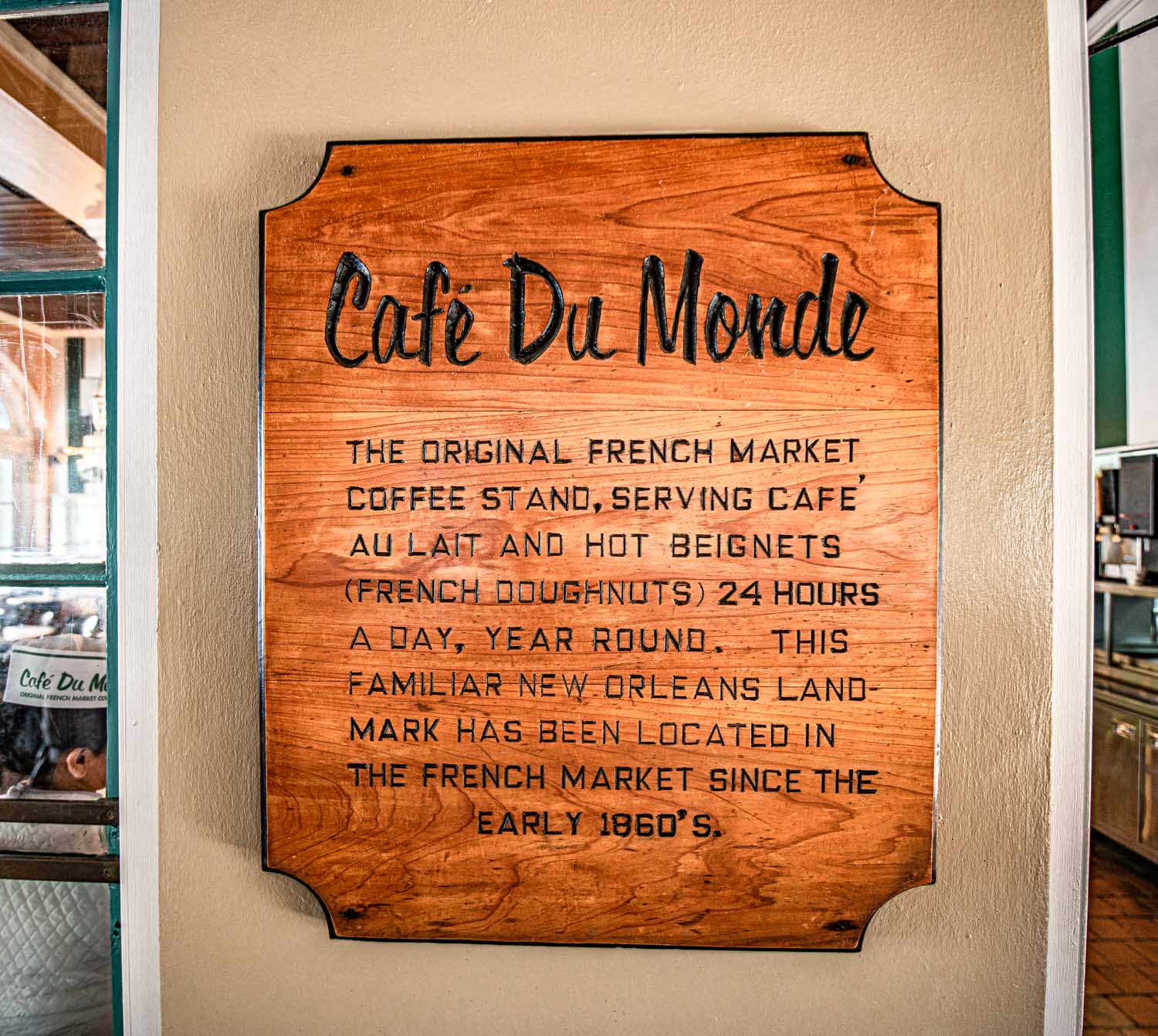 ---
Jackson Square
This 2.5-acre plaza is one of New Orleans' most recognizable (and photogenic) areas. It's also jam-packed with New Orleans history, as it was the location of the famous "Louisiana Purchase" back in 1803.
So take a stroll through the small yet well-maintained garden and snap a pic of the bronze statue of Andrew Jackson in the center of the square with St. Peter's Cathedral as a backdrop. You can also sit on one of the benches to people-watch as flocks of tourists begin their day.
If you're interested in photography, I'd also recommend heading across the street (and up the staircase) for an unparalleled photo opportunity overlooking the entire square.
One of my favorite things to do in Jackson Square is to admire all the various painters and artists who display their work along the lengthy iron fence. There are tons of them out there every day, and the art really is impressive (and would make for a fantastic New Orleans souvenir).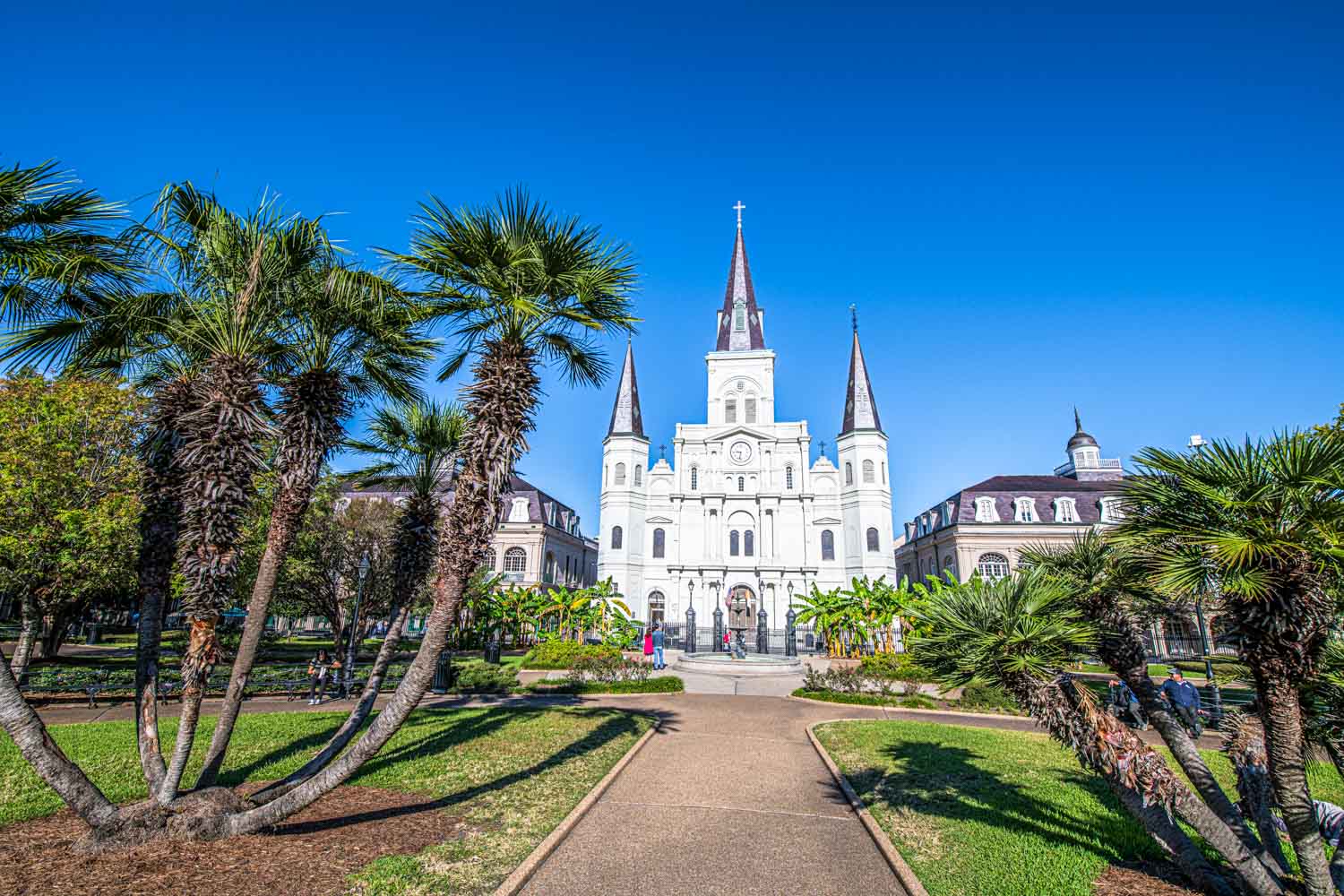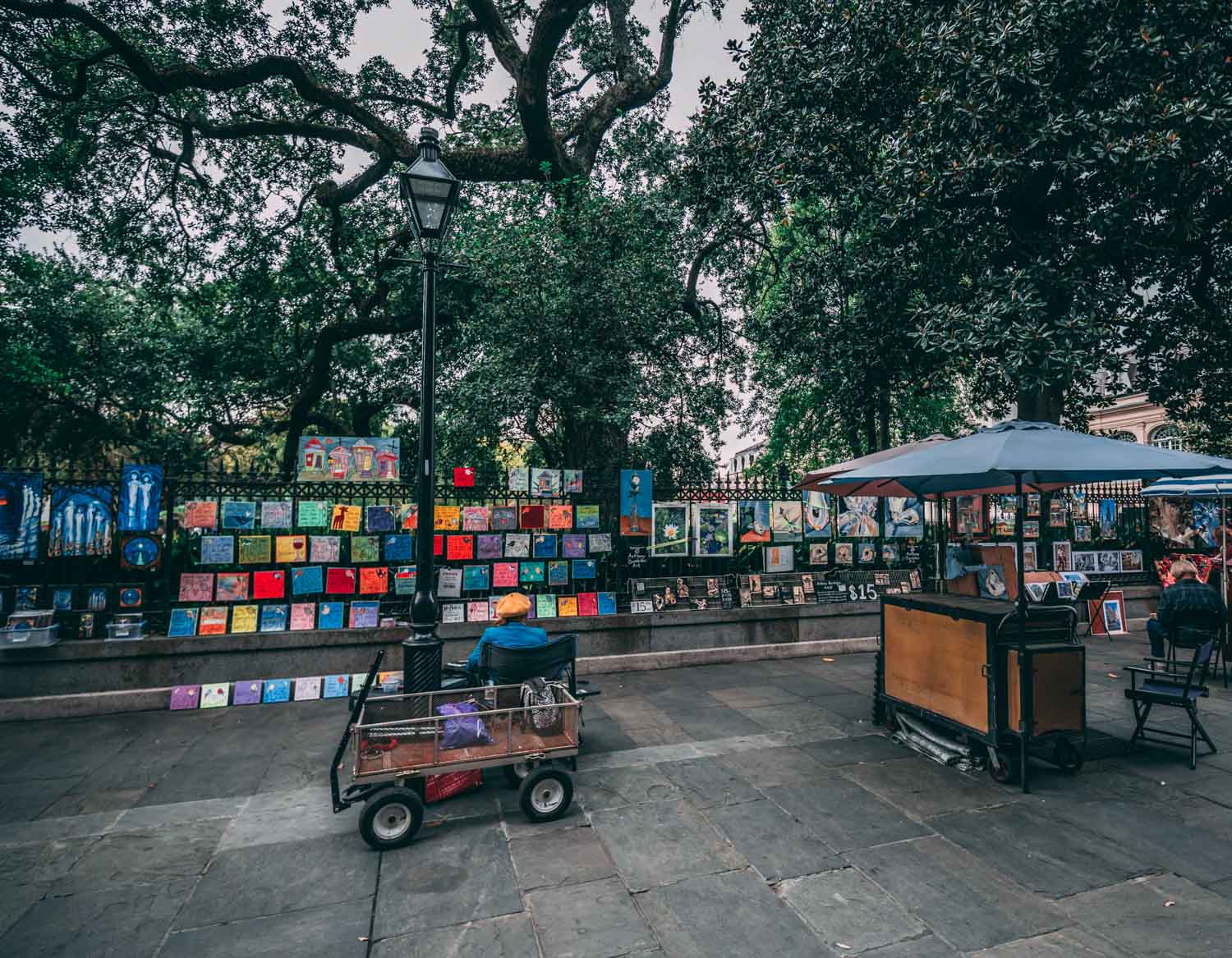 ---
St. Louis Cathedral
Welcome to the oldest operating cathedral in North America!
St. Louis Cathedral is obviously beautiful from the outside, but the true beauty lies inside its facade. When I stepped through the large white doors, I honestly couldn't believe that this type of cathedral was in the U.S. It felt like I was back in France or any other major European city because the level of detail was truly remarkable.
If you're a practicing Catholic interested in attending Mass, here are the hours:
Monday – Friday: 12:05 pm
Saturday: 5:00 pm Vigil Mass
Sunday: 9:00 am & 11:00 am
It's completely free to enter, but a self-guided tour brochure is available for a $1 donation if you want to learn more about the cathedral's history.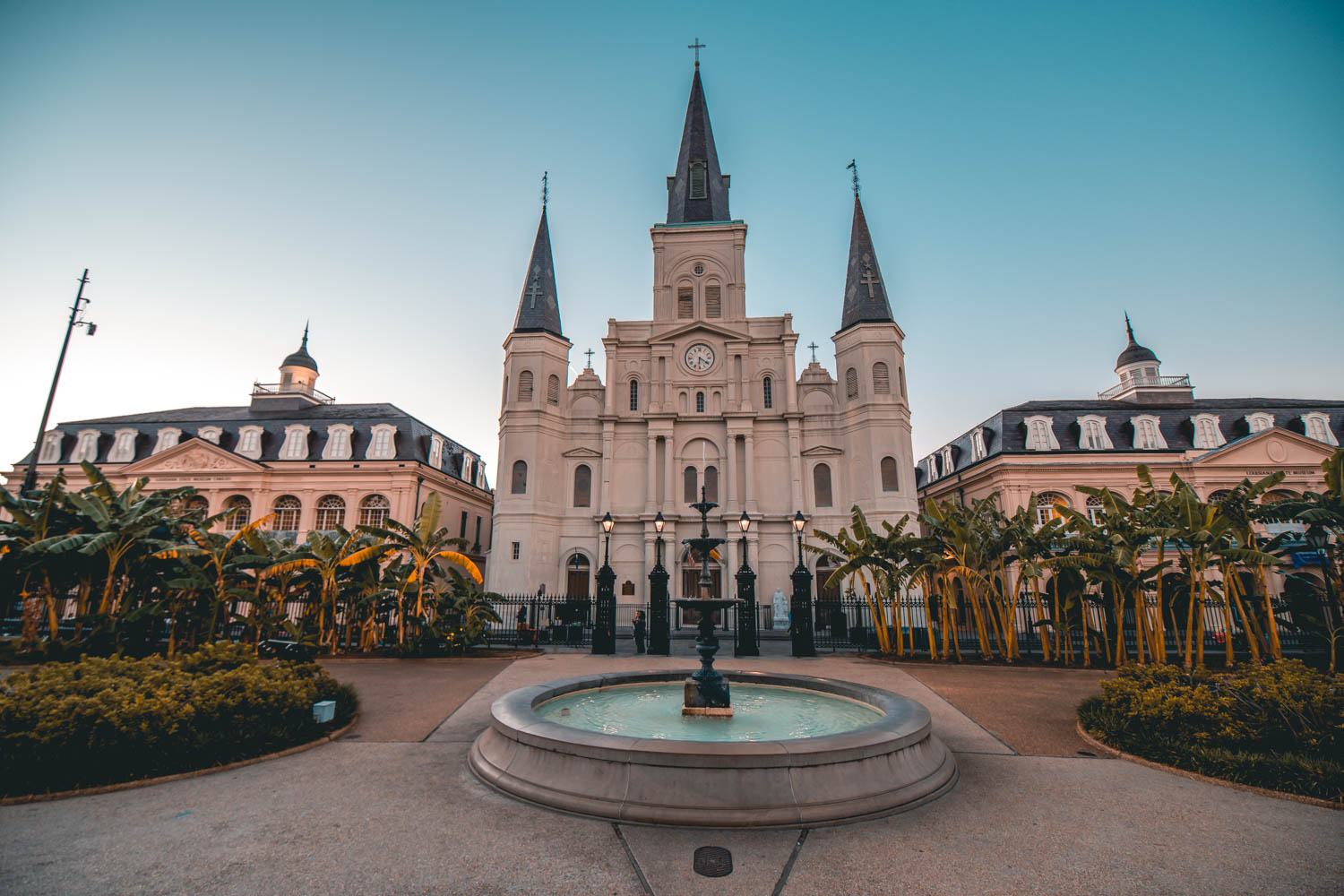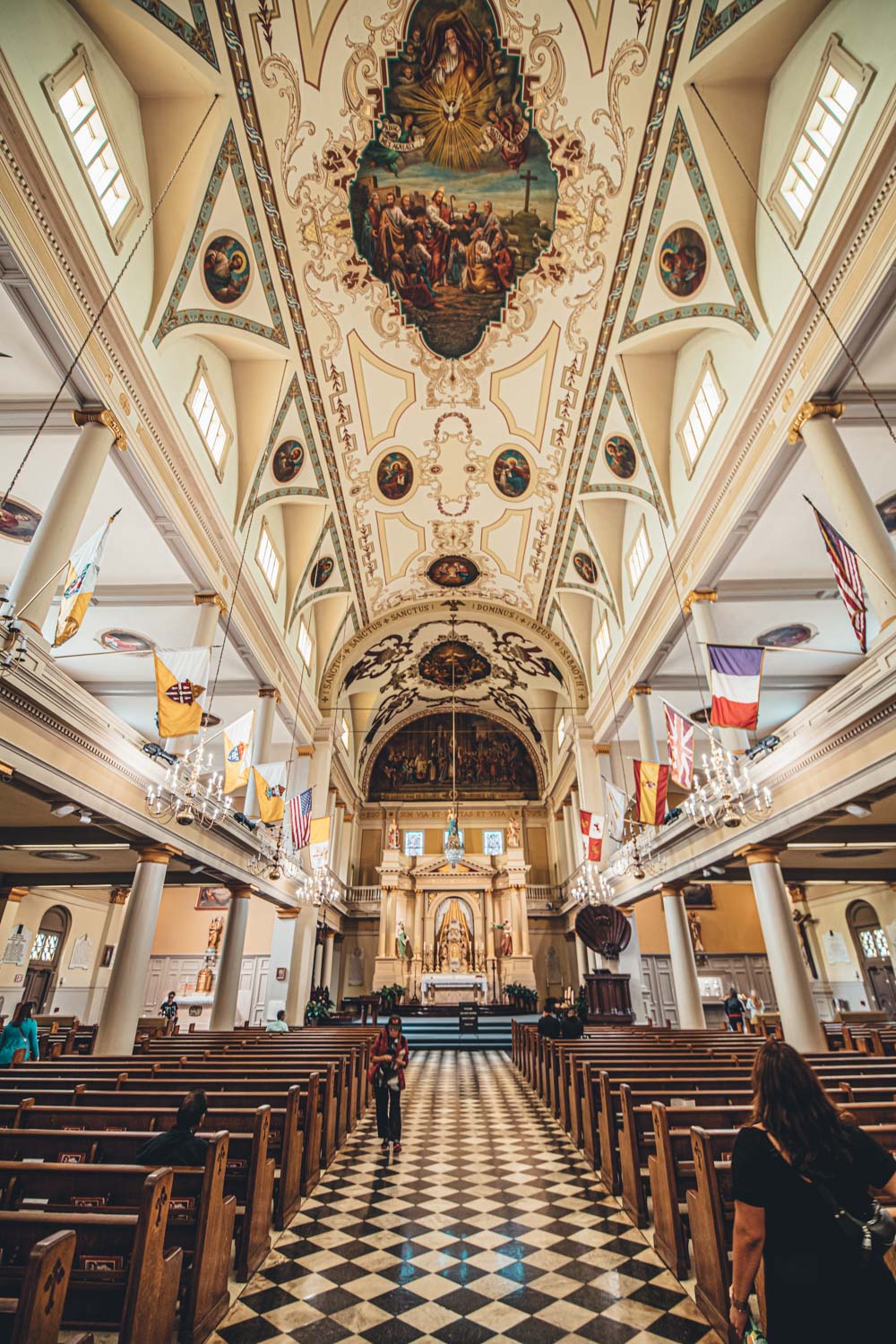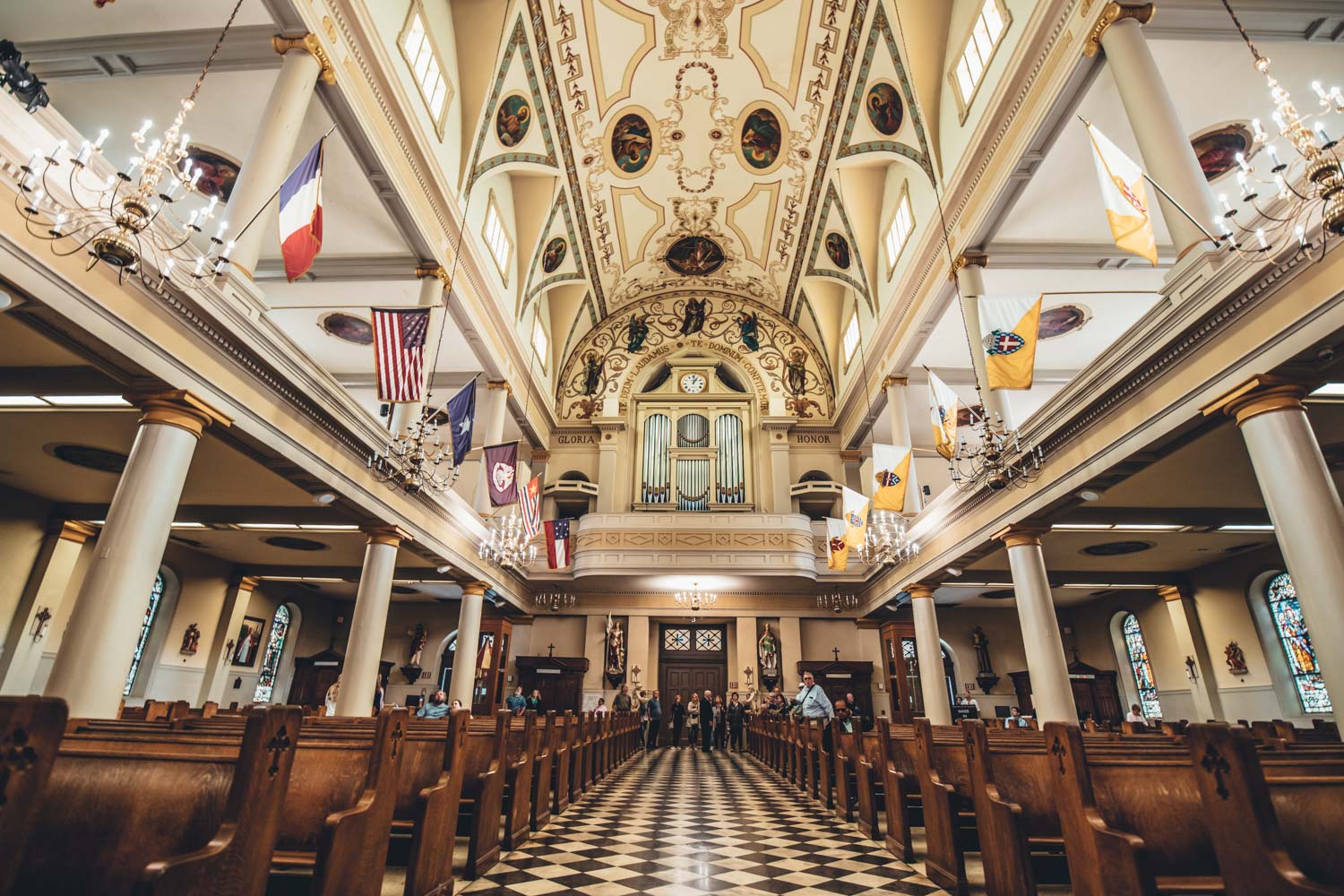 ---
The Presbytère
Located right next door to St. Louis Cathedral is The Presbytère, one of the five major Louisiana State Museums in New Orleans, and is a must-visit during your first trip to NOLA! The entrance fee for adults is $7, and I think it's worth every penny because you'll learn quite a lot about two of New Orleans' major events – Hurricane Katrina & Mardi Gras.
While I don't typically visit too many museums when I travel, I LOVED this one as it told two different but equally important Louisiana stories – "one of celebration and one of resilience." The two permanent exhibits located in The Presbytère are:
The Living with Hurricanes: Katrina and Beyond
Mardi Gras: It's Carnival Time in Louisiana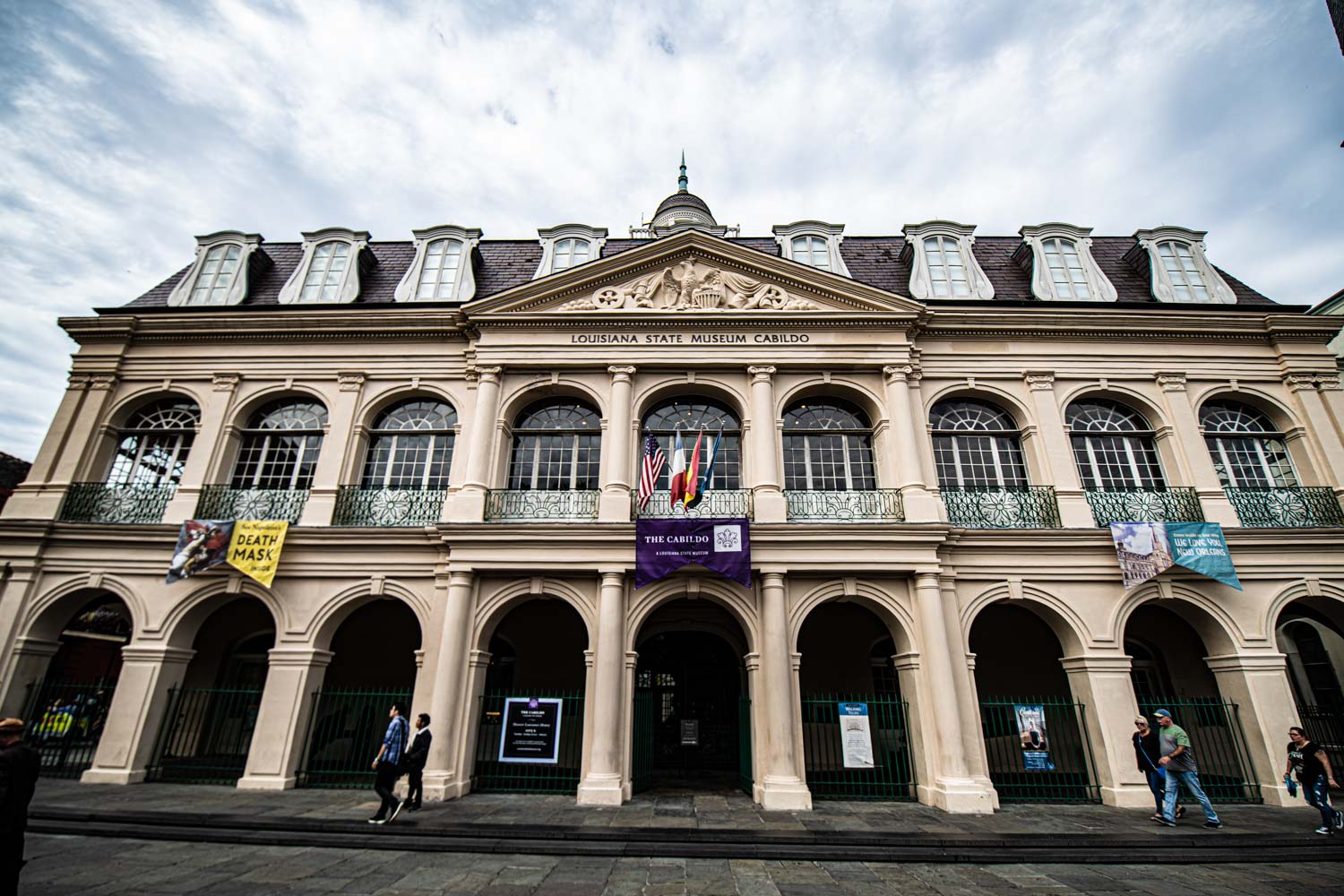 ---
I was only 15 when Hurricane Katrina happened, so I didn't fully understand the intense struggles and hardships that New Orleans locals endured during this tragic storm. The first-floor exhibit of the Presbytère does an incredible job of explaining the events that occurred in detail and why the badly engineered levee system resulted in one of the country's worst natural disasters.
While it may be emotionally heavy, it's really important for visitors to New Orleans to better understand what occurred in 2005. A visit to the Presbytere isn't all about the distressing history of New Orleans because the second floor is dedicated to all things Mardi Gras, the city's most iconic annual celebration!
As an avid music festival (Burning Man attendee), it's safe to say that I love a good party that involves dressing up in wild costumes, dancing the night away to great music, and being surrounded by unique people! Attending Mardi Gras has been a dream of mine for years, so wandering around this exhibit and learning all about its wild celebrations was particularly fun
It's filled with fascinating historical lessons, a display of gorgeous carnival costumes, and mesmerizing photography of all the shenanigans! Both exhibits are extremely well laid out, have interactive components, and I guarantee you'll love them as much as I did.
Depending on how much you enjoy reading, you could spend anywhere between 30 minutes to two hours inside.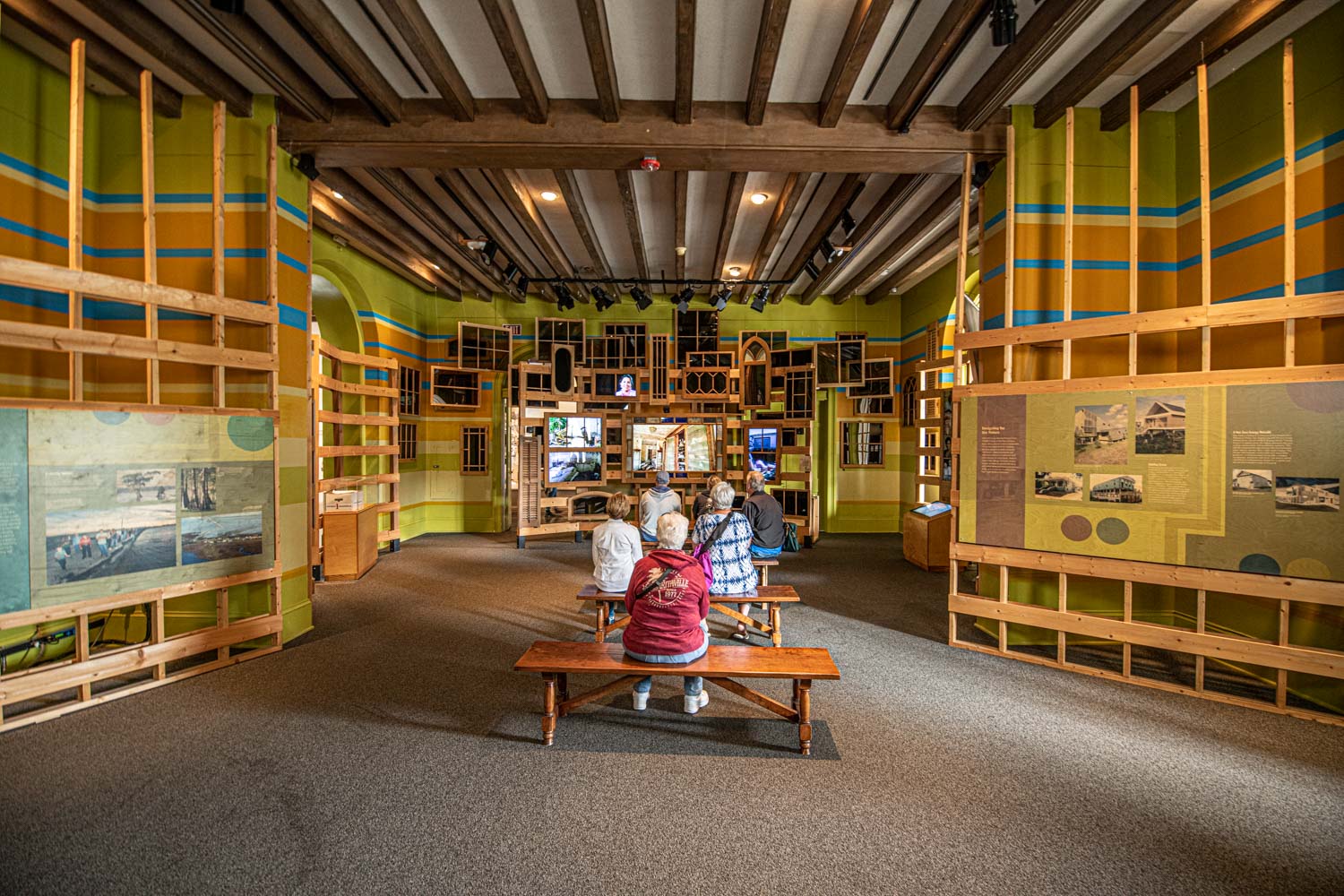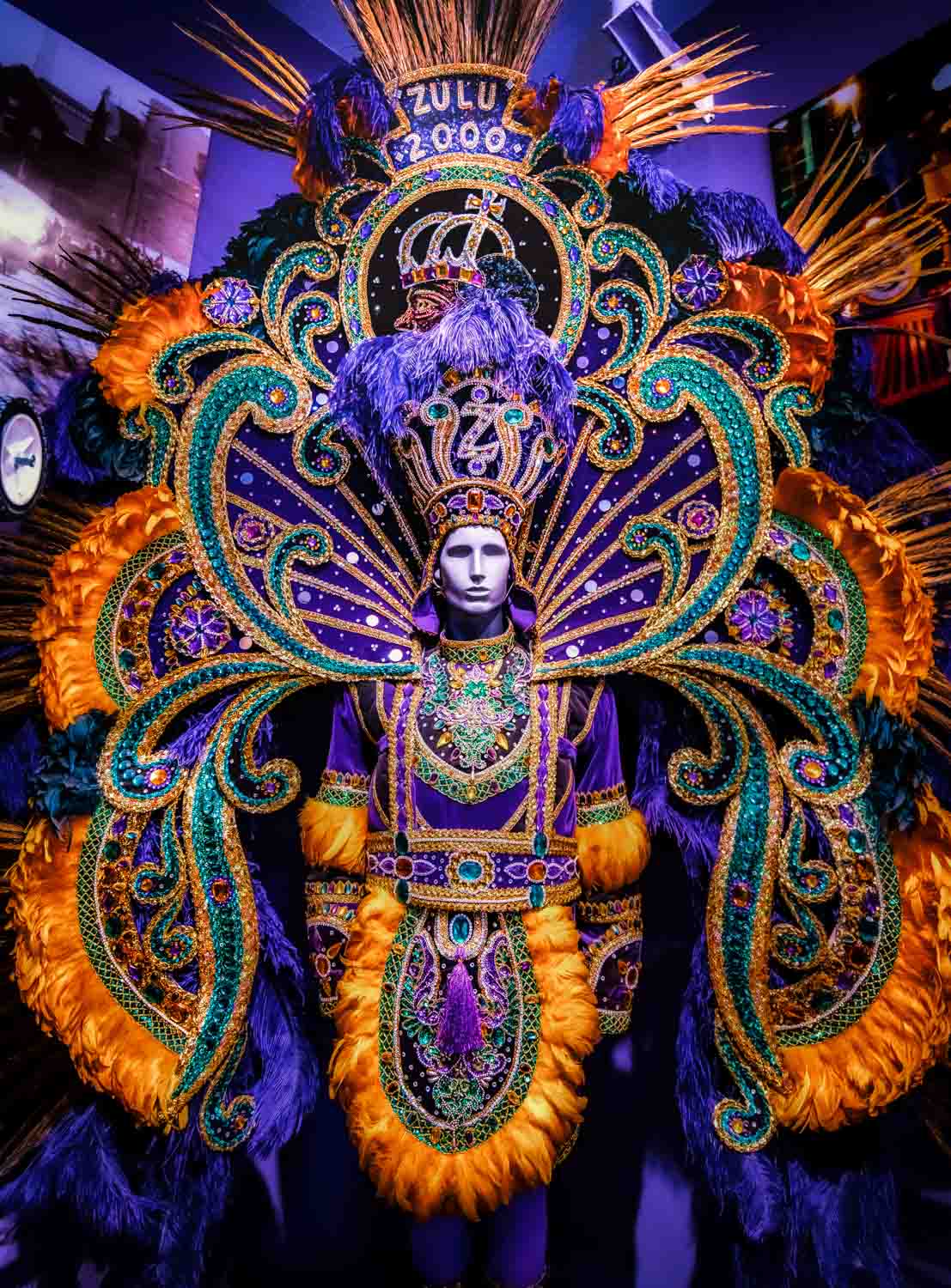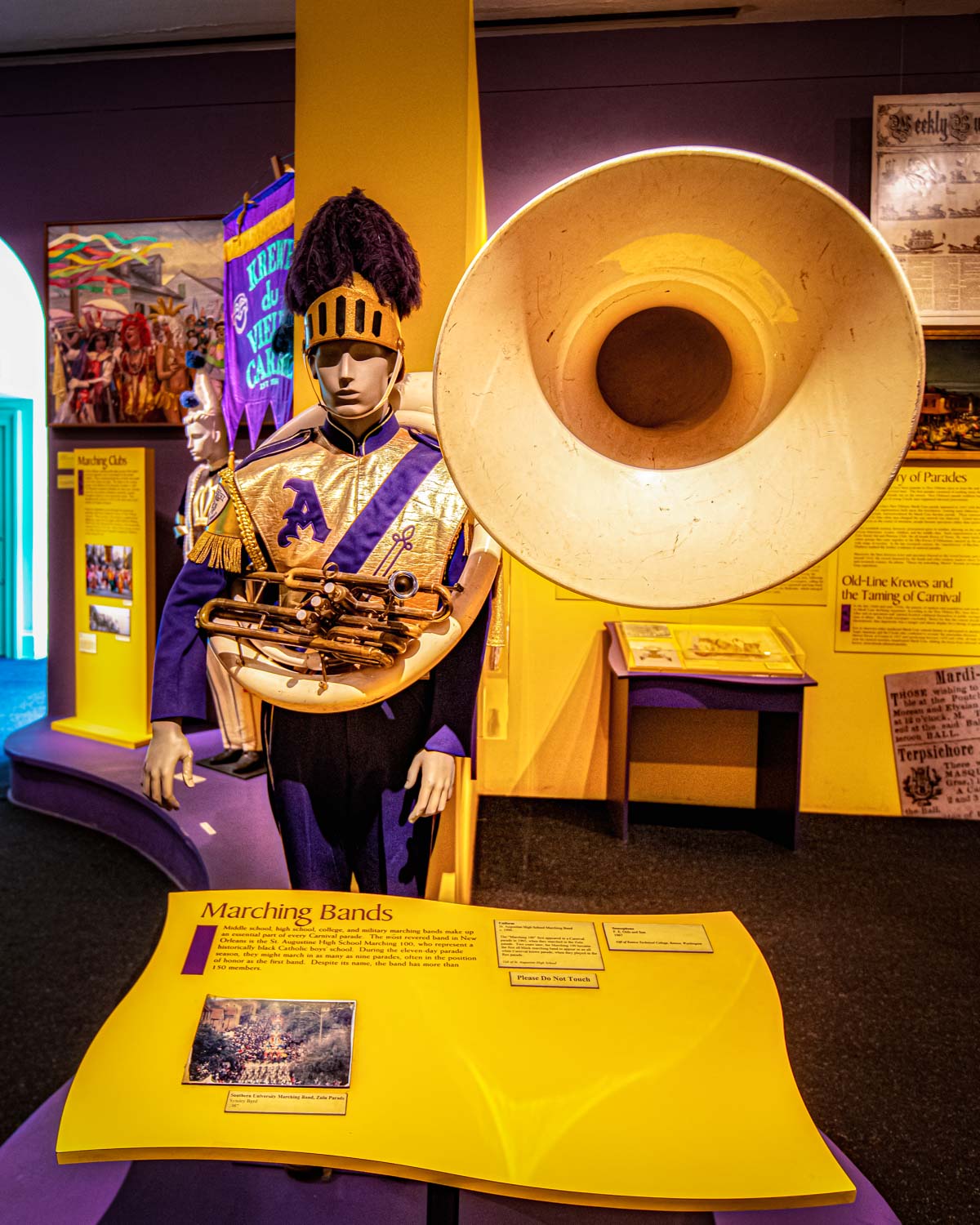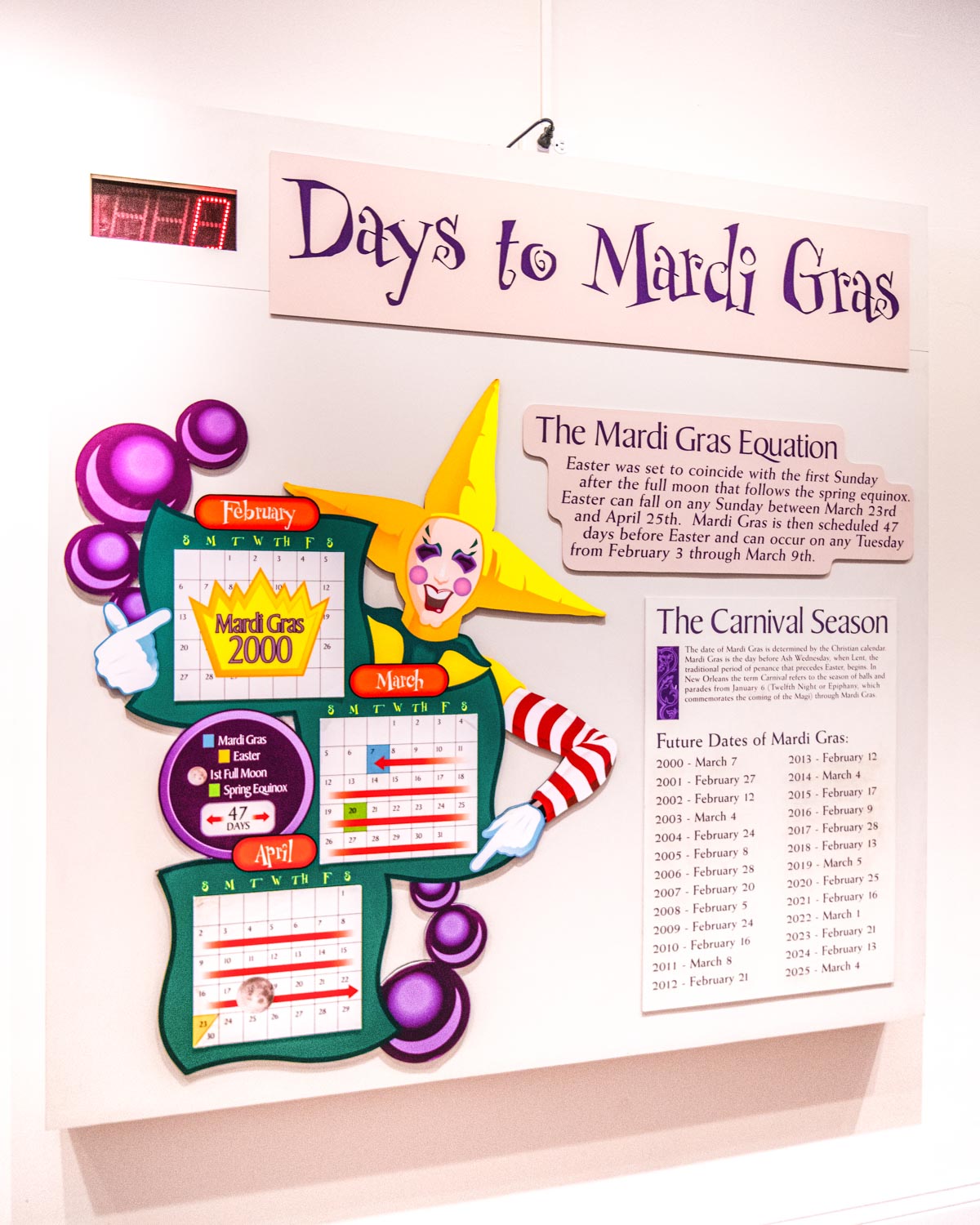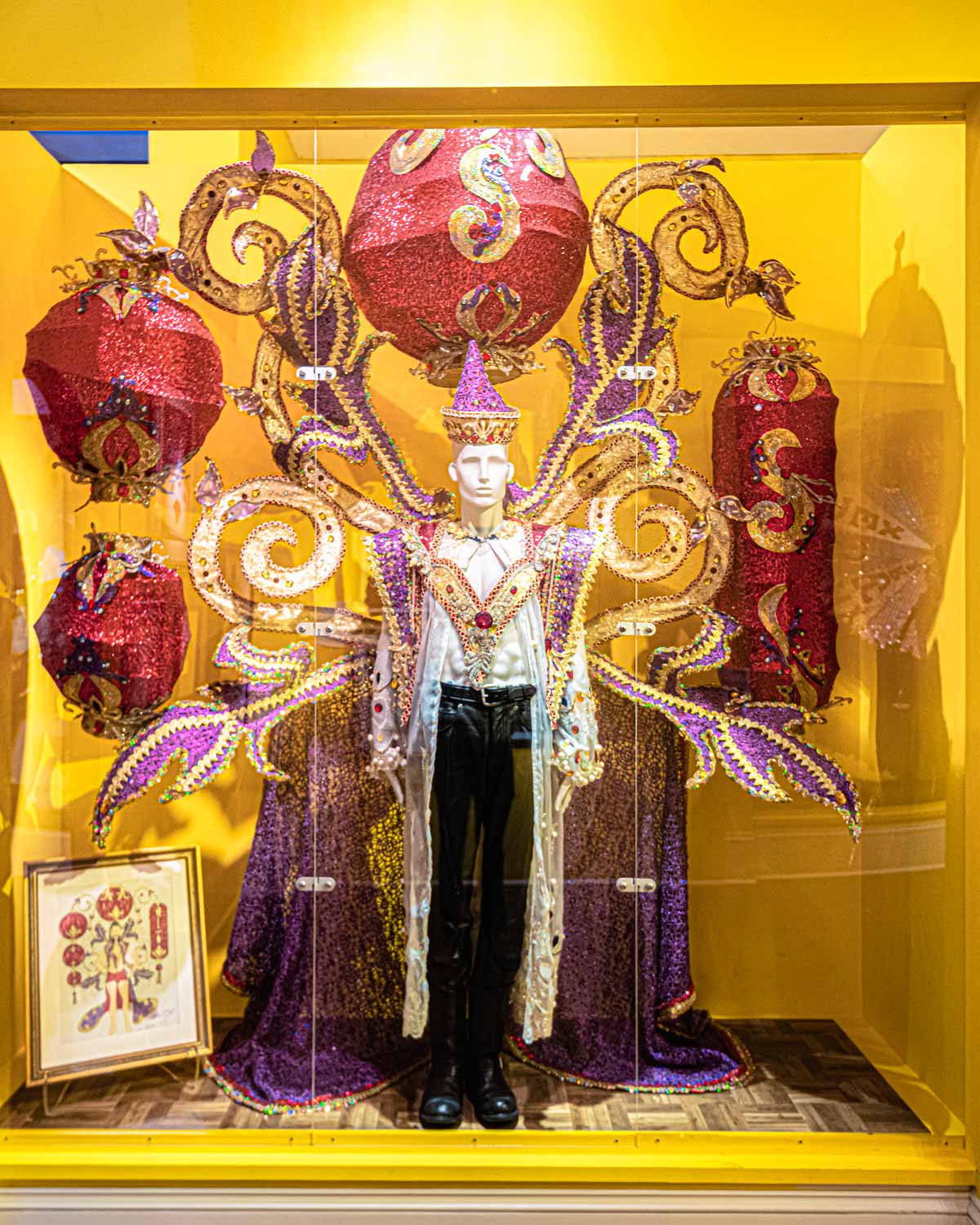 ---
New Orleans Pharmacy Museum
Just a two-minute walk from Jackson Square, you'll find the New Orleans Pharmacy Museum, which is housed on the site of the apothecary of America's first licensed pharmacist. It's a small and unique two-story museum dedicated to the history of pharmacology, which may not sound too exciting, but I definitely think it's worth a visit.
I particularly loved looking at all the antique medicine bottles and reading up on the different tonics, potions, and elixirs used in the past. It's very aesthetically intriguing, and you will learn some fun stuff, that's for sure.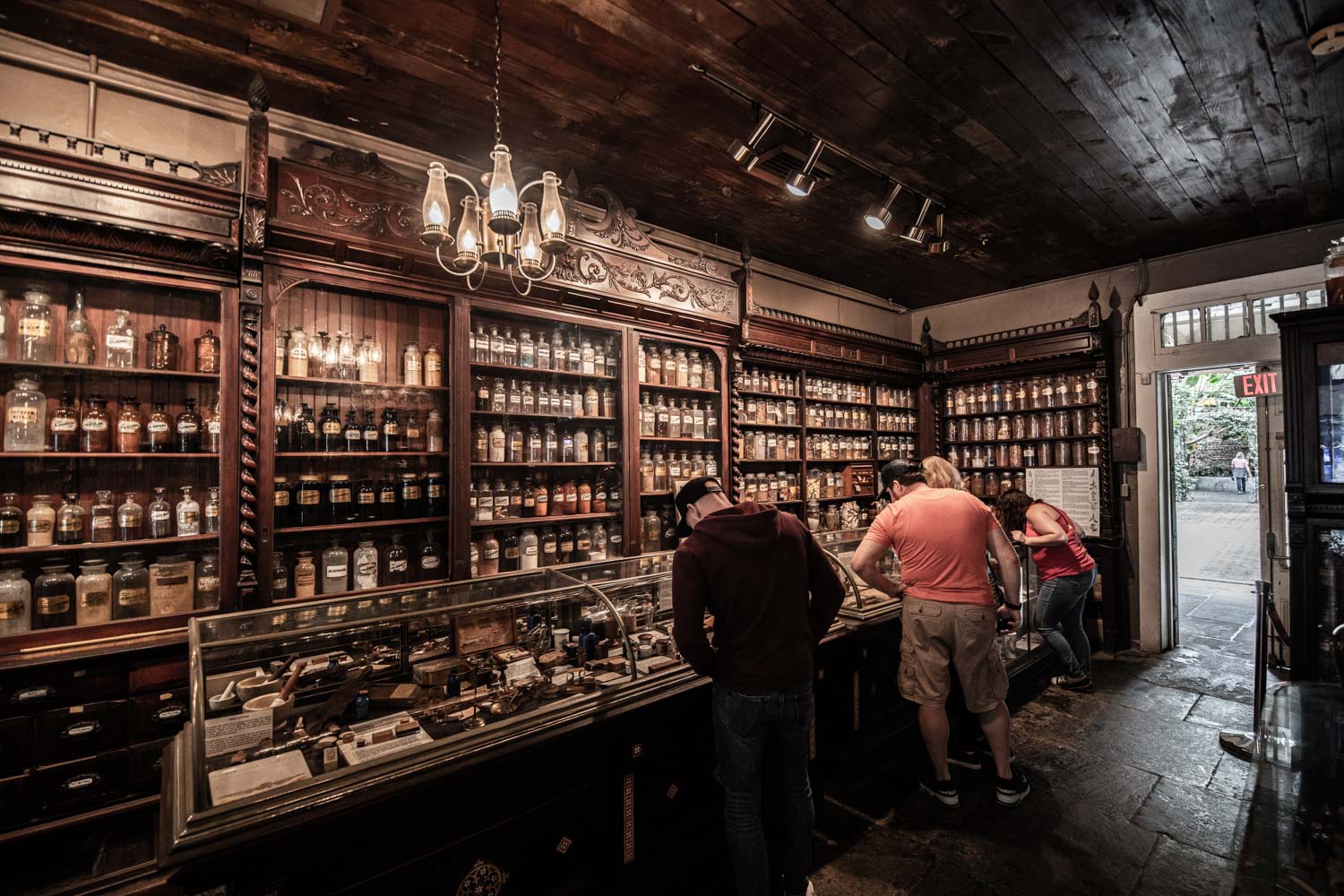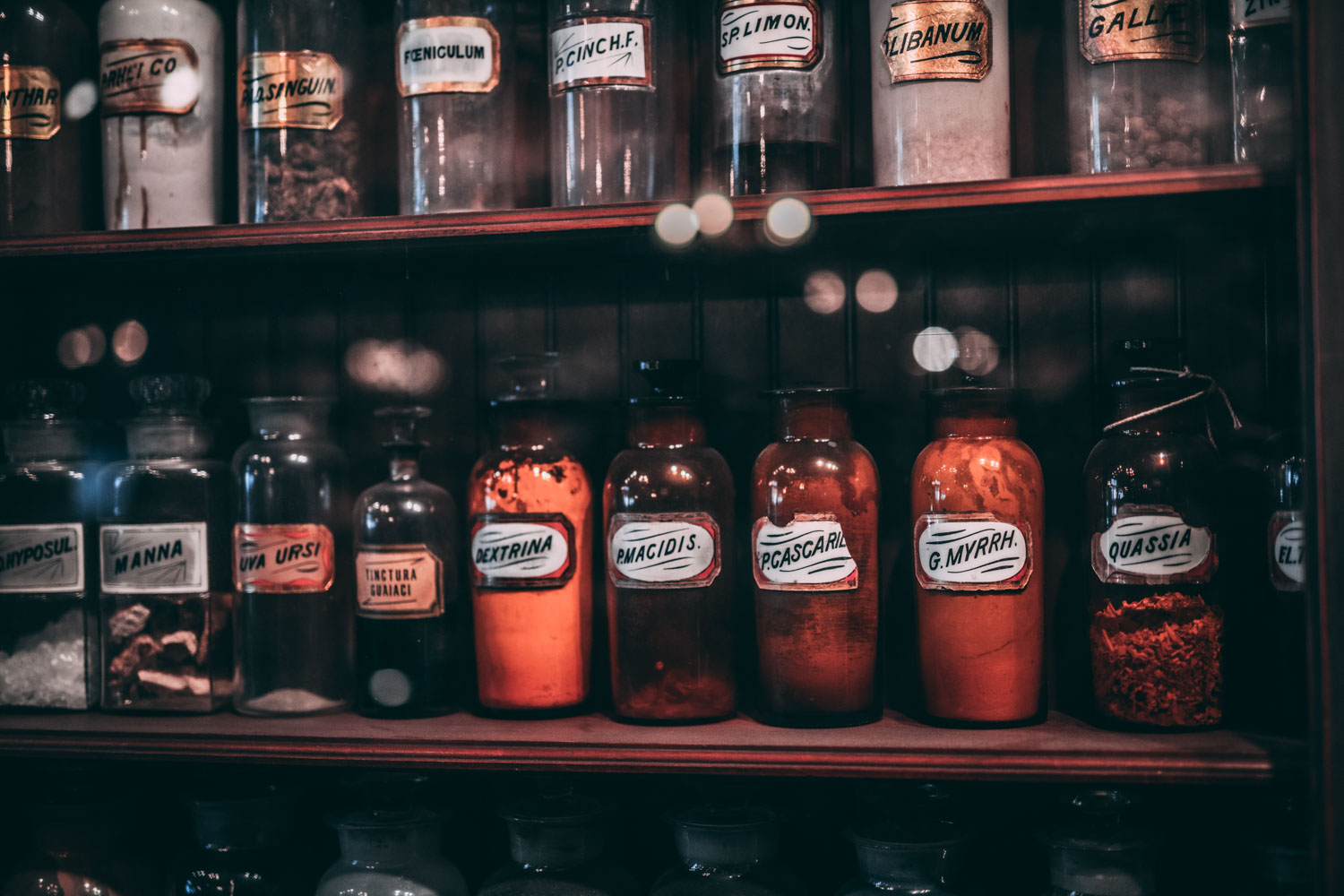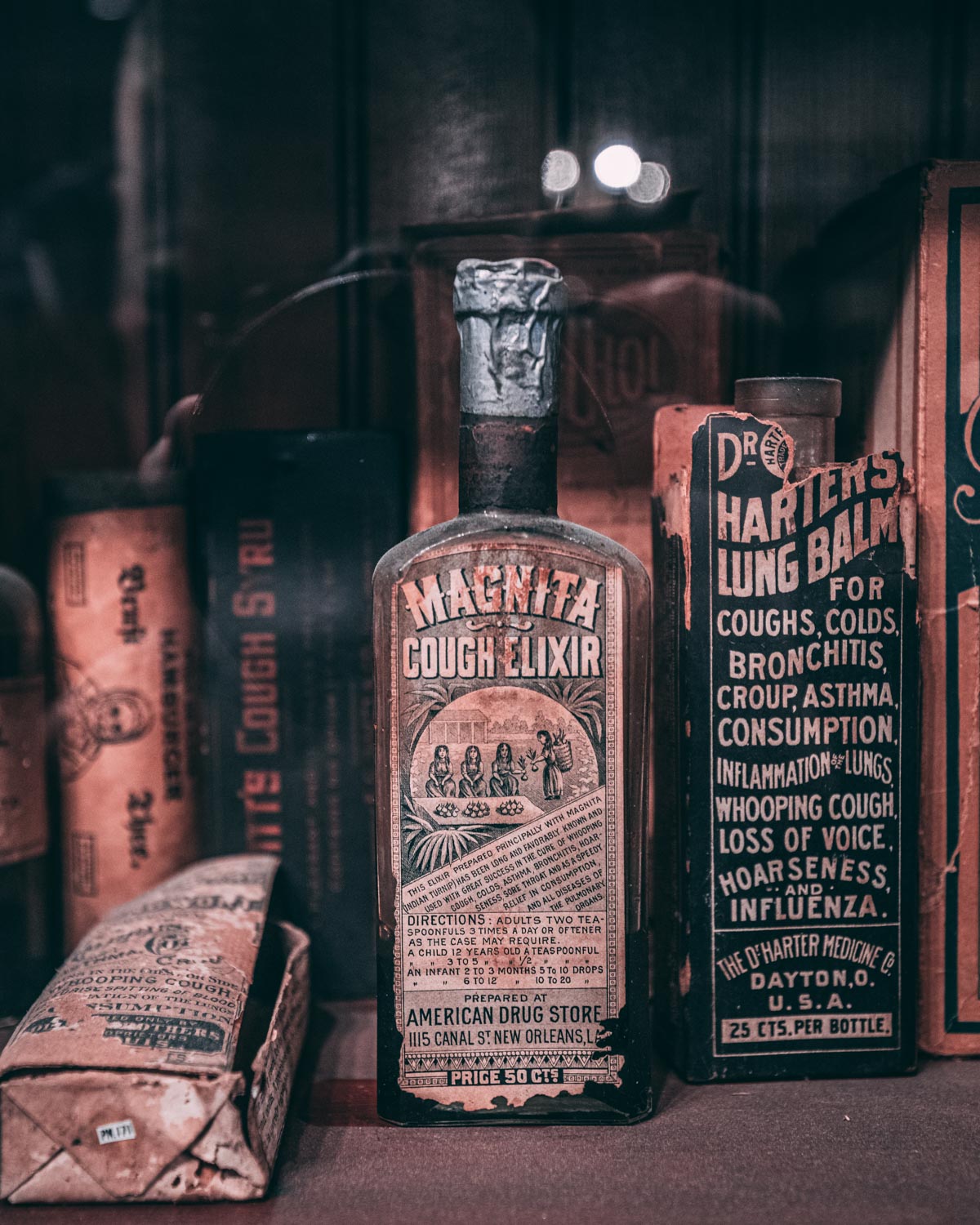 ---
Visit the Historic French Market
The Historic French Market is filled with food stalls, delicious bakery smells, and a community flea market with locally-made jewelry, clothing, and art.
Enjoy a quick stroll through the French Market for some souvenir shopping or simply taste the flavors of cajun food or something on the sweeter side of life. It's a fun and bustling open-air market where you can definitely find some hidden gems inside!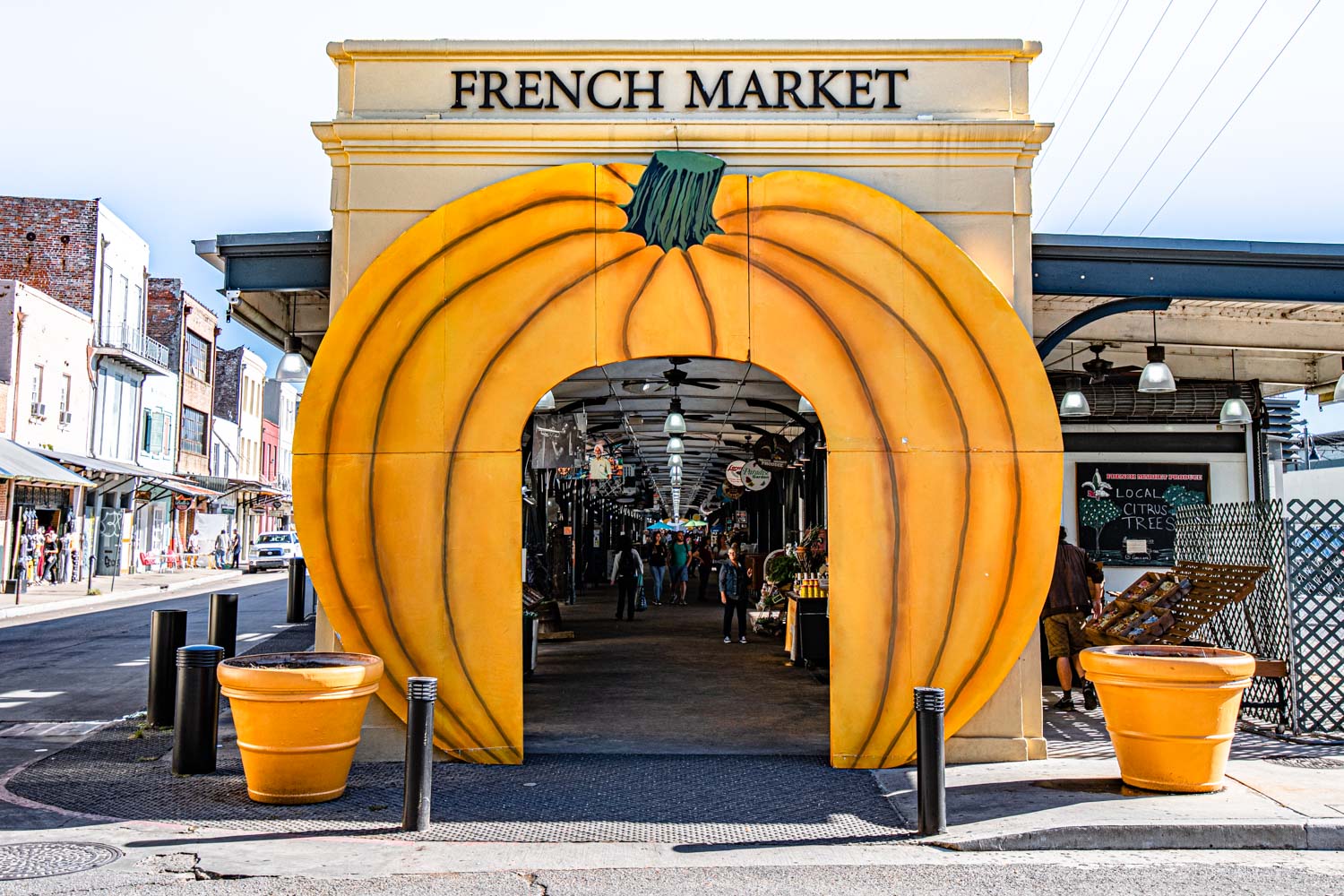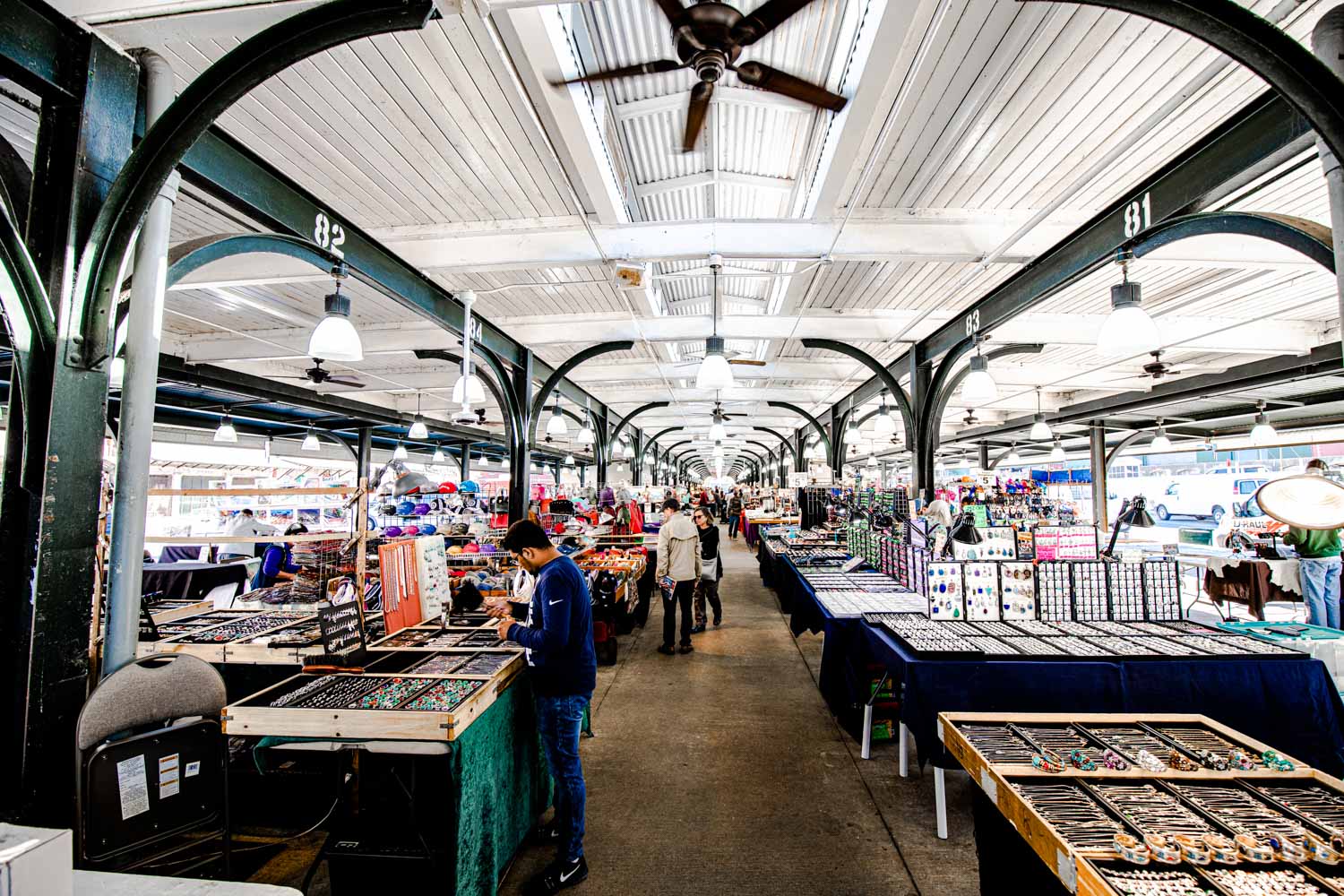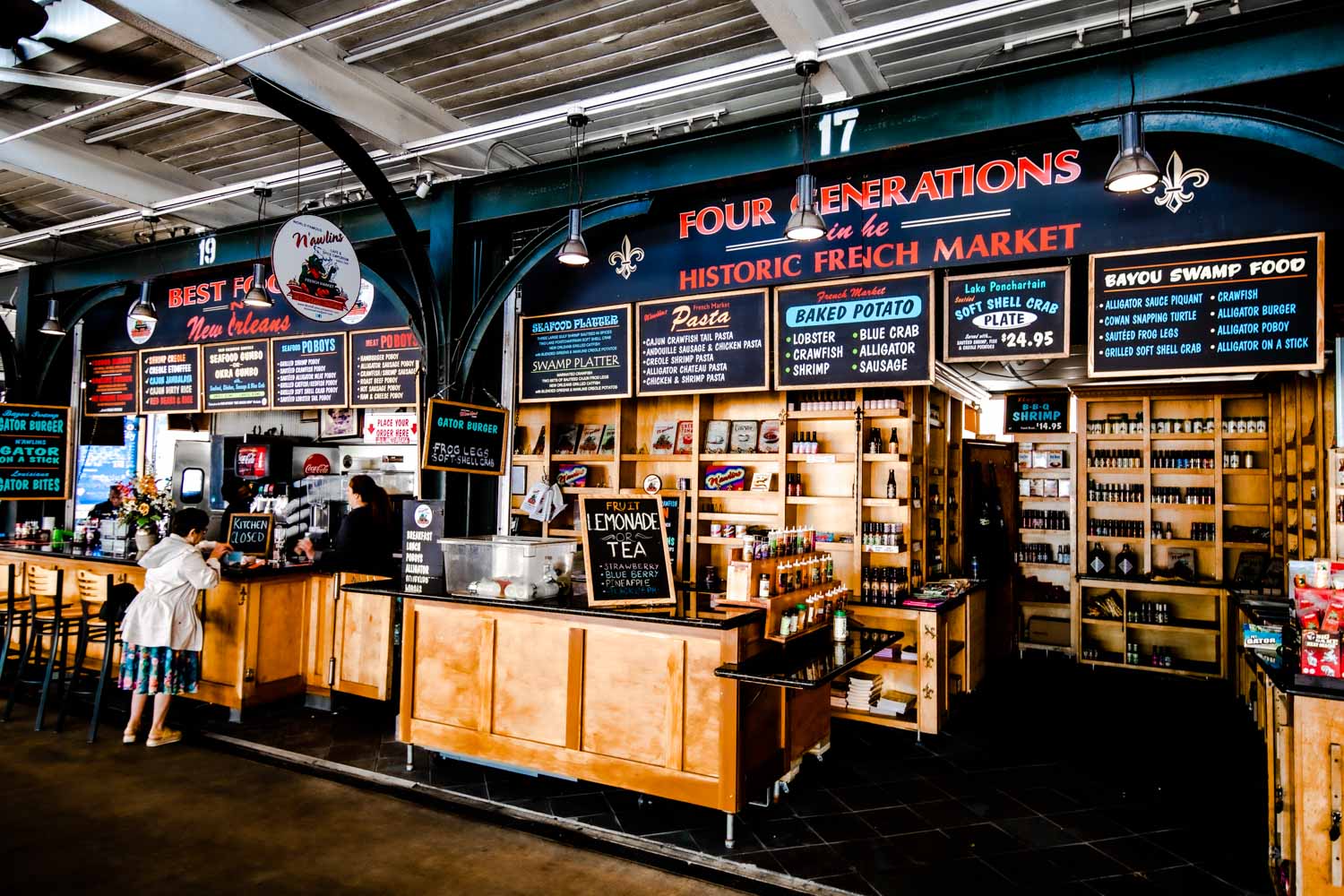 ---
Marie Laveau's House of Voodoo
Now it's time to go to the infamous Bourbon Street to find the popular shop, Marie Laveau's House of Voodoo! If you didn't know, the historical practice of voodoo is quite popular in New Orleans, and I'd recommend you read through this article on The History of New Orleans Voodoo before your visit! It really is fascinating to learn about, especially because there are so many misconceptions about the practice.
"The core belief of New Orleans Voodoo is that one God does not interfere in daily lives, but that spirits do. Connection with these spirits can be obtained through various rituals such as dance, music, chanting, and snakes."
There are several shops in the city dedicated to Voodoo-Catholicism, and I think everyone would enjoy taking a stroll through Marie Laveau's House of Voodoo. It's stacked with various books, items, and unique trinkets!
No photos are allowed inside, but it's a unique shop worth popping your head in and perusing for 10 to 15 minutes. They also offer tarot card readings in the back if that interests you. If just visiting this shop isn't enough for you, walk around the corner to the New Orleans Historic Voodoo Museum!
"We take all the mysteries, the secrets, the history, and the folklore of rituals, zombies, of gris-gris, of Voodoo Queens and all that jazz, and put it all in one place at the heart of the New Orleans French Quarter."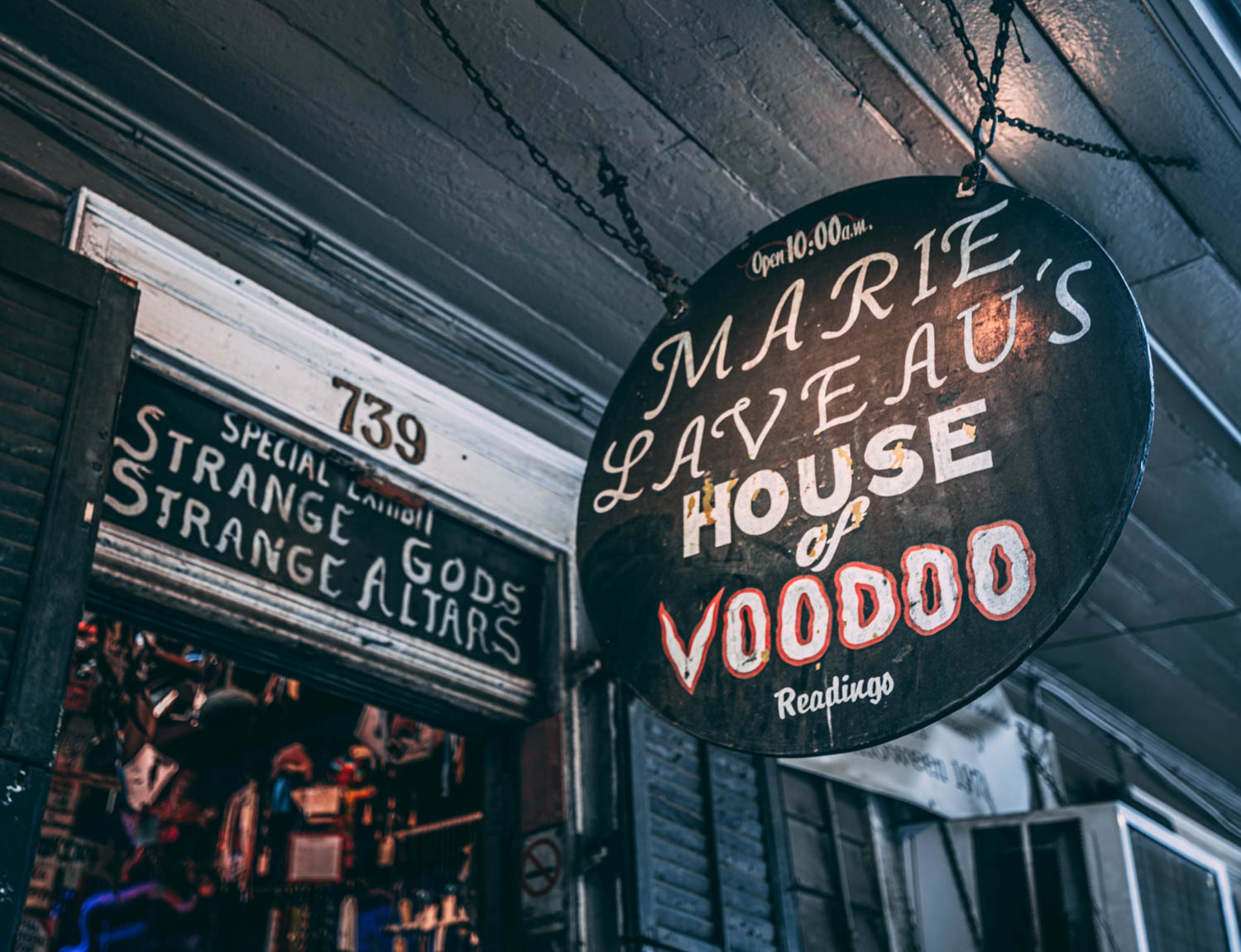 ---
Walk Up & Down Bourbon Street
No New Orleans trip is complete without some time wandering down Bourbon Street! With its bright neon sign, endless bars with various happy hour specials, and a raucous atmosphere!
I'd recommend walking up and down Bourbon Street twice during your two days in New Orleans, though – by day and night – as it is two entirely different experiences! While there are some seedy bars, there are also a fair amount of unmissable spots to grab a cocktail or frozen slush drink!
If you want to experience the shrills and thrills of the French Quarter and, more specifically, Bourbon Street, join this guided voodoo walking tour.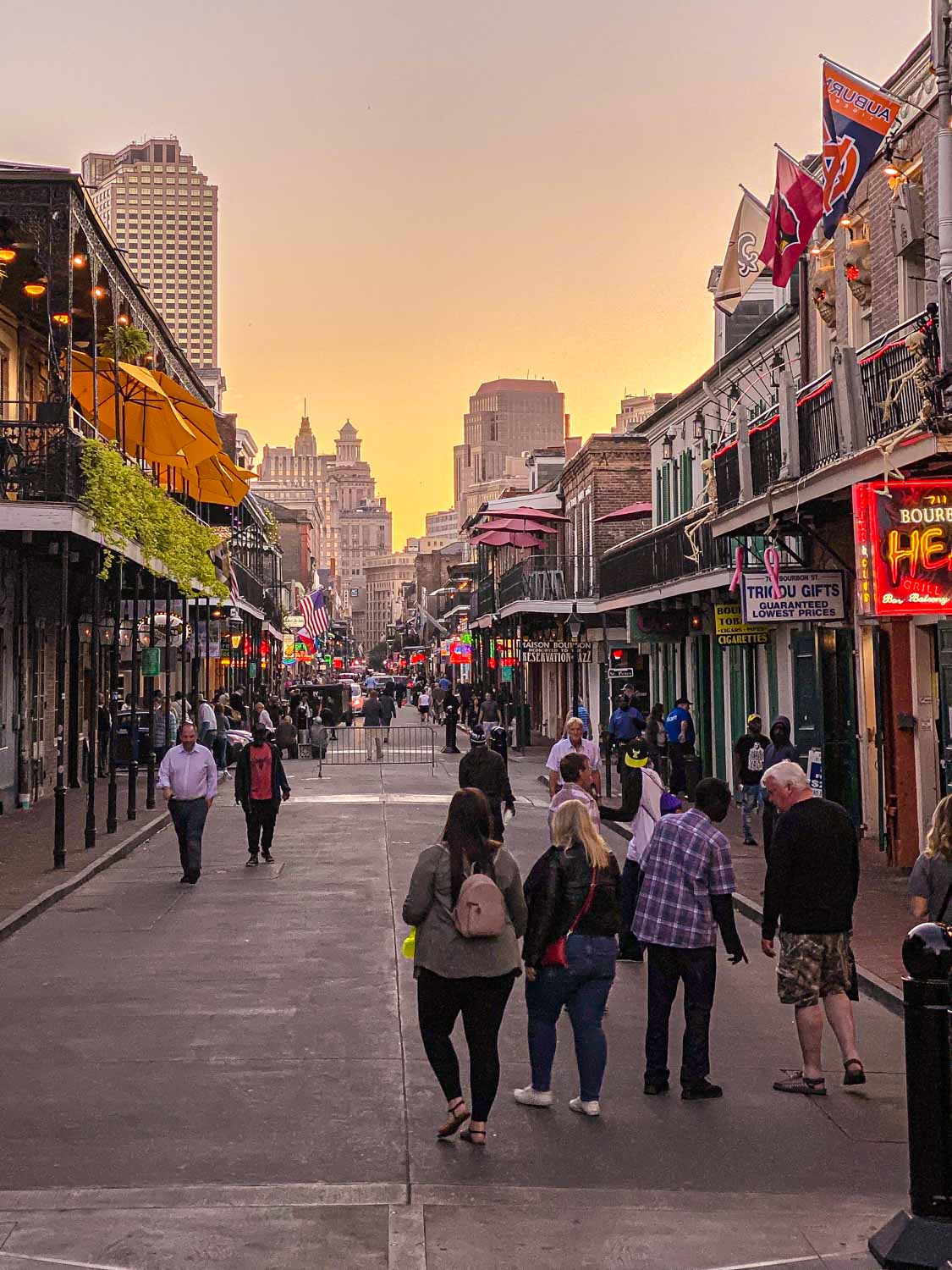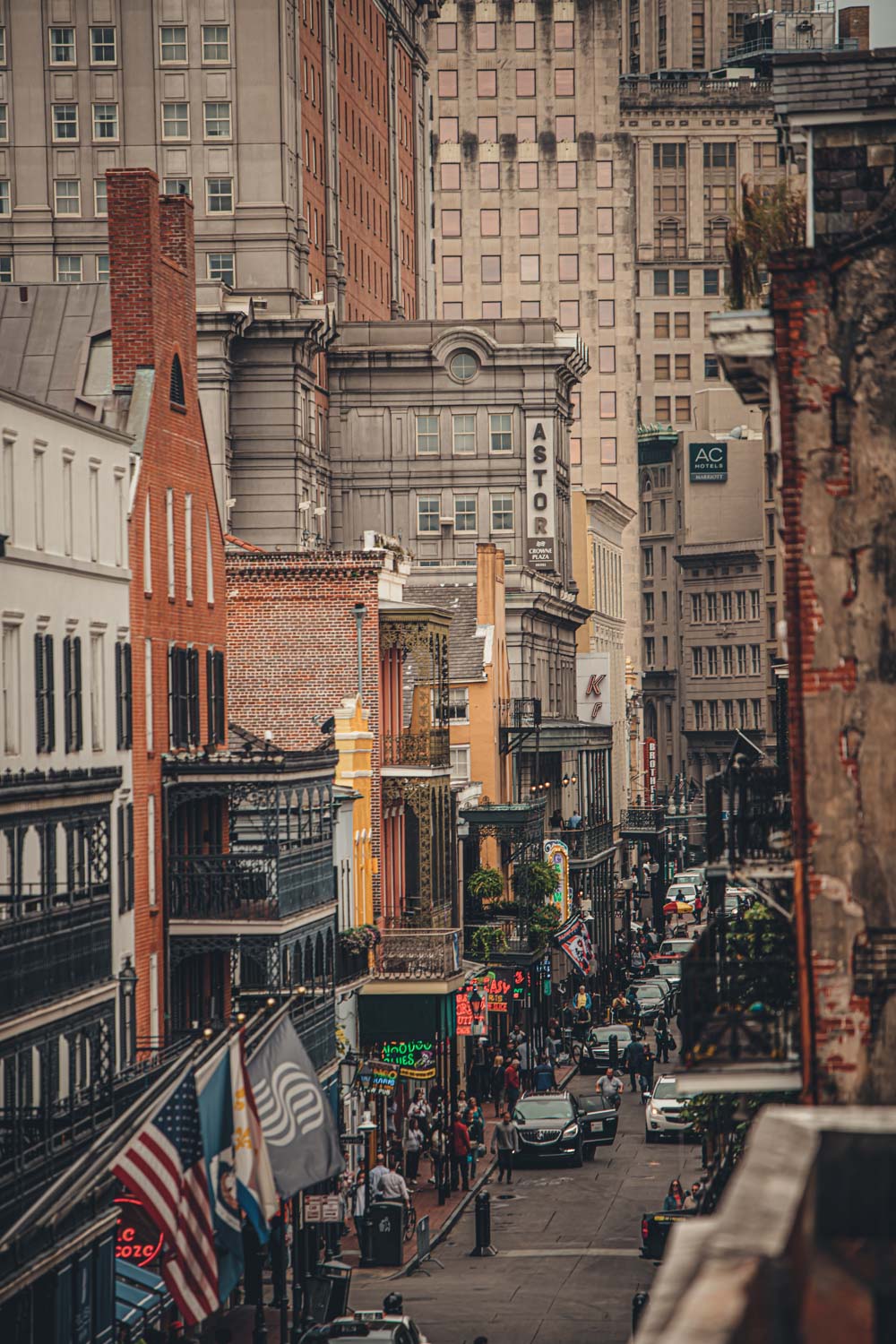 ---
Check Out the Rooftop Bar at Mambo's
While you're on Bourbon Street, one place I think you should check out is Mambo's Bar. I discovered this place while asking around trying to find a place with a rooftop bar to take some photos from, and I'm so glad I found it.
I ended up trying one of their po'boys and grabbed a beer while enjoying the views overlooking Bourbon St. I only visited during the day, but this place would be awesome to check out at sunset or at night to get an epic view of the bright lights of Bourbon Street.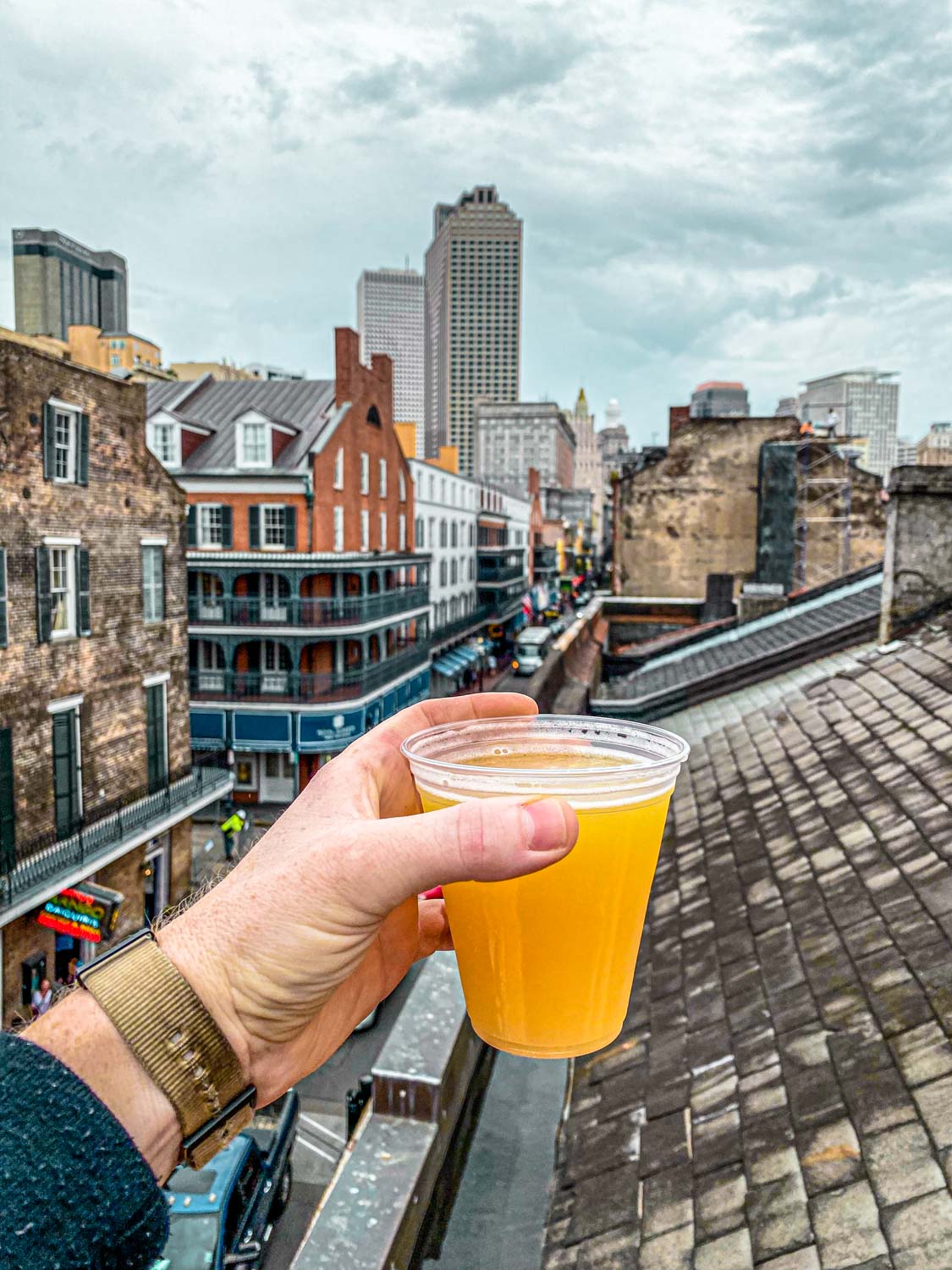 ---
Cocktail History Tour With Doctor Gumbo
When planning my trip to New Orleans, I asked my Instagram followers for their favorite things to do, top tours, and food or drink recommendations. It was actually my sister who recommended I try out a cocktail walking tour because it was one of her favorite things she did during her trip to NOLA.
I'm so glad I ended up doing it because it was the perfect introduction to the city's nightlife. New Orleans has an unbelievably vibrant cocktail scene, and I really loved being shown around by a professional in the industry who was able to tell me all about it!
We visited four different bars and got to try two different cocktails at each spot. We went with Dr. Gumbo Tours, and our guide was super friendly, was able to answer all our questions, and was an excellent way to begin our nightly shenanigans in the city!
Price: $40.00 (No drinks included) or $75.00 (cocktails included)
Time: 5 pm – 8 pm daily
"Join Doctor Gumbo Tours on a journey through New Orleans' historic and fascinating history of cocktails, and sample them along the way. Belly up to the oldest stand-up bar in the country, find out where the Grasshopper was invented, get the real scoop on absinthe, learn the origins of the Sazerac and discover hidden gems where locals have been imbibing for centuries. Each stop will feature a historic cocktail prepared by multiple award-winning mixologists, and your guide will give you the history behind them! Expect to visit 4 venues including SoBou, the Bourbon "O" Jazz Bar and Tujague's!"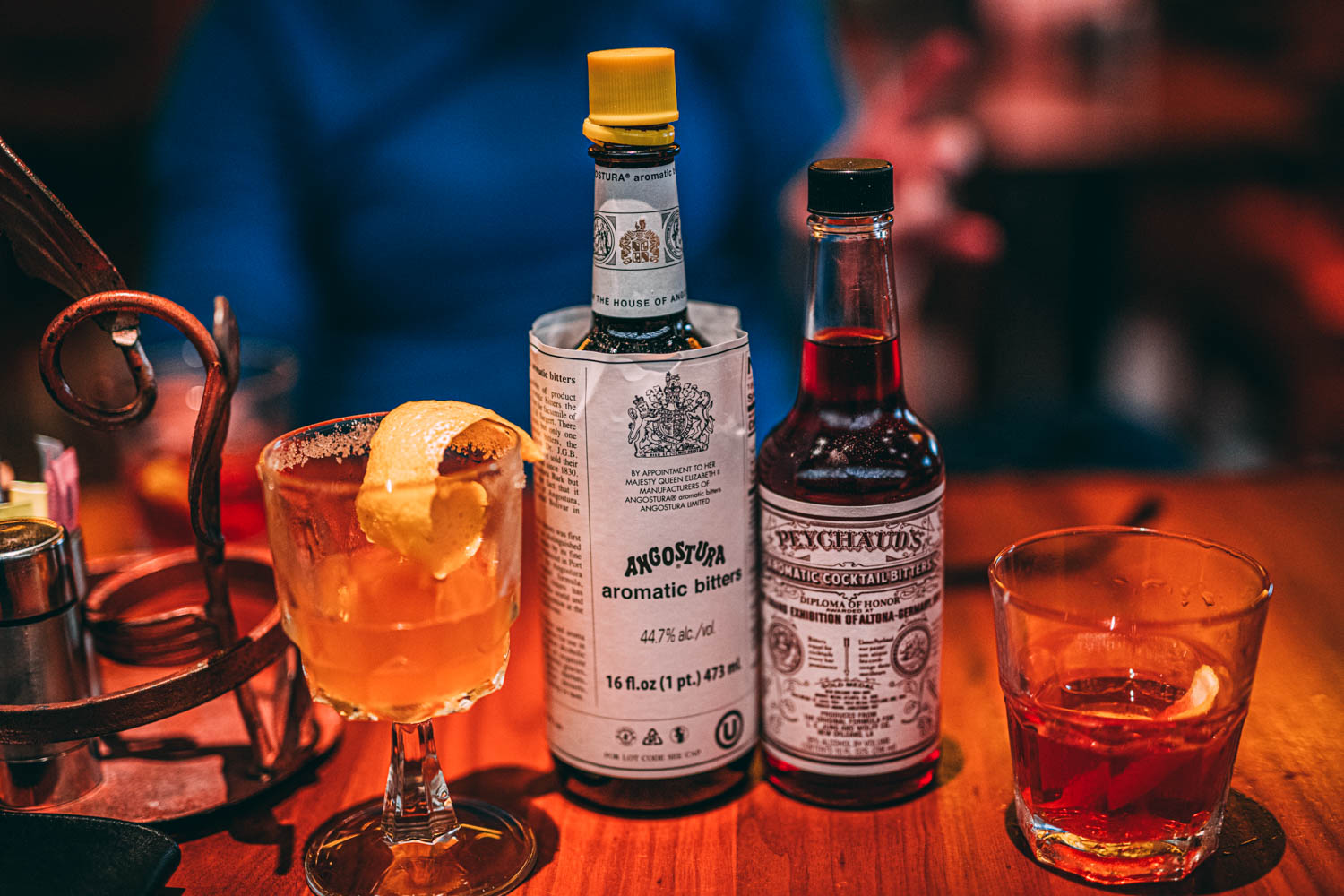 ---
Enjoy a Fine Dining Dinner
After the cocktail tour finishes, it's time to soak up some of that alcohol with an iconic New Orleans fine dining experience! There are so many restaurants to choose from in the French Quarter, so I've narrowed my recommendations to just three!
All of these establishments have become New Orleans staples and have been around for 100+ years. Their dining experience is guaranteed to be memorable. I'll promise you that.
But fair warning – prices can be a bit more expensive. But so worth it.
Antoine's: Unique atmosphere, impeccable service, and the birthplace of Oysters Rockefeller.
Arnaud's: Traditional New Orleans fine dining. Classic Creole cuisine in the heart of the French Quarter!
Brennan's: Popular NOLA landmark famed for its ancestral Creole cuisine and iconic Bananas Foster.
Important: There is a smart-casual dress code at all of these establishments, so you'll need to wear a collared shirt for the lads and a simple yet elegant dress for the ladies to be seated. These are also three of the most well-known and popular restaurants in the city, so don't be surprised if there's a wait, especially on the weekend.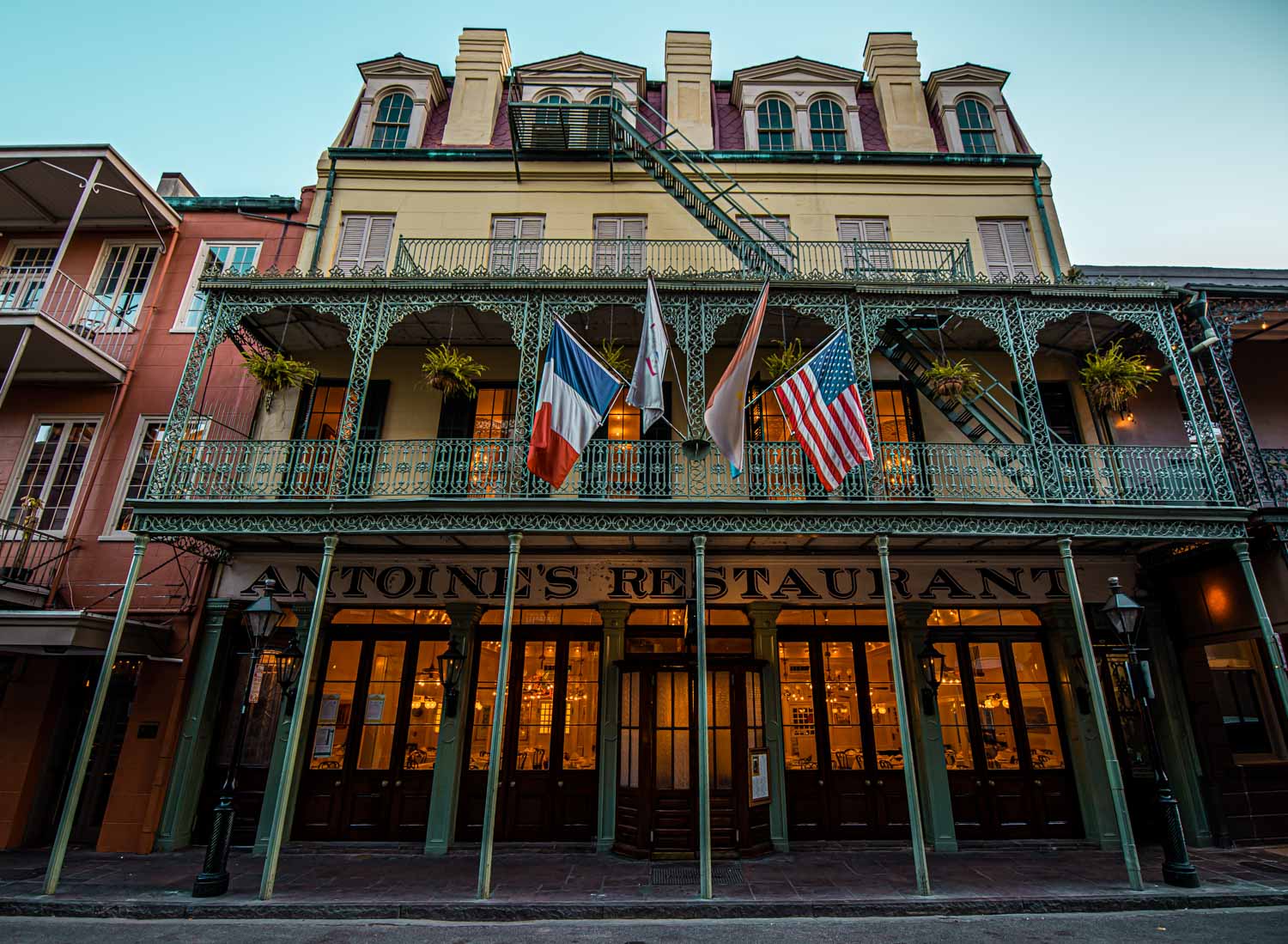 ---
The French Quarter Nightlife Scene
"Drinking in New Orleans is a celebration of our culture."
Finally, to conclude your first day in New Orleans, spend the rest of the evening soaking up the amazing atmosphere and bar-hopping vibe of the French Quarter! There are dozens of award-winning bars to check out, fun places to sing karaoke and dance, and it's simply just fun to walk around and admire the historical streets and charming architecture all lit up at night.
I'm sure you'll find some spots on your own that you might find interesting, but here are some recommendations to get you started:
Lafitte's Black Smith: The oldest bar in America – order a Voodoo!
Cane and Table: Havana-esque decor with delicious rum-based cocktails.
Napoleon House: A 200-year-old beloved landmark serving up their signature Pimm's Cup.
Oz: New Orleans #1 Gay Dance Club!
ALSO: Cane and Table and Napoleon House both serve food as well, so if you're not looking for a fine dining experience with a vibe, just head straight to one of those two places after your cocktail tour.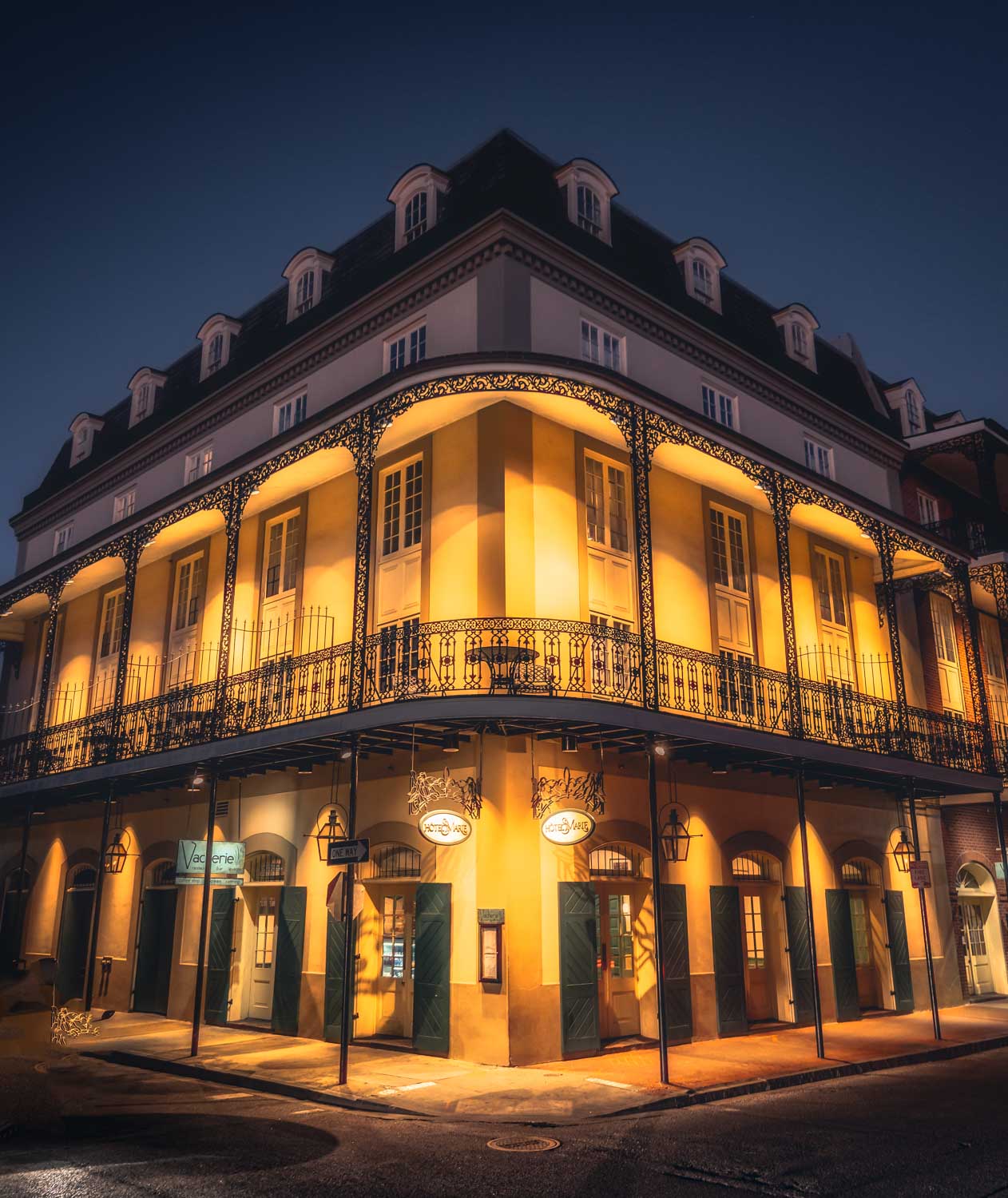 ---
New Orleans in 2 Days: Explore the Art & Music Scene of Bywater & Marigny
I hope you were able to pace yourself last night and aren't feeling too hungover because you've got another jam-packed day of New Orleans exploration ahead of you!
While your first day was filled with historical landmarks, museums, shopping, food, and cocktails – Day 2 is focused solely on the colorful art and live music scene of New Orleans!
If you don't know, New Orleans was the Birthplace of Jazz, and music is one of the central elements that make this city so completely packed with personality. So let's get down to it. Here's an awesome itinerary for your second day in NOLA!
---
Breakfast at Cake Café & Bakery
If you're staying in the French Quarter, it's a breezy 10-15 minute walk over to its neighboring suburb of Marigny & Bywater, where you'll spend most of the day.
Start your day by grabbing a delicious breakfast at this local favorite Cake Café and Bakery! While they're primarily known for their decadent cakes, they've got a decent breakfast menu that won't break the bank (as I'm sure by now you're looking to save some money after all those cocktails last night).
Try the popular Breakfast Sandwich Special or Chicken Breakfast Tacos to soak up some of the alcohol and give you much-needed energy for the day ahead! I'd also recommend picking up one of their cupcakes to go, as they're particularly delicious! (Sidenote – never come to New Orleans while attempting to diet.)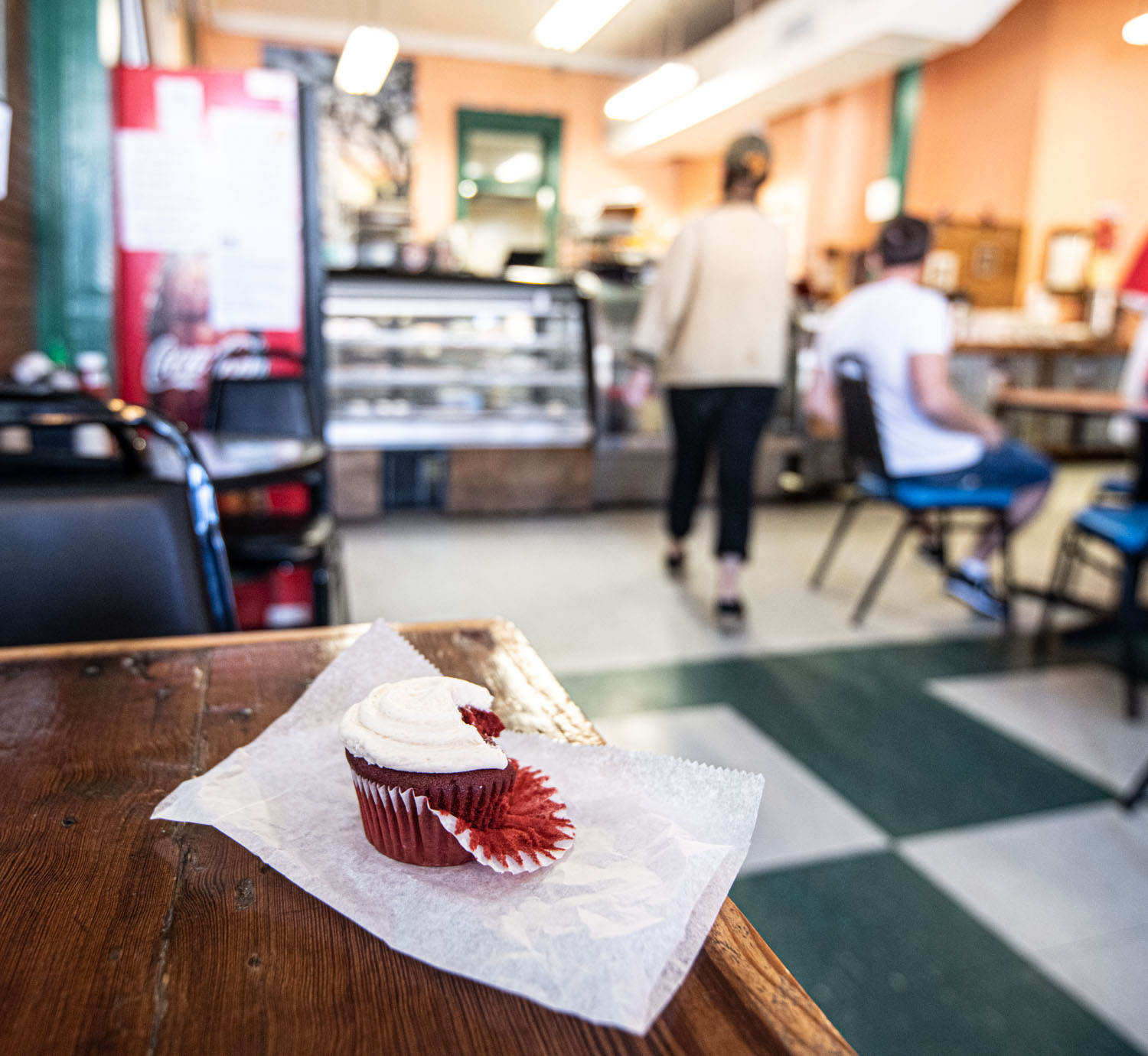 ---
Dr. Bob's Folk Art
To kick off your day of art and music, head over to Dr. Bob's Folk Art, a funky studio and shop owned and operated by New Orleans' self-taught folk artist Dr. Bob! It's just a small little space, but it is filled with some of the most amusing, colorful, and unique art you'll ever see!
I personally loved all the sassy phrases on the art like, "Shut Up & Dance," "Be Nice Or Leave," and "Be Gay & Stay!"
While the artwork was a bit expensive to purchase for me (the cheapest souvenir artwork was around $50), it's free to enter and definitely worth a visit. The lady who was working when I visited was incredibly welcoming and spent five minutes giving some background on Dr. Bob and how he became such an icon amongst New Orleans locals.
After you've visited, be sure to keep an eye out as you're guaranteed to spot some of his artwork displayed around the city!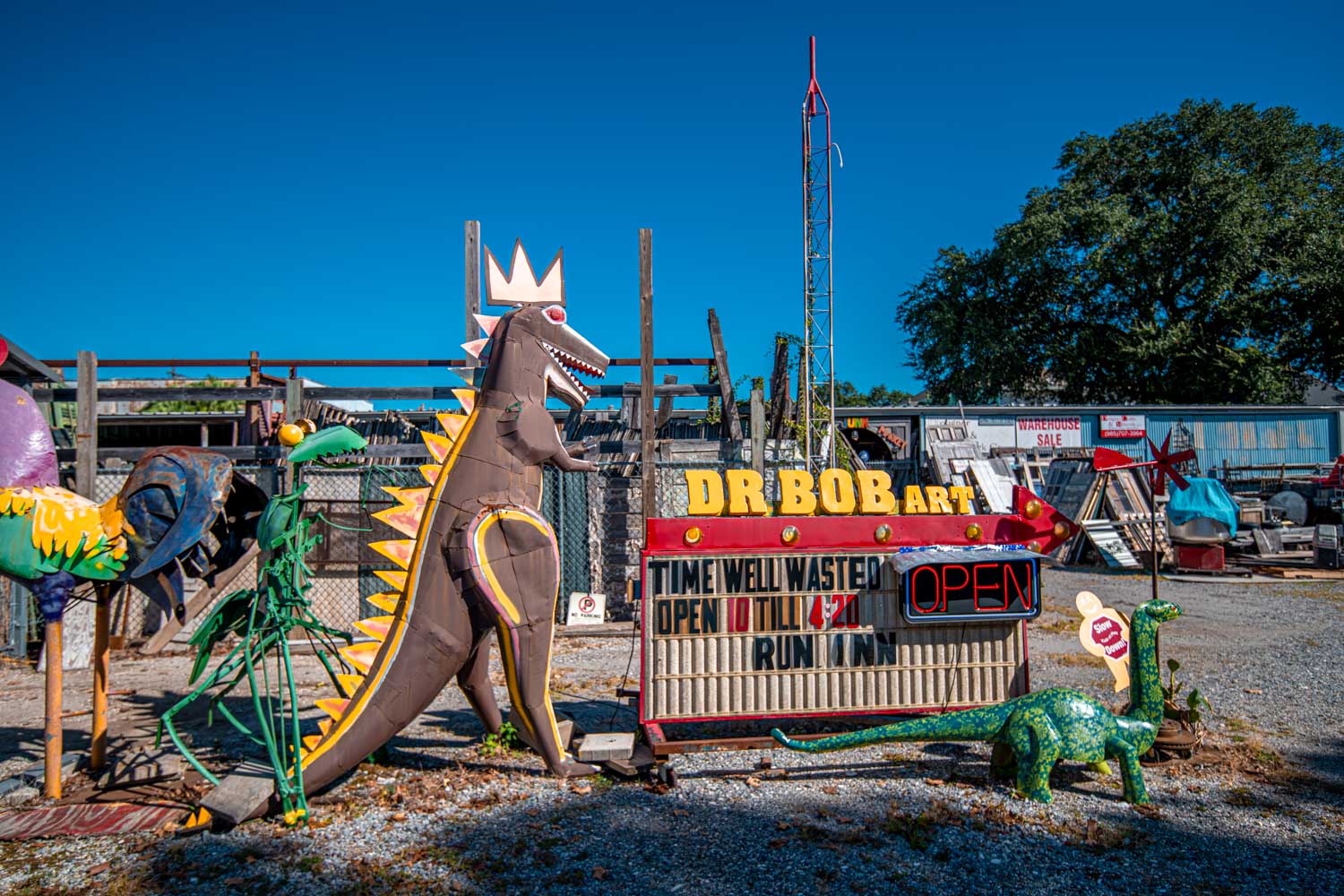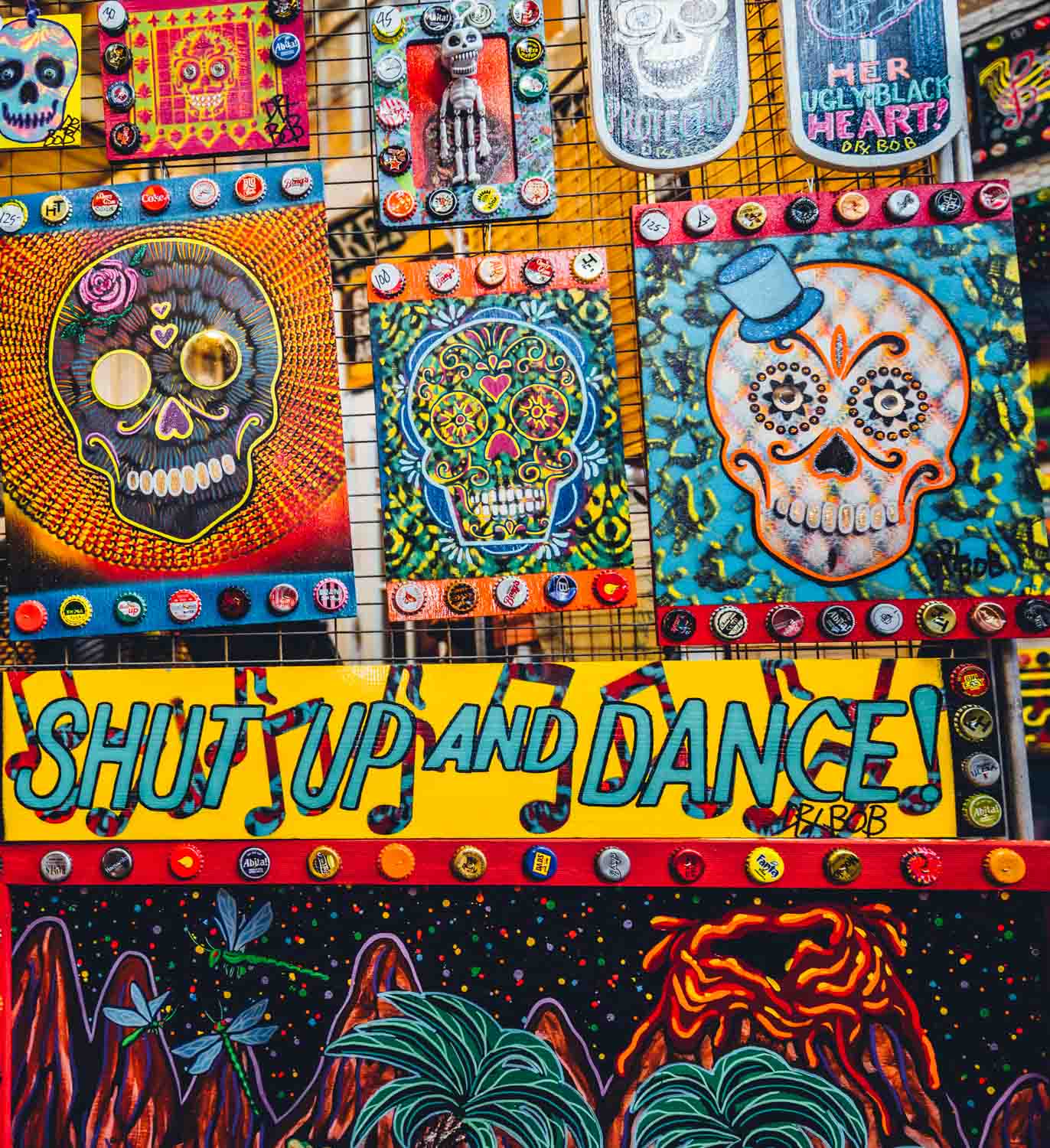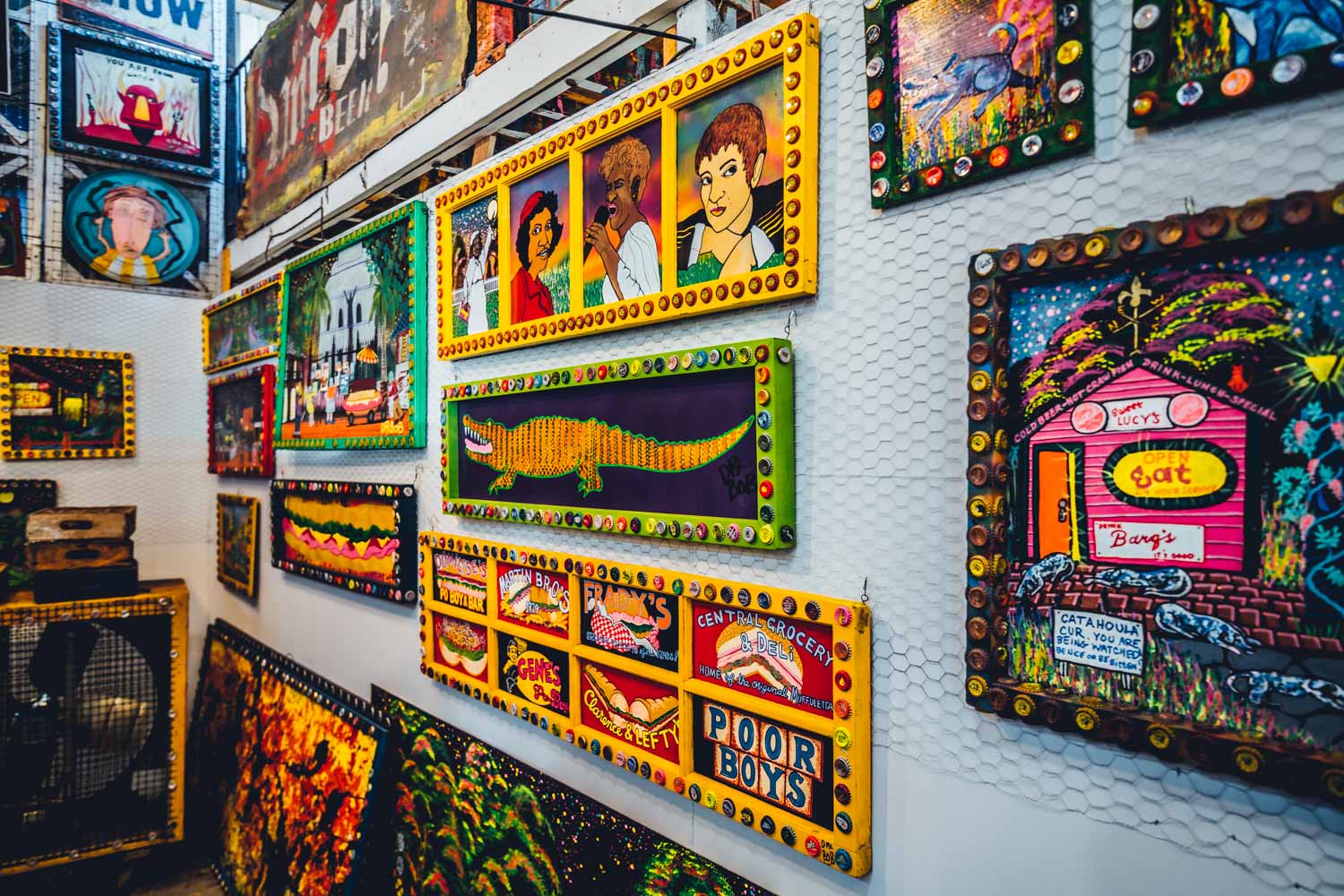 ---
Euclid Records
Located just a 10-minute walk down the road from Dr. Bob's, you'll find the awesome independent record shop Euclid Records. If you're a collector of vinyl or CDs (or just love music), you'll appreciate this place.
It's packed wall-to-wall with musical decor, and you can easily spend a good 30-45 minutes browsing through their collection and listening to their tunes.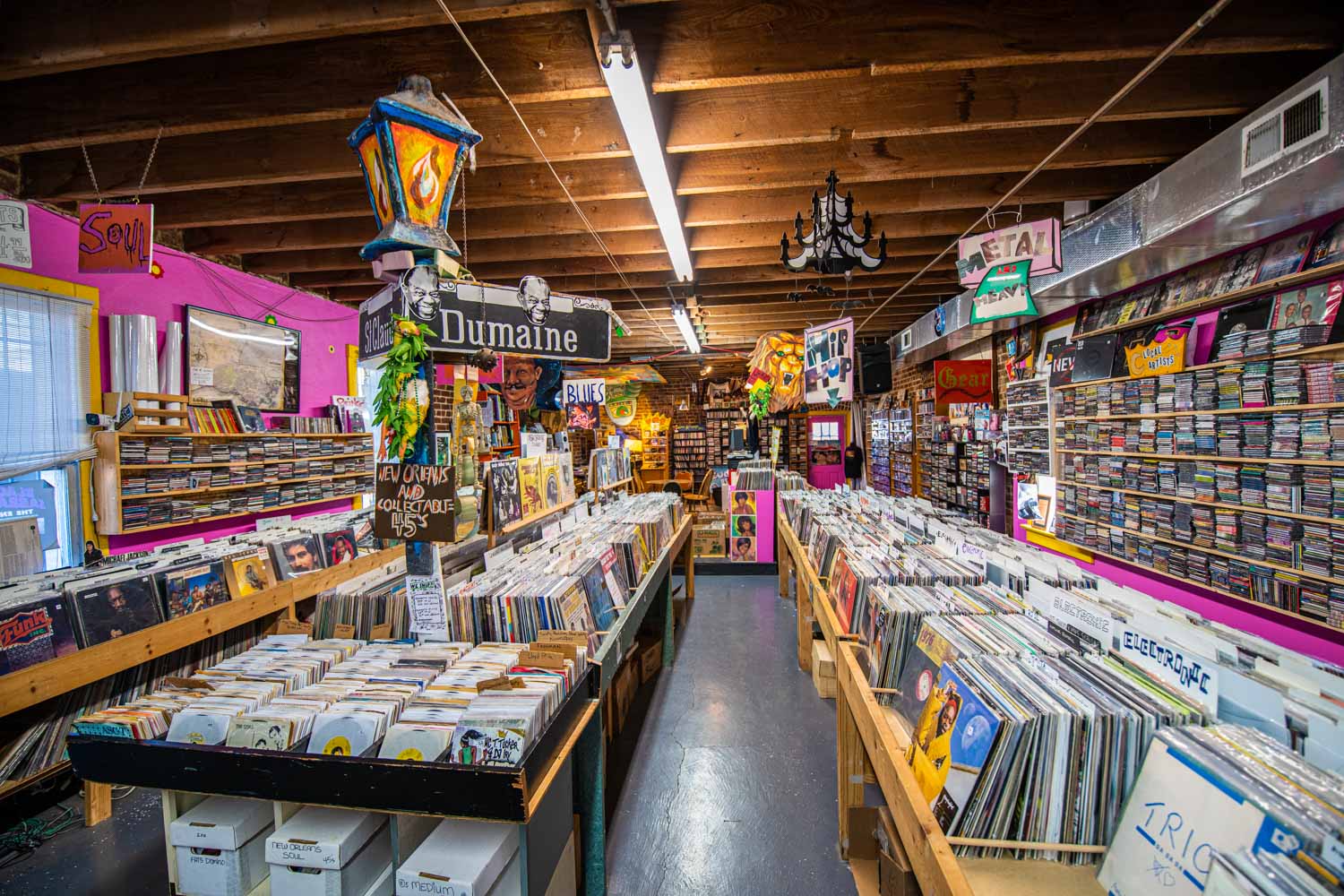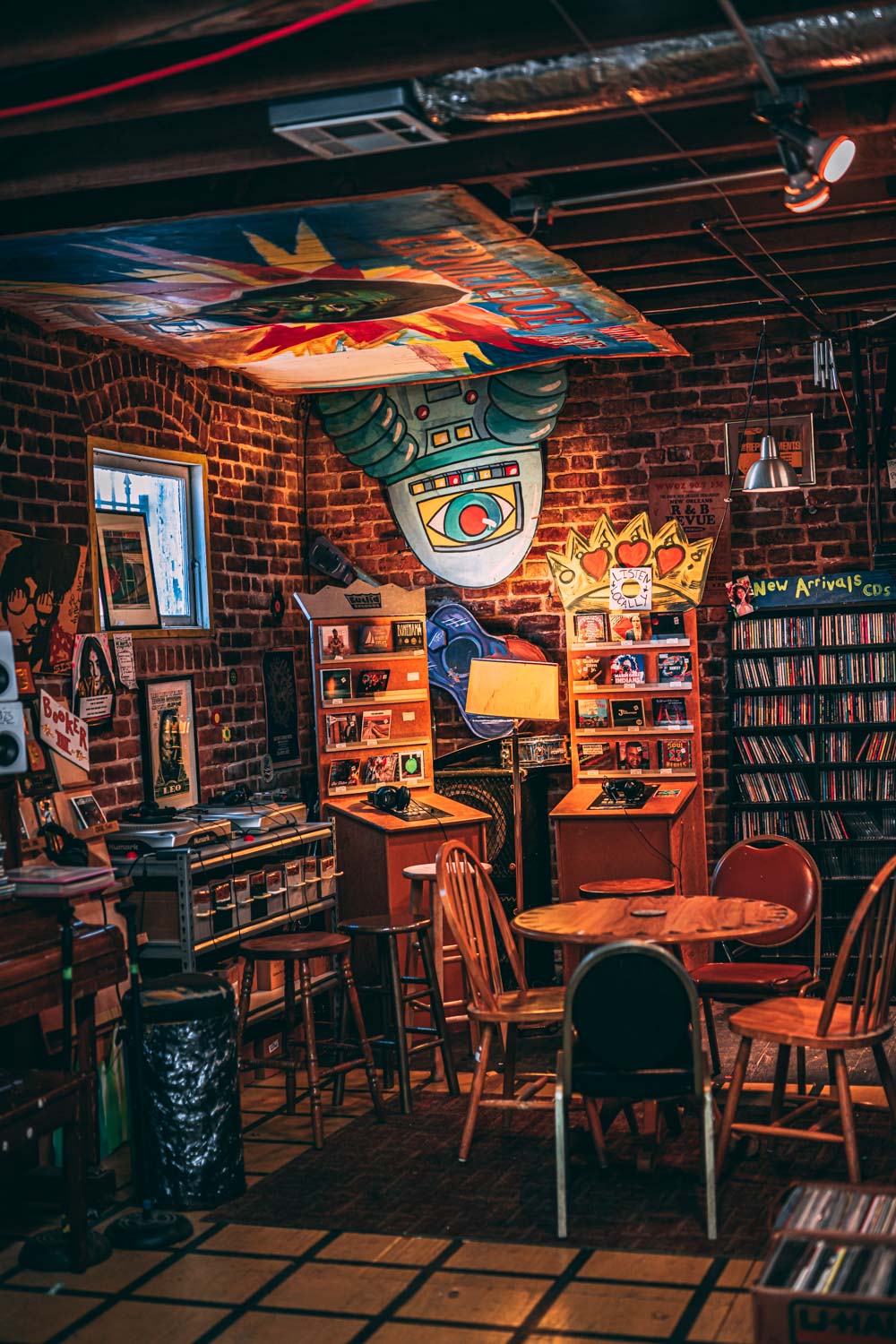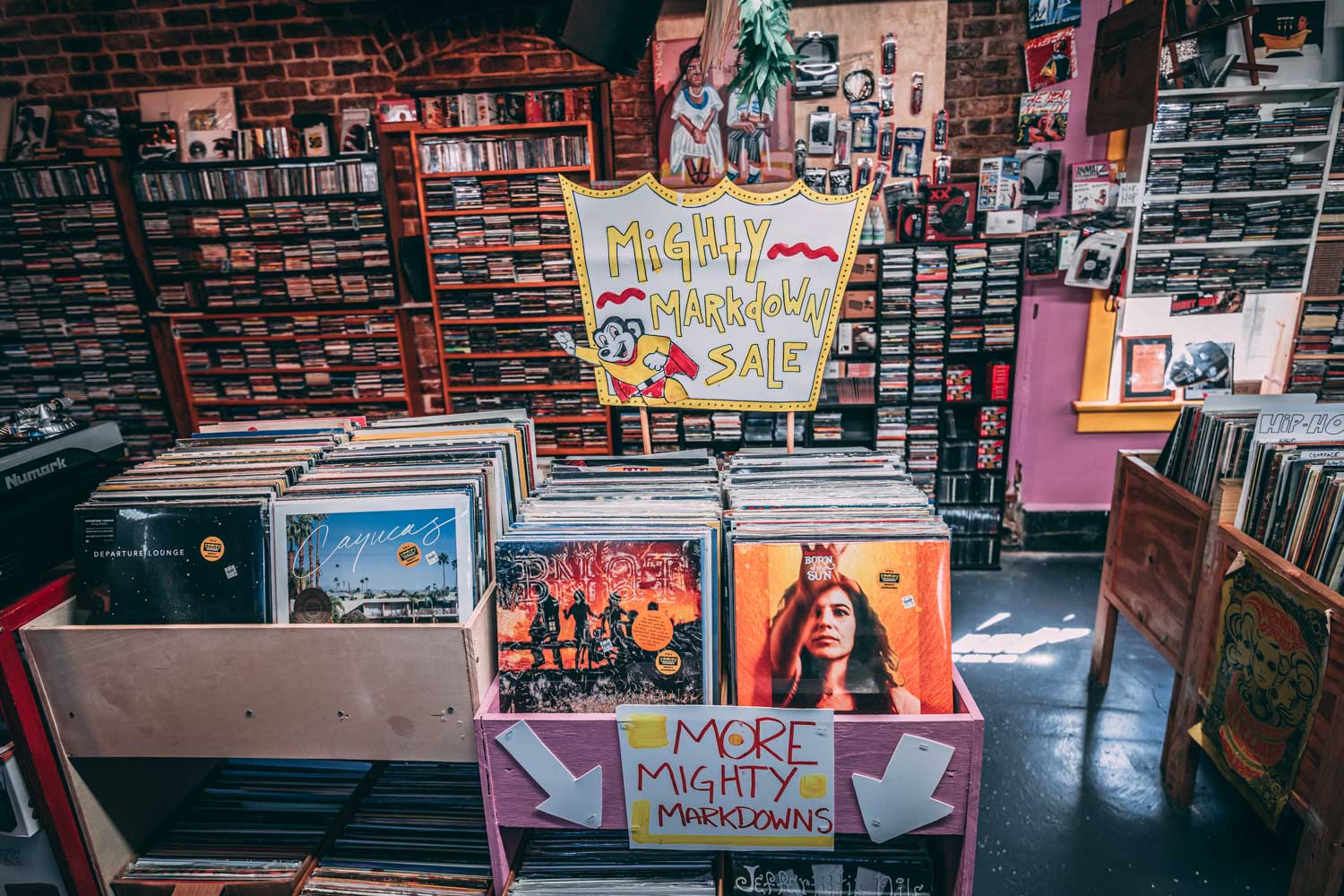 ---
Crescent Park
When you leave Euclid Records, make a left, and you'll spot the bridge on Piety Street that leads over to Crescent Park. This is a 1.4-mile linear park alongside the Mississippi River and is popular with locals looking to get in a bit of exercise or walk their dogs.
One of the main reasons to head over here, though, is to visit Piety Wharf, which provides sweeping views of the Mississippi River and New Orleans skyline.
---
Webb's Bywater Music
Next, enjoy a five-minute stroll up the road and find the small instrument shop, Webb's Bywater Music. It's not a very large shop, but it's a favorite among NOLA musicians, and the staff is really friendly to chat with about the local music scene.
While you won't need much time here – unless you're in the market for a new or pre-owned instrument – it's well worth popping your head in quickly.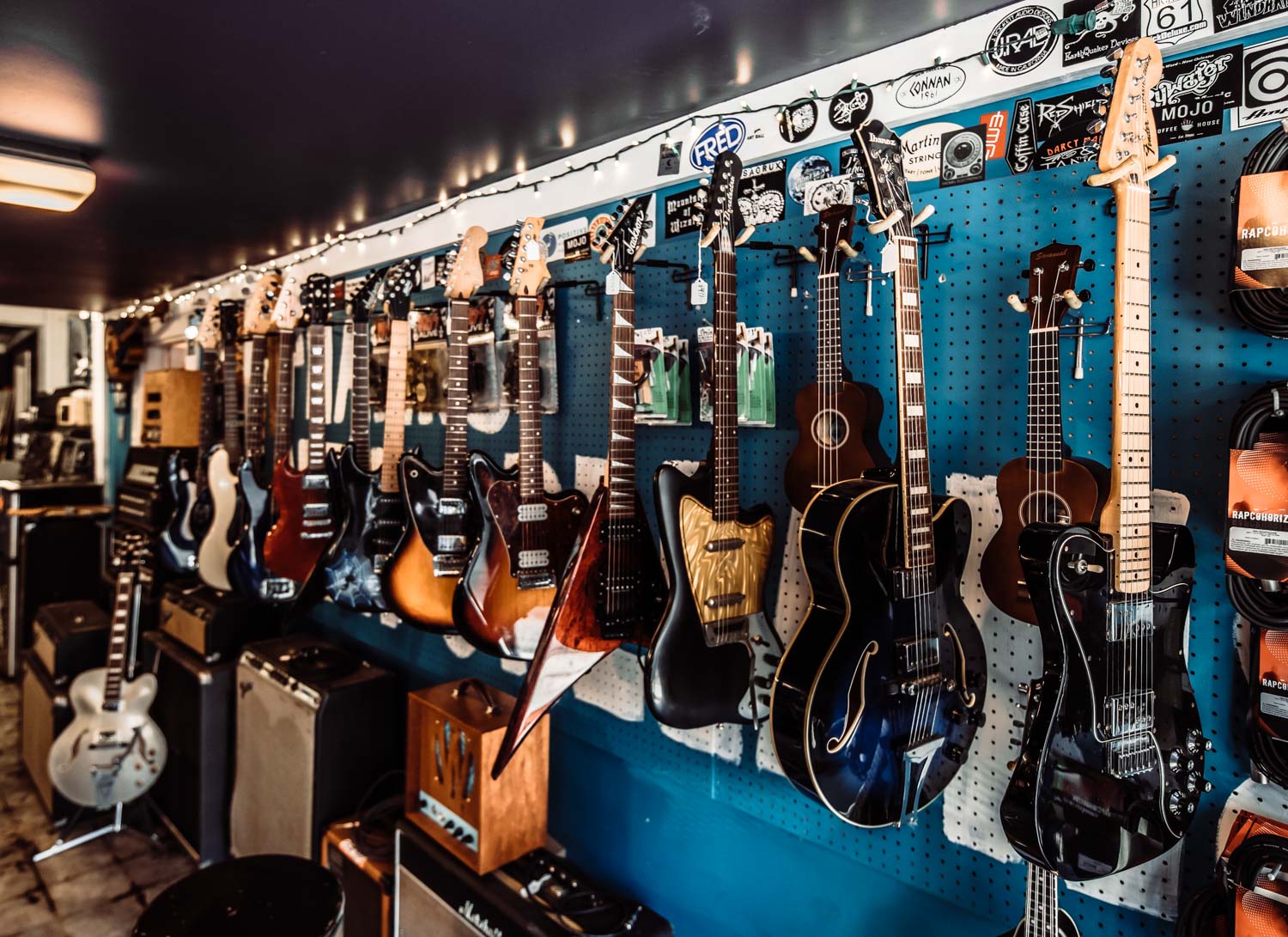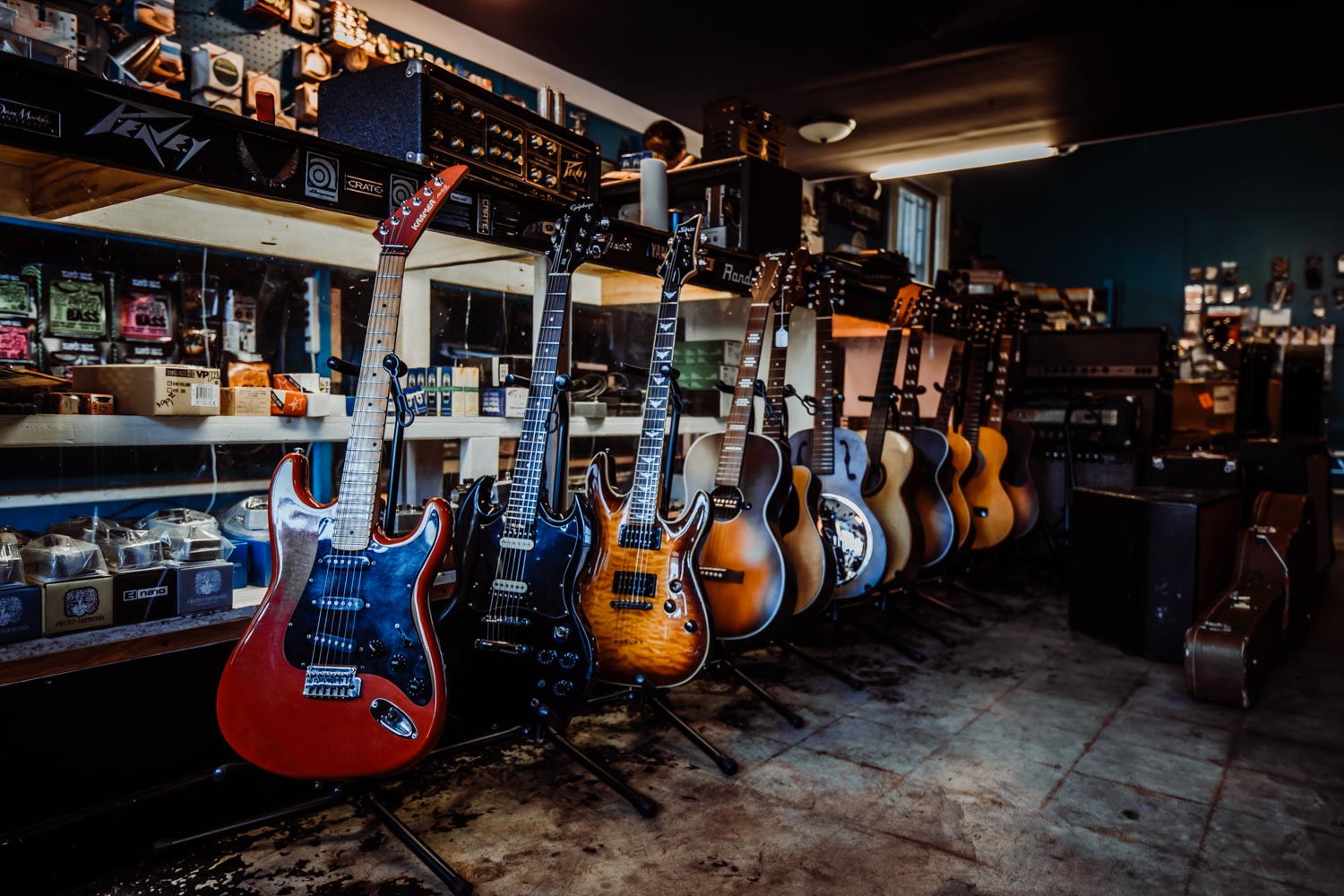 ---
Lunch at Elysian Bar
By now, you've probably worked off your breakfast and are starting to feel a bit hungry. This is New Orleans, after all, so there are many quality options to choose from in the Marigny & Bywater neighborhoods, but it really just depends on what you're in the mood for.
I ended up grabbing lunch at this chic little spot called Elysian Bar, which is unlike any other restaurant or bar I encountered during my time in New Orleans. In fact, I walked right past it because the entrance looked like someone's house!
It's a beautiful venue, and you have your choice of sitting in an elegant dining room (which I've recently learned was modeled after Monet's Dining Room in France), an indoor cafe, or on the outdoor patio. While the food was a bit on the pricier side (my total cost for lunch, including tip, was about $45), the food was definitely top-shelf, making it a favorite among tourists and locals for a reason.
If you need more convincing, have a quick read through this stellar review of Elysian Bar, as it definitely puts into words what I don't have the vocabulary/local knowledge for.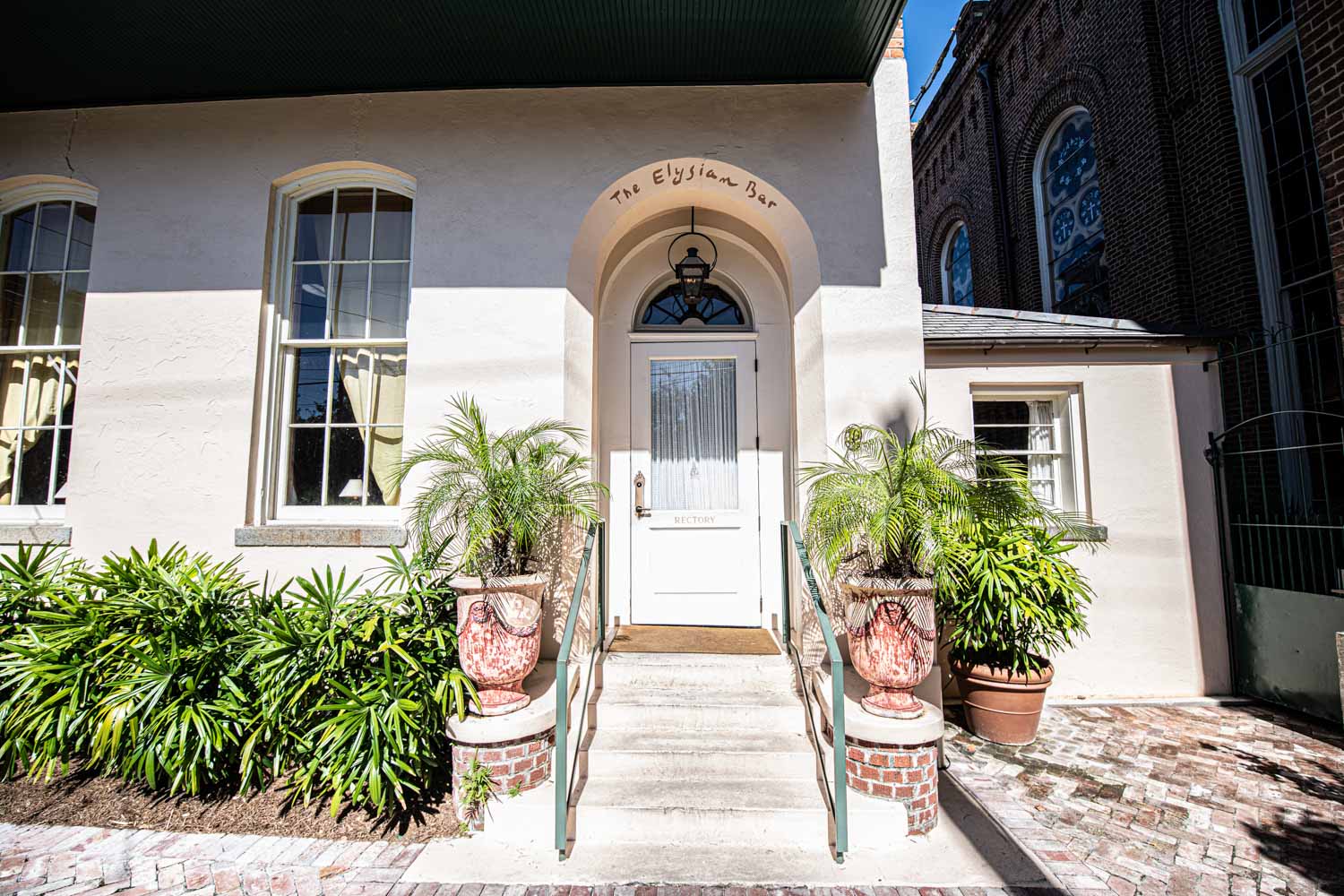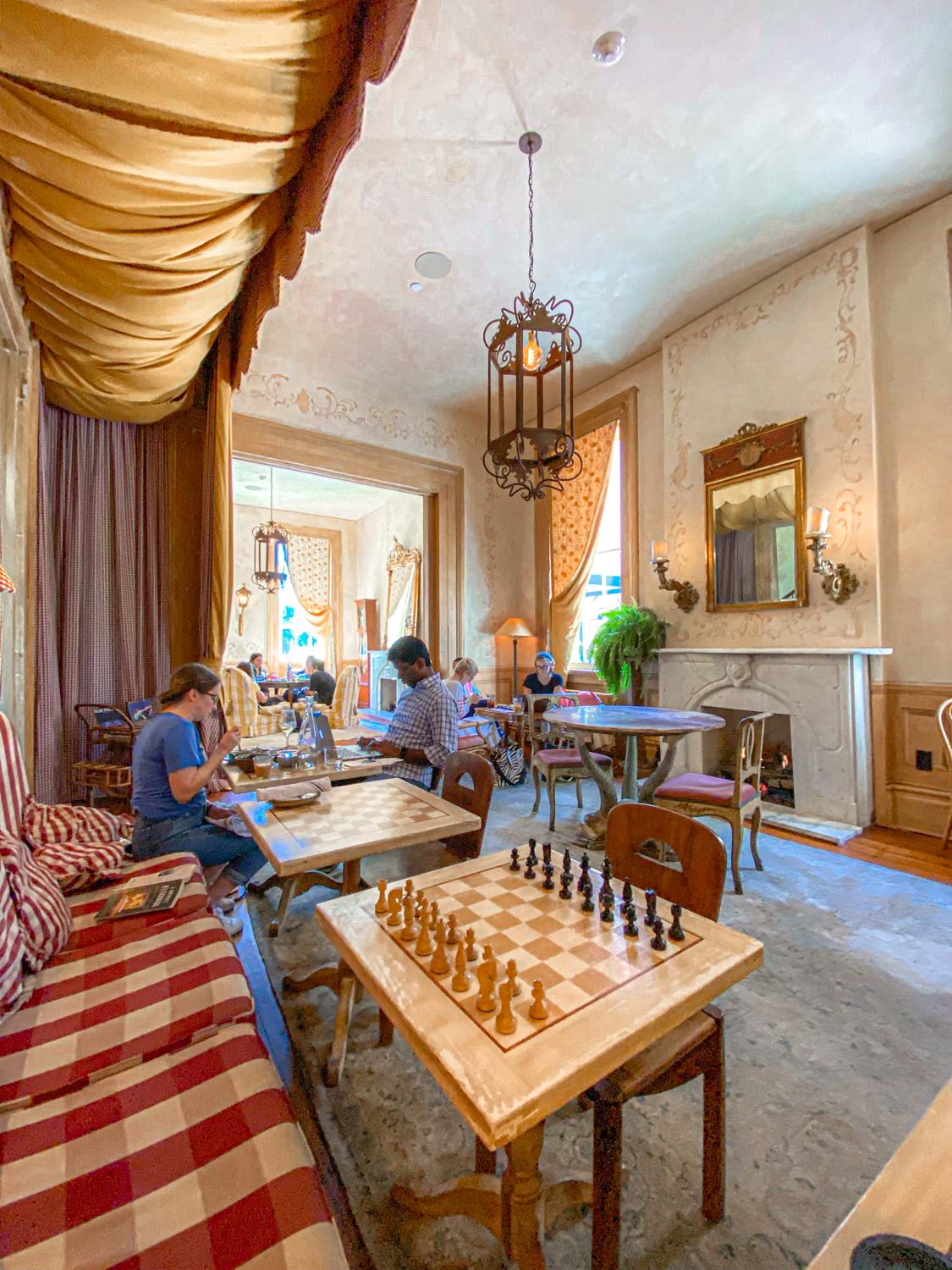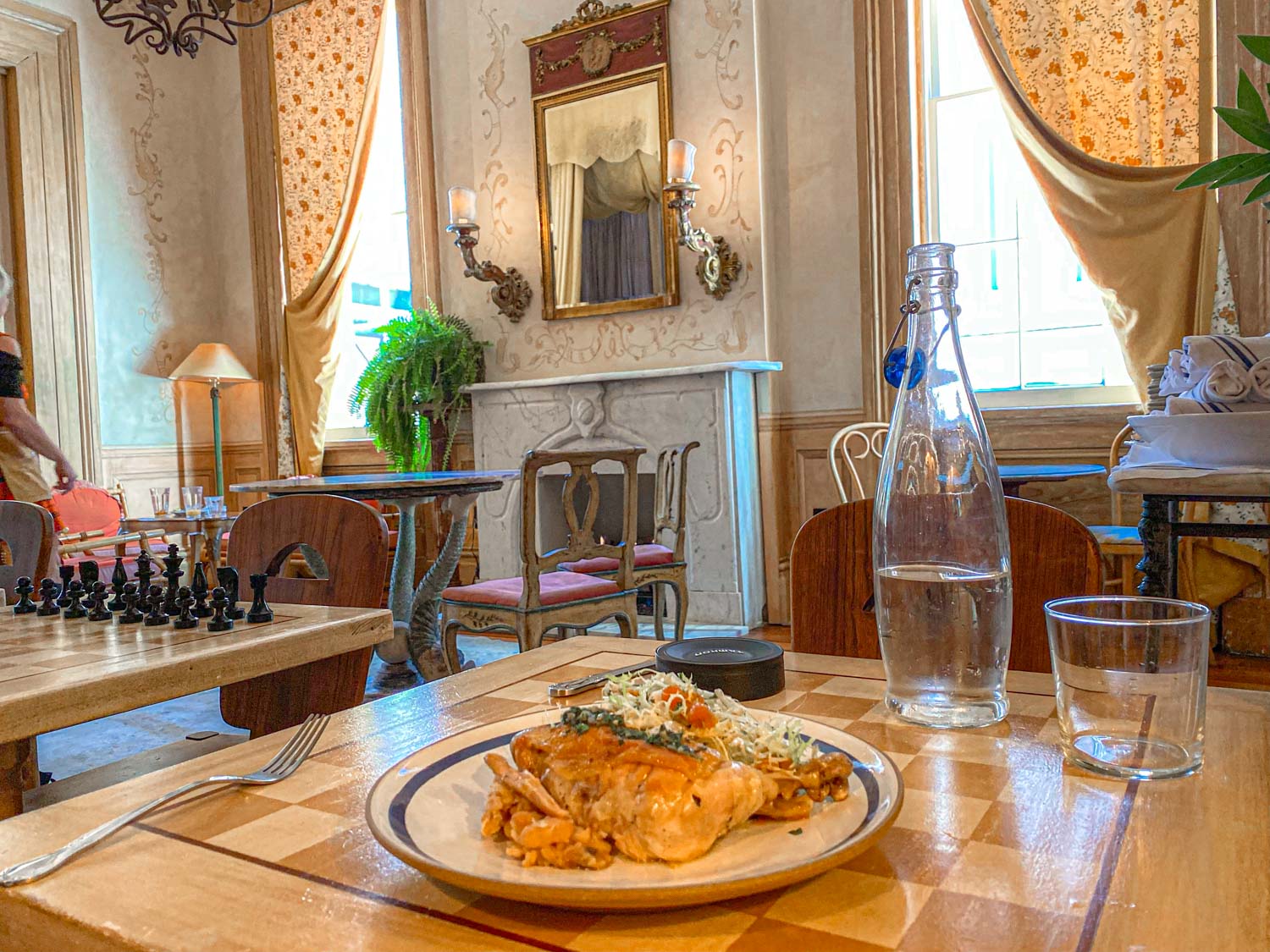 ---
Marigny Opera House
After lunch, make the short walk over to the beautiful Marigny Opera House, which is a non-profit performing arts center housed in a landmark 1853 church! It's a popular venue for weddings, performances, and the Marigny Ballet. I didn't get a chance to go inside during my visit as there was a rehearsal being held, but you'll walk past anyway on the way to the next stop!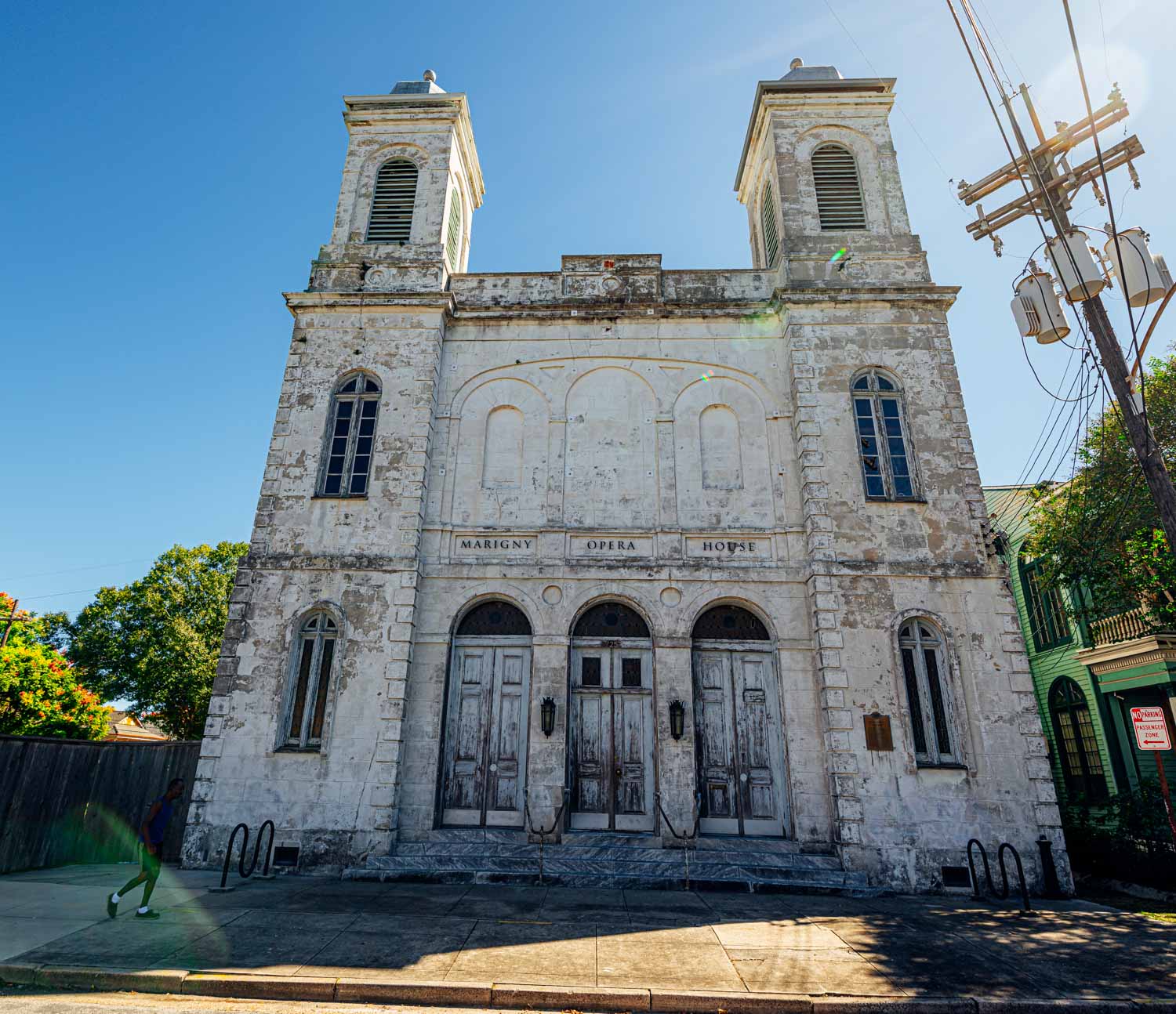 ---
Studio BE
*WONDERING WHAT TO SEE IN NEW ORLEANS IN 2 DAYS? THIS IS AN ABSOLUTE MUST-VISIT!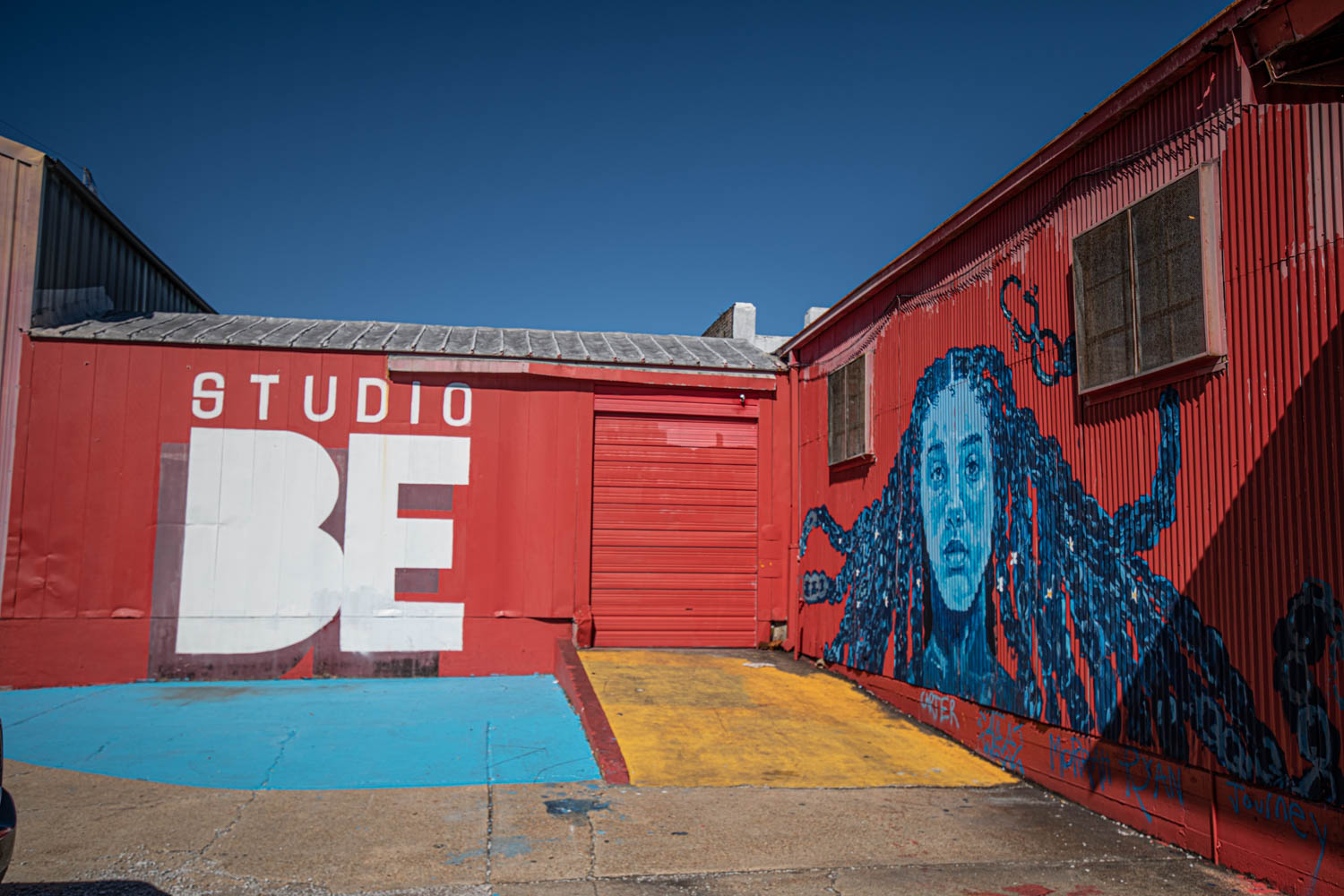 ---
While it's near impossible to pick a favorite from all the places I visited during my NOLA trip, I'd say Studio BE definitely made the top 3. It's a mega 35,000-square-foot warehouse art studio showcasing the work of local artist Mike B. It's packed with powerful and thought-provoking imagery that is guaranteed to leave a serious impression.
I'd recommend spending at least one hour wandering through its massive rooms and appreciating all of Mike Be's work. There are loads of things to read, photos and videos to watch, and tons of mind-blowing art installations to marvel at. They've also got a merchandise shop that is a fantastic spot for souvenir shopping!
Cost: $10.00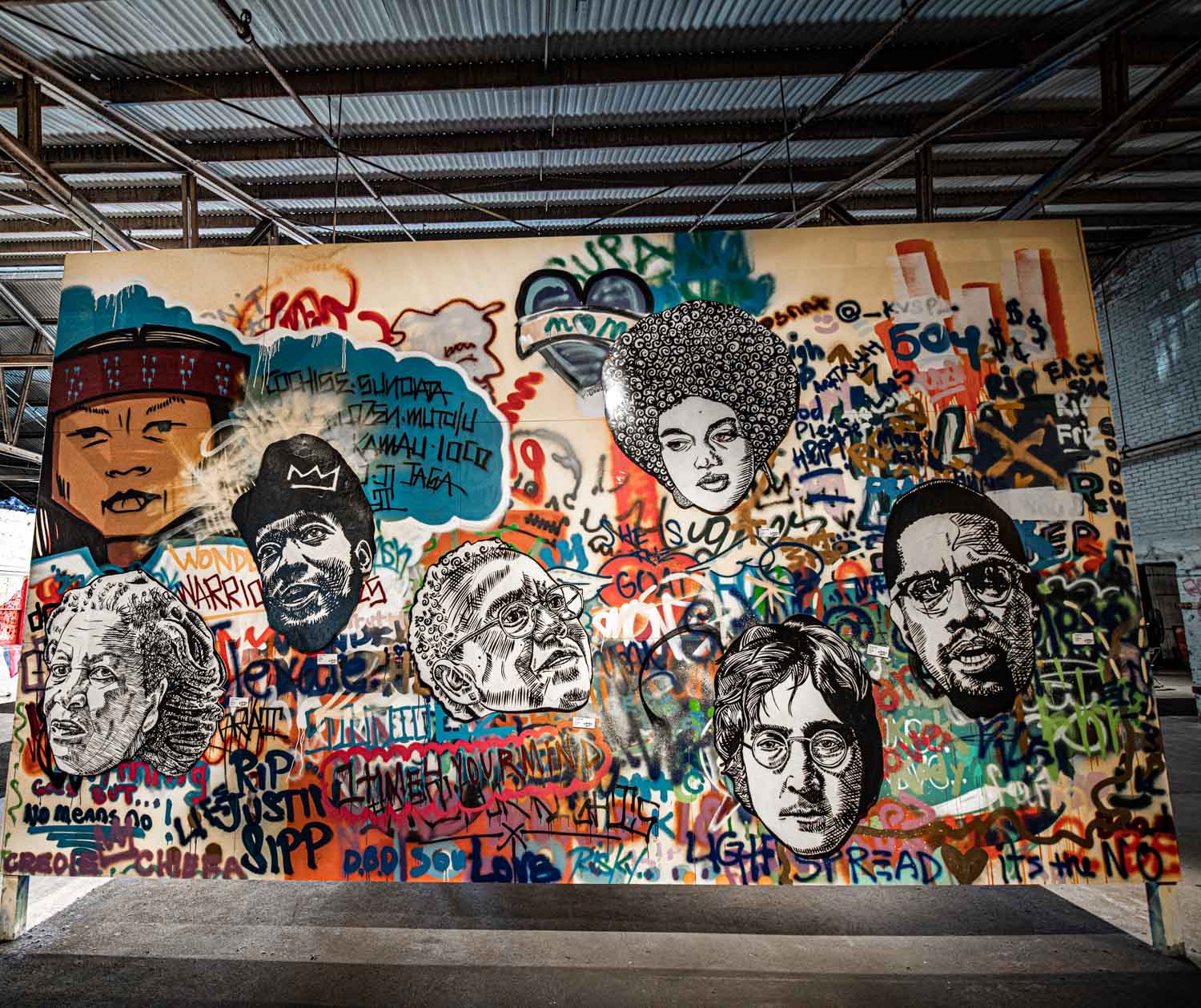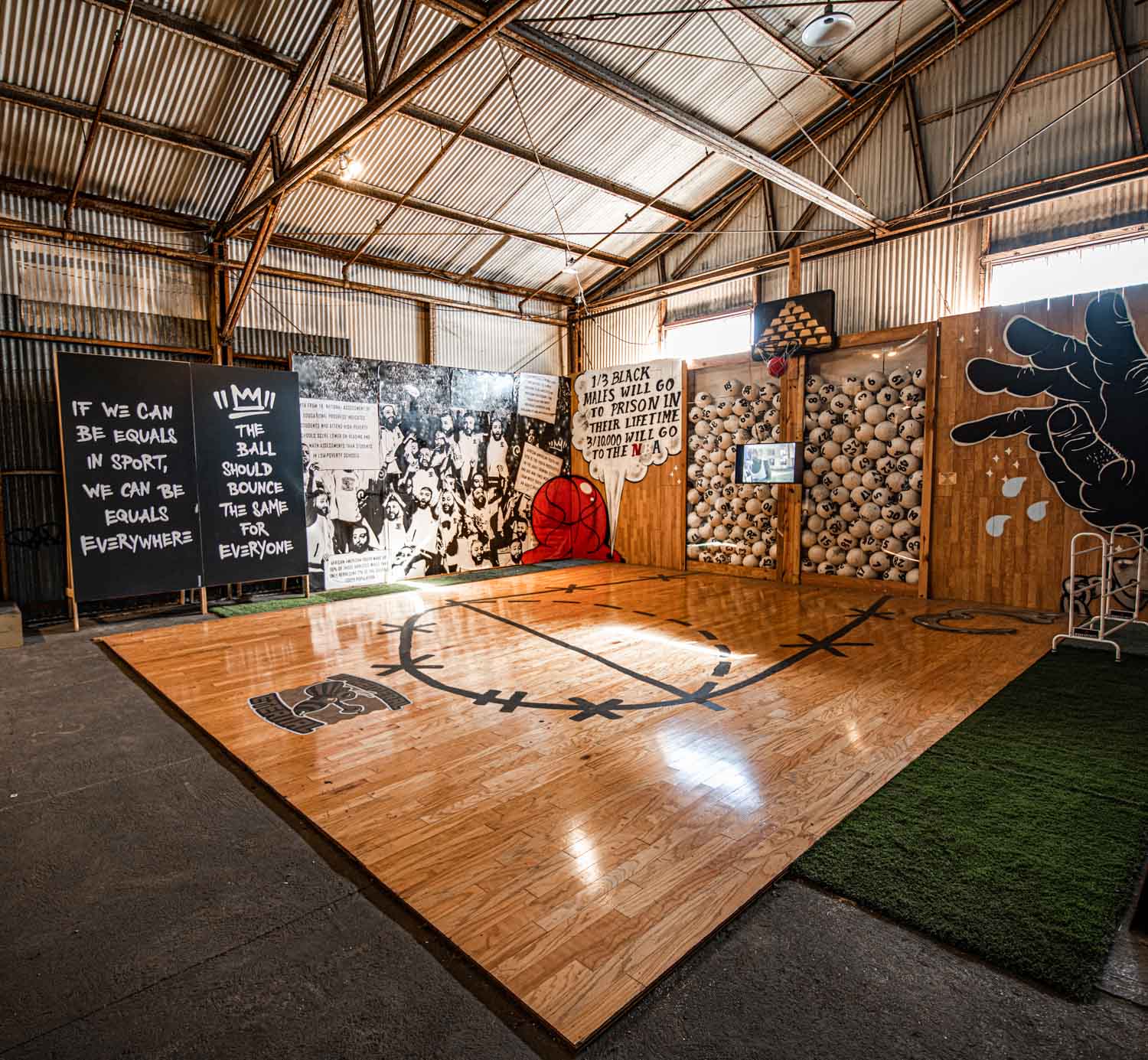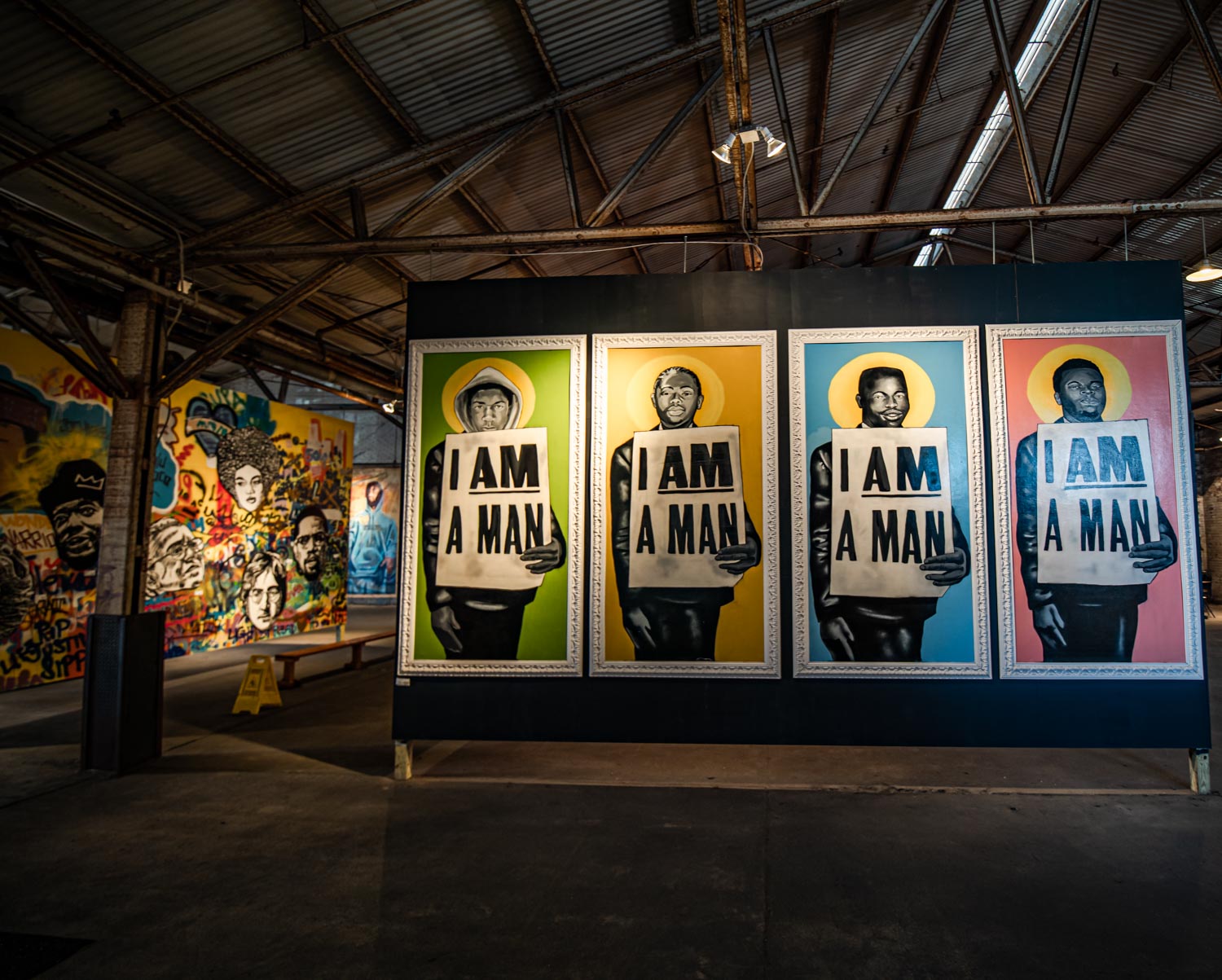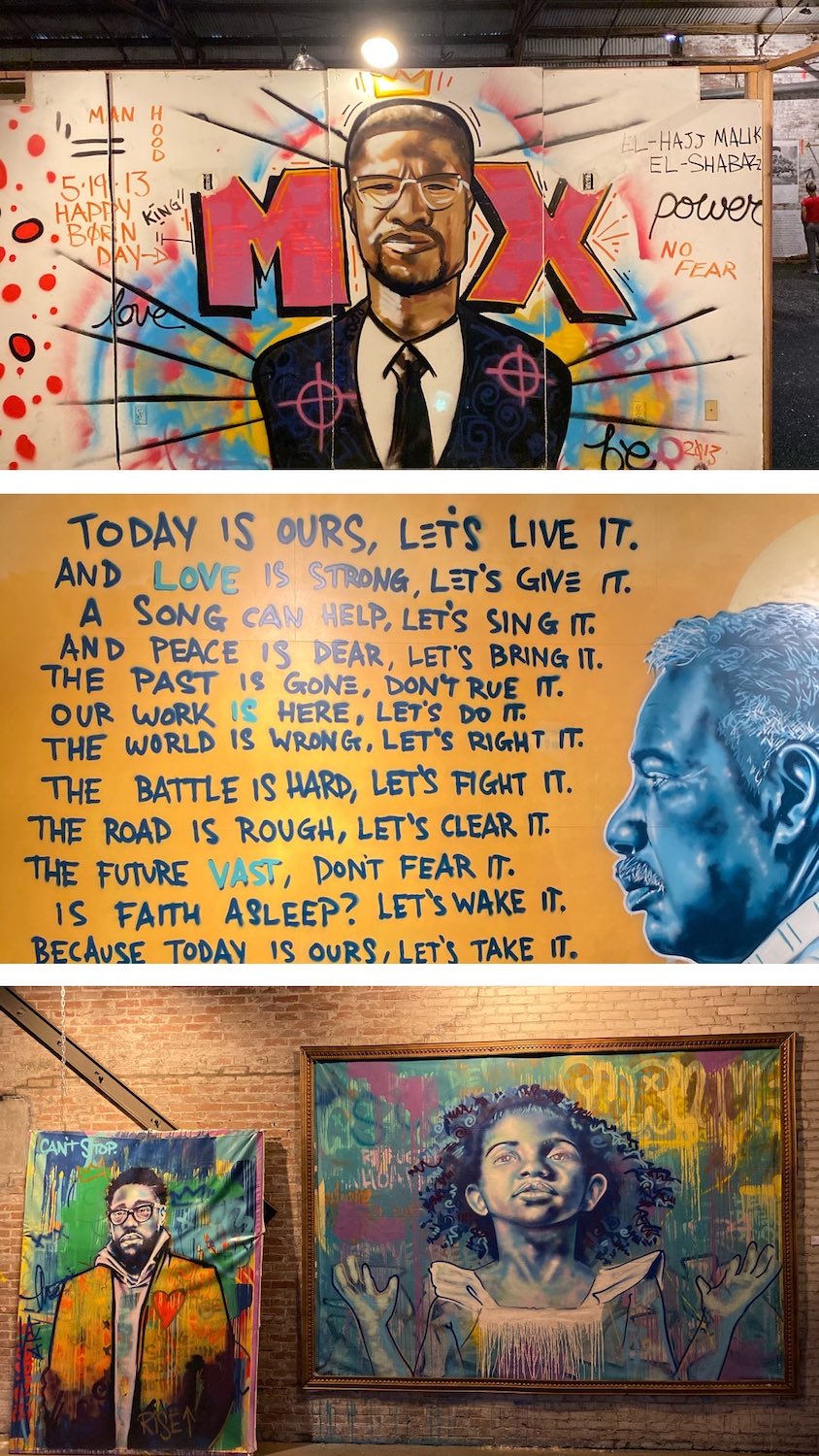 ---
Washington Square Park
By this time, you'll probably be ready to head back to the hotel and regroup for a bit. So, on the way, make a quick pit stop at the serenely scenic Washington Square Park. It's a great place to relax underneath the massive oak trees, and you'll typically find some street performers in the area to enjoy.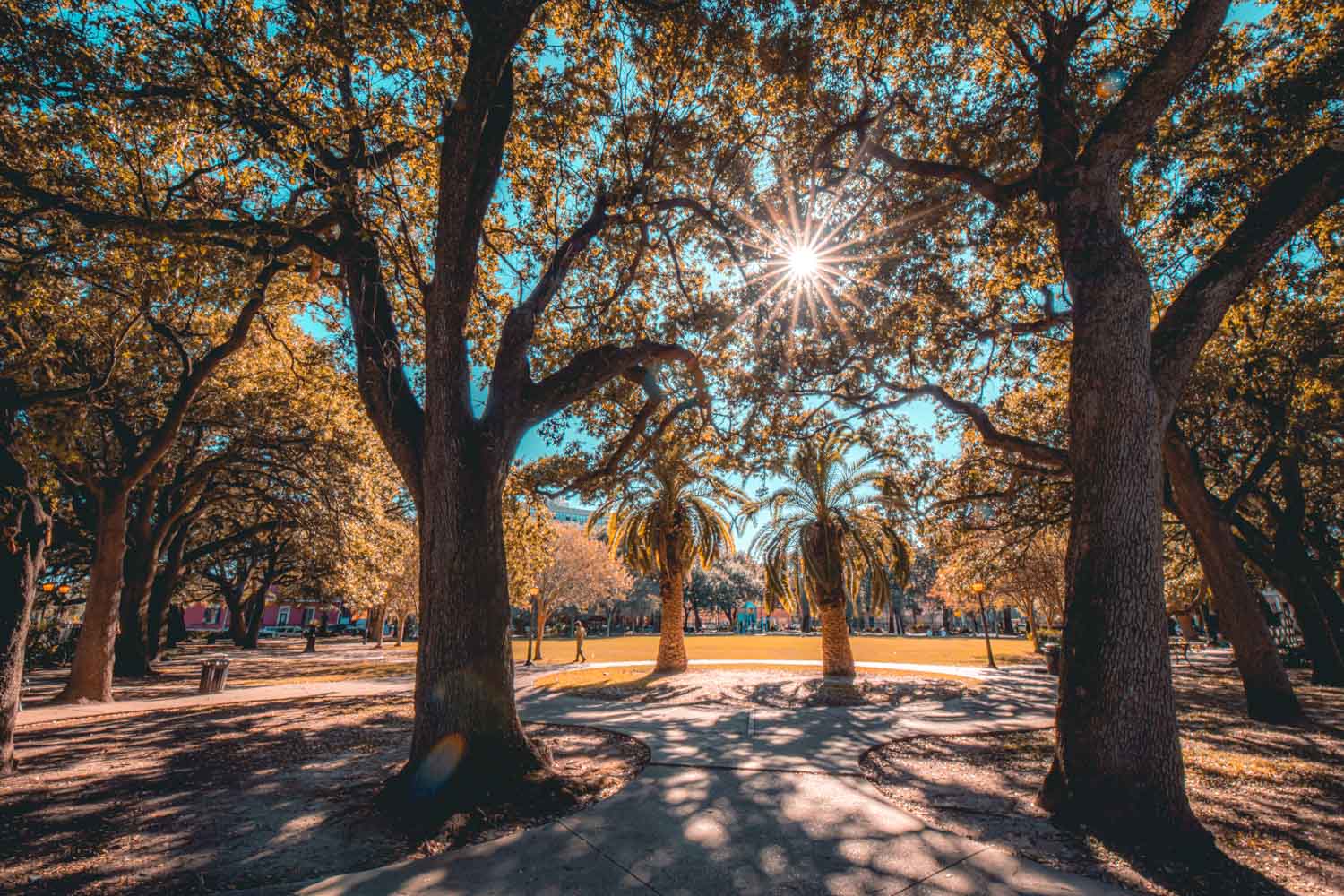 ---
Frenchmen Street
Last but certainly not least, Frenchman Street is where the cool people hang out in NOLA. It's a street where every night is a free music festival, as it's home to the city's most popular live music and jazz venues. There's always something going on, with plenty of top-rated restaurants to feast on delicious Creole cuisine, and it's guaranteed to be a highlight of your trip to The Big Easy.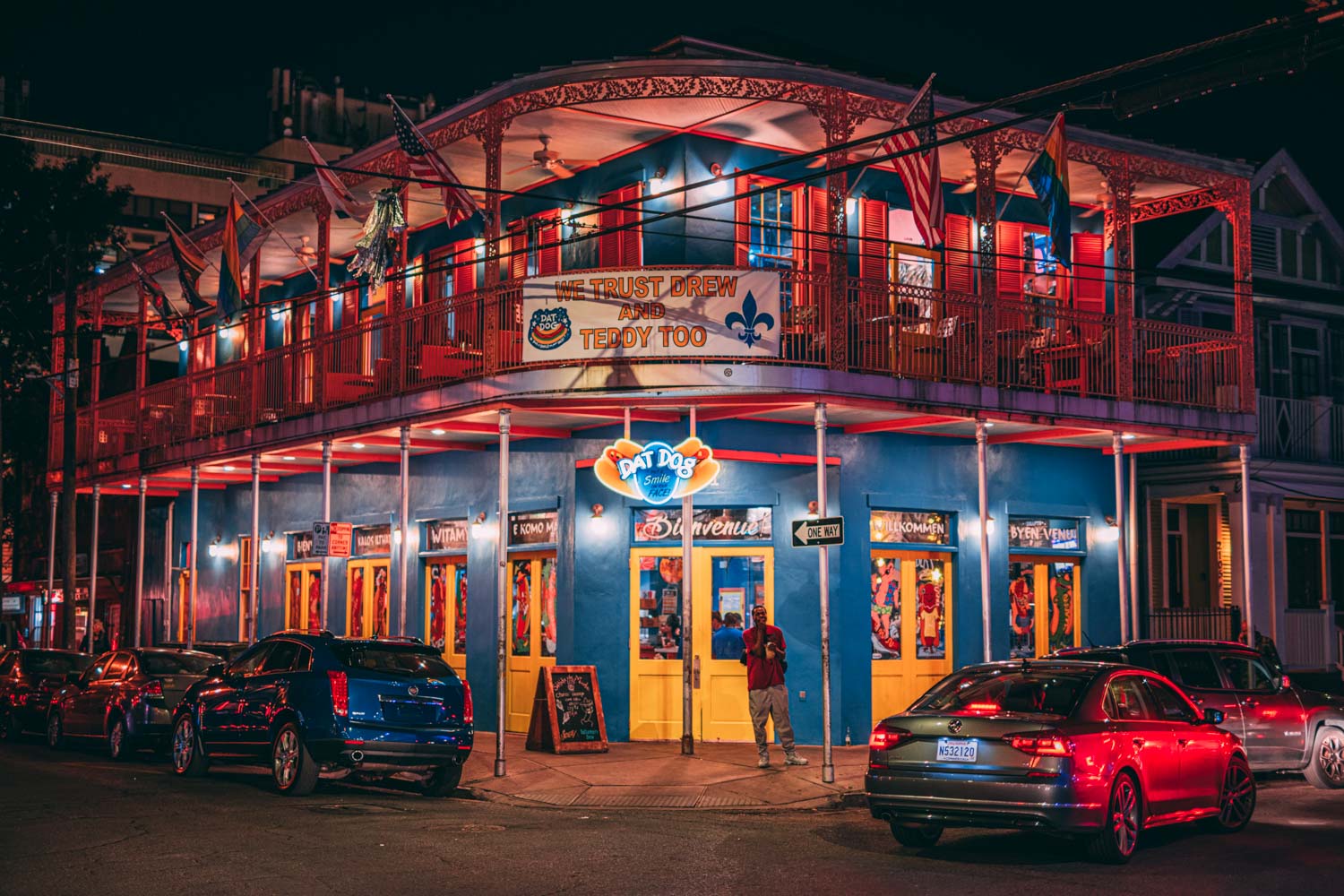 ---
So take a stroll through the open-air night market, browse through the items at the Frenchman Art & Books shop, grab some dinner, drink some beers, listen to some music, and soak up everything this wonderful corner of the world has to offer. It's a smaller street than I had pictured, but every place on it is worth a visit. I went to four different live music bars, and each was great!
Once you step foot on Frenchman Street, you won't need any recommendations because you can just follow your ears. But here are some places I went to and loved:
Blue Nile
Snug Harbor Jazz Bistro
Favela Chic
Apple Barrel Bar
If you want that VIP treatment and to feel a little bougie when exploring, join this Frenchman Street pub crawl. You'll enter some of the bars I listed above and some others that are just as unique as the last.
"Inside the 20+ bars and clubs on Frenchman Street, you will find just about every style of music imaginable played by musicians local and from all over the world. Jazz, brass bands, Latin, funk, electronic, rock, blues, Americana, zydeco, edm, hip hop, DJs. You will even find live music on the street at night, with musicians tucked in doorways and leading massive sing-alongs on corners!"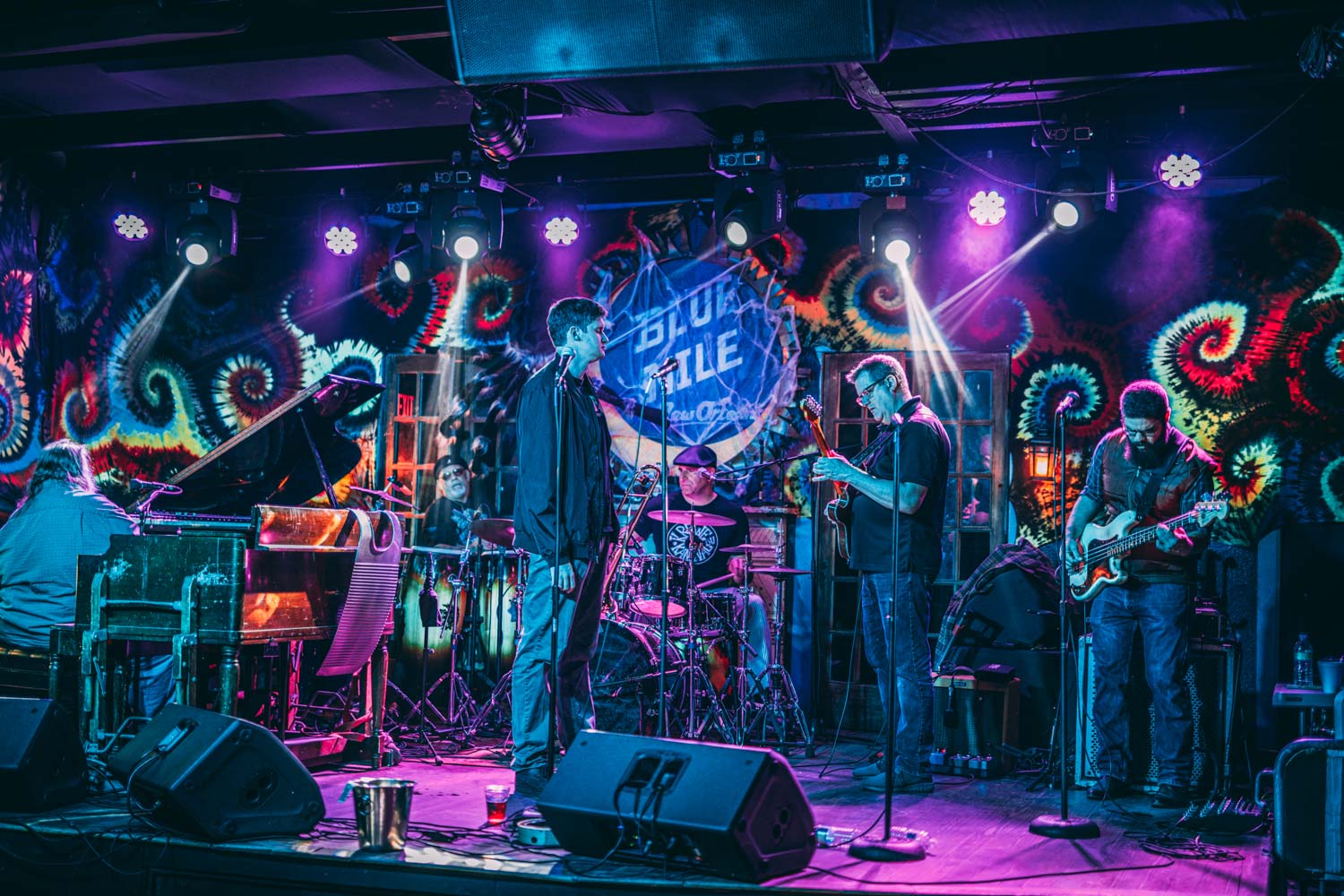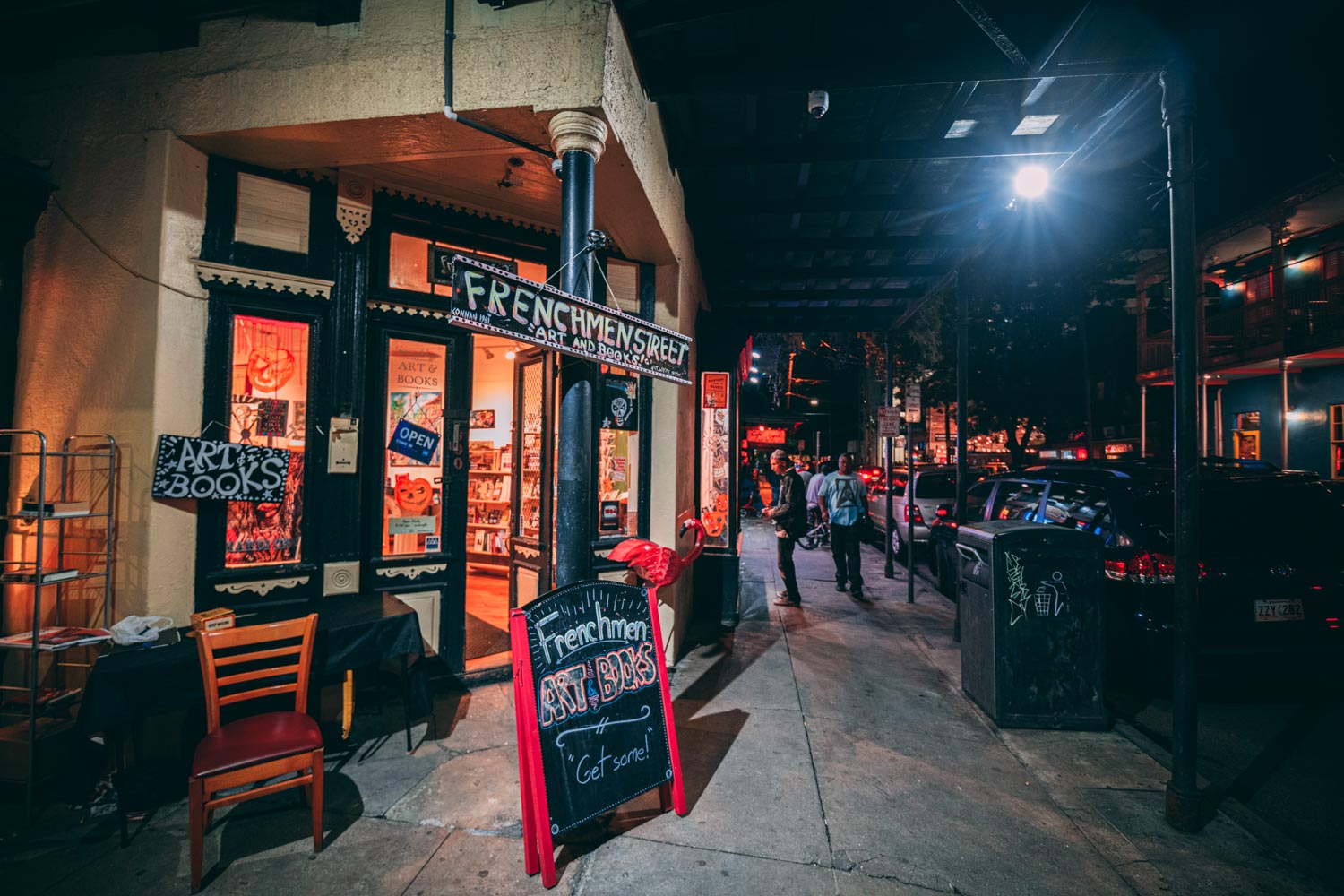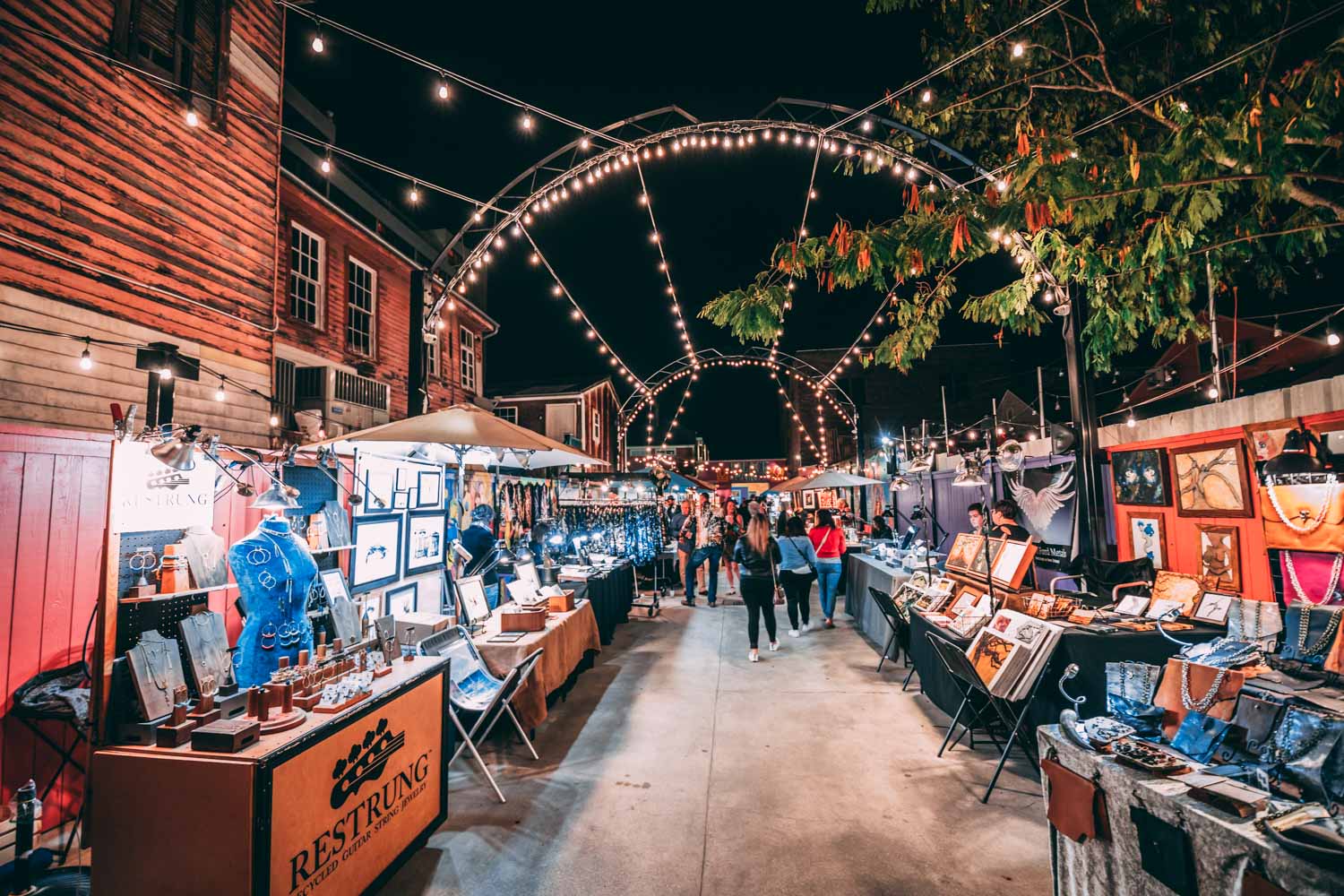 ---
More Fun Things To Do on Your New Orleans 2 Day Itinerary
Since this is only a 2 Day in New Orleans Itinerary, there are a lot of incredible places and attractions that had to be left off the list!
If you're keen to do and see as much of this amazing city as possible, here are just a few more ideas for ya!
Marvel at the historic houses in the Garden District.
Explore the inviting Mid City District. neighborhood
Try your luck gambling at the iconic Harrah's Casino.
Rent a bike and ride through the massive City Park (50% larger than Central Park in New York).
Visit Magazine Street – six miles of distinctly unique NOLA flair.
Book a ghost or cemetery tour for some spooky thrills at places like the Lafayette Cemetery.
Visit the newly opened New Orleans African American Museum.
Wait in the long but totally worth it lines to try the famous jambalaya at Coop's Place.
Take a ride on the historical New Orleans streetcar/trolley.
Get a tarot card reading.
Enjoy a jazz-filled brunch on a Sunday morning at The Court of Two Sisters or Commander's Palace.
Check out the Le Petit Jazz Museum for an in-depth look at the history of jazz music.
Enjoy a live jazz music discovery tour through the enigmatic streets of the French Quarter.
Visit The National WWII Museum.
Have a glass of wine and a popular cheese plate at Bacchanal Fine Wine & Spirits.
Try some of the delicious Southeast Asian-inspired cuisines at Maypop.
Watch the sunset while enjoying a cocktail at Hot Tin Rooftop Bar.
Order a frozen Irish coffee at Parasol's Irish Channel.
Attend a New Orleans Saints or New Orleans Pelicans game.
Visit the exhibitions inside the historic Cabildo in Jackson Square.
While it's obviously impossible to accomplish all of these items on a New Orleans itinerary in 2 days, definitely keep these in mind for future visits!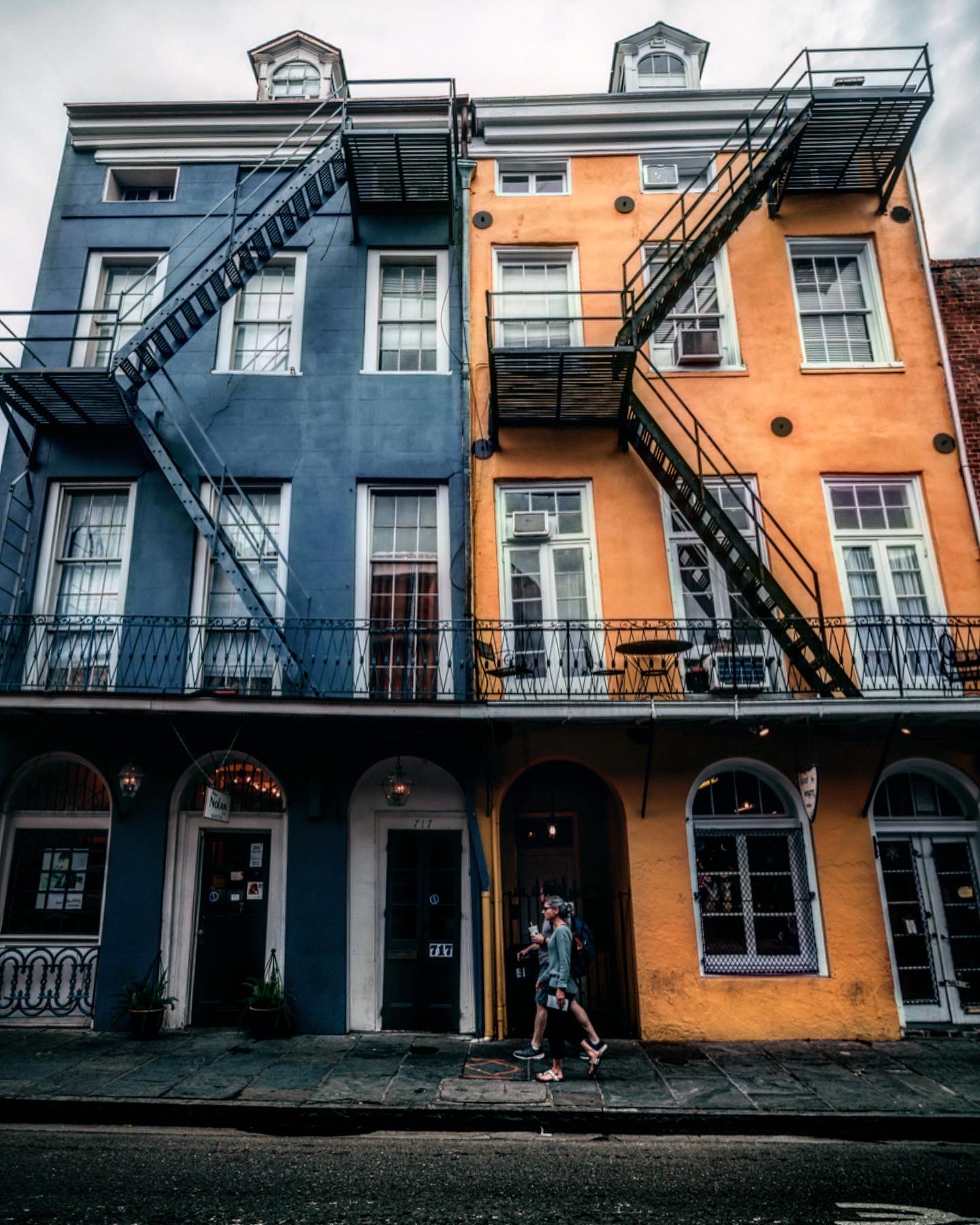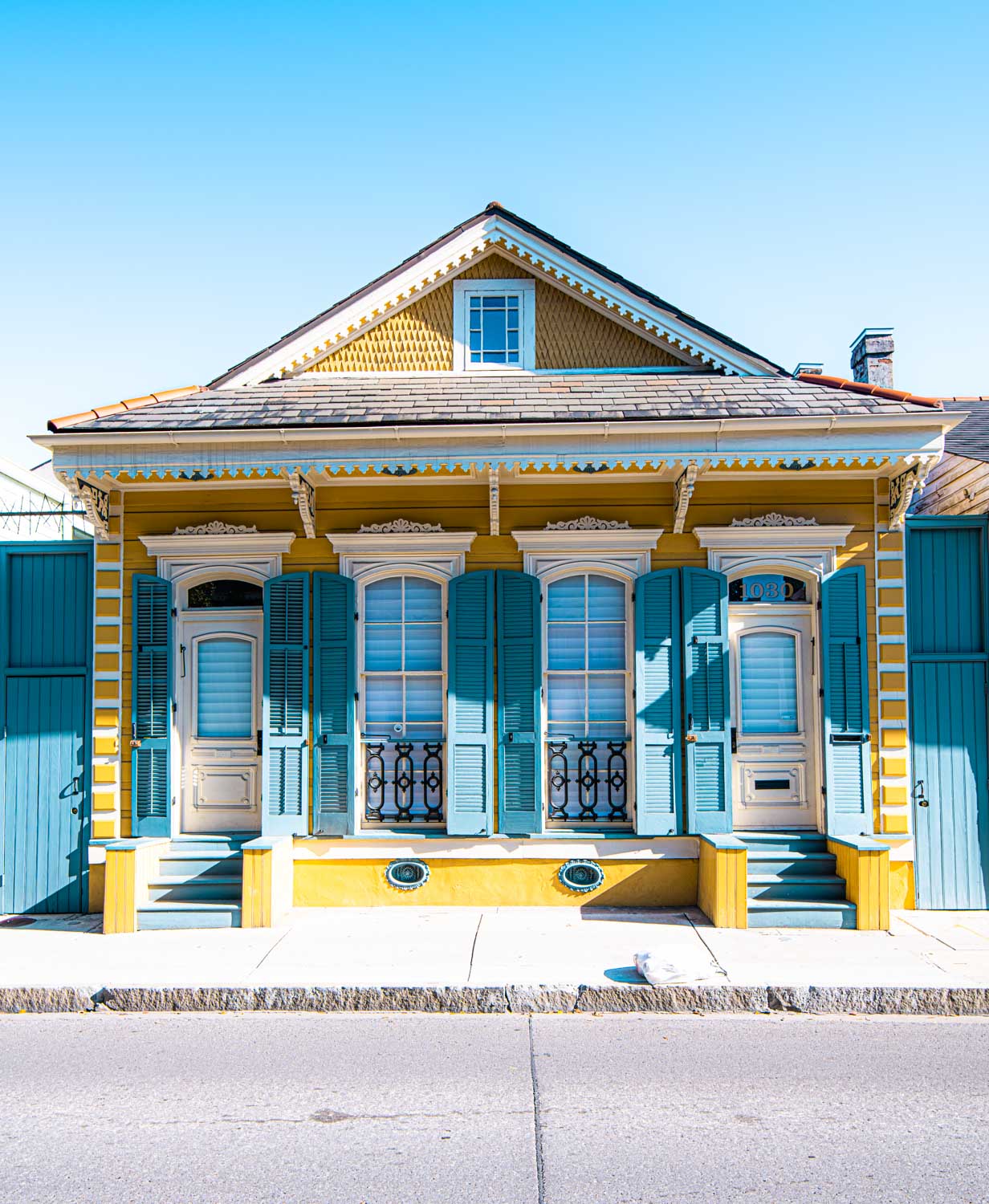 ---
Day Trips for Your 2 Day Itinerary in New Orleans
Found yourself with a bit more time in New Orleans, or looking for ideas on what to do during your next visit? Well, there are many awesome day trips outside the city that definitely need to be mentioned in any New Orleans travel guide!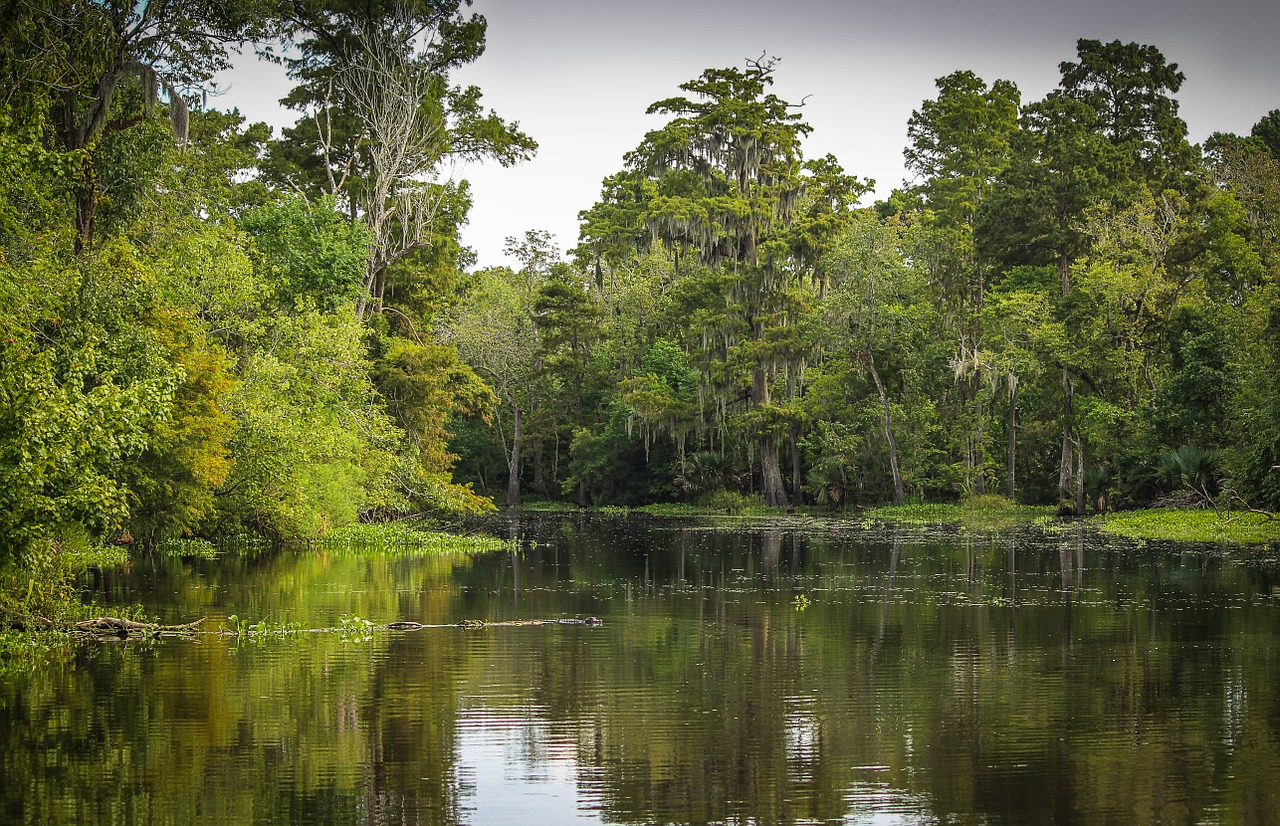 ---
Am I Missing Anything From This New Orleans in Two Days Itinerary?
I hope after reading this, you can understand that I've completely fallen in love with New Orleans and am already planning a second visit!
While at first glance it may seem like it's a bit rough around the edges, it's a city that is unlike any other in the USA and has so much to offer visitors.
If you've been to New Orleans recently and think I need to add something to this travel guide, please let me know! I'd love to hear what you loved about NOLA!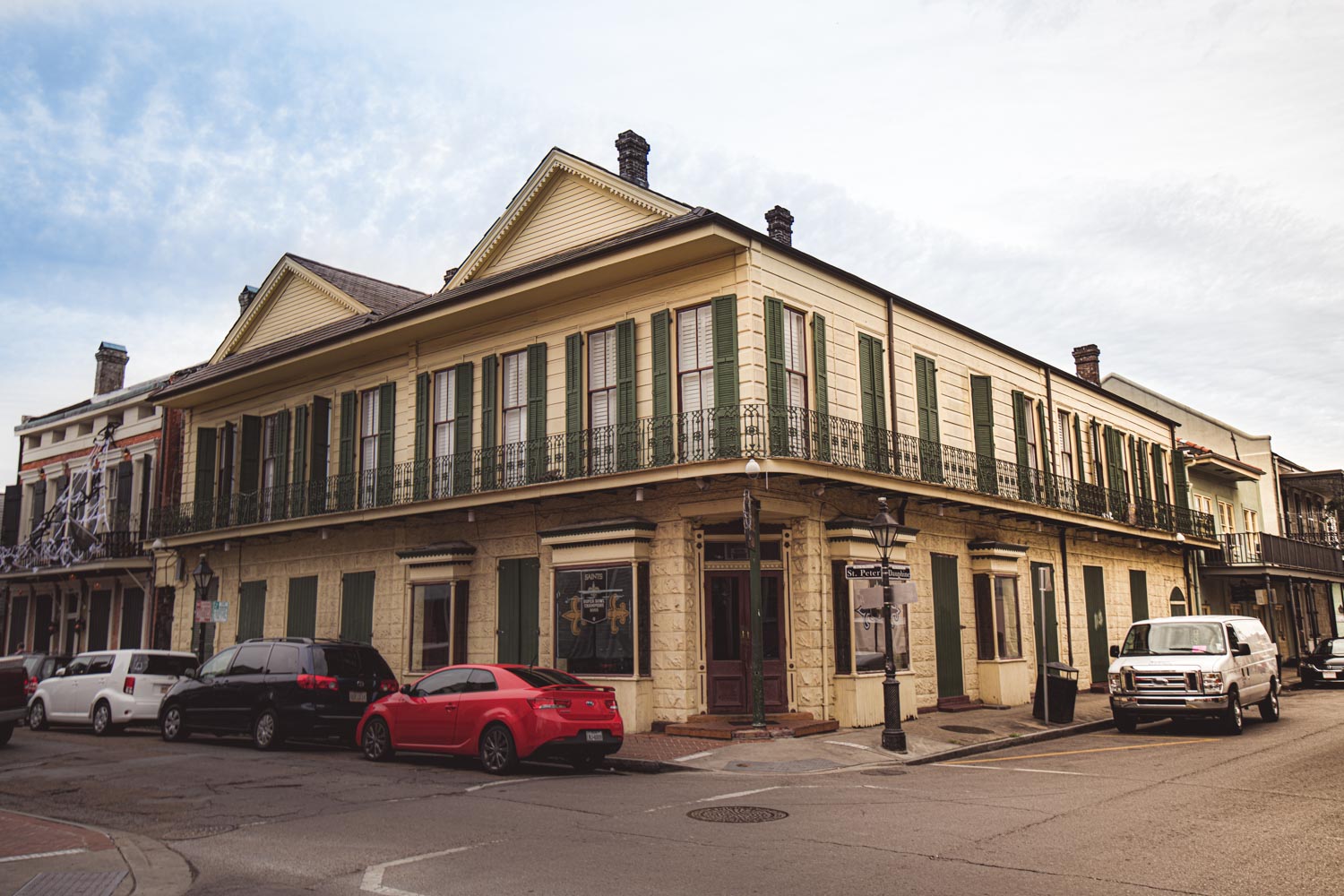 ---
Looking for More New Orleans Travel Blog Material?
I've done a fair bit of traveling over the past years, and I've created even more fun and exciting guides. From where to stay to the best things to do across the USA, here is some travel content to help inspire your next vacation:
---
THANKS SO MUCH FOR READING MY 2 DAYS IN NEW ORLEANS ITINERARY!
SHARE THIS NEW ORLEANS IN 48 HOURS ITINERARY WITH YOUR TRAVEL SQUAD!
---
Disclaimer: This post was written as part of a destination marketing campaign with New Orleans & Company, who covered my accommodation and food costs, but all opinions are entirely my own.
Head over to NewOrleans.com for pretty much anything else you'd need to know about planning your upcoming trip to this great city!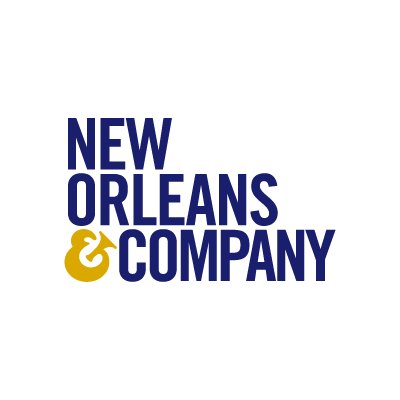 https://www.jonesaroundtheworld.com/wp-content/uploads/2019/11/2-Days-in-New-Orleans-.png
315
560
Dave
https://www.jonesaroundtheworld.com/wp-content/uploads/2017/03/logotry-1-1-300x106.png
Dave
2021-07-13 22:10:14
2023-05-25 14:16:26
Planning 2 Days in New Orleans | Epic Itinerary & Travel Guide