If you're looking for a stress-reducing getaway to escape the hustle and bustle of life, look no further. Here's a list of the best luxury cabins in Georgia for an unforgettable mountain vacation.
These countryside cabins offer modern facilities amidst genuine rustic beauty. Most of these Georgia cabin rentals provide a flat-screen TV, board games, a fireplace, hot tub, and cozy bedrooms with sophisticated furnishing.
Start your day at one of these cabins by rising with the sun to crisp mornings. To get some blood pumping through your veins, grab your hiking boots and go exploring in the emerald forests.
Afterward, spend the rest of your day reading a book by the warm fireplace. In the evenings, you can go out on the deck and relax in your own pool. Even just a weekend in a Georgia cabin is sufficient to recharge – mentally and physically.
Those seeking comfort and luxury while getting in sync with nature can try glamping in Georgia.
Water babies can book a lakeside cabin to combine water sports and mountain views in one location. And if you're feeling adventurous, simply visit the lake near your cabin for kayaking, canoeing, or paddleboarding. Keep reading for a list of the most beautiful cabins for rent in Georgia!
---
1) Big Timber Luxury Cabin
Where: Helen, Georgia
Price: $640+ USD per night
Big Timber Lodge is one of the most beautiful North Georgia cabin rentals. It's located south of Helen, GA, on a stunning private lake. The cabin offers plenty of privacy and is a perfect hideaway for you and your family.
During autumn or winter, you can curl up around the outdoor fire pit, roast marshmallows, and sip hot chocolate as everyone takes their turn to tell a spooky bonfire story.
The lodge is large enough to house more than 13 people. Modern amenities like a washer, dryer, internet, air-conditioning, a fireplace, and heaters are available.
When you head downstairs, you'll discover the fully-furnished terrace where you can enjoy a game of pool. There's also an extra family room with a bar to unwind and watch HD movies on the two large TVs.
A short stroll from the cabin, down the Big Timber Trail, will take you to the small lake. The lake has a private dock with canoes for fishing and boating. End your evenings drawing constellations in the stars in a seven-person hot tub with wonderful forest views. It's easily one of the coolest and best cabins in Georgia!
View Photos, Read Reviews & Check Availability
---
2) High Five Lodge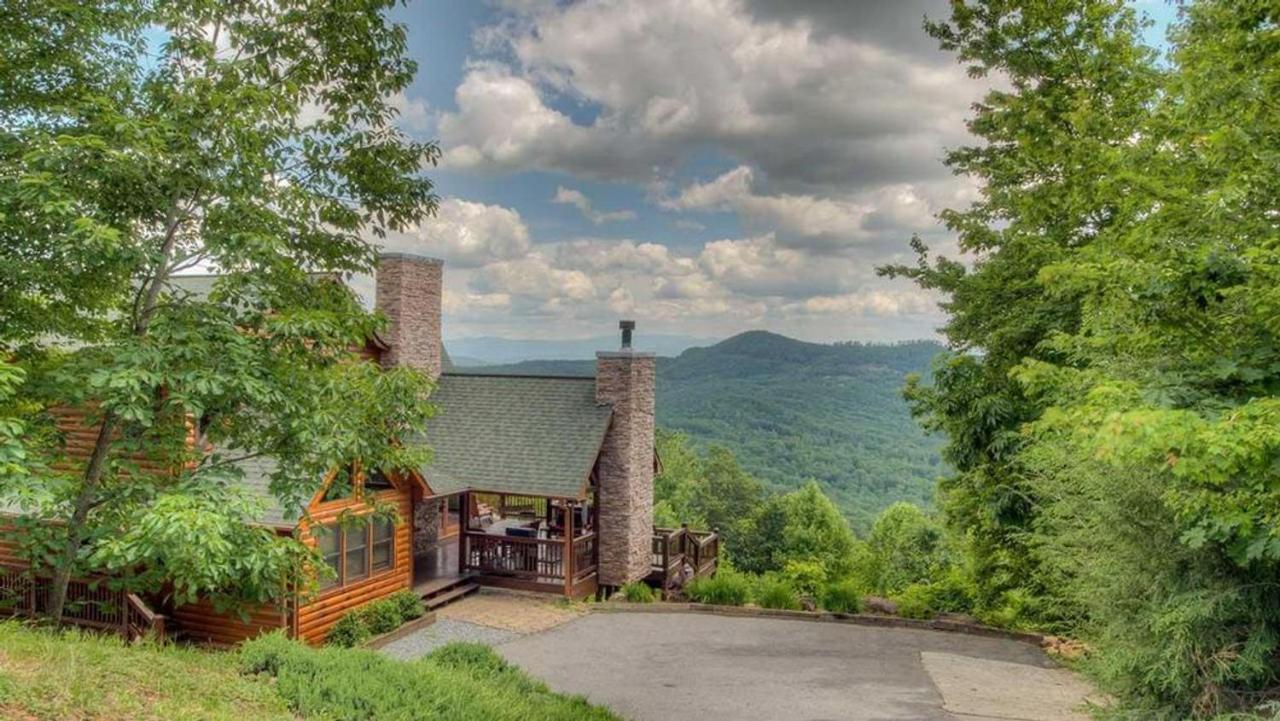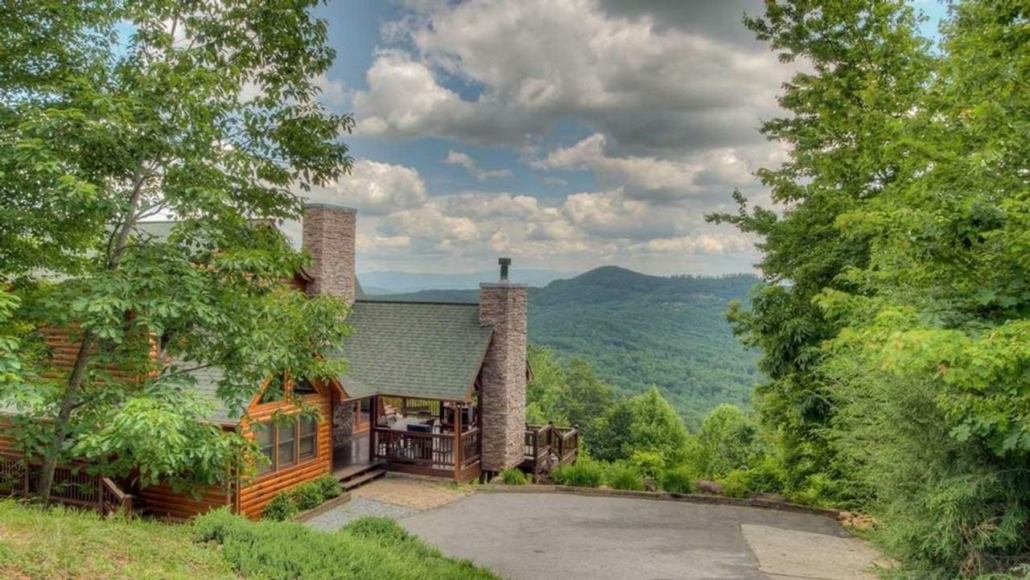 Where: Mineral Bluff, Georgia
Price: $360+ USD per night
https://www.booking.com/hotel/us/high-five-lodge-by-escape-to-blue-ridge.en-gb.html
Set in Mineral Bluff, High Five Lodge is a gorgeous cabin with several facilities and services for guests.
The lodge offers complimentary WiFi, a TV with cable channels, an equipped kitchen that has a dishwasher and microwave, a washing machine, and three bathrooms with a hot tub. There's also a fireplace in the living area, a game room with video games for entertainment, barbecue facilities, and a fitness center.
Activities like water sports are available on-site, along with mini-golf, horse riding, hiking, and a golf course in close proximity. Couples can use the lodge's babysitting services to spend a night out without the kids.
The quaint Blue Ridge town is 14 miles away. Here, you can visit the heavenly Blue Ridge Lake. Blairsville is also nearby, only 18 miles away from the property.
The town of Blairsville is popular amongst water lovers for its water bodies like Lake Winfield Scott and Lake Nottely. Visit these lakes and partake in fun-filled activities, including swimming, fishing, boating, hiking, and camping.
View Photos, Read Reviews & Check Availability
---
3) Soaring Eagle Luxury Cabin
Where: Sautee Nacoochee, Georgia
Price: $290+ USD per night
Soaring Eagle is a gorgeous mountain property offering everything you need for a dreamy getaway. The cabin has three large bedroom suites. Each suite has its own jetted spa tub and a private balcony, so everyone gets a view of the breathtaking panoramic mountain scenes. It's among the top-rated cabin rentals of Georgia.
Exploit the facilities in the fully-equipped kitchen to cook up a storm and dine at the eight-food table in a Tuscan wine cellar-themed dining room. Then, get competitive with your mates at the billiards table or weave a divine melody on the baby grand piano.
Surrounding the cabin are woodlands emanating a sweet fragrance. Large windows allow for ample natural light. The wooden walls and ceiling are a subtle nod to Georgia's multi-award-winning wineries, which you can access through a 30-minute drive.
Helen, a beautiful Bavarian-themed mountain town, is accessible through a quick seven miles drive. Incredible outdoor adventures are available at Unicoi State Park, Unicoi Lake, and Anna Ruby Falls.
View Photos, Read Reviews & Check Availability
---
4) GO WEST: Luxurious Cabin Getaway
Location: Villa Rica, Georgia
Superhost: Yes
Price: $202+ USD per night
https://www.airbnb.com/rooms/50098473
"Enjoy a trip back to simpler times. A time of lanterns and covered wagons."
If you're looking for a fun and unique cabin getaway with your partner, then look no further than this unbelievably charming western-themed retreat! Complete with luxury bedding, custom-made treats, and a relaxing 2-person jetted tub with romantic lighting – this would be an incredible weekend getaway with that special someone (that won't break the bank).
The attention-to-detail in the rooms is truly remarkable, and all previous guests have raved about their stay! It's a short 25-minute drive from Atlanta, and there's plenty to explore in the area like lakes, ponds, and forests among the 80-acre secluded property.
If this listing isn't available during your preferred dates, make to check out their other Airbnb, "Couples Getaway: SHIPWRECKED" for another possibility for your luxury cabin retreat!
View Photos, Read Reviews & Check Availability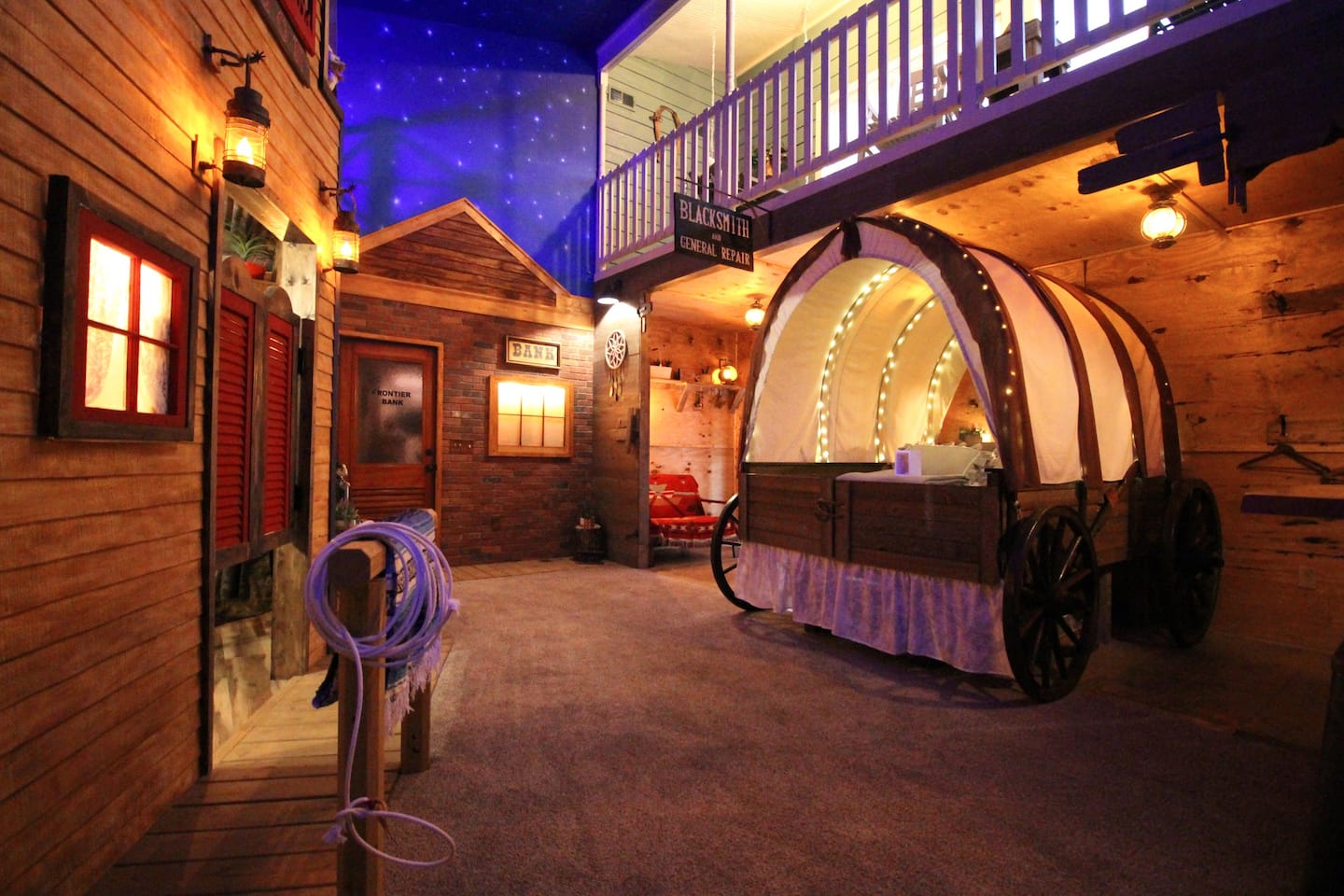 ---
5) Palm Peach Luxury Cabin with Hot Tub
Where: Hiawassee, Georgia
Price: $185+ USD per night
An ideal retreat for those looking luxury cabins in north Georgia!
This three-bedroom cabin is situated near the cute town of Hiawassee in Georgia. Palm Peach has a hot tub, internet access, a Big Green Egg, and a wood-burning fireplace, amongst other amenities.
There's also a washer, dryer, and an ironing board with an iron. The kitchen has a refrigerator, microwave, dishwasher, coffee maker, toaster, and kitchen utensils for cooking and baking.
Reminisce around the warm fireplace with friends and family on the large patio or enjoy a game of ping pong in the game room. Play Wii with your kids and then watch a movie on the flat screen TV. For stunning views of Lake Chatuge and the North Georgia mountains, choose Palm Peach.
View Photos, Read Reviews & Check Availability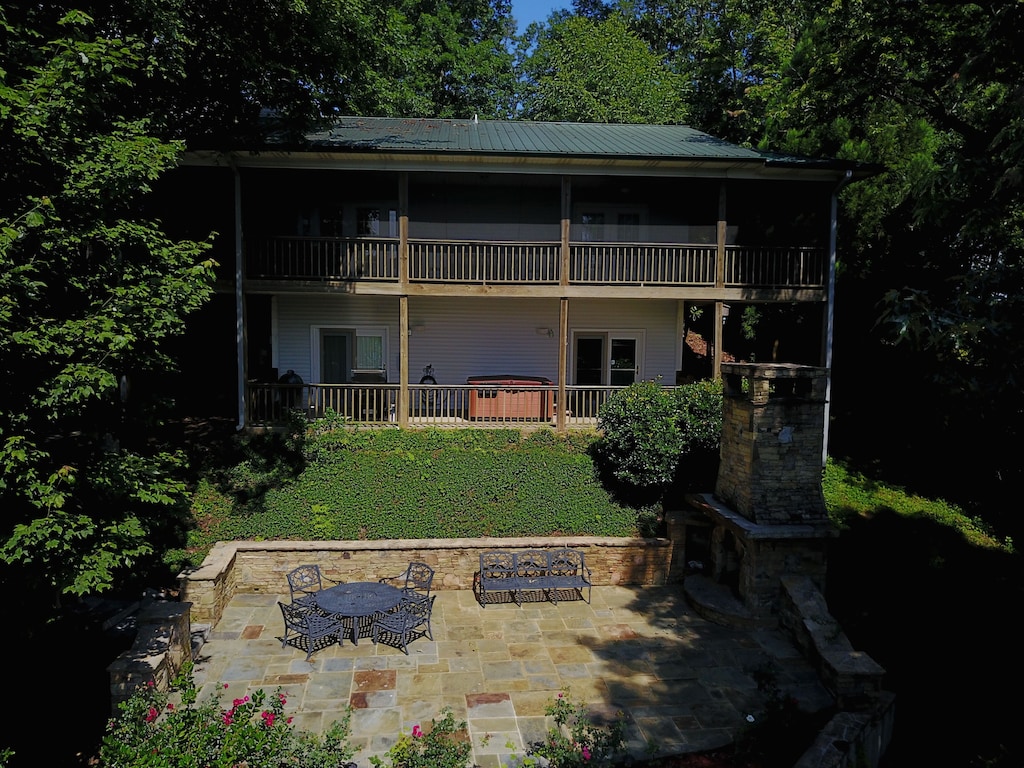 ---
6) Knot Done Luxury Cabin on Lake Burton
Where: Clarkesville, Georgia
Price: $665+ USD per night
Located on the pristine Lake Burton is a treehouse-style lodge home with spectacular views of the jagged mountain peaks. It's one of the best lakeside cabin rentals in GA.
The lodge has five bedrooms and can house up to 12 people. The Great Room and porch have ceiling-to-floor glass windows serving glorious views of the lake. A stone fireplace, seating area, TV, and an en-suite bathroom make up the beautiful master suite.
The fully-furnished kitchen has all the necessary appliances like a refrigerator, dishwasher, microwave, stove, grill, oven, toaster, coffee maker, and other dishes and kitchenware.
Near the cabin are fun-filled attractions like Sunburst Stables, LaPrade's Marina, Anchorage Marina, Moccasin Creek State Park, and Seed Lake.
View Photos, Read Reviews & Check Availability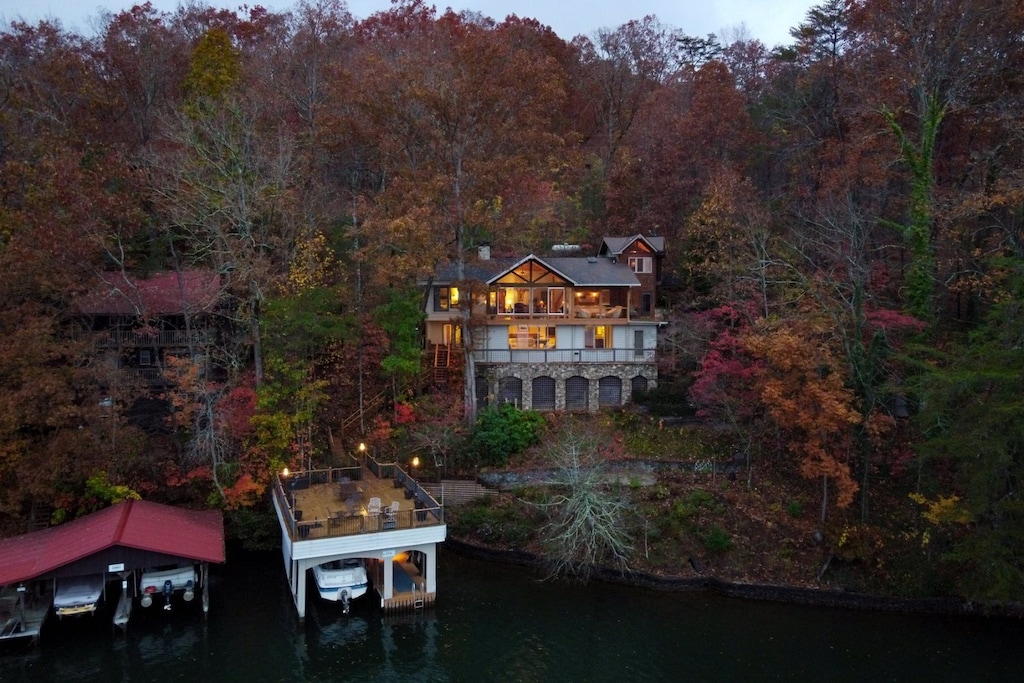 ---
7) Luxury A-Frame Cabin of Style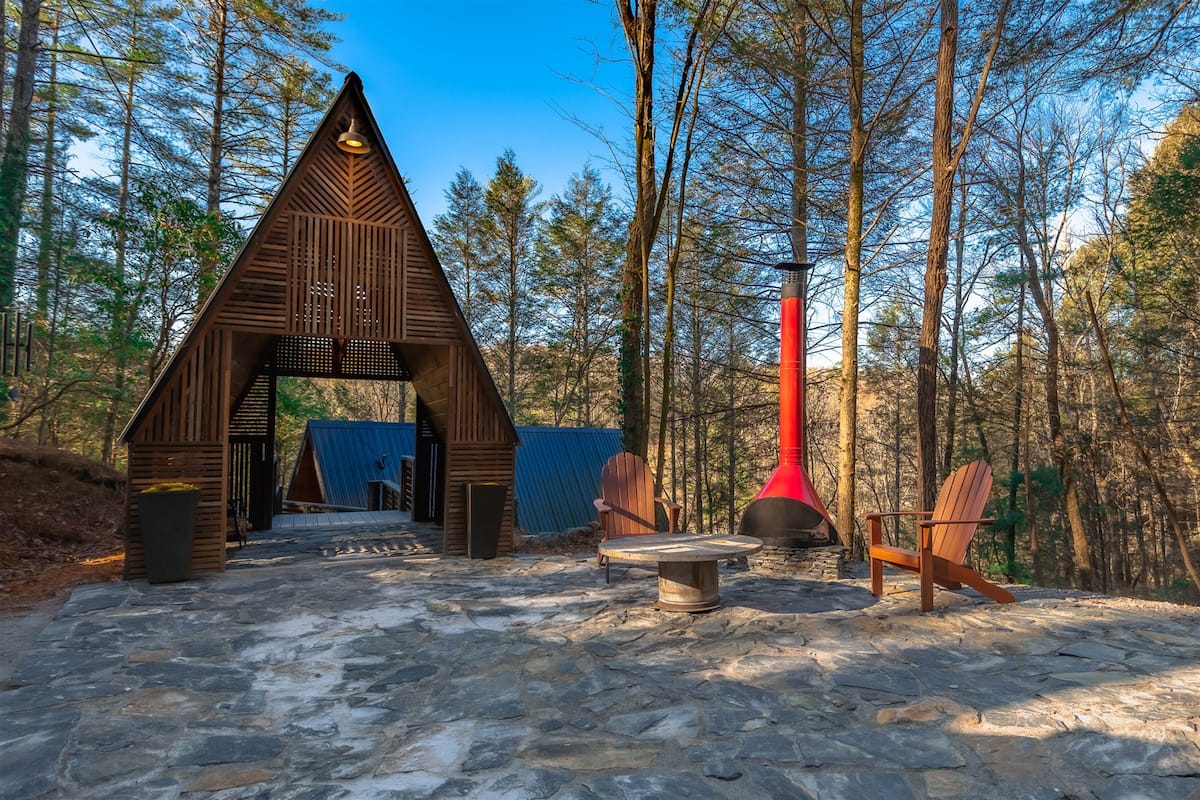 Where: Blue Ridge, Georgia
Price: $370+ USD per night
https://www.airbnb.com/rooms/47071879
Among the many luxury cabin rentals in Georgia is this place ideal for a romantic getaway. The cabin is a one-bedroom house, perfect for two people. It has a unique design with a tunnel-like entrance.
The many resources available here include a charming fire pit area, a flat screen TV, and modern cooking equipment. There's a master suite and an open concept living area and kitchen. The back-deck area features a view of the creek and a gas grill.
Relax with your sweetheart while taking in the beautiful scenery in the heart of the North Georgia forest.
View Photos, Read Reviews & Check Availability
---
8) Bear Paw Luxury Estate Lodge
Where: Cleveland, Georgia
Price: $1,060+ USD per night
Bear Paw is a luxurious privately-owned 5,000-square lodge near the North Georgia mountains. It's one of the biggest cabins in North Georgia.
Hike the many trails surrounding the lodge before you show off your culinary skills in the chef's kitchen. Then burn some calories at the gym and have fun with your family and friends in the media room or the entertaining game room.
The estate also offers thrilling guest activities like riding ATVs and archery. For a memorable mountain getaway with royalty treatment, Bear Paw Lodge is the perfect choice.
View Photos, Read Reviews & Check Availability
---
9) Fireside Bluff
Where: Mineral Bluff, Georgia
Price: $308+ USD per night
https://www.airbnb.com/rooms/11477657
Some of the coolest and best Airbnbs in Georgia include comfy cabins with magnificent mountain peak views. One of these is the Fireside Bluff, a luxuriously appointed vacation rental with two bedrooms. It offers spectacular views of the mountains and lots of outdoor space.
The cabin boasts two decks, a living room with comfortable seating, a fully-equipped kitchen, a hot tub, a gas fireplace, and games like ping pong and darts.
Choose this snug hideaway nestled in the Blue Ridge mountains for a cozy retreat. Bring your furry friend with too, since this property is pet-friendly!
View Photos, Read Reviews & Check Availability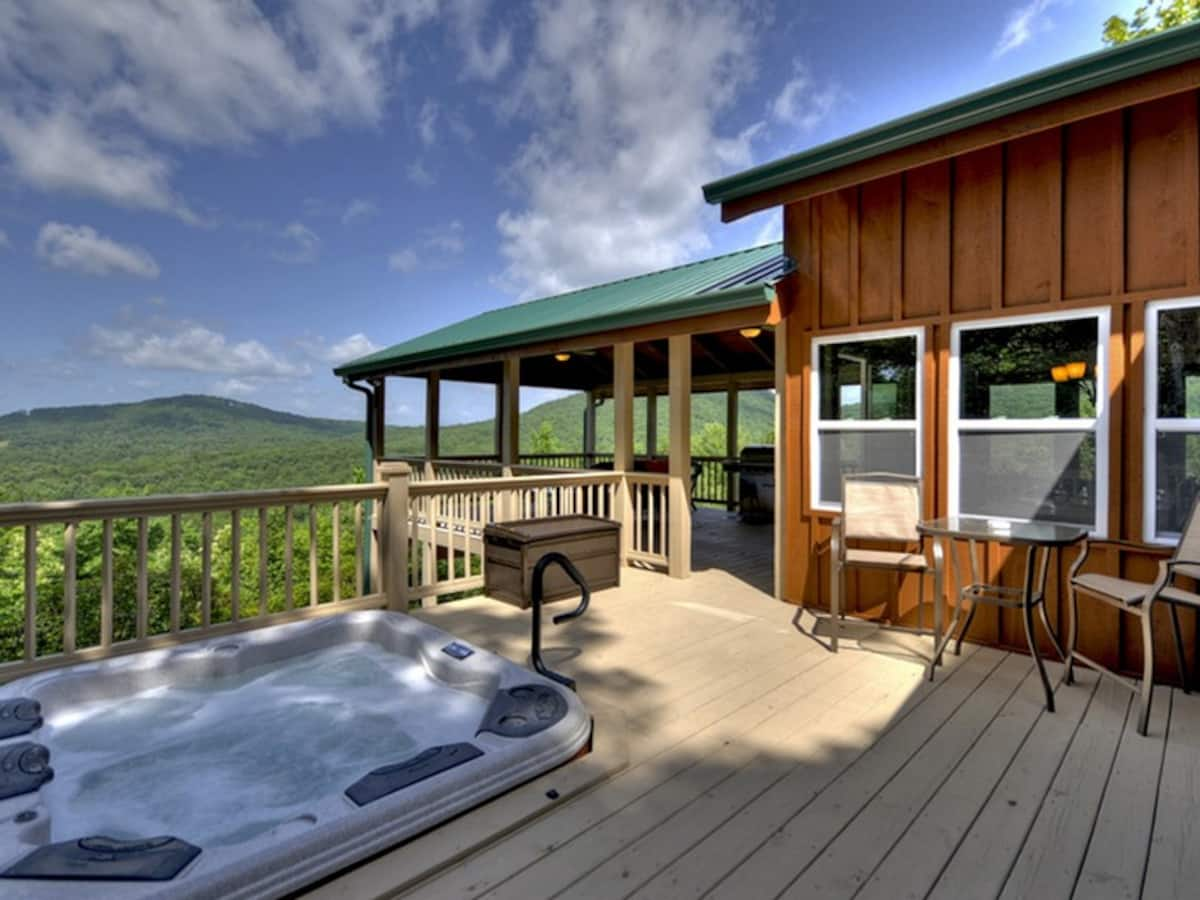 ---
10) Moon Kiss Luxury Cabin Rental
Where: Blue Ridge, Georgia
Price: $196+ USD per night
Moon Kiss is a lovely romantic cabin rental in the midst of a rustic mountainous landscape. It's set in the Chattahoochee National Forest, approximately 11 miles west of the quaint town of Blue Ridge.
The cabin can accommodate up to six people. It has a wet bar, cable TV, kitchen appliances, and free WiFi. There's also a gas fireplace to keep you snug and a game room with pool and foosball tables. It's as pretty as a picture with its cathedral ceilings and classy furnishings.
Catch stunning views of the mountains, seeming to float amongst the clouds of fog in the early hours of the morning. As the sun rises, the dissolving mist reveals a breathtaking view of the emerald mountain tops surrounding your cabin.
You can spend your days at this cabin discovering nature – hike to Long Creek Falls or canoe down the Toccoa River. If you want to feel like a knight from medieval times, explore the trails at Hell's Hollow through a horseback riding tour.
For some local sightseeing, take a short drive to nearby towns like Blue Ridge or Ellijay. In these charming towns, you'll find cute cafes, small restaurants, quirky stores, breweries, vineyards, and art galleries featuring local artists' work.
View Photos, Read Reviews & Check Availability
---
11) Roscommon Cabin
Where: Dahlonega, Georgia
Price: $486+ USD per night
The Roscommon Cabin is 12 minutes from downtown Dahlonega. Six of North Georgia's top wineries are within 12 miles of the place, making it a perfect location for oenophiles. Families looking for some activity or adventure will have great fun here.
With three bedrooms, up to six people can sleep in the cabin. The family room has a stone fireplace, while the master bedroom has its own fireplace and seating area. A large wraparound deck has a gas grill, hot tub, seating area, and a swing.
The general style of the cabin is a rustic theme, with wooden beams and comfortable furnishings.
View Photos, Read Reviews & Check Availability
---
12) Mountain Oaks Cabin with Hot Tub
Where: Sautee Nacoochee, Georgia
Price: $245+ USD per night
Mountain Oaks is one of the most secluded North GA cabin rentals. If you're looking to isolate yourself from the rest of the world, this one-bedroom cabin is a perfect spot.
The woodland cabin houses a hot tub, fire pit, and a huge wraparound deck. There's also a gas fireplace, a gas grill, free WiFi, and two flat screen TVs. Relax and take in the breathtaking scenery of North Georgia's mountains.
Visit the Sautee Nacoochee Center to see a live performance or indulge in relaxing pastimes like fishing and hiking in the nearby mountains. Alternatively, spend your time in the mountain town Helen and experience its Bavarian charm.
View Photos, Read Reviews & Check Availability
---
13) Soaring Hawk
Where: Helen, Georgia
Price: $275+ USD per night
https://www.vrbo.com/4761662ha
Soaring Hawk offers marvelous uninterrupted views of the Blue Ridge Mountains and the Great Smoky Mountains. It's perched near the top of the Yonah Mountains, about three miles from Helen. The Nacoochee Valley is also nearby.
Being in close proximity to these landscapes grants Soaring Hawk the advantage to serve magnificent mountain views.
The property has three Georgia cabins spaced apart from each other. Guests can rent the three cabins in conjunction to accommodate up to 35 guests in total.
Custom log furniture forms the structure and interior of the cabins. Antique furnishings decorate the cabins, and floor-to-ceiling windows provide panoramic views of the Alps. The deck features a great seating area with a gas grill, hot tub, fire pit, and high-top tables.
Take a hike on one of the many trails surrounding the cabin or participate in rafting nearby.
View Photos, Read Reviews & Check Availability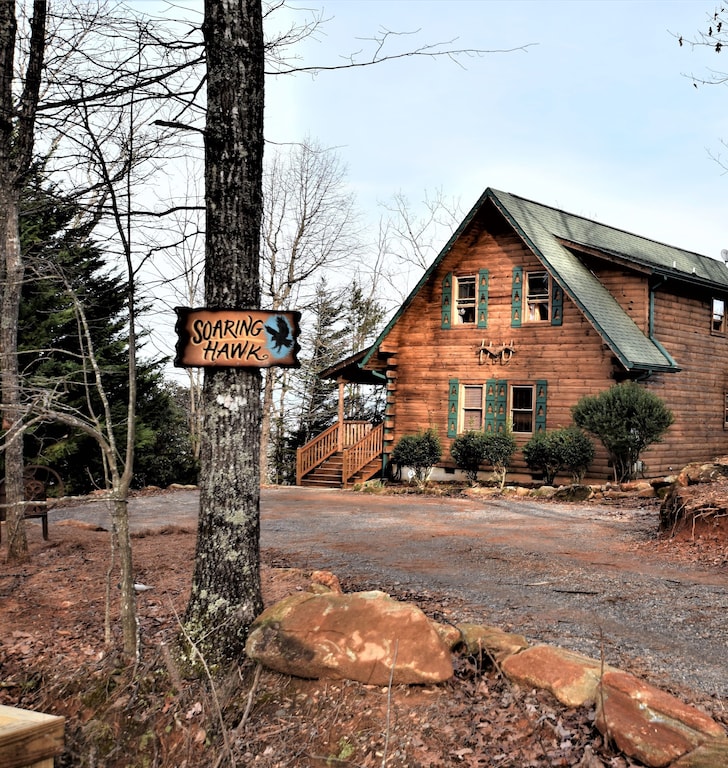 ---
14) Serenity Ridge Cabin
Where: Sautee Nacoochee, Georgia
Price: $375+ USD per night
https://www.vrbo.com/7516911ha
Seven miles from Helen is the 2,700-square-foot Serenity Ridge Cabin. It's located in front of Yonah Mountain, against Laurel Ridge. The rustic interior of this country-style cabin has been recently renovated.
Four bedrooms and three bathrooms make up the gorgeous property. The cabin has a hot tub, wine bar, a fireplace, and a lower-level entertainment room consisting of a pool table and a poker table. There's also a music center with a guitar, keyboard, and percussion.
The million-dollar views make up for the high price. For an unforgettable mountain getaway, go to this cabin in Georgia.
View Photos, Read Reviews & Check Availability
---
15) Idlewood — Brand New Luxury Cabin near downtown Blue Ridge!
Where: Blueridge, Georgia
Price: $469+ per night
https://www.airbnb.com/rooms/42258321
Last, but certainly not least – this new luxury cabin rental in Georgia on Airbnb is absolutely remarkable! This is a 3-bedroom cabin that comfortably host up to 8 guests, making it ideal for families or groups of friends looking for a luxury stay during their trip to the Blue Ridge mountains.
It has a modern yet rustic vibe to it, with two beautiful master suites, as well as a downstairs bar and deck to entertain, relax, and play.
The hosts have truly thought of everything, and guests love everything about their stay on this secluded 1.7 acre property with incredible mountain views
View Photos, Read Reviews & Check Availability
---
THANK YOU FOR READING THIS LIST OF MY FAVORITE CABINS IN GEORGIA!
SHARE THIS LIST WITH YOUR FAMILY AND FRIENDS TO START PLANNING YOUR LUXURY CABIN ESCAPE RIGHT AWAY!
https://www.jonesaroundtheworld.com/wp-content/uploads/2021/07/Big-Timber-Lodge-Luxury-Cabin-Rental-in-Georgia.jpg
683
1024
TravelTractionsJATW
https://www.jonesaroundtheworld.com/wp-content/uploads/2017/03/logotry-1-1-300x106.png
TravelTractionsJATW
2023-01-27 21:19:01
2023-04-20 16:26:49
15 Best Luxury Cabins in Georgia, USA