If you need to get away to relax, rest and unwind, there are several destinations that you can go around in North Carolina. But in this blog, we will visit Wilmington, North Carolina – a historical city that offers both wonders of the sea and beauty of the mountains.
Wilmington, North Carolina makes a great weekend getaway for the family. There are plenty of activities and attractions to try in the city – see and learn about sea creatures at the North Carolina Aquarium, a leisurely walk through the fine antebellum homes, a fun day to many one-of-a-kind festivals and events that the city offers, or take a tour to the hard to miss Battleship North Carolina WWII-era warship.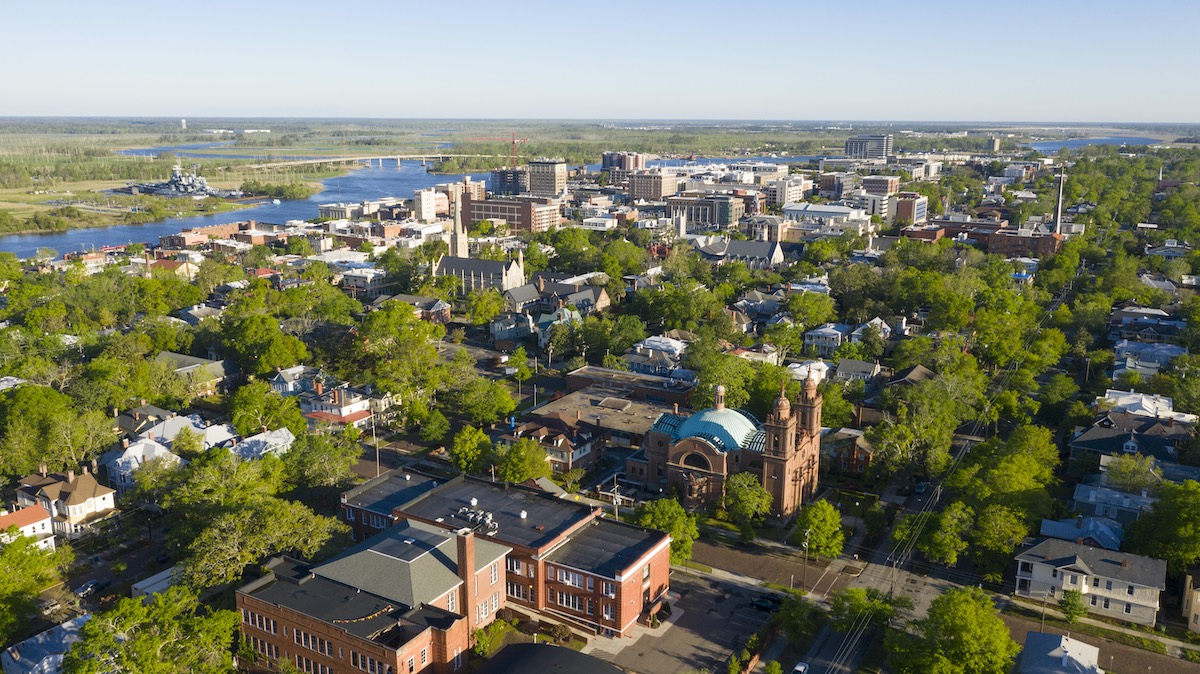 ---
Quick Breakdown of Airbnb Wilmington, North Carolina
Heading to Wilmington? I have broken down my list of the Best Airbnbs to stay in, with the overall best place to stay, to the most luxurious, cheapest, best for group travelers, and the most unique accommodation. Check it out!
Also, be sure to read my guide on the Best Airbnbs in North Carolina, Glamping in North Carolina, and the Best Airbnbs in Asheville for more NC trip planning inspiration and unique accommodation!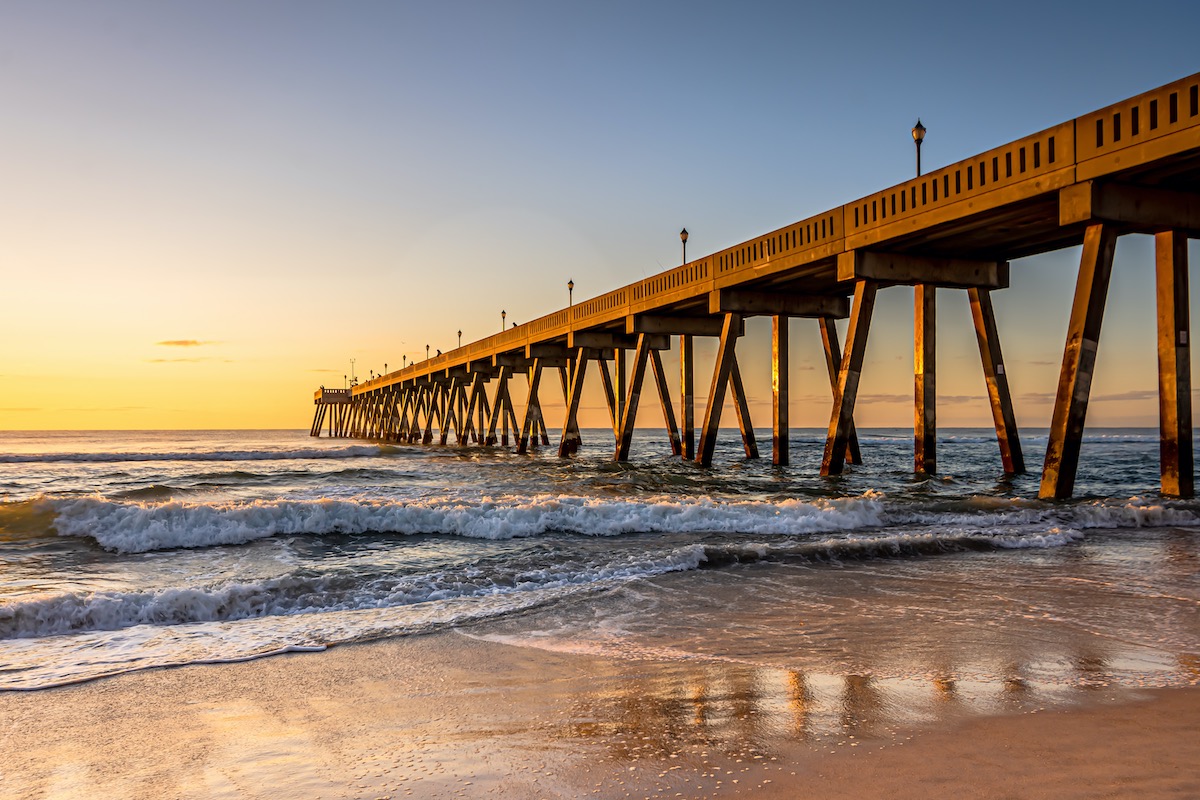 ---
12 Incredible Airbnbs in Wilmington NC
When you want to take a breather from all that is happening around, a day or two at the beach sure is a great escape. Wilmington has many hidden gems that are definitely worth your time. This vibrant riverfront city can give you a relaxing weekend so you can recharge and face Monday head on.
Check out my list of the best Airbnbs in Wilmington! The area you choose to stay in depends on the activities that you want to do, see and of course, your budget. I have it all here – 12 Airbnb listings that are perfect for making your Wilmington trip memorable.
---
1) The Black House – your perfect getaway
Airbnb Plus: No
Superhost: Yes
Price: $170+
https://www.airbnb.com/rooms/34035312
White walls, large windows, and a lot of wood – The Black House is beautiful, cozy and yet very functional. This 1950's bungalow was renovated to provide you a home while enjoying your trip to Wilmngton. The Black House features a spacious living area, a full open kitchen and dining area, a lounge area, and large deck. The 3 bedrooms are decorated with simple and cozy beddings, open closet and a desk, while the bathrooms come with a walk-in rain shower. Other amenities included: record player, smart TV, fireplace, swing and hammock. You can bring your four-legged friends too! It is located in the Historic District of Sunset Park with views overlooking the Cape Fear River and the picturesque Greenfield Lake, close enough to walk the beautiful local spots. The Black House is definitely The Best Overall Airbnb you can find in Wilmington.
View Photos, Read Reviews & Check Availability
Guest review: "I stayed for two weeks so that I could visit safely with my parents, who live in Leland – just a 15 minute drive. Loved the house, the yard(!), the neighborhood. House had everything I needed, I felt safe, and the neighborhood is very walkable with friendly neighbors. Very short drives to explore downtown, Long Leaf Park, Greenfield Lake, and Carolina Beach. It's a GEM!" – Bernadette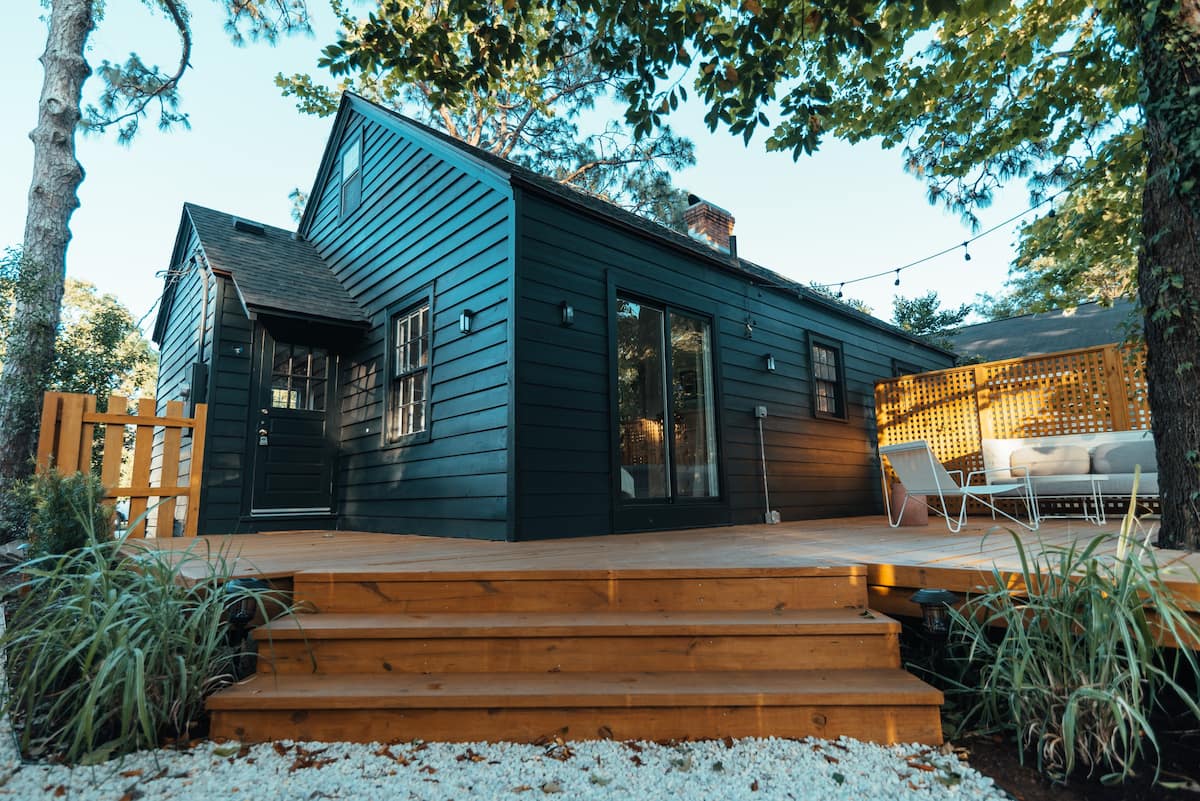 ---
2) The Farmhouse at the White Barn Compound
Location: Wilmington, North Carolina
Airbnb Plus: No
Superhost: Yes
Price: $128+
https://www.airbnb.com/rooms/36917430
My pick for The Best Luxury Airbnb in Wilmington has a traditional farmhouse design on the outside but has the modern farmhouse characteristics on the inside. The Farmhouse was built in 1941 and was renovated in 2019 without losing its charm and character. It features an open space living area and kitchen, laundry room, a front porch with a swing, and a beautiful backyard with the view of the barn. There is only one bedroom with a queen bed and a bathroom provided with toiletries. Guests may drink their morning coffee, read a magazine or take a nap in the sun room. The Farmhouse is a great option for couples who are looking for a quick getaway.
View Photos, Read Reviews & Check Availability
Guest review: "We absolutely loved our stay at Charlie's place. It's a very comfortable space that has been beautifully renovated. The location is centrally located between Wrightsville Beach, downtown and Masonboro to the south. My husband had stayed here previously and loved it, so we decided to go back and spend Thanksgiving there. Charlie was very accommodating and as always the house was spotless. Having stayed there in both summer and winter the temperature is perfect. The house is close to the beach, restaurants and coffee. We highly recommend this place!" – Kristin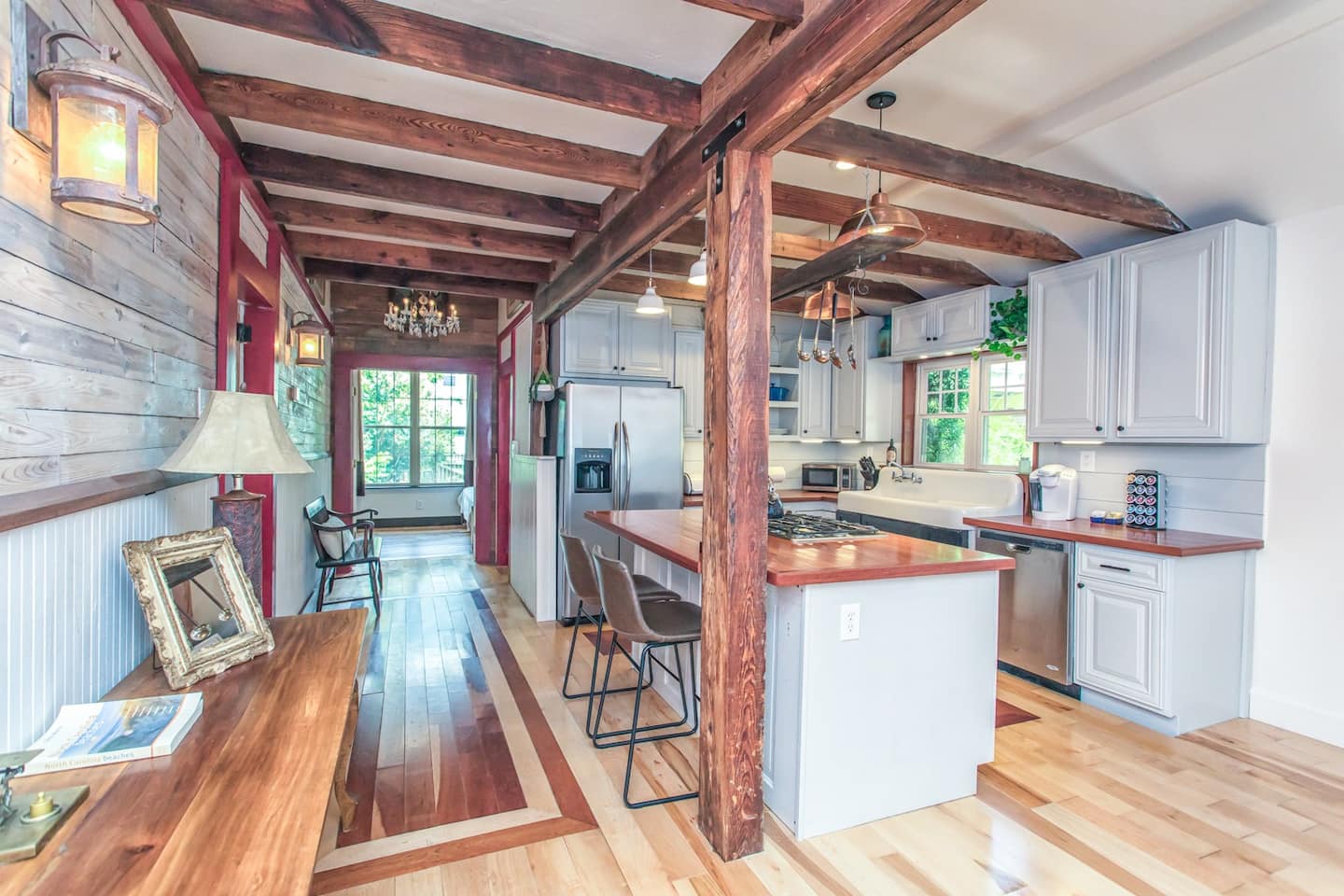 ---
3) A Luau is a newly renovated modern ranch home.
Airbnb Plus: No
Superhost: Yes
Price: $115+
https://www.airbnb.com/rooms/42113168
Going on a casual weekend getaway to Wilmington with the family or friends is sure to be a fun experience, and finding the best place for a group will complete your trip. I have found it for you! A Luau is The Best Airbnb for Groups in Wilmington. With three bedrooms and 4 beds, this modern ranch home can accommodate 6 guests comfortably. The house features an open floor plan for good foot traffic, 2 full bathrooms with soaking bath, laundry area, and a large parking space. The outdoor space has a gazebo and a covered deck that is a perfect spot for outdoor dining. Located in the heart of Wilmington, guests can go on a short drive to the main spots of the city like Mayfaire Shopping Area and Historic Downtown Wilmington.
View Photos, Read Reviews & Check Availability
Guest review: "The best air bnb experience I've had so far. The house was sparkling clean when we arrived. Plenty of space to park your car in the driveway. The fully stocked kitchen was my favorite part. With covid we wanted to cook for ourselves during the stay & they left a fully loaded kitchen. Very nice dishes actually compared to what most places leave for guests. The house is beautiful and so well decorated and designed. Spacious rooms & bathrooms. The backyard is amazing & it's a short drive from the beach & so many stores & things to do. Neighborhood was very quiet at night. We enjoyed our stay." – Akila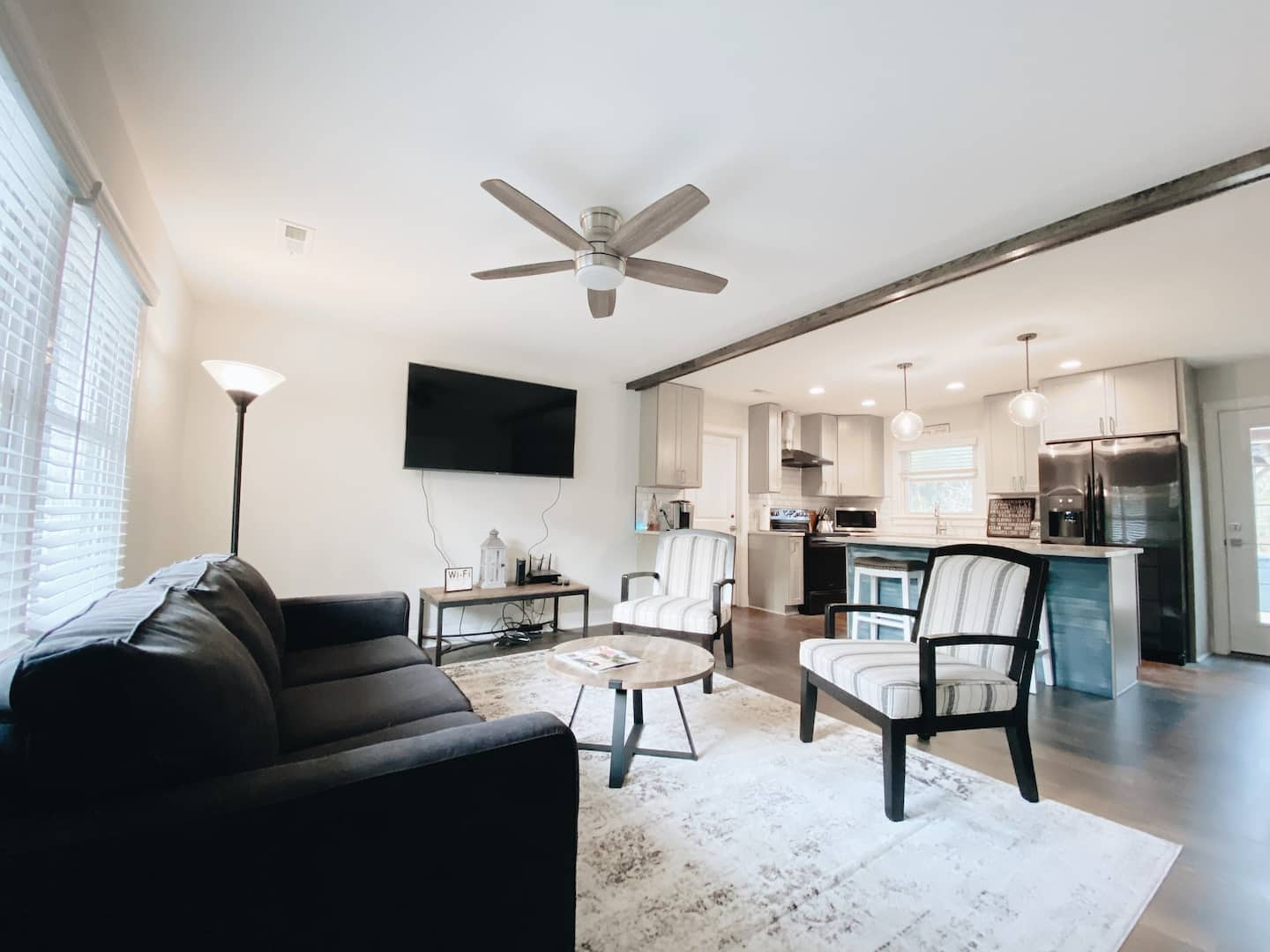 ---
4) Studio Aerie
Airbnb Plus: No
Superhost: Yes
Price: $75+
https://www.airbnb.com/rooms/17734576
There are plenty of places to stay in Wilmington, even when you are on a budget. Studio Aerie is The Best Cheap Airbnb you can book in Wilmington, for only $75+ a night! This garage studio apartment features a queen bed with memory foam mattress, a kitchenette with the following appliances: medium sized refrigerator, ceramic cooktop, microwave and toaster; a small but functional bathroom, fast and reliable internet access, and a large outdoor deck overlooking a garden. A designated parking space is available for guests checking in with a car. Studio Aerie is located in a beautiful neighborhood only 5 minutes to downtown Wilmington.
View Photos, Read Reviews & Check Availability
Guest review: "I stayed at Donna's place for almost 2 weeks and it was fantastic! It had everything needed – washer/dryer, stove, coffee maker, fridge, disposal, huge kitchen island, even a filtered water faucet. The space feels bigger than I expected and has lots of natural light. I was able to comfortably work from there during the weekdays. Great neighborhood for walking. Donna was very welcoming and stayed in close communication making sure I had everything I needed. I highly recommend this spot and would stay again!" – Annie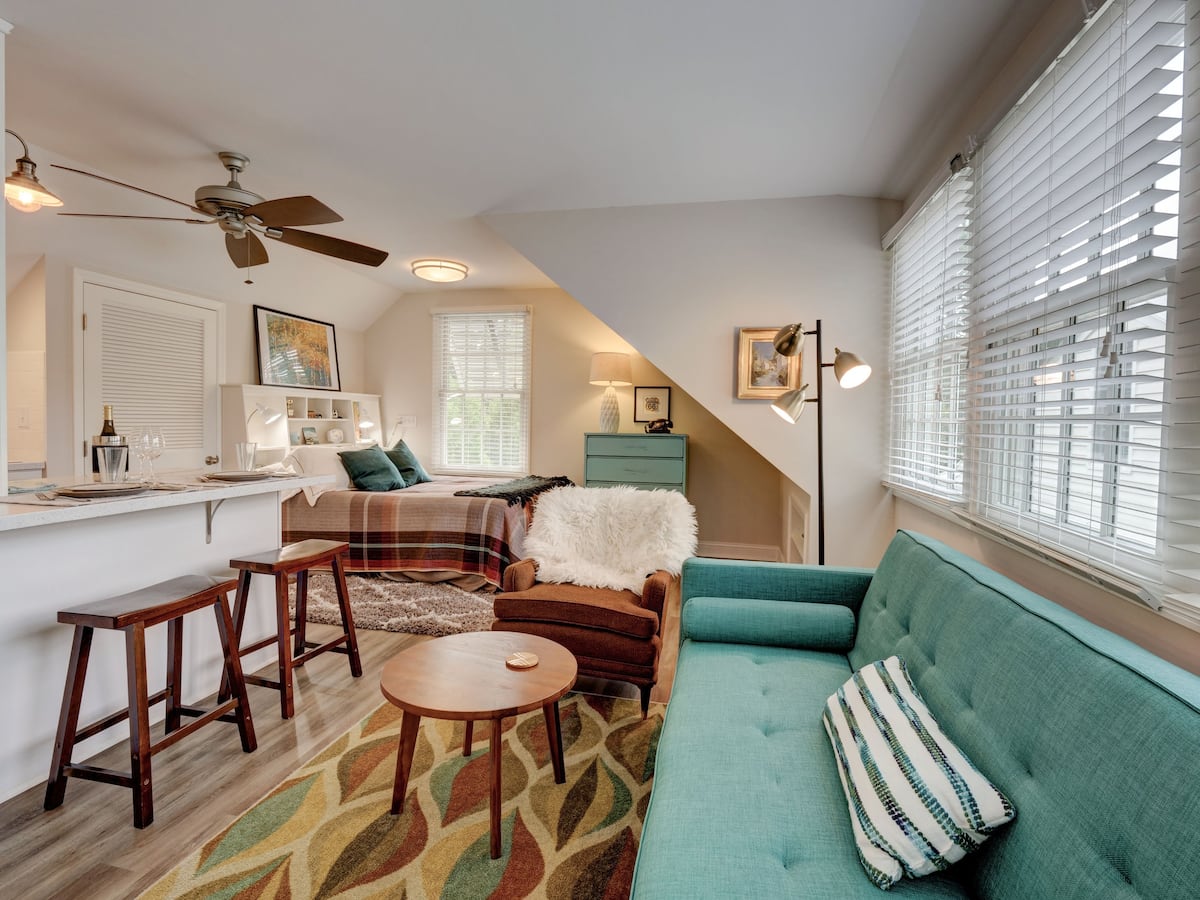 ---
5) Wilmington Guest Cottage
Airbnb Plus: No
Superhost: Yes
Price: $115+
https://www.airbnb.com/rooms/26063170
Guest Cottage took the spot in my list for the Best Unique Airbnb in Wilmington. This cottage boasts a one bedroom, living area, a bathroom with walk-in shower, kitchen and dining area, plus full-size washer & dryer and outdoor patio. This cottage is a favorite among guests and appreciates how the cottage is a great place to have their own quiet and private place and yet very close to the downtown. Guests also find this cottage spacious, clean, and reasonably priced. When you stay in this cottage, you have easy access to shopping, restaurants, and the beach. Besides the house' features, it's rating in Airbnb will also convince you to book a stay in this property.
View Photos, Read Reviews & Check Availability
Guest review: "Charlie has created a delightful, warm cottage for those wishing to stay in a quiet, well located place. We stayed for four nights and had every amenity imaginable. Charlie was quick to respond and when we needed a light bulb, it was delivered within 20 minutes. Couldn't ask for more. We somehow missed the location information, that the cottage is located behind a house, so we drove by a few times before Charlie helped out. Great place!" – Tricia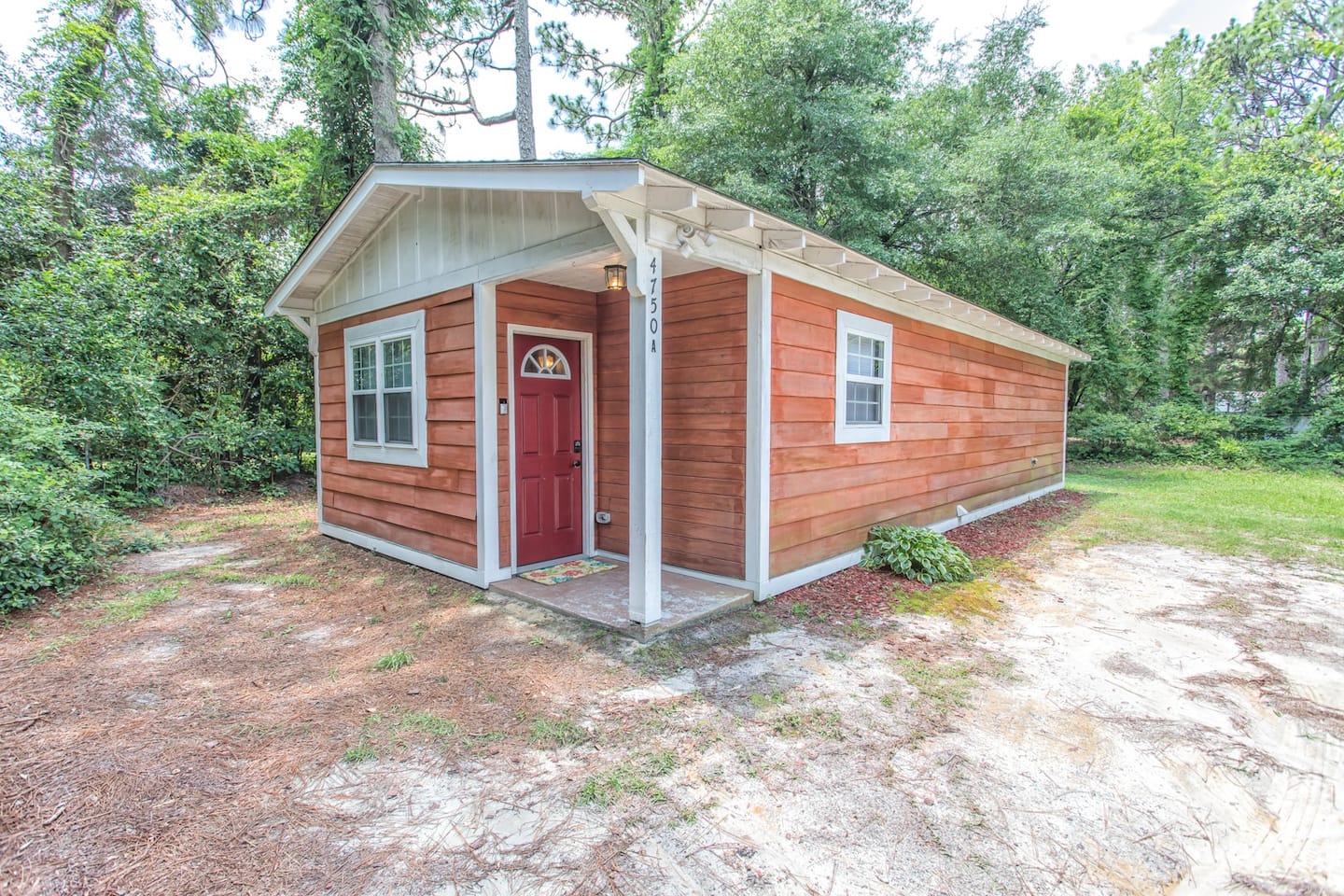 ---
6) Cozy Beach Hideaway Only a few miles to the Ocean
Location: Wilmington, North Carolina
Airbnb Plus: No
Superhost: Yes
Price: $74+
https://www.airbnb.com/rooms/35947174
This private suite located in a quiet, family neighborhood is also an excellent choice for those looking for a place in Wilmington that can accommodate a family of 5 for under $100 a night. This cozy suite offers a queen sized with a pull out double bed, a sleeping loft, kitchenette, and a full bathroom. Other amenities featured in this space include WiFi, bathroom essentials, parking space, and a keyless door. For guests checking in with a baby, you can request a porta-crib from the host. Attractions like UNCW, Hugh MacRae Park, Wrightsville and Carolina Beaches, as well as the restaurants and shops are walking distance from the house. Indeed, this cozy beach hideaway is a great place!
View Photos, Read Reviews & Check Availability
Guest review: "This was probably the best AirBNB I've stayed in so far. I liked that it's a separate space (just a shared wall with the main house). It's very conveniently located (near UNCW, the beach, and stores/restaurant) and the decorations were very beachy. It's in a quiet family neighborhood. It was also very clean. My wife is very picky about this and has avoided AirBNBs as a result. This place, though, was spotless and smelled nice (met her approval). It had nice amenities (TV, air/heat, WiFi, bunk bed and pull out bed, free waters provided, etc.) My kids enjoyed the bunk bed loft and the outside chairs to sit in were also nice. Would definitely stay here again and would highly recommend it to others." – Kevin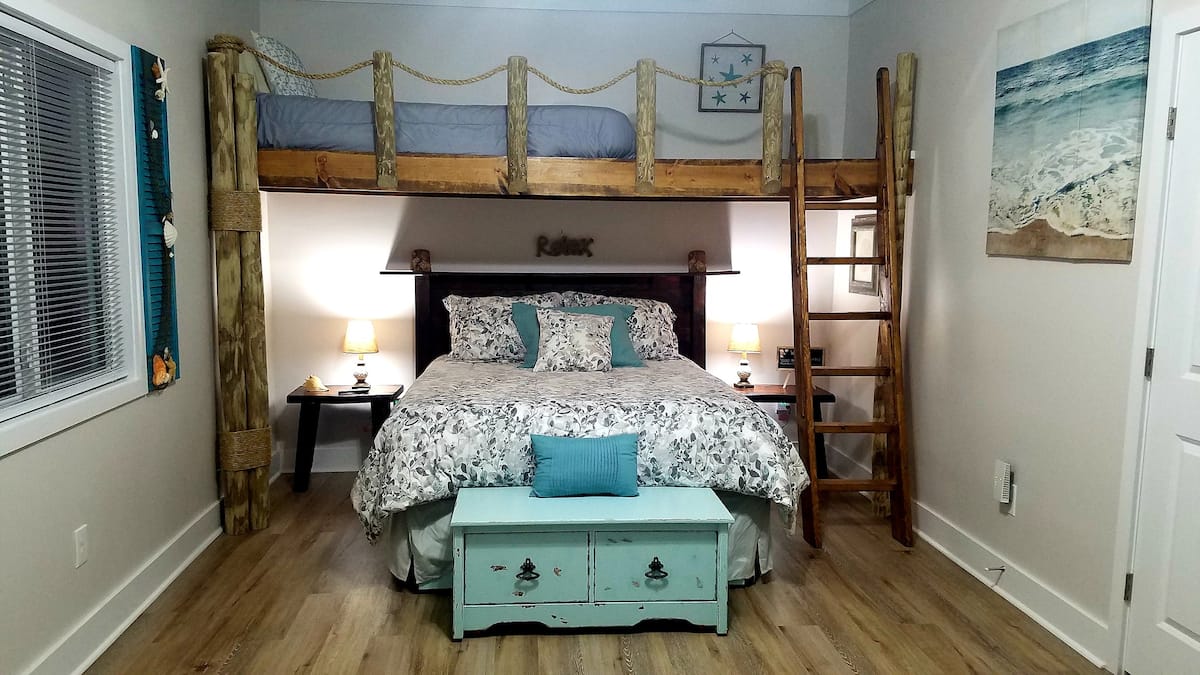 ---
7) The Pasha Casa
Airbnb Plus: No
Superhost: Yes
Price: $104+
https://www.airbnb.com/rooms/31600332
If you're visiting Wilmington with plans of getting a lot of rest, pausing, and resetting, then staying in The Pasha Casa is another great choice to book. The Pasha Casa provides a quiet, cozy and safe place to rest in the city. It is centrally located in downtown Wilmington, close to the beach, shops, restaurants, airport and other attractions. Upon entering the space, you'll find ship-lap ceilings, handmade rosewood countertops, classic subway tile backsplash, complemented by an oversized copper apron sink. The house has one bedroom and also features a bright and open space living room and kitchen, a balcony with seating, walk-in closet, and a cozy bathroom. Other amenities include a Wifi, cable, laundry room, outdoor shower, and a designated parking space. The Pasha Casa is ideally perfect for couples or solo travelers.
View Photos, Read Reviews & Check Availability
Guest review: "This was the perfect little getaway place for a girl's weekend. Matt and Haley offered great suggestions on local places to go/eat as well as quick and thoughtful responses. The space was warm, clean and beautifully decorated with all the touches to make you feel at home and on vacation." – Caroline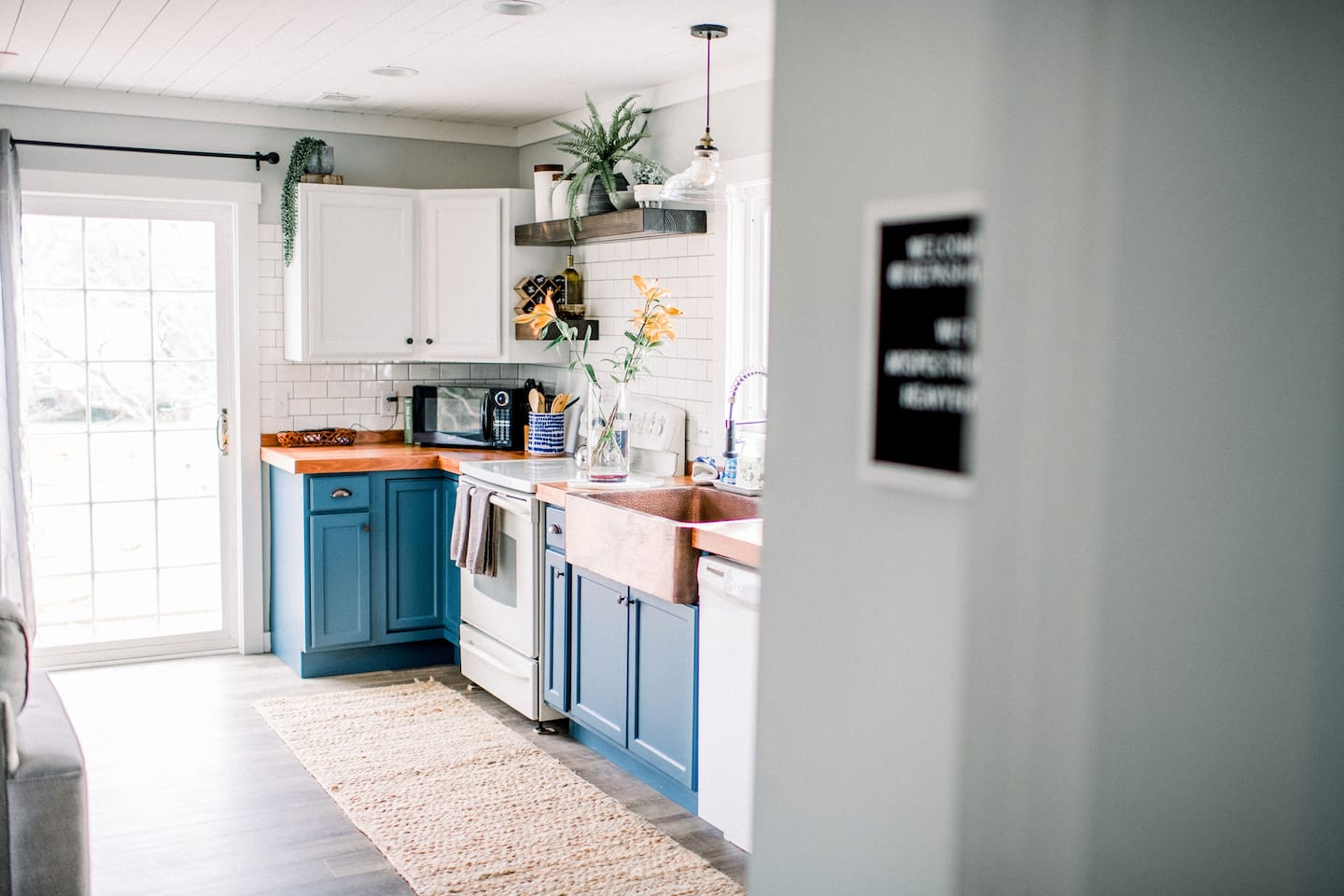 ---
8) Pecan Paradise: Stay+Work near Beach & Downtown
Airbnb Plus: No
Superhost: Yes
Price: $118+
https://www.airbnb.com/rooms/44323966
A fresh and modern take on staycations – Pecan Paradise is the ideal place for guests traveling for business. It offers a reliable high speed internet, plenty of work space in a comfortable setting. Pecan Paradise offers luxury, charm and coastal vibes, with 2 bedrooms, spacious living space, a gourmet kitchen with island seating, and a dining area that opens up to the back deck. Guests can enjoy drinks or grill a BBQ out in the back deck. After a full day at the beach, you can rinse all that sand away in the outdoor shower. There is also plenty of parking space in the property. Set in the heart of Wilmington, Pecan Paradise is within walking distance to many of the city's sights such as Wrightsville Beach, Historic Downtown, UNCW, and many more.
View Photos, Read Reviews & Check Availability
Guest review: "As a frequent user of AirBnB, I have had the opportunity to stay at my locations over the past few years. This was one of my favorites. The house is immaculate and the interior is warm and inviting. Additionally, the hosts are wonderful and welcoming. They even went out of their way to let us know when we forgot an item and kindly offered to mail it to us. I highly recommend it to anyone staying in the area!" – Noor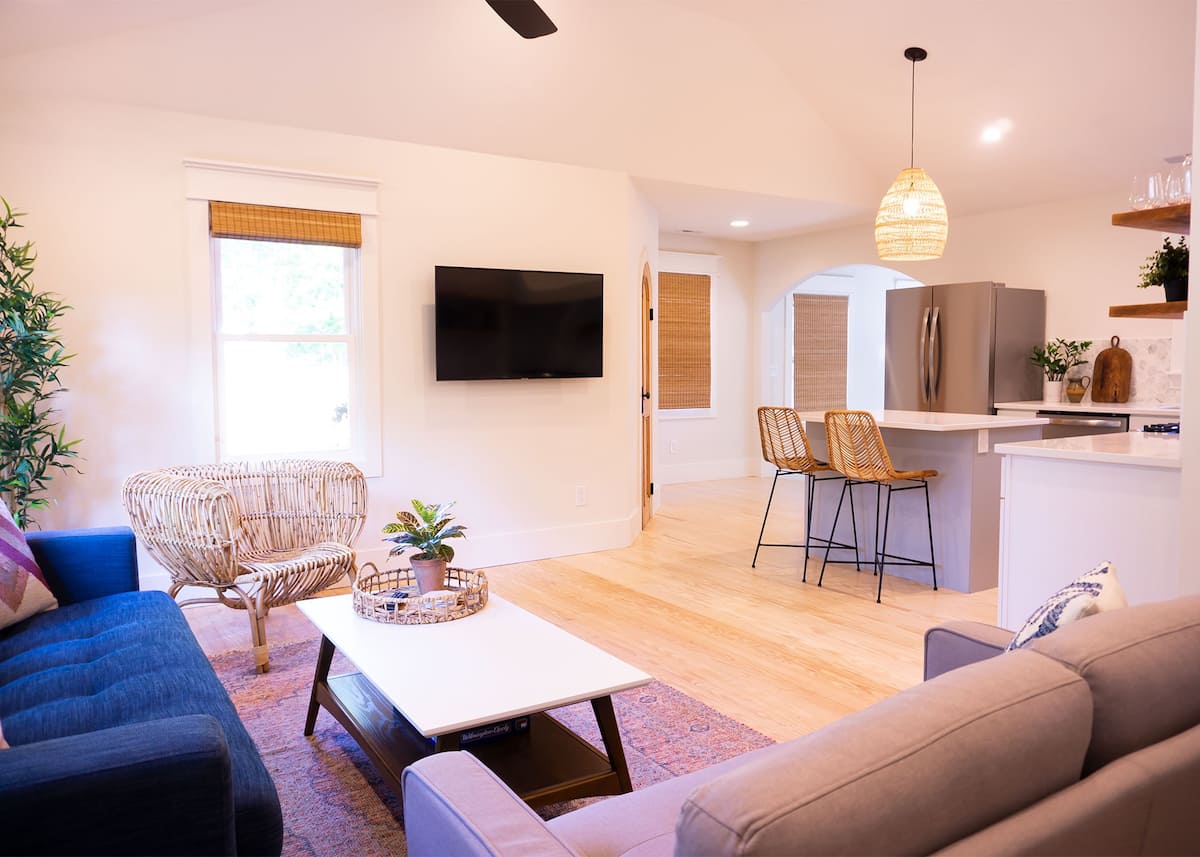 ---
9) Creekside Crofter- private retreat
Airbnb Plus: No
Superhost: Yes
Price: $100+
https://www.airbnb.com/rooms/39675018
The view in this guest house is just beautiful. Located in Hewlett's Creek, guests can take a stroll to the neighborhood dock, watch ospreys and egrets, paddle board or kayak in the creek. It has contemporary open space with high ceilings and modern decor. Staying in Creekside Crofter means you'll have a good night's rest in the comfortable bed, a beautiful experience watching the sunrise or sunset, and overall a lovely time in Wilmington. Other convenience features include a kitchenette, a clean bathroom, WiFi, and a quiet and peaceful stay. Guests like that it was centrally located but not on a busy street. You definitely should check this out.
View Photos, Read Reviews & Check Availability
Guest review: "The perfect spot! This was our second time staying at Steve and Melissa's place and it was, once again, a very pleasant stay. You really couldn't ask for more when looking for a weekend getaway to Wilmington. It's located in a beautiful neighborhood just a few minutes to the beach and the place is kept incredibly clean. The fresh flowers are also a nice touch! The creek is beautiful and it was a bonus to be able to take the kayaks out. Steve was also very friendly and helpful with questions we had. We'll definitely be back!" – Melissa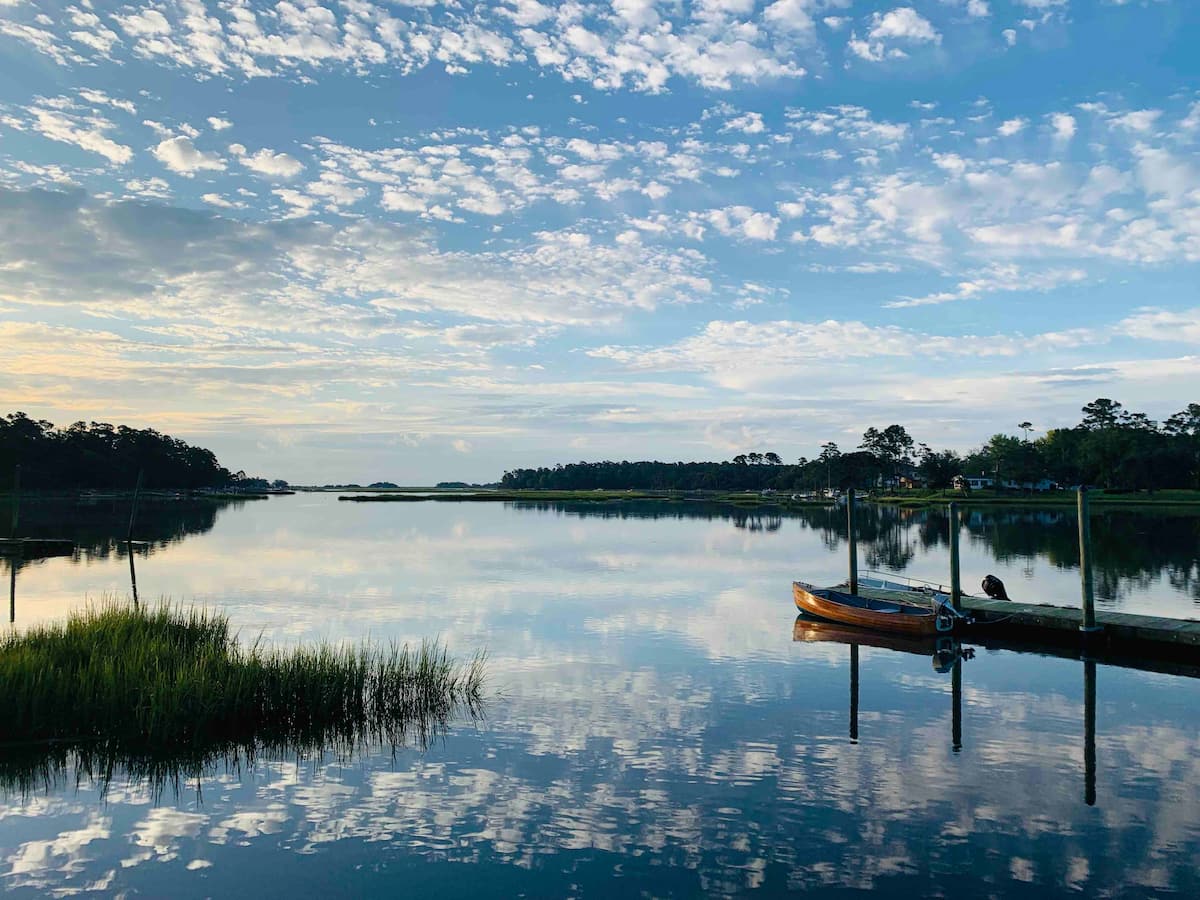 ---
10)

Carriage House at the White Barn Compound

Airbnb Plus: No

Superhost: Yes

Price: $125+

https://www.airbnb.com/rooms/21927007

Another beautiful gem that you can find in Wilmington – a one bedroom carriage house with a very cozy and elegant, and still very home-y. The house was thoughtfully designed with custom-made interior and furnishings. Creative details include a sliding barn door, shiplap walls, butcher-block counters, exposed ceiling joists. Guests can have a good rest in the comfortable queen bed, with plenty of space to unpack, work, hang out and relax like the living area and even the deck. It is located near Wrightsville Beach, restaurants, and some breweries. Guests love how clean and comfortable this carriage house is that they gave it a high rating.

View Photos, Read Reviews & Check Availability

Guest review: "This is such a cool place! I'd recommend any of Charlie's listings. They're unique, well thought out, and beautiful. The Carriage House was exactly as described. Very comfortable for a few nights' stay. It has everything you need and more. The property is centrally located between everywhere you'd want to go in Wilmington. He was a great host and we can't wait to come back!" – Michael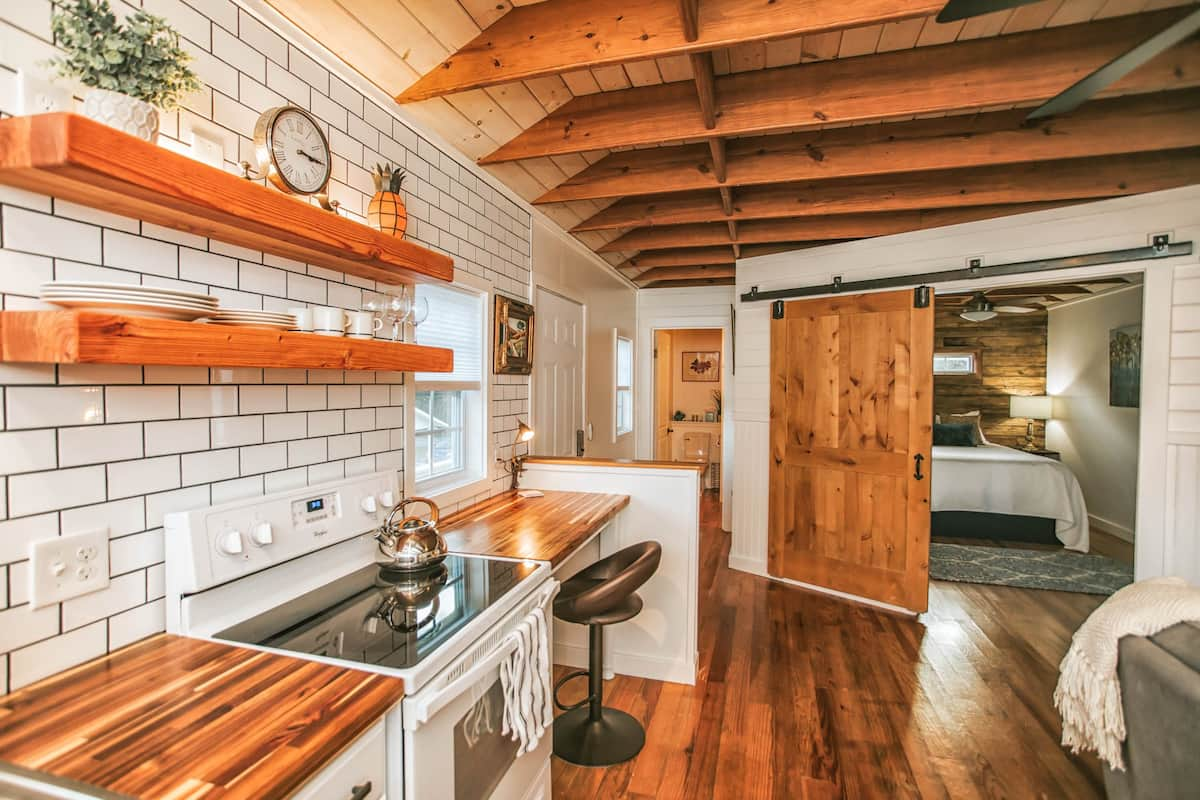 ---
11) The Midtown House
Airbnb Plus: No
Superhost: Yes
Price: $164+
https://www.airbnb.com/rooms/22950939
The rooms at Midtown House are all about comfort – spacious areas, high quality linens and beddings, modern appliances. With 3 bedrooms with queen beds, 2 bathrooms, a living space, kitchen and dining area, the house can accommodate 6 guests comfortably. There is also an amazing view of the golf course that can be seen from the back deck. The Midtown House was established in 1950's in a residential area in Wilmington, close to the beach, municipal golf course, Long Leaf Park, and many more attractions. This is another Airbnb that is popular among visitors, you'll know it from the rating and reviews from previous guests. If you're a group visiting Wilmington, this is a great place to stay.
View Photos, Read Reviews & Check Availability
Guest review: "Highly recommend this property! Beautifully decorated house with plenty of off-street parking in a convenient location. Easy drive to either the beach or downtown. Amazing amenities: gas fireplace, deep bathtub, large back deck, full kitchen, and washer/dryer. A great choice if you are looking for something clean, safe, and private with spending more time in the home on vacations this year!" – Jennifer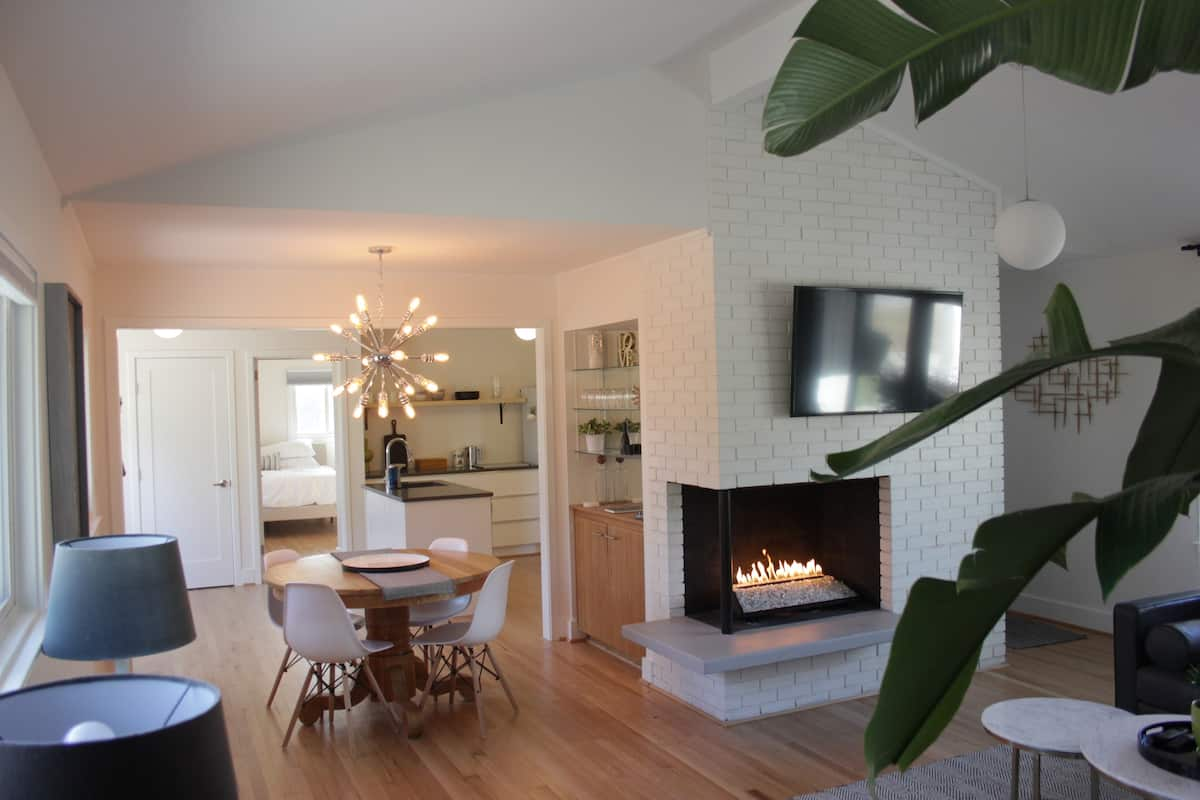 ---
12) The Hill Street Bungalow
Airbnb Plus: No
Superhost: Yes
Price: $165+
https://www.airbnb.com/rooms/45483841
The Hill Street Bungalow boasts a modern style that is both comfortable and convenient. It features two bedrooms, a living room with convertible twin sleeper, fully stocked kitchen, and a parking space. The Hill Street Bungalow is ideal for travelers in town with work, special events, couples or friends and families just looking for a relaxing coastal getaway. Guests have full access to all the amenities available in the property including high speed internet, streaming smart TV, covered front patio, and a fenced backyard. For those traveling with their pets, this bungalow is a great option as they also welcome pets weighing under 30lbs.
View Photos, Read Reviews & Check Availability
Guest review: "Charming cottage, beautifully redone and spotlessly clean. Convenient location and very quiet, friendly neighborhood. Host was very responsive and accommodating. Beds were comfortable, linens of nice quality and towels were plentiful. Amenities like coffee and creamer, shower products, laundry detergent were provided. Lots of parking and cute little front porch to enjoy morning coffee or evening drinks. Host added a desk and chair upon request to allow me to work more comfortably." – Maria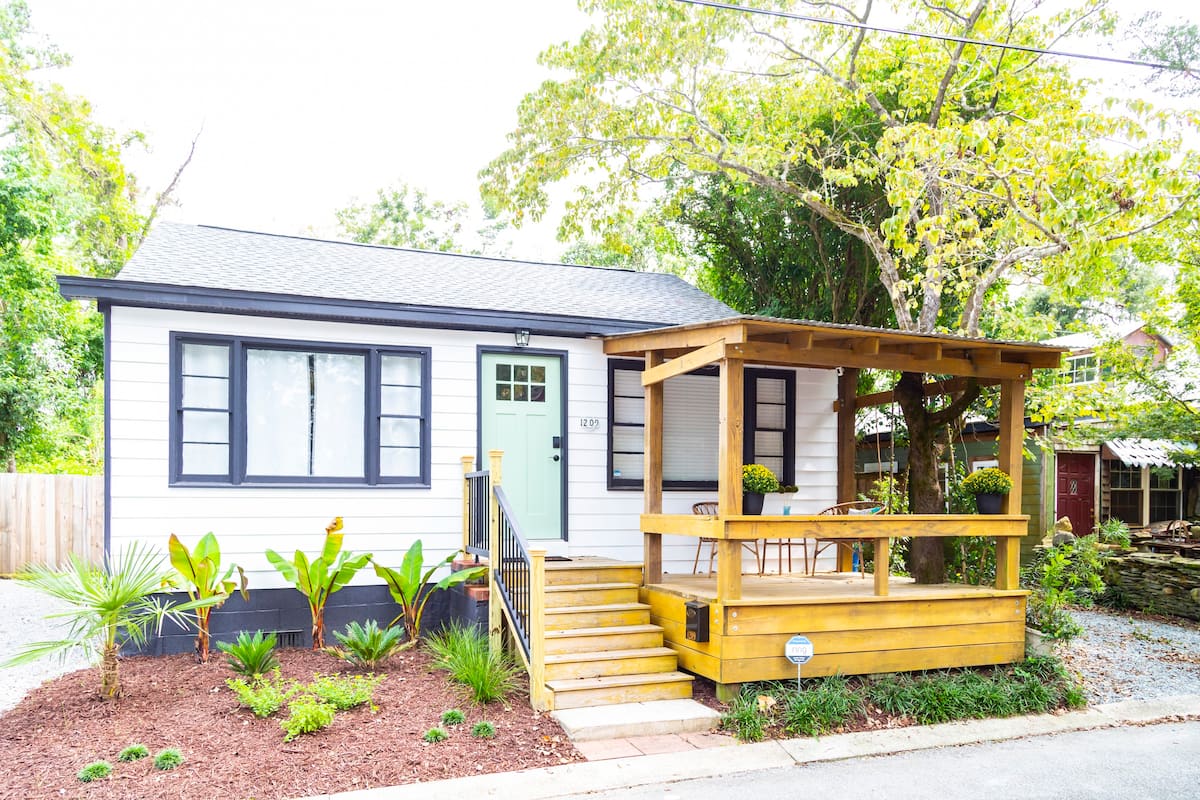 ---
Best Wilmington, NC Airbnb Experiences
Locals Guide to Surfing, Yes We're Open
What You'll Do: Open now for lessons, have wetsuits available for rent, if you want to book but my calendar shows no availability, don't hesitate to contact me. This is a COVID approved lesson. I will disinfect the board before the start of each lesson. I will also take other precautions.
https://www.airbnb.com/experiences/694997
Price: $75/person (90 minutes)
Guest Review: "Absolutely amazing experience, we enjoyed every second of it and wouldn't want to take lessons from anyone else. The surfing was wonderful but Glenn himself really made the experience that much more enjoyable" – Baylee
---
Historic Tour of Wilmington, NC
What You'll Do: This is a chronological, walking tour of old Wilmington. I will share with you facts about the founding families and the architectural beauty preserved in their historic homes which line these brick streets. We will also discuss the social and economic implications which shaped the Port City including African American, Jewish, and Eastern European contributions, the Wilmington-Weldon Railroad, the Civil War, and World War II. We will conclude with the decline and subsequent revitalization of downtown. The 2.5 mile tour takes an average of 1hr 15 mins to complete.
https://www.airbnb.com/experiences/308128
Price: $15/person (90 minutes)
Guest Review: "We really enjoyed this tour. J.R. Knows an incredible amount about Wilmington and it was great to get such an in depth tour. We learned about the local architecture , history, as well as modern industry. The tour was relaxing and we brought our dogs. Definitely recommend it!" – Norleena
---
Beach Bike & Brews Afternoon Cruise
What You'll Do: We'll meet in WB , Wilmington's best local beach, for a drink and greet with your host Bradley and a quick orientation.
https://www.airbnb.com/experiences/590713
Price: $48/person (3 hours)
Guest Review: "This is definitely the best way to explore Wrightsville beach. Bradley was a great guide. If you like to drink and actively see a city then this is the tour for you. It's also a good starter for a fun night. However, if you are vegan, I would make extra arrangements for food." – Reyna
---
Planning a trip to North Carolina?
Check a few more of my other blog posts in the state and various nearby destinations that might help you plan more trips in the future!
---
Thanks for reading my guide to the best vacation rentals in Wilmington, North Carolina
Share this article with your NC travel crew!
https://www.jonesaroundtheworld.com/wp-content/uploads/2021/02/Wilmington-North-Carolina.jpg
674
1200
Dave
https://www.jonesaroundtheworld.com/wp-content/uploads/2017/03/logotry-1-1-300x106.png
Dave
2021-02-20 01:44:43
2021-02-20 01:47:00
Top 12 Incredible Airbnb Wilmington NC Vacation Rentals