Planning a luxurious camping trip in NC? Crank your vacation up a notch with a Glamping North Carolina rental from this amazing list of truly spectacular places for an unforgettable stay!
Say hello to the land of rolling hills, NASCAR, sweet tea, sandy beaches, and the Blue Ridge Mountains. And if that hasn't already caught your attention, it's also the home to BBQ soul food, an epic sports' history, and some stellar North Carolina music festivals!
From beach hopping and woods hikes to the beginning of Michael Jordan's basketball passion, North Carolina has a hell of a personality, and tons to offer any traveler. Especially when done as part of a glamping experience.
Whether you're looking for a sweet yurt with the basics or a glamping spot in the cities of Asheville and Charlotte, you'll find what you need on this list. Check out these top spots for NC glamping. Also, be sure to check my guide on Luxury Cabins in North Carolina for more luxe getaways in the future!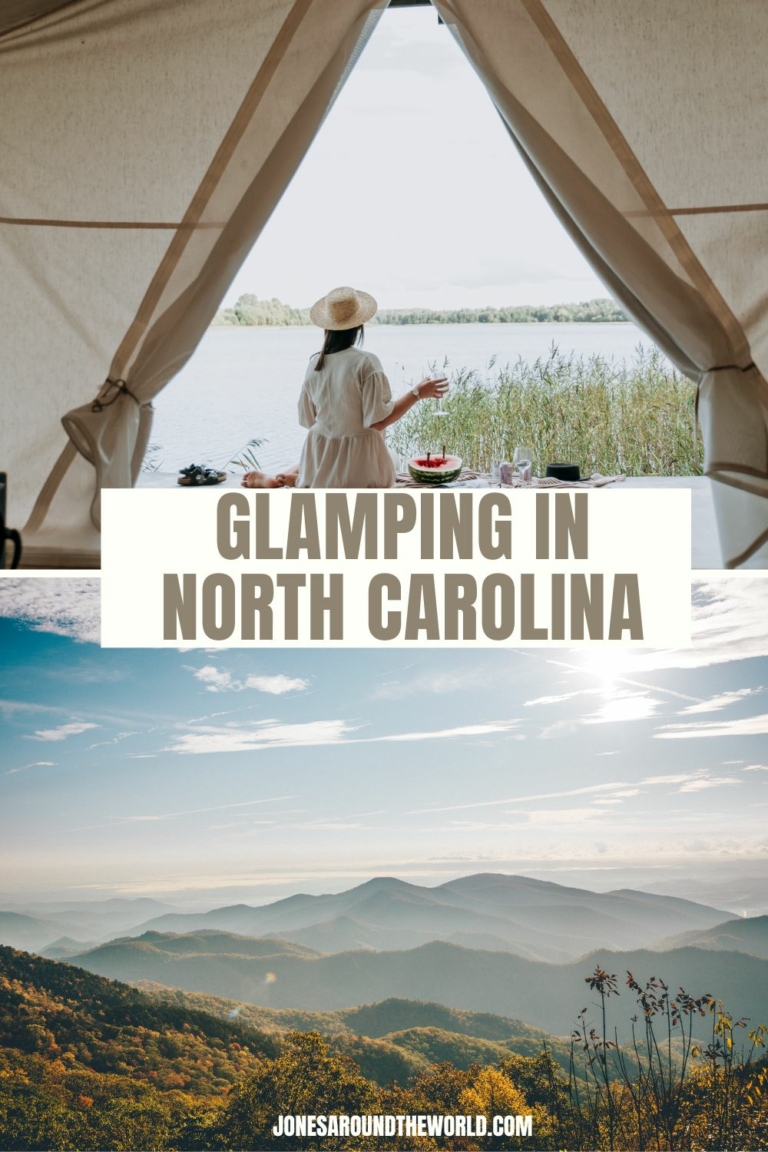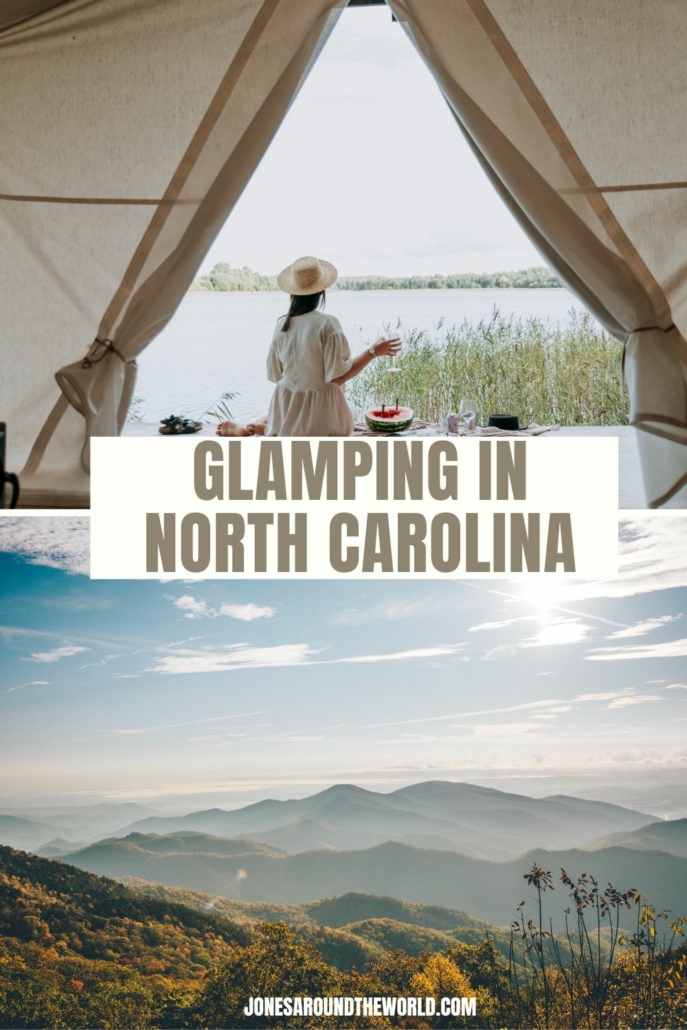 ---
Glamping North Carolina Breakdown
Time is money and you might not have the currency to read this whole post. If you're looking for a glamping spot in a specific region or fancy a yurt, take a look at these experiences below.
Overall Best Glamping in North Carolina – Broad River's Geodesic Domes
Best Glamping Yurt in NC – Sky Ridge Yurts
Best Glamping NC Mountains Has to Offer – Nurture + Nature Glamping Retreat Center
Best Value Glamping North Carolina – Into The Wild Glamping
Best Unique NC Glamping – The Glamping Collective Dome
Keep an eye out for the videos throughout this post. I've included some that speak to different elements of this incredible state, like food, attractions, and nightlife. If you want to get a better feel for this state, give them a quick look.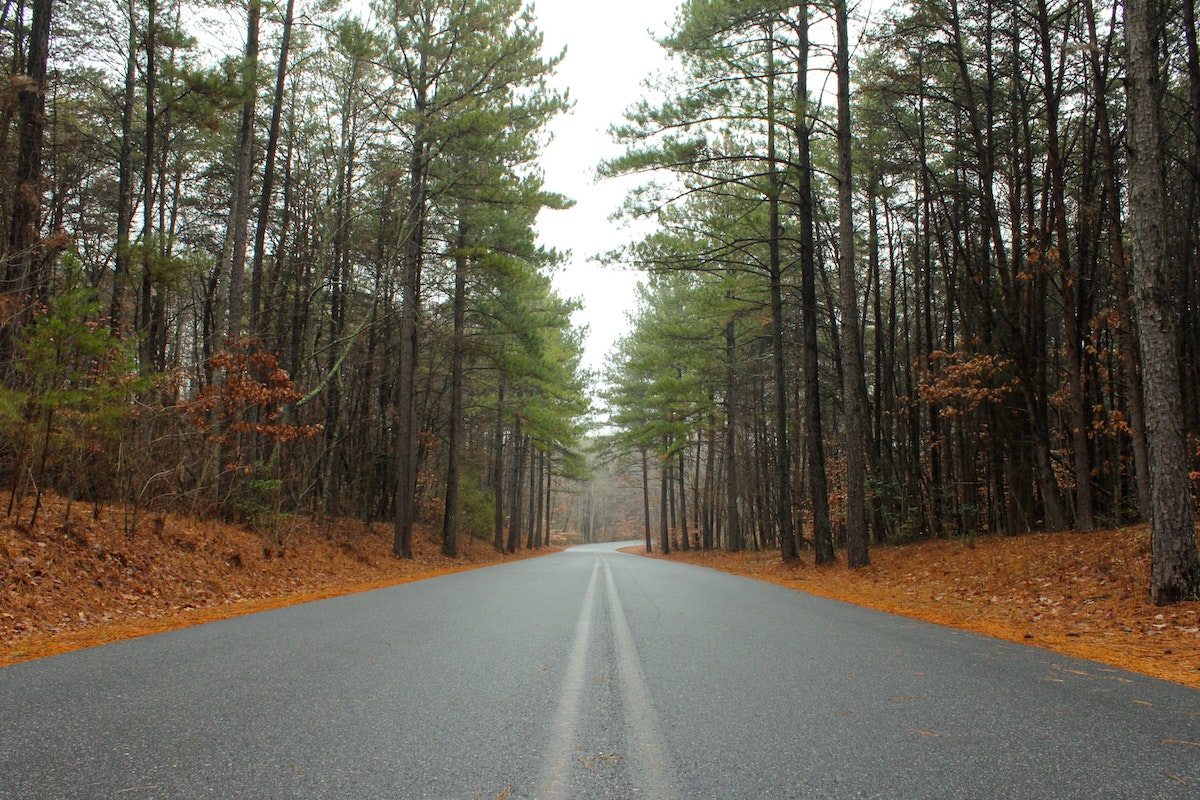 ---
Top 20 Places To Go Glamping in NC
Glamping in North Carolina means you can experience the best of the state's attractions along with creature comforts and traditional camping fun. Whether it's a romantic stay, or a fun weekend away, the best glamping spots in North Carolina are at your fingertips. Start clicking!
---
1) Broad River's Geodesic Domes
Where: Mooresboro, New Hampshire
Price: $175+ per night
Accommodates: 2–4 Guests
https://broadrivercampgroundnc.com/domes/
https://www.facebook.com/BroadRiverCampgroundNC
You can experience the perfect combination of adventure and luxury in Broad River's Geodesic Domes. Broad River Campground offers an expanse of activities, attractions, and amenities for both your family and pets. At the Broad River Campground, you can choose from a range of accommodation options including 10 cozy cabins, 16 RV sites, and 5 unique domes.
Each dome features a queen-sized bed, a cozy twin-size sleeper sofa futon, a convenient mini fridge, a microwave, a top-of-the-line Keurig coffee machine, and a charming coffee table with two comfortable chairs the perfect setting for relaxation and comfort. Imagine basking in your very own private hot tub*, nestled on a cozy deck. To enhance your outdoor experience, the dome includes Adirondack chairs, perfect for lounging and savoring a delightful meal under the sun or stars. The best part is that you get to enjoy the beauty of nature while cooking delicious meals using the complimentary communal fire rings and grills available for use.
View Photos, Read Reviews & Check Availability
---
2) Call of the Wild Glamping Suite
Where: Creston, North Carolina
Price: $155+ per night
Accommodates: 6 Guests
https://www.intothewildretreat.com/glamping-tents/rooms/e559e092-8d16-4b74-8109-08ef362fac27
The Wild King Suite at Into The Wild Retreat offers a comfortable and luxurious way to experience the great outdoors of North Carolina, allowing families to connect with nature while still enjoying the amenities and comforts of a modern lifestyle. With two king beds, two queen beds, and room for two camping cots, up to six people can comfortably sleep in this spacious king suite.
It also features an expanded deck that is perfect for relaxing, playing games, and taking in the beautiful nature surrounding you. You and your family can also enjoy the supplementary amenities, such as a custom fire pit and Blackstone propane grill (including propane), a high-capacity cooler, and a coffee bar. The en-suite bathroom, shower, cooler, and grill are also shared between the two tents, making your stay here an unforgettable glamping experience.
View Photos, Read Reviews & Check Availability
---
3) Nurture + Nature Glamping Retreat
Where: Western North Carolina
Price: $160+ per night
Accommodates: 4 Guests
https://www.nurturenatureretreat.com/book-a-room/rooms/a4c4e6ac-35a0-4545-a676-954b349ef590
Nurture + Nature Glamping Retreat Center is situated on a picturesque farm in the stunning mountains of Western North Carolina, offering guests a chance to reconnect with both themselves and the natural world.
The "Double the FUN!" glamping tent is a delightful and welcoming accommodation, featuring two double beds, a writing desk, indoor seating, and a private deck that offers breathtaking views of the surroundings. The room is tastefully decorated with comfortable and stylish furnishings, creating a warm and inviting atmosphere that is perfect for relaxation and unwinding. Don't miss the chance to connect with each other and share stories under the starry skies, or hike trails that offer opportunities to explore the stunning natural surroundings. You can enjoy a variety of activities like yoga classes, private beauty products workshops, jewelry design workshops, bookbinding, and many more.
View Photos, Read Reviews & Check Availability
---
4) Sky Ridge Yurts
Where: Bryson City, North Carolina
Price: $100+ per night
Accommodates: 6 Guests
https://www.skyridgeyurts.com/
https://www.facebook.com/skyridgeyurts
Sky Ridge Yurts provides you and your family with a luxurious yet naturally stunning glamping experience. Each yurt is meticulously designed with the comfort of guests in mind, offering amenities such as plush beds, cozy seating areas, and climate control systems. You can enjoy the convenience of a kitchenette, a private bathroom, and other thoughtful amenities that will make your stay even more pleasant.
Sky Ridge Yurts is situated in the heart of the Great Smoky Mountains, providing guests with a plethora of opportunities for outdoor adventure and exploration. You can try zip lining, mountain biking, river rafting, and even experience the rich Native American culture at the nearby Cherokee Indian Reservation. Regardless of your interests, the Great Smoky Mountains offer endless possibilities for outdoor recreation and Sky Ridge Yurts serves as an ideal starting point for your adventures.
View Photos, Read Reviews & Check Availability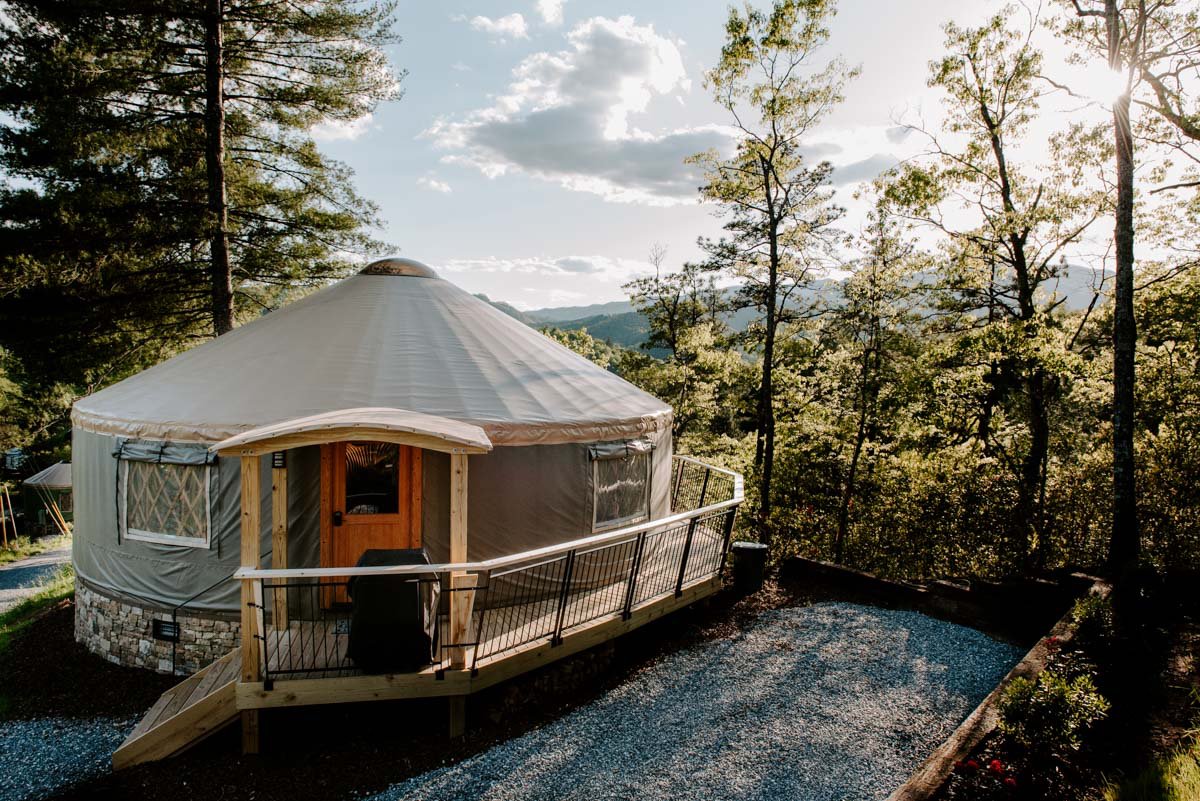 ---
5) Glamping Collective – Luxe Dome
Where: Clyde, North Carolina
Price: $300+ per night
Accommodates: 2 Guests
https://www.theglampingcollective.com/accommodations/luxe-dome/
The Glamping Collective Domes provides unique and luxurious accommodation, creating an unforgettable glamping experience. These domes are spacious, and equipped with a private hot tub and fire table on the deck, allowing you to unwind and appreciate the beautiful outdoors in comfort. The attached outdoor living space is ideal for socializing and dining with family and friends.
The dome's interior features a plush and comfortable king-sized bed that ensures a peaceful and restful night's sleep, along with a well-equipped kitchenette that includes a refrigerator, stove, and oven, making meal preparation a breeze. Furthermore, the Glamping Collective offers private hiking and mountain biking trails, allowing you to explore and admire the natural surroundings at your own pace. Hiking to the summit is another activity that you don't want to miss, providing an excellent opportunity to capture stunning photos of the sunrise or sunset.
View Photos, Read Reviews & Check Availability
---
6) Holmes Farm Yurt
Where: Leicester, North Carolina
Price: $125+ per night
Accommodates: 2 Guests
https://www.airbnb.com/rooms/19095371
The Holmes Farm Yurt is a unique and comfortable accommodation that provides a perfect blend of outdoor adventure and relaxation. It comes with luxurious amenities that guarantee a comfortable stay, such as a hot tub, fire pit, and a well-equipped kitchen. Outside, the yurt has a private creekside outdoor space that includes a fire pit and grill, perfect for outdoor cooking and socializing.
The area is entirely secluded, providing a sense of peace and privacy. There are plenty of activities to enjoy while staying at the Holmes Farm Yurt. You can take a drive to Hot Springs, where you can hike, swim, and enjoy natural spring hot tubs. Another option is to explore the nearby town of Marshall, which offers a quaint and charming atmosphere.
View Photos, Read Reviews & Check Availability
---
7) Serenity Yurt, Asheville
Location: Asheville
Superhost: Yes
Price: $124+ USD per night
https://www.airbnb.com/rooms/9944111
The Serenity Yurt is a, you guessed it, serene yurt located in Asheville city in western NC. This city is famous for its vibrant arts scene and impressive architecture. A winner for creatives and historians.
Along with location, this yurt made it to the top of the list for Asheville glamping because of its excellent facilities and closeness to nature. Set against a wooded mountain, you'll love taking in the view while enjoying the hot tub on the deck.
The rich, Persian decor creates a feeling of extravagance while staying close to its camping roots. Of course, if you want something without the canvas or camp-vibe, you can always try one of these cool Asheville Airbnbs.
View Photos, Read Reviews & Check Availability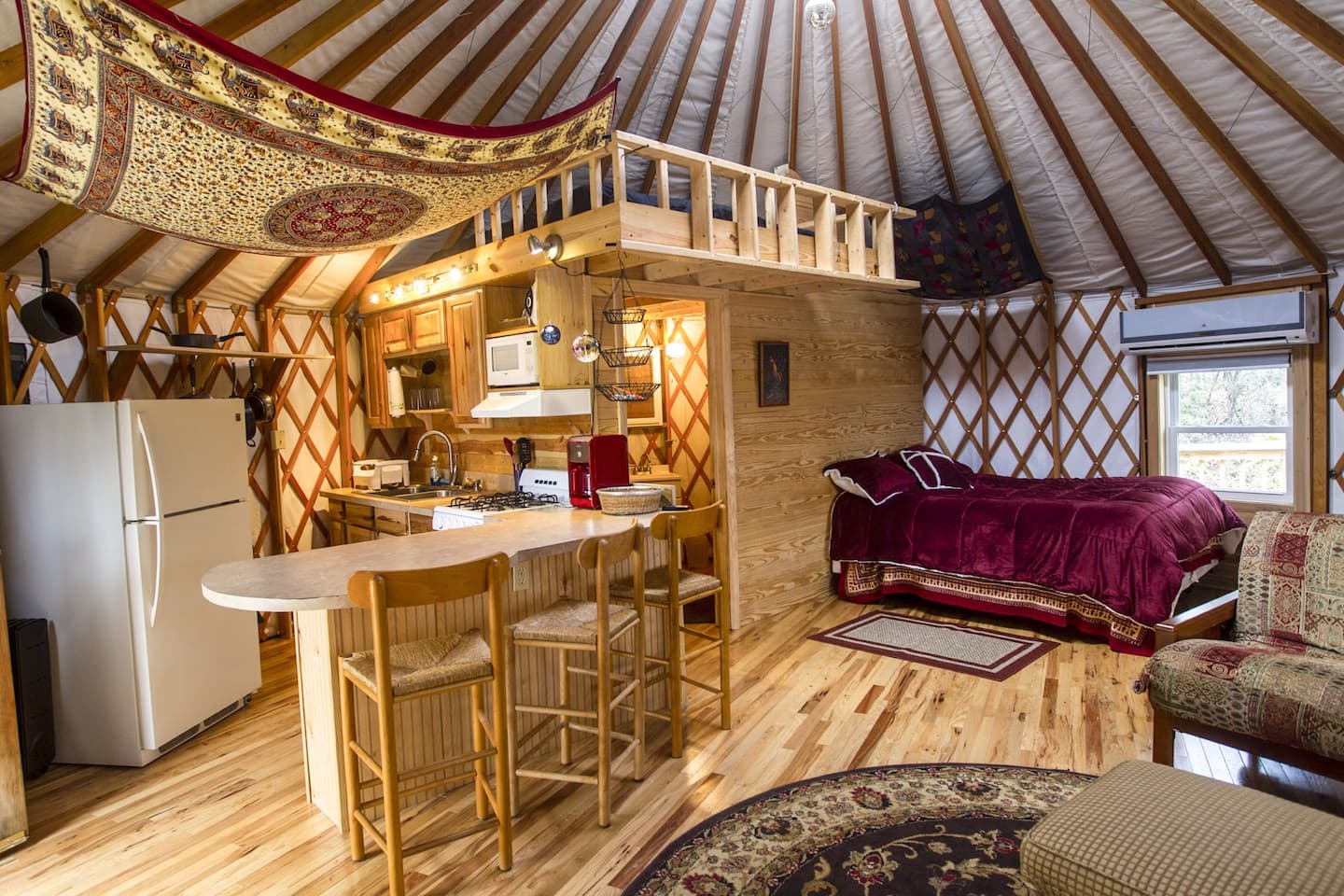 ---
8) Yurt Glamping Getaway
Location: Asheville
Superhost: Yes
Price: $170+ USD per night
https://www.airbnb.com/rooms/32594995
The number one spot for best yurt rental in NC goes to this minimalist Airbnb. Situated on a five-acre plot in the heart of the Appalachian Mountains, you'll feel a million miles away from the big city. While actually just being a quick 5 miles from downtown Asheville.
Some of the best glamping Asheville, NC has on offer, guests love the combination of off-grid living and creature comforts like an indoor fireplace. Walk out onto the deck to gaze at the sky, milky with stars. Or, take some binoculars and experience the diverse wildlife like bears, turkeys, owls, and hawks.
It's definitely some of the best yurt camping North Carolina has to offer.
View Photos, Read Reviews & Check Availability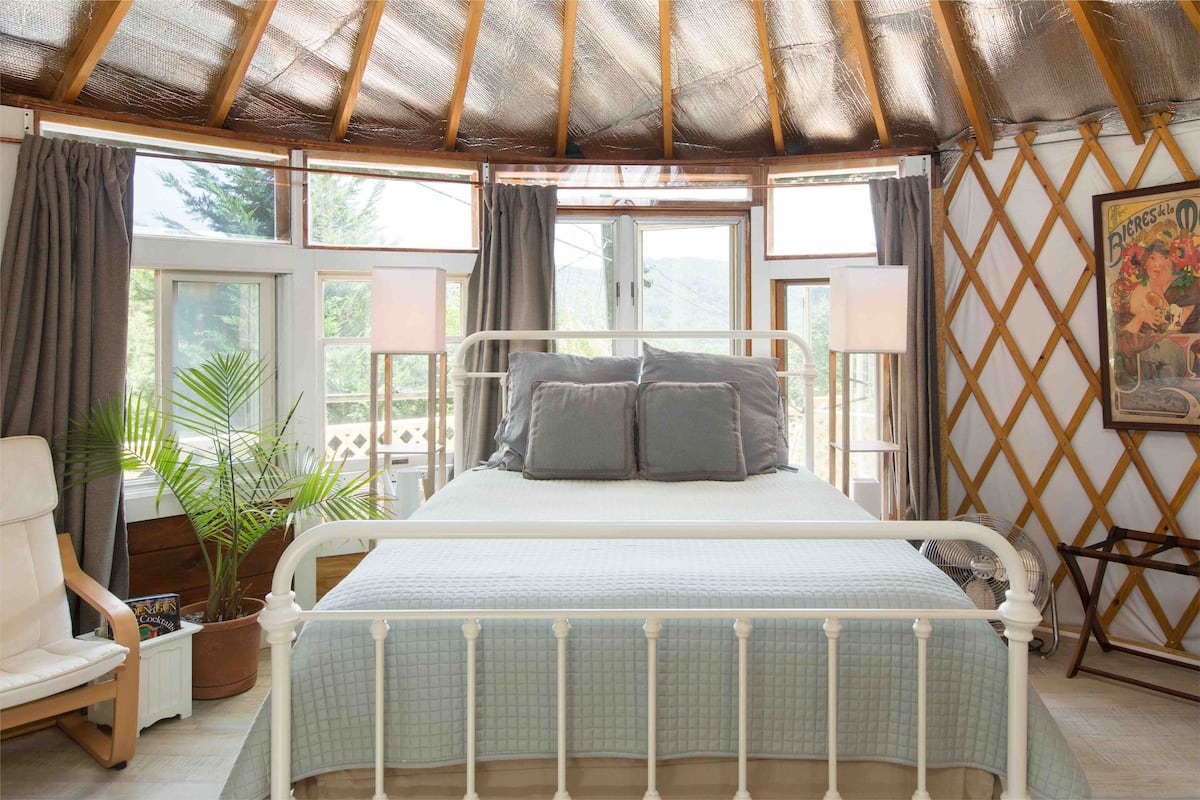 ---
9) Luxury Yurt Glamping on a Creek, Hot Tub, Firepit
Location: Topton
Superhost: Yes
Price: $185+ USD per night
https://www.airbnb.com/rooms/34834217
If you're looking for some glamping in NC's mountains, you'll love this well-appointed yurt. Set in an idyllic, tree-thick setting, this yurt overlooks a woodland creek in the Nantahala National Forest.
The accommodation has two bedrooms and takes up to four guests, meaning you can take your family or a few friends with you.
This space has a modern, ranch atmosphere with a huge bonus being the ton of fun activities provided for guests. You can enjoy a game of volleyball and try your hand at horseshoes before having a drink by the firepit or relaxing in the hot tub.
View Photos, Read Reviews & Check Availability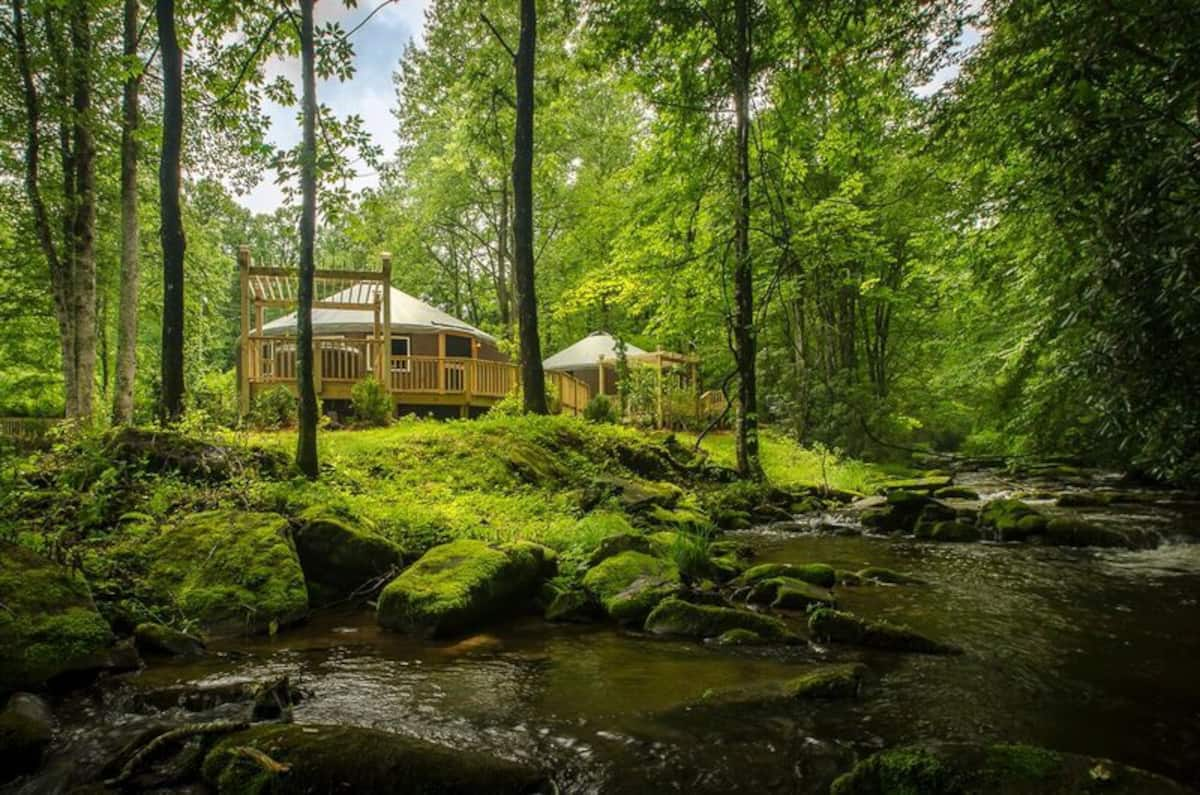 ---
10) Luxury Glamping Dome #1 – Chimney Rock/Lake Lure
Location: Hendersonville
Superhost: Yes
Price: $133+ USD per night
https://www.airbnb.com/rooms/33513911
For a unique, almost space-age glamping experience, try out this glamping dome in Hendersonville, NC. Modern facilities like AC, plumbing, WiFi, an LED fireplace, and Nespresso make this Airbnb a winner for those who like to emphasize the GLAM in glamping.
Beautiful decor and a stunning secluded setting make for an amazing stay. And, for those who hope to get some proper shut-eye, the king-size comfort foam bed is a dream come true.
View Photos, Read Reviews & Check Availability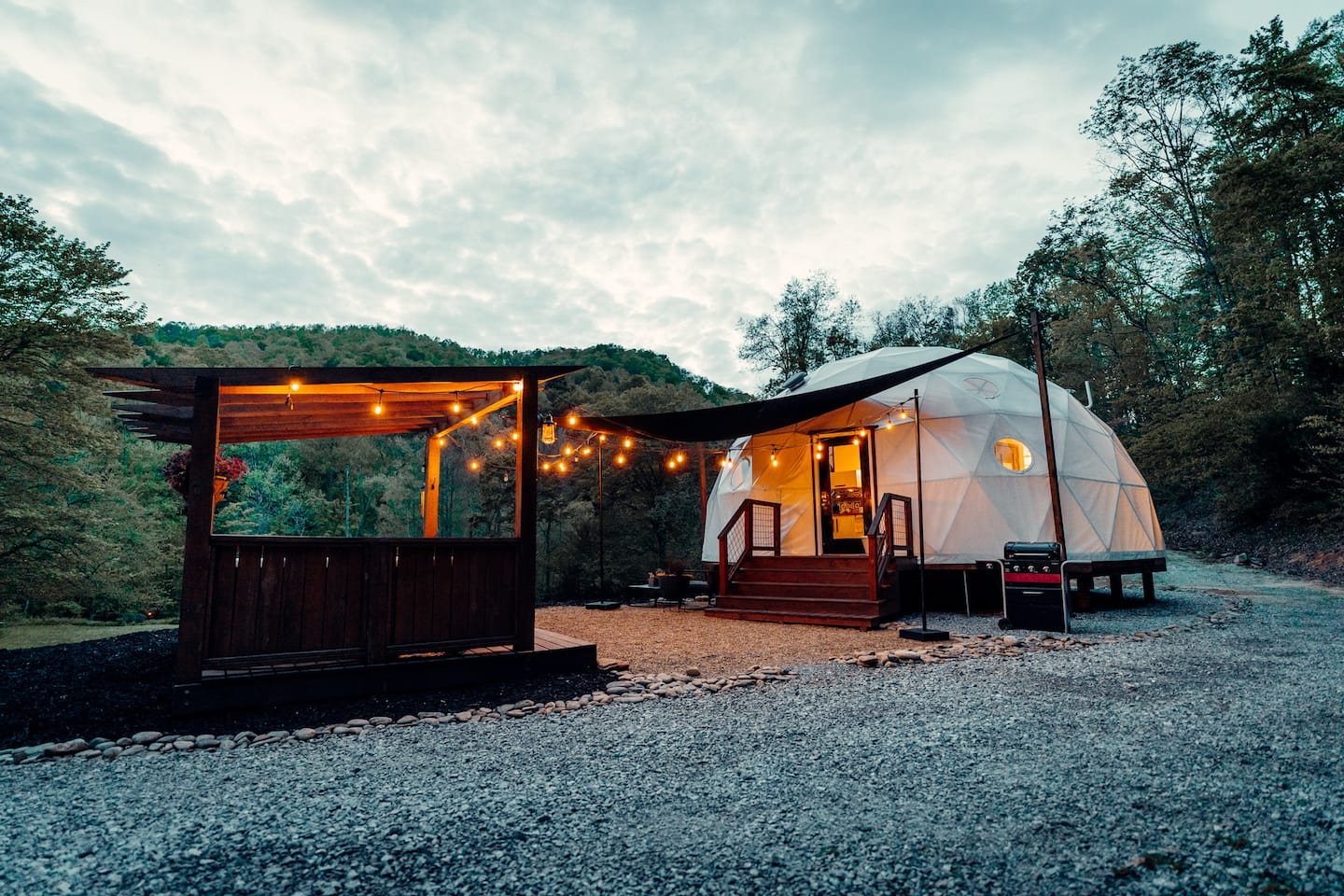 ---
11) Glamping in a 1965 Vintage Camper
Location: Bryson City
Superhost: Yes
Price: $85+ USD per night
https://www.airbnb.com/rooms/27677152
Do you have a penchant for all things retro? Strap yourself in, you are not going to be able to resist this 1965 Vintage Camper. The camper has been completely restored, offering awesome facilities like a full bathroom and mini kitchen.
Aside from its old-school charm and facilities, this NC glamping experience is also less than a mile from town and the Great Smoky Mountains National Park. You can check out the Road to Nowhere Tunnel or head to Deep Creek for some intense tubing.
View Photos, Read Reviews & Check Availability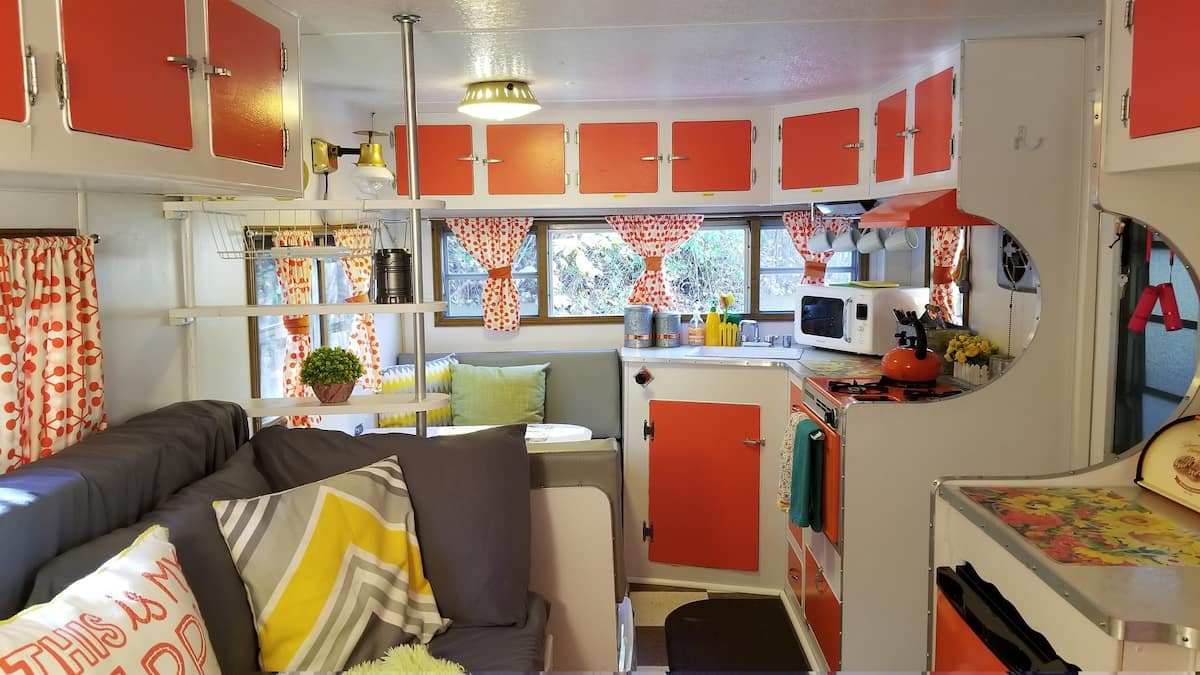 ---
12) Blue Bear Mountain Camp Teepees
Location: Todd
Price: $125+ USD per night
https://bluebearmountain.com/Accommodations/Tepee.html
Blue Bear Mountain Camp offers some authentic teepee glamping. Located in a gorgeous, natural mountain setting, you get the most of the outdoors while also enjoying the campsite community. Even better is the comforts you'll experience here.
High-quality linens and a queen size bed make for excellent sleeping conditions.You'll also have hot showers and a bath house with clean, private guest rooms. Relax and soak up the beautiful views from the fire ring outside your rustic, hand-painted teepee. An experience to remember.
7 Epic North Carolina Swimming Holes
---
13) Mountain Fiesta Yurt GLAMping
Location: Hot Springs
Superhost: Yes
Price: $80+ USD per night
https://www.airbnb.com/rooms/3119957
An outdoor experience with a romantic twist, the Mountain Fiesta is perfect for a couple's vacation. This yurt is a nature lover's fantasy as it boasts gorgeous views of the natural surroundings and stunning night skies.
Grab some chairs by the fire pit in the evenings while you and your partner talk about life and memories. Reconnect over sounds of the wood-burning and the crackle of flames. There's a dining table for intimate meals together. And, the hosts even offer catering so you don't have to fuss about food.
Historic Hot Springs is 15 miles away, a 30-minute drive. It's worth a visit with hot springs tubs and excellent restaurants.
View Photos, Read Reviews & Check Availability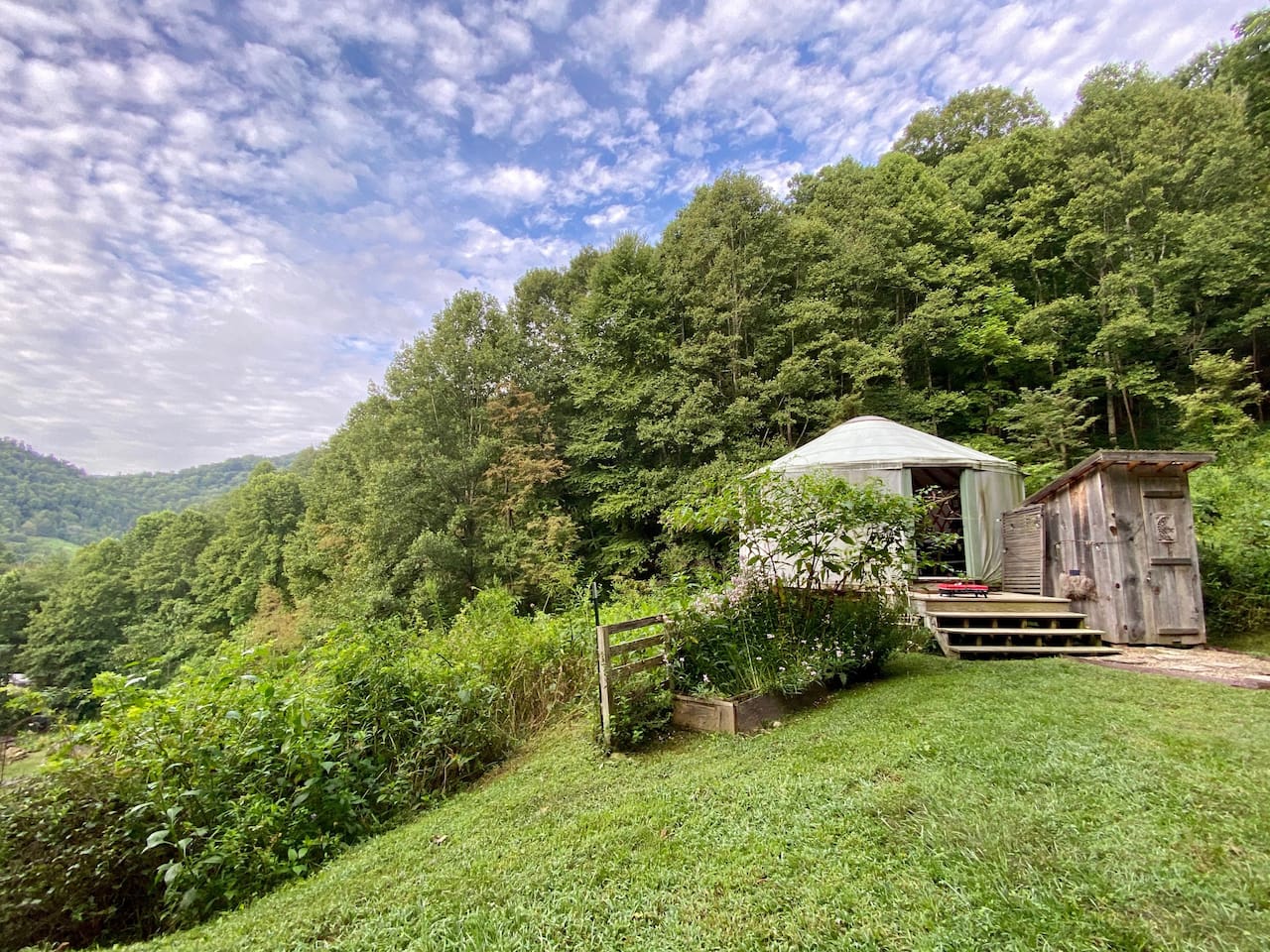 ---
14) Outlander Glamping Romantic Getaway
Location: Asheville
Superhost: Yes
Price: $155+ USD per night
https://www.airbnb.com/rooms/3861615
Nestled within a 20-acre sanctuary, this Asheville, NC glamping experience offers seclusion and quiet. You can expect top-class treatment with pre-set fires, lavish breakfasts, and freshly ground coffee. Mmm mmm, what else could you ask for?
Asides from not having to lift a finger in the breakfast department, this tent also features a large covered patio and cozy queen-size bed. You can sit out on your porch, appreciating the breeze as you page through your book.
You'll love sipping on pure mountain water while taking in the views of the French Broad River.
View Photos, Read Reviews & Check Availability
North Carolina FOOD TOUR! Delicious Southern Dishes + Exploring Cutest Town! (Boone, NC)
---
15) The Yurt at Frog Pond Farm
Location: Saxapahaw
Superhost: Yes
Price: $91+ USD per night
https://www.airbnb.com/rooms/4022760
A beautiful yurt with a deck overlooking a pond, this Airbnb offers both charm, nature, and great glamping features. The big deck showcases a fire pit, ideal for quiet evenings with s'mores and firelight.
You'll also love the homey features like electricity, a coffee maker, WiFi, and plenty of books to keep you busy. There are DVDs, but you'll need to bring your laptop as there's no TV.
You can bring your kids but bear in mind that the yurt isn't childproofed. So, don't bring toddlers. Older kids will love the free-roaming chickens and geese. Plus, there's always the hot tub to splash around in.
View Photos, Read Reviews & Check Availability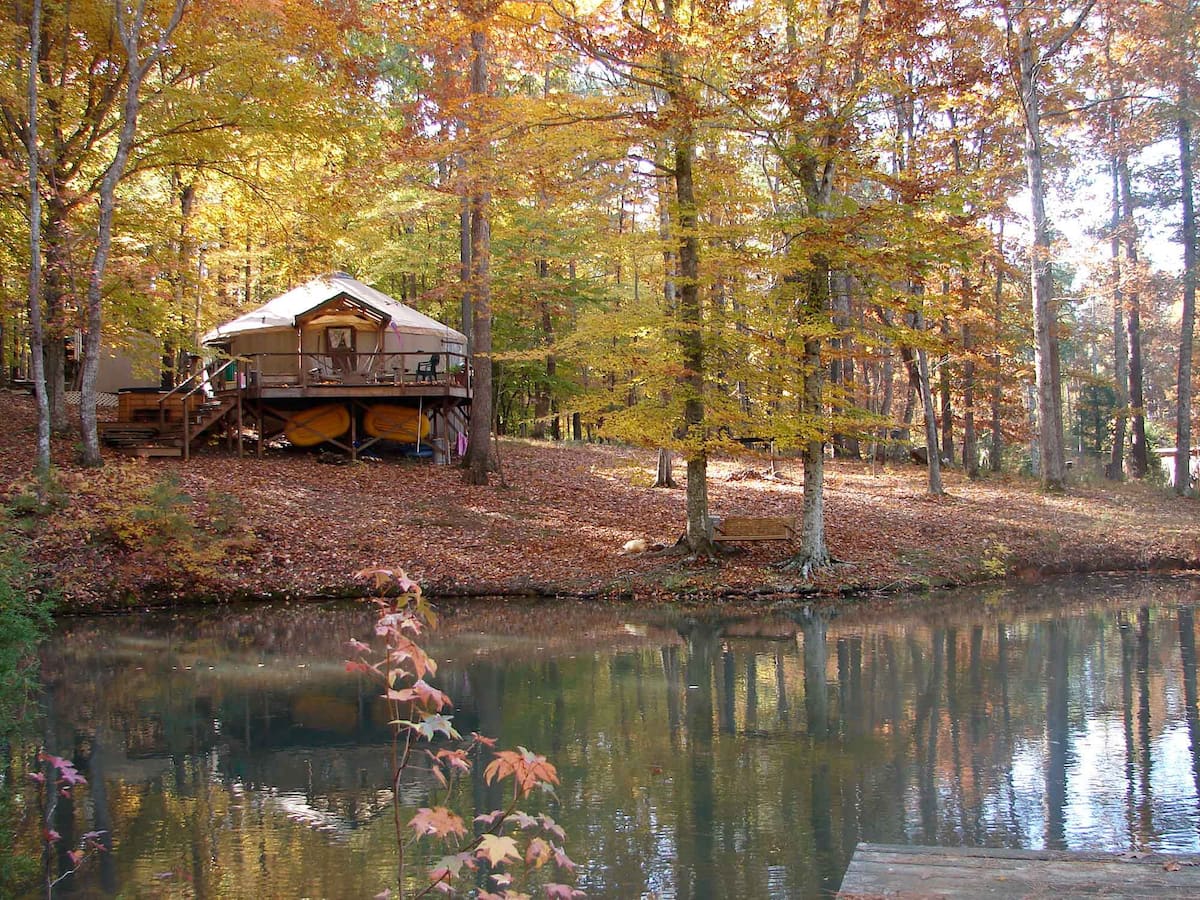 ---
16) Glamping Tent – Rustic Lodge | NC Coast Camping
Location: Supply
Superhost: Yes
Price: $80+ USD per night
https://www.airbnb.com/rooms/24658245
Are you looking for the best of the beach and the woods? This one's for you. Camp in style in the south of North Carolina live oak woods. It's roughly 2 miles from Holden Beach, meaning you can alternate between forest hikes and sunny beach days.
Just remember to bring your own linens and that solar power is dependent on sunny days to work. Not that you'll need it much. You can always make a roaring fire to keep you warm and toasty.
View Photos, Read Reviews & Check Availability
---
17) GlampingUnplugged Dome on Trout Stream: Boone NC
Location: Deep Gap
Superhost: Yes
Price: $135+ USD per night
https://www.airbnb.com/rooms/35618984
This one is for the eco-friendly enthusiasts. No electricity, no WiFi, no plumbing – a real back-to-basics camping experience. The best way to recharge is to unplug and this dome affords a real digital detox.
An upmarket cooler box is your fridge and a grill is your kitchen. Don't be put off, there's an incredible king bed with clean sheets to assist you with your relaxation and technological withdrawal.
You'll even be able to soak up the surroundings from your bed through a see-through wall. Don't forget to check out the nearby bubbling trout stream
View Photos, Read Reviews & Check Availability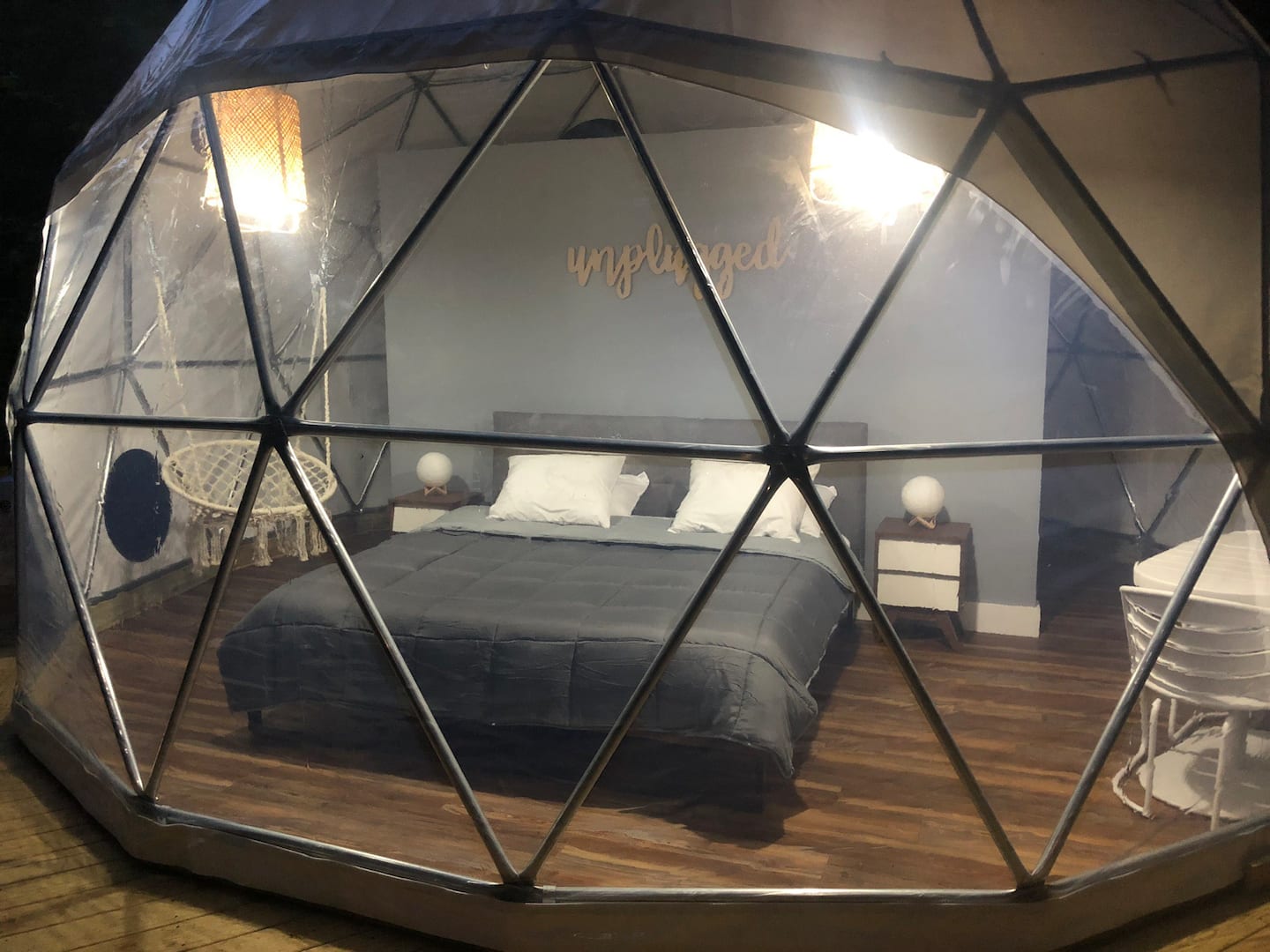 ---
18) Cozy Yurt in Appalachia near Asheville, NC
Location: Mars Hill
Superhost: Yes
Price: $122+ USD per night
https://www.airbnb.com/rooms/19653181
Glamping near Asheville, NC doesn't get better than this. In the middle of nature but with the perks of a full kitchen, shower, and climate control, you get the best of camping without the niggly annoyances.
The Airbnb rental is surrounded by covered decks, forests, gardens, and ponds – a gorgeous sight. And, if you fancy exploring and getting active, Asheville and the ski slopes are 25 minutes away. As far as yurts in Asheville, NC go, this one is fit for a king.
View Photos, Read Reviews & Check Availability
Top 5 North Carolina Hiking Spots
---
19) A Glamping Camper, the WILD HARE near Asheville, NC
Location: Weaverville
Superhost: Yes
Price: $99+ USD per night
https://www.airbnb.com/rooms/20458278
A glamper camper with an aristocratic edge, the Wild Hare is a unique place to stay. The camper is situated in the stunning Blue Ridge Mountains of western NC. It's also close to the trendy city of Asheville, meaning you get a great mix of city life and nature.
The camper has rustic wood walls, modern lighting, and a decadent gel-plush double bed. You won't have trouble sleeping here or relaxing for that matter.
You also have access to a fun outdoor bathroom just off the deck. Converted from an old shipping container, you'll enjoy the quirky aesthetic of this accommodation.
View Photos, Read Reviews & Check Availability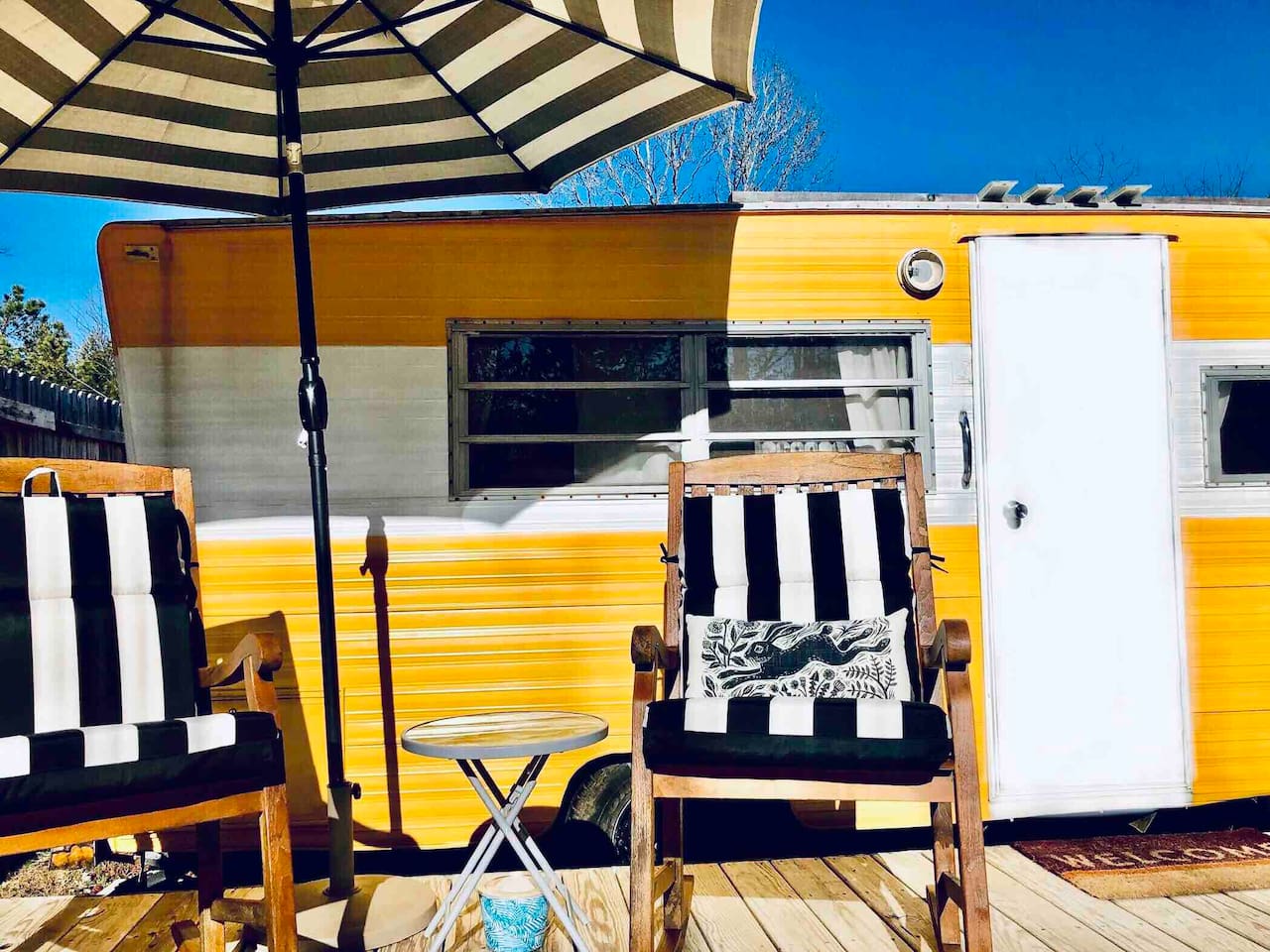 ---
20) Tiny House – the Boathouse!
Location: Charlotte
Superhost: Yes
Price: $46+ USD per night
https://www.airbnb.com/rooms/43536003
The Boathouse is a glamping-type experience that packs glamping features into a rather tiny space. Unique in design with porthole windows and a touch of the sea, this Airbnb provides guests with something different in the form of character and comfort.
This Airbnb is well located near to Charlotte, NC. Positioned in Country Club Heights, it's a brilliant area to explore. While in Charlotte, check out the U.S National White Water Center for some super exciting white water rafting and biking experiences.
View Photos, Read Reviews & Check Availability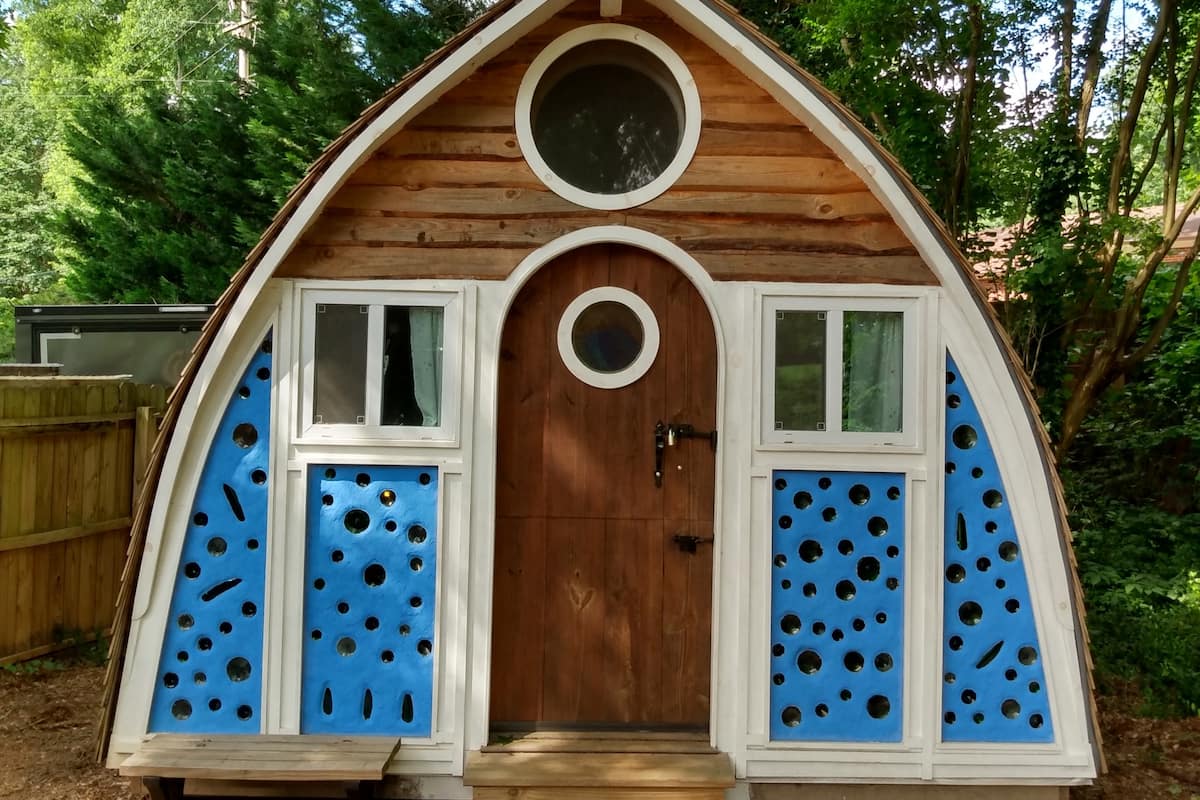 ---
Am I Missing Any Great Spots for Glamping, NC Style?
Glamping has fast become a huge vacation trend, meaning that new glamping sites are popping up all over the place. As a result, there might be a few glamping options I've missed. If I have, please reach out to me via email or social media. Let's grow the list.
---
While Glamping in NC…
North Carolina is known for being a road trip country, with people passing through and making multiple stops. That's why I'm including some accommodation and music festival posts for nearby cities and states so you can plan your stops in advance. Take a look!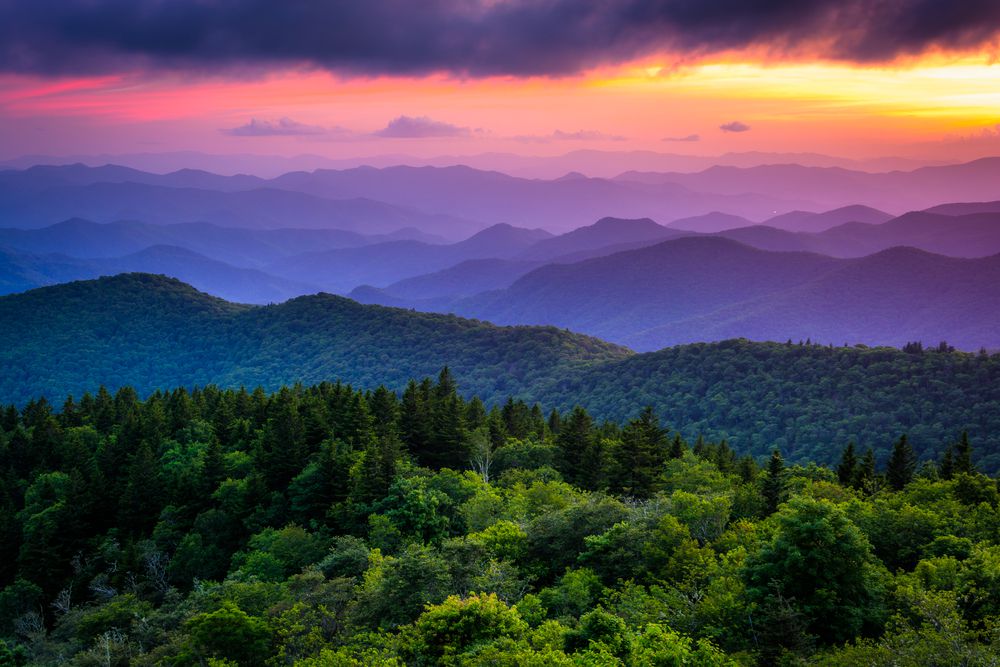 ---
Final Thoughts on Glamping in North Carolina
Whether you're leaning towards a comfortable yurt, back-to-basics glamping experience, or a full-on luxury glamorous camping vacation, you'll find the perfect fit in NC. There's a glamping option for everyone from hikers and beachgoers to craft beer connoisseurs and sports fans.
Pick your favorite option from my glamping North Carolina list and you'll have a fun and leisurely vacation. Now, glamp it up to the next level!
---
THANKS FOR READING ABOUT MY TOP PICKS FOR GLAMPING IN NORTH CAROLINA!
SHARE THE LIST WITH YOUR DIE-HARD NC TRAVEL CREW!
https://www.jonesaroundtheworld.com/wp-content/uploads/2020/11/The-Yurt-at-Frog-Pond-Farm-North-Carolina-Glamping.jpg
900
1200
TravelTractionsJATW
https://www.jonesaroundtheworld.com/wp-content/uploads/2017/03/logotry-1-1-300x106.png
TravelTractionsJATW
2023-04-27 23:18:01
2023-04-29 16:41:47
Top 20 Glamping North Carolina Sites For Your Bucket List