Looking for the best North Carolina Music Festivals in 2024!? Well, you've come to the right place, and I've learned that the festivals in NC are as unique as the state itself! Diverse, fun and inclusive, the annual festival calendar is jam-packed year-round and will take you all over.
From the cities of Charlotte and Raleigh, to the woods of Boone and the waves of Carolina Beach, the settings of North Carolina's music festivals is what really sets them apart from the rest!
While slim on the big name rock, pop and electronic festivals that often crop up on my festival lists, North Carolina is all about comfortable, down to earth entertainment where everyone is welcome. Oh, and these folks LOVE bluegrass, folk, and family fun!
---
Also, be sure to read my guides on Festival Hydration Backpacks, Festival Camping Packing List, Festival Shoes, and Festival Gadgets to help you make the most of your time!
So without further ado, please enjoy the best music festivals in North Carolina!
---
1) Breakaway Music Festival
When: September, 2024
Where: Charlotte, North Carolina
Genre: Various
https://www.breakawayfestival.com
Breakaway Festival is an annual two-day event bringing some of the biggest names in music to Charlotte, North Carolina. Also hosting festivals in Michigan & Ohio, Breakaway has steadily become a huge player in the US Festival industry. Offering stacked line-ups, stunning stages, and an overall incredible festival experience – Breakway is easily one of the best North Carolina Music Festivals that'll happen in 2024.
Breakaway Music Festival Carolina 2023
---
2) Merlefest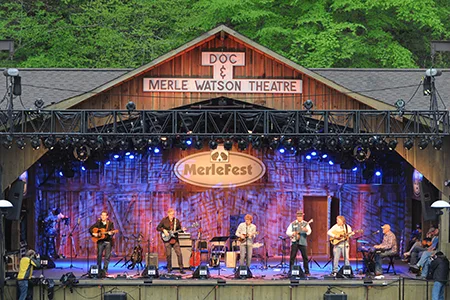 When: April 25-28, 2024
Where: Wilkesboro, North Carolina
Genre: Roots / Americana / Blues
"MerleFest, considered one of the premier music festivals in the country, serves as an annual homecoming for musicians and music fans. Held on the campus of Wilkes Community College in Wilkesboro, North Carolina, MerleFest was founded in 1988 in memory of the late Eddy Merle Watson, son of American music legend Doc Watson. MerleFest is a celebration of 'traditional plus' music, a unique mix of music based on the traditional, roots-oriented sounds of the Appalachian region, including bluegrass and old-time music, and expanded to include Americana, country, blues, rock and many other styles. The festival hosts numerous artists, performing on 13 stages during the course of the four-day event. The annual event has become the primary fundraiser for the WCC Foundation, funding scholarships, capital projects and other educational needs."
MerleFest celebrates music from the Appalachian region and boosts the local economy
---
3) Hopscotch Music Festival
When: September, 2024
Where: Raleigh, North Carolina
Genre: Various
https://www.facebook.com/hopscotchfest/
"Hopscotch Music Festival is an annual three-day music festival in downtown Raleigh, North Carolina, United States. With more than 120 bands, Hopscotch is known for adventurous lineups, memorable performances, and a fan-friendly atmosphere. From large outdoor main stages in Raleigh City Plaza and Red Hat Amphitheater to intimate club shows, the festival features music in almost every genre imaginable—rock, hip-hop, metal, folk, electronic, experimental, and more—and its schedule highlights this diversity each year."
---
4) Moogfest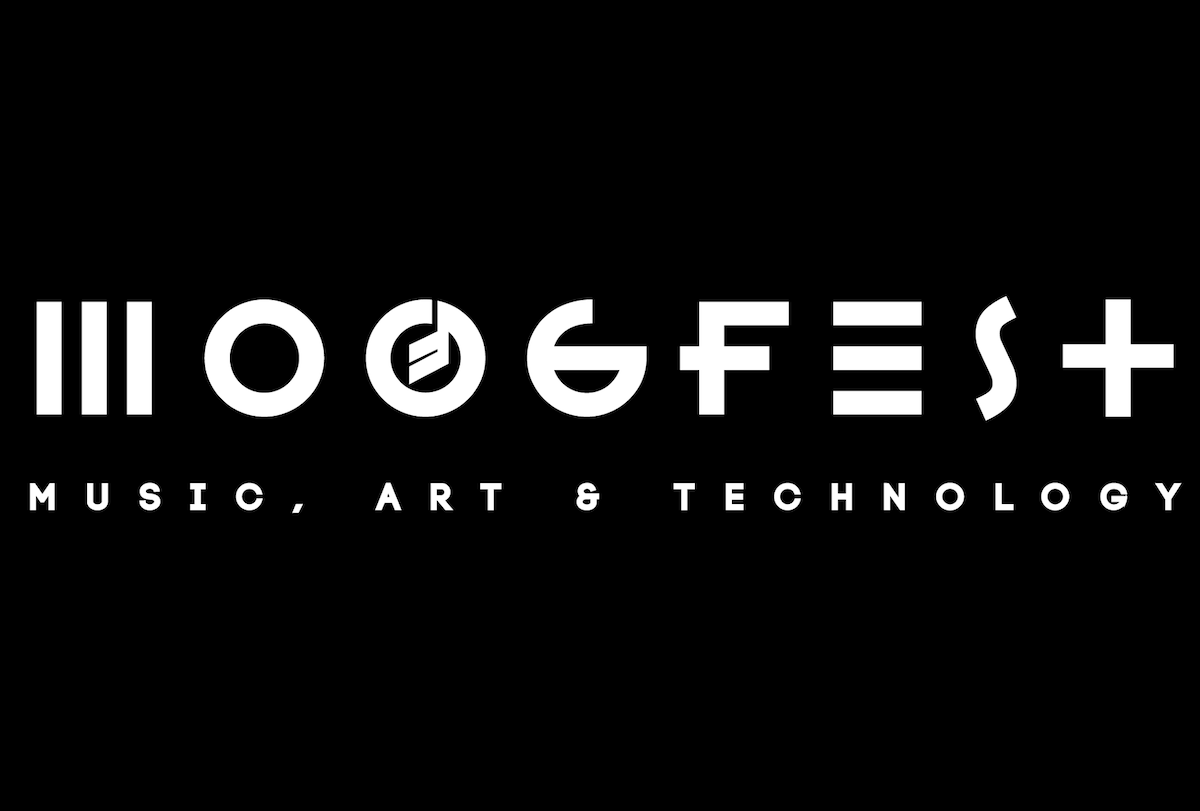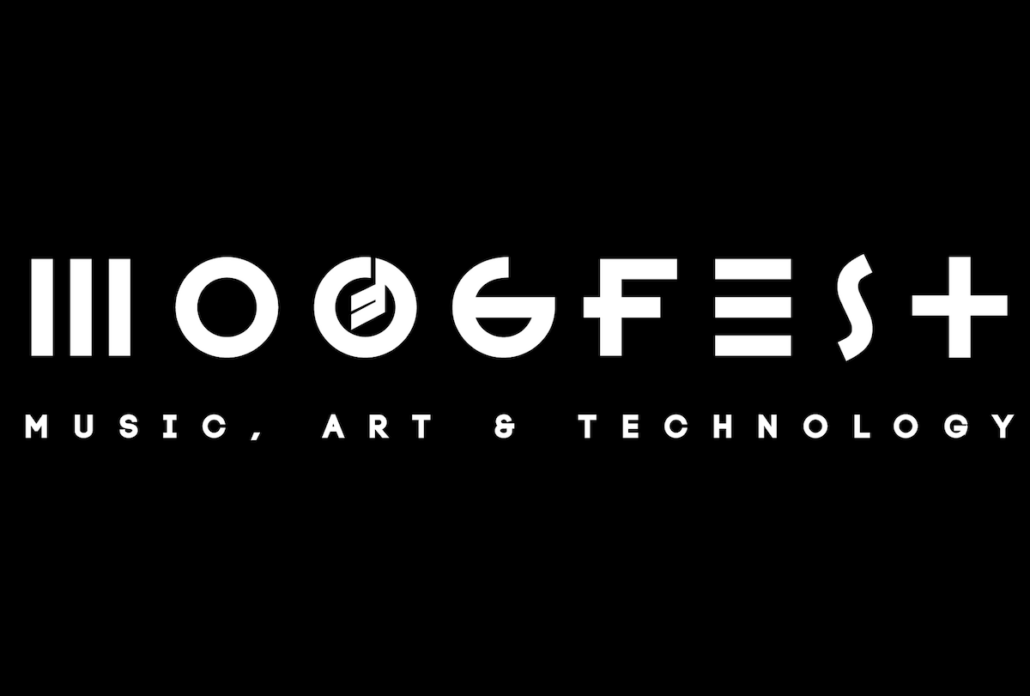 When: April, 2024
Where: Durham, North Carolina
Genre: Electronic / Synth
https://www.facebook.com/Moogfest
"By day, Moogfest is a platform for conversation and experimentation. This mind-expanding conference attracts creative and technology professionals for three days of participatory programming in Durham, North Carolina. Each evening, Moogfest presents cutting edge music in venues throughout the city. Performing artists include early pioneers in electronic music, alongside pop and avant garde experimentalists of today. Moogfest is a tribute to Dr. Robert Moog and the profound influence his inventions have had on how we hear the world. Over the last sixty years, Bob Moog and Moog Music have pioneered the analog synthesizer and other technology tools for artists. This exchange between engineer and musician is celebrated with a unique festival format where the creative process is understood as a collaboration among many people, across time and space, in commerce and culture."
Take a Look at Moogfest 2018! Synthesizer Heaven!
---
5) Epicenter Festival

When: TBC, 2024
Where: Rockingham, North Carolina
Genre: Rock
For fans of rock and metal festivals, Epicenter is guaranteed to impress! Their inaugural festival hosted acts like the Foo Fighters, Tool, Korn, Judas Priest, Rob Zombie, Bring Me The Horizon, and tons more – so you know you're in for a good time! Rock out with your favorite bands and enjoy elevated VIP experiences, along with specially-curated food + beverage options!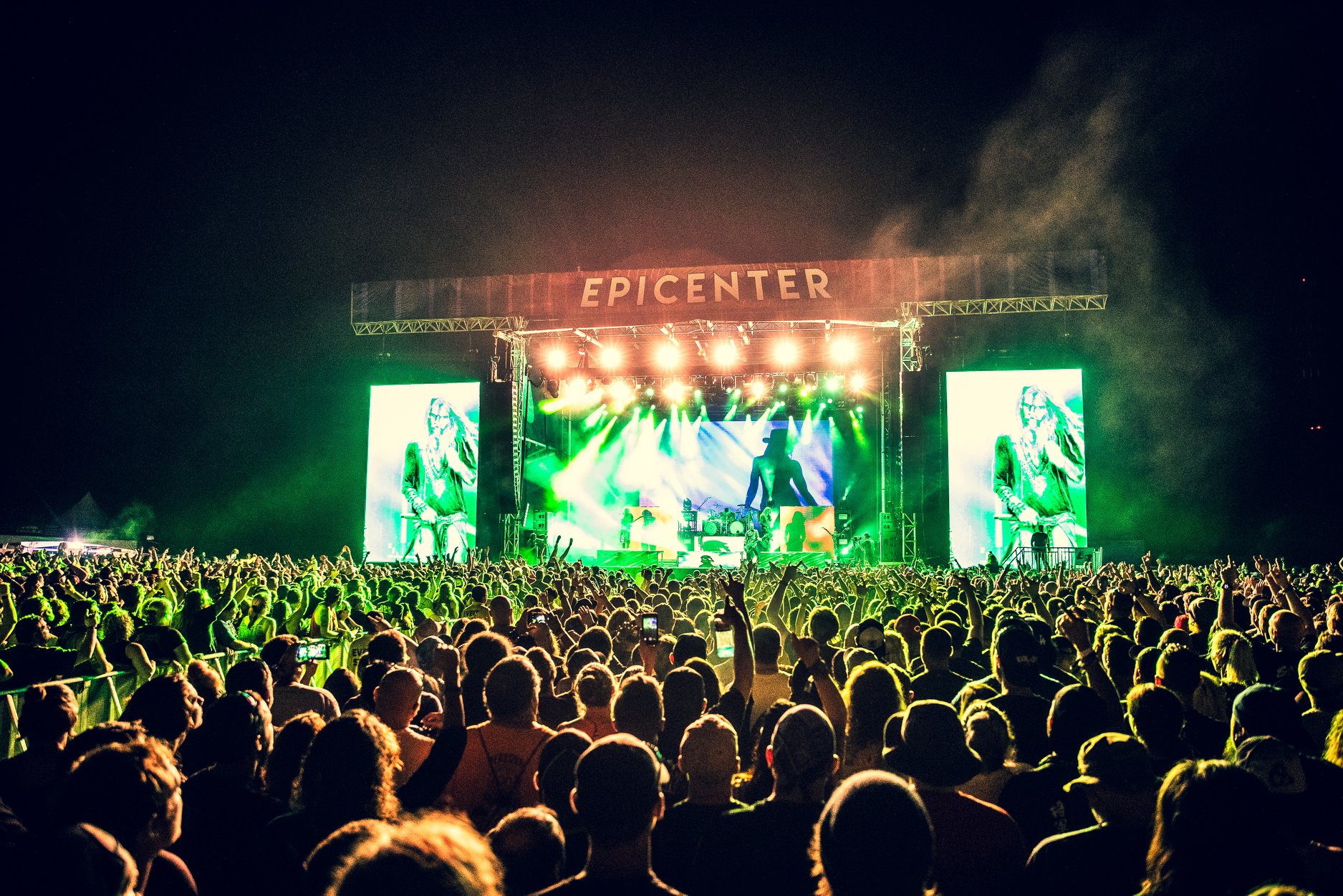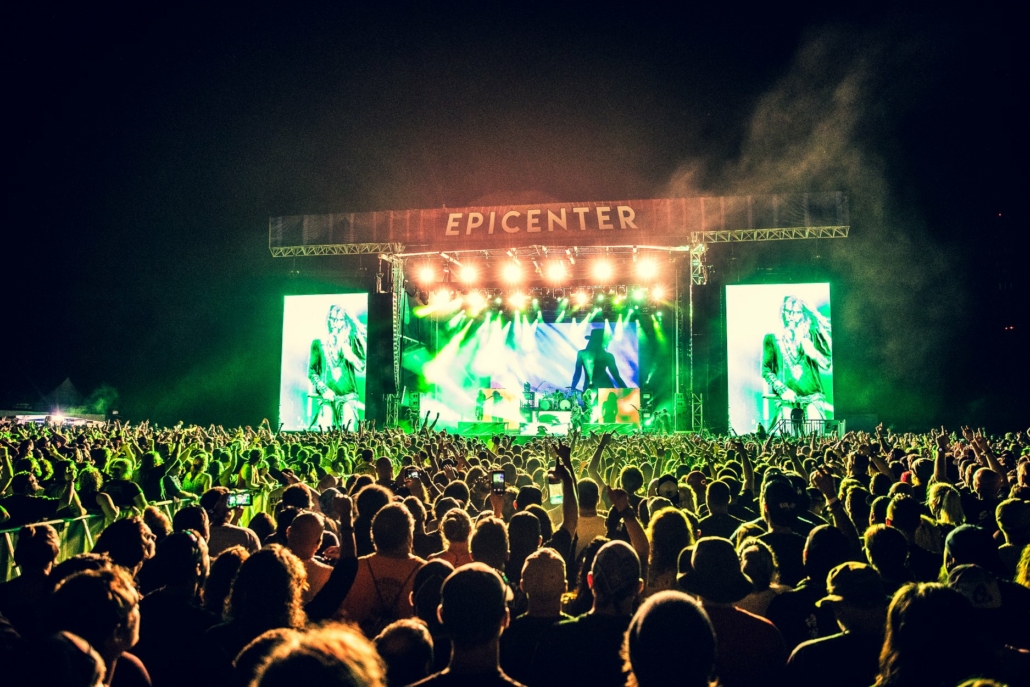 ---
6) Carolina Beach Music Festival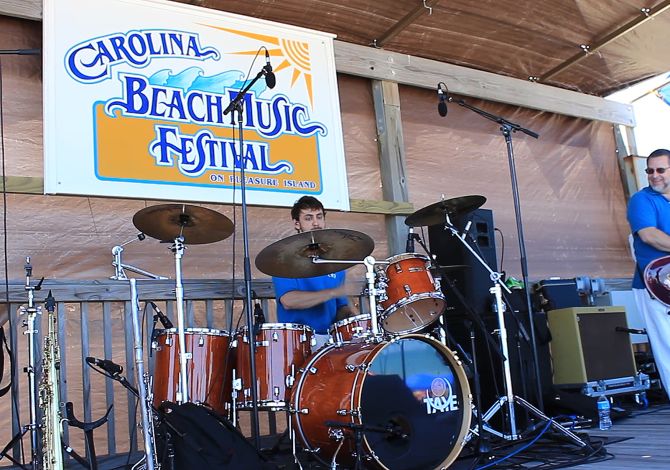 When: June 1, 2024
Where: Carolina Beach, North Carolina
Genre: Various
https://www.wilmingtonandbeaches.com/event/carolina-beach-music-festival/4084/
"Here is your chance to dance barefoot on the sand or just sway to the Beach Music Beat while standing in the surf. Held the first Saturday in June, the Beach Music Festival hosted by the Pleasure Island Chamber of Commerce is billed as "the biggest and only beach music festival actually held on the beach on the North Carolina coast" and one of the longest running beach music festivals in the United States. Come out and enjoy a full day of live entertainment with the hottest beach music bands in the south!"
Experience the Carolina Beach Music Fest
---
7) Dreamville Festival
When: April 6-7, 2024
Where: Raleigh, North Carolina
Genre: Various
https://www.facebook.com/DreamvilleFest/
"Dreamville Festival will be the first event of its kind for the region as it looks to provide a thoughtfully-curated, multi-stage music event from J. Cole, who himself was raised in nearby Fayetteville, North Carolina. The festival offers an opportunity for J. Cole to give back to his home state that has helped shape the artist he has become with a one-of-a-kind celebration of local culture, food and art that also features a curated selection of music performers blending together some of today's biggest national acts with exciting up-and-comers."
---
8) Digital Gardens Music & Arts Festival
When: TBC, 2024
Where: Charlotte, North Carolina
Genre: Electronic / EDM
https://www.facebook.com/DigitalGardensMusicFestival/
Digital Gardens is North Carolina's newest two day Music & Arts Festival located in Charlotte
"The event hosts 1 Main Stage and 1 Silent Disco Stage with an Artistic Expression Area. Featuring notable names in Electronic Dance Music, the event will feature a unique design, art installments, and more. The 2022 Line-up had incredible acts like Clozee, Troyboi, 12th Planet, Ekali, and a ton more! Digital Gardens hosts an intimate outdoor venue at "The Shed" Amphitheater at the Station House" with a VIP Lounge, Artistic Expression Area, Festival Style Stage Production, and a Top-Notch customer experience."
Digital Gardens Music & Art Festival 2019 Official Recap Video
---
9) Wide Open Bluegrass Festival
When: September 23-28, 2024
Where: Raleigh, North Carolina
Genre: Bluegrass
http://www.wideopenbluegrass.com
The largest urban bluegrass festival in the world!
"PNC presents Wide Open Bluegrass, a one-of-a-kind urban bluegrass festival! Featuring IBMA and Grammy Award winners, top-notch emerging acts, traditional bluegrass, and acts that stretch the boundaries across eight stages in downtown Raleigh, NC. The Main Stage at Red Hat Amphitheater is a fundraiser for the Bluegrass Trust Fund, a 501c(3) that provides emergency support for bluegrass music professionals."
IBMA WIDE OPEN BLUEGRASS MUSIC FESTIVAL RALEIGH NC HIGHLIGHTS VIDEO
---
10) North Carolina Folk Festival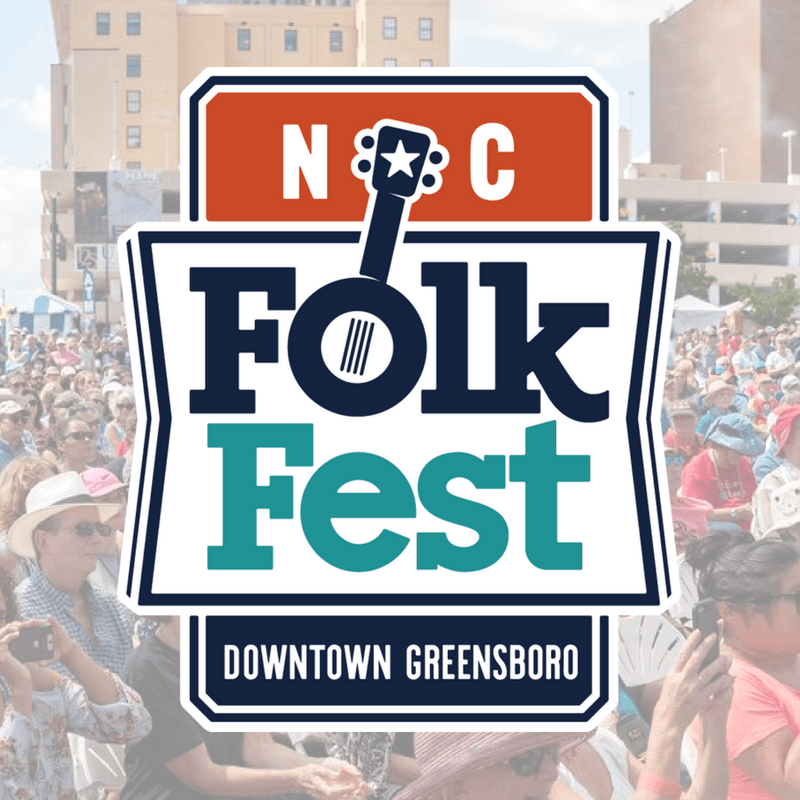 When: September 6-8, 2024
Where: Greensboro, North Carolina
Genre: Folk
https://www.ncfolkfestival.com
"The NC Folk Fest is a FREE, 3-day outdoor celebration of cultural roots and heritage held annually in downtown Greensboro, North Carolina. The North Carolina Folk Festival features performances and demonstrations by the finest musicians, dancers, and craftspeople – with performing groups on multiple stages including a dance pavilion dedicated to non-stop participatory dancing, and a family stage with performances appealing to both the young and young-at-heart. A mix of open air and tented sites will provide a variety of performance venues ranging from intimate stages to amphitheater size. In addition to the performance stages, the Festival also hosts a Family Activities Area, the North Carolina Arts Marketplace, and the Festival Food Courts."
The 76th National Folk Festival
---
11) Boom Charlotte Festival
When: April 26-28, 2024
Where: Charlotte, North Carolina
Genre: Various / Cultural
https://www.facebook.com/boomcharlotte/
Three days of art, performance and the unexpected.
"Welcome to BOOM Charlotte! We are Charlotte's artist-led performance and visual arts showcase of contemporary and experimental works created on the fringes of popular culture. We celebrate art, performance and the unexpected! BOOM art experiences are a movement that believes in the explosive power of art to unite and strengthen our community. We believe art is transformational and can bridge traditional divides between social classes, races, and nationalities. We have brought Charlotte the biggest, loudest, and most diverse arts festival since 2016. What started as a multi-day art festival in Plaza Midwood has expanded into a year-round art initiative that brings art to those who lack access to Charlotte's larger art scene."
Charlotte's BOOM Festival: Inclusion & Impact
---
12) Music Fest at Blue Bear Mountain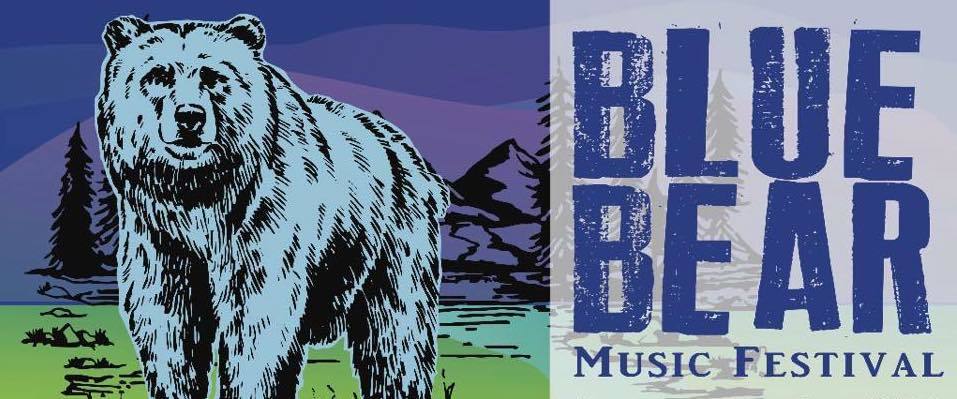 When: September, 2024 (Always the weekend after Labor Day)
Where: Boone, North Carolina
Genre: Various
http://www.musicfestatbluebearmountain.com
"Blue Bear Mountain Campground in Todd is bringing the Music Fest at Blue Bear Mountain back to the High Country for an enjoyable, clean and relaxed music festival for people of all ages. Blue Bear Mountain Campground consists of 155 acres of land on which people can camp and enjoy the upcoming music festival. "The music festival is right on the mountain at around 4,000 feet. There's a great big stage and people can set up camps," Kevin Quick, Promoter of the Music Fest at Blue Bear Mountain, said. "It's just beautiful up here. It's very clean, very green, very well-maintained property.""
Music Fest at Blue Bear Mountain 2018 - Melissa Reaves, Mountain Heart and Yarn
---
13) Mountain Song Festival
When: September, 2024
Where: Brevard, North Carolina
Genre: Acoustic / Bluegrass / Traditional Mountain Music / Folk
https://www.mountainsongfestival.com
"The Brevard Music Center's Whittington-Pfohl Auditorium serves as the main stage for Mountain Song Festival. There are 1,800 permanent seats under the covered section with ample lawn seating on both sides of the open air venue. Nestled into a beautiful cove with Pisgah National Forest as a backdrop it is an inspiring location for a great musical experience. Mountain Song Festival supports The Cindy Platt Boys and Girls Club of Transylvania County."
2019 Steep Canyon Rangers Set & Premiere of Mountain Song Documentary
---
14) Earth Day Jam
When: April, 2024
Where: Salisbury, North Carolina
Genre: Various
"Earth Day Jam is a music & arts festival and Earth Day celebration benefiting local nonprofit Happy Roots. With over 15 bands on two stages, 40 arts & craft vendors and environmental educators… Earth Day Jam hosts fun for the whole family while raising funds to support Happy Roots programs. Join us this spring for Earth Day Jam!"
Earth Day Jam 2018 mayonnaise
---
15) Pleasure Island Seafood, Blues and Jazz Festival
When: TBC, 2024
Where: Carolina & Kure Beach, North Carolina
Genre: Blues / Jazz
http://www.pleasureislandnc.org/
"Enjoy "The Year of the Woman" featuring International Blues Recording Artist Ana Popovic, Kansas City's Danielle Nicole and the incredible Heather Gillis Band. Spend a weekend filled with blues and jazz from two stages of performers paired with locally prepared seafood. Bring your chairs, towels and blankets, and spend some time browsing at the Arts & Wine Garden, shopping for crafts, and fine wine tasting. Children will stay entertained for hours as they enjoy the performers, face painting, educational exhibits, inflatables and much more in the Kidz Zone."
23rd Annual Pleasure Island Seafood Blues & Jazz Festival
---
16) Tuck Fest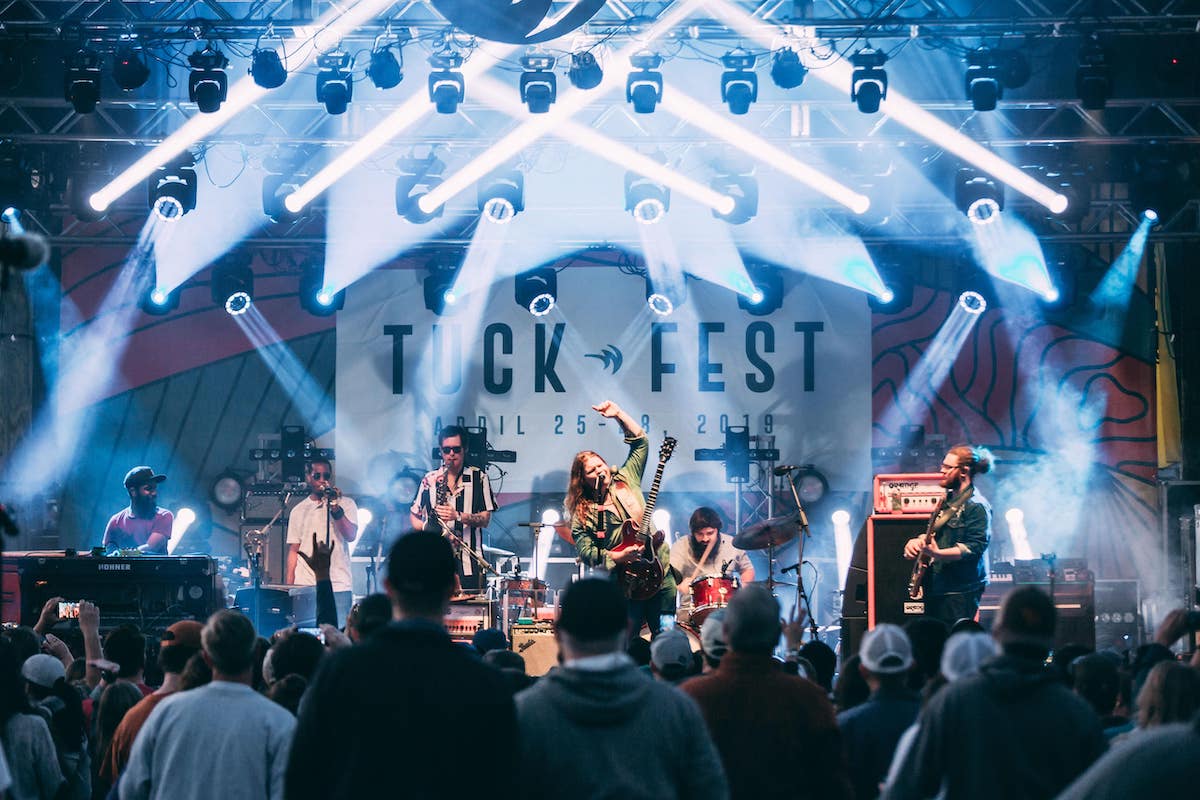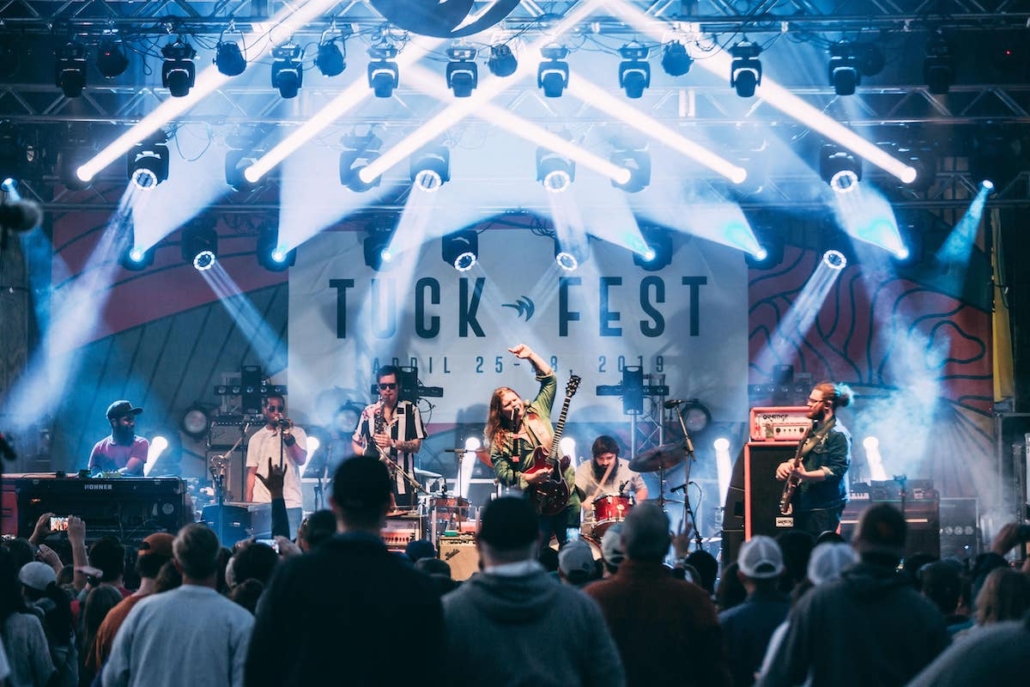 When: April, 2024
Where: Charlotte, North Carolina
Genre: Various
center.whitewater.org/things-to-do/events-live-music/festivals/
"Tuck Fest is a multi-day festival that celebrates the outdoor lifestyle through competitions, exhibitions, demos, and live music at the U.S. National Whitewater Center, located in Charlotte, North Carolina. The festival features a variety of outdoor competitions that include trail running, kayaking, biking, climbing, stand-up paddleboarding, obstacle, and adventure racing. In six years, Tuck Fest has grown from 14,000 attendees in 2013 to over 48,000 attendees in 2019."
---
17) Carolina Bohemian Jam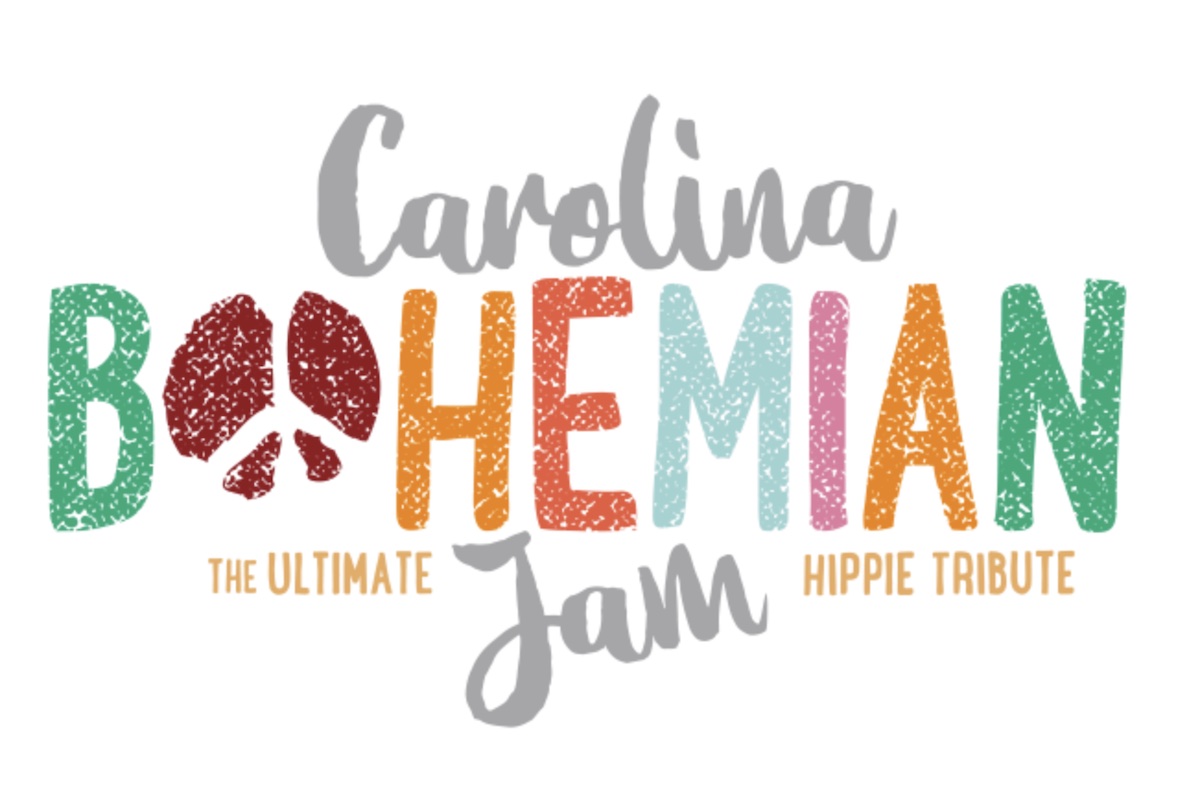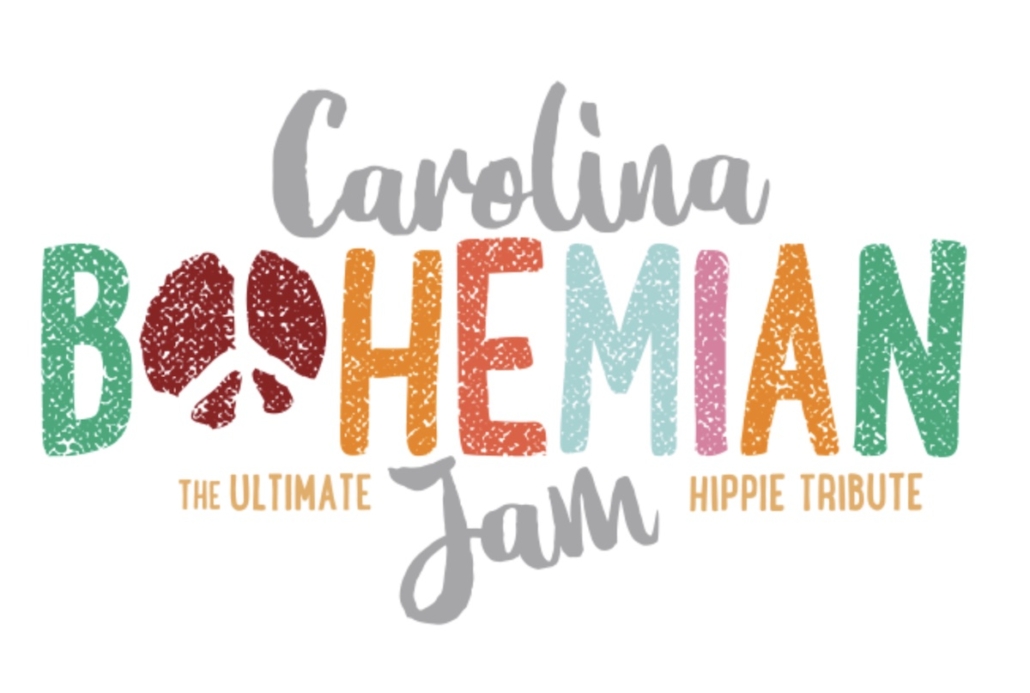 When: October, 2024
Where: Salisbury, North Carolina
Genre: Rock / Tribute / 60's
https://www.facebook.com/CarolinaBohemianJam/
The Ultimate Hippie Tribute
"This must-see festival is the Carolinas' celebration to commemorate the era of music that would influence generations to come. Don't miss the most cosmic event of the year at the Rowan County Fairgrounds in Salisbury, North Carolina. There will be live music on multiple stages featuring tribute bands from the 1960s and 1970s, such as The Who, Creedence Clearwater Revival, Jimi Hendrix, Jefferson Airplane and more. We will also feature local musicians."
Electric Lady Band USA – Spanish Castle Magic - Carolina Bohemian Jam – No. Carolina – Aug 2019
---
18) Carolina in the Fall Festival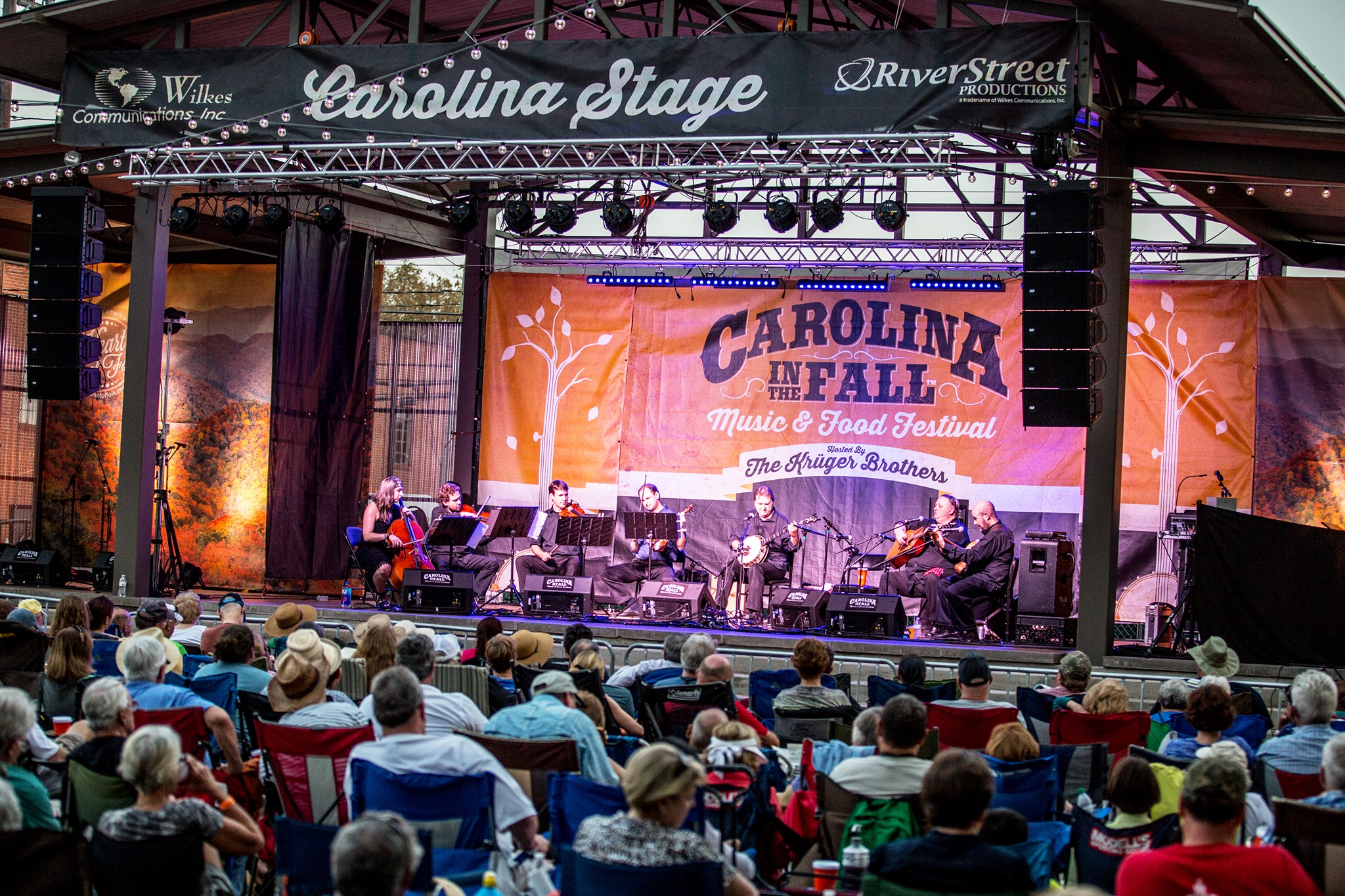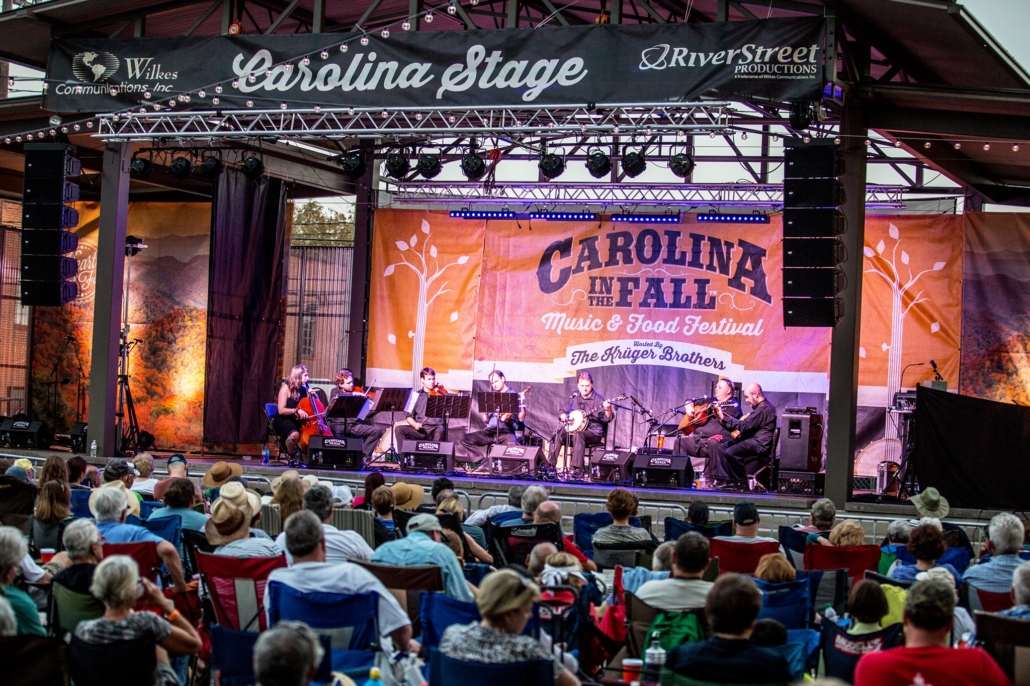 When: September, 2024
Where: Wilkesboro, North Carolina
Genre: Folk / Roots
https://www.facebook.com/CarolinaInTheFall
Great Music & Excellent Food Trucks
"Over 100 musicians, chefs, vintners and craft beer brewers from the region will gather on Main Street in Wilkesboro, NC to engage audiences with the best of their craft. Wilkes County's own The Kruger Brothers will once again be the Festival hosts and welcome some of North Carolina's best Folk/ Roots music bands. They will be joined by bands from other regions that tip their hats to the rich musical history of Wilkes, the Heart of American Folk Music."
Carolina in the Fall Food and Music Festival
---
19) Outer Banks Bluegrass Island Festival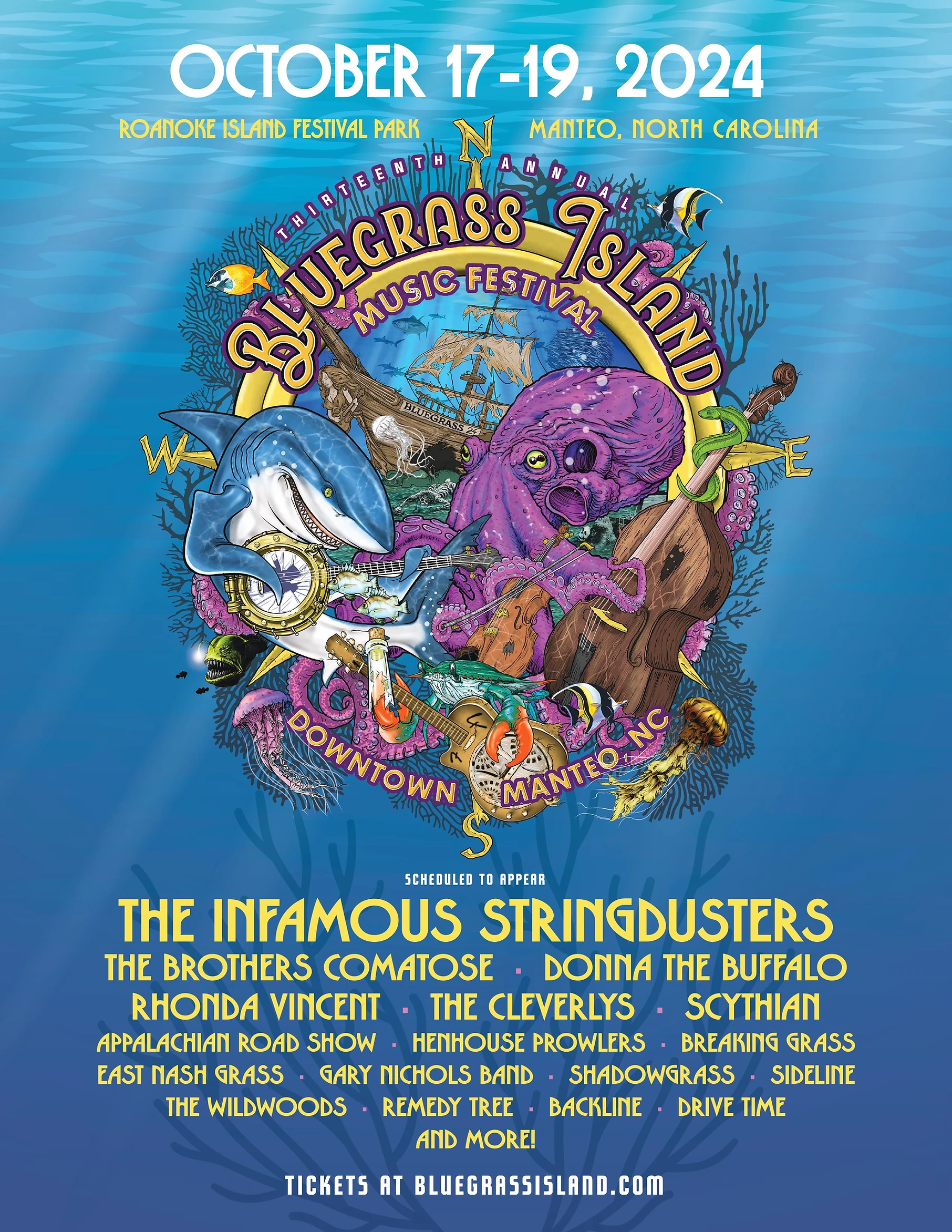 When: October 17-19, 2024
Where: Manteo, North Carolina
Genre: Bluegrass
https://www.bluegrassisland.com/
https://www.outerbanks.org/event/bluegrass-island-festival/446/
"Music lovers from all over the world flock to the Outer Banks for this tradition that adds a roster of acclaimed bands with one of the most beautiful venues anywhere. The Outer Banks Bluegrass Island Festival has quickly become one of the most highly anticipated events of the year, and this year's event is no exception, with a number of regionally and nationally famous bands set to take the stage. The festival is held at the stunning Roanoke Island Festival Park, which overlooks miles of pristine sound waters.
This unique 22 acre island becomes Bluegrass Island each year to host the event. Attendees are encouraged to purchase tickets and lodging well in advance, and despite its off-season timing, this event tends to fill up fast year after year. If your dream vacation involves laying back in your most comfortable beach chair and taking in the best bluegrass acts the country has to offer, then you'll definitely want to set this long weekend aside for the Outer Banks most popular festival!"
OBX Bluegrass Island Festival 2021
---
20) Reevestock Music Festival
When: August 2-3, 2024
Where: Elkin, North Carolina
Genre: Various
https://www.facebook.com/Reevestock/
"Reevestock is a benefit music festival located in Elkin, North Carolina, started in 2011, and put on by Americana band, Time Sawyer, The Foothills Arts Council, and in partnership with The Reeves Theater. Each year, money raised from the festival is put into the Reevestock Scholarship Fund. These scholarships are made available to Elkin, East Wilkes, and Starmount seniors looking to continue their education at any 2-year program, 4-year program, or technical school. The festival began as a benefit fundraiser for our beloved Reeves Theater as we looked to aid in the building's restoration. In 2014, the Reeves building was purchased and is now privately owned. The Reeves is now part of the festival and offers a beautiful theater for music, as well as operating as a cafe during the day. Reevestock offers something for everyone in the family and looks to benefit the community in every way possible. Great music for all ages, food and drinks made available by your favorite restaurants, and even activities for the kids. Music helps to bring us all together and that's what Reevestock is all about. We hope to see you the first weekend in August for some great music and fun."
Reevestock Music Festival '18 - Time Sawyer plays "Drinking on the Run"
---
21) Bear Shadow Festival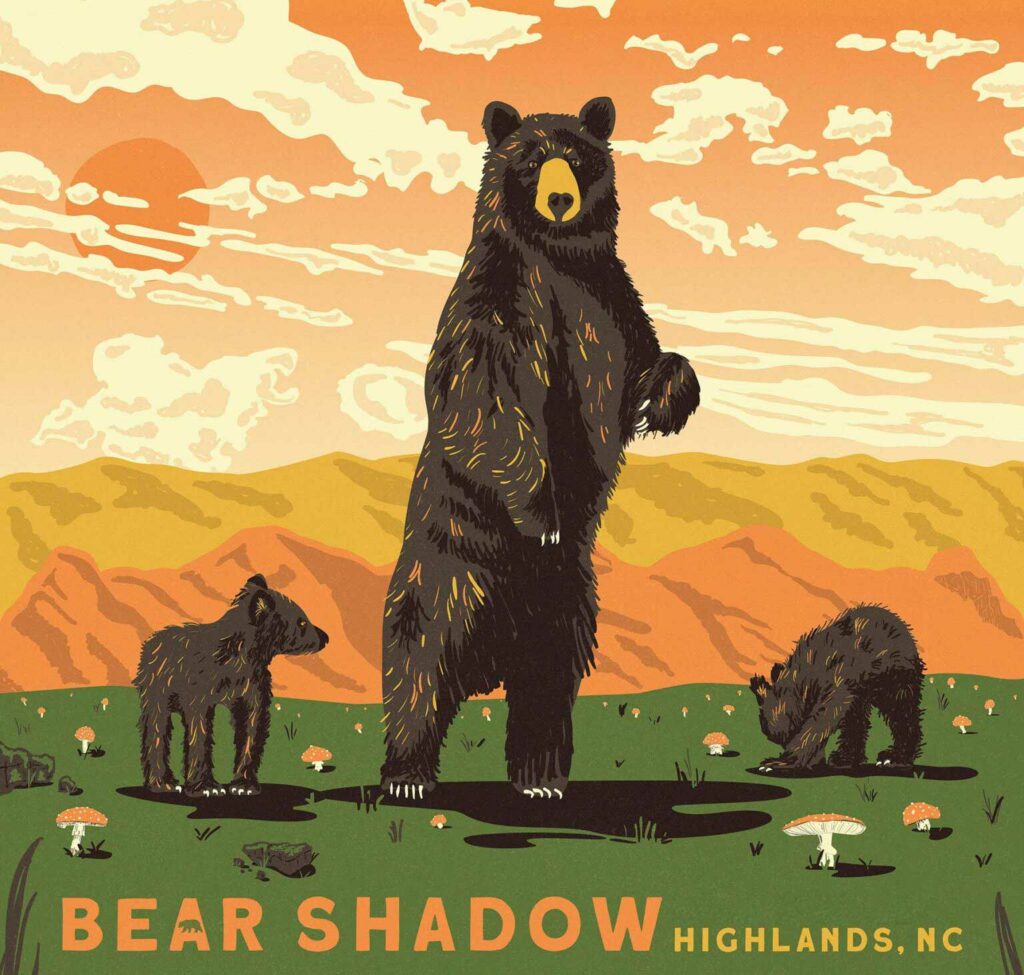 When: May 11-12, 2024
Where: Highlands Plateau, North Carolina
Genre: Americana
"Bear Shadow is an annual spring time music festival and celebration in The Highlands Plateau, North Carolina. As a sister festival of the enviable Highlands Food & Wine produced by Highlands Festivals, Inc., Bear Shadow brings highly anticipated, world-class music acts and day time experiences to the Highlands-Cashiers Plateau. This weekend of music in the mountains celebrates the best of the new season as we all emerge from hibernation with hope and anticipation for the future."
Bear Shadow 2023 Day One Recap
---
Am I Missing Any Epic Music Festivals in North Carolina 2024?
There were an extremely surprising amount of festivals in NC to choose from, so please do reach out to me if you think I'm missing any really amazing music festivals in this beautiful state! I've never been myself, but I've already added several of these to my ridiculously large music festival bucket list!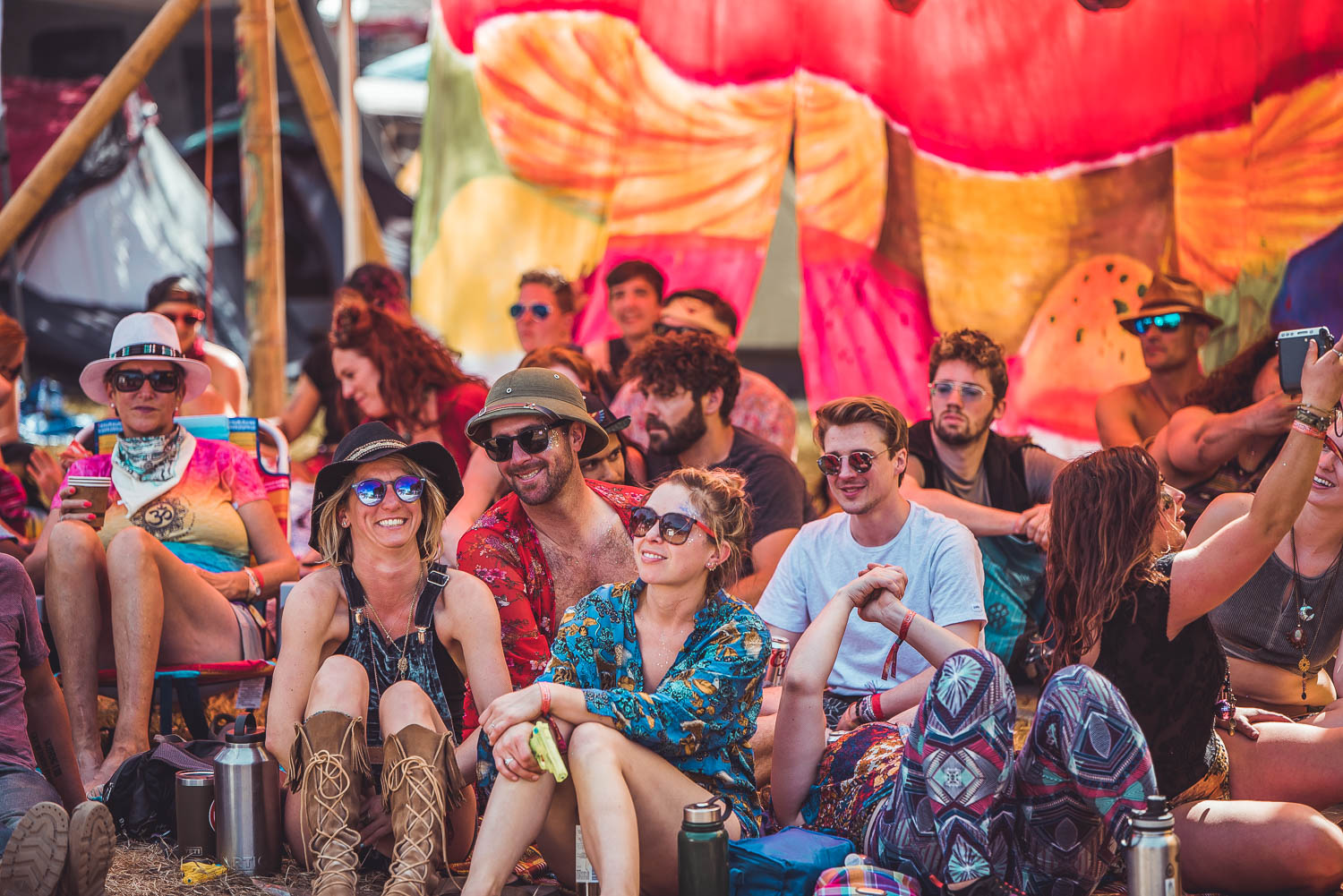 ---
Looking for more festivals in the U.S & Around the World…?
My travel blog is filled with helpful articles and festival lists just like this! Check out a few of my favorites below, and start planning your next domestic or international adventure!!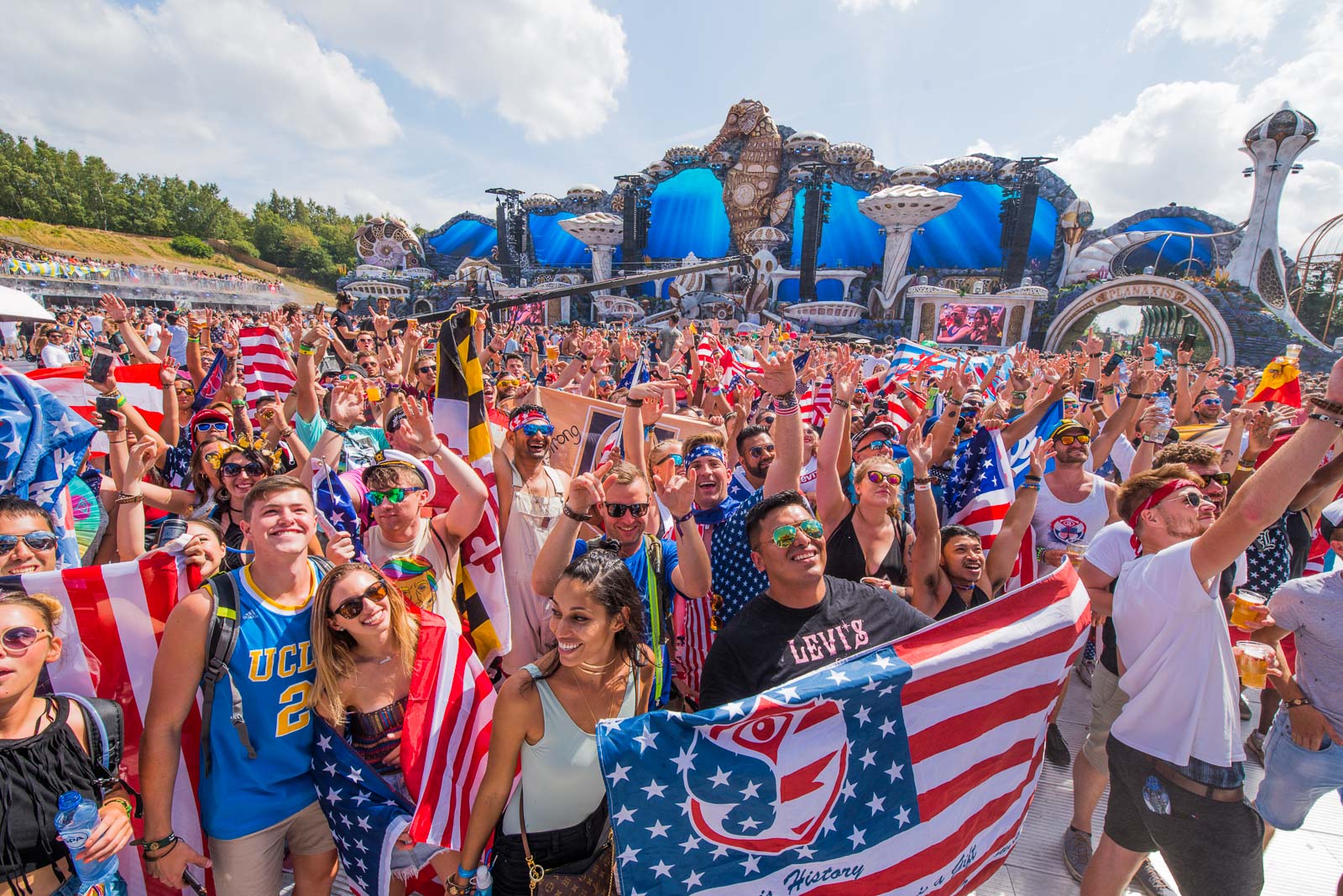 ---
Thanks for reading about these North Carolina music festivals!!
Share this article with your NC festival squad!!
https://www.jonesaroundtheworld.com/wp-content/uploads/2019/03/Breakaway-Music-Festival-NC-Grand-Rapids_Tyler-Church-7-3.jpg
868
1300
Dave
https://www.jonesaroundtheworld.com/wp-content/uploads/2017/03/logotry-1-1-300x106.png
Dave
2023-01-03 08:18:33
2023-11-06 12:14:17
Top 21 North Carolina Music Festivals To Experience in 2024