Looking for a list of the best music festivals in Ohio? Well, you've come to the right place!
Cleveland. Columbus. Cincinnati. Let's face it, Ohio doesn't get the recognition it deserves for its range of awesome cities. Or it's plethora of smaller, welcoming towns! You know what this Midwest state probably should get some of the most recognition for? Its festival scene.
For real. Ohio Music festivals are so underrated. Not only are there seemingly a million of them, but I can guarantee you no matter where you find yourself in this fine state, you'll have a destination for top tunes close by.
Ohio's state slogan is "So Much to Discover" – and they ain't wrong.
---
1) Lost Lands

When: September 27-29, 2019
Where: Thornville, Ohio
Genre: EDM, Bass, Dubstep
http://www.lostlandsfestival.com
"Experience Lost Lands, presented by Excision, at the beautiful Legend Valley in Thornville, OH this September! See the land before time in all its glory — dinosaurs included. The insane Lost Lands lineup is curated by Excision himself, & it's sure to rattle the fields right down to their core. Grab your tickets and catch the top artists from the past 65 million years and join us for the filthiest 3 days of bass you have ever experienced!"
Lost Lands Music Festival 2017 - Official Recap Video
---
2) Sonic Temple Festival
When: May
Where: Columbus
Various: Rock
https://sonictemplefestival.com
"America's largest rock festival tears up the Midwest every May in the most metal of cities — Columbus, Ohio. The three-day festival is one of the anchors of The World's Loudest Month, an annual festival ode to all that is loud music. 60 bands across three stage over three days makes this a must-stop festival for fans of rock and metal."
Rock on the Range 2017 Highlights
---
3) Bunbury Music Festival
When: May / June
Where: Cincinnati
Genre: Various
"Finding its stride at Yeatman's Cove and Sawyer Point in Cincinatti, Ohio, Bunbury Music Festival highlights a lineup geared toward the millennial crowd. Sitting on the banks of the Ohio River, the festival showcases anything from pop-punk to rap. Taking a stake in advancing into the future, Bunbury also incorporates eco-friendly and technology initiatives."
If you're planning a trip to Cincinnati, check out my article on the Best Airbnb Cincinnati Rentals to find the perfect accommodation for your festival trip!
---
4) Spring Fling
When: June
Where: Cleveland
Genre: Rock, Punk
http://www.springflingtickets.com
"Spring Fling, an annual music festival hosted at Cleveland's Agora, will be headlined by rock band Turnover and hardcore punk band Turnstile this year.
The daylong fest will enter its sixth year at the Agora. It's organized by BravoArtist concert promoting company — the same company which puts together the Agora's Snowed In festival every fall."
Spring Fling 2017 music festival highlights
---
5) Nelsonville Music Festival
When: June
Where: Nelsonville
Genre: Various
"The laidback Nelsonville Music Festival mixes small regional bands, under the radar acts, and national headliners for a weekend of music in the Hocking Hills region of Ohio. One of the best-kept secrets in Southeast Ohio, the four stage fest brings back fans year after year with its intimate vibe."
Nelsonville Music Festival 2018
---
6) Inkcarceration
When: July
Where: Ohio State Reformatory, Mansfield
Genre: Rock & Tattoo
https://www.inkcarceration.com
Ohio's Rock & Tattoo event of the summer is back!
"The INKCARCERATION Music and Tattoo Festival is back in action for 2019! The festival brought massive entertainment to over 18,000 fans in its first year, and this year, the festival aims even higher. Taking place once again in Mansfield, OH at the historic Ohio State Reformatory – one of the most haunted buildings in the country and the setting of the 1994 cinematic classic, The Shawshank Redemption – INKCARCERATION 2019 will take place July 12, 13 and 14 and feature over 30 of today's most electrifying rock bands. Additionally, the festival will once again feature over 70 tattoo artists from across the country, a large variety of food trucks and beverages, and even a terrifying haunted house attraction – Escape from Blood Prison."
Inkcarceration Festival Recap Video
---
7) The Werk Out Music & Arts Festival
When: August
Where: Legend Valley, Thornville
Genre: Rock
http://www.thewerkoutfestival.com/site/
"The Werk Out started as a collaboration between Dayton rock band The Werks and Trickle Productions. The Werks will perform four unique sets during the festival, and are joined by bands like Umphrey's McGee, Joe Russo's Almost Dead, Papadosio, Pigeons Playing Ping Pong and more."
Werk Out 2017 Festival Recap
---
8) Larchmere PorchFest
When: June
Where: Shaker Heights
Genre: Americana, Hip Hop
http://www.larchmereporchfest.org
Have you ever had really awesome neighbors and just thrown an epic block party? Well, that's basically what this event is all about! Just taking a stroll down the street is the same as "stage-hopping" at any of these other epic music festivals in Ohio. Such an unique event, and defintiely worth checking out if you're in the neighborhood!
"The Larchmere PorchFest features 30 different local bands on 30 porches around Larchmere Blvd. in Shaker Heights. The community-driven festival features Americana, hip-hop, rock, world music and more."
---
9) Painesville Party in the Park
When: July
Where: Painesville
Genre: Various
http://www.painesvilleimprovement.com/party-in-the-park
"The Painesville Community Improvement Corporation (PCIC) will be hosting the 38th annual, all weekend long music festival, Party in the Park!
This free music festival features approximately 30 different music acts of various genres from both local and regional musicians. Back from last year, a jumbo TV screen will be featured to the right of the stage so everyone can see musical acts up close, with a large screen behind the performers as well. Stick around long enough and you may even get to watch yourself, friends and family on the big screen!"
Painesville Party in the Park 2017
---
10) Cincinnati Music Festival
When: July
Where: Cincinnati
Genre: Jazz, R&B, Soul, Hip Hop
https://www.cincymusicfestival.com
"Originally called the Ohio Valley Jazz Festival when it was first held in 1962, the Macy's Music Festival has grown and evolved into a spectacular two-day event on Cincinnati's riverfront.
Starting out as an all-jazz concert, it has evolved and grown into a two-day festival featuring great music from the hottest stars in R&B, jazz, soul, and hip-hop, as well as up and coming artists. Past performers include Aretha Franklin, Duke Ellington, Miles Davis, Luther Vandross, Gerald Levert, Patti Labelle, New Edition, Earth Wind and Fire, Lakeside, Whitney Houston, Stevie Wonder and many others. By the year 2000, the festival was the largest of its kind in the United States, drawing more than 50,000 people annually from all across the country."
Cincinnati Music Festival
---
11) EST Fest
When: August
Where: Butler
Genre: Various
"EST FEST is an annual two day overnight live music festival featuring Machine Gun Kelly and friends in Ohio. Taking place in August, the wild three-day party goes down in Butler, Ohio and managed to bring some top-level names out for festival goers so far. Gucci Mane, Madeintyo, Justine Skye and others have been on-hand to perform some of their tracks, while Karen Civil has taken up the mantle of co-host alongside MGK."
Machine Gun Kelly's EST Fest 2018 – Recap
---
12) Freakstomp Music Festival
When: August
Where: Butler
Genre: Reggae
The Freakstomp Music Festival is Tropidelic's banger of the year. Not only is it the only event where you can catch the band on stage two nights in a row, but Freakstomp also brings together a unique line up of amazing bands, highlighting great talent from all over the country, including local acts from right in our backyard.
"Last year, local rockers Tropidelic successfully launched their two-day Freakstomp Music Festival. The festival, which took place in Medina, featured acts such as Vibe & Direct, Bumpin' Uglies, Sun-Dried Vibes, Pasadena, Elementree Livity Project, Drunken Sunday and Derlee. Tropidelic headlined both nights of music."
Tropidelic - Freakstomp @ The Freakstomp Music Festival 2017 - 8/12/2017
---
13) Breakaway Music Festival
When: August
Where: Columbus
Genre: Various
http://www.breakawayfestival.com/columbus/
"Organized by Prime Social Group, Breakaway Music Festival is a genre-spanning concert event that takes place in Major League Soccer stadiums throughout the United States. With previous festivals in Columbus and Dallas, and with plans to expand in coming years, Breakaway is becoming one of the foremost music festivals in the country. Past headliners include Bassnectar, Empire of the Sun and Kendrick Lamar."
2018 Breakaway Columbus: Official recap
---
14) Overcast Hip Hop Festival
When: August / September
Where: Cincinnati
Genre: Hip Hop
https://www.facebook.com/overcastfest/
"This weekend marks the debut of a new Cincinnati Hip Hop festival, Overcast, which goes down Friday and Saturday at Northside's Urban Artifact.
The bar/brewery in a former church is fresh off of its successful two-day, multi-genre Bewilderfest event. For many Hip Hop fans throughout the region and beyond, the words "Cincinnati Hip Hop festival" instantly conjures memories of Scribble Jam, the legendary locally-based festival that began in the mid-'90s and ran through the 2000s, emerging as one of the most popular underground Hip Hop events in the Midwest. From its lineup to its programming (including various "battles"), Overcast is definitely in the same wheelhouse as Scribble Jam and something of a tribute to its legacy. This year marks 10 years since the final Scribble Jam."
---
15) MidPoint Music Festival (MPMF)
When: September
Where: Cincinnati
Genre: Alternative/Indie Rock
"MidPoint Music Festival (MPMF) launched in 2001 in Cincinnati, Ohio, as an independent music festival and industry conference. The annual three-day event occurs each September in the city's downtown and historic Over-the-Rhine entertainment district. Founded by Cincinnati musicians Bill Donabedian and Sean Rhiney, the festival was acquired in 2008 by Cincinnati CityBeat, a weekly alternative newspaper."
Midpoint Music Festival 2016 Highlight Reel
---
16) InCuya Music Festival
When: August
Where: Cleveland
Genre: Rock
"It's the first year for InCuya music festival, and it's already set the bar high. With The Rock & Roll Hall of Fame backing the AEG-run fest, big names like New Order, SZA, The Avett Brothers and AWOLNATION will be headlining. The fest takes place in the middle of downtown Cleveland at Malls B and C."
---
17) Fashion Meets Music Festival
When: August
Where: Columbus
Genre: Alternative
"Born out of the need to create a platform for emerging designers, artists and talent to be seen and heard; Fashion Meets Music strives to push boundaries and create out of the box installations than just a regular "event".
Fusing Runway Shows, Live Music Acts, Art, Pop Up Vendors & Networking that showcase all emerging forms of creativity in one house. Our high profile Pop Up Shops (short and long term) are usually the first step on the retail ladder for many, where brands can be tested with the public for the first time. Recognized as "the starting point for emerging artists in fashion, music, art and entertainment". Fashion Meets Music creates an innovative form of exposure for artists, a new scouting location for talent representatives, and a fresh outing for event goers.
"Both music and fashion are celebrated at Fashion Meets Music Festival, or FMMF. Fashion walkways intersect with main stages, which include performances by alt acts. In the past, FMMF has brought Third Eye Blind, Tegan And Sara, Passion Pit and DJ Khaled."
Fashion Meets Music Festival Recap HD Columbus, OH
---
18) Bellwether Music Festival
When: August
Where: Waynesville
Genre: Alternative
"Bellwether is a two-day, two-stage alternative music festival with camping. Get away from the hustle and bustle and enjoy some peace and quiet… Until the music starts. Bellwether Festival is returning to Waynesville, Ohio, with some awesome new updates and perks. Bellwether Fest made its debut last year, featuring a lineup of alternative and indie rock giants including The Flaming Lips, Dr. Dog, Local Natives and MGMT. The crowd was made up primarily of music festival champions, and the vibes were nothing but positive."
The Flaming Lips - Race For The Prize - Bellwether Music Festival
---
19) Jamboree in the Hills
When: July
Where: Belmont
Genre: Country
http://www.jamboreeinthehills.com
"Jamboree In The Hills has existed in one form or another since 1977 in eastern Ohio, bringing in the big country music acts for hundreds of thousands of attendees. The fest has welcomed performances by Garth Brooks, Luke Bryan, Brad Paisley, Martina McBride, Johnny Cash and more. This year, the fest features the Charlie Daniels Band and Travis Tritt."
Jamboree In The Hills 2018: Funnel Fest
---
20) LaureLive
When: June
Where: Cleveland
Genre: Various
"LaureLive has rocketed to the forefront of Ohio's music festival scene in just a short amount of time. The festival celebrates its third year this summer, and has brought huge acts to multiple stages over the past couple of years, including O.A.R., Young The Giant and Gary Clark Jr. This summer might be the biggest yet, with headliners Foster The People, Brandi Carlisle, Fitz & The Tantrums and more."
LaureLive music festival 2018
---
21) Camp Anarchy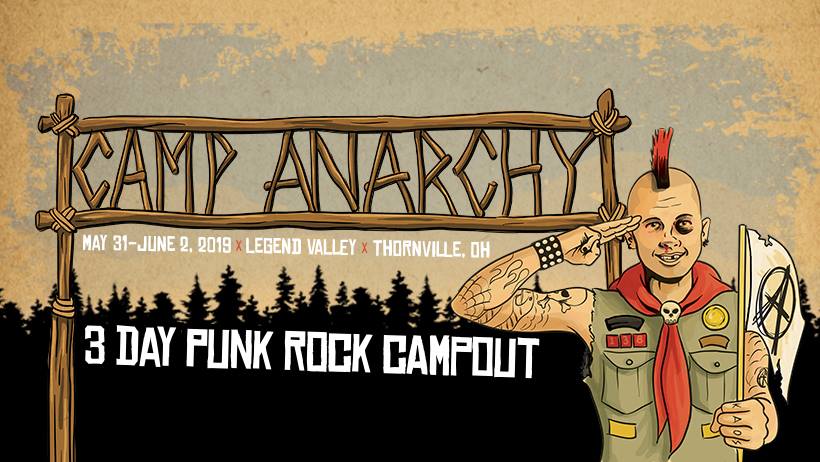 When: May / June
Where: Legend Valley, Thornville
Genre: Punk Rock
"Camp Anarchy – a new camping, craft beer and punk music festival — will take over Legend Valley, just outside Columbus, OH, this spring, on Friday, May 31, Saturday, June 1, and Sunday, June 2. Camp Anarchy will feature performances by The Offspring, Rancid, NOFX, Bad Religion, Pennywise, X, Suicidal Tendencies, Less Than Jake, Fear, and more, along with craft beer tastings (available for purchase), and a slew of attractions including a Dodgeball Arena, Fair Games, Flea's Market Vendor Village, and much more. This one-of-a-kind destination event is the only punk rock campout in the country, and will host NOFX's first US performance in over one year."
Camp Anarchy' Punk festival feat. NOFX/The Offspring/Rancid/Pennywise/ and more..
---
22) Gathering of the Juggalos

When: July
Where: Legend Valley
Genre: Rock, Horrorcore, Nu Metal
https://www.juggalogathering.com/home
"The Gathering of the Juggalos (The Gathering or GOTJ) is an annual festival put on by Psychopathic Records, featuring performances by the entire label roster as well as numerous well-known musical groups and underground artists. It was founded by Jumpsteady, Insane Clown Posse (Joseph Bruce and Joseph Utsler), and their label in 2000. Gathering of the Juggalos spans five days and includes concerts, wrestling, games, contests, autograph sessions, karaoke, and seminars with artists."
Inside The Gathering of The Juggalos
---
23) LoveFest

When: June
Where: Chardon
Genre: Various
"LOVE FEST is an annual open-air music festival that takes place on Chardon Square, located in Chardon, Ohio.
LOVE FEST gives stage to the up-and-coming heroes of the next generation of music. We embrace bands from as far way as Canada as well as from our backyard of NE Ohio. Our common ground is excellent music from a variety of genres fresh from the streets of your town, USA & Beyond.
LOVE is central to all we do as a festival: love of music; love of culture; love for our picturesque hometown; and for the earth we play on. We strive to protect and respect our beautiful environment by minimizing waste as much as possible."
---
24) Dark Star Jubilee
When: May (Memorial Day Weekend)
Where: Legend Valley, Thornville
Genre: Rock
"The Dark Star Jubilee features an intimate setting within hallowed and historic grounds, offering up nearly 36 hours of music, all with non-overlapping sets. The stages are set up side by side allowing fans to see and hear the entirety of each and every artist listed on the lineup without having to hike between stages or choose between bands. Attendees can camp within the concert bowl, a few hundred feet from the stage, making the experience that much more up close and personal."
Dark Star Jubilee 2018 Festival Recap
---
25) Jazz & Rib Festival
When: July
Where: Columbus
Genre: Jazz
http://www.hotribscooljazz.org
"If you're a fan of jazz music and tasty barbeque, the Jazz & Rib festival in Columbus might be a good summer activity to check out. The fest features some of the biggest names in jazz and rock, bringing in Tower Of Power, Trombone Shorty and Tito Puente as headliners in past years. This year's performers haven't been announced yet."
Columbus Jazz and Rib Fest
---
Am I missing any epic Ohio Festivals!?
There really is no shortage of Ohio Festivals to choose from in 2019, that it was quite difficult to cut it down to only 25 festivals! If you think there is one epic festival missing, please let me know so I can get this article updated :-)
---
Thanks for reading about the best music festivals in Ohio!
Check out more of my other festival articles in the U.S.A and around the world! There are so many epic festivals to choose from, which one do you think you'll be going to next…?
37 California Music Festivals That'll Keep You Dancing All Year Long
The 13 Best Music Festivals in New York to Experience Before You Die
The Top 10 Music Festivals in Colorado To Experience Before you Die
The Best 25 Music Festivals in Texas To Experience Before You Die
The Top 25 Music Festivals in ARIZONA To Experience Before You Die
The Best 25 Music Festivals in FLORIDA To Experience Before You Die
Top 21 Music Festivals in LAS VEGAS To Experience Before You Die
15 Epic Music Festivals in MICHIGAN To Experience Before You Die
---
SHARE THIS ARTICLE WITH YOUR OHIO FESTIVAL SQUAD!!
https://www.jonesaroundtheworld.com/wp-content/uploads/2019/01/Incuya-Festival-Ohio-.jpg
1099
1649
Dave
https://www.jonesaroundtheworld.com/wp-content/uploads/2017/03/logotry-1-1-300x106.png
Dave
2019-02-07 01:19:51
2020-08-05 17:28:58
The Best 25 Music Festivals in Ohio