Planning a trip or weekend getaway and searching for the best Airbnbs and vacation rentals in Virginia Beach? Well, look no further, as I've put together the ultimate Airbnb Virginia Beach vacation rental guide filled with the area's best vacation rentals!
Are you looking for a place to relax, to rest, and recharge? Do you want to swim alongside dolphins in the wild? Or do you want to return to work with a killer tan that makes everyone envious? Pack your beach bag, sunscreen, bikinis, and sunglasses – let's drive to Virginia Beach!
Virginia Beach is a coastal city in southeastern Virginia, where the Chesapeake Bay meets the Atlantic Ocean. With 35 miles of coastline, this vibrant coastal city has long stretches of diverse beaches, a rich history, great culinary scene, family-friendly attractions and a variety of arts and entertainment. It is indeed the "Longest Pleasure Beach"!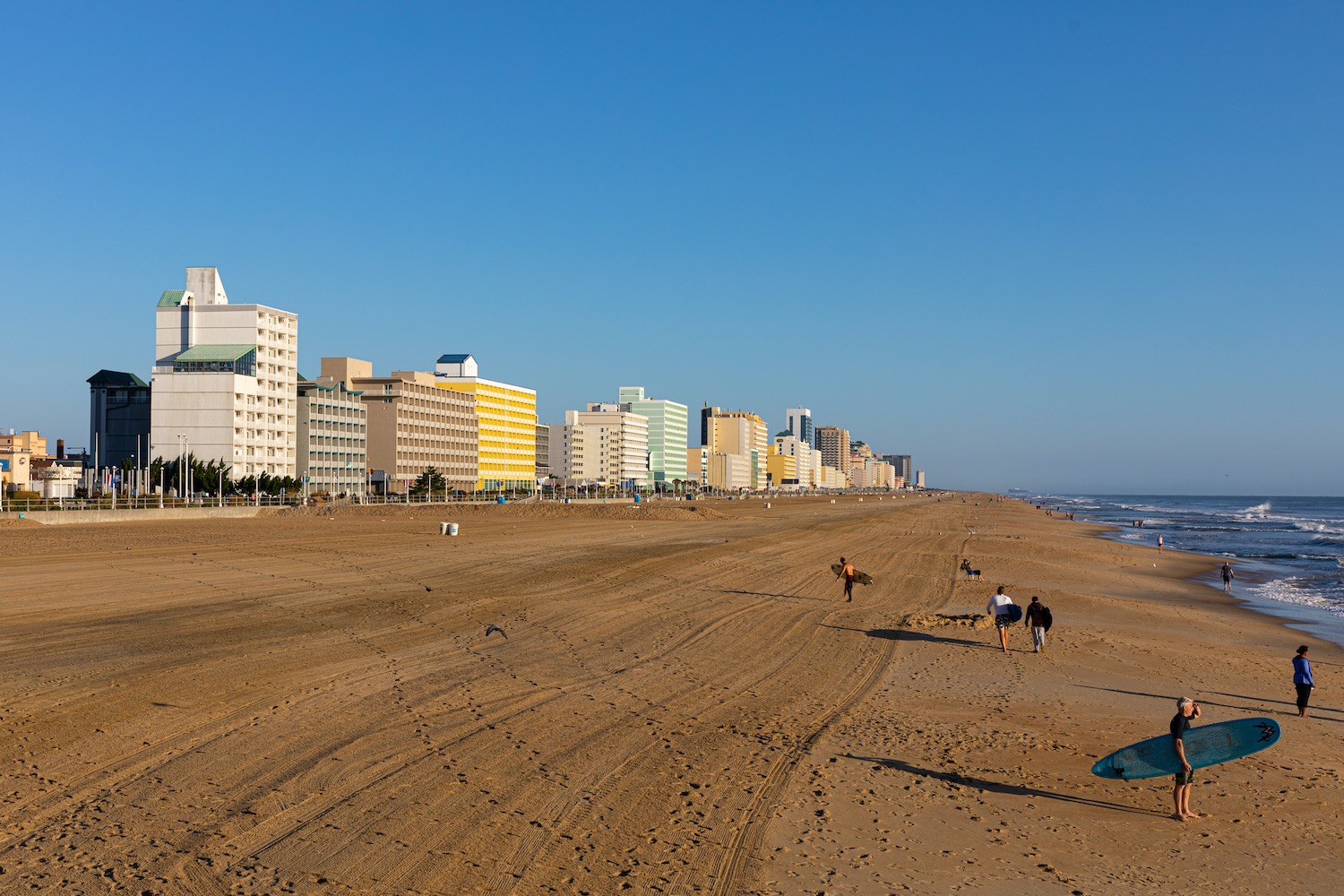 A Virginia Beach vacation awaits you, as it provides an enjoyable relaxed atmosphere filled with southern charm for all types of visitors. Whether you're looking for the hustle and bustle of popular resort towns or the quiet and tranquil private shores of Sandbridge, the city has something for everyone who loves the sun, sand, and surf.
However you choose to spend your stay, you are sure to find an awesome place in Virginia Beach. I have listed 16 Airbnb Virginia Beach properties that will provide you comfortable accommodation – a home that will fit your budget and your personality!
---
QUICK BREAKDOWN OF THE BEST AIRBNB & VRBO VIRGINIA BEACH Rentals
Enjoy the sand, sun and waters, restaurants, attractions and an abundance of other activities with waterfront views. Virginia Beach beckons. And you don't have to look further for where you can stay because I have narrowed down the best accommodation you can find in Virginia Beach! From the best luxurious to the cheapest to the most unique. I have it here! Explore my list of recommended Airbnb Virginia Beach rentals!
I've also included a wide range of travel videos about Virginia Beach for things to do and food recommendations, so be sure to check out a few of them to gain some more trip inspiration! Also, be sure to check out my article on the 27 Best Music Festivals in Virginia for future trip ideas!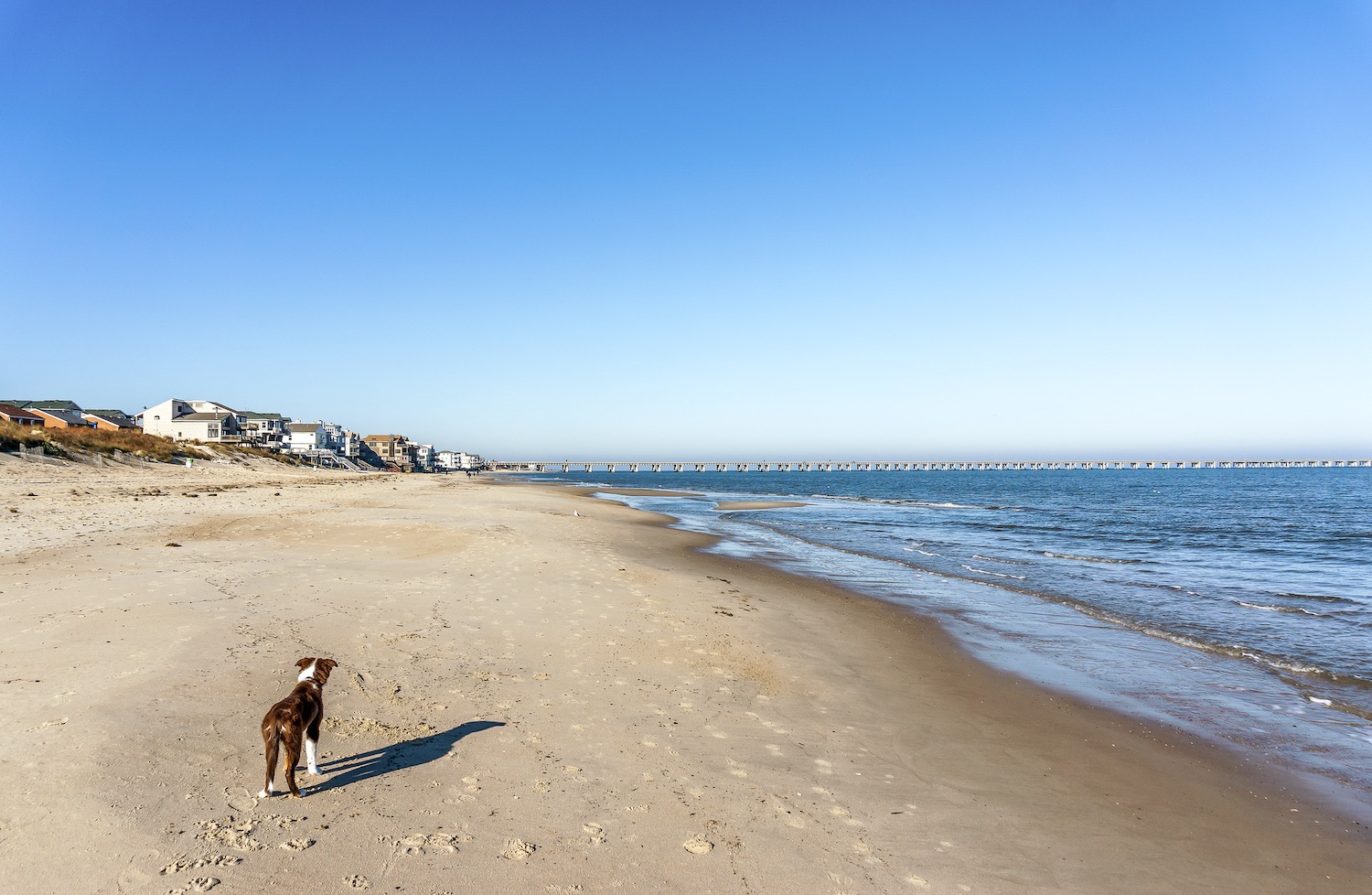 ---
Top 19 Virginia Beach Airbnb Rentals
Now for the full list of the best homes for rent in Virginia Beach! There really is an incredible amount of fun and unique Airbnbs all over Virgina beach, and I think staying at an Airbnb will definitely make your trip here so much better!
---
1) Waterfront Bungalow for Relaxation and Sanctuary
The Best Overall Rental Virginia Beach
Location: Alanton
Price: $355 avg. per night
Sleeps: 3 (1 bed/1 bedroom/1 bath)
This truly unique stay has an absolutely jaw-dropping marble and hardwood interior and is located on an isolated island in the middle of a pond a 7-acre private peninsula estate. Guests can enjoy the 60′ dock with your own canoe as well as deep water access, a bird and wildlife sanctuary just a short walk away from your elegant accommodation, and the best sunrises and sunsets that Virginia Beach has to offer. Plenty of space to make use of the BBQ grill, koi pond, and hot tub, and located just 4 miles from Virginia Beach boardwalk. The Gazebo on the Point is the perfect getaway!
Guest review: "It was magical walking down the beautifully landscaped pathway, past the koi pond, and along the bay to the gazebo. Inside we were greeted with an abundance of warmth and coziness. We thoroughly enjoyed the peacefulness and comfort of the surroundings. The gazebo is truly unique."
View Photos, Read Reviews & Check Availability
---
2) Luxury Modern North End Beach House
The Best Luxury Rental Virginia Beach
Location: Northeast Virginia Beach
Price: $582 avg. per night
Sleeps: 8 (6 beds/4 bedrooms/4 bath)
Luxurious, spacious, and with all the comforts of home, this elegant North End property is located 100 feet from the water in one of the most sought-after neighborhoods in the area. The upside-down floor plan places the bedrooms on the lower two levels, and the large common area and balconies are located on the top floor. Don't want to take the stairs? There's even an elevator! The house itself sleeps up to 8 very comfortable, and has everything you need to a large gathering or family weekend. The boardwalk and any number of restaurants or bars are nearby by bicycle or a short drive, and guests can enjoy various beach items the hosts supply for a day of fun in the sun.
Guest review: "We had a wonderful stay. Everything was exceptionally clean, and the house had everything and more than you would need (even paper products and cleaning supplies!) – well beyond anything we expected. The location was great as well. We loved the roof top deck and the all the balconies. More than anything the owners of this property are amazing. From opening the house for us and explaining all the details to going above and beyond to return something that we totally forgot to do. We can't say enough good things. We will be back!"
View Photos, Read Reviews & Check Availability
---
3) The Retreat at Sandbridge Beach | RV Beach Cottage
The Best Cheap Virginia Beach Rental
Location: Sandbridge
Price: $164 avg. per night
Sleeps: 4 (1 bedroom/1 bath)
https://www.vrbo.com/4230593ha
The Retreat at Sandbridge beach is a fully renovated RV cottage right on the shore! You'll have the beach and the bay at your disposal, as this charming property is tucked away in Back Bay and just two blocks from the Atlantic Ocean. You'll be just 15 miles away from the bustling boardwalk, while feeling like your swept away to serene seclusion with your private dock and the amenities of the Sandbridge complex. This includes everything from a sauna and two pools to a playground and outdoor recreational activities for the kids. You can't beat the views — or the price!
Guest review: "You can't beat the view! This property is great for a romantic getaway with beautiful sunset views, a nature preserve nearby to walk through, the beach a few blocks away and stunning water right off the property!"
View Photos, Read Reviews & Check Availability
---
4) Enjoy Social Distancing in a Secluded Luxury Suite
Location: Virginia Beach, Virginia
Airbnb Plus: Yes
Superhost: Yes
https://www.airbnb.com/rooms/plus/7743423
Price: $178
I've chosen this secluded luxury suite as the best Airbnb Virginia Beach rental! From where it is located to the home's beautiful and thoughtful interior, it is indeed the best place to stay in VA! Guests can enjoy their privacy here and know that they are safe. Guests can enjoy the studio's amenities – private laundry area, the espresso machine, sun loungers and outdoor seating in the backyard, and a BBQ grill. The bicycles available are a fun and thoughtful feature that guests can use to hop on and drive to the boardwalk and the nearest restaurants and shops. Of course, the sandy beaches are just steps from the studio!
Guest review: "So close to the beach and the boardwalk! Having bikes for the stay was the perfect thing to get around to eat, drinks, activities like put put, and of course the beautiful beach. The studio was comfortable and stylish. The outside area was private and a pretty place to hang out with the pergola and lights." – Saffron
View Photos, Read Reviews & Check Availability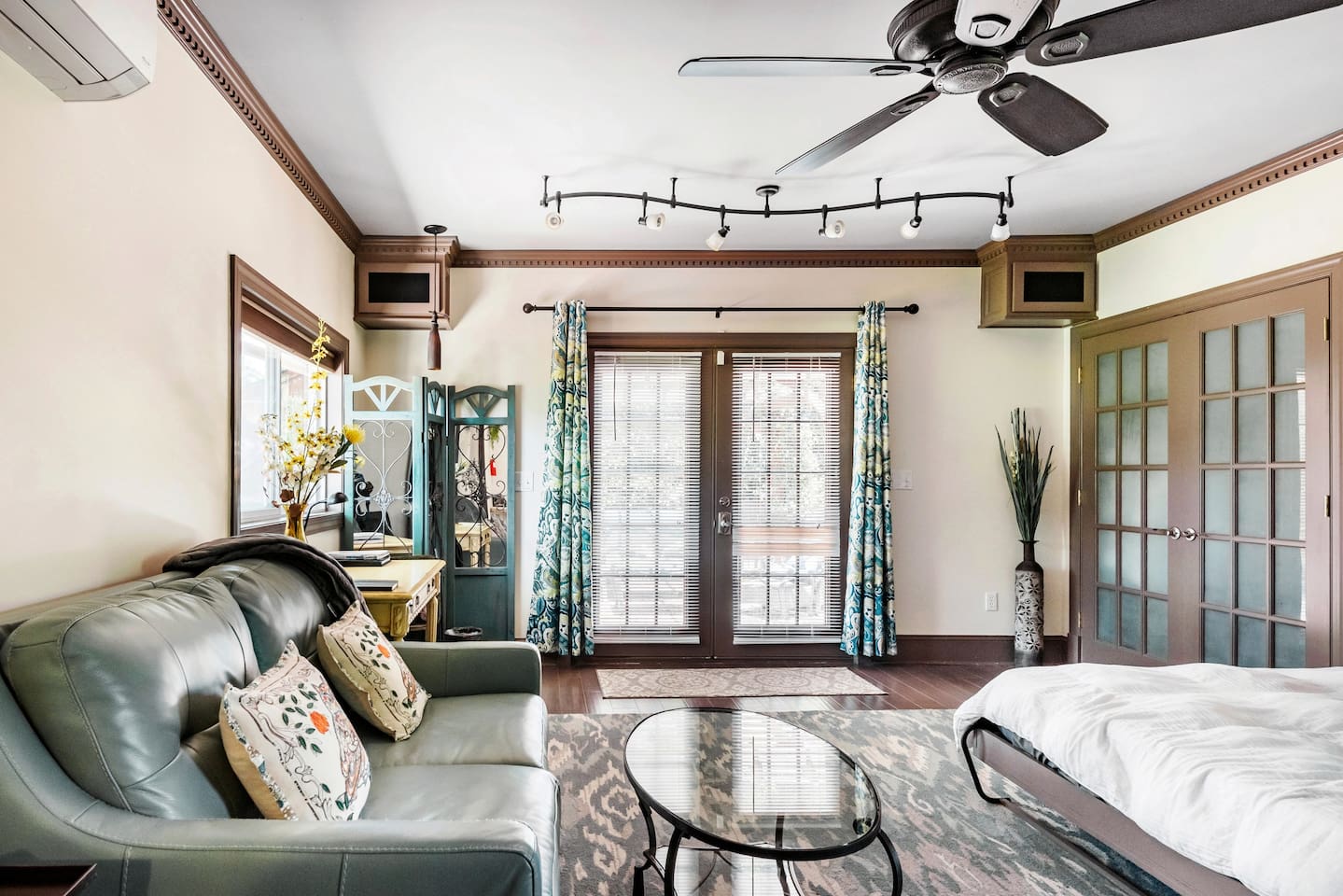 ---
5) Three Blocks from the Beach Is a Quiet, Lakefront Getaway
Location: Virginia Beach, Virginia
Airbnb Plus: Yes
Superhost: Yes
https://www.airbnb.com/rooms/plus/32894158
Price: $165
This stunning apartment in this quiet lakefront retreat has clean, elegant, and beautiful views of the lake and the wildlife – it is, for me, the best "luxury Airbnb Virginia beach". The home features an indoor fireplace, cable tv, leather chair, and a stand up shower. The fully-equipped kitchen features a coffee maker which coffee lovers appreciate and the outdoor seating is a great place to hangout and watch the lake. Located on Lake Holley, the apartment is only 2 blocks away from the oceanfront, restaurants, shopping, and even live entertainment. It's close to the hustle and bustle of the beach but far enough to enjoy peace and quiet after a long day.
Guest review: "Star and Austin were very communicative and provided all the necessary details about their listing. It is a very comfortable duplex overlooking a lake full of entertaining ducks and birds. The location is convenient. About a 10 minute walk to the beach and a good deli and 24 hour market are down the street. Unfortunately we had to contend with quite a bit of rain, but the furniture was top notch and there were plenty of streaming options on the TV. The smart lock on the door is also great, as you don't need to worry about holding on to a set of keys." – Robert
View Photos, Read Reviews & Check Availability
Travel With Me To Norfolk/Virginia Beach, Virginia | travel vlog
---
6) Wiseacre MidCentury Lake Estate: Near Beach & Bay
Location: Virginia Beach, Virginia
Airbnb Plus: No
Superhost: Yes
https://www.airbnb.com/rooms/4494357
Price: $179
Virginia Beach has several great options for families, and the Wiseacre Mid-century Lake Estate is one of the best choices. This is my pick for "Best Virginia Beach Airbnb for families". Built in 1962, this whimsical 4000sf Frank Lloyd Wright-inspired Mid-Century Modern property offers 2 bedrooms that can sleep up to 8 guests comfortably. The home's great room is a great place for lounging & relaxing with great views of the lake, towels and other amenities are provided in the bathrooms, and the chef's kitchen is a dream for every guest that loves to cook. Guests also love the wet bar and the all-season porch equipped with a 6-person hot tub. Everything is here, what more could you ask for?
Guest review: "There are no words to explain how amazing this host (and his property) is. I normally shy away from homeshare, however I've decided if I do it ever again, it will be at this property. Impeccably clean, amazingly kind, unbelievably funny. What an incredible experience, not just the environment and atmosphere, but also the pleasure of learning about Chuck. Don't pass on this, it's an experience you need in your life.." – Melanie
View Photos, Read Reviews & Check Availability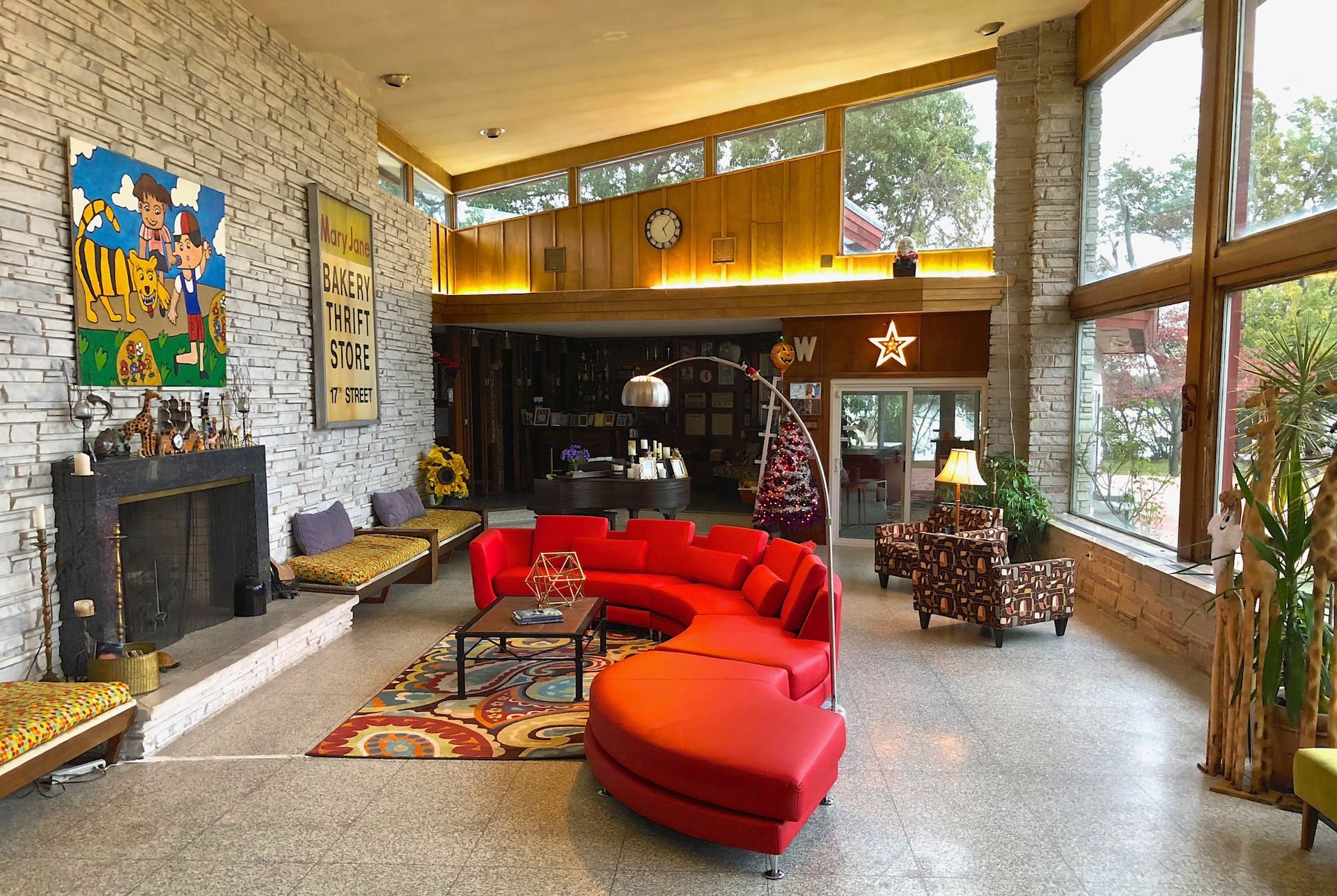 ---
7) Walk/bike to Beach! Hot Tub!! Bikes & Beach Kit!
Location: Virginia Beach, Virginia
Airbnb Plus: No
Superhost: Yes
https://www.airbnb.com/rooms/34469460
Price: $90 per night
It's not impossible to find budget accommodation here, and my pick for "The Best Cheap Airbnb Virginia Beach" is this exceptionally affordable and beautiful home with amazing amenities including a soaking tub, an indoor fireplace, and a luxury outdoor tub! The host also provides a beach kit with 2 beach chairs, pop up beach tent, two beach blankets, two beach towels, 2 beach cruisers with helmets and locks, and a beach tote bag – how thoughtful! Guests can have a choice to rent 1 guest room or both the 2 bedrooms in the house. The house is located 1 mile from the beach, a good chance to have a walk to the beach, and check out the breweries and the restaurants.
Guest review: "Very clean, comfy, and quiet stay! Had a wonderful weekend exploring Virginia Beach. Daniel left us everything we needed to know about our stay and how to access the air bnb. The hot tub was definitely a nice bonus, it was clean and ready to go. I would stay here again and recommend it to friends." – Rachel
View Photos, Read Reviews & Check Availability
Virginia Beach (Oceanfront)
---
8) Backyard Cabin
Location: Virginia Beach, Virginia
Airbnb Plus: No
Superhost: Yes
https://www.airbnb.com/rooms/31056952
Price: $120+ per night
Visitors will fall in love with this Backyard Cabin, my choice for the "Best Unique Airbnb Virginia Beach". It's the perfect romantic getaway especially for couples, amenities include a gazebo with seating area, an outdoor hot tub, and a firepit. But, if you're traveling with kids, they will also love staying here! The tiny cabin is equipped with the basic amenities that will ensure the comfortability of guests: a couch, TV, bathroom, and loft area. It's located in a quiet neighborhood, 1.5 miles from the beach, bars and nightclubs.
Guest review: "We had such a fantastic time staying here. Theo was such a great host, he is very friendly and responds immediately to messages. We had a fire and used the grill and truly felt like we were camping. The hot tub is a major bonus and the cabin was very cute and actually really big on the inside. I highly recommend this place !" – Adrienne
View Photos, Read Reviews & Check Availability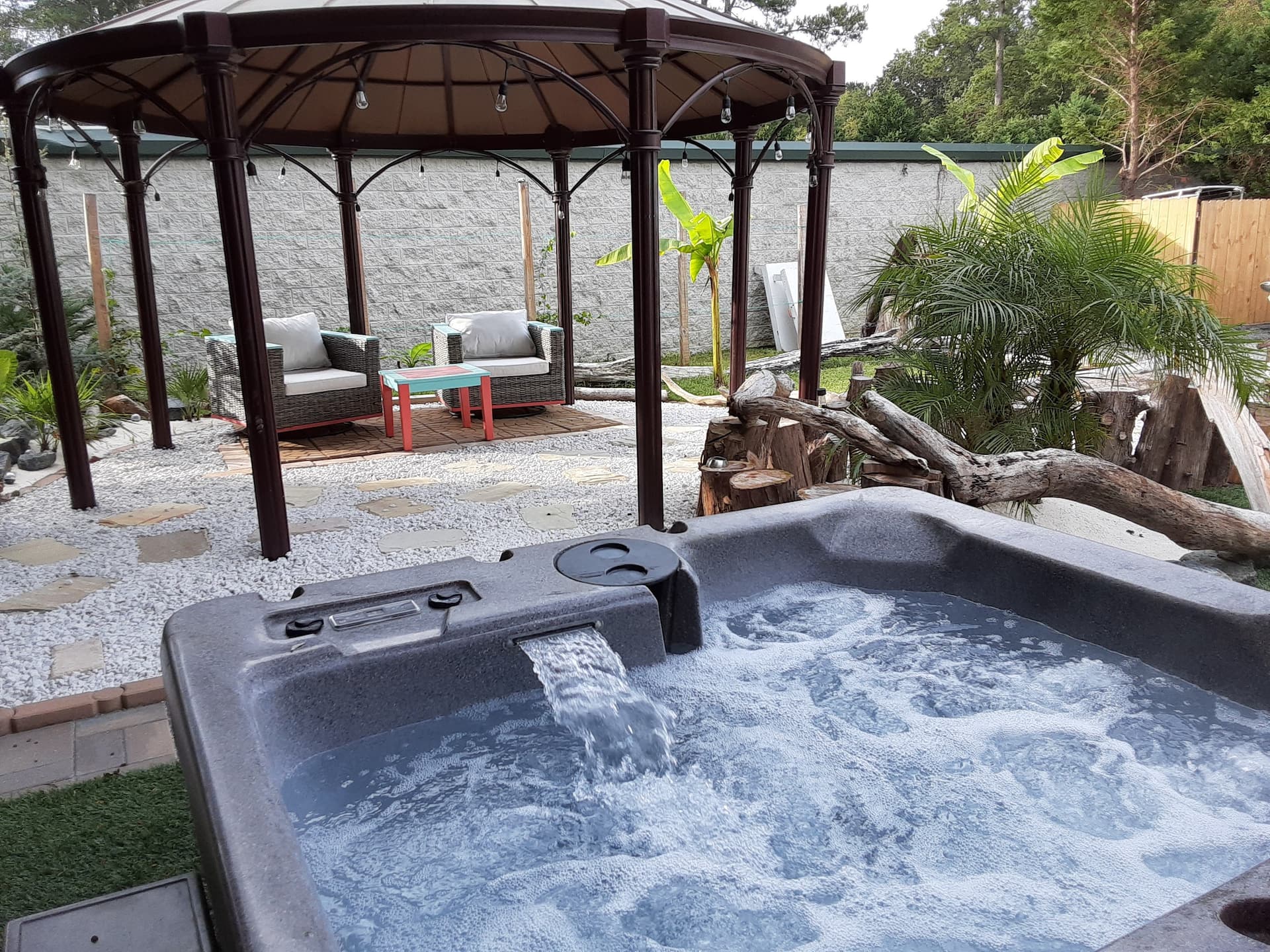 ---
9) Private Backyard Oasis – 3 Blocks From the Beach!
Location: Virginia Beach, Virginia
Airbnb Plus: No
Superhost: Yes
https://www.airbnb.com/rooms/16998147
Price: $114+
For a private oasis on the beach with very comfortable amenities, this one-bedroom apartment in Lake Holley is another fine option. Guests will love the outdoor shower, hammock, beach cruisers, beach chairs, towels, cooler, & boogie board. The apartment features a kitchenette with refrigerator, microwave, and coffee maker (coffee included), linens, toiletries, cable and internet. Located in the resort area of the VB oceanfront just a few blocks from the beach, the apartment is in close proximity to a multitude of dining and entertainment options. You should check this property out if you're traveling with your other half, it's an awesome hideaway for two!
Guest review: "This little studio is well worth the price. We only stayed a few days so we didn't really need a kitchen. It did have a microwave and fridge, which was a plus. One of my favorite gestures was the water dispenser. We drink A LOT of water and it was so nice to have a fresh, cold dispenser. It rained most of the time we were there so we didn't get to enjoy the amenities such as the bikes or the hammock in the back yard as much as we would have liked but it was still a great stay. The location was perfect! The bed and couch were comfortable and the entire place was clean. We hope to stay here again when we make our way back to VA beach!" – Michelle
View Photos, Read Reviews & Check Availability
---
10) "The Boom Boom Room"
Location: Virginia Beach, Virginia
Airbnb Plus: No
Superhost: Yes
https://www.airbnb.com/rooms/23859576
Price: $104+
The Boom Boom Room located just off of 264 is another perfect place to stay for every beach traveler. The beach is just 11 minutes away from the house! Aside from the TV streaming, ensuite private bathroom and private kitchenette, it also has a self check-in feature so guests can come and go at their convenience! The unit is impressive; decorated with contemporary decors, a comfortable queen sized bed, an indoor fireplace. It's a small space but has everything that you will need to have a comfortable stay!
Guest review: "I truly enjoyed staying at the "Boom Boom Room" the place was exactly as advertised. The location is very close to Virginia Beach and many food places are close making it such a convenient location. Check in was so easy and the host kept open communication. The decor was beautiful and the kitchenette area was exactly what I needed. Great for a couples weekend away, or for someone needing a quick beach getaway. Also dog friendly which is a bonus. If you're on the fence don't hesitate and book." – Akosua
View Photos, Read Reviews & Check Availability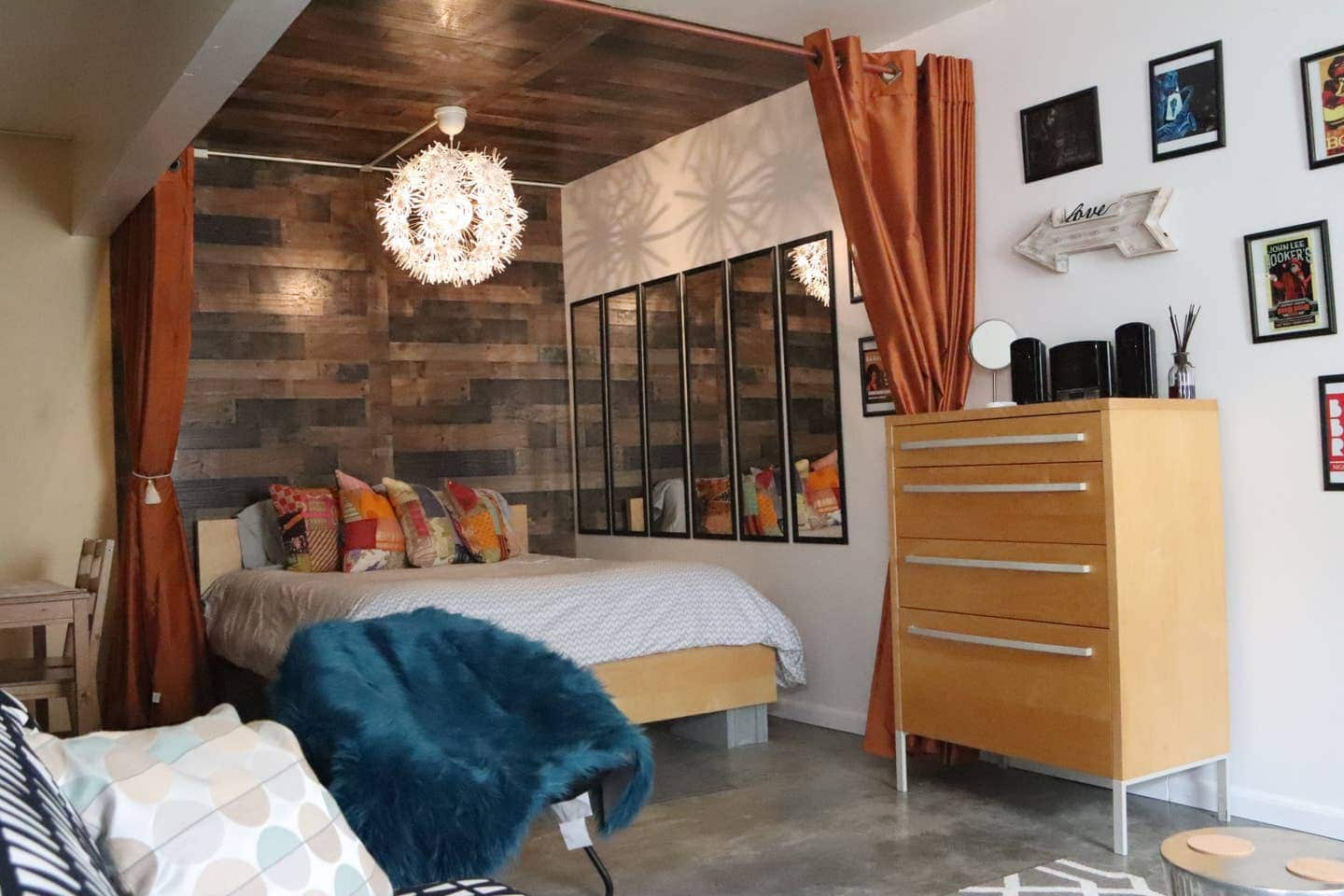 ---
11) The CARRIAGE HOUSE on the Chesapeake Bay
Location: Virginia Beach, Virginia
Airbnb Plus: No
Superhost: Yes
https://www.airbnb.com/rooms/16169643
Price: $199
The Carriage House is ideal for families or travelers who want to have a space that is close to the beach. The house features an open concept floor plan that makes the house more spacious and bright, a kitchen, walk-in bathroom and an outdoor lounge – perfect for unwinding with the family after a day in the sun. It has two bedrooms that feature clean beach-inspired accents, custom barn doors, comfortable queen sized bed, and a view to the sand dunes. Guests can enjoy the cable, WiFi, and a bluetooth boombox and play games you'll find in the Carriage House. Attractions are fairly accessible to guests, as well as the airport and military bases.
Guest review: "We just loved staying here. The space is bright & modern. It's only a minute walk down to the beach & there is a three minute walk in the other direction to a children's playground that we went to almost every day! Our children loved it. Brent was excellent in response time & helped make sure we had an awesome cookout one evening. We'd highly recommend staying here." – Ashleigh
View Photos, Read Reviews & Check Availability
10 Best Tourist Attractions in Virginia Beach, VA
---
12) Quiet Coastal Retreat short walk to the beach
Location: Virginia Beach, Virginia
Airbnb Plus: No
Superhost: Yes
https://www.airbnb.com/rooms/35003245
Price: $135
This 1 bedroom retreat brings the beach vibes inside the house. The house features a nautical interior design which is present in the walls paintings, decorations, and even the bed! You'll feel right at home with the cozy and welcoming ambiance of the house. It is equipped with a small refrigerator, microwave, toaster oven, coffee pot, and a 5-burner outdoor gas grill. In addition to all of that, guests can access and use the outdoor shower, grill, small plastic shed, and patio furniture. Located just 5-10 mins to the convention center, beach, boardwalk, Virginia Aquarium and other attractions, you won't need your car to tour the city!
Guest review: "Very conveniently located with just a short ten min walk to the beach. The space is a very cool guesthouse with access to the grill and outdoor shower. Would highly recommend it for anyone needing a beach vacation." – Daniel
View Photos, Read Reviews & Check Availability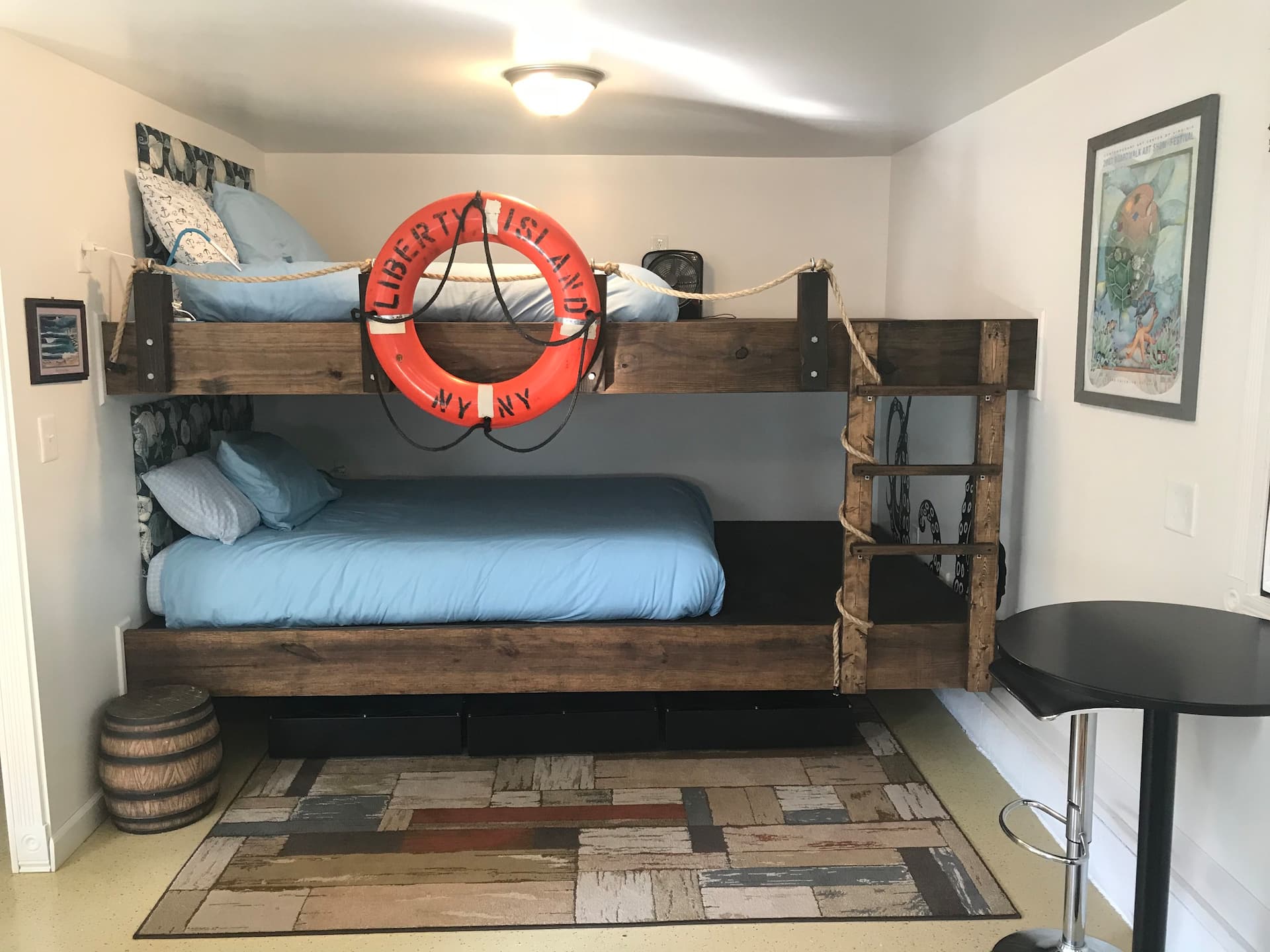 ---
13) 5 Minute Walk to the Beach!
Location: Virginia Beach, Virginia
Airbnb Plus: No
Superhost: Yes
https://www.airbnb.com/rooms/26532710
Price: $109
If you're looking for a place, literally 5 minutes to the beach, this condo unit is just the perfect Airbnb for you. It's so close to the food scene, the beach, and attractions of the city! The one-bedroom unit is decorated with simple furniture and neutral colored decor including a queen memory foam bed with a private full bathroom, a spacious living space with couch, mini fridge, freezer and microwave. Guests will also love the outside oasis that includes a gas grill, seating area, and 2 beach cruiser bikes to explore this fantastic beach town. Oh, and who doesn't love a complimentary bottle of wine?
Guest review: "Loved my weekend here! Carrie and Brock were both very friendly and responded quickly to everything I needed while visiting. The place is located close to great food and the beach! Will stay again in the future!" – Alissa
View Photos, Read Reviews & Check Availability
Welcome to Virginia Beach
---
14) Modern Townhouse
Location: Virginia Beach, Virginia
Airbnb Plus: No
Superhost: Yes
https://www.airbnb.com/rooms/37218537
Price: $80
This modern townhouse in Virginia Beach is a gem for budget travelers who want to be near the sand, but don't want to break the bank. Situated 12 minutes from the oceanfront, attractions such as Citrus and Bay Local, Kroger and Fresh Market, Wasserhund Brewery are at the guests fingertips. The townhouse has 2 bedrooms, 2 bathrooms, a kitchen with modern appliances including an indoor fireplace. A 2-stall parking space is also available. Guests also rave about the back deck where they can hangout with their family and friends!
Guest review: "In one word, AMAZING! This was my family's first trip ever during the Christmas holiday and it was everything we needed and wanted. We will most certainly be back! Clean, spacious, peaceful, modern and great location! Danielle was a superb host!" – Crystal
View Photos, Read Reviews & Check Availability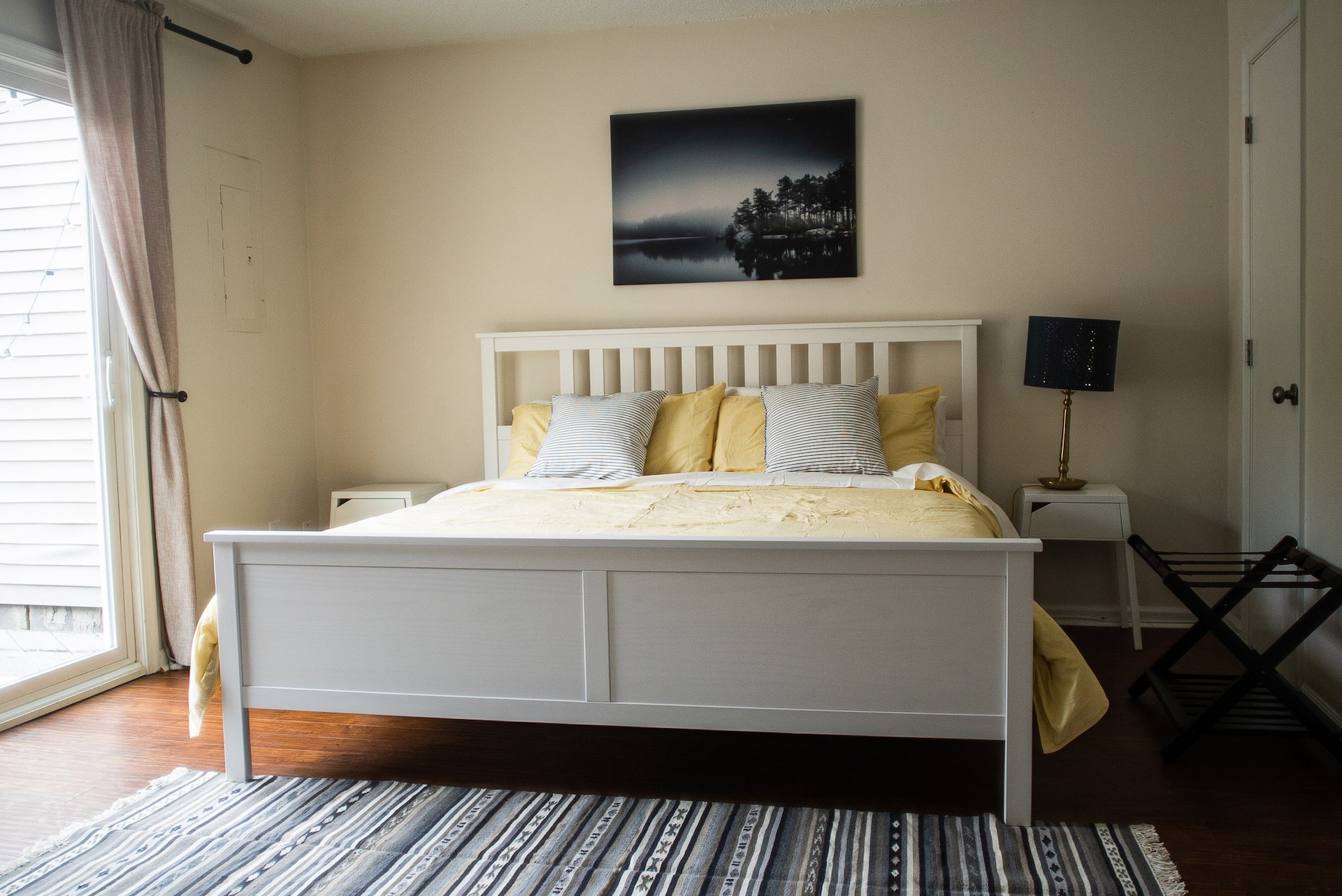 ---
15)
4-bed/3-bath BEACH HOUSE two blocks from the bay
Location: Virginia Beach, Virginia
Airbnb Plus: No
Superhost: Yes
https://www.airbnb.com/rooms/24219244
Price: $269
This four bedroom beach house blends the cozy and comfortable look of a home with modern amenities and a big space, making it an excellent choice for groups or families. The rooms have 5 queen beds and an additional toddler bed that can sleep a total of 8 guests. The bathrooms have a shower and tub, and the living room has big couches. Guests can make delicious meals in the kitchen, talk on the porch, or use the beach gear that is available in the house. Located on the Chesapeake Bay, beaches are less crowded and Landing State Park is great for wilderness exploring and trail running. Memories are guaranteed here!
Guest review: "We enjoyed our stay at the house! Loved how close it was to the beach and local playground. We brought two young kids and our dog and especially appreciated that the house was stocked with everything I needed for them like pack n play, high chair, kitchenware, toys, books, and more! It was clean and very comfortable and Nick was very quick to respond to our questions. Overall, great experience!" – Hillary
View Photos, Read Reviews & Check Availability
(Top 3) Amazing Virginia Beach Places To Add To Your Bucket List VLOG
---
16) Private room 2.5 blocks from Atlantic Ocean beach
Location: Virginia Beach, Virginia
Airbnb Plus: No
Superhost: Yes
https://www.airbnb.com/rooms/26098392
Price: $79
If you're visiting Virginia Beach on a budget, this private room is another excellent option. Located on the North End of Virginia Beach, this private room is perfect for solo travellers or couples going on a weekend getaway. The room features its own private entrance, queen-size bed with lots of pillows, new flooring, clothes closet and en-suite bathroom with tiled shower. There is no kitchen but a refrigerator and a quick-boil electric water pitcher is available. Plus, there is also a designated parking for guests who are travelling with their car. It is just a short walk to the start of the boardwalk resort area with its restaurants, music and art shows. A mile to the north are the winding hiking and biking trails of First Landing state park.
Guest review: "I had a wonderful experience. Beautiful room close to the beach. Easy check in. I stayed here on my birthday weekend while attending a conference at the Edgar Cayce center. I highly recommended this cozy cottage." – Karma
View Photos, Read Reviews & Check Availability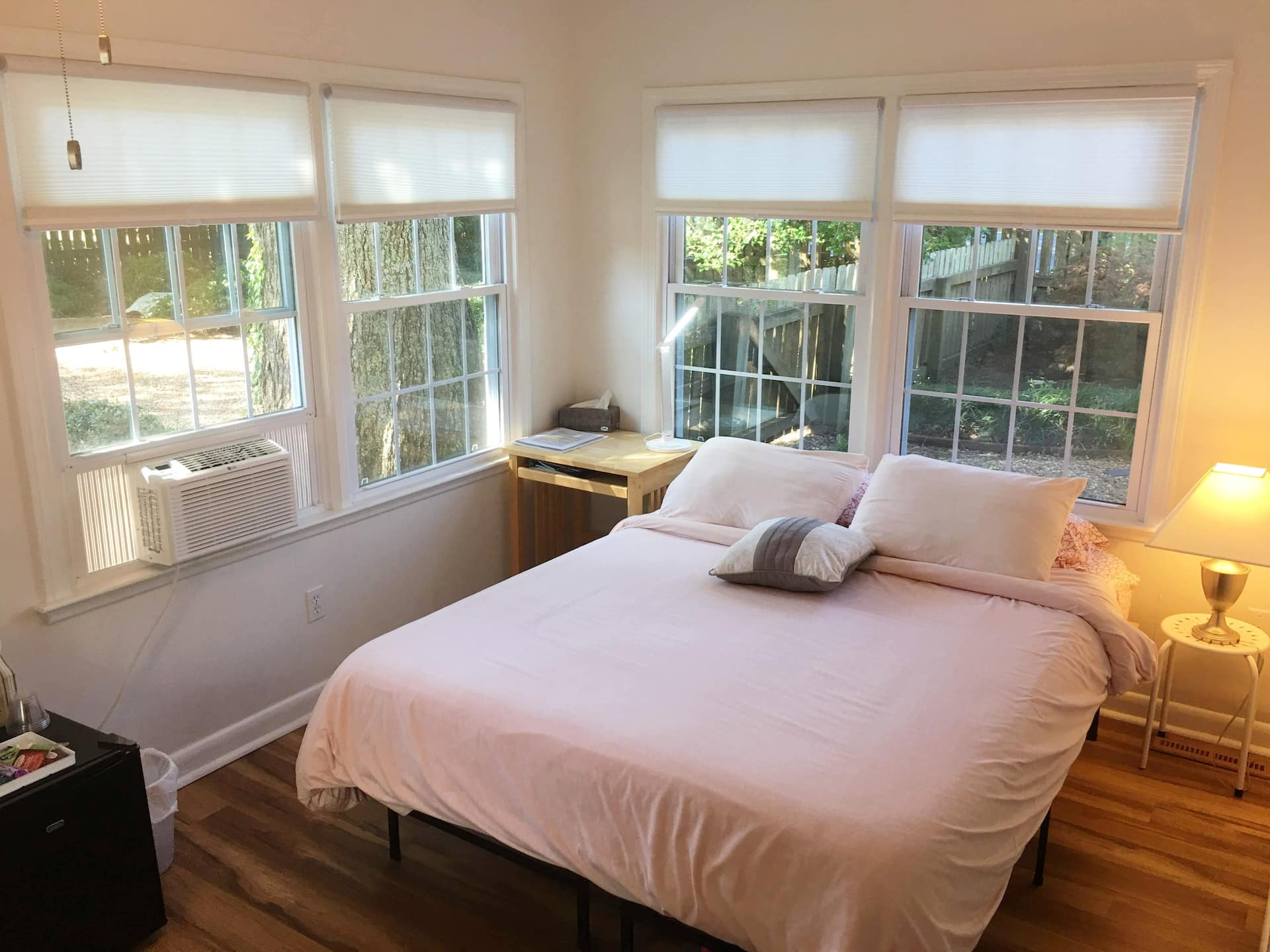 ---
17)
Incredible,unique home 3 minute walk to the Beach!
Location: Virginia Beach, Virginia
Airbnb Plus: No
Superhost: Yes
https://www.airbnb.com/rooms/40566273
Price: $499
For that upscale stay, this new home located in the North End of Virginia Beach is another top choice. The home is wonderfully built with beautiful custom made furniture carefully selected, designed and engineered for the space. Large windows bring in the natural light of the Atlantic Ocean, the full kitchen is equipped with modern appliances, the living area has an indoor fireplace, and the outdoor space is a beautiful place to hangout. There are three bedrooms with respectively one king, one queen and the last with two bunk beds sleeping 8 guests comfortably.
Guest review: "This house was sparkling clean, has a great layout for families and in an awesome location close to the beach. We would definitely rent one of Frank's homes again!" – Carlla
View Photos, Read Reviews & Check Availability
The Best Places to Visit in Virginia, USA
---
18) Charming newly renovated 3BR, 2 blocks to beach
Location: Virginia Beach, Virginia
Airbnb Plus: No
Superhost: Yes
https://www.airbnb.com/rooms/27555039
Price: $205
This charming 3-bedroom home provides a wonderful stay in Virginia Beach. Located just 2 blocks from the beach, this Airbnb property puts you in the center of all the action – the shops, restaurants, bars, and breweries. The house features an open kitchen equipped with full appliances; a family room with Netflix, Amazon and other streaming services; and a laundry area. Enjoy a beautiful morning and walk to the sandy beach or if you prefer to stay in, the deck off the kitchen with a gas grill is perfect for a barbecue night with family or friends. Additional amenities include: high speed WiFi, google home mini, high chair, and baby gate. You'll love it here!
Guest review: "AMAZING! This place has wonderful location blocks from the beach and local restaurants. Apartment is brand new and sparkling clean, two full baths, washer dryer, and dishwasher. Patio with the grill was lovely. Best part for us was the 4 beach cruisers included! Communication was instant. Highly recommended!!" – Rachel
View Photos, Read Reviews & Check Availability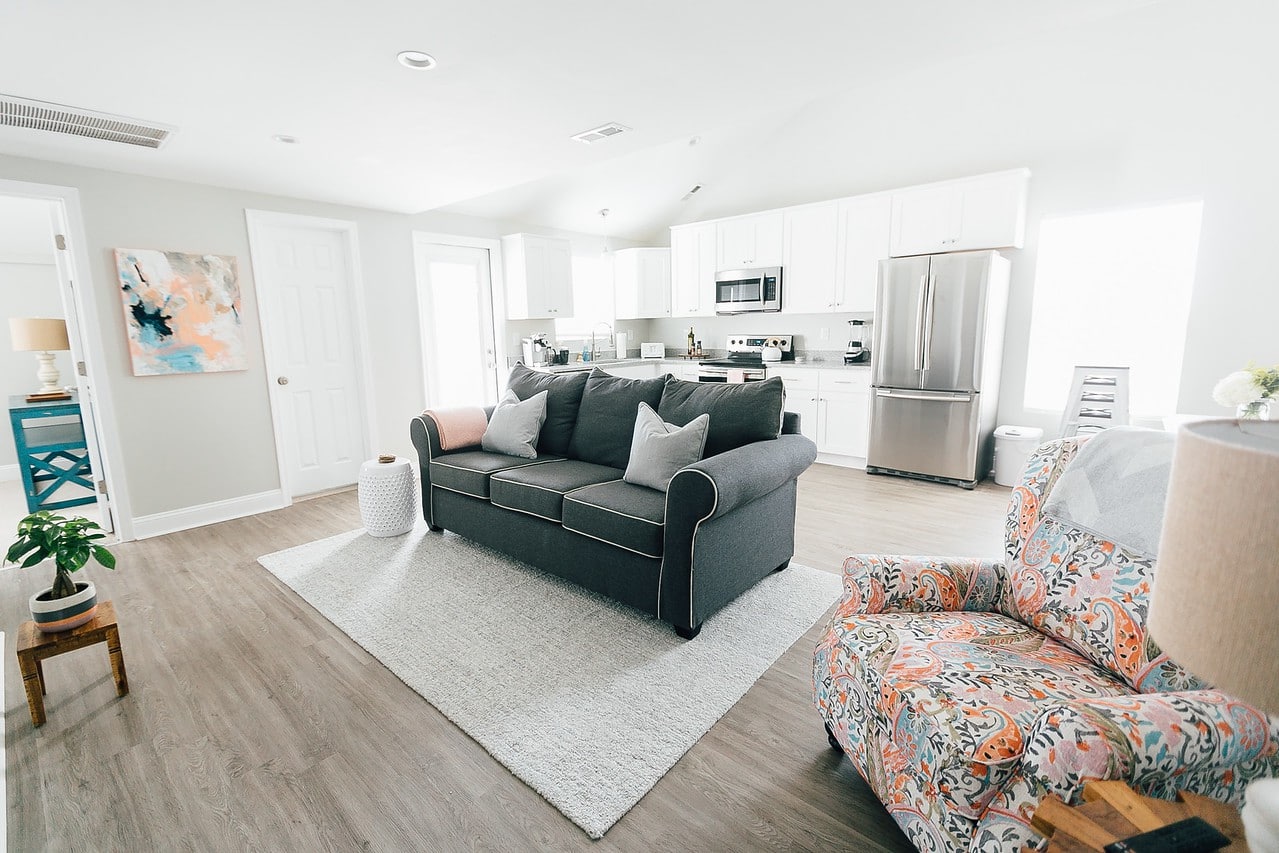 ---
19)
941 Beach House Walk to VA Beach Resort & Beaches
Location: Virginia Beach, Virginia
Airbnb Plus: No
Superhost: Yes
https://www.airbnb.com/rooms/13452611
Price: $225
This 941 beach house provides a chic and modern living experience. The townhouse is spacious with two bedrooms and 1.5 bathrooms, a modern full kitchen, and an outdoor seating area. Other amenities in the home: air mattress, pack n play, linens, towels, dishes, kitchen essentials, hand soap & shampoo. Other attractions near the townhouse are Neptune's Park, Bay Venture Boat Rentals, Virginia Museum of Contemporary Art and many more. You have everything here!
Guest review: "Very responsive, seamless and quick booking, plus keyless entry to residence made check in a breeze. The decor is cute and has beachy touches, and both bedrooms are a decent size. When it rained for most of our trip, we were perfectly content and cozy to spend the days inside here. Felt very homey." – Cherrie
View Photos, Read Reviews & Check Availability
Virginia Beach, Boardwalk attractions, Virginia, USA
---
Airbnb Virginia Beach Coupon Code
If you're heading to Virginia Beach soon and looking to save a bit of cash, then I'd take advantage of this fun travel hack. If you or any of your Virginia Beach Airbnb crew is new to using the site, you can sign up for a new account and save $40+ Off Your First Night! While it's not the biggest discount, the money saved can be put towards some extra sunscreen or happy hour drinks with your friends!

---
Am I Missing Any Amazing Airbnb Virginia Beach Vacation Rentals?
It was difficult to keep this list to a streamlined Top 16, as Virginia Beach Airbnb options were top-notch! So if you've stayed at – or host – an incredible Airbnb Virginia Beach and want to shout it out, feel free to reach out to me via my socials or email and I'll see if I can get you on my list.
---
Looking for some travel inspiration?
I've included links to a range of other great U.S.A blogs, city guides, music festival lists and AirBNB breakdowns to help you plan your dream American road trip.
---
Thanks for reading my Virginia Beach Airbnb Guide!
Share these Airbnbs in Virginia Beach with your travel crew!
https://www.jonesaroundtheworld.com/wp-content/uploads/2020/07/Airbnbs-in-Virginia-Beach.jpg
1000
1500
Dave
https://www.jonesaroundtheworld.com/wp-content/uploads/2017/03/logotry-1-1-300x106.png
Dave
2020-06-03 17:11:20
2021-04-22 18:15:16
The 19 Coolest & Best Airbnb Virginia Beach Vacation Rentals