Planning a trip to Virginia? The best way to experience this beautiful state is by glamping, and I have shortlisted the best Virginia glamping destinations for you…
With the famous state slogan "Virginia is for lovers" that could really be extended to almost everything about this beautiful location, Virginia is a scenic haven full of hidden gems just waiting to be discovered.
Fascinating cities, laid-back beach towns, mountain retreats and picturesque bays await you in this southeastern pocket of the United States.
---
And with a landscape like this, Virginians are jumping on the glamping bandwagon and offering guests the chance to camp out in luxury in some of the most stunning parts of the state. There's tipis in the Blue Ridge Mountains, cabooses on Chesapeake Bay, safari tents in the Appalachians, yurts overlooking Shenandoah National Park.
The sheer range of Virginia glampsites is staggering, and offers the rare chance to sleep under a million stars in one of our country's most gorgeous states.
Virginia is for lovers of glamping, and these are the best glamping destinations in Virginia…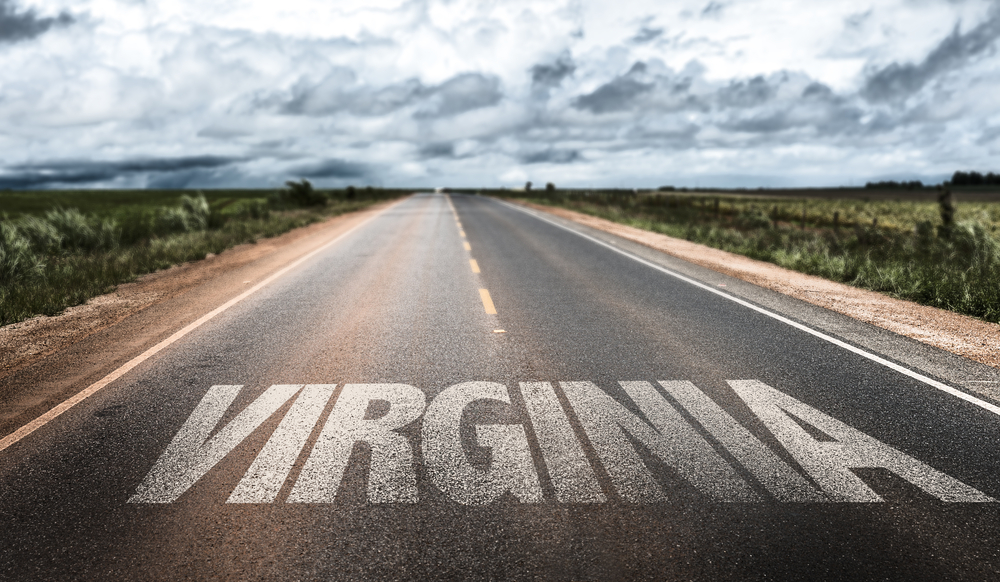 ---
Quick Breakdown of Virginia Glamping
Book your Virginia glamping getaway quickly and easily with my below shortlist of the best five Virginia glamping locations. I've chosen these to suit a range of budgets, locations and group sizes. If you find what you're looking for on this list or further down, feel free to book via my links to secure your stay!
I have included videos and photos of these glamping locations across Virginia throughout this list, and at the end, I've linked my own Virginia content for you. If you are a music festival fan, I recommend checking out THE 27 BEST VIRGINIA MUSIC FESTIVALS TO EXPERIENCE BEFORE YOU DIE.
---
1) Yurt w/ Hot Tub Along Blue Ridge Parkway
"The Best Overall Virginia Glamping"
Location: Piper Gap, Galax, Virginia
Price:$120 avg. per night
Sleeps: 3 (1 bed/ 1 bedroom/1 bath)
This luxury yurt (with hot tub!) is your home base for adventure in the lovely landscape of beautiful northern Virginia. Nearby you can find zip-lining, tree climbing, wineries, incredible hiking trails, and various notable mountain peaks. The structure itself is largely crafted from reclaimed wood and truly blends in with the thick surrounding forest and accompanying wildlife. Inside you'll find a comfy queen bed in the loft, flat screen TV, fully equipped kitchen, spiral staircase, and a surprisingly modern bathroom. Leave the tent and home and come "camp" in style!
View Photos, Read Reviews & Check Availability
Guest review: "A wonderful getaway spot in a tranquil setting. Just what was needed for a relaxing weekend."
---
2) Charming Treehouse in West Virginia Mountains
"The Best Cheap Virginia Glamping"
Location: Riverton, West Virginia
Price:$103 avg. per night
Sleeps: 2 (1 bed/ 1 bedroom/ 2 bath)
For the location and comforts of this cozy and quiet cabin, you can't beat the price! Located just over the Virginia border in the West Virginia mountains, this one room rental is the perfect getaway for couples or solo travelers seeking peace and quiet while still being within reach of various towns, hiking trails, and outdoor activities. Spend your day exploring and head back to your tucked-away-treehouse to relax by the fire and have a well deserved beverage of your choice in the evening!
View Photos, Read Reviews & Check Availability
Guest review: "This cabin was little but full of everything we needed. It was clean, the bed was super comfy and the outdoor area wonderful. We met one of the owners and he was great as well!"
---
3) Rock Tavern River Kamp
Location: Luray, Virginia
Price:$117 avg. per night
Sleeps: 4 (3 beds/ 1 bedroom/ 2 bath)
https://www.vrbo.com/3486308ha
Rock Tavern River Kamp is one of the most luxurious, stunning glamping locations in the state of Virginia, and is thrilling guests who cannot wait to return. The property in Luray, Virginia, offers an epic range of yurts to suit all budgets and group sizes. Day trip to the the wilds of the Shenandoah National Park or tube down the Shenandoah River – these natural wonders are in close proximity. Rock Tavern River Camp also boasts beautiful views of the surrounding landscape, and makes for a fantastic wedding or event venue.
View Photos, Read Reviews & Check Availability
Guest review: "A beautiful property on the river! We loved the yurt and how cozy it was. All of the provided amenities were fantastic! Close to stores for easy shopping, if required. Very close to some amazing hiking trails. Bathrooms and showers were very clean! Easy to buy firewood on site. Loved our visit and will definitely go back!"
#1 Rock Tavern River Kamp
---
4) Depot Lodge
Location: Paint Bank, Virginia
Price: $150+ USD per night
For the glamping experience they offer at such a reasonable price, Depot Lodge is my choice for the best Virginia glamping overall. Located in the tranquil mountains of northern Virginia, the lodge offers a range of unique glamping lodgings so that you can choose the getaway YOU want. They have luxury glamping tents, historic cabooses, Airstream trailers, lodges and cabins galore, all available for a range of price points. On the sprawling acreage you can go bow hunting, fishing or floating down the river, and there's a great restaurant on-site.
Guest review: "What a great experience! The Depot Lodge does things right. I stayed in the Airstream and was really impressed with the attention to detail in and out of the camper. Will go again soon. Don't miss this fantastic place." – Phil
---
5) Sandy River Outdoor Adventures
"The Best Luxury Virginia Glamping"
Location: Rice, Virginia
Price: $200+ USD per night
https://www.sandyriveroutdooradventures.com
Sandy River Outdoor Adventures offers a luxury glamping escape at a hard to beat price. This brilliant property offers so much for couples, families or groups looking to get away from it all. Stay in a luxury 650 square foot tipi that boasts heating, cooling, deluxe bedding and a full bathroom and kitchenette. They also offer a range of cabins and chalets. There is a fantastic new swimming pool on-site and a local store that will kit you up with all you need to trek, hike, bike or drive around this rustic region. Their Adventure Park offers a treetop ziplining adventure you won't want to miss.
Guest review: "Had a fantastic time. Stayed in cozy luxury teepee (7 people) and in the Chalet (2 of us, but enough room for 4). Clean, with all the amenities, including AC, full kitchen in the cabin, clean sheets, towels, kitchen supplies for cooking, fridge. Had a fun time sitting around the fire, seeing the farm animals, getting eggs from the chickens. Kids ran around, loved climbing up the second level of both teepee and cabin. Friendly owners. All around great experience. Close to the boat ramp for kayaking. Driving distance from High Bridge state park. Thanks for the memories!" – Noli
Sandy River Outdoor Adventures
---
6) The Lee, glamping tent with deck
Location: Dugspur, Virginia
AirBNB Plus: No
Superhost: Yes
Price: $60+ USD per night
https://www.airbnb.com/rooms/7339263
This spacious canvas glamping tent is the ideal budget-friendly Virginia glamping hideaway. Set on a private property with endless space all to yourself, the boasts luxury bedding, a private outhouse and a superb hilltop views. If glamping without electricity isn't for you, ask the host as they have a powered cabin also on offer. You won't even need to leave this sprawling property to enjoy a memorable vacation. There's lots of hikes to enjoy, and when you return to your cozy glamping tent, there's a fire pit there to toast s'mores under the stars.
Guest review: "We were looking for a place to get away and socially distance ourselves, and we found it at The Lee. It was the most peaceful place to unplug and let the days unfold. We took daily hikes around the property where we saw baby deer, wildflowers and butterflies. After a good hike, we cooled off in the afternoons using the solar shower. Throughout the day, we enjoyed watching and learning the social dynamics of the cows in the pasture. Each day ended with a beautiful sunset behind the mountain and then later viewing the stars without the distraction of any street lights. Teresa and Brian are great hosts teaching us some things about the farm, and they also shared from their garden. Teresa even gave me a lesson on how to prepare swiss chard, as I never had cooked it before. We hadn't even left and we were talking about coming back. Bring your camera, because between the sunsets, wildflower field, butterflies and deer the opportunity to take a great photo are endless. There is no need to overpack – most everything you really need is provided. We packed everything for a 9 day stay in a very small Mazda Miata, and we also had no issues getting up the driveway, even with the rain there prior to our arrival." – Mark
View Photos, Read Reviews & Check Availability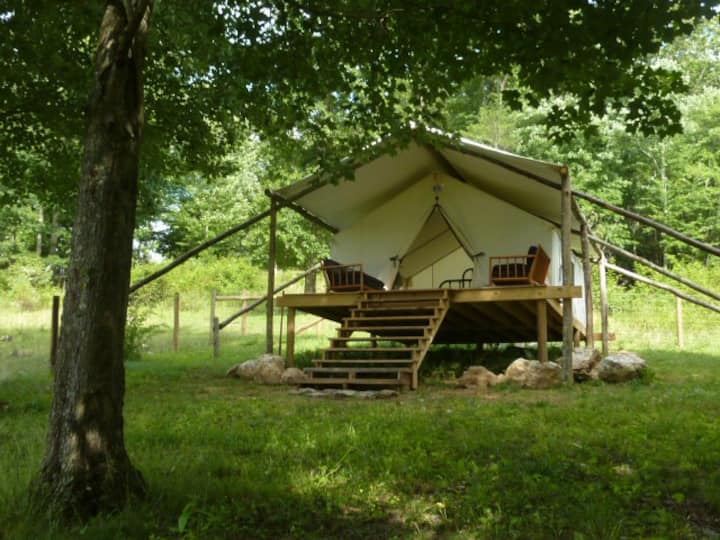 ---
7) Kavs Beachin' Kamper (Summer Specials Coming Soon)
"The Best Virginia Beach Glamping"
Location: Virginia Beach
AirBNB Plus: No
Superhost: Yes
Price: $125+ USD per night
https://www.airbnb.com/rooms/36550853
Virginia Beach is a coastal retreat with a laid-back, beachy vibe, and this camper is the best Virginia Beach glamping lodging. "Kav's Beachin' Kamper" is a super-spacious, 38 foot camper that has everything you could need for a comfortable and enjoyable stay. Two bedrooms, one bathroom, kitchen and living areas and awnings to sit outside while being shaded from the sun. Add to that air-conditioning, heating, a TV, hot water and all essentials included and you'll be right at home. All you have to do is book your own campsite separately, pick up this beauty and kickstart your Virginia Beach vacation.
Guest review: "Once again this camper did not disappoint!! Little weekend getaway , Kevin hospitality is the best !! Perfect location to the beach and as always clean and roomy !! We are repeat customers and will be booking again soon !! Thanks again for everything!!" – Robin
View Photos, Read Reviews & Check Availability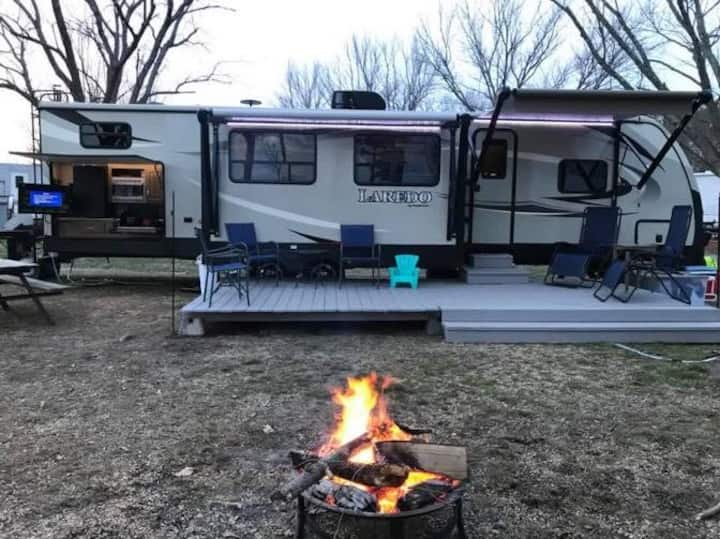 ---
8) Cape Charles / Chesapeake Bay KOA Resort
"The Best Virginia Glamping For Families"
Location: Cape Charles, Virginia
Price: $100+ USD per night
https://koa.com/campgrounds/chesapeake-bay/
Virginia is jam-packed with fun family-friendly glamping hotspots, and Cape Charles / Chesapeake Bay KOA Resort is the best of the best – in my humble opinion. For a super affordable per night price, the leading Virginia resort now offers everything from simple RV sites with full hookups to cabins of all sizes, RV rentals and safari glamping tents. This is an epic all-round vacation destination, with tons of activities right on site. Enjoy fishing, toasting s'mores by the fire, swimming in the pool, a snack bar and even a dog park – it's a pet friendly spot so the perfect spot to bring your furry friend along!
Guest review: "this place is a gem. I hate to give it such a great review, only because I do not want everyone else to find out about it! :-) The people here could not be friendlier, both the staff and the residents. The grounds are so well maintained and the bathrooms are spotless. We loved it here and we will be coming back again and again!" – Andrew
Camping at Cape Charles/Chesapeake Bay KOA with fellow YouTubers and new friends!
---
9) Tipi with a great view of the Blue Ridge Mountains
Location: Fairfield, Virginia
AirBNB Plus: No
Superhost: Yes
Price: $80+ USD per night
https://www.airbnb.com/rooms/12054355
As I write this, this outstanding tipi in Fairfield, Virginia, has over 600 past guests giving it a resounding 4.98/5 rating. That's pretty hard to beat! Nestled on a small family farm and hosted by fantastic hosts who want you to have the time of your life, the tipi boasts exceptional views of the Blue Ridge Mountains, and is in close proximity to local activities such as hiking, swimming or touring the leading local breweries and vineyards. The heated tipi features comfy bedding, a coffee machine, water, a fire pit with wood supplied and outdoor seating. There's no better way to enjoy the tranquility of the Blue Ridge Mountains!
Guest review: "Sara and Jeremiah are some of the nicest people I've ever met. They are extremely generous and have created the best environment for their kids to grow up in. Whole experience was five stars and they went above and beyond with their hospitality – offering us to go out to a gig with them for example and sharing some of their home made molasses! The accommodation itself was glamping on another level, and exactly what the doctor ordered. Loved every bit of it and my other half and I were left wishing we had enough time to stay longer. Recommend it 11/10." – Jackson
View Photos, Read Reviews & Check Availability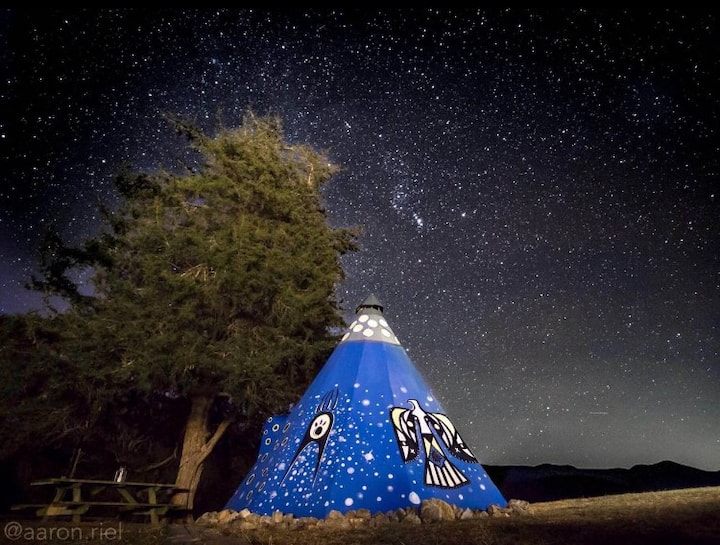 ---
10) Luxe Yurt w/Hot Tub in the Heart of the Blue Ridge
Location: Afton, Virginia
AirBNB Plus: No
Superhost: Yes
Price: $150+ USD per night
https://www.airbnb.com/rooms/14908682
Escape the daily grind and hunker down at this 5-star rated Virginia glamping yurt that has thrilled almost 400 guests and counting. The luxury yurt, located in Afton in the Blue Ridge Mountains, offers complete privacy and serenity. The spacious 720 square foot yurt offers heating and cooling, a full kitchen and bathroom (with a luxury claw foot tub), open concept living areas and a luxe bed. The 400 square foot deck boasts exceptional views of the mountains and the property's ponds.
Guest review: "Our stay at the yurt was delightful! We'd been hoping for a calm/remote getaway during the pandemic, and this was perfection. The highlight was some challenging hiking followed by dips in the amazing hot tub. And the yurt itself is awesome! Can't say enough good things. Thanks, Chantal!" – Elizabeth
View Photos, Read Reviews & Check Availability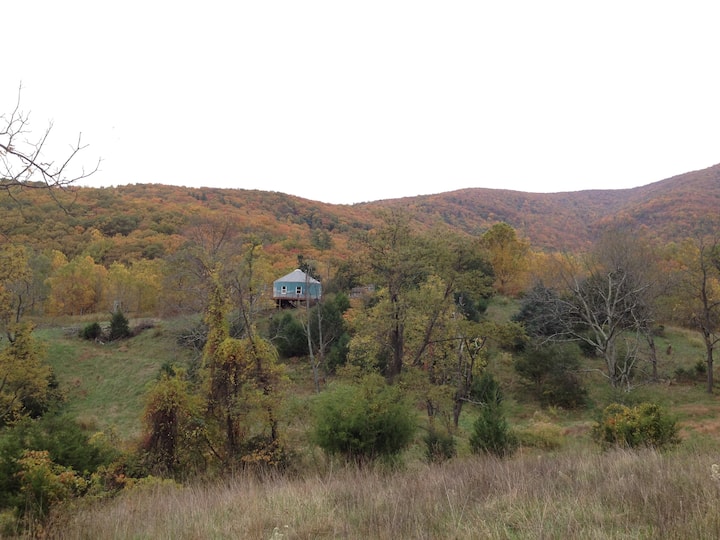 ---
11) Rose River Farm
Location: Syria, Virginia
Price: $250+ USD per night
Rose River Farm in Syria, Virginia, was already one of the state's most popular fly fishing locations when it introduced the opportunity to glamp on-site to its guest offerings. The tranquil fishing farm is the perfect place to while away a weekend in the outdoors, and now you can stay in one of their luxury rental cabins to extend your getaway. There are currently three private traditional yurts on the property, all of which are equipped with heating and cooling, two bedrooms, two bathrooms, plush furniture and bedding and all the mod cons you are used to. These epic yurts are big enough for a family or group getaway in close proximity to Shenandoah National Park.
Guest review: "The cabins are spectacular, the area is gorgeous, couldn't ask for a better weekend getaway!" – Greg
---
12) Treehouse Experience *FarmStay*
Location: Charlottesville, Virginia
AirBNB Plus: No
Superhost: Yes
Price: $150+ USD per night
https://www.airbnb.com/rooms/24819731
With friendly, furry faces like this greeting you every morning on this laidback farm, you'd be crazy not to book a retreat to this Virginia treehouse Airbnb. Located in Charlottesville. The mini treehouse offers quirky décor, a loft bedroom and a living space. There's also a mini fridge and some kitchen essentials, a private bathroom just outside and an outdoor grill you'll want to make the most off. Airbnb guests love this relaxed escape just outside of the city, and you will too!
Guest review: "Gavin & Jessica's treehouse was just what we were looking for in a getaway from the city! It was close enough to Charlottesville's (and Crozet's!) restaurants but felt like we were remote enough as well! We were close to many great hikes. The treehouse fulfilled every childhood dream a kid could have! We had a toddler with us and the space was just right for a pack and play. He loved the animals!" – Emilie
View Photos, Read Reviews & Check Availability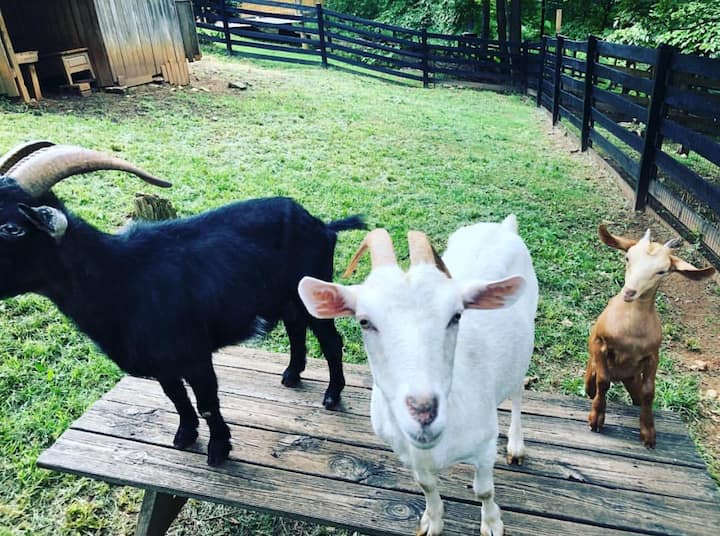 ---
13) Lil' Tin Can On A Hill--Glamp near Charlottesville
Location: North Garden, Virginia
AirBNB Plus: No
Superhost: Yes
Price: $100+ USD per night
https://www.airbnb.com/rooms/25394934
Tucked away on a quiet acreage not far from the city of Charlottesville, this epic campervan is a comfortable and fun glamping escape in Virginia. The brand new Airstream is modern and has all the comfort of home. A comfy bed, heating and cooling, wifi, a flatscreen TV, a full bathroom, a kitchenette and a meals and living space. You'll also enjoy your own private outdoor space, with tables, chairs, a hammock and a garden.
Guest review: "It was my best friend's idea to stay in a tiny house, and since it was her birthday, I decided to take her away for a weekend and book a tiny house. I wasn't too fond of the idea, but I came across Cat's place and I figured it was the best option available, considering she had hot water and heat and the trip was taking place in the middle of November. When we arrived I was pleasantly surprised. Sure the pictures were nice, but in person it was actually super cute and homey. It wasn't in the middle of nowhere like some of the other tiny houses I found, which made it easy to Uber into town. Cat was super friendly and welcoming, and there were so many nice little touches in the airstream. I ended up having a better weekend than I thought I would, thanks to Cat and her airstream. My best friend's interest in tiny houses has now turned into an obsession because of Cat's place and now she is considered living in a place like Cat's. I wouldn't go that far, but I would definitely stay at Cat's place again. 5 stars!!" – Olivia
View Photos, Read Reviews & Check Availability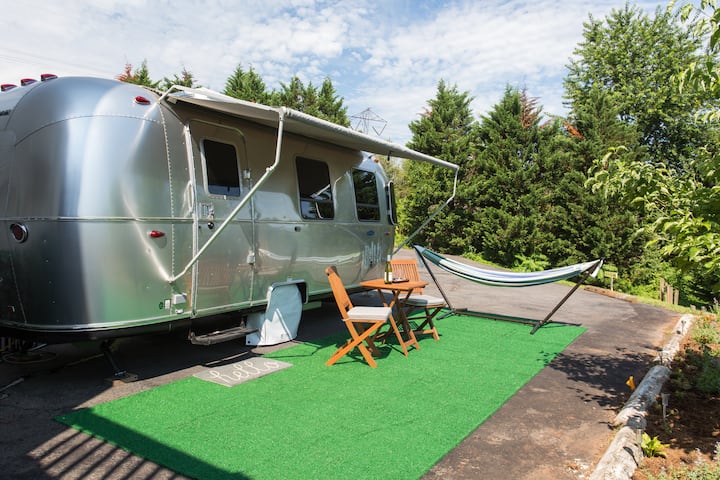 ---
14) Trailside Treehouse in RVA ~ Glamp w prvt bath!
Location: Richmond, Virginia
AirBNB Plus: No
Superhost: Yes
Price: $200+ USD per night
https://www.airbnb.com/rooms/20724950
You don't have to drive to the wilds of Virginia to enjoy a glamping experience in the state. This treehouse is located right in the state capital, Richmond, and offers a quiet retreat from the buzzing city. The family-friendly retreat has many slides, swings and climbing spots to keep the kids entertained, and the interiors boast two bedrooms, a kitchen, wifi, hot water and family-friendly features. You won't know it from your tranquil digs, but you'll be in one of Richmond's most central city neighborhoods, right on the James River.
Guest review: "The treehouse is a special treat! Carrie is a super host and thought of every detail. Our kids had a blast climbing ladders and exploring the property for all the hidden swings, slides, rock climbing spaces and trails. Wish we could have stayed longer. What a cool getaway in the heart of a city!" – Annika
View Photos, Read Reviews & Check Availability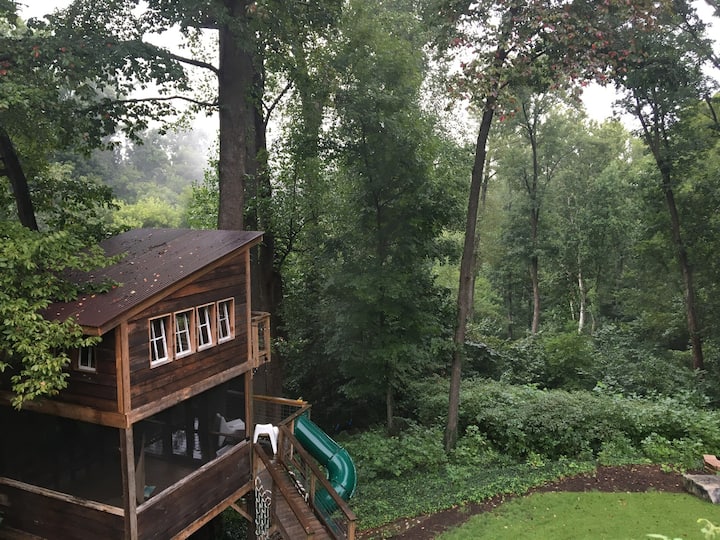 ---
15) Spacious Yurt w/hot tub and views
Location: Fancy Gap, Virginia
AirBNB Plus: No
Superhost: Yes
Price: $100+ USD per night
https://www.airbnb.com/rooms/42452909
With a perfect five-star Airbnb score from many happy guests who can't wait to return, this epic yurt in Fancy Gap, Virginia, has it all. Two comfy beds, spacious and sparkling clean living areas, a location right on the Blue Ridge Parkway and…a private hot tub! Explore some of America's most beautiful natural wonders before returning for a soak in the hot tub or the stylish claw foot tub in your massive bathroom. The yurt also has heating and cooling, a full kitchen and a washing machine. You'll never want to leave.
Guest review: "This was the perfect place for a romantic getaway! It is beautifully decorated and welcoming. We enjoyed relaxing in the hot tub, sightseeing and shopping. The host was very thoughtful and responded quickly to my questions. We would highly recommend a stay here and would love to come back again." – Elizabeth
View Photos, Read Reviews & Check Availability
---
Virginia Tours & Experiences To Check Out
Have a professional photoshoot in the capital, Richmond, explore the fascinating history of Norfolk or kayak into the sunset at Virginia Beach. These are the most highly-rated, best tours and experiences in Virginia.
---
A Photo Safari
"Rise and Shine for a photo Safari! We will meet at A local Coffee shop Lamplighter to get our morning fuel then head out into the Fan Neighborhood to discover great Murals and capture great pictures. I will bring along a Tripod for those who would like to use it while helping you set up shots, with your camera or phone. We will end where all the great restaurants are just in time for you to grab Brunch."
https://www.airbnb.com/experiences/841195
Price: From $37 USD (2 hours)
Review: "Much like some of the murals Cherita showed me, this tour is a hidden gem. I learned so much about the Fan and Richmond in general. Cherita makes you feel welcome, she is a wonderful storyteller, and a great conversationalist. Having done a similar activity in Brooklyn, where there are fifty times more murals, some of which are jaw dropping, I can safely say this one is more memorable. Do not hesitate to take Cherita's tour."- Marius
View Photos, Read Reviews & Check Availability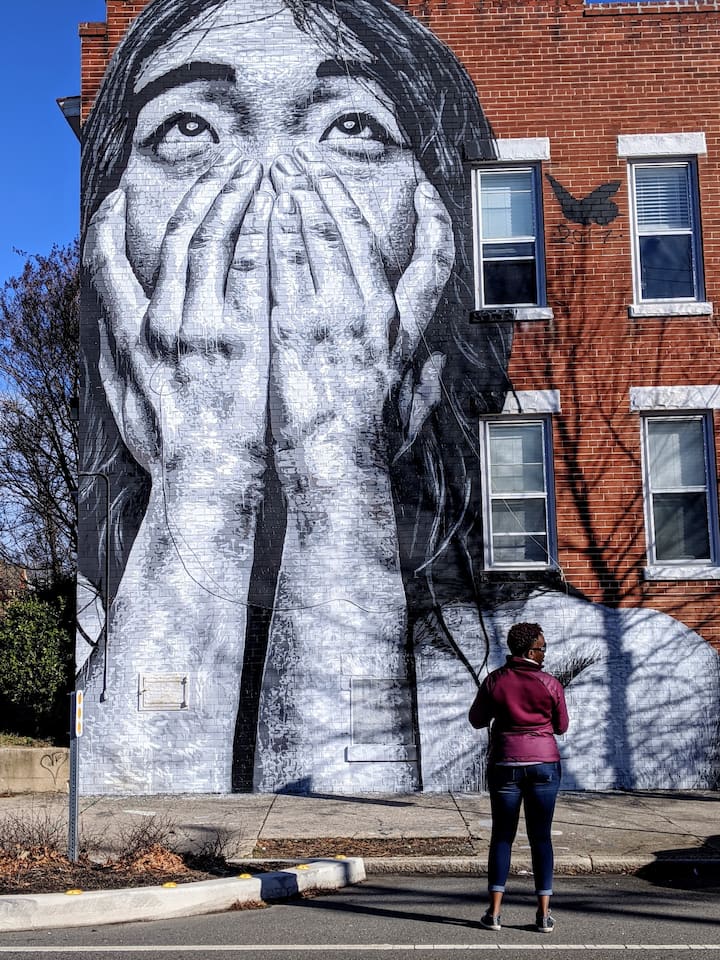 ---
Norfolk: Passport to Fun City Sightseeing & Discount Card
"Experience Norfolk's top 3 attractions: the Battleship Wisconsin, Virginia Zoo, and Norfolk Botanical Gardens. Pick up discounts to a dozen museums, tours, area attractions, and shops."
https://www.getyourguide.com/activity/uss-wisconsin-l112272/norfolk-passport-to-fun-city-sightseeing-discount-card-t269797?utm_force=0
Price: From $75 USD (1 day pass)
View Photos, Read Reviews & Check Availability
---
Corolla Kayaking Adventure
"Kayaking around the sheltered islands, bays and canals of the Currituck Sound on the Outer Banks is a real treat!!! This Corolla Kayak Tour is one of the few places where you can leave the hustle and bustle of the summer madness and really unwind with your family on Outer Banks. We provide an introductory kayaking lesson to cover basic stroke techniques as well as an orientation to the area we will be paddling. Also we will have a safety briefing before each tour so that everyone has a great experience on the water. While kayaking we will learn about the ecosystems, wildlife and history of the areas in which we paddle.
https://www.airbnb.com/experiences/1367822
Price: From $65 USD (2 hours)
View Photos, Read Reviews & Check Availability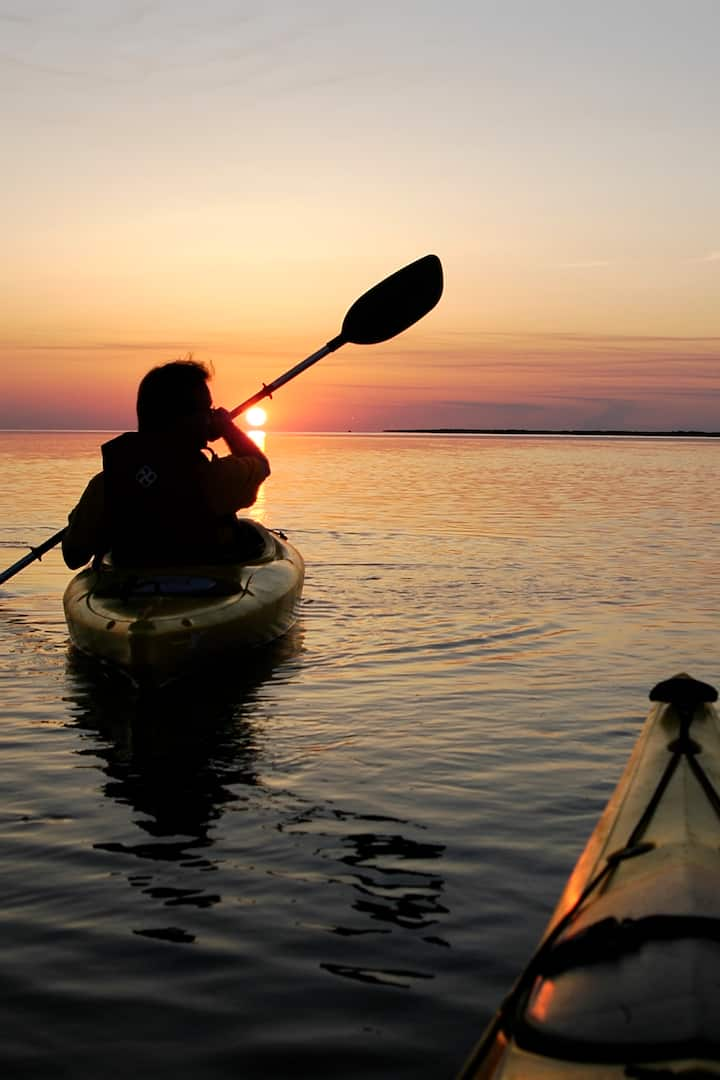 ---
Did I miss any top Virginia glamping sites?
Virginia's rugged landscape is ideal for glamping, and as a result, more and more top glampsites are popping up across the state. If I've missed an epic glampsite in Virginia off this list that you think deserves to have made the cut, reach out! I'll see what I can do to get your recommendation on the list!
---
Planning a trip to Virginia?
Virginia is for lovers, and I'm sure you'll fall in love with this unique state. I've linked other Virginia lists and guides I've created below for you to check out. I've also added some of my other content for Virginia's bordering states as well. Who knows, you may extend that road trip and check out a bit more of this great country!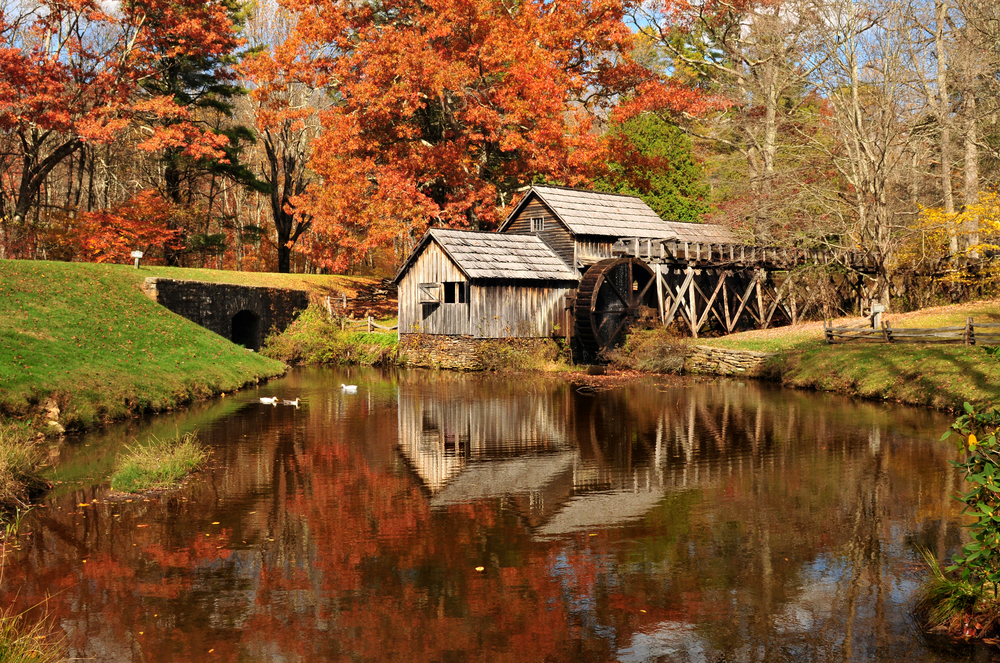 ---
Final thoughts on glamping in Virginia…
From the state capital Richmond to the peaks of the Blue Ridge Mountains, Virginia glamping sets a new standard for quality, location and overall experience. Whether you're dream glamping getaway is in a tent, a caboose, a cabin or a tipi – you'll find what you're looking for in Virginia. Have a fantastic time!
---
Thanks for reading about the best glamping in Virginia!
Share this list with your glamping loving travel crew!
https://www.jonesaroundtheworld.com/wp-content/uploads/2020/08/Luxury-Glamping-in-Virginia.jpg
664
1000
Guest Contributor
https://www.jonesaroundtheworld.com/wp-content/uploads/2017/03/logotry-1-1-300x106.png
Guest Contributor
2020-08-04 20:52:34
2021-04-13 16:54:14
The 15 Best Virginia Glamping Locations For A Scenic Getaway