Planning a vacation or weekend getaway and looking to do some glamping in the Bay Area? Well, I've got you covered! I've put together a glamping guide to Northern California's best luxury camping spots to make your vacation as easy as possible.
The beautiful Bay Area is known for its impressive redwood forests, sprawling vineyards, and of course, the famous Golden Gate Bridge. The Bay Area spans across the city of San Francisco and surrounding counties, so there's lots to explore.
Staying outdoors is a fantastic experience when surrounded by such beauty. Whether you're in a redwood grove, on top of a hill with 360° views, or tucked away in a green garden, there's always something to be appreciated.
You can go wine tasting or hiking during the day, and then come home to comfort. Without worrying about your tent blowing over or caving in. So get ready for an adventure, and take a look at these fantastic glamping options in Northern California.
I'd also recommend checking out theses guides on Glamping Big Sur & Treehouse Rentals in California for more amazing glamping stays!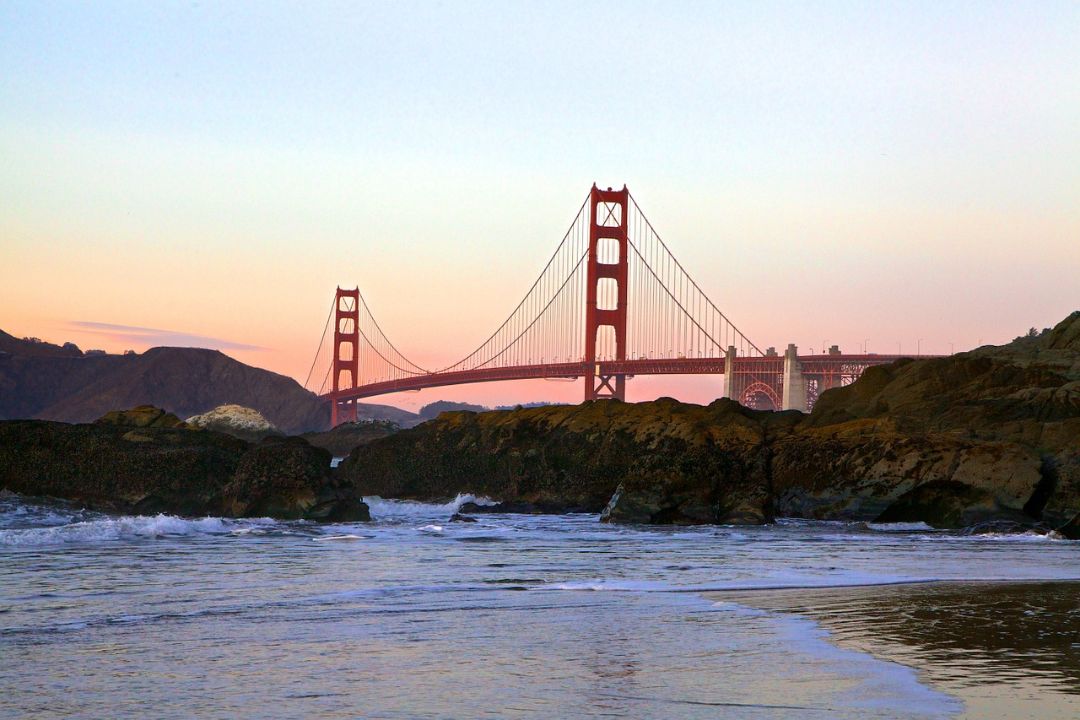 ---
Quick Breakdown of Glamping Bay Area
If you already know what you want from your glamping experience, this list is all you need. I've put together the most popular glamping categories, and the very best options for them.
The Coolest Glamping Bay Area Stay – Safari West African Glamping
Best Luxury Northern CA Glamping– Total Seclusion in This Relaxing Getaway (Luxury Yurt)
Best Glamping in Northern California for a Couple – Redhead Hideaway Yurt in Mountaintop Eco-Retreat
Best Bay Area Glamping for Families – Morgan Hill Majestic Mountain Camp
Best Bay Area Glamping Yurt – 24′ Yurt in Beautiful Half Acre Garden
In this post, I've included a few videos to give you an idea of the Bay Area. Watch a few to find out the best things to do in the area, as well as for restaurant recommendations and interesting facts. You'll see just why it's such a popular vacation destination!
---
Top 20 Glamping Bay Area Sites
Northern California is renowned for its natural beauty. So it's a great idea to experience the area by glamping. You can have all the fun and freedom of camping, without having to set up and take down the tent. Which all campers know is a huge schlep.
The comfortable beds and lack of sleeping bags are a huge plus. The glamping spots on this list have fantastic amenities to ensure that you have a great stay. Including things like full kitchens, bathrooms, space heaters, and more. You can even find places with access to a hot tub, a pool, or both!
So experience the outdoors, while being cozy and comfortable. You could pick a place that has a TV, wifi, and electricity. Or you can choose a spot that doesn't even have a signal, and get off the grid for a few days.
Whatever it is you're wanting to experience while luxury camping in Northern California, this list will have it!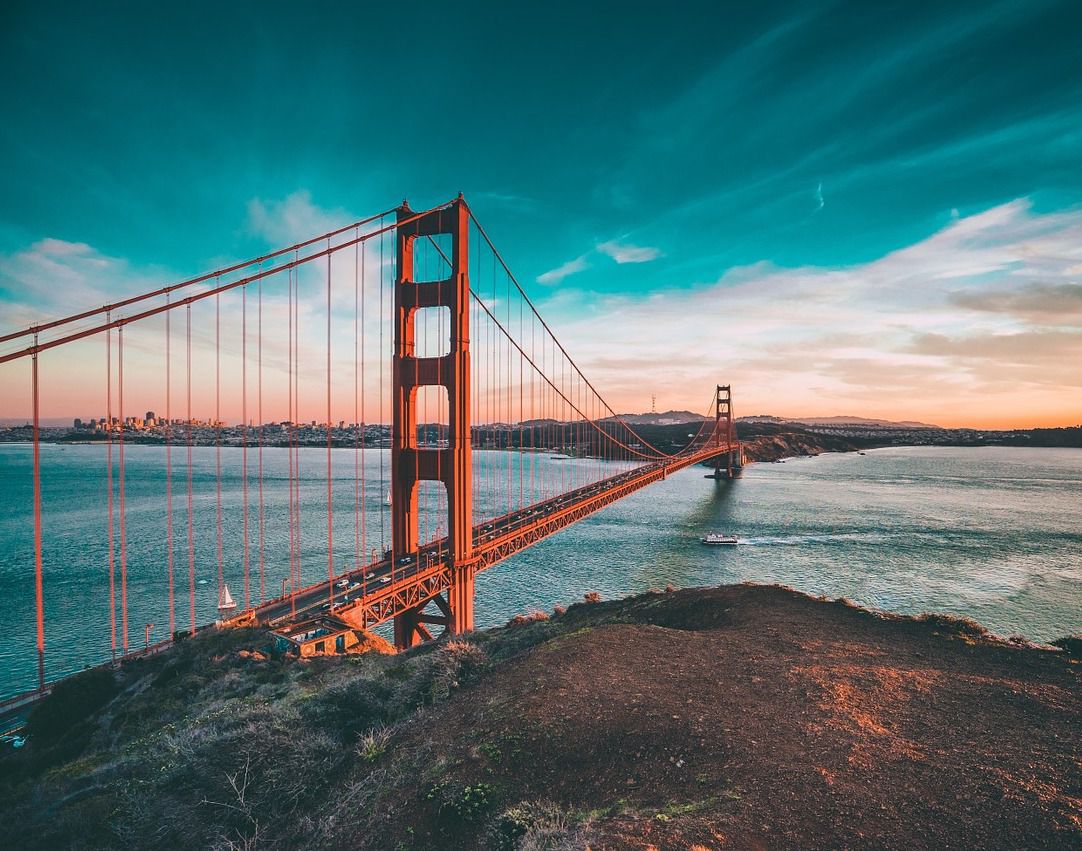 ---
1) Safari West Glamping
Location: Santa Rosa, California
Price: $310+ USD per night
https://www.safariwest.com/plan-your-visit/spend-the-night/
https://www.facebook.com/SafariWest/
"Imported from Botswana and customized here on property, each of our thirty tents sports a private viewing deck, en-suite bathroom, polished hardwood floors, and because it's camping, all the wildlife sounds of the Sonoma Serengeti! Get a great night's sleep while getting closer to the wild wonders of Safari West!
Do you want to experience an African-style safari, just 12 miles from downtown Santa Rosa? And then, after your wildlife adventure, come home to an authentic Botswana luxury safari tent? If this adventure sounds good, Safari West is the place for you! You'll feel like you're far away, in another land.
Look out at the Californian wilderness combined with African wikdlife from the private viewing deck. The tent's hardwood floors and thoughtful touches make the experience feel both luxurious and authentic. It's a fantastic escape from the city, without having to go far.
Glamping! Luxury safari tent #20 tour, Safari West, Santa Rosa, California, USA
---
2) Autocamp Airstream Glamping on Russian River
Location: Russian River, Sonoma County
Price: $229+ USD per night
https://autocamp.com/guides/location/russian-river
https://www.facebook.com/autocamp
NESTLED IN THE HEART OF CALIFORNIA'S COVETED WINE COUNTRY
"Surrounded by soaring Sonoma redwoods and ideally situated between the Russian River and the charming nearby town of Guerneville—an outdoor and wine destination. Sleep next to the redwood forest, then wake up with coffee in your private outdoor space. Tucked into a grove of trees that feels secluded but is only a five-minute drive from hiking trails, swimming spots, and Guerneville's charming main street, it's the best of every world."
This serene glamping spot is ideal for those who want an authentic glamping experience, with all the amenities and luxuries of an auto camp. You can choose between a retro Airstream camper, a set-up tent, or an accessible suite.
Plop onto the comfortable queen mattress and enjoy your favorite movie on the flat-screen TV with cable. Or, if you want to make the most of the experience, head outside to the fire pit. It's a great place to warm up and chat with your loved ones while you roast marshmallows.
Glamping at $300 Luxury Airstream Suite? AutoCamp Russian River Review (Tesla charging available)
---
3) Exotic Glamping Yurt Getaway in Sobrante Hills
Location: Richmond
Price: $138+ USD per night
https://www.airbnb.com/rooms/41931170
This bohemian-style yurt is private and unique. It's covered in eclectic colors, rugs, and details. You'll feel like you've been dropped into a far away escape.
It has no wifi or electricity. So it's a great opportunity for you and your partner to get out of your comfort zones and reconnect with nature and each other.
There's a full kitchen and bathroom, so you'll have everything you need for a great stay.
View Photos, Read Reviews & Check Availability
Guest Review: "We totally enjoyed our time here! I took my husband here as a surprise and we both really enjoyed the uniqueness and comfort of the yurt. Lots of special little touches, we would definitely enjoy coming here again!"
---
4) Redwood Hideaway – Yurt in Mountaintop Eco-Retreat
Location: Day Valley, Aptos, California
Price: $111+ per night
Sleeps: 2
The Om Oasis retreat offers high altitude, high quality living, and a higher sense of spiritual consciousness for the eco-minded glamper! The Bedouin-style yurt provides you with a comfortable king bed and stylishly plush furniture, and the amazing amenities and natural surroundings will leave you with a clear mind and spirit. Just outside the yurt is a spacious deck built to incorporate the towering redwoods where you can do yoga or aerial.
Along with 24-hour access to the gorgeous salt water pool and hot tub, you can also book spa appointments at the resort including infrared sauna, sound healing and aromatherapy, massage, or jump into the cold plunge tub. Relaxation and reconnection with yourself and the earth are prime components of this mountaintop getaway, which is sure to live up to expectations.
View Photos, Read Reviews & Check Availability
Guest review: "This is such a beautiful property, with delightful landscaping, a variety of abodes, and was well-maintained and remote enough to feel very far from the busy world, yet less than 15 minutes to Aptos. We enjoyed our yurt, the hot tub, the communal kitchen with everything we could need to prepare our meals, and the graciousness of our hosts, Kyle and Emberlie."
---
5) Total Seclusion in This Relaxing Getaway (Yurt)
Location: Gasquet, California
Price: $135
Sleeps: 6 people (1 BR/1 bath)
This luxury yurt and accompanying gazebo are more aptly described as high quality cabin living! You'll be thoroughly impressed with the rustic-yet-modern construction and interior, complete with a fully equipped kitchen, heat/AC, hot tub, full bath, and a handcrafted log loft to add extra living space for larger groups. The property itself is situated on the Smith River National Recreation Area and looks over the river. Just outside your door are over 65 miles of hiking trails in a totally secluded nature lover's paradise! If you're looking to sit back and simmer down in a stylish stay, this must be the place.
View Photos, Read Reviews & Check Availability
Guest review: "Loved staying at Middle Fork Ranch! The yurt is lovely, even better than the photos, and had everything one could need to relax. It's also a stones throw from wonderful hikes and excursions. Sat in the hot tub and listened to the rambling river, explored the property with our dogs…. Could not have been happier with our stay."
---
6) Rustic Cabins & Treehouse on Creek in Redwoods
Location: McKinleyville, Fieldbrook, California
Price: $299
Sleeps: 5 people (3 beds/2 BR/1 bath)
Nestled into the heart of the Humboldt Coastal Redwoods, this charming property boasts two adjacent cabins that can comfortably sleep five guests. The cabins themselves are adjacent to a seasonal creek and waterfall, and have modern amenities such as an HDTV, kitchen and appliances, electricity, and heat. The real gem here, however, is the charming treehouse that sits above the creek! Can you imagine walking up to this glowing forest oasis and spending a cool evening curled up with a cook book and a warm drink? This is truly the ideal listing for families, couples, or a small group of friends searching for a secluded spot to recharge.
View Photos, Read Reviews & Check Availability
Guest review: "This property is as charming as you would hope it to be. It was the perfect last stop on our weekend road trip after visiting the redwood national park. The cabin is so cozy and the little nature trails around the property were so much fun to wander as a family. Would stay here again in a heartbeat."
---
7) Glamp with a Gourmet Breakfast
Location: Santa Cruz
Price: $169+ USD per night
https://www.airbnb.com/rooms/27358934
This secluded glamping spot is a great city escape for a couple. It's located in a redwood glade, and there are no other buildings in sight. You'll have tea, coffee, and a delicious farm-to-table breakfast delivered to you in the mornings.
Dive into the refreshing pool, or heat things up in the hot tub nearby. Then head back to the tent to get cozy under the fluffy duvet. The beds are heated in the winter, so you'll always be warm and comfortable.
View Photos, Read Reviews & Check Availability
Guest Review: "Staying at Flipjack Ranch was an absolute delight! Amazing breakfast in beautiful natural surroundings. Can't wait to go back!"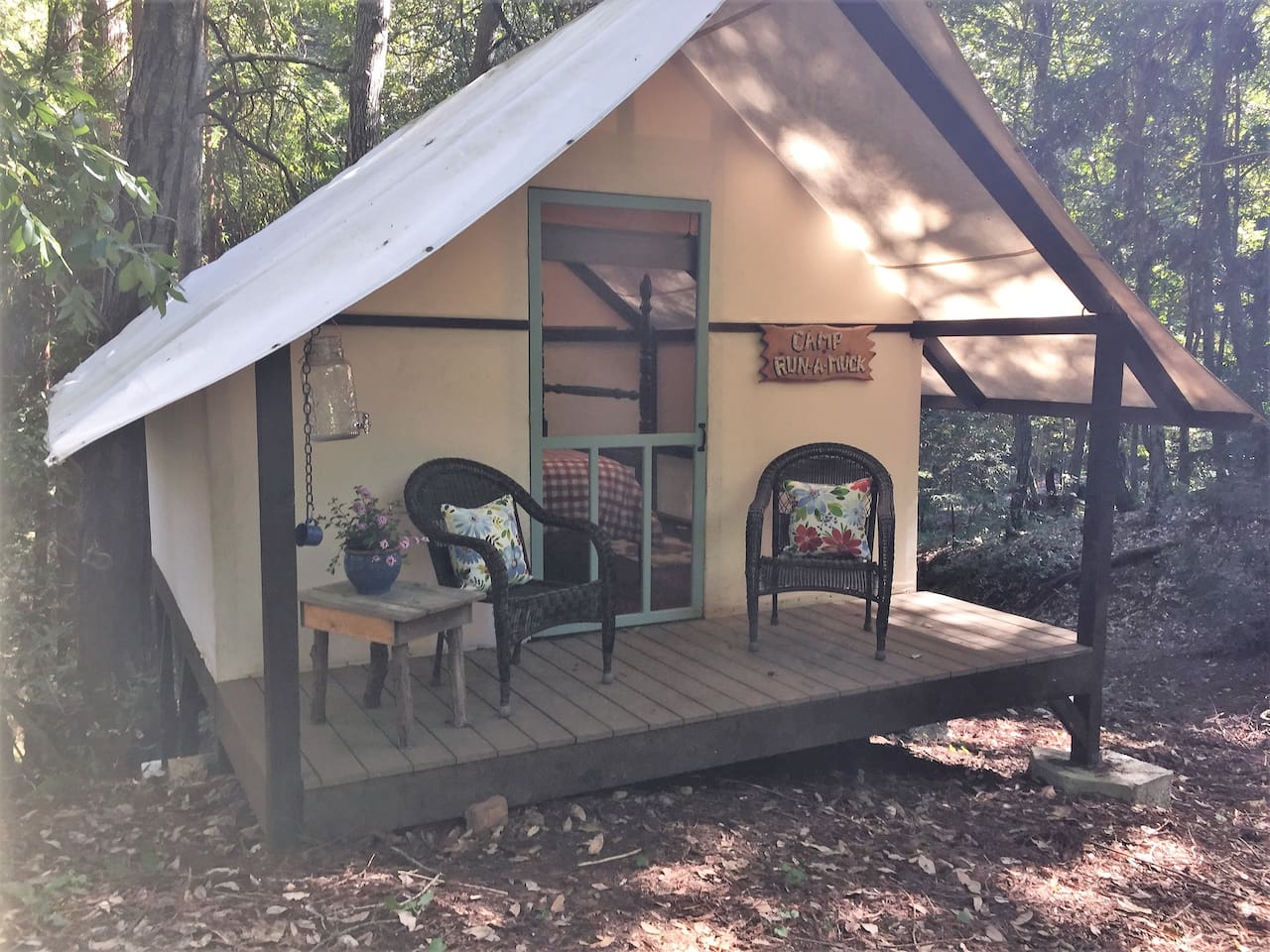 ---
8) Morgan Hill Majestic Mountain Camp
Location: Morgan Hill
Price: $150+ USD per night
https://www.airbnb.com/rooms/43488388
If you're looking for glorious views and serene seclusion, this is the spot for you. It's just 20 minutes out of San Jose, but it might as well be 1000 miles. There is fishing and hiking nearby, so you and the family will never get bored.
There are two queen-sized beds, so there's enough space for you to bring the kids. They'll love being able to run and ride around. In the evenings, sit back on the patio and enjoy incredible views of the sunset with your family. You can even get a fire going in the fire pit and roast s'mores.
View Photos, Read Reviews & Check Availability
Guest Review: "Views on views on views, honestly pictures don't do it justice this place is incredible! It feels so secluded and homey, like our own little oasis. Perfectly situated for sunsets and about an hour from cute beach towns to explore. Owners provided a thorough info booklet, were super communicative via messaging, and hands off during our stay (which is awesome and adds to feeling totally private at the site). We will definitely be back!"
---
9) "Camping" in the Oaks
Location: Orinda
Price: $55+ USD per night
https://www.airbnb.com/rooms/3385015
This heavenly spot is the perfect place to reconnect with nature. It's nestled amongst redwoods. And with see-through screen walls, you'll really feel like you're amongst the trees.
Appreciate dappled sunshine and starlight while you lie in bed. In the mornings, wake to the sound of birds. It's a great way to experience a natural way of living. You have full use of the main house's comfortable patio, outdoor fireplace, and barbeque. So although the living space is simple, you'll have everything you need.
View Photos, Read Reviews & Check Availability
Guest Review: "Wow, what a treat. This totally private, open-air living experience is not to be missed. Tracy has thought of everything, and made it really easy to be a guest. The location is superb, just a short walk or drive to the little town of Orinda or BART, and the "tent" is tucked amidst a grove of trees so it feels as if it's a jungle outpost. Wonderful!"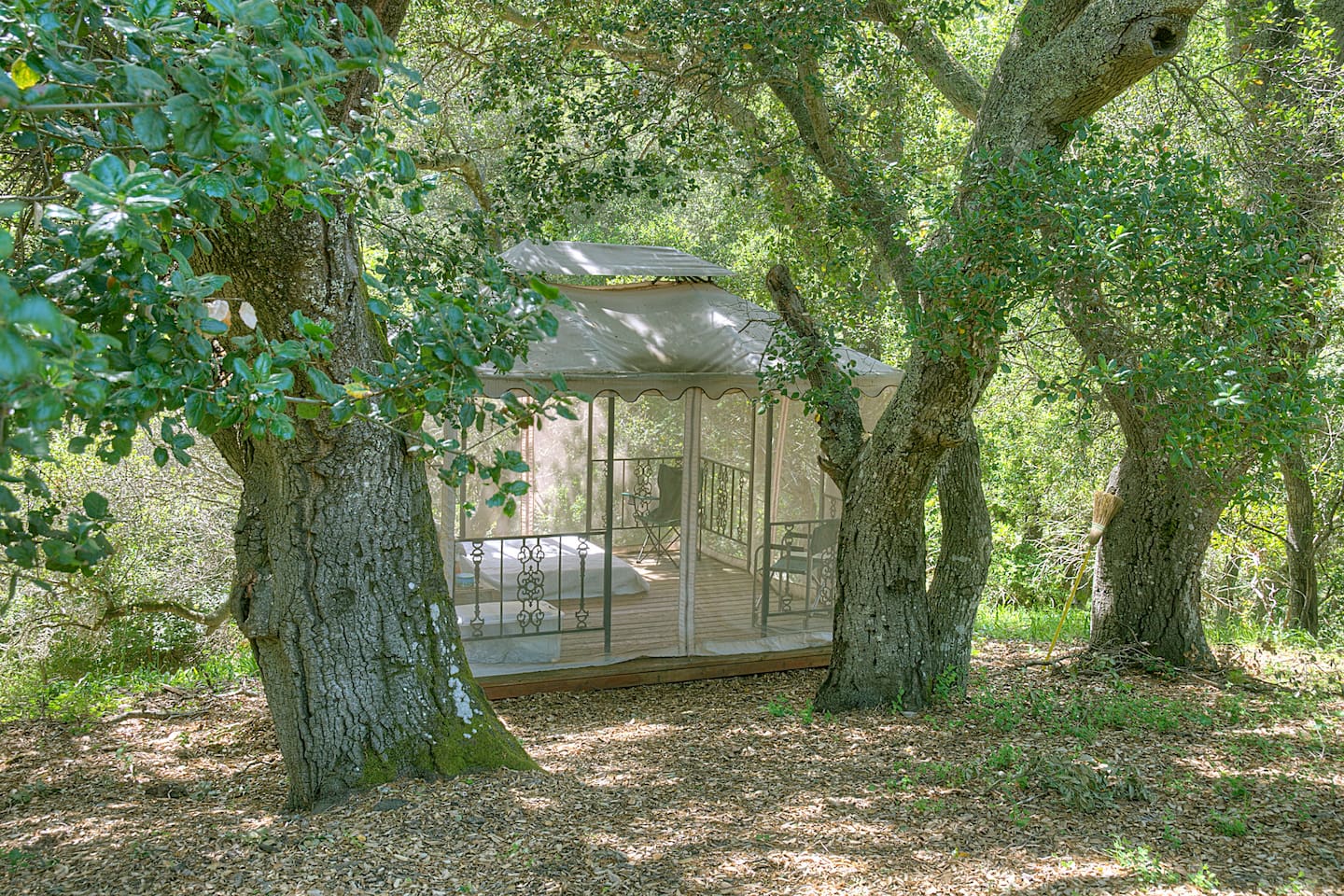 ---
10) Private Glamping Retreat in a 1967 Airstream on the Coast
Location: Half Moon Bay
Price: $199+ USD per night
https://www.airbnb.com/rooms/plus/28583591
If you're wanting to experience glamping in luxury, this 1967 Airstream on the coast is ideal. The beautiful, sumptuous interior is small, but it's all you need. And with access to miles of ocean view trails and a spacious yard, you'll have all the space you could want.
Make a meal in the full kitchen, and then head outside to toast marshmallows over the fire pit for dessert. Dogs are allowed, so your favorite furry can run around the yard while you relax and appreciate the outdoors.
View Photos, Read Reviews & Check Availability
Guest Review: "I had a lovely stay! The yard is spacious which my pup loved, the bonfire area is perfect for cozy nights and the beach is less than 5 minutes away. Will definitely stay here again."
---
11) Glamping Yurt in Beautiful Half Acre Garden
Location: Santa Cruz
Price: $165+ USD per night
https://www.airbnb.com/rooms/40425386
This exotic, expansive yurt is the perfect retreat for a couple who are looking for something unique. The wooden floors, Moroccan rugs, and glass windows will make you feel like you've escaped to another land.
There's no need to worry about the weather affecting your comfort, as the yurt is insulated and has heating. It also has all that you need to cook. You can enjoy your meals in the garden or on the patio. Or fire up the grill while your partner opens up the provided bottle of wine.
View Photos, Read Reviews & Check Availability
Guest Review: "This place is truly magical!! It's surrounded by the most beautiful redwoods and the air is so fresh. The yurt is so beautiful and comfortable, you never want to leave! We enjoyed our stay so much. Peter is such a kind and accommodating host! Can't wait to come back!!"
---
12) Lotus Yurt Glamping in Vineyard Overlooking Monterey Bay
Location: Los Gatos
Price: $238+ USD per night
https://www.airbnb.com/rooms/19876384
The view from this spacious yurt is dreamy. Lookout at the vineyards and the sea in the distance from the queen-sized bed. Or have a cup of coffee in the outdoor area and watch the mist roll over the bay.
The outdoor bathroom has everything you need, including toiletries and towels. So have a full day of adventures and sightseeing, and come home to a hot shower. There's also wifi and electricity in the yurt, so you don't need to worry about running out of battery.
View Photos, Read Reviews & Check Availability
---
13) Yolo Yurt
Location: Davis
Price: $100+ USD per night
https://www.airbnb.com/rooms/29009921
This spacious, unique yurt is a great getaway. Surrounded by farmland, sunflowers, and animals, it makes for the perfect city escape.
Cook dinner with your partner in the small but full kitchen, and eat at the dining table in front of the window. Then watch the sun set the sky ablaze from your outdoor patio. Once the colors have died down, head back inside to the very comfortable bed.
View Photos, Read Reviews & Check Availability
Guest Review: "Absolutely amazing! The Yurt is on a lovely ranch with horses, goats and chickens and if you are interested, Carla will introduce you to the animals! It's also facing a beautiful field of sunflowers with the mountains off in the distance The Yurt itself is spacious, clean and offers everything you need (kitchen, toilet, shower, AC, heaters and a big comfy bed). Carla is a dream host and even put up a birthday banner in the yurt when I told her the purpose of our stay was for my birthday. This place is a must stay!!"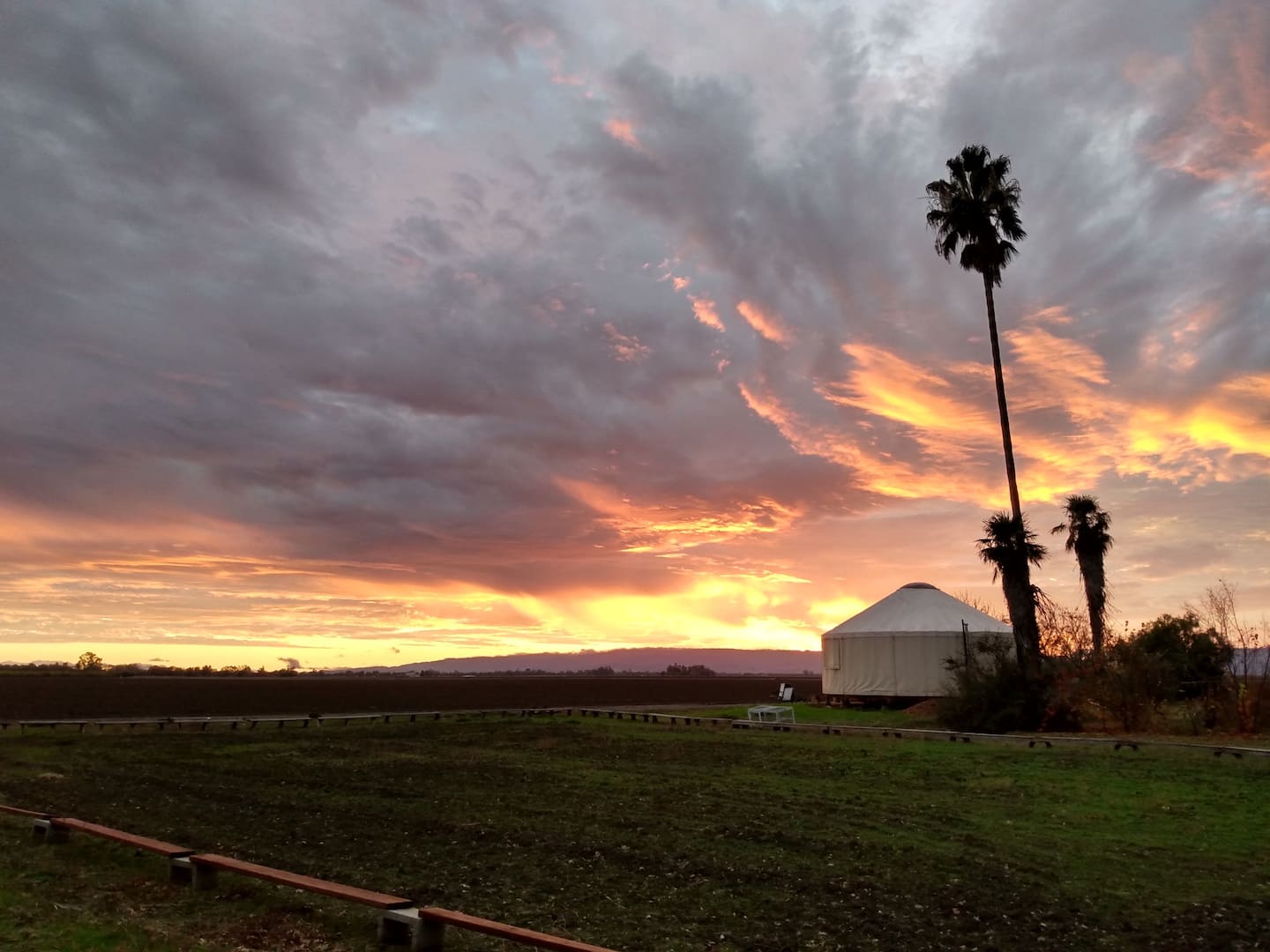 ---
14) Meet the Ruby RV Glamping
Location: Inverness
Price: $128+ USD per night
https://www.airbnb.com/rooms/23304252
The Ruby is the retro camper of your dreams. Wooden walls, cherry red seats, and checkered linoleum floors will take you right back to the American diners of the past. It's cute, cool, and comfortable.
Wake up on the queen bed and make a cup of coffee in your well-stocked kitchen. Then step outside to listen to the birds and admire the trees while you sip on your coffee. In the evenings, get cozy on the sofa and watch your favorite movies on the TV. This camper has heating and aircon, so you're sure to always be comfortable.
View Photos, Read Reviews & Check Availability
Guest Review: "Really great AirBNB experience. The location is beautiful, the trailer is cozy and clean, the deck area is nice, and Ewa was a pleasure to interact with. Easy check-in, nice little amenities, and thoughtful touches. Highly recommend!"
Finding Secret Waterfalls in Northern California
---
15) Sunset Yurt with Stunning Infinity Pool
Location: Garden Valley
Price: $150+ USD per night
https://www.airbnb.com/rooms/17944878
This gorgeous yurt is the perfect place to unwind and recharge. Laze the day away next to the sparkling pool, with your favorite cocktail in one hand and a book in the other. Or explore the many trails in the area. Dogs are allowed here, so they might like the second option best.
The view from the infinity pool is incredible. And when the sun sets over the trees in front of you, you'll feel all your troubles melt away. Then head to the confines of your yurt and climb into the cozy bed for a peaceful night's sleep, far away from the sounds of traffic.
View Photos, Read Reviews & Check Availability
Guest Review: "Beautiful spot! The pool and hot tub are gorgeous and the yurt is very comfortable. Very helpful tips about the area, local hiking trails and restaurants."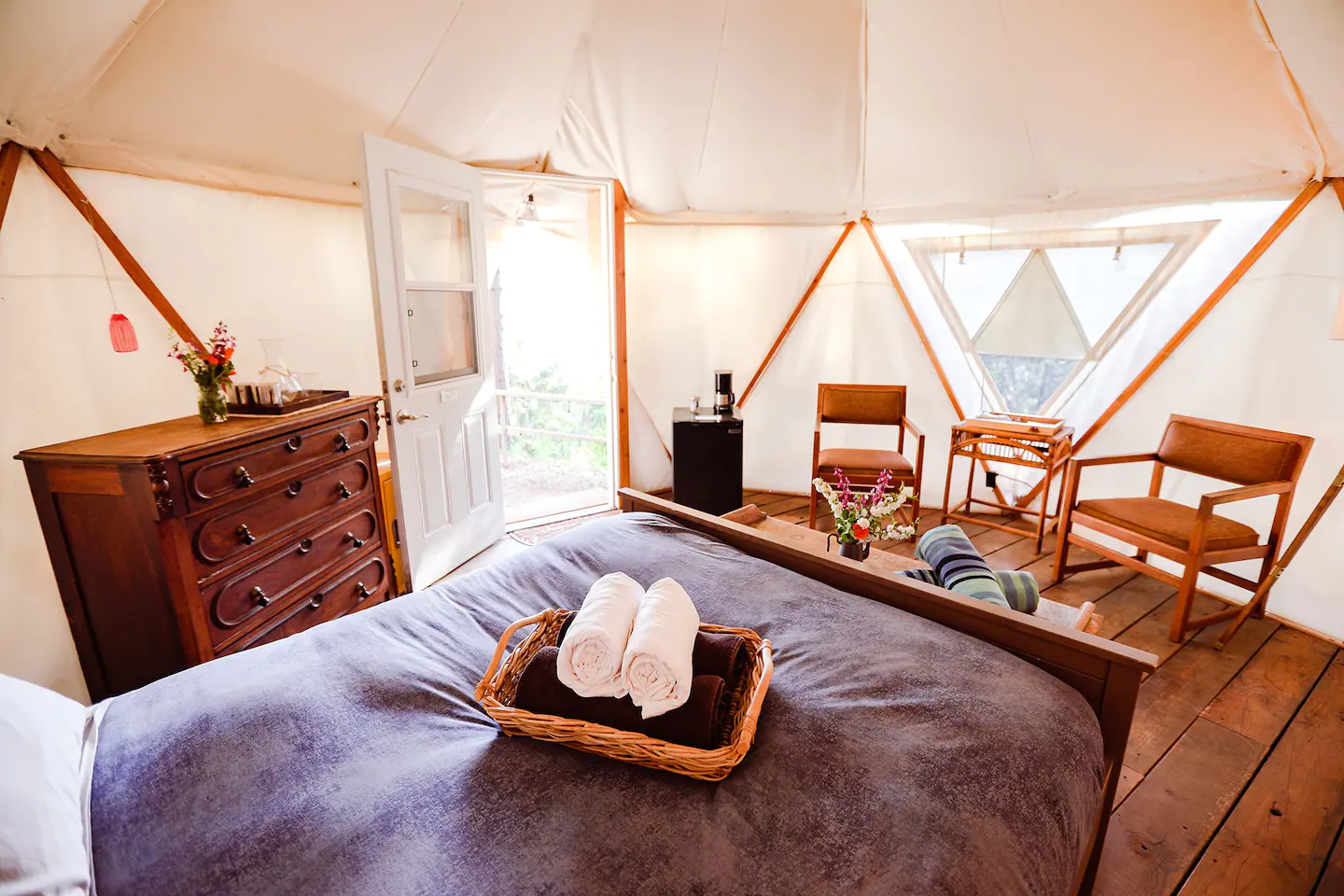 ---
16) Majestic Tent Cabin at Venture Retreat Center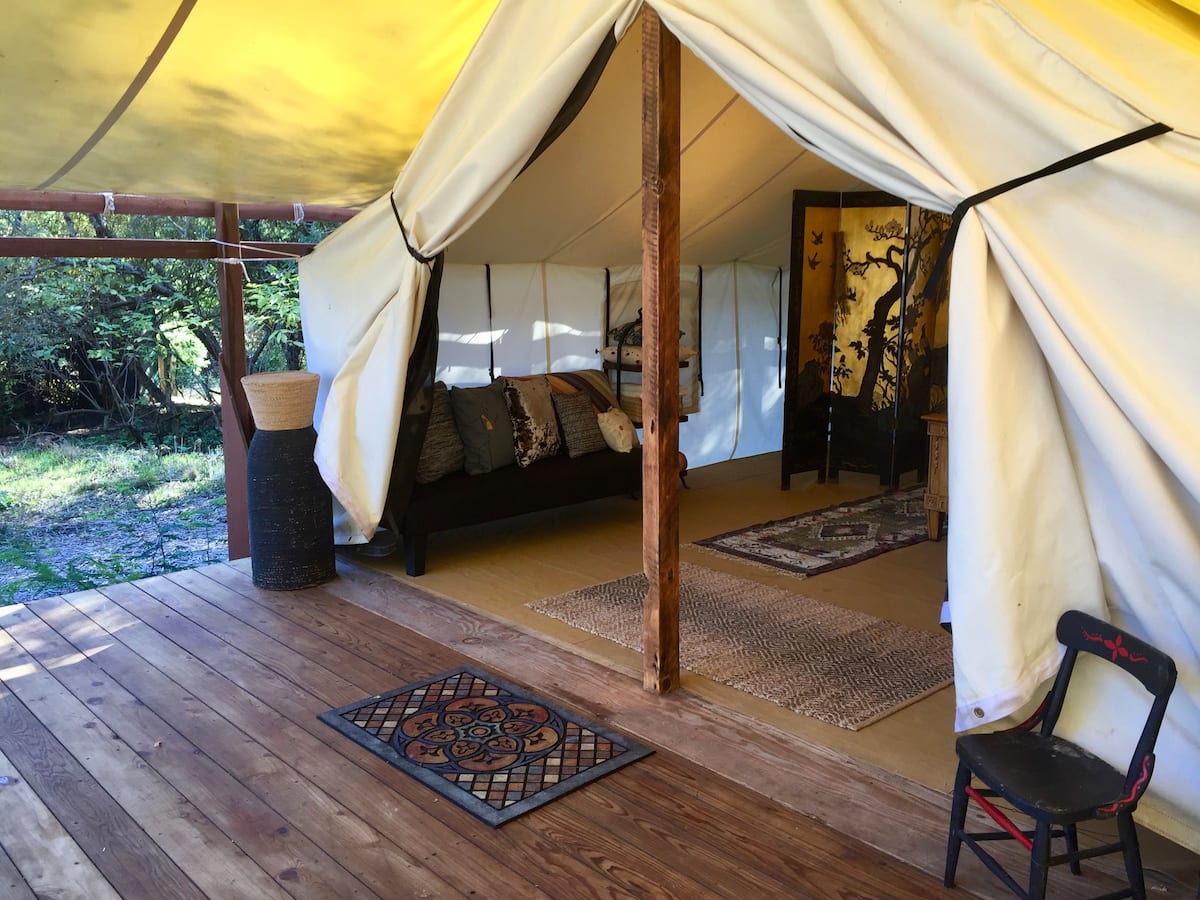 Location: Pescadero
Price: $135+ USD per night
https://www.airbnb.com/rooms/21846982
If you're looking forward to doing some cabin camping in Northern California, this spacious, tented space is ideal. The king-sized bed and sofa are luxurious and comfortable. And with a heater and air purifier, you're sure to always be cozy.
This cabin tent is nestled amongst the trees. Once it gets dark, you'll have a great view of the stars from the patio. It's a peaceful spot to unwind and get in touch with nature.
View Photos, Read Reviews & Check Availability
Guest Review: "The location is gorgeous! The tent is furnished so luxuriously and the bed is huge and comfy. It gets quite cold at night but the heater helps tremendously. Having a mini fridge and ability to charge our devices was awesome. Two friendly and playful little cats as well as chickens wandering the property were extremely charming. Would stay again!"
---
17) Tentrr Signature – Artemis
Location: Santa Cruz
Price: $128+ USD per night
https://www.airbnb.com/rooms/35256718
This lovely tent sits on a raised platform between the trees. Sit on the patio with a beer in hand and appreciate the beauty of the land. Or watch the horses graze around you.
This serene site is right off of multiple trails that go through Wilder Ranch State Park. There are tons of mountain biking and hiking possibilities for you to explore. And with no wifi or electricity available, you'll be truly free to get active.
View Photos, Read Reviews & Check Availability
Guest Review: "This unique camping situation is rare and truly fantastic. We especially enjoyed the peacefulness of this private setting with its redwood forest and farm. We appreciated the thoughtfulness of our host. All the camping arrangements were just wonderful. We highly recommend!"
SIZZLING Hotpot, Soup Dumplings & SPICY Noodles: Bay Area Food Tour!
---
18) Samadhi Yurt at Kayakalpa Alchemy Foundation
Location: Glen Ellen
Price: $199+ USD per night
https://www.airbnb.com/rooms/42002535
How about a unique stay in a traditional Mongolian yurt? It was hand made by a family in Mongolia and has brightly colored, hand-painted details throughout. Everything is organic, from the cotton sheets to the walls of the yurt.
When the days warm up, dive into the refreshing salt-water pool. In the cooler evenings, the hot tub is a perfect place to warm up. Then jump into the comfortable king-sized bed and get ready for a deep and peaceful sleep.
View Photos, Read Reviews & Check Availability
Guest Review: "Sophia has such a lovely, open space and couldn't have been more accommodating. The yurt was absolutely lovely and Sophia was so nice!! A must stay if you're visiting the area!"
Pitcher Plants of Northern California
---
19) Premium Glamping Tent in Palo Alto, Comfortable
Location: Palo Alto
Price: $72+ USD per night
https://www.airbnb.com/rooms/33785194
If you're looking for a suburban glamping spot, this is a great option. The location is ideal if you're traveling for work, or as a student. It's near Stanford and the major tech companies that Palo Alto is known for.
This spacious tent is situated in the garden of a family home. It's a great place for an easy stay for singles or a couple. It might not be an adventurous or nature-orientated experience, but if you're looking for a well-priced spot in the city, it's perfect.
View Photos, Read Reviews & Check Availability
Guest Review: "Perfect location and great value. A very unique experience!"
California Road Trip TRAVEL GUIDE | BIG SUR
---
20) Petaluma KOA Campground – Cabin Camping California
Location: Petaluma
Price: $75 – $220 + USD per night
https://koa.com/campgrounds/san-francisco/
Sometimes the social aspect of camping is the best part. Being around other families and friends who are having just as much fun as you can be a big deal. Especially if you're camping with kids.
At this campsite, you can have all the perks of a big campground, without the hassle of setting up a tent. In fact, you can stay within 4 walls, in a wooden cabin. There are a number of different accommodation sizes. So you can fit in a family of 6, or just yourself.
Guest Review: "Just a fantastic facility. Clean, beautifully landscaped grounds. Sparkling clean, large pool. The bathrooms are amazing- air conditioned, multiple stalls and showers, and cleaned regularly."
---
Best Day Trips & Tours in Bay Area
Northern California is a beautiful area well-known (and loved) for its fantastic wineries, hiking trails, and natural beauty. There are tons of great activities to do, and fascinating things to see. For that reason, it's often a great idea to take a tour, so you don't miss out on the best of the Bay Area.
---
Small Group Boutique Wine Tour with Tastings
"Get off the beaten path and explore the real wine country. Sip delicious wines and take in beautiful scenery as you learn this history of California wine on this tour from San Francisco."
https://www.getyourguide.com/activity/san-francisco-l61/wine-country-tour-from-san-francisco-with-tastings-t151331
Price: $139+ USD
---
Monterey: 17-Mile Drive Bike Tour
"Legendary for its beauty, 17-Mile Drive meanders up and down the hills of Pebble Beach. Admire stunning seaside views, famous golf courses, and amazing mansions on this guided e-bike tour."
https://www.getyourguide.com/activity/monterey-l548/monterey-17-mile-drive-bike-tour-t248107
Price: $79+ USD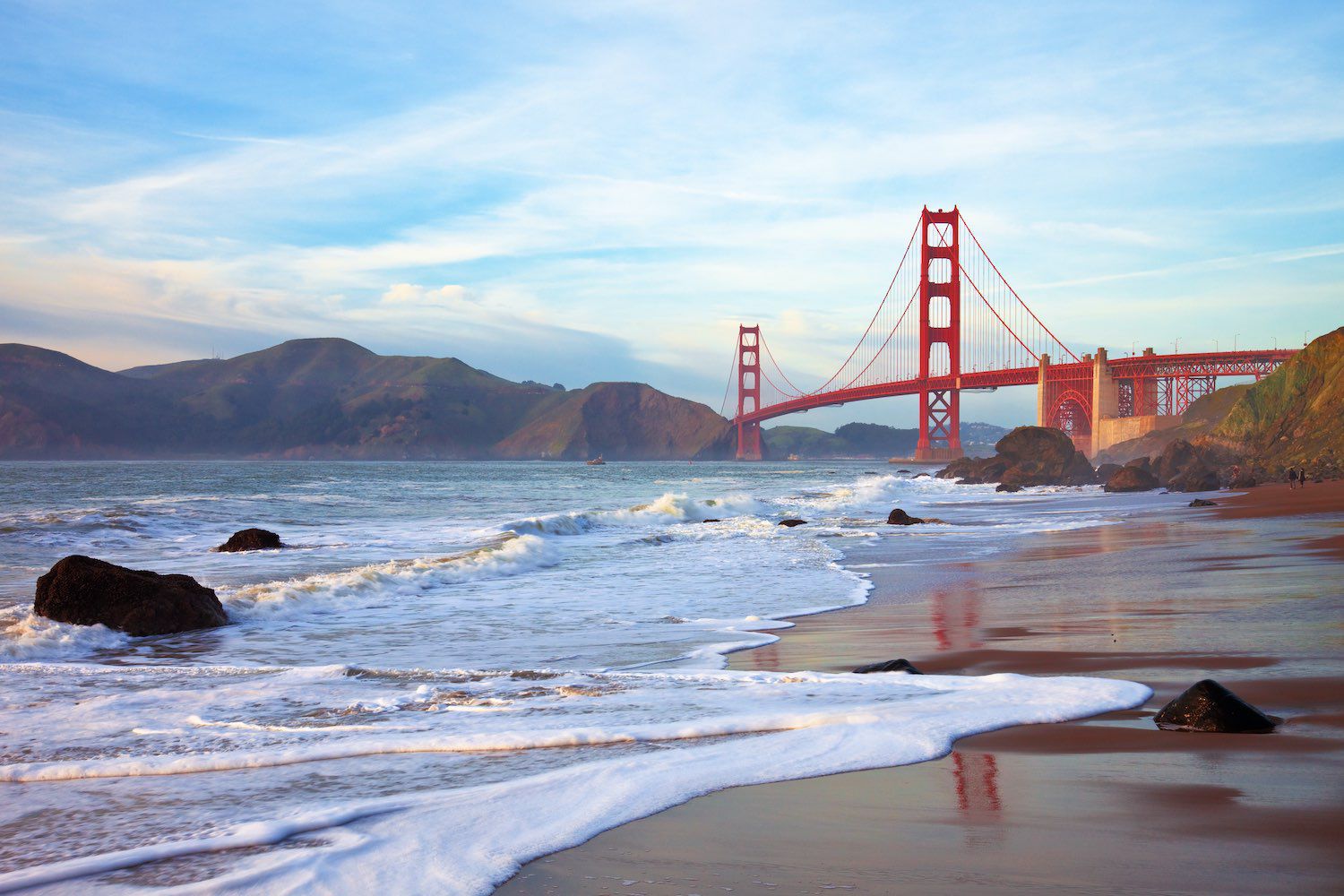 ---
Am I Missing Any Great Options for Glamping in Northern California?
There are lots of great glamping options scattered across the Bay Area. A list that included all of them would be a mile long, so I may have missed one or two greats.
If your favorite glamping spot hasn't been included in this list, and you want to share it with the world, contact me via social media or email. I'll see what I can do to include it!
---
Other Recommended Reading When Glamping in Bay Area
If you're planning a vacation in the California area, here are a couple of great festivals and Airbnb lists to help. There's so much to see and do in California, it's worth some serious exploring.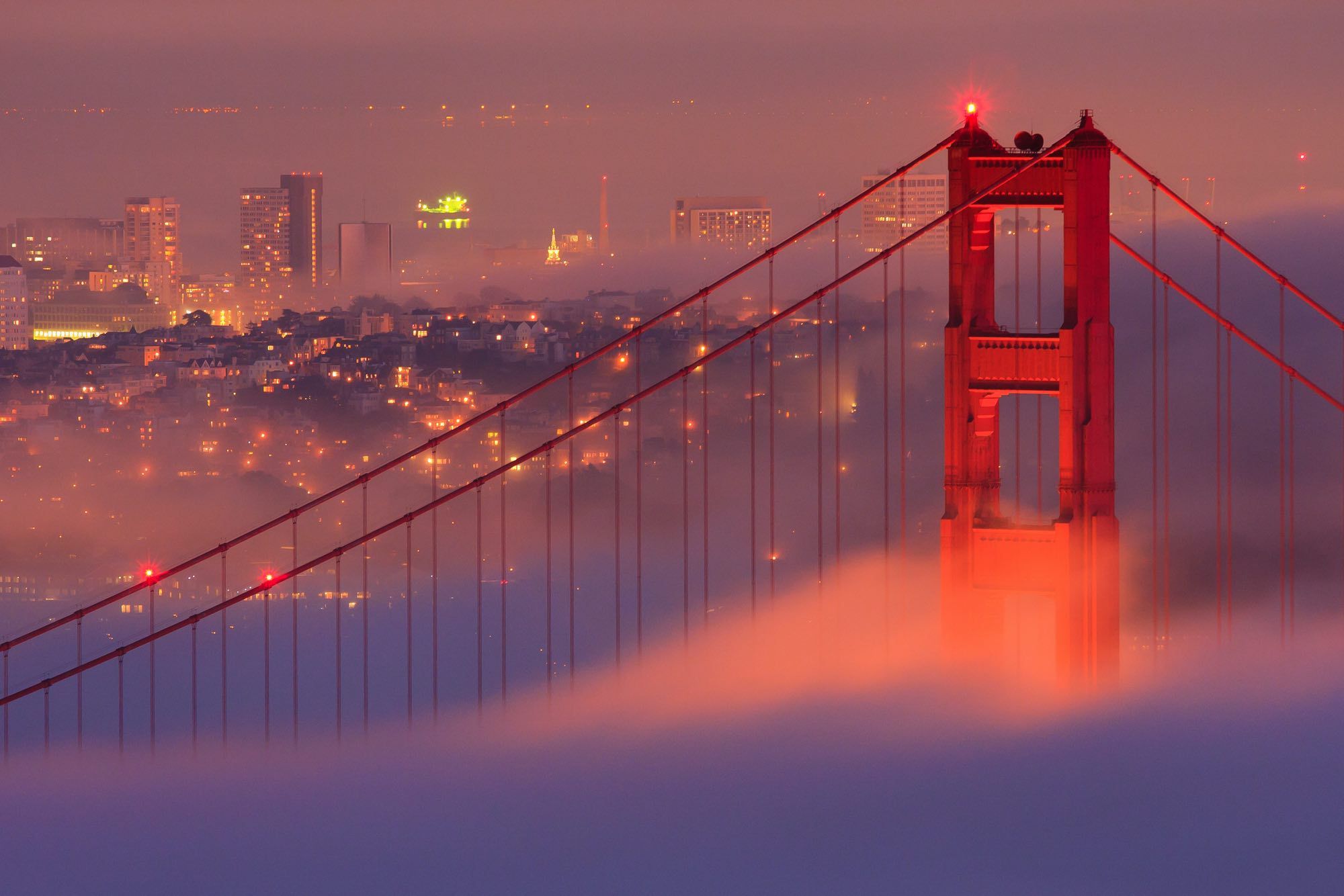 ---
Final Thoughts on Northern California Glamping
There are so many wonderful options for glamping in the Bay Area. Whether you're looking for a romantic weekend away or a busy family vacation, there's something for everyone. You'll experience the outdoors while being comfortable in every way.
Whatever it is you're looking for, you can't go wrong with one of these amazing glamping options. And if you need any convincing to take a Bay Area vacation, here are the best California quotes and captions to inspire you. Or to convince the person you want to join you.
---
THANKS FOR READING MY GLAMPING BAY AREA GUIDE!
SHARE THIS GLAMPING LIST WITH YOUR FAMILY, FRIENDS, AND TRAVEL CREW!
https://www.jonesaroundtheworld.com/wp-content/uploads/2020/08/Best-Glamping-Northern-California.jpg
1334
2000
TravelTractionsJATW
https://www.jonesaroundtheworld.com/wp-content/uploads/2017/03/logotry-1-1-300x106.png
TravelTractionsJATW
2023-01-11 00:04:22
2023-01-13 06:21:00
20 Dreamy Glamping Bay Area & Northern California Destinations