Looking for some inspiration only the beachy state of California can bring? I've got the ultimate list of the best California quotes to transport you there…
The state of California could arguably be the most written about state in the United States and one of the most famous destinations in the world.
Ask anyone what they think of when they hear the word "California", and the odds are their answer will be much the same as anyone else offers up. Eternal sunshine, warm weather, beautiful beaches, Hollywood and all its glitz and glamor, free spirited locals, liberal leanings and healthy living – just to name a few.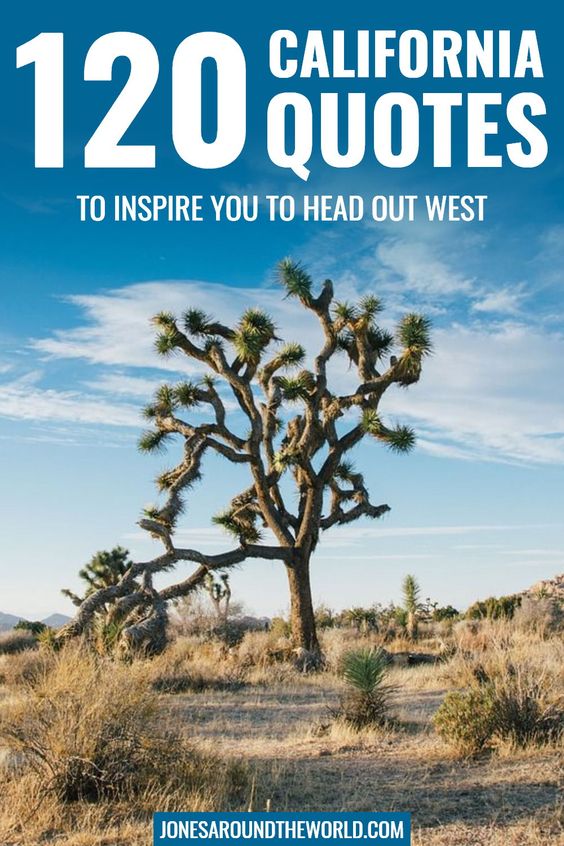 ---
I was born and raised in California, so I know there's always the flipside of the coin, but I love California and it's my home at the end of the day. And I still love exploring parts I haven't experienced! From San Diego to San Francisco, Los Angeles to Death Valley – and everywhere in between – there's a helluva lot of quotes about California, unsurprisingly.
I've compiled the ultimate list of the funniest, most memorable, inspirational and best California quotes to inspire your own visit to this state that offers so much.
---
The Best California Quotes
The vibe out west is enough to inspire some of the most memorable and best quotes about California – here's just a few!
1) "Everything is just better in California – the wine, the food, fruits and vegetables, the comforts of living. Even the instrumentalists are generous and curious. Everything is wonderful." – Beth Anderson
2) "California: bordering always on the Pacific and sometimes on the ridiculous. So, why do I live here? Because the sun goes down a block from my house." – George Carlin
3) "To capture a California sunset in South Pasadena is to hold an angel's wings with bated breath." – Ace Antonio Hall
4) "Dean's California–wild, sweaty, important, the land of lonely and exiled and eccentric lovers come to forgather like birds, and the land where everybody somehow looked like broken-down, handsome, decadent movie actors." – Jack Kerouac
---
5) "California, where the spring comes in the fall and the fall comes in the summer and the summer comes in the winter and the winter never comes at all." – Inez Haynes Irwin
6) "I just realized some things make me happier, and the good weather in California makes me happier." – Bianca Balti
7) "Nature. That's the one thing that tips the balance in terms of living here in California. Within minutes, I can be in a desert, at the ocean, in a park, and that's the most nourishing food for my soul." – Lara Pulver
---
8) "Why don't you go on west to California? There's work there, and it never gets cold. Why, you can reach out anywhere and pick an orange. Why, there's always some kind of crop to work in. Why don't you go there?" – John Steinbeck
9) "This is the California that men dreamed of years ago, this is the Pacific that Balboa looked at from the Peak of Darien, this is the face of the earth as the Creator intended it to look." – Henry Miller
---
Short California Quotes
Concise and thought-provoking, these short quotes about California will transport you to the Golden State in just a few words…
10) "I love driving; driving along the California coastline is the best drive in the world." – Al Jardine
11) "California, still a magical vanity fair." – Eileen Granfors
12) "We only have two kinds of weather in California, magnificent and unusual." – James M Cain
13) "California is where you get to start over." – Tracy Chevalier
---
14) "Los Angeles is 72 suburbs in search of a city." – Dorothy Parker
15) "I think California has the best energy." – Kevin Gates
16) "There is science, logic, reason; there is thought verified by experience. And then there is California." – Edward Abbey
17) "If they can't do it in California, it can't be done anywhere." – Taylor Caldwell
---
18) "Whether they're for good or bad, all trends in the United States start in California." – Steve Schmidt
19) "I love California. It definitely represents wild freedom." – Jenny O
20) "Move to California. Malibu is paradise." – David Geffen
---
21) "You haven't lived until you've died in California." – Mort Sahl
22) "Life in California is beautiful." – Oscar Nunez
23) "I'd rather be in prison in California than free anywhere else." – Inez Haynes Irwin
---
Quotes About Los Angeles & Southern California
From San Diego to Los Angeles and other destinations in Southern California, these quotes about Los Angeles and SoCal convey the exciting vibe and beachy lifestyle of the showbusiness hotspot.
24) "I love Los Angeles. It reinvents itself every two days." – Billy Connolly
25) "In Los Angeles, by the time you're 35, you're older than most of the buildings." – Delia Ephron
26) "Everything moves a little quicker in Los Angeles." – Kyle Chandler
27) "Southern California is the land of crazy crimes." – Don Carpenter
---
28) "Southern California is a nice place, if you could cut out the show-business cancer. It just keeps spreading." – P. J. O'Rourke
29) "I first saw the ocean as a kid. We would drive from Arizona in the summer and arrive as the sun was starting to come down over the hill near Laguna in southern California. We would always sing a song, and it was a big joyous family moment when we came over the hill." – Ted Danson
30) "I love how Hollywood still wants to perpetuate the myth that beaches in Southern California are warm at night." – Chris Carmack
31) "Even though I grew up two hours south, I had rarely ventured to Los Angeles. I soon learned that my dad wasn't totally off base when he said, "Los Angeles is like San Diego's older, uglier sister that has herpes." . . . "Remember. Family," he said. "Also, how do I get back to I-5? I hate this fucking city." – Justin Halpern
---
32) "I love Los Angeles. I love Hollywood. They're beautiful. Everybody's plastic, but I love plastic. I want to be plastic." – Andy Warhol
33) "People cut themselves off from their ties of the old life when they come to Los Angeles. They are looking for a place where they can be free, where they can do things they couldn't do anywhere else." – Tom Bradley
34) "Tip the world over on its side and everything loose will land in Los Angeles." – Frank Lloyd Wright
35) "Los Angeles has no seasons, so it's kind of hard to keep track of time here. The lines between spring, summer, fall, and winter all blur like my vision. I get stuck on repeat for different measures of eternity." – Kris Kudd
---
Funny California Quotes
These funny quotes about California come from some of the most hilarious personalities from America and beyond. And as a Californian, I can confirm that these tongue-in-cheek comments really nail some of the funniest parts of living on the West Coast.
36) "It's a scientific fact that if you stay in California you lose on point of your IQ every year." – Truman Capote
37) "I wouldn't live in California. All that sun makes you sterile." – Alan Alda
38) "95% of all Brussel sprouts come from California." – Danny Meyer
39) "California is a place where they shoot too many pictures and not enough actors." – Walter Winchell
---
40) "Los Angeles makes the rest of California seem authentic." – Jonathan Culler
41) "In California, they don't throw their garbage away – they make it into TV shows." – Woody Allen
42) "California deserves whatever it gets. Californians invented the concept of life-style. This alone warrants their doom." – Don DeLillo
---
43) "If you're in California, and it's raining, stay home because nobody can drive in the rain. It's like it's raining frogs. They're terrified." – Adam Ferrara
44) "Living in California adds ten years to a man's life. And those extra ten years I'd like to spend in New York." – Harry Ruby
45) "Myths that need clarification: "Everyone in California lives on a white, sandy beach." False. The only people who live on California beaches are vacationers from Arizona, Utah, and Nevada who own condos."- Erma Bombeck
---
Quotes About San Francisco & Northern California
Northern California is a bohemian mixed bag of charming cities, coastal locales and mountain retreats. These quotes about San Francisco and Northern California will make you want to run away to the wilds of NorCal.
46) "I think Northern California is the most beautiful place on earth. And I adore New Orleans, but there's something about the air in SF, for instance. It changes from moment to moment, like one's thoughts." – Hilton Als
47) "I'm very much a hippie from Northern California." – Jessica Chastain
48) "Anyone who doesn't have a great time in San Francisco is pretty much dead to me. You go there as a snarky New Yorker thinking it's politically correct, it's crunchy granola, it's vegetarian, and it surprises you every time. It's a two-fisted drinking town, a carnivorous meat-eating town, it's dirty and nasty and wonderful." – Anthony Bourdain
---
49) "If you're alive, you can't be bored in San Francisco. If you're not alive, San Francisco will bring you to life." – William Saroyan
50) "Growing up in northern California has had a big influence on my love and respect for the outdoors. When I lived in Oakland, we would think nothing of driving to Half Moon Bay and Santa Cruz one day and then driving to the foothills of the Sierras the next day." – Tom Hank
51) "I grew up in northern California, where it was consistently in the hundreds in the summertime. My dad didn't think he should have to turn on the air conditioning when we had a swimming pool in our backyard; it was our built-in air conditioner." – Summer Sanders
52) "San Franciscans are very proud of their city, and they should be. It's the most beautiful place in the world." – Robert Redford
---
53) "San Francisco has only one drawback: 'tis hard to leave." – Rudyard Kipling
54) "I live on the beautiful Northern California coast. I have always loved hiking, whale watching and being outdoors." – Christine Feehan
55) "It's an odd thing but anyone who disappears is said to be in San Francisco." – Oscar Wilde
56) "One day if I go to heaven… I'll look around and say 'It ain't bad. But it ain't San Francisco.'" – Herb Caen
---
57) "I love San Francisco so much. I call it the Emerald City and have been coming here since 1992. I have a few old friends that live here, and my aunt and uncle live in Oakland. I think it's a magical city. It's big, sexy and very 'cosmo' with a small-town feel." – Andy Cohen
58) "I'm not really a Hollywood person. Not that I don't like L.A., but I'm just a Northern California guy." – Clint Eastwood
59) "The Bay Area is so beautiful, I hesitate to preach about heaven while I'm here." – Billy Graham
60) "I don't think San Francisco needs defending. I never meet anyone who doesn't love the place, Americans or others." – Doris Lessing
---
Celebrity Quotes About California
No other place in the world is more synonymous with fame and famous faces than California, and these celebrity quotes about California will give you an insight into how the other half feel about the great state.
61) "Secretly, I think everyone who makes fun of California really does want to be in California." – Zooey Deschanel
62) "I am the ultimate California girl, which is funny, being that I'm Canadian." – Pamela Anderson
63) "For me, I love California. I feel like it's my second home in that I moved out by choice at eighteen. It gave me opportunities that I didn't have anywhere else." – Vince Vaughn
64) "For some reason and I don't know why, but I don't think that I'm funny in California. So I always want to do my movies east somewhere." – Kevin James
---
65) "I see L.A. as a beautiful blonde with dirty underwear." – David Boreanaz
66) "There are some things I like about L.A. You can have a really healthy lifestyle, and I love running with the dogs on the beach. It's just the social scene is horrific!" – Mischa Barton
67) "To say that people would cease to come to California if they would have to pay more taxes is to underestimate the advantages of being in California – mightily." – Warren Beatty
68) "I love the whole of California, I have places… my whole thing is with all the money I make, I just want to buy as many places in California as I can because I love it." – Josh Brolin
---
69) "The mornings along the coast where the fog and mist meet with the salty spray of the seas is one of my favourite smells. I love the smell in the evergreen forest just after it rains – The Redwood Forest in California has the coast, too, so you have the best of everything!" – Paul Walker
70) "I've grown to love California: It's the dream of every English musician to come here and work in the sunshine. To walk up Sunset Boulevard, knowing you're going to make music – that's it." – Noel Gallagher
71) "California to me as a concept or as an idea always seems like endless optimism and endless opportunity – when people think of California they think of palm trees and blue skies and gorgeous sunsets and beaches and everything else." – Mark Hoppus
---
72) "I had to get out of Beverly Hills! I sold my home there because I do like to drink a bit, but my neighbors were far too health conscious. Most of them hypocrites. We moved to Miami, where parties and drinking socially are a way of life. In California, people drink secretly, behind closed doors." – Michael Caine
73) "California is an unbelievable state. One day I might be in a spiritual place like Joshua Tree, then before I know it, I'm eating groovy sushi in a mini-mall. I'm a Cali girl through and through." – Drew Barrymore
74) "When I came to California, it was the mecca of the world. Every young person on the planet wanted to be here." – Joni Mitchell
75) "A new study says that over half of all Californians are obese. In fact, half of Californians are really two-thirds of Californians." – Jay Leno
---
California Instagram Captions
Heading to the sunny state of California and need a Caliofrnia Instagram caption to accompany that photo of you on Hollywood Boulevard? Of the Golden Gate Bridge at sunset? Of the stunning beaches up and down the coast? These Instagram captions and quotes about California will be sure to please your followers.
76) "Crushing on Cali."
77) "California… here we come."
78) "Golden state of mind."
79) "Beach day is everyday in Cali."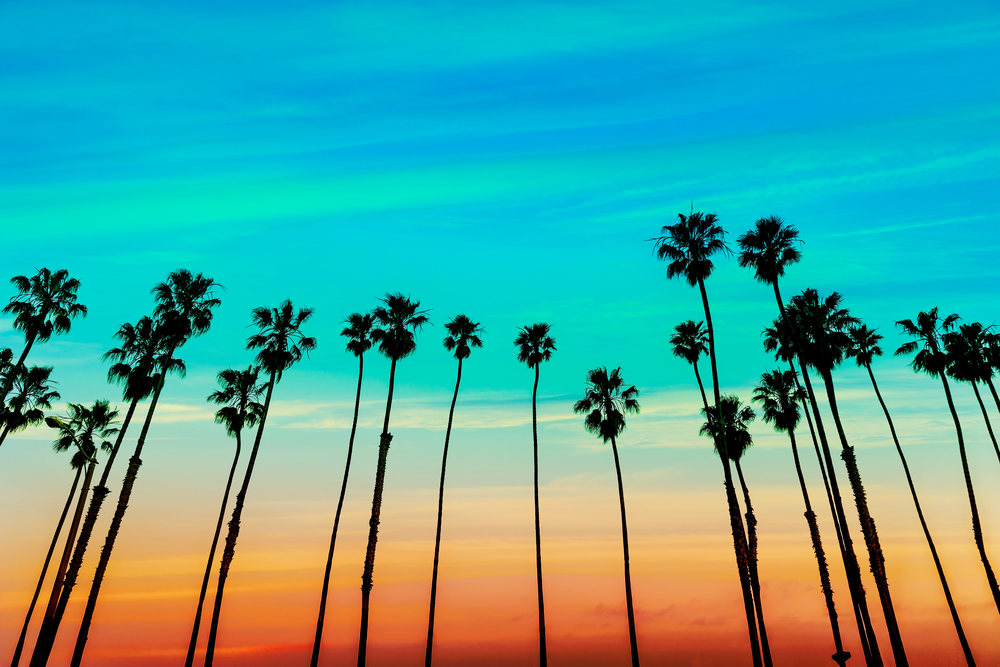 ---
80) "The West Coast is the best coast."
81) "California dreaming."
82) "Welcome to the hotel California…"
83) "I left my heart in San Francisco.."
---
84) "Leaving Los Angeles."
85) "San Fran state of mind."
86) "If you're going to San Francisco, be sure to wear some flowers in your hair."
87) "Dream of Californication…"
---
88) "Hooray for Hollywood."
89) "California knows how to party." – 2Pac
90) "Breathing dreams like air." — F. Scott Fitzgerald
100) "If I can't go to Heaven, L.A. is the next best thing."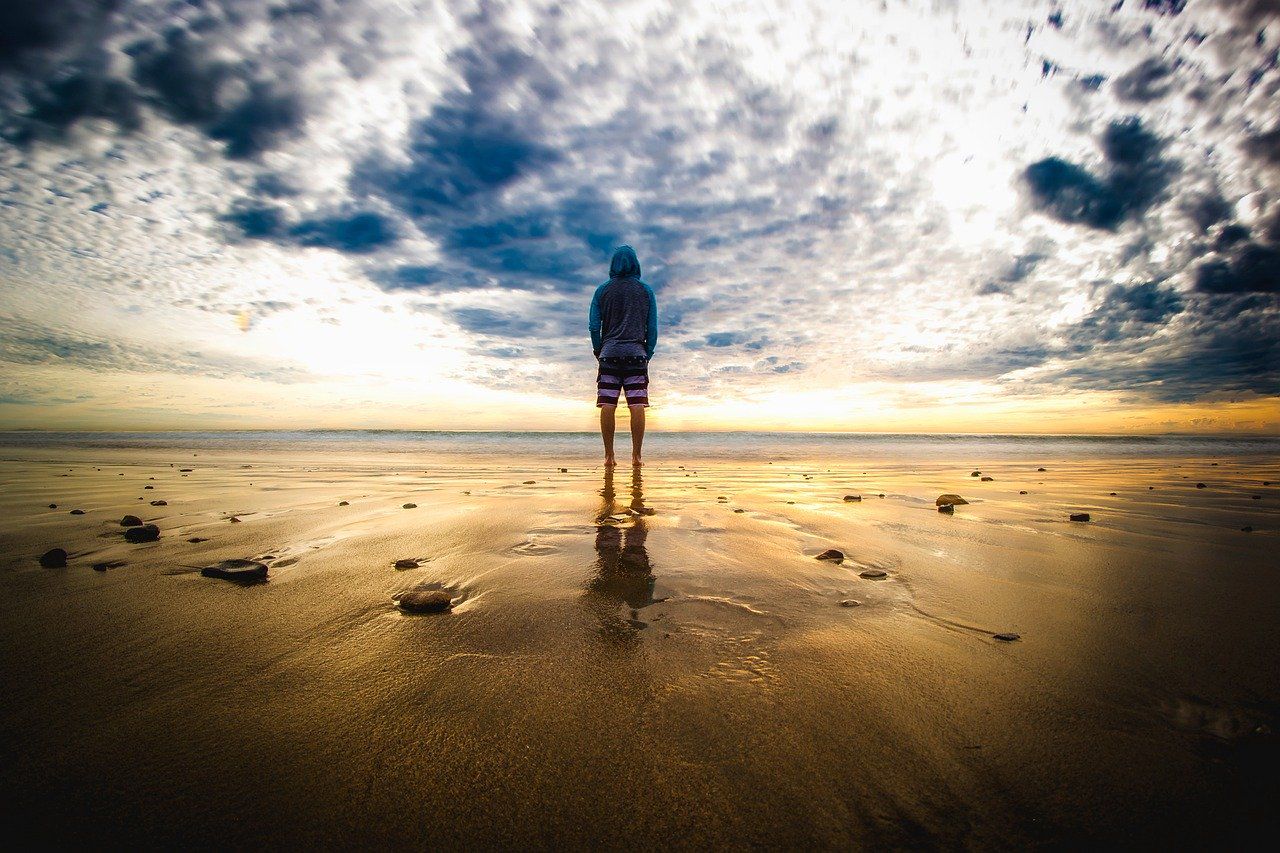 ---
California Movie Quotes
It only makes sense that some of the greatest movie lines come from the home of international movies itself – California! These movie quotes about California may inspire you to rewatch that cinematic classic.
101) "And I'm Ron Burgundy. Go fuck yourself, San Diego." – Anchorman
102) "Then where is the prick who put you in this mess?" "California." "That figures. All the pricks move to California. They oughta call it Prickafornia." – Where The Heart Is
103) "Welcome to Hollywood! What's your dream? Everybody comes here; this is Hollywood, land of dreams. Some dreams come true, some don't; but keep on dreamin', this is Hollywood." – Pretty Woman
---
104) "What do you think California's like? Like all that shit in the movies. Blondes walkin' around, The Beach Boys, palm trees, the ocean. How was the ocean?" – Rumble Fish
105) "What the hell did I know about California? For some people it was still a place of hopes and dreams, a chance to start over. The idea was: if you could get there everything would be okay, and if it wasn't okay there, well, it probably wasn't going to be okay anywhere." – Kalifornia
106) "You want to know how California got it's name? It's not named after some explorer, or king. Nope. Someone made the name up – a writer. He just pulled it out of his imagination in the 16th century, in Spain. He made up this place where there was unlimited gold, and pearls, and beautiful fierce women who wore gold armor, and rode wild beasts. And he called it California." – King of California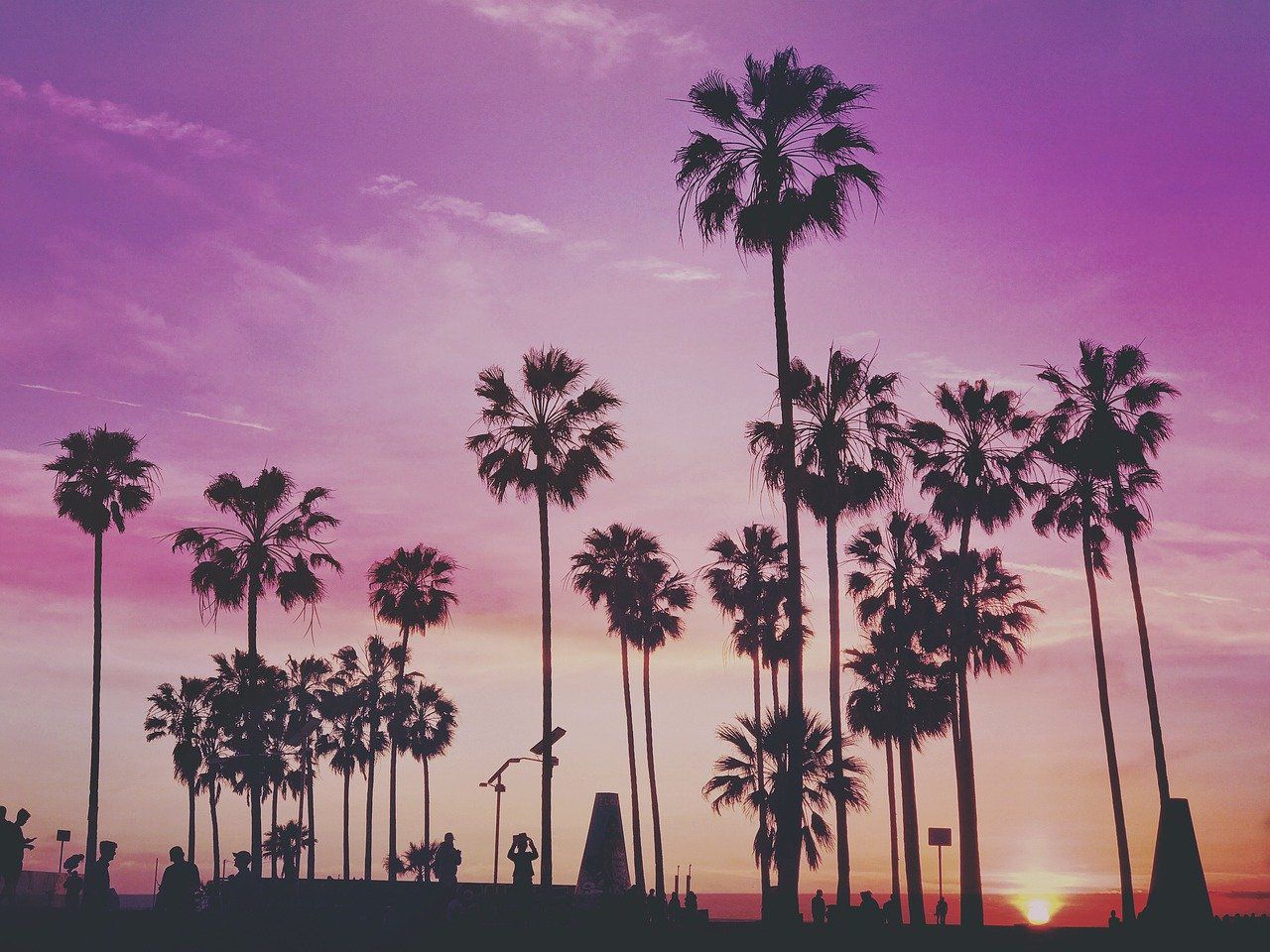 ---
107) "It's my kind of place. Dangerous, with pimps, whores without class, rip-off artists, and other hard-core turf shattered types entertaining fantasies too desperate to mention… just naked reality twenty-four hours a day. I've always had a love affair with the streets." – Tales of Ordinary Madness
108) "Is this your car?" "Oh, no. In Beverly Hills we just take whichever car is closest." – Beverly Hills Cop
109) "Mel: Where are you? Cher: I'm just having a snack at my girlfriend's. Mel: Where, in Kuwait? Cher: Is that in the valley? Mel: I expect you to walk through this door in twenty minutes. Cher: It might take longer than that Daddy. Mel: Everywhere in L.A takes twenty minutes." – Clueless
---
Song Lyrics About California
I bet you can think of five songs off the top of your head in an instant that use California as inspiration. The beaches, the people, the culture – the state has served up some epic tunes we all know. These are just a few…
110) "I been all around this great big world and I seen all kind of girls, but I couldn't wait to get back in the states, back to the cutest girls in the word. I wish they all could be California girls…" – The Beach Boys, California Girls
111) "But here I am, next to you. The sky is more blue, in Malibu." — Miley Cyrus, Malibu
112) "No doubt, to live and die in LA / California, what you say about Los Angeles / Still the only place for me / That never rains in the sun and everybody got love." – Tupac, To Live and Die in LA
---
113) "Everybody comes to Hollywood / They wanna make it in the neighborhood / They like the smell of it in Hollywood / How could it hurt you when it looks so good." – Madonna, Hollywood
114) "I'd be safe and warm if I was in LA, California dreamin' on such a winter's day." – The Mamas and the Papas, California Dreaming
115) "We've been on the run / Driving in the sun / Looking out for number one / California here we come / Right back where we started from." – Phantom Planet, California
---
116) "Welcome to the Hotel California / Such a lovely place (such a lovely place) /Such a lovely face / Plenty of room at the Hotel California / Any time of year (any time of year) / You can find it here." – The Eagles, Hotel California
117) "California… knows how to party / California… knows how to party / In the citaaay of L.A. / In the citaaay of good ol' Watts / In the citaaay, the city of Compton / We keep it rockin! We keep it rockin!" – Tupac, California Love
118) "California girls / We're unforgettable / Daisy dukes / Bikinis on top / Sun-kissed skin / So hot we'll melt your popsicle / Ooh oh ooh / Ooh oh ooh." – Katy Perry, California Gurls
---
119) "Going To California with an aching in my heart / Someone told me there's a girl out there / With love in her eyes and flowers in her hair / Took my chances on a big jet plane / Never let them tell you that they're all the same." Led Zeppelin, Going to California
120) "I'm going back to Cali, Cali, Cali" – LL Cool J, Going Back To Cali
121) "California, rest in peace / Simultaneous release / California, show your teeth / She's my priestess / I'm your priest / Yeah, yeah, yeah." – Red Hot Chili Peppers, Dani California
---
122) "If you're going to San Francisco / Be sure to wear some flowers in your hair / If you're going to San Francisco / You're gonna meet some gentle people there." – Scott McKenzie, San Francisco
123) "We can live beside the ocean / Leave the fire behind / Swim out past the breakers / Watch the world die / We can live beside the ocean / Leave the fire behind / Swim out past the breakers / Watch the world die." – Everclear, Santa Monica
124) "I'm goin' to California / To live in the summer sun / The streets are made of silver / I'm like a rabbit on the run." – Pink, Gone To California
---
Did I miss any top California quotes?
There's such a long list of quotes about California – after all, it's a big state with so much to offer! However, if there's a quote you really love that didn't make my list, feel free to reach out via email or social media and I can see if I can add it to the list!
---
Looking for more California travel inspiration?
Well, you've come to the right place! I'm a California boy born and raised, so I make it a habit of publishing some epic California content. If you want to read about all kinds of places and experiences up and down the Golden State, check out the below California blogs!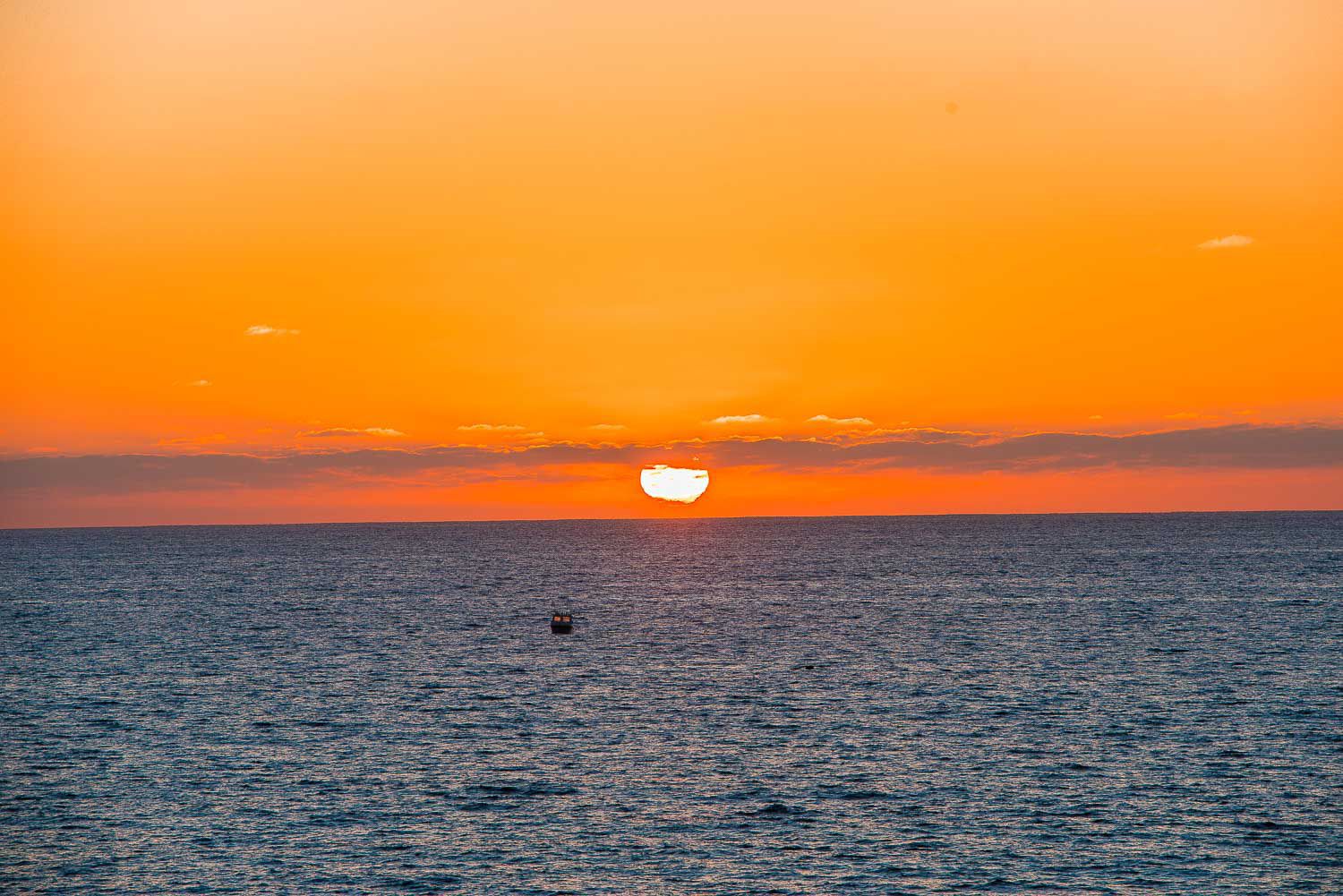 ---
Thanks for reading the best California quotes!
Share this list with your travel crew!
https://www.jonesaroundtheworld.com/wp-content/uploads/2020/04/Quotes-About-California.jpg
1001
1500
Guest Contributor
https://www.jonesaroundtheworld.com/wp-content/uploads/2017/03/logotry-1-1-300x106.png
Guest Contributor
2020-04-29 23:25:22
2021-09-21 21:14:17
The 120+ Best California Quotes That Will Inspire You To Head Out West