Planning a trip to California soon and interested in driving from Los Angeles to San Diego? Well, that is an absolutely excellent decision, because this route is filled with dozens of beautiful beaches, charming coastal towns, and lots of incredible things to do! I've put together this LA to San Diego drive/road trip itinerary, and it'll go over what I think are all the best places to stop along the way!
Southern California is truly one of the most enchanting places in the U.S.A, and I guarantee that if you stop in all of these places between LA and San Diego, you'll be looking up real estate, and will soon be planning a move to California!
Whether you're looking for a quick weekend getaway, or on an extended road trip – grab yourself some In-N-Out, and fall in love with California every night while watching the sunset every night! This LA to San Diego drive has every place stop you should make for the ultimate California experience!
---
How Far is San Diego from Los Angeles?
There is only about 120 miles between San Diego and LA, and without traffic will take around two hours. With that being said, if you decide to drive straight from one city to the next, you'll be missing out on SO many incredible destinations along the way.
There are also bus and train options to get from LA to San Diego, but I definitely think the best way to travel from one city to the next is to have a car and enjoy an incredible drive!
---
Absolutely YES! While the most the direct path is taking "The 5" freeway, but I'd highly recommend taking an extra couple days and enjoy a scenic road trip along California's iconic Pacific Coast Highway (PCH).
You'll enjoy stunning coastal views, charming towns, and plenty of incredible things to do to keep you busy for days!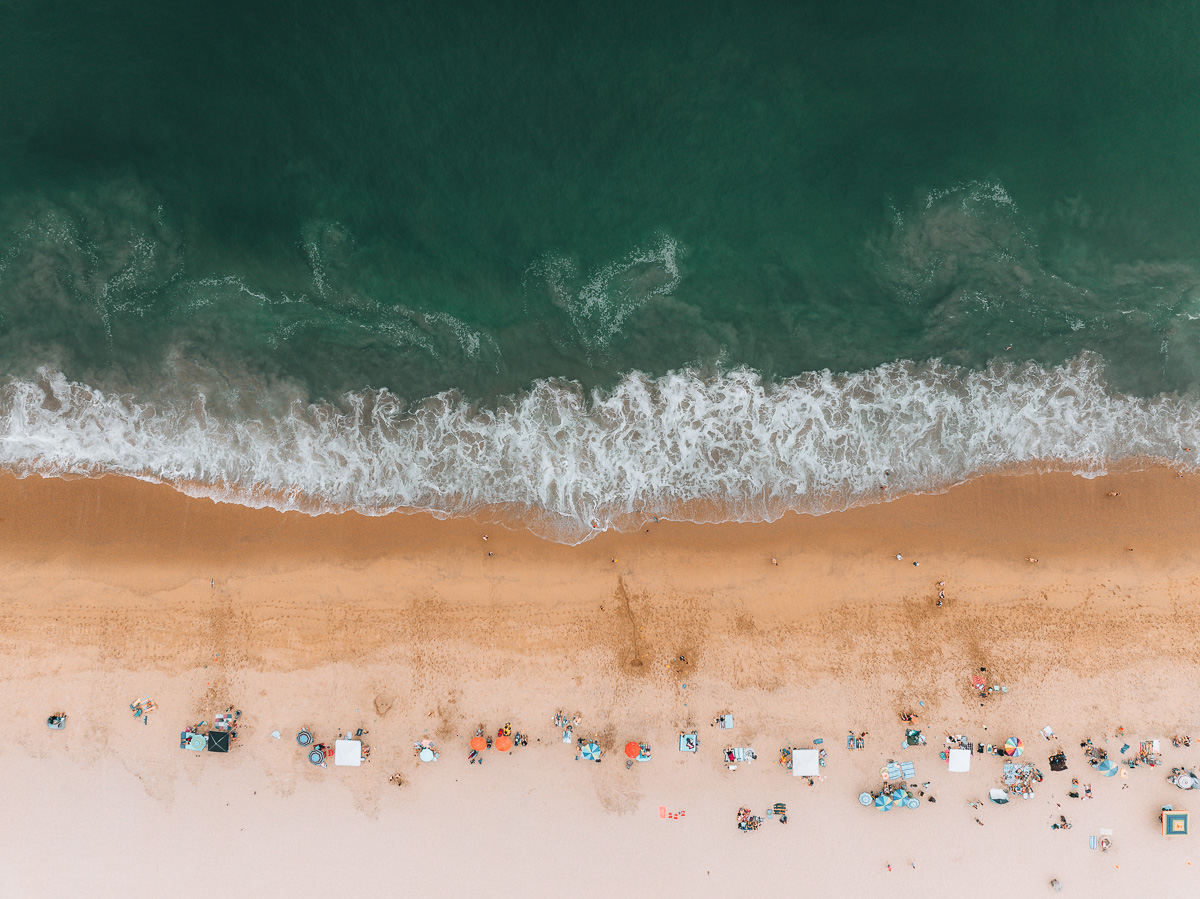 ---
LA to San Diego Road Trip Overview
Before we dive into each of these major cities, here's a quick look at all the great stops on the LA to San Diego Drive:
Santa Monica
Venice Beach/ Marina Del Ray
Manhattan Beach
Long Beach
Huntington Beach
Newport Beach
Laguna Beach
Dana Point
San Clemente State Beach
Oceanside
Carlsbad
Encinitas/ Cardiff By The Sea
Torrey Pines State Natural Reserve & Golf Course
La Jolla
Pacific Beach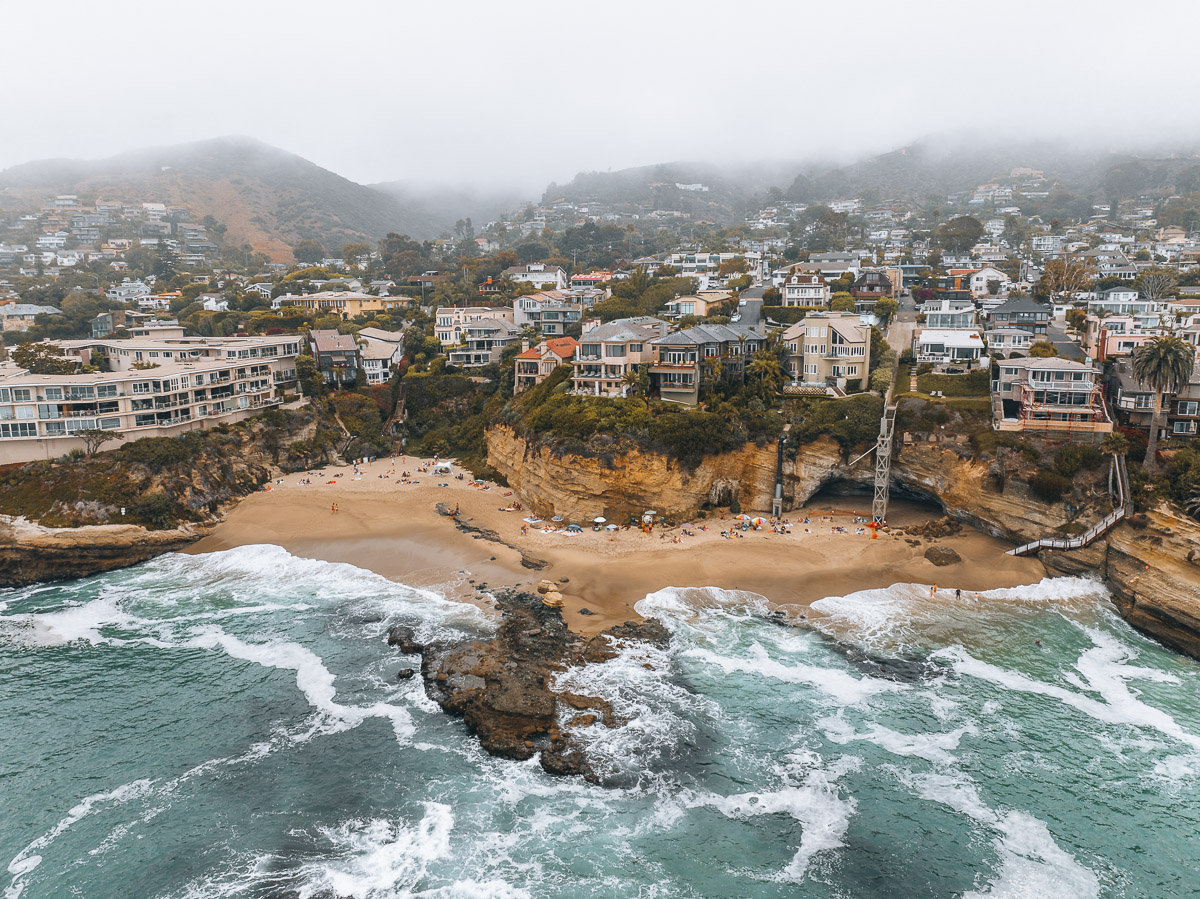 ---
15 Best Stops along the LA To San Diego Road Trip
Alright, let's discuss in detail a bit more on each destination including things to do, where you should stay if you decide to spend some extra time there, and some other fun recommended travel tips! I've also included a few fun travel videos for some of the stops, so be sure to watch the YouTube clips for trip inspiration!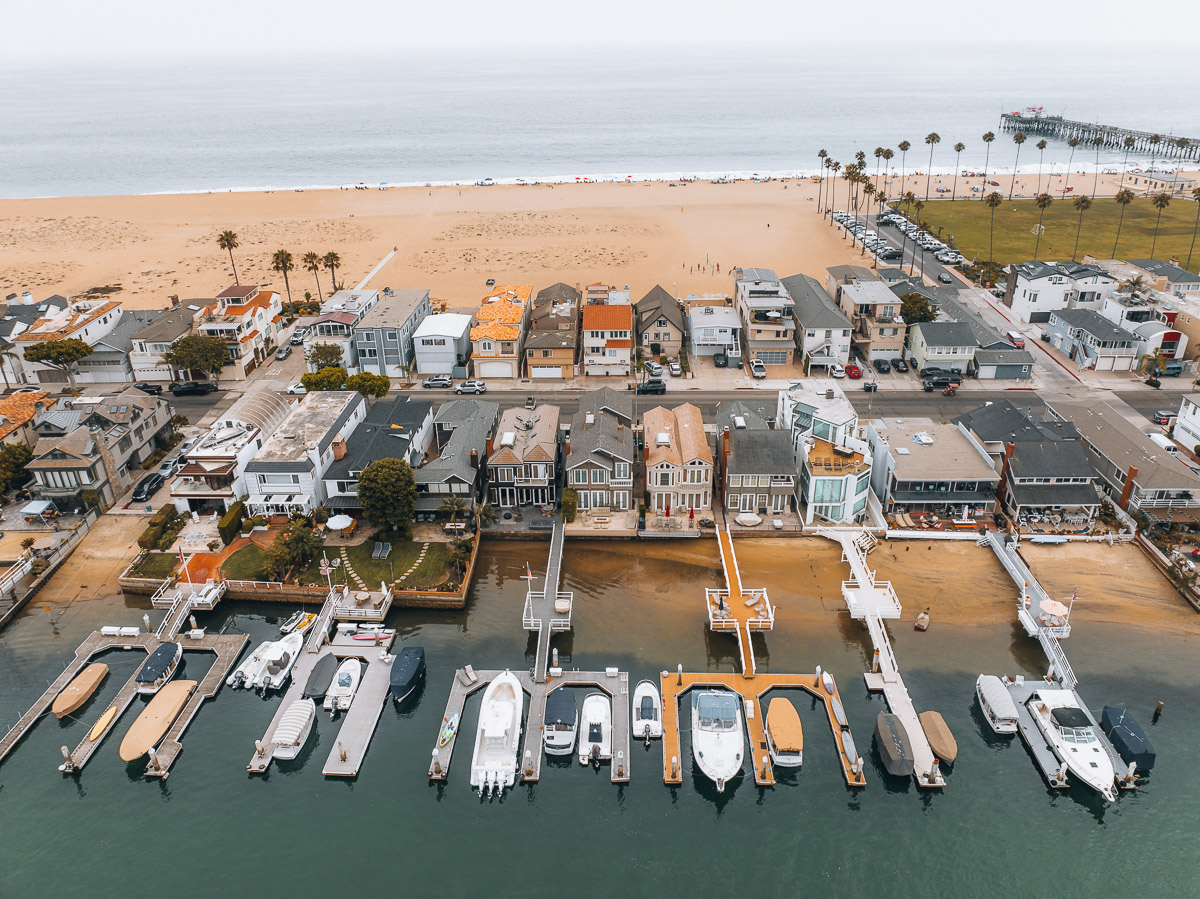 ---
1. Santa Monica
This journey begins in one of LA's most famous and iconic cities, Santa Monica! It's actually one of my favorite beachside destinations in California, and you could spend several days here enjoying all the world-class restaurants, rooftop bars, and unbeatable west coast sunsets.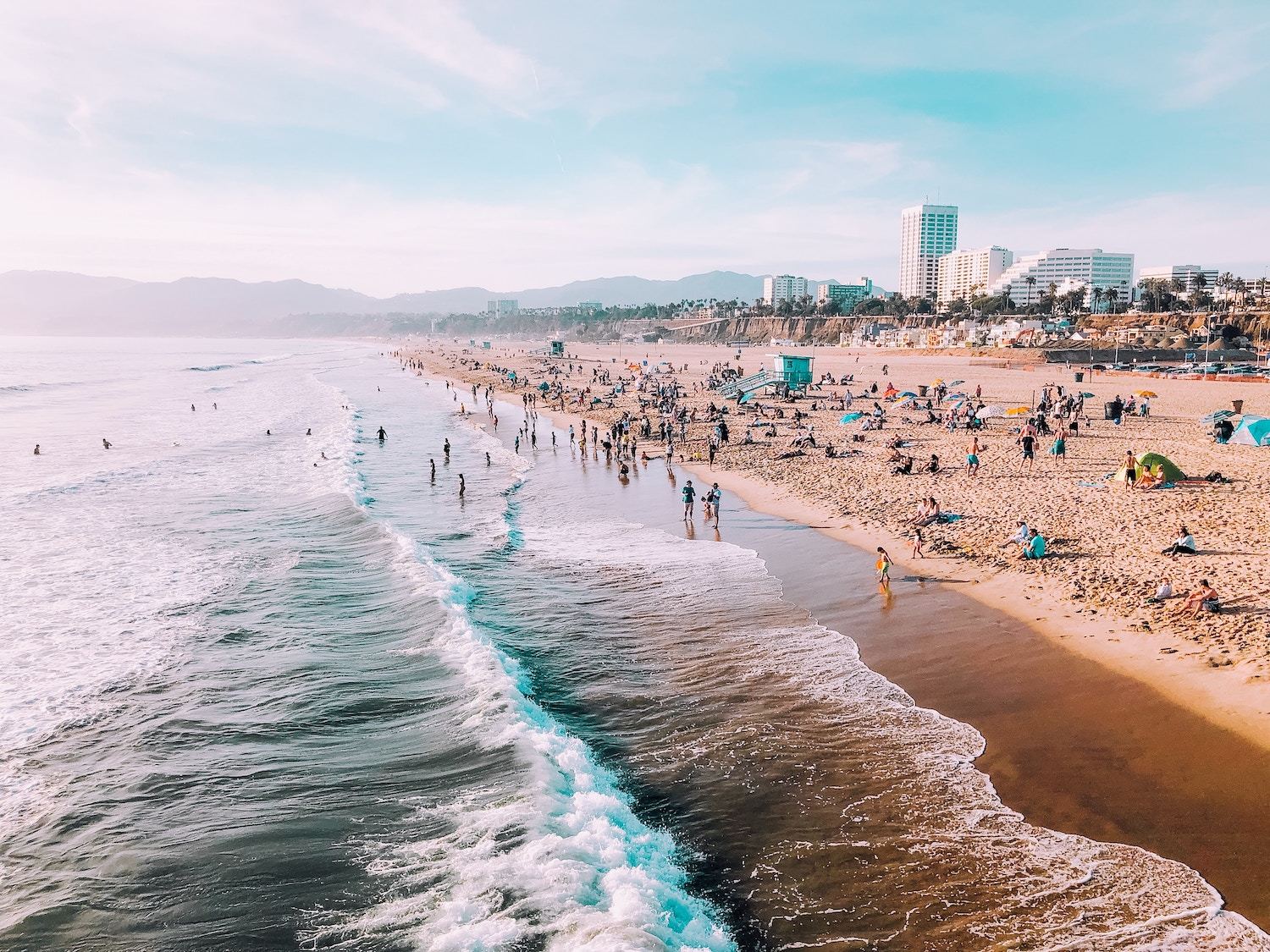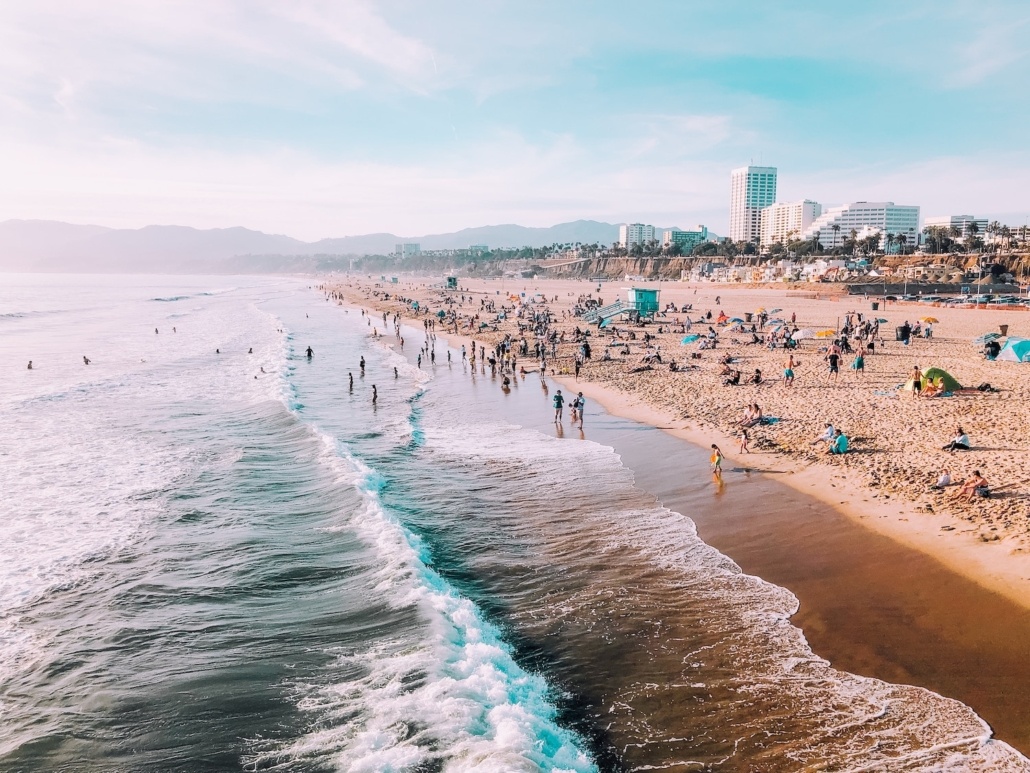 Make sure you take a walk through the Santa Monica pier, take a ride on the roller coaster at Pacific Park, relax on the soft sandy beach, get some exercise by renting a bike and riding along its miles of bike paths, and take a stroll along Ocean avenue.
I'd also recommend you experience the stunning view of the ocean and mountains from Palisades park, graze through the local Santa Monica Farmers Market (open on Saturday/Sunday only), and do some shopping through the Third Street promenade! Santa Monica is simply the perfect way to start your LA to San Diego road trip!
---
Where to Stay in Santa Monica:
The Garden Hide-Away | 5 Star Santa Monica FANTASTIC
This clean and bright Santa Monica bungalow has an incredible overall guest score from hundreds of happy guests. It's just a short walk down to LA's famous beach and its many attractions, and is one of the best value stays in the area!
---
2. Venice Beach & Marina Del Ray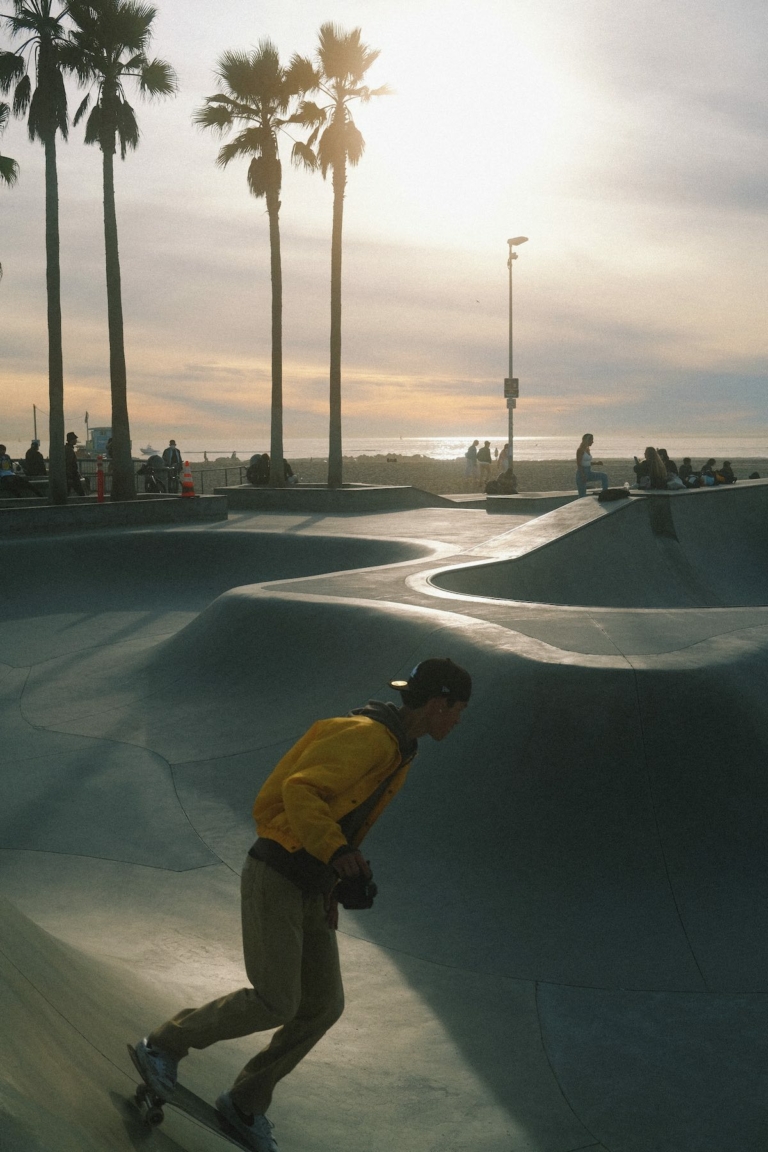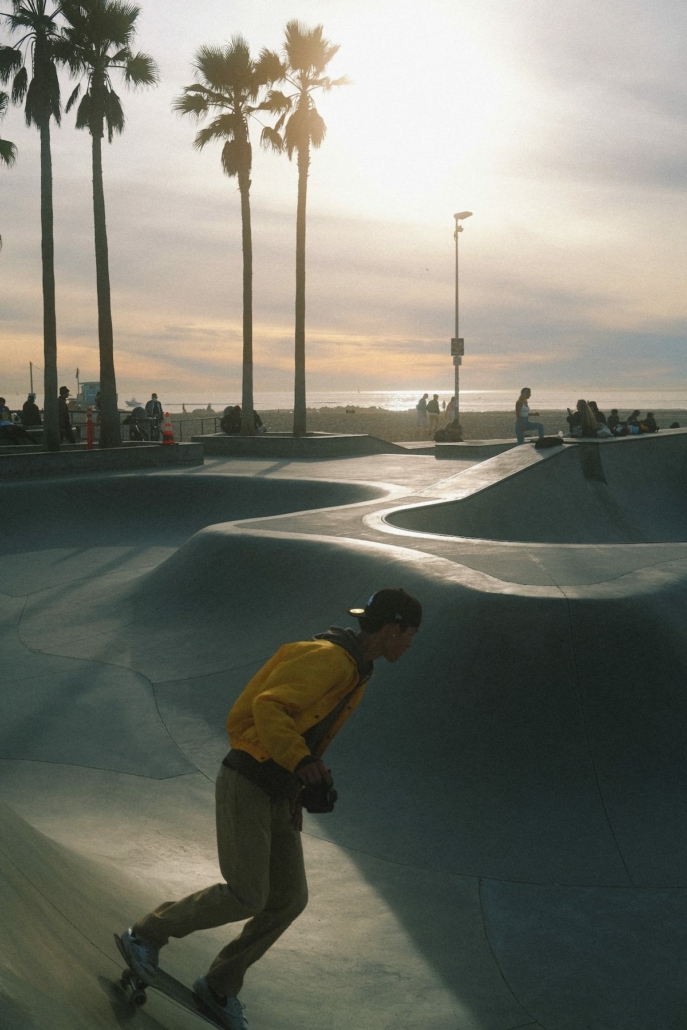 Located just a few miles south of Santa Monica, you'll find the colorful suburbs of Venice & Marina Del Ray. You could easily rent a bike in Santa Monica, and ride down along the well-paved path down here!
Whether you're looking for a funky souvenir, a fresh tattoo, or just want to watch the lively street performers, definitely make a stop through Venice beach! Take some photos of the muscle men at the iconic muscle beach, watch the talented skateboarders in the skate park, and enjoy a meal at one of the foodie hotspots in the area!
While you're in the Venice area, make sure you take a stroll or bike ride through the beautiful canals and bridges found in Marina Del Ray! It's a completely charming coastal community, and in 1965, became the largest man-made, small-craft harbor in the country. Enjoy its laidback atmosphere, colorful sunsets, and partake in one of the popular watersport activities. It's another must-visit for California visitors, and would be a highlight of your Los Angeles to San Diego road trip!
---
Where to Stay in Venice Beach / Marina Del Ray:
Venice Canals Bungalow~Sexy Deck, Venice Beach, Pier & Boardwalk
This luxurious VRBO located in Venice Canals is just blocks from the famous beach and its many visitor-friendly attractions, and you'll fall in love with with the peaceful views from this quaint vacation rental.
---
3. Manhattan Beach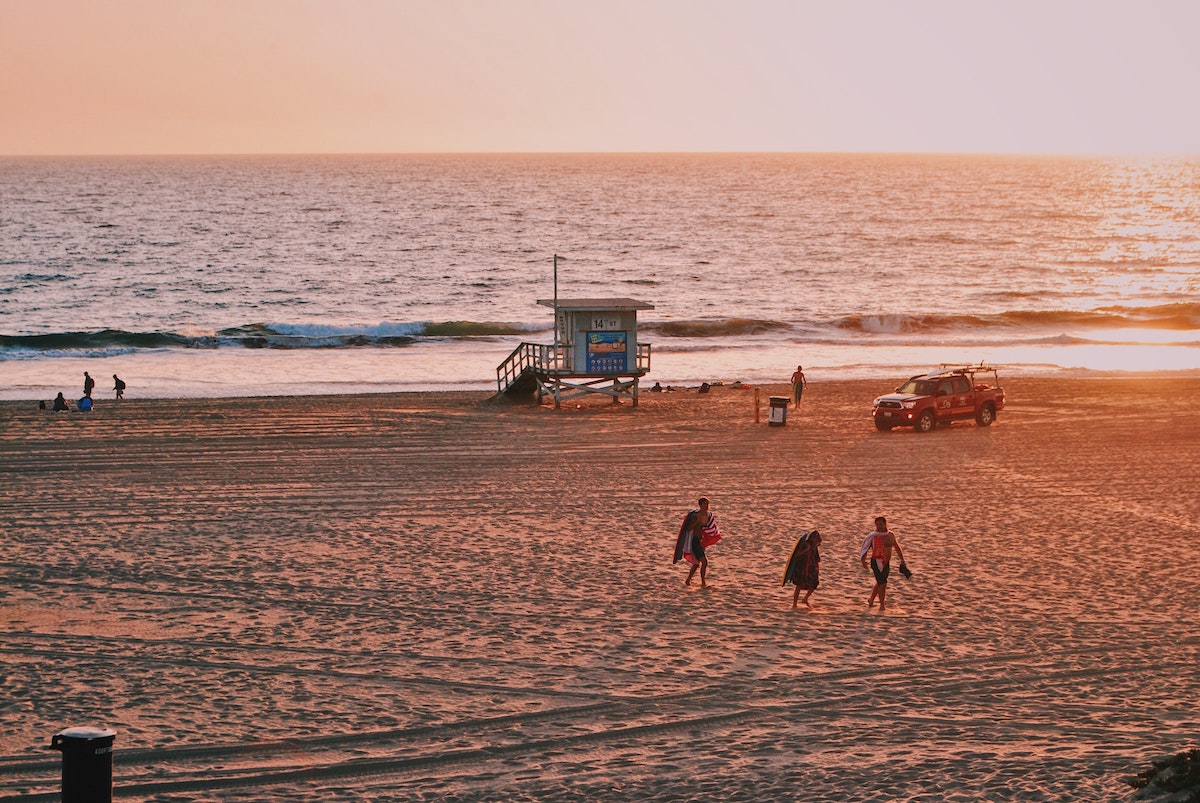 I recently visited Manhattan Beach for the first time (after living in Southern California for 20+ years), and I completely fell in love with it! It's got a fun pier to watch the surfers from, tons of volleyball courts to play a quick game, and beautiful beachfront properties to dream about owning one day.
There's also a really nice downtown district filled with many family-owned restaurants, boutique fashion shops, and well-maintained paths filled with colorful flowers.
Photographers will love the long-exposure shots you can get under the Manhattan beach pier, families will love exploring the Sand Dunes or a stroll through Live Oak Park, and art fans will be ecstatic about the various galleries in the area! If you're looking for fun and unique places to stop on the way to San Diego, I'd highly recommend checking out Manhattan Beach if you got the time!
---
Where to Stay in Manhattan Beach:
Designer Beach Studio In Manhattan Beach, Amazing Location! Steps to Beach!
This pretty Manhattan Beach studio abode is fresh, unique and comfortable. Enjoy warm California days with beach towels and chairs provided!
---
4. Long Beach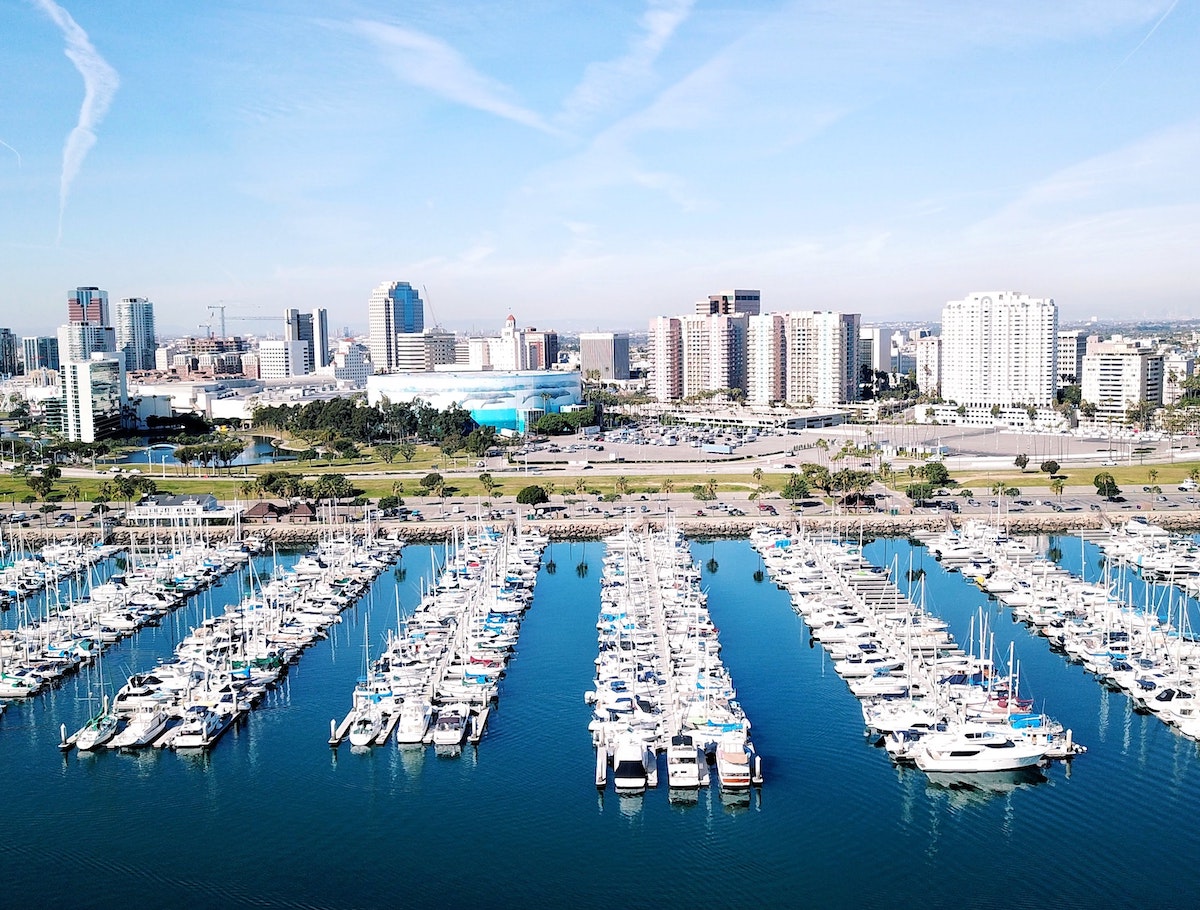 "With so much drama in the L-B-C, It's kinda hard bein Snoop D-O-double-G. But I, somehow, some way. Keep comin up with funky ass shit like every single day" — Snoop Dogg
One of the main destinations you simply can't miss along this Los Angeles to San Diego drive is Long Beach, California.
"Long Beach is one giant playground located right in the heart of Southern California. Here you can experience it all from a deep-sea adventure at the Aquarium of the Pacific right on the bay and a voyage in time aboard the historic Queen Mary to lively guided tours through downtown and the colorful East Village."
I'd recommend taking a bike ride along the beach, taking a ferry over to Catalina Island for a day-trip, and taking a Whales & Dolphins watching cruise! You could easily spend 2-3 days soaking up everything Long Beach has to offer, as it's as one the most popular and lively places on this Los Angeles to San Diego drive!
---
Where to Stay in Long Beach:
1st Floor Beachfront Apartment with Ocean Views & Walking Distance to Everything
This charming Long Beach apartment features stylish interiors and an unbeatable location. You'll be just seconds on foot to the beach, downtown Long Beach, shops, restaurants and the buzzing local entertainment district.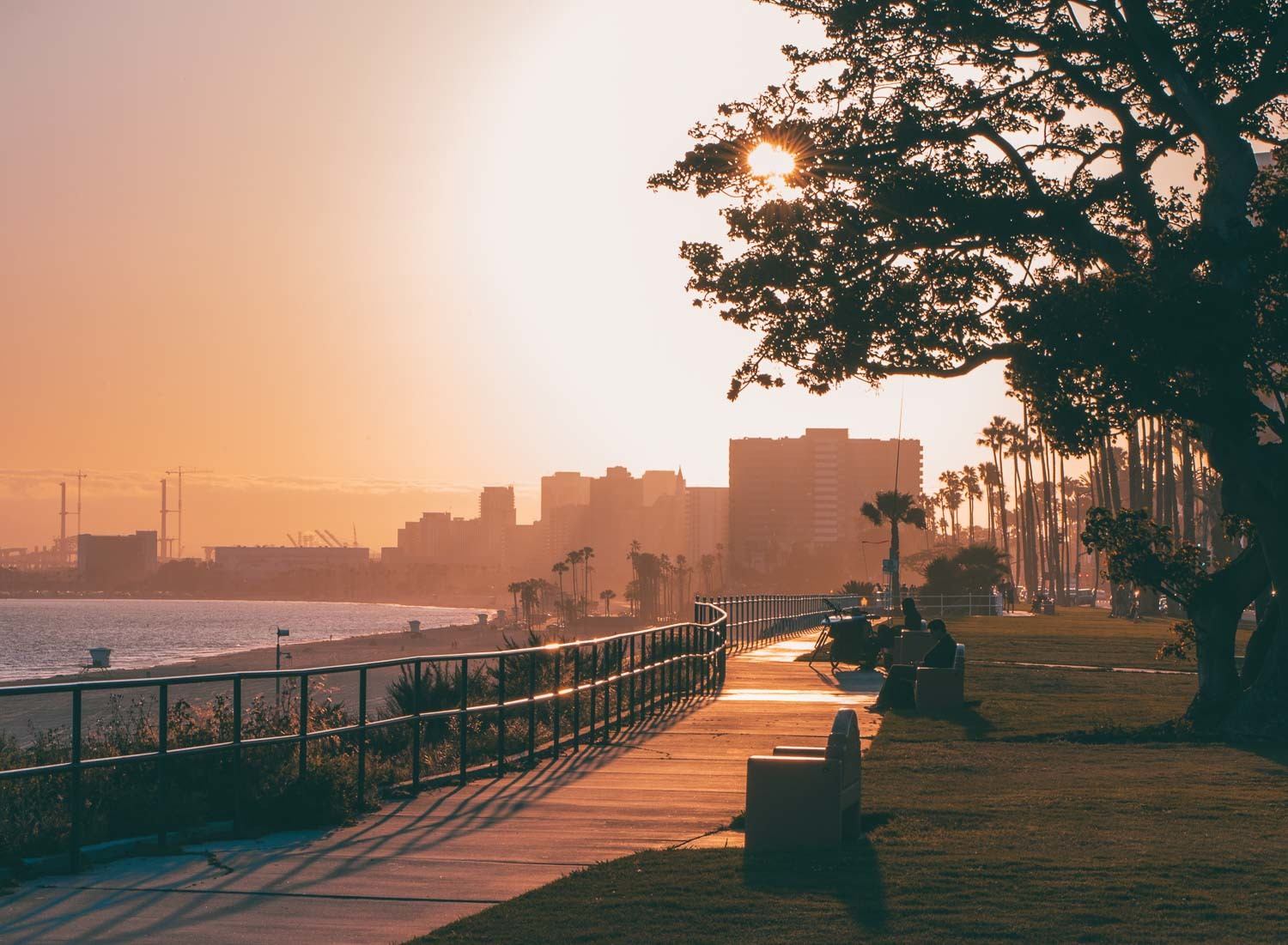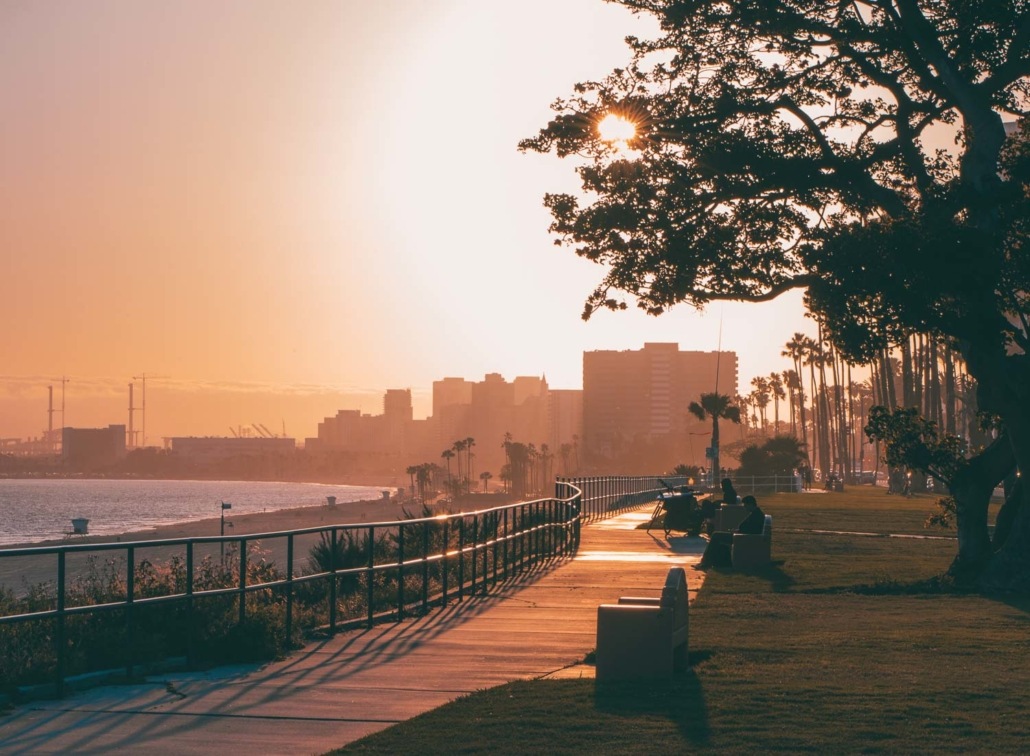 ---
5. Huntington Beach
Just about twenty minutes down the Pacific Coast Highway from Long Beach, you'll find the lively suburb of Huntington Beach! This is one of the two main beaches I grew up going to and an outstanding place to spend an afternoon or even a couple of days!
It's home to one of the longest piers on the West Coast of California (measure 1,850 feet in length), has lots of beach parking across the street (or pay $10 to park in the lot), and a vibrant nightlife scene!
I'd recommend doing some drinking in Huntington Beach, as it's filled with awesome bars, breweries, distilleries, lounges, and nightclubs.
Watch the sunset while you stroll along the Huntington Beach pier, do some shopping along the buzzing Main Street, and be sure to hit some waves, as HB is known as "Surf City"!
---
Where to Stay in Huntington Beach:
Classic & Affordable Beach Cottage! A Short & Easy Walk To The Sand!
This five-star Huntington Beach surf cottage is spacious, well-situated and stylish. You'll just staying just minutes from Huntington Beach, Sunset Beach and many other leading local coastal hubs.
---
6. Newport Beach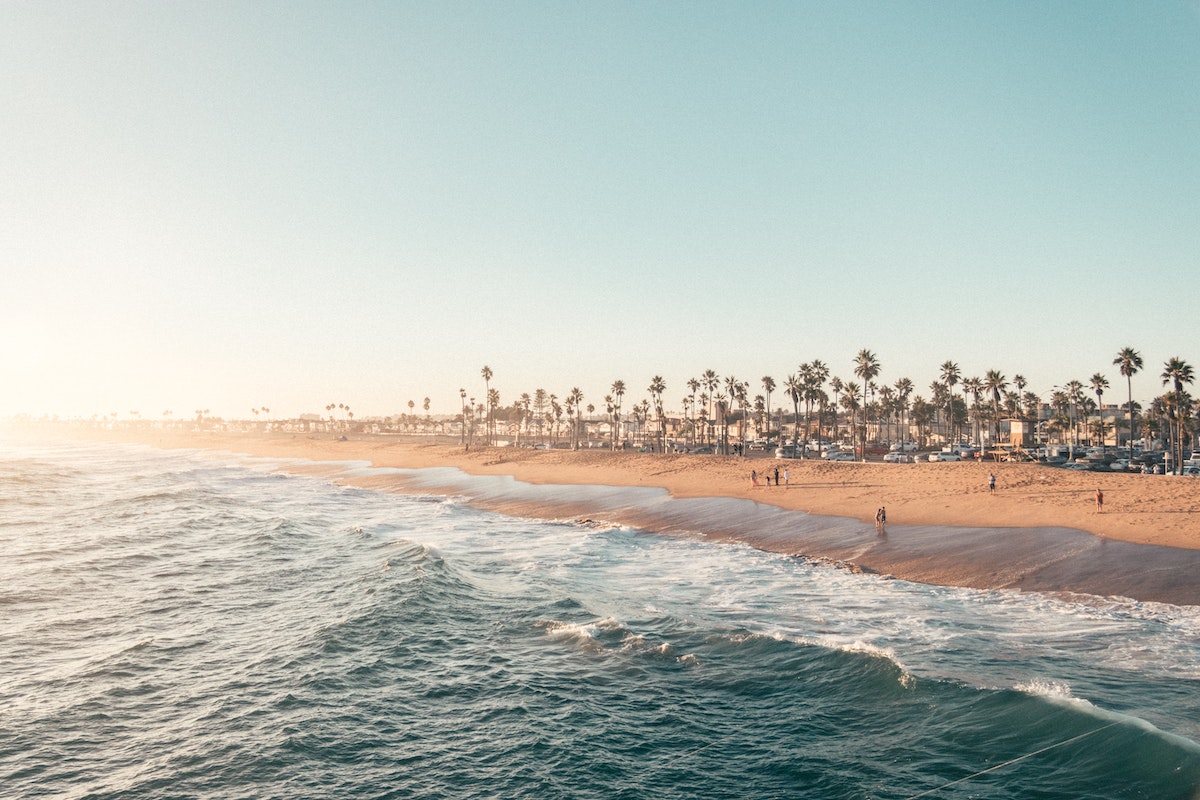 Ahh, Newport Beach, one of the shining stars in Orange County! It's one of California's most iconic beach cities and comes complete with a massive stretch of beautiful soft sand, two different piers, and lots of fun bars, restaurants, and events to keep just about anyone entertained.
You could stop into the mega-shopping mall, "Fashion Island", grab a shake on Ruby's Diner on the Balboa pier, or take a bike around through the tiny alleyways along the Balboa peninsula.
I'd also recommend a quick jaunt down through the Crystal Cove State Park along PCH, which is one of "Orange County's largest remaining examples of open space and natural seashore. It features 3.2 miles of beach, 2,400 acres of backcountry wilderness and an offshore underwater area. The park also features the federally listed Historic District, an enclave of 46 vintage rustic coastal cottages originally built as a seaside colony in the 1930's & 40's and nestled around the mouth of Los Trancos Creek."
There's also a buzzing nightlife scene in Newport, as well as its inland counterpart of Costa Mesa! It'd be a fantastic place to stop for a meal or sightseeing when you drive from LA to San Diego!
---
Where to Stay in Newport Beach:
Clean Cottage for 2, Great Location! Large Patio, AIR, WiFi, Grill
This top-rated Newport Beach VRBO boasts an incredible location just steps from the beach, beautiful interior, and comfortable bedding for a superb stay!
---
7. Laguna Beach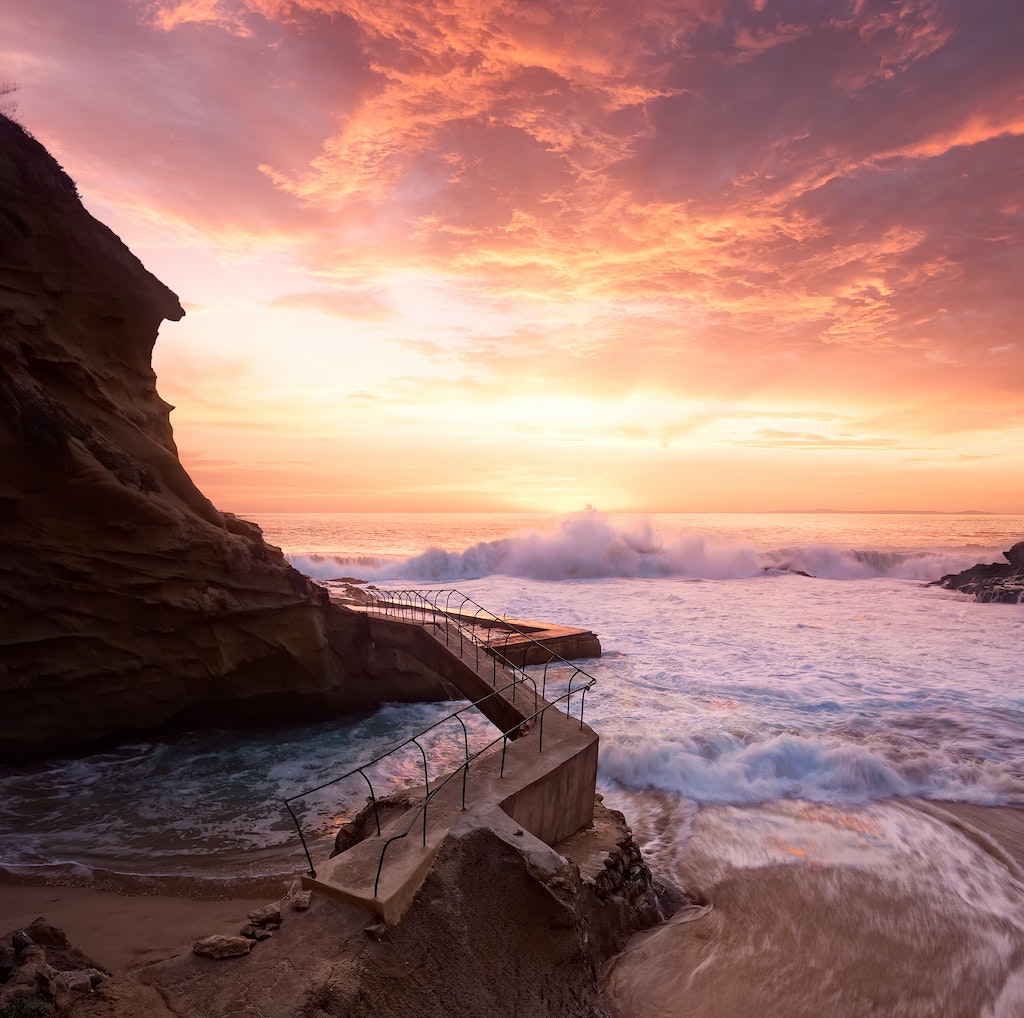 Continuing down through Orange County along the Pacific Coast Highway, you'll arrive at the iconic Laguna Beach, which is home to some of the most stunning beaches, coastlines, and houses in the state! It might just be the most jaw-dropping stop on the scenic drive from San Diego to Los Angeles!
Now, there is A LOT to do in the Laguna beach area, but here are few of my recommendations!
Take a stroll through Heisner Park
Visit Main Beach
Visit 1000 Steps Beach During Sunset
Explore the Tide Pools
Ride the Free Trolley through town
Check out Treasure Island
If you find yourself with several days in Laguna, I'd recommend checking out this article for the TOP 100 THINGS TO DO IN LAGUNA BEACH", as it's filled with epic ideas, activities, and attractions!
---
Where to Stay in Laguna Beach:
In the heart of Laguna Beach! Walk Everywhere!! Location! 5 star
This stunning one bedroom beachfront apartment is light, fresh and oozes Laguna Beach vibes. Perfect for a cozy seaside getaway, the pad boasts views from its front patio, and is just minutes walk from the heart of downtown Laguna Beach and to Main Beach.
---
8. Dana Point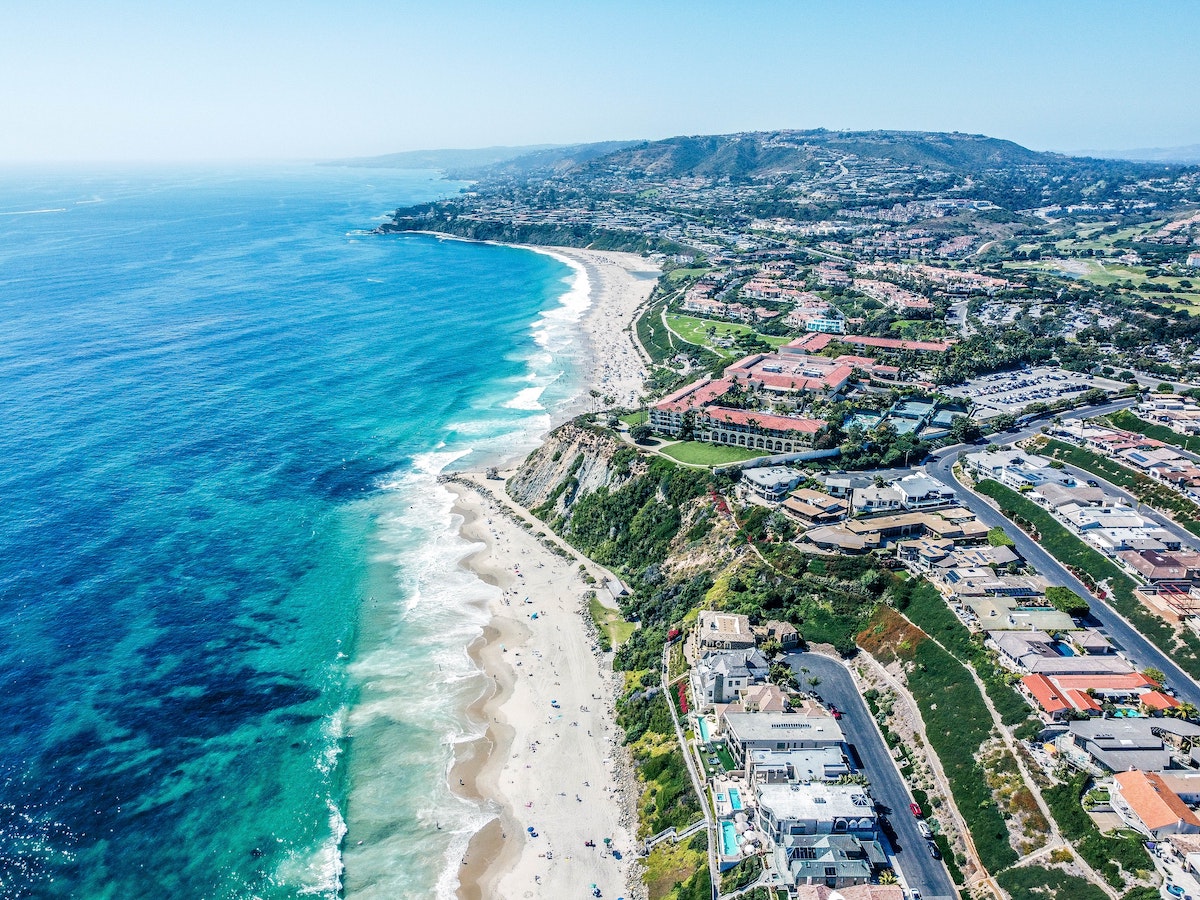 So my cousins have been living down in Dana Point for nearly 15 years, and it's definitely one of the better areas in Orange County! You can soak up the sun at one of its many gorgeous beaches, experience marine life on one of the many ocean cruises, or go boat shopping through the wondrous Dana Point harbor.
If you happen to be in town on a Saturday, stop in the Dana Point Farmer's Market for some fresh produce and local healthy snacks, fruits, veggies, nuts, and freshly baked bread!
If there's one thing you gotta do while you're in Dana Point, it's the quick 0.2 mile Bluff Top walking trail, which provides an amazing panoramic view of the harbor! This could be a fun and easy stop when Driving from LA to San Diego
---
Where to stay in Dana Point:
Newly Remodeled Dana Point Beach Getaway
Affordable, fun, and perfectly located in Dana Point – you'll love this bedroom condo and exploring all the nearby attractions!
Check out this awesome Youtube Video for a bit more Dana point travel inspiration!
---
9. San Clemente State Beach
Are you interested in doing any beach camping? Well, this is exactly where you should go in Southern California! But even if you don't, it's still worth a visit
San Clemente is a gorgeous mile-long beach that is popular for swimming, bodysurfing, skimboarding, and of course, surfing!
Check out the San Clemente State Beach website for more information, opening hours, and making a beach camping reservation!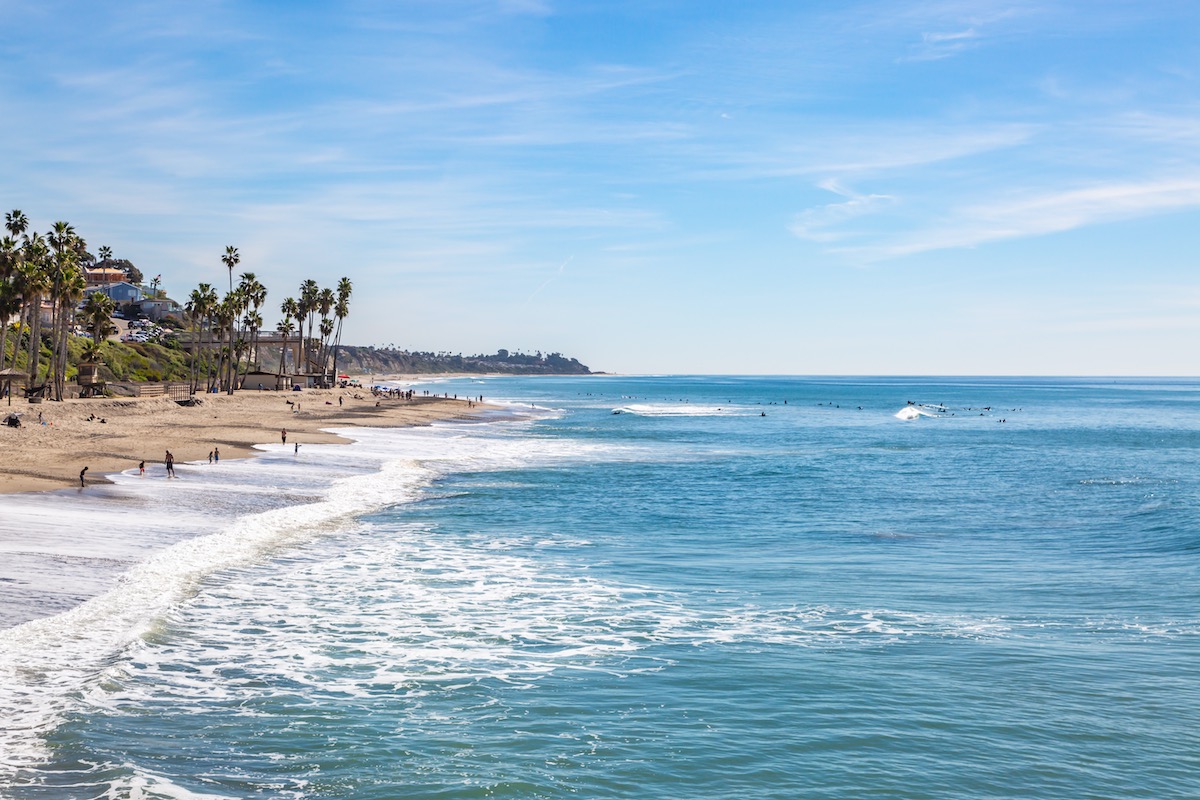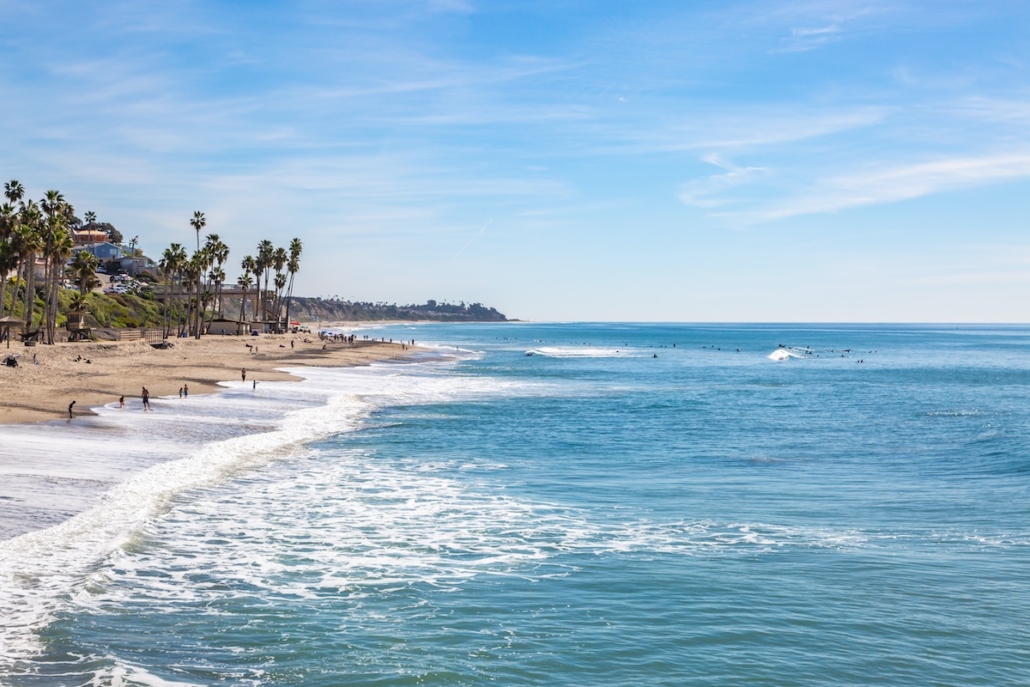 ---
Where to Stay in San Clemente:
San Clemente's Most Popular Vacation Rental – Check out our reviews!
The name speaks for itself! This stylish condo is just steps from the beach, restaurants, bars and shopping in the heart of San Clemente, California.
---
10. Oceanside
Welcome to Oceanside, the northernmost city in San Diego County! Located right along the Pacific Ocean, you will find over six miles of stunning beaches, wonderful attractions, a lively boardwalk, and the longest wooden pier on the California coast, measuring at 1941 feet in length ( which 1/3 of a mile)!
I'd suggest checking out the most popular Harbor Beach, take a visit through the Beach House winery, and take a gander through the Oceanside Museum Of Art!
If you've got a decent travel budget, than I'd look into chartering a boat, so you can sail up and down the California coast for a few hours!
---
Where to stay in Oceanside:
1 Bedroom With 2 Queen Beds Beautiful New Remodel With Harbor View From Balcony
One of Oceanside's most in-demand and highly-rated vacation rentals, this one bedroom beachfront condo is stylish and high-end. Its patio boasts views over Oceanside Harbor and the beach is right at your fingertips.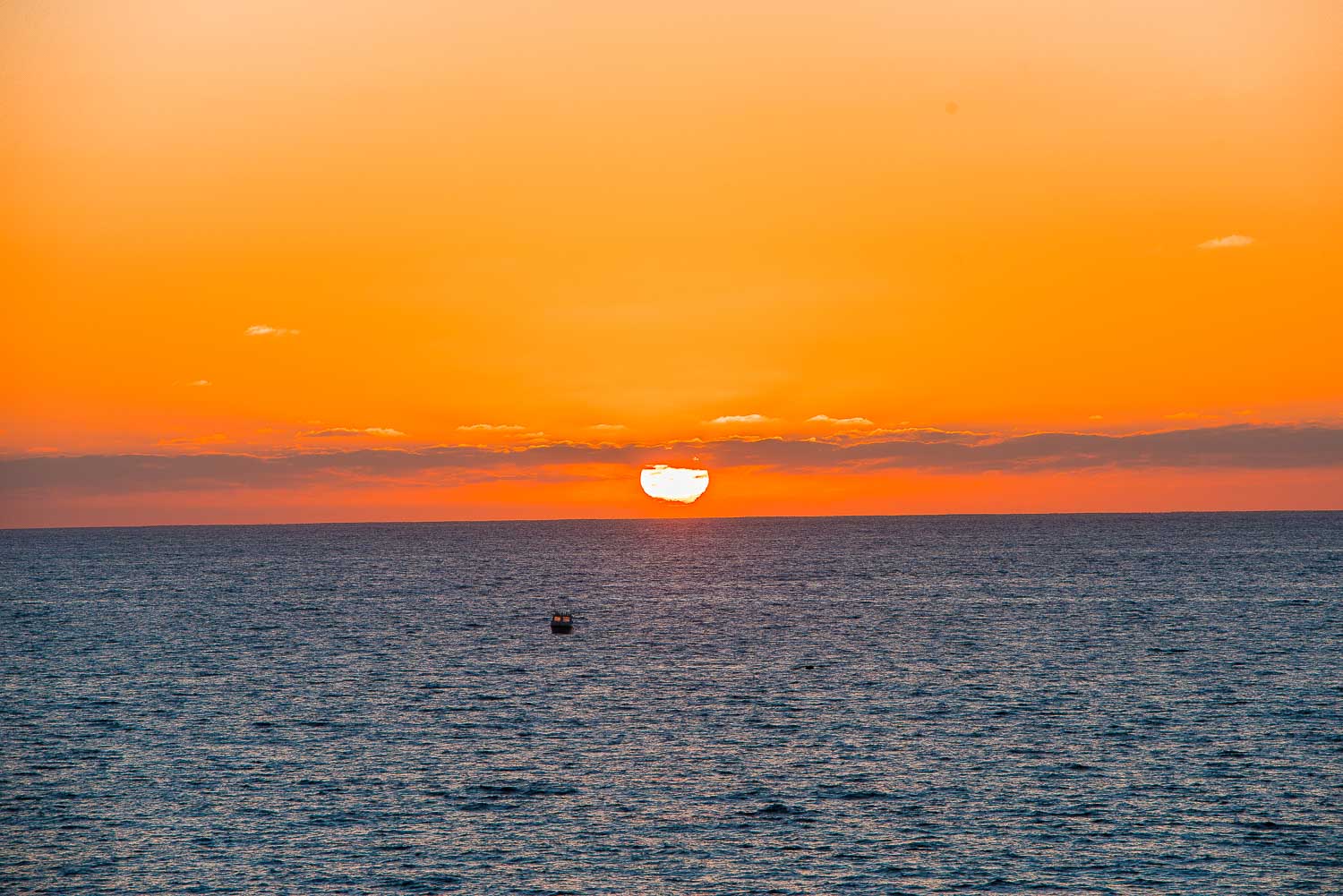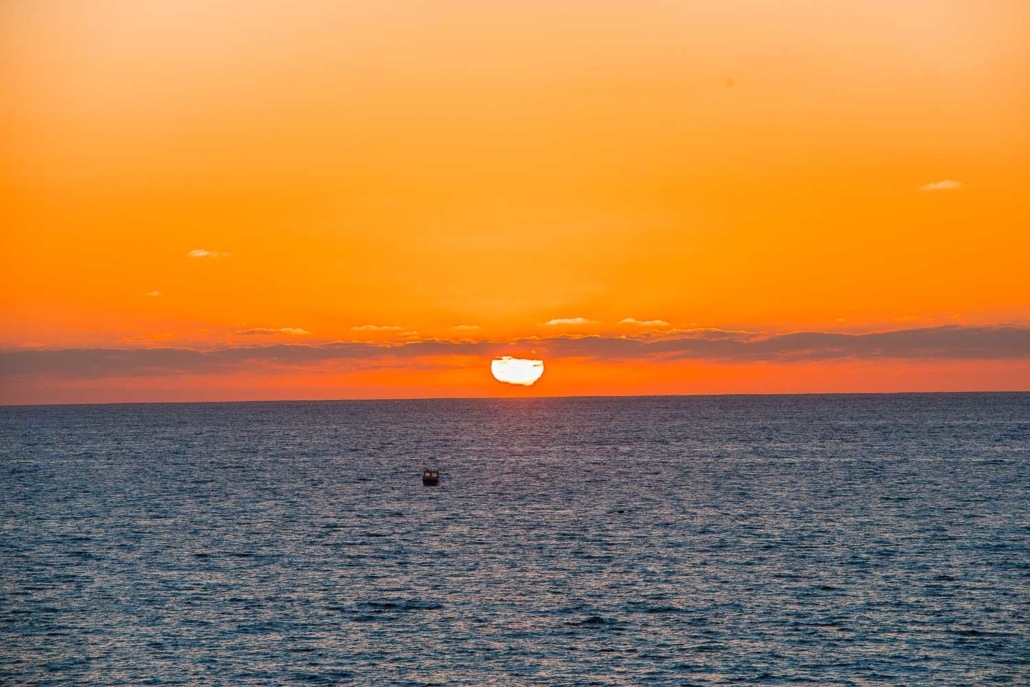 ---
11. Carlsbad
After a short drive down from Oceanside, you'll quickly enter the small town of Carlsbad, but it's list of attractions is quite massive! The one destination that tops any list is a visit to the epic LEGOLAND California Resort. If that doesn't interest you, then instead book yourself a ticket to the Sea Life Aquarium.
Another important attraction in Carlsbad is the lovely Flower Fields at Carlsbad Ranch! It'a "fifty-acre dazzling rainbow of beautiful ranunculus flowers set on a hillside overlooking the striking Carlsbad, California coastline. The outdoor space is idyllic for planning weddings, events and corporate gatherings held among the lush gardens, or you may choose to nestle indoors in our 200-seat Paul Ecke Jr. Barn for special occasions!"
---
Where to Stay in Carlsbad:
Gorgeously Remodeled Carlsbad Beach Bungalow
This sylish one bedroom Carlsbad bungalow is just steps from beach and Carlsbad's many restaurants, bars and of course – LEGOLAND! The stylish space is one of the best in town, and perfect for a Carlsbad getaway on your road trip!
---
12. Encinitas & Cardiff By The Sea
Continuing down the coast, you'll find yourself in the charming city of Encinitas, which is Spanish for "hills of live oaks". It's another quirky beachside area, extremely popular for surfers, families, and beach fun!
Make sure you take a stroll along the popular "Moonlight Beach", explore the San Elijo Lagoon State Marine Conservation Area, and get lost among in San Diego Botanic Gardens!
---
13. Torrey Pines State Natural Reserve & Golf Course
While Torrey Pines might be located within San Diego city limits, it somehow remains one of the wildest area of land on the Southern California coastline! Visiting here is like taking a time machine back, and you'll experience what it looked like centuries ago! Complete with the maritime chaparral, the rare Torrey pine, miles of pristine beaches, and a lagoon that is a crucial element to migrating bird species! It's truly a must-visit, with it's coastline filled pine trees,, sandstone canyons, and a wide variety of dirt hiking trails overlooking the ocean!
Torrey Pines is also home to California's most pristine and famous golf course, but any fan of golf is already aware of that little tidbit! Head over to the Torres Pine Golf Course website for reservations, prices, and more info!
---
14. La Jolla Cove
If I ever move back to California, I'd personally love to find myself an apartment or house in the La Jolla district in San Diego! With its selection of the mesmerizing beaches, unbeatable coastline views, and charming city center, it's such a fantastic place to spend a good amount of time!
La Jolla is a small beachfront city located only about twenty minutes north from downtown San Diego, and is truly a gem! Complete with so many awesome eateries (with rooftop terraces overlooking the beach & sunsets), nearly perfect weather year-round, and some of the best snorkeling and scuba-diving in Southern California!
There's a really fantastic walking trail filled with different viewpoints and photo opportunities, and you definitely have to experience La Jolla Cove for yourself!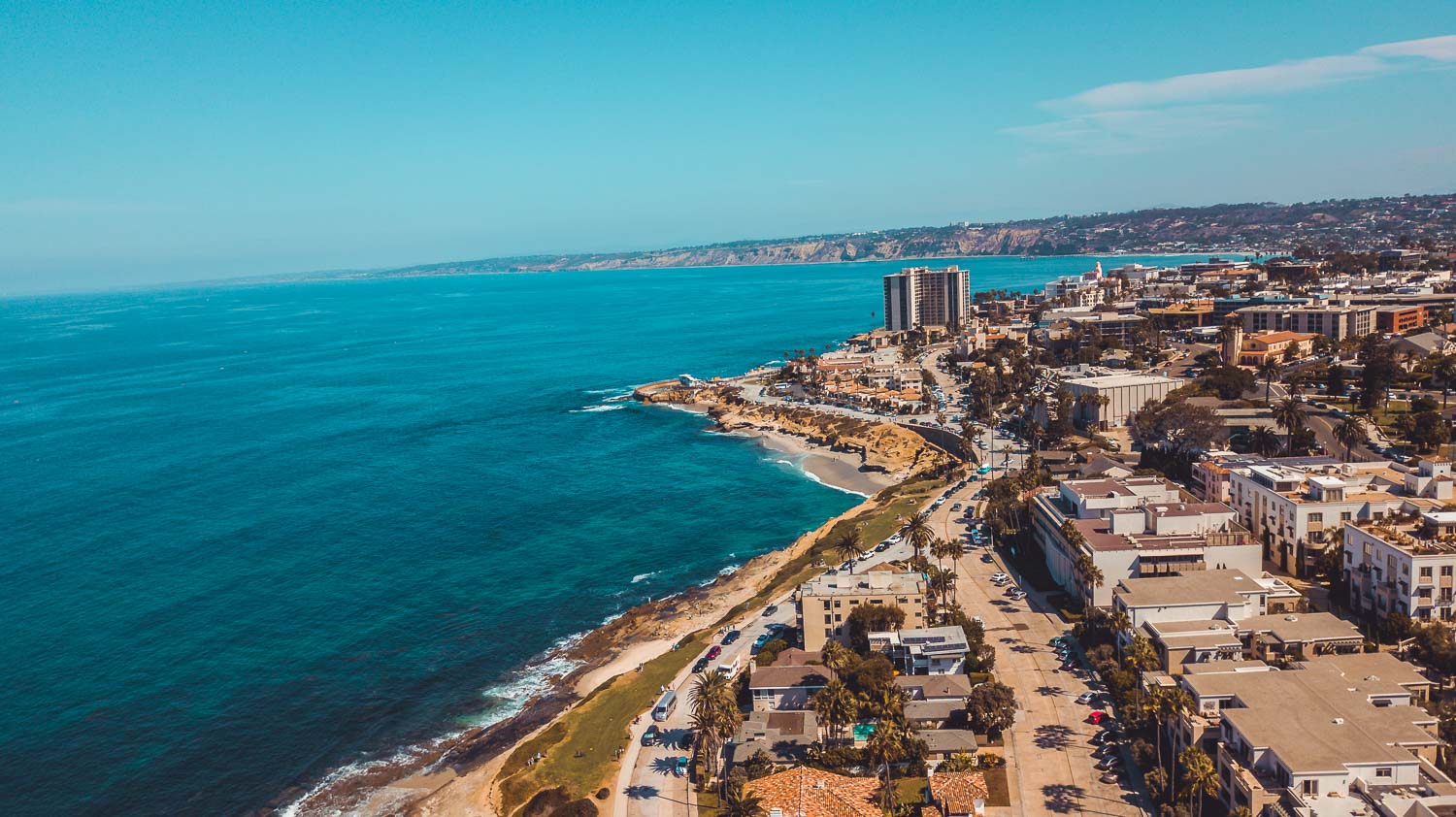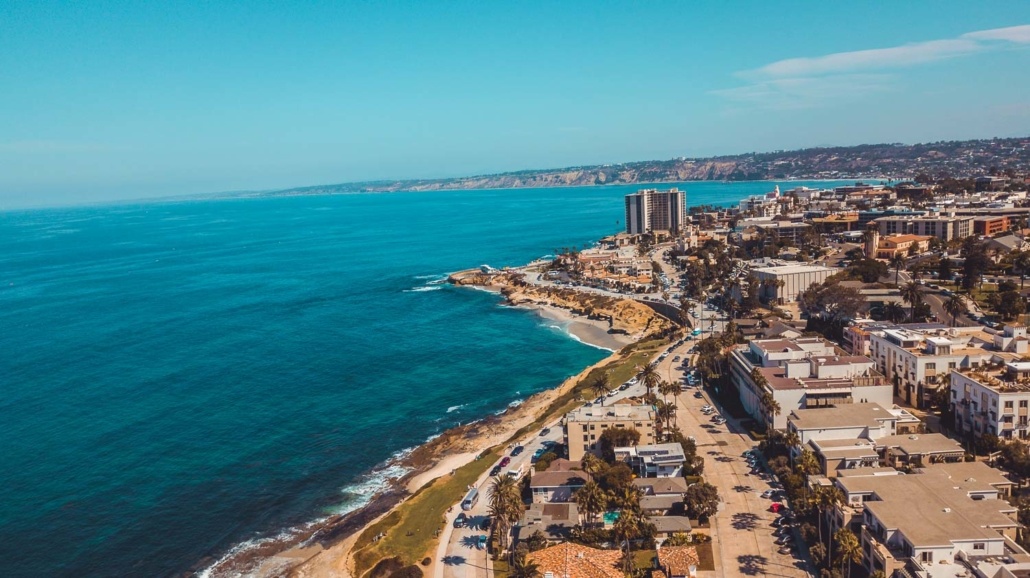 ---
15. Pacific Beach
Last, but certainly not least, Pacific Beach is the PLACE TO BE once you've arrived in San Diego. This suburb is basically the "epitome" of Southern California culture, and you will fall in love with everything this area has to offer! With a wide variety of bars and restaurants lining the beach, beautiful sunsets every night, and a welcoming atmosphere- you'll find yourself wanting to stay in "PB" as long as possible!
Check out this awesome article by my fellow blogger titled "25 Things To Do In Pacific Beach San Diego" for more inspiration and information!
---
Do I need to anything to this LA to San Diego Drive Itinerary?
Being a so-cal native, I could probably add at least a dozen more places that I think would be worth a visit, but I wanted to keep it to 15. If you think I need to add any specific destination along the Pacific Coast Highway, please do let me know! I'd also love to hear of your favorite restaurants and bars in the area, as I plan on completing this drive a lot in the coming months, and would love some recommendations!
---
Planning a Trip To California?
As a native Californian, I make it a point to make sure I create a lot of top California content! From NoCal to SoCal and everywhere else in between, this is the most up-to-the-minute list of my California blogs, guides and lists!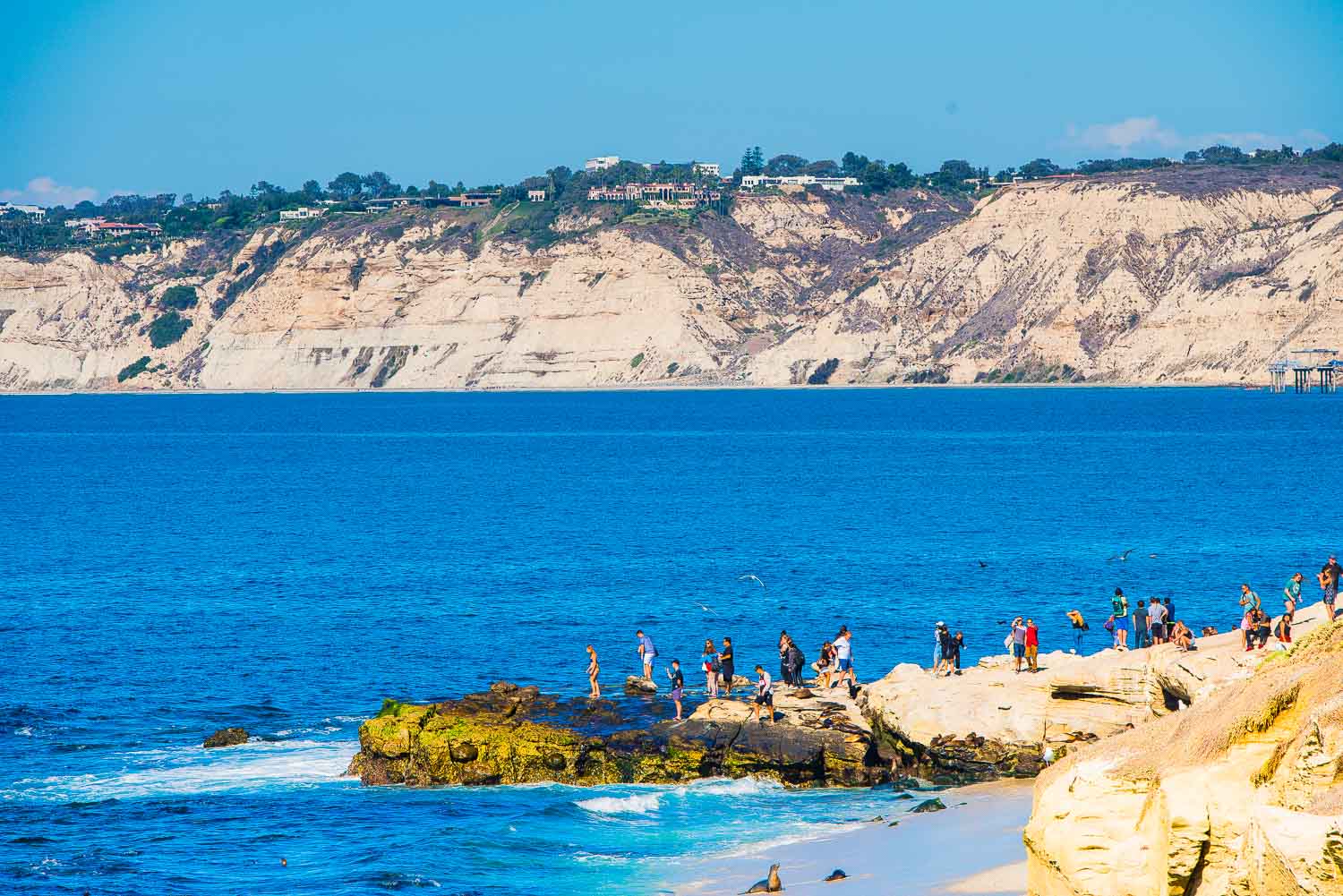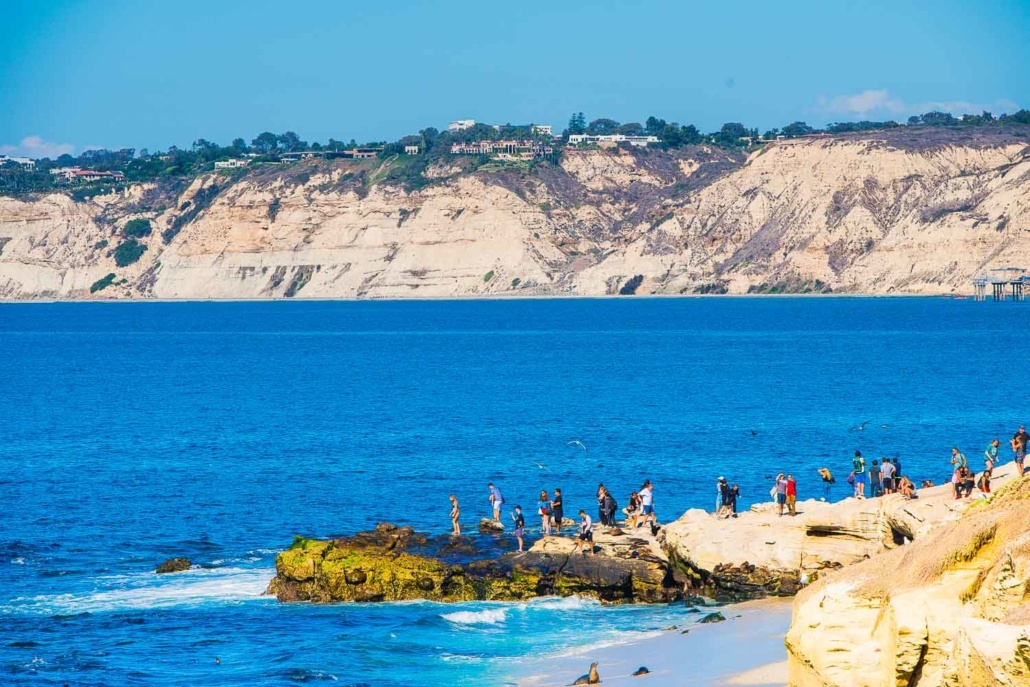 ---
Thanks for reading my LA to San Diego Drive Itinerary!
Share this LA to San Diego guide with your travel squad!
https://www.jonesaroundtheworld.com/wp-content/uploads/2019/08/Hungtington-Beach-California-LA-to-San-Diego-Drive-Places-to-visit.jpg
606
1080
Dave
https://www.jonesaroundtheworld.com/wp-content/uploads/2017/03/logotry-1-1-300x106.png
Dave
2023-02-11 23:51:32
2023-02-12 20:30:51
LA to San Diego Drive: 15 Great Stops to Make Along the Coast