With so many breathtaking natural wonders, Norway is a perfect destination for a glamping experience. The glaciers, mountains, and waterfalls welcome you to enjoy them and forget about all your worries. The northern lights, the midnight sun, the fjords, and peaceful national parks will remind you that all you need is inner peace. Glamping Norway getaways are unique and amazing, and will be guaranteed to be a highlight of your trip!
We've compiled a list of the best glamping site in Norway with the best reviews and, of course, views. Enjoy! Also, be sure to check my guide on Glamping Finland & Glamping Sweden for more nordic adventures!
---
Quick Breakdown of the Coolest Glamping in Norway
But before diving deeper into this explicit beauty content, let us share with you a short list of the best of the best glamping sites in Norway. They will make you fall in love with your vacation, the surrounding beauty, and your life!
Most Romantic Glamping in Norway — Sørfjorden Eye Iglo
Best Transparent Glamping in Norway — Stiklestad Eye
Glamping in Norway With the Most Breathtaking Views — Glampingtelt 1 i Helgelandsidyll
Most Unique Glamping in Norway — Aure, Micro-house on the banks of Tessungåe
Most Secluded Glamping in Norway — Arctic Dome Valdres Lyngen
So, did something above catch your interest? But don't hurry up and check our complete list of these beautiful shelters that connect you with nature.
---
13 Best Places To Go Glamping in Norway
With its scenic views that will leave anyone speechless, Norway is simply one of the most incredible countries in the world for a glamping retreat! Take a look at 13 amazing places to stay for a perfect getaway you'll never forget!
---
1. Sørfjorden Eye Iglo – Fosen
Where: Husby, Norway
Price: $236+
Accommodates: 2 guests
https://www.booking.com/hotel/no/sorfjorden-eye-iglo.en-gb.html
The Sørfjorden Eye Iglo – Fosen, located in the idyllic village of Husby, is an amazing glamping site that offers guests the chance to escape into a world of serenity. This stunning retreat is outfitted with the finest amenities, including a private terrace overlooking the lush landscape, a garden, and ample free private parking.
You can expect to find your every comfort met, with towels and bed linens provided for your stay. The interior of the igloo is thoughtfully designed to provide ultimate comfort, with two plush sofa beds and a plush double bed, as well as a stunning view of the surrounding natural beauty.
In the morning, you'll be treated to a delectable continental breakfast, which provides the perfect start to your day. The host is incredibly welcoming, and the atmosphere is warm and inviting, allowing you to fully unwind and relax in the luxurious surroundings.
---
2. Unique Ecolodge
Where: Tjørhom, Norway
Price: $133+
Accommodates: 2 guests
https://www.booking.com/hotel/no/unique-ecolodge-near-kjerag.en-gb.html
Escape to Tjørhom and immerse yourself in nature with a stay at the one-of-a-kind dome ecolodge. Cozy up with your loved one in the luxurious double bed, surrounded by 360 degrees of stunning natural views visible through the transparent roof. On chilly nights, warm up by the inviting wood-burning stove and enjoy the romantic getaway you've dreamed about.
Step outside, and you'll find a home addition with a full bathroom to make your stay even comfier. What a life: you don't need to sacrifice comfort to blend with nature!
---
3. Basecamp NORD – Indoor Camping
Where: Moen, Norway
Price: $116+
Accommodates: 2 guests
https://www.booking.com/hotel/no/indoor-camping.en-gb.html
Basecamp NORD is a comfy indoor camping experience located in the picturesque Troms region of Moen. This sophisticated retreat offers you the chance to immerse yourself in the great outdoors while enjoying the comforts of indoor living.
The tents and indoor campsites are meticulously designed, with a focus on elegance and coziness. Guests can sink into plush, comfortable beds and enjoy the warm ambiance of their beautifully decorated surroundings. The friendly and attentive staff is on hand to ensure that guests have a truly memorable experience.
Each unit at Basecamp NORD is equipped with a double bed, as well as additional amenities such as a seating area and patio, providing guests with a cozy and intimate space to call their own. For those seeking a more active adventure, the property offers ski-to-door access, making it a convenient and exciting choice for ski enthusiasts.
---
4. Wild Caribou Dome
Where: Lakselv, Norway
Price: $244+
Accommodates: 2 guests
https://www.booking.com/hotel/no/wild-caribou-dome.en-gb.html
Wild Caribou Dome is this sort of paradise that inspires you to create and enjoy every moment. Whether it's a cozy wedding night together or a romantic date, this glamping site will make all your dreams come true.
Nestled in Lakselv in the Finnmark region, Wild Caribou Dome features a cozy dome with one double bed and two chairs created for reading your favorite novel after a day of exploring the surrounding beauty. Inside, it also boasts a cozy fireplace and a wood-burning stove. Next to the dome flows the river Brennelva, a great swimming and hiking opportunity. And if you want to enjoy the polar nights, book this place from November until February.
---
5. Stiklestad Eye
Where: Verdal, Norway
Price: $143+
Accommodates: 3 guests
https://www.booking.com/hotel/no/stiklestad-eye.en-gb.html
Escape to the breathtaking beauty of Stiklestad Eye, a luxurious glamping site set in the charming Verdal region. This serene property offers a unique and memorable outdoor experience, with access to a stunning patio and free private parking.
This shelter is thoughtfully designed, featuring plush towels and bed linens for a comfortable stay. Inside, you will discover a spacious dome with a fully transparent roof and walls, providing breathtaking views of the surrounding landscape. With one single bed and a large double bed, the tent is perfect for couples, friends, or solo travelers.
Stiklestad Eye is a true haven for outdoor enthusiasts, with a sun terrace and barbecue area, perfect for al fresco dining. The property is surrounded by natural beauty, making it the ideal location for hiking and exploring the stunning countryside.
---
6. Arctic Dome med badestamp
Where: Hammerfest, Troms og Finnmark, Norway
Price: $271+
Accommodates: 2 guests
https://www.airbnb.com/rooms/614428833932294155
Indulge in a romantic getaway at the breathtaking Arctic Dome glamping site. Perched high in the stunning landscape, you'll be treated to panoramic views of the majestic fjords and mountains. Choose from several charming turf houses, including a spacious option for five people, two small houses with two separate beds each, and a cozy Arctic dome with views of the river, fjord, and mountains. Relax in the sauna with shower and toilet, and whip up meals in the spacious 20 sqm external kitchen.
If you want to experience ultimate luxury, rent a wood-fired hot tub for two, available during the summer and autumn months. Soak in the warm, rejuvenating waters while taking in the breathtaking views from the terrace right outside the dome. Book now and make memories that will last a lifetime with your special someone at the Arctic Dome.
---
7. Glamping1 i Helgelandsidyll
Where: Rødøy, Nordland, Norway
Price: $101+
Accommodates: 2 guests
https://www.airbnb.com/rooms/41726001
The next glamping site in Norway is all about breathtaking views and nature. You'll have a tent at your disposal, which is an epitome of beauty that surrounds us and makes our lives like the ones from a fairytale.
The place is very idyllic, and there are a lot of facilities, such as boats, kayaks, fishing gear, and bicycles, available for rent or borrow. Unique, comfortable, and beautiful, this spot instantly makes you feel at home with Gunnar's warm welcome. Inside, the tent has a double bed, table, chairs, electric heating, and access to a shower and toilet. A kitchen with a fridge and all the necessary cooking equipment is available in the jetty. But the gem of it all is the position of your tent—you'll have a view of the sunset in the west, which tantalizes immediately.
---
8. Meretes Garden Retreat & Spa 3
Where: Døvingssida, Norway
Price: $129+
Accommodates: 5 guests
https://www.airbnb.com/rooms/25228451
Have you dreamed about a serene vacation where no one can disturb you? Put your phone away or switch it off at all, and let your soul relax. Finally.

Escape to Valldal, a hidden gem off the beaten path, and immerse yourself in breathtaking nature at a unique canvas glamping experience. Furnished like a luxurious hotel room, your comfortable bed awaits amidst the tranquil sound of the river and the sweet songs of morning birds. Relax and recharge with high-end amenities, including a well-equipped kitchen, top-notch common areas, showers, a sauna, and even a luxurious bathtub. Surrounded by breathtaking gardens and breathtaking nature, this is the perfect place to unwind and rejuvenate. Start your mornings with yoga, offered three times a week, and enjoy the magic and romance of sleeping under canvas with all the comforts of home.
---
9. Nest – WonderInn Riverside
Where: Årnes, Norway
Price: $248+
Accommodates: 2 guests
https://www.booking.com/hotel/no/nest-wonderinn-riverside.en-gb.html
The next glamping site is set in Årnes in a so-called "forest island"—a circular forest in the middle of the acre, with stunning views over the farm and the river. The little farm is home to different animals, which can simply walk around you and welcome you with their sweet faces.
Tucked in by pine forest, the glamping dome is elevated by a cozy platform and looks like a true treehouse. When stepping inside, you'll see one single bed, one double bed, a table with two chairs, and a woodfire oven. There is no water or electricity, but 100m from the dome, you'll find the barn with all facilities, such as a shower, kitchen, and a common area with plugs. The kitchen is fully equipped with two large fridges for guests, a stove, pots and pans, and other necessary equipment. If you want some grilled delicacies, feel free to use a common coal-fired BBQ on the pier at the riverside.
Yeah, WonderInn Riverside is an amazing place where you can feel isolated from the hustle and bustle of the outside world. Put your phone away and have the time of your life!
---
10. Aure, micro-house on the banks of Tessungåe
Where: Tinn Austbygd, Vestfold og Telemark, Norway
Price: $186+
Accommodates: 3 guests
https://www.airbnb.com/rooms/33350785
Escape to a hidden gem nestled deep in the Norwegian forest where the wildflowers bloom, and the river sings. Perfect for a romantic glamping experience or a small family adventure, this cozy micro-house on the banks of Tessungåe offers modular sleeping arrangements and a warm, inviting atmosphere with a wood-burning stove.
Awaken each morning to the soft glow of the sun filtering through the trees, and spend your days exploring the wonders of the forest or simply relaxing by the river. The thoughtful design of this cabin offers unexpected surprises at every turn, from the back terrace overlooking the river to the front deck with a mini kitchen and the sitting area that doubles as a bedroom.
Indulge in the simple pleasures of life with a hot bath using crystal-clear river water, or take a bush bath for a truly immersive spa experience surrounded by breathtaking scenery. Whether you're looking to reconnect with nature or simply escape the hustle and bustle of everyday life, this unique house in the heart of the Norwegian forest promises a once-in-a-lifetime adventure.
---
11. Panoramic Treehouse Magic Fjordview
Where: Gloppen, Vestland, Norway
Price: $276+
Accommodates: 2 guests
https://www.airbnb.com/rooms/48439271
Would you find living in a panoramic glamping shelter a great way to spend a few days with your beloved one? Dreaming of reconnecting with nature without sacrificing comfort? Say no more! This treehouse on the edge of the forest, just a stone's throw from the center of Sandane, is an amazing option!
It offers breathtaking panoramic views of Gloppefjorden and the southern beach mountains, providing the perfect backdrop for your next adventure. Relax in comfort with the treehouse's luxurious amenities, including waterborne heating, a fully equipped kitchen, and a comfortable bed that promises a good night's sleep. Soak up the natural beauty of your surroundings with a relaxing hammock hang, or take in the views from the top of Traudalsnibba.
Oh, and don't miss a chance to experience the thrill of the great outdoors with fishing trips on the fjord, hiking on laid-out waterfront trails, and refreshing swims.
---
12. A small house with beach views
Where: Ringsaker, Innlandet, Norway
Price: $111+
Accommodates: 2 guests
https://www.airbnb.com/rooms/607990188052521810
Embrace the simple beauty of nature with a stay at this charming little house by Mjøsa. Lit by warm tea lights and battery-powered lights, this cozy retreat is the perfect escape from the stresses of modern life.
You get a chance to experience the rustic charm of a wood-burning stove, snuggle up on the sofa that doubles as a comfortable double bed, and let the peace and quiet of the surrounding wilderness envelop you. With a small sofa nook by the oven, two chairs, and a desk, this house has everything you need to escape the outside world and immerse yourself in the beauty of nature.
But going to Norway and staying inside is indeed a wrong choice. Discover the great outdoors with a hike along Mjøsa or explore the challenging terrain in Kiseåsen. Take a scenic bike ride or simply enjoy the peaceful serenity of the area. With no electricity or water, this small Norwegian glamping site is the ultimate retreat for anyone seeking a true escape from the modern world.
---
13. Arctic Dome Valdres Lyngen
Where: Vang kommune, Innlandet, Norway
Price: $331+
Accommodates: 2 guests
https://www.airbnb.com/rooms/50539648
Last but not least, the Arctic Dome is a private mountain paradise that offers a cozy and comfortable atmosphere. Set close to the entrance of Jotunheimen in Vang, Valdres, it offers a chance to escape to the breathtaking beauty of nature and have the time of your life.
With a large double bed, a dining table with two chairs, and a small, inviting nook complete with two bean bags, this dome is the perfect place to relax and unwind. Warm up by the gas oven and enjoy the breathtaking views from the large flat, complete with outdoor furniture and a gas grill.
Take advantage of the small kitchen next to the dome, equipped with everything you need to cook delicious meals, including a gas stove, gas fridge, sink, countertop, and all necessary cutlery, dishes, and glasses. Spend your days exploring the surrounding beauty and your evenings relaxing and enjoying the view while sipping your favorite wine.
---
Am I Missing any Incredible Glamping Norway Sites
Norway is one of the most incredible countries in the world for a glamping getaway (especially during the winter season for witnessing the Northern Lights). So if you've visited Norway recently and stayed at a top-notch glamping experience – an igloo, yurt, secluded cabin, treehouse, or luxury tent camping – be sure to reach out and let me know!
NORWAY TRAVEL DOCUMENTARY | The Grand Norwegian Roadtrip
---
LOOKING FOR MORE INCREDIBLE GLAMPING GETAWAYS
My travel blog has a focus in the glamping niche, and I have tons of incredible content that would be perfect for future glamping trip inspiration! Take a look through some of my favorites below: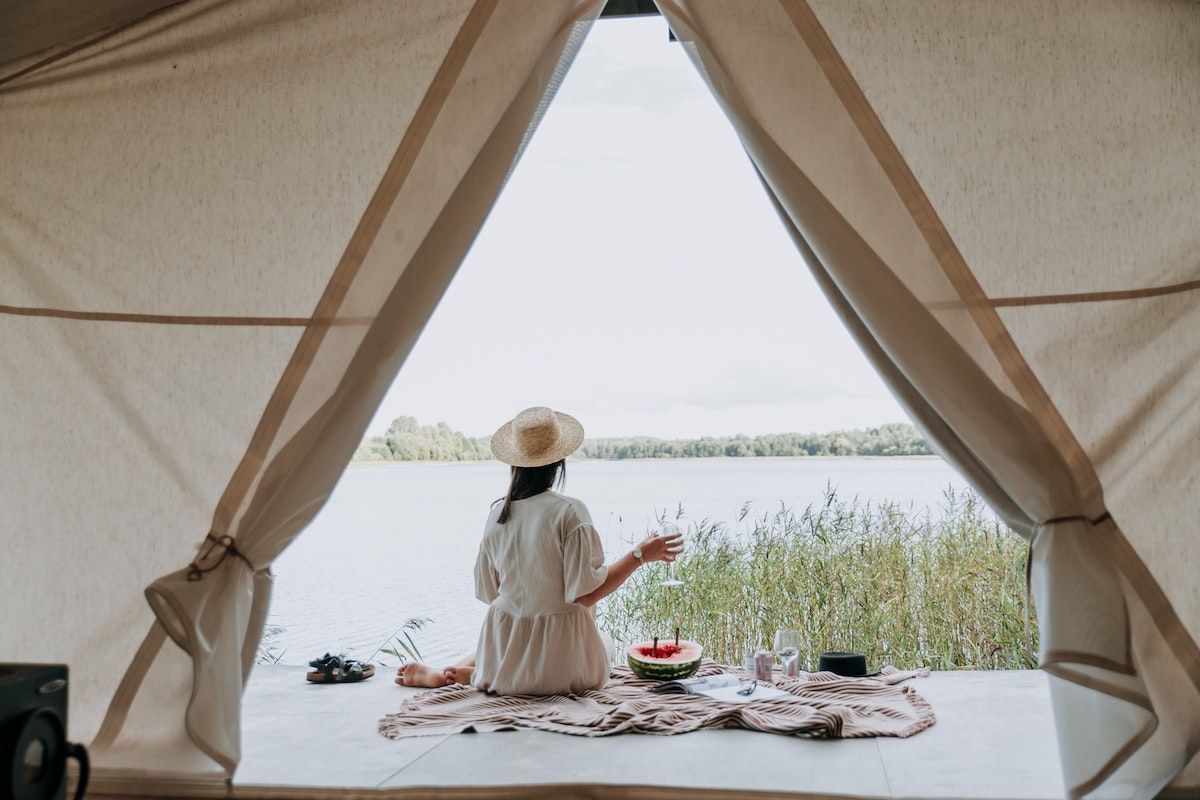 ---
Thanks for reading my Glamping Norway Guide!
Share this article with your fellow glamping-loving travelers!
https://www.jonesaroundtheworld.com/wp-content/uploads/2023/02/Stiklestad-Eye-Glamping-in-Norway.jpeg
720
960
Dave
https://www.jonesaroundtheworld.com/wp-content/uploads/2017/03/logotry-1-1-300x106.png
Dave
2023-02-25 19:37:55
2023-02-25 19:39:32
Top 13 Glamping Norway Sites For Your Bucket List