Glamping in Perth and its surrounding areas is undoubtedly a one-of-a-kind experience. Perth's nature makes you feel blissful, while its beautiful parks and reserve, world-class walking trails, and wildlife encounters make you want to revisit this destination over and over.
We've decided to put together the best glamping spots in Perth to help you explore everything this city and its surroundings have prepared for you. Don't sacrifice your comfort; stay in a warm bad at night, and discover the wonders during the day.
Also, be sure to read my guides for a Perth Itinerary & Perth Festivals for more future trip planning inspiration!
---
Quick Breakdown of the Coolest Glamping in Perth, Australia
We can say nothing other than these five options below are the top-notch glamping sites you'll fall in love with. We carefully selected them among lots of other shelters, so brace yourself for the explicit beauty content.
The coziest glamping in Perth, Australia — Eversprings Glamping
Most romantic glamping in Perth, Australia — Two Blind Cows
Most luxury glamping in Perth, Australia — Heavenly Waters
Most unique glamping in Perth, Australia — Mile End Glamping
Most stylish glamping in Perth, Australia — Olio Bello Lakeside Glamping
---
The 13 Best Places To Go Glamping in Perth
Now let's move on to the full list. These glamping spots have the best reviews and the best locations near beautiful Perth. Enjoy and book your favorite one!
---
1. Eversprings Glamping
Where: Mount Helena, Australia
Price: $195+
Accommodates: 2 guests
https://www.booking.com/hotel/au/eversprings-glamping.en-gb.html
https://www.everspringsglamping.com/
Adjacent to two nature reserves and surrounded by breathtaking beauty, Everspring Glamping is a fantastic opportunity to unwind and reconnect with nature in comfort. It's located in the Perth Hills Darling Range on the outskirts of historic Mount Helena. Featuring Lotus Belle and Luna Bell tents with a hot shower, toilet pod, and a camping kitchen equipped with all you could need, this glamping spot invites you and your beloved ones to have the time of your lives.
Each tent is outfitted with a comfortable queen size bed, and the well-equipped campground has all the amenities you might need for a comfy stay. Outside, you'll have lots of exciting things to explore: Perth Hills Discovery Centre, Mundaring Arts Centre, local wineries, Lake Leschenaultia, various nature reserves, and the Mundaring Weir. So, don't miss a chance to spend a few days in a private glamping site overlooking a secluded valley on a 100-acre alpaca farm.
---
2. Totem Glamping
Where: Perth, Australia
Price: $220+
Accommodates: 2-5 guests
https://www.totemglamping.com.au/
Totem Glamping is all about tranquility and pure happiness. It's a luxury camping and a wonderful natural experience where you can create unforgettable memories under the beautiful Western Australian sky.
The thing is that Totem Glamping is different from other glamping spots with permanent locations. It's a camping service that pitches and packs away your Sibley Bell tents at your chosen location. You can rent various tents for your celebration, such as a wedding, festival, retreat, or even corporate event, and the guys from Totem Glamping will tailor everything to your dreams. Each unit can sleep from two to five people and includes bed linens, indoor rugs, quilts, pillows, and lots of other things that make these shelters cozy. Choose your favorite location and make all your glamping dreams come true.
---
3. Nomadika Glamping
Where: Perth, Australia
Price: $250+
Accommodates: 2-6 guests
https://www.facebook.com/NomadikaGlamping/
Nomadika is the perfect escape from the hustle and bustle of daily life. As Western Australia's original glamping company, they offer an experience like no other. With their unique and stylish pop-up bell tents, they cater to a wide range of events and occasions, from private and corporate glamping to weddings, birthdays, festivals, family weekends, and romantic getaways.
From the moment you step into one of their tents, you'll feel transported to a world of comfort and sophistication. Each tent is equipped with everything you need for a comfortable and unforgettable stay, from plush bedding to atmospheric lighting. With an aim to elevate the traditional camping experience to a whole new level of luxury, Nomadika is ready to make all your glamping dreams come true.
---
4. Two Blind Cows Glamping
Where: Osmington, Australia
Price: $159+
Accommodates: 2 guests
https://www.airbnb.com/rooms/29784032
Two Blind Cows on Woolrubunning Farm is the ultimate destination for nature lovers and those seeking a unique and unforgettable glamping experience. Nestled in the heart of the Margaret River region, this 130-acre property offers breathtaking panoramic views of protected Australian native bushland and wildlife.
The three glamping tents at Two Blind Cows are uniquely positioned to provide maximum privacy and breathtaking views. Each tent is fully equipped with a comfortable queen bed, a private ensuite, and a fully equipped kitchenette, ensuring you have everything you need for a comfortable and relaxing stay. The location of Two Blind Cows is also perfect for exploring the Margaret River region, with some of Western Australia's best wineries, beaches, and attractions just a short drive away. With their commitment to providing a unique and exceptional glamping experience, Two Blind Cows is the perfect choice for your next getaway.
So what are you waiting for? Book your stay at Two Blind Cows today and immerse yourself in the beauty of the Margaret River region.
---
5. Glamping Village in Margaret River
Where: Forest Grove, Australia
Price: $172+
Accommodates: 2-4 guests
https://www.airbnb.com.au/rooms/25434412
Brace yourself for basking in the beauty and comfort of Margaret River Retreat, which offers a truly unique glamping experience with its dedicated Glamping Village. Designed for families, couples, and retreat-goers, the village features ten spacious Twin Bell tents that offer superior comfort and quality.
Each tent is fitted with quality, sustainably sourced homewares, ensuring that your stay is both comfortable and environmentally friendly. For those who love to cook, you can even hire one of the Oz Pig wood-fired cooking packages (in-season), complete with the first night's firewood and lighters. And for those who prefer a hassle-free experience, the Glampers Kitchen is well-equipped, or you can visit the cafe coffee window each morning.
Located next door to the Forest Grove National Park, Margaret River Retreat is the perfect place to immerse yourself in the beauty of nature. Whether you're seeking a romantic getaway, a family holiday, or a retreat for a larger group, this glampsite is sure to exceed your expectations.
---
6. Heavenly Waters Glamping
Where: Avon Valley, Australia
Price: $390+
Accommodates: 2 guests
https://www.heavenlywaters.com.au/
https://www.instagram.com/heavenlywaters.com.au/
If you're looking for a place where luxury meets an eco-friendly camping atmosphere, Heavenly Waters may pique your interest. This idyllic couples-only retreat offers a one-of-a-kind getaway on the banks of the stunning Jimperding Brook, just an hour from Perth and a 15-minute drive to the historic town of Toodyay.
Set on 130 acres of privately owned land, Heavenly Waters is a peaceful oasis surrounded by native birds and grazing cattle. After a day of exploring the surrounding landscape or relaxing in the serenity of the camp, take a sunset walk and immerse yourself in the beauty of the starry night sky.
The tent offers all the amenities you could want for a comfortable and luxurious stay, including an ensuite shower and toilet, a fully-equipped kitchen, and a king-size bed. Powered by solar energy, it includes a space heater, an ethanol fire, a ceiling fan, a bar fridge, and a gas barbeque, ensuring you have everything you need to make the most of your stay.
---
7. Mile End Glamping
Where: Yelverton, Australia
Price: $352+
Accommodates: 2 guests
https://www.mileendglamping.com.au/
https://www.booking.com/hotel/au/mile-end-glamping.en-gb.html
Mile End Glamping is heaven on Earth for glamping lovers. This self-contained glamping destination offers a unique and unforgettable experience for guests seeking to escape everyday life. Each of the stunning studio domes is elevated off the ground, offering breathtaking valley views from a light-filled and open-plan 65 square-meter space. The domes are architecturally designed using patterns found in nature and illuminated with natural light to create a comfortable and energy-efficient environment that brings the outdoors in.
When stepping inside, you'll find all the amenities needed for a comfortable stay, including a TV, a kitchen with a fridge, an oven, a dishwasher, and a shower with free toiletries and bathrobes. And when you're ready to relax, step outside and take advantage of the hot tub, or fire up the barbecue and enjoy a meal with a view.
---
8. Eco Beach Resort Luxury Tent Glamping
Where: Broome, Australia
Price: $101+
Accommodates: 2-6 guests
Eco Beach Wilderness resort, located 130kms south of Broome in the heart of Yardoongarra, is designed and constructed with the environment in mind. There, you'll find 30 Safari Style Tents and 25 Eco Villas with either garden or spectacular ocean views, which tantalize and calm.
If you prefer a more luxurious kind of vacation, Eco Beach has Beach Houses that offer full-size kitchens and living areas with breathtaking views of the Indian Ocean. Relax by the pool, explore the fantastic surrounding areas, or simply chill out in a beach hammock. And remember that you deserve only the best.
---
9. Eco Retreat
Where: Karajini, Australia
Price: $240+
Accommodates: 2-4 guests
https://www.karijiniecoretreat.com.au/
https://www.facebook.com/karijiniecoretreat
In the heart of the spectacular Karijini National Park, Western Australia, you'll find a hidden paradise called Karijini Eco Retreat. As one of Australia's leading eco-tourism attractions, it offers safari-style eco tents, cabins, and campsites set amongst native bushland at the edge of Joffre Gorge. You can choose between staying under the stars in a campground or comfortable glamping accommodation with cozy beds, individual lockers, a shared decked seating area with tables and chairs, and shared bathroom facilities.
After an aromatic morning coffee, don't waste a minute and go explore a wonderland of ancient natural landscapes formed more than two billion years ago. Deep gorges, red cliffs, towering waterfalls, and emerald-green waterholes await you to investigate them and snap a few mesmerizing pictures.
---
10. The Billi
Where: Broome, Australia
Price: $279+
Accommodates: 2 guests
https://thebilli.com.au/deluxe-king-tents/
https://www.facebook.com/thebilli/
If you are looking for a place to enjoy privacy and tranquility, the next glamping spot is the one you may fall in love with. The Billi Resort is nestled in the tourist precinct of Cable Beach and features superb tropical gardens, raised timber walkways, and quiet surroundings.
This resort offers a range of self-catering accommodations, including one and two Bedroom Villas, Studio Rooms, and top-notch Eco Tents equipped with their own kitchenettes and ensuites. Since this article is about glamping, we'd like to talk more about tents themselves. Inside, each shelter has a plush queen-size bed with an overhead fan, an ensuite bathroom with a rain shower over a free-standing bath and hairdryer, and a kitchenette with Nespresso Coffee Machine, tea & coffee provided, a fridge, microwave, and utensils. Outside, you'll find a large canopy of trees, entertaining areas, and an amazing guest pool connected to all accommodations by raised timber walkways and superb gardens.
If you're looking for a place to celebrate a birthday, wedding, anniversary, or any other life celebration, the Billi Resort is a go-to spot that will help you create unforgettable memories. Book it via our link and enjoy time spent there.
---
11. Olio Bello Lakeside Glamping
Where: Cowaramup, Australia
Price: $225+
Accommodates: 2-4 guests
https://www.booking.com/hotel/au/olio-bello-lakeside-glamping.en-gb.html
Experience the epitome of luxury and sustainability at Olio Bello Lakeside Glamping—an unparalleled oasis nestled within the Margaret River region of Western Australia. This glamping spot features architecturally designed bungalows that have been meticulously crafted to ensure minimal environmental impact and maximum comfort.
Indulge in the delights of organic living, featuring private en suites, kitchenettes, minibars, eco-fans, reverse-cycle air-conditioning, and spacious sunset viewing decks. A sumptuous, farm-fresh breakfast awaits you each morning while a gourmet cafe and organic beauty products tantalize your senses. Explore the sprawling 320-acre organic olive farm, breathe in the fragrant aroma of the olive groves, and soak up the stunning views of the picturesque lake. With communal BBQ facilities, you can relish the beautiful surroundings while enjoying a succulent dinner!
---
12. Discovery Rottnest Island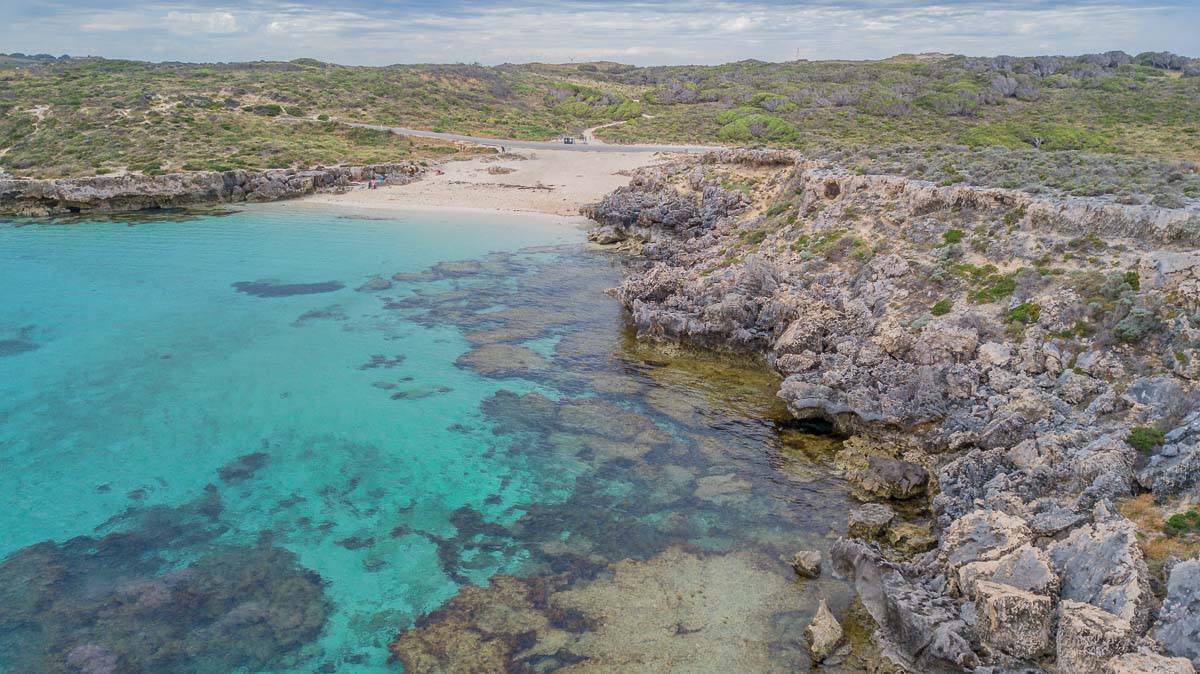 Where: Rottnest Island, Australia
Price: $479+
Accommodates: 2-5 guests
https://www.discoveryholidayparks.com.au/caravan-parks/western-australia/discovery-rottnest-island/4388-deluxe-family-tent
Rottnest's glamping eco-retreat, Discovery Rottnest Island, is tucked into natural surroundings (on an island, if to be more precise). It offers four types of tents: Base Camp with all the basics, Tuart with a kitchenette (a kettle, microwave, toaster, bar, and fridge) and private deck, Family with a separate annex for kids, and Dune with the whole shebang plus ocean views.
What's more, this glamping spot has an on-site restaurant, bar, and pool to make your stay even more comfy and adventurous. So, if you're looking for a distant, isolated type of retreat, book your stay at Discovery Rottnest Island.
Discovery Glamping Tents Rottnest Island Perth Western Australia
---
13. Wild Goose Camping
Where: South West, Australia
Price: $210+
Accommodates: 2-5 guests
https://www.wildgoosecamping.com.au/
https://www.facebook.com/wildgoosecamping/
Looking for a glamping experience that's simple, stylish, and surrounded by nature's bounty? Look no further than Wild Goose Clamping.
Their cozy Canvas Bell Tents are the perfect pop-up accommodation for those who appreciate rustic charm without sacrificing comfort. Imagine snuggling up on a queen or single-foam mattress wrapped in fresh white linen and surrounded by jute rugs, sheepskins, and fluffy cushions. And that's just the inside—step outside your tent to a wonderland of wildlife, shady sites, and picturesque views of the stunning Cowaramup Beach Bay and Cape to Cape Track.

Work on your putt at the mini-golf course, hit a few tennis balls, or indulge in delicious coffee and scrumptious eats at Gracies General Store. So what are you waiting for? Book your spot at Wild Goose Clamping—you're just a hop, skip, and jump away from experiencing the ultimate glamping adventure!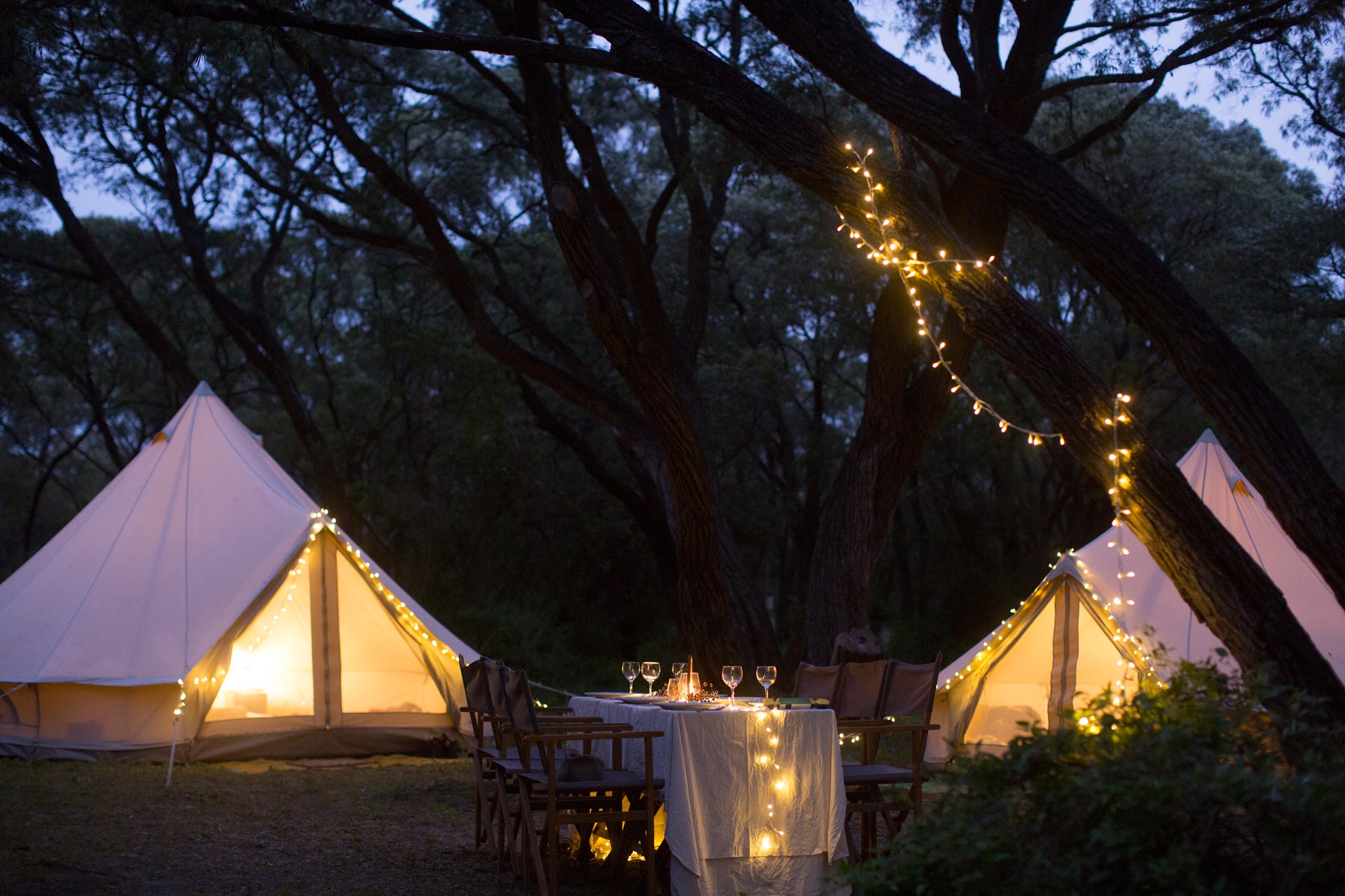 ---
Am I Missing Any Amazing Perth Glamping Sites?
Perth and Western Australia is quite large region of this magnificent country, and I'm sure there are tons more yurts, treehouses, luxury tents, igloos, and so many more unique stays that would qualify as a top-notch glamping getaway!
If you think I'm missing anything specific, please do reach out as I'd love to keep this list as up-to-date as possible with the best information!
Top 10 Things to do in Perth 2023 | Australia Travel Guide
---
Planning a trip to Australia?
Having lived down in Australia for over a year, and having explored the country over six different trips now, my website is filled with so many incredible articles, itineraries, and destination guides! Take a look through a few of my favorite articles below, and feel free to reach out with any questions you have about visiting Australia! I'm always happy to help any way I can!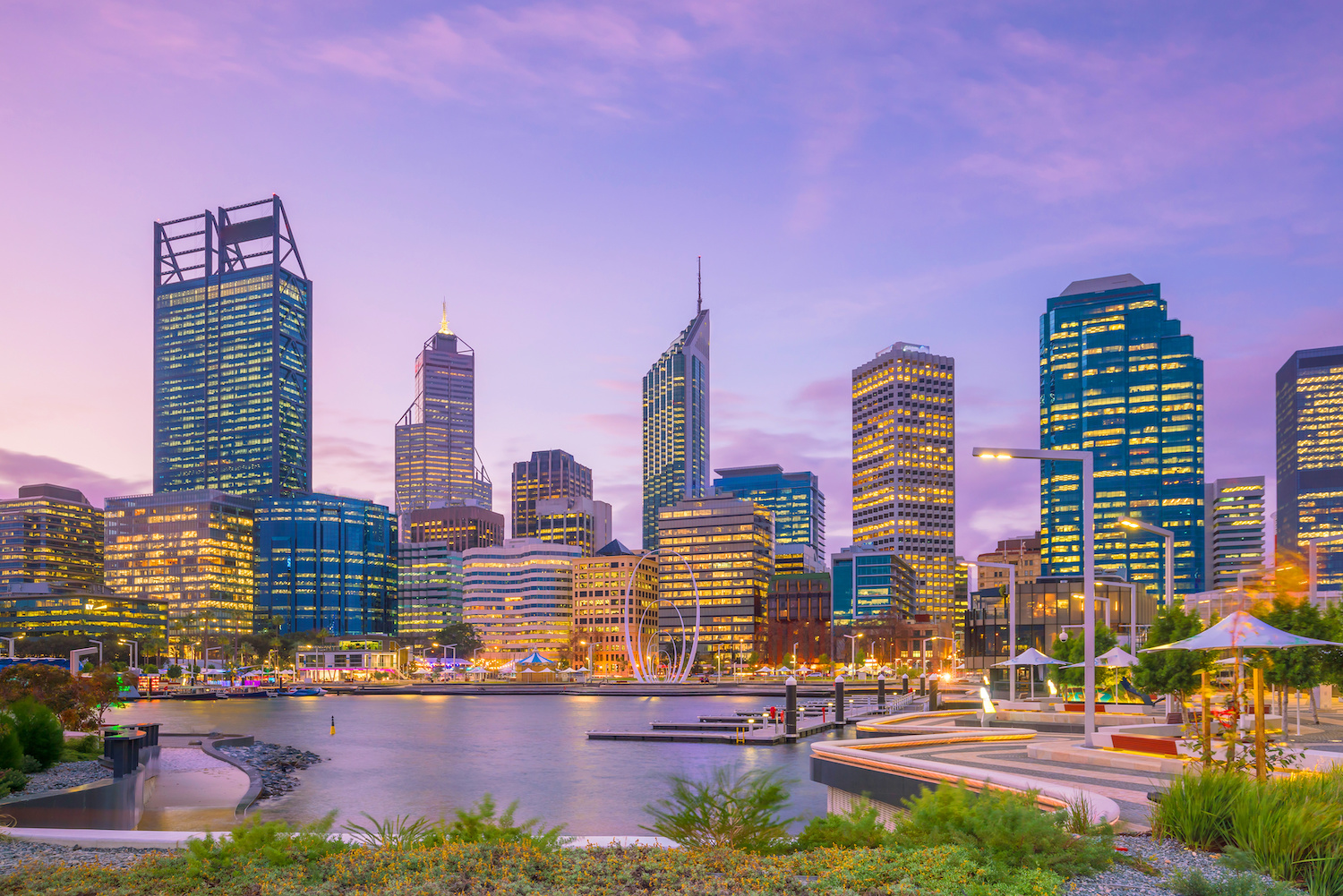 ---
Thanks for reading my Glamping Perth Guide!
Share this article with your Australian traveling crew!
https://www.jonesaroundtheworld.com/wp-content/uploads/2023/02/Eversprings-Glamping-Perth.jpeg
900
1130
Dave
https://www.jonesaroundtheworld.com/wp-content/uploads/2017/03/logotry-1-1-300x106.png
Dave
2023-02-25 20:19:11
2023-02-25 20:19:11
13 Best Glamping Perth Sites For Your Bucket List