Planning a trip through Australia and searching for the best things to do in Byron Bay!? Well, look no further, because I've put together this awesome travel guide that'll provide all the inspiration and information you'll need!
Byron Bay is one of the most unusual places anywhere I have been in Australia, and a place that you think wouldn't ever be so popular but I can tell you the reasons why people ascend on this small coastal community on a daily basis.
Long before Byron Bay was put on the world map by Chris Hemsworth and Matt Damon, Byron Bay was kicking it with the cool kids so sorry guys, you weren't the ones to make this place the way it is today.
Byron Bay is the place people to express their feelings, to be free and do whatever they want to do so long as it doesn't involve not paying the parking metre, this town is a whole lot of I can dress, express and feel however I want and it's kind of epic to see.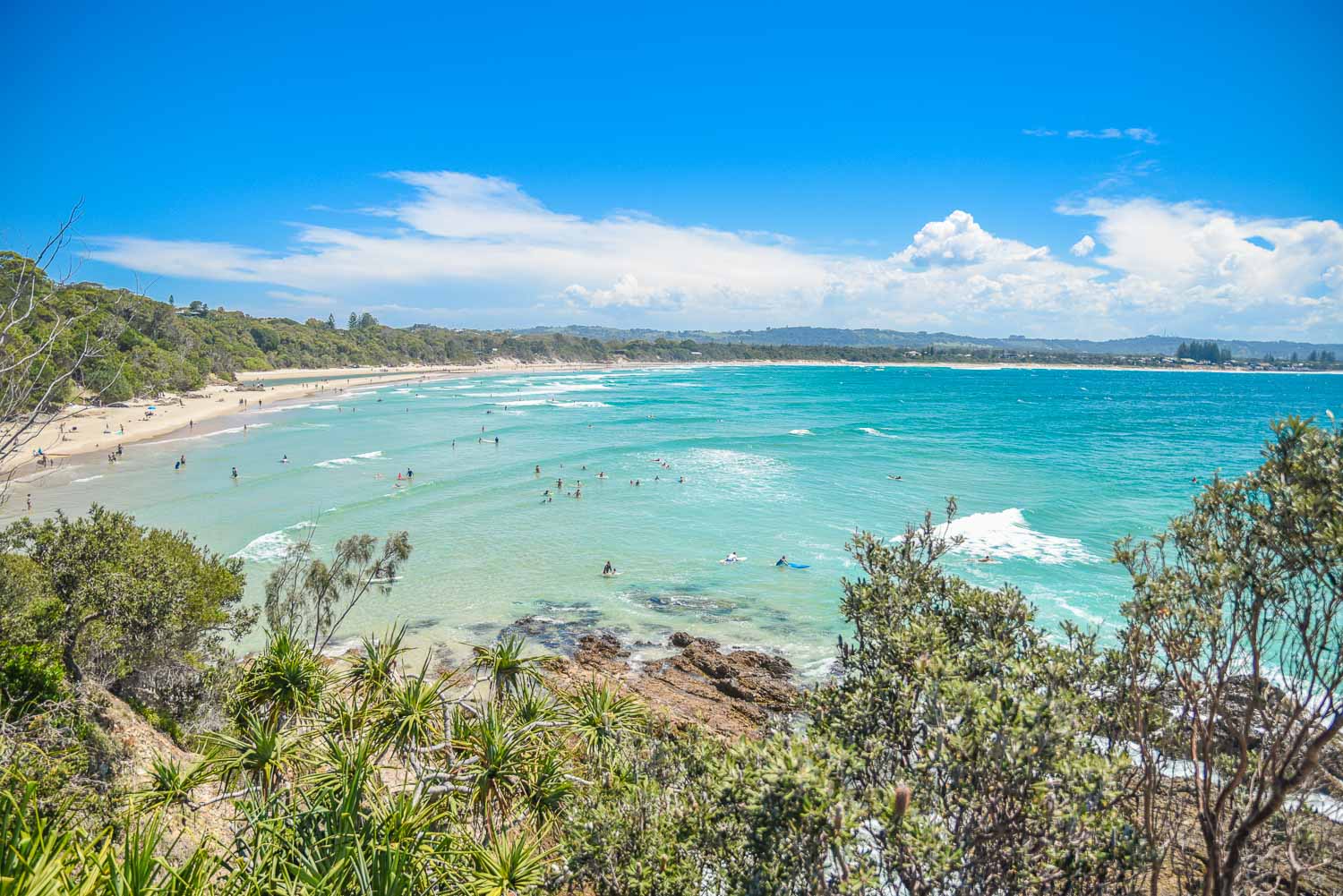 Ok, so other than wanting to be free and expressing the way you feel, what else can one do in Byron Bay? Byron Bay exceeds in local produce, surfing, coffee, sunrises to just relaxing at Wategos Beach and damn it's good to arrive in Byron Bay, wax the board and head for the sea to wash away all of the worries.
Also, be sure to check out my guide on the 19 Best Airbnbs in Byron Bay to find the perfect accommodation for your visit!
---
1) Enjoy local produce
Byron Bay has seemingly become New South Wales prime food bowl for everything organic, vegan to vegetarian and everything in between. Byron Bay is a very health-conscious place so expect to find produce grown locally on the menus of most cafes and restaurants and that is the same as seafood, poultry and livestock all been grown locally.
A success story comes in the form of The Farm, a restaurant that operates 7 days a week where everything is grown on site including the beer which is brewed on site using local ingredients.
Byron Bay Farmers Market 10th year Anniversary
---
2) Visit Australia's Most Easterly Point
Byron Bay is home to the most easterly point in Australia and is one of the first places in Australia that you'll see the sun and other than saying that 'I've been to Australia's most easterly point' which is classic however that's not all that sits upon this coastal area, Cape Byron is considered as the best thing to see in Byron Bay.
"Just a few kilometers from the Byron Bay beach, is the farthest eastern point on Australia's mainland. And you can stand on it. And stare out into the South Pacific Ocean. To get to the Point, you will make your way up to the Byron Cape lighthouse. On the eastern side of the lighthouse, you'll find a map leading you to the Point, just 200 meters away. The winding path consists of a few stairs but mostly a paved pathway with dotted look out points on the way. On one side of the pathway, lies forest-like vegetation while the ocean is on the other. Once you arrive at the point, there is a small green to relax, take pics or do whatever you feel is appropriate to commemorate your journey. And if the adventure isn't enough, the path continues another few hundred meters down to some very cool oceanfront sea rocks, should you want a more intimate experience."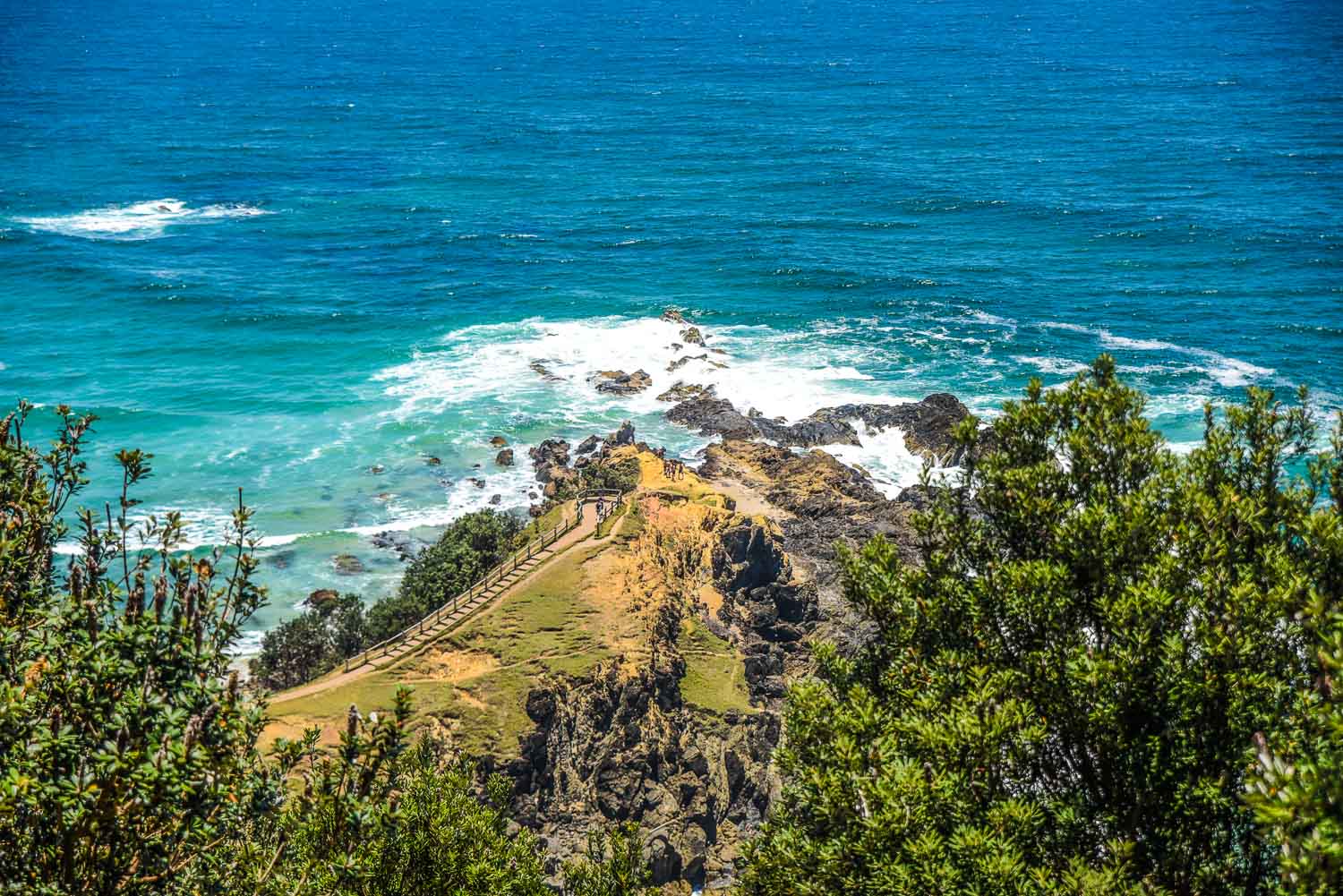 ---
3) Cape Byron Lighthouse
I don't know how many times I have visited Cape Byron Lighthouse but I always manage to see it in a different angle making it quite refreshing despite the bus loads of people you'll see.
Cape Byron Lighthouse is probably the first thing that you will see when driving into Byron Bay as it can be seen from a long way away as that is the intention of a lighthouse.
At certain times throughout the day, ranger-guided tours operate within the lighthouse otherwise there is a small house at the bottom of the stairs which holds a stack of information on the lighthouse, marine animals and the history of Byron Bay.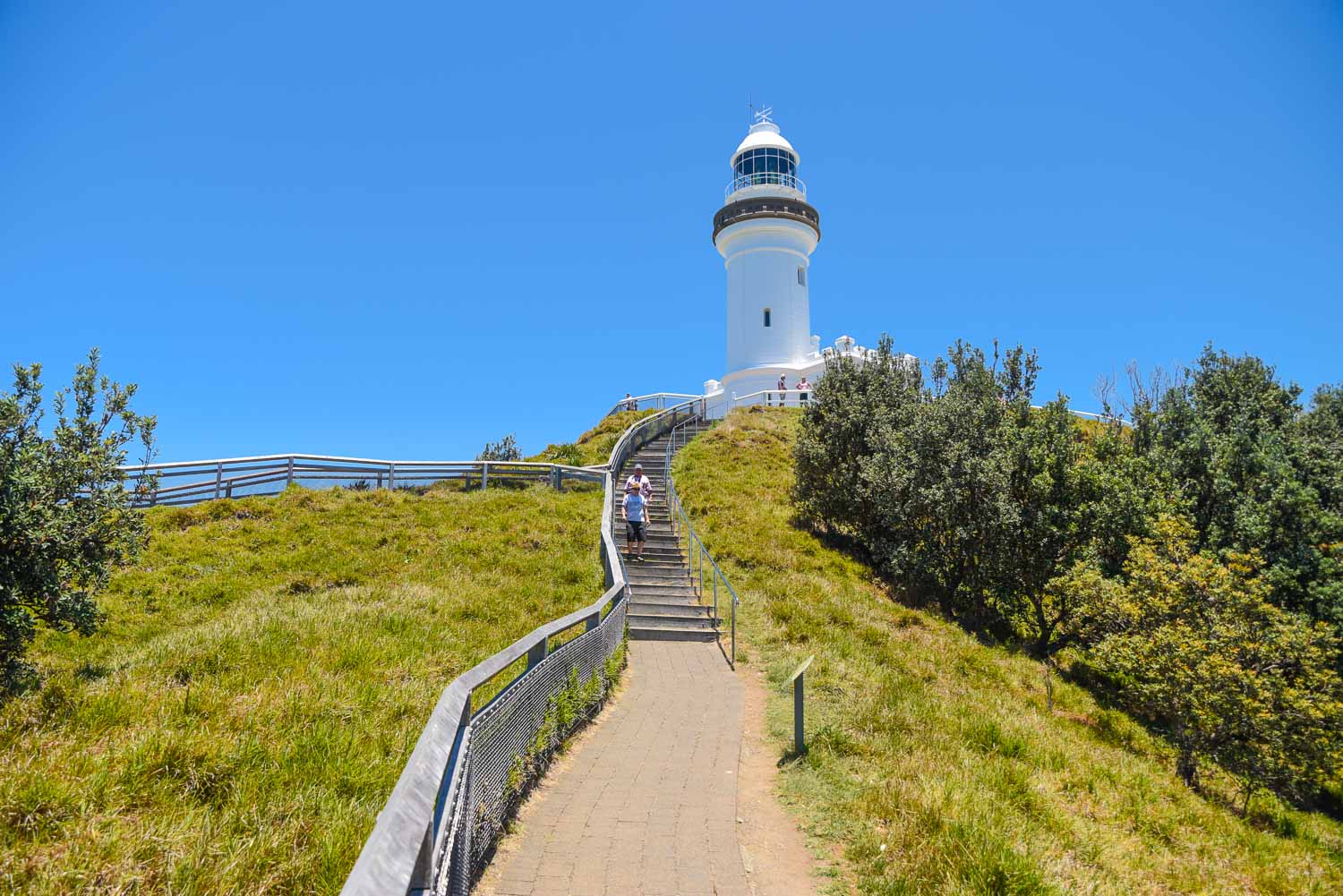 ---
4) Get a surfing lesson
Byron Bay is becoming more and more popular with tourists seeking the thrill of catching a wave and don't get me wrong, being able to say Byron Bay was the first place I caught a wave is pretty epic!
There are countless places to hire boards if you want to go out by yourself however if you want professional advice, I'd definitely recommend booking a lesson! Below I've included a few top-rated lessons that would be perfect for new surfers!
Byron Bay and Lennox Heads are great places to learn to surf due a generally small swell at the main beaches with very few rocks and other hazards. If you are a keen and experienced surfer, Byron Bay has a few great spots at Broken Head only 10 minutes' drive south of Byron Bay.
True Byron Bay Surfing Experience – "We are the only surf school located on the beach in Byron Bay so we're just a 1-minute walk through the dunes to the waves."
Let's Go Surfing: Byron Bay! – "Our 2-hour lesson (3-hour experience) will offer a truly authentic surfing experience that covers all the basics from warm-up to paddling, catching waves and standing! The lesson price includes all equipment; board, wetsuit, rash vest, sunscreen and zinc."

---
5) Go Whale Watching
Byron Bay is one of the prime spots to spot Humpback Whales as they migrate north during winter. Whales can get very close to the cliffs of the Cape Byron Lighthouse which is incredible to see.
If you don't get the chance to see whales during the winter months, don't worry as pods of bottlenose dolphins, sea turtles and schools of fish are commonly seen frolicking in the beautiful seas below.
Byron Bay Premium Whale Watch Cruise with Marine Biologist: "Encounter astonishing humpback whales in their natural habitat as they migrate past the breathtaking coastline between Ballina and Byron Bay. Departing from Ballina's Richmond River, visit the pristine waters of Cape Byron Marine Park."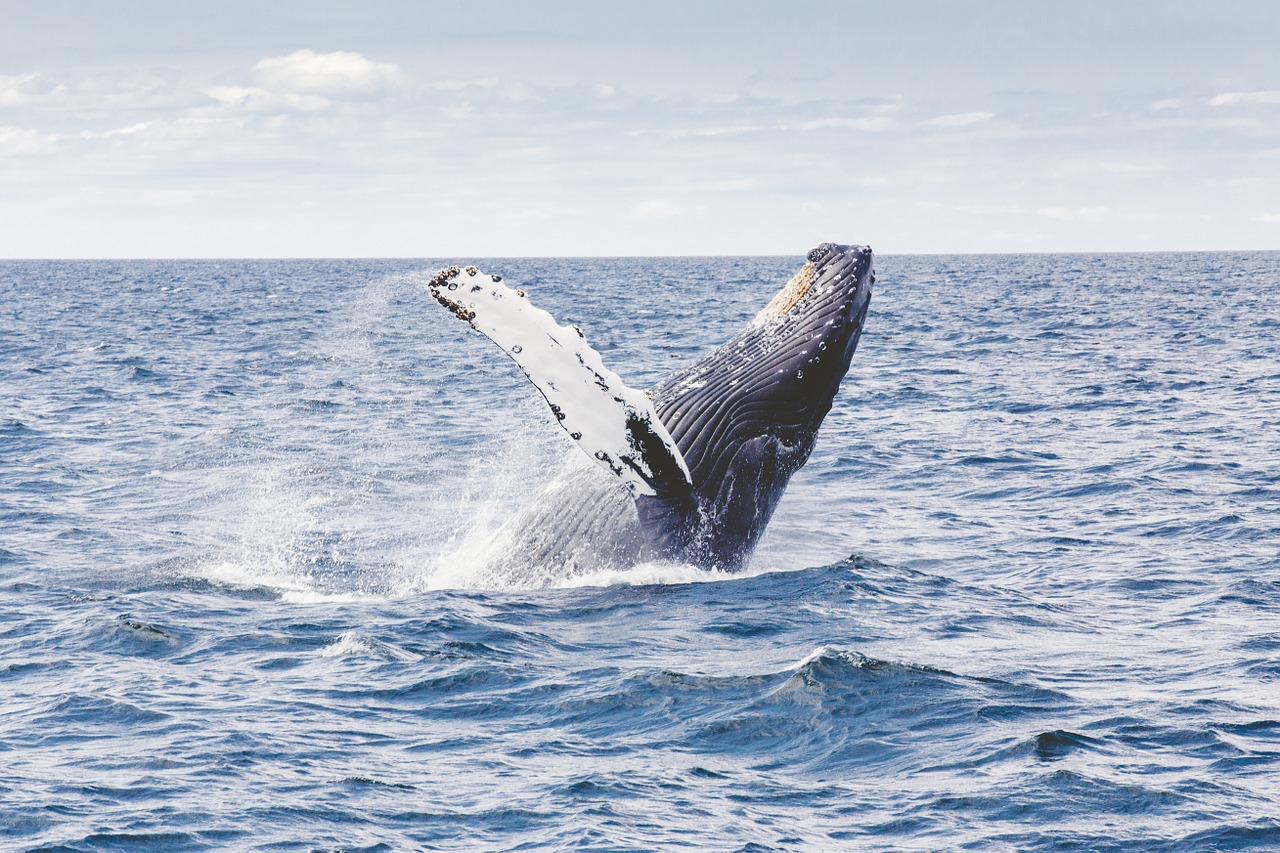 ---
6) Go Kayaking
Kayaking around the waters of Byron Bay is a truly rewarding experience and one of the most spectacular places to do so especially during a warm summer sunrise. As you might have already gathered, water is an essential part of Byron Bay's lifestyle.
Guided tours prime themselves on a guarantee that you see a whale, dolphin or sea turtle during your kayak otherwise it's a money back thing. Not far offshore of Clarkes Beach is Julian Rocks a marine reserve where Grey Nurse sharks go to breed. Julian Rocks is one of the best scuba diving spots in Byron Bay with an abundant array of sea life including the cuddly Wobbegong shark and moray eels.
Most kayak tour operators are lined up along the grassy section of Clarkes Beach 7 days a week, so drop into to see which tour is best for you. Tours can be cancelled due to big waves and wind.
Kayak with Dolphins Tour: BESTSELLER "Enjoy paddling your sea kayak through the surf and later ride some of Australia's most famous waves in Byron Bay. Get up close and personal with a friendly bottlenose dolphins and discover how inquisitive they can be. Spot sea turtles and marvel at the size of the majestic humpback whales as they migrate through beautiful Byron Bay. There is a 90% chance of seeing dolphins on this tour and if you don't see them you can come again another time for free."
Ocean Kayaking With Dolphins In Byron Bay, Australia (GoPro Edit) 🐬
---
7) Wategos Beach
Wategos Beach is Byron Bays gem and most loved beach, the place were locals love to hang out. Wategos Beach is lined with lush pandanus palms while craggy rocks are scattered throughout the rolling turquoise waters.
Wategos Beach is beautiful don't get me wrong but it has a thing with Instagram and Facebook so when someone is visiting this beach, it is a must do to check in your location which I find quite funny. Wategos Beach has a reputation for been the place where all of the celebrities hang out.
Other than that, Wategos Beach holds exceptional views of Mount Warning in the distance which can be seen from the beach or take a flight of stairs to Fisherman's Lookout which is superbly popular.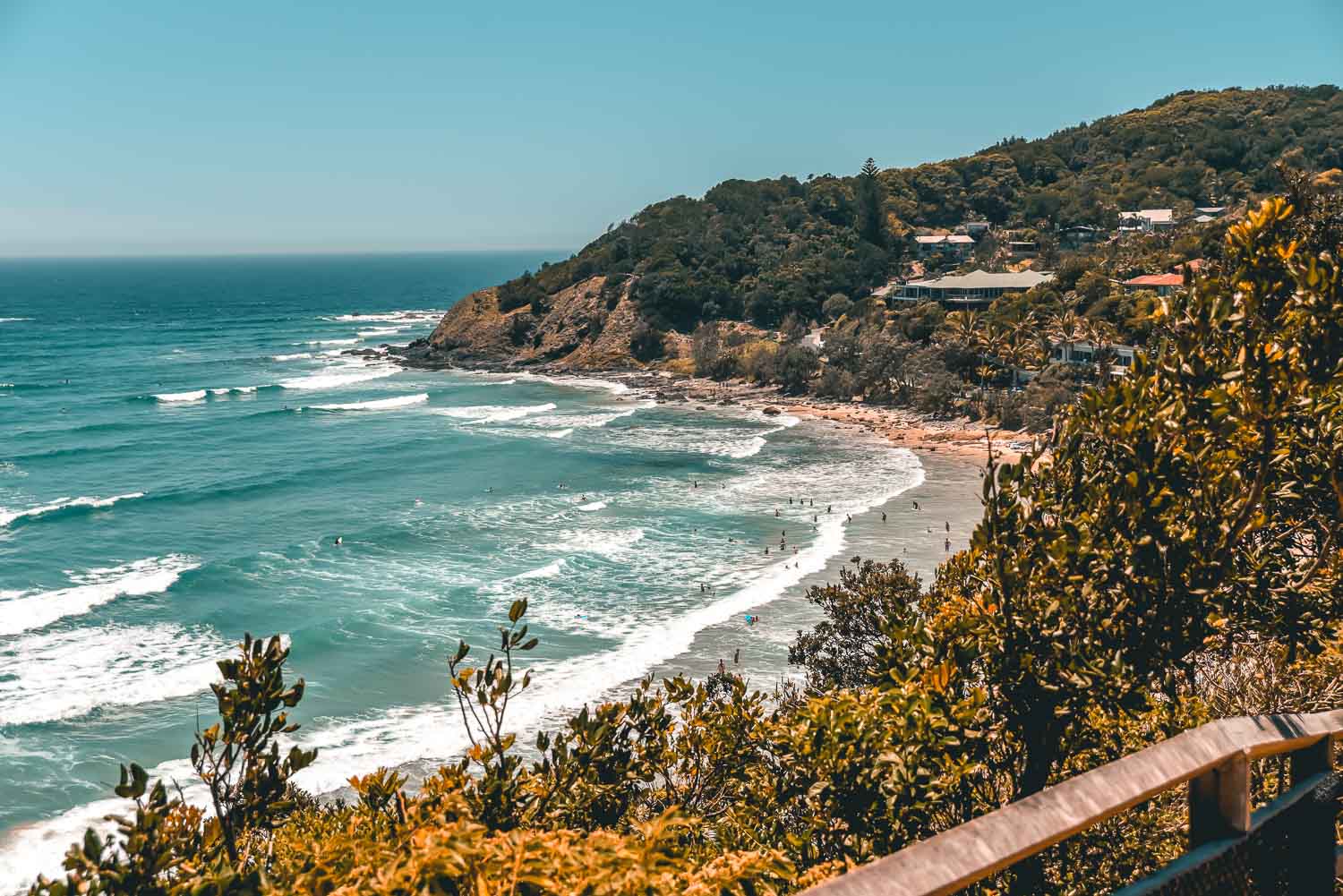 ---
8) Clarkes Beach
Clarkes Beach is Byron Bay's longest beach and the most popular with the occasional good surf break to prime stretches beach fit for a game of football or cricket. Clarkes Beach is Byron Bays chill out place with yoga sessions been held on a daily basis as the sunrises over the ocean while sunsets are popular with tourists gazing towards Mount Warning as a golden glow expands over these southern skies.
On a regular occasion, busking is a big thing at Apex Park adjacent to Clarkes Beach. Music in Byron Bay is very chilled and the perfect way to end the day, listening to tunes and waves crashing onto the beach below.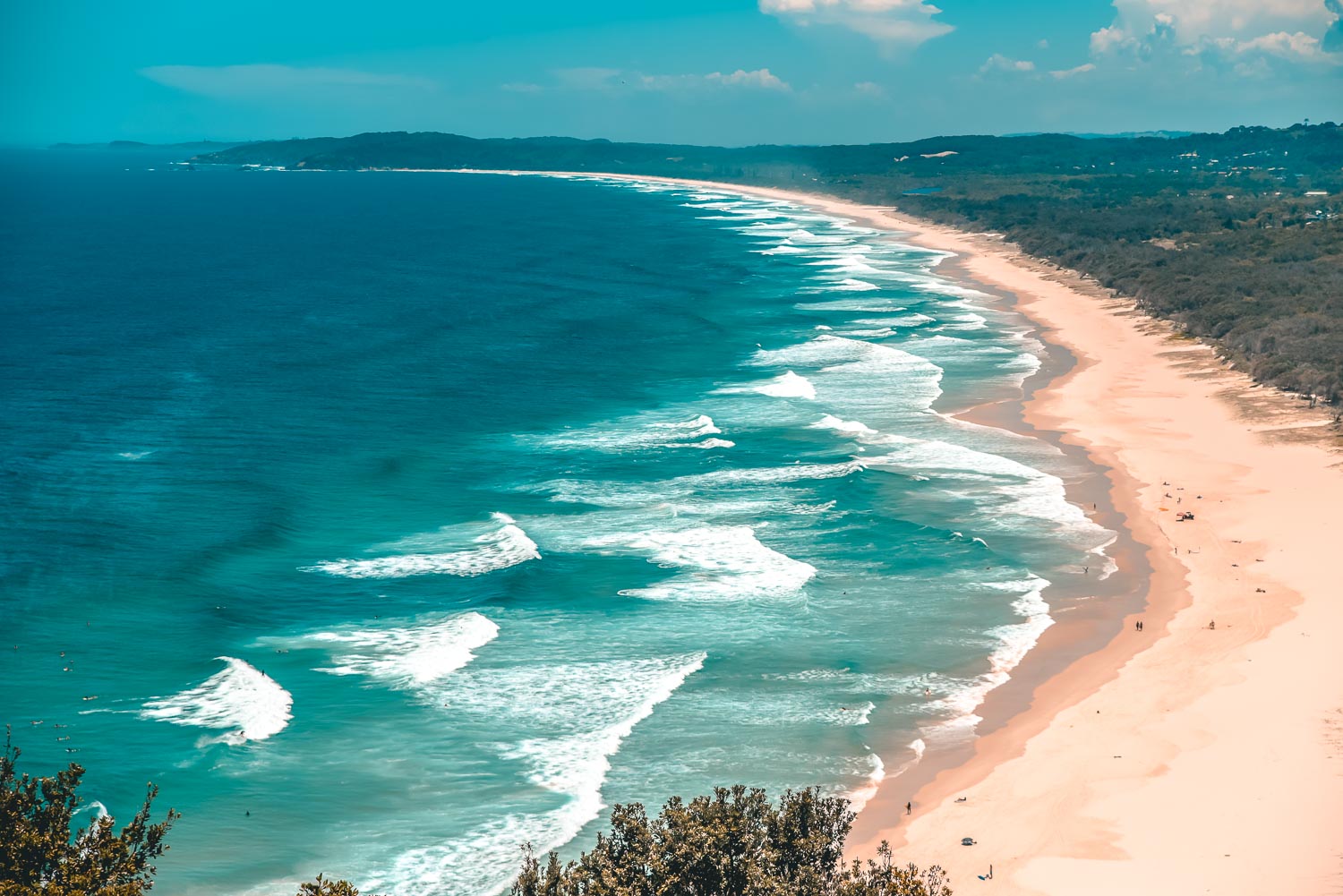 ---
9) Visit Mount Warning
An hour or so drive from Byron Bay is Mount Warning or Wollumbin, a stunning rainforest hike to the summit of an ancient volcano. Mount Warning is a sacred place to the Bundjalung People of the area (traditional owners of the land) however hiking to the summit is allowed; however as the traditional owners ask that you don't climb out of respect for their culture.
The track to the summit is 8.8 kilometres and is highly popular as a sunrise viewing place. Mount Warning is the first place in Australia to receive light in the morning.
If you choose not to climb, Mount Warning is exceptional for viewing from various places around Byron Bay such as the Cape Byron Lighthouse or Clarkes Beach.
Mt Warning Summit Trail: A trail to the summit of Mt Warning offers beautiful 360 degree views of the great dividing range from the peak. Lots of steps, can be slippery. A steep climb to the summit using chains, but the views from the top is worth it! The walk up is through subtropical and temperate rainforest, wet sclerophyll forest and heath shrubland. The final 10% of the journey involves scrambling up a rock face using chains as a guide and help. The top of the mountain has well-established seating and lookout areas that have 360 degree views
Touring Australia: Mt Warning
---
10) Lennox Heads
Byron Bay can be overwhelming at times but Lennox Heads is the complete opposite, a true hidden gem often missed by the hordes of tourists flocking to Byron Bay's shores.
Lennox Heads is a short 15 to 20 minute drive south of Byron Bay where beaches are often left soulless and cafes are filled with aromatic hues of coffee. If you thought Byron Bay was chilled out, get to Lennox Heads.
Lake Ainsworth is a popular family destination with an array of outdoor recreational activities such as SUP boarding, kayaking and swimming available. At the other end of town is Pat Morton Lookout, an exceptional place that oversees Lennox Heads, Byron Bay to the north and Skenners Head to the south.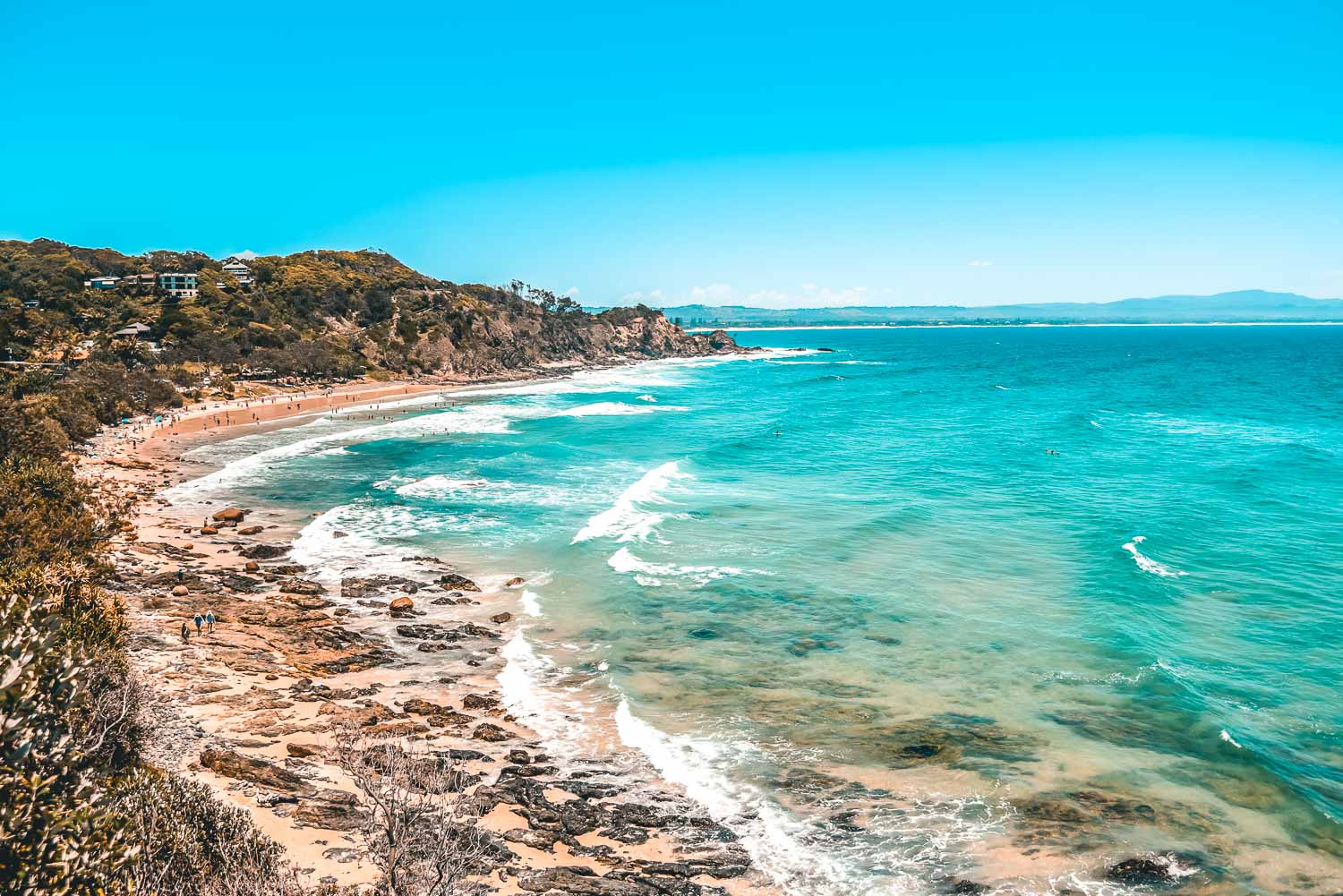 ---
11) Go Sky Diving
There are so many places to sky dive in Australia but Byron Bay is considered one of the best. What's not good about plummeting from 15,000 feet over the stunning coastline of Byron Bay?
Sky diving hasn't ever really come up on my radar but if you get the chance, do it on Australia's east coast, you won't regret it! Sky diving at Byron Bay gives an epic birds eye view of golden beaches, lush farmlands and rolling waves all while falling at terminal velocity!
Checkout Skydive Byron Bay for more details on pricing, information, and more! "Skydive at Byron Bay's closest beach skydive for the ultimate adrenalin rush. You'll drop from an extreme altitude of up to 15,000ft and freefall at over 200 km/hr for up to an insane 60 seconds, then float under canopy over Byron Bay for 5-7 minutes soaking up spectacular beach and hinterland views all the way to Brisbane, the Gold Coast and beyond. Skydiving Byron Bay is the skydiving experience of a lifetime – so escape the ordinary and live life on a high with our friendly Byron Bay skydiving crew. Once you're back on solid ground, relive the thrill over and over again with our awesome video and photo packages!"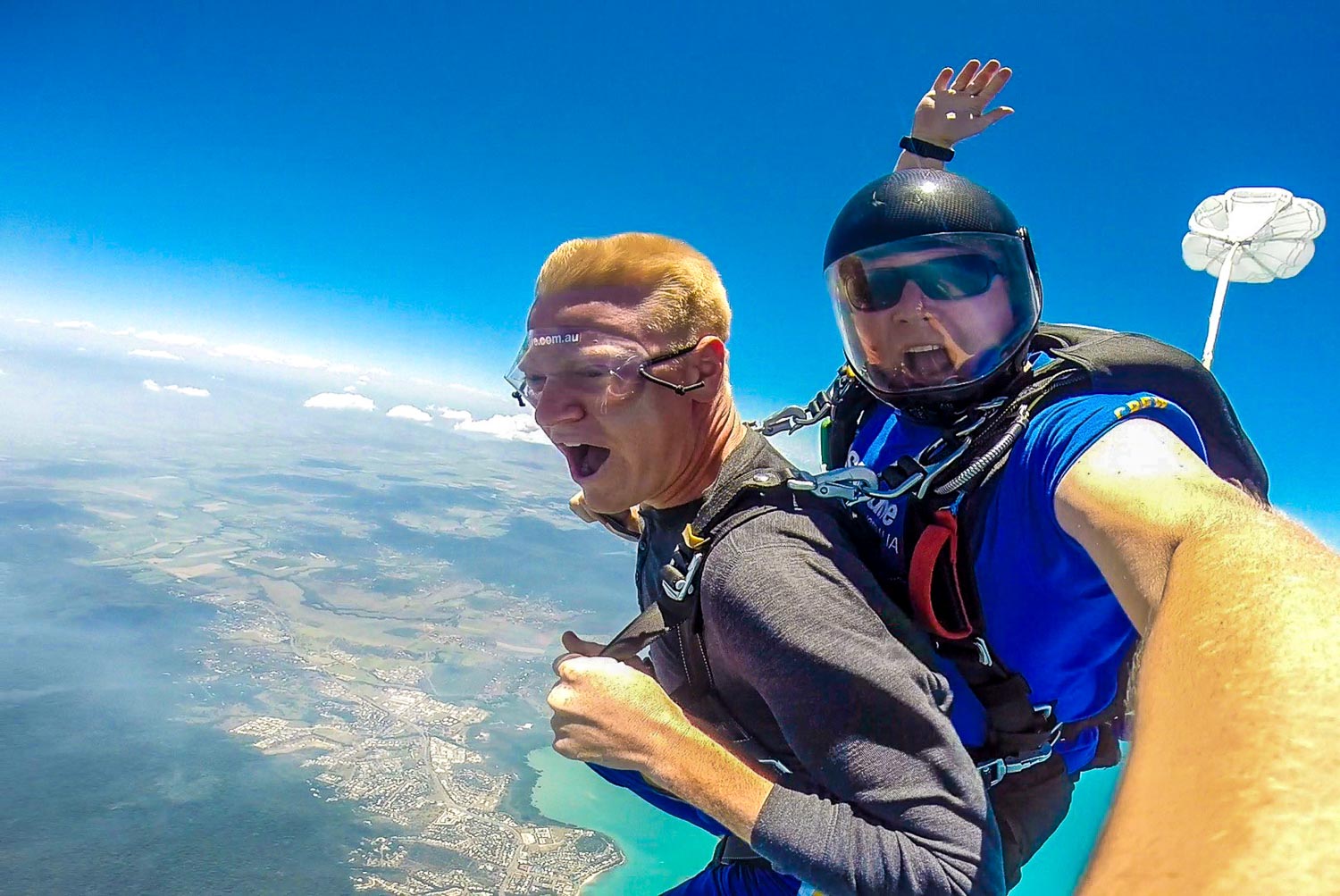 ---
12) Watch a classic Byron Bay Sunset
I am a sucker for a good Australian sunset and Byron Bay is a top place for viewing such beauty.
The most popular spot for a sunset is Clarkes Beach down near the caravan park as a stretch of beach dwindles off into a late afternoon sea spray haze. Mount Warning in the distance at this time of day is amazing.
The other top spot for a sunset is no other place than Cape Byron Lighthouse which overlooks Wategos Beach, Clarkes Beach and Byron Bay. Sunsets from here are unlike any other in Byron Bay but make sure to get a spot early as the viewing area is known to get very busy.
One of the most photographed spots is at the top of Cape Byron Lighthouse where views of Tallow Beach extend right down to Suffolk Park and Broken Head; sunsets from here are breathtaking so have that camera of yours ready!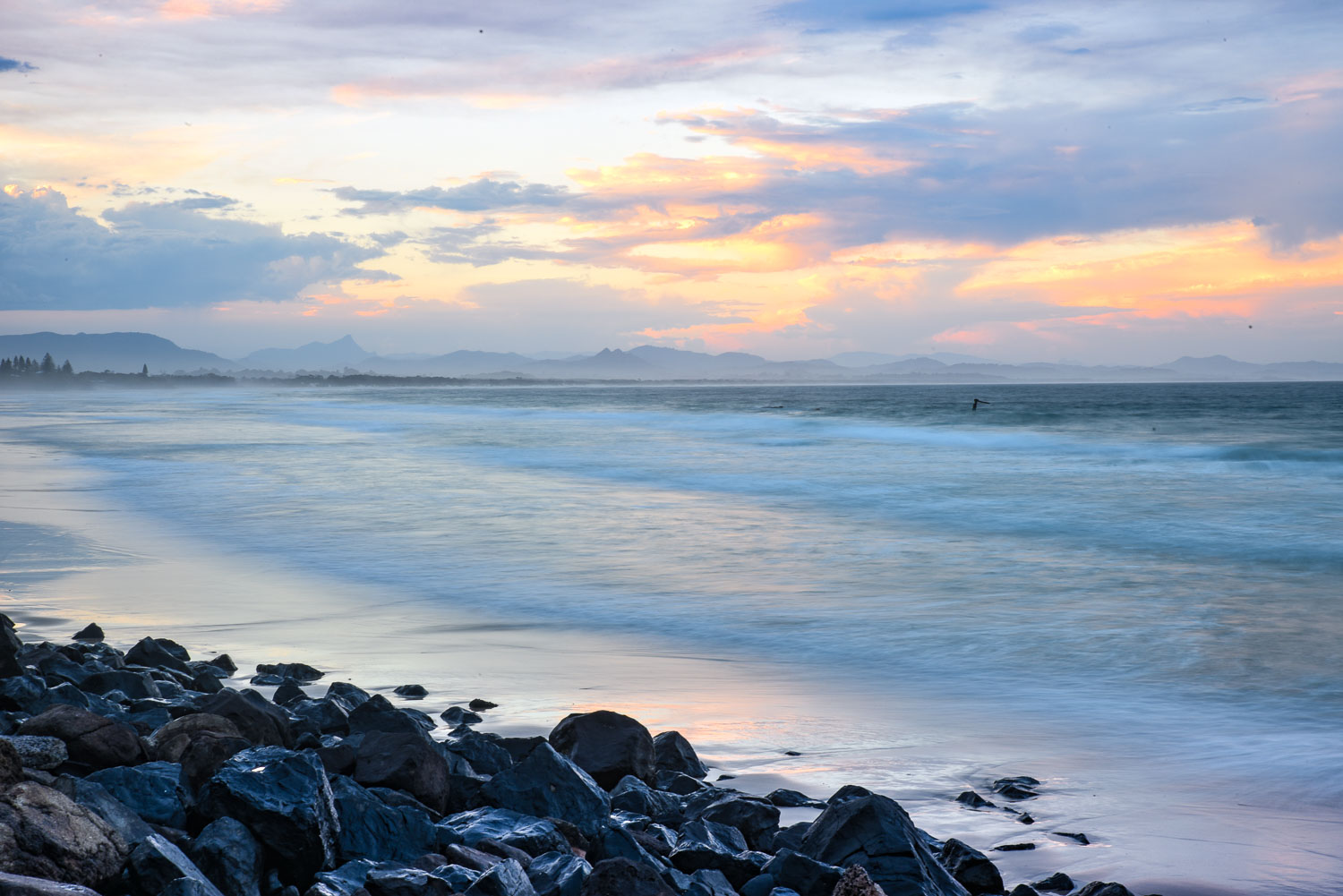 ---
13) Enjoy an early morning coastal walk
Byron Bay's number one thing to do is the coastal walk from Byron Bay to Cape Byron Lighthouse is an easy 4 kilometre loop with a few steep sections towards the lighthouse.
Why this walk is so amazing comes down to a few things; firstly the views are exceptional as you stroll past Clarkes Beach, The Pass and down along Wategos Beach and into Cape Byron Conservation Area. Bush Turkeys are commonly seen scraping leaf litter along the ground often not knowing people are there watching.
As you stroll along the coast, surfers are often paddling out for mornings carve or swimmers embrace the chill of the water and do laps of the beach. Dolphins and turtles are commonly seen in the shallow bays below the walking track so keep an eye out.
The Pass is a section of the coast that is popular with cafes so be sure to get a caffeine fix before pressing onto the track leading up to the lighthouse. A few hundred metres before the lighthouse, there are various viewing spots which is a prime place for whale and dolphin watching and also serve as a good place to catch your breath.
Once at the Cape Byron Lighthouse, there are awesome 360 degree views and a café if you need more coffee or a spot of breakfast. The track continues back down the hill and through lush forest of the Cape Byron Conservation Area eventually taking you back to where the walk began!
The whole loop track takes 2 to 3 hours.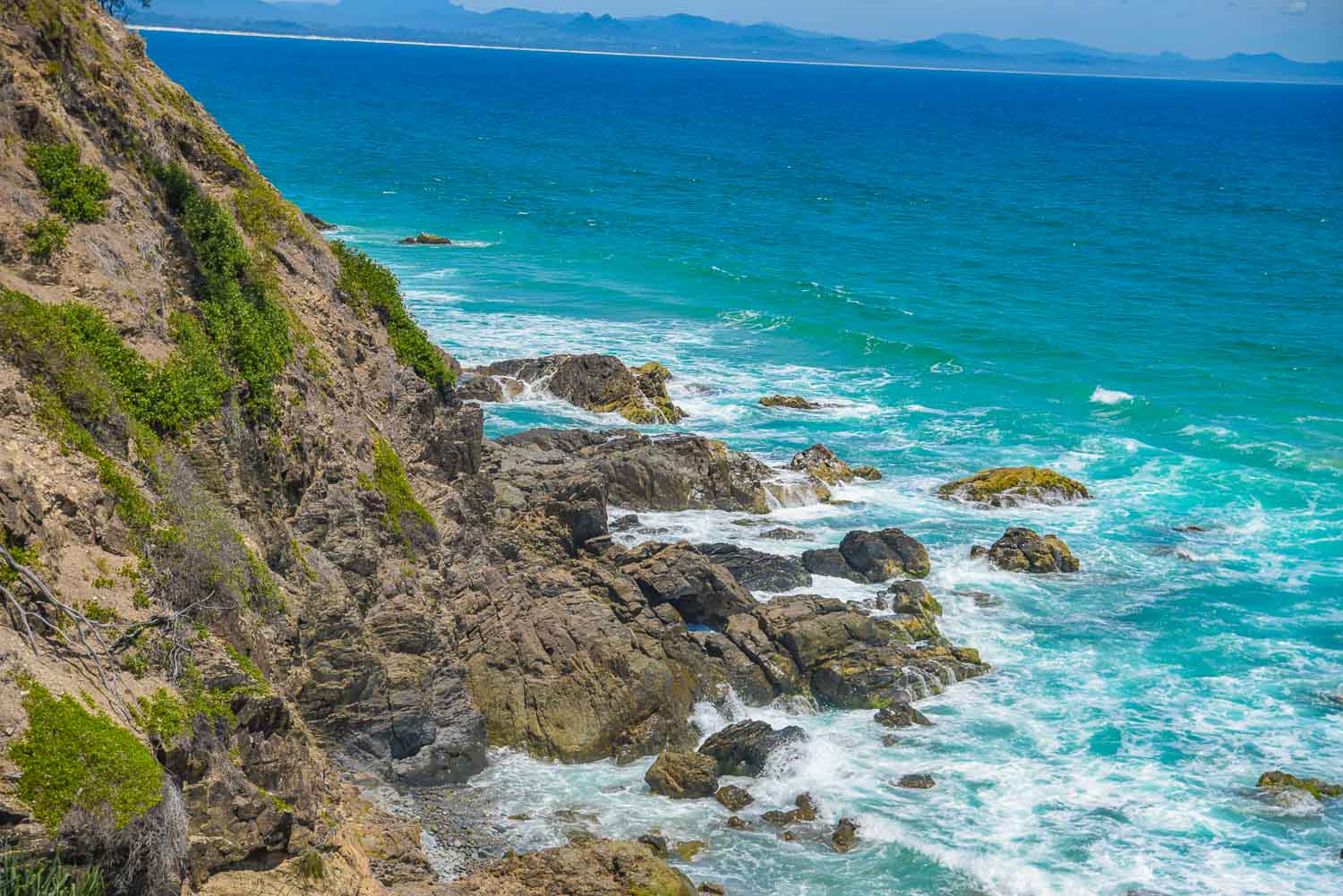 ---
14) Thursday Markets
Every Thursday, Byron Bay has a local growers market at the football fields behind the main street where fresh produce ranging from vegetables, fruits, milk, bread, eggs, cheese and coffee can be bought at a very cheap price.
Byron Bay's cafes are quite expensive and often turn me away from dining out for a morning feast so if it's a Thursday, I will head down to the markets and get everything I need for a big cook up and less than half the price of what you'd pay in a café.
The markets also have live music so grab a cup of coffee and have a dance…it's the best way to start your Byron day.
---
15) Hire an electric bike
Byron Bay is a very environmentally friendly place and the locals prefer to get around on bike, skateboard or public transport but after my last visit, I got around Byron Bay by using an electric bike. I had never used an e-bike before and damn it was amazing! I was reaching speeds of 50 kilometres per hour, cruising up steep hills all while get a friendly smile from the people that I passed.
I ended up hiring a bike with https://sunshinecycles.com.au/ a local company a few kilometres out of Byron Bay and it was the best way of getting around the town. The bikes themselves are pretty awesome with a speedometer, electric motor and peddles that are barely used. The bikes look like Harley Davidsons which totally fits in with Byron Bay's vibe.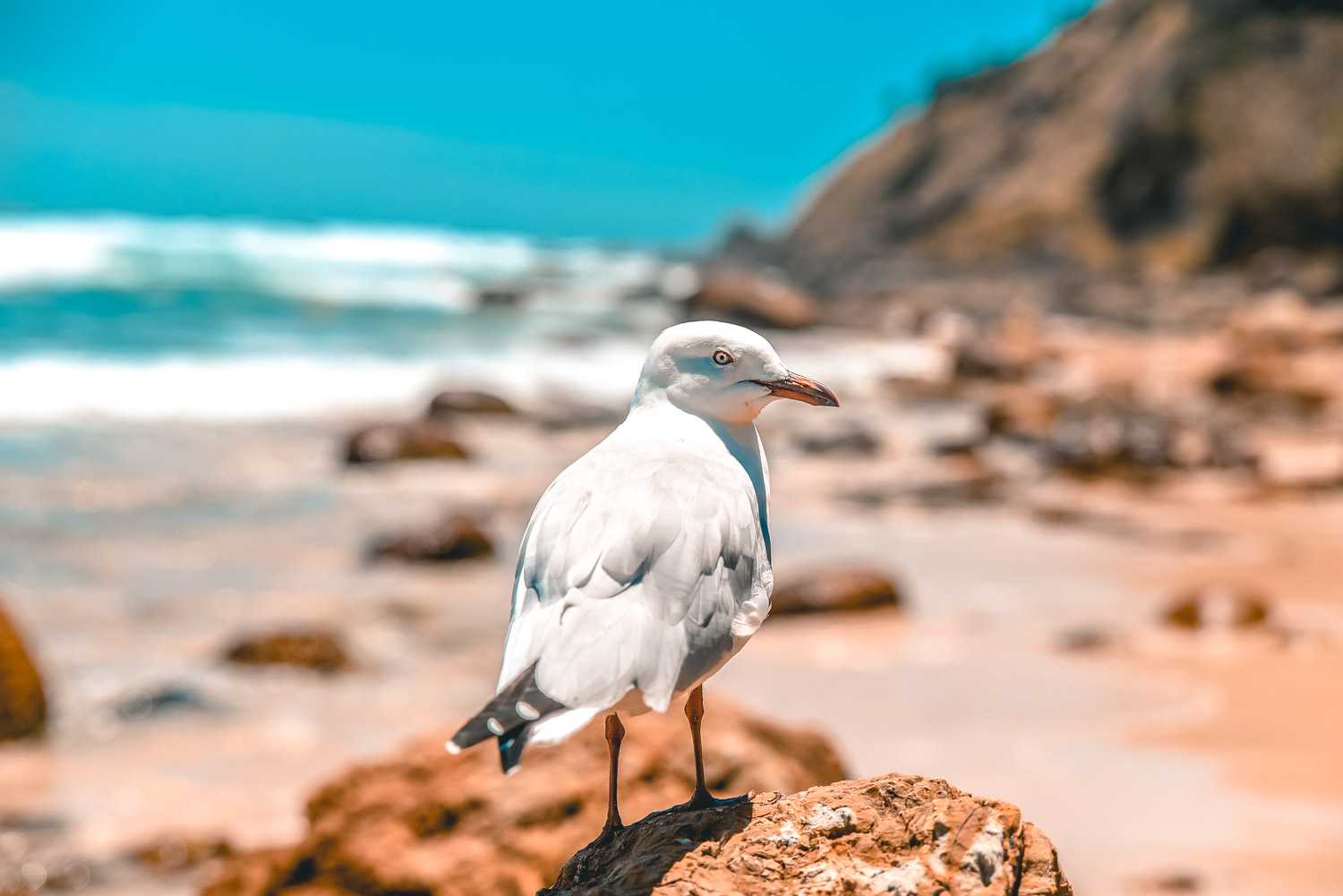 ---
16) Local Music
Almost on a nightly basis, Byron Bay has a gig on at one of its many pubs, clubs or street corners. Every time I am in Byron Bay, I end up at least one gig and the vibe is always a good one. Here are some of the best places to catch live music;
The Rails – is an old railway track station with a train track still in position although not used. Music and beer here go hand in hand especially from Thursday's to Sunday's so pop in for a swell time.
The Northern – has some of the biggest bands play including local legends Angus Stone, The Babe Rainbow and Ziggy Alberts.
Splendor in the Grass – happens once a year and is considered Australia's best 3 day music event which takes place in the North Byron Parkland. International bands such as Tame Impala, Childish Gambino to local bands such as The Dune Rats ascend for what is one of the most anticipated weekends of the year.
Busking – is everywhere in Byron Bay from sunrise till late at night with most street corners, alley ways and beachside spots jamming with music, got a spare $1? Give these legends a tip because Byron Bay never lets down for music.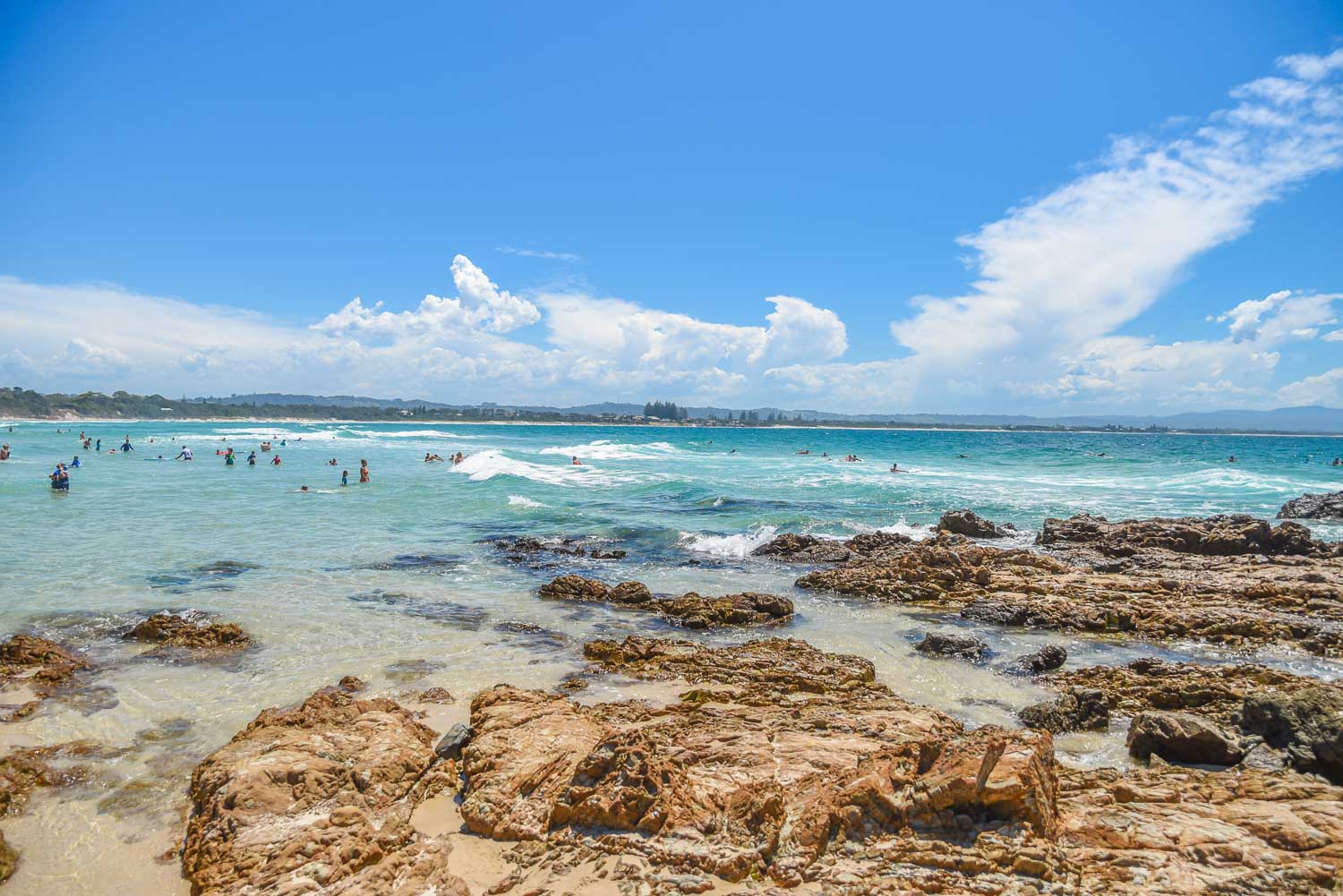 ---
17) Yoga
Since forever, Byron Bay has become the number 1 spot in Australia to learn yoga or to pretend to know what you are doing. At almost every hotel or backpackers has a yoga class with sessions available for beginners all the way up to the pros.
One of the best yoga classes I have seen in Byron Bay is a sunrise beach session. Keen to limber up, well then head to Byron Bay!
Here are a few yoga studios you can check out: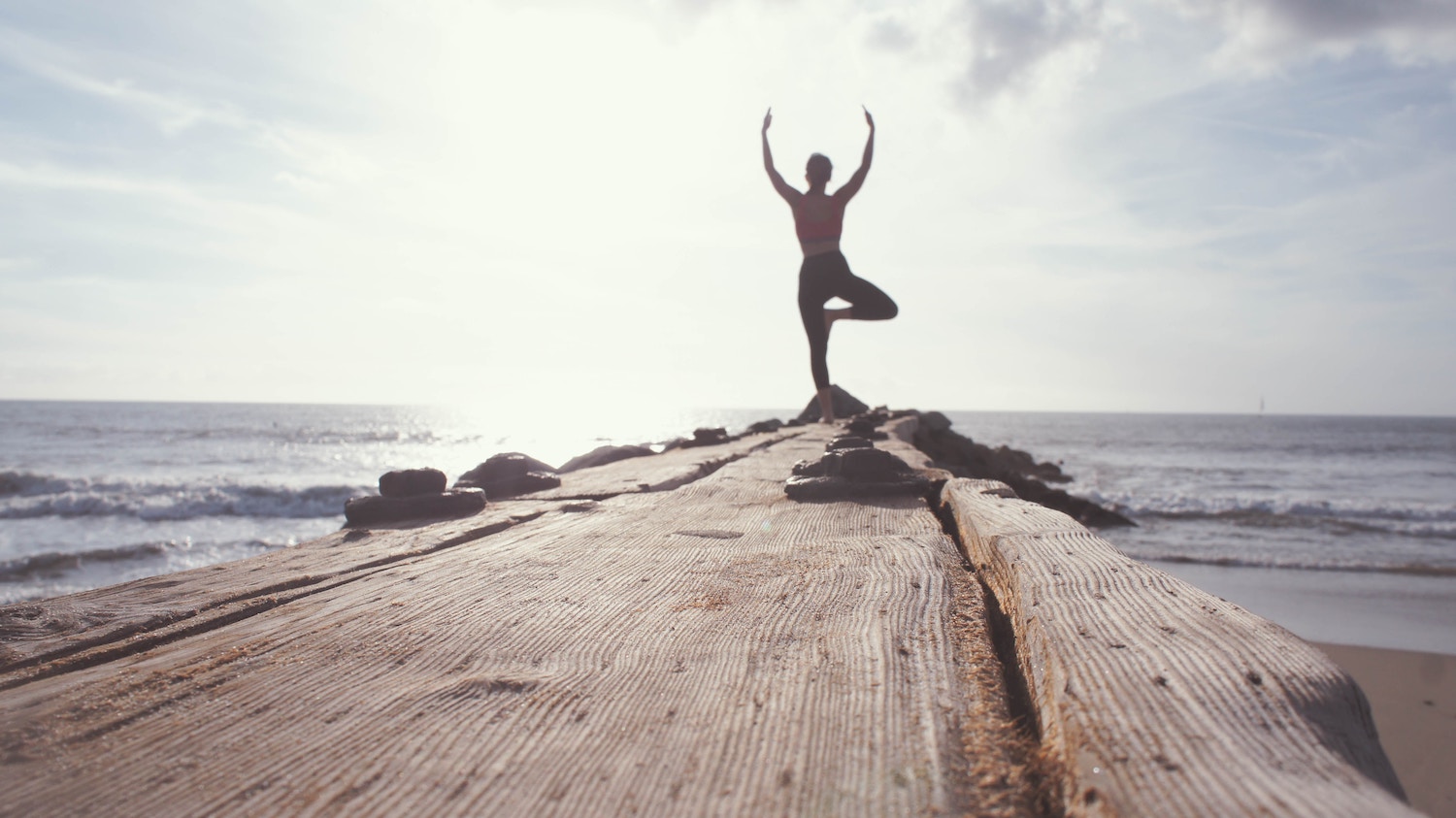 ---
18) Dining Out
Byron Bay has no shortage of places to eat with local cuisines to international delicacies. Here's a list of my go to spots.
Miss Margarita – is your epic Mexican dining place and the burritos are going to make you drool.

Combi – is the top breakfast joint with you acai bowls, turmeric chai lattes and everything you need to get a kick start to the day!

Barefoot Brew Room – is a small, comfortable coffee shop with a fine brew located on Lateen Lane. Can be hard to find so keep an eye out!
Check out this fun guide on Where to eat and drink in Byron Bay: the ultimate Vogue guide for some more info!
---
19) Breweries
Going on a brewery mission in the warm of the summer is one of my favorite things to do in Byron Bay as the beer is so fresh and full of hoppy goodness! Byron Bay has become a hotspot for a beer with small-batch brews becoming Byron's number 1 drink.
Stone and Wood – have taken Australia by storm and produce a mean Pacific Ale along with an exceptional array of lagers, IPA and everything in between.
Byron Bay Brewery – which is located next to the Arts Factory is the place to go when you want live music, exceptional food and a top drop dark beer.
If you can't make it to one of these breweries, don't worry as most pubs in Byron Bay stock these tasty beers.
Byron Bay Brewery - The Stone & Wood Brewery
---
Am I Missing Any Epic Things To Do in Byron Bay…?
I absolutely adore this small hippy paradise, and can't wait to get back again soon! If you've been recently and think I need to add any attractions, tours, day-trips, national parks, surf spots, restaurants, bar crawls, or whatever else you love, I'd love to keep this article up to date with the best things to do in Byron Bay!!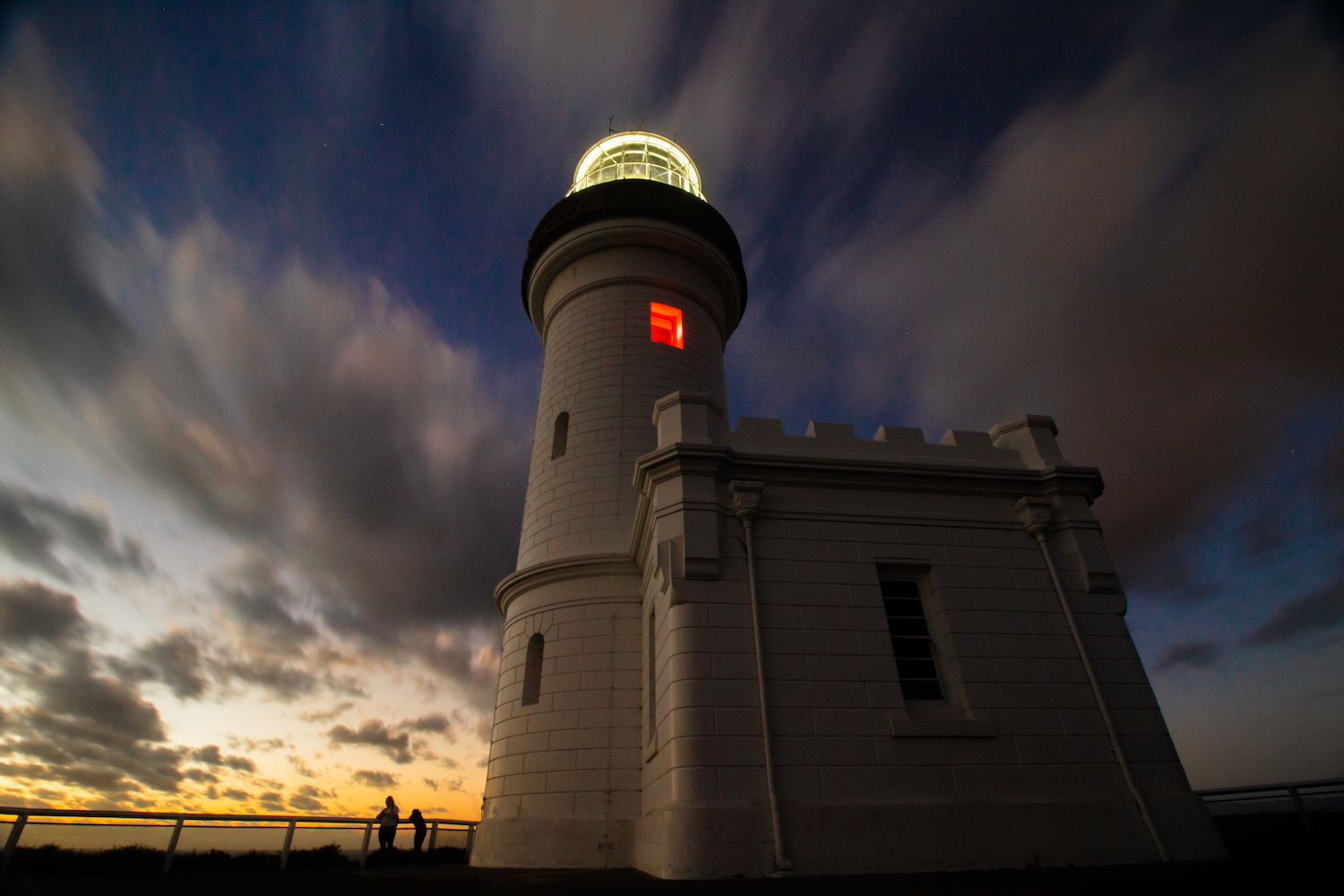 Top 10 Things To Do In Byron Bay | Experience Oz
---
Where to Stay in Byron Bay – Best Accommodation
Byron Bay has no shortage of accommodation and in order to keep up with the rising number of tourists, more and more spots are becoming available for you to rest your head. Here are my best stays for every budget;
The Art's Factory – was famous even before The Inbetweeners filmed a scene for one of their movies there. With teepees, dorm rooms, forests and a swamp, this place will ensure that you get your fix of Byron Bay without ever having to leave the grounds. The Art's Factory also has a brewery right next to the entrance with some top quality beers available 7 days a week. Prices start at $42 AUD.
Byron Bay YHA – is your typical budget hostel within walking distance of the beach and everything you need in Byron Bay. Prices start at $48 AUD.
The Pass Beach House – is one of the most chilled places to kick back and relax and been located near Wategos Beach it really couldn't get much better! Prices are by email only.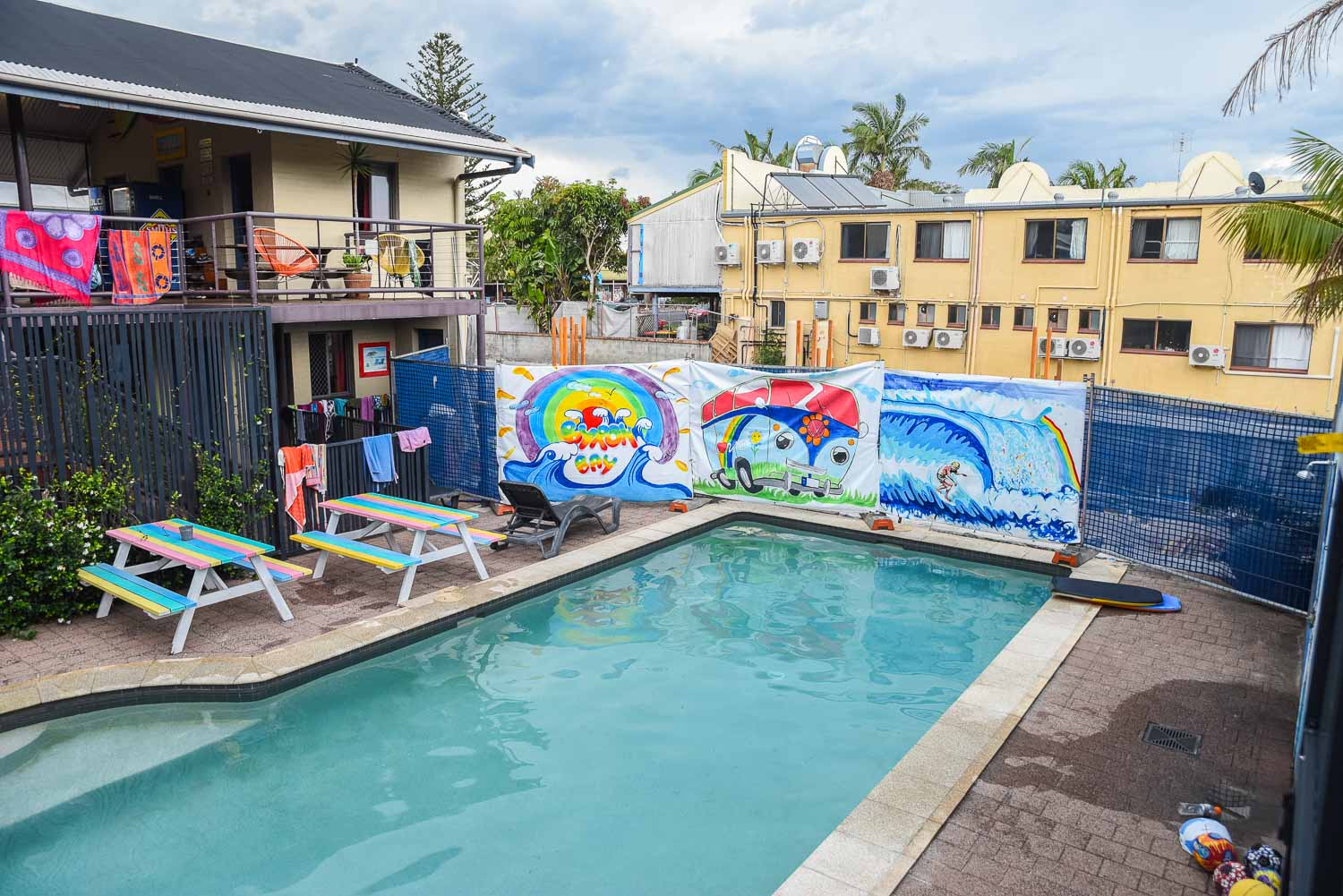 ---
Planning a Trip to Australia…?
I've spent HEAPS of time down under, and my travel blog is filled with articles and travel guides just like this. Check out a couple of them below, and feel free to reach out to me if you ever have any questions!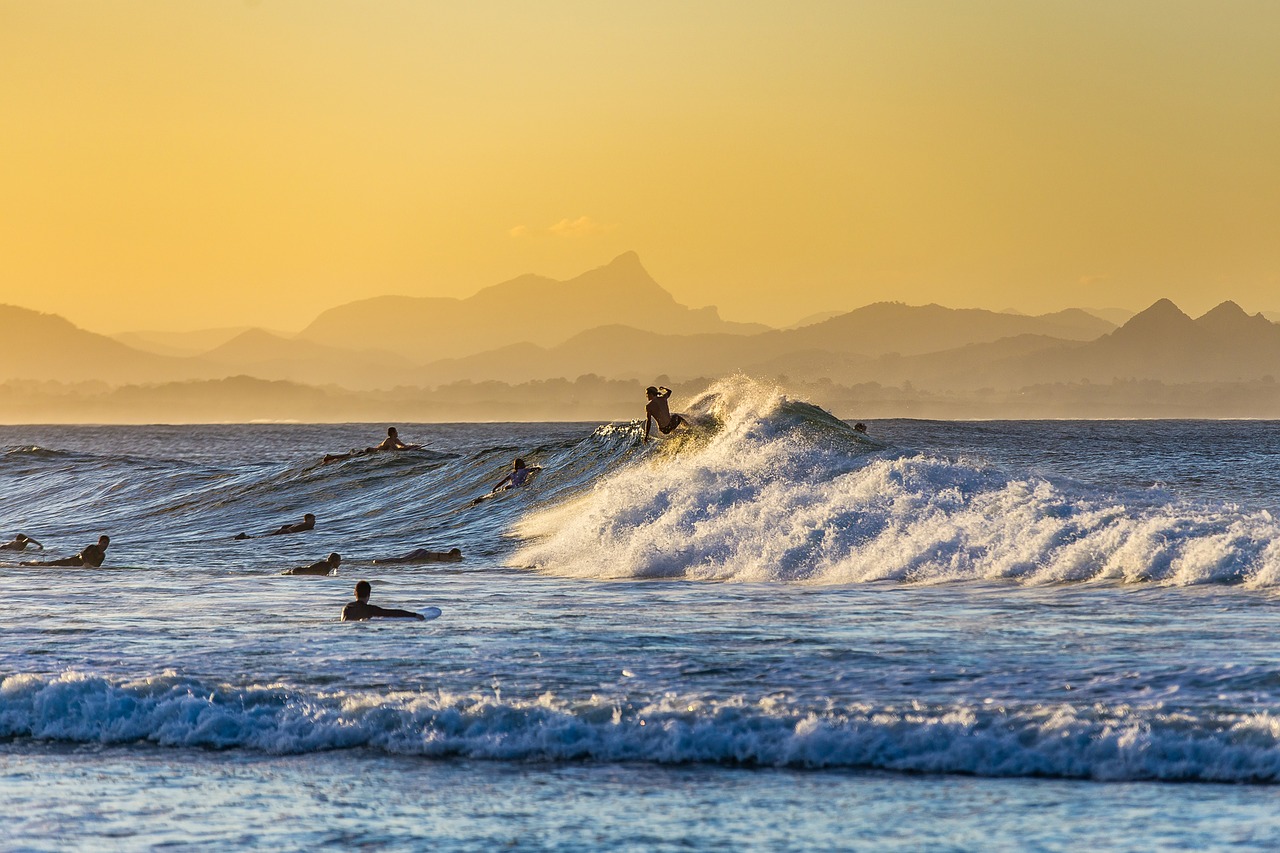 ---
Thanks for reading about my favorite things to do in Byron Bay!
Share the Byron Bay love with your travel squad
https://www.jonesaroundtheworld.com/wp-content/uploads/2019/08/Things-To-Do-in-Byron-Bay-3634.jpg
1156
1500
Dave
https://www.jonesaroundtheworld.com/wp-content/uploads/2017/03/logotry-1-1-300x106.png
Dave
2019-08-10 20:58:09
2022-03-05 01:44:58
The 19 Best Things To Do in Byron Bay, Australia