Looking for the best things to do in Surfers Paradise & the Gold Coast!? Well, you've come to the right place! Surfers Paradise is the gateway to Queensland's stunning coasts and as the name suggests, the beaches are fit for any surfer with rolling waves, golden beaches lined with palm trees and a relatively mellow vibe.
With world-famous surf breaks such as Snapper Rocks, pristine river systems of Tallebudgera to stunning coastal national parks, Surfers Paradise and the Gold Coast has a perfect mix of nature integrated into the daily life of those living upon its shores and those visiting on holidays.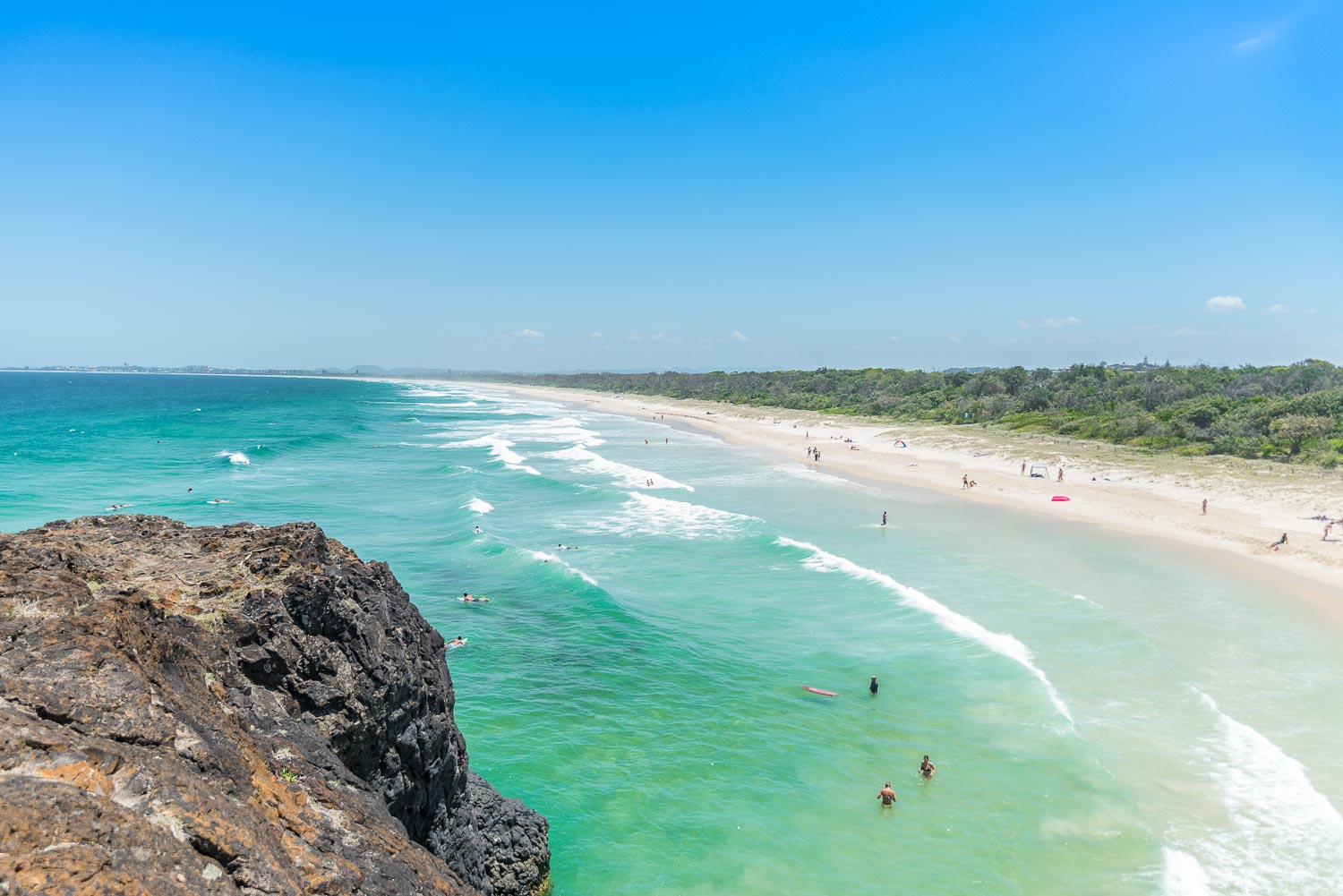 Nature being the center point for why people visit the Gold Coast, this coastal community is known for been the entertainment capital of Australia with a mad mix of theme parks; cabaret shows to crazy gaming centres, Cavill Avenue is bound to blow your mind day in day out.
There are so many elements that make Surfers Paradise and I agree, it's not every ones cup of tea and often gets a bad reputation but if we push past those things, it's really not so bad after all. What more do you want than surf, sand and sweet vibes? Surfers Paradise is a hub for adventure, you've just got to step outside and seek it!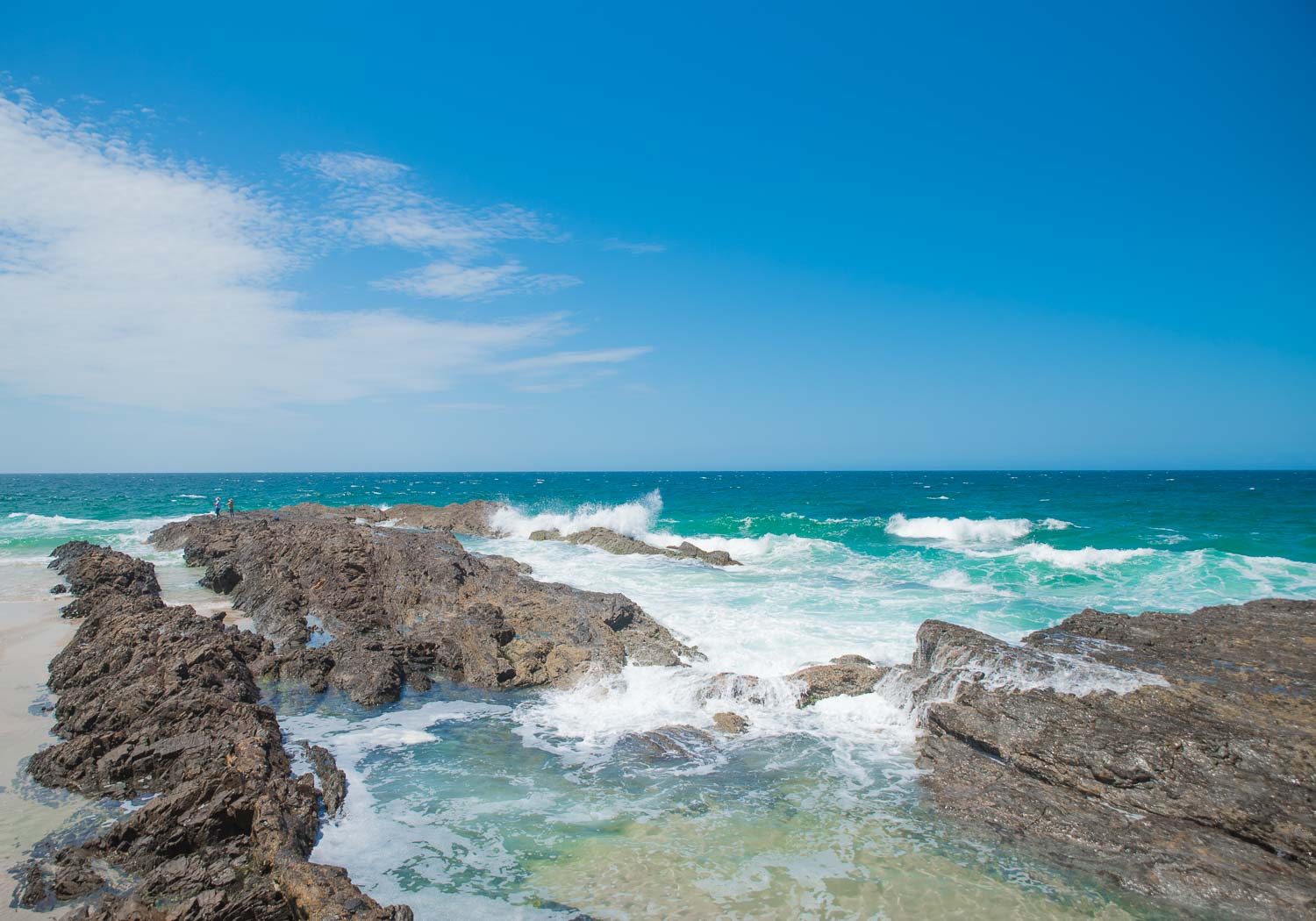 ---
1) Go Surfing
If you don't love the ocean then why are you even in Surfers Paradise? The Gold Coast is home to a multitude of stunning beaches starting from the New South Wales border stretching all the way to Stradbroke Island so there will never be a day where the swell is bad. If you don't have a surf board and are keen to give surfing a go, most beach fronts will have surf shop that hire boards for a reasonable price while lessons are also available at most beaches.
The hardest part is choosing a beach to catch a wave so here's a few places to wax up the board and get surfing and remember to swim between the red and yellow flags.
Burleigh Heads Beach – with an assortment of waves ranging from big to small, Burleigh Heads Beach is one of my favourites and the locals favourite especially when a swell sets in.

Miami – not the Miami in Florida but the Miami of the Gold Coast is an open stretch of coastline suitable for everyone.

Mermaid Beach – is a place I wish mermaids where instead there are some nice waves in a not so busy part of the Gold Coast.

Kurrawa – is a spot popular with surf boats meaning the waves are bound to be pumping.

Snapper Rocks – a place not cut for the amateurs, a place for the professionals but that never stopped a keen grom from carving up a few waves.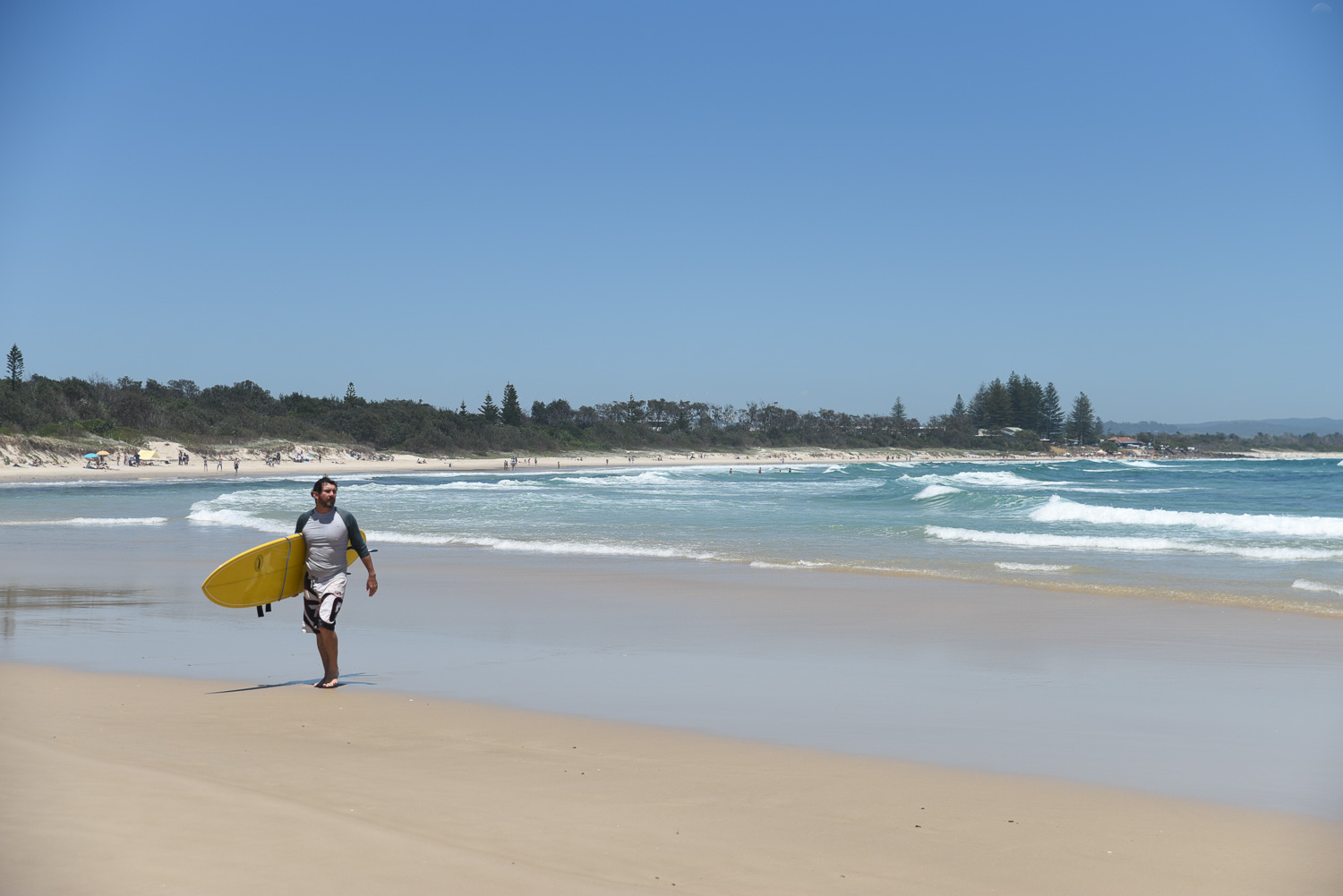 ---
2) Visit Burleigh Heads
South of Surfers Paradise is a piece of paradise and a local favorite, Burleigh Heads. Out of all the places I go when on the Gold Coast, Burleigh Heads always tops the list and here's why;
Burleigh Heads National Park is stunning and often untouched by those who visit the area. With a loop track starting at the end of Julia Street North, the Ocean View Track trails through thick bushland prickled with Pandanus palms, past Tallebudgera Creek and back up to Tumgun Lookout for panoramic views of the sea and down to Currumbin.
Burleigh Heads National Park is one of the best spots to view a sunrise anywhere on the Gold Coast and a prime place to watch early morning surfers. Don't forget to grab a coffee from Nook Espresso, a hole in the wall style café with a mean brew.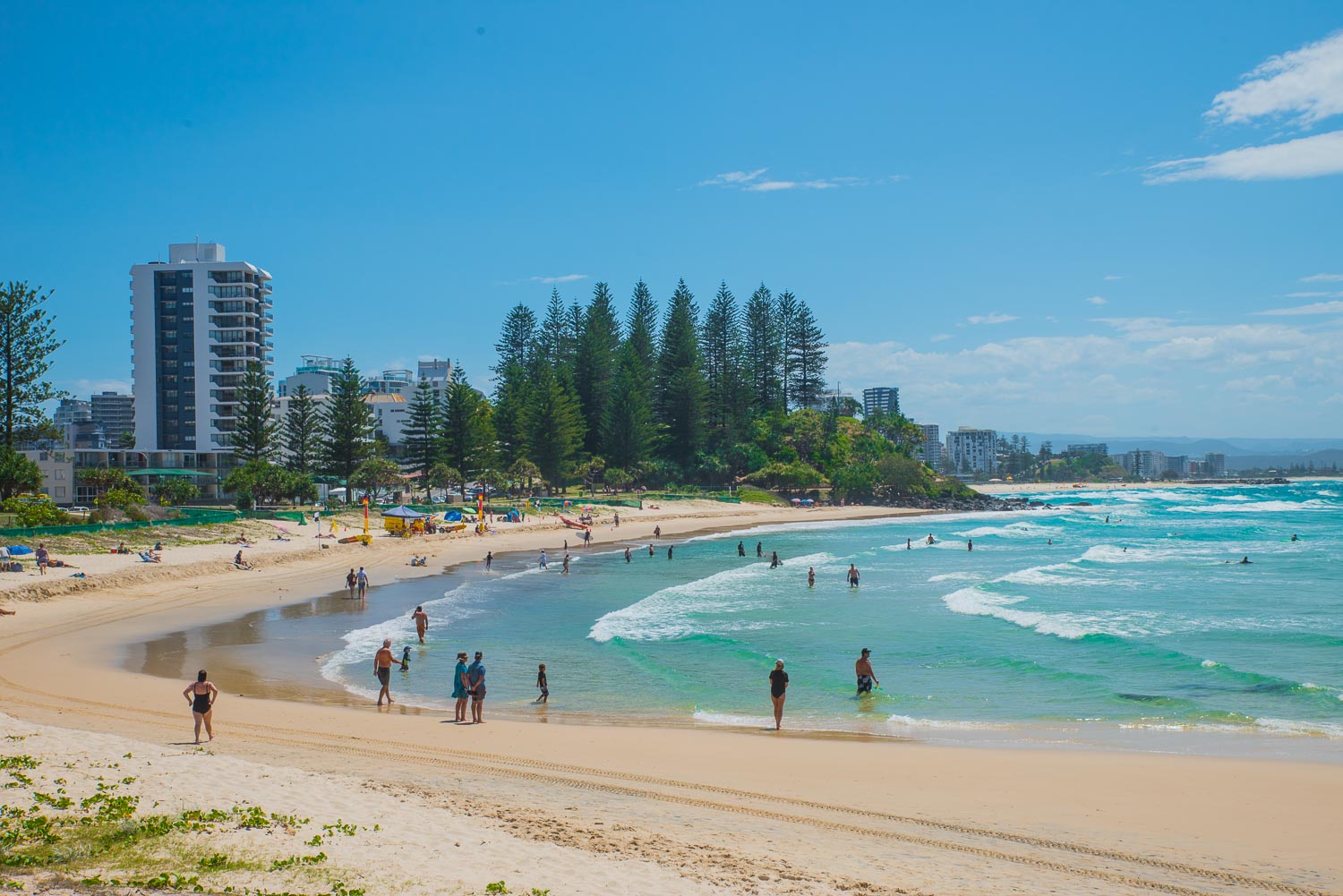 ---
3) Catch a ferry to South Stradbroke Island
No visit to the Gold Coast is complete without a day or two spent on the shores of South Stradbroke Island or Straddie to the locals.
South Stradbroke Island is situated about 30 minutes' drive from Surfers Paradise to the north but at various points throughout Surfers Paradise you can get a water taxi across to Straddie. Not to get you confused but Stradbroke Island is broken up into two islands; the north and south with the north island been closer to Brisbane and the south island been closer to Surfers Paradise.
South Straddie is a natural wonderland with beautiful rainforest walks, hidden surf spots, rock pools to idyllic fishing holes. South Straddie is your epic dose of nature and a great way to spend on the stunning Gold Coast.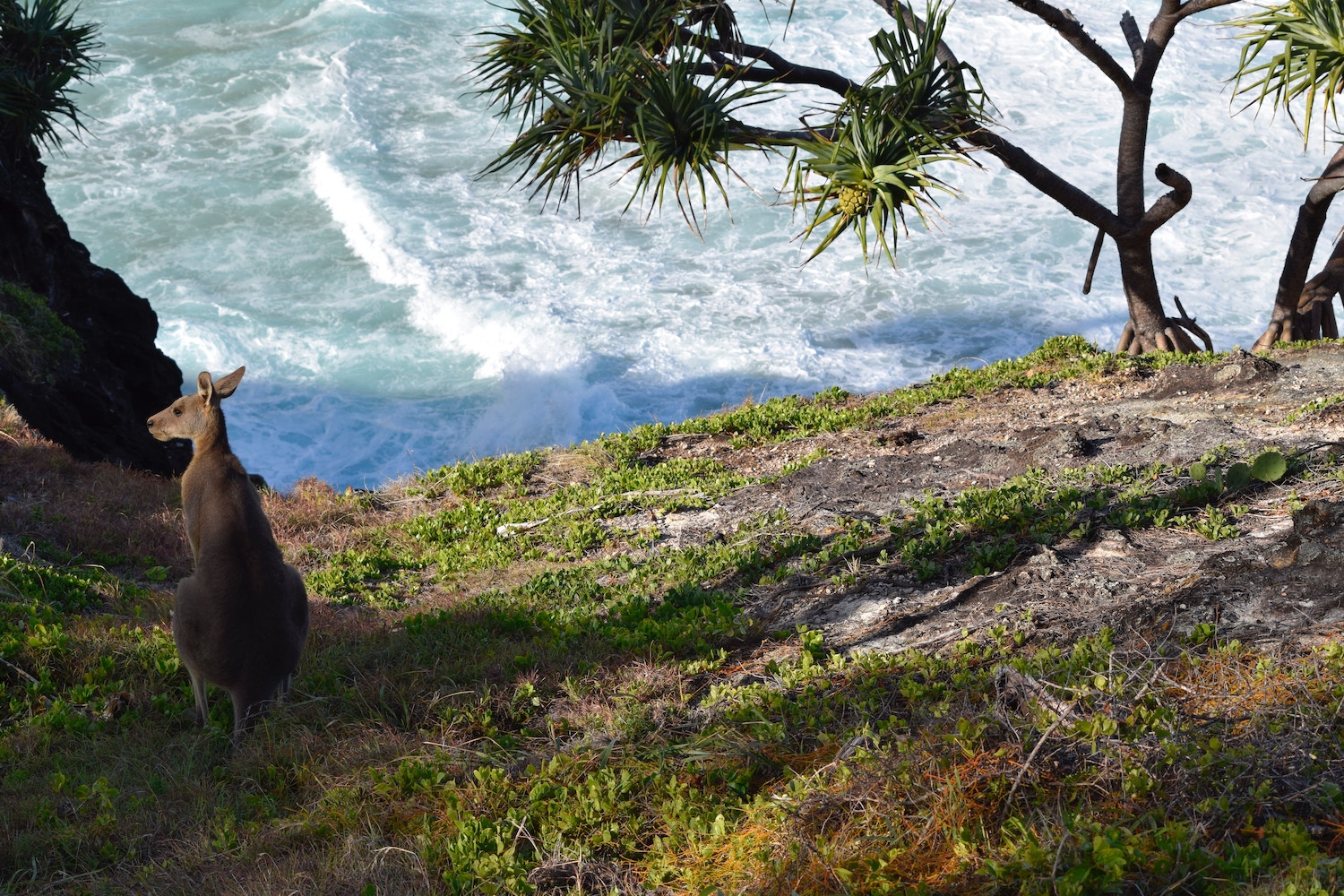 ---
4) Theme Park Madness
The Gold Coast is a mecca for theme parks and one of the first things you'll notice when zooming along the Gold Coast Highway.
Here's a solid list of all the theme parks that you can visit, maybe not all in one day…
Wet 'N' Wild – is complete with wave pools, waterslides and beaches to sun bathe on.

Movie World – is kind of like a mini Universal Studios with epic rollercoasters, DC Comic style parades to movie set stunt performances.

Dream World – is home to the mighty Tower of Terror which in 1997 was the world's fastest rollercoaster. Today Dream World is an epic place to take the family with stacks of rides, fair style food and good times.

SeaWorld is another theme park near Surfers Paradise but I completely disagree w

ith dolphins been used as an entertainment tool for tourists and dolphins been held in small concrete pools.
Save yourself some money and book a combo pass to these attractions for multple days of fun!
Water Slides at Wet 'n' Wild Gold Coast! (GoPro POV)
---
5) Shop till you drop
The Gold Coast will certainly make your pockets lighter and don't think that's a good thing. Shopping in Surfers Paradise and surrounds is a genuine past time for those visiting this sunny part of Australia with enough shops to have you going to a different outlet for everyday of the year.
Pacific Fair and Harbour Town are the biggest and best on the Gold Coast with every piece of equipment, clothing, and cookery or if you just want to grab a snag at Bunnings then be my guest!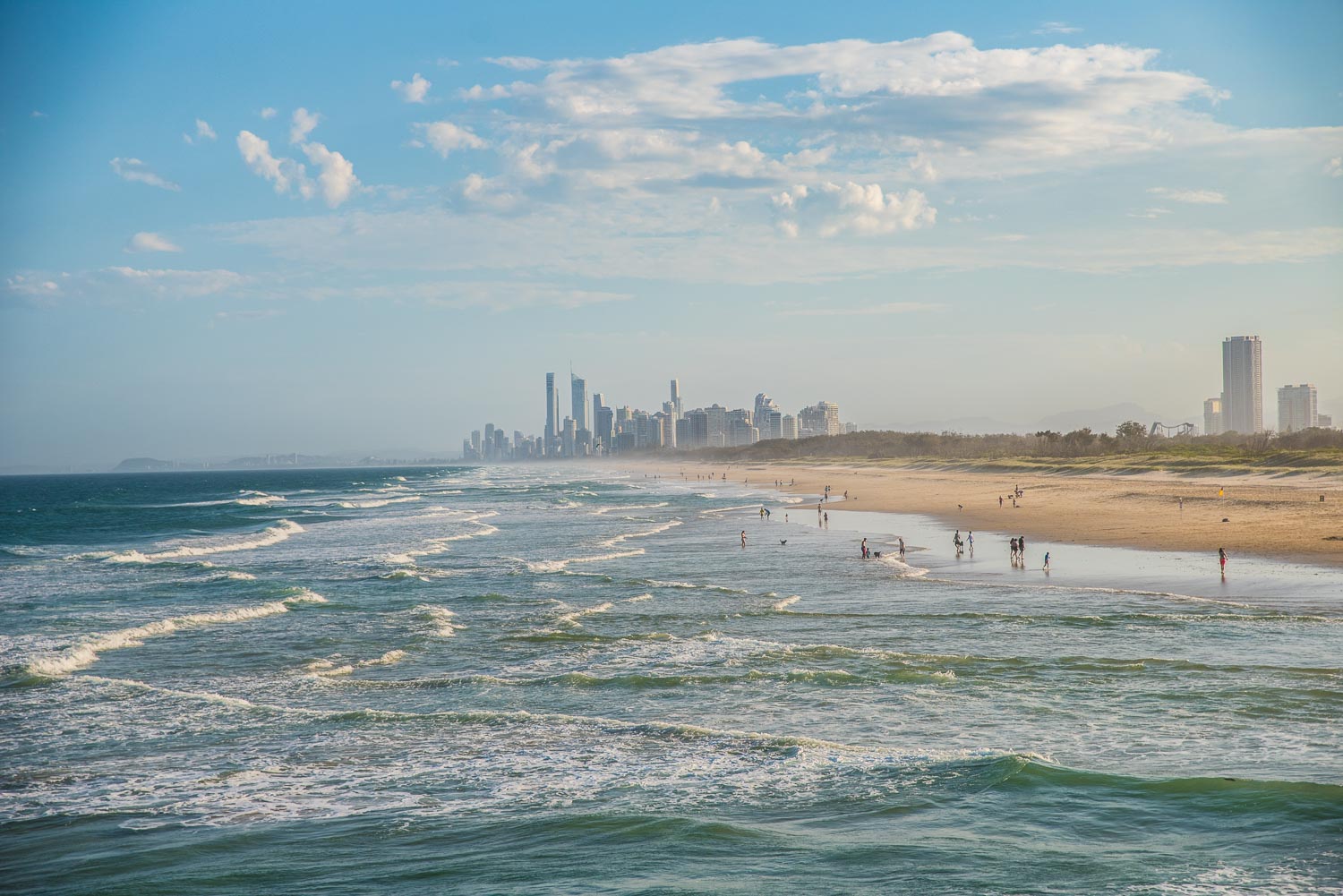 ---
6) SkyPoint Deck
Views of Surfers Paradise doesn't get much better than been on top of Q1, Australia's tallest building reaching a staggering 323 metres. The SkyPoint Deck isn't quite at the top instead it gets you 230 metres up! Getting to the 77th floor, where the deck is located takes 43 seconds…that's seriously quick.
Getting to the SkyPoint Deck is a bit expensive but the views are worth the price tag, then again why wouldn't you want to see these thrilling views?
SkyPoint Observation Deck 1 Day Ticket: "Enjoy amazing views of the Gold Coast from up the top of Skypoint! Ride in one of the world's fastest elevators up to the 77th floor of the Q1 Tower and take in the views from the only coastal observation deck in Australia! Don't forget your camera!"
---
7) Springbrook National Park
The Gold Coast isn't all about the surf and sea as lush national parks is becoming increasingly popular with visitors to these lands.
Springbrook National Park is home to Purling Brook Falls, a towering stream of pristine water plummeting into a pool below. The other noteworthy waterfall is Twin Falls, where the stream of the waterfall is divided into 2 streams as it cascades to the ground.
Springbrook National Park has a reasonable amount of lookouts but the best of them all is literally called Best of All Lookout where views take you all the way to Mount Warning in New South Wales and Brunswick Heads down near Byron Bay! Springbrook National Park is an easy 45 minutes' drive from Surfers Paradise.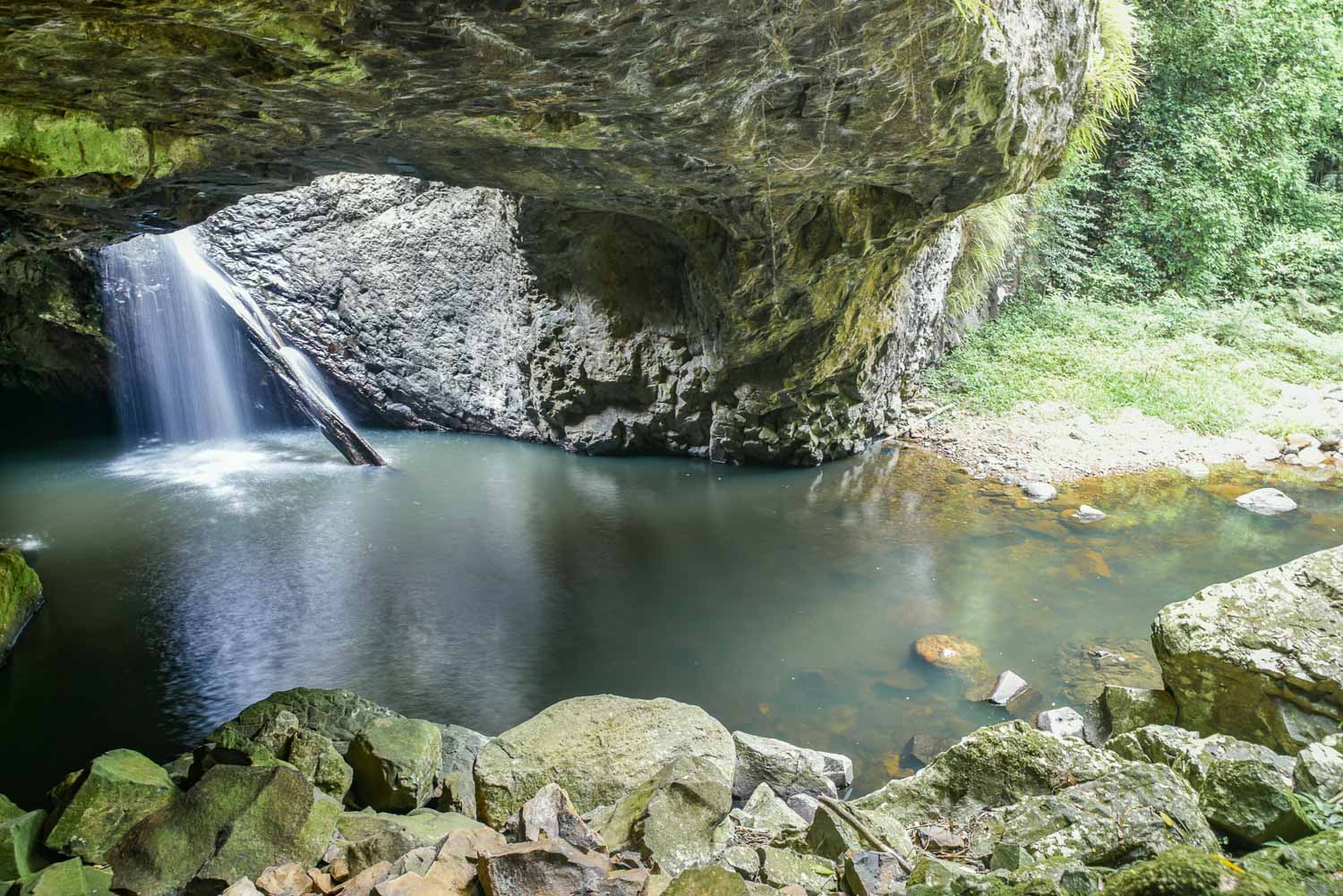 ---
8) Watch the pros at Snapper Rock
If you've ever watched the World Surf League, Snapper Rock has probably popped up on your television. Snapper Rock is commonly surfed by local legends Steph Gilmore and Mick Fanning and on certain occasions these water gods and goddess' have been spotted dropping in on a few sets at Snapper Rocks. Surfing in Queensland is huge especially if you're a coastal dweller, there's a very good chance that every house or person in the Gold Coast owns a surfboard.
Mick Fanning, a local hero and a 3 X World Surf Champion was already famous before he was attacked by a shark in Johannesburg, South Africa, something that has made him even more famous because he punched the shark in the head to avoid its gnarly jaws! Don't worry, swimming and surfing in the Gold Coast is super safe.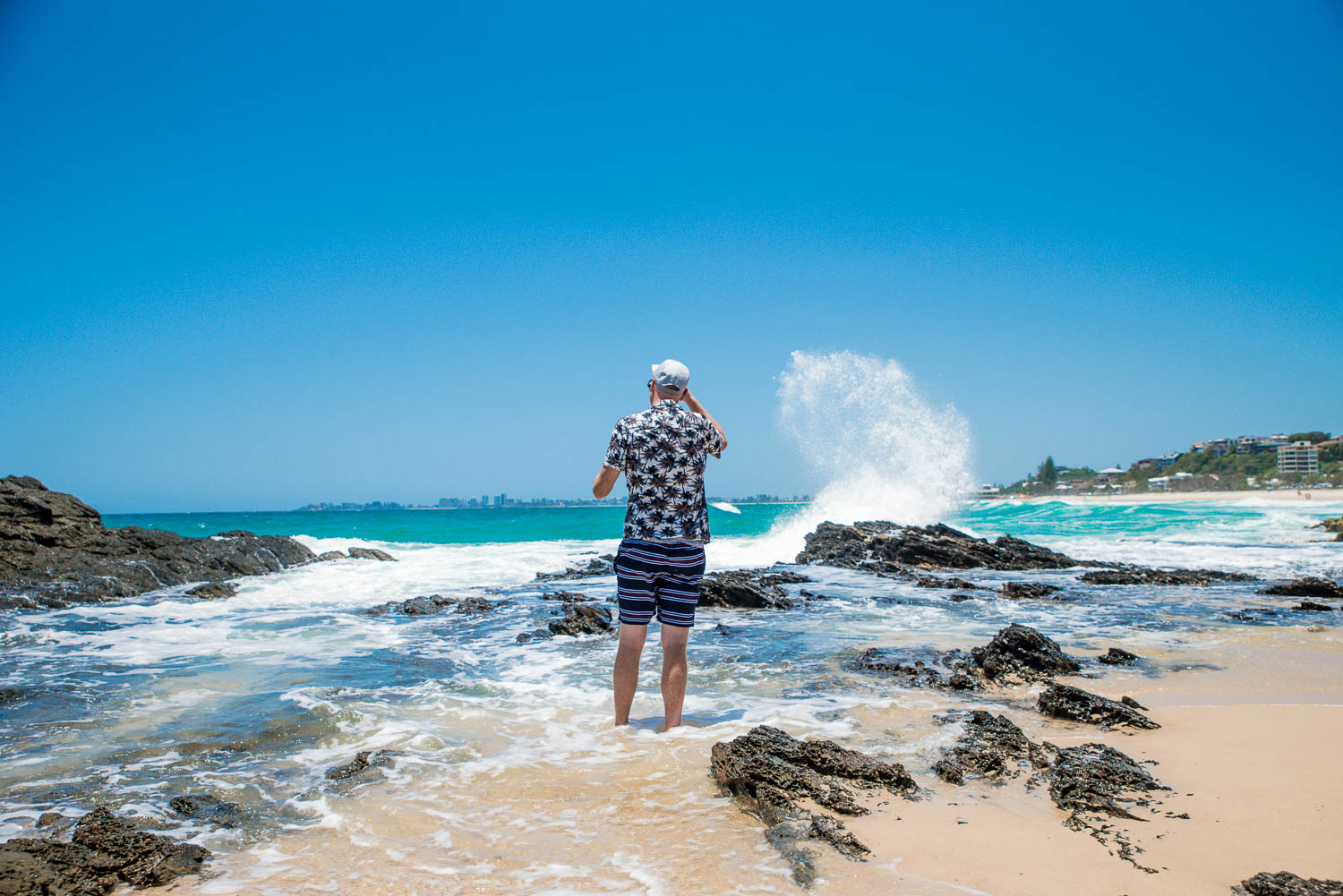 ---
9) Lamington National Park
Lamington National Park is home to exceptional wildlife species, mountain ranges and endless trails to be explored. The geology of this national park is quite unique as it is part of a shield volcano which in fact was seriously big and scary many millions of years ago. The center of this volcano was Mount Warning and in total the diameter of the volcano was 100 kilometers.
Today, Lamington National Park has a staggering 500 waterfalls so there won't be a shortage of which to visit when your there! Lamington National Park is an easy 1-hour drive down towards the Queensland / New South Wales border and is a perfect day trip for you and the family.
---
10) Cavill Avenue
Cavill Ave as the locals like to say is the light and party of Surfers Paradise with a buzz of clubs, shops, gaming centres and enough things to keep you occupied for days. Cavill Avenue is very much unlike Sydney or Brisbane's main CBD areas instead, Cavill Avenue is more of a family-friendly street full of colourful buildings, planter boxes full of tropical palm trees sending a warm and welcoming vibe.
Cavill Avenue isn't a large place and yes it's one street so what can you do?
---
11) Tamborine National Park
Tamborine National Park might be one of the local's favourite spots to chill out on a weekend or in fact any day of the week as there are so many natural wonders. Only 1 hour from Surfers Paradise, Tamborine National Park is home to stunning mountain lookouts spanning back to Surfers Paradise, lush bushland while waterfalls are everywhere you go making it the perfect place to go on a warm summers day.
Along with Tamborine's epic lookouts, waterfalls make this place a worthy destination to visit while in Surfers Paradise with majestic waterfalls like Cameron Falls, Curtis Falls and Cedar Creek Rock Pools which is a beauty of a place to jump in the water and soak up natures finest.
---
12) Tallebudgera Creek
If you're in Burleigh Heads and looking for something else to do, Tallebudgera Creek is a hotspot for everything water! Located on the edge of Burleigh Head National Park, Tallebudgera Creek flows right on by out to the ocean and over the years has become the best place to chill out on the Gold Coast.
Tallebudgera Creek has facilities to cook up a classic Australian barbecue but I still question whether or not Australian's throw 'a shrimp on the barbie'. Stand up paddleboarding is a top thing to do here especially when the tides are low which makes for an incredible day out on the water.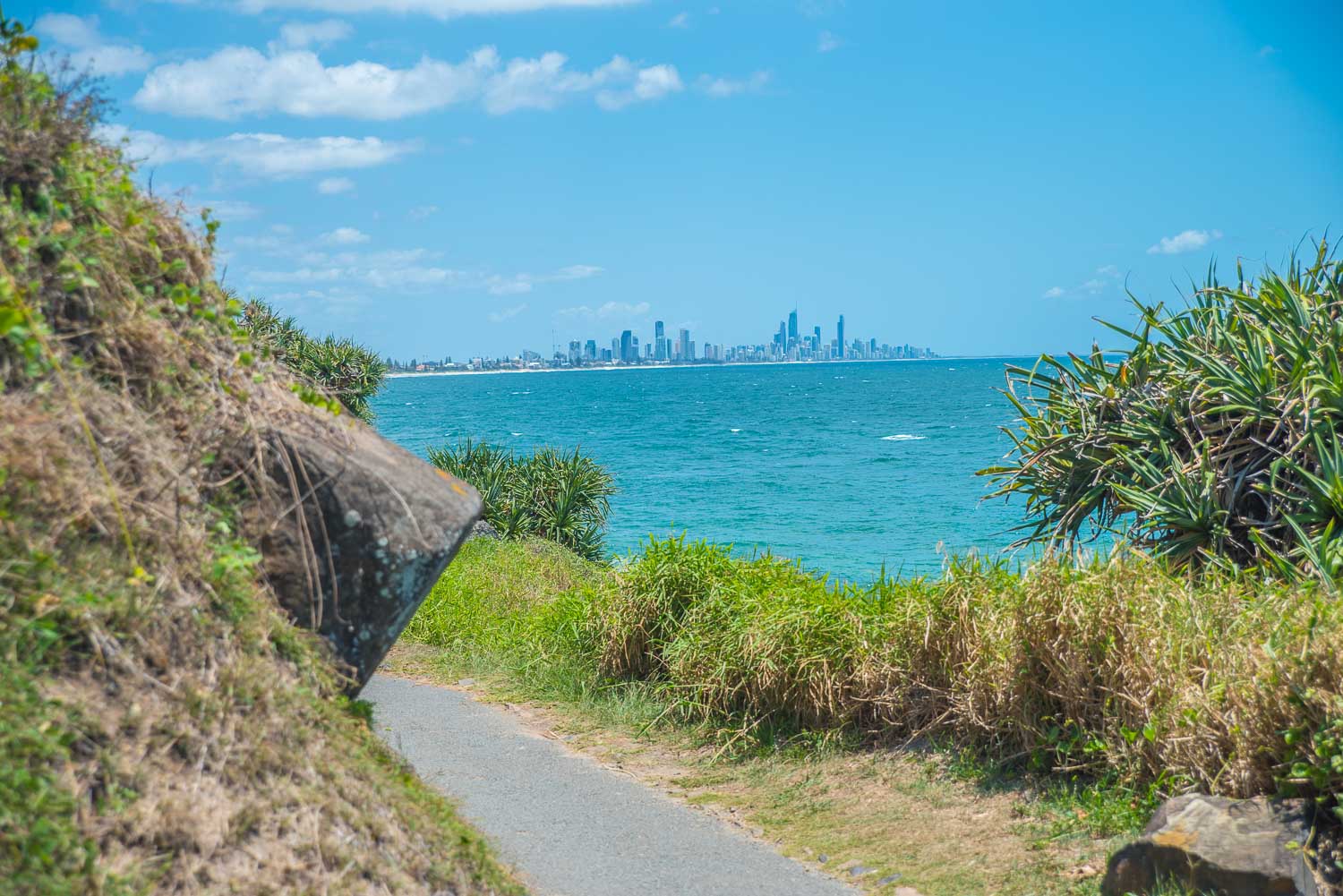 ---
13) Mount Barney National Park
Mount Barney National Park is the furthest place away from the Gold Coast on this list but is only a 1.5 hour drive from the bustling skyline and a very much worthy day out. There are so many national parks surrounding Surfers Paradise and the Gold Coast but for me Mount Barney National Park is a definite winner with exceptional hiking trails, flowing creeks, koalas and if you are an avid hiker the views at the top of the hike is something that words can't describe.
Mount Barney has around 8 different routes that all lead to the summit, some 1,359 metres above sea level. Mount Barney has its own micro climate with cloud often inundating the summit which soon clears by mid-morning.
Camping on the summit of Mount Barney is also possible at a place called Rum Jungle and as beautiful as the camping area is, I was thoroughly disappointed to hear that there was no rum in Rum Jungle. Conditions can change quite rapidly so be prepared if camping on the summit. Be sure to check with https://parks.des.qld.gov.au/parks/mount-barney/or if visiting any National Park in the Gold Coast area, Parks Queensland will provide the best and most up to date information.
Mt Barney, Queensland, Australia
---
Food and Dining in Surfers Paradise
Food is one of my favourite past times and when I am in a new destination or one I've been to, I need to know immediately where the best food is so here's a couple of my favourite spots to go and chow down in the Gold Coast.
The Collective Palm Beach – serves a mean array of burgers, fries and fresh brewed beers which sounds like my perfect Sunday!
Jimmy Wah's – is located at Burleigh Heads and is one of the best Vietnamese eateries on the coast. If I see a sign that says

Pho

you can take my money, credit card or watch because Vietnamese cuisine holds a special place in my heart.

Hardrock Café – isn't generally a place I'd go to dine but it's a thing you just gotta do when in Surfers Paradise. With a solid menu built around something you'd fine in the streets of Los Angeles or Las Vegas. Hardrock Café is bound to give you a food coma.
If you're a serious foodie, check out this article "All The Very Best Restaurants In Surfers Paradise" for a bit more information on dining needs!
---
Where to Stay in Surfers Paradise – Best Accommodation Options
Surfers Paradise and surrounds has no shortage of places to crash it just comes down to your budget, a thing that affects us all in one way or another.
Alpha Sovereign Hotel Gold Coast – is relatively cheap considering how close it is to Surfers Paradise. Rooms start at $93 AUD.
Surfers Paradise YHA – is a cheap as it gets and with a dorm room so close to all of the action, $50 AUD is a great deal. YHA is one of the best hotel chains in Australia and New Zealand and gets my tick of approval.
Surfers Paradise Backpackers Resort – is even cheaper than the YHA with rates for a dorm room starting at $40 AUD per night, a damn good deal when you're right on the doorstep of Cavill Avenue.
Top10 Recommended Hotels in Surfers' Paradise, Gold Coast Hotels, Queensland, Australia
---
Am I Missing Any Epic Things to do in Surfers Paradise / Gold Coast?
I'm hoping to make it back down to Australia soon, and definitely planning to visit Surfers Paradise again when that happens! I've got some really close mates who live there, and would be great to get know the area a bit more! If you think I need to add anything like a tour, day trip, national park, cafe, bar, or whatever else – I'd love to keep my list of fun things to do in Surfers Paradise with the best information!

---
Planning a Trip to Australia…?
My travel blog is filled with helpful articles, itineraries, and things to do in around the country! Check out a few of my other posts below, and feel free to reach out to me with any questions you've got about the land down under!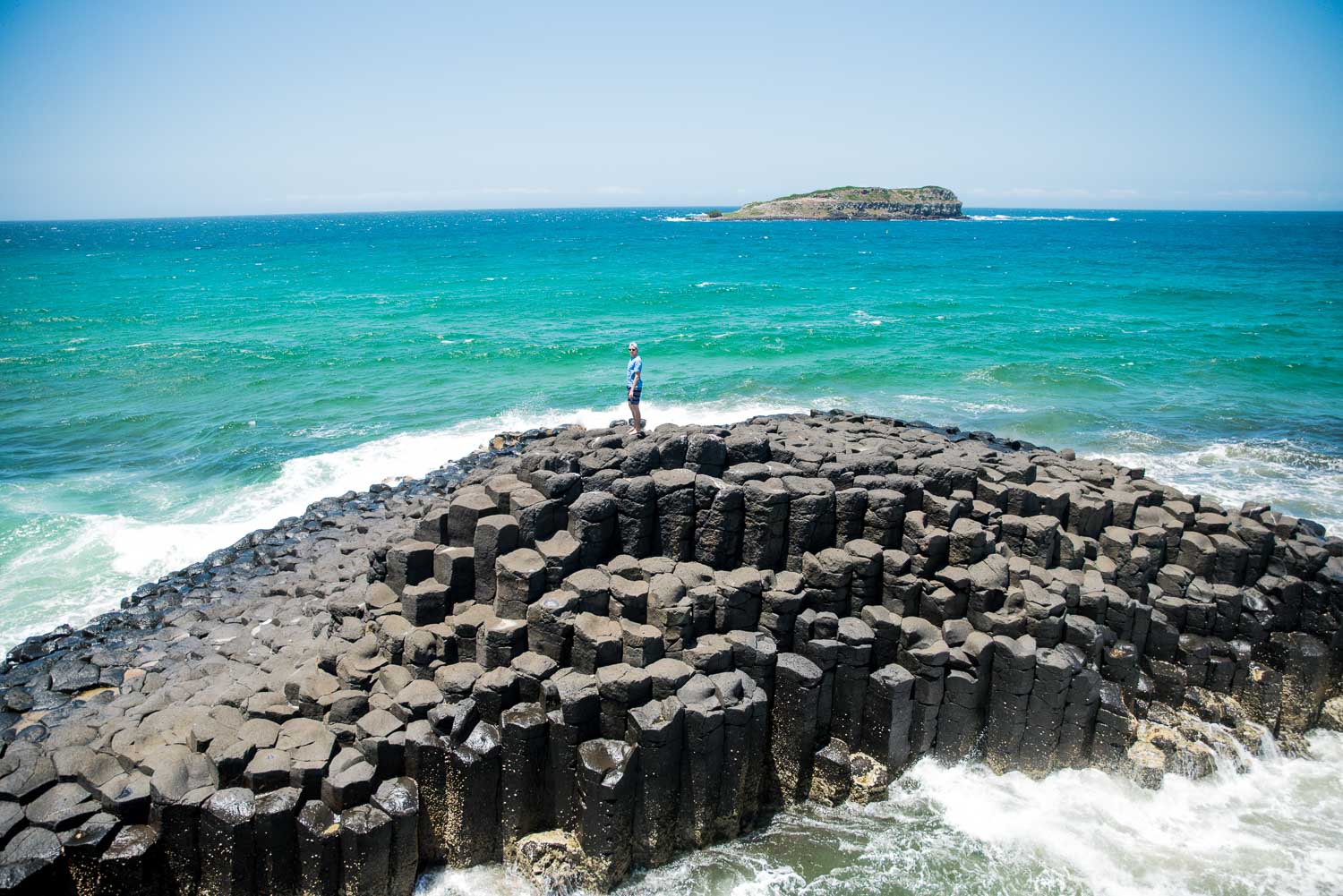 ---
Thanks for reading about the best things to do in Surfers Paradise!
Share the Surfers Paradise Attractions with your travel squad!
https://www.jonesaroundtheworld.com/wp-content/uploads/2019/08/Things-To-Do-in-Surfers-Paradise-3277.jpg
1001
1500
Dave
https://www.jonesaroundtheworld.com/wp-content/uploads/2017/03/logotry-1-1-300x106.png
Dave
2019-08-10 22:25:28
2020-09-17 20:09:29
The 13 Best Things To Do in Surfers Paradise