They say you haven't been Down Under until you've been to the Outback, and after recently finishing a two week long Northern Territory trip – I would completely agree with that statement!
Known for its adventurous spirit, majestic landscapes, ancient Aboriginal history, and diverse Outback wildlife, the Northern Territory is a truly remarkable destination where travelers can see the real Australia for themselves.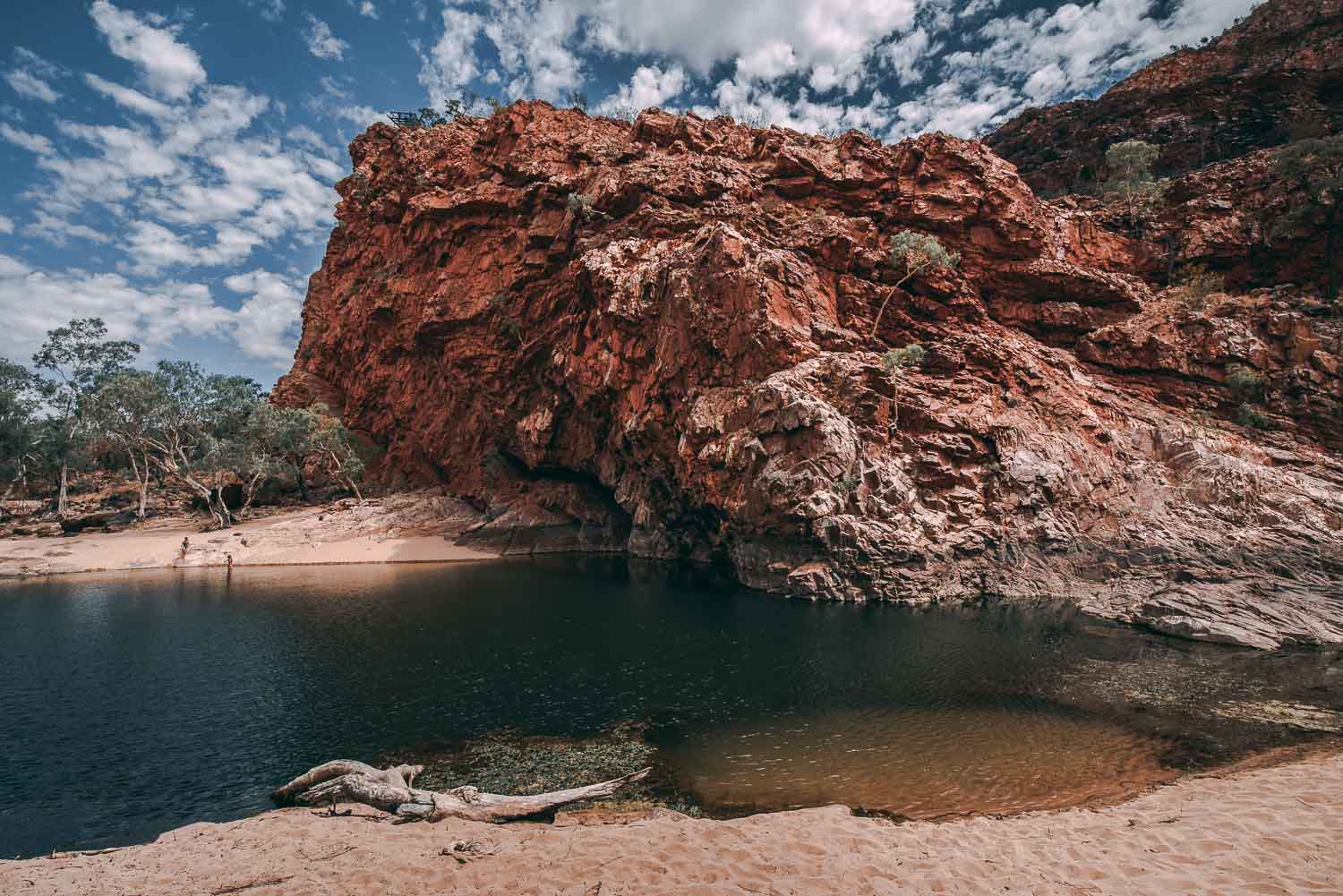 I've spent a lot of time traveling around Oz, and it's easily one of my favorite countries in the world. From working my way down the coast from Cairns to Sydney, to road-tripping along the world famous Great Ocean Road, and taking selfies with native quokkas on Rottnest Island in Western Australia – I've explored many destinations that make this country a world-class tourism destination.
So I was unbelievably excited when I got invited to explore the Northern Territory for a couple weeks, and finally experience the famous "Australian Outback". Take a read through my itinerary, browse through my photos, and feel free to reach out to me if you have any questions about traveling through this unique destination!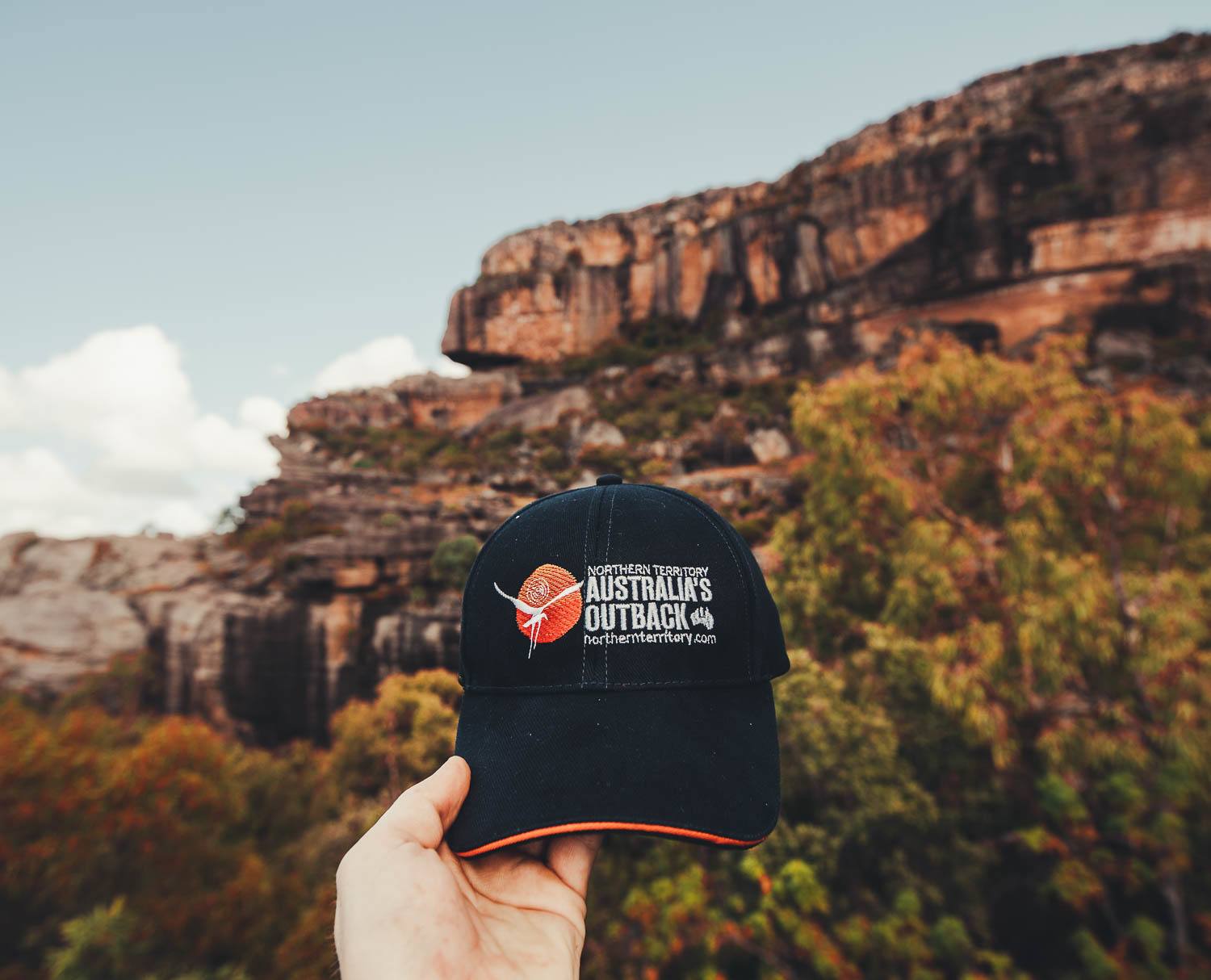 ---
Organized Tour vs Rental Car
The first question of traveling through the Outback…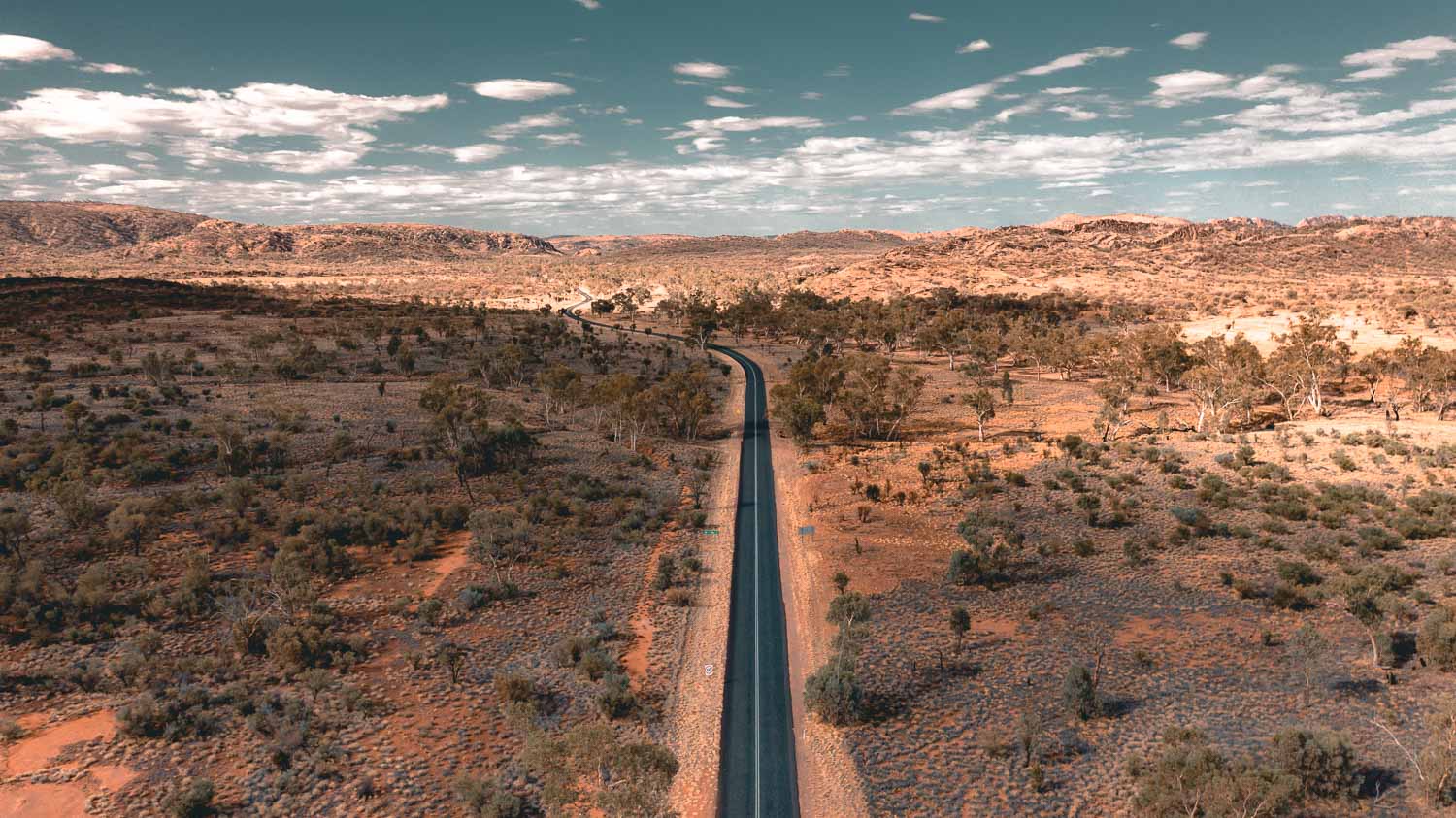 When I traveled through the Northern Territory I was on a press trip with the NT Tourism board, so everything was fortunately pre-arranged for me. If I was doing this trip on my own, I would be sure to pre-plan as much as I could before I arrived!
There are a huge number of tour groups you can book that head to the Northern Territory from all pockets of Australia, or alternatively, you can join one upon your arrival in the Outback. It's entirely up to you. The benefit of traveling with a small group tour is that you not only have company, but everything is organized for you. It doesn't matter if you overlook or forget something – everything is sorted out by the experts for you, and it usually works out to be much cheaper in the long run. You just have to sit back and enjoy the experience.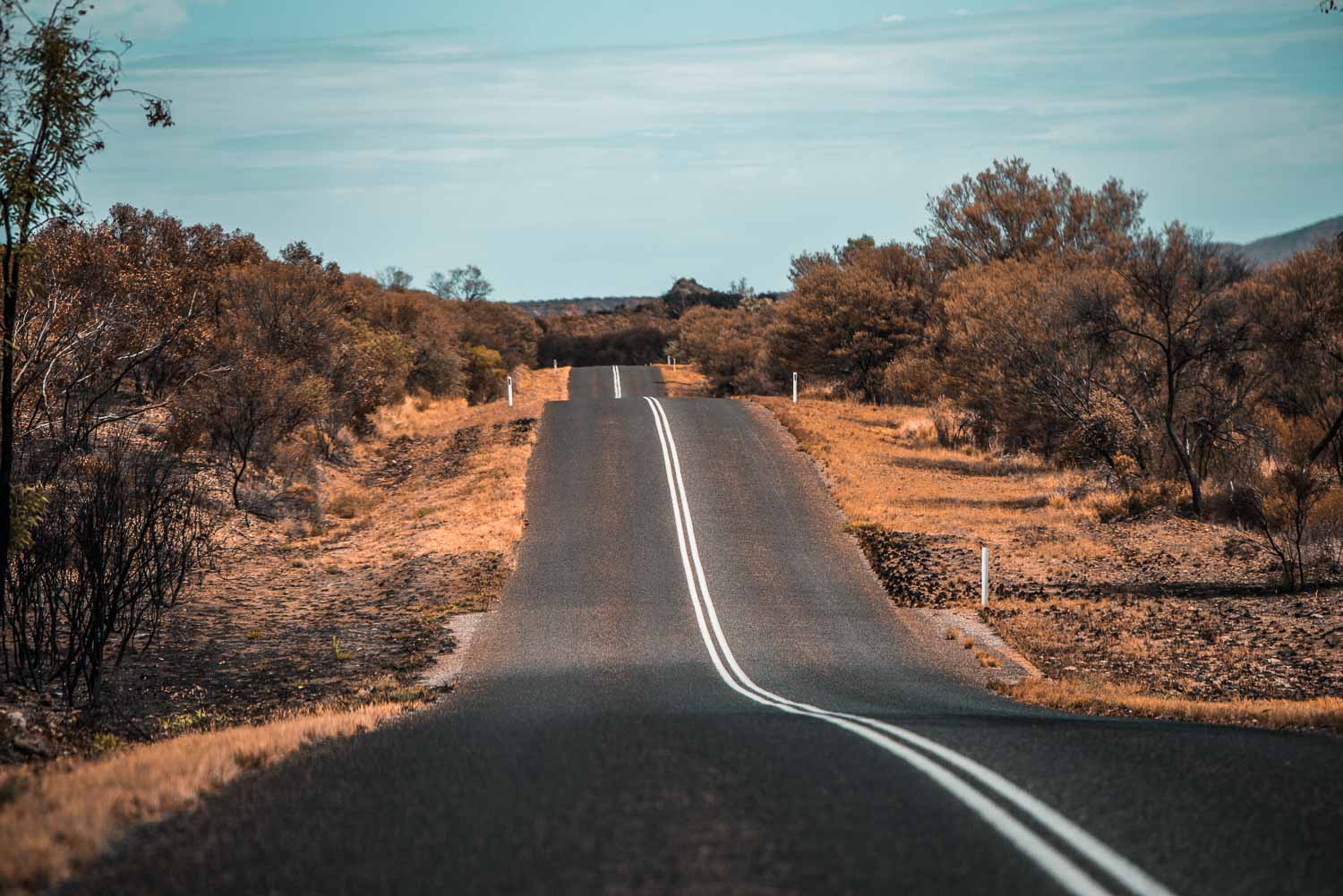 While group tours are perfect for many people, particularly solo travelers, others find a strict itinerary stifling or restrictive and would rather travel without these confines. Just remember, traveling in the Outback requires a fair amount of preparation and knowledge, and this remote area of the world can be dangerous.
Traveling with a friend or two is definitely better than traveling alone out here, and you can split the driving schedule between you – and the cost! There are many car rental companies with pick-up and drop-off locations in major locations within the Northern Territory. The best part is you can easily organize to pick up a car in Darwin, for example, and drop it off when you reach your location in Alice Springs. The NT is very well set-up for tourists, and should you need help, you can generally get it.
How you choose to travel through the Northern Territory is up to you. Just be safe, prepared and stocked up with all the essentials you will need if disaster strikes.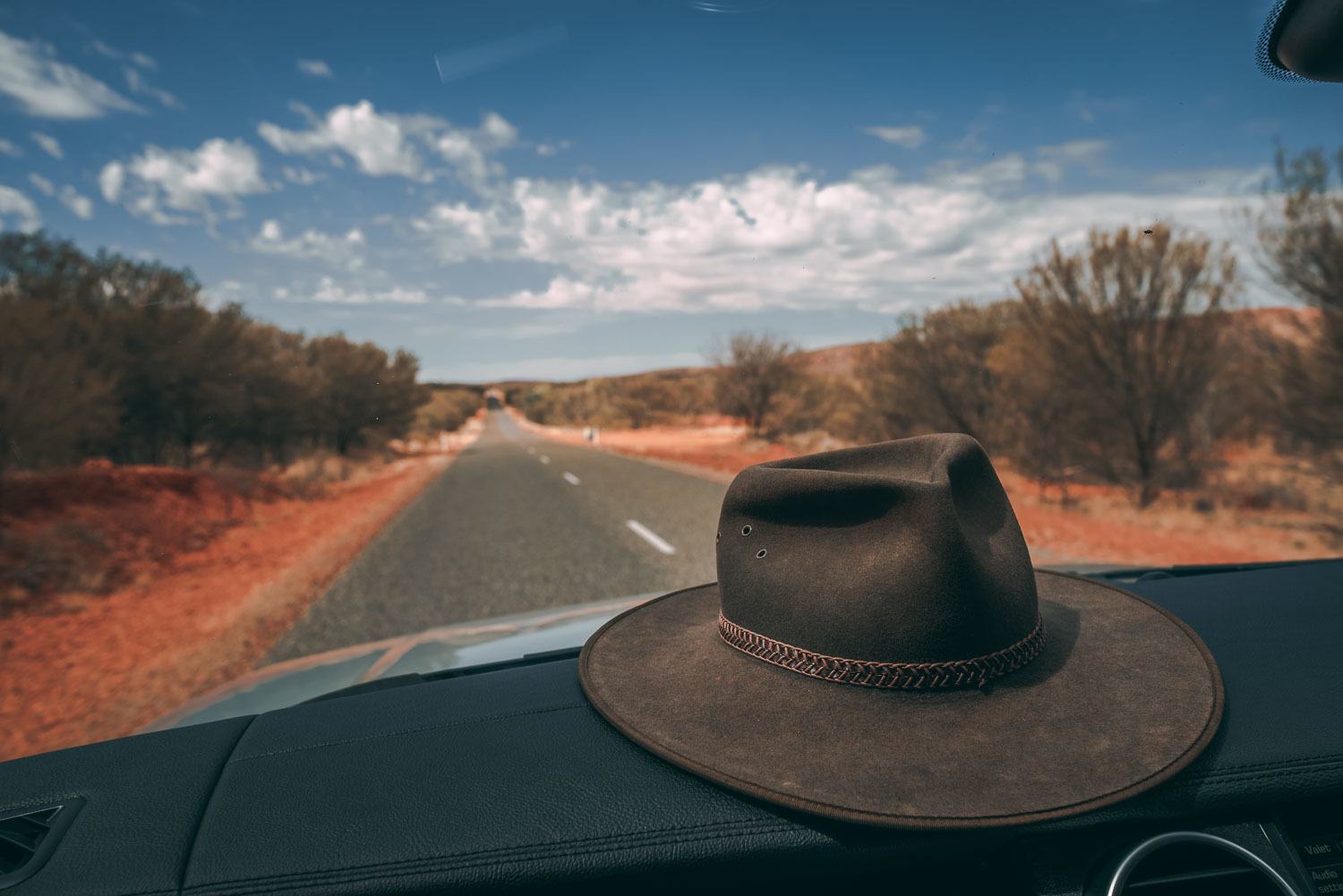 Now, on with my own NT experience…
Two-Week Northern Territory Itinerary
---
Days 1-2: Arrive into Darwin
Welcome to the capital city of the Northern Territory – the perfect place to begin your Outback adventure. While it is the largest city biggest city in the Top End, I think it still boasts a very relaxing small-town vibe. Similar to most major destinations in Australia, Darwin has a very "liveable" atmosphere about it, which is something I've always loved about the country as a whole.
On this trip, I didn't have all that much time to explore Darwin, but here are a few of the highlights which I think you MUST experience with if you have two days/nights to spend here.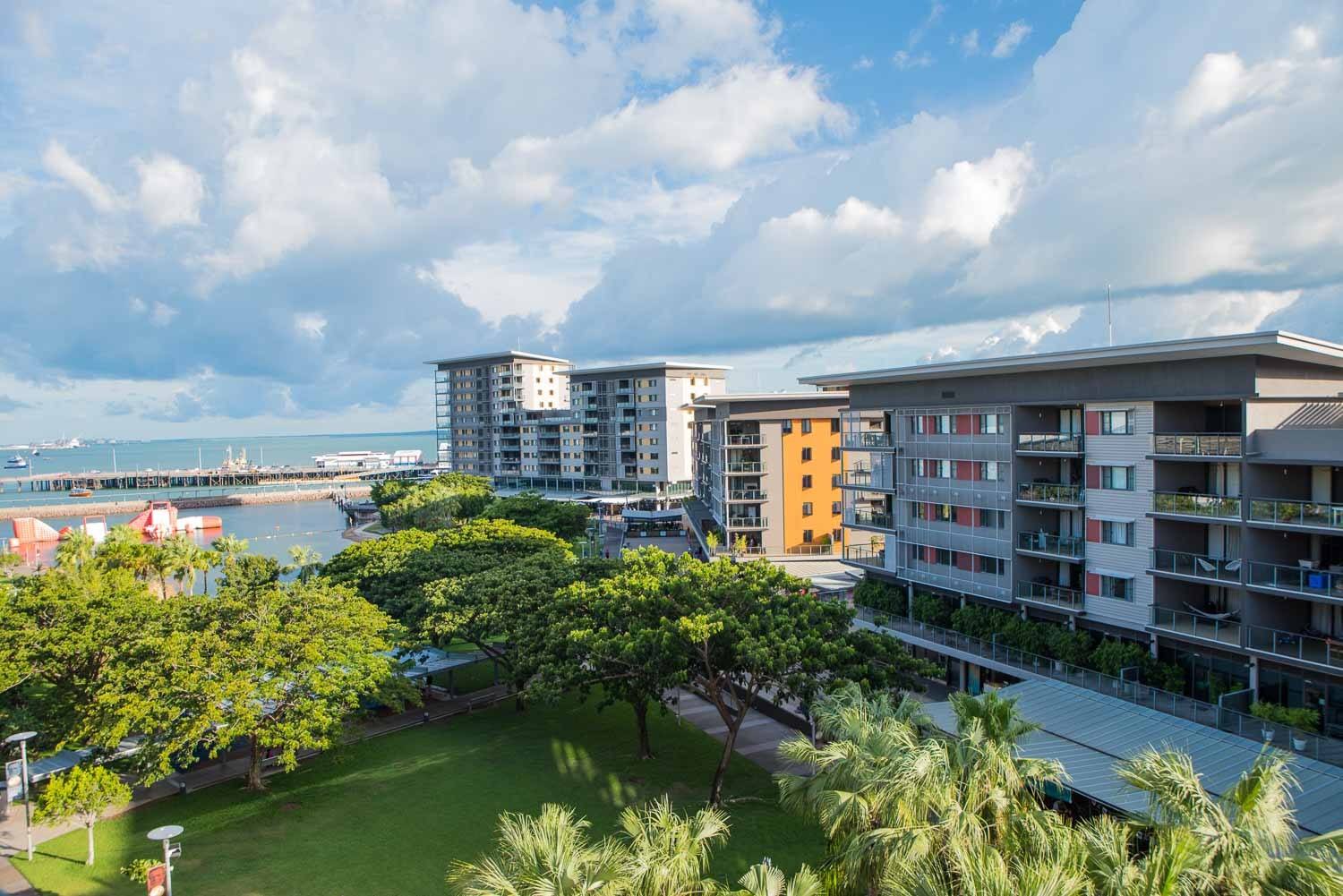 ---
Crocosaurus Cove: Have you ever wanted to get up close and personal with crocodiles? Well, this is your chance! Even if you don't want to enter the "Cage of Death", it's still 100% worth a visit. They've got a really cool reptile area, a variety of marine life, and of course some massive crocodiles! You can even meet "Bert", the famous crocodile from the Crocodile Dundee films!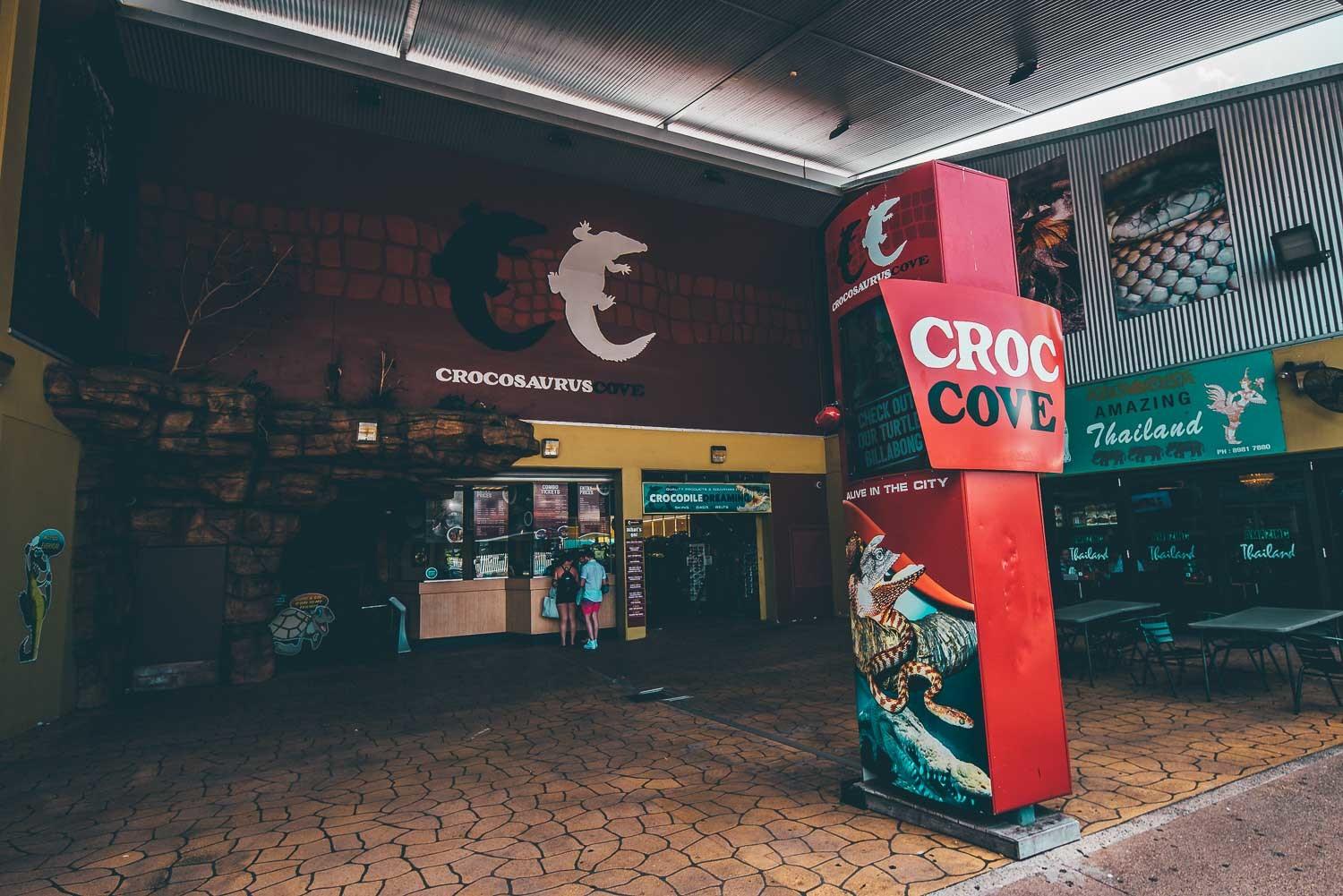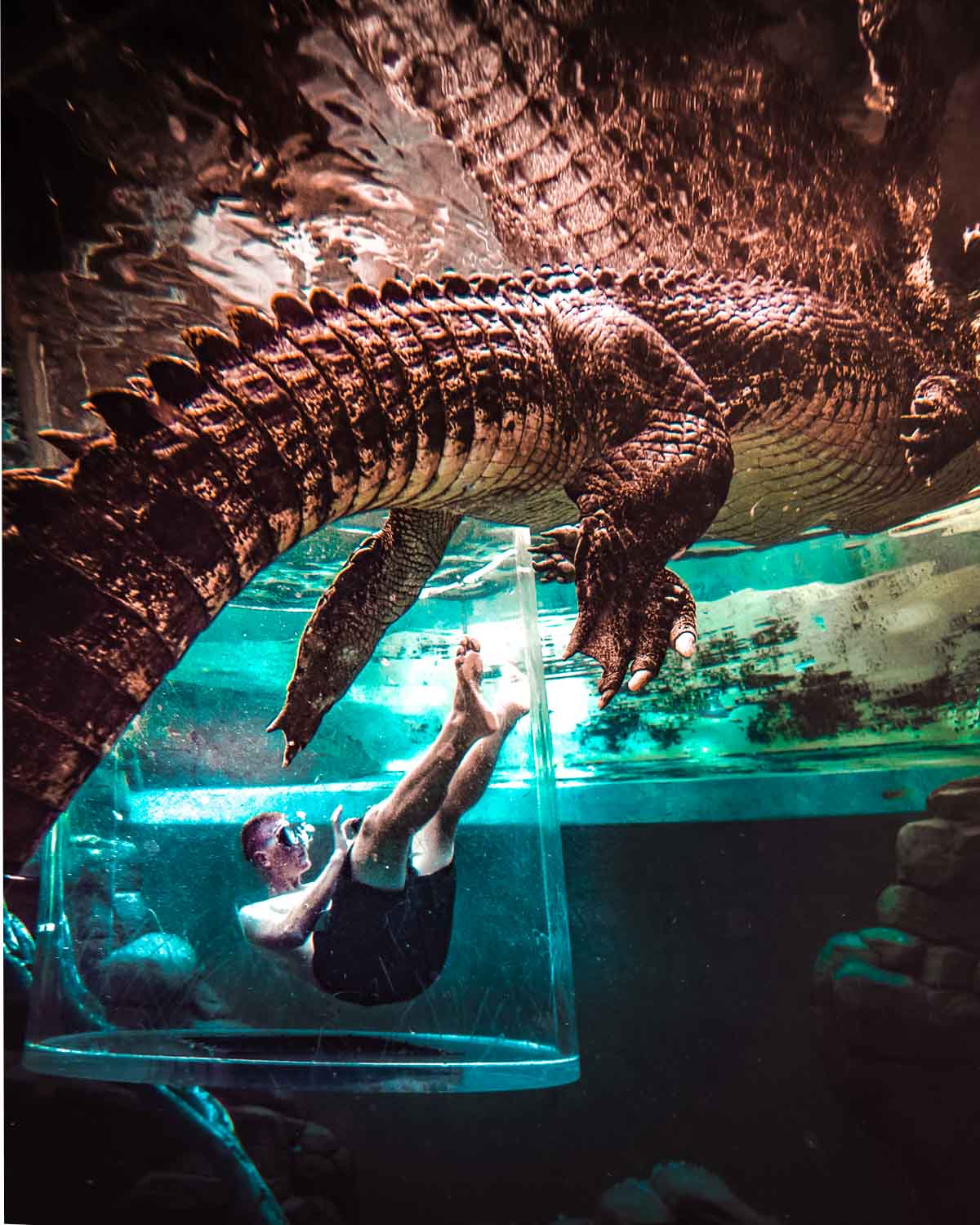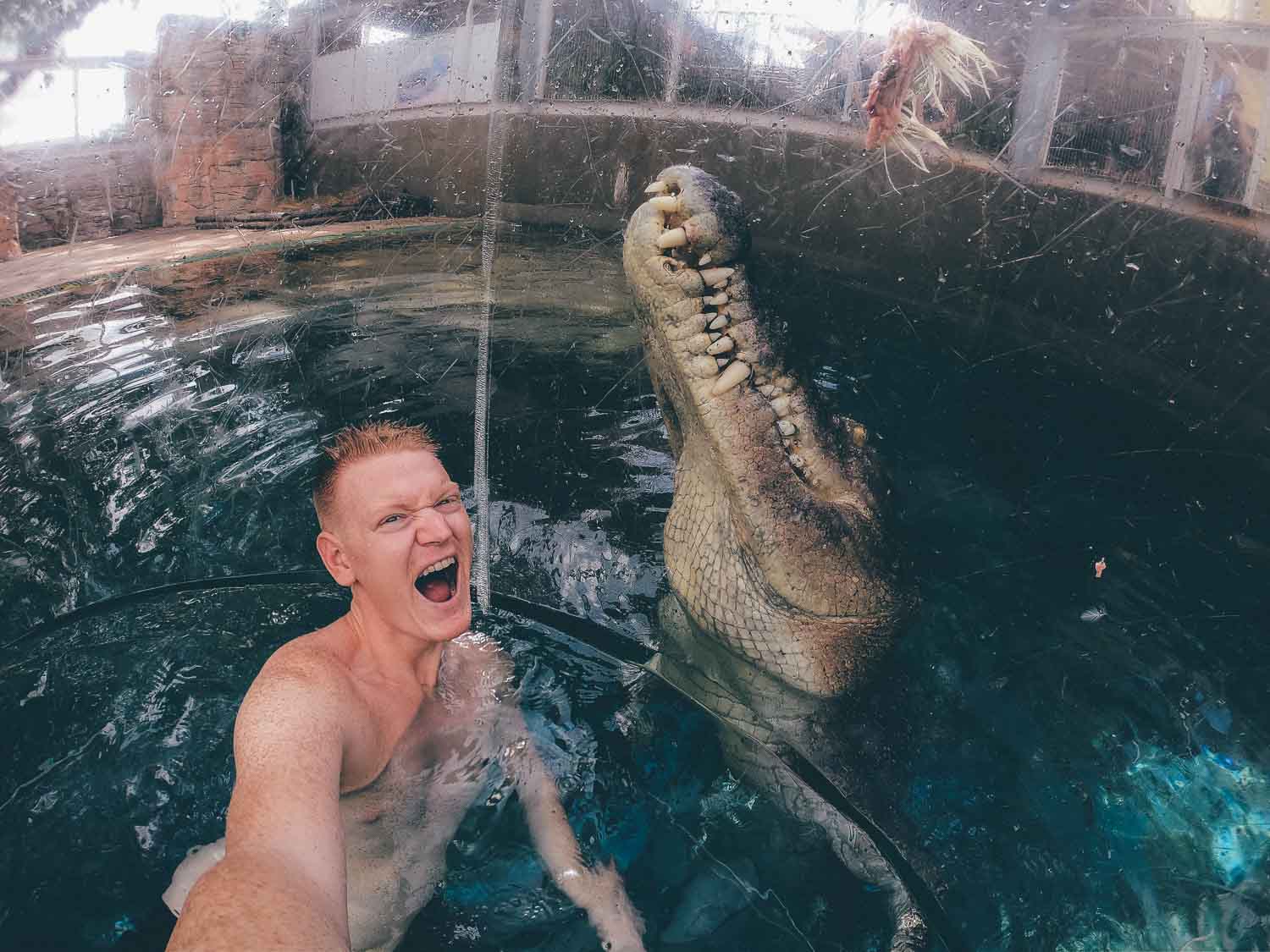 ---
Explore the Darwin waterfront: Whether lazing on its man-made beach, taking a whirl in the wavepool, or enjoying an evening out at one of the many restaurants or bars, no visit to Darwin is complete without thoroughly exploring the waterfront area. It's very well maintained, relaxing, and can provide the perfect escape for the tropical humidity.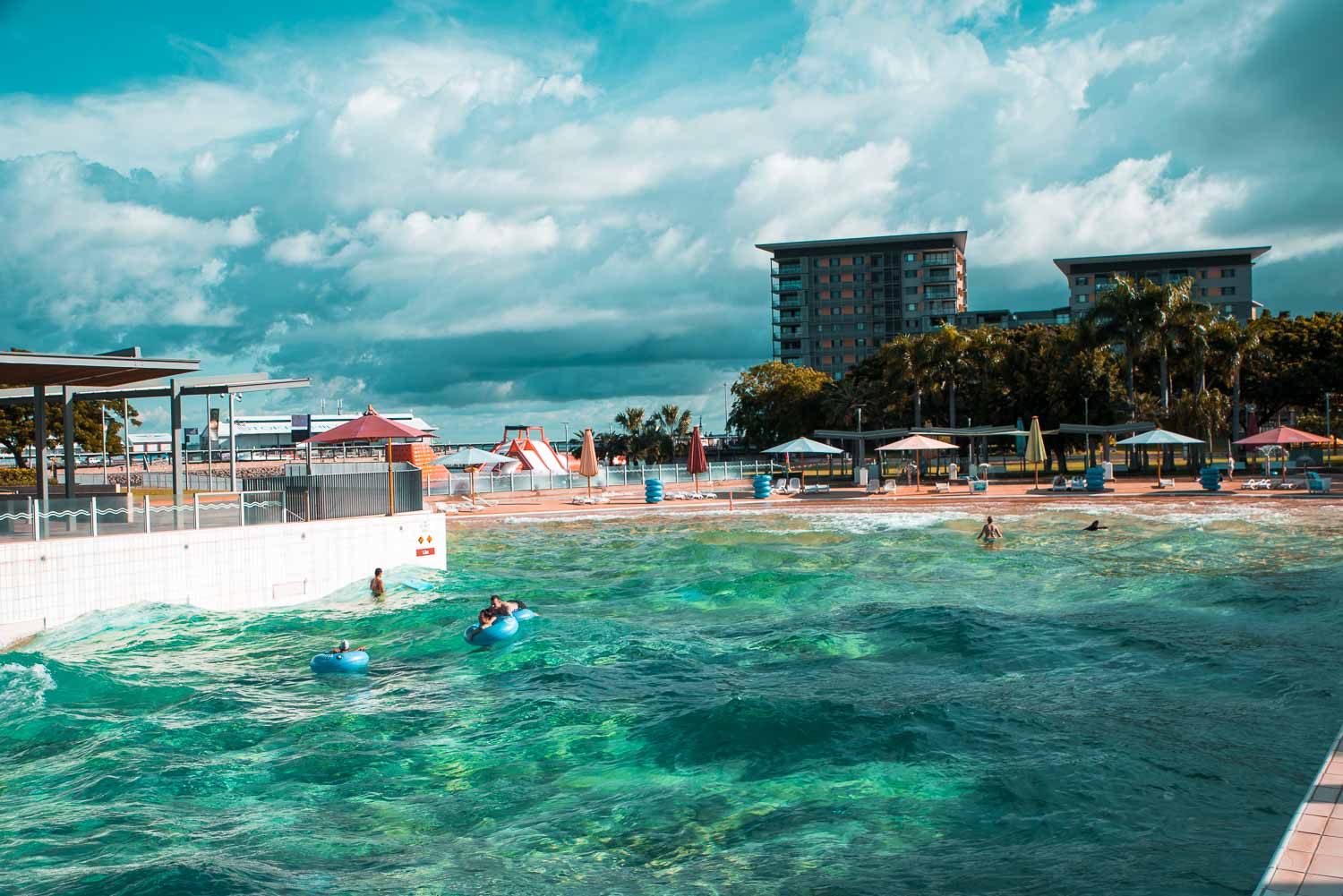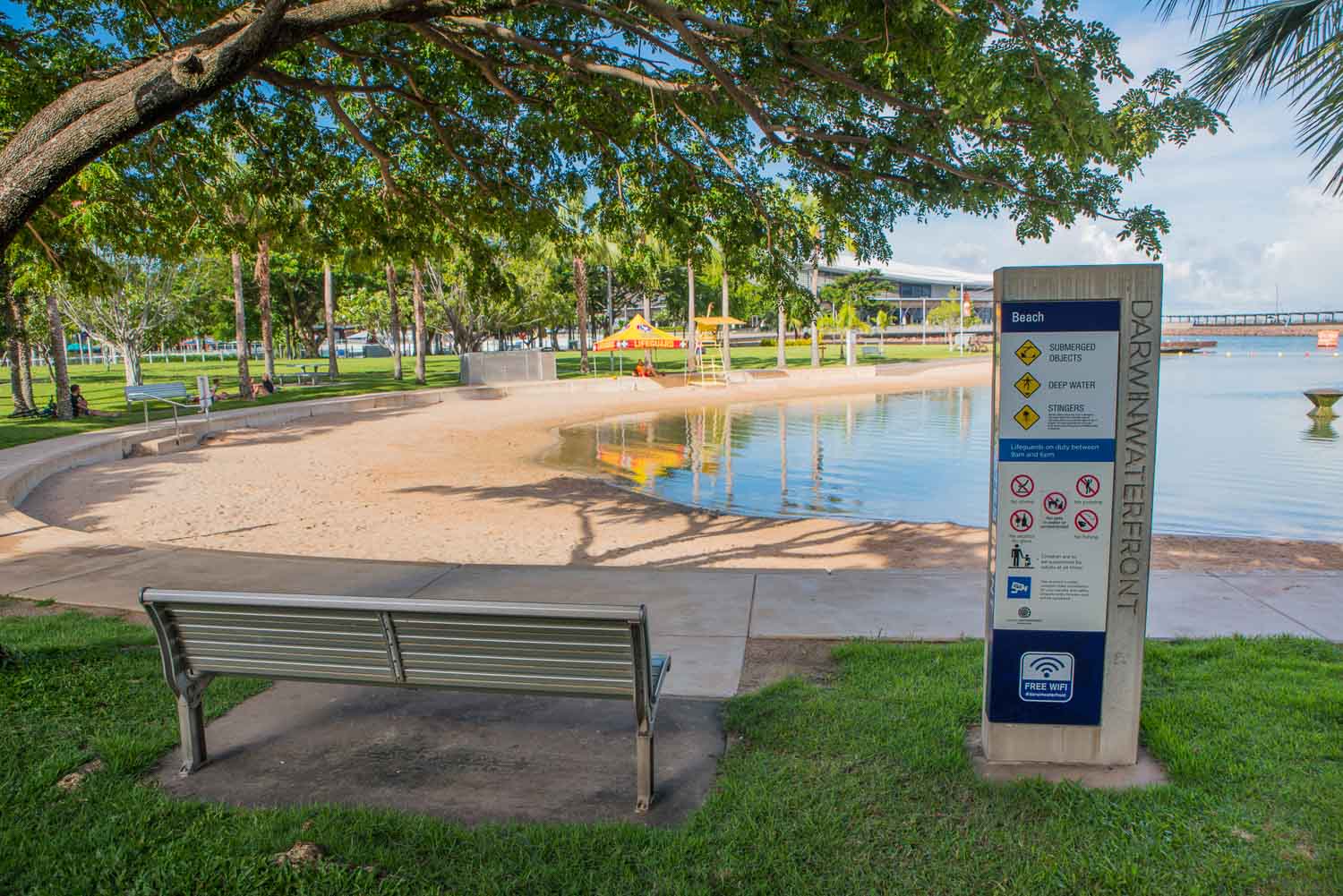 ---
Visit fascinating museums: Did you know Darwin was heavily bombed during WW2? I had no idea before I visited, but there are some really interesting historical museums where you can learn all about it, As well as The Museum and Art Gallery of the Northern Territory.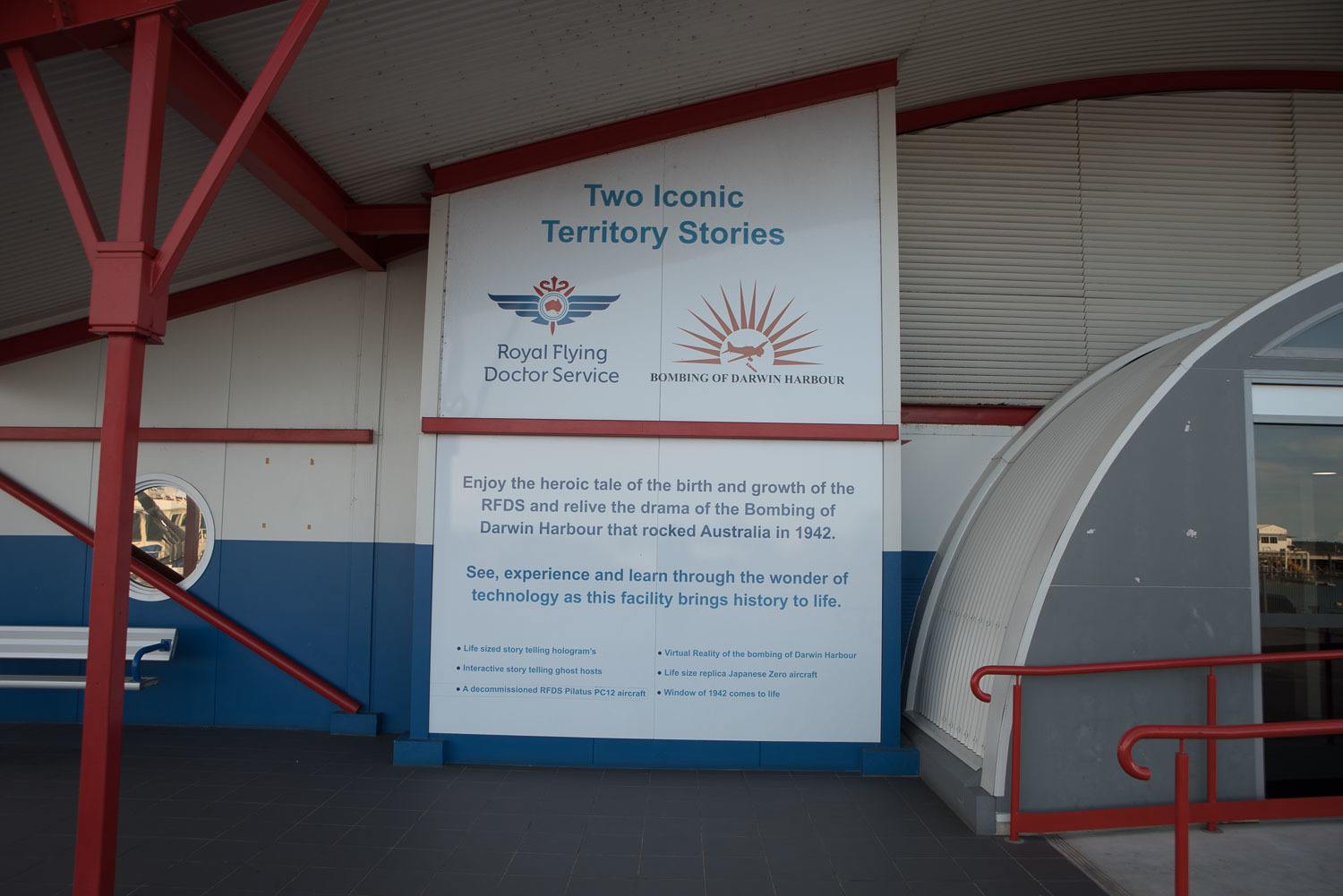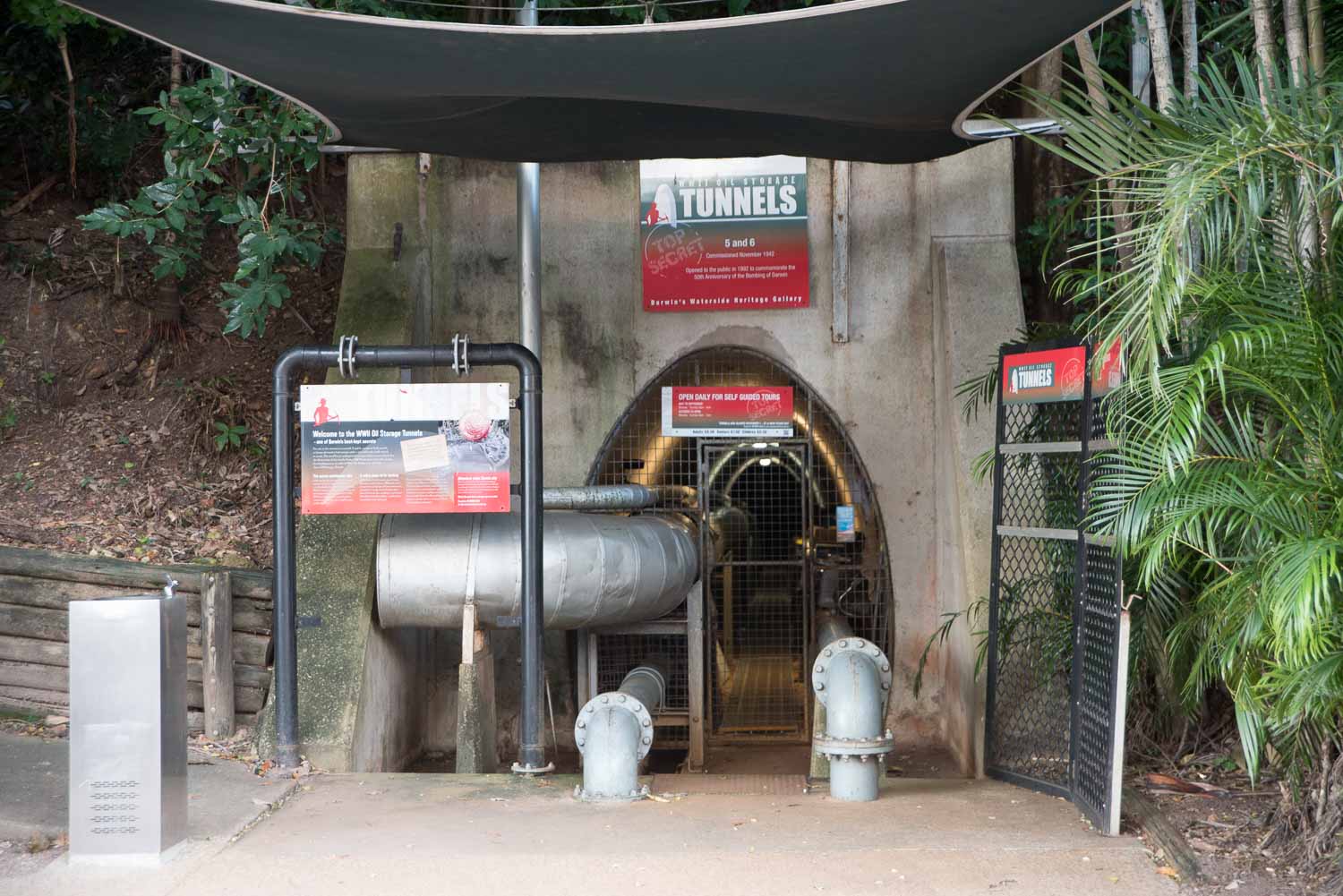 ---
Mindil Beach Sunset Markets: Unfortunately when I visited Darwin these markets weren't open, as they operate from the last Thursday in April until the last Thursday in October. However, I've heard this is a true highlight of visiting Darwin and a chance to pick up some special treasures. Definitely worth checking out if you're in town!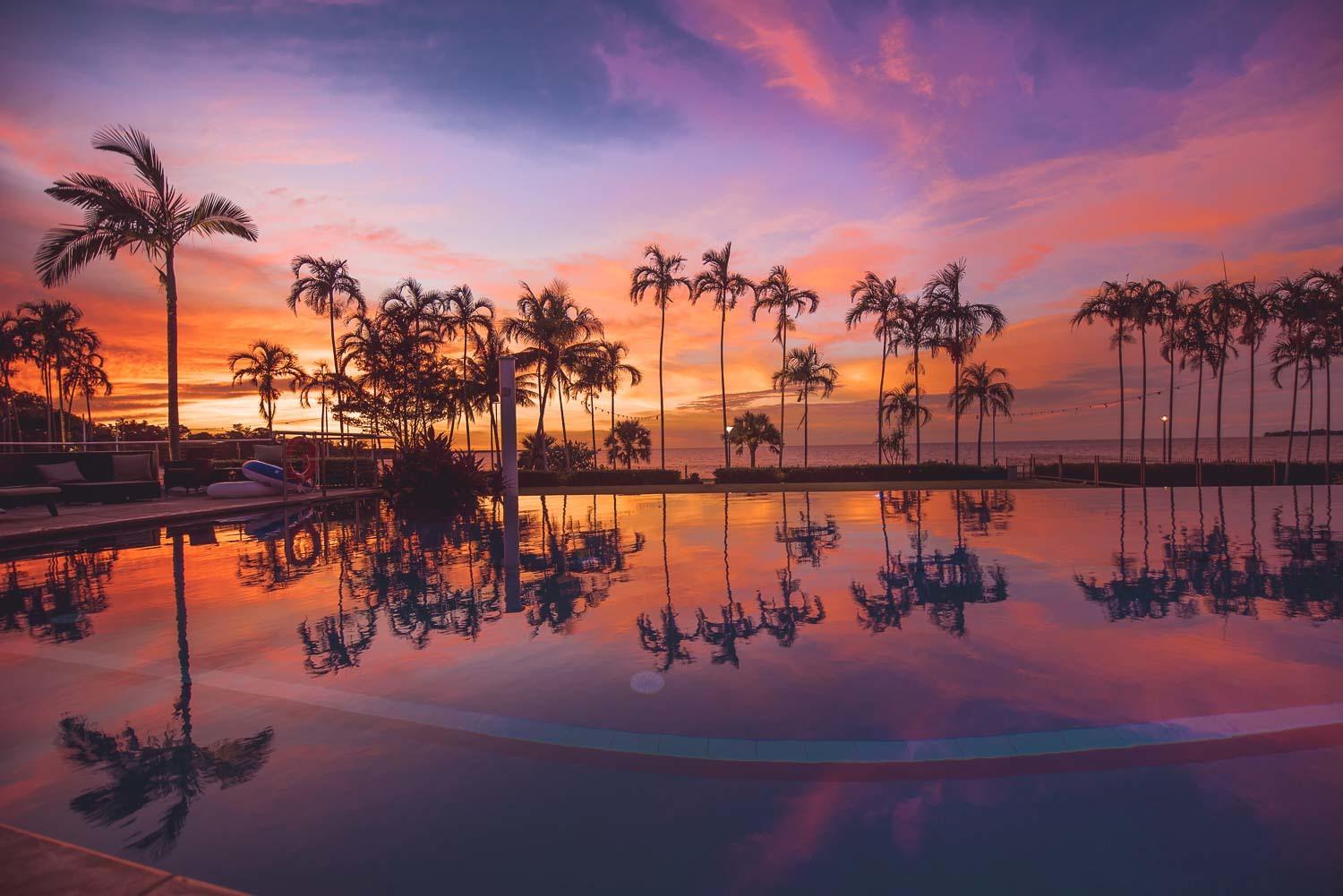 ---
Where To Stay in Darwin…?
Skycity Darwin Casino & Hotel: This is where I was fortunate enough to stay my first night in Darwin, and I would highly recommend staying here. I was fortunate enough to have secured one of their patio suites that has direct access to the lagoon pool. It goes without saying, I thoroughly enjoyed that part in the intense Darwin heat. The entire property is gorgeous, the food was spectacular, and the rooms were unbelievably comfortable. Read Reviews & Check Availability.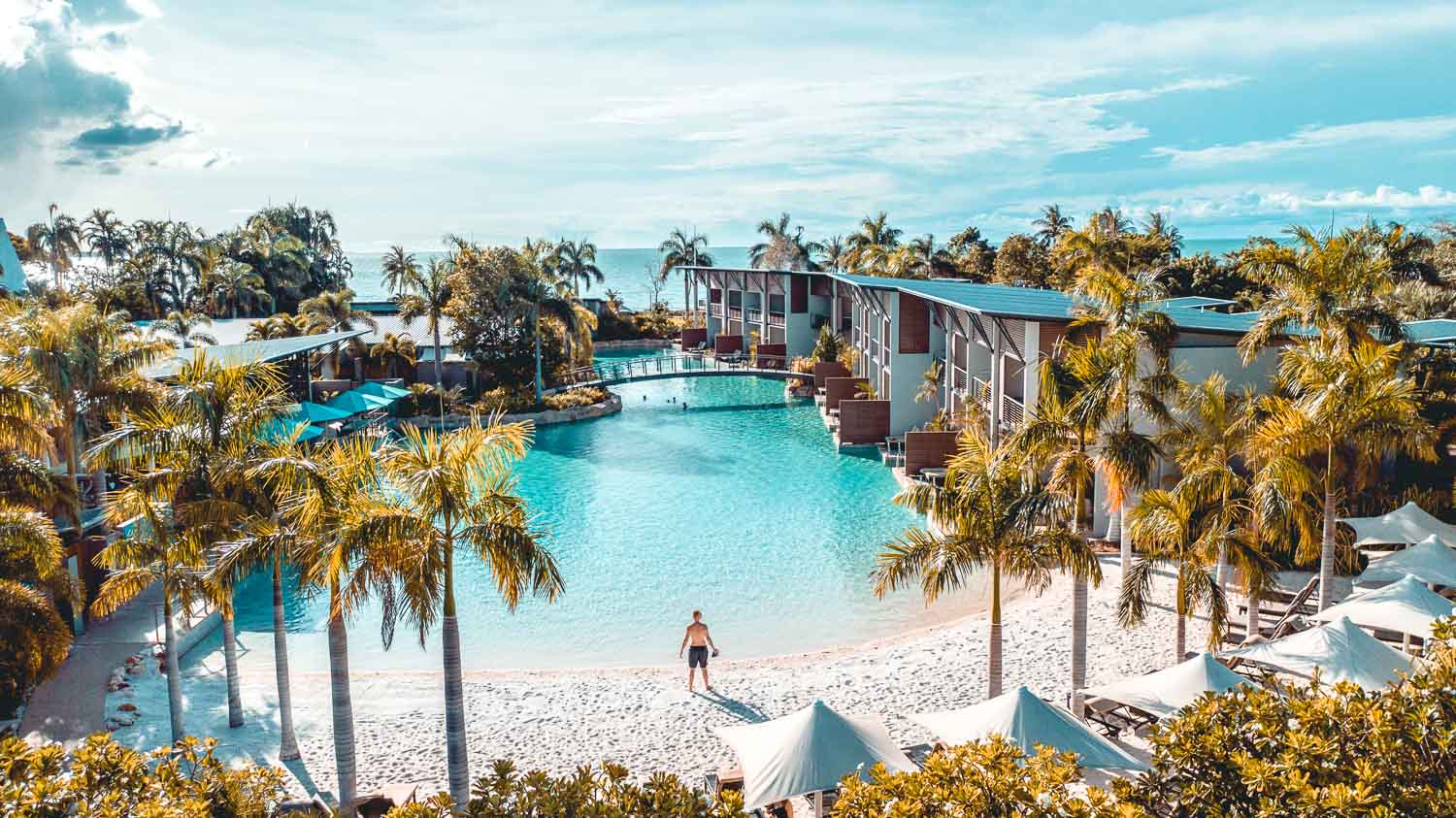 ---
The Melaleuca – Darwin YHA Hostel – For all the budget travelers and backpackers out there, look no further than booking a couple of nights at the Melaleuca. I've always loved staying at YHA hostels in Australia, and their Darwin location is one of the top-rated accommodation options in the city. Rooms are affordable, the atmosphere is top-notch, and it's perfectly located in the heart of the city!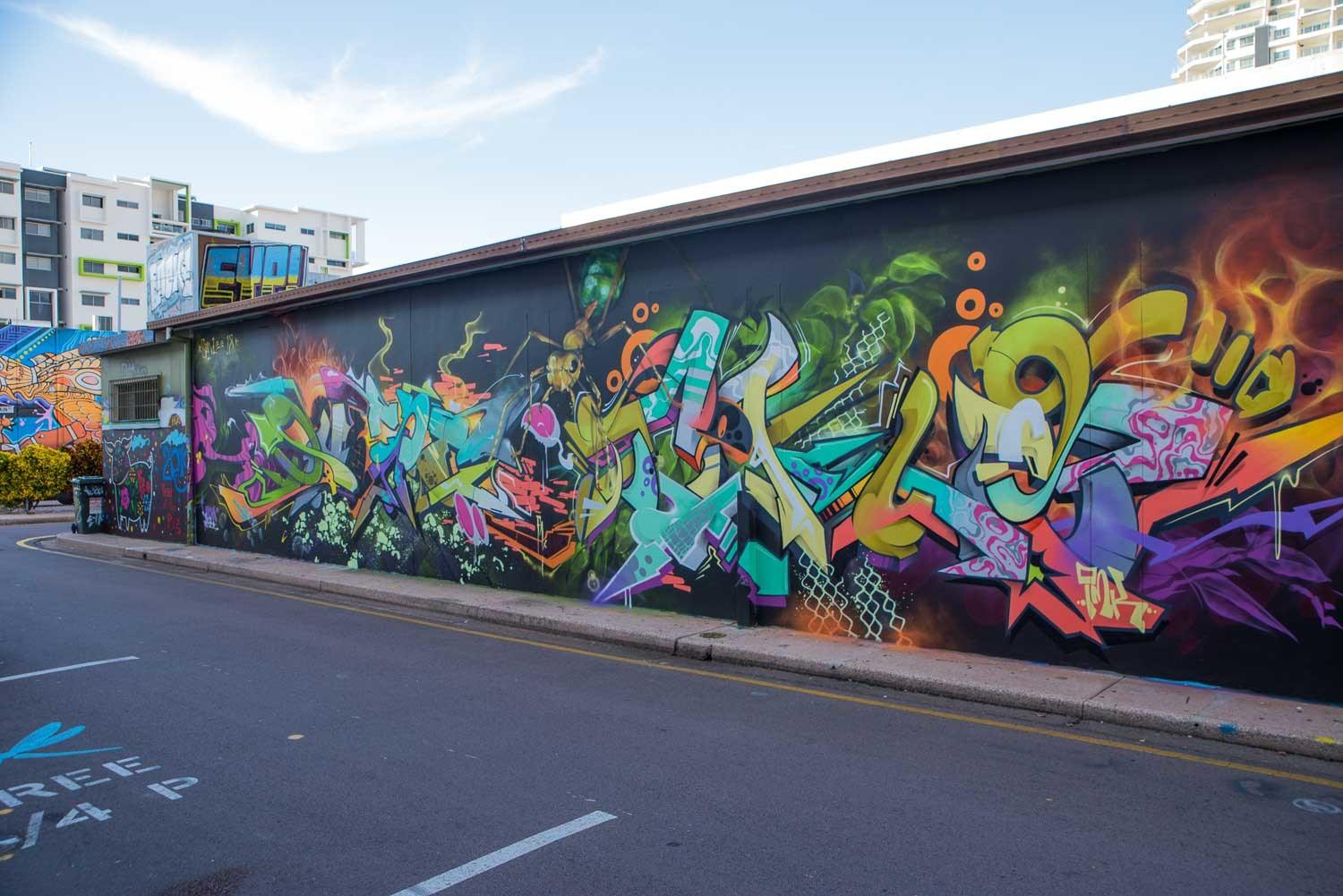 ---
Days 3-4: Kakadu National Park
Covering nearly 20,000 square kilometers, Kakadu is the largest national park in Australia and an official UNESCO World Heritage Site. Famous for its ancient Aboriginal rock art, complex ecosystems, abundant wildlife, and colorful landscape, you could easily spend a week or two exploring Kakadu and still barely scratch the surface!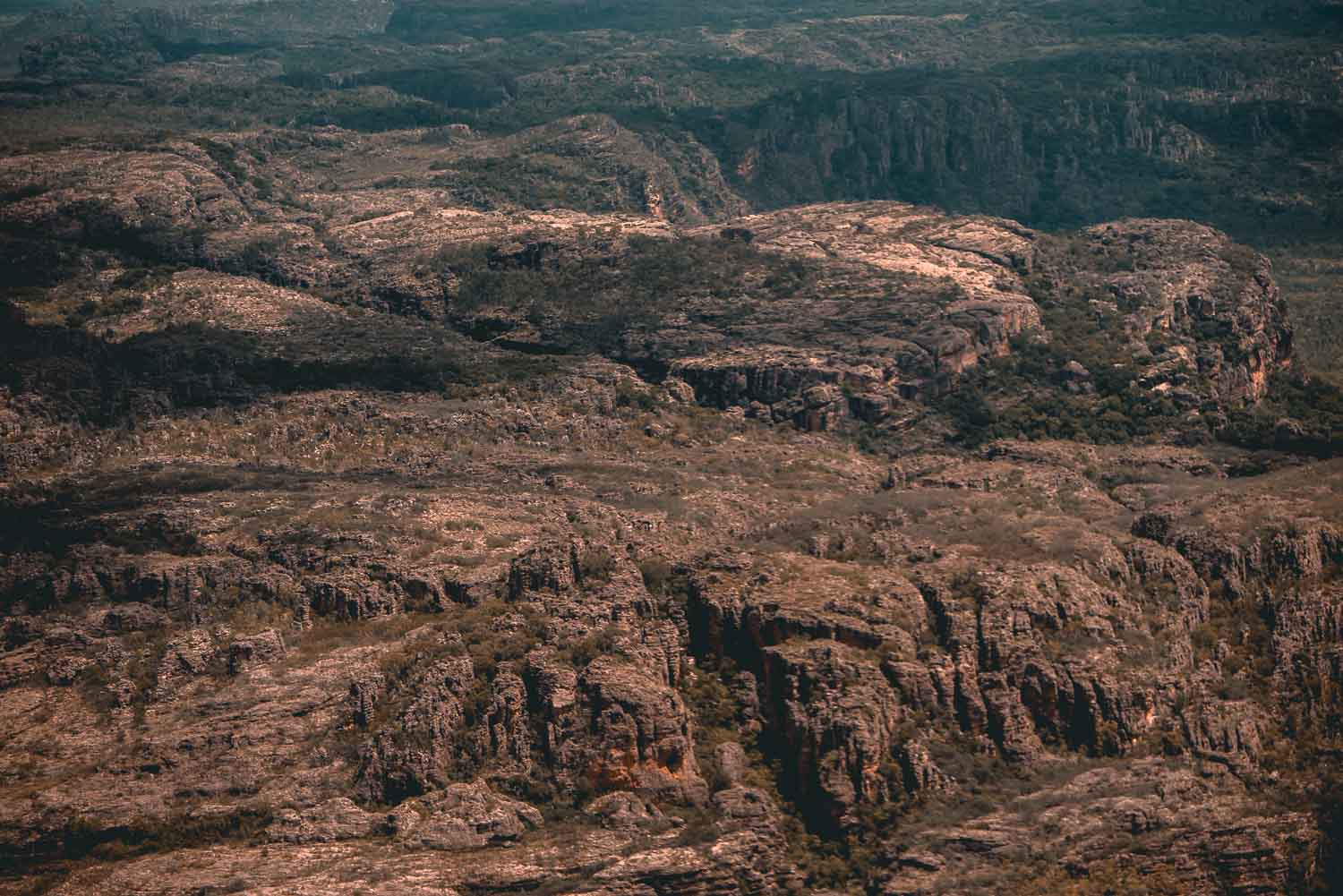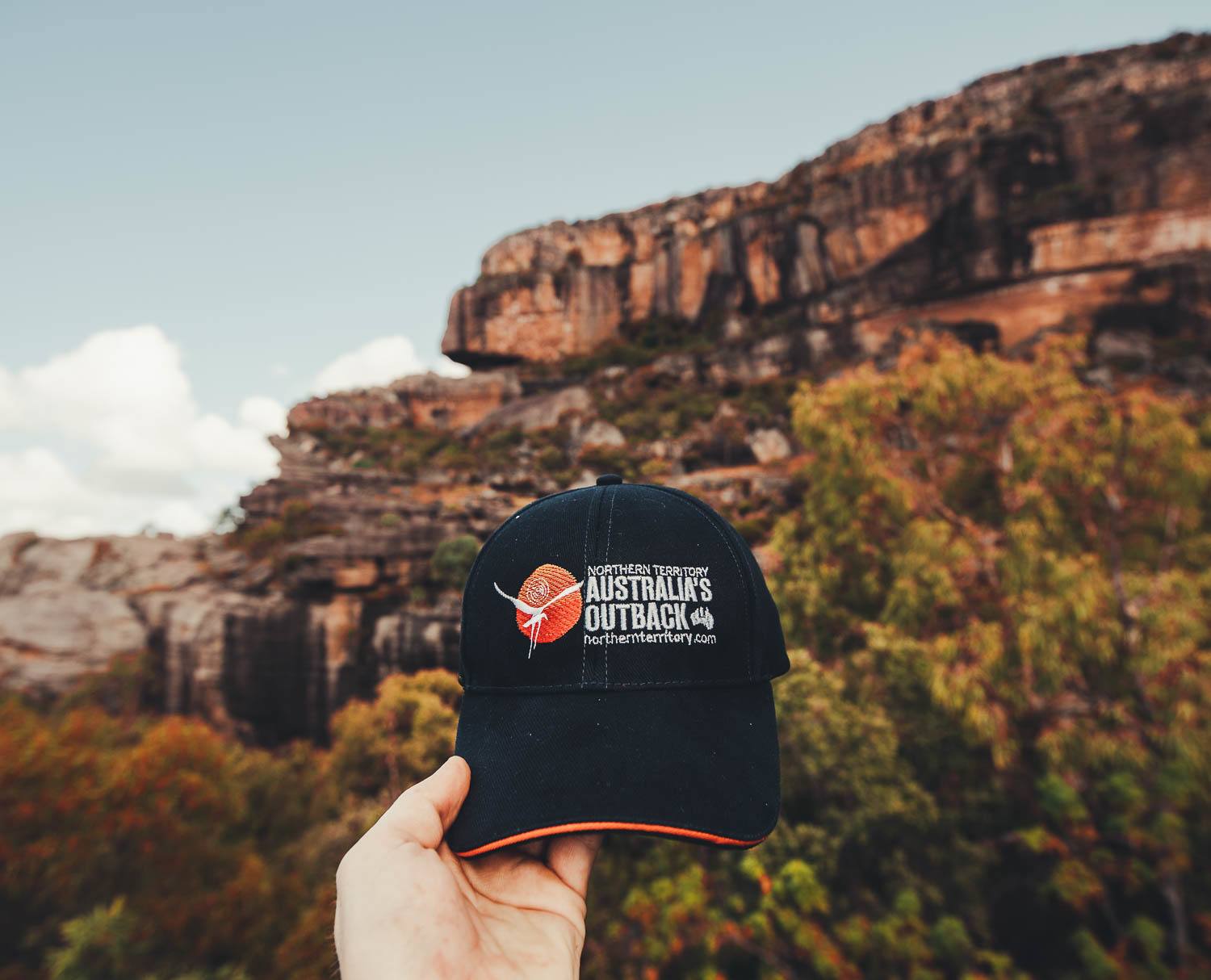 ---
Kakadu is definitely one of the major highlights of visiting the Northern Territory, and a region that I look forward to returning to in the future, since we only got to spend one day there due to a missed flight and subsequent forced itinerary change.
"Kakadu offers many experiences: bush walking, bird watching, cruising and swimming under waterfalls to four-wheel driving, camping, scenic flights and wandering through galleries of Aboriginal art 20,000 years old."
Check out this article on the Top 10 Things To Do in Kakadu National Park for more information. It's important to note that self-guided visitors are required to purchase a park pass to enter Kakadu National Park. Passes cost $25.00 per adult, are valid for 7 days, and can be purchased online here.
While my time in Kakadu was limited, I loved checking out Nourlangie Rock. It's home to some of the most famous and important Aboriginal rock paintings in the country and provides some epic views of the landscape.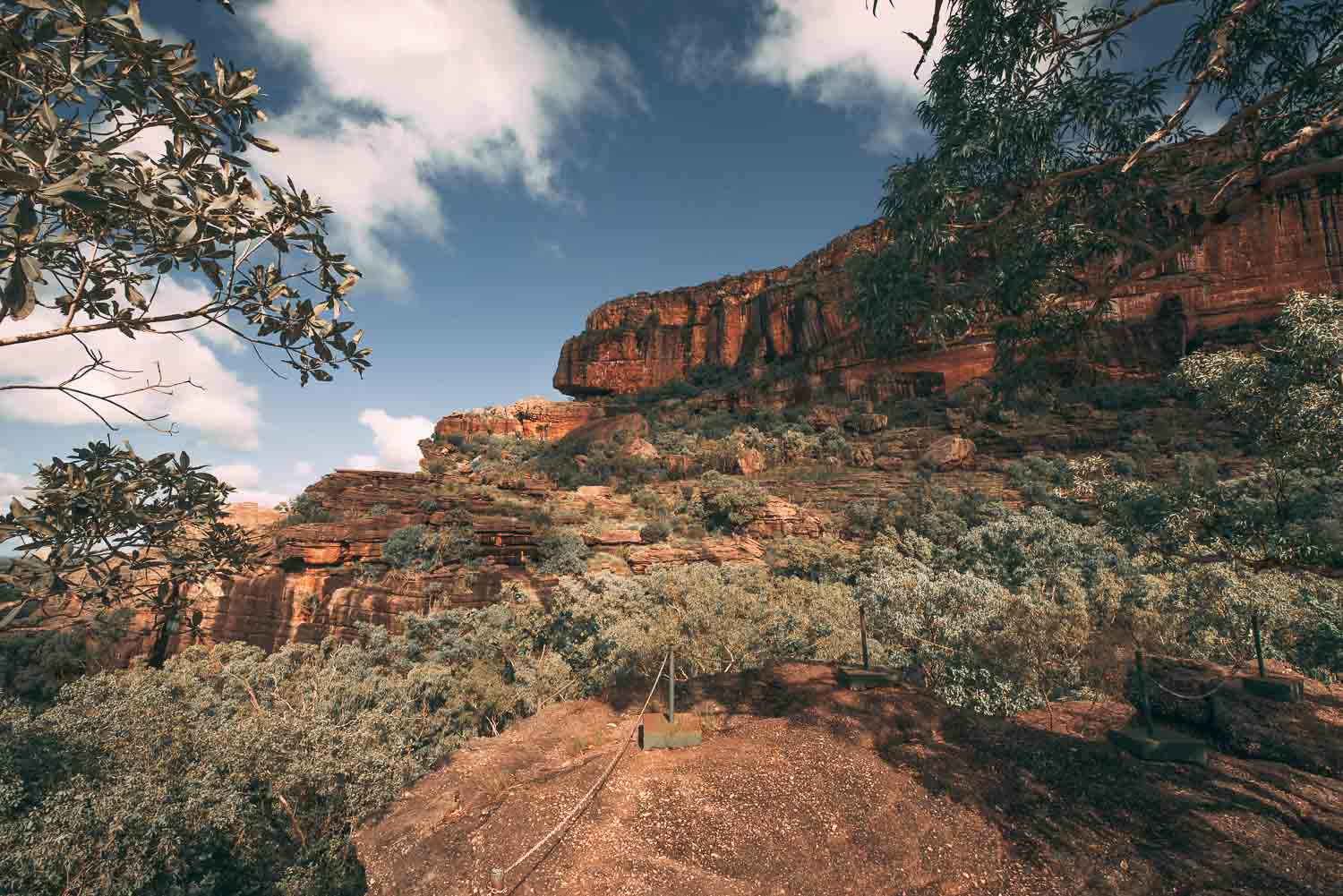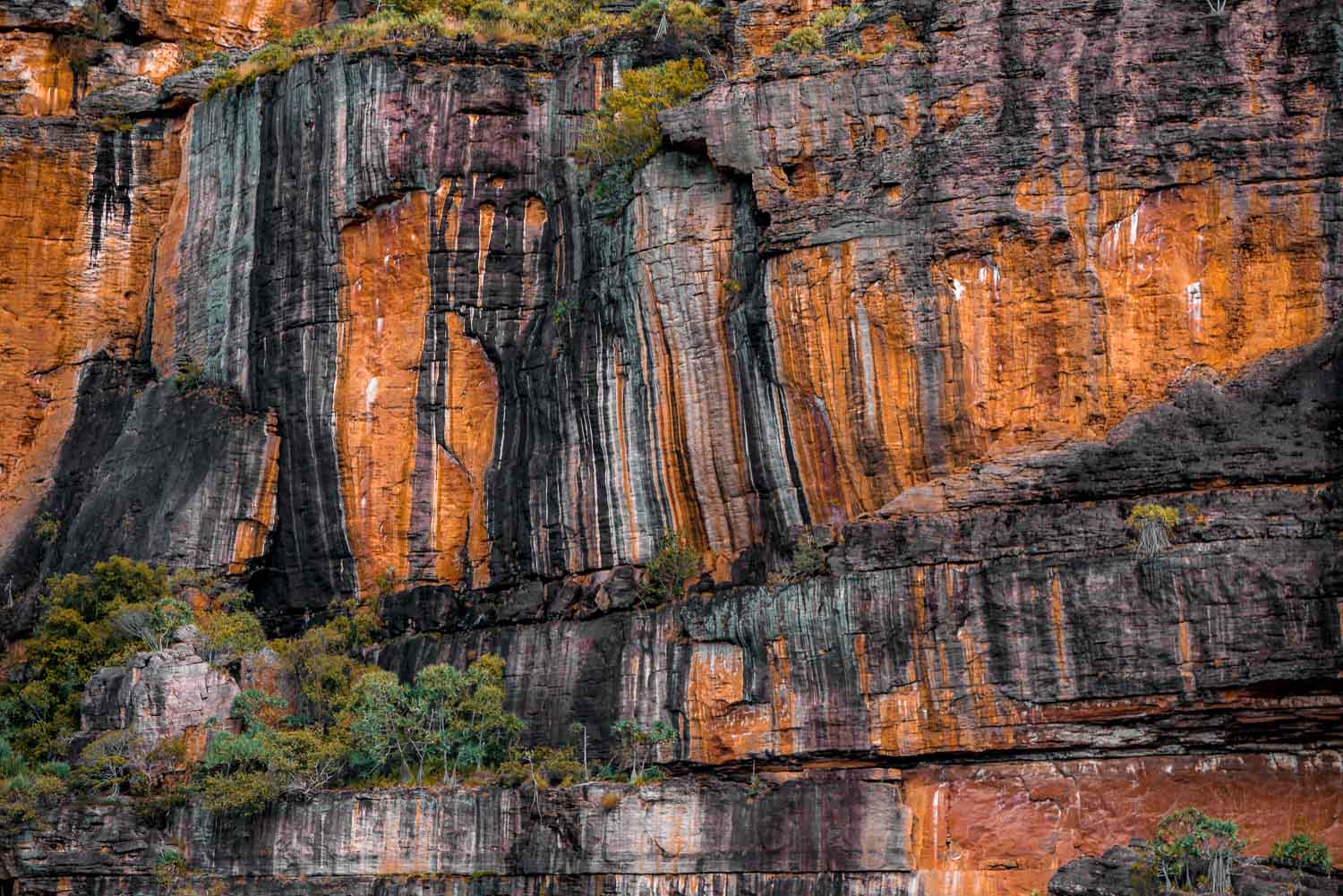 ---
I do think that the best thing you can do in Kakadu National Park is to book a 30/60-minute scenic flight with Kakadu Air. While this activity isn't for everyone (motion sickness and vertigo people should avoid), the aerial views of Kakadu are simply stunning. You can book a 30-minute scenic flight for only $150 AUD ($110 U.S.D), which I personally think is an amazing deal for this unforgettable experience. We ended up taking two scenic flights over Kakadu National Park (as they were charter flight transfers to Arnhem Land), and I would highly recommend it. It really gives you a bird's eye perspective of how vast and unique this part of the world is!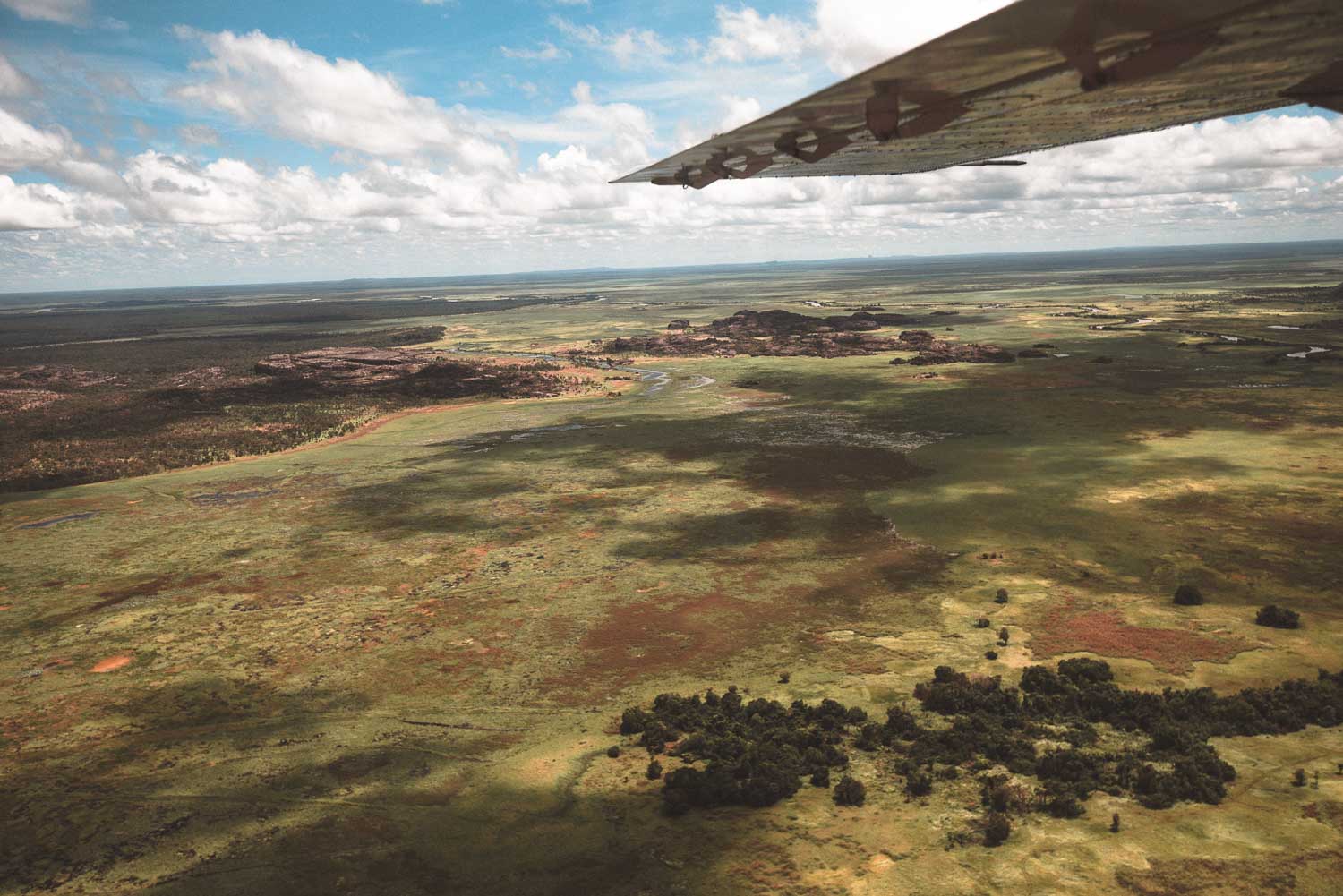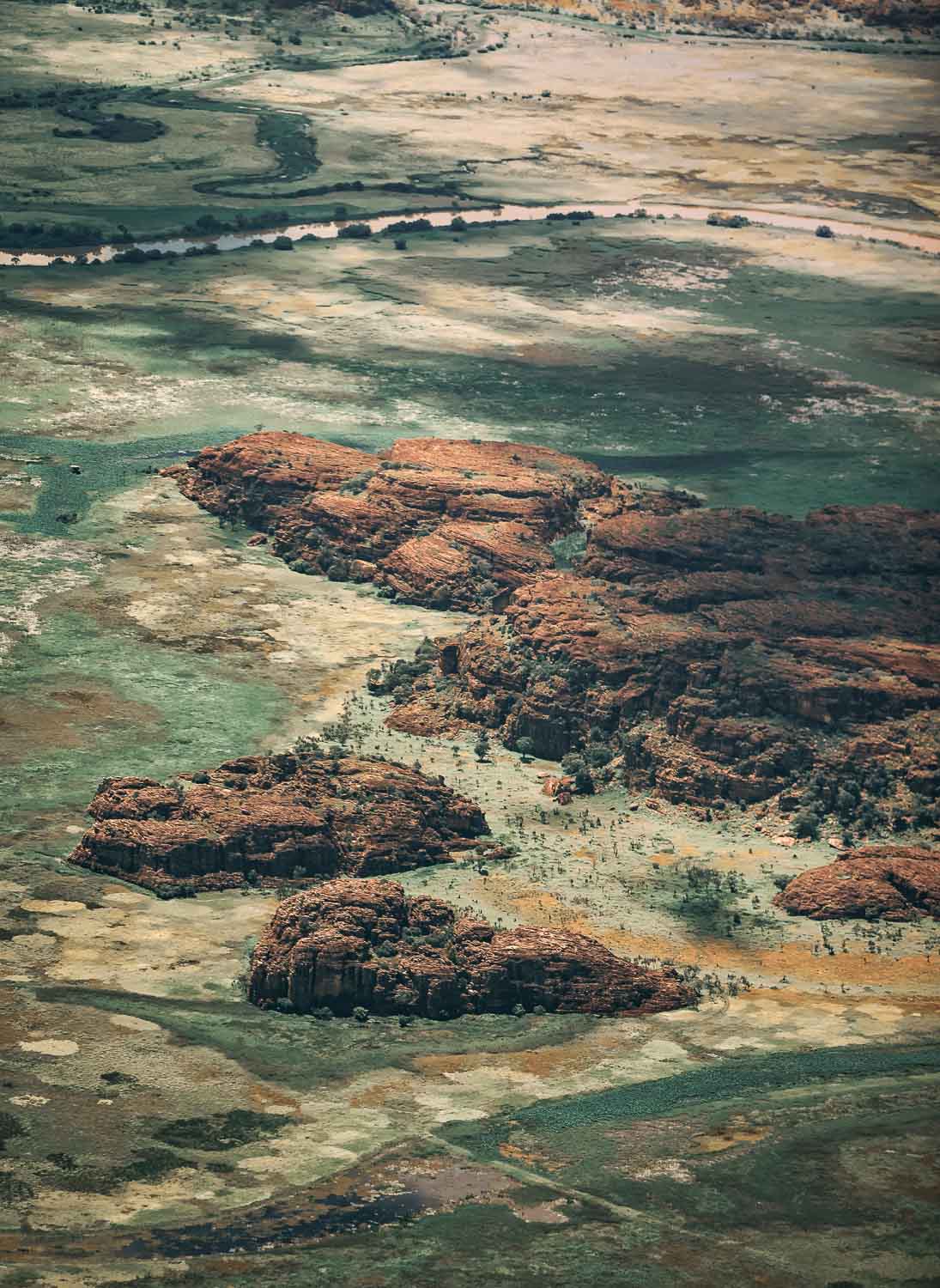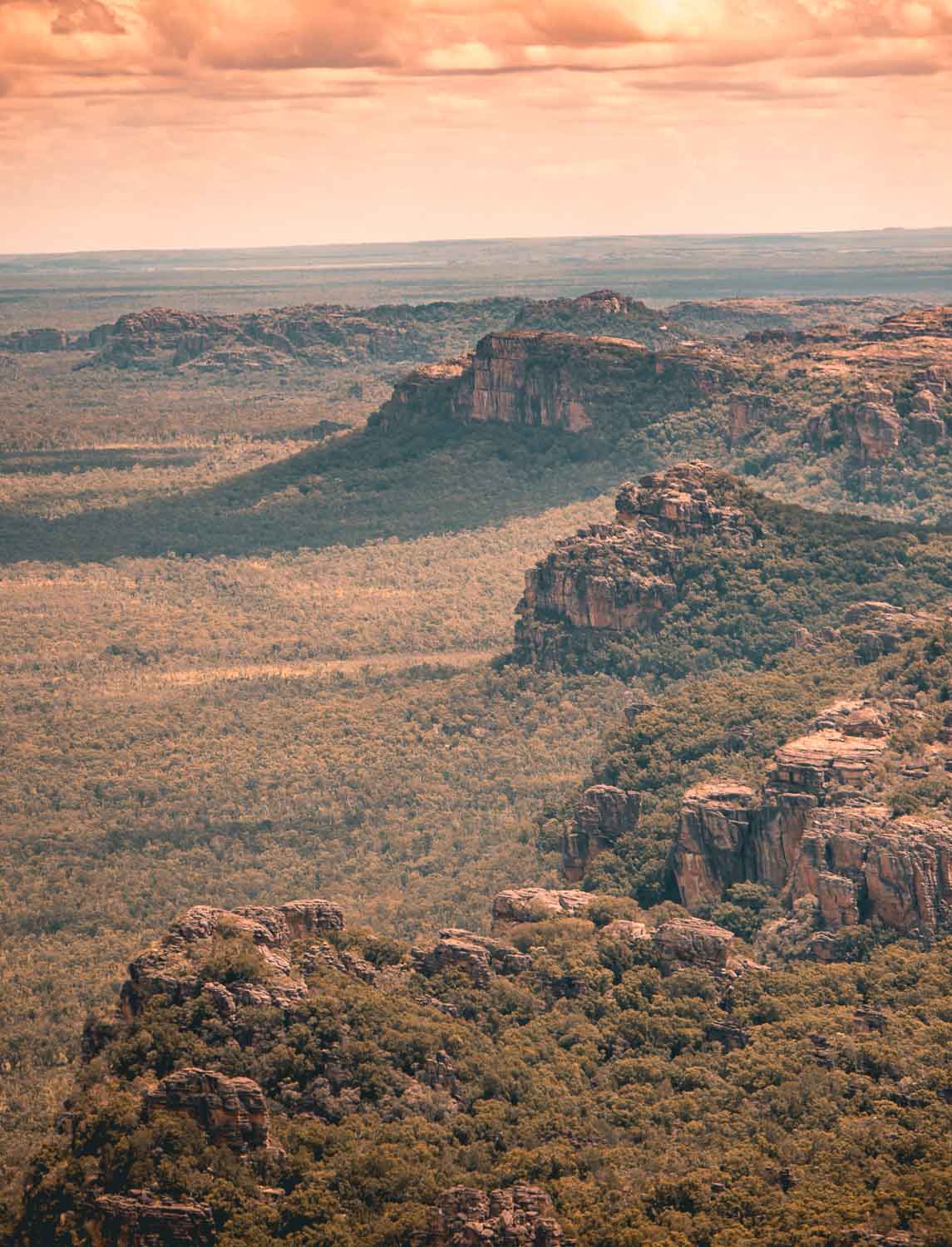 ---
Days 5-7: Arnhem Wildlife Safari Adventure
Welcome to Australia's Final Frontier…
Ohh, Arnhem Land — where do I even begin…?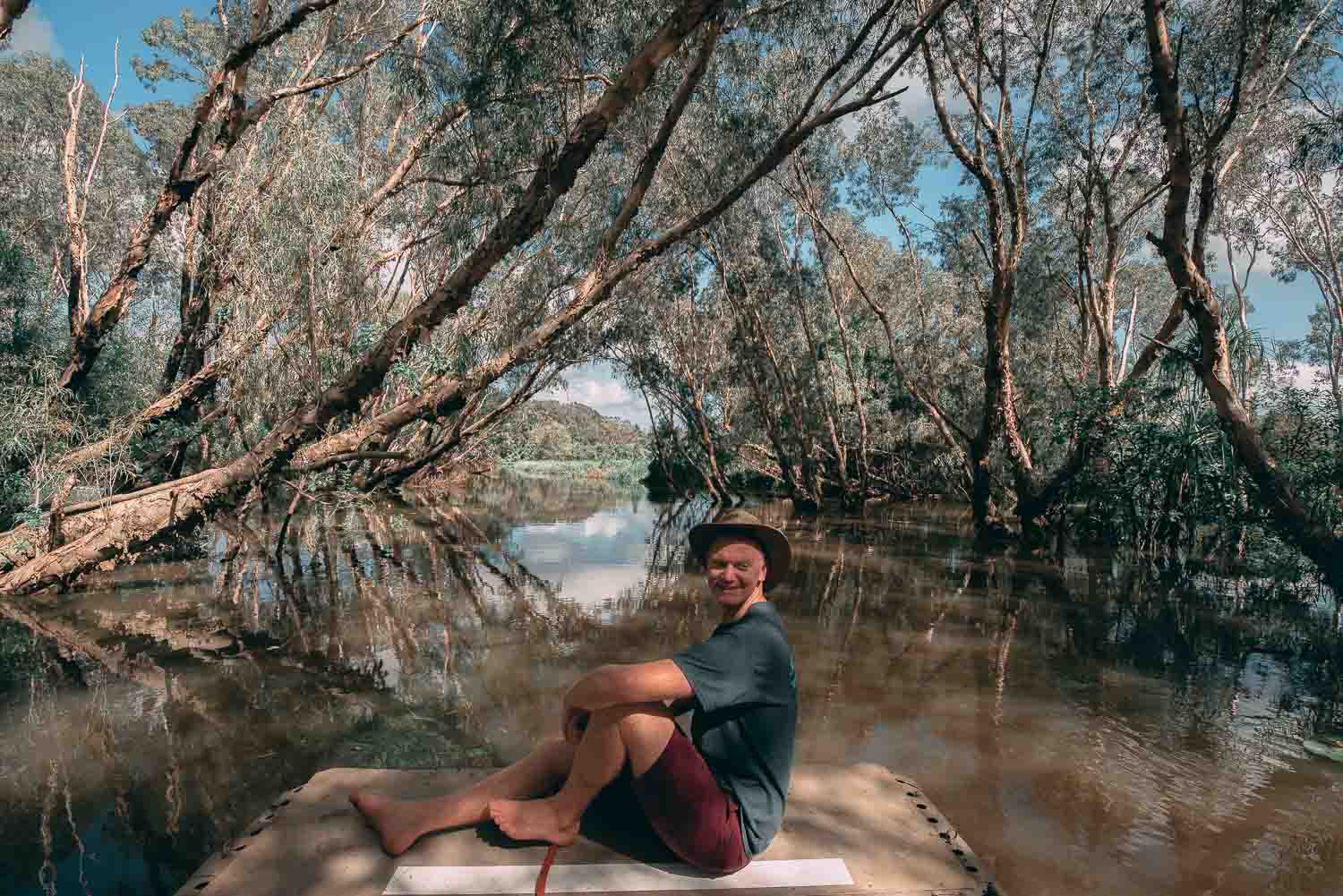 Well, I guess I should start by saying that this particular experience staying at Davidson's Arnhemland Safari Lodge was definitely my favorite aspect of the entire trip in the Northern Territory – and that's really saying something!
After all my time spent living and traveling around Australia a few years back, I had somehow never heard of this remote Outback region. I had no idea what to expect, but it really did leave a strong impression on me.
Everything from the scenic private charter flights we took to get there, 4WD Jeep adventures, mangrove boat rides, cozy glamping huts, delicious food, passionate tour guides, and starry night skies all made this experience truly unforgettable.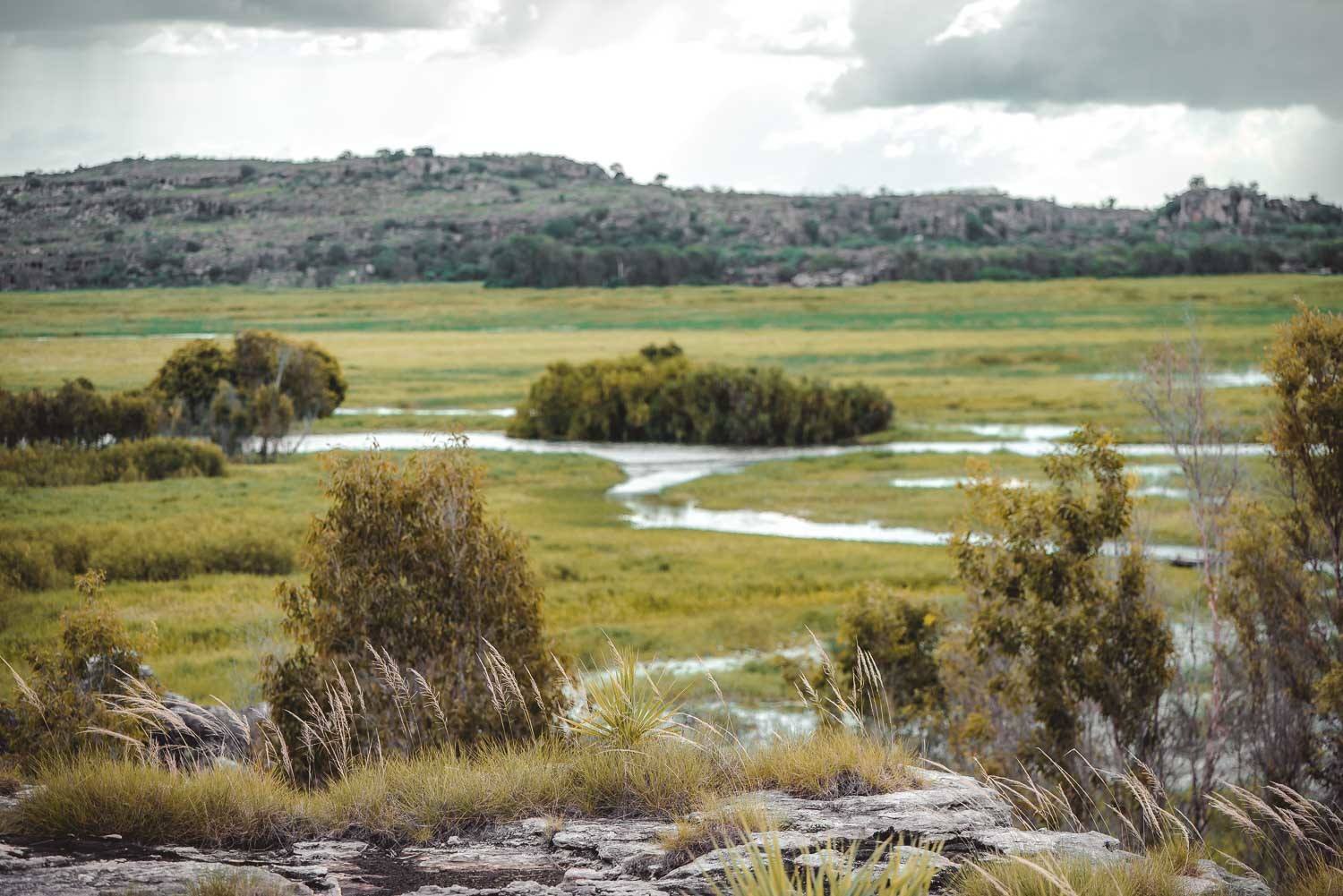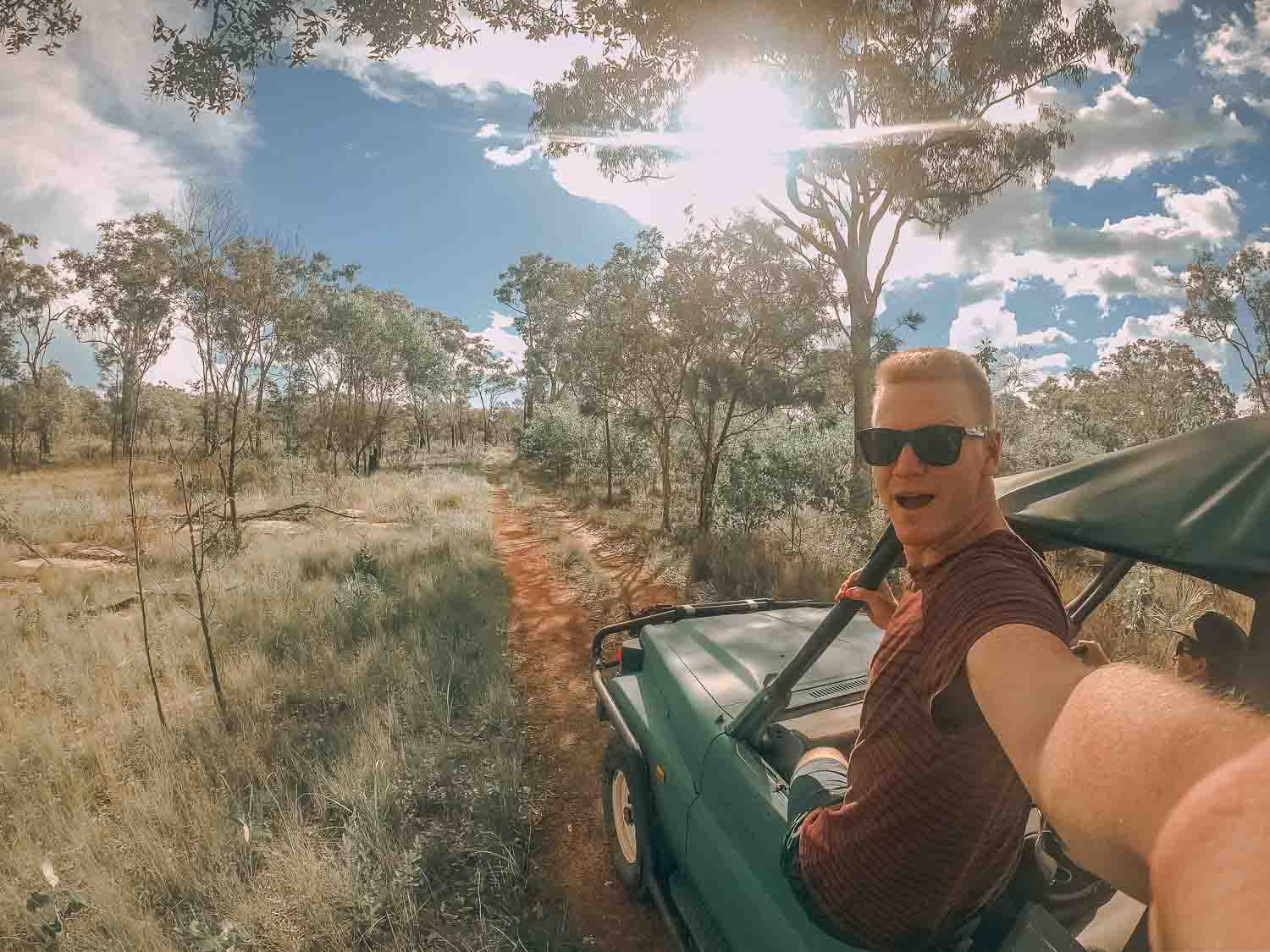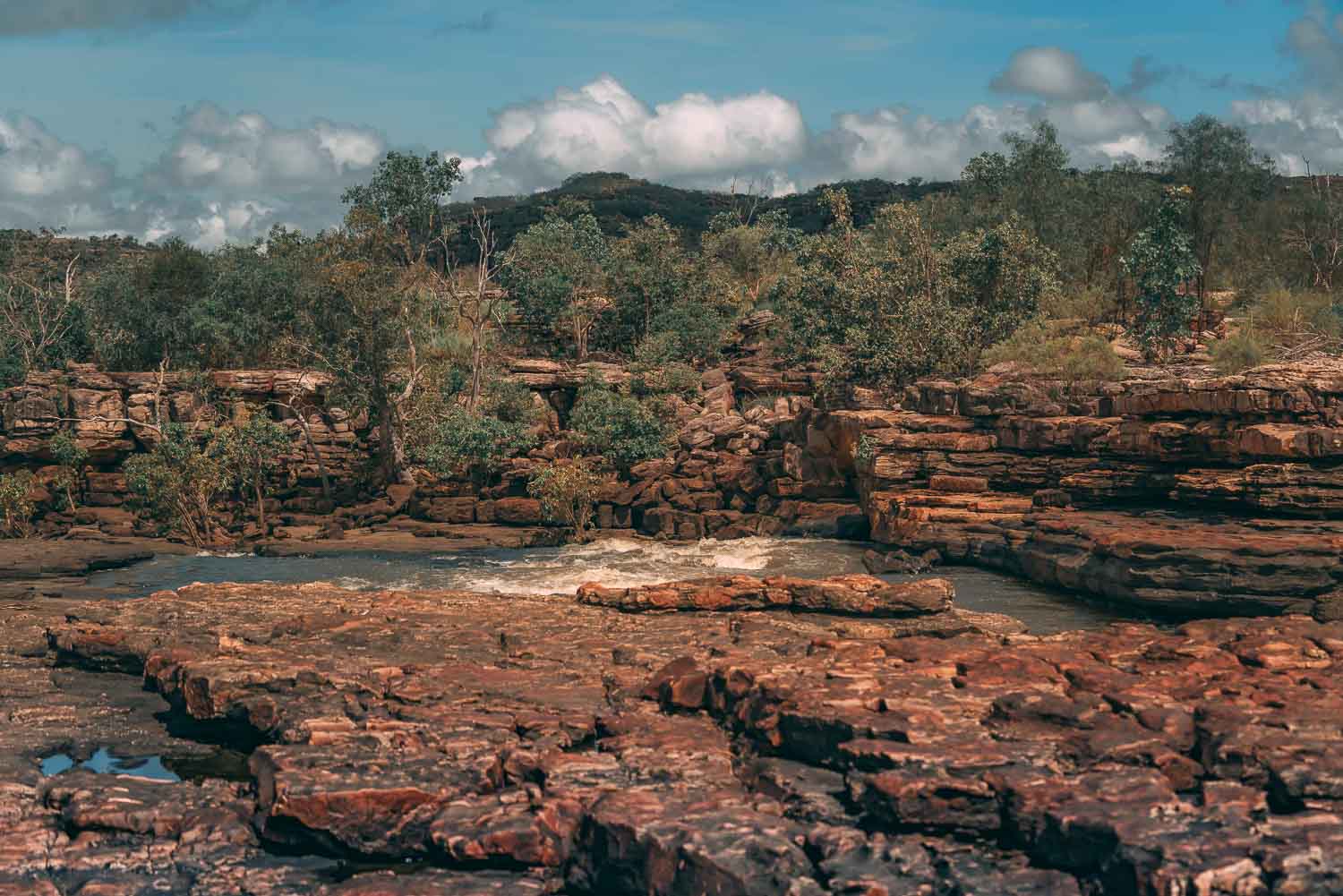 There's a whole lot more I could say about this experience, but I'll let my photos do the talking for me. While it certainly is an expensive adventure, it's worth every damn penny. Trust me.
I really think that no trip to the Northern Territory is complete without booking a wildlife safari through Arnhem Land, but I understand that might be difficult for some, as it's quite an expensive activity and not necessarily doable for those traveling on a shoestring. A round-trip airfare costs $500 AUD per person (leaving from Jabiru Airport), and the safari costs $900 per person/per night for this all-inclusive experience. Save up your hard-earned cash for this one!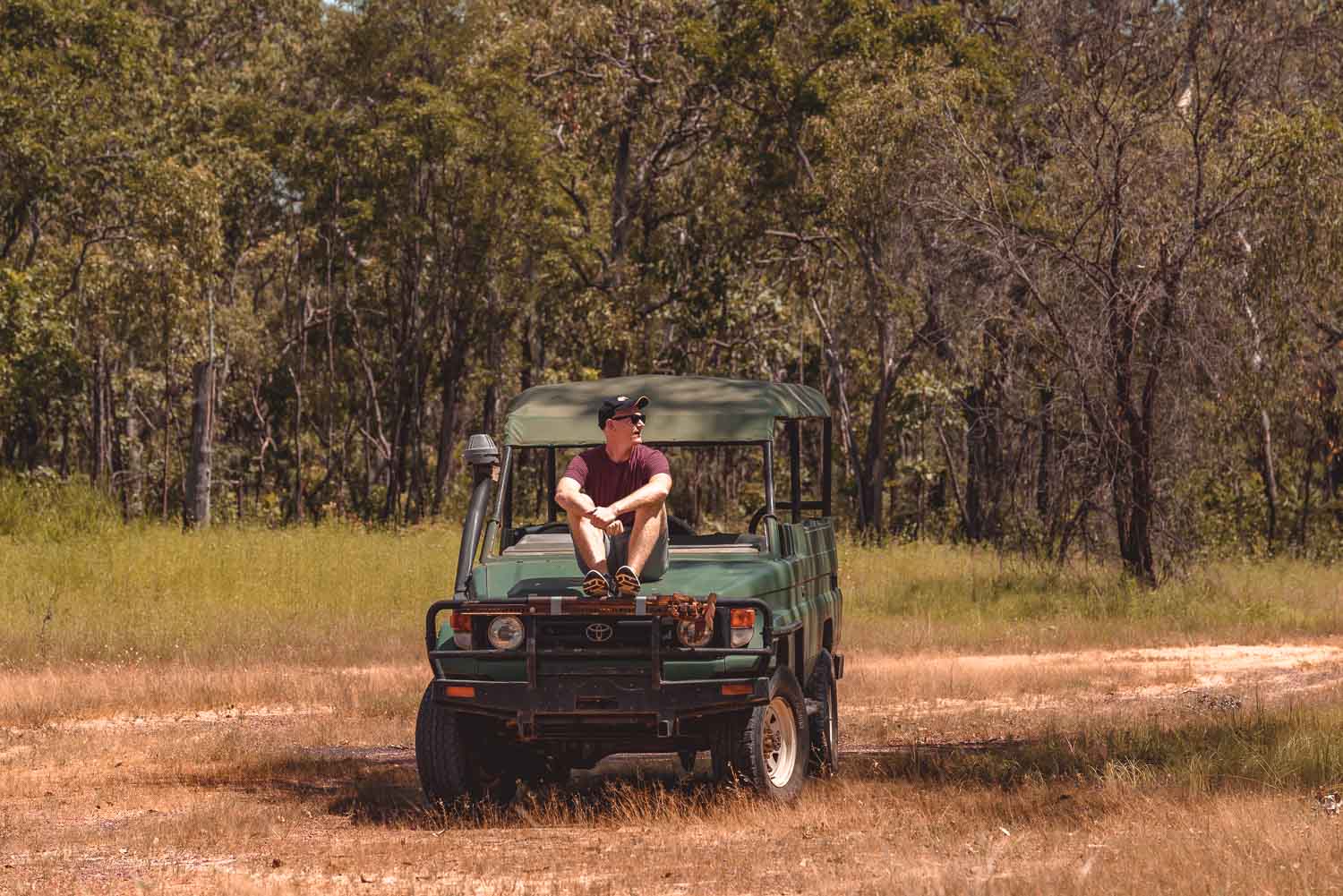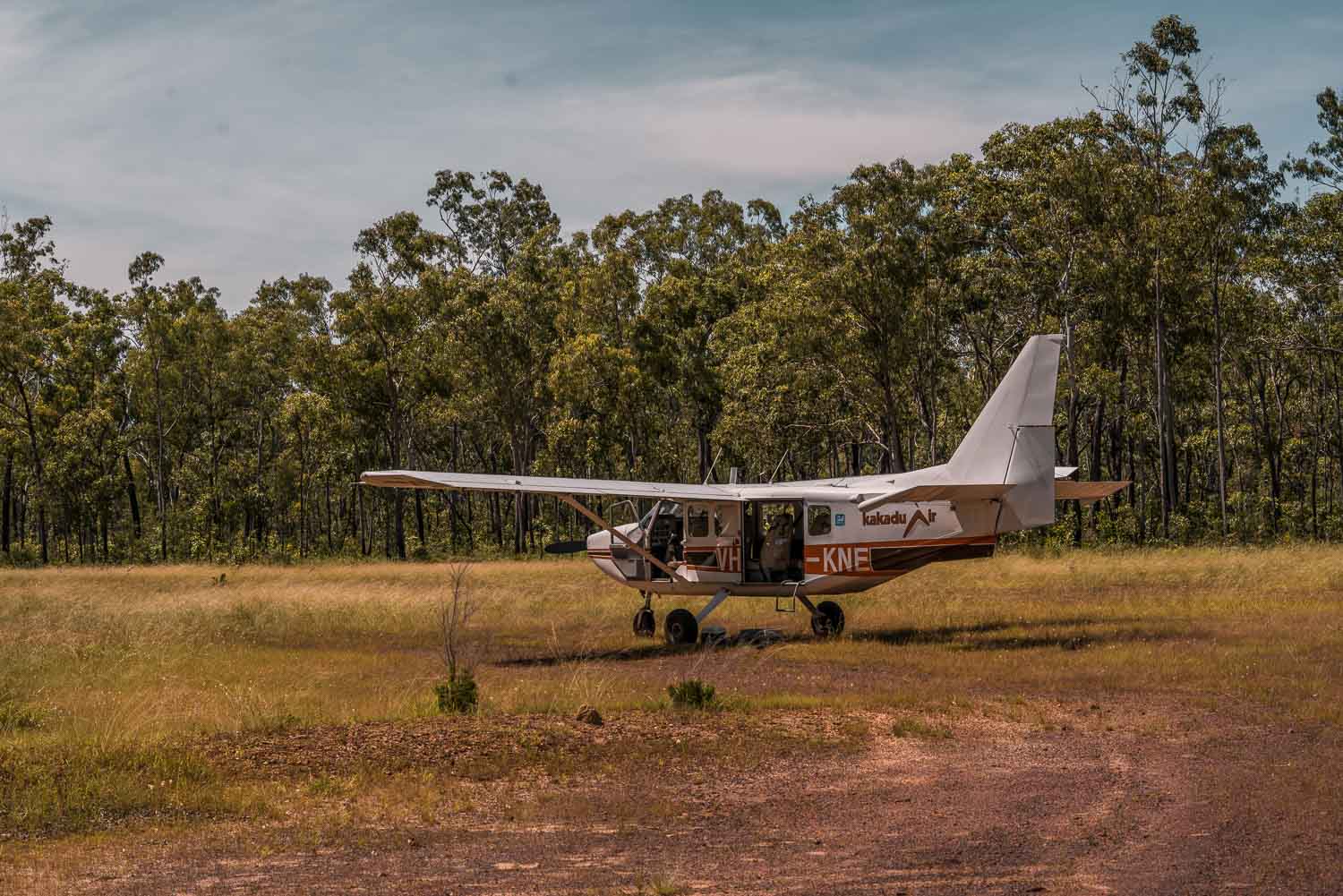 ---
Days 8-9: Katherine Gorge & Hot Springs
After arriving back from Arnhem Land, it's time to make the long yet scenic drive down to the small town of Katherine. There's pretty much only one reason to visit this tiny Outback town though, and that's simply to marvel at the majestic Katherine Gorge, which is well worth the drive!
Before soaking up those gorgeous views though, make a quick stop at the Katherine Hot Springs for a refreshing morning swim. This place is as relaxing as it is beautiful, and the water could not feel any more perfect, especially amidst the harsh NT heat.
Important Note – The hot springs are typically open March/April through the end of the dry season (October/November)! Make sure you do your research beforehand to make sure you can go visit them during your trip!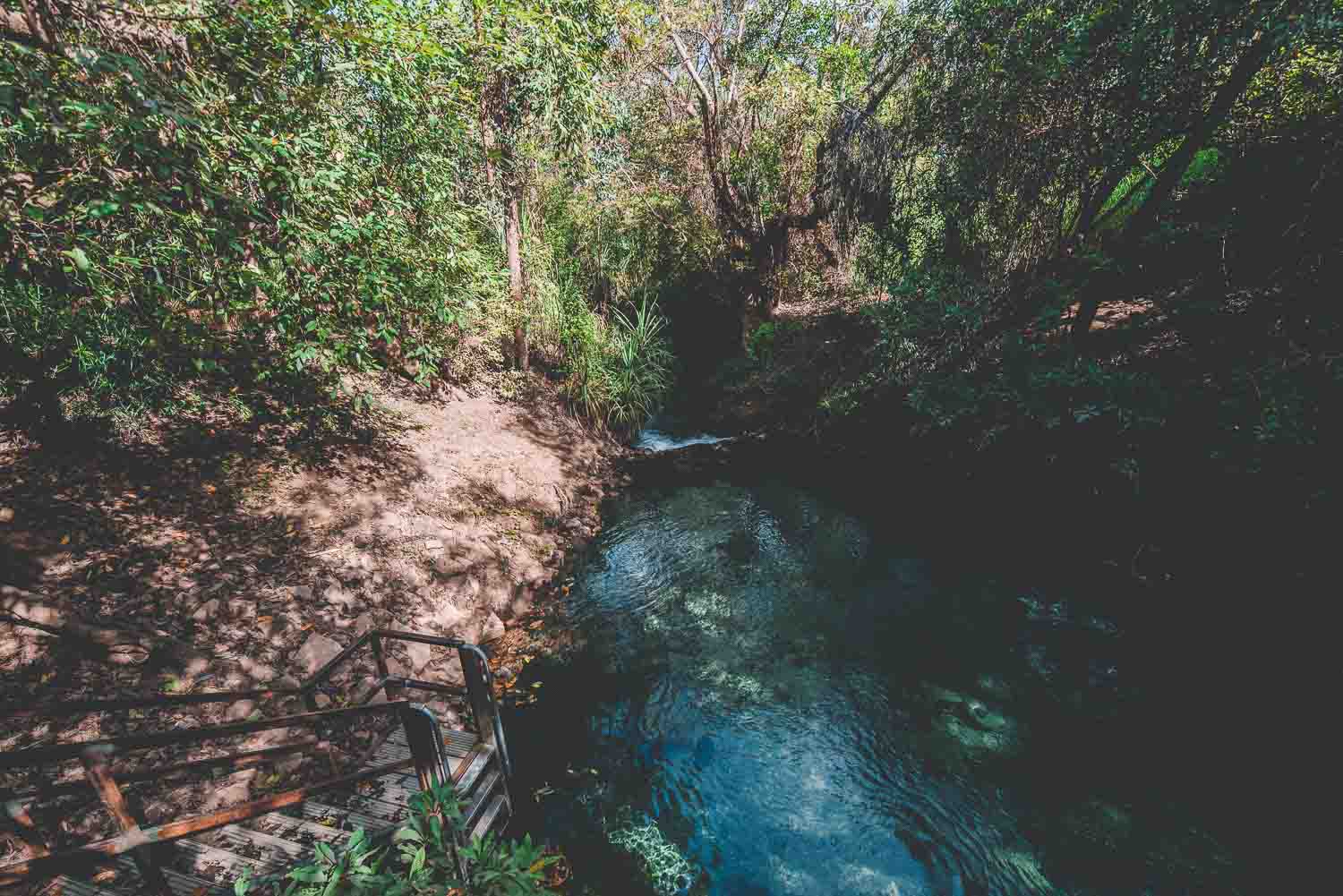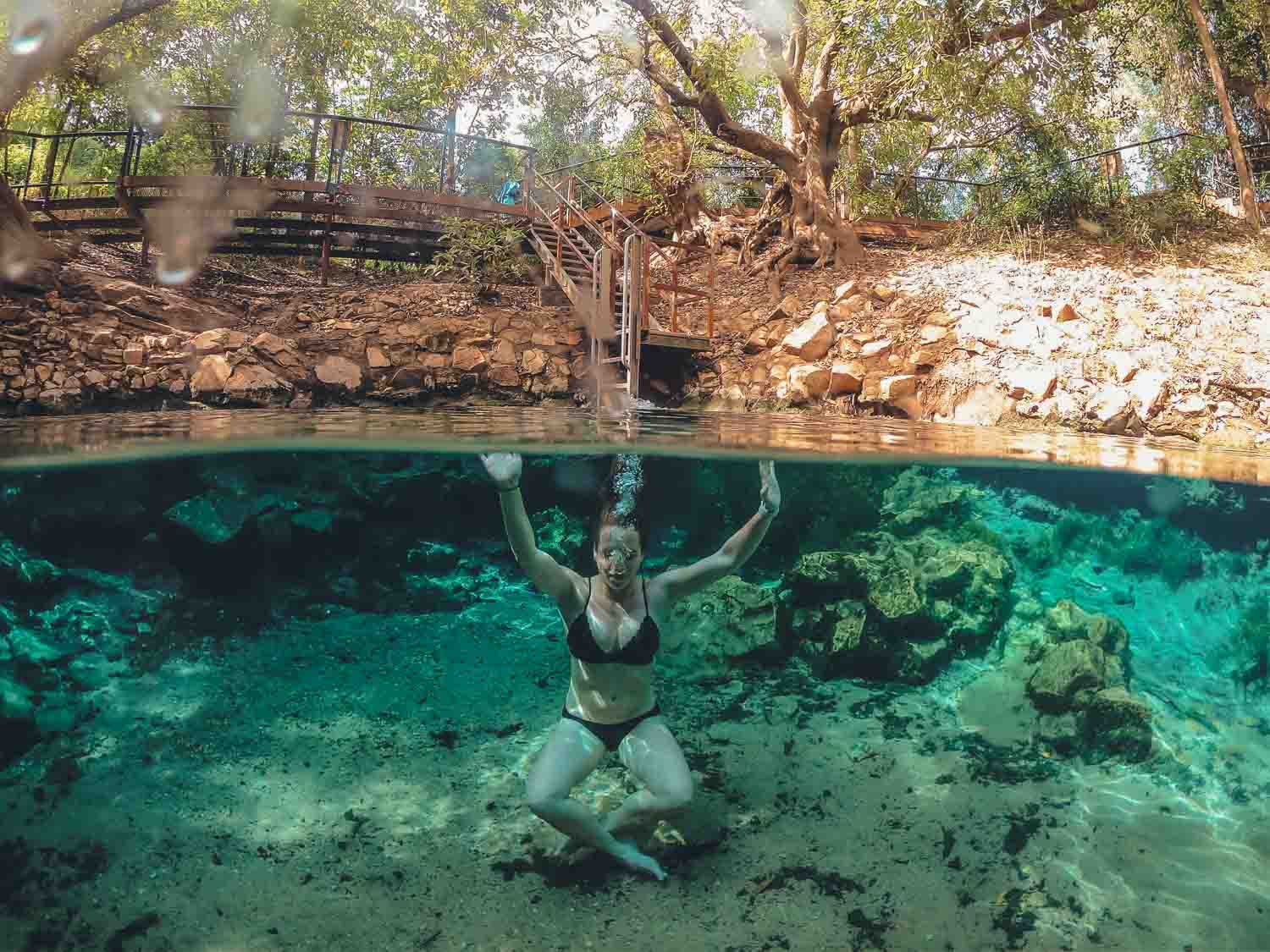 ---
Katherine Gorge Lookout
Now that you're feeling all relaxed after a hot springs session, it's time to put your muscles to work and hike to the peak of this stunning lookout overlooking a section of the Katherine Gorge. The trail is a bit steep, and you'll be sweating up a storm in the humidity, but it's definitely a spectacular view and worthy of some envy-inducing snapshots to show the folks back home. Just be sure to wear your best walking or hiking shoes.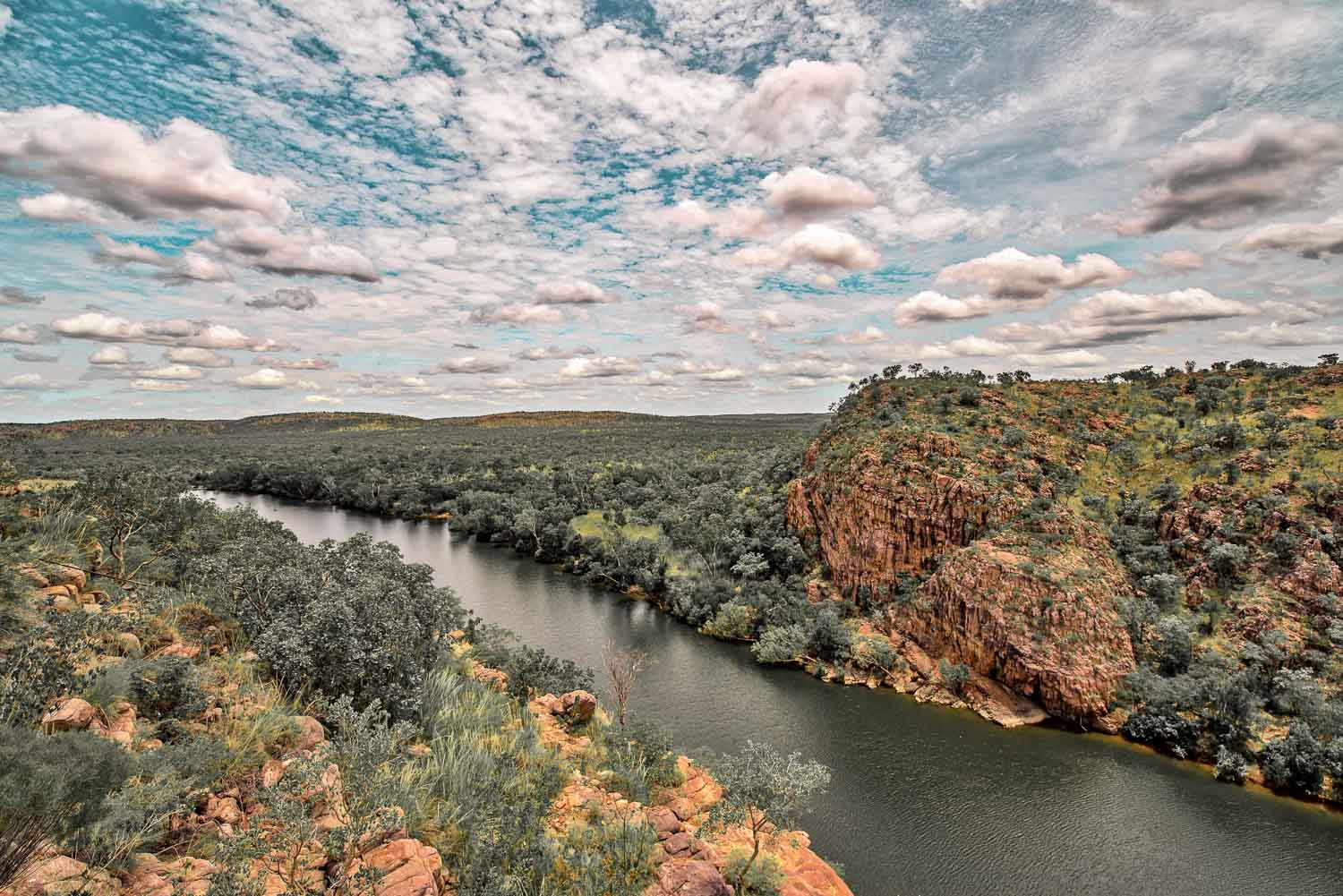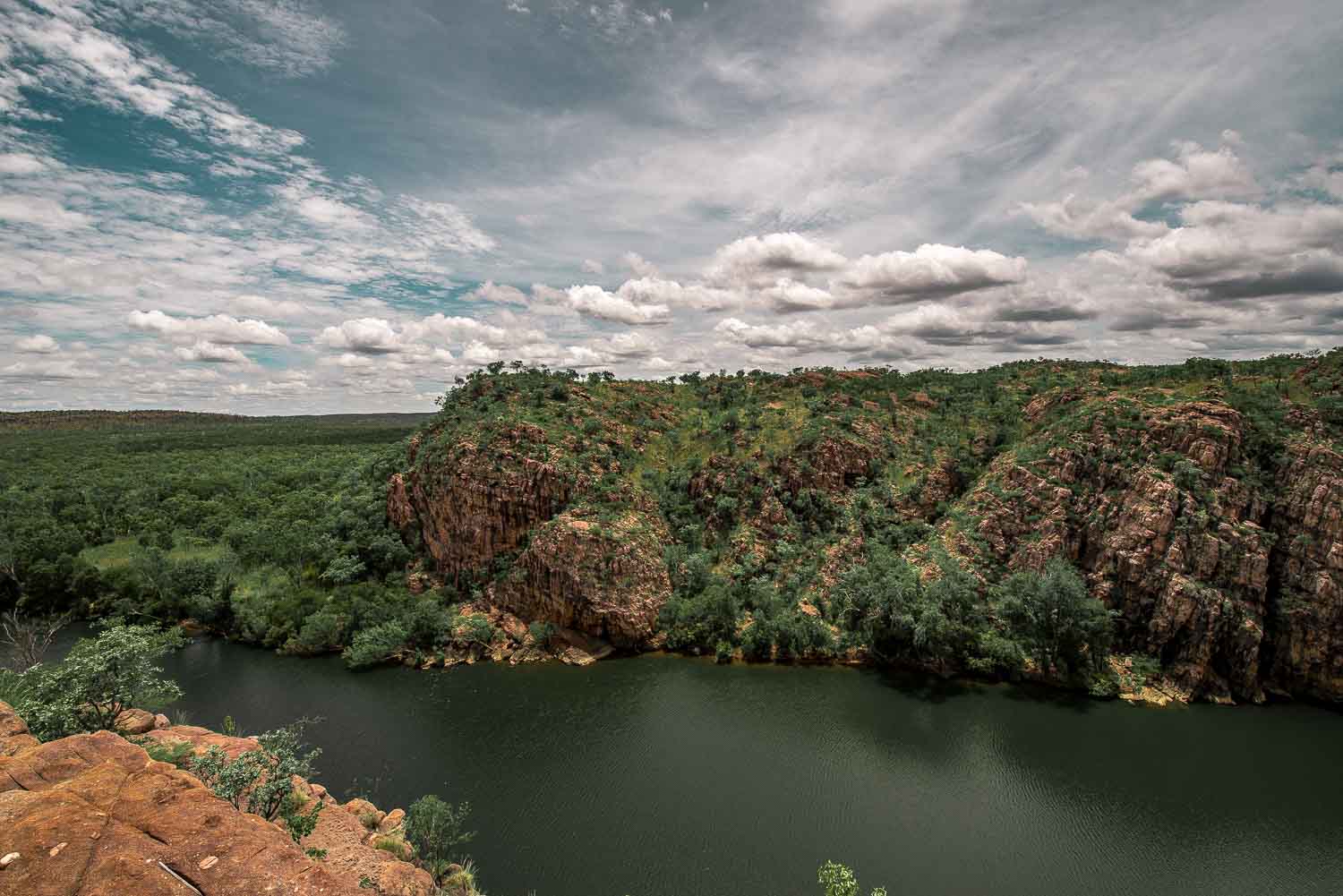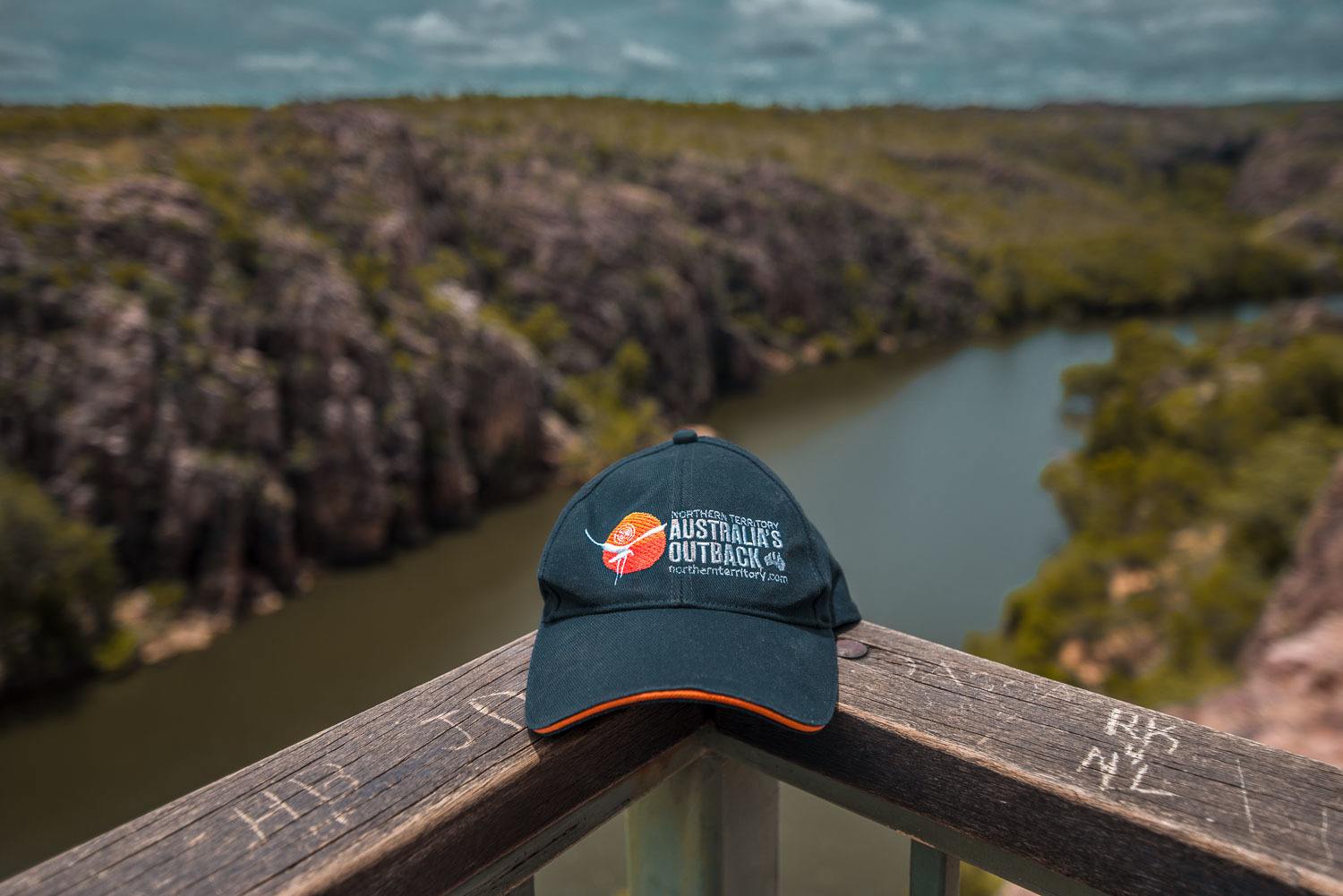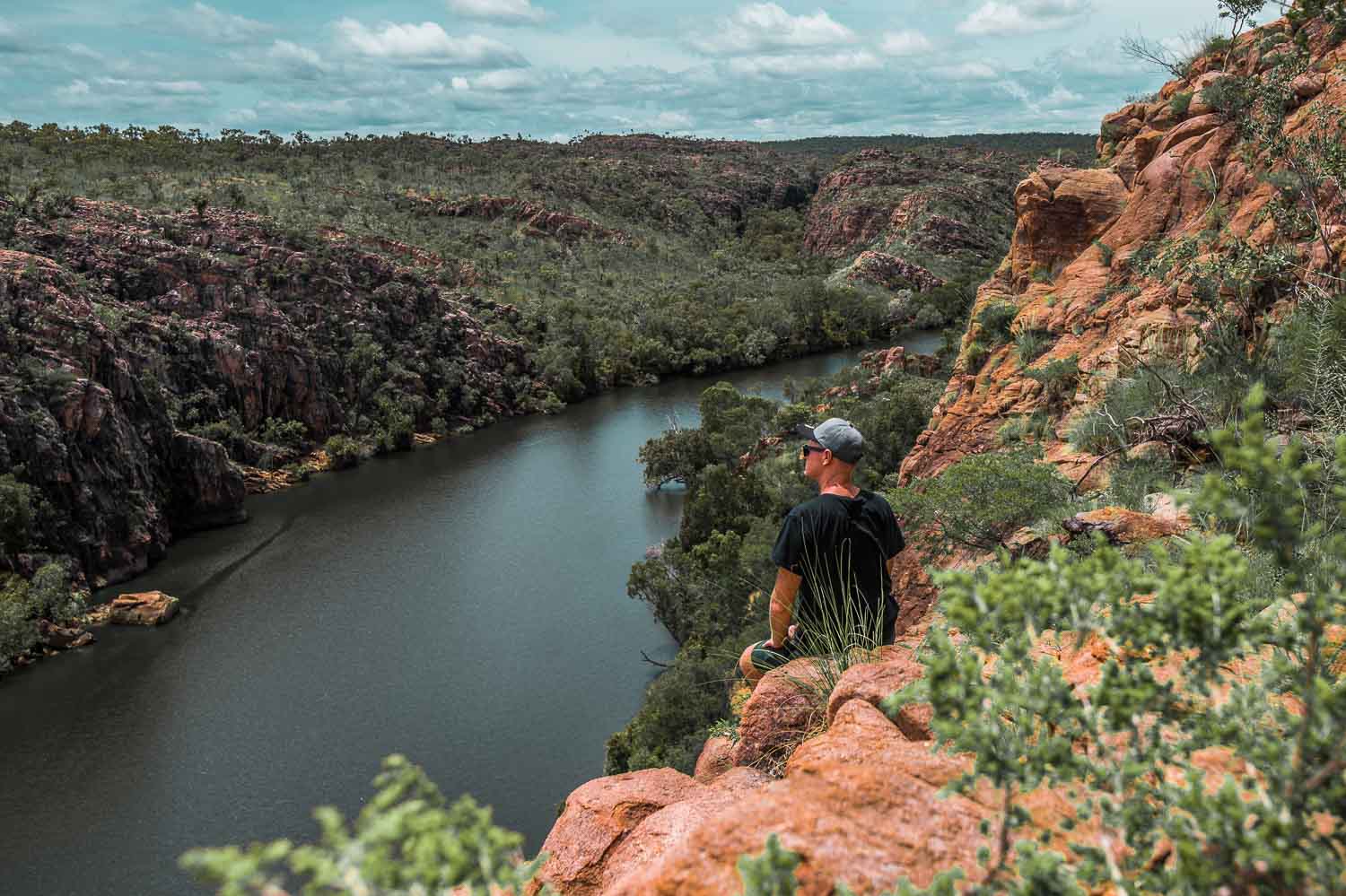 ---
Katherine Gorge River Cruise
Located in the Nitmiluk National Park, the Katherine Gorge is actually a network of 13 separate gorges carved out by the Katherine River. It has a deep significance for the local Jawoyn people, which you'll learn all about during your 2-3 hour cultural cruise.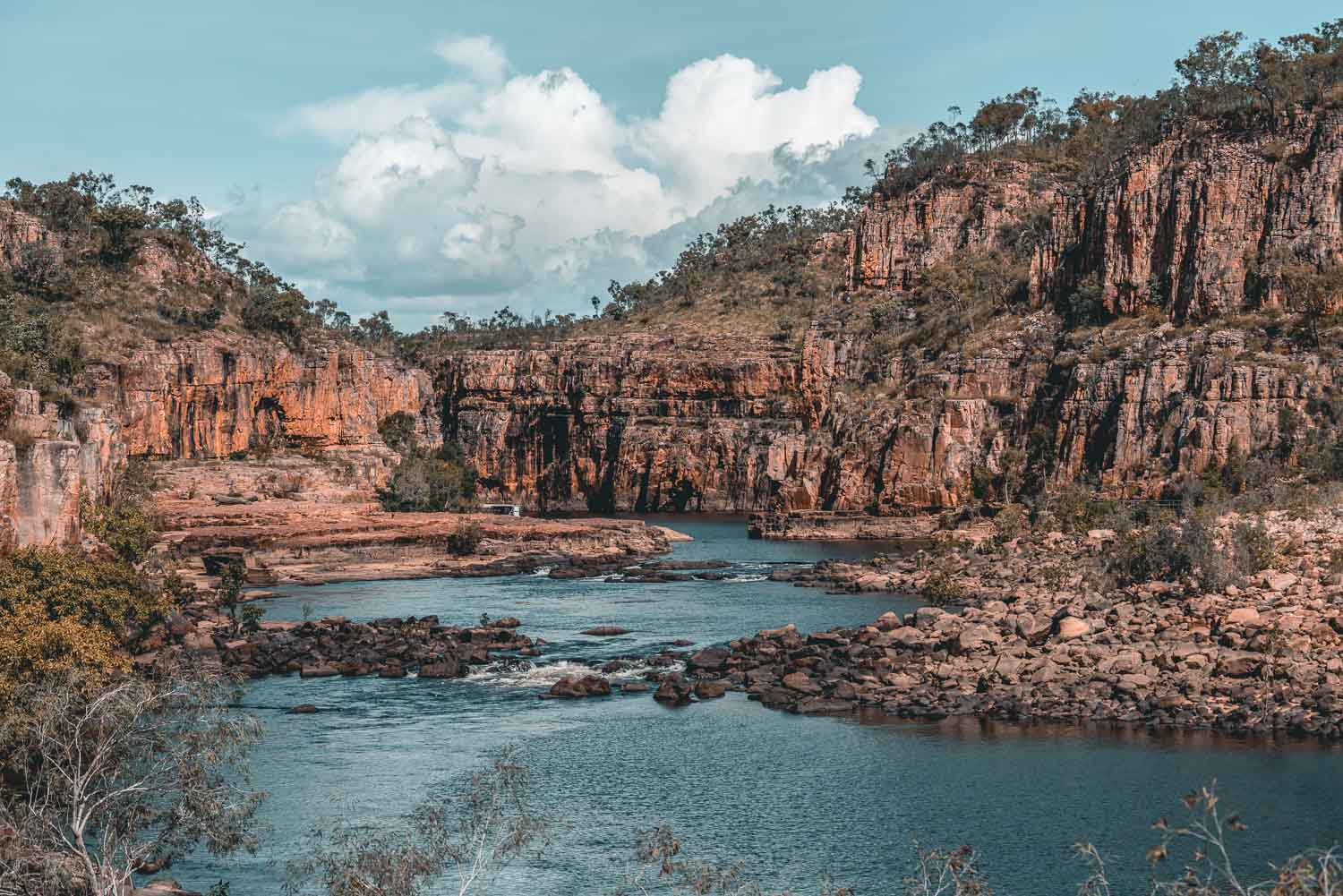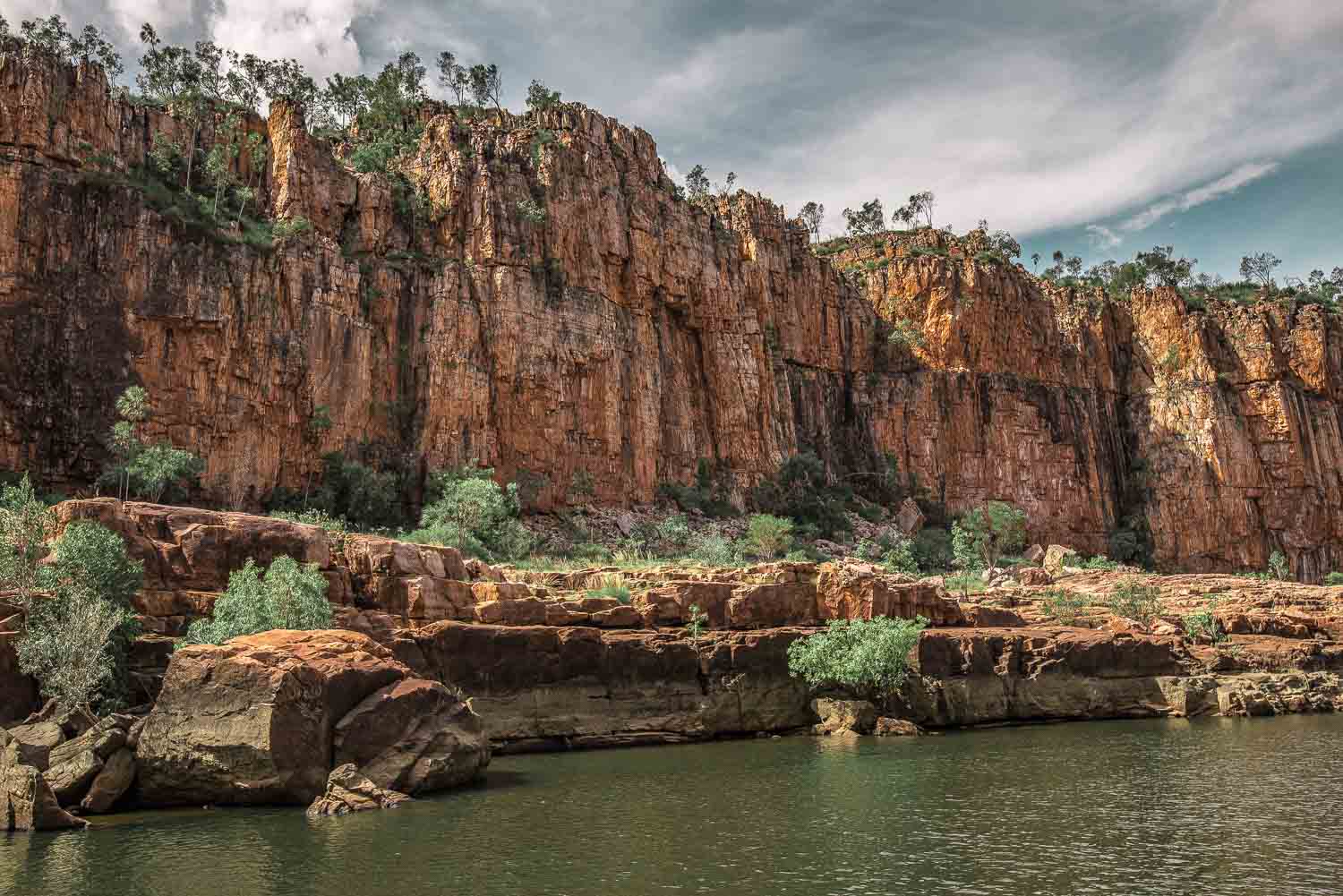 All I have to say is… WOW! This place is indescribable, and I definitely wasn't ready for my time here to end. As our boat slowly cruised up and down the river, I was in a complete state of awe gazing up at the towering gorge walls surrounding us. It's hard to explain, but Katherine Gorge is one of those places where pictures just won't do it justice. Having seen it for myself, I now consider it to be one of Australia's must-see natural landscape sites.
Since we traveled during the off-peak season, we only had access to two of the gorges, but I guess that just gives me a decent excuse to return in the future and experience this breathtaking location all over again. I'd love to witness Katherine Gorge during the peak of the wet season, where the walls are awash with natural waterfalls.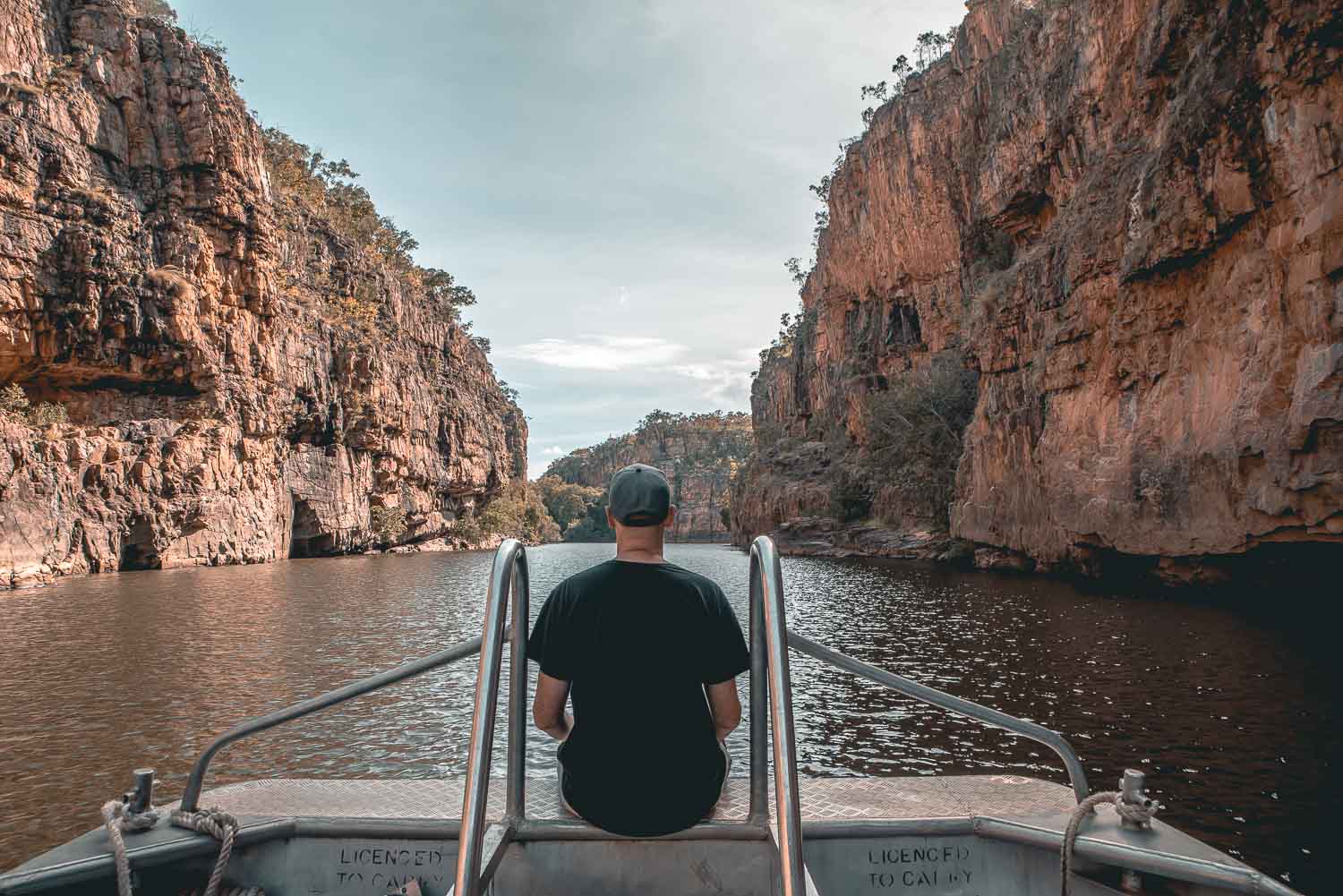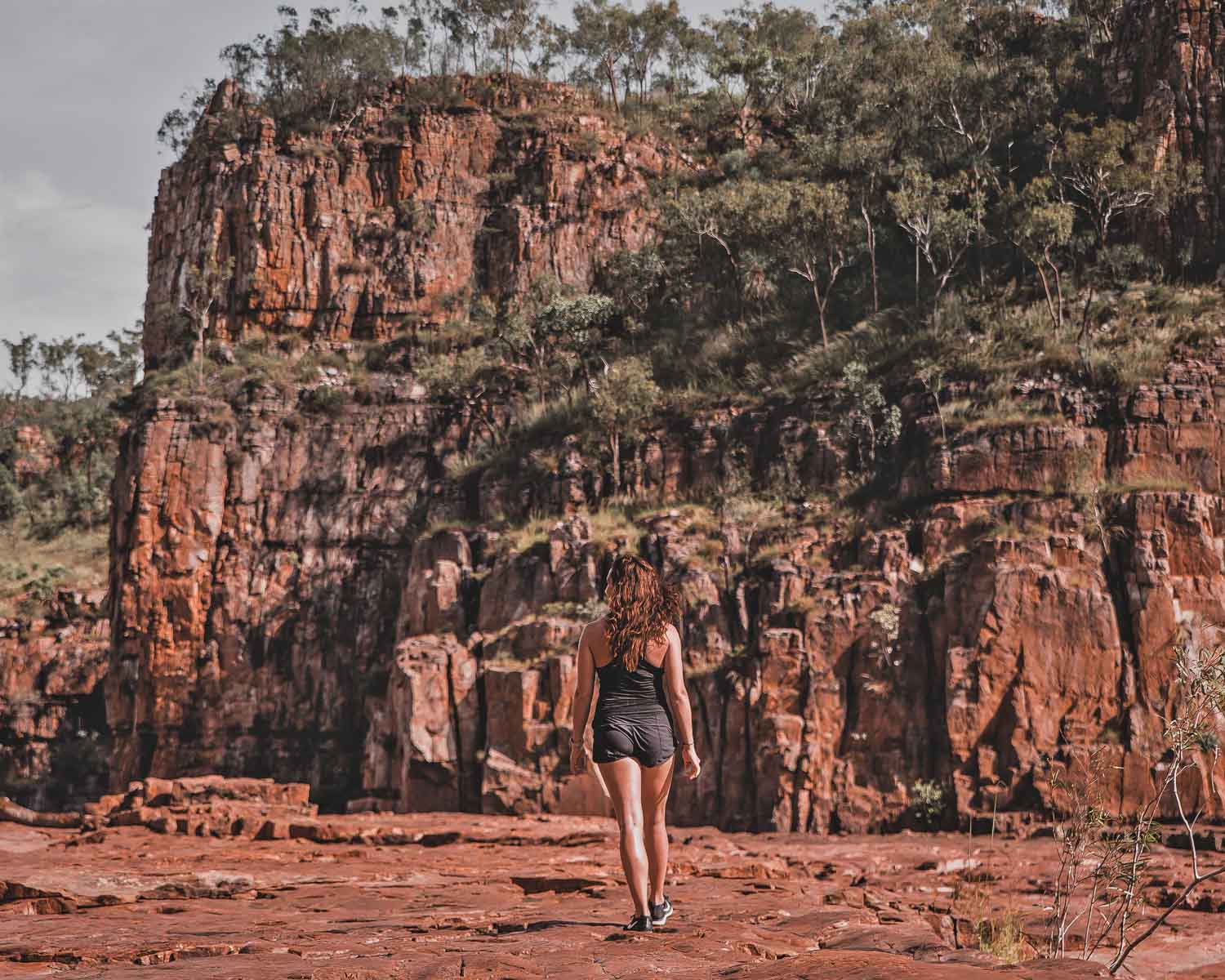 ---
Where to Stay in Katherine
Knotts River Crossing: This is where we stayed for our two-night stay, and it'll provide everything you need for a comfortable stay. While it may not be the fanciest or luxurious, it's budget-friendly and has an awesome pool that will certainly come in handy. Also, the food (*cough* dessert) at the hotel restaurant is spectacular!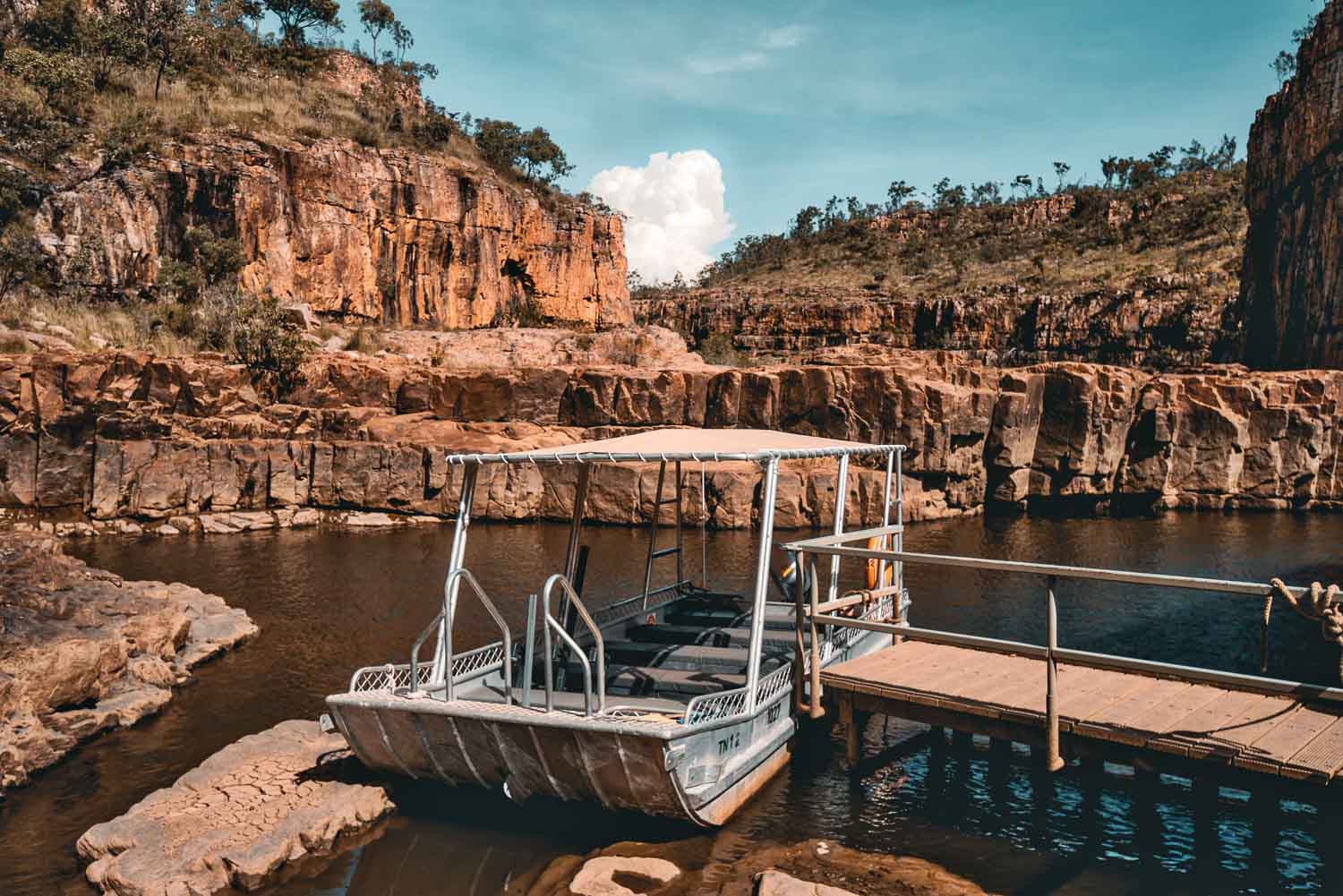 ---
Day 10: Edith Falls & Drive Back to Darwin
The next (and final) location I'd visit on this Northern Territory itinerary was Alice Springs, but that was a 14-hour drive from where I was, so instead, I headed back to Darwin and booked a flight instead.
On the journey back to Darwin, there's a popular spot called Edith Falls, and it's the perfect place to spend a day of hiking, exploring, and lots of swimming. It is super picturesque, and the water provides a much needed escape from the humidity of the Top End.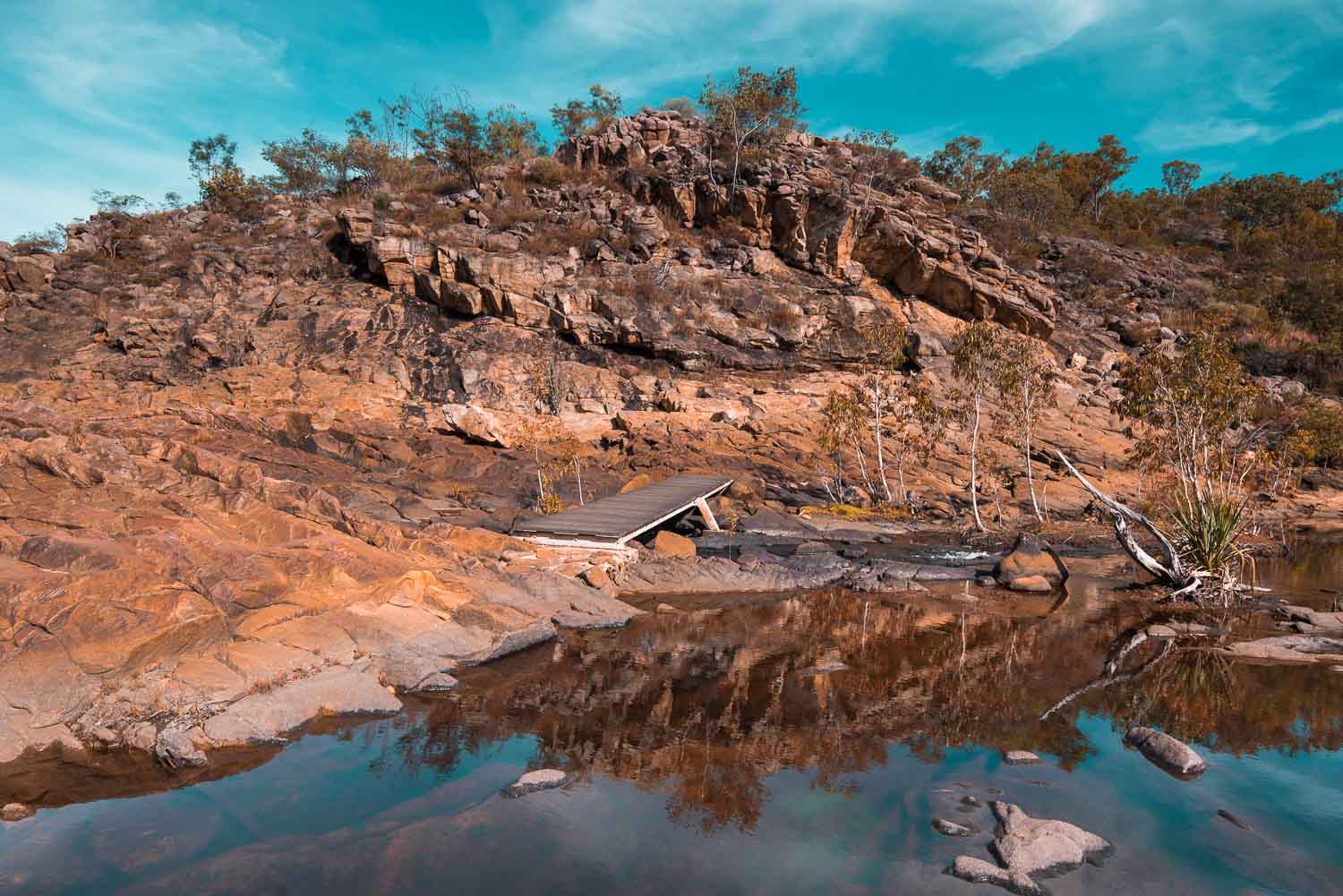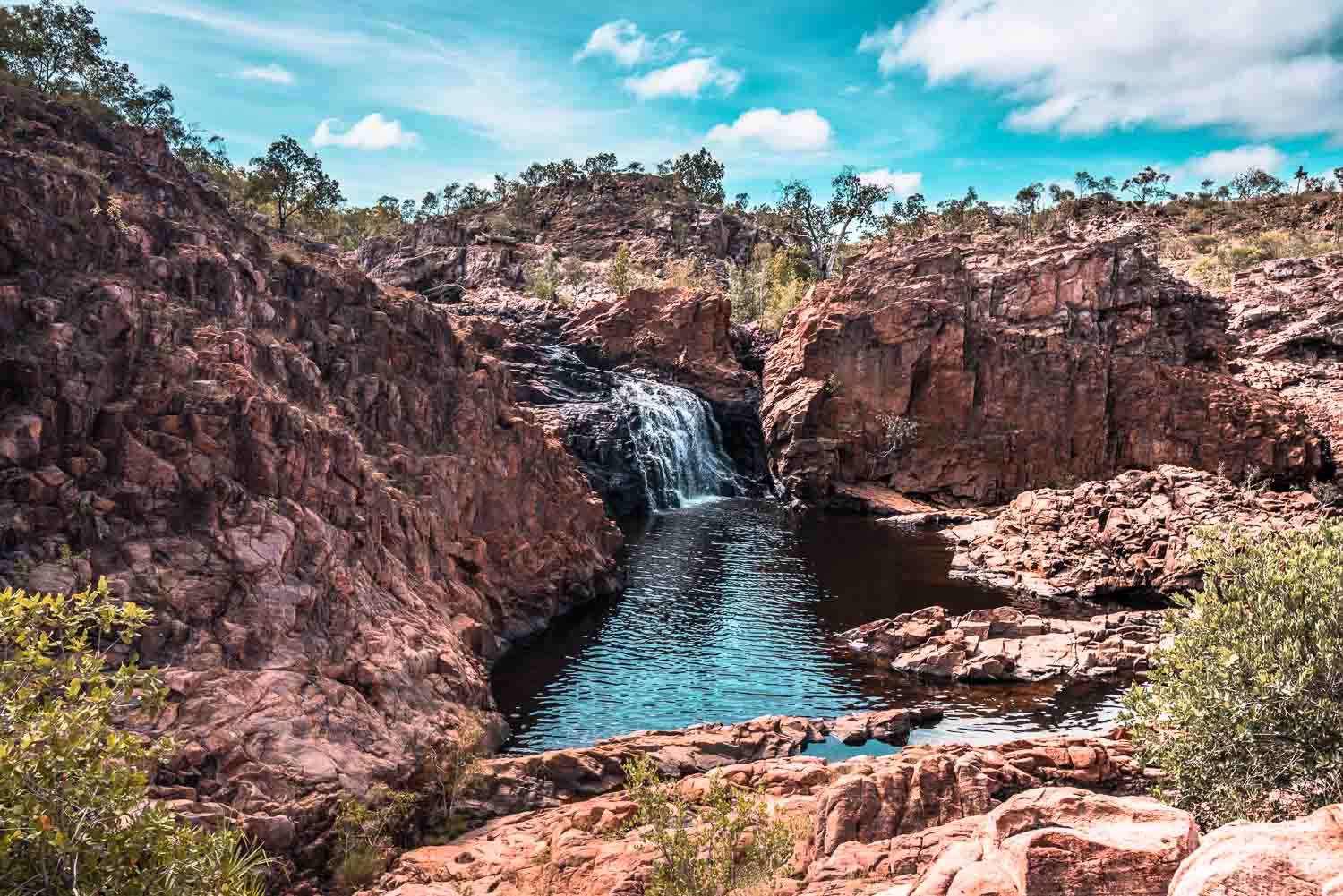 "The area is great for bushwalking with the 2.6 kilometre Leliyn Trail offering a challenging walk along a steep, rocky loop. There is a chance for a refreshing swim in the upper pool of Leliyn / Edith Falls halfway around the trail. You can also enjoy the longer 9 kilometre return walk to Sweetwater Pool, a tranquil swimming hole. Leliyn / Edith Falls is the finishing point of the 62 kilometre Jatbula Trail walking track, which begins at Nitmiluk National Park (Katherine Gorge)." – Northern Territory Tourism
Our group was a bit short on time, so we only spent an hour around the Falls, but you could honestly spend all day there if you have the opportunity. If you get up early enough, you could also hit up Litchfield National Park on the way back to Darwin – another amazing spot in the Northern Territory. I sadly didn't get the chance to visit during my two week trip, but it looks unmissable.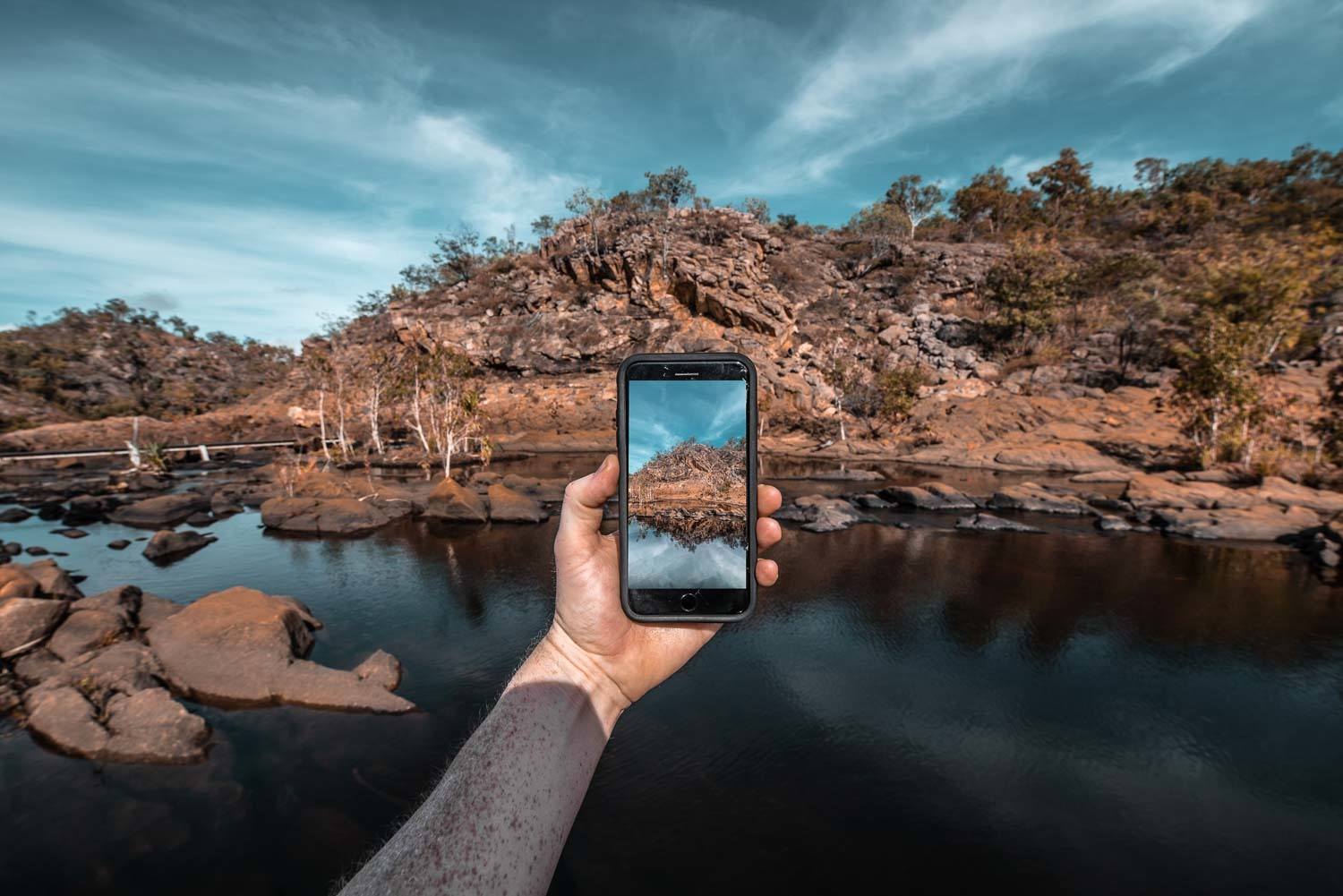 ---
Days 11-14: Alice Springs
After a relatively quick, scenic flight from Darwin to Alice Springs (seriously, snag yourself a window seat for this one), we arrived in the heart of the 'Red Centre' of Australia, and the final destination on my Northern Territory Outback itinerary.
---
Located almost exactly in the middle of the Australia, Alice Springs is one of the most unique places in this huge country. Famous for its rugged natural beauty, fascinating Aboriginal history and its many outdoor adventure activities, a visit to this iconic Outback town should be on everyone's Australian bucket list!
While it may be hot out there in the desert, and the flies can drive you close to sheer insanity, the experiences you can have here are worth every bit of it.
Here are just a few of my Alice Springs highlights…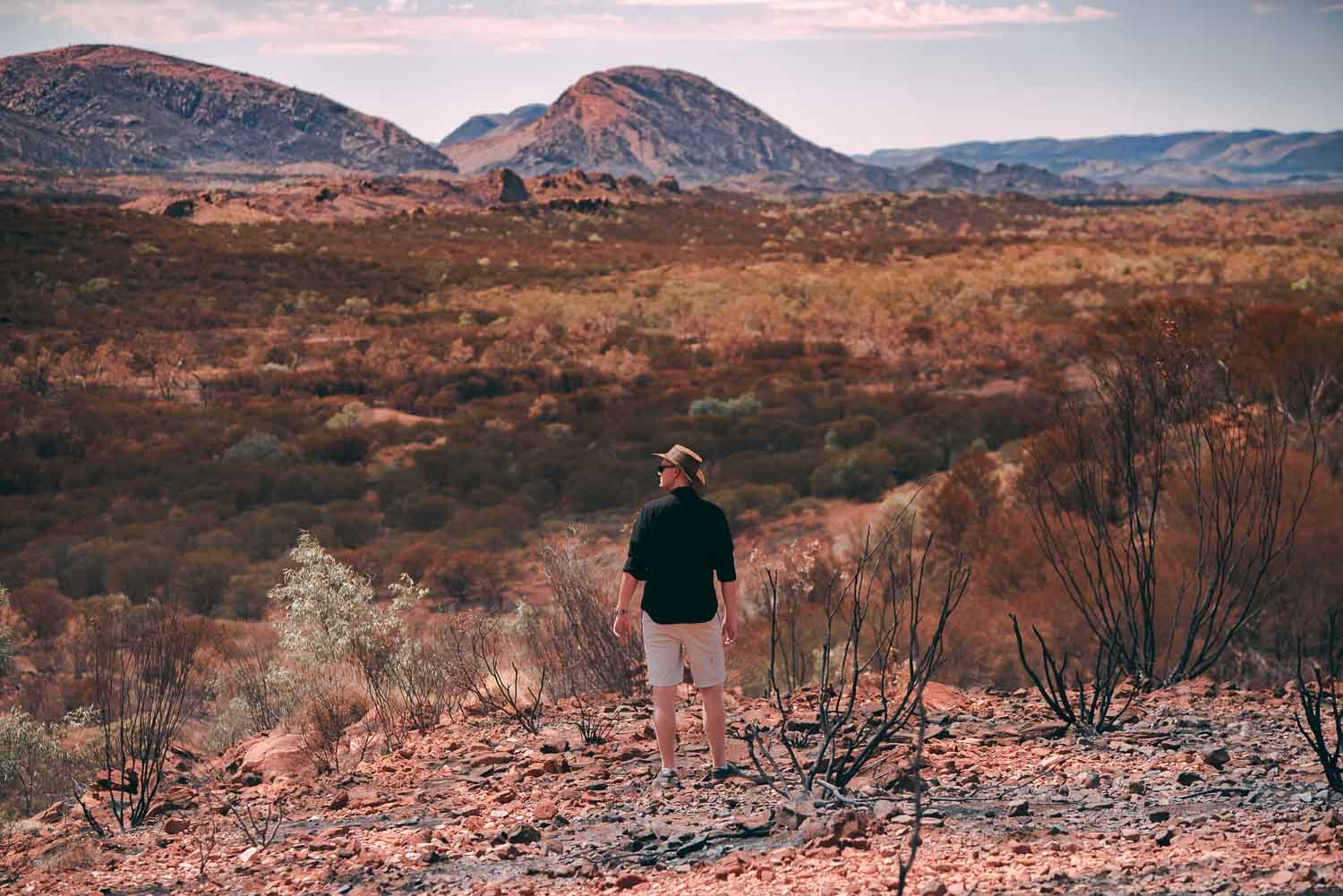 ---
The Kangaroo Sanctuary Sunset Experience
I've always had a fascination with kangaroos, so visiting this sanctuary in Alice Springs was one of the most incredible experiences I've had in the country! We learned lots of fun facts about the animals, got to hold a couple cute and cuddly Joeys, and marveled at these adorable creatures bounce around in the beautiful golden light in the Outback.
It's basically a 188-acre wildlife sanctuary for rescued orphaned baby and adult kangaroos. What most people don't know, is that kangaroos are one of the most common roadkill animals in the country, and there can be alive baby joeys in their mother's pouch when their on the side of the road.
What this place does, under the leadership of the famous "Brolga" A.K.A the "mother of kangaroos", is rescue these cute animals, and prepare them for life in the wild. The sunset kangaroo feeding experience was one-of-a-kind, and is worth every penny!
For more information, head over to The Kangaroo Sanctuary website for times and availability!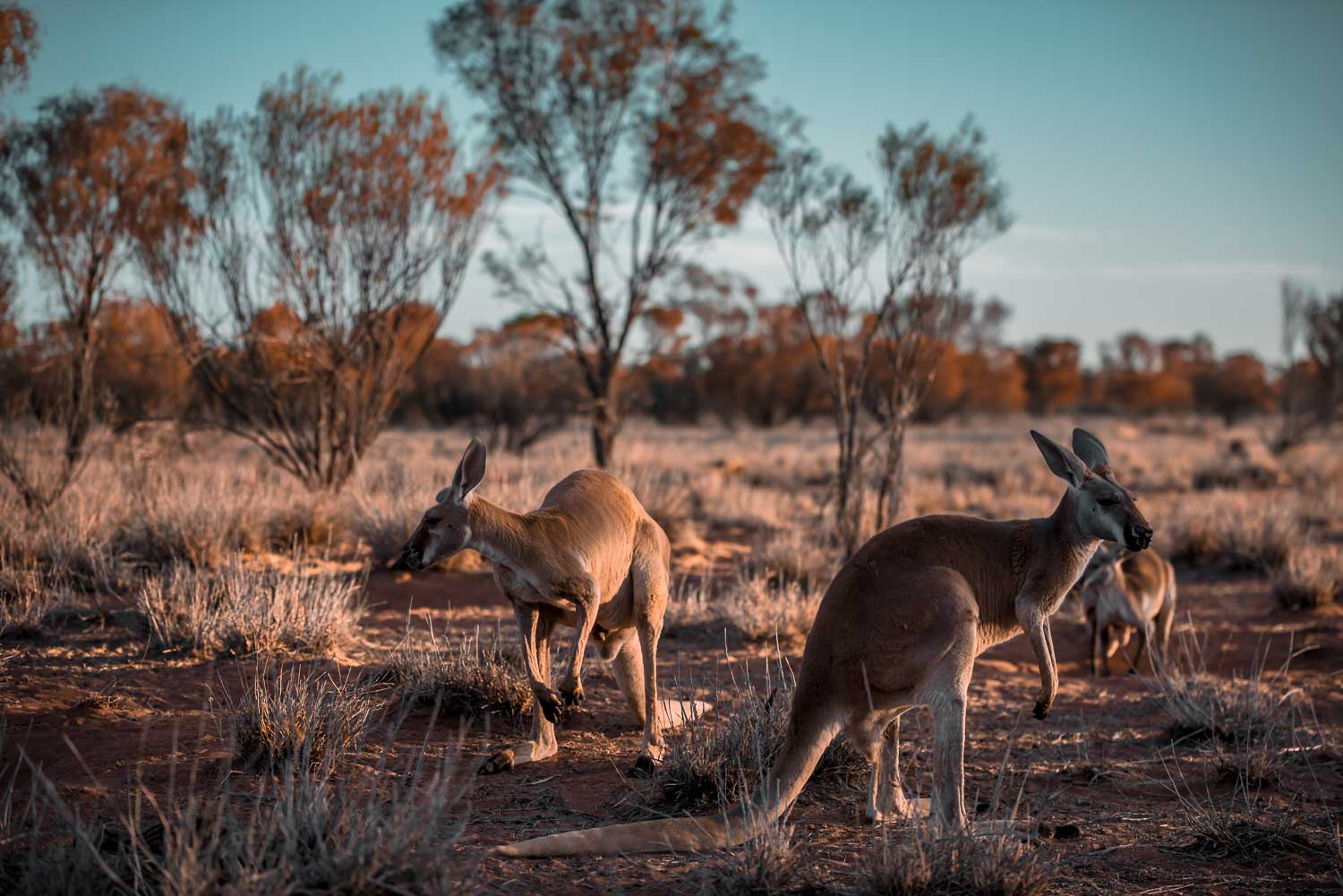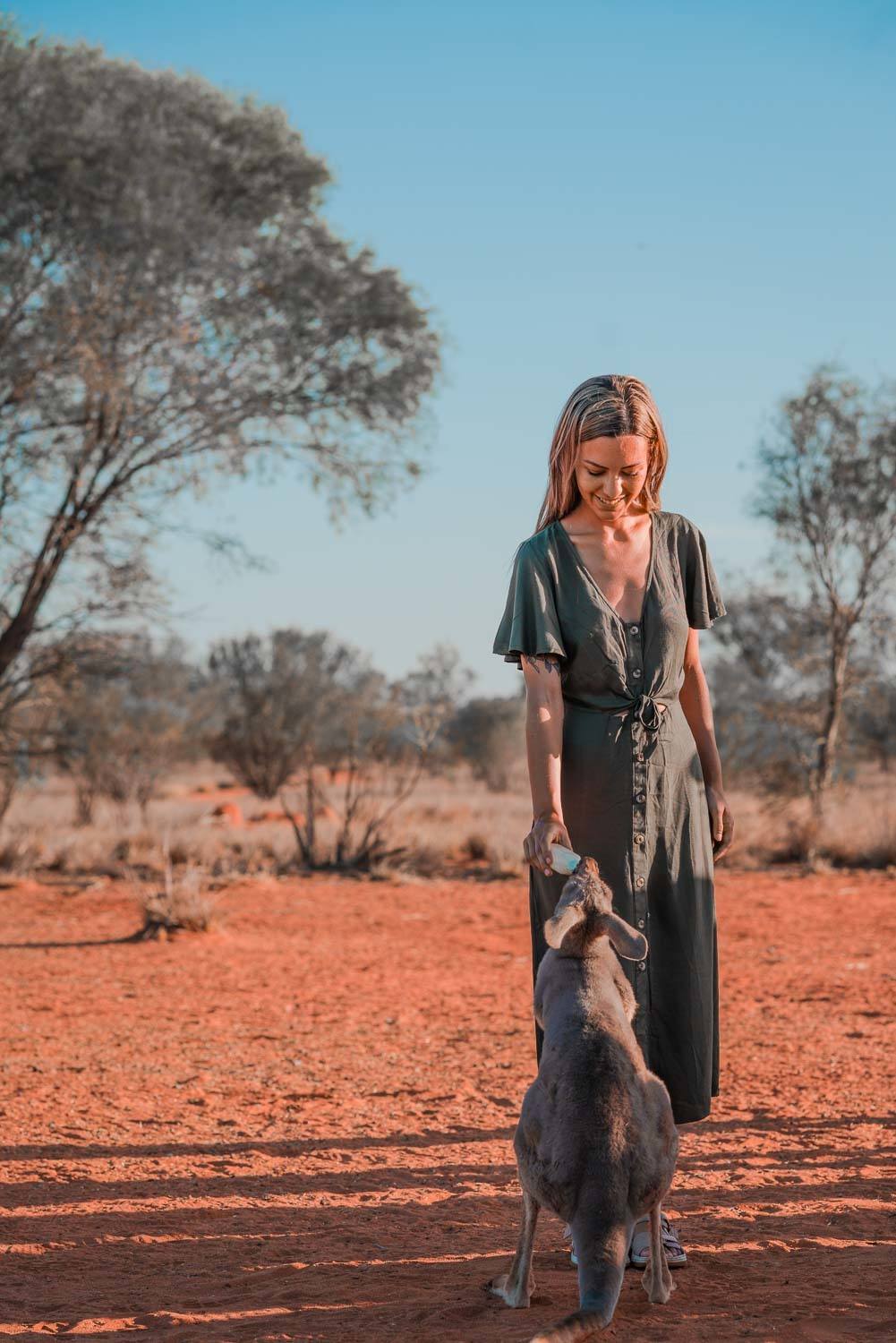 ---
The West MacDonnell National Park
Nestled just a quick one-hour drive west of Alice Springs, you'll find the entrance to the West MacDonnell National Park. If you enjoy hiking and working up a sweat against one of the most beautiful backdrops imaginable, this national park that belongs to the well-known MacDonnell ranges is the destination for you!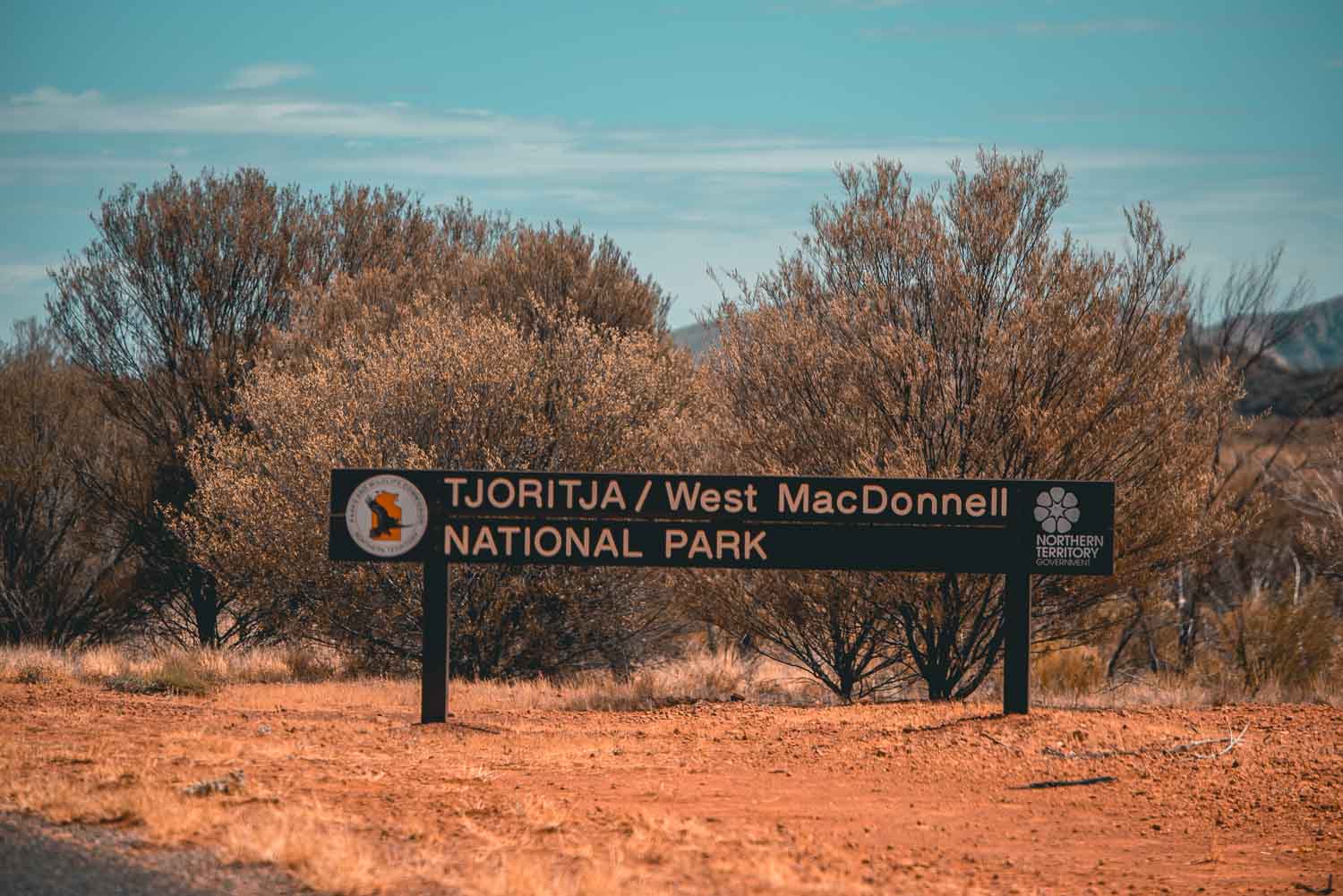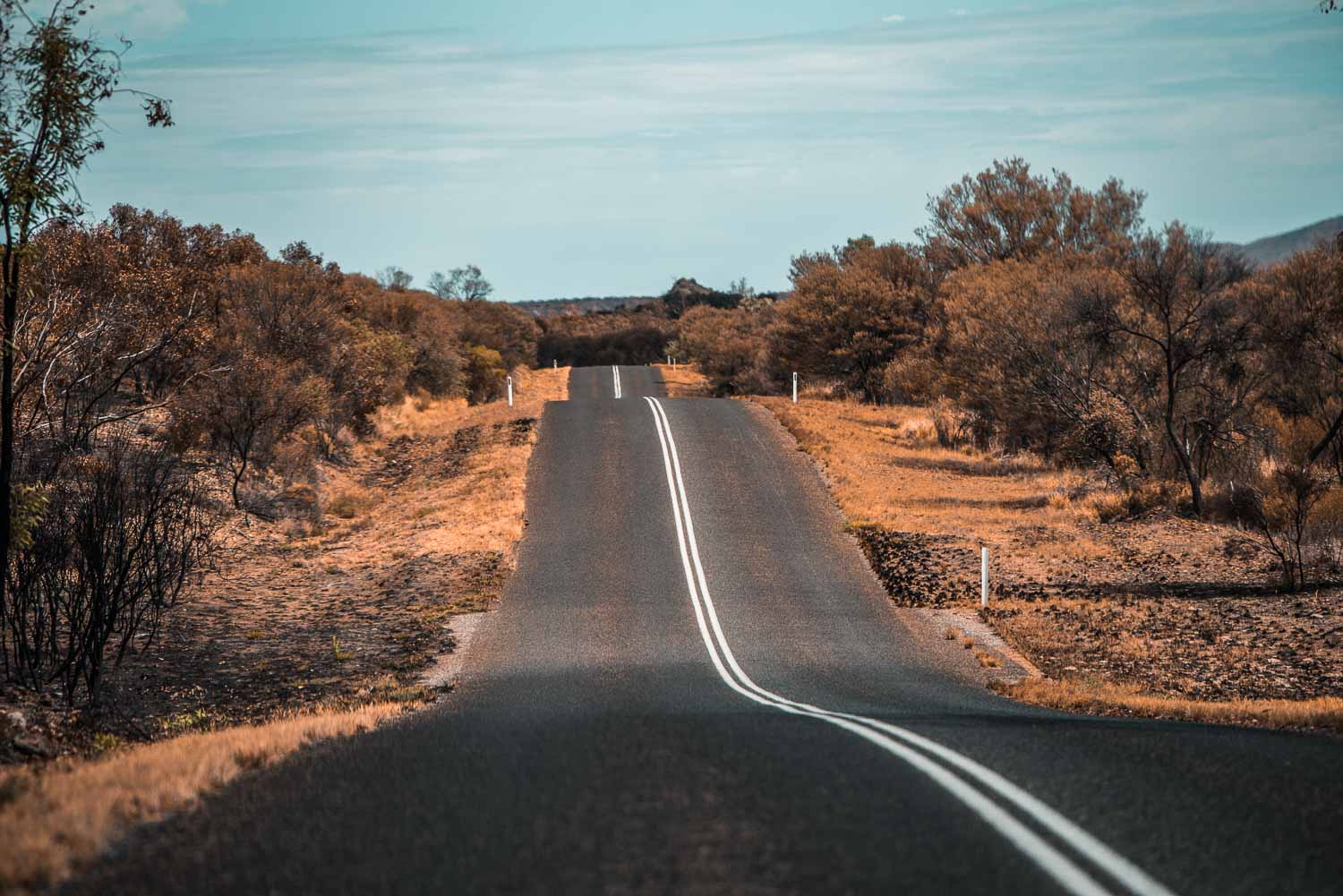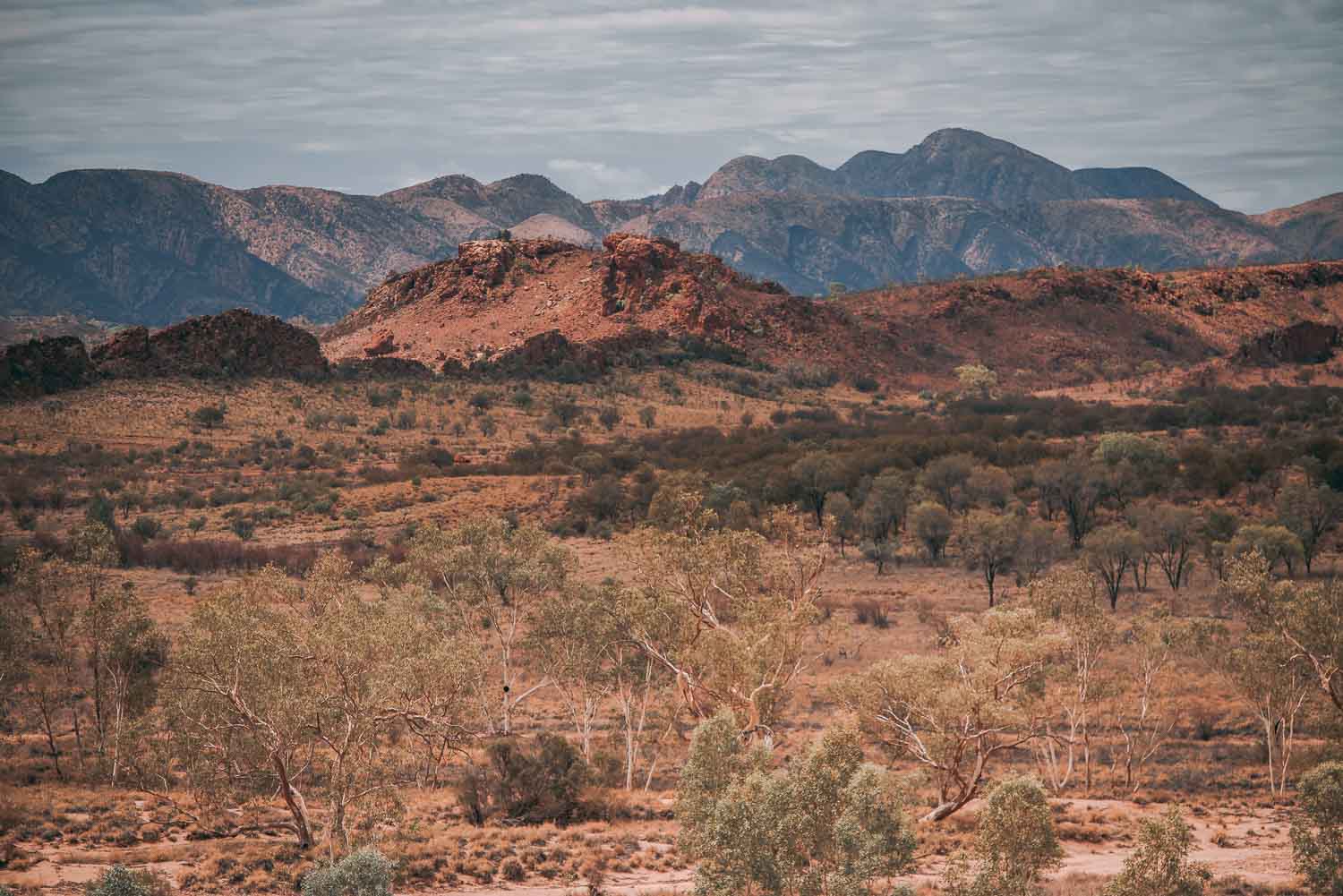 ---
I had actually never heard of this National Park before visiting Alice Springs, and I was completely blown away from our one-day adventure out there. This is the "Red Center", and the landscape and scenery really is something special! I was obsessed with the windy Outback roads, the desert colors, and the picturesque swimming holes!
You absolutely can't visit Alice Springs without booking a full-day trip out to these spots. You could also rent a car and do it yourself, just make sure you visit key spots like Simpsons Gap, Ormiston Gorge, and Ellery Creek Big Hole (pictured below).
From Alice Springs: West MacDonnell Ranges Day Trip | Experience the best of the West MacDonnell Ranges on this full-day trip from Alice Springs. Marvel at the fiery red walls of the mountains in the desert sun, visit gorges and waterfalls, spot local wildlife and learn from your expert guide.
---
Uluru
Uluru is one of the most visited natural landmarks in the world, and unfortunately, this particular trip itinerary was just too jam-packed for me to tick it off my wanderlust bucket list. Located within Uluru-Kata Tjuta National Park, this immense sandstone must-see is of particular cultural significance to the Aboriginal community and tourists are, thankfully, veering away from climbing it these days.
If you are heading to the Red Centre, there's a number of companies that organize day and overnight trips to this Outback icon, including my personal recommendations:
Uluru: Guided Trek of Uluru's Base in a Small Group: This six hour tour is a great introduction to Uluru, where you will enjoy a walk around the base, breakfast and a tour guide full of interesting insights and historical knowledge.
From Alice Springs: Uluru 3-Day Camping Tour: If you want to make the most of your visit to this famous Aussie landmark, book in your place on this three day camping tour. You'll also get to see the breathtaking Kings Canyon and Kata Tjuta, as well as counting the millions of stars in the Outback sky from your sleeping bag.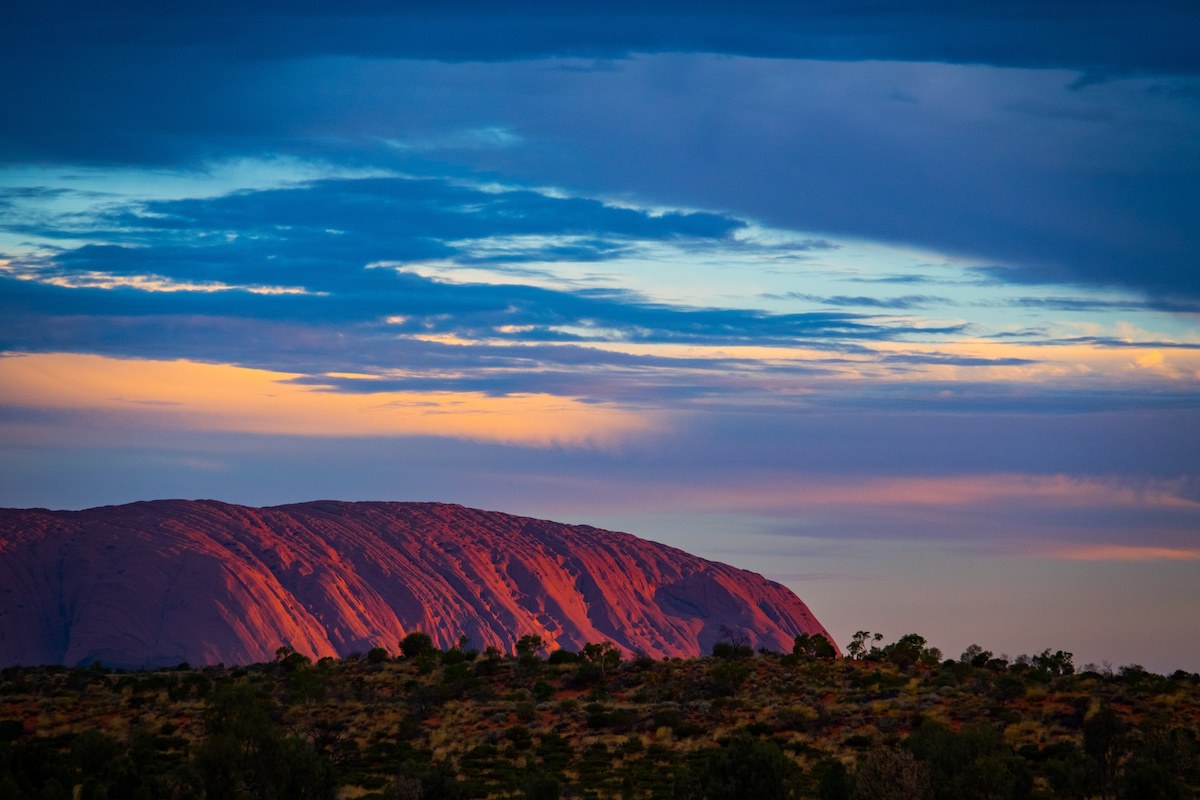 ---
The Town of "Alice"
Visitors are prone to overlooking the city of Alice Springs itself in place of visiting its surrounding natural wonders. But while Alice is often a pit stop for travelers on the road, it has its own unique charm that makes it a great place to spend some downtime. And with only 25,000 residents, it's a cozy city with tons of room to breathe.
A few recommendations for what to see in Alice Springs:
Anzac Hill: The Anzac tradition is dear to every Aussie's heart, and pays homage to those who fought and died for the country across many wars. This memorial offers a view of Alice Springs you can't get anywhere else, as well as a chance to reflect in a peaceful location.
Alice Springs Reptile Centre: The Northern Territory's biggest collection of reptiles call this centre home, including goannas, crocs, frill-neck lizards and thorny devil's. With three daily shows, you'll learn a lot about these native not-so-furry friends.
Royal Flying Doctor Service Museum: The RFDS is an Australian institution, providing critical support and emergency services to those living in rural or remote areas across the country. Visit where it all began at this Alice Springs museum, where you can see the original planes and radio equipment used in the early days of the service.
Further reading: 3 Days in Alice Springs Travel Itinerary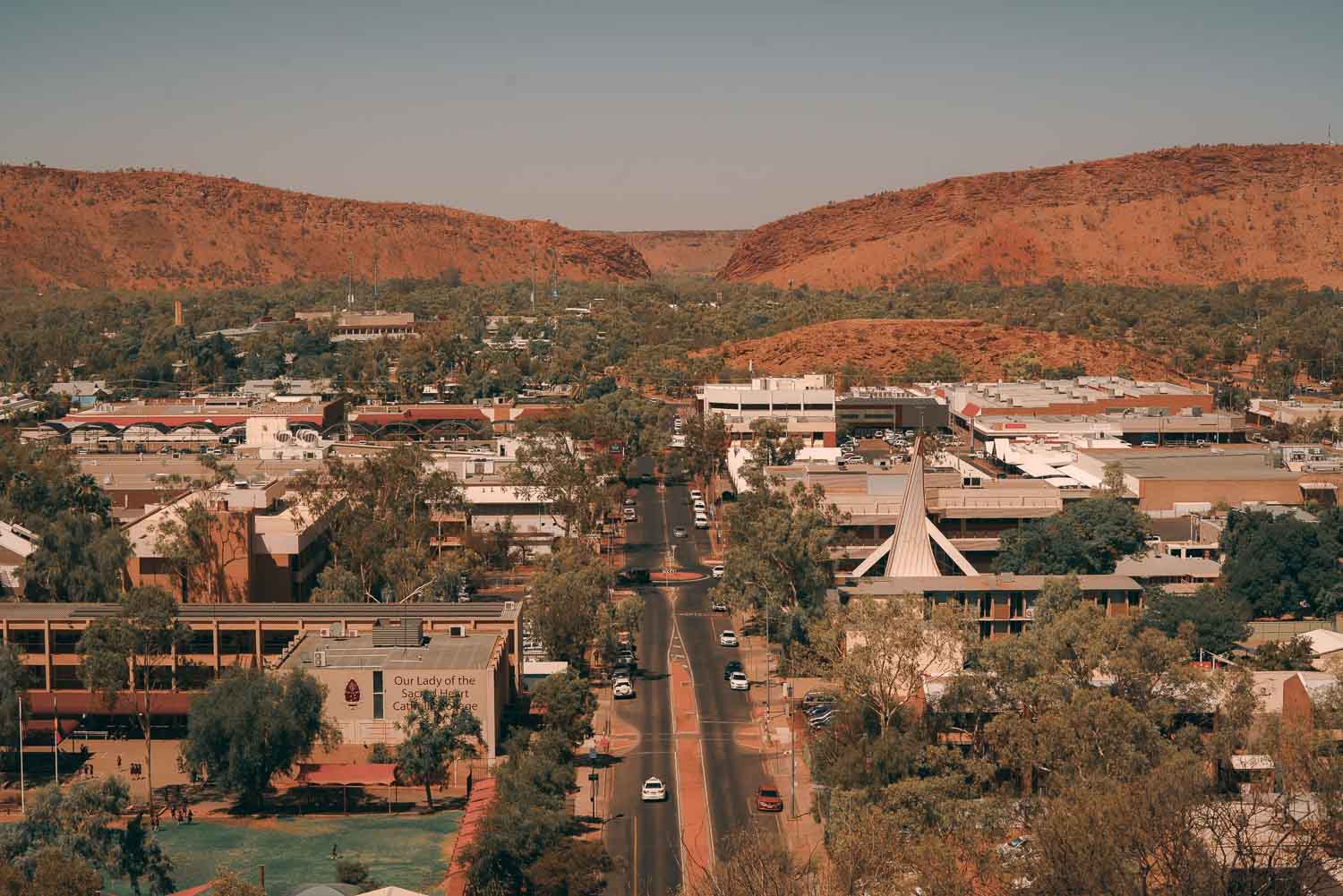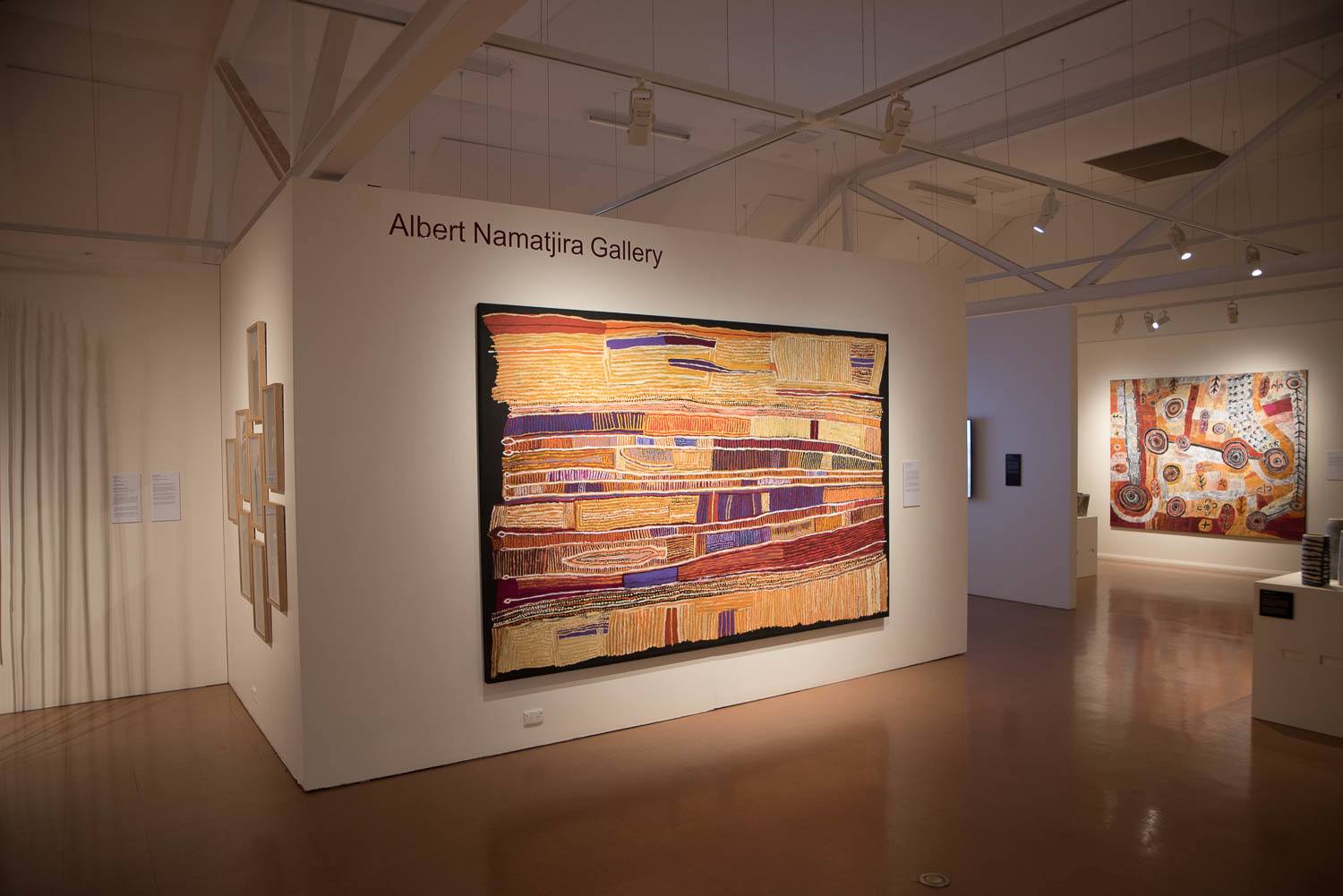 ---
Where to Stay in Alice Springs
Crowne Plaza Alice Springs – Treat yourself in the Red Centre and experience the luxury of staying at the Crowne Plaza Alice Springs. It's local to both the CBD and Alice Springs Airport, has a huge pool to cool off in, gym, spa, dining options and the staff are extremely courteous and helpful. 10/10 would recommend.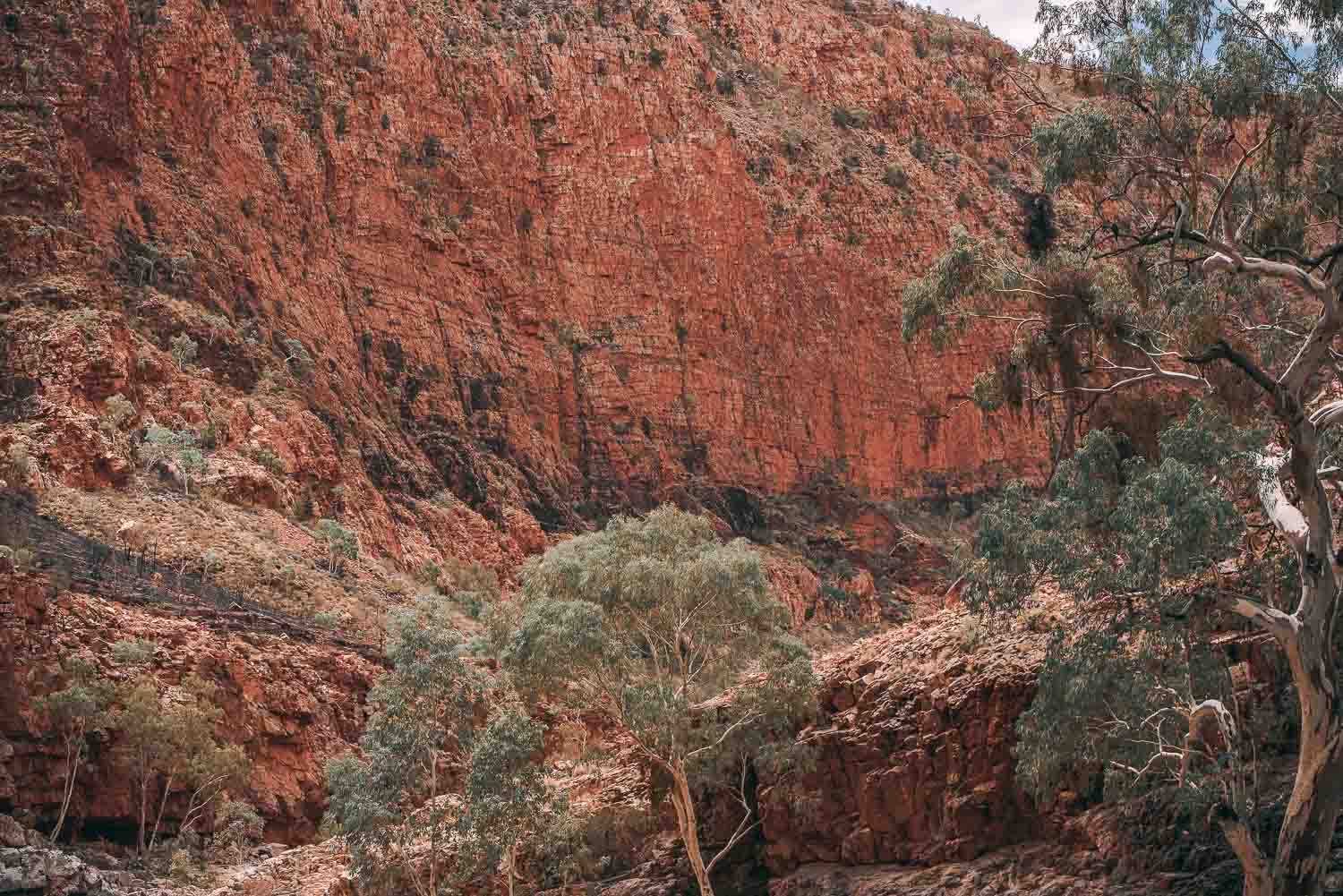 ---
Some important Northern Territory travel tips:
Pack sturdy walking shoes.

Mosquito repellant and a fly net are mandatory.

Regularly apply sunscreen (that Outback sun is HARSH!)

Pack breathable, natural clothing.

Carry lots of water on you and in your vehicle.

Don't just pack for intense heat. Nights in the Outback can get pretty chilly, so definitely prepare for that.

Understand that this is one of the most remote places on Earth, and amenities and services can be hundreds of kilometers apart. Carry additional fuel and supplies if you know it's going to be a long haul between service stations.

Read up on how to treat the local Aboriginal tribes and communities with respect while you are visiting their land. They are very friendly and accommodating people, and we all owe them the same respect back. Some understanding of their customs will go a long way.

If road tripping in your own vehicle, have a full car service before your trip. Breaking down without resources in the Outback can turn deadly fast. Plan and pack accordingly.

Advise someone back home of your travel plans and check in regularly while on the road.

Avoid driving at night. With local wildlife crossing the road in the dark, an accident could spell disaster.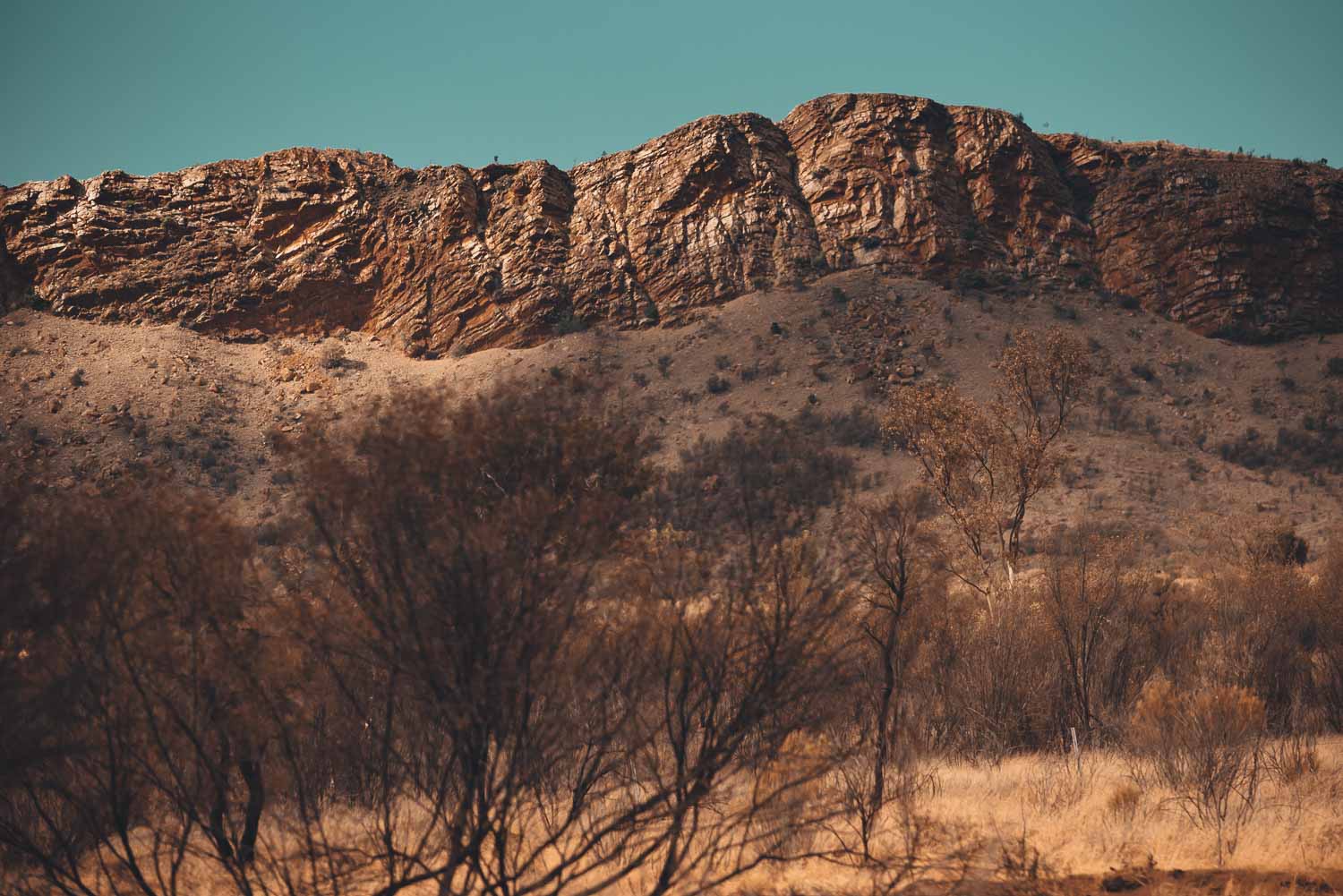 ---
Am I Missing Anything important on this Northern Territory Itinerary…?
The Australian "Outback" is a pretty massive place, and I feel like even after spending a couple of weeks out there, I still have a lot more that I need to explore in the future! I'd love to hear from you guys if you have any hidden gems or other important places I should add to my list!!
Be sure to follow along on my Facebook & Instagram pages as well for more of my adventures around the world!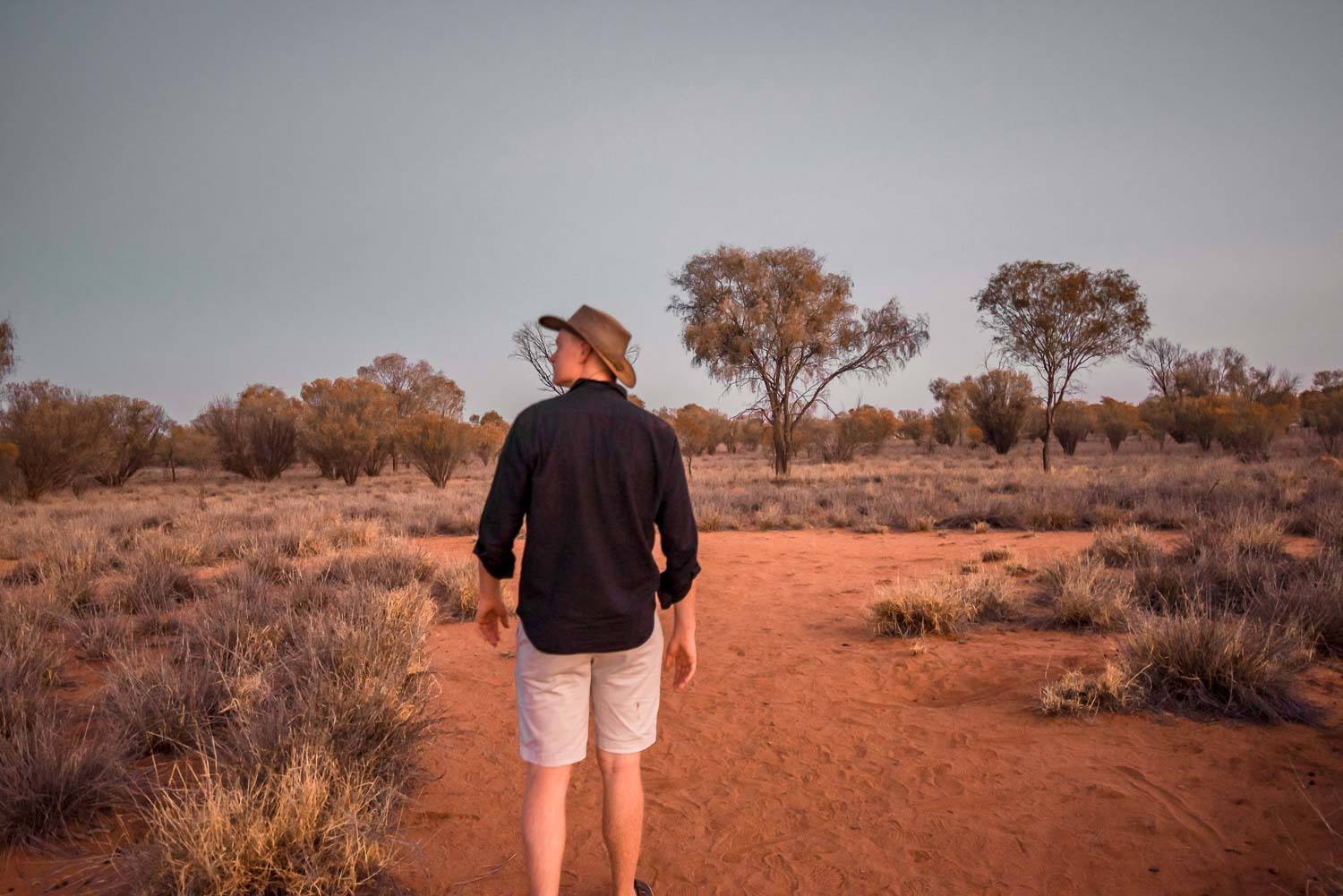 ---
Planning a trip to Australia…?
I've spent quite a large amount of time down under, and my website is filled with awesome articles and travel guides just like this. Check out a few of them below, and feel free to reach out to me if you ever have any questions!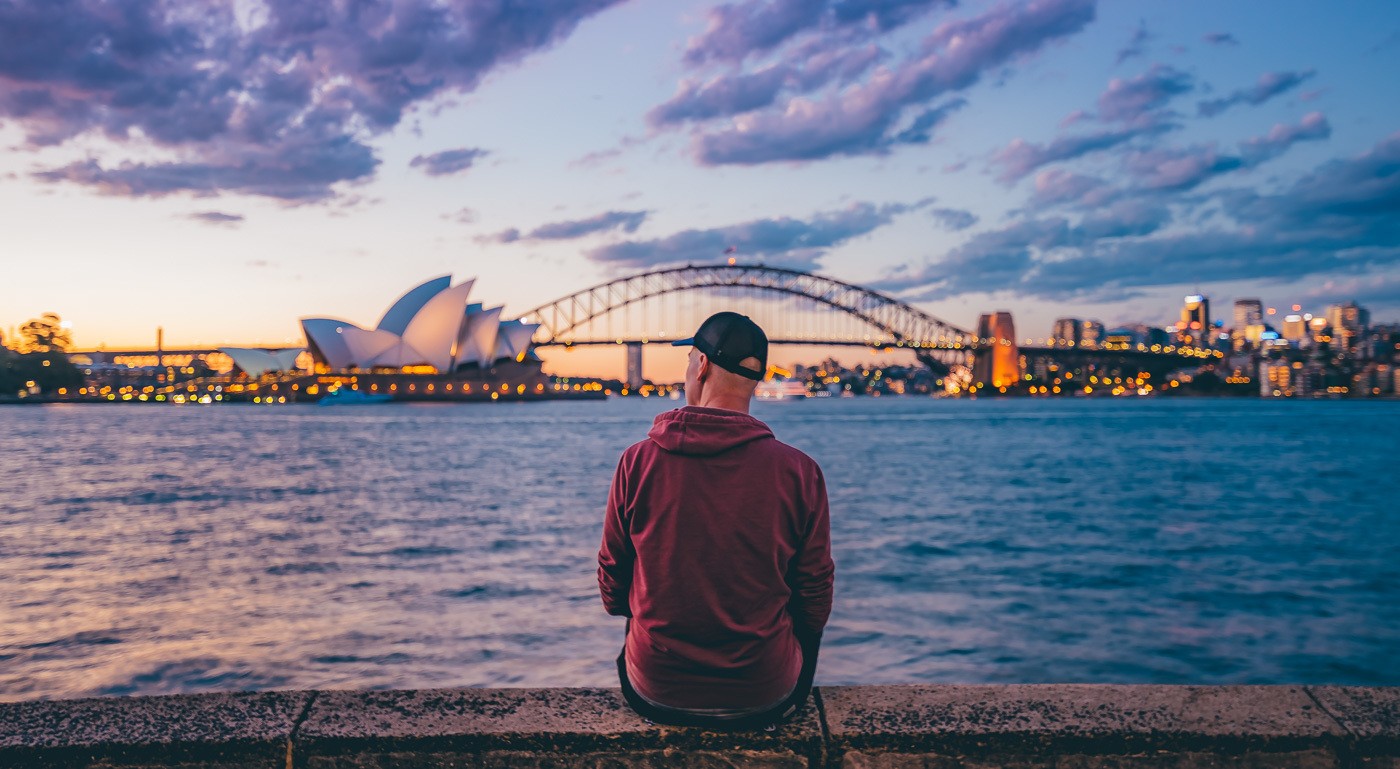 ---
Thanks so much for reading my Australian Outback itinerary!
Share this article with your Aussie mates!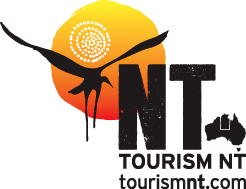 Disclaimer: I was an invited guest by Tourism NT to come and experience the Australian Outback and share my experiences. As always, all opinions are my own.
https://www.jonesaroundtheworld.com/wp-content/uploads/2019/05/Northern-Territory-Australia-Outback-Itinerary-237693.jpg
1001
1500
Dave
https://www.jonesaroundtheworld.com/wp-content/uploads/2017/03/logotry-1-1-300x106.png
Dave
2019-05-08 20:35:19
2021-04-27 23:55:38
The Ultimate Australian Outback/ Northern Territory Travel Itinerary