Planning a trip and looking for the best Brisbane Itinerary? Well, look no further because I've put together a super fun and detailed itinerary for what to do, places to visit, tour ideas, and so much more!
Brisbane is the capital city of the Australian state of Queensland, where the weather is mild to hot year-round, the locals are laid back and friendly, and the outdoor lifestyle is unparalleled.
Are you wondering how many days in Brisbane are enough? Spending at least 4 days in Brisbane is super easy, thanks to an epic range of activities to do, sights to see, natural wonders to take in, and beaches to swim at. Not to mention the easygoing Queensland lifestyle to get wrapped up in. But if you are able to spend 5 days in Brisbane or more, the longer, the better.
This great city, located in the south-eastern corner of Queensland, is always growing and evolving and is rapidly transforming into a hip sunny oasis that's a must on your Australian travel itinerary.
I absolutely loved my visit to Brisbane, and put together this Brisbane travel itinerary to help you give you some ideas for what to get up!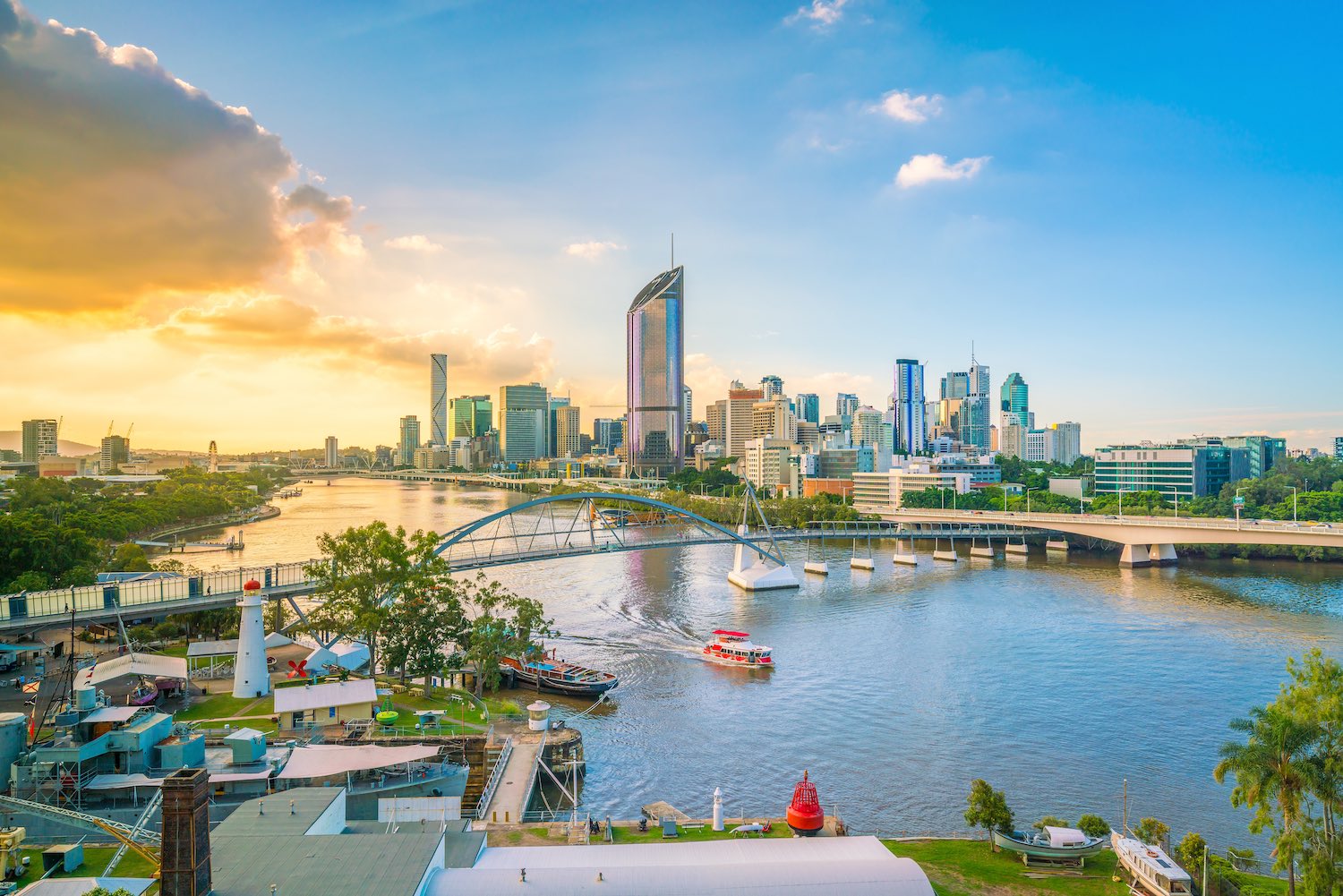 ---
WHERE TO STAY IN BRISBANE
To begin with your Brisbane trip planning, you'll obviously need a place to sleep. There are tons of different incredible options to choose from all over Brisbane, and it really just depends on your budget and how many days you'll be spending in Brisbane! Here are a few ideas for you though!
AIRBNB – The older I get and the longer I find myself traveling, the more I become absolutely obsessed with using Airbnb! I think it's such a fantastic way to book travel accommodation, as it's so fun to have your own place in the city, which can give you a much better understanding of local life. When you're searching in Brisbane, you'll find there are tons of awesome different areas and suburbs to choose from, with a variety of price ranges! While Brisbane isn't known to be a budget travel destination, I do think there are some great deals on Airbnb apartments! Also, if you sign-up for a new Airbnb account, you'll get $79 AD off your first stay (which can almost be an entirely free night!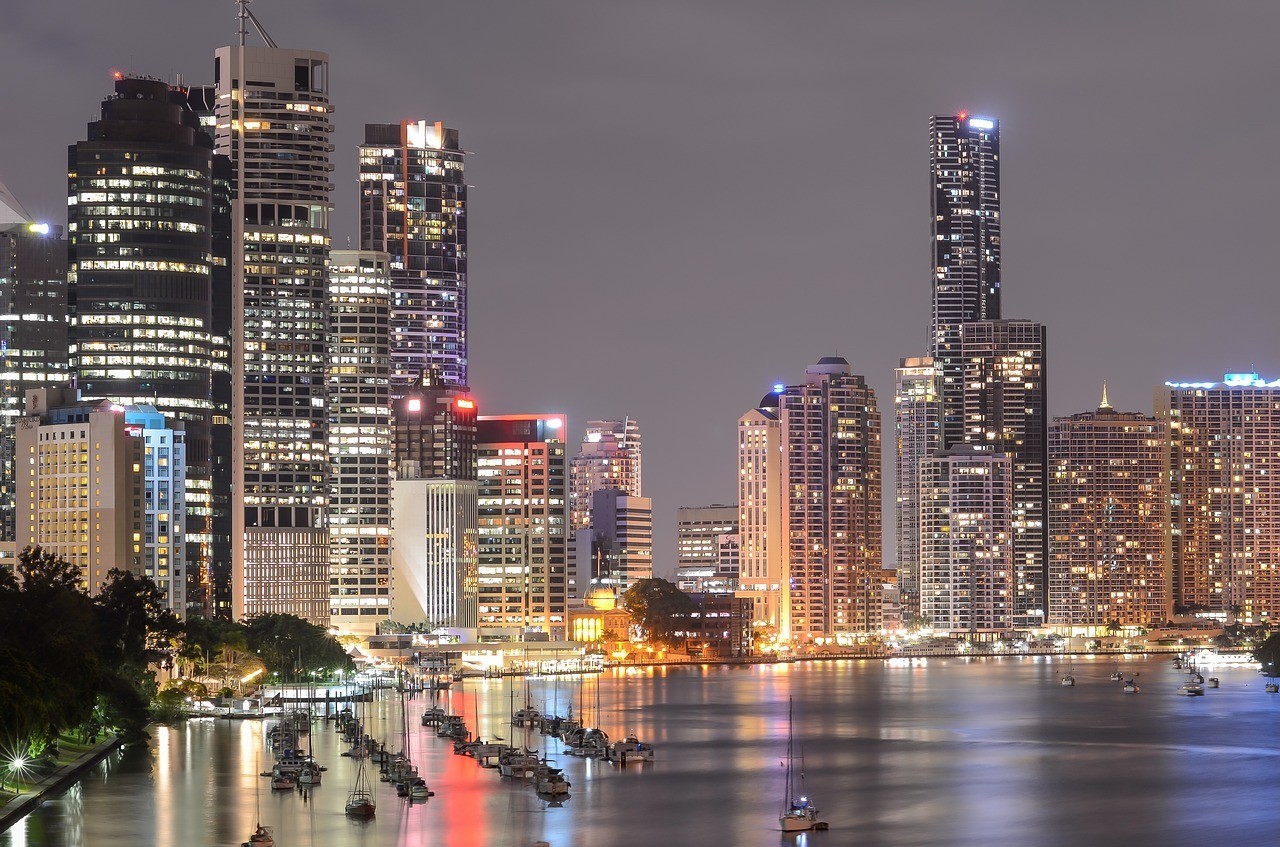 ---
The Calile Hotel

: This is one of the best-selling and top-rated hotels in the city, and would provide for an absolutely amazing stay for your time in Brisbane! It's perfectly located in the heart of the city center and within walking distance of some of Brisbane's best restaurants, shopping, bars, and nightlife. They've also got a stunning outdoor pool (which will come in handy in the Australian heat), a fitness center, and even spa facilities! The rooms are beautifully decorated, and the amenities and the price is great for Australian standards!

Brisbane City YHA

: If you're on a bit of a tighter budget, then look no further than the Brisbane City YHA! This is where I stayed during my visit to Brisbane many years ago, and had a fantastic experience. While it's not a crazy party hostel or anything, it's got an awesome backpacker atmosphere, cheap rates for dorm beds, and well located in the city center!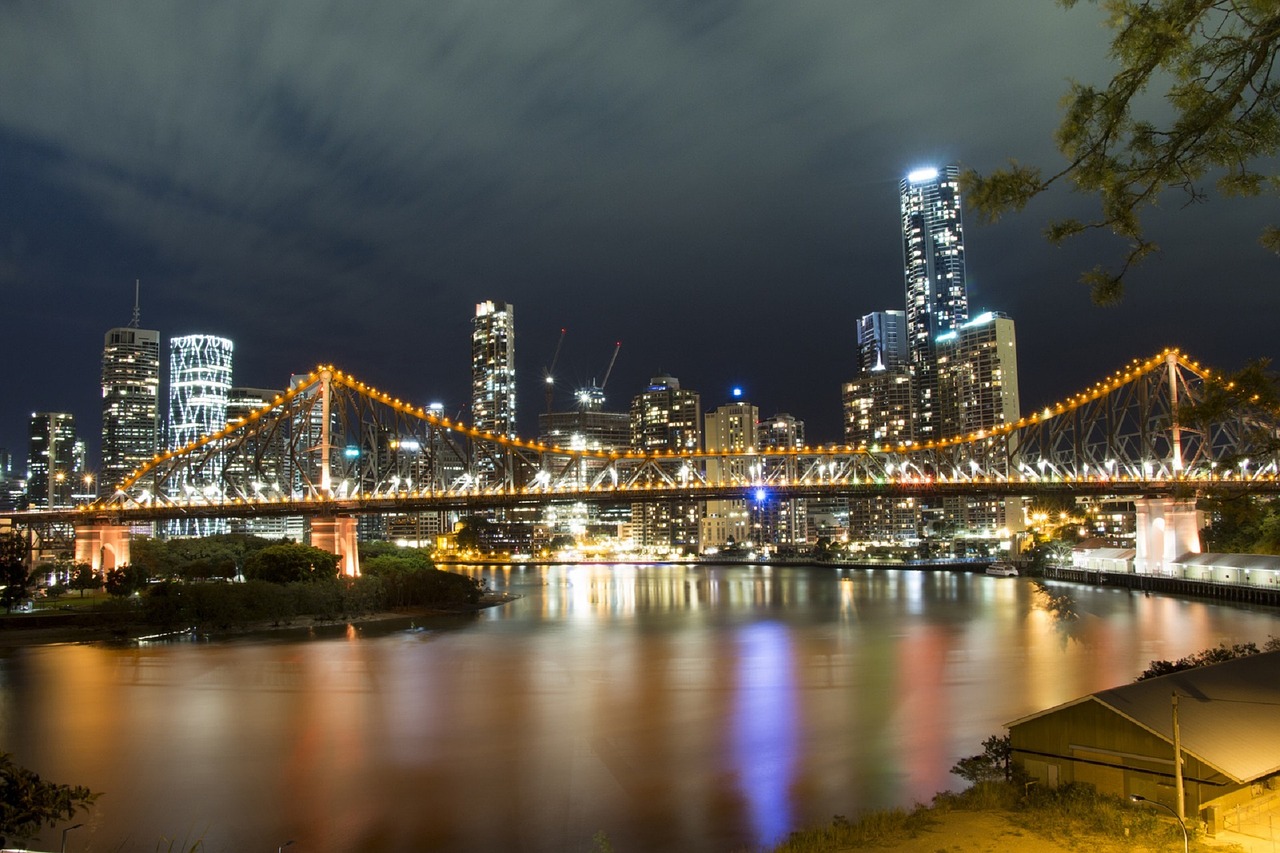 ---
BRISBANE 4 DAY ITINERARY DAY 1: EXPLORE THE CITY LIMITS
Welcome to Brisbane! Whether you've arrived in summer, spring, winter, or autumn, the odds are the weather is mild to hot and the sun is out. The joys of Queensland living! Exploring Brisbane is fun, and there's so much to see and do within the city limits you'll easily while away the hours without even noticing.
If taking a refreshing dip in the Pacific Ocean is on your checklist, head to Streets Beach, a man-made beach with the city skyline as a unique backdrop. Located along the central South Bank, it's free to visit and a city dweller hotspot to escape the Brisbane heat. It will also put you in the heart of the city, where there is so much exploration to be done! Even if you don't want to go for a swim, it'll be a great place to start your day of exploring!
BRISBANE: Stunning STREETS BEACH 🏖️ and South Bank Parklands, scenic views! (Australia)
---
Other than walking and wandering on your own time, there's a range of unique ways to introduce yourself to this compact, fun city. Float along the Brisbane River on the CityHopper boat service – another totally free way to enjoy the city! Another fantastic service the city offers to visitors is the Walk Brisbane walking tour, or if you're feeling game, Brisbane by Bicycle.
For those going it on their own, The Riverwalk idles its way along the Brisbane River from New Farm to the CBD and is a good jumping-off point. Stretch your legs after your long flight and explore Brisbane on foot from this picturesque riverside thoroughfare.
If you're an art or history buff, head to the Queensland Art Gallery and Gallery of Modern Art (QAGOMA), Queensland Museum, or the Museum of Brisbane. All offer a unique look at local life through the lens of the easel, and many showcase Aboriginal art and history, something very central to Brisbane's identity.
Brisbane: better than you think it is - Full day itinerary sightseeing in Brisbane, Australia
---
Rest your feet with a bit of peace and quiet in the city's many parks. New Farm Park, Roma Street Parkland, Brisbane City Botanic Gardens (Brisbane Botanic Gardens), South Bank Parklands, Kangaroo Point Cliffs Park, and King George Square all offer an oasis to get away from it all, a stone's throw from the Brisbane city hall.
The shopping scene in Brisbane is fantastic, so head to the Queen Street Mall for some deals, or simply to people-watch. It's the heart of the CBD, and where many commuters head for the daily grind.
Finish your busy first day in Brisbane with a sunset on Mt Coot-tha, one of the most loved landmarks in the city. This mountain destination, located in the west of Brisbane, offers a range of things for adults and kids to do and is totally worth a day all of its own. It offers the best lookout views over Brisbane and beyond, a range of restaurants and cafes, a long list of bushwalking and mountain biking trails, a Planetarium, and its own beautiful Botanic Gardens.
Take a good bottle of local Aussie wine, have a delicious picnic, and watch the sunset over this buzzing city.
BRISBANE FROM ABOVE, MT COOT THA
---
BRISBANE ITINERARY DAY 2: ISLAND HOP, BRISBANE STYLE
Brisbane's proximity to the Pacific Ocean means you have a chain of islands to explore at your disposal. And the best part is, they're all totally doable as incredible Brisbane day trips. First up is arguably the favorite for many locals, North Stradbroke Island.
They call it "Straddie", and it's not only a great day trip but also offers accommodation offerings for all budgets to stretch your island break a little further. And you might want to because the number of activities on Stradbroke Island to tick off is massive!
There are whale and dolphin watching, picture-perfect beaches, pristine lakes, surfing (both in the water and on the sand dunes), walking trails, tours from fascinating Aboriginal guides, scuba diving, kayaking, and 4WD safaris along the beach. Straddie is a little slice of paradise a 30-minute ferry ride or 40-minute drive from Brisbane!
I personally think no visit to Brisbane is complete without spending a day exploring Stradbroke Island, so make sure you add this to your Brisbane itinerary! If you'd prefer to stay closer to the city, then consider ending your day with a blissful 1.5-hour sunset cruise on Brisbane River. It makes the perfect peaceful end of a fun day as you enjoy views of the city lights from the perspective of the water.
---
TOURS TO NORTH STRADBROKE ISLAND
While it is possible to do this trip on your own (you'll want to rent a car though), I'd recommend booking a tour which will take the stress out of the day. If you do want to do it on your own, you can read through this article for "How To Get to North Stradbroke Island", and it's filled with super helpful information!
Stradbroke Island Day-Tour

: "Take a day trip from Brisbane to Stradbroke Island and discover Queensland's most popular island and its National Park. The park is almost completely controlled by the aboriginal Quandamooka people. At almost 40 kilometers long, Stradbroke Island is the second-largest sand island in the world. Located just off the coast from Brisbane, it has beautiful beaches, a rugged coastline and forests that are home to large numbers of kangaroos and koala bears. The crystal clear waters are safe to swim year-round."
---
But Stradbroke Island isn't Brisbane's only stunning island.
But Stradbroke Island isn't Brisbane's only stunning island away from the hustle and bustle of the city center.
Neighboring Bribie Island and Moreton Island are smaller sand islands accessible from Stradbroke Island and offer up the same unrivaled outdoor lifestyle and overall visitor experience.
Bribie Island is a beautiful spot to swim, sample fresh local produce, and to get a much-needed dose of that strong Queensland sunshine. There are epic bars, restaurants, beaches, and national parks, and a trip to Bribie Island is a refreshing and relaxing sojourn from the hustle and bustle of Brisbane.
Moreton Island is another Brisbane day trip boasting turquoise waters, white sand, and steep sand dunes. It's popular with adventurous types, thanks to its many diving opportunities. Swim amongst tropical fish and explore sites like the sunken boats at Tangalooma Wrecks. If diving isn't your thing, you can also feed dolphins or whale watch on Moreton Island, the third-largest sand island in the world! It's an exotic getaway less than 90 minutes from the heart of Brisbane.
Bribie Island Queensland Australia - Last Day Of 2018 First Time 4x4 Beach Driving
---
BRISBANE ITINERARY DAY 3: EXPERIENCE BRISBANE WILDLIFE
It's essential to carve out some time to visit the local wildlife on your trip to Brisbane, after all, it is home to a world-famous destination that brings visitors in droves.
Australia Zoo, the late Steve Irwin's labor of love and a legacy carried on by his family is a great day trip from Brisbane. Nestled one hour north of Brisbane on the breathtaking Sunshine Coast, Australia Zoo spans over 100 acres and is a natural, humane home for over 1200 animals.
It's an up close and personal chance to say hi to koalas, wombats, kangaroos, and other cute and cuddly Aussie animals, and the midday Wildlife Warriors Show that Steve made famous is worth a visit.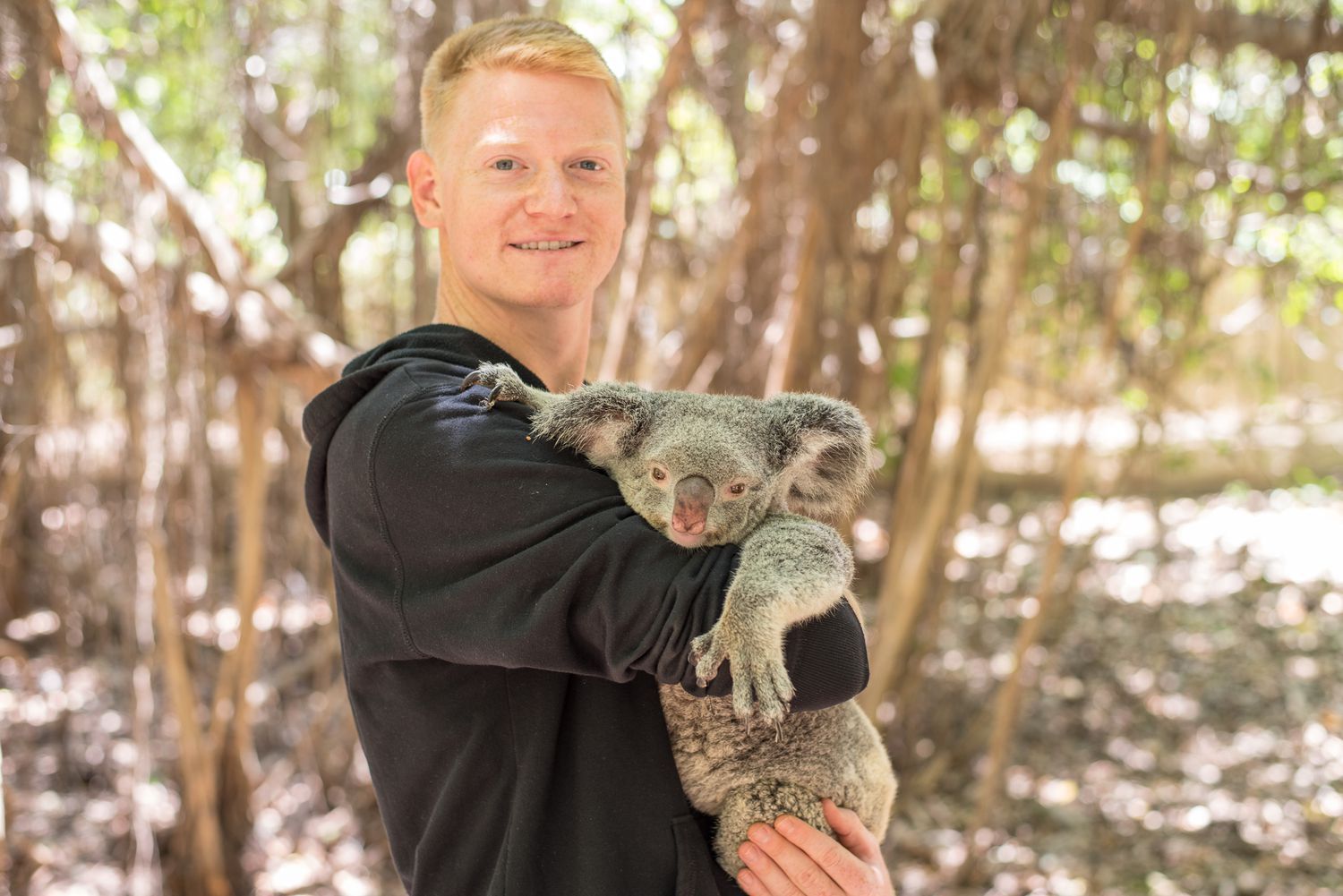 ---
If you just can't get enough of koalas (note, they are not bears), head to Lone Pine Koala Sanctuary. It's just a few minutes' drive from Brisbane CBD and has the claim to fame as being the "world's first and largest koala sanctuary." This is a once-in-a-lifetime chance to actually hold and feed these gorgeous native – and very sleepy – animals.
An insider tip? Head to their website and watch the koalas in real time thanks to their cool live stream. As I wrote this, I visited the koalas and they were sweetly cuddling while sleeping. They've also got a platypus camera, but they didn't come out to say hi.
But it doesn't end there. Brisbane has so many animal sanctuaries on its doorstep, you'll want to take a week just to visit them all.
There's also Daisy Hill Koala Centre, Walkabout Creek Wildlife Centre, Summer Land Camels, Ottaba Llamas, Lyell Deer Sanctuary and Try It Emu Farm. There's a home for every type of creature, and adults, big kids and little kids alike will love it.
Brisbane animal sanctuaries are less about cramming visitors into a concrete jungle and more about caring for these animals in a comfortable, kind, and natural habitat for them.
---
Brisbane River Cruise and Koala Sanctuary Visit

: "The Koala and River Cruise takes you on a memorable journey to the oldest and largest Koala Sanctuary in the world. This popular excursion has been taking visitors to the Lone Pine Koala Sanctuary for over 60 years and is a must-do activity in Brisbane."
Hanging Out with Koalas, Kangaroos & More // Australia
---
BRISBANE ITINERARY DAY 4: EXPLORE THE BRISBANE HINTERLAND
Your final day in Brisbane should definitely be spent getting back to nature and exploring the surrounding hinterland.
Queensland is an outdoor lovers' paradise, and the Brisbane Hinterland offers up an experience you'd be crazy to pass up. Moreton Bay Hinterland is just a 90-minute drive from Brisbane and is a great day out for single travelers, couples, and families. It provides a glimpse of the many natural wonders this part of the world offers.
There are horse riding, mountain biking, and hiking opportunities across a range of trails, parks and lakes. Take a splash in a swimming hole under a real waterfall at Rocky Hole on Mt Mee – it's nestled deep within a eucalyptus forest. There are lots of water sports on offer at Bunya Crossing Reserve Swimming Hole or hire a 4WD and head to Bellthorpe National Park.
If you're an avid camper, there are lots of epic spots across the hinterland to set up your tent and get in touch with nature in an untouched environment. Permits are required.
The Hinterland region is also close in proximity to the Moreton Bay islands that I listed earlier, so you can access these from here.
It's so easy and enjoyable to spend 4 days in Brisbane, but I guarantee that you'll be so relaxed and at one with this beautiful, warm, and friendly corner of Australia, you'll be extending your trip for sure!
AUSTRALIAN HINTERLAND + Coast
---
MORE ITINERARY BRISBANE ACTIVITIES
If you need a Brisbane itinerary for 5 days or more, you'll need a couple more adventures to add to your bucket list. Whether you're visiting Brisbane for the hustle and bustle or for the beachside living, there are more fun places to explore.
---
STREETS BEACH
You're probably thinking, just another beach excursion in Brisbane, right? Wrong! Streets Beach is incredibly unique because it is a man-made beach right in the city center. The tranquil blue lagoon is surrounded by white beach sand and sub-tropical plants that make it look like the ideal beach destination.
Bring your own picnic or purchase snacks at the snack stalls to enjoy a relaxing afternoon at this unique 'beach'.
---
CLIMB STORY BRIDGE
Are you looking to spice up your trip with something a little more adventurous? It doesn't get quite as spectacular as climbing the iconic Story Bridge to take in panoramic views of the city's surroundings. Brisbane's Story Bridge is identifiable from many places in the city, so can you imagine the views it provides?
The Story Bridge adventure climb takes 2 hours, but don't worry. You'll be stopping to take memorable pictures along the way to ensure this is an experience that you will never forget. You can choose to take the tour any time of day, but for beautiful views and the best lighting, venture out at sunrise or sunset.
---
FORTITUDE VALLEY NIGHTLIFE
There are many areas in Brisbane that can be appreciated for their buzzing nightlife, but none are quite as culturally diverse and captivating as Fortitude Valley. Whether you visit for the art scene, dining options, or the multitude of great drinking holes, there is truly something for everyone in this thriving neighborhood.
---
QUEENSLAND PERFORMING ARTS CENTRE
This performing arts center has made a name for itself by housing some of the best ballet performances, comedy shows, and big-name theater productions that come to Melbourne. While it could be a tricky one to coordinate if you are only in Brisbane for a short while, longer stays would be richly enhanced by a visit to this artistic marvel in Brisbane's city center.
Before your trip, take a look at what performances are in town during your stay, as there just might be something that tickles your fancy. Your inner city experience won't be quite the same without this culturally enriching experience while you visit Brisbane.
---
CENTRAL STATION
The ultimate Brisbane itinerary wouldn't quite be complete without some iconic photo locations. The exterior of Central Station in Brisbane happens to be just that, with its old architecture and discernable clock tower.
The river city has many stunning photo locations hidden within its limits, but Central Station makes for a recognizably Brisbane photo to add to your memory box.
---
EAGLE STREET PIER
If you are looking to get out and stretch your legs, then taking a stroll along Eagle Street Pier is a great option. With skyscrapers to one side and the wonderful city river to the other, the juxtaposition makes for stunning views.
It's also a great place to snap some photos of Brisbane's CBD. It certainly does paint the city in a great light.
---
BRISBANE RIVERWALK
The Brisbane Riverwalk is another great place to catch some stunning river views but with a unique twist. Instead of walking along the shore of the river, you'll actually be walking on the river with this innovative floating bridge that zig-zags across one side of the river. You'll likely encounter runners and cyclists along the way, all hoping to make their fitness routine a little more magical with stunning Brisbane views.
If you simply want to take in the views without being a part of the hustle and bustle, then pack a picnic and choose one of the shaded areas along the walk to do some people-watching. And when you're ready to kick your day into gear again, you'll be close to all the action.
---
WHAT AM I MISSING FROM THIS BRISBANE ITINERARY…?
There's honestly a whole lot more you could get up to while in Brisbane, but I wanted to keep this a bit shorter and sweeter and to give you a general idea of what to do while you're in the city (and explore the nearby attractions)!
If you think I need to add any specific tour, day trip, restaurant, museum, attraction, or whatever else, please do let me know!
10 Best Things to do in Brisbane - Queensland City Guide
---
PLANNING A TRIP TO AUSTRALIA…?
Having lived and worked down in Australia for over a year, as well as numerous different trips down under, my website is filled with helpful travel articles, itineraries, and lots of stunning photography!
I'd love if you'd take a look through some of my favorite articles below, and feel free to reach out to me on social media if you have any questions related to travel, music festivals, photography, or anything really! :-)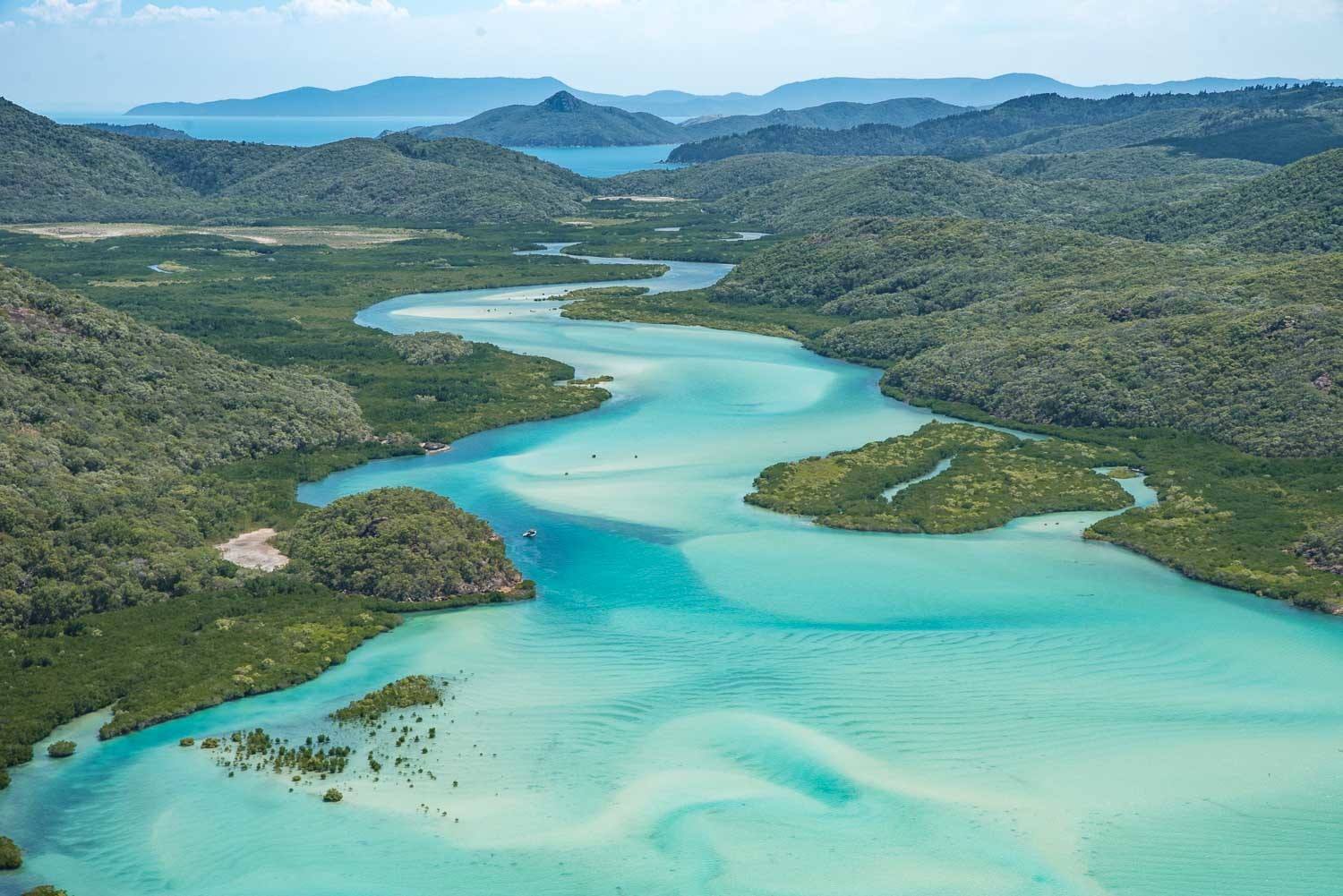 ---
Thanks for reading my Brisbane Itinerary
Share this Brisbane Itinerary with your travel squad!
https://www.jonesaroundtheworld.com/wp-content/uploads/2019/09/Best-Brisbane-Itinerary.jpg
1001
1500
Dave
https://www.jonesaroundtheworld.com/wp-content/uploads/2017/03/logotry-1-1-300x106.png
Dave
2019-09-12 18:31:13
2023-05-12 08:47:43
BRISBANE ITINERARY | HOW TO SPEND 4 DAYS IN BRISBANE, AUSTRALIA