In the mood for a relaxing weekend? Nestled in a small corner of the Puget Sound only an hour from Seattle, you will find one of the best-kept secrets of the Pacific Northwest- the town of Gig Harbor. A small village founded in the late 1800's by Croatian and Scandinavian fisherman, Gig Harbor was recently listed by Smithsonian Magazine as one of the best small towns in America. With the Cascades to the East, the Olympics to the west, and the sleeping giant Mt. Rainier looming above the clouds to the South, there is no bad view in The Maritime Village. With a thriving art scene, abundant outdoor recreation opportunities, multiple breweries, restaurants, shops, and a waterfront distillery gaining international acclaim, there's plenty to do even on a cloudy day.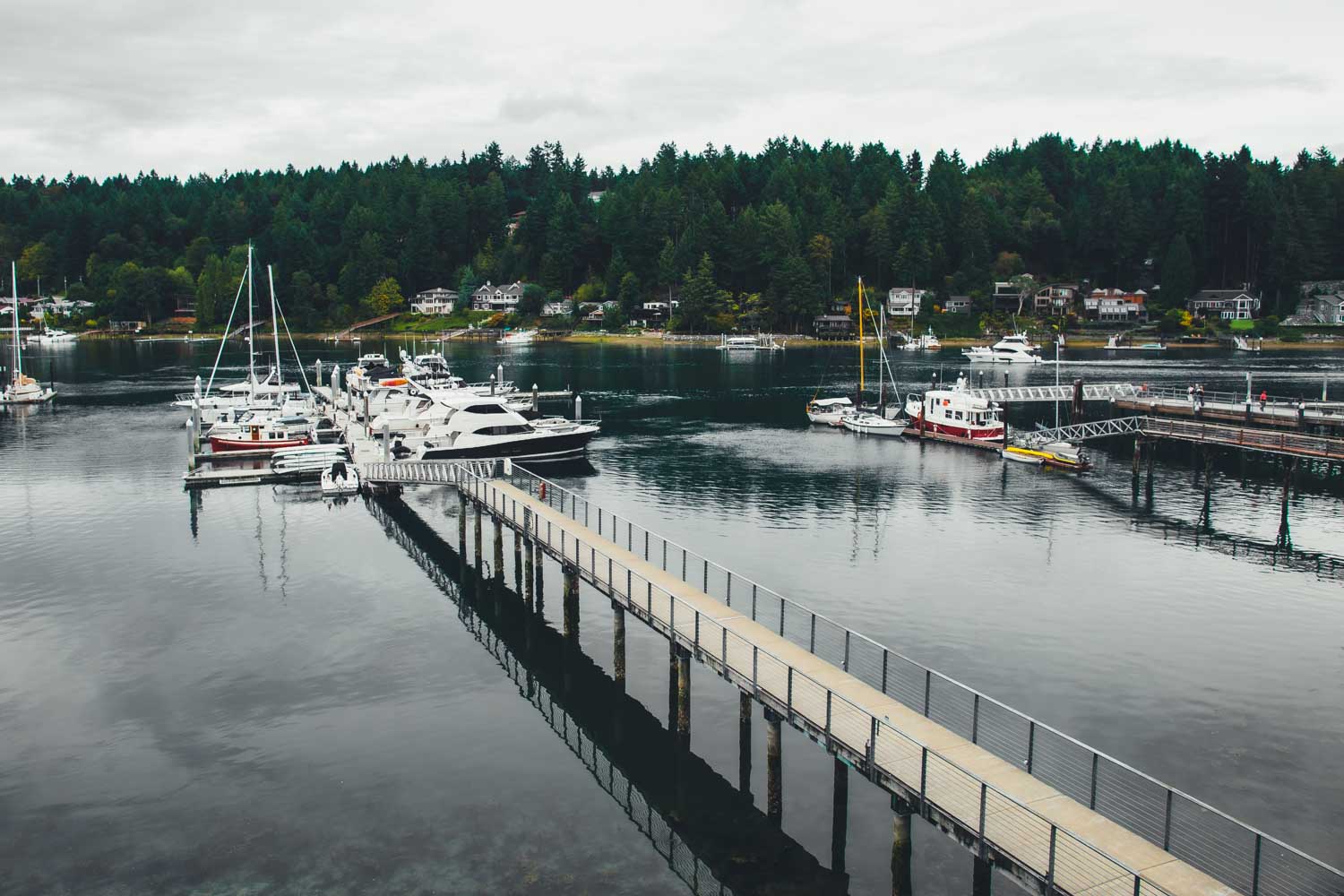 ---
How to get Gig Harbor from Seattle
You can get to Seattle a couple of ways. The traditional approach is to simply drive south, but the only highlight of that trip is crossing the famous Narrows Bridge, one of the longest suspension bridges in the U.S. The advantage to this route however, is that as long as you're not driving during rush hour, you can get to the harbor in about an hour. If you do hit rush hour, set up shop- it's going to be a while.
The other, more scenic way to Gig Harbor is by ferry. There are two, and both will take a little longer, but on a sunny day, it's the best way to get a view of the Seattle waterfront and Mt. Rainier.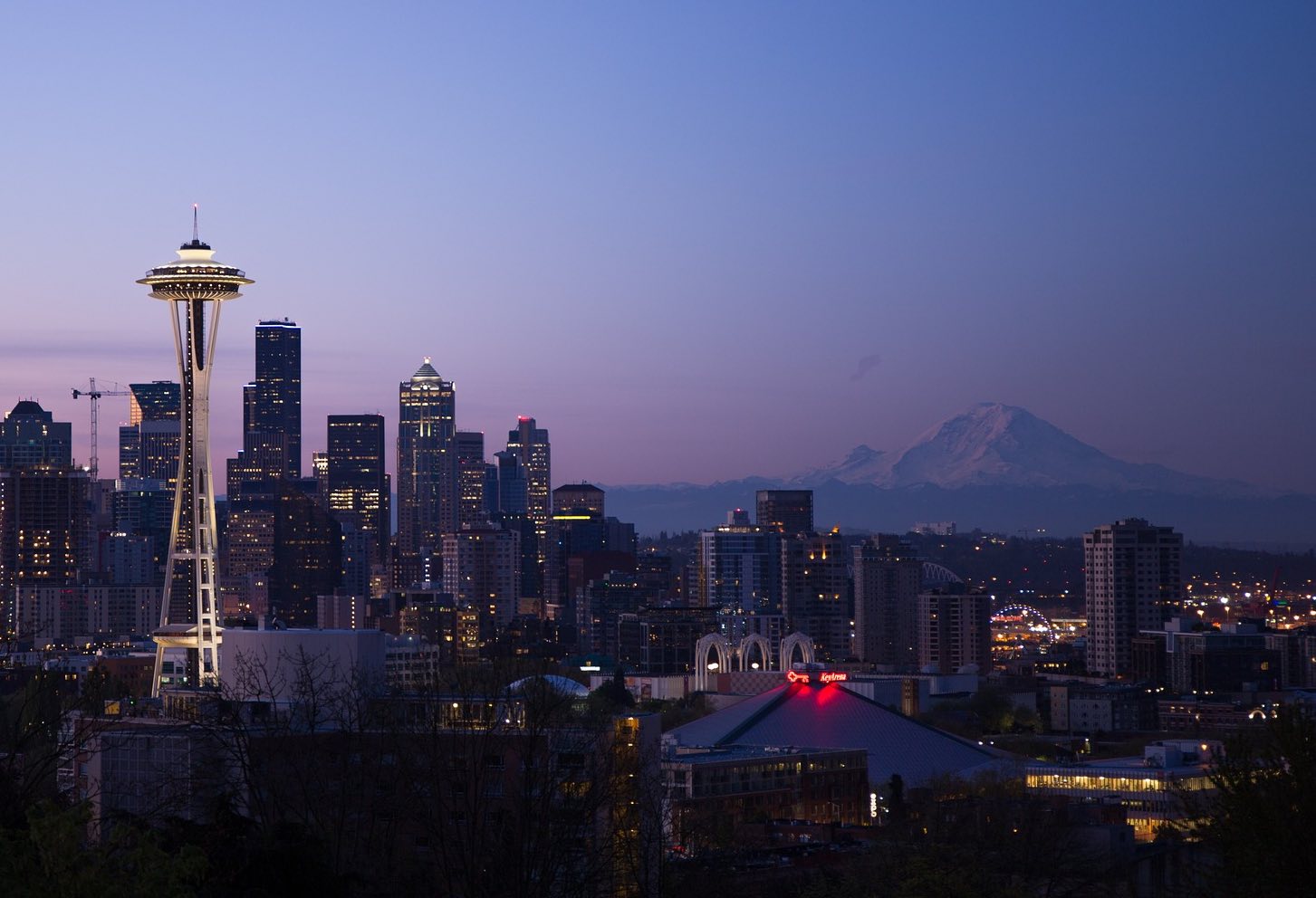 ---
Where to stay in Gig Harbor
While you could easily experience the best of Gig Harbor in a day-trip from Seattle, I think to fully experience the small-town charm found here, you'll want to spend a couple of nights here!
The Maritime Inn: It'll cost a little more (around $200/night depending on the room,) but you'll be steps from the waterfront, shops, galleries, taverns, and eateries. Also, if you book one of their packages, you'll get a gift certificate to one of the waterfront restaurants, making it well worth the cost!
The INN at Gig Harbor: This is my top pick for where to stay though, as it's great value, comfortable rooms, and has an abundance of fantastic reviews! With free breakfast included, plenty of parking, and welcoming staff – it'd provide for an amazing stay during your visit to Gig Harbor!
Airbnb: In the past couple of years, I've become quite a big fan of utilizing Airbnb while traveling both domestically and internationally. While the selection is quite limited, there are some beautiful places to rent for a variety of budgets. I think this would be perfect for a weekend family getaway! Plus, if you sign-up for a new account, you'll receive $54 OFF Your First Booking!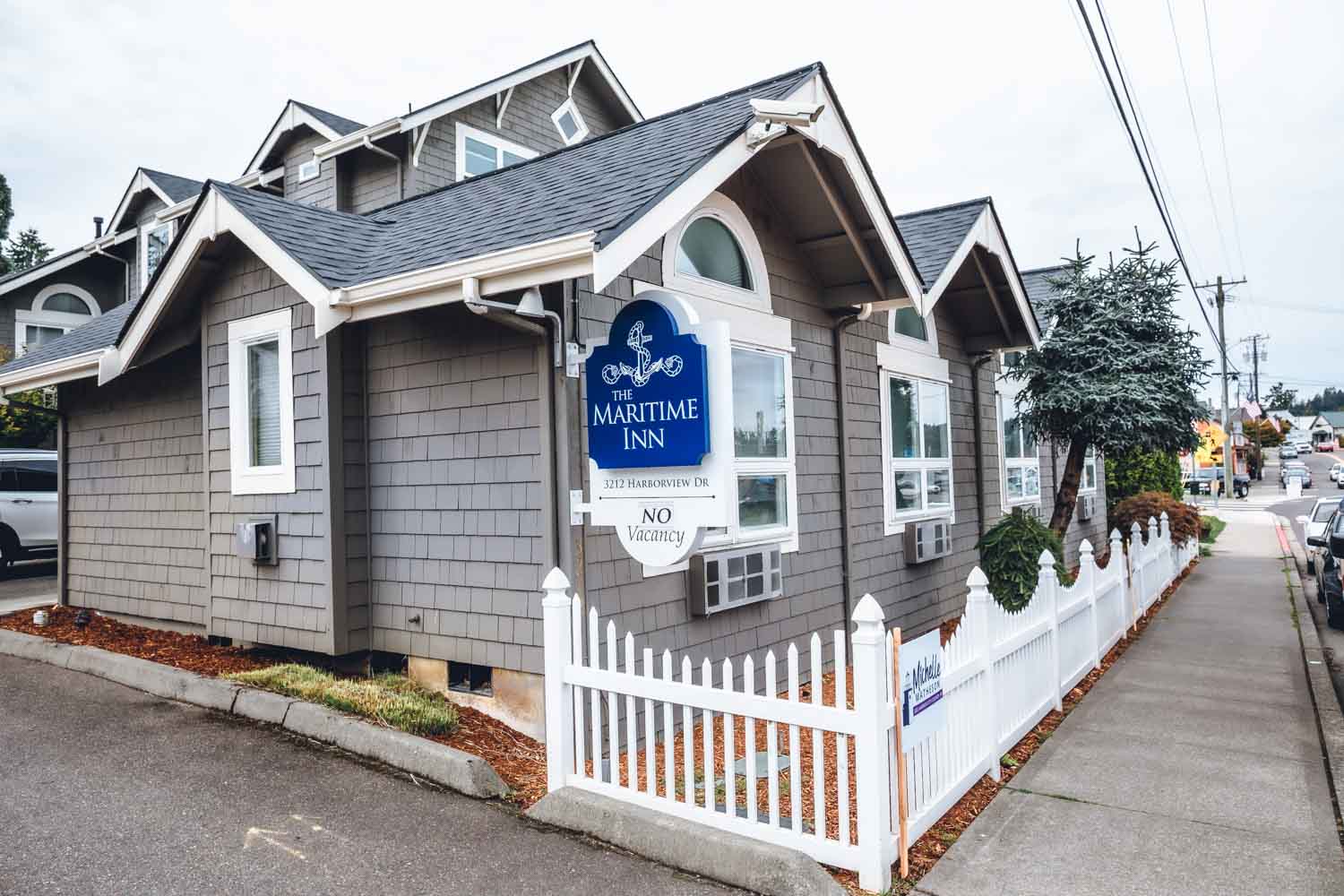 ---
Where to eat in Gig Harbor
Gig Harbor boasts a thriving food scene and hosts three different festivals throughout the year. From the delicious food truck style menu at Trolley at the Boatyard, to the high-end fine dining at Brix 25, there's a little something for everyone.
Breakfast in Gig Harbor
If you ask locals where to go to breakfast, they'll usually argue over two places: Devoted Kiss Cafe, or Netshed No. 9. Both have water views, both are excellent, and both are places you need to hit before you leave town.
If you're only in town for one day, however, hit Netshed No. 9 for breakfast and Devoted Kiss for lunch; their sandwiches are famous. If you're more in the mood for a greasy spoon, walk up the street to Kelly's. It's a little more run-down than the other two, but it's another local favorite, your money will go a little further, and you're still only steps from the waterfront!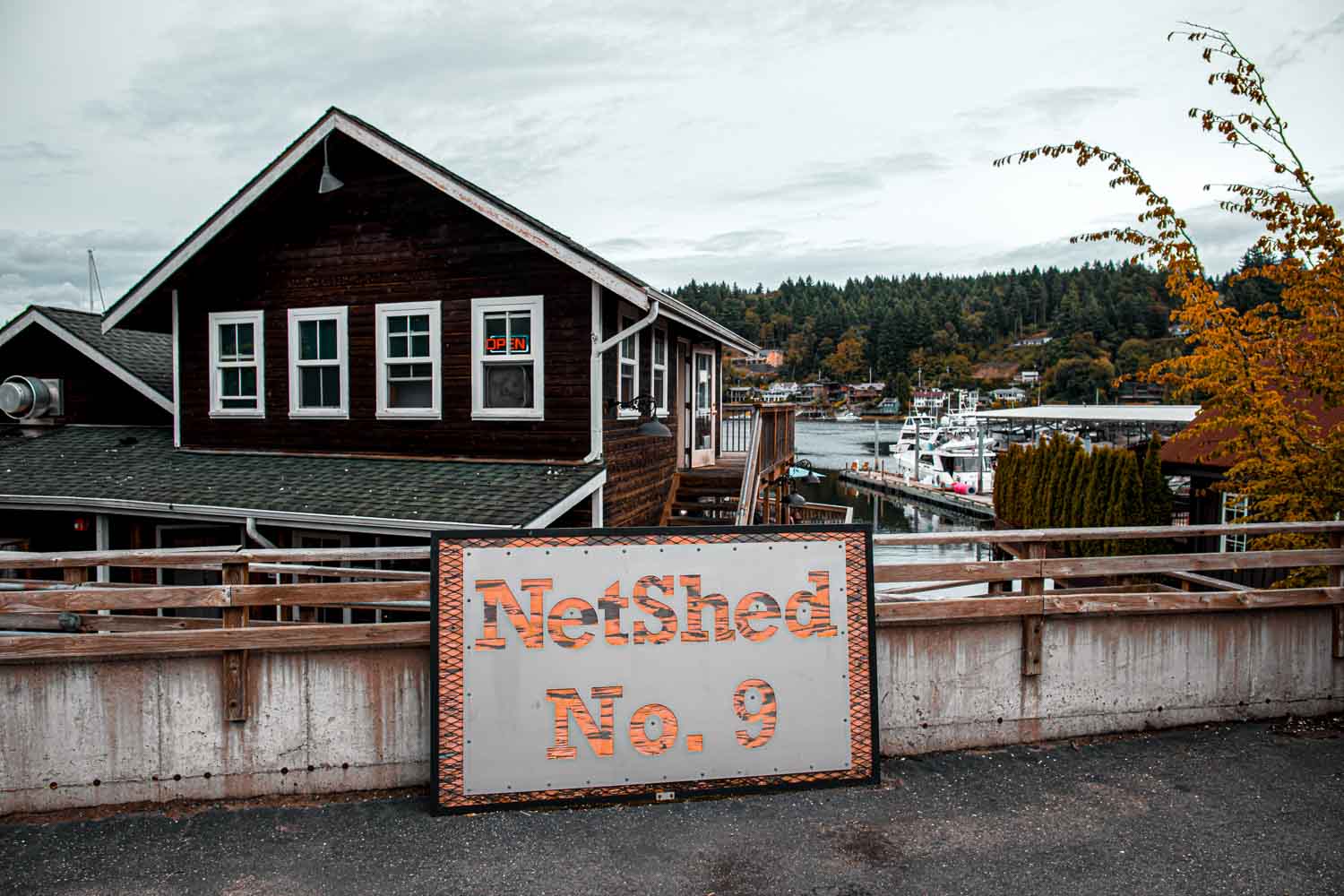 ---
Lunch in Gig Harbor
There are plenty of lunch options, but in the summer months, one of the best spots is the Trolley @ the Boatyard. Their menu is varied from fish tacos to a Cuban-braised pork sandwich, and well as several vegetarian options.
Alternatively, you can head up the waterfront and grab a wood-fired pizza at Millville. They run a $20 lunch special that includes one pizza, two sodas and two side salads, however it's worth the extra $6 to add some flatbread. If you want something quick, swing by the General Store and grab one of their handmade sandwiches or salads.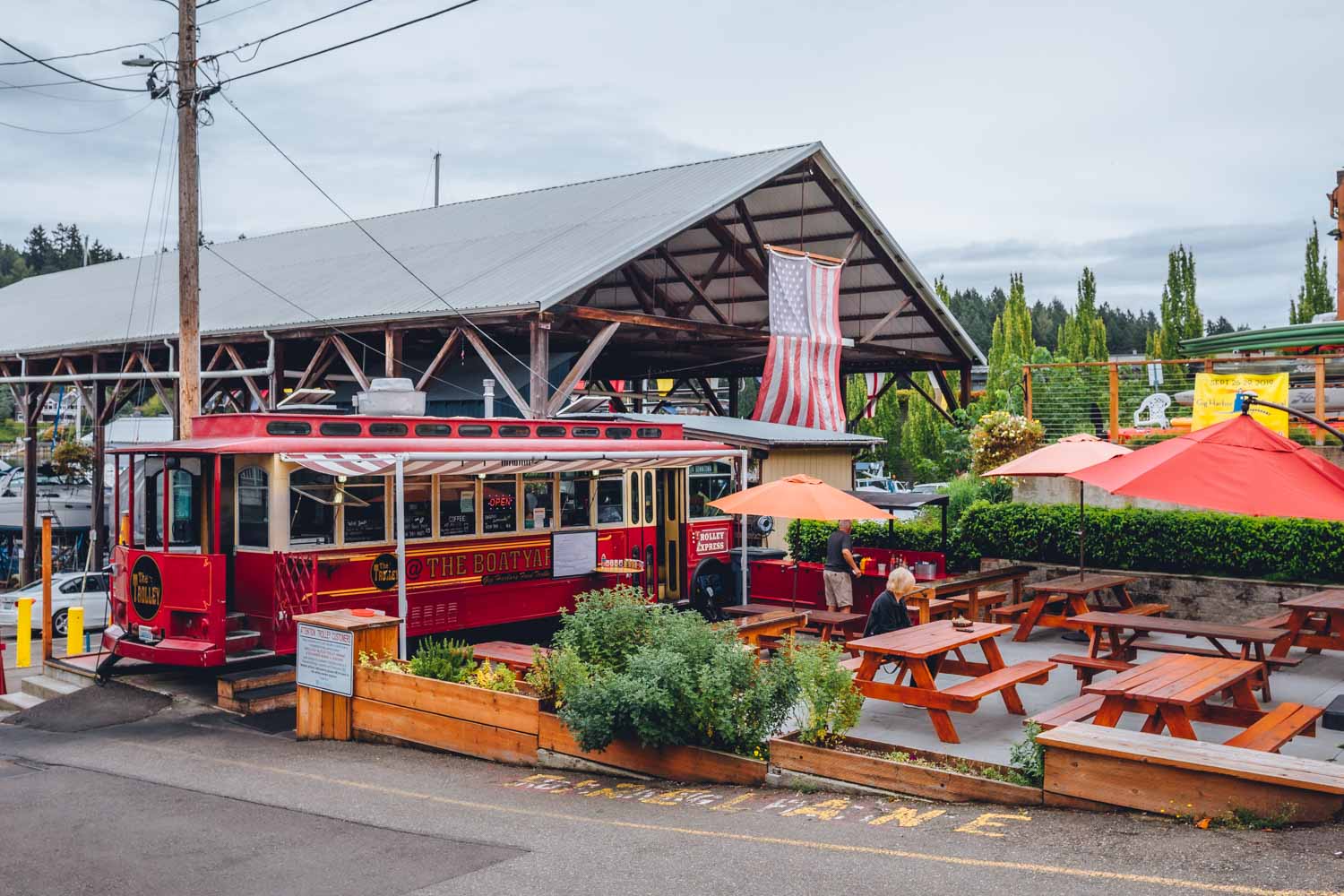 ---
Dinner in Gig Harbor
If you want the true Harbor experience (and you don't have kids with you,) the most ubiquitous restaurant in town is the Tides Tavern, located directly next to the Gig Harbor Pier. What started as a general store in 1910, Tides became a tavern in the 30's and has remained the local watering hole ever since. Tides serves traditional pub-style food but in an environment that can't be replicated. The tables are nearly as scratched as the wood floors beneath, and the walls are decorated with snapshots of Harbor residents donning the Tides Tavern T-shirt in locales all over the world. When the weather allows, people sit on the deck and enjoy a local beer with some fish and chips, burgers or a homemade pizza while they watch (and sometimes judge) those driving their boats in and out of the harbor, for customers are just as likely to drive as they are to come in from their boat moored at the dock.
If you want a casual dinner, Tides works, or you can swing into Brimstone Smokehouse. Just a few steps up the hill from the water and owned by the same folks who own Netshed and Brix 25, Brimstone is a new local favorite serving everything you would find at a Southern BBQ, while also providing old-school arcade games to play while you wait. If you're in the mood for Italian, go to Il Lucano's. Chef Michele was born and raised in Oppido Lucano, Italy, and brought his family recipes to the Pacific Northwest. What the place lacks in visual aesthetic, it makes up for with authentic, homemade Italian cuisine, making it one of the area's best-kept secrets.
If you're looking for a more sophisticated dining experience, both the Green Turtle the newly renovated Brix 25 have stunning waterfront views and serve refined, seasonal and locally-sourced Northwest-inspired meals.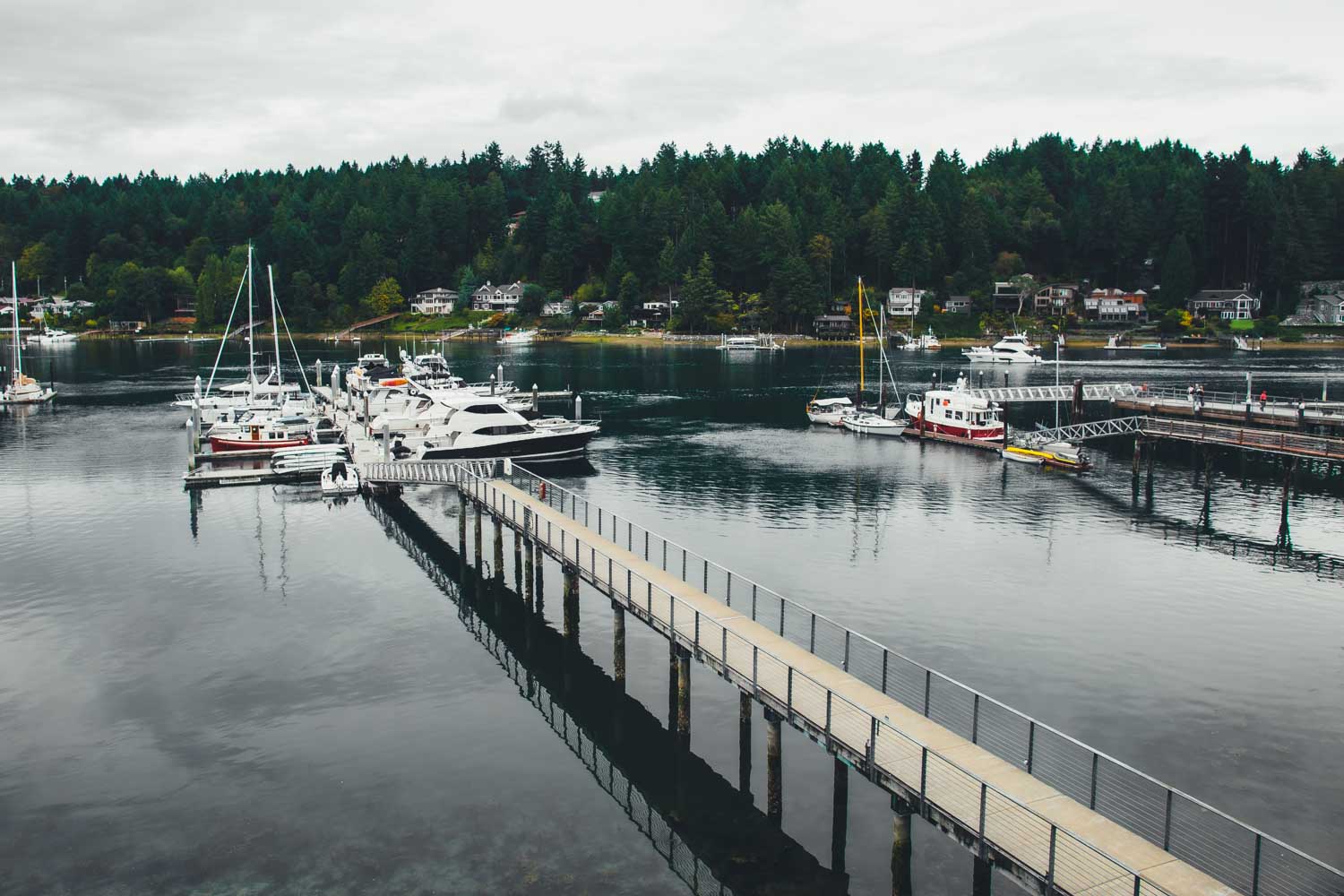 ---
Where to Drink in Gig Harbor
Coffee in Gig Harbor
Coffee is synonymous with the Pacific Northwest, and Gig Harbor has plenty to choose from. Of course, there are several Starbucks throughout the town, but there are two local options you might prefer!
The Davenport is a town favorite. From wide plank tables with plenty of room to spread out, to comfy overstuffed leather couches, the Davenport is a great place to enjoy a kick back and enjoy a warm drink. In addition to gourmet coffees, they have a growing menu of breakfast and snack foods, including Belgian waffles made from donut batter. Davenport also serves alcohol in the evenings, and if you go on a Friday or Saturday night, you're likely to hear some live music.
Cutters Point Coffee Co

. has been roasting their own beans since the mid-90's. Their shops have overstuffed furniture and plenty of spots to sit, whether you just need to relax, or get some work done.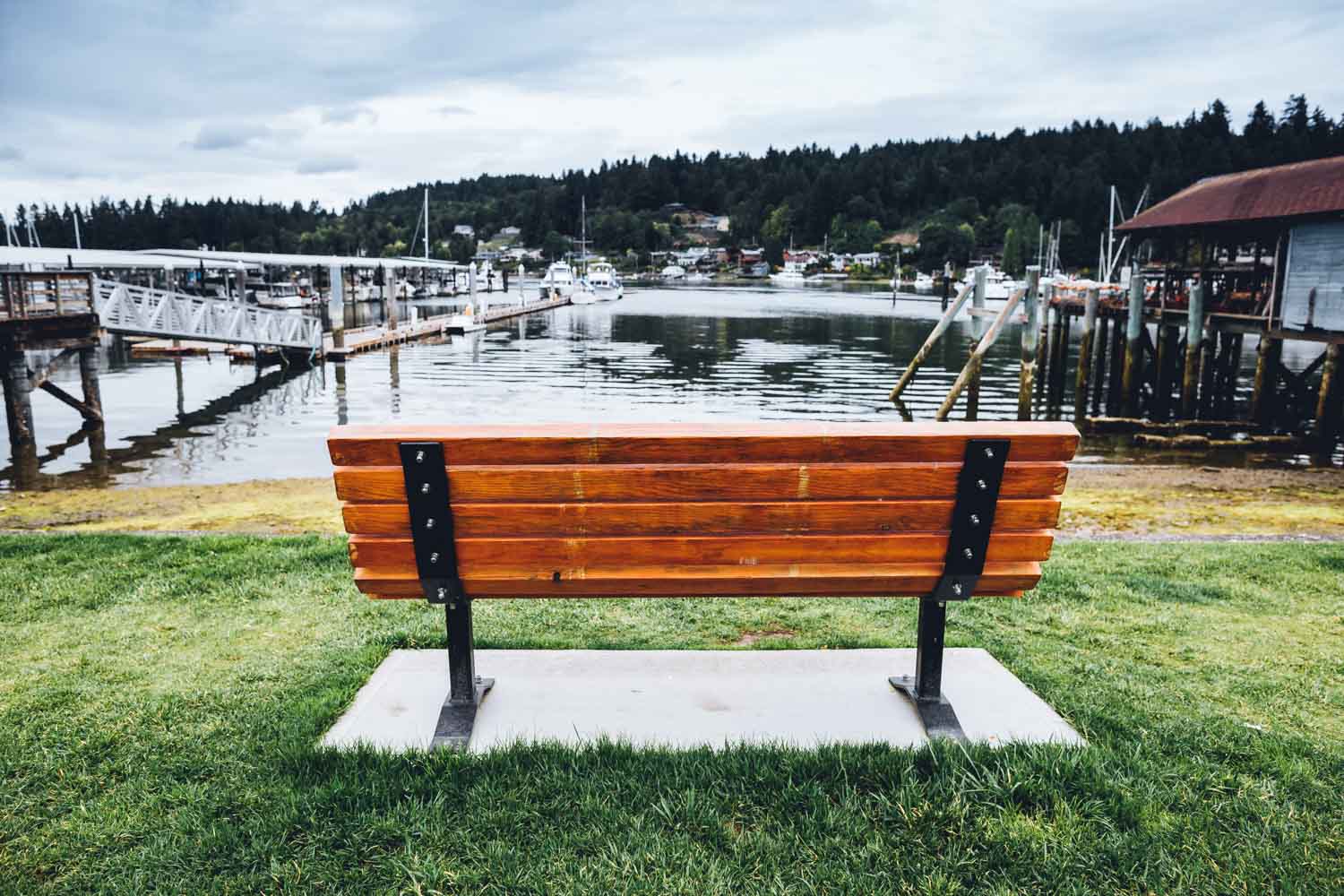 ---
Breweries in Gig Harbor
If you're in the mood for a beer, Gig Harbor has plenty for you to sample in the many breweries and taprooms throughout town.
One of the originals and still one of the best is 7 Seas Brewing. They have no fewer than 12 beers on tap, as well as a variety of local cider, gluten free beer and soda for the kids. If you're hungry they welcome you to bring food in, or have some delivered. Get a flight and taste a bunch.
The other waterfront brewery is Gig Harbor brewing. Their selection is smaller than 7 Seas, but if you're looking for a more quiet, intimate environment, that's the place to go.
The smaller West Coast Brewing, Fox Island Brewing and Harmon Brewery are all only a few minutes away and have excellent selections to choose from. If you'd like to sample a little of everything, go to Local Boys taproom. They serve only local beer and cider and have over 40 available on tap. They open around noon every day, and their closing hours are basically until everyone leaves.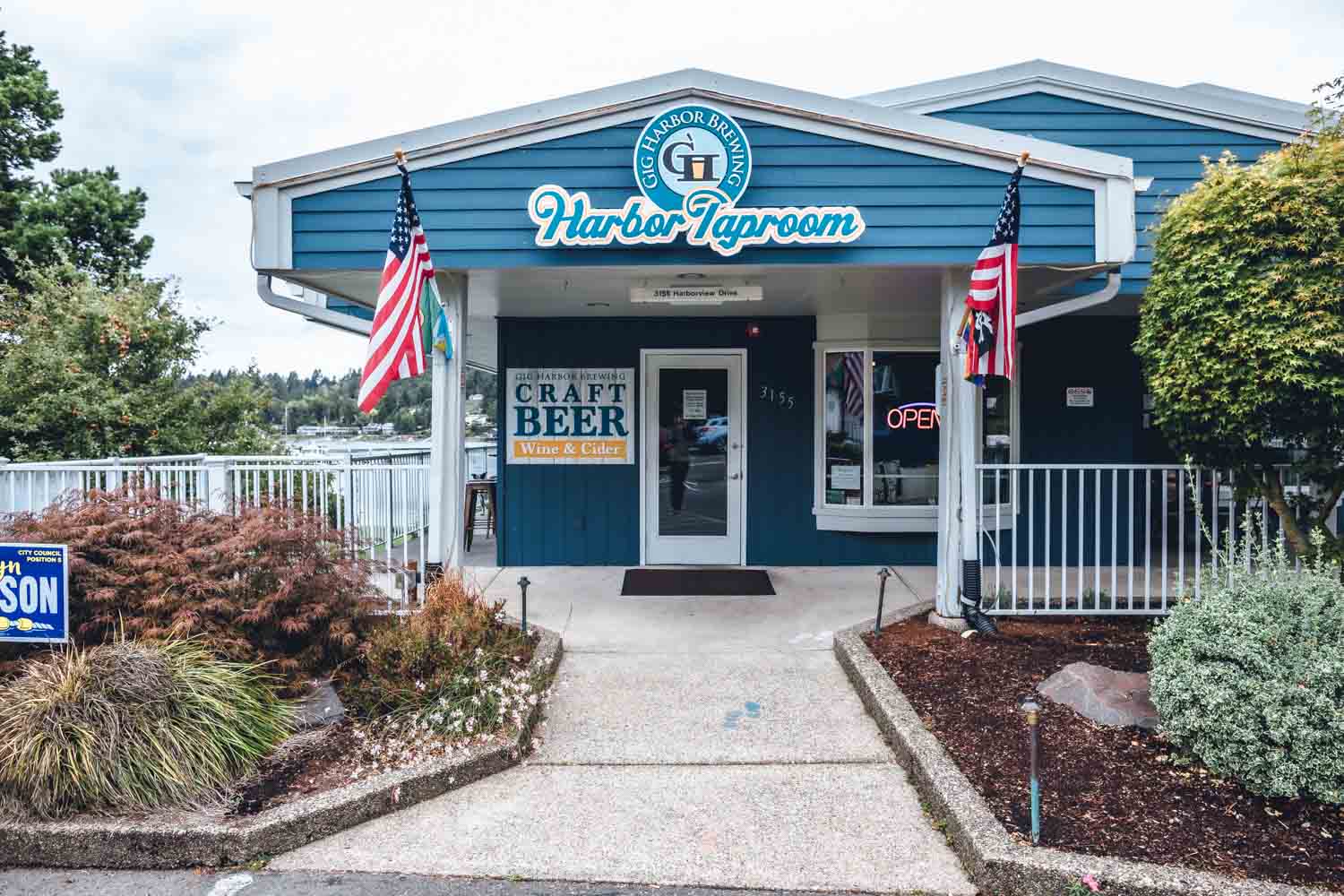 ---
Wine in Gig Harbor
If you prefer wine, head to Morso at the north end of the waterfront. Not only will you have stunning views, Morso was actually selected as Open Table Top 100 Wine Lists in America. They offer a variety of tapas, are one of the stops on the Gig Harbor Art Walk, displaying work by local artists. Gertie and the Giant Octopus wine bar and bistro is another fun option. A tiny location in the Uptown shopping center, they offer European-inspired dishes and an eclectic list of wines matched to their seasonal menu.
---
Whiskey in Gig Harbor
Finally, don't leave Gig Harbor without stopping by Heritage Distilling. Ranked as the most award-winning craft distillery in North America, Heritage makes a variety of vodka, gin and whiskey right here in Gig Harbor. Not only can you visit the tasting room downtown, but you can head a few minutes up the road visit the distillery to take a tour. Or, if the time is right, you can take a "my batch" class and make your own bottle to take home with you. Stop in for a sample; kids are welcome!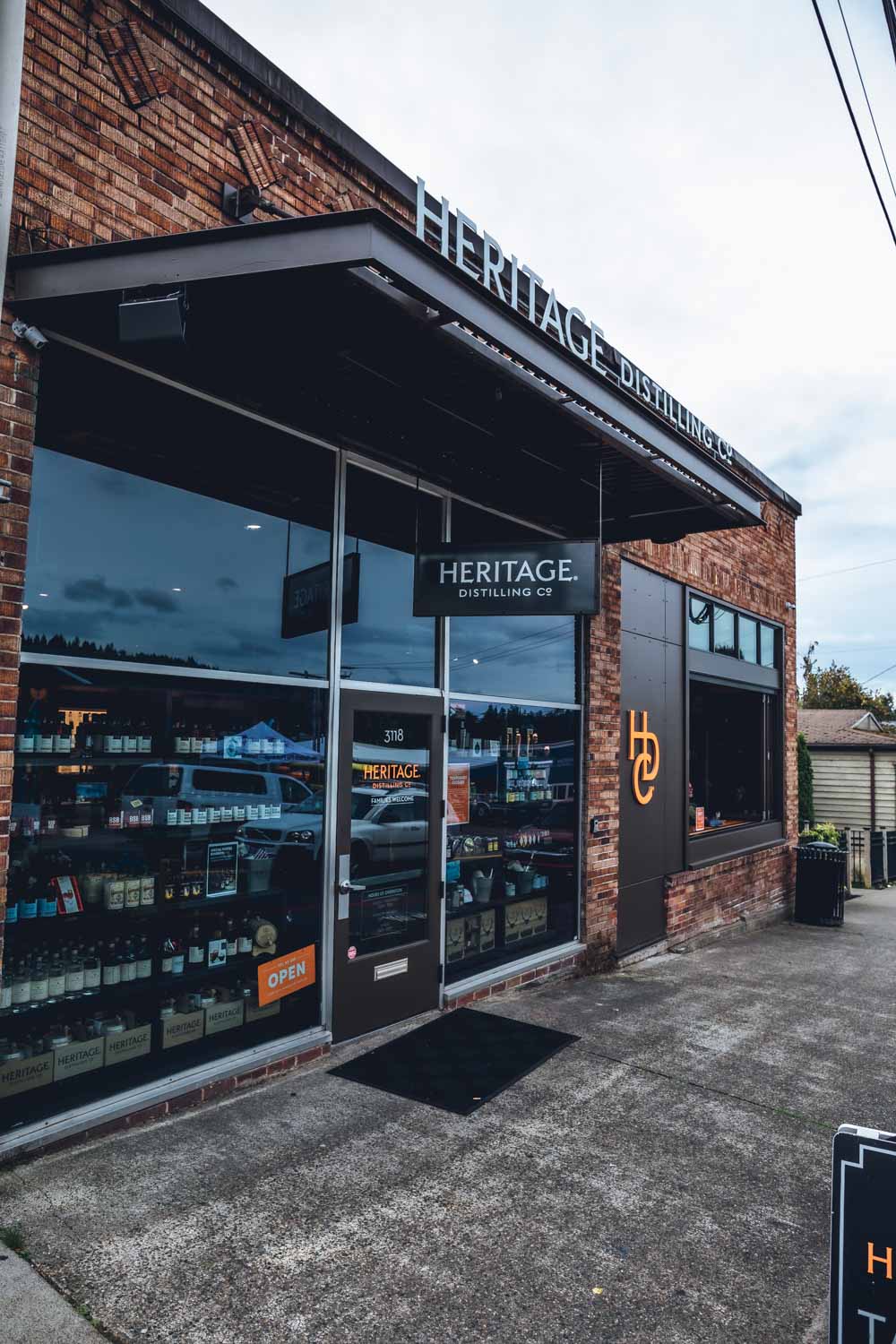 ---
Things to do in Gig Harbor
There are plenty of things to do in downtown Gig Harbor, from relaxing tours to outdoor adventures.
For the art lover, there are nine art galleries on the waterfront, and the town hosts an "art walk" the first Saturday of every month. In each gallery, people will find refreshments and demonstrations, and those who visit all nine (there's an "art-walk passport" to get stamped,) will have their name put in a drawing for a $50 gift certificate to use downtown. If you can't make it on the first Saturday, you can still stroll through the galleries and shops any day of the week and enjoy what local artisans have to offer. If you'd rather create, go to Java & Clay Cafe on the waterfront. There you can grab a cup of coffee, maybe a snack, and paint a piece of pottery that they will then glaze and fire for you. There's no studio fee and you can walk in whenever they're open.
For the history buff, visit the Harbor History Museum and explore the many permanent exhibits including an 1893 one-room schoolhouse and the 65 foot fishing vessel Shenendoah

, currently under restoration. The museum also boasts interactive displays, hands-on exhibits and a theatre, all focusing on the history from the Native Americans who fist lived here, to the commercial fisherman still mooring their ships in the deep waters.

The Harbor History Museum

also partners with the Harbor Wildwatch hosting free historical walking tours every Wednesday night and Saturday morning through the summer. On these tours, one can learn not only about the history of the area, but the wildlife and resources enjoyed by locals year-round.

For the outdoor-lover

, there's plenty to do, especially on the water. You can rent a classic boat from the Boatyard to tool around the Harbor. If you'd like to be a little more active, there are three shops downtown who will rent you a kayak or a standup paddle-board. Launch from the dock at Skansie Brothers Park, where you'll find public showers, restrooms, and a small splash pad for the kids.

For a truly unique Gig Harbor water experience, book a guided fly-fishing trip

with the guys at the

Gig Harbor Fly Shop

. They'll take you out in one of their Hobie peddle-drive kayaks and teach you to fish for salmon and sea-run cutthroat trout using a fly rod. It might sound unusual, but it's a blast and the Puget Sound is one of the only places you can do it in the world. If you'd like to fish, but would prefer to do so from the beach, they'll take you to one of the local "secret" spots.

If you prefer to hike, your options are nearly limitless

. There are miles of trails in the McCormick Woods park, Sehmel Homestead park and both Kopachuck and Penrose Point State Parks, where you have access to beaches and woods. At Narrows park, you can take a short hike down to the beach, where you'll get an unusual perspective of the Narrows Bridge- the view from beneath.

On the Cushman Trail,

you'll find over 6 miles of paved, pedestrian-only road that winds through most of town. You can get to it from four different designated parking areas, and walk, ride or run. If you want to do the whole thing, know there's a two-mile section with an 8-10% slope. It seems minimal, but it will get your heart pumping and your calves burning sooner than you think.

If you're a golfer, Gig Harbor is only twenty minutes from the acclaimed course at Chambers Bay, home of the 2015 U.S. Open. If you want to stay in town, you still have three excellent choices. The Canterwood Country Club has 18 championship holes and was rated by Golf Digest as one of the best courses in the region. Madrona Links and Horseshoe Lake both offer beautiful courses with a more casual atmosphere.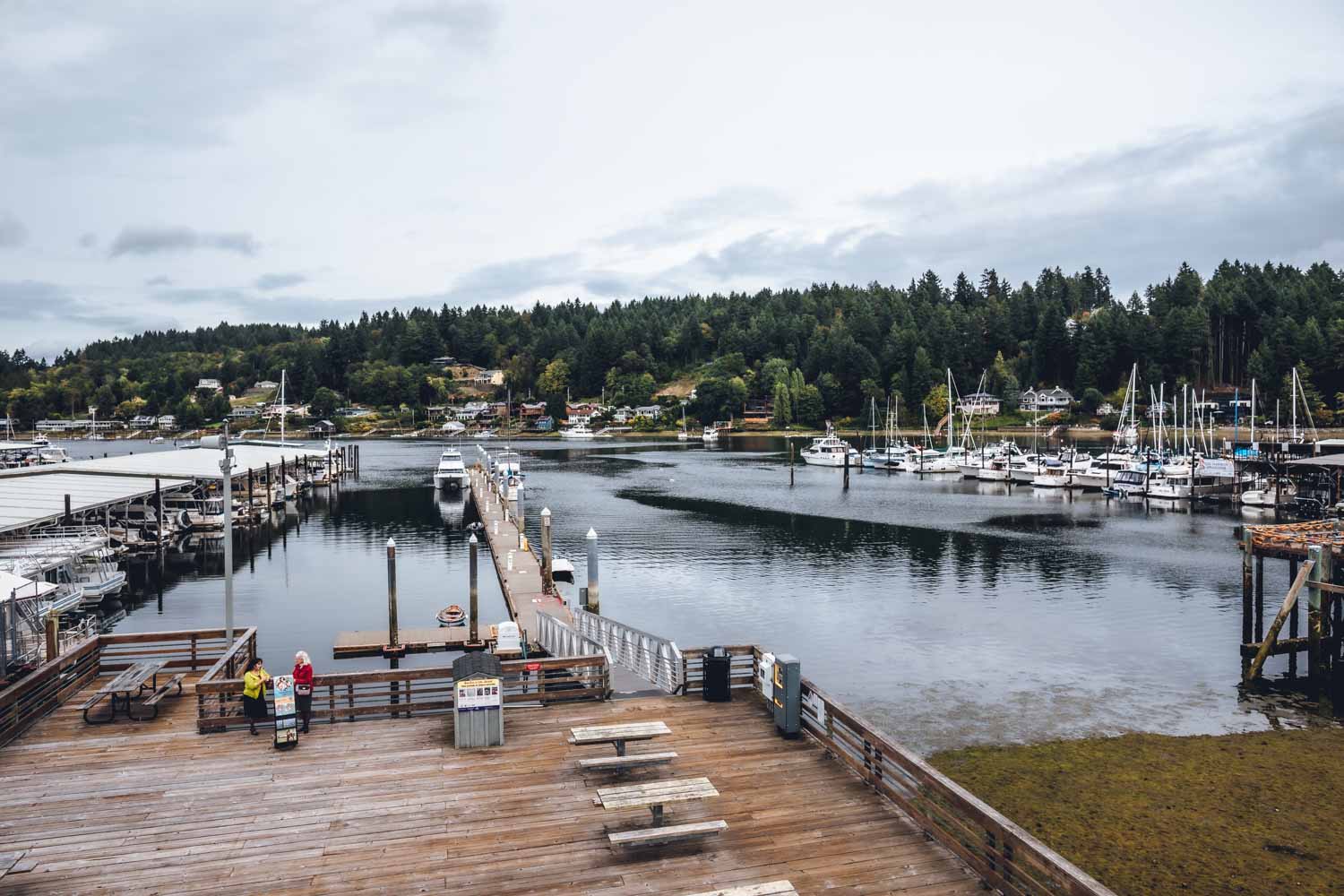 ---
Shopping in Gig Harbor
In addition to a diverse assortment of local shops and boutiques along the waterfront, more well-known stores and shops are only a few minutes up the road at the Uptown shopping center.
The town also hosts a Farmer's Market every Thursday, where in addition to local produce, you can find unique housewares, décor and gifts to take home.
---
What to do in Gig Harbor with Kids
There are several easily accessible playgrounds to visit from the rustic Crescent Creek park on the North side of town, to the gigantic Sehmel Homestead park where you'll find multiple play structures, slides and toys built to accommodate kids of all ages and abilities, (some of the toys are even ADA accessible.) Sehmel also has a large sports complex and a turf field.
Take the kids up the road to Performance Golf Center and let them hit a bucket of balls, or play 9 holes on the mini-golf course.
If the weather is bad, head over to the Uptown Galaxy Luxury IMAX theatre. Every seat is a leather recliner, and in addition to the usual popcorn and candy selections, adults can get a beer or glass of wine while you enjoy the show. With 11 screens, there are plenty of options for what to see. If you need something a little more active, drive around the corner to Ocean 5 Entertainment Center. Built and designed to serve families all over the region, Ocean 5 is the first self-sustaining community entertainment center in the Northwest. There you will find an expansive interactive arcade, state of the art laser tag arena and a bowling alley with traditional lanes, as well as the only duckpin bowling lanes in the region. They've also got a full restaurant and a coffee shop if you're feeling a bit peckish. The kids might be entertained to learn that the floors and walls are made with recycled plastic bags, the compost goes to the worm farm in the basement, and the building temperature is maintained with geo-thermal heat. Don't have any kids? Go anyway, the food is delicious and the service is unparalleled (you have a personal server while you're bowling.)
Finally, it seems a shame to visit Gig Harbor without seeing it from a boat. In addition to the personal watercraft rentals mentioned above, there are a couple tours you can charter. Destiny Tours leads a two-hour trip every day, touring in and around Gig Harbor. You'll have the opportunity to learn about the area's history, visit the Narrows Bridge, and possibly catch a glimpse of some local wildlife including Sea Otters, Harbor Seals and the occasional Grey or Orca Whale.
If you're looking for a more intimate experience, book a tour on the Gig Harbor Gondola. Yes, you read that right: a gondola. Climb aboard the authentic, Venetian-made gondola, snuggle under a blanket, enjoy some light appetizers and take a relaxing evening tour of the Harbor.
No matter what you chose to do, you won't be disappointed when you spend a day or two relaxing in Gig Harbor.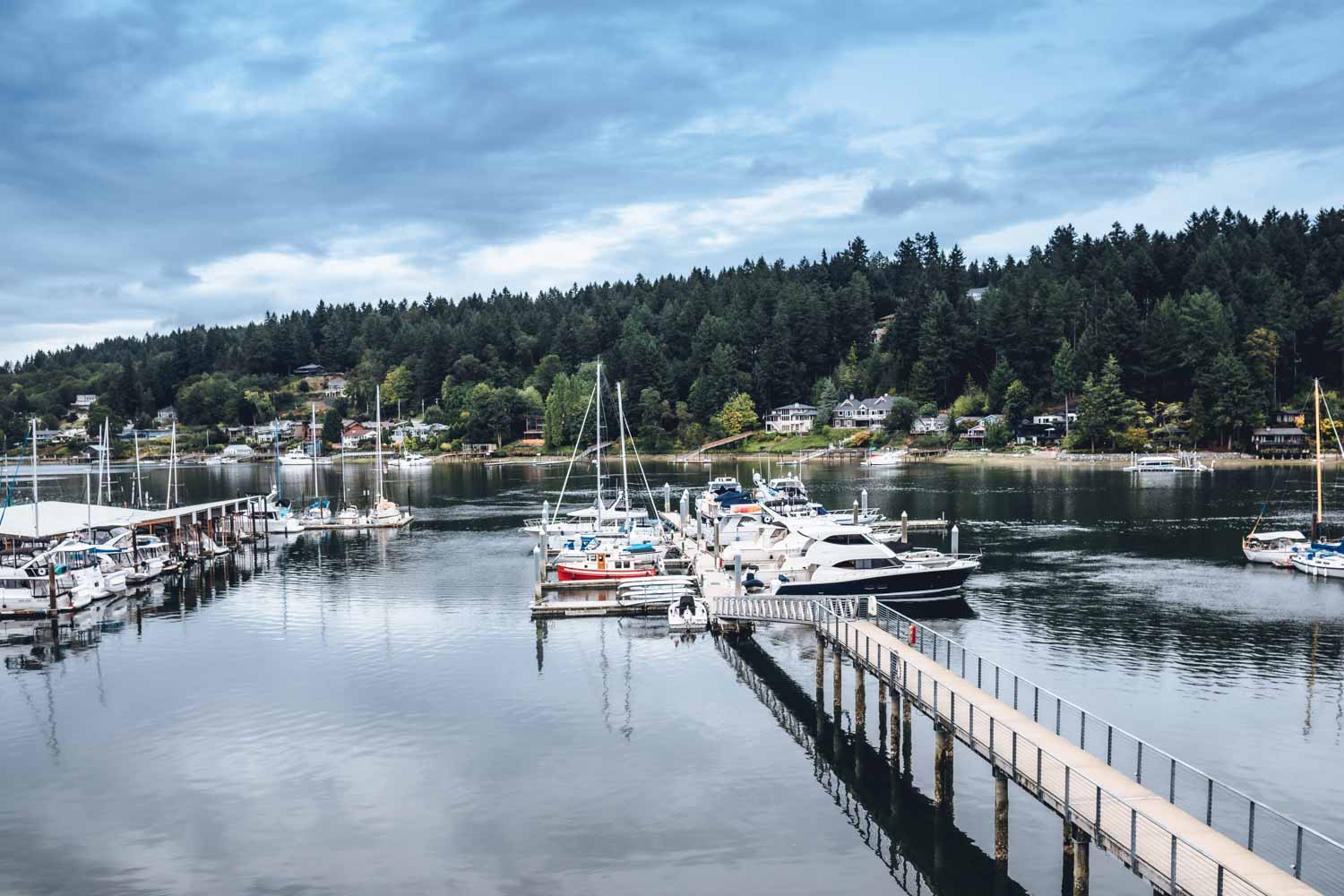 ---
Am I Missing Anything Special in Gig Harbor?
This post was written by a Gig Harbor local, but if you know of any other hidden gems or fun things to do, please do let me know! I'd love to keep this article as up to date as possible with fun attractions, bars, restaurants, tours, etc!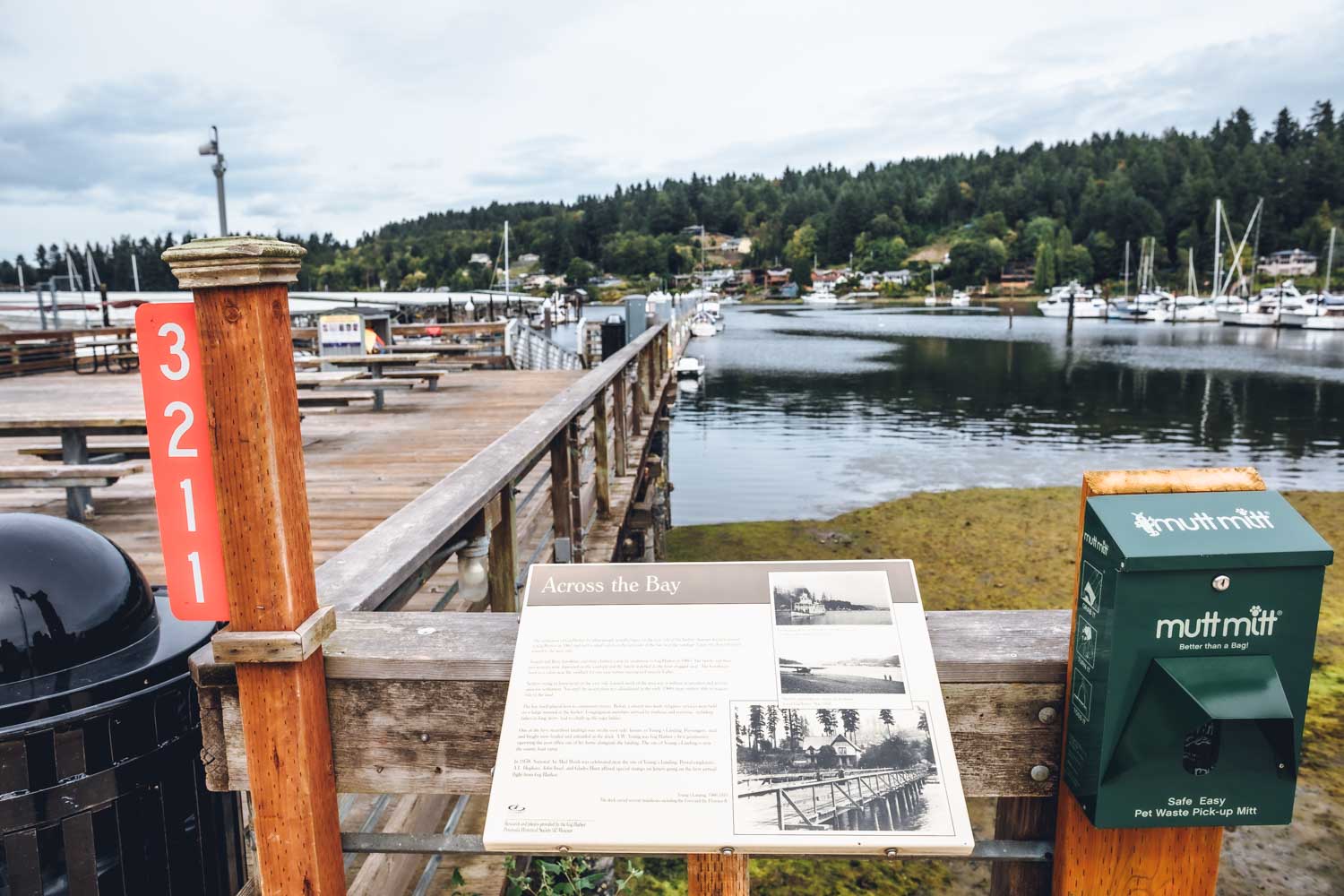 ---
Thanks for reading my Gig Harbor Travel Guide
Share the Gig Harbor love with your PNW travel squad!
https://www.jonesaroundtheworld.com/wp-content/uploads/2019/09/Gig-Harbor-Washington-22.jpg
1000
1500
Dave
https://www.jonesaroundtheworld.com/wp-content/uploads/2017/03/logotry-1-1-300x106.png
Dave
2019-09-16 21:22:23
2020-02-17 05:11:34
The Ultimate Travel Guide to Gig Harbor, Washington