Eager to get back to nature in Washington, albeit in luxe lodgings? My shortlist of the best Glamping Washington sites needs to be seen to be believed!
Washington has a feeling to it that is unique to any other U.S. state. It really has something for everyone. And I should know – I loved it so much that I moved here. At the time of compiling this list, Seattle is my home! While the winter months here can be difficult for me personally, the spring, summer, and fall seasons in Washington are truly spectacular and I'm so happy to live in this wondrous destination.
From the endless amounts of hikes, stunning national parks, and vibrant outdoorsy atmosphere – Glamping in Washington has become incredibly popular and there are SO MANY magnificent options to choose from! So I've put together this fun guide to the best Glamping Washington getaways, so continue scrolling and start booking your dream getaway now!
---
Glamping Washington Breakdown
Match the best Washington glamping destination to your own unique needs quickly and easily with my quick breakdown of the best five glamping sites in "The Evergreen State". If you don't find what you're searching for, keep scrolling and I'm sure you will!
The Coolest Glamping Washington Treehouse – Treehouse Point
The Overall Best Washington Glamping – Pampered Wilderness
The Best Unique Washington Glamping – Unique & Romantic Wilderness Glamping
The Best Luxury Washington Glamping – Skamania Lodge Treehouse Glamping
The Best Washington Glamping For Couples – Best View Around Luxury Camping
I've included a range of videos and photos throughout this list, both of the glamping sites featured and the various destinations covered. At the end of this blog, I've linked a range of other Washington and USA content I've published, to give you even more ideas to add to your travel itinerary. I highly recommend reading through the Top 15 Music Festivals In Washington & this guide on Treehouse Rentals in Washington!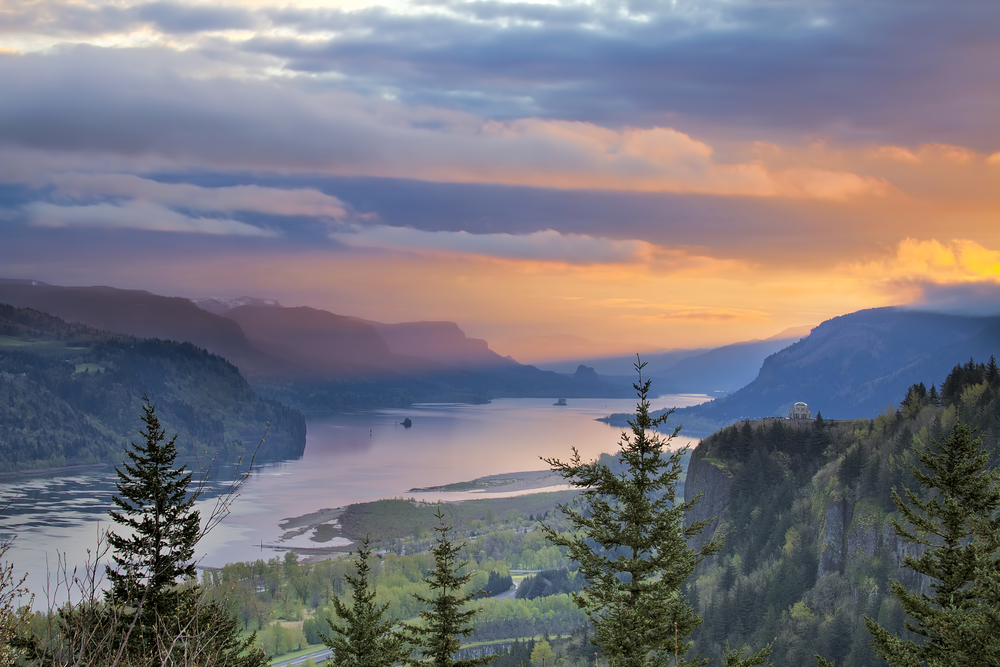 ---
Top 20 Places To Go Glamping in Washington State
I'm fascinated by an explosion in the popularity of glamping. That is glamorous camping. Glamping takes the traditional roughing-it camping experience and turns it on its head. Now even the most vamping-adverse travelers can get in touch with the wilderness while bunking down in luxurious surrounds. Washington certainly has no shortage of "glampgrounds", with new and exciting destinations popping up all over the state. And I for one am excited to explore many of them for myself!
So without further ado, I've compiled the ultimate list of Washington glamping experiences that I want to stay in for myself – and I think you will too!
---
1) Treehouse Point Glamping
Location: Issaquah, Washington
Price: Prices Vary
https://www.treehousepoint.com
https://www.facebook.com/TreeHousePoint
"Located 22 Miles from Seattle on the Raging River, we are a bed & breakfast, wedding & elopement venue, special occasions, event & meeting center, and treehouse tour destination!"
There's simply no argument that Treehouse Point is one the most iconic and breathtaking places to stay for glamping in Washington! Offering 7 incredible different tree house rentals, as well as a few other fun glamping retreats – booking a stay here is guaranteed to keep you coming back for more each and every year!
Just take a look through their website and browse all the different glamping treehouse options and you'll be booking one ASAP!
TreeHouse Point | a Wanderfoot Adventure in the Pacific Northwest
---
2) PNW Waterfront Yurt Glamping
Location: Vashon Island, Washington
Price: $150 avg. per night
Sleeps: 4 guests (1 bed/1 bedroom/1 bath)
Located in the heart of The Puget Sound, you're likely to see every type of wildlife from eagles to whales while hiking in the surrounding forests and shorelines of this authentically awesome waterfront yurt!
While the island itself is just a short ferry ride from bustling Seattle and Tacoma, you'll be able to enjoy the natural splendor and unbeatable views uninterrupted by the outside world. You'll need to pack in and pack out your own food and drinks, but aside from that this yurt has everything you need for a snug and comfortable stay. Spending the night next to the crackling fire pit just outside the accommodation is highly recommended!
View Photos, Read Reviews & Check Availability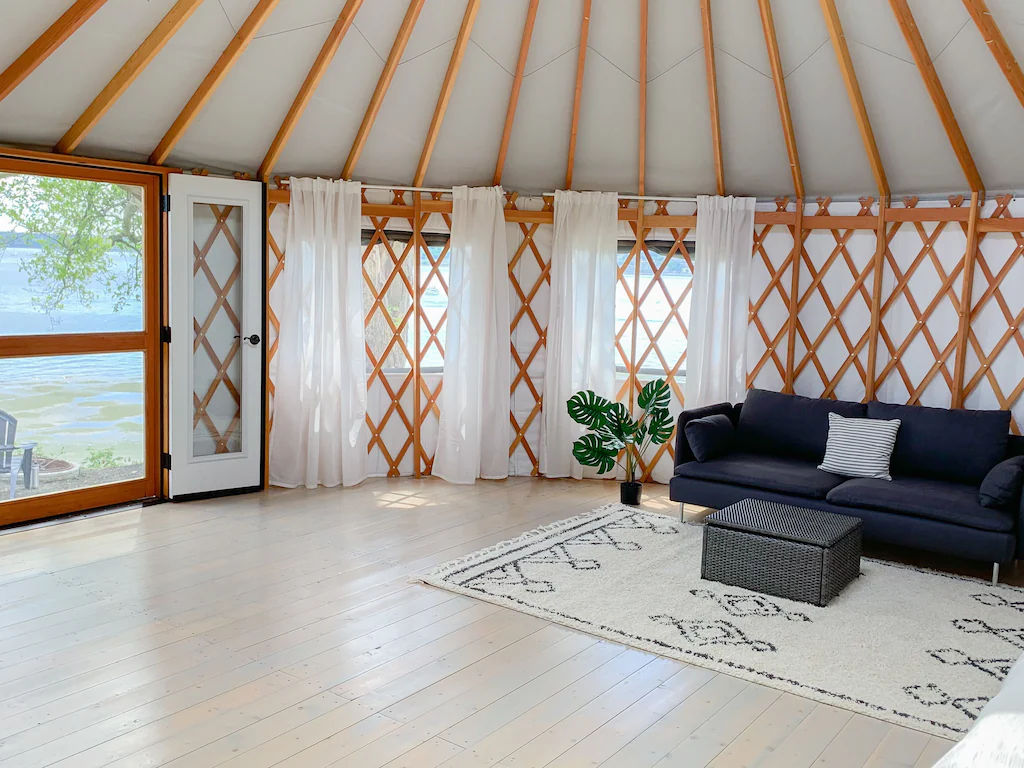 ---
3) Pampered Wilderness Glamping
Location: Millersylvania State Park, Olympia, WA
Price: $250+ USD per night
https://www.facebook.com/pamperedwilderness/
Pampered Wilderness is a leading glamping destination in Washington, with five star ratings across the board. The campground is located in Olympia's woodsy Millersylvania State Park, which boasts a freshwater shoreline you can swim or kayak on.
Their range of luxury canvas cabins are stylish, cozy and tranquil, and have a front deck, fireplace, heater, dining table, BBQ, fire pit and a fridge and coffeemaker. The cabins are pet-friendly and there is a scenic little town nearby to stock up on supplies. An unmissable Washington glamping experience.
Camping Glamping Luxury Camping Olympia WA
---
4) Skamania Lodge Treehouse Glamping
Location: Stevenson, Washington
Price: $173+ USD per night
https://www.booking.com/hotel/us/skamania-lodge-wa.en-gb.html
Nestled on 175 private acres and overlooking the Columbia River, Skamania Lodge is a fantastic accommodation that combines a rustic atmosphere with today's modern amenities and facilities.
There is an endless amount of things to do in the area during the day, but the real highlight is the unique experience of staying in one of their "AWAY IN THE WOODS" treehouses.
"Elevated above the forest ground and nestled inside the tall Douglas Fir trees of the Columbia River Gorge, a simple yet stunning aesthetic connects guests with the beauty of nature. Couples and families alike can reconnect to the idea of a creative childhood when imaginations were thriving and days were filled with care-free playing outside and exploring tree houses."
View Photos, Read Reviews & Check Availability
Skamania Lodge - A Destination Resort
---
5) Unique & Romantic Wilderness Yurt Glamping
Location: White Salmon
Price: $175 avg. per night
Sleeps: 4 guests (2 bed/1 bedroom/1 bath)
https://www.vrbo.com/7148903ha
Lovingly built over two years with materials gathered on site, this yurt is better described as a cozy luxury cabin and from top to bottom it's evident that the utmost care and intention went into its construction! It's hard to pick the best part of this property — the teakwood hot tub, spacious and inviting interior, and towering 1oo year old Douglas firs towering outside are all amazing.
Reconnect with nature, enjoy this stellar secluded space, and make the most out of nearby attractions such as the Columbia River Gorge and the waterfalls, valleys, and pastoral villages lining the shore.
View Photos, Read Reviews & Check Availability
---
6) Private Glamping Retreat
Location: Greenbank (Whidbey Island)
Price: $239 avg. per night
Sleeps: 2 guests (1 bed/1 bedroom/1 bath)
https://www.vrbo.com/7107618ha
The Puget Sound destination of Whidbey Island is one of Washington's most popular getaways, and this glamping tent is the best on the island. The one bed tent is classically stylish, spacious and well appointed, and features a queen size bed, roomy outdoor deck and a superb location. There's a communal kitchen, a pergola with seating and a bathroom outhouse.
You'll be surrounded by the island's native animals, including deer, bird and eagles that colonise the three acre sustainable property. Wander through the woods, check out the host's vegetable garden. This is an adults only getaway retreat in the heart of Whidbey Island, and there's a handy shuttle service that runs between SeaTac and the island.
View Photos, Read Reviews & Check Availability
---
7) Pete Nelson Enchanted Treehouse Glamping
Location: Redmond Ridge, WA
Price: $300+ USD per month
https://www.airbnb.com/rooms/22657608
This luxury three-bed treehouse retreat is glamping in its own unique way. The expert-built wood treehouse is a magical, light-filled abode on 30 private acres of forest. Make your way here via a suspended walkway, and you'll be truly blown away. It is wifi equipped, and features an outdoor shower, hot tub, kitchenette and high-end furnishings – and the epic hosts even provide breakfast via a clever zipline!
The treehouse has been featured on TV and takes rustic living to a whole other level of luxury. The nearest town of Redmond is just 10 minutes away, and Snoqualmie Falls and Seattle are just 30 minutes away, making it the coolest glamping near Seattle!
View Photos, Read Reviews & Check Availability
---
8) Best View Around: Luxury Camping
Location: Port Angeles, WA
Price: $200+ USD per night
https://www.airbnb.com/rooms/14073817
The seaside city of Port Angeles is well worth checking out while you're visiting Washington, and this stunning glamping tent is just 10 minutes from Downtown but in a picturesque and private location.
The tent – ideal for up to two people – boasts 360-degree views of Port Angeles, Vancouver Island and so much more. It has a comfortable bed with warm linens, a porta potty, propane stove,and drinking water and is run on solar power – note that there's no running water. This tranquil pocket of the world is in hot demand on AirBNB and ideal for a romantic couple retreat with a view to die for.
View Photos, Read Reviews & Check Availability
---
9) Leanto Orcas Island Glamping
Location: Moran State Park, Orcas Island, Washington
Price: $130+ USD per night
https://www.stayleanto.com/moran-state-park-glamping/
https://www.facebook.com/StayLeanto/
The Leanto chain has a range of glamping sites in the PNW, and their Orcas Island location is the experience of a lifetime. There are a number of different tents and sites of varying sizes that are hotel standard.
The tents are well equipped and nestled in the woods of the 5000 acre Moran State Park. The Leanto Orcas Island glamping experience is available throughout spring, fall and summer, but closes down in the brittle winters.
---
10) Rolling Huts
Location: The Methow Valley, Winthrop, WA
Price: $150+ USD per night
"Whether you're a hiker, mountain biker or cross-country skier, the Rolling Huts, located in Washington's Methow Valley, are the perfect accommodation. Designed as a modern alternative to camping by Tom Kundig of Olson Kundig Architects in Seattle, the six huts are grouped as a herd, each with views of the mountains."
Rolling Huts in Winthrop, Washington, offer modern glamping huts that are environmentally low-impact, comfortable and simple. The six architect-designed huts on offer offer some of the best mountain views in the state, and are equipped with wifi, kitchen facilities, a private portable toilet, a water faucet and communal shower facilities in a nearby barn.
The huts are located in the forested Methow Valley and are ideal for a winter ski trip or a sunny summer escape where hiking and river rafting are on the menu. There's a variety of charming towns in close proximity, and Canada isn't too far away.
Rolling Huts | Olson Kundig | HD | Mazama, WA 98833, United States | HD
---
11) Glamping Cabin – Partial View
Location: Eastsound, WA
Price: $100+ USD per night
https://www.airbnb.com/rooms/31490490
Searching for a Washington glamping experience that makes kicking back without hassle as simple as can be? Glamping at West Beach Resort in Eastsound ticks all the boxes. The deluxe glamping tents on site are spacious and comfortable, and just two minutes walk to the beach. Each tent has a sprawling private deck, a queen bed, seats and tables, a BBQ and a fire pit.
Firewood is included, and there are communal bathroom facilities on-site, as well as a hot tub, beachfront bar, a general store, a kids playground and so much more. Choose from tents with power and water or without. The resort is the perfect all-rounder family getaway where planning is minimal and everything you need is at your doorstep. Start planning that summer trip now!
View Photos, Read Reviews & Check Availability
---
12) Lakedale Resort Glamping
Location: Friday Harbor, San Juan Island, WA
Price: $100+ USD per night
https://www.lakedale.com/luxury-glamping/
https://www.facebook.com/LakedaleResort/
Lakedale Resort on beautiful San Juan Island is a top rated Washington glamping destination with accommodations to suit a range of budgets. The woodsy island retreat boasts custom-built glamping cabins equipped with luxury bedding, a full bathroom, a front deck with seating and a fire ring. There's no electricity or water, but don't stress!
The site's shower facilities are right nearby, and a mess tent serves up your complimentary breakfast. There's a General Store on-site too! Jump on the Anacortes Ferry in Seattle with your car and enjoy the scenic 3.5 hour trip to Friday Harbour on San Juan Island, where Lakedale is located. Getting around the island on a moped is highly recommended and a popular way to sightsee.
Lakedale Resort at Three Lakes, San Juan Island, Washington
---
13) Blue Gypsy Wagon Glamping
Location: Plain, Washington
Price: $100+ USD per night
https://www.airbnb.com/rooms/13020842
Snuggle up for a good night's sleep in this cute and cozy one-bed wagon – a unique way to glamp in Washington! The handmade timber retreat features a queen size bed, shower, and composting toilet, as well as kitchen facilities. It also boasts a deck for taking in that crisp Washington air. The host – and creator of this incredible little abode – lives on the property and is available for any questions you may have.
The Gypsy wagon is 20 minutes from the town of Leavenworth and its many outdoor offerings, including white water rafting and rock climbing. Skiing is also on offer locally. For essentials, stock up at the general store just 10 minutes walk away. Other Washington towns in close proximity are Wenatchee, Issaquah and Sammamish, and Seattle is just over 2 hours' drive away.
View Photos, Read Reviews & Check Availability
---
14) Hideaway Glamping Tent with Pool and Hot Tub
Location: College Place, WA
Price: $100+ USD per night
https://www.airbnb.com/rooms/27302524
Nestled on the outskirts of the Washington suburb of a College Place, this one bed luxury yurt is a romantic escape from the outside world. Enjoy your own covered deck, private indoor bathroom and access to a hot tub and indoor pool.
The spacious pet-friendly tent has a cooler for the summer months and a gas fireplace to stay toasty during Washington's frosty winters. Walk 10 minutes into Downtown Walla Walla, a laidback university Town. The nearest big cities are Boise, Idaho (197 miles) and even Portland, Oregon (211 miles). Seattle is just a bit further. A great place to do a multi-state trip!
View Photos, Read Reviews & Check Availability
---
15) Glamping at Cave Creek Farm – Mt. Adams Tent
Location: Trout Lake, WA
Price: $80+ USD per night
https://www.airbnb.com/rooms/42569400
90 minutes from the Oregon capital of Portland (on the Washington side of the border), this tent is located on a working farm in Trout Lake in a "glampground" consisting of four tents.
The neat and attractive one bed tent has a spacious deck with seating, and offers shared bathroom facilities. Animals roam the rustic property, which is in close proximity to the cozy town of Trout Lake. Mount Adams towers over the region.
View Photos, Read Reviews & Check Availability
---
16) Cardinal's Perch Airstream Glamping
Location: Chimacum, Washington
Price: $120+ USD per night
https://www.airbnb.com/rooms/36351855
If your own style of glamping is bunkering down in a vintage Airstream, you'll simply love this sunny little slice of heaven. The well equipped caravan is parked up on a large private farm, with the Olympic Mountains as a backdrop.
The local farms offer some of Washington's best and freshest produce, and the town of Chimacum (a quarter mile walk away) has a number of charming cafes and stores. Seattle is just under two hours by car.
View Photos, Read Reviews & Check Availability
---
17) Dragonfly Den at Two Frog Bog Glamping
Location: Roy, WA
Price: $50+ USD per night
https://www.airbnb.com/rooms/7677811
This one-bedroom glamping tent is a comfortable and cozy little escape just 37 miles from Mt Rainier National Park. There is a toilet, small kitchenette, hot tub, fire pit and outdoor shower room – note there is no heating.
Breakfast is served at the hosts house. This woodsy retreat is located at the end of a forest in the Washington town of Roy, and deer and native animals roam the picturesque area. Olympia, Tacoma, and many state destinations are an easy journey from here.
View Photos, Read Reviews & Check Availability
---
18) Canvas Cottage in Beautiful Garden — Glamping Seattle
Location: Highland Park, Seattle, WA
Price: $75+ USD per night
https://www.airbnb.com/rooms/15773587
This one bed Seattle glamping tent is spacious, comfortable, affordable and highly acclaimed by many previous guests. The canvas text has a plush queen mattress and soft linens, a mini fridge, coffee making facilities and a private composting toilet.
Duck into the friendly host's house for a shower or to use their epic barrel sauna. There's a fire pit as well. This LGBTQ alternative Seattle AirBNB offering is just a mile from the small city of White Center and in close proximity to West Seattle and Georgetown, which are the places to be for great restaurants, bars, live music venues and outdoor markets.
View Photos, Read Reviews & Check Availability
---
19) Treehouse Place at Deer Ridge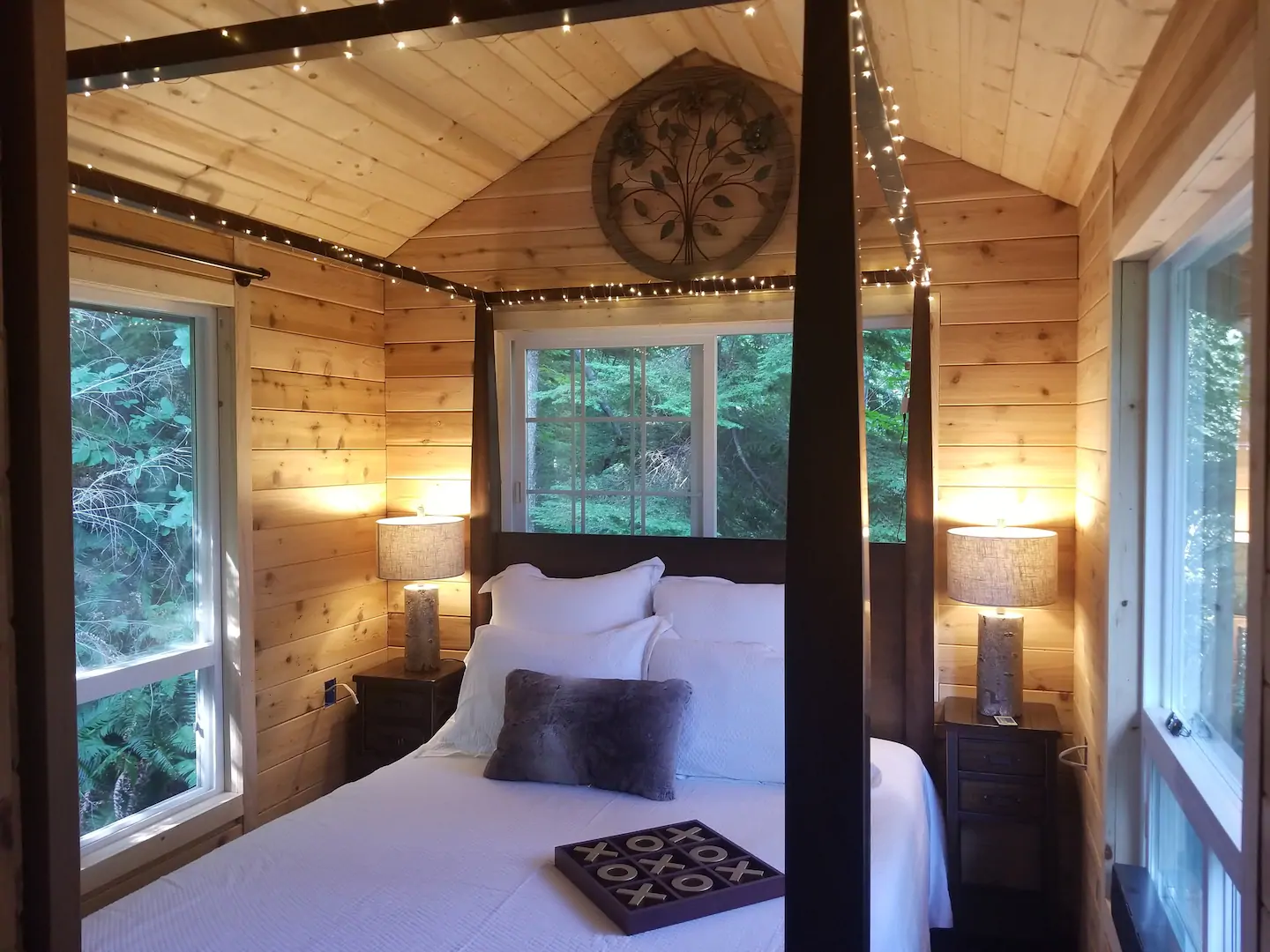 Location: Snohomish, WA
Price: $200+ USD per night
https://www.airbnb.com/rooms/22675055
Just 50 miles from Downtown Seattle, this magical treehouse hideaway offers a unique Washington glamping experience. Hundreds of guests have raves about this luxurious little one bed wonder, which features a stunning freestanding bath, a loft bedroom, a kitchenette and a living space with fireplace. There is wifi available and the treehouse is insulated for winter and stays cool in summer.
This private retreat is nestled in the woods of a private property, near to many top hiking and biking trails. The hosts even offer add-on laundry services. Drive 20 minutes to explore the charming town of Snohomish, with its exceptional breweries and restaurants.
View Photos, Read Reviews & Check Availability
---
20) The Klickitat Treehouse Glamping
Location: White Salmon, Washington
Price: $407+ per night
https://theklickitattreehouse.com/
https://www.airbnb.com/rooms/22453073
Last, but certainly not leas, this Nordic-inspired treehouse has all the design and amenities you'd want for a luxury resort, but it's located in a beautiful and secluded PNW forest!
Offering a modern contemporary design, 18-foot floor-to-ceiling windows, and luxury bedding – booking a stay here is guaranteed to be a Washington Glamping experience you'll never forget!
It has an outdoor dining area and BBQ grill on the wraparound deck, but my personal favorite touch is the outdoor shower where you can enjoy a bath under the twinkling stars of the Milky Way Galaxy!
---
Did I leave out any Washington Glamping Sites?
If you've recently stayed at a great glamping spot in Washington that isn't on my list, I'd love to hear about it! Reach out to me via my social media channels or directly on my email, and I'll see what I can do!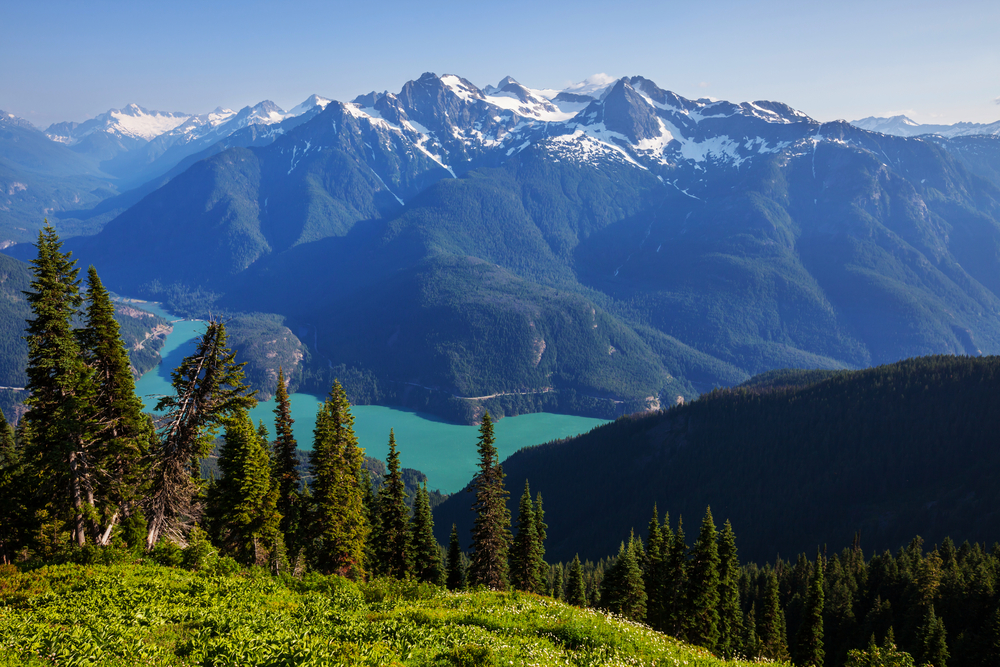 ---
Planning a trip to Washington or the USA?
I don't blame you. After all, I visited here and then ended up moving here! I recommend following my social media profiles to keep up with my life in the PNW, but I also suggest checking out the following guides, lists, and blogs I've created about Washington. I've also included some other blog content to check out that looks at destinations in the surrounding states. Start planning that PNW trip of a lifetime NOW!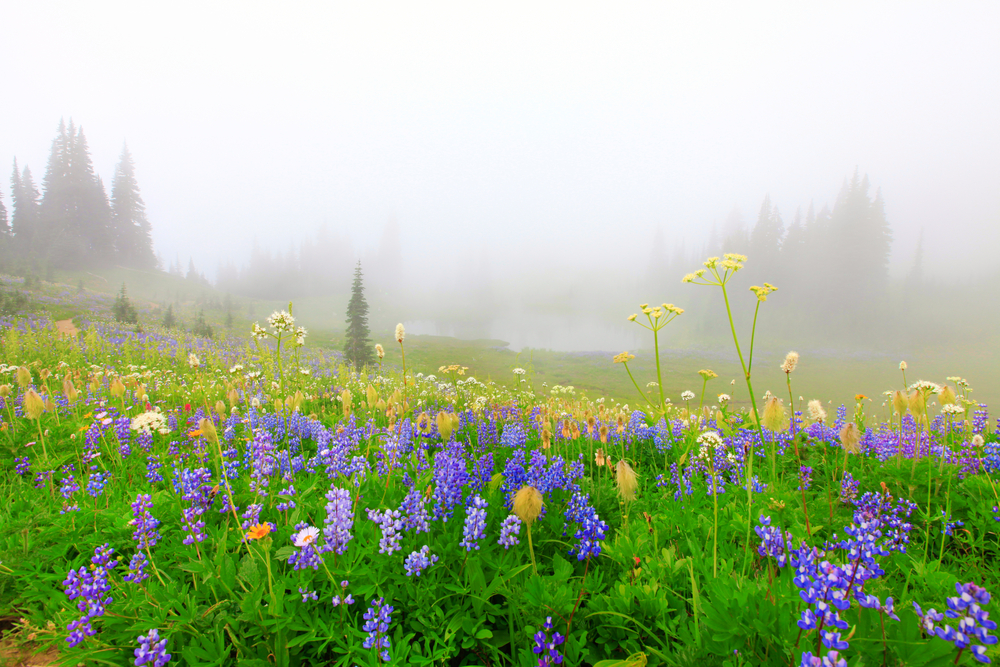 ---
Final thoughts on Washington Glamping…
Looking at the epic Washington glamping sites on offer, I resolved to start doing some of my own glamping while I'm living here! I intend on checking out as many of these sites as possible, so stay tuned for my own glamping content! Maybe I'll see you there?!
---
Thanks for reading about the best Washington glamping destinations!
Share this list with your Washington glamping crew and start planning your Washington trip.
https://www.jonesaroundtheworld.com/wp-content/uploads/2020/04/Glamping-Washington.jpg
667
1000
Guest Contributor
https://www.jonesaroundtheworld.com/wp-content/uploads/2017/03/logotry-1-1-300x106.png
Guest Contributor
2023-04-17 22:36:30
2023-04-18 19:30:41
20 Best Glamping Washington Sites For Your Bucket List