Are you looking for the best glamping New York getaways? Well, you've come to the right place, as there are many breathtaking, unique, and fun options in the state, and this guide showcases the best of the best!
Home to the mighty Niagara Falls, buzzing Manhattan, impressive mountain ranges, and some of the best festivals in the USA. It's easy to get distracted by the allure of New York City, but the entire state is spectacular and diverse and has so much to offer.
Glamping in New York is an epic way to discover the natural wonders of the beautiful area. And the best part? You don't need to 'rough it' in order to have a wild and wonderful experience.
Whether you're seeking a romantic getaway in the woods, a hiking trip in the mountains, or a beach getaway – New York has it all. And I'm here to help you choose the best 'glampsite' for your travel needs.
---
Glamping New York Breakdown
Check out these top 5 glamping places if you're in a hurry. There are tons more in the article, but here are just a few of our top picks for NY Glamping.
The Best Luxury Glamping New York City – Collective Retreats
Best Cabin Glamping in New York – Getaway House Eastern Catskills
Overall Best New York Glamping Site – Willow Treehouse – secluded, unique, romantic
Best Winter Glamping New York Yurt – Secluded Upstate Yurt
Best Unique Glamping in New York – The Glass House: A Hudson Valley Tiny Home
Best Glamping in Catskills, NY – R2 Tentrr Catskill Glamping NY Retreat
Best Glamping in New York for Hikers – Hudson Highlands Base Camp Glamping Trailer
Throughout this post, you'll find plenty of awesome and inspiring videos to get you revved up for your upcoming trip. Don't forget to give them a watch for top travel tips about New York.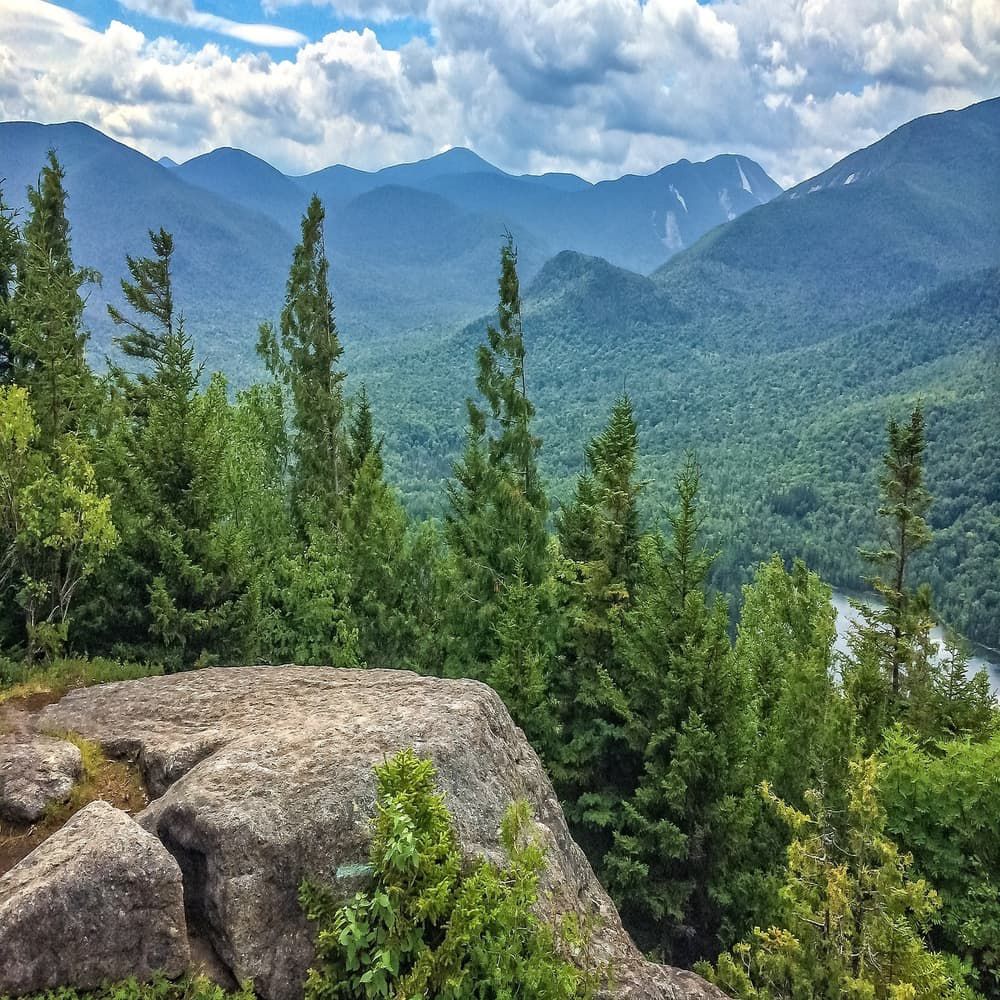 ---
Top 19 New York Glamping Sites
There are so many excellent, unique, luxurious, and quirky glamping spots in the stunning state of New York. Check out the top 19 places to have the perfect getaway.
---
1) Collective Retreats Governors Island Glamping Resort
Location: Governors Island, New York City
Price: $299+ per night
https://www.collectiveretreats.com/retreat/collective-governors-island/
https://www.facebook.com/collectiveretreats/
"Landmark views, private waterfront decks, sprawling green space, and warming fires set the scene for a restorative escape."
I bet you never thought that you could go glamping in NYC. But just an 8-minute ferry ride from Manhattan is the amazing Collective Retreat on Governors Island.
The accommodation options at the retreat are described as 'Instagram-worthy,' but honestly, they're even more spectacular than that. You can choose between rustic, glamorous tents or full-on luxury tents complete with air conditioning, Wi-Fi, private terraces, and private bathrooms.
Whichever you choose, you'll be astounded by the level of detail and care in each tent. Find a little slice of solitude in all the buzz of the city. Enjoy complimentary yoga and meditation sessions, outdoor movie nights, or a sunset cocktail at the bar.
This is easily one of the coolest and most magical and best glamping near NYC retreats that you'll be talking about for years.
View Photos, Read Reviews & Check Availability
---
2) Getaway Eastern Catskills Cabin Glamping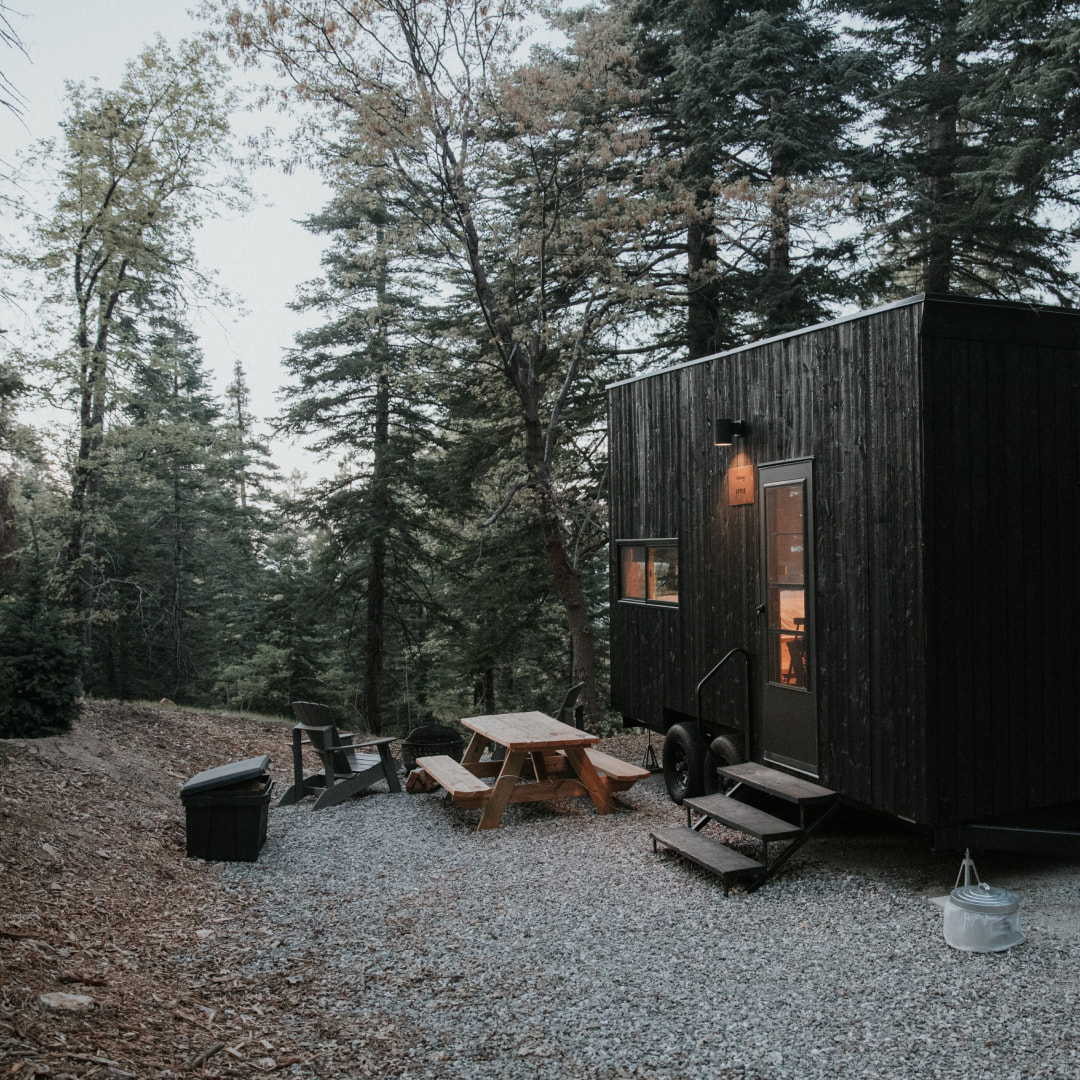 Location: Catskills, New York
Price: $121+ per night
https://getaway.house/eastern-catskills
If you aren't familiar with the Getaway brand, they've been making a massive splash in the glamping/cabin retreat industry. With their charming cabins and high-end finishes, the Getaway glamping sites provide two perfect options for upscale glamping in New York State, one in the Eastern Catskills and one in the Western side.
Both sites are quite spacious, and although there are more than 30 cabins at each location, the vast space and smart placement of these incredible tiny houses mean you'll still retain privacy and feel connected with nature.
Inside these Getaway House rentals, you'll find plenty of nifty features and premium finishes to make the cabin a perfect base for your Catskills explorations – including air conditioning, fire pits, picnic tables, and comfy queen-sized beds.
The glass window frames the wilderness perfectly, while comfortable bedding, kitchen supplies, power, campfires, and a provisions shop nearby allow you to enjoy it all in a glamping luxury cabin in New York.
View Photos, Read Reviews & Check Availability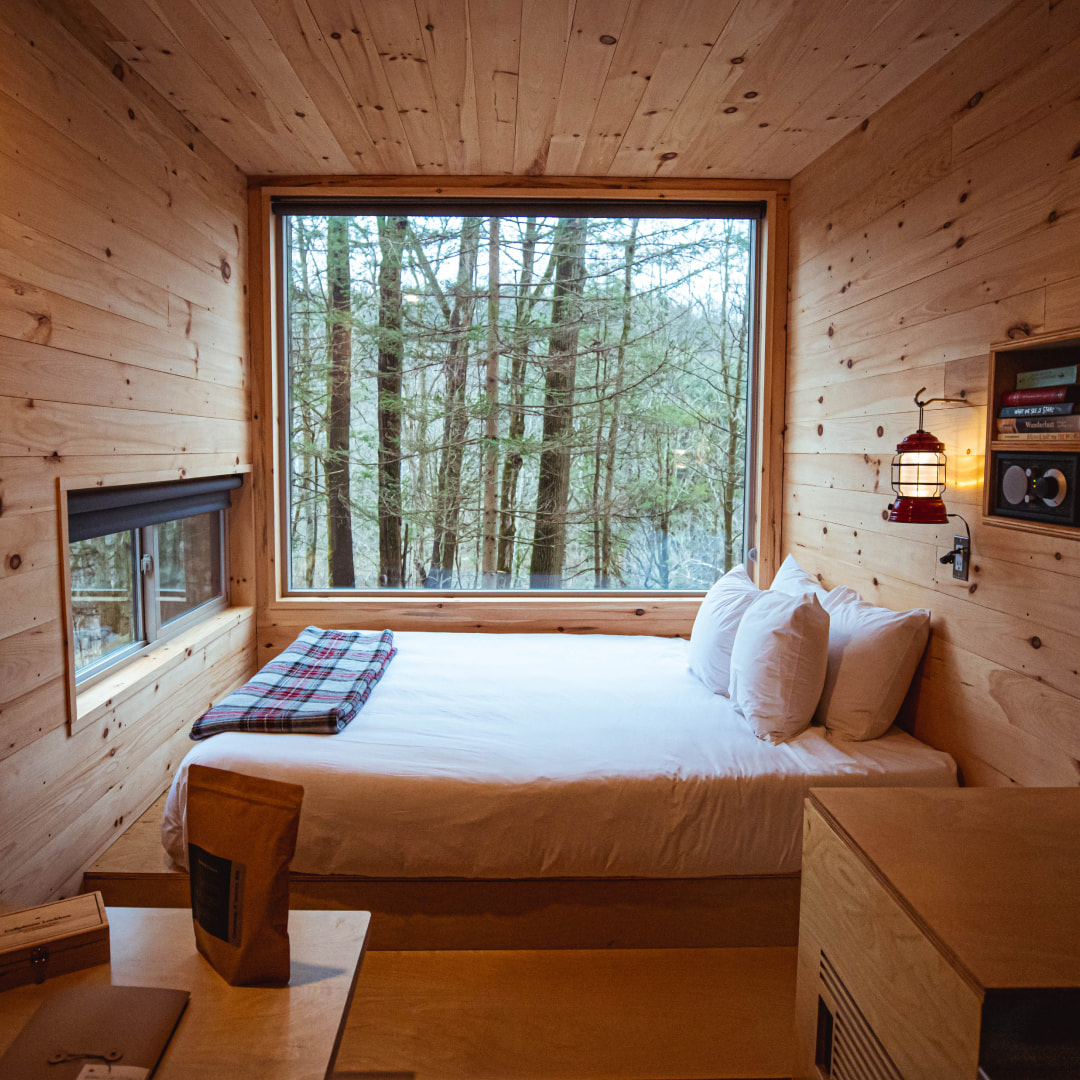 ---
3) Unique Yurt Glamping Experience in Upstate New York
Location: Lake George Village, New York
Price: $245+ per night
Set in an idyllic location, our Yurts are uniquely furnished and fully equipped.
This massive yurt glamping experience has seven beds (three comfy queen-sized beds, a bunk bed, a double bed, and a futon) and can sleep up to 10 guests, making it an ideal getaway for a group of friends looking for a unique retreat.
With comfortable bedding and thoughtful amenities, this is an incredible place to stay for upstate New York explorations. Book your stay during the summer for the lush green countryside and wildflower fields, or visit during the iconic fall colors for a festive photoshoot.
There is a charcoal BBQ grill to grill up some food and a cozy fire pit to roast up some s'mores, and of course, the generous hosts are around who will ensure a top-rated visit. What's more, it's great for outdoor enthusiasts, as it is close to activities like horseback riding and is at the base of the Adirondack Mountains which is full of hiking trails.
View Photos, Read Reviews & Check Availability
---
4) The Glass House: A Hudson Valley Tiny Home Escape
Location: Hudson Valley, Marlboro, New York
Price: $211+ per night
https://www.airbnb.com/rooms/17865668
"The World's Most Beautiful Tiny House"
Referred to as an 'off-grid oasis' by the Today Show, this spectacular tiny glasshouse is precisely that. Imagine lying in a cozy double bed with 360-degree views of vineyards and orchards in the morning and a starry sky just before you fall asleep.
Packed into 180 square feet is everything you need. Choose to whip up a meal in the loaded kitchen with a mini-fridge, an induction stovetop, and a microwave. Otherwise, slap a steak on the grill outside the fire pit. Don't be surprised to see deer, coyotes, and a flourish of amazing birds while you make the morning coffee.
This cabin is entirely off-grid, with solar paneling, a dry-flush toilet in the en-suite bathroom, and a propane heating/ air conditioning system. But there's still an excellent Wi-Fi connection to send off stunning holiday images to family members. It's a fantastic place for glamping near NYC and one of the most popular glamping Airbnb New York listings.
View Photos, Read Reviews & Check Availability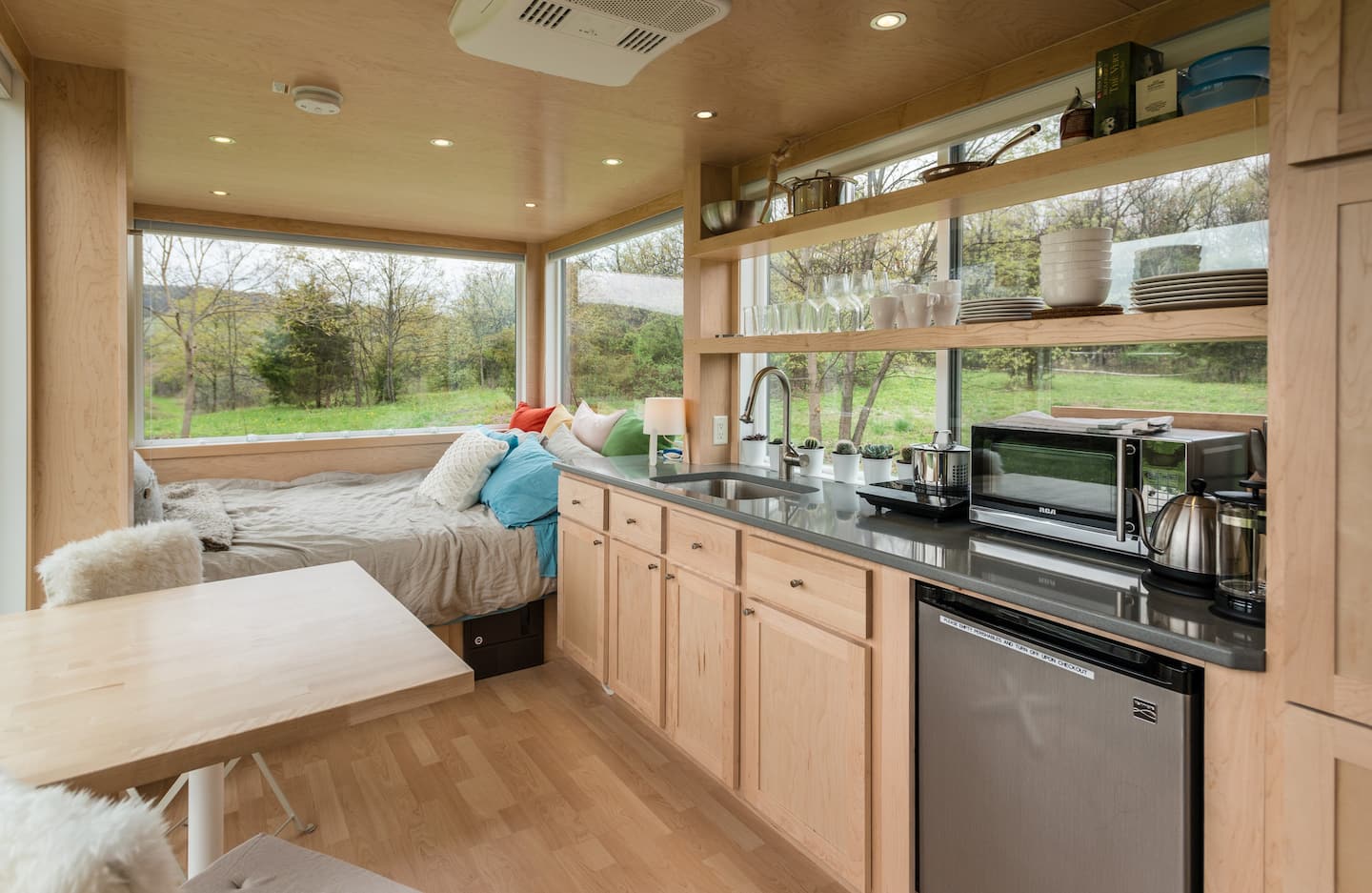 ---
5) R2 Tentrr Catskill Glamping NY Retreat
Location: Catskills, White Lake Region, New York State
Price: $459+ per night
https://www.vrbo.com/9623347ha
https://www.tentrr.com/explore/New-York/R2-at-the-Tentrr-Catskill-Retreat-Double-Camp-for-Large-Groups?
This truly unique stay (the R2-D2 reference should be obvious for fans of the Star Wars movies) is ideal for large groups, as it can accommodate up to 16 guests.
Set in the Catskill Site, within the White Lake Region, these gorgeous safari tents come with front-line lake views; all just two hours drive from New York City. There are two canvas tents and two pop-up tents, which both sleep four guests per tent in the queen-sized bunk beds.
With plenty of facilities, such as the raised deck (for seating and the luxury safari tents), an outdoor shower, a camping toilet, and a generator, it's an ideal New York glamping site, all within a reasonably short drive from Manhattan. You'll need to pack a few extras (such as bedding and pillows), but get the gang together and make the most of a natural retreat on your next weekend out of the city.
Lastly, it's got tons of activities, with its proximity to the Southern Catskill Mountains, perfect for those looking to head down hiking trails or enjoy horseback riding in the summer and go snowboarding or skiing in the winter.
View Photos, Read Reviews & Check Availability
---
6) Willow Treehouse Glamping – Secluded, Unique & Romantic
Location: Willow, New York State
Price: $382+ per night
https://www.airbnb.com/rooms/13761529
This is not your average treehouse built by Dad in the backyard. It is a piece of true architectural art, offering a completely immersive experience from every spot.
Completely secluded in a clearing in the woods and overlooking a large pond, the treehouse is something out of a dream. When you're not cooling down in the pond or reading a book in the loft bed with views from every angle, you can hang out in the hot tub next to the pond. There is no TV, but rather a couch facing a large window with unbelievable views. You risk turning into a couch potato here. But don't stress, there's still air conditioning and a full en-suite bathroom.
The stylish interior and fully-loaded kitchen perfectly complement the angular design of the cabin. With large windows allowing light and offering beautiful views, you won't want to leave. This is an unbeatable glamping rental for a romantic getaway or a solo retreat.
View Photos, Read Reviews & Check Availability
---
7) Stargazer Upstate NY Glamping at Gatherwild Ranch
Location: Germantown, New York
Price: $185+ per night
"Spread out on 15 acres of rolling hills in the Hudson Valley, Gatherwild provides unique shelters with simple yet luxurious interiors, where we encourage you to sit back and stay for a while. We embrace the slow life here, inspired by grassy picnics, evening bonfires, and stargazing."
This stunning ranch in the rolling hills of the Hudson Valley is a glamping resort haven. There are several unique accommodation options ranging from tipi tents to repurposed vans.
A beautiful bell tent is a popular option for its simple luxury and undeniable comfort. You can snuggle up on the queen-sized bed draped in sheepskins on the colder evenings. Its east-facing position means you can enjoy mesmerizing sunrises from the bed or the private deck.
The minimal design and soft-glowing solar lights are incredibly inviting and add to the majestic atmosphere. The back-to-basics composting toilets and solar shower are eco-friendly and function well. You can meet like-minded vacationers in the outdoor kitchen or grab some privacy around your fire pit or picnic table.
View Photos, Read Reviews & Check Availability
---
8) Scottland Yard Farm — Wisteria Glamping Tent
Location: Brooktondale, New York
Price: $201+ per night
Only 15 minutes by car from Ithaca and gorgeous gorges and wineries, you'll find the picture-perfect wisteria tent. This is the smallest glamping option on the farm and is a fantastic hideout for two people.
It is a very homely private tent with a sumptuous double bed and a small kitchenette with a mini-fridge and coffee/tea appliances. If cuddling up with your loved one doesn't keep you warm on chilly nights, the electric blanket certainly will.
Sitting on the private deck below dripping greenery is lovely. But if you're seeking a dip in the pool or some socializing, there are a number of public spaces, including an outdoor kitchen and a bistro. Glamping in the Finger Lakes has never looked so good.
View Photos, Read Reviews & Check Availability
---
9) Blue Hills Farm Glamping Tent
Location: Narrowsburg, New York
Price: $239+ per night
https://www.airbnb.com/rooms/22855521
Tucked into the heart of the Upper Delaware River Valley is Blue Hills Farm. And nestled in the picturesque farm is a single-standing tent promising a tranquil and relaxing stay. Although, calling it a tent seems hyperbolic as it's more reminiscent of a grand hotel suite.
The wooden floors throughout, the charming seating area, and the hallway connecting the private bathroom and a bedroom might just be the best non-camping camping experience you can have. Then, there are the included amenities, such as a luscious queen-sized bed, a fire pit, and a bar fridge.
Lastly, you'll love the sound of birds singing as you wake up and the merry bullfrog residents of the pond.
View Photos, Read Reviews & Check Availability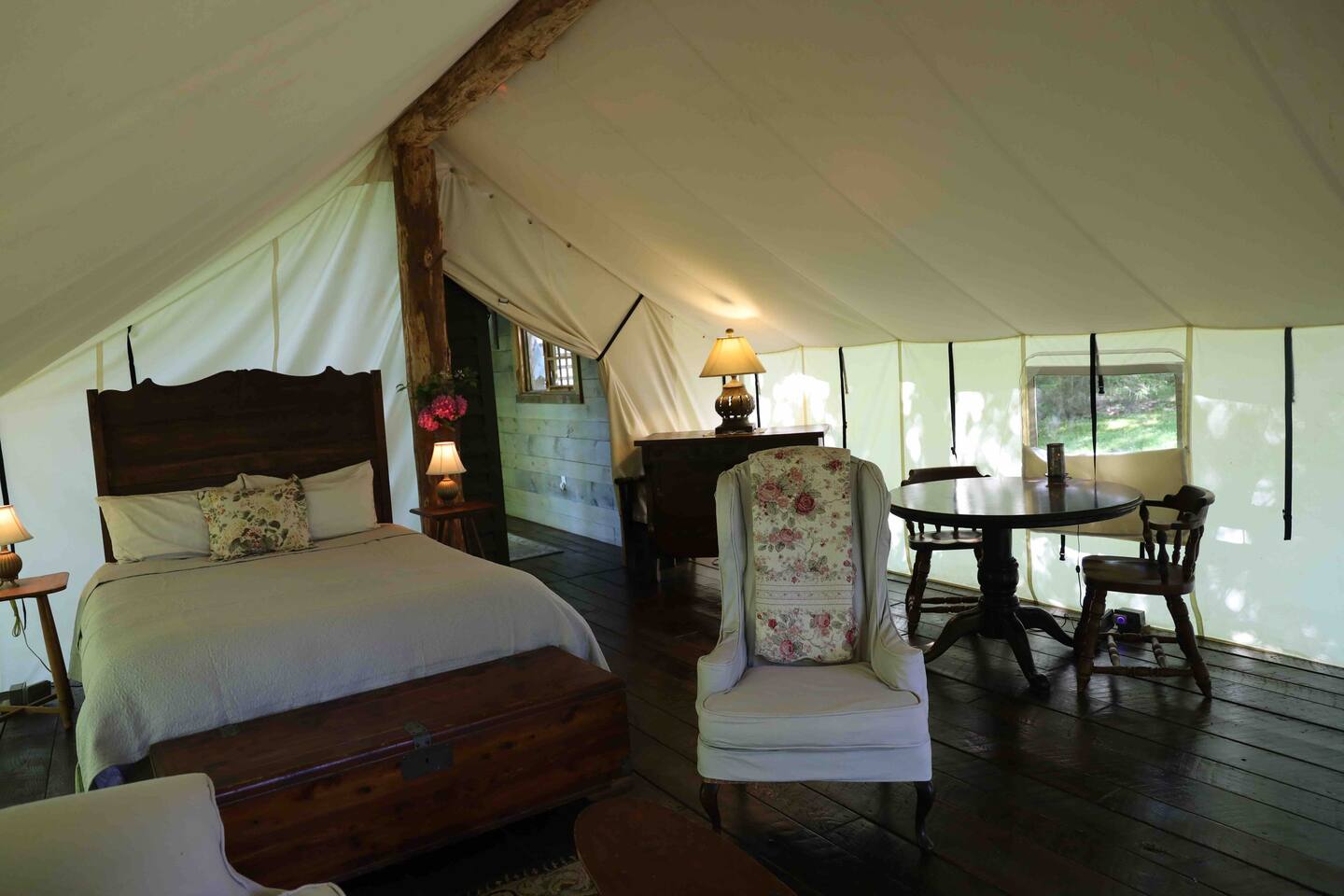 ---
10) Seneca Sol Safari Tent – Maple (Queen Bed)
Location: Burdett, New York
Price: $225+ per night (Minimum stay of two nights)
Seneca Sol is a brand new glampground with a couple of awesome accommodation options in upstate NY. You can choose between a tipi or a safari tent hidden in a beautiful forest.
With soft lighting and a seductive queen-sized bed, this ambient safari tent is the ultimate place to rest your head. And you'll want to get a good night's sleep because this upstate NY glamping experience includes a bunch of fantastic activities such as wine tours and nearby hiking trails.
There's an outdoor kitchen, but the complimentary breakfast on your private balcony will give you the kickstart for your day. Expect to be looked after and not worry about anything but relaxing.
View Photos, Read Reviews & Check Availability
---
11) NY Glamping With a Gorgeous Sunset View
Location: Brooktondale, New York
Price: $131+ per night
https://www.airbnb.com/rooms/26668992
Camping doesn't need to entail waking up on a deflated blow-up mattress in a windswept tent. This canvas tent on a raised platform with an epic view of the pristine surroundings offers luxury camping in NY.
The glamping tent is bright and cozy without being overstated, and as the sole guest space on the working farm, it's peaceful and secluded. The comfy double bed and sleeper couch are ideal for a couple or up to four guests. Families will love gathering around the fire pit in the evenings or relaxing on the porch.
The outdoor kitchen and bathroom form a sweet little farm stay compound with everything you need for a glamping getaway. There is no Wi-Fi or electricity in the tent, but there are plug points in the bathhouse to charge devices. This really enhances the opportunity to disconnect and be present in nature.
View Photos, Read Reviews & Check Availability
---
12) Cozy Glamping Yurt on Horse Farm with Hot Tub
Location: Accord, New York
Price: $148+ per night
Becoming more and more popular at glampsites are circular, fully-loaded yurts. This one, located on a horse farm in the Hudson Valley, is 700 square feet of comfort. If you're seeking that nostalgic camping feeling but wish you could bring your house with you – this is the perfect place.
The interior of the circular tent has every feature of a modern home – a bedroom with a huge bed, a living room, a private bathroom, and a kitchen.
The gas fireplace keeps it toasty and inviting in the winter months. And for those blissful summer evenings, there's nothing like grilling a steak on the barbecue on the deck and then moving to the nearby fire pit to make s'mores.
Families will have fun making homemade pizzas in the wood-fired oven, and couples will love the outdoor hot tub.
View Photos, Read Reviews & Check Availability
---
13) An Adirondack Tree House Retreat
Location: Middle Grove, New York
Price: $285+ per night
https://www.airbnb.com/rooms/2403570
This fairytale treehouse is hidden amongst the forest, the perfect spot to reconnect with nature in true glamping style. Tucked away in private woods at the foothills of the Adirondack Mountains, this glamping upstate NY Airbnb is a rustic retreat ideal for a romantic getaway.
The outdoor kitchen is equipped with everything you need including a charcoal grill and fire pit, offering an authentic camping experience. Outside the 'bedroom' is a covered porch, a tranquil spot to read a book with a cup of coffee in the morning or to enjoy some sunset drinks.
While treehouses aren't known for their plumbing, a full private bathroom is just a winding staircase and a couple of steps away. This unique place is a fun option for glamping in the Adirondacks and Upstate NY.
View Photos, Read Reviews & Check Availability
---
14) Secluded Waterfall Glamping
Location: Parksville, New York
Price: $275+ per night
https://hemlockfallscamping.lodgify.com/en/falls-campsite—50-acres-w-waterfalls
This incredible glamping tent on stilts is nestled among towering trees with unparalleled surroundings and a palpable sense of serenity. Sitting on the deck in the morning and gazing out into the woods is a fantastic way to start the day.
After a night in the luxurious queen-size memory foam bed, you'll be ready and roaring for an adventure to the three waterfalls on the property. After a day of exploration, the covered outdoor kitchen and private fire pit are the perfect places to rustle up a hearty meal.
The glamping tents are hidden away, offering a lot of privacy, and guests must be 21 years and older. This ensures a quiet and tranquil stay. While kids aren't allowed, dogs are welcome, so don't hesitate to bring your puppy pal along.
View Photos, Read Reviews & Check Availability
---
15) Glamping Tent with Scenic Hiking Paradise
Location: Bloomingburg, New York
Price: $82+ per night
https://www.airbnb.com/rooms/34397727
Perched atop the Shawangunk Mountain Ridge is this no-frills campsite. You won't find Egyptian cotton sheets here, but you will wake up to birds singing and 1600 acres of magical landscape to explore.
Outdoor enthusiasts and adventure seekers who are on the hunt for epic trails and rock climbing will revel in this spot. The bell tent is equipped with everything you need, favoring necessity over opulence.
String lights twinkling in the trees show the way to the tent which has a propane heater to keep it cozy for winter glamping New York! There is even Wi-Fi and a portable power bank so that you can stay connected.
View Photos, Read Reviews & Check Availability
---
16) Glamping Yurt Rental on 80 Private Acres
Location: Waterville, New York
Price: $117+ per night
https://www.vrbo.com/4055164ha
Another yurt makes the list because, well, yurts are awesome. They're functional, warm, and provide the best opportunity to brave the wild without the 'brave' part. It's essentially a tiny home squeezed into a 16-foot circle which is pretty awesome.
Sitting on 80 acres of blissful forest and fields, this is the perfect base from which to have a fun-filled glamping holiday jam-packed with outdoor activities like hiking trails and cross-country skiing.
The yurt has more than enough space for a couple of people to bunk down in the queen-sized bed, futon, and single bed. Once guests have whipped up some dinner in the kitchen, they can enjoy it on the picnic table on the deck.
View Photos, Read Reviews & Check Availability
---
17) Caboose Glamping in the City
Location: Windham, New York
Price: $175+ per night
For a unique glamping experience in upstate NY, this fully restored and re-fitted 1922 Caboose offers something unforgettable. Just moments from Windham Ski Mountain and connected to a large dwelling, you'll still be well-connected to everything you might need while living the glamping experience.
Inside the gorgeous Caboose, you'll find a queen bed, TV, Wi-Fi, kitchen with equipment, and even air conditioning – not bad for a vintage cabin that also offers plenty of Instagram-friendly moments.
Ideally situated for either a ski trip or just a city escape, the glowing reviews make this a tempting NY glamping option. "My husband and I stayed here for an overnight ski trip. Did not disappoint. Super cute decor and is conveniently located to both restaurants and the mountain. Would 100% recommend it."
View Photos, Read Reviews & Check Availability
---
18) Hudson Highlands Base Camp Glamping Trailer
Location: Cold Spring, New York
Price: $180+ per night
https://www.airbnb.com/rooms/15115539
Who doesn't want to relive a childhood dream and stay in a vintage Airstream in the middle of 'nowhere'? Hikers will especially love the amazing location of this unique accommodation in the Hudson Highlands.
With almost entirely original fittings, the authentic campervan is a journey back in time. The only new feature is the extremely comfortable double bed, which you'll find difficult to drag yourself out of after a day of adventures. With all the creature comforts in a quirky, old-fashioned style, this is a seriously fun glamping experience.
It's an amazing option for families, and the kids will love the novelty of the charming vintage trailer. Laze in a hammock strung between trees or in cozy deck chairs around a fire.
View Photos, Read Reviews & Check Availability
---
19) Firelight Camps
Location: Ithaca, New York State
Price: $233+ per night
https://www.booking.com/hotel/us/firelight-camps.en-gb.html
If I'm talking about luxury glamping in Upstate New York, I'd be remiss to not mention Firelight Camps in Ithaca. This is luxury camping at the finest, with complimentary breakfast, eco-friendly toiletries, covered decks, and delightful canvas tents.
There are also communal spaces, such as a beverage station, a water dispenser, fire pits, and a game and book library. What's more, the canvas tents come with hardwood floors, rocking chairs, and luscious king beds.
This tent glamping spot is the ideal place to take in nature, with its proximity to the Upper Buttermilk Falls trails. Talk about perfection!
View Photos, Read Reviews & Check Availability
Am I Missing Any Glamping NY Spots?
Let me know about any incredible glamping spots that you've visited that aren't in this post. I'm always on the lookout for some local knowledge and will do my best to fit them in. I'm sure there are a ton more out there, and I love updating my glamping posts with cool and unique getaways.
---
Planning a Trip to the East Coast?
Looking to explore New York City or pop past some of the neighboring and nearby states during your New York trip? Check out these posts on the best places to stay and the coolest music festivals to attend.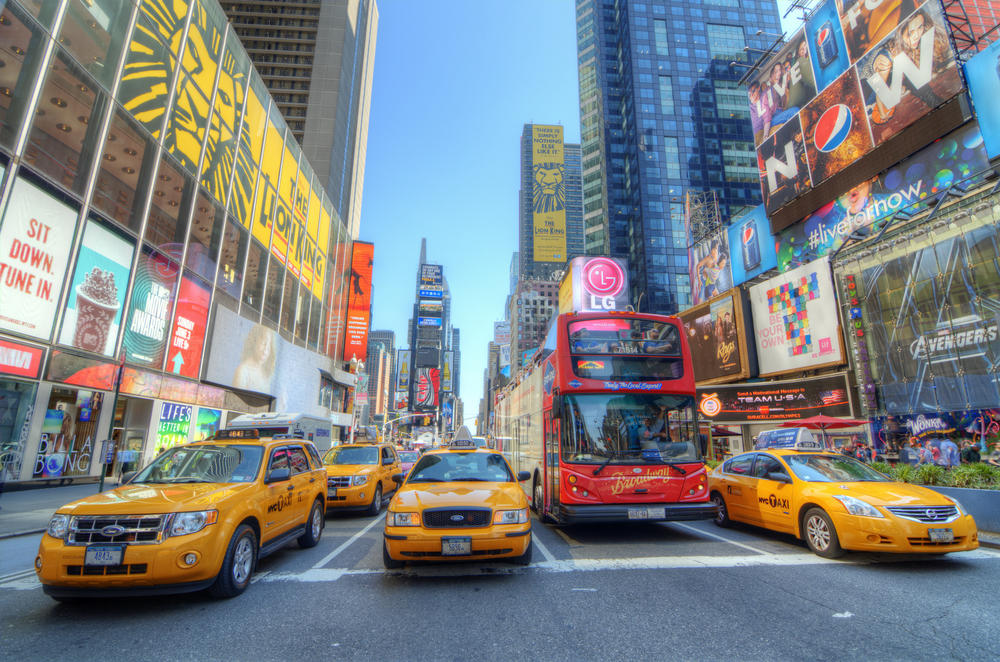 ---
Final Thoughts on Glamping in NY
Glamping is definitely the way to take your adventure to the next level and have a completely unique experience. Why stay in a hotel when you can choose a lavish yurt or vintage motorhome? Staying in one of these awesome glamping sites is an experience in itself and, definitely, the best way to enjoy upstate New York.
---
THANKS FOR READING ABOUT MY TOP PICKS FOR GLAMPING IN NEW YORK
SHARE THE BEST GLAMPSITES WITH YOUR TRAVEL CREW!
https://www.jonesaroundtheworld.com/wp-content/uploads/2023/01/Glamping-New-York.jpeg
853
1280
TravelTractionsJATW
https://www.jonesaroundtheworld.com/wp-content/uploads/2017/03/logotry-1-1-300x106.png
TravelTractionsJATW
2023-04-17 22:30:21
2023-08-10 08:45:33
19 Best Glamping New York Places For Your Bucket List