Are you looking for a fun and unique glamping Asheville getaway? Well, look no further, as I've put together this guide to some of the best Asheville glamping opportunities!
Asheville is a vibrant city in North Carolina's Blue Ridge Mountains. If you've stayed in an Asheville Airbnb before, you'll know the draw that this place has. Here you'll find a charismatic arts scene, beautiful architecture, and a bustling downtown area.
If you're looking for glamping in North Carolina, then, Asheville is always a good choice for exploring and heading off the beaten path. And what better way to do so than to stay in one of the truly unique glamping accommodations available. These spots promise to be much more than just a place to stay, but rather, an adventure in the truest sense of the word.
So outdoor enthusiasts, grab this opportunity for an upgrade on rest and recreation and embark on this genuinely kaleidoscopical escape.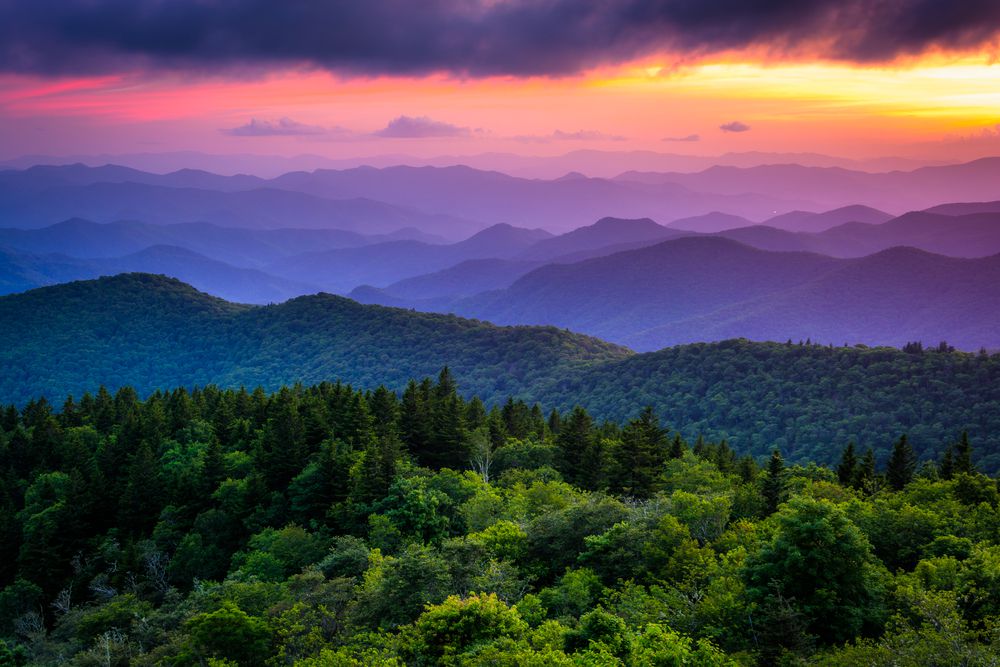 ---
Quick Breakdown of Glamping Asheville
Are you in a rush or unsure of what you're looking for? I've added the top glamping picks for the area to make things easier.
Also, be sure to read my guides on Airbnb Charlotte, NC, and Music Festivals in North Carolina for more future trip ideas!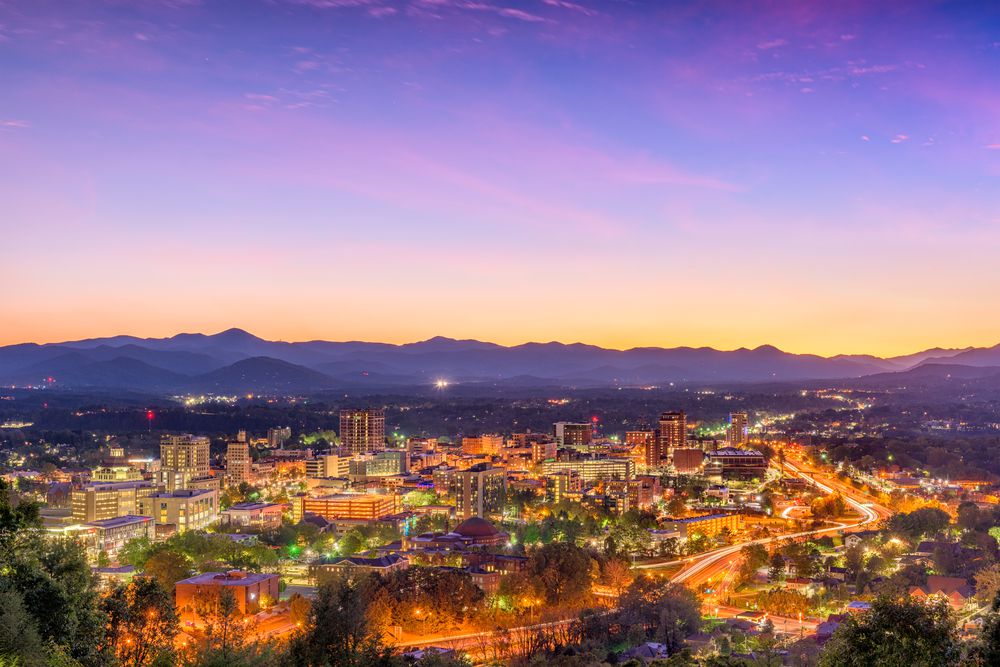 ---
I've also included some videos throughout this post for you to watch and get a better idea of this wondrous corner of the world. Be sure to check them out and start getting excited about your next trip.
---
Glamping in Asheville NC: Top 13 Spots
Let's dive right into our list of top glamping spots in Asheville, NC, all fit for that perfect retreat. Here you'll find an array of fun outdoor-immersion experiences to suit all travel tastes and budgets.
---
1) Charming Yurt on Country Farm
Location: Marshall
Price: $91+ USD per night
https://www.airbnb.com/rooms/3705919
Enjoy privacy and beauty in the middle of 100 acres of gorgeous farmland. Look forward to misty mornings sipping a warm cup of coffee and watching the roaming horses. In the evening's, you can look forward to a soak in the claw-foot tub, cozying up with a book off the shelf or curling up in front of the flatscreen TV to enjoy your favorite Netflix shows.
Opt for sleeping in the loft, where you'll get a stunning view of the stars through the dome above. And if you're feeling inspired, sit down to write at the charming little desk or whip up some culinary delights in the fully-equipped kitchen.
View Photos, Read Reviews & Check Availability
Guest Review: "I would give this place a 10-star review if possible. We had a great experience staying in the yurt and going around the farm. In addition to the perfect place to rest and relax, there are a lot of things that you can do around the farm. Our daughter enjoyed feeding and stroking the horses and goats. We also went canoeing by the pond. Anna is a wonderful host. She is very welcoming and she answers your questions quickly. Will go there again!"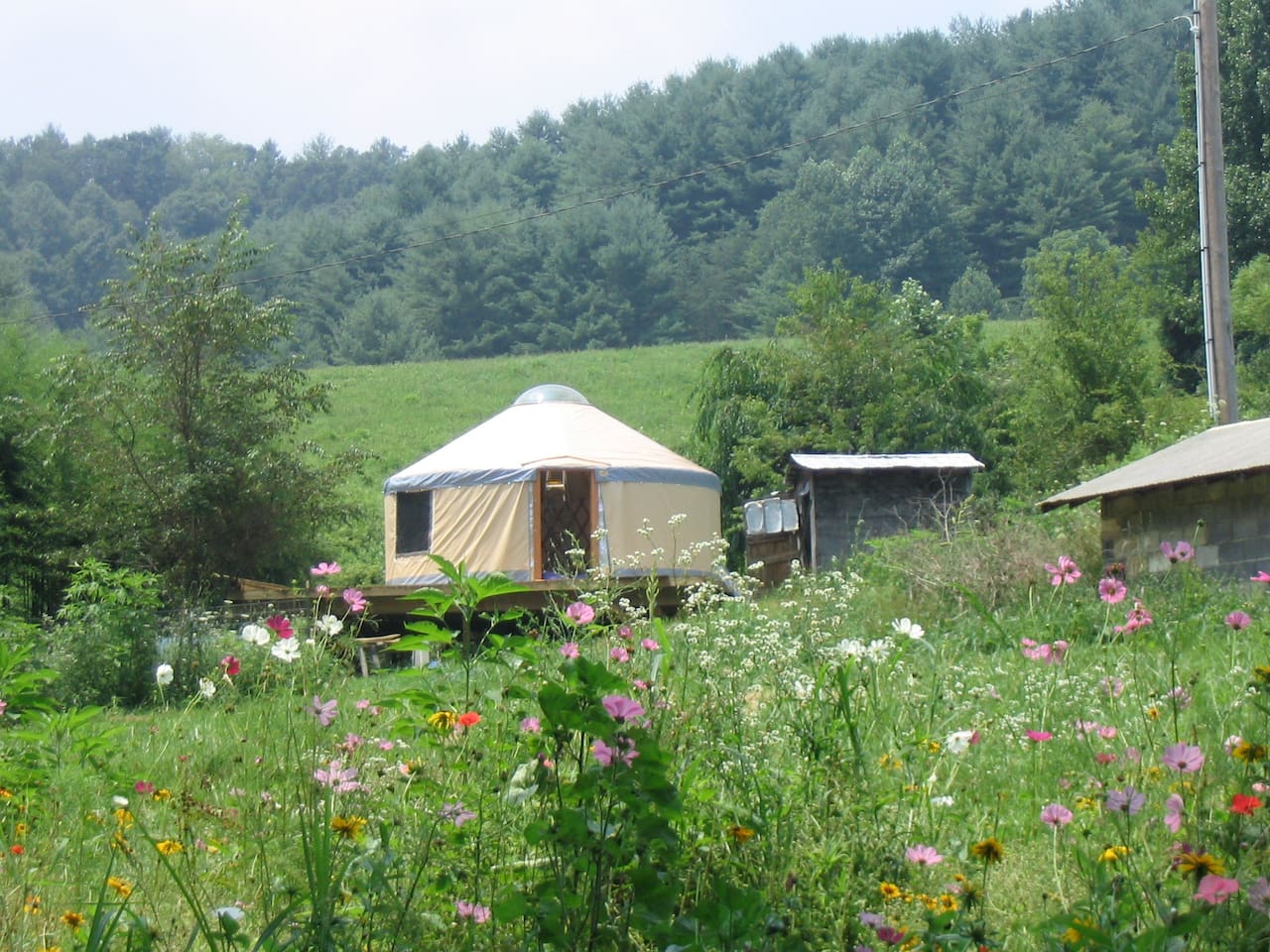 ---
2) Happy Place Treehouse with Private Deck in Forest
Location: Black Mountain
Price: $139+ USD per night
https://www.airbnb.com/rooms/44075765
Escape into the trees with this gorgeous cabin in the forest. With every amenity you could need or want, this can truly be your home away from home. Enjoy a game of darts, and after, snuggle up in front of the fireplace.
Mornings can be spent outside on the deck chairs or rocking in the hammock while you listen to the birds and the rustling trees. You can even have the ease of doing your laundry on-site, so you may never want to leave this little paradise.
View Photos, Read Reviews & Check Availability
Guest Review: "Amazing stay! We truly felt at home in the mountains in this treehouse. Views were amazing and the perfect size for a couple's getaway. My husband especially loved the dartboard! A place we will definitely keep in mind for future trips to the area!"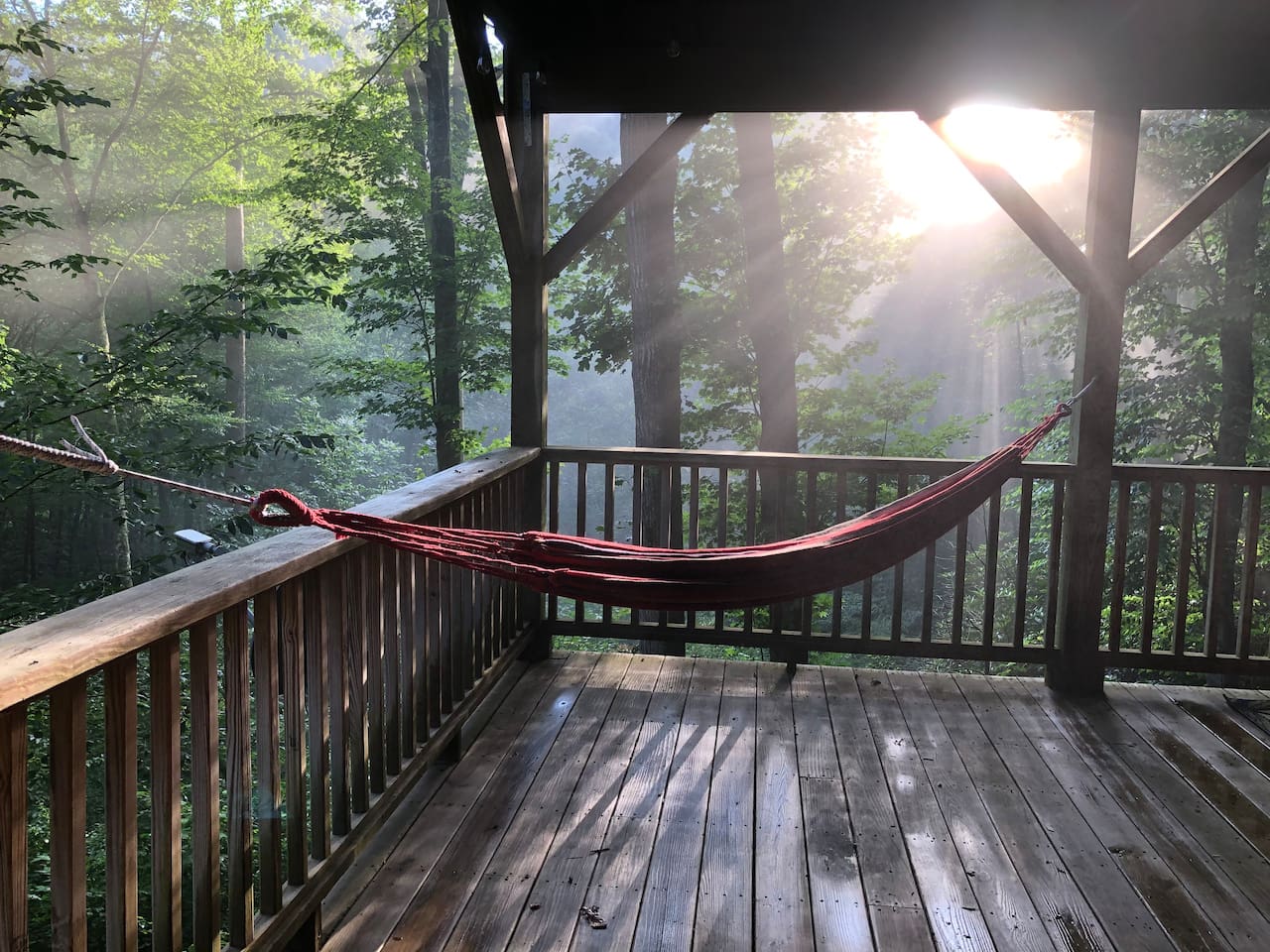 ---
3) Holmes Farm Yurt
Location: Leicester
Price: $77+ USD per night
https://www.airbnb.com/rooms/19095371
Yurts in Asheville, NC are a popular glamping choice, and for a good reason. Follow a rustic bridge over a rumbling creek to your charming little home in the woods. Enjoy hikes and scenic drives to Hot Springs for some trails and swimming.
Relish in the beautiful views of the hop yard, pastures, and mountains, all while floating in the outdoor hot tub with your favorite homemade cocktail in hand. Spend evenings out at your private fire pit and make some delicious BBQ on the grill.
View Photos, Read Reviews & Check Availability
Guest Review: "If you want a great little place to unwind and disconnect- this Yurt is all You need! The view is amazing and the sound from the creek that runs in the front of the Yurt can be heard on the inside and makes for the best sleep."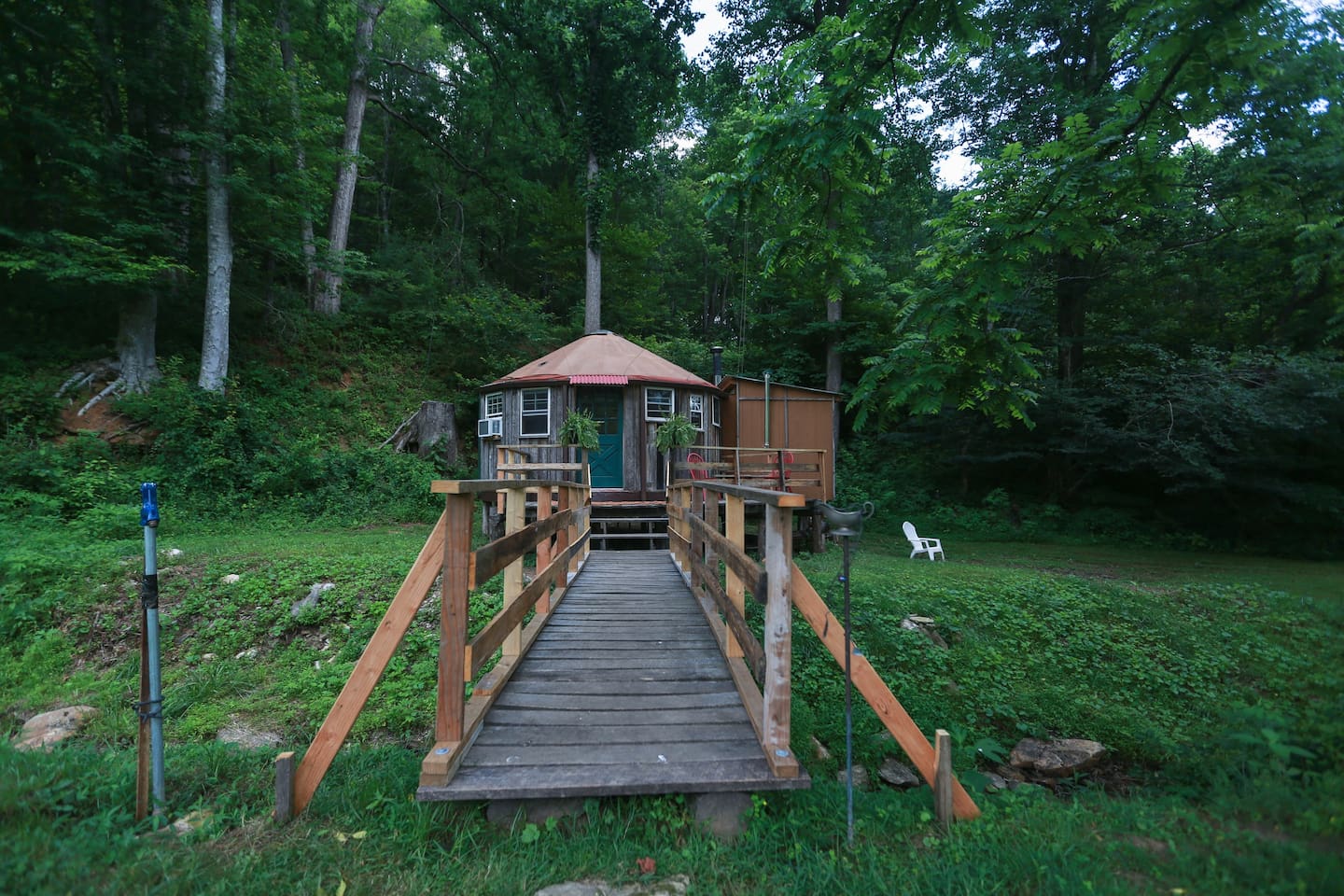 ---
4) Glamping in the Trees, Lovely Views. Dogs Agree
Location: Black Mountain
Price: $58+ USD per night
https://www.airbnb.com/rooms/8126095
A large, well-built deck, roomy enough for a very large tent, makes this an idyllic little hideaway in the trees with views that mesmerize. This spot will provide a peaceful nature retreat for you and your fellow adventurers, while feeling safe and sheltered. You can complete this immersion in nature by enjoying outdoor activities like hiking Looking Glass Rock, Craggy Gardens, and Chimney Rock or going kayaking at Lake Lure.
View Photos, Read Reviews & Check Availability
Guest Review: "What a wonderful glamping experience! Everything you could possibly need when still being fully immersed in nature! The deck was clean and equipped with everything you could need. The view was spectacular, especially the sunset!"
BEST THINGS TO DO IN ASHEVILLE | North Carolina
---
5) Yurt! Serene, Solar-powered, 20mins from Asheville
Location: Alexander
Price: $49+ USD per night
https://www.airbnb.com/rooms/36376645
Take the perfect staycation at this serene little nook located on a beautiful 18-acre farm beside a tranquil stream. Enjoy shared access to a tiki bar and an outdoor fireplace, as well as a covered porch with rocking chairs and a little koi pond. Here you can escape the hustle and bustle of life and opt instead to wake up with nature and unwind at this delightful little yurt near Asheville.
View Photos, Read Reviews & Check Availability
Guest Review: "This place is beautiful! The location on their property is nice and secluded and the outdoor shower was incredible. There were so many small details that made our stay even better. We slept so well even when it was rainy and hot. We'll definitely be back soon!"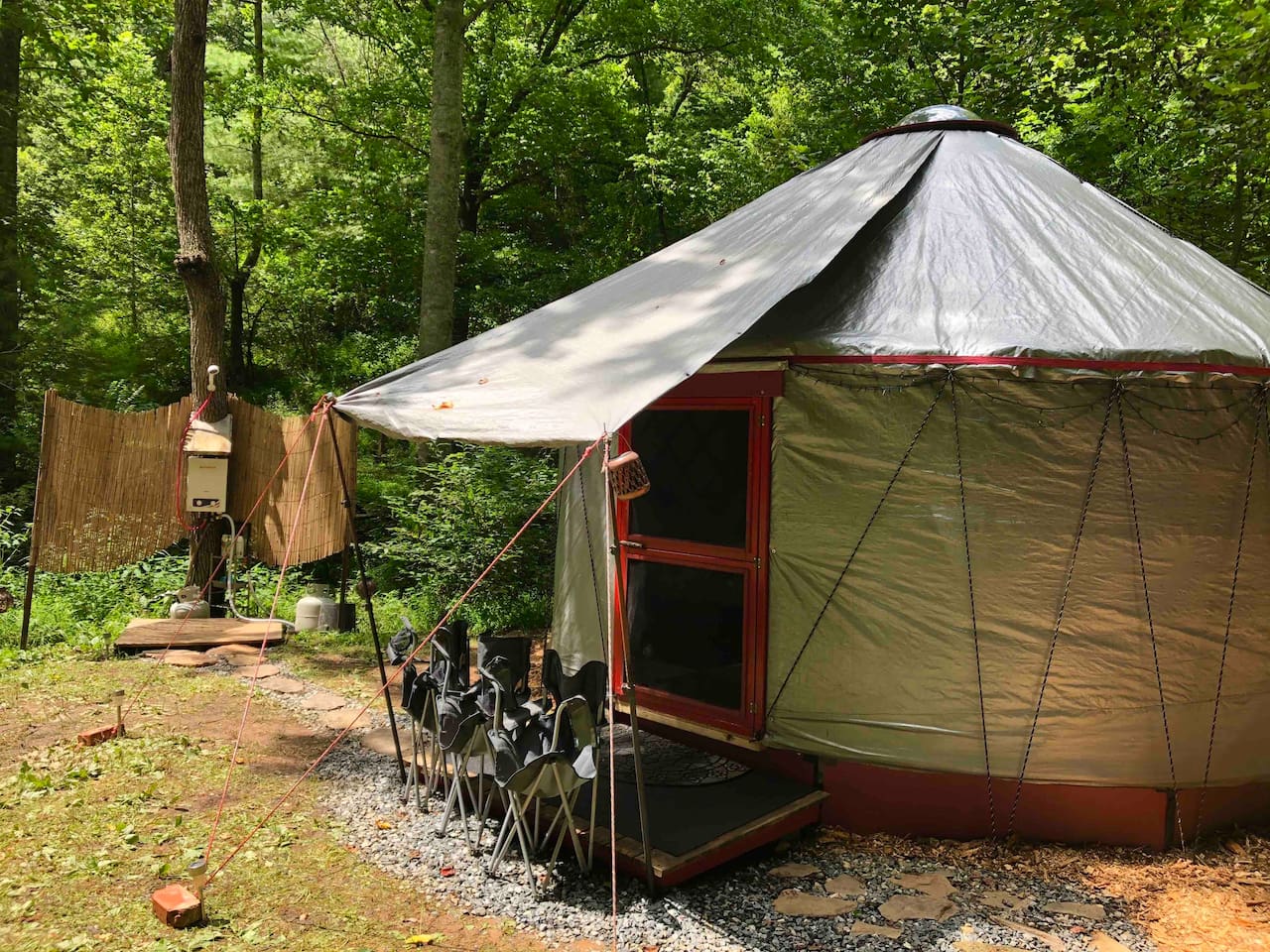 ---
6) Glamping on the Mountain
Location: Asheville
Price: $55+ USD per night
https://www.airbnb.com/rooms/27903380
Enjoy the retreat into the forest while being minutes from downtown Asheville and all its fun activities. You'll be in the perfect position to soak up all the natural splendors as well as the city's ease and comforts. And after painting the town red, tuck in for the perfect night's sleep in your cozy queen bed surrounded by serene wilderness.
View Photos, Read Reviews & Check Availability
Guest Review: "Beautiful place to wake up. I loved looking out at the forest and listening to the birds. We are campers, so the tent suited us perfectly. Far easier and more luxurious than our usual tent and sleeping pads on the ground! Lovely outdoor shower."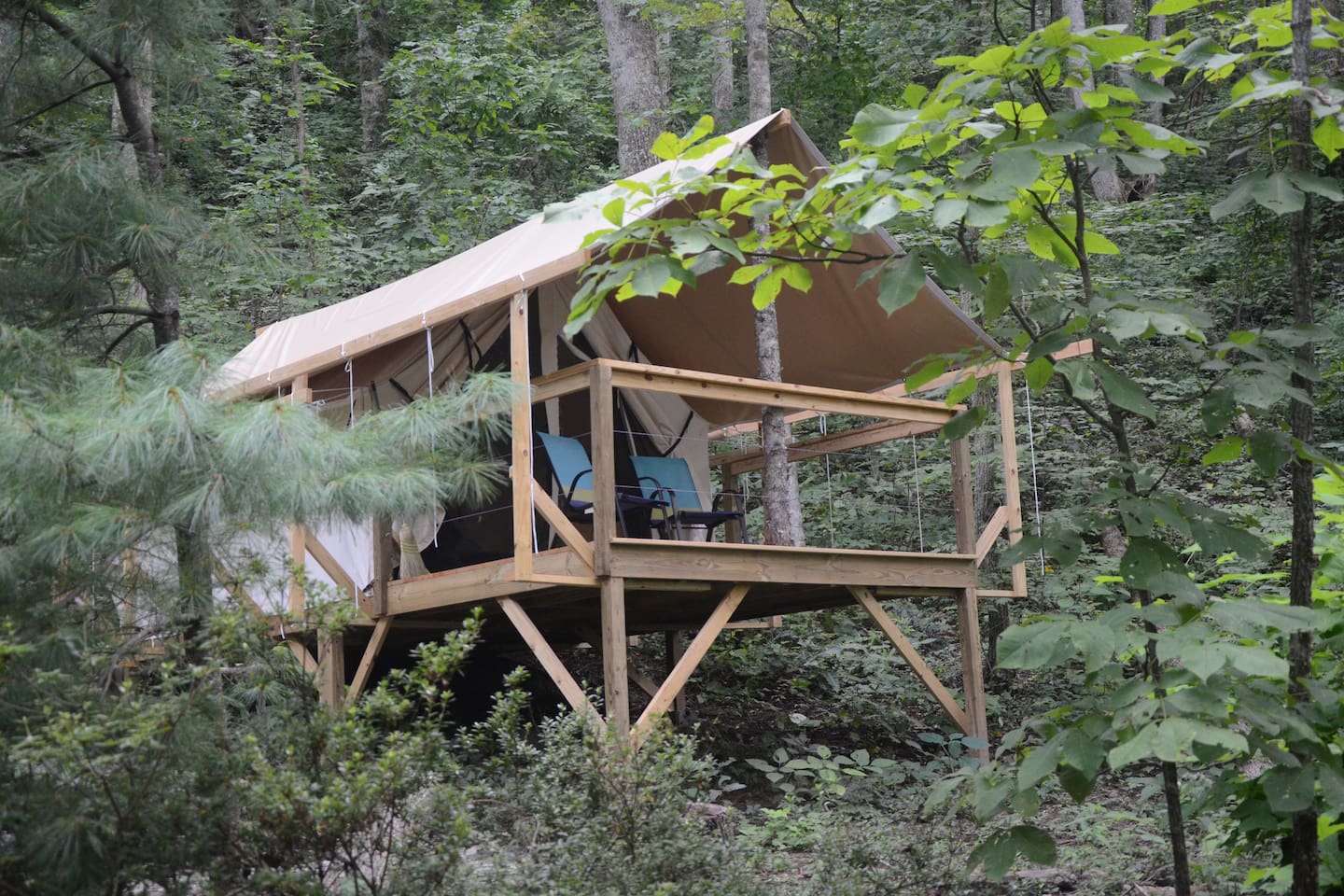 ---
7) A Glamping Camper, The WILD HARE near Asheville, NC
Location: Weaverville
Price: $100+ USD per night
https://www.airbnb.com/rooms/20458278
Adorned with rustic-modern decor and special details, this quaint camper is parked on a beautiful 2-acre property. It has been completely renovated and restored, so you won't have to compromise on comfort with the gel-plush bed awaiting you.
There's a lovely deck to sip your morning coffee out on or do some yoga. Treat this as your restful retreat spot to lay your head at night. And during the day, venture out into very trendy Asheville to enjoy one of the many fantastic dining spots.
View Photos, Read Reviews & Check Availability
Guest Review: "We loved staying at the Wild Hare! Such a cool, unique space and a great way to disconnect and spend time in nature. Everything we needed was there, lots of thoughtful touches. Would 100% stay here again!"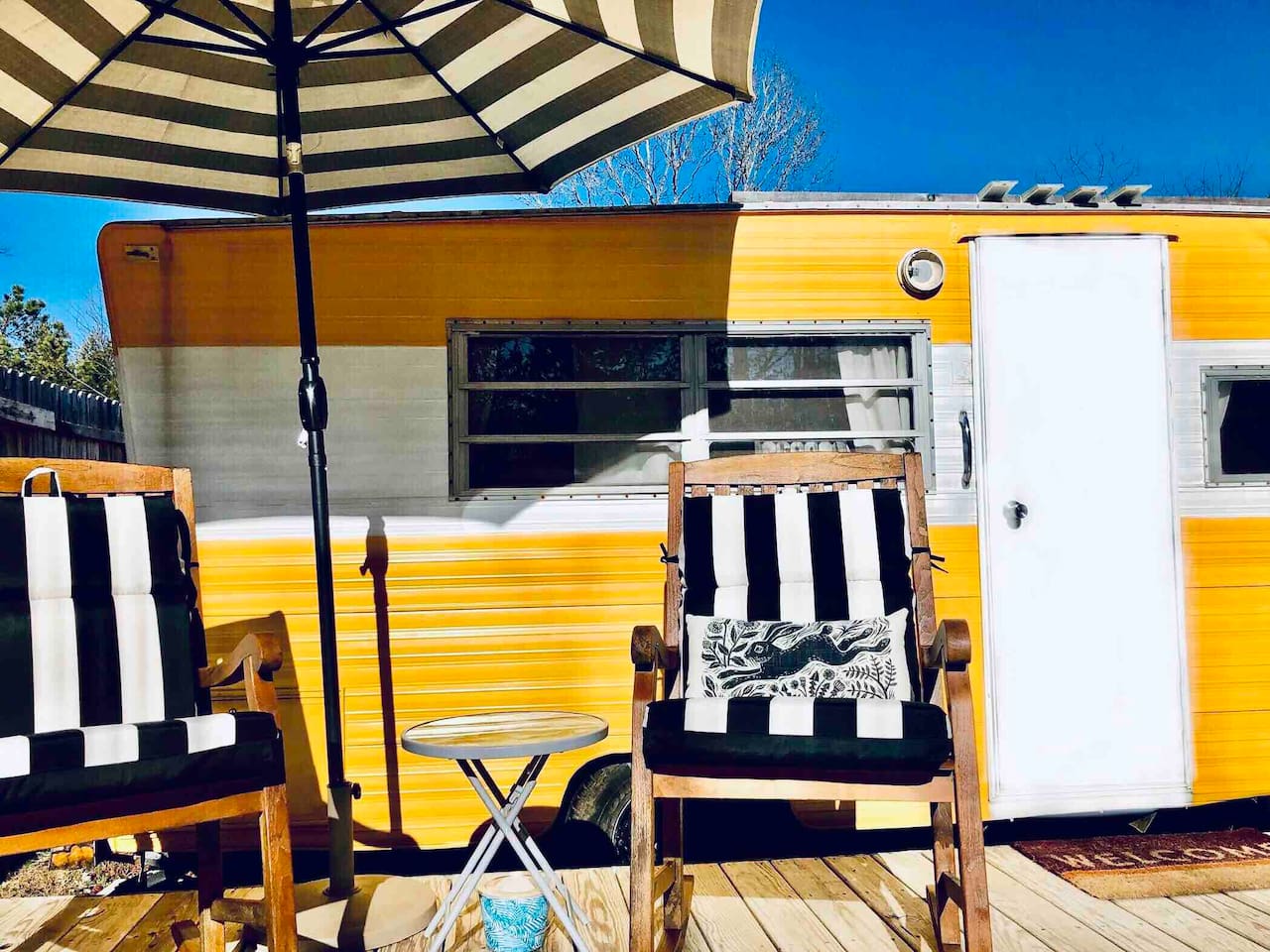 ---
8) Lucy the Vintage Trailer
Location: Arden
Price: $49+ USD per night
https://www.airbnb.com/rooms/29535877
This vintage camper is the perfect spot for that much needed R&R and escapes from the busyness of city life. Situated in a gorgeous wooded neighborhood and fitted with retro decor, it makes for the perfect getaway spot.
Grab one of the many games and enjoy an evening of low-key entertainment. And if the sound of rain brings feelings for deep relaxation and calm, this tin camper will provide the perfect scene for a cloudburst. Grab a glass of wine and curl up for the show.
View Photos, Read Reviews & Check Availability
Guest Review: "We stayed here for one nights and it was such a unique & memorable experience! The renovations they did to this little trailer are amazing. We loved the vintage style & artsy touches. The outdoor area was so quiet and peaceful. Emily was so quick to respond and very helpful. We will definitely return if we come to Asheville again!"
DOWNTOWN ASHEVILLE NC | Exploring Asheville as a tourist for the first time + AirBnb tour
---
9) Fresh Air and sunshine disinfected Glamping Deck.
Location: Black Mountain
Price: $69+ USD per night
https://www.airbnb.com/rooms/19482005
This gorgeous location will not only wow you with its breathtaking views, but also offers the perfect blend of nature and amenities to make for a memorable glamping experience. And be sure to bring along your furry friends to enjoy the great outdoors alongside you.
The sheltered part of the deck provides shelter from the sun or the rain so you'll be sorted for either, but does not include any beds.
View Photos, Read Reviews & Check Availability
Guest Review: "Great place to escape from. All the advantages of car camping, with the beauty and seclusion of a backpacking campsite. We loved our stay with our pup and will definitely be coming again!"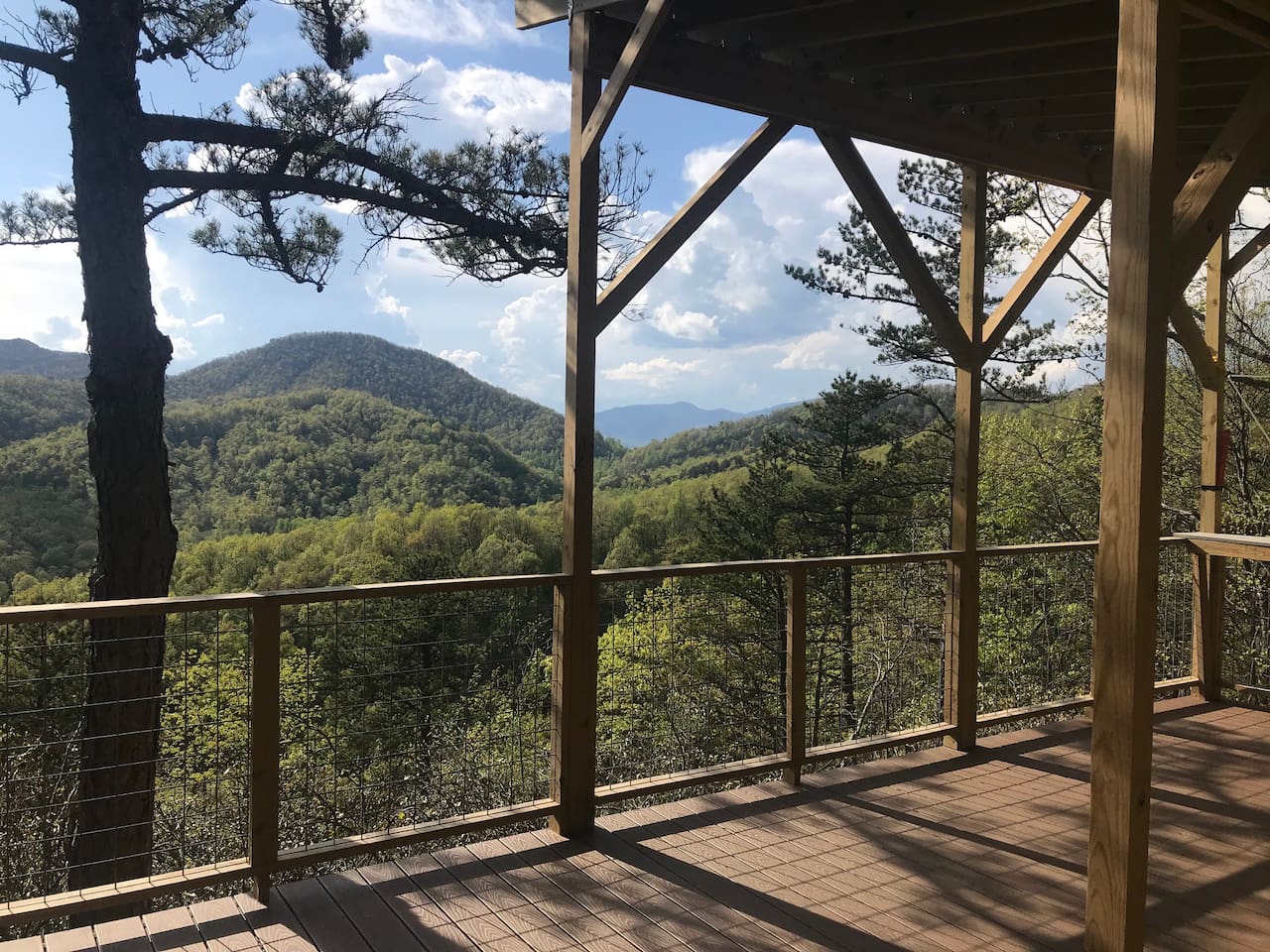 ---
10) Vintage Camper on Organic Farm with Stunning View
Location: Weaverville
Price:$75+ USD per night
https://www.airbnb.com/rooms/19653833
This quirky, charming stay is tastefully decorated and will have you in the holiday spirit in no time. With vast stretches of valleys and rolling hills as a backyard, tranquility doesn't get much better than this.
There's an outdoor shower and sink attached to your private deck, where you can enjoy fireflies and sunsets, as well rather idyllic hot showers under the trees and the stars.
View Photos, Read Reviews & Check Availability
Guest Review: "Sparkle's remodeled camper is a true delight in every way. The bed is comfy, the air conditioning is great and the outdoor shower is wonderful. You will love this getaway"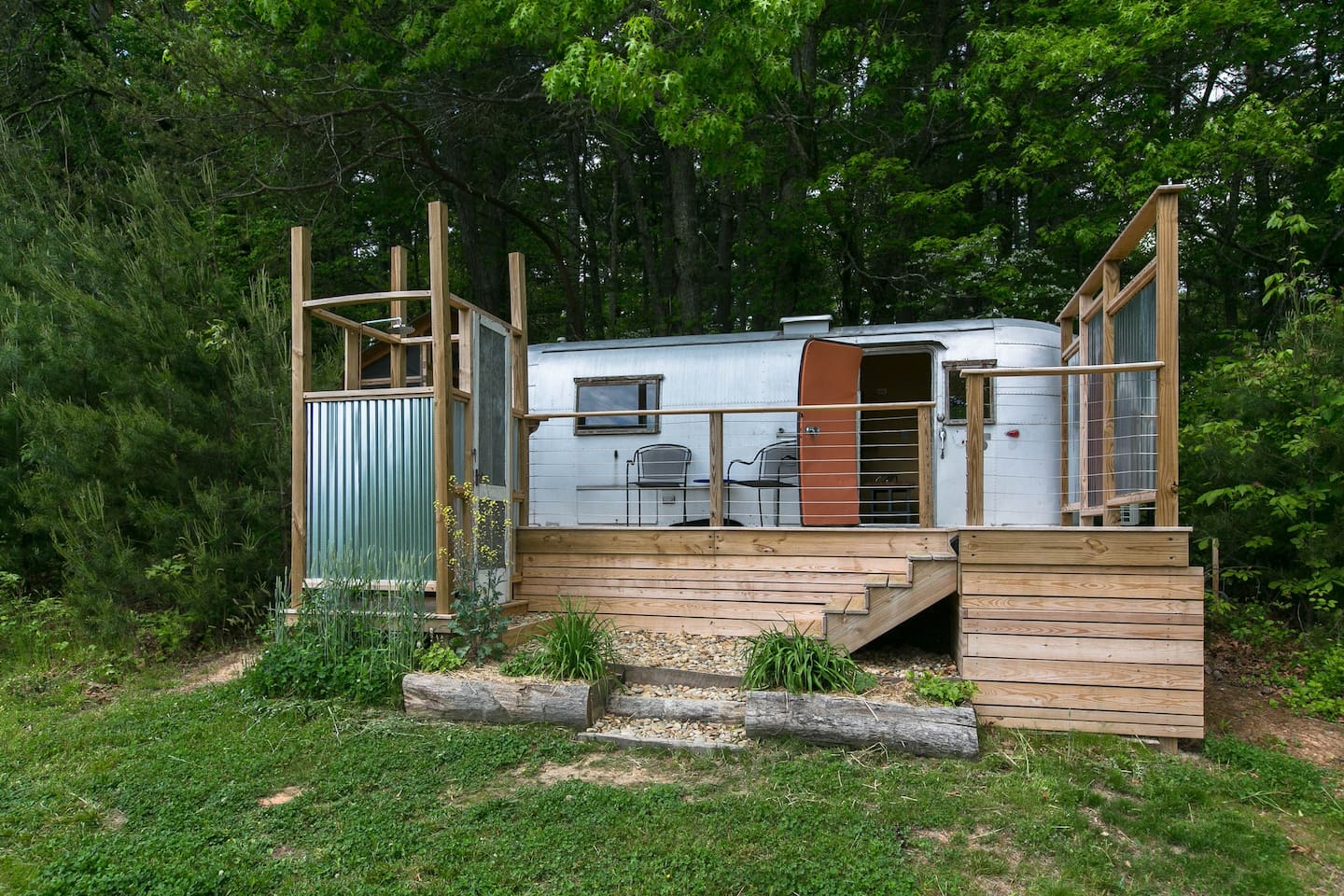 ---
11) Cozy Yurt in Appalachia near Asheville, NC
Location: Mars Hill
Price: $122+ USD per night
https://www.airbnb.com/rooms/19653181
This cozy abode will have you feeling like your best-relaxed self. Between the surrounding mountains and the comfy interior, you may never want to leave. Do some yoga on the deck overlooking the farm and the pond at this perfect little sanctum.
Tickle the ivories on the gorgeous vintage piano or spend time on the large, wrap-around deck listening to the birds. And best of all perhaps, enjoy evenings in your private hot tub under the stars with a glass of wine in hand.
View Photos, Read Reviews & Check Availability
Guest Review: "An amazing place to ground and recharge! Great location close to Asheville and Hot Springs. Ginny is a fantastic host, adding the little touches that make a big difference. The bed is one of the most comfortable I have slept in on a trip. Truly grateful we stayed at the farm"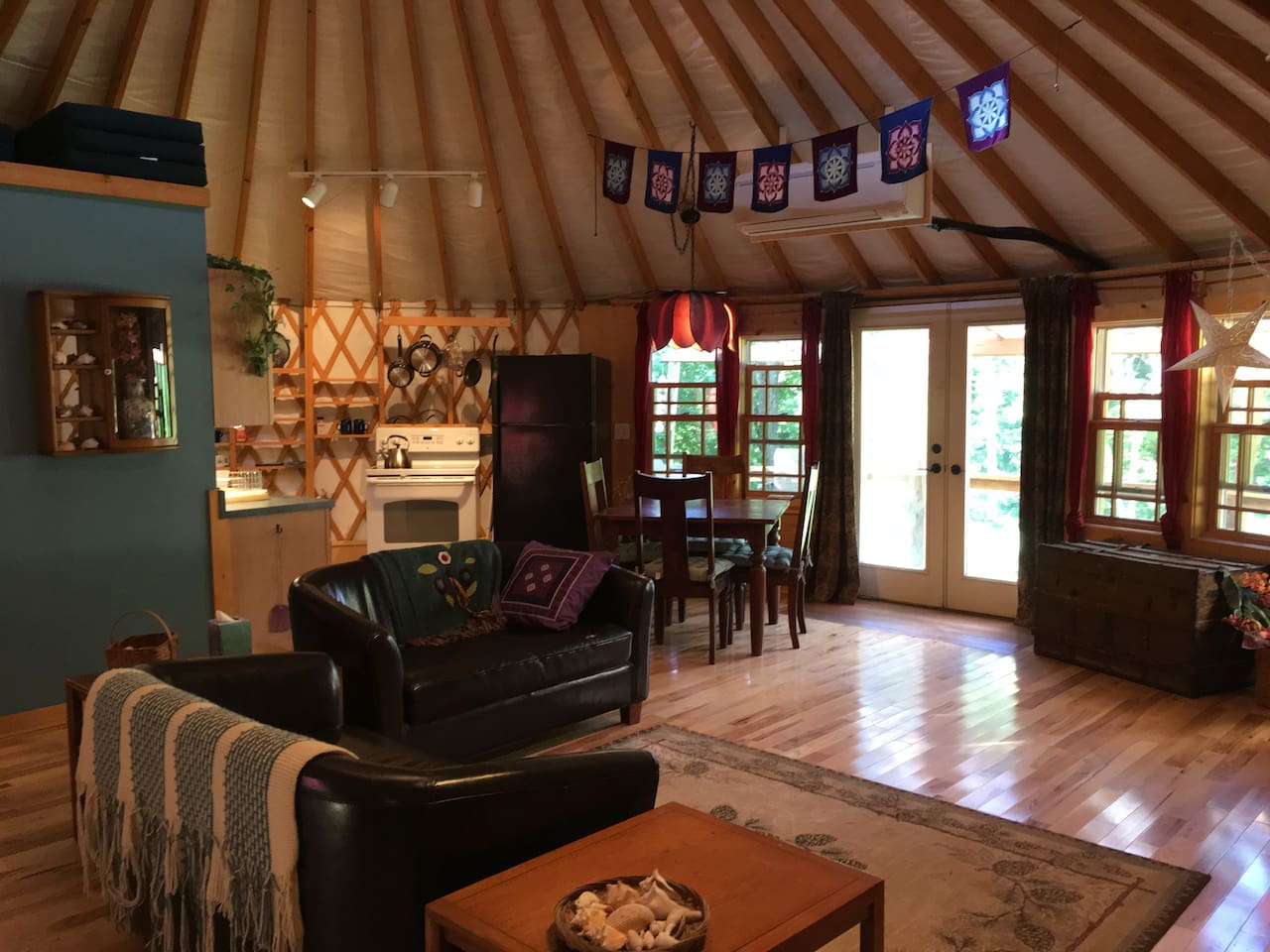 ---
12) Creekside Yurt
Location: Swannanoa
Price: $125+ USD per night
https://www.airbnb.com/rooms/17513132
Conveniently located near all the best hiking trails, breweries, and restaurants that Asheville has to offer, you can't go wrong with this home in the woods.
In the evenings, flop down on your luxury king bed or curl up by the fireplace with your favorite book. Special touches like a rustic barn door, outdoor rain shower, and fire pit make this a rewarding and immersive outdoor experience without compromising your comfort.
View Photos, Read Reviews & Check Availability
Guest Review: "One of our favorite Airbnb stays. This yurt was located by a great stream with little waterfall that was awesome to fall asleep to. It was spotless, and had all the amenities we needed."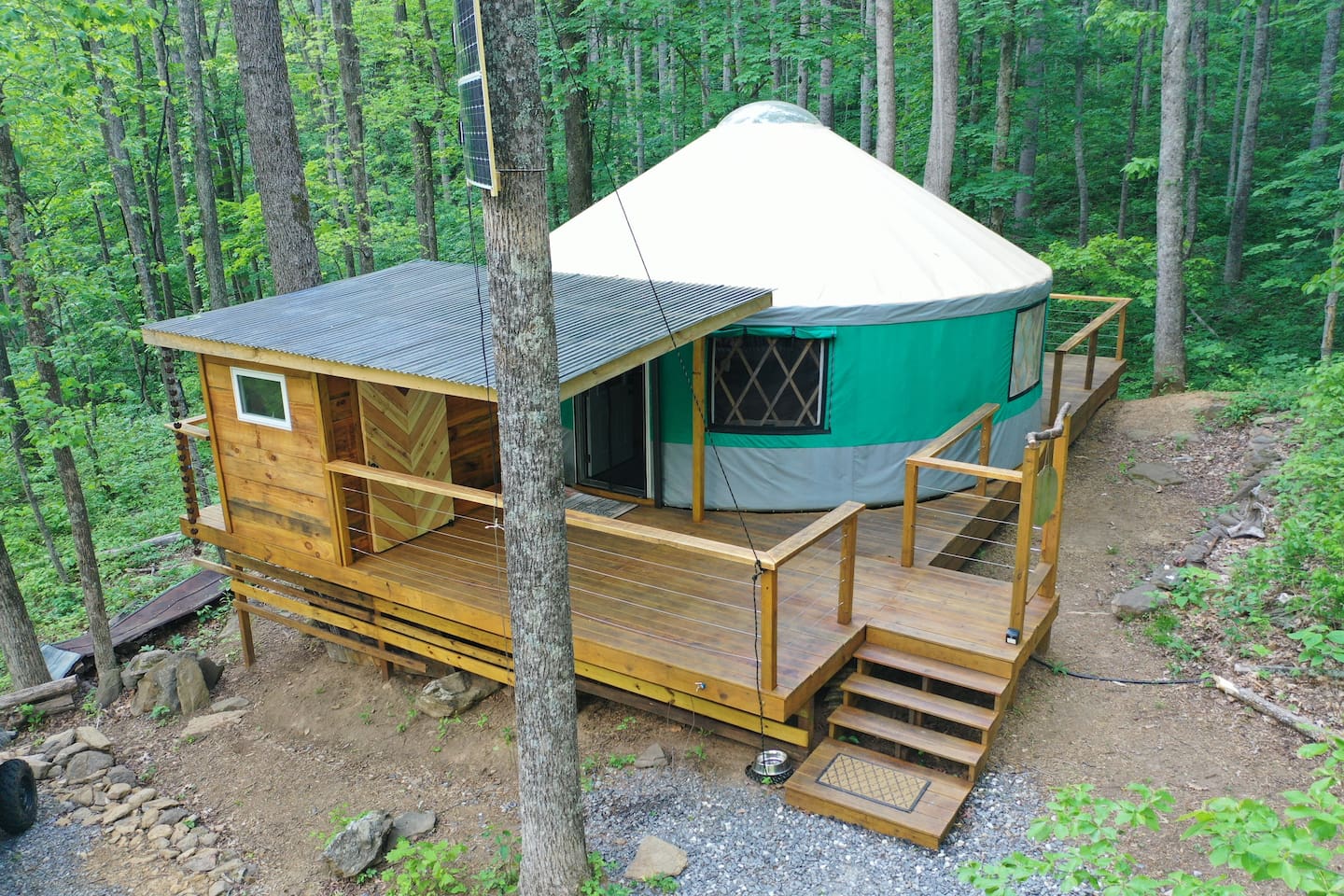 ---
13) Mountain Fiesta Yurt GLAMping
Location: Asheville
Price: $80+ USD per night
https://www.airbnb.com/rooms/3119957
If it's the many Asheville yurts you're deciding between, then this tent with benefits is a great choice. This yurt boasts a comfy queen-sized bed, catered breakfast, and all the comforts of home in a stunning setting.
Snuggle under the stars by the fire in this secluded, beautiful spot where you can choose to plug in or switch off. The gorgeous barn space nearby is perfect for movie nights and relaxing in the hammocks. And a trip to the nearby creek will prove rewarding and relaxing.
View Photos, Read Reviews & Check Availability
Guest Review: "What a great and beautiful place. We really enjoyed our stay. Clean, affordable and everything as described, plus you can feed the ducks, donkey and goat too"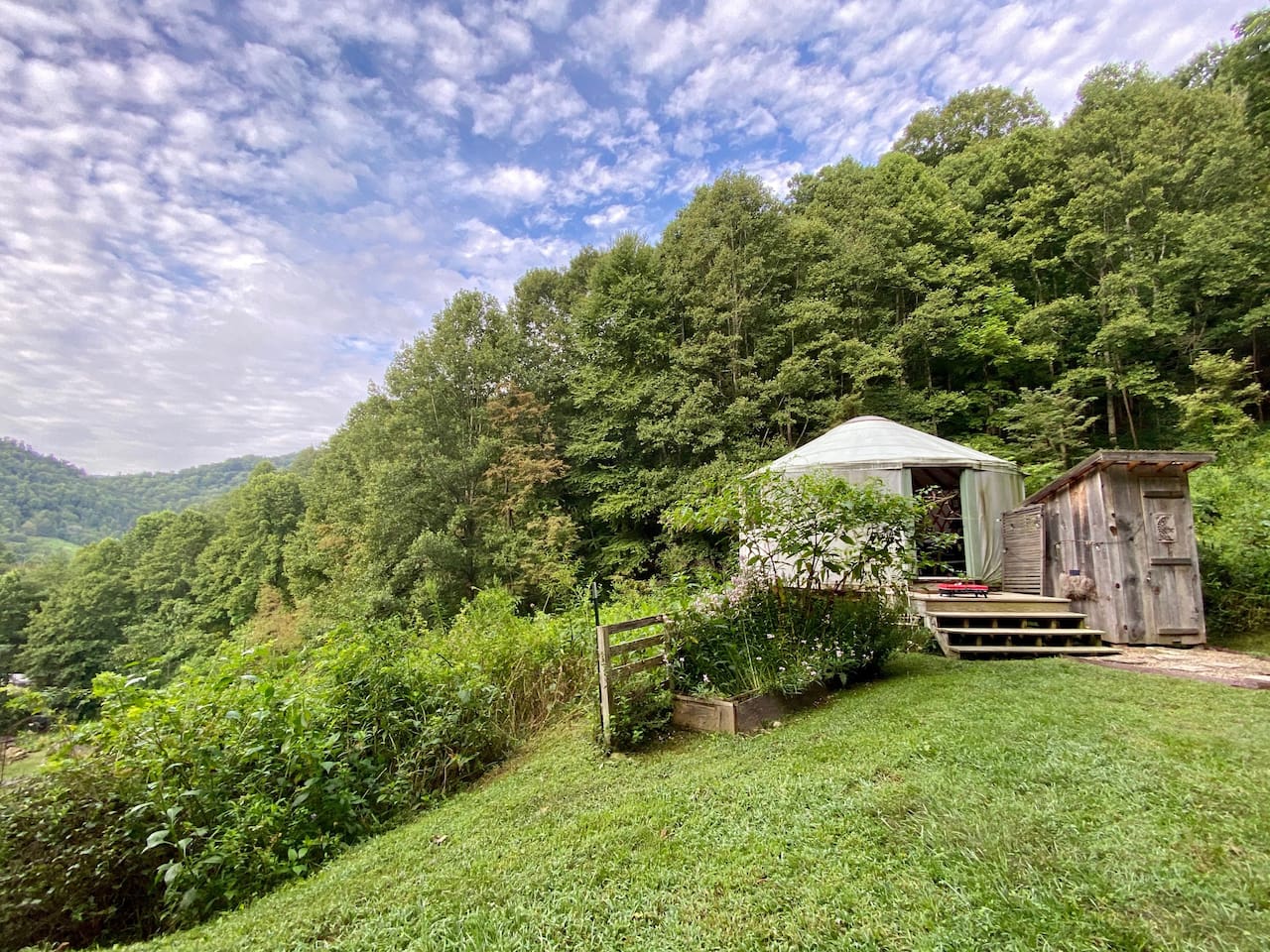 ---
Best Tours from Asheville
With so much to see and do in this beautiful city, you may feel overwhelmed with choices. These are some of the top tours in the area that you can consider adding to your itinerary.
---
Forging Silver Stacking Rings
"Create your own keepsake hammered sterling silver stacking rings. We'll teach you the basics of metalsmithing, cutting silver, learning how to solder the rings together with propane torches and then learn how to polish them to make them shiny! Then you can add textures to make your ring unique, and make two beautiful stacking rings"
https://www.airbnb.com/experiences/560390
Price: $65+ USD
---
Floating Bar Crawl Tour
"This is a leisure float down the third oldest river in the world. You will get a chance to relax and get to know the other guests. The trip is 4 miles long and allows a chance to experience bar hopping by raft! We will relax and enjoy cold beverages and river views. The Wedge Brewery is open now! We will be able to stop there for a beer and a bite"
https://www.airbnb.com/experiences/870926
Price: $65+ USD
---
Tip-Based Asheville Walking Tour
"Learn about the history, architecture, and some of the local legends surrounding Asheville! During our tour, we will be sure to cover hidden gems, local breweries as well as all major landmarks like the Basilica of St Lawrence, and the Grove Park Arcade. But we will also go off the beaten path to explore the Block, the YMI, Woolworth Walk's old-timey soda fountain, and Wall St's catwalk!"
https://www.airbnb.com/experiences/1169058
Price: $1+ USD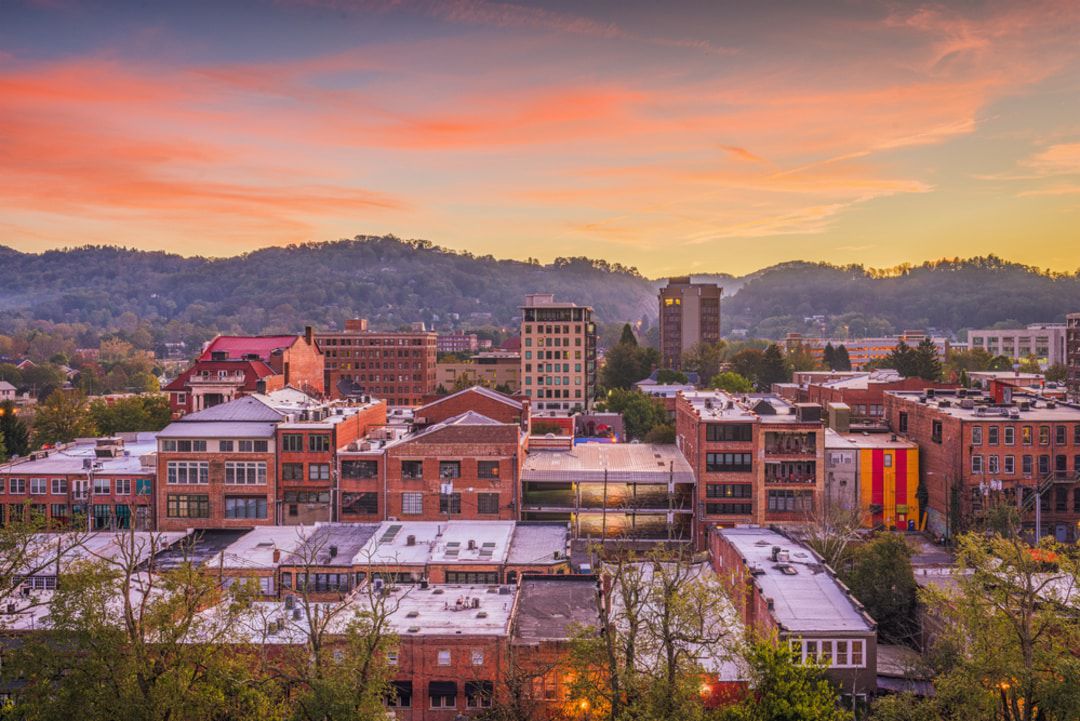 ---
Glamping NC: Am I Missing Any?
Have you been glamping in Asheville recently and stayed in any memorable accommodations I didn't mention? If so, be sure to let me know by reaching out to me on social media and I'd love to add them to my list.
Asheville & The Blue Ridge Mountains - Adventure is Calling
---
Other Recommended Reading
---
Final Thoughts for Glamping Asheville
Have you always dreamed of staying in an adult treehouse? Do you long to lie under a blanket of stars at night in the undisturbed wilderness? Well, now you can – glamping in Asheville, NC awaits with all this and more.
Take your pick of everything from Asheville glamping domes, yurts, tents, tipis, treehouses, and quaint rustic cabins. Each one of these unique vacation rentals will inspire, refresh, and excite, as well as provide a space from which to make some unforgettable memories.
Now that you've seen the best of Asheville, NC glamping, you should be all set and pumped for your next getaway into the great outdoors. And why not catch a North Carolina music festival while you're in the area.
---
THANKS FOR READING ABOUT MY TOP PICKS FOR GLAMPING IN NC, ASHEVILLE!
SHARE THE AIRBNB GUIDE WITH YOUR ASHEVILLE CAMPING CREW!
---
https://www.jonesaroundtheworld.com/wp-content/uploads/2020/10/Glamping-Deck-Asheville-North-Carolina.jpg
960
1280
TravelTractionsJATW
https://www.jonesaroundtheworld.com/wp-content/uploads/2017/03/logotry-1-1-300x106.png
TravelTractionsJATW
2020-10-28 21:50:47
2022-01-13 11:49:00
Glamping in Asheville, NC: 13 Best Yurts, Domes, Treehouses + More