Looking for the best hobbit house Airbnb rentals to temporarily live like the fascinating population in J.R.R Tolkien's fantasy world? Then you've landed on the right page. I've put together a comprehensive guide filled with many options perfect for making your wish come true.
Hobbit homes have been soaring in popularity, mostly among fans of The Hobbit and The Lord of The Rings franchises. In whichever part of the country you're in, you're very likely to find hobbit holes ready to welcome you with open arms.
You can create the perfect setting and pull out one of these go-to books while staying in one of these unique Airbnbs. Alternatively, let your imagination run wild and act out your favorite Bilbo Baggins scenes. Even if you aren't a LOTR or The Hobbit fan, these whimsical hobbit houses are worth staying in if you're into unusual accommodation.
Unlike the popular Hobbiton set in New Zealand where the films were shot, you can stay overnight and fully immerse yourself in the fantasy at these Airbnbs. From Orondo and Santa Fe to Ramona and Fairfield, these hobbit homes on Airbnb and VRBO are fascinating.
---
1) Luxury Mosaic Masterpiece: Santa Fe Hobbit House centrally located to SF Plaza
Location: Santa Fe, New Mexico
Airbnb Plus: No
Superhost: Yes
Price: $250+ per night
This is a hobbit house with a modern touch, providing a great stay in a quiet Santa Fe neighborhood. The doorway features a tree design and provides a glimpse of the artsy, faux-stone walls with creative designs and honed stone floors that wait inside.
Inside, you can rewatch your favorite Tolkien film on one of two HD TVs or stream using the property's fast internet. Or, prepare a hearty meal in the gourmet kitchen and enjoy it on the seasonal outdoor dining facilities while stargazing or admiring the light-up waterfall (also seasonal) with friends or family. Outside, you can wander around admiring the landscaping and colorful flora that's dotted around the property.
With a location inside of a Santa Fe neighborhood, there are bakeries and cafes nearby as well as a spa one block away.
View Photos, Read Reviews & Check Availability
Guest reviews: "This is a remarkable and beautiful home. Every room is a work of art. Literally. In addition, the owners have anticipated every possible need. You will be truly happy if you stay here. It was a privilege."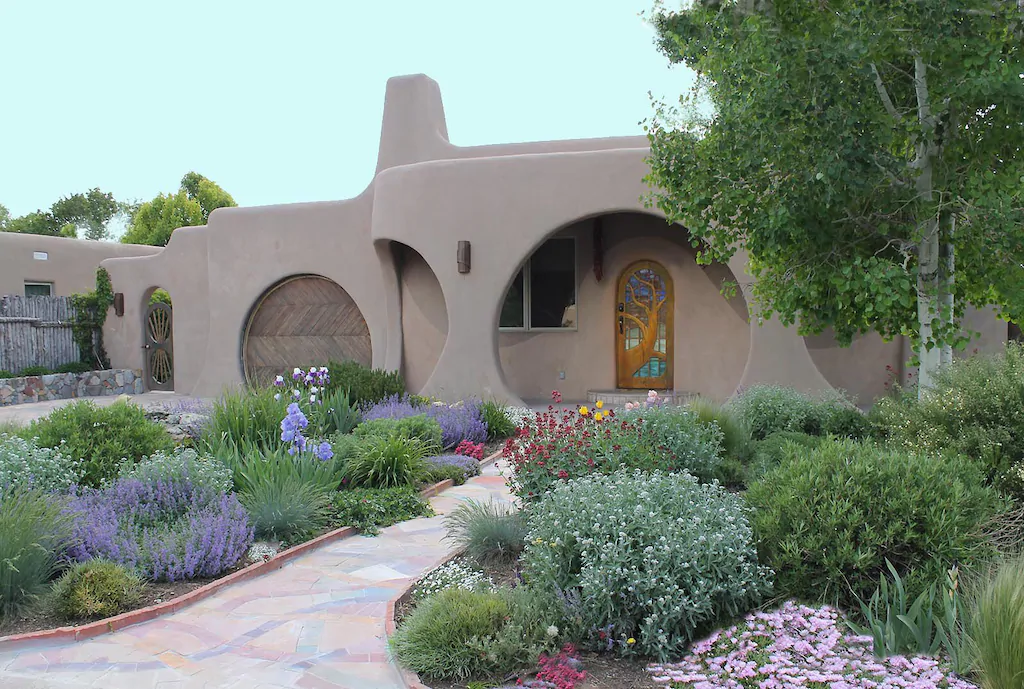 ---
2) The Shire of Montana — Luxury Hobbit House Rental
Location: Trout Creek, Montana
Airbnb Plus: No
Superhost: Yes
Price: $595+ per night
The Shire of Montana is a hobbit cabin that does its best to live up to the name it took from J.R.R Tolkien's fantasy novels. The property is surrounded by an Elven Village that springs to life in the evening with a lighted mural.
The interior of this Airbnb in Montana is complete with a fully outfitted kitchen that includes a grill found on the outside. You can enjoy a tasty meal or picnic on the deck outside while watching a host of animals navigating the pond.
Afterward, let your imagination run wild while sitting cozy and paging through a book from their extensive library — there's even a wood-burning stove for those chilly nights.
Perhaps the best part of it all is being welcomed with a cookie covered in fairy dust.
Note: While phone service is available, it's quiet spotty so don't think of it as very reliable.
View Photos, Read Reviews & Check Availability
Guest reviews: "Couldn't have been more quiet, and it's a true hobbit house, nice to walk around and view all the hidden little hobbit holes. We had a much-needed getaway together with no distraction. I would definitely stay there again. They thought of everything for their guests."
---
Hobbit Guest House In Montana
---
3) Underground Hygge Hobbit House
Location: Orondo, Washington
Airbnb Plus: Yes
Superhost: Yes
Price: $400+ per night
https://www.airbnb.com/rooms/8794484
This is one of the best hobbit houses for rent, and The Shire-like round door sets the stage for what's to come. The earthy property features an authentic charm, highlighted by upcycled decor and antiques that will satisfy any Tolkien fan.
Inside, many natural elements complement creature comfort amenities like the coffee maker and a comfy bed to make for a magical stay. There is also a driftwood sink and a stone fireplace, perfect for cold evenings.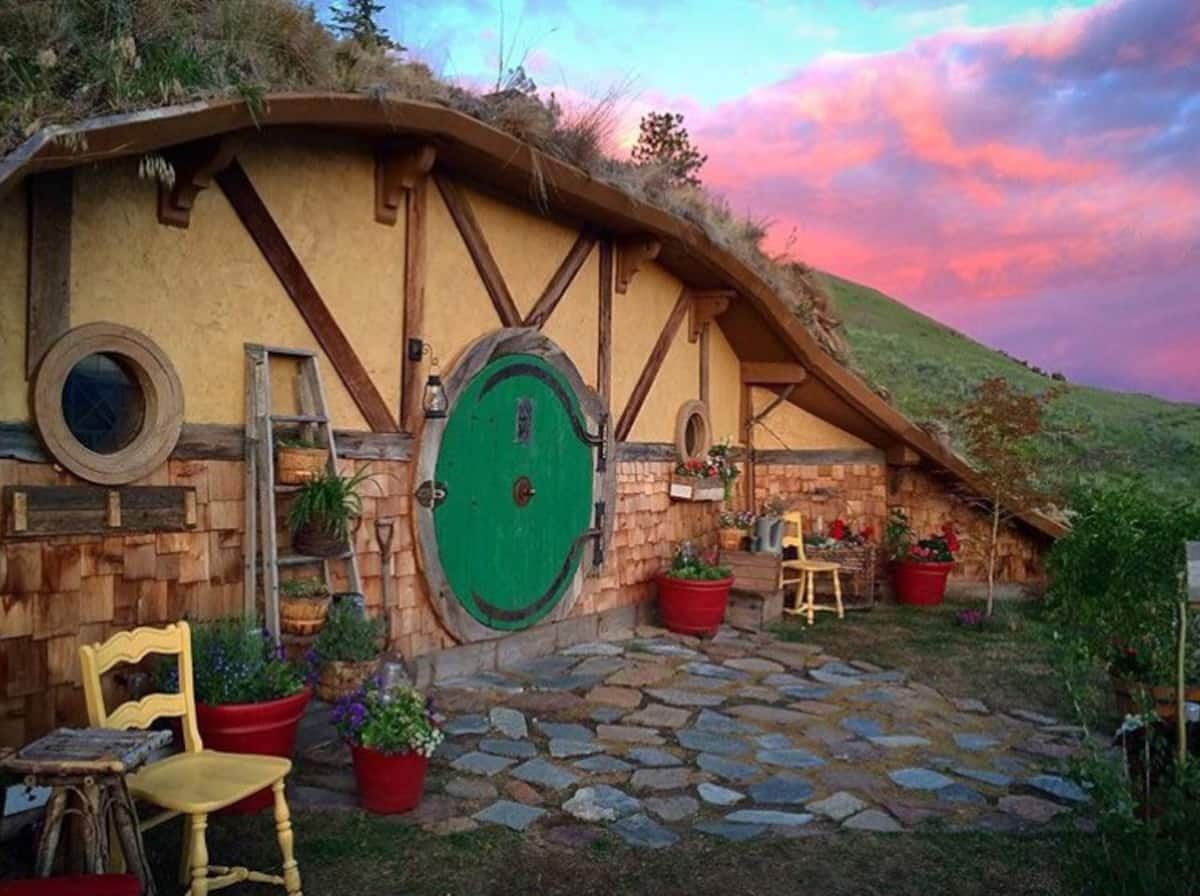 Set alongside the Columbia River Gorge mountainside, this property is the perfect getaway for anyone who enjoys hikes and exploring Mother Nature. If you're booking the property in winter, a 4 wheel drive vehicle is recommended as the area gets snowy.
View Photos, Read Reviews & Check Availability
Guest reviews: "What an amazing place to be!!! We absolutely loved our time here, it's so nice to be able to be completely secluded when you want to be and able to be in town if you want to be. This was an experience that won't soon or ever be forgotten."
---
4) The Hobbit House – Unique Arkansas Earth Ship!
Location: Rogers, Arkansas
Airbnb Plus: No
Superhost: No
Price: $261+ per night
This self-proclaimed Earth ship is the best choice for anyone looking for a hobbit house with a touch of luxury. It's also perfect for large group getaways as it can accommodate 16 guests and provides them with a deluxe stay the moment they walk through the round doorway. There are three different sections of the house, including the two-bedroom straw bale home, three-bedroom tire home, and a one-bedroom game room.
The amenities include two fitted kitchens, fast Wi-Fi, a propane grill, a smart TV, and a fully-stocked laundry room. Additionally, you have access to a hot tub and pool, a game room for those with a competitive spirit, and a private patio for those who want to relax in peace.
View Photos, Read Reviews & Check Availability
Guest reviews: "Our family had a wonderful time at the Hobbit House! The house was inspirational in itself. It was fun to see how it was built and it opens your mind to all the possibilities out there. Our children and grandchildren loved the big kitchens and hanging out at the pool. It feels very remote but there is still food, shopping, and activities nearby if you choose to look about."
---
5) Secluded Hobbit House near San Diego
Location: Ramona, California
Airbnb Plus: Yes
Superhost: Yes
Price: $336+ per night
https://www.airbnb.com/rooms/16115363
This is an earth house Airbnb in San Diego, built for total disconnection from the outside world. It's perfect for anyone looking to escape the hustle and bustle of city life as it has no internet, cell service, or electricity. Also, it is set in a remote location.
The house closely resembles the mystical dwellings in the film franchises, with the round door being a gateway to granite rock walls and stained glass windows. Without disturbances, you can dive into your favorite fantasy novel for anything you may have missed in your first (or tenth) read.
The hobbit hole is located relatively close to the city if you need to interact with the world at any time during your stay.
View Photos, Read Reviews & Check Availability
Guest reviews: "10/10. More than just a place to stay, this Airbnb is a full experience. Incredible attention to detail with lots of little surprises inside and out. The surrounding area has a handful of wineries with great views as well. Absolutely great experience and we plan to come stay at the shire again."
---
Off-Grid Hobbit House Tour | The Wander Family "Stays"
---
6) The Hobbit House of Russellville
Location: Russellville, Arkansas
Airbnb Plus: No
Superhost: Yes
Price: $202+ per night
This hobbit house is a cozy rental with wooden and brick walls and fascinating art hidden behind the magnificent round doorway. Despite its hobbit-inspired design, the interior is as modern as most hobbit holes come.
You can enjoy a plethora of movies on the 75-inch TV or play video games from the comfort of a large leather couch. There's also fast internet for updating your social media during your stay.
Facilities like the kitchen, backyard, and firepit are all shared as the hobbit is a basement. Because of this, you'll also often hear the sound of feet walking in the upper level, although this is a minor inconvenience.
View Photos, Read Reviews & Check Availability
Guest reviews: "The interior of the Hobbit house was done nicely. It was a comfortable, modern, and fun place to enjoy sitting back and enjoying your favorite Tolkien movies."
---
7) The Sassafrass – Modern Hobbit House Rental
Location: Johnston City, Tennessee
Airbnb Plus: No
Superhost: No
Price: $147+ per night
This underground hobbit house is set on a rock cliff surrounded by a quarry pond and lush greenery. It's the ultimate nature-lovers perfect accommodation, and it's also the best affordable rental in this guide.
When you aren't exploring the area's hiking trails or soaking in the tub outside, you can immerse yourself in the serene surroundings while sitting on the patio. Cozy up by the gas fire pit with a book in hand or laze around doing nothing — that's what this Airbnb in Tennessee was built for.
View Photos, Read Reviews & Check Availability
Guest reviews: "Perfect from start to finish. Just me and my wife for our 20 year anniversary, the whole property to ourselves. Amazing. For once very satisfied with the entire listing and process. Gonna stay at the treehouse next time. Thanks for turning the waterfall on before we left too. Very nice."
---
HOBBIT HOUSE AIRBNB TOUR! | Dome Home With A Waterfall!
---
8) Experience a Hobbit House!
Location: Charlevoix, Michigan
Airbnb Plus: No
Superhost: Yes
Price: $328+ per night
This quaint little home, a half-shaped dome with stone walls, is another excellent getaway for people who need to unplug from reality. Enjoy views of Michigan Lake or awe-inspiring sunsets from the comfort of the home. The property also has a sandy beach with clean waters a few feet from your doorstep. The quaint village of Charlevoix is also a short stroll away for dining and shopping purposes.
While the hobbit hole interior is relatively small, it has a well-fitted kitchen that includes a stove for making tasty meals and coffee-making facilities. For entertainment, enjoy reading books or watching your favorite series on the smart TV, surf the net with the complimentary Wi-Fi, or cozy up by the fireplace.
View Photos, Read Reviews & Check Availability
Guest reviews: "We have been enjoying Charlevoix for years and years and decided we needed to experience a Mushroom House for ourselves. Thanksgiving was a perfect opportunity to enjoy the cozy quarters of this unique home. Host made great use of space, the house is well equipped and the decor is authentic. We loved it!"
---
9) A Warm Hearth and "All the Comforts of Home"
Location: Fairfield, Virginia
Airbnb Plus: No
Superhost: Yes
Price: $297+ per night
https://www.airbnb.com/rooms/22525406
Known as the "Hobbit's Dream," this is the hobbit house Airbnb that die-hard fans of The Hobbit and LOTR will love. It's designed with keen attention to detail to bring the magical fantasy to life.
The decor and presentations inside the Airbnb make it feel like you're walking through a museum of Middle Earth. There are also several epic spots for taking pictures with all sorts of props.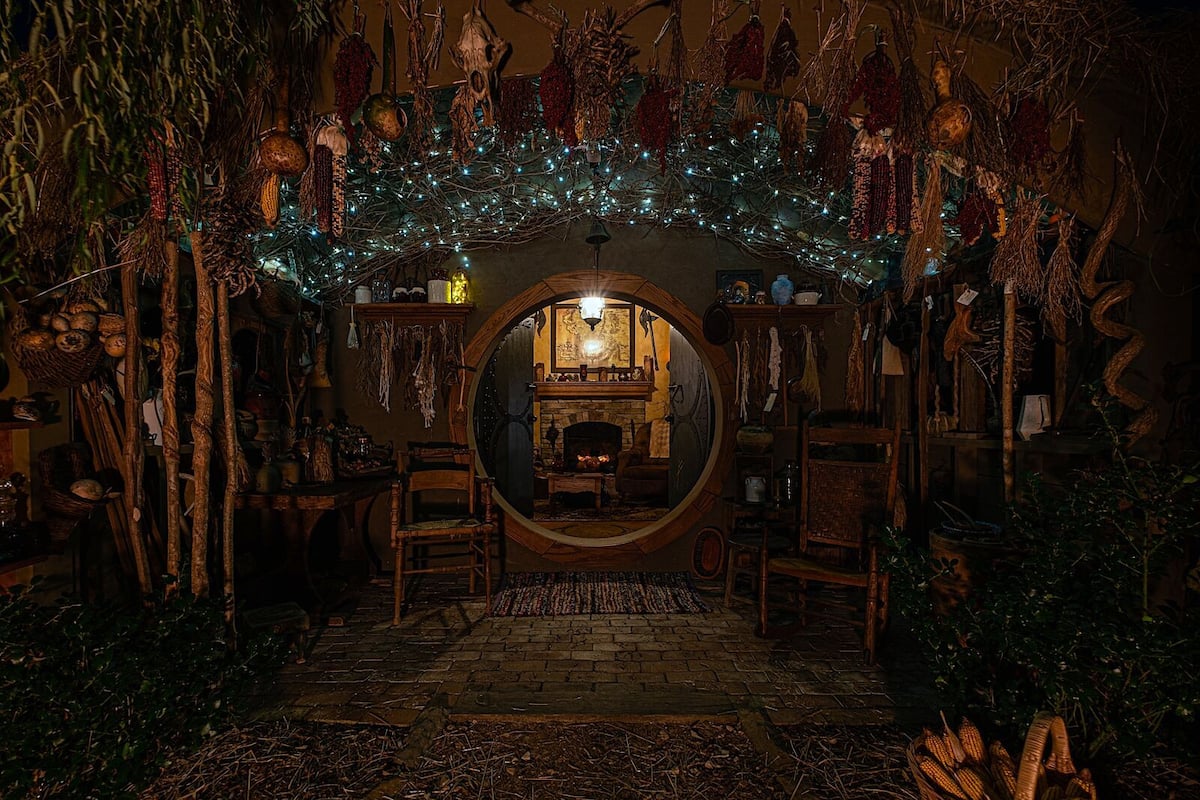 Not only does this mystical wonderland provide accommodation, but they also offer fans the chance to make their own souvenirs. Join the workshop to make a wizard pipe, wire scorpion, and more.
Note: The workshop is paid for separately.
View Photos, Read Reviews & Check Availability
Guest reviews: "One of a kind, unlike any Airbnb we have ever stayed in. What Randy and Linda have done to create a lived-in Hobbit experience is so special. If you can, you must visit and stay for at least two days to enjoy everything the home, the hosts, and nature has to offer."
---
Hobbit's Dream ~ All the Comforts of Home ~
---
10) Hobbitish Fantasy in The Lush Green Mountains VT
Location: Middletown Springs, Vermont
Airbnb Plus: No
Superhost: Yes
Price: $350+ per night
https://www.airbnb.com/rooms/23446690
This hobbit fantasyland Airbnb in Vermont closely resembles the holes of the Shire – but with a more urban touch. Enjoy the use of a hairdryer, TV with cable, AC, internet, and fitted kitchen with a coffee maker all in a dreamlike setting.
This is a perfect getaway for couples, particularly those with a shared love of the film and novel franchises. Talk about your favorite theories while snuggled up near the firepit, soaking in the tub, or over a game of darts. You can also embrace valley views atop the walk-on roof.
Note: There is a $75 charge per person, per night over two guests.
View Photos, Read Reviews & Check Availability
Guest reviews: "What a wonderful hobbit hole experience! Cynthia and Pepper made an extraordinary place for others to enjoy. The hobbit-like furnishings, decor, outdoor landscaping, scavenger hunts, views, hammocks, music, the pub, darts, archery—are all really special. If you're a Tolkien fan, we recommend a visit!"
---
11) Hobbit Knoll – Treehouses of Serenity
Location: Asheville, North Carolina
Airbnb Plus: No
Superhost: Yes
Price: $160+ per night
https://treehousesofserenity.lodgify.com/en/hobbit-knoll
This hobbit house sits on 8 acres of land with a glorious mountain view and features incredible decorative touches on the doors, walls, and the floor. In addition to the attention to detail in recreating a hobbit hole from the Shire, there are several impressive amenities.
The fully fitted kitchen comes with everything you'd expect and more like electric grills, an electric cooktop, and several snacks. You can spend time enjoying your favorite series on the smart TV, browsing the net with free Wi-Fi, and playing many games.
Off the property, you'll find many hiking trails and wildlife as well as restaurants and a visitor center. Return and enjoy a breathtaking sunset outside before retiring to your comfy murphy bed.
View Photos, Read Reviews & Check Availability
Guest reviews: "Simply fantastic. Carved into the side of one of the tallest mountains just outside Asheville, it has a gorgeous interior and awesome views. Thoughtful little touches are scattered throughout, and it truly feels like what I imagine a Hobbit House would be. Thank you for the experience!"
---
LUXURY LORD OF THE RINGS HOBBIT HOME! (Full Earth House Airbnb Tour)
---
Am I Missing Any Hobbit Hole Airbnb Rentals?
This guide has some of the best hobbit homes for rent in the United States, but I'm sure there are some other jewels out there that aren't part of this list. If you know of any or have had a chance to stay in a hobbit house, then you're more than welcome to let me know through my email or socials.
---
Other Recommended Reading
Once you've enjoyed letting your imagination run wild at the above hobbit houses, check out some of the other incredible Airbnb rentals in the country.
THANKS FOR READING ABOUT MY TOP PICKS FOR THE BEST HOBBIT HOUSE RENTALS
SHARE THE GUIDE WITH YOUR FELLOW HOBBIT HOLE ENTHUSIASTS
https://www.jonesaroundtheworld.com/wp-content/uploads/2022/02/Hobbit-Knoll-Treehouses-of-Serenity.jpeg
800
1200
TravelTractionsJATW
https://www.jonesaroundtheworld.com/wp-content/uploads/2017/03/logotry-1-1-300x106.png
TravelTractionsJATW
2022-02-03 18:53:52
2022-02-03 18:53:52
11 Incredible Hobbit House Airbnb Rentals for a Unique Getaway