Planning a trip to the wilds of Montana? I've compiled the ultimate list of the best glamping in Montana to glamp out under the stars…
Tucked between the Dakota's, Wyoming, Oregon, Washington and the Canadian border, the state of Montana is a sight for sore eyes.
A location of unparalleled natural beauty where majestic wide open spaces beckon, Montana is a lush landscape of mountains and valleys, which include Glacier National Park and Yellowstone.
---
"Big Sky Country" is an underrated American destination that offers the chance to truly unwind and recharge while getting back to nature. And glamping is the way to do it!
Montana glampsites are some of the country's most luxurious, popular and highly rated, and are nestled in some of the state's most jaw-droppingly gorgeous locations.
From Glacier to Yellowstone, Helena to Butte – and everywhere in between – these are the 15 best Montana glamping destinations for a getaway unlike any other…
---
Quick Breakdown Of The Best Montana Glamping
Looking for a quick breakdown of the best glampsites in Montana? I've shortlisted the five best Montana glamping destinations for you right here, chosen to suit a range of budgets, styles and locations. If you find what you're looking for – book via my links – otherwise keep scrolling to check out the rest of my Montana glamping list!
I've included a range of videos throughout this list that showcase the glampsites that made the cut. Definitely check these out to make a decision as to where you want to stay. If you love glamping, stay tuned for the end of the list for links to my other USA glamping lists! If Montana entices you, you'll want to check out TOP 12 GLAMPING OREGON SITES FOR YOUR BUCKET LIST.
---
1) Under Canvas Glacier
"The Best Overall Glamping in Montana"
Location: Glacier National Park, Montana
Price: $279+ USD per night
https://www.undercanvas.com/camps/glacier/
Under Canvas is the premier glamping company in the United States, with locations across the most scenic and remote locations in the country. And their glampsite in Glacier National Park is no exception. This standout Montana glamping site offers safari and treehouse-style tents just a few miles from the entrance to the park. Each tent is equipped with plush bedding, furniture, wood burning stoves, a fire pit with s'mores and outdoor seating. The camp also puts on regular camp activities to get involved in if the mood strikes you.
Guest review: "My family and I had an incredible stay here! The layout of the camp is beautiful and semi-private. Every night we stayed we played games outside and sat by the campfire where we were treated with s'mores supplies and great stories. Very near to Glacier National Park which was most convenient. The real reason to stay here though is the amazingly friendly and helpful staff!" – Rachel
---
2) The Ranch at Rock Creek
"The Best Luxury Montana Glamping"
Location: Philipsburg, Montana
Price: $1800+ USD per night
https://www.theranchatrockcreek.com/accommodations/glamping/
A nights stay at The Ranch at Rock Creek doesn't come cheap, in fact its the most pricey glampsite in the USA, but this luxury Montana glamping destination will not disappoint. The jawdropping canvas glamping tents are as sustainable as they are luxurious, and provide a five star experience you won't find anywhere else. This small and remote glampsite sits on a serene ranch in Philipsburg, Montana, and the tents are the most incredible you'll ever see. There's tents for couples or families, and luxury cabins as well. This site has been recognized by National Geographic, and you absolutely MUST check it out!
Guest review: "Just got back from RC and all I can say is WOW! The staff are so friendly and made it easy to enjoy our time at the ranch. All of the activities available make this a one-stop shop for all of your outdoor needs. The rifle range is top notch and snowmobiling was absolutely breathtaking." – Max
---
3) Retro-style Camper with Big Views
"
The Best Cheap Montana Glamping"
Location: Hamilton, Montana
AirBNB Plus: No
Superhost: Yes
Price: $50+ USD per night
https://www.airbnb.com/rooms/12446433
My Montana glamping list has some pretty pricey offerings, but you don't have to miss out if you want to glamp in Montana on a budget. This retro Airbnb camper in Hamilton comes highly-rated and with a super low price tag your hip pocket will appreciate. The 19 foot camper is cozy, stylish and is equipped with a bedroom, bathroom, kitchenette and seating on a deck that offers tranquil views of the the mountains. You'll love the friendly hosts, the many animals on their property and the chilled out vibe of this cheap Montana glamping abode.
Guest review: "We really enjoyed staying in Heather and Jeff's camper. The location was perfect. The view was amazing. Cooking dinner and watching the sunset was unbeatable. We loved our conversations with Jeff that left us smiling. Charlie and Supergirl made our stay extra special. We hope to come back again :)" – Kelsie
View Photos, Read Reviews & Check Availability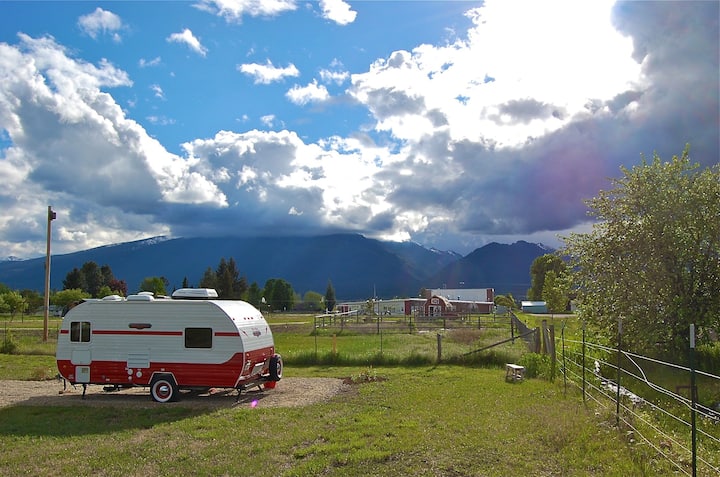 ---
4) Big Sky "Hive in the Sky" Quonset Hut
"
The Best Big Sky Montana Glamping"
Location: Gallatin Gateway, Montana
AirBNB Plus: No
Superhost: Yes
Price: $125+ USD per night
https://www.airbnb.com/rooms/32473707
This five star rated Montana glamping hut is just minutes from the beauty of Big Sky Resort. This is one of Montana's most stunning spots for visitors, and this hut will see you enjoying it in comfort and style. The clean and cozy hut sleeps up to four and is connected to power. This area is exceptional for snowboarding and skiing in winter, but the cold won't get to you in the hut thanks to the wood stove. The only downside is that there's no running water, but there's a porta-potty outside. High up in the mountains of Montana, this abode is the perfect place to unplug and unwind with an unbeatable backdrop.
Guest review: "What an AMAZING PLACE! Can't wait for our next trip out to Big Sky, won't stay anywhere else!" – Theodore
View Photos, Read Reviews & Check Availability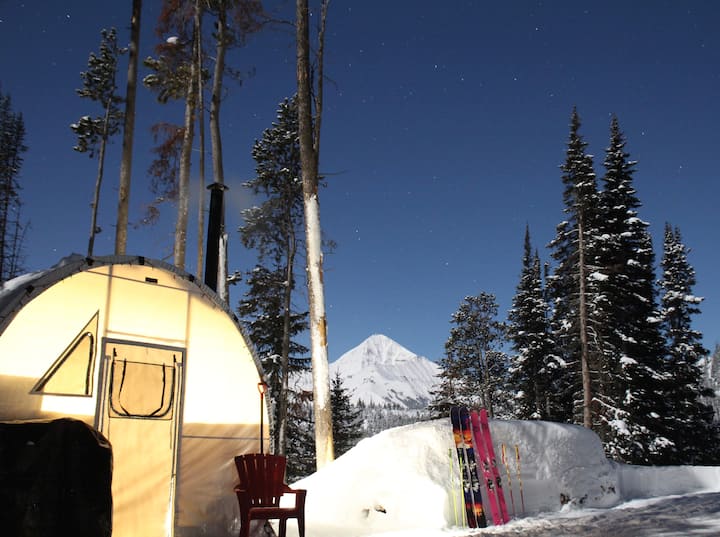 ---
5) Summer Star Ranch
"
The Best Romantic Montana Glamping"
Location: Helena, Montana
Price: Contact for pricing
https://www.summerstarranch.com
If you're planning a Montana wedding – or just want to enjoy a romantic retreat with your beloved – Summer Star Ranch is one of the state's most beautiful venues. The ranch's glamping tents are nestled in the woods and as luxurious as they come. They are equipped with a king sized bed, air conditioning for Montana's summers, and heating for winter visitors. They even have a full bathroom, an outdoor shower and a deck for enjoying the serenity of this glorious part of the world. Summer Star Ranch is located just outside of the Montana capital of Helena.
Guest review: "Best wedding I've ever attended. Best news was that it was ours. Very accommodating owners who wee involved in making sure that our special day ran smoothly and met our goals. Would recommend to anyone interested in getting married in the Helena area." – Isak
---
6) Clear Sky Resorts
Location: Essex, Montana
Price: $180+ USD per night
With friendly staff, fantastic accommodations and a superb location, Clear Sky Resorts is a glamping experience located in Montana's Glacier National Park. The resort offers a range of glamping offerings, which include domes, treehouses and cabins – so you can stay in the abode that speaks to you the most. There's so many outdoor adventures to be had in this part of Montana, with stargazing, toasting s'mores and hiking in the mountains all memories you'll never forget.
Guest review: "I absolutely loved Clear Sky Resort. The bartenders Brook and Brendan were the bomb!! The entire staff was extremely friendly and helpful. They all truly made me feel right at home. I would gladly stay here if I ever visit Glacier again. This was one of the highlights of my trip." – Matthew
---
7) Elks Edge Yurt in Paradise Valley Montana
Location: Livingston, Montana
AirBNB Plus: No
Superhost: Yes
Price: $100+ USD per night
https://www.airbnb.com/rooms/25381405
This highly rated Montana glamping yurt is surrounded by the wide open spaces this state is known for. The one bed yurt is perched on an ultra private bluff with a mountain backdrop and overlooking Paradise Valley. Inside, you'll find a queen sized bed, plush furnishings, electricity, wifi and kitchen appliances. And there's so much to do nearby that your days will be full of exploring! Yellowstone National Park is just 30 minutes away, or head to nearby Chico Hot Springs & Day Spa for a complete self-care experience.
Guest review: "Brenda's place has been by far the most unique and special Airbnb I have ever stayed at. The location is amazing, with serene views of the mountains and a awesome saloon nearby to meet the locals and eat a great meal. The yurt is truly magical with thoughtful touches throughout and a extra comfy bed. I honestly can't put into words my reaction when I first stepped in the yurt and saw all its beauty, I even changed my trip itinerary just so I could stay a extra night (Phone number hidden by Airbnb) % recommend!" – Amy
View Photos, Read Reviews & Check Availability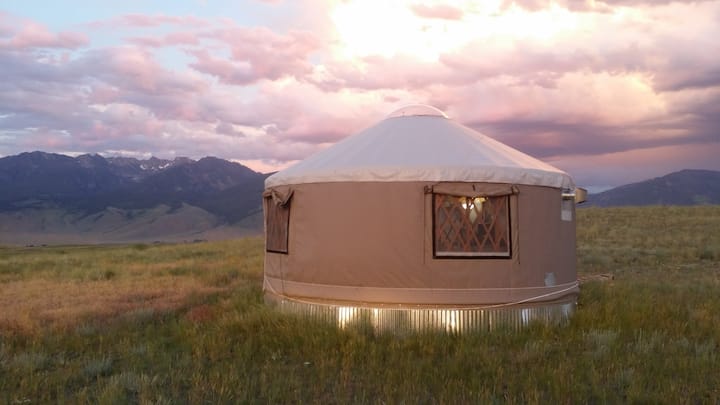 ---
8) Northern Montana Yurt/ free WiFi & breakfast ⭐
Location: Saint Regis, Montana
AirBNB Plus: No
Superhost: Yes
Price: $125+ USD per night
https://www.airbnb.com/rooms/24675134
This Montana glamping Airbnb is yet another that has received a near perfect score for its comfort, style and location. Located in the northern pocket of Montana, this two bed yurt is rustic, warm and welcoming, with all the comforts of home. The fantastic hosts even include breakfast with every nights stay. Saint Regis is a terrific base to explore the wilds of Montana from. From here, you can enjoy local white water rafting, hot springs, mountain biking and hiking and so much more.
Guest review: "The yurt is such a tranquil and fun space. Rebekah was so accommodating and I was consistently impressed by her quick and clear communication. We had a blast exploring some local hiking spots and coming back to the yurt in the evening, and the dog loved being able to run around in the fields outside. We'll be back in the future!!" – Cee
View Photos, Read Reviews & Check Availability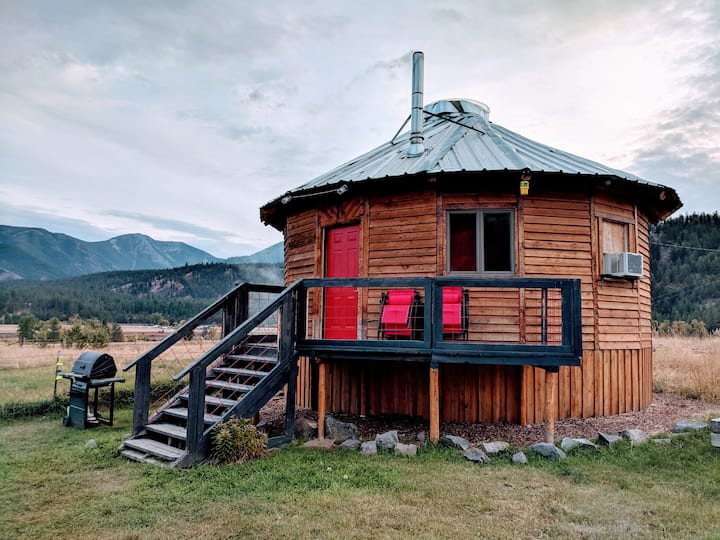 ---
9) The Resort At Paws Up
Location: Greenough, Montana
Price: $1500+ USD per night
https://www.pawsup.com/glamping
The Resort At Paws Up is one of Montana's most luxurious glamping destinations, and a stay here is worth every penny. Open from May through to mid-October, the exclusive location features six camps with safari-style tents that are available to fit couples, groups or families. The camps are peppered across the resort, and you can choose which one suits you best. From the Creekside Camp to the Tree Haus Camp, these stunning glamping tents and cabins come with five star service and a million activities to enjoy right on the property. Ride hoses, raft, canoe, hike, go-kart – the option are endless!
Guest review: "My husband and I, along with our two young sons (7 and 10) just checked of Paws Up. What an awesome place! Montana is one of the most beautiful places we have visited. Paws up is amazing!! We stayed in the "glamping" tents along the river and it was such a great experience. Very peaceful and so comfortable. Our butlers, Kasey, Damon, Savannah and Maddie were incredibly friendly and helpful. Our breakfasts and dinners at our camp were also excellent. As far as activities go, we did go-kart riding, horseback riding, rafting and canoeing. Rafting was probably the best, level 2, so really fun but not dangerous…perfect for our kids ages. We would definitely come again!!!" – Liana
---
10) Beautiful Luxury Yurt bordering on Flathead Lake
Location: Somers, Montana
AirBNB Plus: No
Superhost: Yes
Price: $200+ USD per night
https://www.airbnb.com/rooms/17697694
This incredible two bed yurt in Somers has achieved a perfect five star score from over 100 thrilled Airbnb guests. The Montana glamping standout is privately located, with 360 degree views lakes, mountains and Big Sky country. The large yurt features two separate bedrooms, a living area, a bathroom and a kitchen. And there's both heating and air conditioning to suit whatever season you visit in.
Guest review: "Linda is a fantastic host. The place is out of this world. All amenities you can imagine on the highest standards possible. Really impressive inside out. The nature around the yurt is incredible, be prepared for amazing sunsets and elks running around in the morning. To complete the package, only. Short drive to the famous glacier national Park, which makes the place a fantastic base to explore the region. Fantastic experience!" – Cibele
View Photos, Read Reviews & Check Availability
---
11) Meadowlark Treehouse at Montana Treehouse Retreat
Location: Columbia Falls, Montana
AirBNB Plus: No
Superhost: Yes
Price: $350+ USD per night
https://www.airbnb.com/rooms/18627194
Nestled on five acres of woods in Columbia Falls, this Montana glamping treehouse is a sight for sore eyes. The one bed luxury treehouse has been featured on HGTV as well as other home design shows, Just 30 minutes from Glacier National Park, the luxe abode spans two levels and features a custom interiors, two outside decks, common areas, a full kitchen and a full bathroom. This is glamping in Montana at its finest.
Guest review: "Wonderful hosts and a gorgeous, unique space! We celebrated our 15th anniversary in this amazing treehouse. The property is lovely as well and the fire pit was an extra nice touch. It's also close to so many great restaurants and breweries with outdoor seating. This is a great choice for anyone who likes a comfortable adventure!" – Sara Beth
View Photos, Read Reviews & Check Availability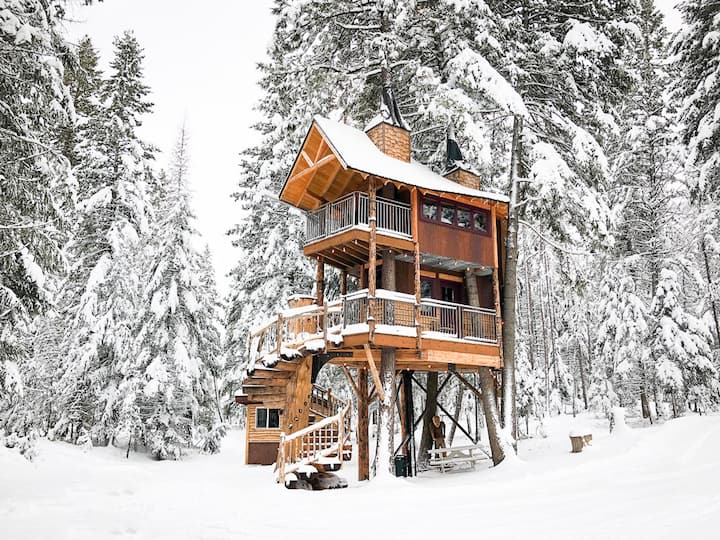 ---
12) Under Canvas Yellowstone
Location: Yellowstone National Park, Montana
Price: $300+ USD per night
https://www.undercanvas.com/camps/yellowstone/#tripadvisor-reviews
Under Canvas' other Montana location is just as exciting as its Glacier glampsite. The Yellowstone glamping digs allow you to enjoy one of the United States' most beautiful natural locations in style. A stay in one of the luxury, fully furnished tents comes with all the bells and whistles. Daily housekeeping, organic bath products, a fire pit with s'mores included, camp activities, an on-site restaurant and highly experienced staff.
Guest review: "Wonderful set up and friendly staff, had a pellet stove so stayed nice and warm, request that if you don't want to have to keep a wood stove stocked up overnight. Order the coffee crate and they bring it to your tent in the morning, and dinner at the restaurant was great!"
---
13) The Bar W Guest Ranch
Location: Glacier National Park, Montana
Price: $750+ USD per night
https://www.thebarw.com/montana-guest-ranch-lodging/montana-glamping/
Spring for a glamping experience at Bar W Guest Ranch and you'll have the experience of a lifetime. The luxury Montana glamping site is located just a short drive from the entrance to Glacier National Park and the fully furnished, upmarket tents are outstanding. They include a queen sized bed, futon, a private deck and a kitchenette with coffee maker and fridge. With views out to a serene pasture with horses grazing, Bar W Guest Ranch is the place to escape the daily grind and to unwind in one of the country's most stunning locations.
Guest review: "My wife and I visited the ranch to look for a potential wedding location. Erin (the event coordinator) was extremely friendly and graciously walked us around the entire grounds. The property is great and is a beautiful location to host a wedding! They have various options for accommodation including a glamping tent. If you are looking for a unique wedding venue with a traditional Montana charm check this place out!" – Joseph
View Photos, Read Reviews & Check Availability
---
14) Collective Yellowstone
Location: Moonlight Basin, Montana
Price: $500+ USD per night
https://www.collectiveretreats.com/retreat/collective-yellowstone/
Collective has gained a reputation as one of the best glamping companies in the United States, and their Yellowstone location is one of the most popular and beautiful. Their luxury glamping tents are right in the heart of Big Sky country, just an hour from Yellowstone National Park and surrounded by charming towns, remote trails and some jawdropping views. Their range of tents include luxury bedding and linens, full bathrooms, daily breakfast, a campfire kit including s'mores, a wood stove and deluxe bath products and robes. They are also connected to power so have all the comforts of an upmarket hotel stay.
Guest review: "Wow. A definite glamping experience! Not only was the staff so welcoming but the food was insanely good and the bed was insanely comfortable. We did not want to get out of the plush covers and the heated blanket that was keeping us cozy inside. This place is a total heaven. The experience was unlike any other. We felt like we were the only ones at the resort because it was such a personalized experience. We will definitely be coming back and hopefully visiting more of the locations. Bravo!" – Caitlin
View Photos, Read Reviews & Check Availability
---
15) Dreamcatcher Tipi Hut
Location: Yellowstone National Park, Montana
Price: $300+ USD per night
http://www.dreamcatchertipihotel.com/#dreamcatcher
Yellowstone is one of Montana's standout natural wonders, and the Dreamcatcher Tipi Hotel is a unique way to experience the wilds of this stunning area. There are 10 22ft luxury tipis on the property, each equipped with plush furnishings and beds and heating and with a view to die for just outside. This is the closest glamping site to Yellowstone, just five miles from the entrance to the park and you'll be sleeping just 100 feet from the banks of the Yellowstone River.
Guest review: "The glamping in a tipi is very cool. The tipis have everything you need to sleep comfortably. The bathrooms are shared but are kept exceptionally clean. The fire pit that everyone can gather around is very relaxing. Would definitely stay again. HIGHLY RECOMMEND!"
---
Montana Tours & Experiences To Take Your Vacation To The Next Level
Montana is the place to spend as much time outdoors as possible, soaking in all that Big Sky Country offers. These Montana tours and experiences will see you riding horses along picturesque trails, rafting in Glacier National Park and dining with local Native Americans on their sacred reservation.
---
Blue Flower Trail Ride
"Perfect for beginners and pros alike, experience the spectacular scenery of Paradise Valley on this guided horseback trek along the Blue Flower Trail. No worries about directions or navigation; simply follow your guide and you can focus on capturing photos of the striking vistas."
https://www.airbnb.com/experiences/767781
Price: From $100 USD (2 hour)
Review: "This is a beautiful ranch with friendly people, gentle horses, and an awesome cause. Certainly a highlight of our trip. Thanks for having us!" – Samantha
View Photos, Read Reviews & Check Availability
---
Glacier National Park: Half-Day Whitewater Rafting Trip
"Raft Glacier National Park's wild and scenic border river, the Middle Fork Flathead with a friendly, interpretive river-guide. Adventure through the river's iconic whitewater section, with rapids that are typically rated class II and III."
https://www.getyourguide.com/activity/west-glacier-l105328/glacier-national-park-half-day-whitewater-rafting-trip-t223773?utm_force=0
Price: From $100 USD (3 hours)
Review: "this trip was well worth the money!!! absolutely beautiful scenery. very knowledgeable guides who work to make sure you are prepared and have fun. i definitely recommend this experience!!" – Kelly
View Photos, Read Reviews & Check Availability
---
Dinner featuring local Blackfeet foods
"Guests will arrive on location and sit down for an evening overlooking Duck Lake on the Blackfeet Reservation. Weather dependent, this may be outside. Dinner will be a four course meal consisting of an appetizer, salad, entree, and dessert along with a paired tea. Dishes will highlight the ancestral foods of the area and consist of locally harvested ingredients."
https://www.airbnb.com/experiences/1475122
Price: From $100 USD (2 hours)
View Photos, Read Reviews & Check Availability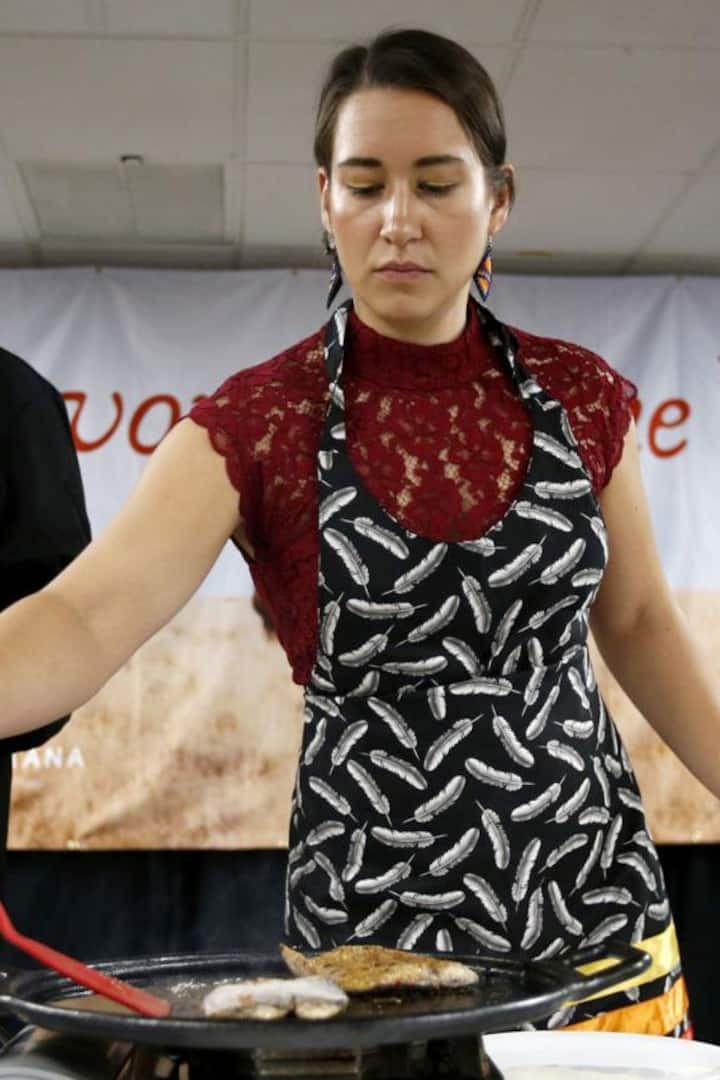 ---
Did I leave out any epic Montana glamping hotspots?
Montana is one of the United States' leading glamping destinations, so new glampsites are popping up across the state all the time. If you know of a leading Montana glamping location I missed off my list – let me know! You can find me on my socials or at my email.
---
Looking for more USA glamping lists?
I love glamping, and just as much I love putting together glamping lists of destinations across the United States to inspire my readers. If you're looking for a camping experience with a twist, you'll want to browse these USA glamping lists that may see you packing your bags for a remote escape to a new and exciting location.
---
Final thoughts on glamping in Montana…
Montana is truly the place to be to glamp in the United States, and I was blown away by the sheer number of incredible glamping sites – many of them super luxurious – across the state. There's no better way to experience the sheer majesty of Glacier National Park, Big Sky and Yellowstone than under the stars out there.
---
Thanks for reading about the best glamping in Montana.
Share this list with your glamping crew!
https://www.jonesaroundtheworld.com/wp-content/uploads/2020/07/Best-Glamping-in-Montana.jpg.optimal.jpg
655
1000
Guest Contributor
https://www.jonesaroundtheworld.com/wp-content/uploads/2017/03/logotry-1-1-300x106.png
Guest Contributor
2020-07-28 20:19:27
2020-07-28 20:19:27
The 15 Best Montana Glamping Locations To Experience Big Sky Country In Style