Planning a trip or weekend getaway and searching for the coolest and best Glamping Utah destinations and resorts? Well, you've come to the right place, as I've compiled this ultimate guide to the best Utah Glamping destinations for an experience you'll never forget…
Zion. Arches. Bryce Canyon. Capitol Reef. Canyonlands.
Known as Utah's "Mighty Five", these national parks draw visitors year-round, thanks to their raw beauty that is unique to this western U.S. state. No matter where you are in Utah, you're guaranteed a glorious vista and a memorable experience isn't too far away.
---
Glamping Utah Breakdown
Utah has so many different glamping experiences, so I've narrowed down the six best glamping sites in Utah to suit a range of styles, budgets and locations!
The Best Overall Glamping in Utah – Under Canvas Zion
The Coolest Utah Glamping Site – Conestoga Ranch Glamping Resort
The Best Yurt Glamping in Utah – Escalante Yurts
The Best Treehouse Glamping in Utah – Modern & Luxurious Treehouse
The Best Unique Utah Glamping – The Ark Tiny House
The Best Luxury Utah Glamping – Glamping Tent #10 (2 Queen Beds)
The Best Utah Glamping in Moab – Under Canvas Moab
I have included video guides of the glamping stays that made the cut throughout this list, which will give you a first-hand look at where you'll be resting your head in the wilds of Utah.
Stay tuned for the end of the list as I've linked my other exciting glamping content as well as Utah blogs. If you're road-tripping around the area for while, be sure to check out my articles on Airbnb Salt Lake, the Best Airbnbs in Colorado, and Glamping Arizona for more unique trip ideas!
---
Top 17 Places To Go Glamping in Utah
Glamping companies across Utah are making the most of the majestic landscape that surrounds them, and as a result, a range of diverse Utah glampsites are popping up across the US state. In turn, those looking to escape the city grind for the rustic beauty of Utah's great outdoors are camping in luxury under a million stars.
I have shortlisted the 17 incredible Utah glamping destinations that are guaranteed to see you returning again and again!
---
1) Under Canvas Zion Glamping
Location: Virgin, Utah
Price: $270+ USD per night
https://www.booking.com/hotel/us/under-canvas-at-zion.en-gb.html
https://www.undercanvas.com/camps/zion/
https://www.facebook.com/UnderCanvas/
Experience the beauty of Zion National Park with a stay at Under Canvas Zion!
"Explore the grandeur of Zion's stunning landscapes with a stay at Under Canvas Zion. Our upscale, safari-inspired tents feature king-size beds with plush linens, ensuite bathrooms boasting hot showers, in-tent wood-burning stoves, and sensational views. Enjoy Zion National Park adventures by day and starry night skies around the Under Canvas campfire by night."
Operating from June to November, the remote glampsite offers all the high-end bells and whistles of other Under Canvas sites, with luxury safari tents set up under a million stars.
There's also a restaurant on-site, a fire pit with s'mores included, and camp activities organized by the fun crew who hold down the fort. It's just 20 miles from the entrance to Utah's incredible Zion National Park.
View Photos, Read Reviews & Check Availability
---
2) Luxurious Glamping Tent
Location: Orderville, Utah
Price: $223 avg. per night
Sleeps: 5 Guests (2 beds/1 BR/1 bath)
This epic glamping tent is located within East Zion Resort, which is dipping its toe in the world of luxury glamping and impressing guests at every turn. The sprawling tent has way more room than your standard glamping tent, and boasts two queen beds, its own bathroom , a fire pit, grill and even air conditioning for those hot Utah summers days and nights.
Look out from your roomy deck across acres of pristine Utah countryside. The resort also has a swimming pool and hot tubs that you'll enjoy full use of as well.
View Photos, Read Reviews & Check Availability
---
3) Modern Treehouse Glamping in Utah
Location: Sundance, Utah
Price: $1,095 per night
https://www.vrbo.com/7131249ha
This spectacular and luxurious treehouse rental may not be affordable for everyone, but for people who are looking for the ultimate Glamping experience – book a stay here!
Nestled amongst the trees, this modern 4-bedroom/ 4-bathroom home can sleep up to 12 guests, and will turn everyone's childhood dreams of sleeping in a treehouse a reality.
It's ideal for glamping in Utah for large groups of friends or a family, and even comes complete with a game room, pool table, scrabble board, ping-pong, and so much more!
View Photos, Read Reviews & Check Availability
---
4) Conestoga Ranch Glamping
Location: Garden City, Utah
Price: $200+ USD per night
https://www.booking.com/hotel/us/conestoga-ranch.en-gb.html
https://www.facebook.com/conestogaranch/
Conestoga Ranch puts on a unique Utah glamping experience like no other. The ranch, located near Garden City and just a few hours' drive from Salt Lake City, has a range of glamping tents and wagons that will give your road trip a nostalgic twist.
Their Royal and Grand Tents even have their own bathrooms for an added touch of luxury. If you're on a tighter budget, opt for a stay in a Traditional Tent, and if the whole family is along for the ride, stay in one of their whimsical family wagons. There are also a ton of activities and a restaurant on the property. This is the place to choose your own glamping adventure!
View Photos, Read Reviews & Check Availability
Glamping in Bear Lake UTAH - Conestoga Ranch review and tour
---
5) Capitol Reef Resort Glamping
Location: Torrey, Utah
Price: $200+ USD per night
https://www.booking.com/hotel/us/best-western-capitol-reef-resort.en-gb.html
https://www.facebook.com/CapitolReefResort
Set on 58 pristine acres in Torrey, Utah, Capitol Reef Resort is a fantastic all-round glamping experience for couples, families or groups. Located on the precipice of the gorgeous Capitol Reef National Park, the resort offers a range of glamping options, including cabins, wagons and teepees.
The resort is equipped with an epic outdoor pool and hot tub, a restaurant, llamas and horses and atmospheric outdoor fire pits the staff light up each night to snuggle up around with s'mores. What more could you ask for?
View Photos, Read Reviews & Check Availability
Sleep Under the Stars in a Covered Wagon at Utah's Capitol Reef Resort
---
6) Under Canvas Moab Glamping
Location: Moab, Utah
Price: $300+ USD per night
https://www.undercanvas.com/camps/moab/
https://www.booking.com/hotel/us/moab-under-canvass.en-gb.html
The Utah destination of Moab is one of the state's most famous natural locations, home to Arches National Park and its iconic sandstone formation, and Under Canvas Moab is the best glamping experience around these parts. Under Canvas is already one of the States' leading glamping companies, with locations in some of the most awe-inspiring locations, and their Moab glampsite is just as fantastic.
Operating from June to October, their canvas tents are tucked away on a sprawling rock landscape and include high-end furnishings, daily housekeeping, picnic areas and grills, fire pits with s'mores included, camp activities and so much more. You'll also be sleeping just a few miles from Arches National Park.
View Photos, Read Reviews & Check Availability
---
7) The Ark Tiny House
Location: Virgin, Utah
Price: $569+ per night
Sleeps: 6 Guests
This unique property is elegant and gorgeous inside and out! I've never seen such a luxurious tiny house, and given its incredible location, I had to include it toward the top of this list. You'll find a marvelous modern interior with new appliances (including washer/dryer) and thoughtful interior decorating throughout. The bathroom is even large enough for a tub!
You can enjoy the views of the rolling red hills and mesas from the large bay window or the bubbling hot tub just outside your door, or spend a night in watching Netflix. There is a town nearby for stocking up on any goods, but you may find that you'll never want to leave the property itself! The loft bedroom boasts a comfy king bed, and the outside common areas include a spacious porch and sitting area as well as a barbecue grill and fire pit.
View Photos, Read Reviews & Check Availability
---
8) Escalante Yurts
Location: Escalante, Utah
Price: $400+ USD per night
https://www.booking.com/hotel/us/escalante-yurts.en-gb.html
https://www.facebook.com/escalanteyurts
A stay at Escalante Yurts in Escalante, Utah, is worth every penny, and it's one of the best luxury Utah glamping experiences there is. Priding themselves on being a glampsite that operates with all the comforts of a bed and breakfast, the yurts on offer are stylish, well-equipped and peacefully located.
This pocket of Utah is one of the most beautiful landscapes in the USA, and after a day of exploring its endless natural wonders, you'll love coming back to your luxury yurt under the stars.
View Photos, Read Reviews & Check Availability
Escalante Yurts - Southern Utah
---
9) Zion Glamping Adventures
Location: Hildale, Utah
Price: $200+ per night
Sleeps: 4 Guests
https://www.vrbo.com/4883497ha
I chose Zion Glamping Adventures as the overall best Utah glamping site as it is not only well-situated, well-equipped and comfortable, but it also offers affordable glamping experiences for groups of all sizes.
The glamping tents are nestled in their own private canyon close to the majestic Zion National Park as well as other Utah landmarks, and each tent is cozy, well furnished and ultra private. Zion Glamping Adventures can even organized other tours and experiences for you, like jeep tours, cattle drives, hiking and so much more!
View Photos, Read Reviews & Check Availability
---
10) The Glamping Domes at Canyonlands, Utah
Location: Monticello, Utah
Airbnb Plus: No
Price: $243+ USD per night
https://www.airbnb.com/rooms/50695789
"Come escape, relax and/or work remote at our secluded, cozy glamping dome resort!"
This Superhost currently offers SIX different amazing geodesic glamping domes located on the closest private land to the iconic Utah Canyonlands! Spend your days hiking, climbing, and exploring everything this area has to offer – and then come back to your dome for a peaceful sleep underneath the stars!
It's open year-round and would be an absolute perfect romantic getaway for couples, or a fun adventure with a friend!
---
11) Glamping Tents at Zion West — The Hideaway
Location: Leeds, Utah
Airbnb Plus: No
Price: $75+ USD per night
https://www.airbnb.com/rooms/35508103
Simply put – it's camping without all the work! This cozy and comfortable glamping tent is nestled in the Zion West RV Park in Leeds. It's a scenic 45-minute drive away from Utah's iconic Zion National Park, and would be a perfect place to stay for Glamping in Utah on a budget!
There are tons of amazing hiking trails, mountains, gardens, and sunsets, and guest simply fall in love with the surrounding region.
The glamping tent itself is furnished with a queen bed, night stands, mini-fridge, and soft linens. For the price you'll pay, you really can't beat this fun glamping experience! Since it's on a RV Park, there is a communical BBQ/ picnic area, bathrooms with hot showers, and coin laundry for the nomadic travelers.
---
12) OK RV Park Family Tipi OK1
Location: Moab, Utah
Airbnb Plus: No
Price: $100+ USD per night
https://www.airbnb.com/rooms/41155499
Glamping in Utah doesn't have to put you in the hole financially. This family tipi at OK RV Park in Moab is furnished, comfortable and located in one of Moab's best RV parks. The custom made tipi has two beds – enough to sleep a family – and you'll have your own fire pit, outdoor seating and table, outdoor sink, grill and even a laundry.
You'll be located just five miles from Downtown Moab and 12 miles from the famous Arches National Park that makes Moab so popular. A unique and budget-friendly experience for the entire family.
View Photos, Read Reviews & Check Availability
---
13) Zion Backcountry Glamping
Location: Orderville, Utah
Price: Contact for rates
https://www.zionbackcountryglamping.com
https://www.facebook.com/zionbackcountryglamping/
Another incredible glamping destination in Utah's jaw-droppingly beautiful Zion National Park, Zion Backcountry Glamping offers stylish and comfortable glamping yurts just three miles from the iconic national park.
Their mission is to offer you a memorable experience, with minimal noise or light pollution to ensure you really enjoy the peace of this tranquil spot and can camp out under a million stars.
The family-run business has been thrilling guests since its inception and offers a unique, family-friendly experience that will leave you with fond memories for years to come.
---
14) Zion Luxury Camping
Location: Hildale, Utah
Price: $130+ USD per night
Zion is where its at to glamp in Utah, and Zion Luxury Camping is yet another company throwing their hat in the ring and offering a five star experience at an affordable price. Their cozy glamping tents look out to the red cliffs of this stunning landscape, and the bathrooms and showers are just steps away for convenience.
Light a fire, put your feet up and gaze up at the stars out here – you've never seen so many I guarantee it! Within two hours of Zion Luxury Camping, there are five national parks to explore, including Zion, which is sits near the entrance of.
Family Glamping Vlog | Zion Luxury Camping
---
15) The Domes at Canyonlands
Location: Monticello, Utah
Airbnb Plus: No
Price: $300+ USD per night
https://www.airbnb.com/rooms/43364654
A newcomer to Airbnb Utah and guaranteed to be a hit, this large three bed yurt offers a luxurious getaway in a unique "Dome Village". This dome yurt offers deluxe bedding, kitchen appliances, a private bathroom with shower and a grill to cook up a storm outside.
The list of fun activities out this way are endless. Fish at the many local lakes, enjoy jeep or ATV tours of surrounding trails or visit Canyonlands National Park – the great outdoors are beckoning!
View Photos, Read Reviews & Check Availability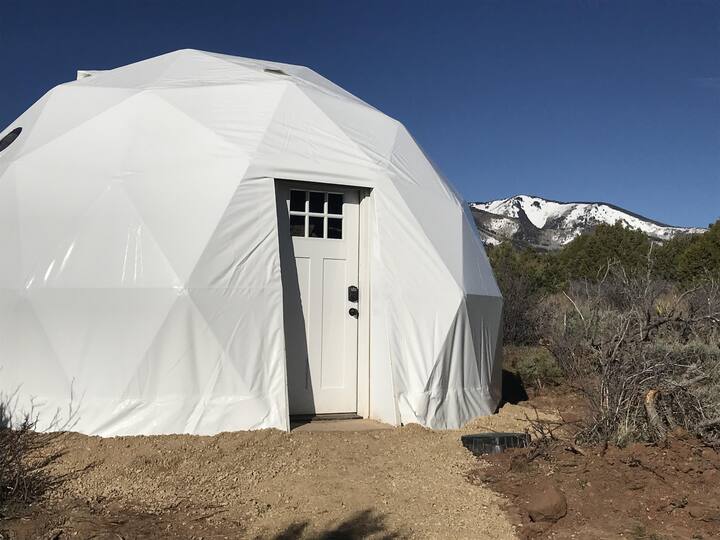 ---
16) Zion Wildflower Glamping Resort
Location: Virgin, Utah
Price: $250+ USD per night
https://www.booking.com/hotel/us/zion-wildflower.en-gb.html
https://www.facebook.com/zionwildflower
STAY, EXPLORE, RELAX
The unique accommodations at Zion Wildflower Resort offer guests glamping at its finest! We give visitors the chance to feel at one with nature without sacrificing the comforts of home.
Zion Wildflower Resort is yet another Zion glamping experience guests are raving about. The brand-new and exciting resort is located just minutes from the entrance to Zion National Park, and offers a range of chic lodgings to suit any budget.
Their canvas glamping tents and covered wagons include luxury beds and furnishings, and the resort itself has a range of activities to suit guests of any age. Sit by your private fire pit, swing in a hammock, get involved in yard games or head out to explore Zion's majestic landscapes. The views here are out of this world.
View Photos, Read Reviews & Check Availability
Zion Wildflower Glamping Resort
---
17) Zion Ponderosa Ranch Resort
Location: Orderville, Utah
Price: $150+ USD per night
https://www.zionponderosa.com/glamping/
https://www.facebook.com/ZionPonderosa
"Combine the experience of camping in Zion with a little glamor and you've got Zion Glamping. Our location on the upper East side of Utah's Zion National Park is the perfect place for your luxurious Zion glamping and outdoor experiences. Enjoy stepping outside your glamping tent and gazing up at the beautiful southern Utah stars, then wake in the morning and enjoy a great country breakfast at our on-property restaurant. There's no better place for glamping in Utah than Zion Ponderosa. "Rough it" in style at our stunning glamping resort in Zion National Park"
Zion Ponderosa Resort offers cozy glamping tents and cowboy cabins that really fit in with the vast desert landscape out here. Their tents and wagons have all the comforts of home and are fully furnished and stylish, with their own fire pit, deck, picnic table and grill.
They are even equipped with wifi. You don't even have to leave the resort to have a great vacation. There's restaurants and bars on-site, a team of five-star staff and some exceptional sunset photo ops. Zion National Park is just a few miles away.
Zion Ponderosa (Zion National Park Utah) | Ranch Resort Review (2019) [4K Ultra HD]
---
18) Boulder Mountain Guest Ranch
Where: Boulder, Utah
Price: $165+ per night
Accommodates: 1–3 Guests
https://bouldermountainguestranch.com/yurts
Embrace the mesmerizing allure of the Southern Utah high desert environment when you stay at Boulder Mountain Guest Ranch. This 168-acre ranch is situated at the mouth of a valley that provides breathtaking views of Sweetwater Creek and the Grand Staircase-Escalante National Monument. Boulder Mountain Guest Ranch offers a range of accommodation options, including three cabins, rooms from the main lodge, and four yurts.
To experience the ultimate glamping adventure with your special someone, book the stunning 20ft traditional Mongolian yurt. This luxurious yurt is fully equipped with everything you need for a comfortable stay, including a cozy queen bed and a pull-out futon that can sleep up to three people. Inside the yurt, you'll find a convenient indoor table and two chairs, perfect for enjoying meals or playing games with your loved one. Step outside onto the private patio and relax in style on the comfortable furniture while you grill up your favorite dishes on the charcoal grill. Immerse yourself in nature while still enjoying all the comforts of home when you stay at Yurt #1!
View Photos, Read Reviews & Check Availability
Boulder Mountain Guest Ranch Preview
---
19) Basecamp 37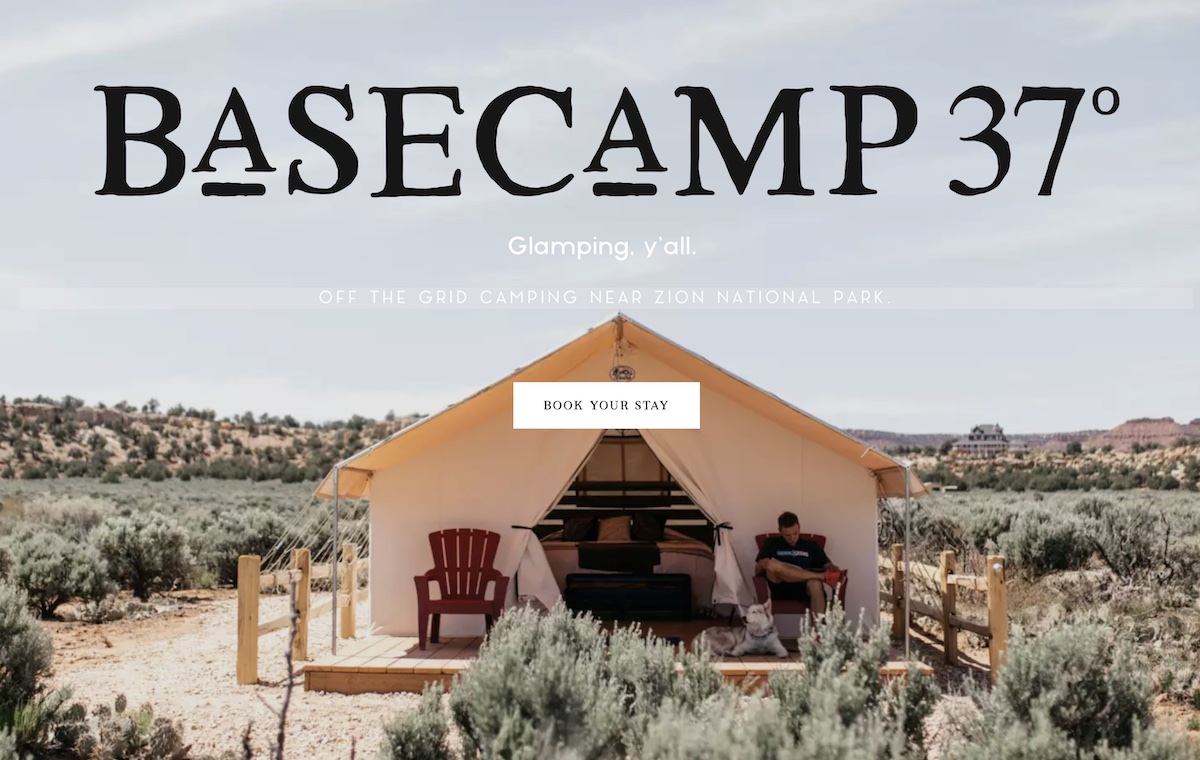 Where: Kanab, Utah
Price: $195+ per night
Accommodates: 3 Guests
With stunning views of the surrounding red rocks and mesas, and the perfect blend of rustic charm and modern amenities to ensure a comfortable and luxurious stay, Basecamp 37 might just be your perfect area to experience glamping. When you're ready to explore, there are plenty of options right at your doorstep. You'll have the perfect home base for exploring some of the most stunning national parks in the United States, including Zion National Park, Antelope Canyon, and Bryce Canyon National Park.
Basecamp 37 is a spacious, secluded, yet fully connected hideaway just outside Kanab, Utah. Each tent features Cal King memory foam luxury beds and linens, providing the ultimate in rest and relaxation. Take a hot shower in our private bathrooms, and then get ready to fire up our state-of-the-art grills to cook up a delicious meal under the stars. For those seeking additional sleeping options, our Escalante, Hayduke, and Katie Lee tents come with a full-size futon to accommodate your needs.
View Photos, Read Reviews & Check Availability
L + G Glamping At BaseCamp 37
---
20) Monte Cristo Yurt Adventure
Where: Cache County, Utah
Price: $156+ per night
Accommodates: 13 Guests
Nestled between Monte Cristo and Hardware Ranch lies a spacious 24′ yurt that offers solitude and a chance to reconnect with the great outdoors – Monte Cristo Yurt. Complete with stunning sunsets and amazing views, this yurt is located on a hillside and is surrounded by a grove of trees. With its spacious interior, this yurt can comfortably accommodate up to 13 guests, featuring two queen beds and six twin/single beds. It also includes a fully equipped kitchen, perfect for preparing delicious meals with family and friends. And when it's time to relax and take in the stunning surroundings, head to the elevated deck with 360-degree views. Whether you're gazing out at the surrounding mountains or taking in the starry night sky, this deck is the perfect place to unwind and reconnect with nature.
From adrenaline-pumping adventures to peaceful hikes through stunning landscapes, Monte Cristo Yurt Adentures has it all! Dirt biking, ATV riding, horseback riding, and hiking are just a few of the popular activities that are easily accessible. From adrenaline-pumping adventures to peaceful hikes through stunning landscapes, this location is perfect for those who love to immerse themselves in the great outdoors.
View Photos, Read Reviews & Check Availability
---
Utah Tours & Experiences
Utah is an outdoor wonderland with so much to see and explore. These Utah tours and experiences are some of the most highly rated and bestselling in the state.
---
Moab: Sound and Light Show with Dinner
"Enjoy a cowboy-style dinner and slow-moving evening boat ride on a calm part of the Colorado River. Watch an incredible sound and light show which describes the story of the canyon's creation projected onto the rock face above the river."
https://www.getyourguide.com/activity/moab-l1509/moab-sound-and-light-show-with-dinner-t224766
Price: From $100 USD (3 hours)
Review: "The food and service was great! Had a nice gentle boat ride where the guide gave us a lot of information about the canyon (including many fun features and shapes), Moab and the surrounding area. I was really impressed with this event and look forward to doing it again with more of my family." – Ryan
View Photos, Read Reviews & Check Availability
---
Zion Alpacas and friends
"Welcome to Zion Alpacas! If your an animal lover, this is the experience for you! Must be 8 years of age or older for this interactive experience! Come feed alpacas, brush mini highland cows, hug mini donkeys, give belly rubs to mini pigs, and hang out with Pygmy goats! Please use Apple Maps when coming to the experience as google sometimes takes people to the wrong location. If you need directions you can message me! Photos are encouraged and any questions will be answered! Feel free follow zionalpacas on Facebook and Instagram to see what's new!"
https://www.airbnb.com/experiences/1213866
Price: From $50 USD per person (1 hour)
Review: "Amy was amazing! She was so kind and passionate about her animals. My Bf and I had a wonderful experience playing with the animals and chatting with Amy. 10/10 recommend this experience, you won't regret it! Also she has a Airbnb stay on her property very close to Zion NP. Totally staying there next visit!" – Casee
View Photos, Read Reviews & Check Availability
---
Snow Shoe Under The Stars
"Come experience the the beautiful night skies in the mountains. You will hike through the backcountry of the Wasatch Mountain Range, through Aspen glades and gently rolling meadows. Generally the tours are one to two hours long. We can customize any length tour for you and your group."
https://www.airbnb.com/experiences/443544
Price: From $125 USD per person (2 hours)
Review: "If you're visiting Park City, definitely add this experience to your list. Shawn was delightful, kind, incredibly knowledgeable with a list of credentials to support it. He was also so humble. I would wholeheartedly recommend this if you're looking for a different experience." – Shannon
View Photos, Read Reviews & Check Availability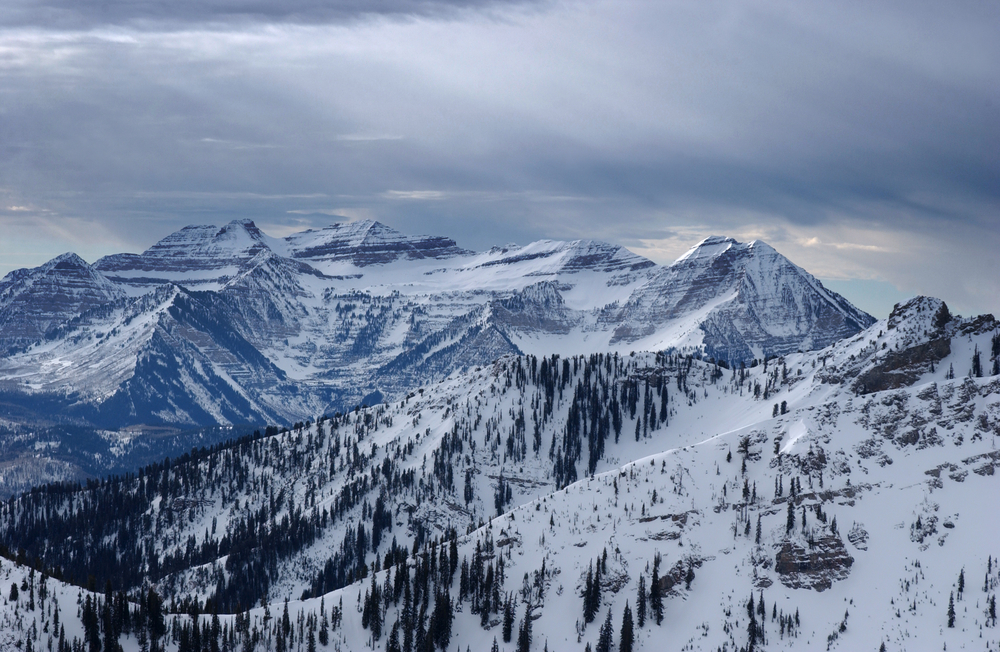 ---
Did I miss any top Utah Glamping sites?
Utah is home to some of the best glamping experiences in the entire United States, and new experiences are popping up every week. If you have stayed at a stellar Utah glamping site that I missed off my list – or you manage you – reach out! I'll check it out to see if I can add it to my list!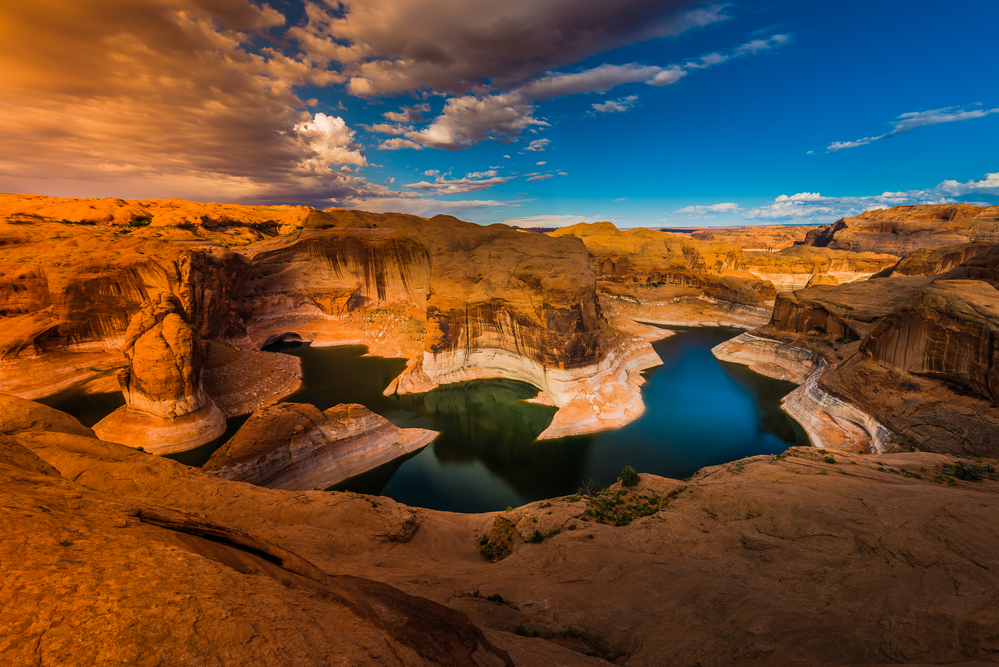 ---
Planning a glamping trip to the USA?
Glamping is the hottest way to see the vast beauty of the United States, and I've been hard at work putting together some great glamping lists to inspire your next road trip. From the West Coast to the East Coast – and everywhere in between – these are some of my American glamping shortlists.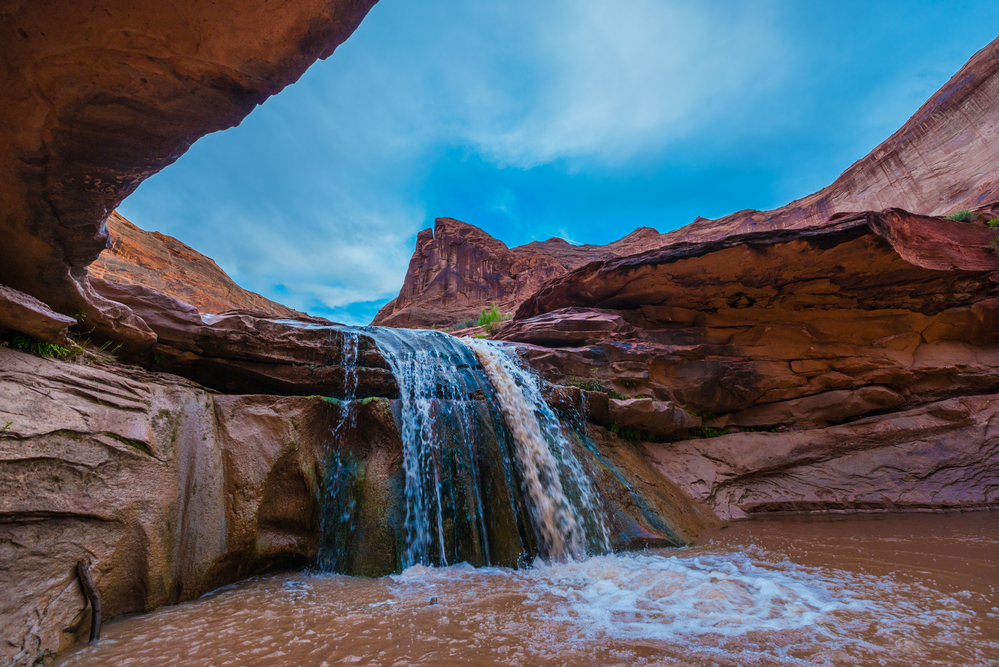 ---
Final thoughts on Utah Glamping
I knew Utah glamping would be incredible, and I was not disappointed! With a backdrop that offers such natural wonders as Zion and Moab, you're guaranteed a getaway unlike any other. While my Utah glamping list mostly takes you out to the wilds of the state, I highly recommend checking out the cities and towns of Utah as there are hidden gems everywhere. Enjoy your trip – and don't forget to pack the s'mores!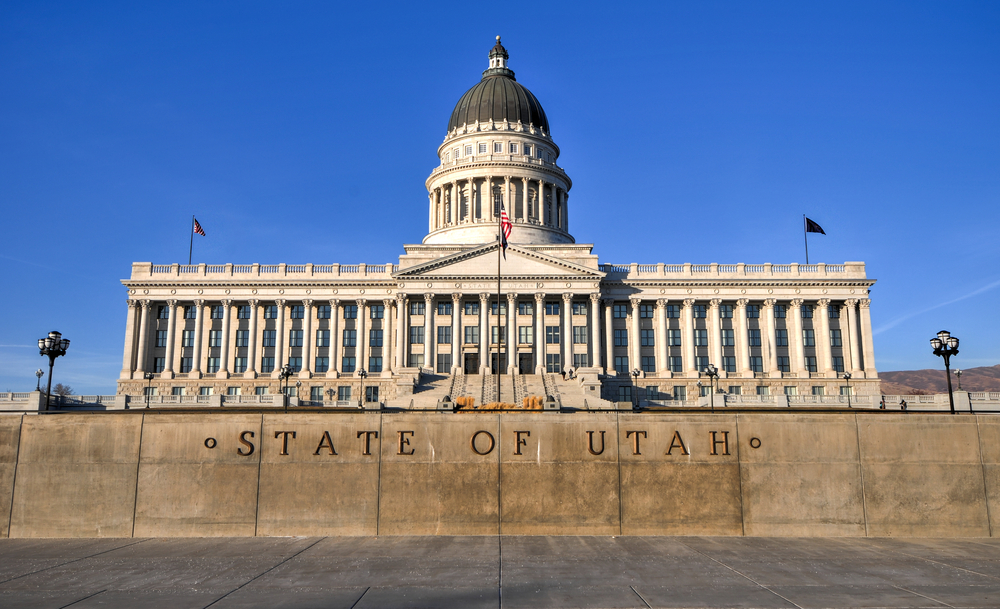 ---
Thanks for reading about the best Utah glamping destinations!
Share this list with your glamping travel crew!
https://www.jonesaroundtheworld.com/wp-content/uploads/2020/07/Glamping-Utah-.jpg
900
1200
Guest Contributor
https://www.jonesaroundtheworld.com/wp-content/uploads/2017/03/logotry-1-1-300x106.png
Guest Contributor
2023-05-07 20:34:47
2023-05-10 00:17:32
20 Best Glamping Utah Getaways For Your Bucket List