Planning a trip and need a comprehensive 2 days in Barcelona itinerary? Lucky for you, I've put together this ultimate guide on how to spend 48 hours in the Catalan capital. Read below for where to stay, food/nightlife recommendations, how to get around, and loads of other essential info for two days in Barcelona.
Barcelona (often referred to as BCN or Barna—not Barca or Barça—by locals) is the capital of the autonomous region of Catalonia and the second-largest city in Spain behind Madrid. This magical Mediterranean metropolis has long topped bucket lists and is a must-see for any traveler, novice, or veteran.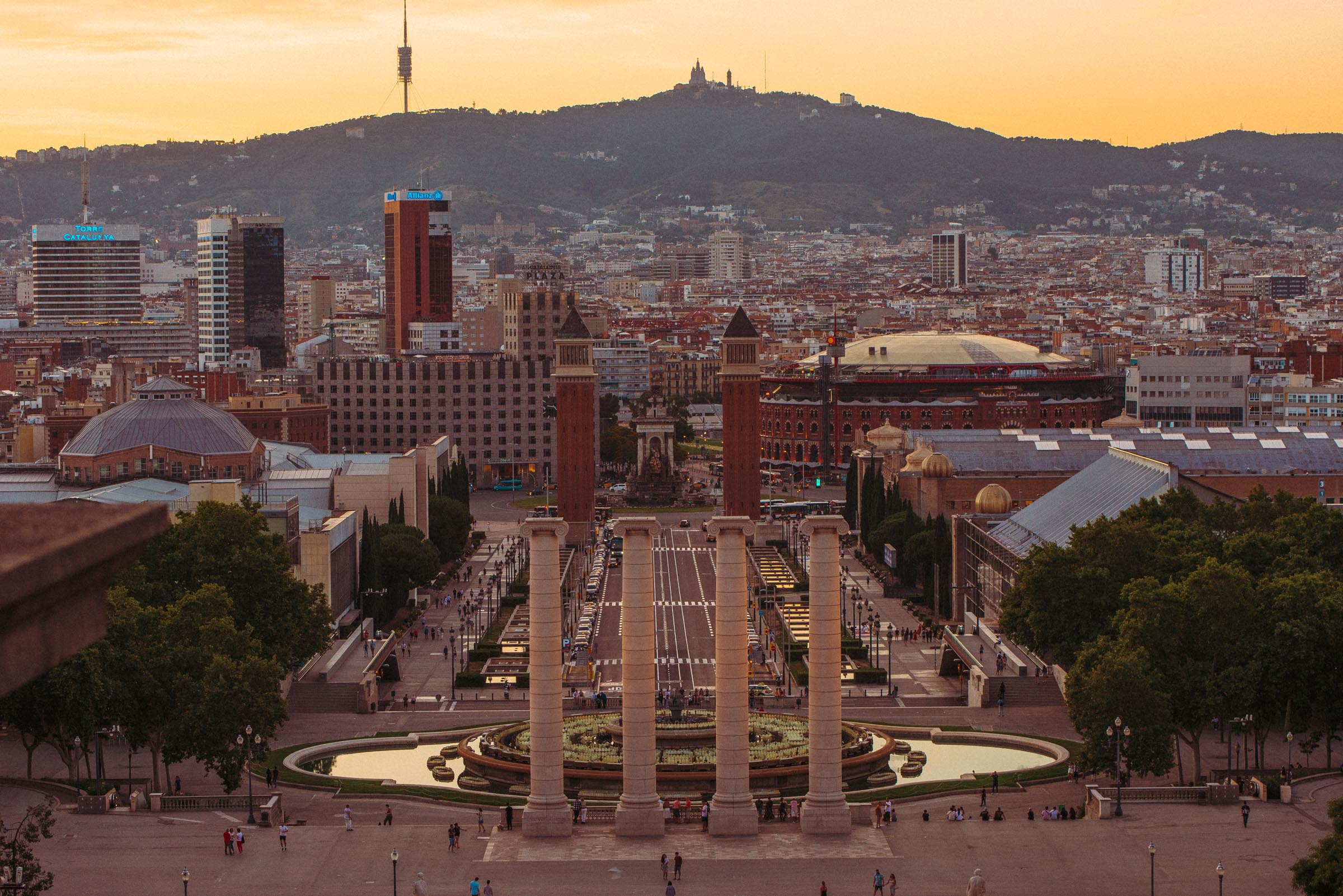 ---
Whenever someone asks me if I could see myself moving back to any of my favorite cities in the world, Barcelona is consistently my number one answer. There's just something in the air here; it's one of the more vibrant places ever. When I visited Barcelona, I found it easy to get around, the sun shining year-round, and the sprawling beaches and nonstop nightlife weren't too shabby either.
This Barcelona 2-day itinerary has something for everyone. Whether you want to spend your time at the beach, wandering the winding and ancient streets of the famous Gothic Quarter, eating traditional cuisine, or partying the night away, I've got you covered.
While I'd always recommend more than 2 days in Barcelona if at all possible (see my additional suggestions at the bottom of this guide), I'm a firm believer that no amount of time here is ever enough. That said, if you're wondering how much of Barcelona you can see in 48 hours, the answer is simple: much more than you think.
From visiting some of Antoni Gaudí's famous works to getting lost in Barcelona's Gothic Quarter to starting your night with a sunset and ending it with a sunrise, you can soak up a lot of sun, sangria, and culture in just two days.
The city is teeming with fun activities, and there are plenty of day trips from Barcelona you can take when you visit.
Ready to dive into your two-day Barcelona adventure? Vamos!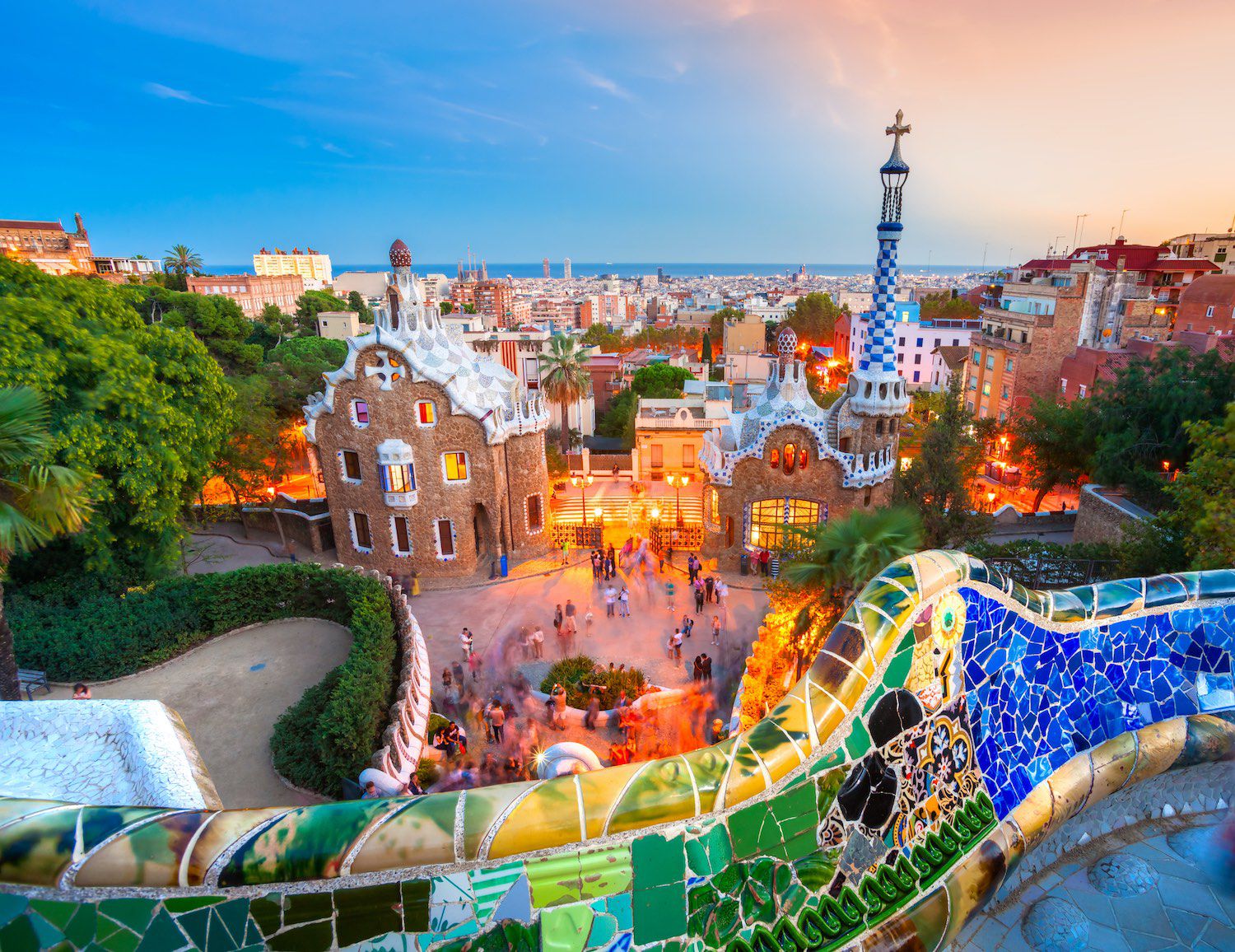 ---
THE BEST TIME TO VISIT BARCELONA ON YOUR BARCELONA ITINERARY
For me, there's no wrong time to visit Barcelona. However, the city comes alive and just feels different during warm summers. Outside, there are many things to do, from music festivals to various cultural events, holidays, and neighborhood celebrations.
High tourist season is from May through August and into September, with August typically being the busiest month. Those seriously considering what to see in Barcelona in 2 days will have their hunger satisfied at this time. That said, September might be right for you if you'd like to hit the beach but avoid the most active months.
To catch lovely moderate weather and see the city outside of peak season, shoot for April or October. Personally, I'd go in May/June and brave the crowds to ensure my Barcelona itinerary includes being there in summer.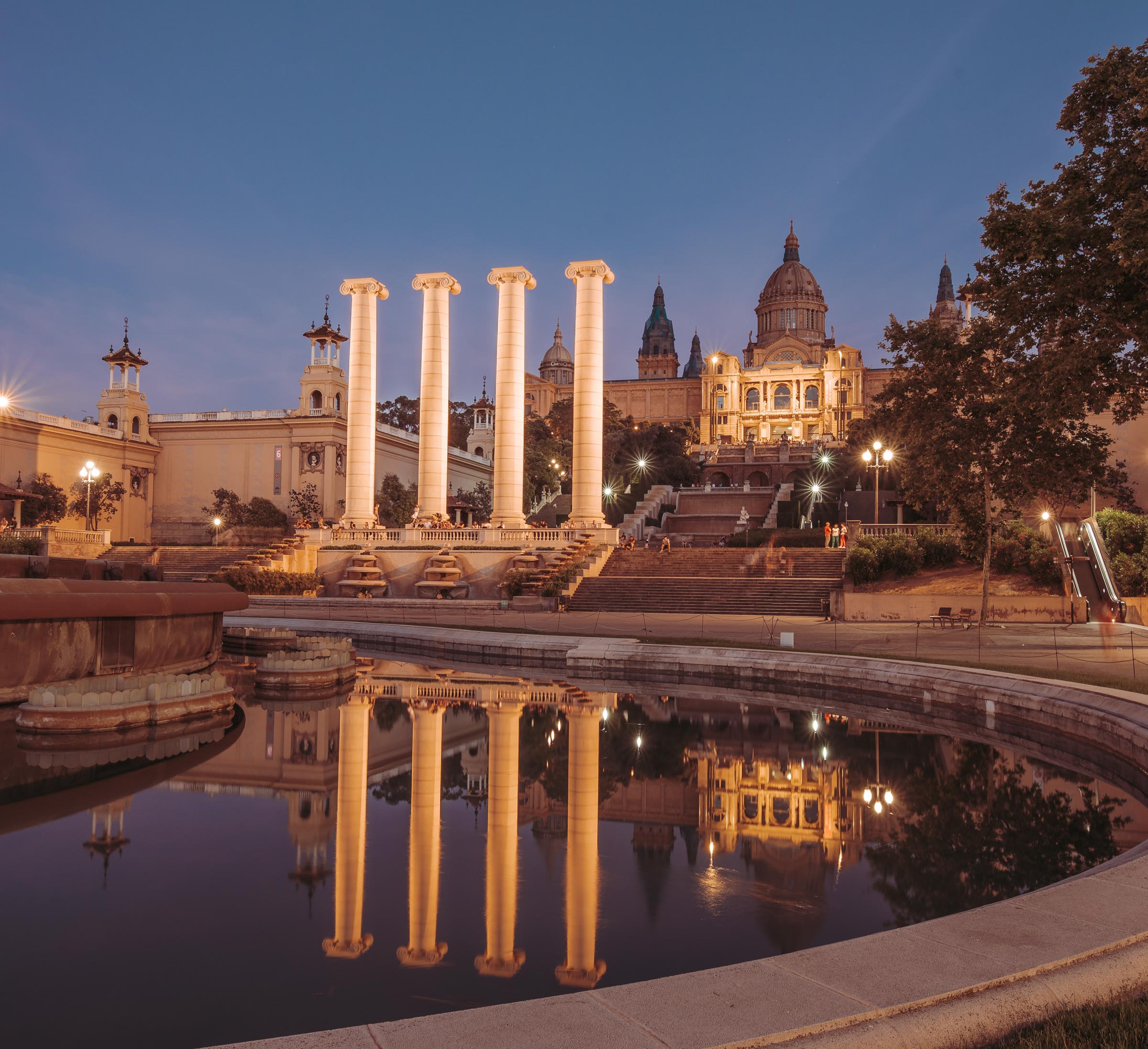 ---
WHERE TO STAY FOR 2 DAYS IN BARCELONA – VISITING BARCELONA
Although Barcelona is by no means small, it is much easier to get around than most European cities of equal fame. While each neighborhood has its charm, for a 2-day Barcelona itinerary, I'd recommend staying in or around El Born and Barrí Gotíc if you prefer the vibes of old town Barcelona nearer to the sea. Or perhaps Grácia or L'Eixample for wider, quieter streets away from the tourist center.
So, first things first. Let's find where you'll be staying while you follow this Barcelona itinerary. Because you're going to need a place to crash unless you've made prior arrangements with friends or family.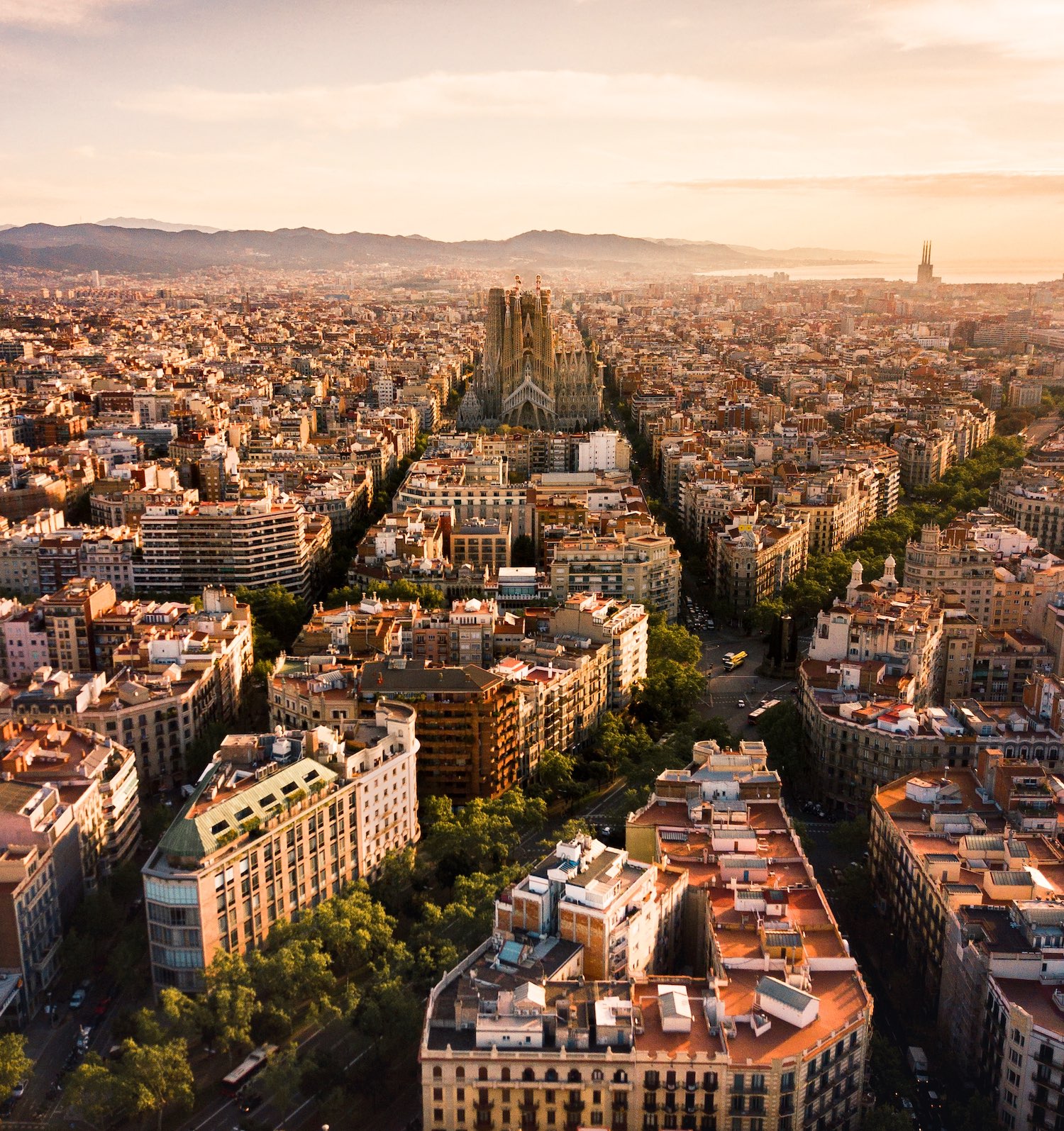 ---
WHERE TO STAY WHEN VISITING BARCELONA
Over the years, I've become a HUGE fan of checking out Booking.com before other types of accommodation while traveling. There's nothing like their free cancellation on almost all rooms and their wide selection.
Here are some top-rated Booking.com stays near top attractions and public transportation:
---
Paseo de Gracia Bas Apartments by Aspasios (Booking.com)
Price: $501+/night
Look no further than the Paseo de Gracia Bas Apartments by Aspasios for a comfortable and stylish place to stay in Barcelona. With its modern décor, fully equipped kitchen, and spacious living area, this apartment is perfect for travelers who want to feel at home while exploring the city. And with its convenient location on one of Barcelona's most famous streets, you will have easy access to all the best shops, restaurants, and attractions.
Here, you can immerse yourself in the city's rich history while enjoying modern amenities such as air conditioning, high-speed Wi-Fi, and a fully equipped kitchen. With two rooms and a comfortable extra-large double bed, this flat is perfect for a group of friends looking to explore the city for two days.
Thanks to its location, you can also tour the Picasso Museum (also known as Museu Picasso de Barcelona) if you wish. The ticket allows you to skip the lines, so you can spend 90 minutes exploring the impressive works of Picasso.
View Photos, Read Reviews & Check Availability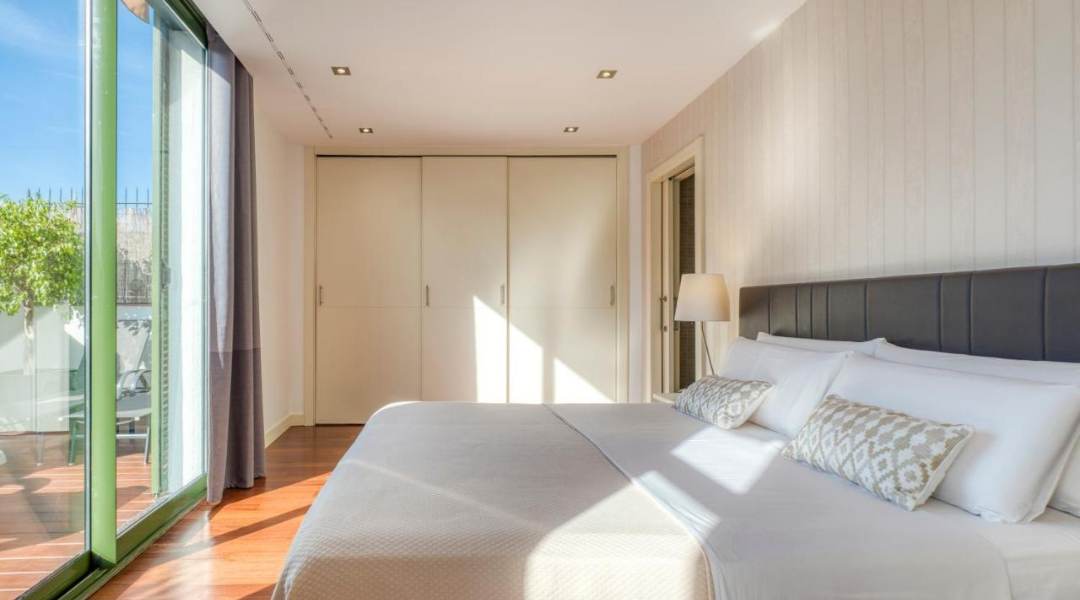 ---
Catalonia Park Putxet (Booking.com)
Price: $154+/night
While this spot is less than half the price of the previous one, it doesn't mean you'll get half the service and/or amenities. With its clean and spacious rooms, modern amenities, and attentive staff, this hotel offers you great value for money. Located in a quiet residential area, it is away from the city's hustle and bustle but still within easy reach of top attractions via public transportation.
The nearest metro station is about an 8-minute walk away, giving you access to all of the city's spoils on your Barcelona itinerary.
The hotel boasts beautifully bright yet simple décor, lovely wood accents, and a sprawling terrace that calls your name. It is a short walk from Park Güell, Barcelona's largest sprawling green space. Catalonia Park Putxet is in a residential area but still within easy reach or a short cab ride to many main sites and great bars and restaurants.
View Photos, Read Reviews & Check Availability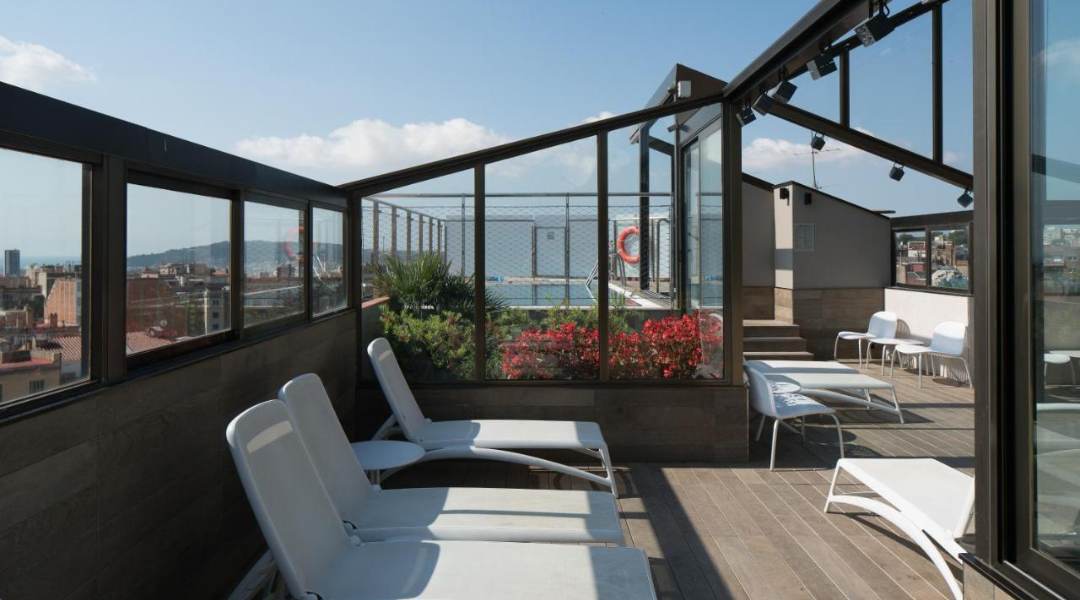 ---
BEST HOSTELS & HOTELS IN BARCELONA
Sant Jordi Hostels: If you're a backpacker on a budget, or a friendly solo traveler looking to save on your stay, this is the place for you. Barcelona offers many low-cost accommodations. And my personal favorite is the highly-rated Sant Jordi Hostel chain. The Rock Palace location boasts a rooftop pool, while the Sagrada Familia location is perfect for skaters as it has a half-pipe inside the hostel (how cool is that?). The Grácia location is ideally located in a quieter Bohemian area of the city with an endless list of cool bars and restaurants. Dorm beds start from around $92 USD, depending on the time of year.
H10 Hotels: the perfect compromise between luxury and affordability, the H10 hotel chain has multiple locations across Barcelona. For a 2-day stay, I'd recommend one of the central locations near Plaça Catalunya or Via Laietana.
Hotel Ohla: For the best drinks in unrivaled luxury on your 2-day itinerary, Barcelona has you covered with this spot. It's on the higher end of the luxury spectrum and is one of my favorite places for a rooftop drink in Barcelona. The hotel itself is conveniently situated just a 5 minutes walk from Plaça Catalunya and will undoubtedly appeal to any higher budget travelers. It's breathtaking inside, and nothing beats the panoramic view from the rooftop pool.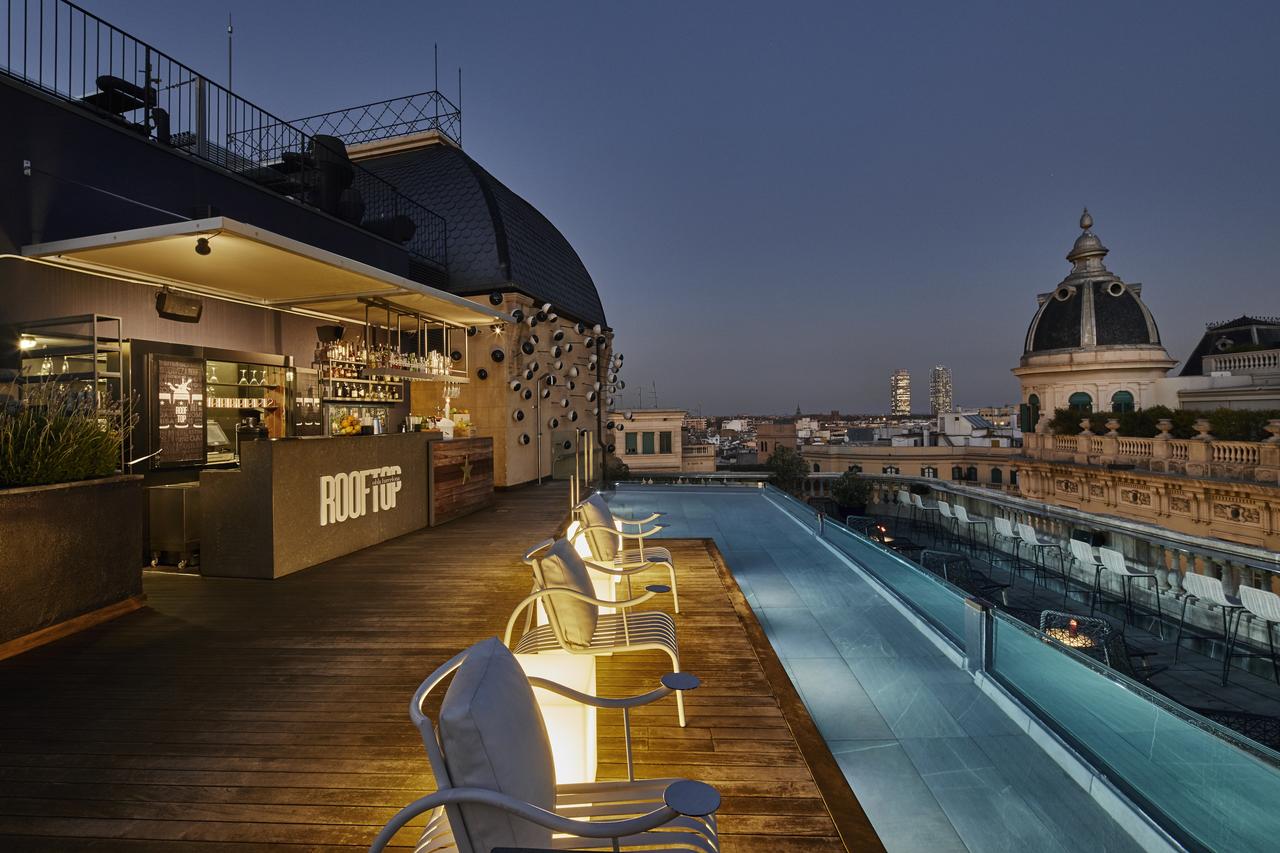 ---
HOW TO ARRIVE TO THE BARCELONA CITY CENTER FROM THE AIRPORT – BARCELONA TRANSPORT
Arriving from Barcelona's El Prat airport (BCN) may seem like a hassle as it's located roughly 30 minutes by car from the city center. Still, it certainly doesn't need to be. Multiple affordable and convenient transportation options are available, making your trip to and from the airport a breeze. The top three choices are by bus, train, or taxi.
AEROBUS
The Aerobus is my top option for getting to and from El Prat. The convenient 35-minute route connects both terminals (T1 and T2) to Plaça Catalunya, Barcelona's main square, for just €6.75. The bus stop is located adjacent to Corte Inglés. Their buses are easily identifiable (large, blue buses reading "Aerobus" on the side), run every 5 to 20 minutes each day of the year, and also make stops at other convenient locations (Plaça Espanya, Gran Vía, Plaça Universitat) on the way to/from the airport.
Pro Tip: The bus to T1 starts running at 5 am every day, the bus to T2 starts at 5:30 am, and the final buses from the airport to the city are generally scheduled to accommodate passengers on the final arrivals of the night. Make sure you get on the correct bus (i.e., A1 for T1, A2 for T2).
Another Pro Tip: Pay in cash (exact change or close to it if possible, no bills larger than €20) directly to the driver; this will save you time waiting in line at the ticket kiosk.
Other Bus Options: Other options include the much slower Number 46 bus (4:50 am-11:50 pm), as well as the N17 Bus/Airport NitBus (9:55 pm-4:45 am). Both make far more stops than the Aerobus and are a bit less convenient, but they are cheaper (a single ticket €2.40, or you can use the T-Casual, formerly known as the T-10 public transportation pass).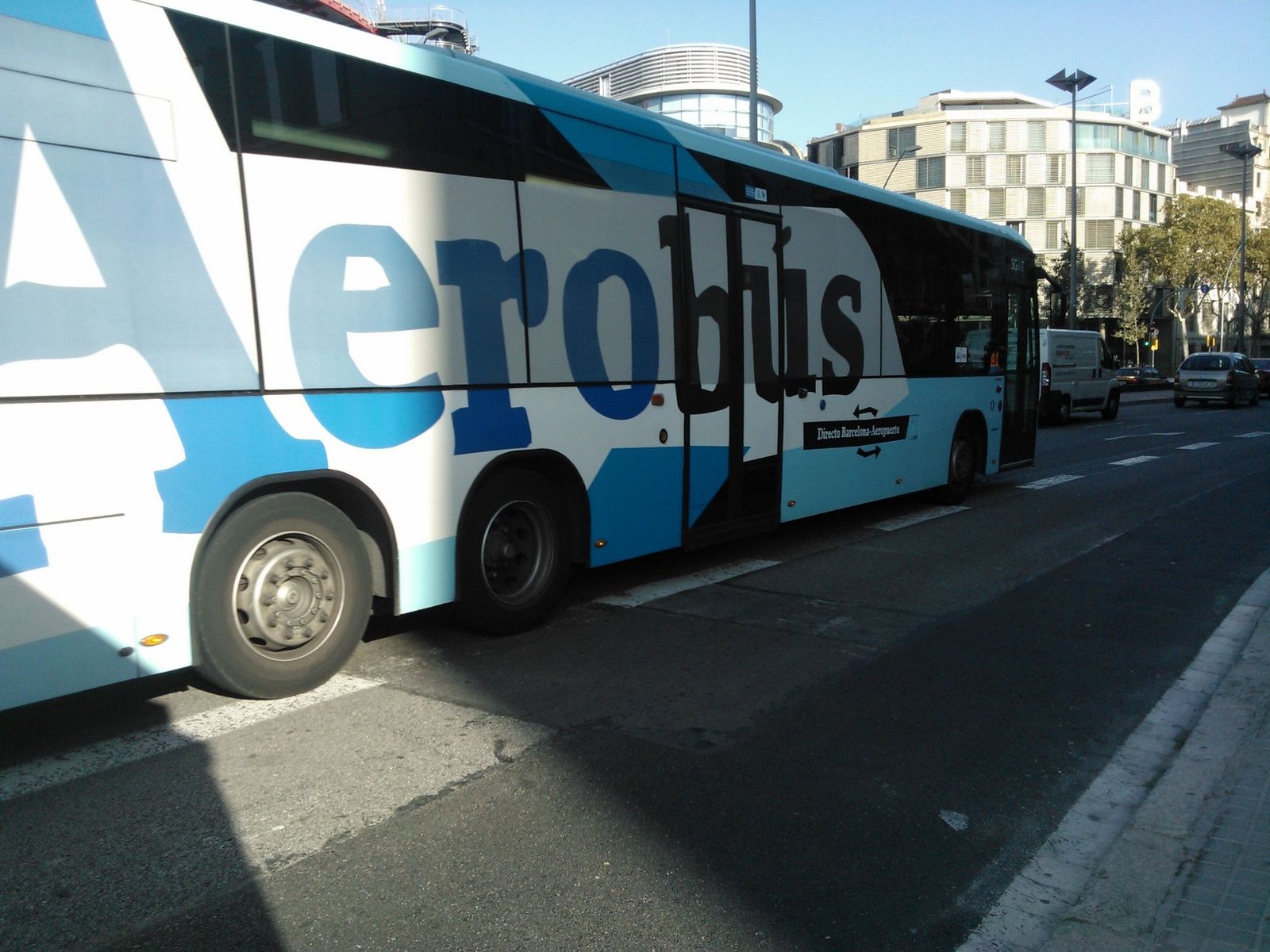 ---
TRAIN
Barcelona's RENFE train runs roughly every half hour from the city to the airport (arriving at terminal 2B). It makes stops at all major train/metro stations (Barcelona Sants, Passeig de Grácia, and Clot). A single one-way ticket starts at $ 1.99 (€1.80).
Pro Tip: Make sure you take the R2 Nord train – NOT the R2 (without Nord in the name).
From Barcelona Airport: First train: 05:42 | Last train: 23:38
From Estació Sants: First train: 05:13 | Last train: 23:14
From Passeig de Gràcia: First train: 06:02 | Last train: 21:02
---
Taxi/Cabify/Uber
Compared to many other cities, taxis in Barcelona are generally clean, convenient, and affordable. A trip to or from the airport will cost you roughly $33-$44 (€30-40) depending on your pickup/drop-off in Barcelona. Another option is to utilize either Cabify or Uber. In general, the service between any of these options will be fairly similar.
Aside from a higher-priced private luxury transfer, this will likely be your most convenient option. Follow the signs for taxis when leaving the airport terminal—Uber and Cabify will be in the same area.
Metro
Barcelona's L9 metro line runs from the city to the airport. However, this metro line does not run to any central location without at least one transfer involved (which can be annoying if you have large luggage).
---
HOW TO GET AROUND IN BARCELONA
Barcelona is a VERY walkable city—in fact, I'd recommend walking whenever possible over other means of transportation. However, as you only have 2 days for your Barcelona experience, I suggest maximizing your activity time and traveling by one of the following options.
Metro
Barcelona's metro system is one of the cleanest and most navigable I've experienced for a city of its size and level of tourism. A 2-day vacation in the city will generally involve locations easily reachable by the metro system. Recently the city made a change from my beloved T10 passes (multi-person ticket loaded with 10 journeys, usable on Barcelona's metro, trams, and buses) and replaced them with the T-Casual.
From what I understand, the T-Familiar ticket will soon be introduced as well. The T-Casual costs €11.35 for 10 journeys, and the T-Familiar will be €10 for 8 journeys. These tickets can be shared by multiple people, allowing you to buy one and share it with your friends on the cheap. Single metro journeys cost €2.40. Purchase your tickets at the kiosks located at station entrances.
Pro Tip: When it comes to using public transportation, ensure you keep your belongings within your field of view and always be wary of pickpockets. Barcelona is beautiful but is also a hotspot for pickpockets, as is the case with any major city and tourist destination.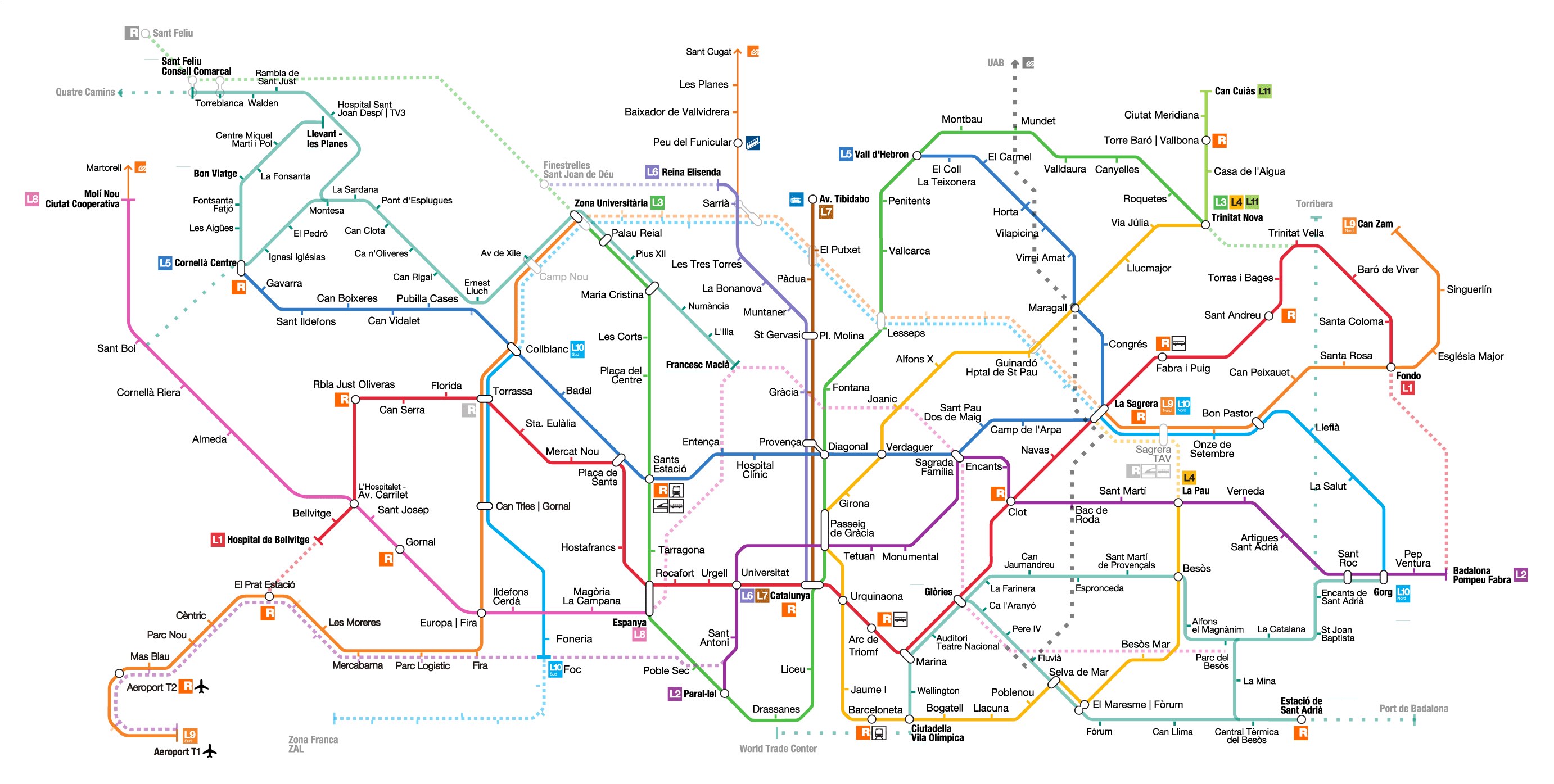 ---
Taxi
As I've mentioned above, in regard to getting to/from the airport, Barcelona's taxi service is overall affordable and efficient. In any busy part of the cities, you can hail a cab at most hours of the day/night. It'll help to know a bit of Spanish if possible.
Uber/Cabify
While the taxis are great, you can't beat the convenience of your ride coming right to your door. Cabify is the Spanish iteration of Uber/Lyft, although Uber does exist here as well. The Cabify app is available in the App Store as well as Google Play.
---
THE ULTIMATE 2-DAY BARCELONA ITINERARY – WHAT TO DO IN BARCELONA, 2 DAYS OF FUN
Now that we've covered some of the pre-departure basics, such as accommodation and transportation, it's time to get into the good stuff. Without further ado, here is my 2-Day Barcelona Itinerary and Travel Guide for a splendid time in one of Europe's major cities.
---
BARCELONA ITINERARY DAY 1: SAGRADA FAMILIA, BARRIO GOTICO, LA BOQUERIA, TAPAS, SHOPPING, SUNSET AT THE BUNKERS, +MORE
GET A CAFÉ CON LECHE AND GET MOVING EARLY
You've only got 2 days in Barcelona, so you'll have to get up early (or not sleep at all) in order to beat the crowds and make the most of your time. I recommend starting your day with a café con leche (espresso and scalded milk) near your accommodation or the first site you'll visit.
One of my favorite options for coffee and brunch is Firebug. It's located just a 20-minute walk (or 5-minute taxi) from La Sagrada Familia. If you decide to stop here for your morning coffee, you can't miss their Eggs Benedict Royale.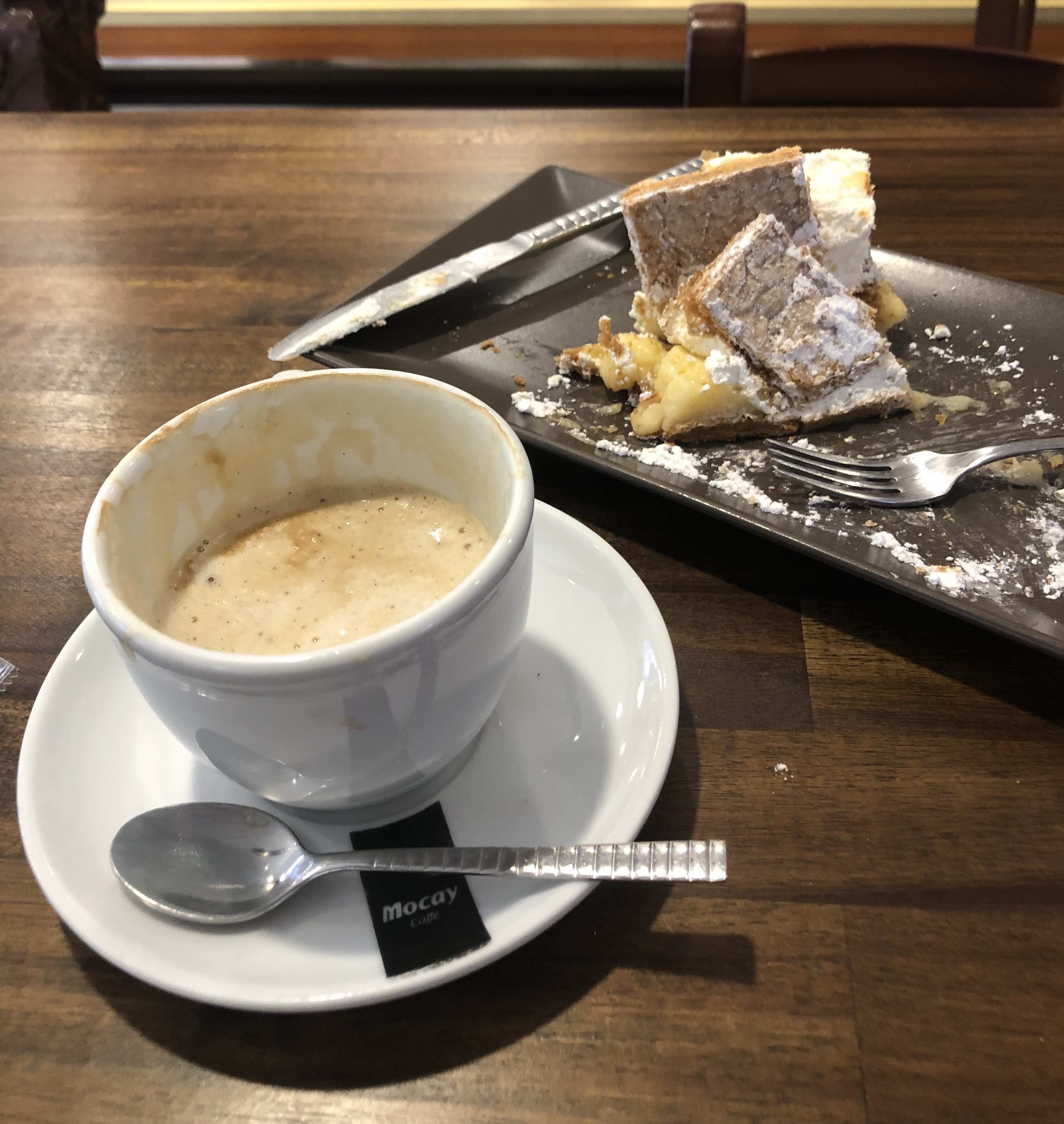 ---
VISIT LA SAGRADA FAMILIA – PART OF A UNESCO WORLD HERITAGE SITE
Antoni Gaudí's masterpiece-in-progress is the crown jewel of the Barcelona city skyline. Gaudí is perhaps one of the most well-known figures in Barcelona's rich history, having left his mark of genius all over the city's architecture. La Sagrada Familia is a must-see for anyone visiting the Catalan capital.
As it's probably the busiest and most important site you'll see during your trip, it's absolutely necessary to purchase tickets in advance. I recommend doing Sagrada at the beginning of your trip so as to eliminate the possibility of you missing it later on.
The best times to visit the basilica are first thing in the morning or later in the afternoon in order to catch the light filtering through the enchanting, almost otherworldly stained-glass interior. Make sure to include one of the towers in your visit. Your visit should take 1.5-2 hours.
You can purchase tickets through Sagrada Familia's official website. Tickets start at around $28 (€26 with the tower included). Times are as follows: April through September: 9 am to 8 pm on Mondays to Saturdays, and Sundays from 10:30 am to 8 pm. November through February: Mondays to Saturdays from 9:00 am to 07:00 pm and Sundays from 10:30 am to 07:00 pm.
While these are the times according to the schedule on their website, the opening times and days may occasionally be modified by the management due to special events taking place inside the Basilica.
Alternatively, you can buy a Sagrada Familia walking tour, which is about $38 (€35).
Your walking tour ticket allows you to skip the line and get a closer look at Antoni Gaudí's masterpiece, the stunning Sagrada Família Basilica. With your knowledgeable guide leading the way, you'll learn about the history, design, and symbolism of this iconic structure.
And trust me, you won't want to miss a single detail. From the intricate facades to the towering spires, every inch of the Sagrada Família is a work of art. Plus, the tour includes access to the museum and the chance to climb one of the towers for an unforgettable view of Barcelona.
To get here, arrive at La Sagrada Familia by metro on the L2 and L5 lines (the stop is Sagrada Familia).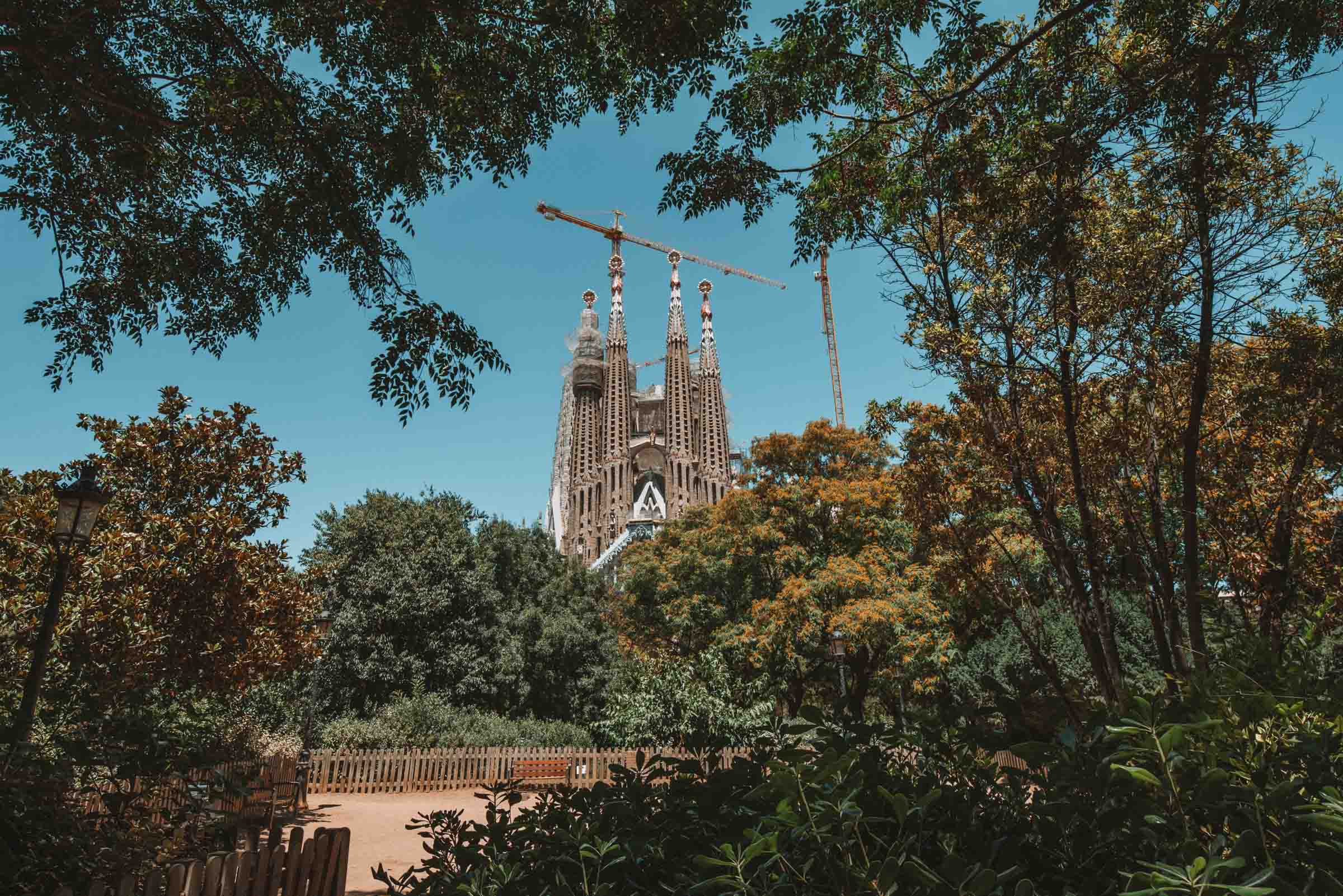 ---
GET LOST IN BARRIO GÓTICO – THE FAMOUS GOTHIC QUARTER
When there is limited time to truly experience a destination as culturally rich as the amazing city of Barcelona, there's only so much you can do. My to-do list with 2 days in a city ALWAYS includes diving into the most iconic neighborhood and getting lost. In Barcelona, that would be La Ciutat Vella ("Old Town" in Catalan).
This area of the city includes El Born, Barrio Gótico, and El Raval. The winding, labyrinthine streets evoke a certain nostalgia for a place you may have never even been before, but surely one you'll never forget.
There are free walking tours such as Sandeman's, which are a great way to see a lot for a limited time if you enjoy a guided tour. If you're like me and want to explore Barcelona at your own pace, here are my must-see and favorite spots while wandering the Gothic Quarter:
Plaça Sant Jaume – This is the city's main government square. The two buildings opposite each other are the seats of the Catalan and Barcelona city governments.
Temple of Augustus – c/ del Paradís 10 – tucked away around the corner from Craft (a great beer bar, by the way), is a hidden gem in the Gothic Quarter. Take a minute to poke your head in and bask in the history of ancient Roman ruins.
Puente del Bisbe – This is my favorite spot for photo ops in the city. The "Bishop's Bridge" is on the corner of del Bisbe and is absolutely breathtaking in the afternoon light. If you look carefully, you'll see a skull and dagger recessed in the work, which was allegedly put there by the disgruntled architect who was falsely promised more work by the city.
El Catedral de Santa Eulalia – This Barcelona cathedral is the city's main one. Inside the crypt is Santa Eulalia, one of Barcelona's patron saints, who was killed by the Romans at just 13 years old. Entrance is free depending on the time of day, and in the cloister, you'll find 13 white geese, one for each year of Eulalia's life.
Plaça de Sant Felip Neri – Another hidden gem in the Gothic Quarter. It's so quiet and peaceful when there aren't large crowds; the fountain is just delightful, and it's a wonderful place to sit. There's also some dark history here – you can see the pockmarks on the church wall from a Spanish-civil war era bombing that took the lives of over 40 people.
Plaça del Pi – stroll through this lively and sun-filled square on your way to the Rambla and La Boqueria. Bar del Pi, when not too busy, has a great terrace for a caña.
La Rambla – I'll be blunt, La Rambla (or Las Ramblas) is not a destination you need to put on your Barcelona to-do list. The poet Federico Garcia Lorca once called it "the only street in the world I wish would never end," but that was before tourism, cheap trinkets, and pickpockets filled the streets here. It is beautiful, no question, but I feel like a quick walk across the .75-mile-long avenue is enough.
La Boqueria Market (Mercado de La Boqueria) – Feast on fresh, delicious meals at Barcelona's most popular open-air market. It's open from 8 am-8 pm M-F and is an absolute assault to the senses. You'll find fresh fruit smoothies, a fish market, bars, butchers, candy vendors, and more in this colorfully chaotic place.
Plaça Reial – End your stroll around Barrio Gótico at another iconic city square. Once lined by palatial residences of Barcelona's elite, various bars, restaurants, and clubs do not take residence in the surrounding alcoves. Come back later in the night to check out the exclusive Pipa Club for a drink before going dancing at Jamboree.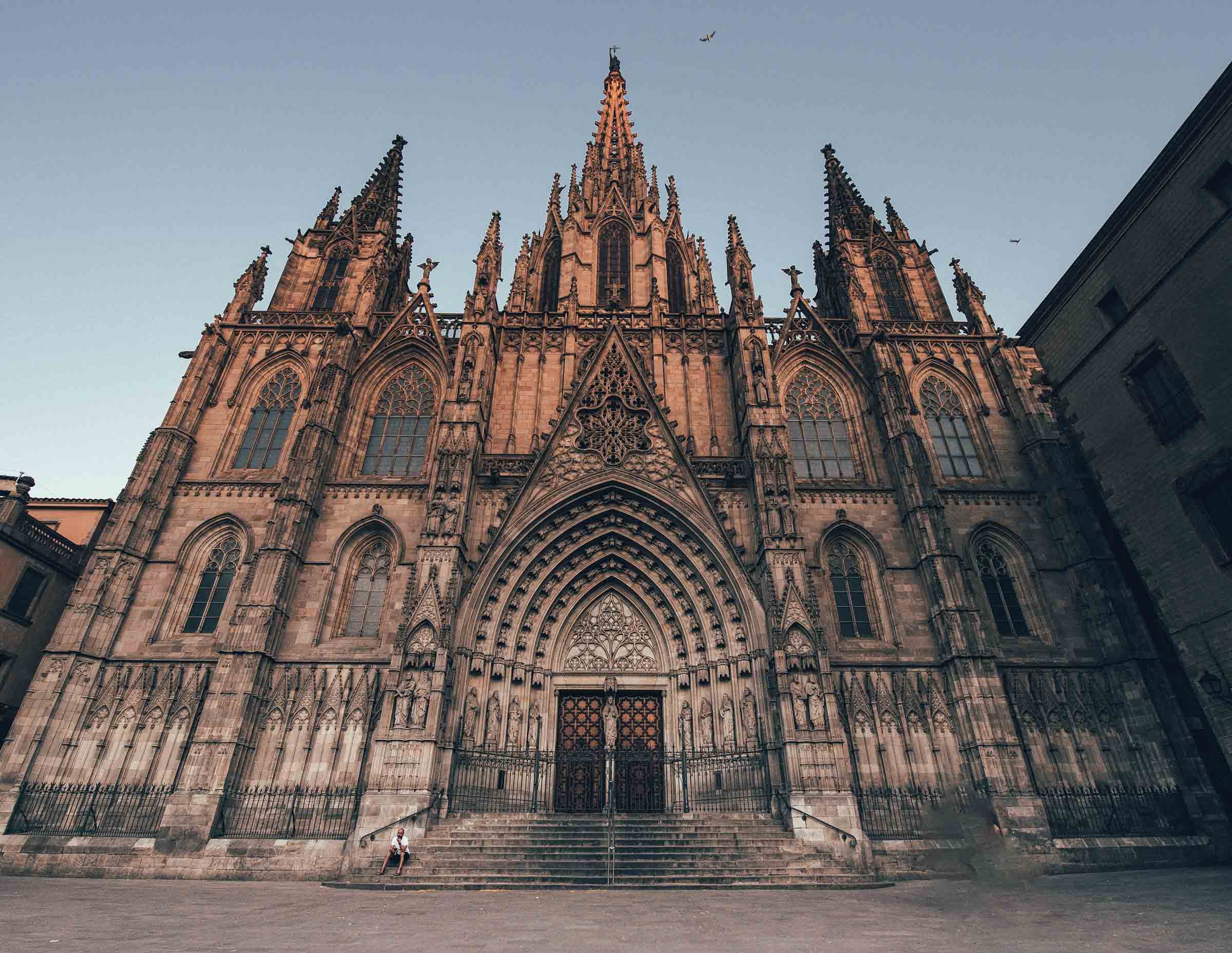 ---
EAT AT BO DE B – THE BEST SANDWICH SHOP IN THE WORLD
This place may not be as much of a secret as many would like to think (there are HUGE lines more often than not), but it's near and dear to my heart. Bo de B (c/ Fusteria 14) is, and I can't stress this enough, the most unequivocally AMAZING sandwich shop in the world. No contest. Hands down. If there's a line, it'll take a while, but the juice is worth the squeeze.
Grab a couple of bocadillos de pollo (chicken sandwiches) para llevar (to go). I recommend loading up on every topping and sauce as they're all fresh and phenomenally flavorful, and don't forget to ask for aguacate (avocado) and queso (I recommend feta).
Snag yourself a couple of cold beers at the supermarket nearby, and if you can hold off on eating for 10 minutes, walk on over to Ciutadella Park. No need to wonder what to do in Barcelona alone when you've got the best sandwiches and an idyllic park. If you can't wait, there's no shame in devouring your sandwich on the nearby post office steps.
If there's an open seat inside, they also serve up a delicious plate with all the fix-ins you'd have on the Bocadillo, but much easier to eat.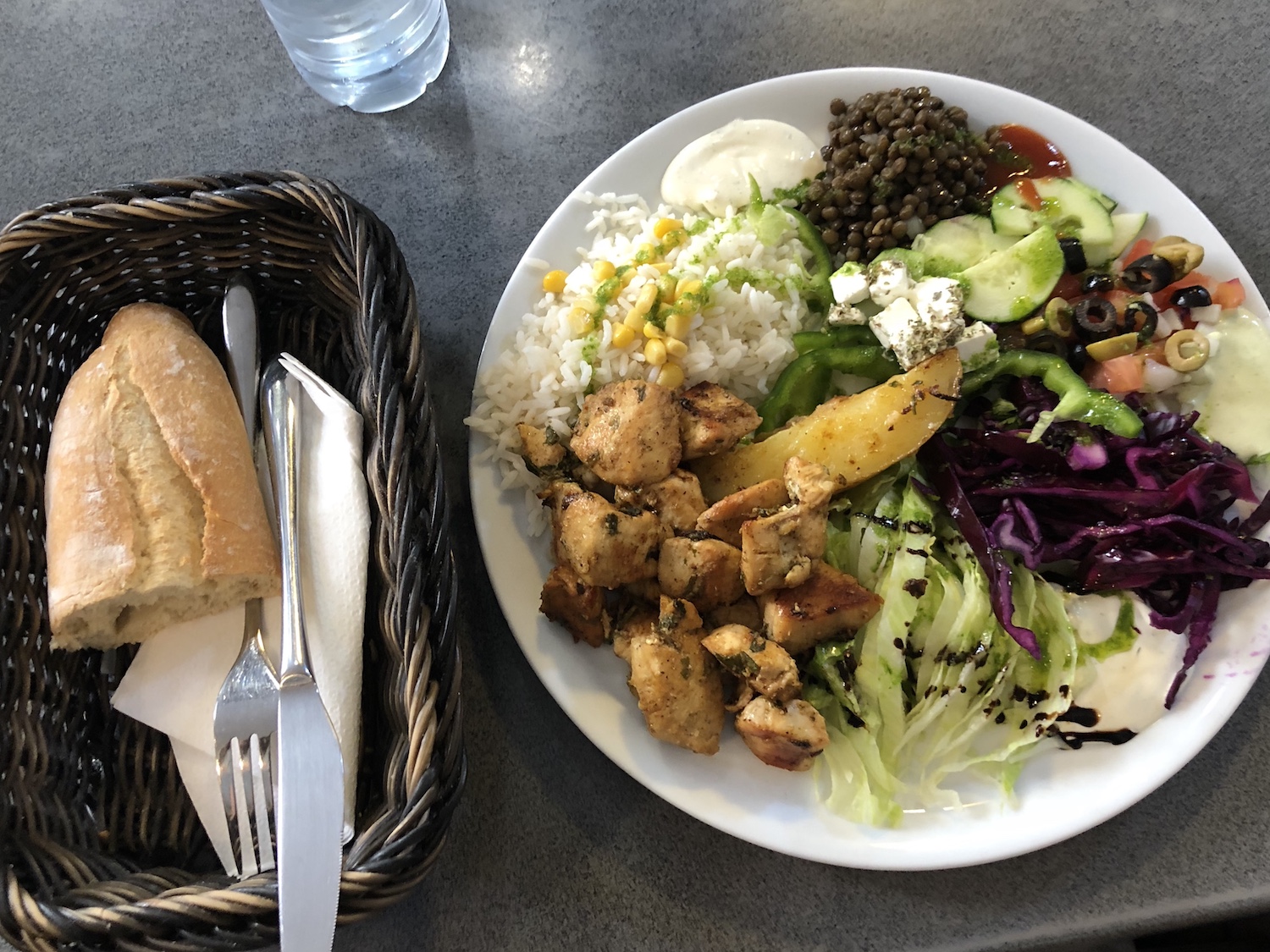 ---
TAKE A QUICK REST IN PARC DE LA CITUADELLA
In a city as large and bustling as Barcelona, a massive green space such as Parc de la Ciutadella is almost unheard of. Located on the northwestern edge of Barcelona's Ciutat Vella, the park was the city's only green space for some time following its mid-19th century creation (now, there are loads).
It really is the perfect place to go for a walk, soak up the sun, people watch, row a boat and feed the ducks (only €6 for 2 people for 30 minutes), visit the iconic fountain in the northernmost exit, and generally just relax.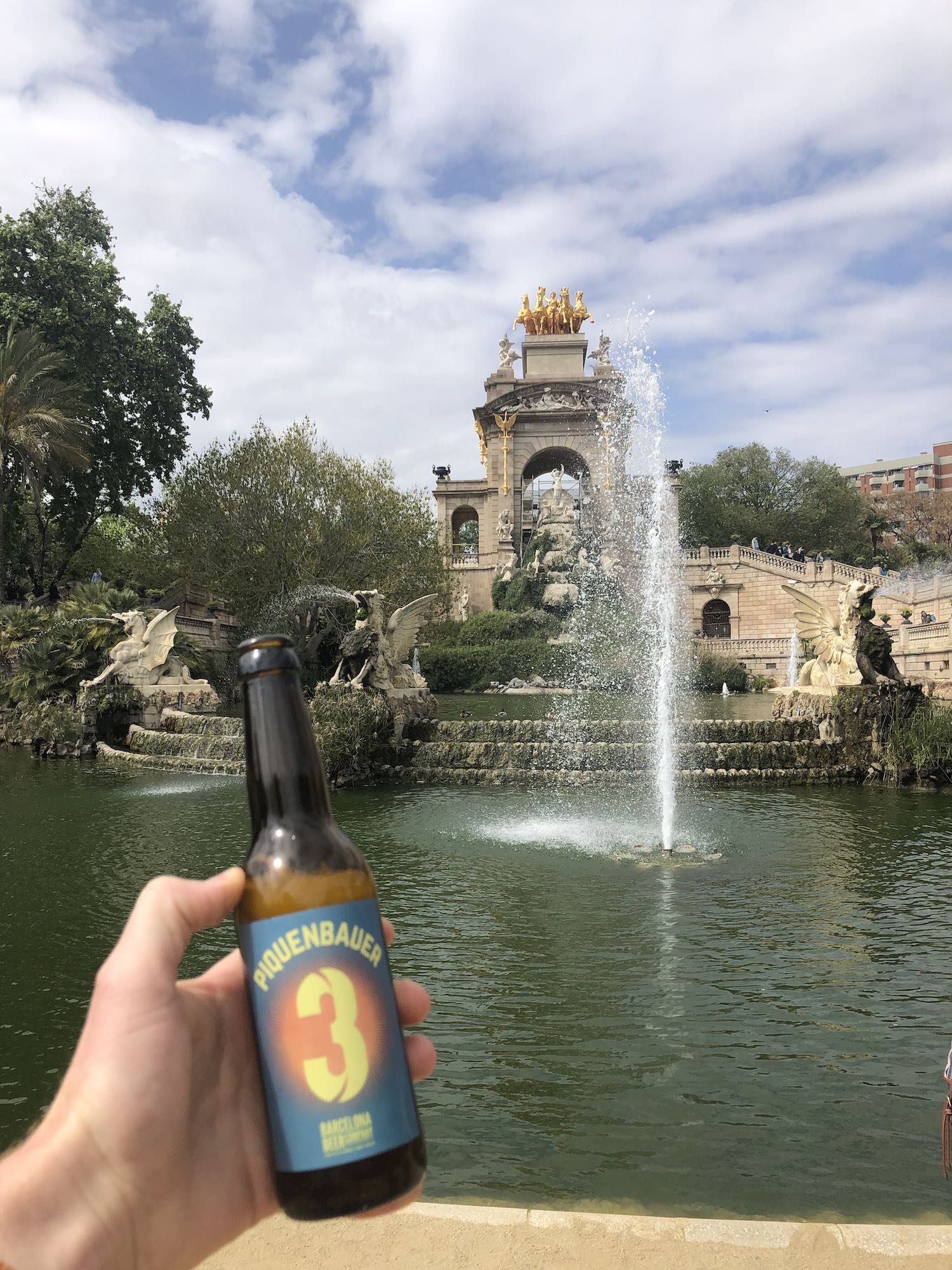 This is a recommendation I don't see on many lists as it isn't a famous church, museum, etc. However, I think it's a great option for breaking up a bit of sightseeing. This is Spain, after all, and in Spain, we take siestas.
Parc de la Ciutadella is easily reached on foot or by taxi from the Gothic Quarter. It can also be reached by metro at the closest station, Ciutadella Vila Olímpica, on the L4 line. You can spend as much time here as you'd like. Just note that the park closes at 10 pm.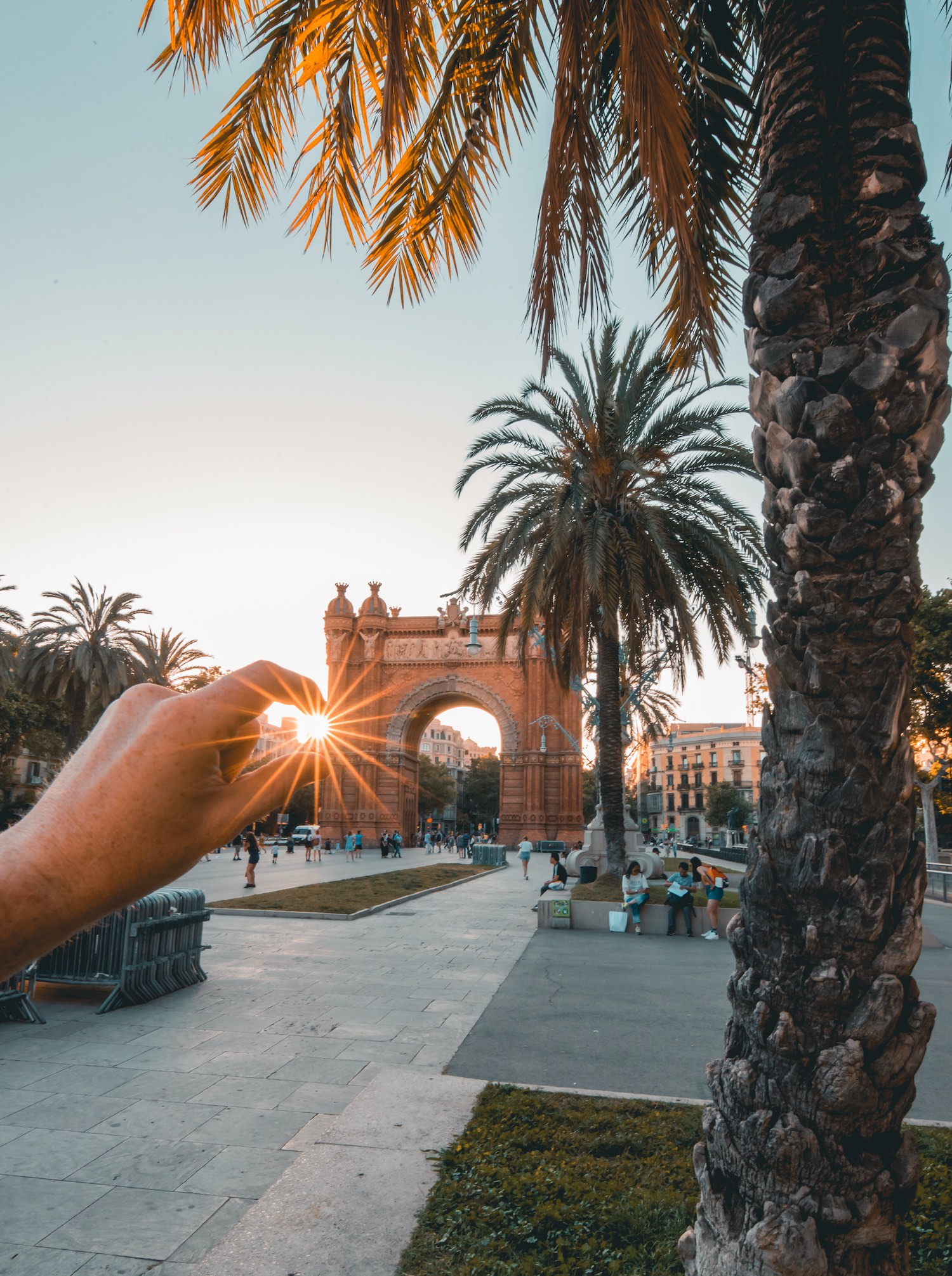 ---
CATCH THE SUNSET AT LOS BUNKERS DEL CARMEL
There's nothing like a Spanish sunset, and in Barcelona, there is no better place to catch the sunset than at the Bunkers. During the Spanish Civil War, these old military bunkers housed anti-aircraft guns. Today, it's perhaps one of the city's worst-kept secrets, but don't let the crowds of young locals and tourists keep you away; the Bunkers provide an absolutely jaw-dropping 360-degree view of Barcelona.
While the area may be busy, it's well worth the hike (you can also take public transportation but must hike the final stretch up some stairs). The area is free to enter, open 24 hours, and in my opinion, it is absolutely necessary to take some wine and snacks.
I recommend a bottle of Spanish Rioja wine (Lopez de Haro is a good choice), a fresh baguette, jamón ibérico, and manchego cheese. This is the best viewpoint in Barcelona, and well worth the effort to get there.
Arriving by subway – take the L4 line and get off at Alfons X. From there, you'll need to walk roughly 25 minutes uphill (there are stairs but believe me, it is a HIKE).
Arrive by bus – take Bus 22 to the final stop (Pl . Mitja Lluna). From there, you'll need to hike about 10 minutes uphill.
Time Laps : Barcelona sunset (view from the Bunkers Del Carmel)
---
DINNER, DRINKS, AND DANCING
At this point, if you're not totally exhausted, I highly recommend sampling the local cuisine and treating yourself to a fantastic dinner. At the end of this guide, you'll find my recommendations for brunch, tapas, drinks, paella (a must-do in BCN), dinner, casual eating, and more. Dinner in Spain happens LATE (shoot for 9-10 pm), which is perfect for filling your day with activities and heading out for the night at a leisurely pace.
After dinner, the local move would be to go for drinks and, later on, go out dancing. Barcelona is world-renowned for having some of the flat-out best nightlife in Europe. The Spanish know how to party. Depending on how your night goes, you may not get home till the sun is coming up.
However, there's no harm in heading home to sleep after a couple of cocktails if that's more your pace. After all, you've got another busy day exploring Barcelona.
Barcelona at night | what to see and do in Barcelona at night 🥂 handpicked by locals
---
BARCELONA ITINERARY DAY 2: GAUDÍ, PAELLA, THE BEACH, CAVA, MONTJUÏC, +MORE
START YOUR DAY THE GAUDÍ WAY AT PARK GÜELL
You could spend days exploring the masterworks of Antoni Gaudí, let alone those of countless other Catalan architects. If you've only got 2 days in Barcelona, though, Park Güell is a must-see. The iconic tiled benches and spires are as iconic as they are inspiring.
Strolling around the surrounding park and up to the top for a panoramic view is the perfect way to start a morning in BCN. I recommend getting there early to beat the crows and snap a photo without a million other vacationers milling about.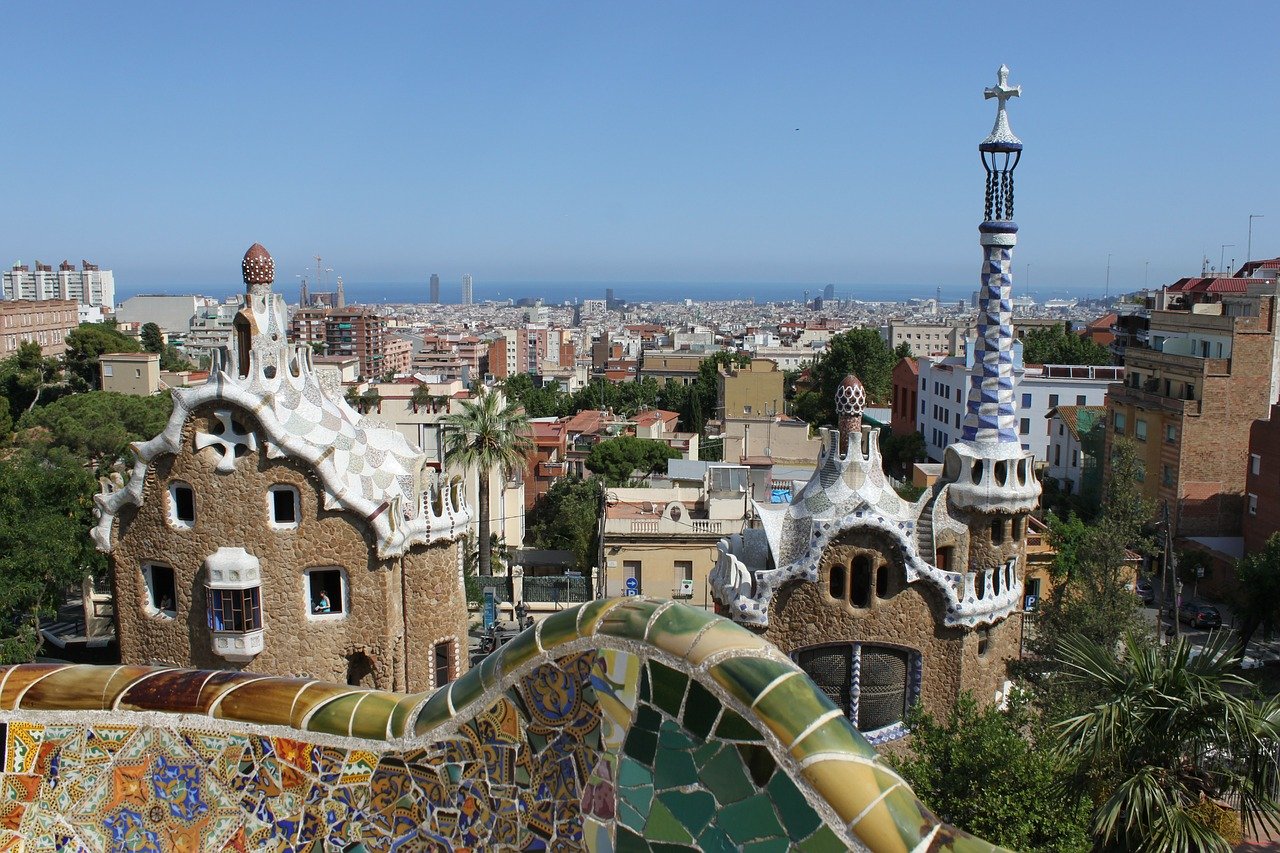 ---
I strongly advise purchasing your tickets online at Park Güell's official website. The entrance is only €8.50. Plus, the park is easily accessible by all means of public transportation and taxis, as explained here.
Hours throughout the year are as follows:
October 25th to March 28th, from 8:30 to 18:15 (last entry until 17:30)
March 29th to May 3rd, from 8:00 to 20:00 (last entry until 19:30)
May 4th to September 6th, from 8:00 to 21:30 (last entry until 21:00)
September 7th 4th to October 24th, from 8:00 to 20:00 (last entry until 19:30)
If a trek to Park Güell isn't for you, but you're still interested in seeing more of Antoni Gaudí's works, I would recommend booking a visit to Casa Batlló or La Pedrera. Both are absolutely astonishing and are located in Barcelona's city center.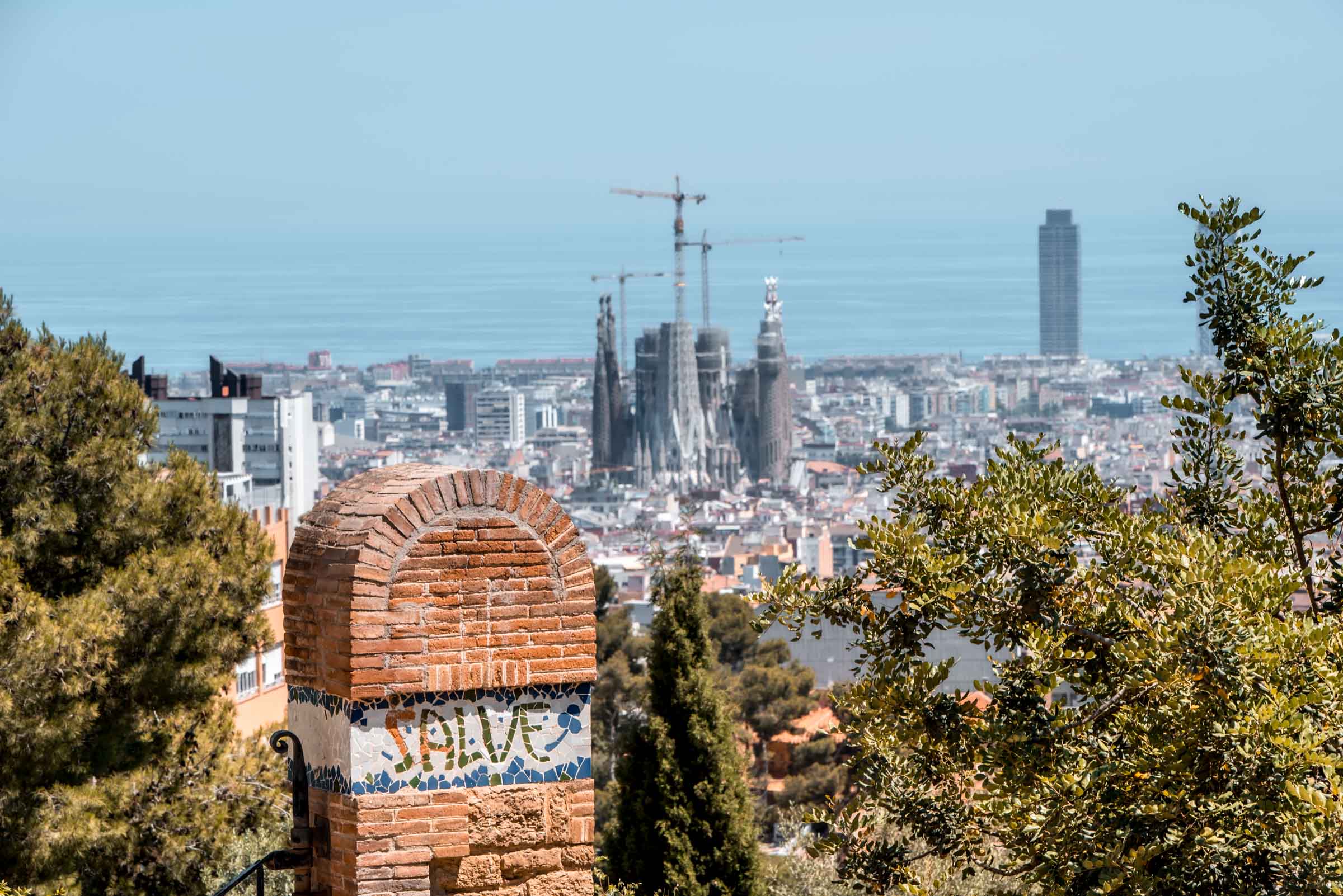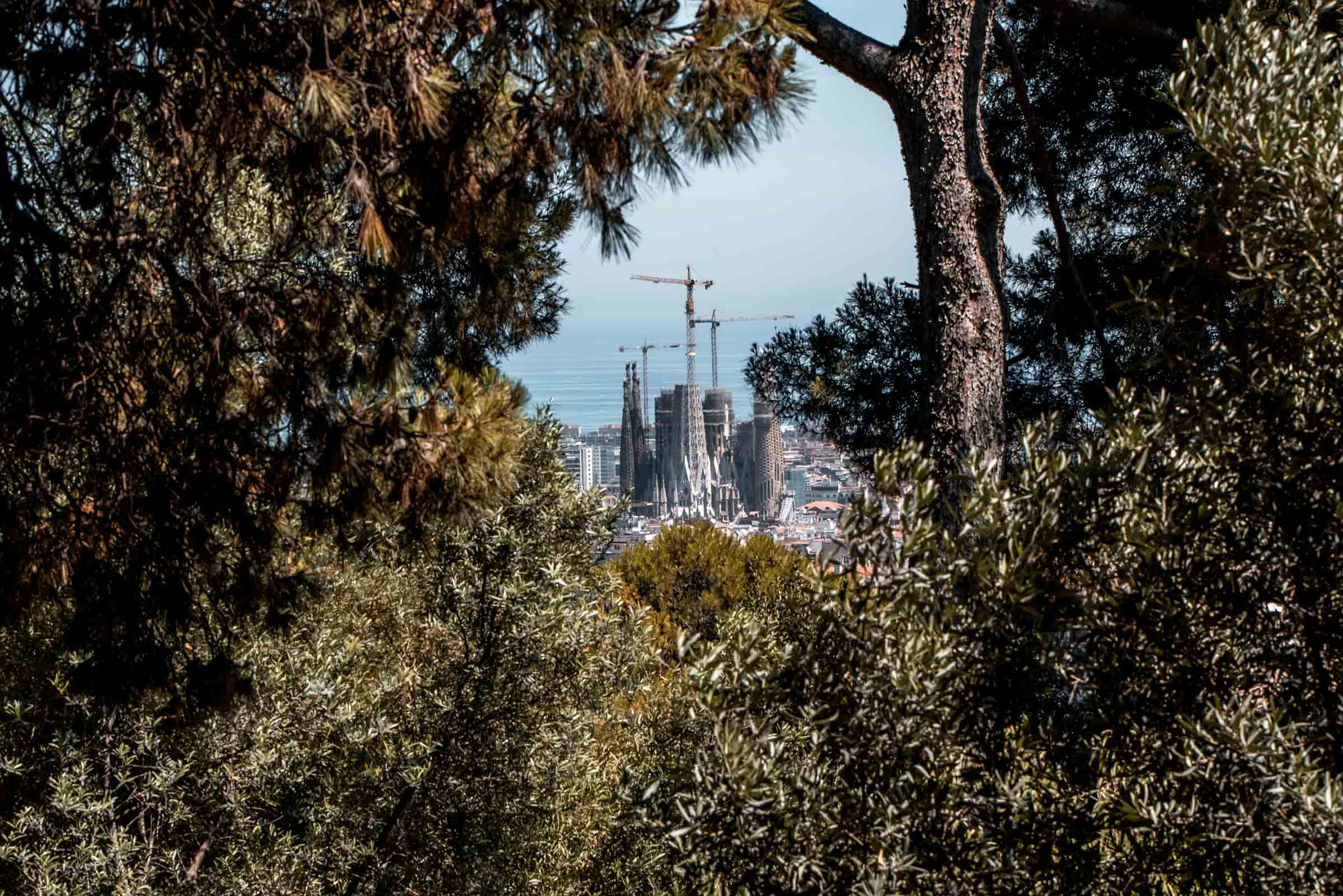 ---
HAVE A PAELLA ON THE BEACH DURING YOUR BARCELONA ITINERARY
Paella is a Spanish rice dish hailing from Valencia, a few hours south of Barcelona, and is one of the most well-known dishes in Spain. You simply can't visit the country without presenting your palate with a plate of paella.
There are a million and a half restaurants offering "the best paella in the city" (personally, some of my favorites have been homemade at small gatherings with friends), but many just fall short of that promise.
In fact, make sure you steer clear of any restaurant with photos on its menu, especially around La Rambla. I'm sorry, but it just screams tourist trap.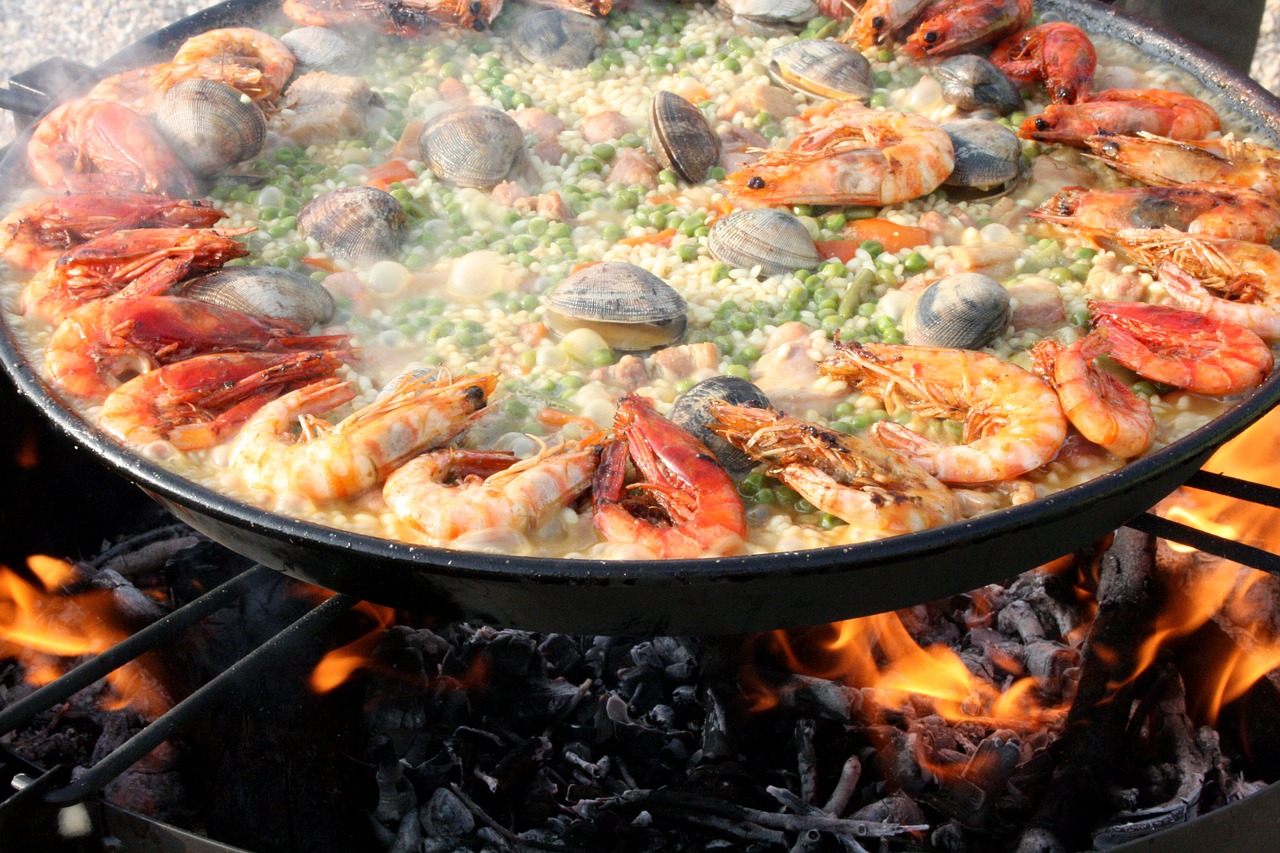 ---
My absolute favorite location for quality paella in Barcelona is Xiringuito Escribà. They've been operating since 1992 and are located right on the beach in the Poblenou neighborhood. Call ahead to make a reservation just in case—you'll want to shoot for the early afternoon (they won't be open until noon) in order to have a leisurely lunch and still have time for more activities later in the day.
My go-to meal here would be paella de marisco (seafood paella), croquetas, pan con tomate, and a huge pitcher of sangria de cava to wash it all down. Afterward, why not relax on the beach or go for a swim in the Mediterranean? It's not often you can enjoy some paella, sangria, and the Mediterranean all in one place.
Xiringuito Escribà (Av. De Litoral 62) can be reached by a 20-minute walk from either the Ciutadella Vila Olímpica or Llacuna metro stations on the L4 line. I recommend taking a taxi, however, unless you've got time for a leisurely beach stroll.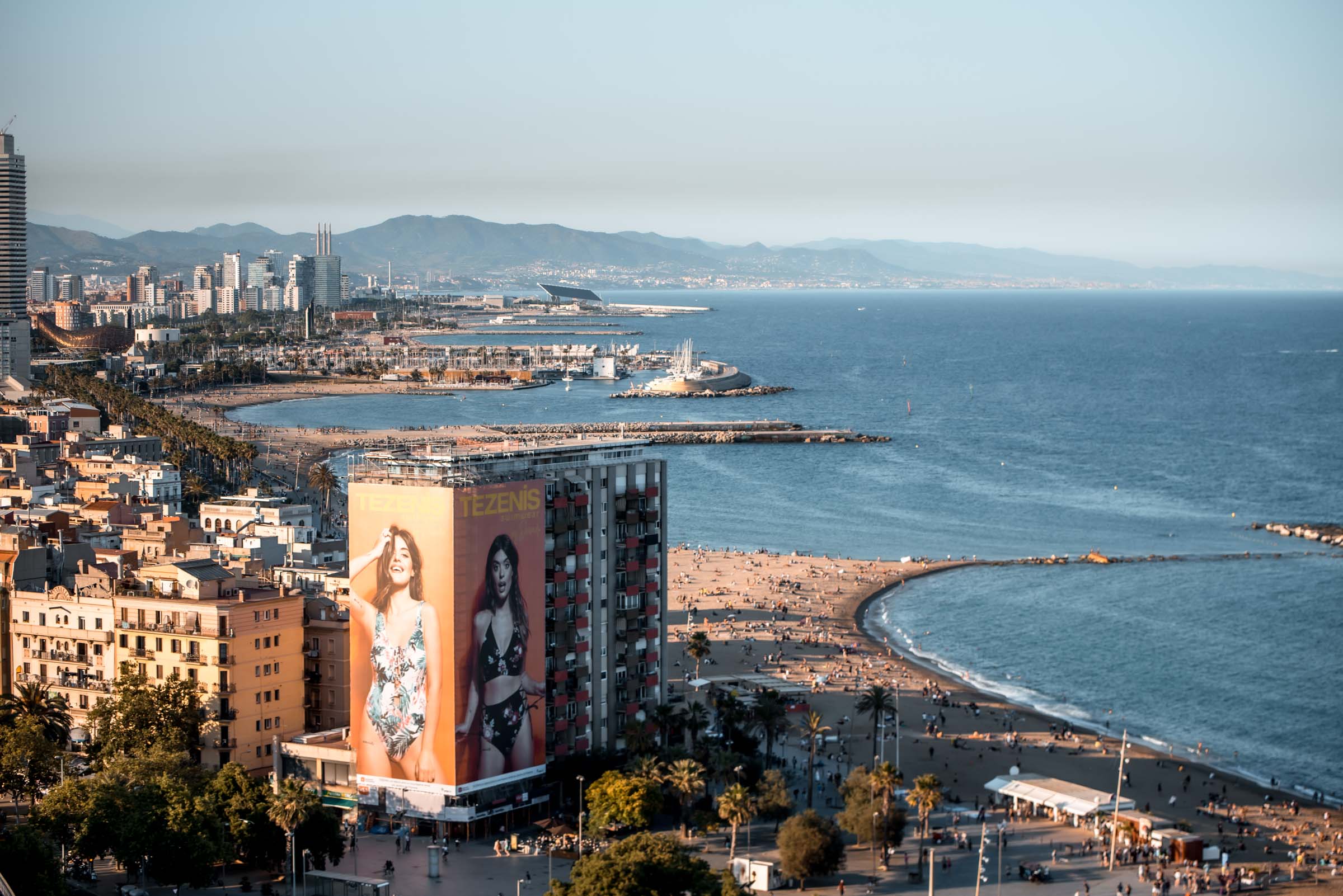 ---
HAVE SOME CAVA AT LA XAMPANYERIA, AN AUTHENTIC BARCELONA HIDDEN GEM
Cava is to Catalonia as champagne is to France or prosecco is to Italy. It's typical of the region and depending on the locale, you can find some quality cava for cheap. One of my go-to authentic haunts for a glass (ahem, bottle) of cava in Barcelona is La Xampanyeria (aka Can Paixano).
You'll need to order something to eat with your drinks (house rules), but the small sandwiches and tapas here are great afternoon snacks. Conveniently located in the port, this place gets raucous with locals and tourists alike in the later afternoon to evening. Squeeze in, order come cava (I personally like the rosé), and live like a local.
La Xampanyeria (Carrer de la Reina Cristina 7) is open 9 am-10:30 pm Monday to Sunday. It is most easily reached by the L4 metro line from the Barceloneta stop.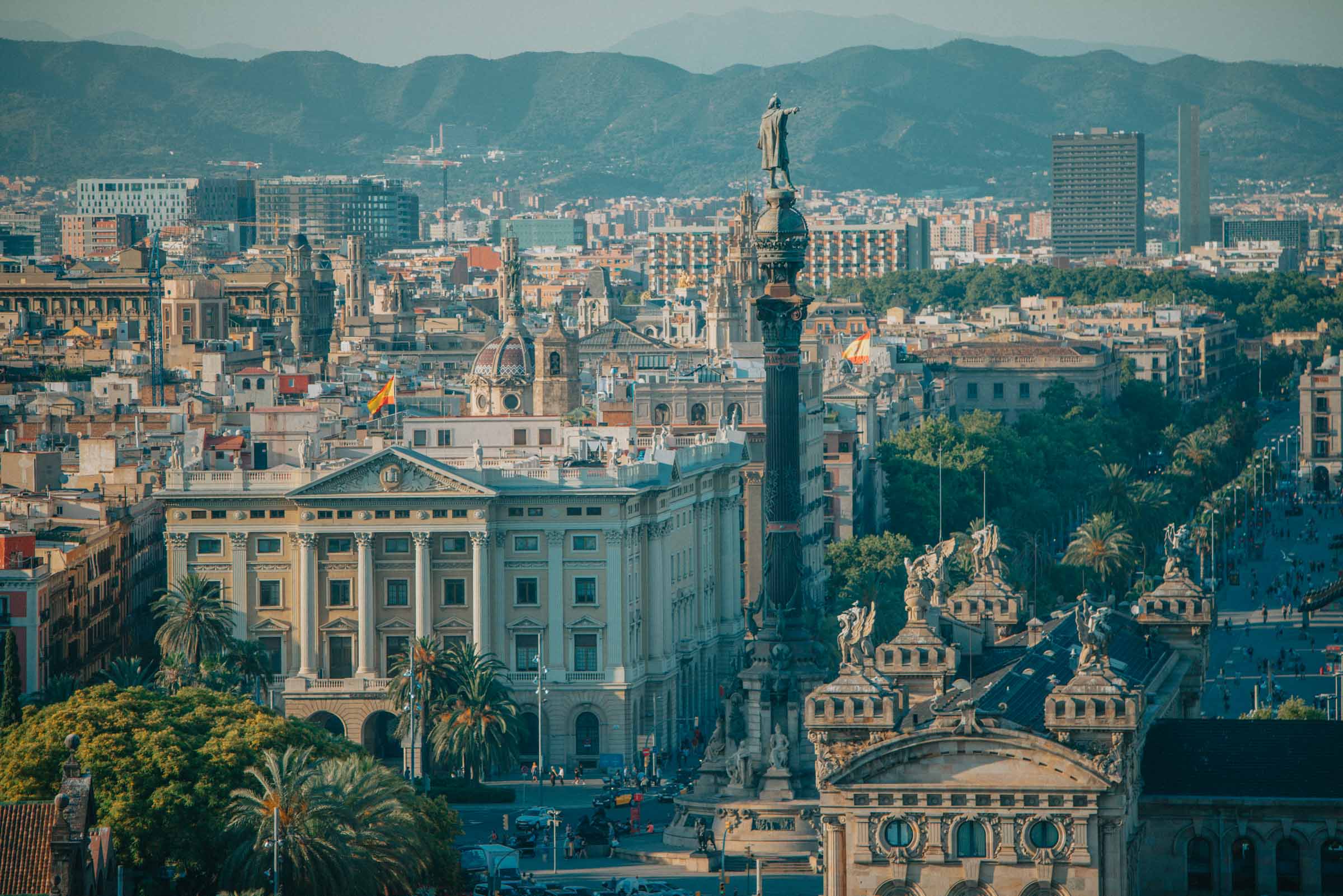 ---
CLIMB THE MAGIC FOUNTAINS FOR THE SUNSET AND A SHOW
Barcelona truly is a city of endless views, and one that many visitors to the city may not see is actually one of the best. The Magic Fountains of Montjuïc, located just past bustling in front of the Museu Nacional d'art de Catalunya, is a delightful way to end 2 wonderful days bouncing around beautiful Barcelona. The fountains light up, synchronized to music, every half hour for a delightful display.
If you're here between Thursday and Sunday, you may be able to catch the show once the sun sets. Regardless, the perfect place to take in the sunset is right around the corner. You can practically feel the electric vibes of the city as the Spanish sun sets and the lazy lights of the city come to life. Take the escalators to the top of the area, just in front of the MNAC on the stone steps. From there, you can relax, maybe sip some wine, and take in the atmosphere.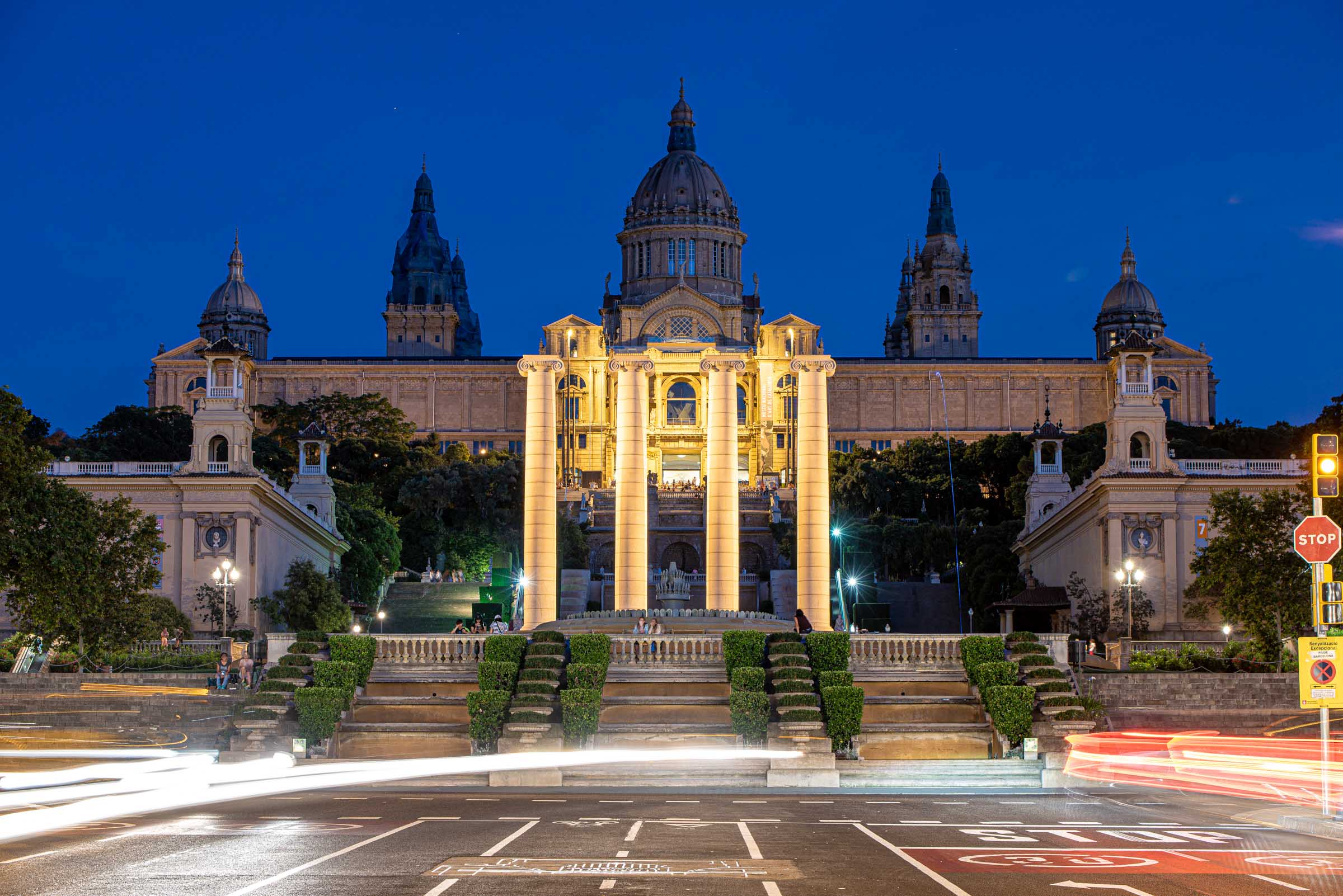 ---
NIGHTLIFE PART TWO, SPANISH BOOGALOO
Once again, it's time for drinks, dinner, and dancing. If you haven't sampled paella or traditional tapas yet, I'd recommend either as an option for your final foreign fare in Barcelona.
Below, you'll find a short list of some of my favorite dinner spots. You'll also find a few recommendations for drinks and clubbing. Pace yourself and enjoy.
Best PARTY in BARCELONA - TOP10 Nightclubs 2022
---
QUICK BARCELONA TRAVEL TIPS
Pickpockets – pickpockets are, unfortunately, a very real problem in Barcelona. ALWAYS keep your things in your front pockets or within your field of view, and never take items like your passport or other important documents out with you. There are millions of amazing locals in this city, but I do recommend being a bit on guard when in high-density tourist areas like public transportation or La Rambla.
Maximize your time, but don't do too much – you're only here for so long, so do as much as possible, right? Kind of. Barcelona is a surprisingly fast-paced city due to the millions of things there are to do here. Pick a few, hit your top attractions, and save the rest for return trips. I'm sure you'll visit again once you see how amazing this place is.
Mañana, mañanan, no pasa nada – This is Spain, and oftentimes you'll find shops closed at inopportune afternoon times or customer service to appear lacking. In general, the culture is just different. Spaniards know how to let things roll off their backs and aren't as caught up in the go-go-go lifestyle, so keep that in mind when ordering at a restaurant or going about your day.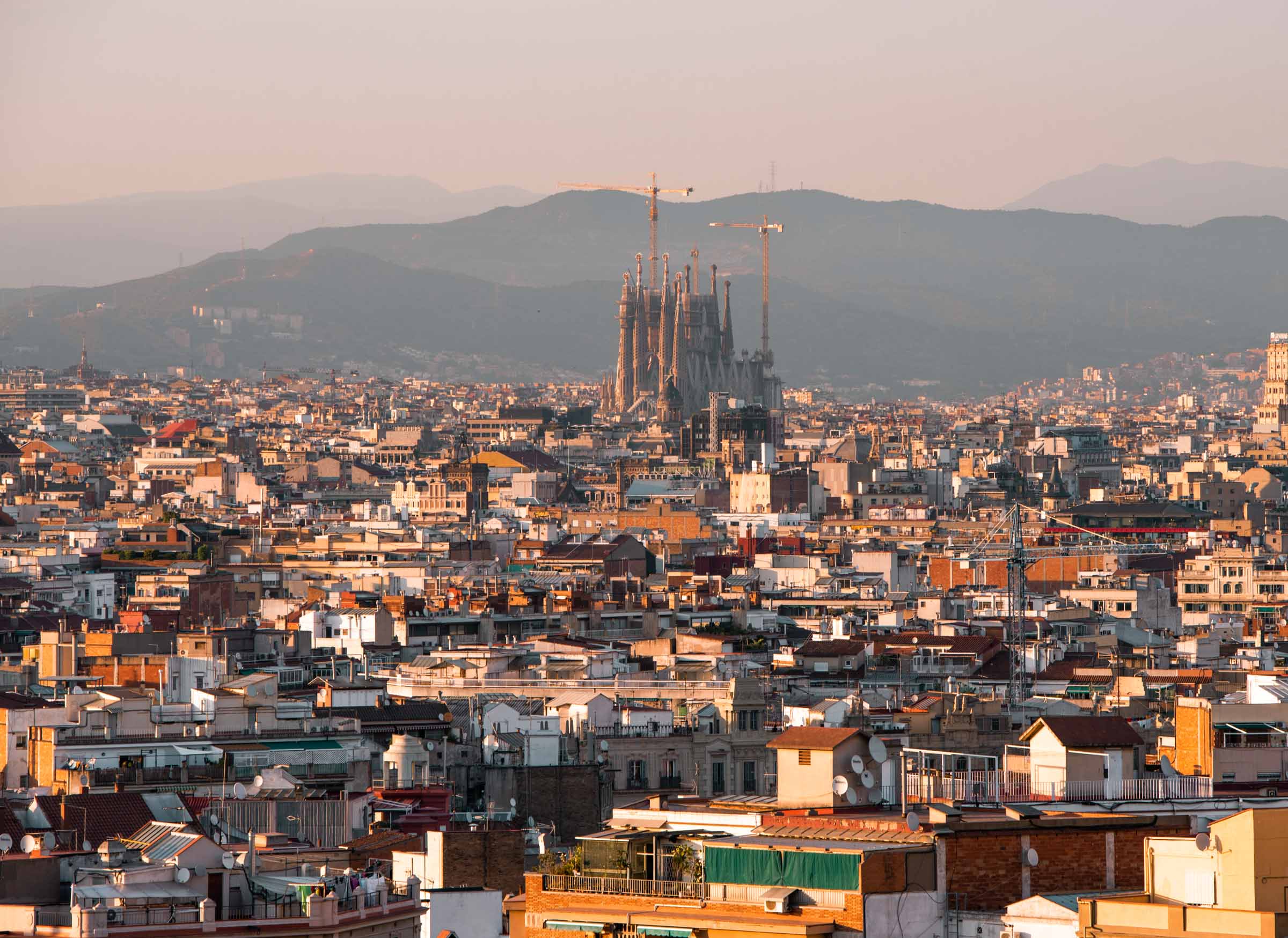 ---
MORE THINGS TO DO IN BARCELONA IN 2 DAYS
Keen on swapping activities on this itinerary? Here are other places to see in Barcelona in 2 days:
Camp Nou – If you're an FC Barcelona fan, you absolutely have to go see a match at this stadium. Tickets can be purchased through their official website. If the squad isn't in town during your visit (the season is from September into April/May, depending on the year), you can always take the Camp Nou Experience tour.
MNAC – Barcelona's National Museum of Catalan Art. There are often fantastic temporary exhibitions, and the permanent collection is quite impressive. Even walking around the old palatial building and surrounding area (the main area for many 1992 Olympic events) is a great way to spend an afternoon.
Tibidabo – the highest mountain surrounding Barcelona, you can take the funicular up here and see the old amusement park. The views are stunning, especially from the Cathedral, which sits high above the city.
Museo Picasso – are you a fan of the famous abstract painter? If so, the Museo Picasso should definitely be on your to-do list.
MACBA – Barcelona's Museum of Modern Art. The whole area is just buzzing with culture, from the skater hotspot out front to the elegant modern interior and the various exhibitions.
The beach – Barcelona's beaches become overrun with tourists and vendors in the summer, which is why I shy away from La Barceloneta and nearby areas. Going a bit more north to Bogatell or further may help get you on the sand and away from the crowds. A day trip to Sitges or Castelldefels is also a wonderful idea.
Montserrat – if you have the time for a day trip and hike, this famed holy mountain is about 2.5 hours by train from Plaça Espanya. Plan your day around it and hike all the way to the top.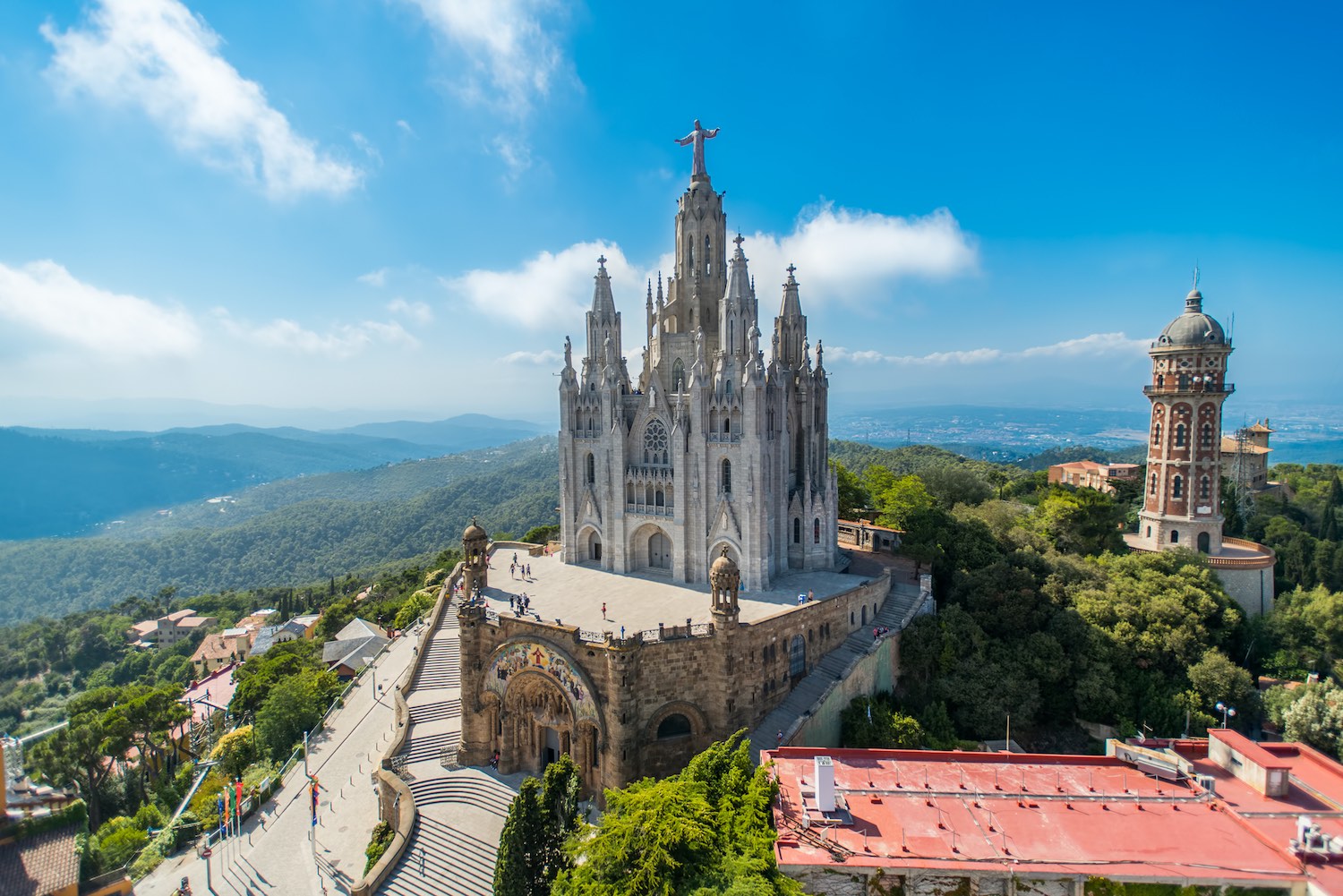 ---
WHERE TO HAVE TAPAS/CASUAL FOOD IN BARCELONA
Bo de B – the freshest, most flavorful sandwich shop in the world. I recommend chicken, beef, or salmon. Don't forget the patatas bravas.
La Catalana – This place is great for lunch or dinner, but I recommend dinner around 8:30-9 pm. Yes, there will be a line, but it moves pretty fast, and you can have a drink and tapas at the bar while you wait. The restaurant features a lovely menu of traditional Catalan shared plates.
Jai-Ca – Located in Barcelona, Jai-Ca has one of the most authentically Catalan and Spanish menus in the city. The mejillones (mussels) are a must.
Carrer de Blai – if you've got time for a progressive/moving meal, hit up a few bars along this avenue in the Poble Sec neighborhood. Each bar has its own spread of pintxos (small bite-sized morsels of flavor). Have vermouth, wine, or caña, and sample what each locale has to offer. You'll keep track of what you eat/what to pay based on the toothpicks left on your plate.
El Pachuco – This is hands down the best Mexican food spot in the city. My recommendation? Order the nachos and a mezcal margarita.
EPIC Barcelona Food Tour (10 AWESOME Stops!)
---
WHERE TO HAVE BRUNCH IN BARCELONA
Milk/Marmalade/Firebug – All under the same ownership, these places offer my favorite brunch in the city. Hit whichever is closest to your accommodation, and don't forget the mimosas. I recommend the eggs benedict royale.
---
WHERE TO HAVE DINNER IN BARCELONA
Arrosseria Xàtiva – Located in the Gràcia neighborhood, this is a fantastic go-to for paella and other rice dishes. My favorite, by far, is the arroz negro, a dish made with cuttlefish and rice.
La Malandrina – A Uruguayan steakhouse where you'll really need to fast in order to take down the whole meal. I recommend sharing a mezcal margarita with a friendly stranger, with patatas a la crema as your side dish.
Sensi – Sensi boasts various locations around Barcelona, my favorite being Sensi Bistro. This place is an upscale tapas joint specializing in extremely flavorful gourmet shared plates.
Tickets – Tickets, if you can splurge a couple of hundred euros per head, is a magical experience (or so I'm told; I still need to go). Run by Albert Adriá, one of the world's top chefs and brother to culinary legend Ferran Adriá, Tickets is one of a handful of Adría restaurants worth making a reservation for months in advance.
Bar Gresca – Located in L'Eixample, Gresca Bar is the more casual side of Gresca, a top-of-the-line experience for contemporary dishes showcasing seasonal ingredients.
Barceloneta – sharing the name of the Barceloneta neighborhood, this place is one of the best upscale spots in the city. Located in Port Vell, it's a must-do for those looking to have a bit more on a dinner out.
Barcelona Food guide: the best restaurants, food, and tapas in this city build on nibbles.
---
WHERE TO DRINK IN BARCLEONA
Nevermind – A skater dive bar with two locations, each having literal half pipes inside where patrons sit and drink. Great for cheap beers and a punk atmosphere.
Espit Chupitos – This place has literal HUNDREDS of specialty shots starting at €1. You'll want to try a few on the menu, especially the ones in red (they light these on fire).
L'Ovella Negra – Another staple with the younger local and tourist crowd, Ovella Negra (the Black Sheep) has a smaller location in the Gothic Quarter and a larger warehouse location in Poblenou. Both offer 5-liter beer and sangria towers, and the larger location is a great place to catch an FC Barcelona match on TV.
Craft Barcelona – the best craft beer bar in the city. They have live music or comedy most nights for your enjoyment, and have a casual, easy-going atmosphere making it a perfect place to meet other people.
Antic Teatre – a local hotspot, this terrace bar is located in an open-air courtyard just around the corner from the magnificent Palau de la Música, a UNESCO World Heritage Site. It's perfect for meeting friends and having a relaxing drink. There's no advertising or signage, so you may need to look around a bit.
Pipa Club – a longtime staple in Barcelona's alternative and jazz scenes, this speakeasy-style bar located in Plaça Reial is a great place to show friends and seem like you're "in the know." Open late, so you can end your night here as well.
Dow Jones — Named after the U.S. stock market index, this quirky bar sells drinks with prices based on their popularity during the evening. While here, be sure to try the "hand of God." I won't give much away but say it's a unique drink. Good luck. If you're looking to enjoy watching American sports while drinking a refreshing beverage, they'll have them on, too.
Barcelona's Best Cocktail Bars | Barcelona City Guide | Rich Hunt
---
WHERE TO GO CLUBBING IN BARCELONA
No two days in Barcelona itinerary would be complete without experiencing the best of the city's nightlife:
Razzmatazz – This is by far my favorite club in the city. This place is a huge, five-room warehouse-style venue that houses anything from popular live touring bands to various local and international DJs spinning everything from Brittany Spears to the darkest techno, depending on the night and the room. Check out their schedule and see if it's right for you.
Opium/Shoko/Pacha – This is all on the beach with terraces exiting right onto the boardwalk. General free entrance utilizing the promoter lists through their official website; just say you're on the list at the more. Very touristy. Most nights are EDM, hip hop, RnB, reggaeton, and commercial hits
Apolo – This club is one of the oldest dance halls in Barcelona, and that's really saying something. The weekends are generally geared toward top-notch house and techno, with various events throughout the week, from touring indie bands to an 80s night to the famed Nasty Mondays (you'll just have to try that one out for yourself).
Music festivals – There are loads of events in the spring and summer months, such as Brunch In The City, Primavera Sound, Sonar, and many, many more. There's always something going on in Barcelona, especially when it comes to dance music.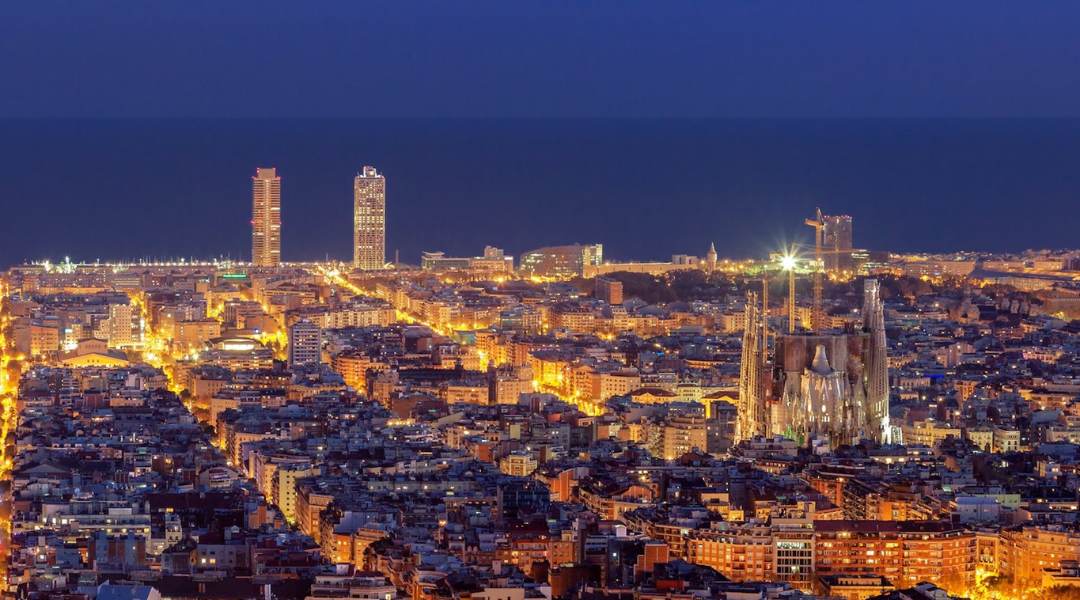 ---
AM I MISSING ANYTHING FROM THIS 2 DAYS IN BARCELONA ITINERARY?
Having lived in Barcelona for a brief period of time, as well as having visited here more times than I can count, I think I've put together a pretty incredible guide for anyone visiting this stellar city.
However, if you've been to Barcelona and discovered some hidden gems you think should be included on this list, please do let me know. There are plenty of places to visit in Barcelona in 2 days. And I'm always planning return visits to the city and would love to add some new items to my Barcelona attractions.
48 HOURS IN BARCELONA | What to do, see and eat
---
PLANNING A TRIP TO SPAIN & EUROPE?
My travel blog is filled with tons of helpful destination guides, things to do, and helpful itineraries that I guarantee will be helpful for your upcoming Europe trip. I'd love for you to take a look, and feel free to reach out with any questions.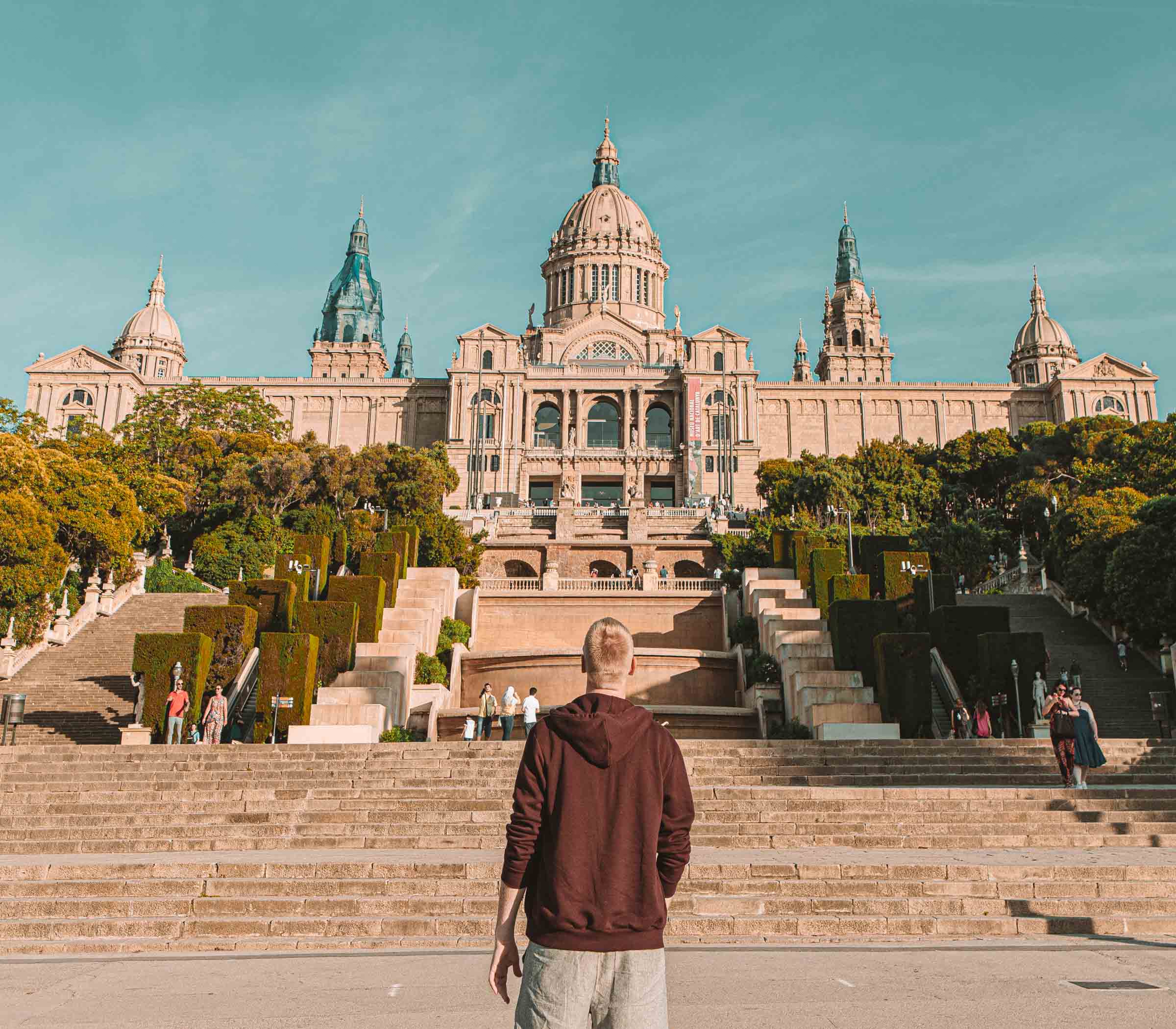 ---
THANKS FOR READING MY 2 DAYS IN BARCELONA ITINERARY
SHARE THIS BARCELONA ITINERARY WITH YOUR BCN TRAVEL CREW!
https://www.jonesaroundtheworld.com/wp-content/uploads/2020/03/2-Days-in-Barcelona-Itinerary.jpg
1156
1500
Dave
https://www.jonesaroundtheworld.com/wp-content/uploads/2017/03/logotry-1-1-300x106.png
Dave
2023-05-07 20:13:50
2023-05-10 04:34:44
The Ultimate 2 Days in Barcelona Itinerary & Travel Guide