Planning on spending 2 days in Athens? As a city full of history, character and charm, you might wonder how you can tip all of it into just 48 hours? Well, you're in luck that Athens also happen to be a very compact city, giving you the option to see a lot in a short space of time.
There is actually so much that you can see in just one day alone, and all of it is well within general walking distance of the centre, In fact, you will find that 48 hours is actually the perfect amount of time to spend in the Greek Capital city of Athens.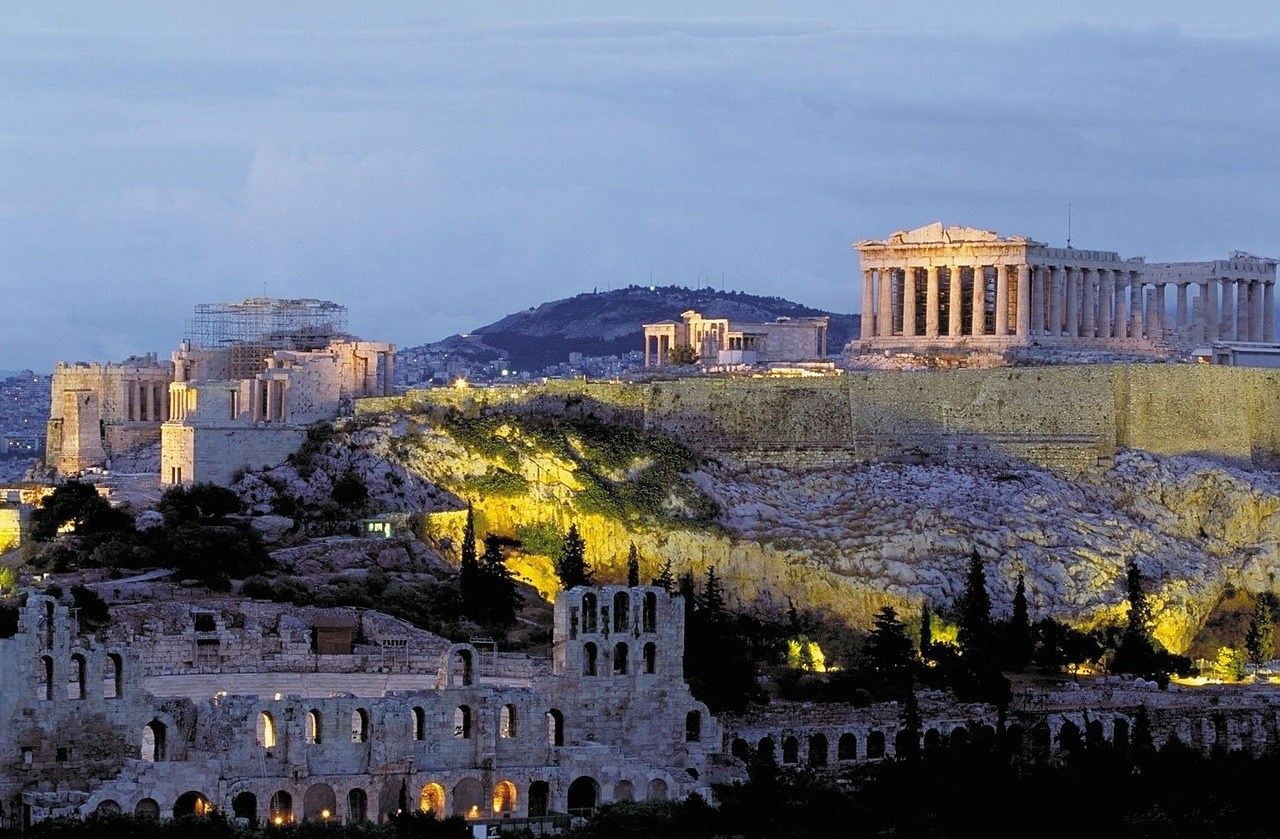 ---
Where to Stay in Athens for 2+ Days
360 Degrees Hotel – Best Hotel for Couples & Families.

In the heart of the city centre, 360 Degrees Hotel is located just a few steps away from the popular and ancient Acropolis.

It has a warm and cosy atmosphere, with air conditioning, free wifi and a free bar.

Additionally,

breakfast is included and all rooms are overlooking the Monastiraki Square and the ancient Acropolis.

This hotel has amazing reviews, a top-notch rooftop bar, and is simply perfect for couples, families, and groups of friends who want to be right in the middle of everything and still pay a very reasonable price

.

Airbnb – In the past few years, I've been using Airbnb a lot more often! I think it has one of the best user experiences, and I just love the website. Athens has some really incredible properties to choose from, and if you sign-up for a new account you'll get $40+ Off Your First Stay which can actually make a big difference. For example, for

just €105 Euro per night, you can experience living in a super luxurious private apartment. Ideally located right in the center of Athens and within only 2 minutes walking dance to the nearest metro station.

Up to four people can stay here at once; perfect for couples, a small family or even a small group of friends (makes costs lower if you can share)! Hosted by a 5 star Airbnb Superhost, this place has great reviews and looks stunning. You definitely won't go wrong with choosing to stay in this gorgeous Greek apartment.

Bed Station Backpackers Hostel

.

Perfect for backpackers, Bed Station is a super modern and cosy hostel located right in the very heart of historic Athens. With spacious bedrooms, a balcony view of the Acropolis and a super chilled out vibe. Bed station also add in those little extras such as pod-style bunks with curtains, coffee machines in each room and a huge shared working space too (perfect for digital nomads!).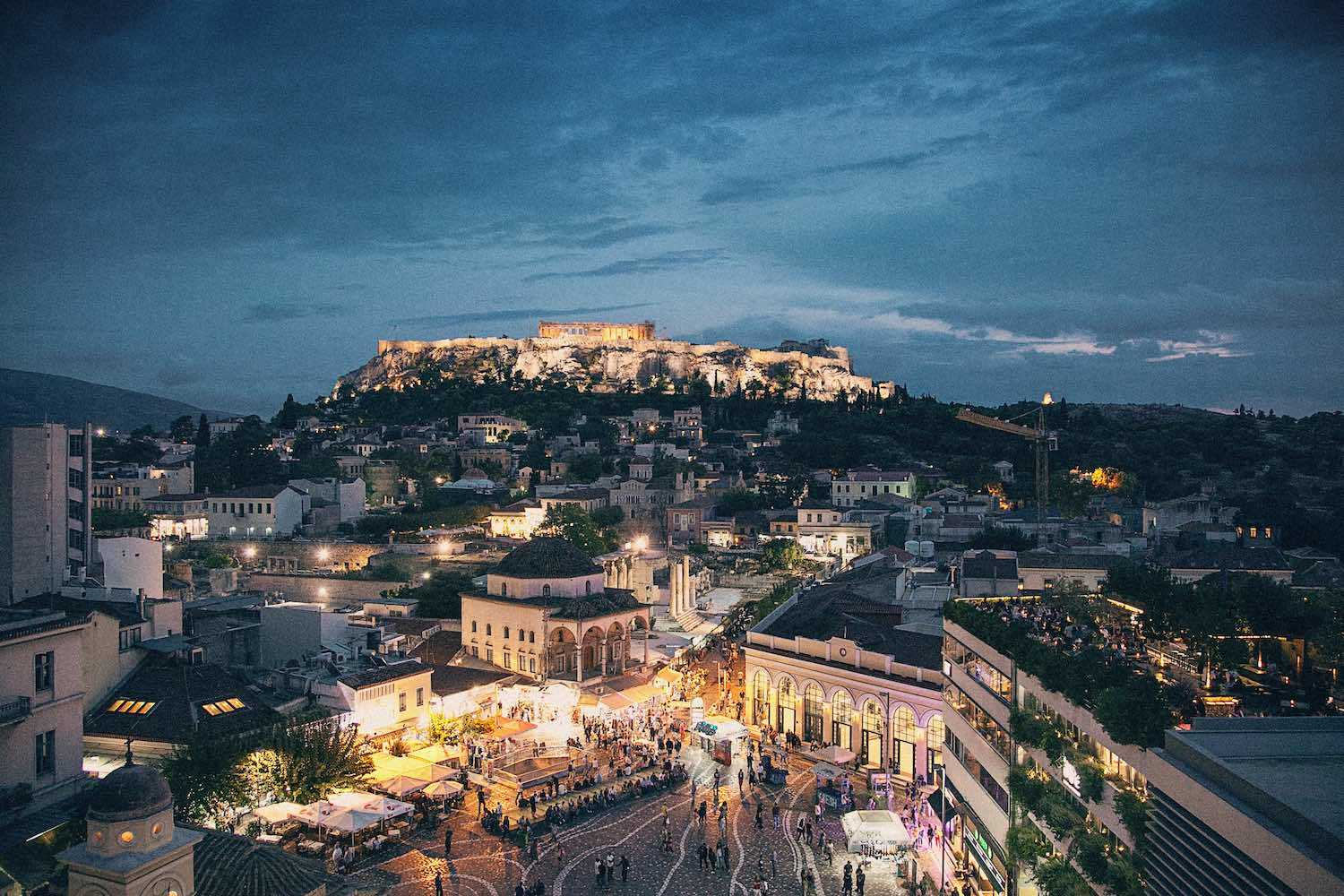 ---
Getting Around Athens
When I visited Athens I personally found that most of the popular places can easily be reached on foot. As a fairly small city, pretty much everything is within a very easy walking distance and also makes for the perfect way to view the city at a nice pace.
However, at only 1.4 Euros per 90-minute journey; the Metro system is the fastest, easiest and most efficient mode of transport. It runs daily from 5 am until midnight, and some lines run until 2 am on weekends!
There is also an extensive network of buses and trolleybuses within the city. Giving you a great variety of choice when it comes to easily navigate your way around the city of Athens.
I'd also look into this 3.5-Hour Morning Bike Tour, as it's a super fun introduction to the city! "See the sights of Athens by eco-friendly bike at a relaxed pace on a 3.5-hour sightseeing tour. Pedal past must-see locations and hidden spots, including the Panathenaic Stadium and Roman Agora. Get insider tips and stop for a coffee in Thission."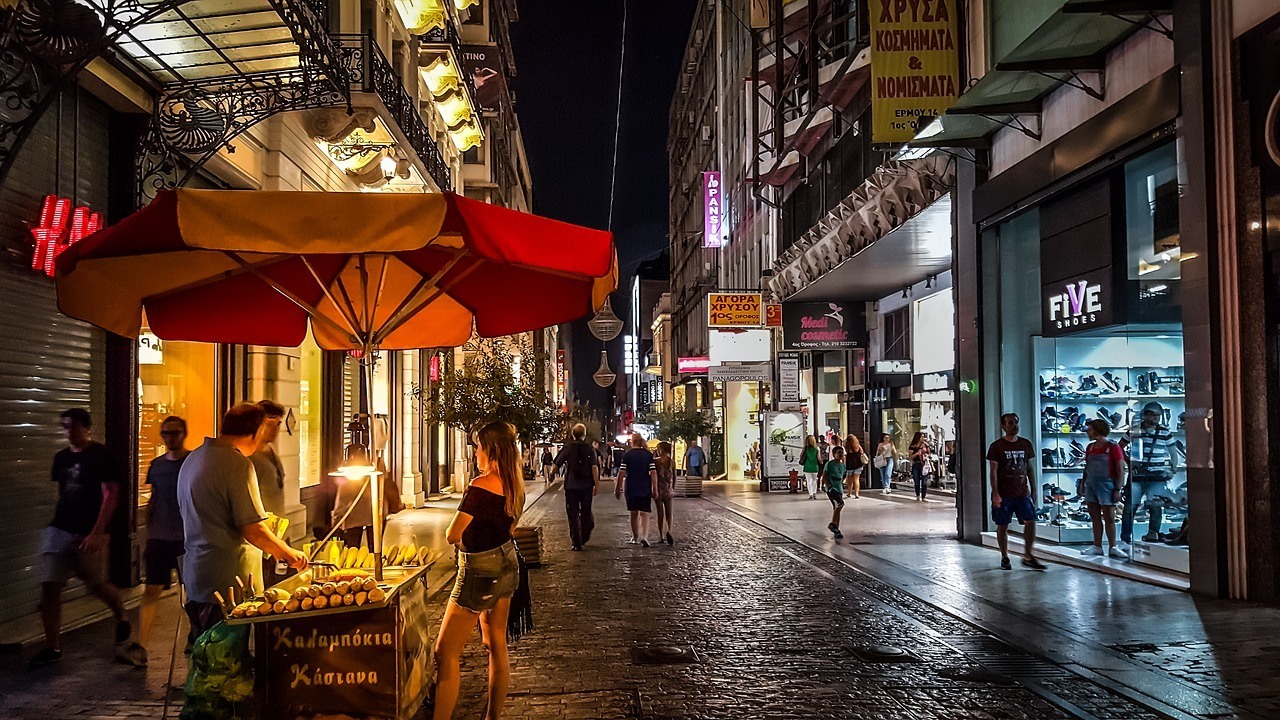 ---
What To Do in Athens In 2 Days
If used wisely, two days in Athens can be quite the perfect amount of time to see most of the city's main attractions, as well as gorge on the best tzatziki in the world ;-) Here's what I recommend doing with your 2 days in Athens!
The Changing Of The Guards at Syntagma Square
The Presidential Guards are easy to find; they stand proudly day and night 24/7 by The Tomb of the Unknown, which is just in front of the Parliament building. I actually stumbled across the changing of the guards taking place completely by accident when I happened to be visiting the Parliament building in Athens a few years ago.
However, I later learned that this isn't too hard to do by accident, since the changing of the guards actually takes place every hour, on the hour! This gives you plenty of time to work seeing them around your busy day.
However, if it's a more spectacular performance you would like to see. Then make sure to get there for 11AM on a Sunday. This is where there is a much larger and elaborate performance which always attracts much larger crowds.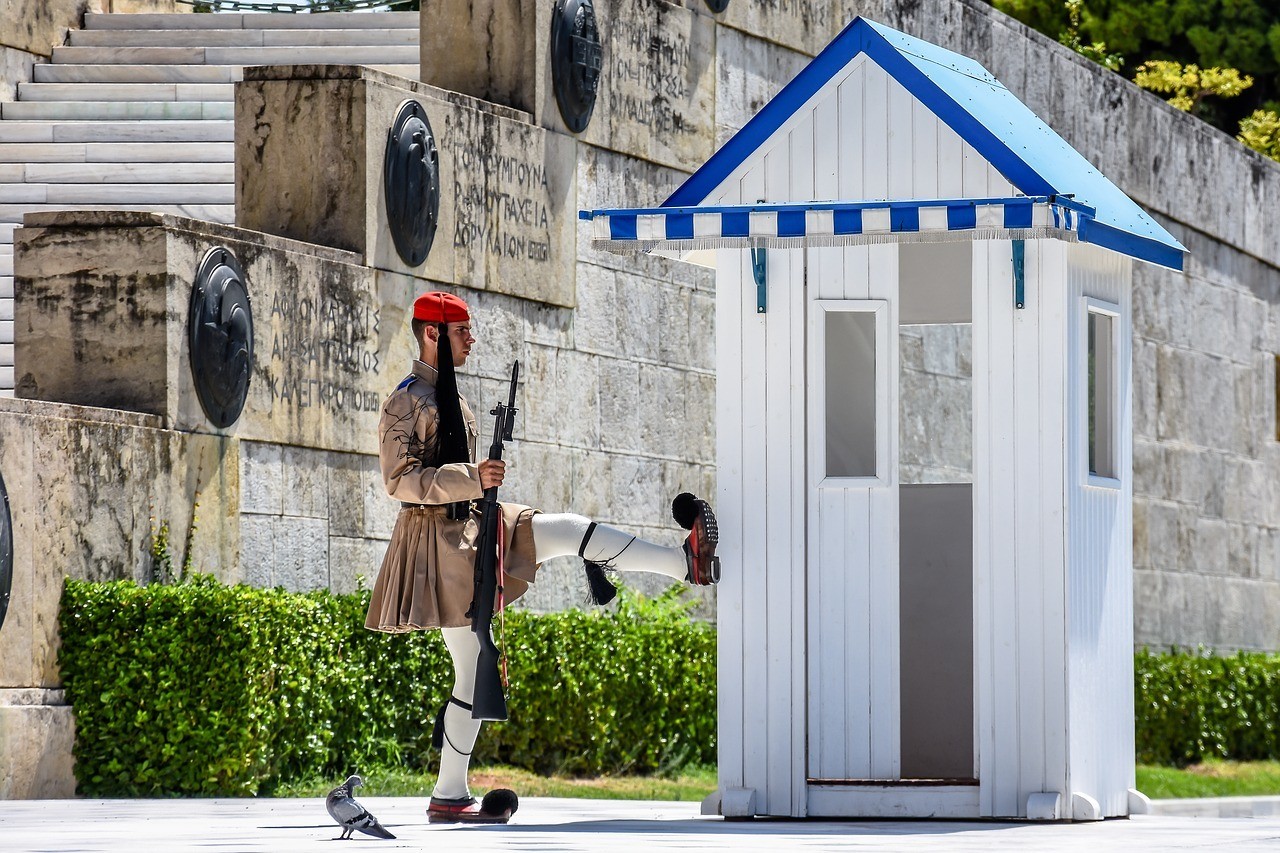 ---
Panathenaic Stadium
Conveniently located at just a short walk away from The Tomb of the Unknown Soldier (mentioned above), you can find the Panatheniac Stadium.
With so much history, beginning in the late 5th century BC the stadium was built as a venue to host sporting events such as part of the Panathenaic Games (one of the city's major celebrations). And in slightly more recent history the stadium was actually used for hosting the first-ever modern Olympic Games which took place in 1896.
This is easily one of the main historic attractions in Athens and is absolutely a must-see!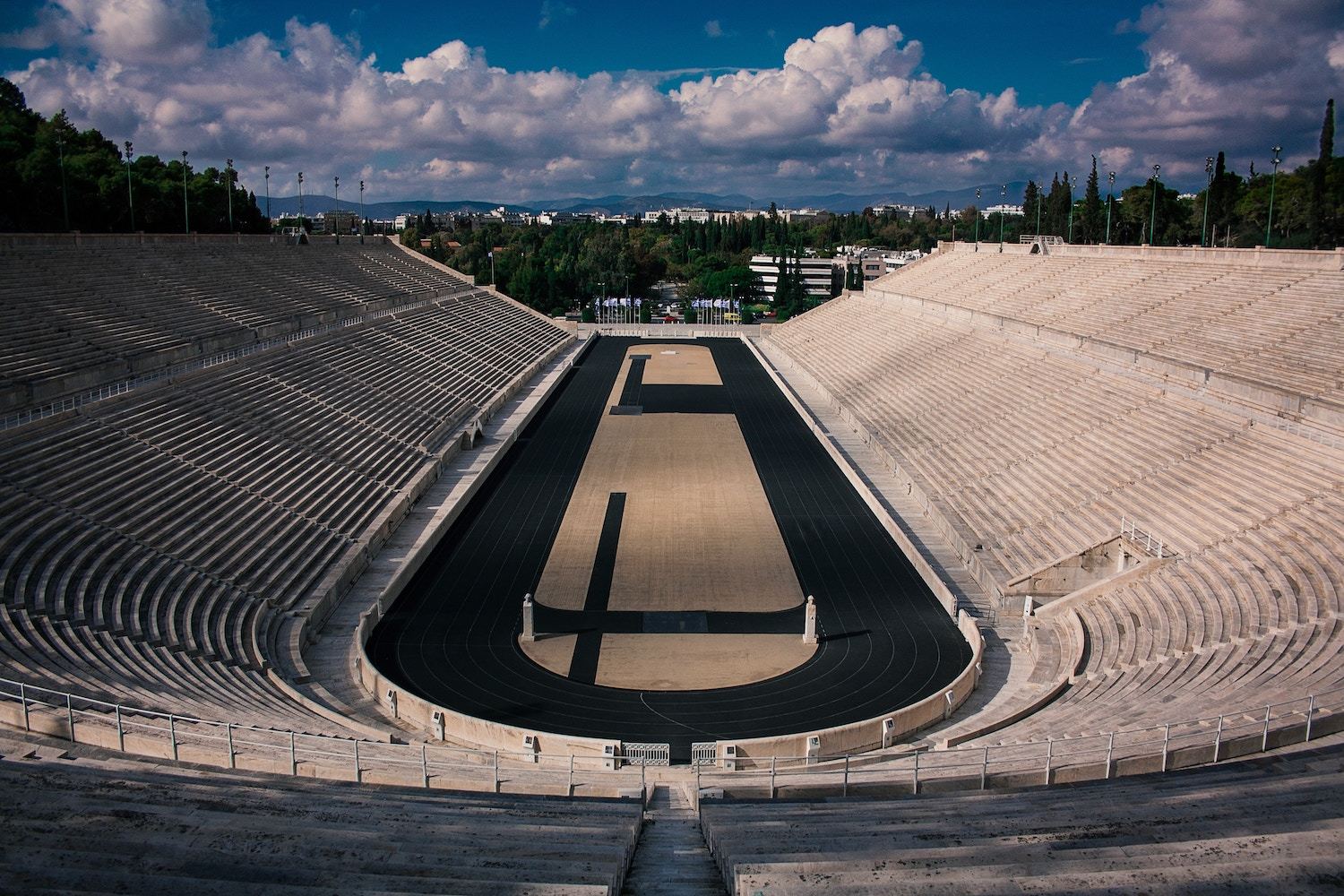 ---
The Temple of Zeus
Also known as Columns of the Olympian Zeus. This is a former colossal temple in the center of Athens. It was created in dedication to the Olympian Zeuz, who is represented as the head of all Olympian Gods.
Personally I loved seeing this during my time in Athens. It's also within viewing distance of the Acropolis, so if you are at the right angle you can photograph both of these impressive structures in the same frame.
Athens Travel Tip – Close by is also Hadrian's Arch, which is en route to the Acropolis. Definitely make sure you stop by and see it on your way.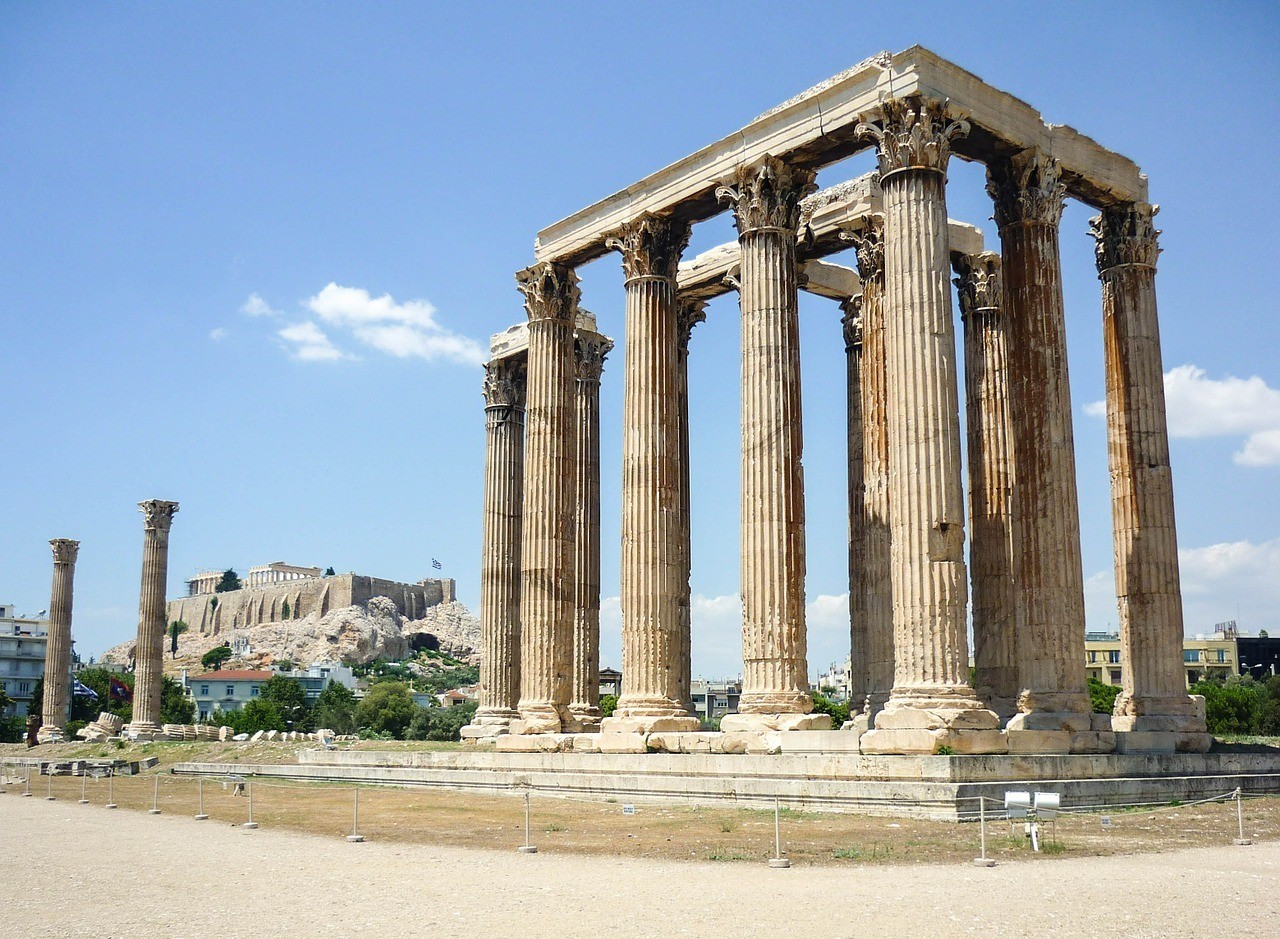 ---
The Acropolis and Parthenon
Without a doubt, the most famous and well-visited monument in Greece is the Acropolis. It is the most iconic landmark in Athens and is visited by hundreds of thousands of people annually!
The Acropolis consists of several monuments. Many of them being built on prehistoric temples of Sacred rock during the 5th Century BC. The Parthenon is by far the most famous structure within the Acropolis, with the Odeion of Herodes Attikus and Erechtheion being others to name a few.
It can be quite confusing knowing where to go when visiting the Acropolis complex. Due to my low backpackers budget, I personally opted to only view the free elements up close and to see the more costly structures from further away. But for only 20 Euros it is well worth paying to go inside the entire complex to see it all up close.
With such a strong historical significance, I'd recommend this Acropolis Guided Tour with Skip-the-Line Ticket to learn all about it! "Skip the ticket lines to the Acropolis and see the most famous monuments of Athens. Discover the birthplace of Western civilization and hear fascinating myths of ancient Greece from a licensed guide. Later take extra time to explore the hill on your own."
Book your Acropolis Skip-The-Line Ticket Now!

---
The Acropolis Museum
With three floors full of stories, artifacts, and statues, I personally learned a lot of impressive facts about the findings of the famous archaeological site of the Acropolis as well as the stories of Athena and so much more during my visit to the Acropolis museum.
It's also a great place to visit if you aren't too familiar with the history of Athens and the Acropolis. I personally made the visit after viewing the Acropolis as it is ideally located just on the way down as you head back into town.
The Acropolis Museum Ticket & Access to Ancient Excavation: "Visit the New Acropolis Museum, founded in 2009 to exhibit all major finds from the Sacred Rock and its foothills. Divided into 4 main galleries, the collections feature items formerly held in other Greek museums and returned from foreign museums.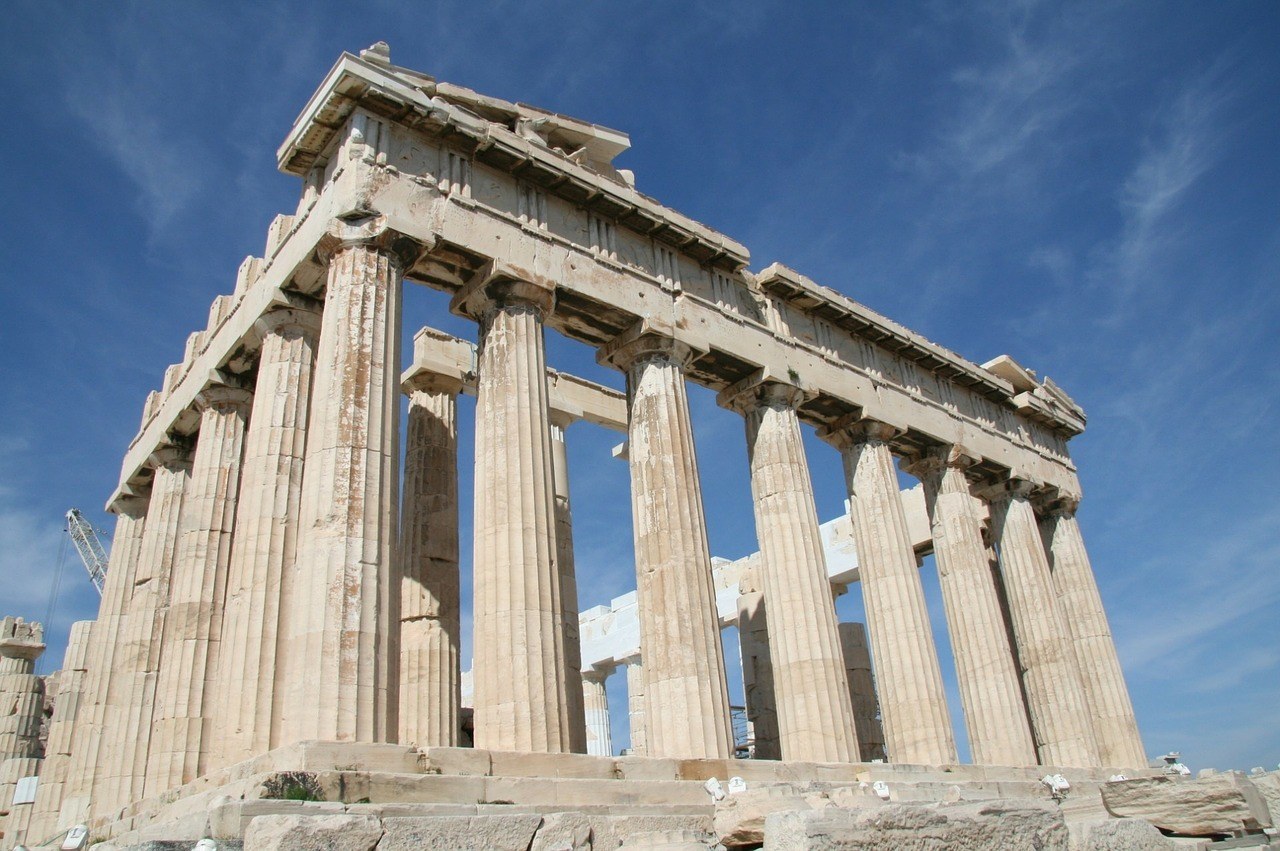 ---
The Ancient Agora
After visiting the Acropolis, it is definitely possible to sneak in a quick trip by the Ancient Agora. You will pass by this ancient archaeological site just as you are walking down towards the city center from the Acropolis, which makes it a perfect stop before lunch.
In history the Ancient Agora was a place of community and bonding. Anyone from Sophocles and Socrates to everyday citizens would congregate here to discuss all kinds of issues from political ideas to raising concerns about the city. It was and still is to this day known as a place that represents freedom, justice, and equality.
"Just about every ancient and modern city includes a place for an agora, and the Agora of Athens, being located at the heart of the city, remained in use either as an assembly, as a commercial, or as a residential area for about 5000 years. Consequently the area has undergone countless building, destruction, and rebuilding cycles. Today this strata of history has been distilled through excavations to expose the Agora's important functions from Archaic to Greco-Roman and Byzantine times.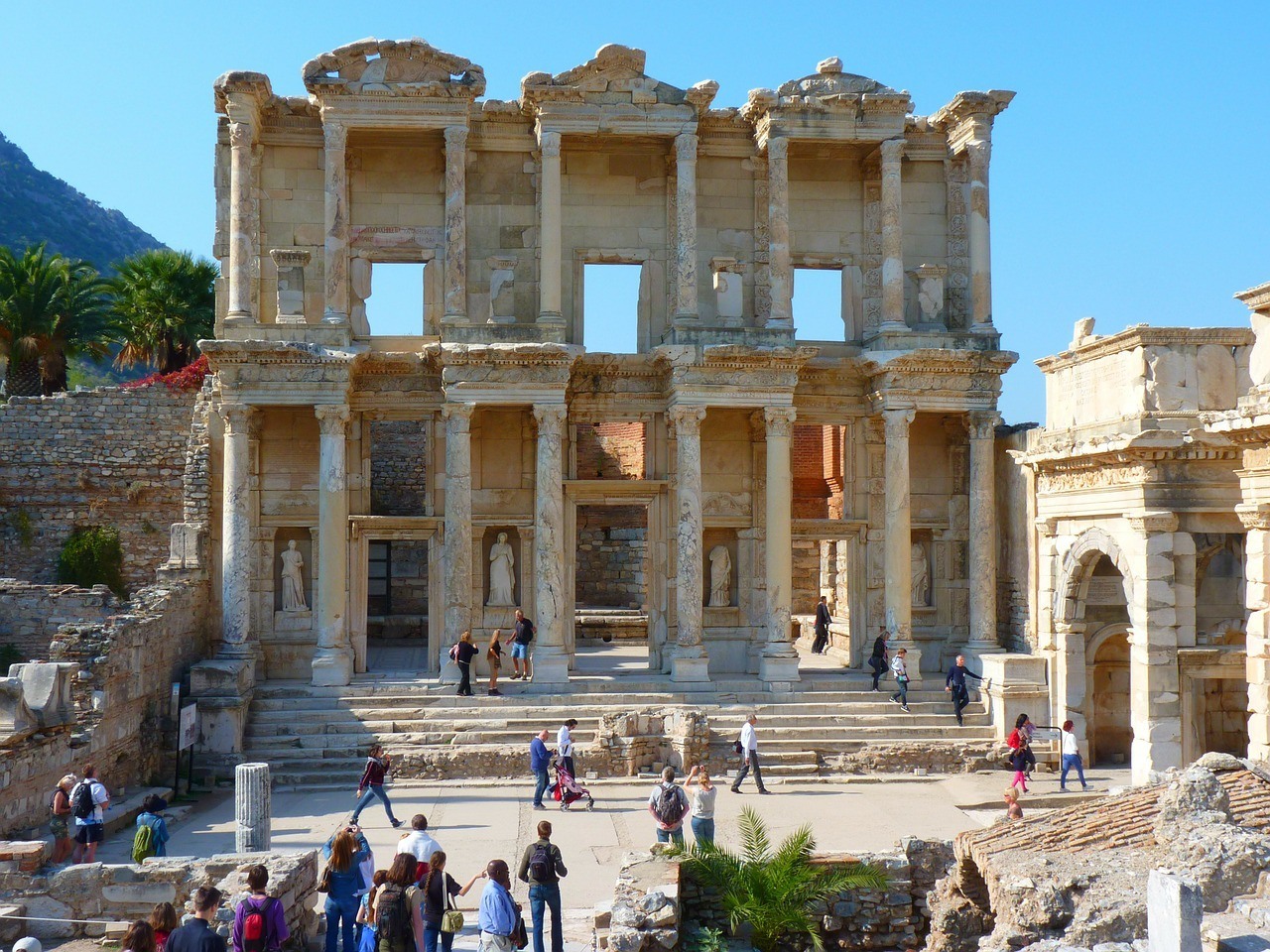 ---
Stroll through the Plaza District of Anafiotika
Hidden away right in the center of Athens, and not far from the popular Acropolis is the Plaza District of Anafiotika.
It almost feels like a little greek island oasis, yet filled with graffiti and the bustling noise of a busy city. It's old, picturesque and feels like a quaint little village. There are lots of little cafes and shops to explore in the neighborhood too. With narrow cobblestone paths, small houses and a real local feel – I wouldn't miss adding Anafiotika onto my list when visiting Athens.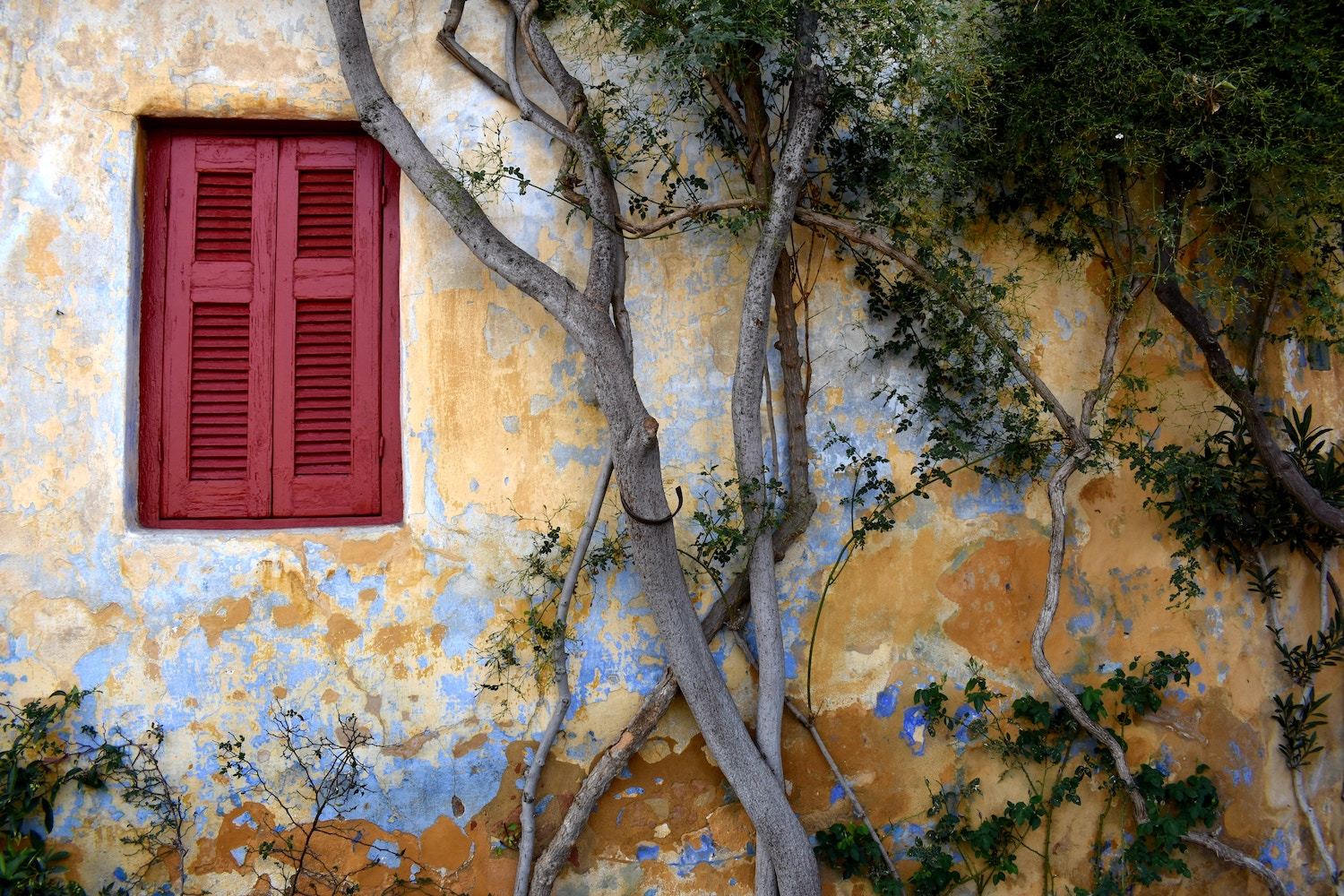 ---
Monastiraki Flea Market
If you're looking for some colorful and affordable shopping in Athens, you have to make a trip to the Monastiraki Flea Market
On most days the markets generally consist of the usual touristic souvenirs. But if you can make it on a Sunday (which is coincidentally the best day to go) the market place converts into the traditional flea market style. With tables and blankets scattering the floors selling a huge variety of second hand and vintage goods, Sunday is definitely the day to visit.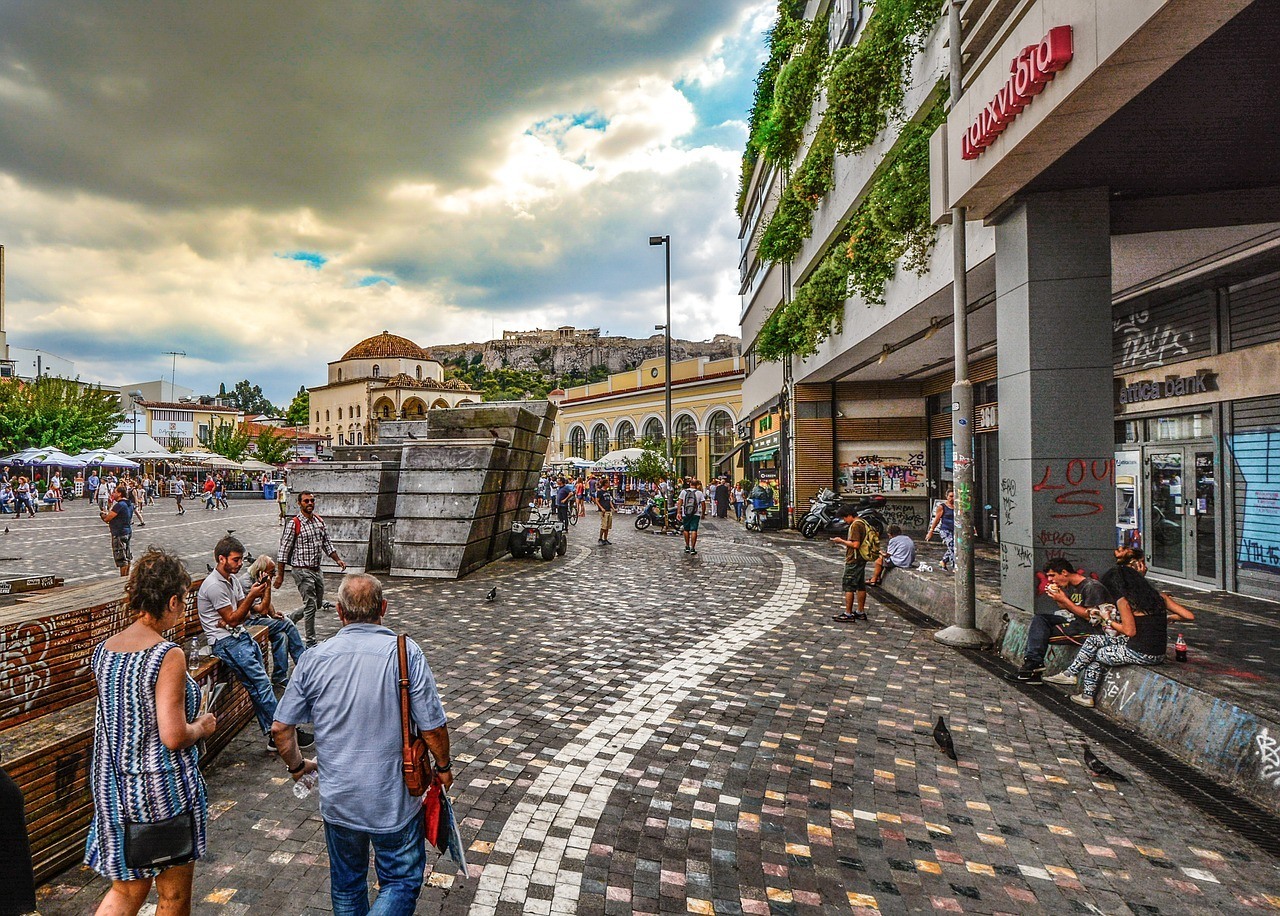 ---
Areopagus/ Mars Hill
For the best views in Athens, you absolutely cannot skip climbing up to the top of the Areopagis. From the top, you'll have 360-degree views of the entire city, accompanied by a very impressive view of the Acropolis as well!
This is a very popular spot for taking beautiful photos with the Acropolis in the background as well as just sitting and admiring the beautiful views of the city, and your Instagram feed will certainly pop with a photo from this spot!
Better yet, it's completely FREE to do.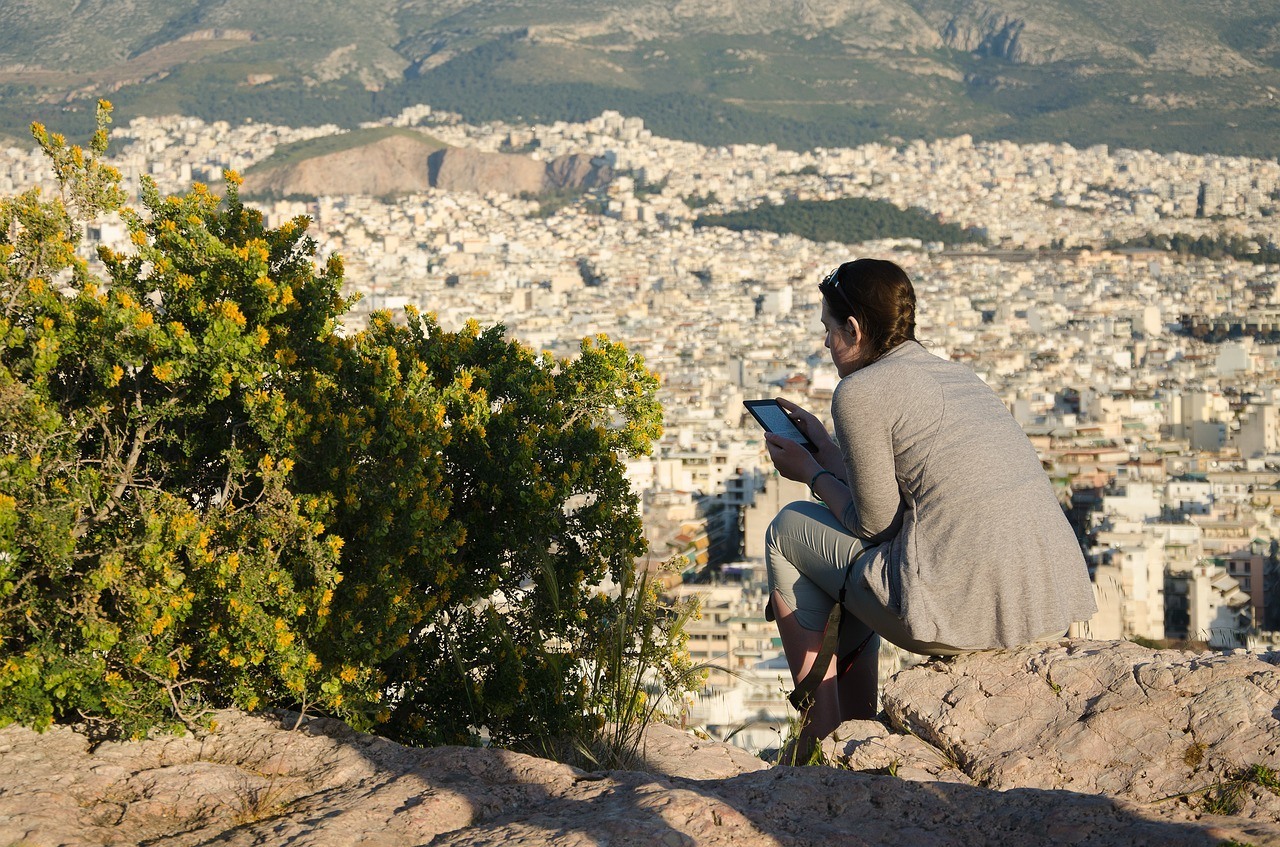 ---
National Archaeological Museum
As the largest archaeological museum in Athens, and also as the largest archaeological museum in the world, this impressive museum is definitely worth a visit.
With more than 11,000 exhibits, it's the perfect place if you are wanting to find some ancient Greek Artefacts and learn tons of information to make you feel like an expert by the end of of your time here.
It's perfect for a rainy day in Athens, and even better, it's perfectly suited as a place to escape the sweltering heat during a typical Greek Summers day.
"One of the most important museums in the world devoted to ancient Greek art. It was founded at the end of the 19th century to house and protect antiquities from all over Greece, thus displaying their historical, cultural and artistic value.
---
View Street Art down the Psiri area
Personally this was my favorite part of Athens. I am a big fan of finding creative street art scattered around various cities, and Athens did not disappoint.
I also managed to stumble across an old abandoned building in the area, which had been made into a modern art gallery named Street Gallery Athens – Identite Project. Featuring street art inspired by the photographs taken by Benny a French photographer who photographs individuals who are particularly in contact with the streets of Athens. I highly recommend a stroll down the Psiri area to discover some unique street art with powerful stories.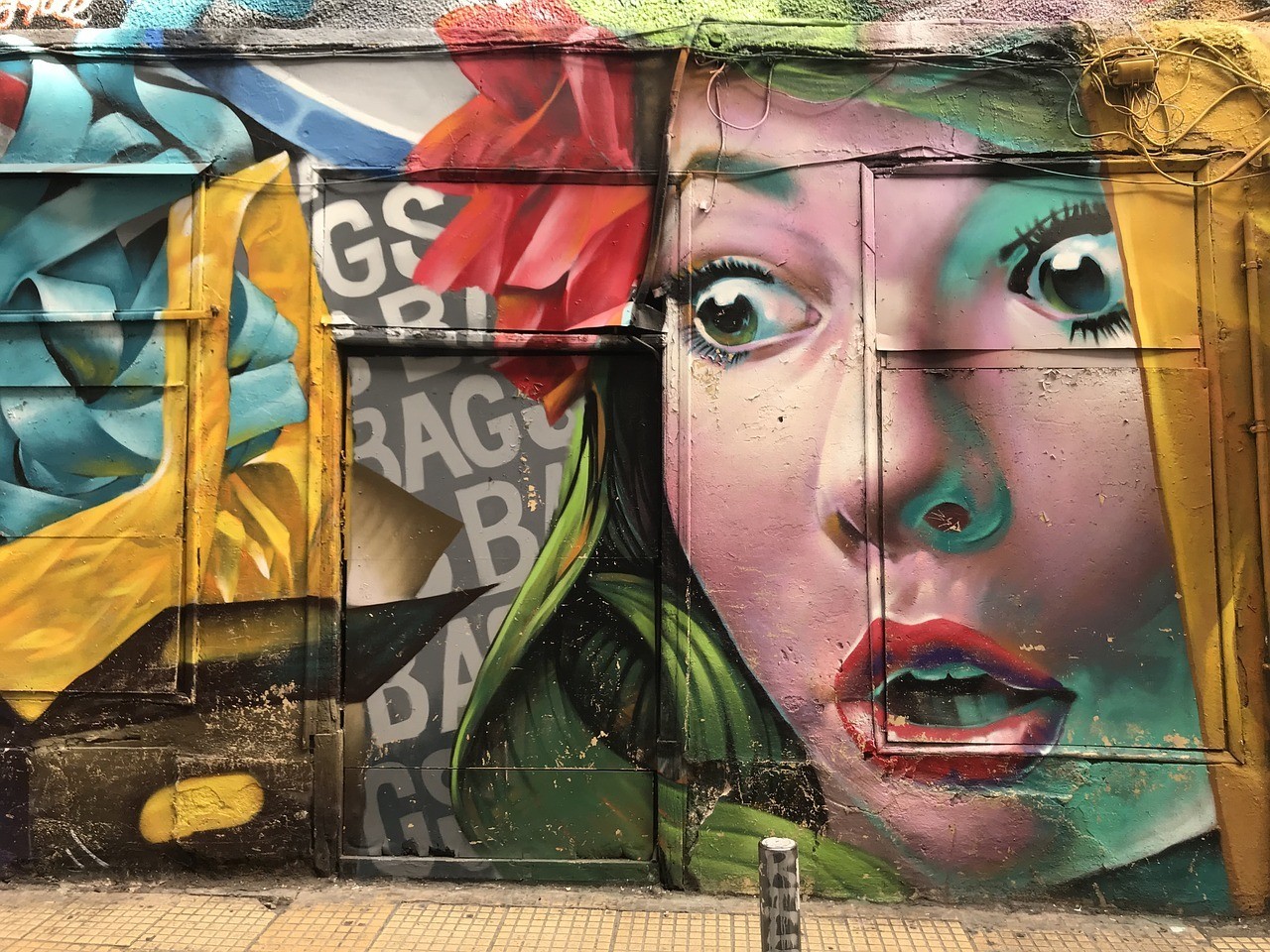 ---
Central Municipal Athens Market
When I visited Athens I conveniently happened to be staying in an Airbnb just across the road from the Central Market building. Although it does have a very strong and distinctive fish smell that can be smelled from literally across the road; it is still well worth a visit. This is by far the best place to go to pick up some local food. From fruit, veg and cured meats, to herbs and spices this is where all the locals shop and where you will definitely pick up some amazing bargains. It's definitely an experience in itself simply for the extreme smells, sights, and sounds within the market.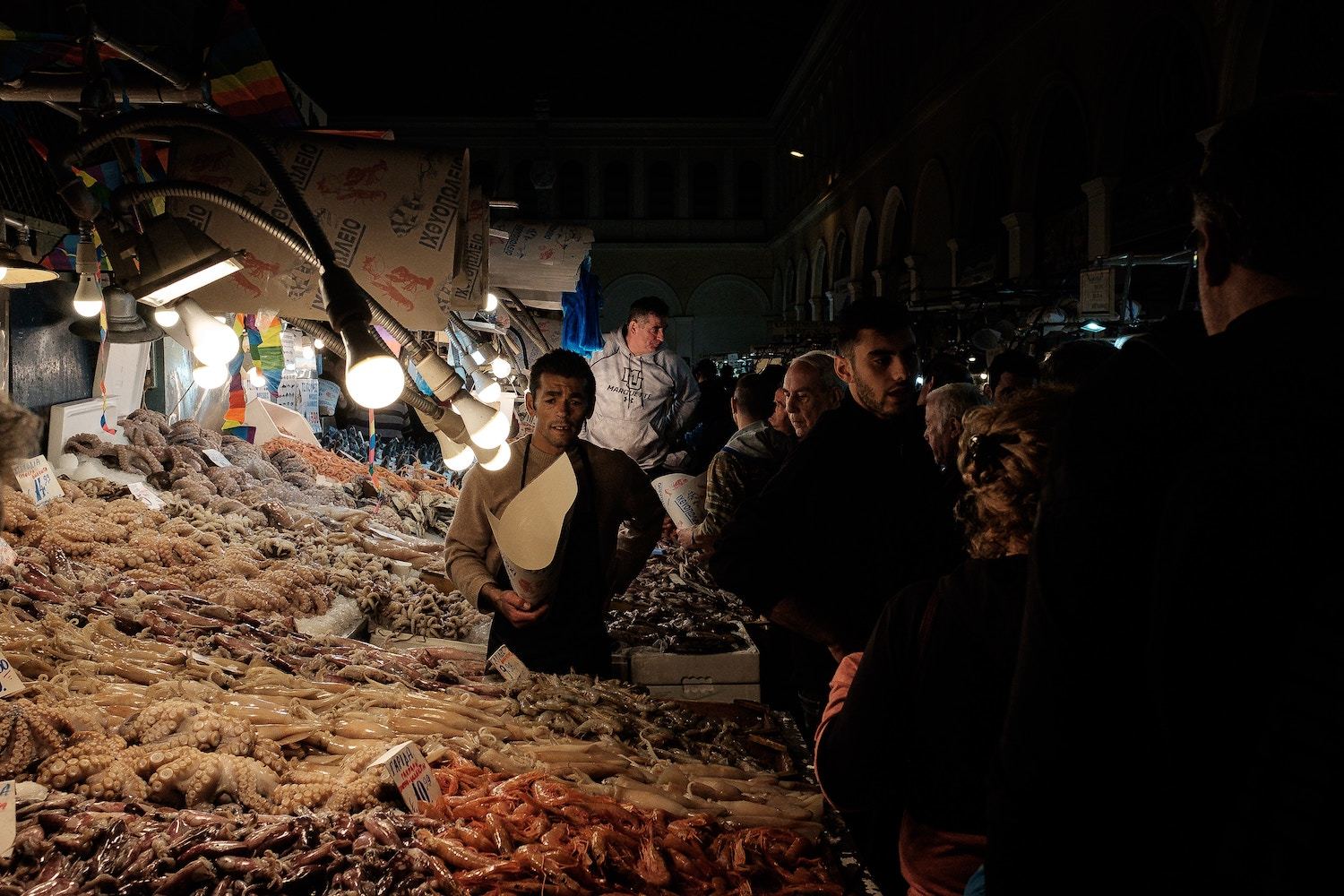 ---
Food & Drink Recommendations for 2 Days in Athens
Check out this fun article by TIME titled, "The 11 absolute best Athens restaurants" for some inspiration, but here are some of my recommendations!
Cardia Cafe – For Cheap but Delicious Pastries! T

his place sells some of the most delicious pies and pastries I have ever had the luxury of trying.

Located just a 1-minute walk from Monastiraki Square, Cardia Cafe is the perfect place to grab a quick lunch before heading off to explore the city. Most items on the menu were around 1 Euro – extremely cheap, yet very tasty!

Koulouri – A popular Greek breakfast Item.

Super cheap, quick and very Greek. It's a toasted breaded ring covered in sesame seeds, you can buy them all over the city. Often costing only 50 Eurocent, you can't visit Greece without at least trying a Koulouri once!

Orizontes – For the Most Scenic Athens Dining Experience.

Nestled up on top of Lycabettus Hill, (which happens to be the highest peak in Athens), is Orizontes.

Known for serving the most delicious Mediterranean dishes in Athens, Orizontes use local and seasonal ingredients when possible and additionally they have the most stunning views from their outdoor terrace.

What better way to view the city by night that with this stunning high-end restaurant? It's definitely the perfect way to end your 2 days in Athens.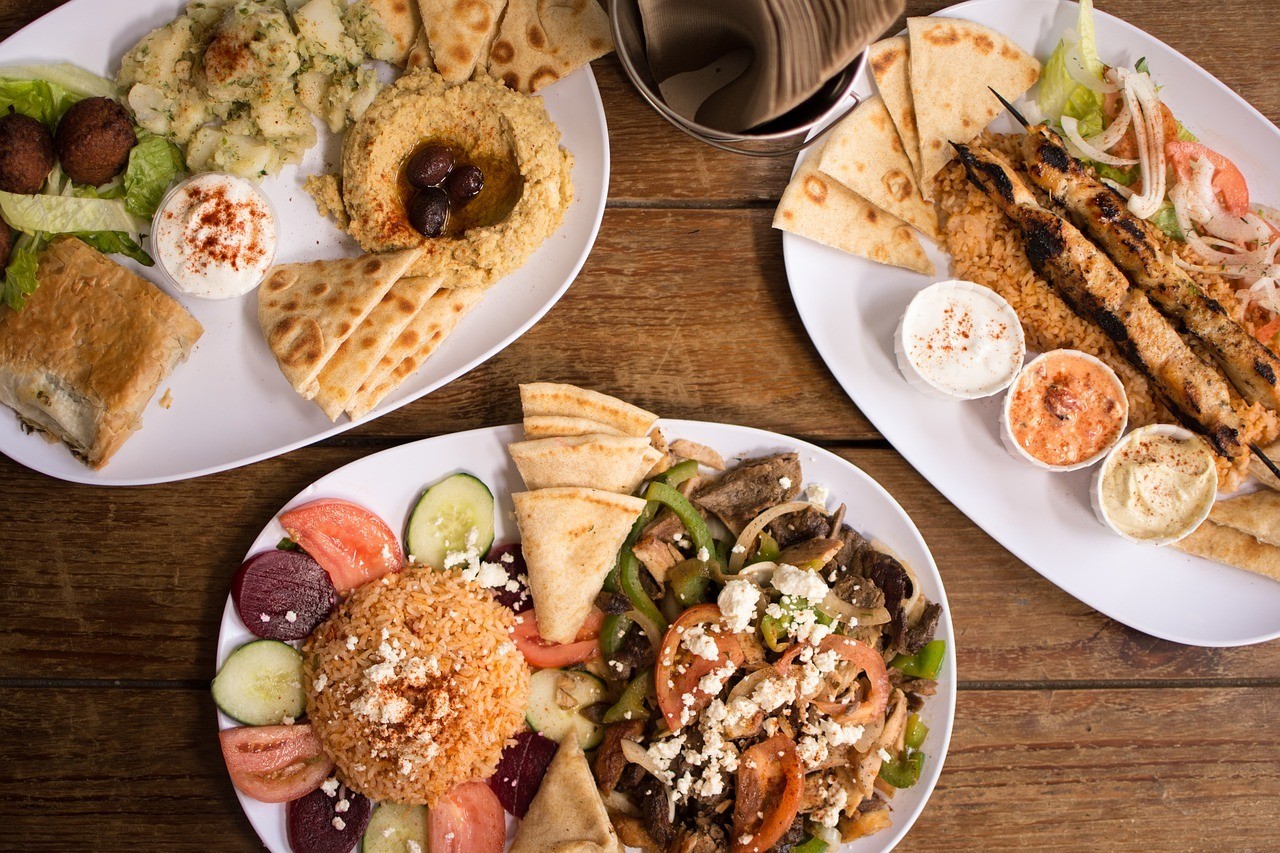 ---
Where to Experience the Nightlife in Athens…?
Athens truly is a city that comes alive at night. with rooftop bars giving you a stunning view of the Acropolis lit up by night, to the vibrant dance clubs and high-end beach bars, to the smaller vibrant neighborhoods featuring those artsy little local bars. There is something for everyone here in Athens, and although I couldn't possibly list all options available. Below are a few of the most popular nightlife choices.
Exarchia – For a Unique Neighbourhood Experience
Well known for its brilliant food and arts scene, this little anarchist neighbourhood is the perfect place to experience the city by night.
From the endless choices of unique artsy and stylised bars and the vibrant street art around every corner, to the posters scattering every building wall. Exarchia reminds me of a little mix between Kruezburg (Berlin, Germany) and Christiania (Copenhagen, Denmark), which also happen to be two of my favourite places in Europe.
You will truly be spoiled for choice when it comes to the wide selection of coffee shops, bars and clubs on offer in this scruffy little Athens neighbourhood.
Tip: Although Exarcia is safe to wonder around, it's best to avoid visits during the first week of December due to the riots that occur on the anniversary of the murder of Alexander Grigoropoulour (a 15 year old boy who was killed by two police officers in the district in December 2008).
---
Enzzo de Cuba: For the Best Athens Night Club Experience
Definitely one of the most popular clubs in Athens. Best known for its salsa/bachata/kizomba; dancing is definitely a must-do here.
The club is surrounded by palm trees, serves super tasty cocktails and has a super vibrant atmosphere.
There is always a big dance party experience going on which attracts heaps of crowds. You can't go wrong with Enzzo de Cuba on your night out in Athens.
---
Island Club Restaurant – For a High-End Summer Party
Definitely one of the most popular choices of night clubs in Athens. In a relaxing seaside setting and around 30 minutes outside of the city centre. The Island is distinctly high-end and promotes weekly parties, serves amazing cocktails and has a huge celebrity following.
It may seem a little out of the way; but no Athens nightlife itinerary can go without including it into the mix. Due to the location this is a seasonal bar only, open from April to September.
"Island is a landmark. For more than 20 years, it is the most popular destination of the Athens Riviera for those who stand for quality and style. Today, Island, the emblematic place of the Athens Riviera, which is literally scrambled up the rock, offers a refreshing escape, from the warm summer evenings in Athens.
Frozen cocktails by experienced mixologists, lounge music and dance parties, visitors from around the world, all come together to create the ideal atmosphere, every day of the week, till the end of summer.
Island can welcome "through the sea" visitors and yacht tenders, through the specially shaped platform. Visitors discover that our blessed city has an amazing sea, similar to that of the Greek islands.
Island is the club for which the international press has repeatedly referred to on the stories about Greece, and famous international visitors walk through its paths every summer.
Nowhere else, but here."
Island Club / PIXI Summer Session - Athens 2016 / Greece
---
2 Days in Athens Travel Tips
See The City Like a Local With a FREE Walking Tour:

Free walking tours are my favourite way to learn more about a city. With an experienced guide telling you stories, history and also some local tips and tricks; it's definitely the best way to feel like a local and learn something new.

Walking around is also a great way to get a feel for the general layout of a city so that you can find getting around so much easier for the rest of your trip. I personally always recommend taking a walking tour as the first thing on your itinerary.

Visit the sites for FREE on Sundays!

One thing I noticed all throughout Greece (even of the islands such as Crete) is that many famous sites and museums open up to the public for FREE on Sundays!

Often this is during the off-peak season (from Nov 1st – Mar 31st) but it's a great tip to keep in mind if you are on a lower budget and want to save some cash.
---
Athens Day Tours to Consider
Original Gourmet Food Tour of Athens: "

Discover Athens through its food culture and taste superb Greek pastries, wine, cheese and salamis. Enjoy an authentic Greek breakfast, visit traditional food stores and try mouth-watering Greek desserts."

Sunset Trip to Cape Sounion & Temple of Poseidon: "Enjoy an evening trip to the astonishing Temple of Poseidon on Cape Sounion, and watch the magical sunset over the Aegean Sea. Learn about the Athens Riviera and immerse yourself in local Athenian life.
Athens Original Street Art Tour: Let a real street artist guide you through the active street art scene of Athens. Decipher the hidden messages behind spectacular examples of urban art on a visit to 3 of the city's neighborhoods, where the immense richness of street art is concentrated!
20 Things to do in Athens Greece Travel Guide
---
Am I Missing Anything from my Two Day Athens Itinerary?
It's been a couple of years now since I've visited Athens, so do you think I need to add any specific museum, activity, or restaurant to my travel guide!? I'd love to keep this article as up-to-date as possible, and love hearing from my readers or from people who have stumbled upon my blog!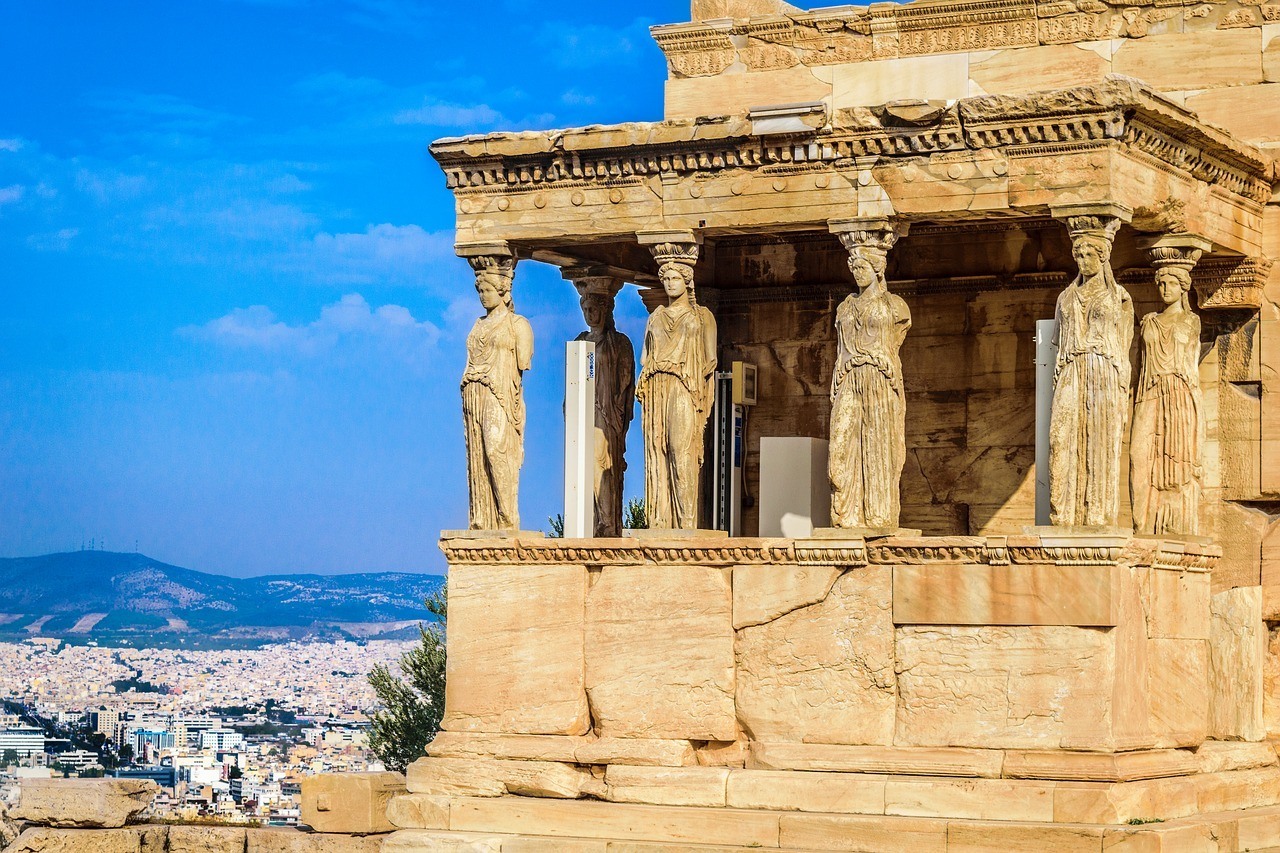 ---
Planning a trip to Greece & Europe…?
I've spent a lot of time living and travelign around Europe, and my travel blog is filled with helpful itineraries, things to do, destination guides, festival roundups, and tons more! Check out some of my favorite articles below, and as always, feel free to email me if you have any questions about anything you've read! I really do love helping people plan their European travels as much as possible!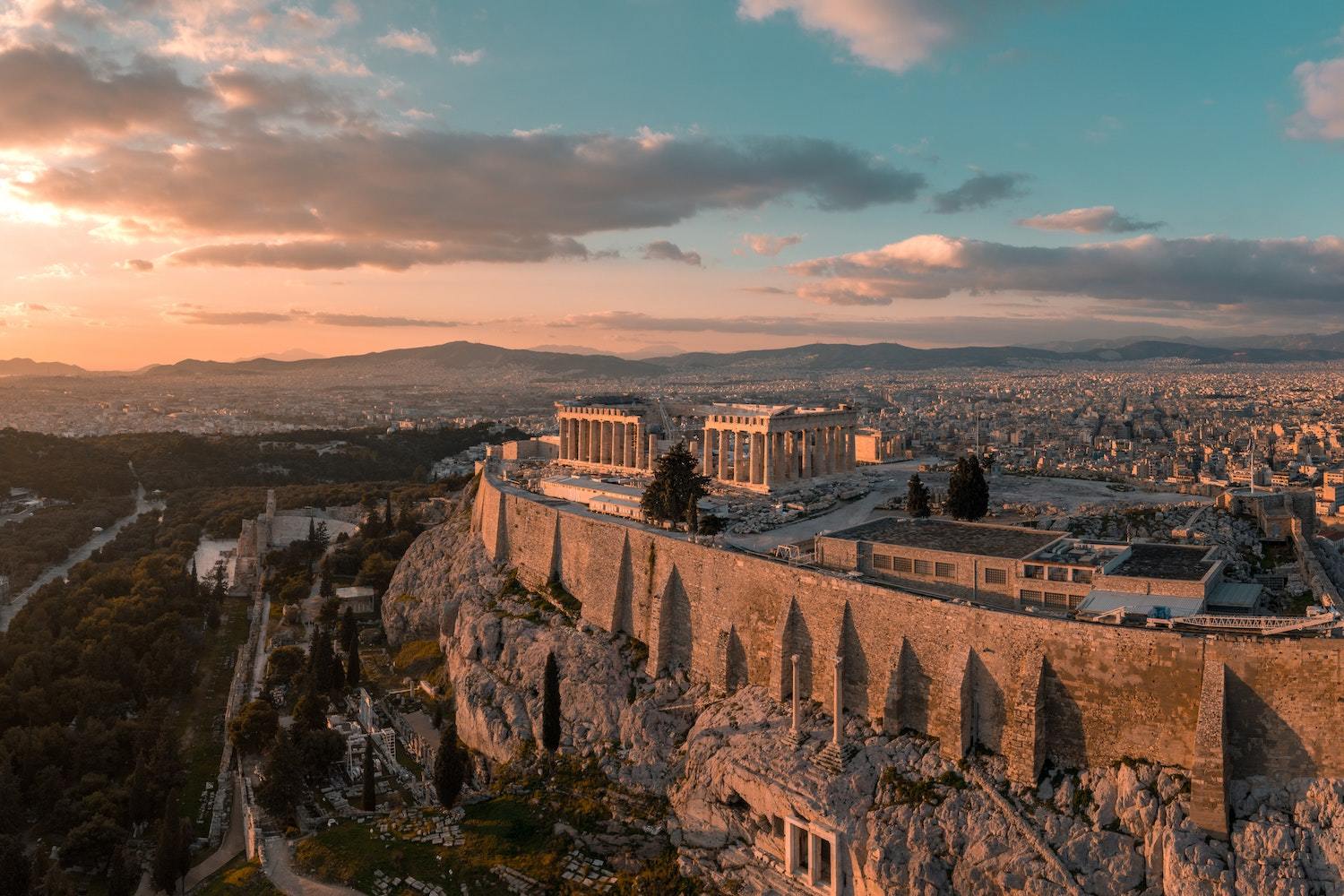 ---
THANKS FOR READING MY Athens ITINERARY!!
SHARE THIS 2 DAYS IN Athens ARTICLE WITH YOUR TRAVEL SQUAD!
https://www.jonesaroundtheworld.com/wp-content/uploads/2019/07/2-Days-in-Athens-Itinerary-.jpg
839
1280
Dave
https://www.jonesaroundtheworld.com/wp-content/uploads/2017/03/logotry-1-1-300x106.png
Dave
2019-07-17 21:11:47
2020-02-17 05:14:35
2 Days in Athens | How to Spend 48 Hours Exploring Athens