Planning on spending 2 days in Budapest and looking for the best travel itinerary?
Well, look no further because I've put together a solid destination guide for first-time visitors to the vibrant capital of Hungary!
The country has amazing bars, cheap beer, thermal medicinal baths, lots of history, and beautiful fairytale-like architecture. Budapest definitely has something for everyone and will never disappoint.
Adding to the above, not only is Budapest incredibly affordable, but it also offers many unique and fun activities that you simply cannot find anywhere else in the world! The city is definitely one of a kind, and you will never see everything that is to see.
Using this 2 days in Budapest travel guide, however, you can make sure that you don't miss out on some of the most important parts! It's truly one of my favorite cities in Europe (as well as the world), and I can't wait to go back sometime in the near future!
Also, be sure to read my article, Top 17 Budapest Festivals, for your bucket list to see if your 2-day Budapest itinerary coincides with one of their popular events!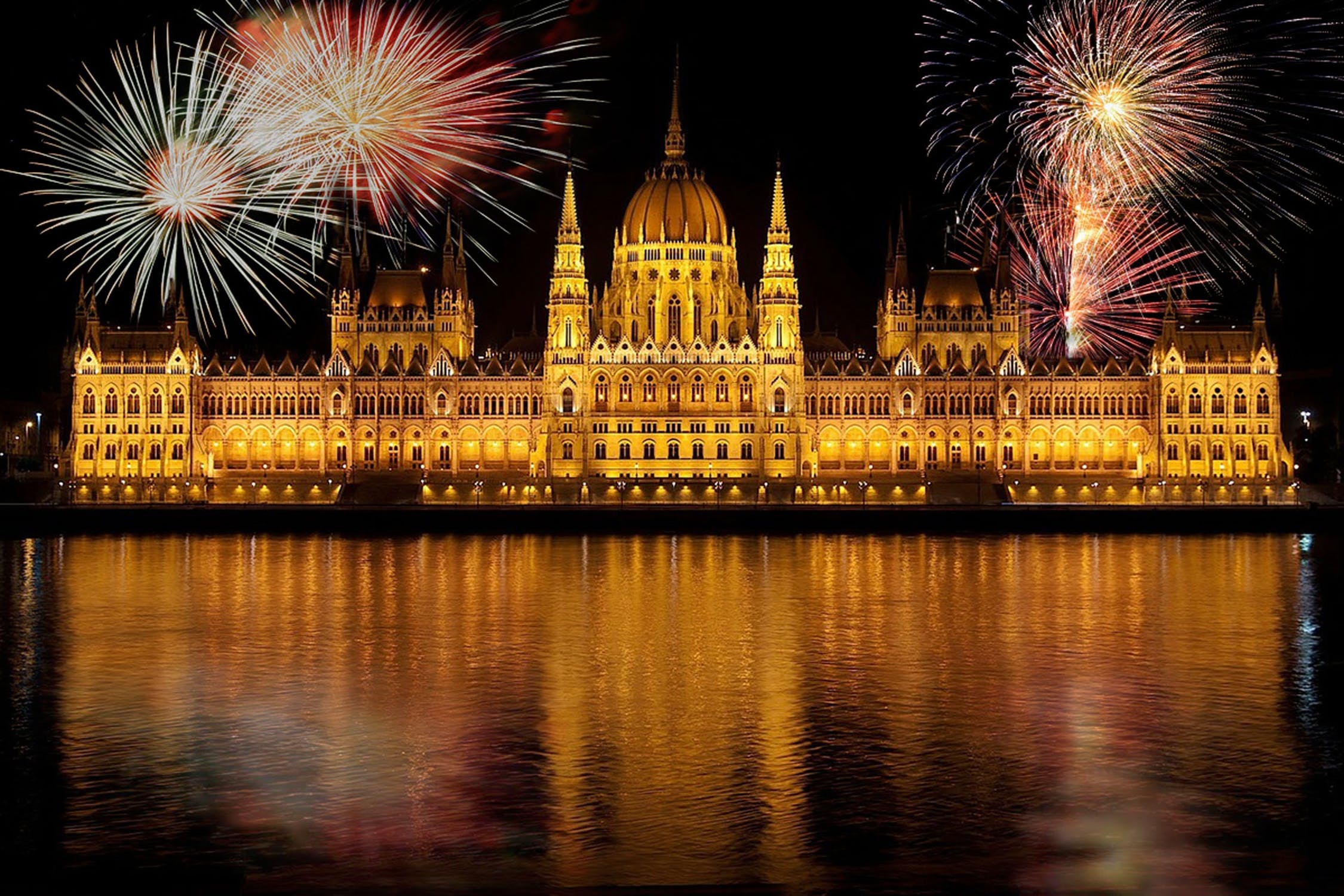 ---
WHERE TO STAY WHEN YOU VISIT BUDAPEST
When it comes to location, you can't really make too many mistakes in Budapest. The city is well laid out and is relatively small, with very easy-to-use public transport links.
However, when considering where to stay, it is quite important to know the differences between each side of the city. Budapest is technically two different cities split by the Danube River: namely the Buda and Pest.
Check out this article on Buda vs Pest, for a bit more information on this one city with two personalities.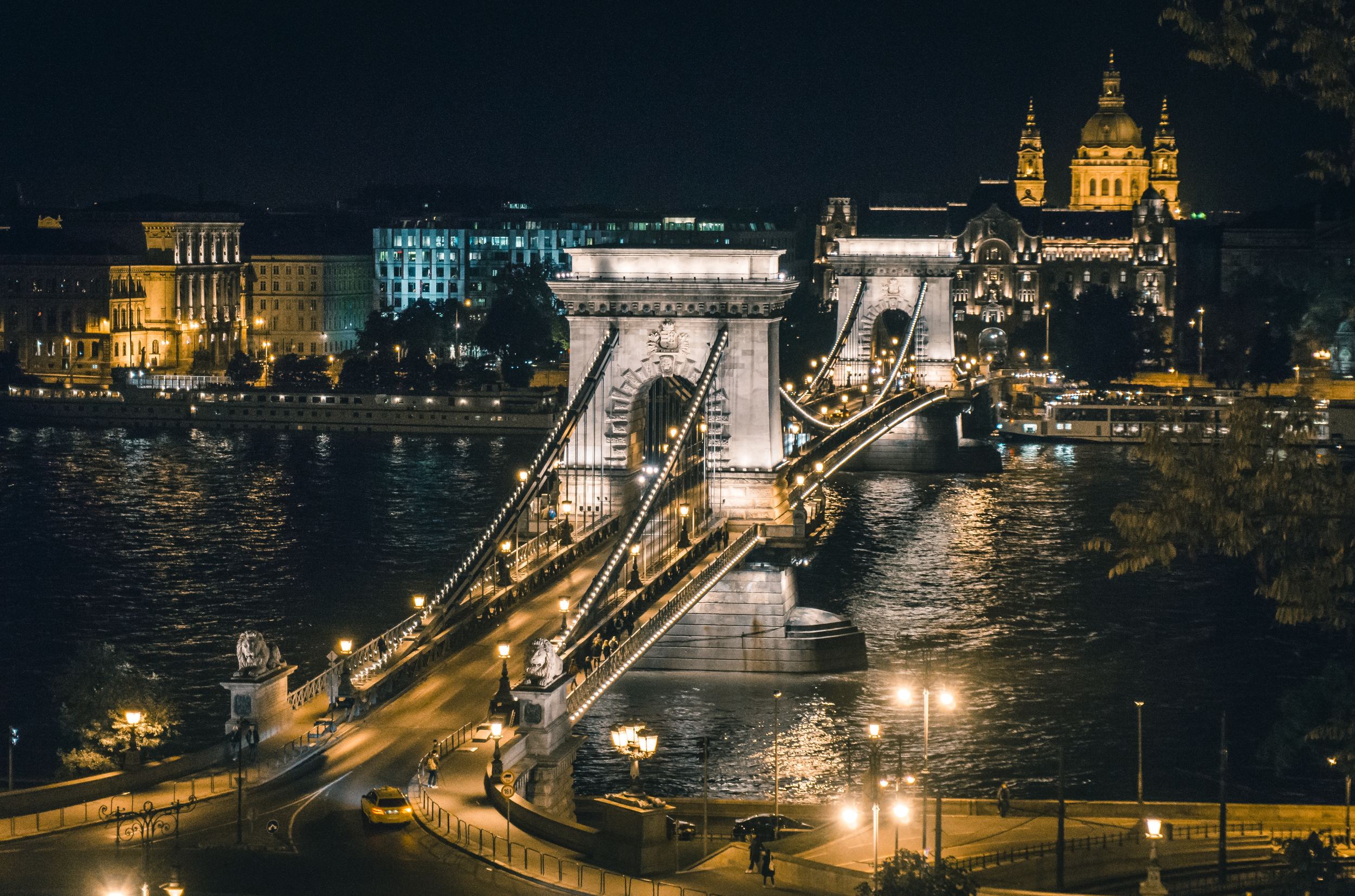 ---
SO, WHICH SIDE IS BETTER? BUDA OR PEST?
The Buda side is the more relaxed side of the river Danube. Add this to your Budapest itinerary for the beautiful palace, some museums, hill views, and a more relaxed local vibe as you wander around its streets.
The Pest side is much busier. It's the city center with bustling nightlife, popular high street shops, restaurant strips, and loads of fun things to do in Budapest for young adults.
Personally, I would always recommend staying on the Pest side of the Danube River. Simply put, it's closer to everything and has a lot more going for it. It's especially great if you want to get involved in the amazing nightlife of Budapest (which I think is a must)!
WHERE TO STAY FOR 2 DAYS IN BUDAPEST
Classical Apartment with Large Balcony: This gorgeous one-bedroom Airbnb has an amazing central location and is near the Chain Bridge. It is complete with a large terrace, traditional high ceilings, and historical architectural design. It's definitely one of the best Airbnbs in Budapest, and it will certainly be a highlight of your trip to Budapest!
Bohem Art Hotel: With a free American-style buffet breakfast, free Wi-Fi, and only 164 feet (50 meters) away from the Danube River, you can't go wrong with this well-rated and very popular modern hotel in the center of Budapest. Featured all throughout the hotel is work by young Hungarian Artists. The hotel has a very vibrant atmosphere, the rooms are spacious, and it has also been reviewed as a great place to stay with babies and children too.
Bubble Hostel Budapest: For the solo backpacker visiting Budapest, this is where I would recommend you set up camp! Now, I can't speak for all hostels in Budapest, and there really is a huge list of well-rated and super-affordable hostels in the city to choose from. But I can vouch for Budapest Bubble. I stayed here for three days in 2016 and had an amazing experience. As a solo traveler, I found this hostel to have a brilliant social atmosphere. It's also in a great location and is a good enough size to not be too overcrowded either. I felt right at home here and still made lots of friends to party with come nightfall. I would definitely choose to return to this hostel when I visit Budapest again.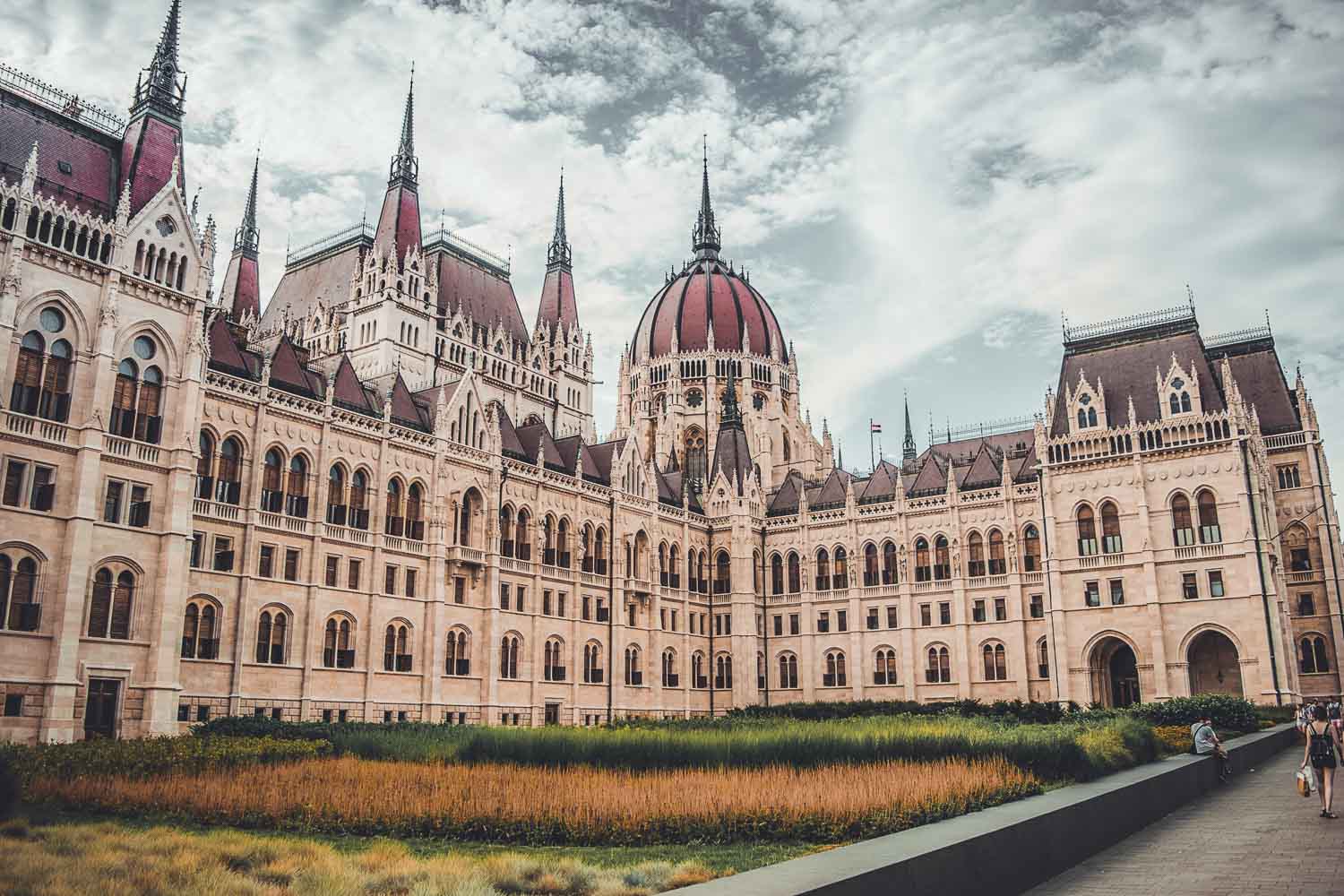 ---
GETTING AROUND DURING A WEEKEND IN BUDAPEST
Although there is a very well-connected, super affordable, and easy-to-navigate public transport network in Budapest, I personally found that I preferred the take to the streets by foot. And, if you're doing your Budapest 2-day itinerary on a shoestring budget, this is the best way to go.
The beautiful city isn't so big, and the ground is flat, making walking it a breeze. The districts aren't so far apart, and most of the central attractions and sights are within easy walking distance.
But sometimes taking a tram or a bus is the easier and quicker option, especially when you have a jam-packed schedule for the day. Public transport options available are Metro, bus, trolly bus, and trams. Tickets can be bought at any metro station and are valid to use on all public transport, which makes it easy to swap between different transport options throughout the day.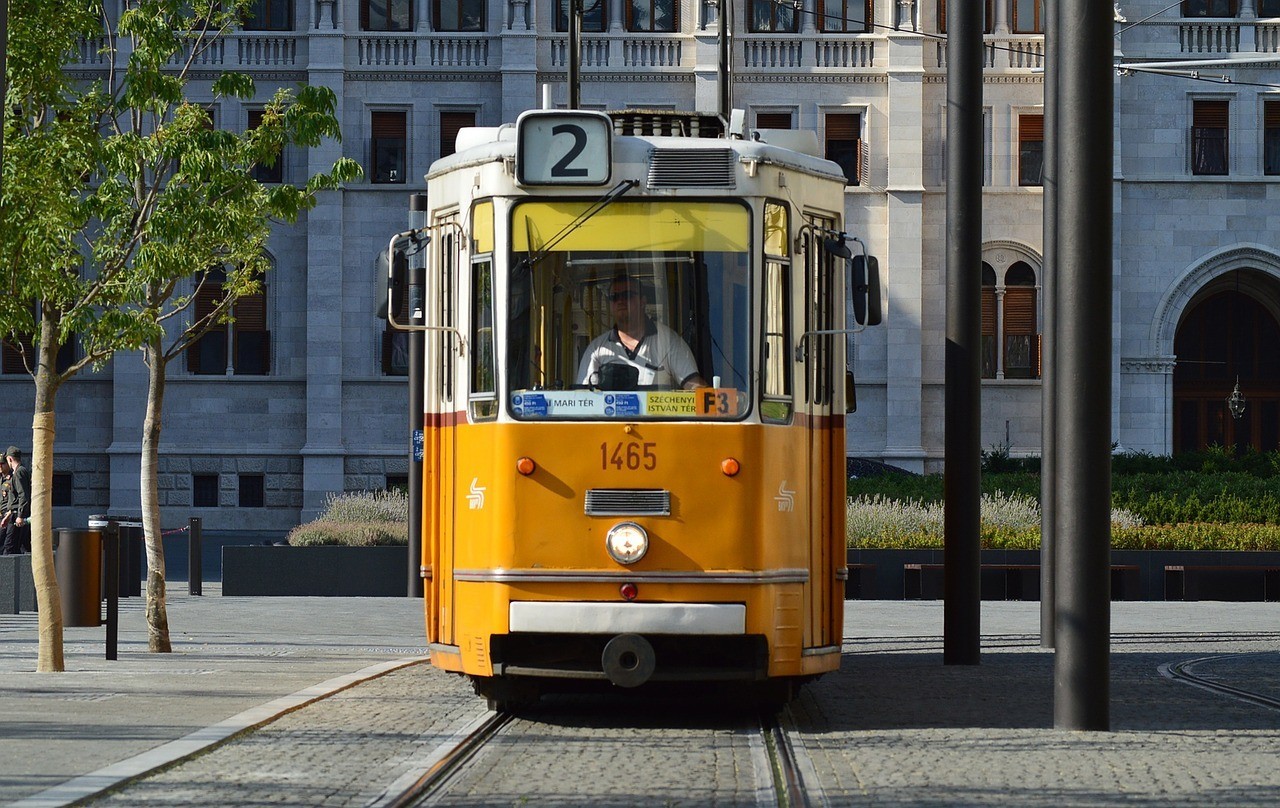 You can buy single-use tickets (only 350 HUF), 10-trip tickets (3,000 HUF), day passes (1,650 HUF), and so on. You can also buy transport tickets that are bundled with free entrance into certain museums and attractions. This allows you to see places like the Hungarian National Gallery, Budapest History Museum, Buda Castle, and Lukács thermal baths. Score!
Don't dismiss cycling as an option too. Budapest is very easy to get around via bicycle, and the city also has some very popular cycling tours which highlight all of the main sights and attractions.
It really just depends on your preferred travel style. It's an easy city to navigate through, and you won't have any problems getting from place to place on your own.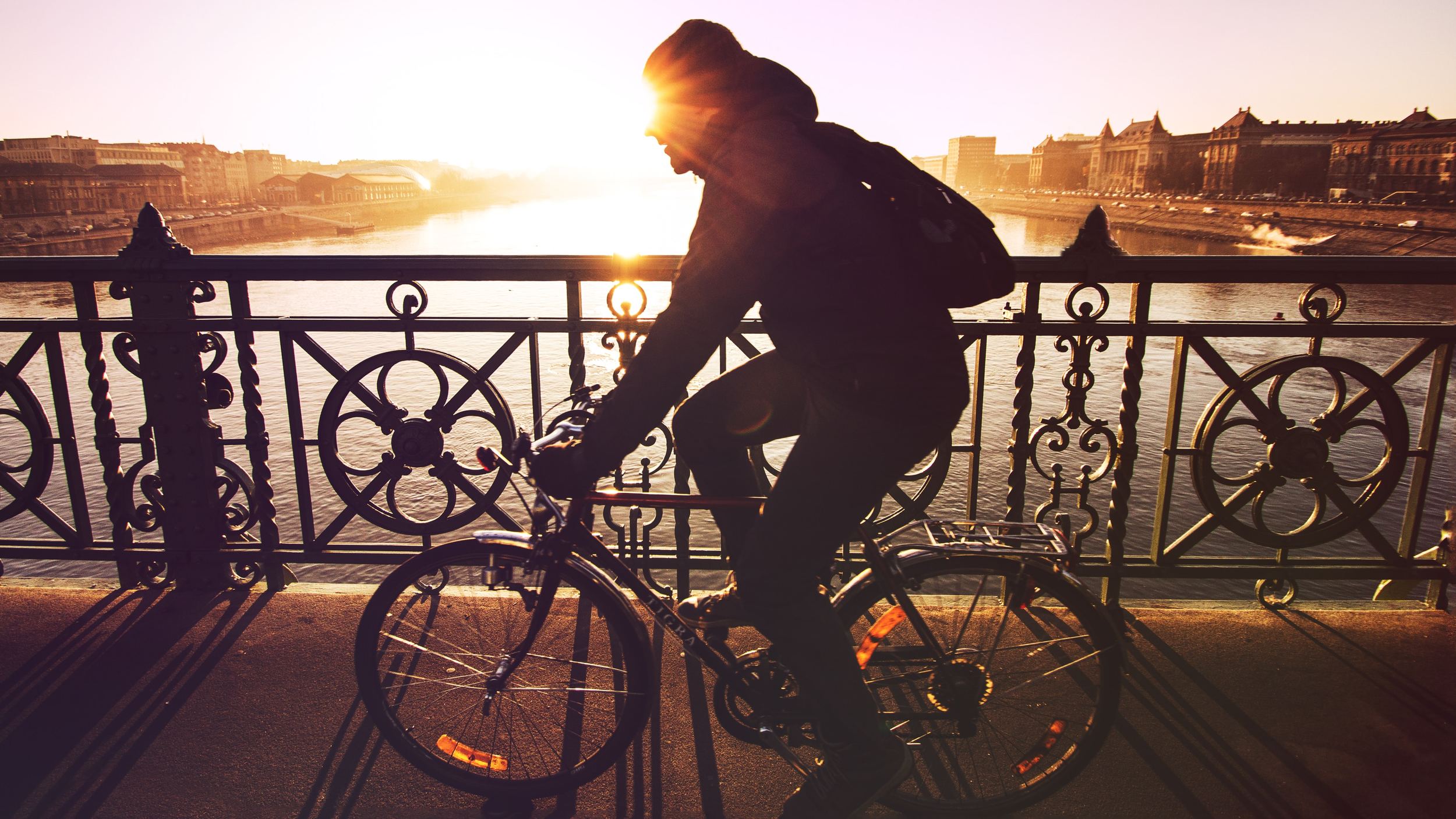 ---
BUDAPEST ITINERARY: 2 DAYS
These are the best ways to make the most of your Budapest 2 days itinerary, whether you're on a tight budget or plan to ball out.
TAKE A THERMAL BATH
You absolutely cannot take a trip to Budapest without indulging in one of the many famous thermal baths scattered around the city. My personal favorite, and also the most well-known, would be the Széchenyi Spa Medicinal Baths. It is located right beside the beautiful Peoples Park and has pools of different temperatures, luxury spa treatments, and saunas.
If you're more of a nightlife kind of person, you absolutely cannot miss the opportunity to attend one of their 'Sparties.' It's essentially an exciting nighttime rave with unlimited alcohol, live music, and an awful lot of fun! It was definitely one of the highlights of my time in Budapest for sure.
Just be careful – it may be way too easy to spend all day there and miss out on important Budapest sightseeing!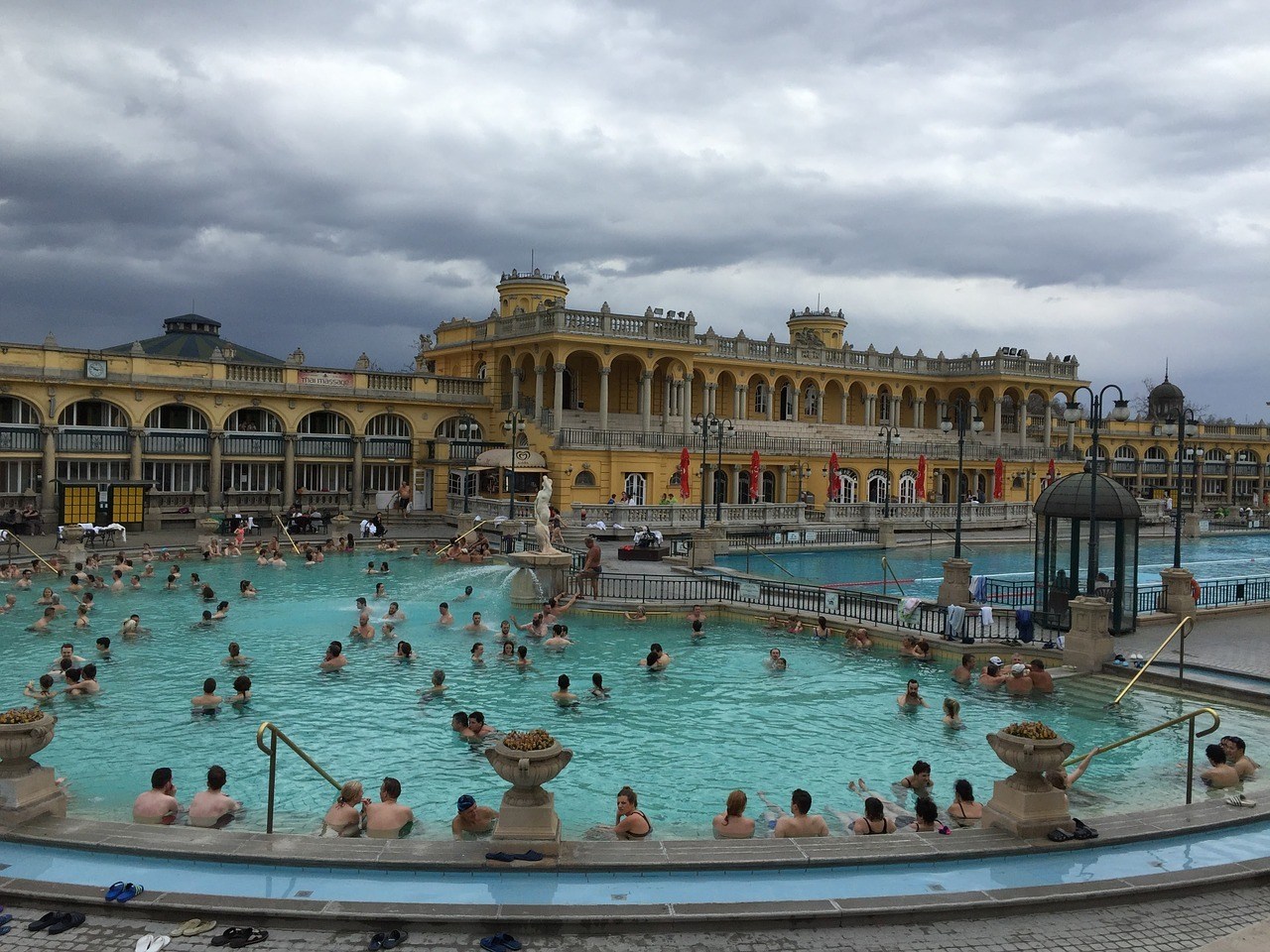 ---
FISHERMAN'S BASTION
Easily one of the most beautiful pieces of architecture I have seen in Europe to date. When wandering around the pink pastel towers, I felt like I was in a real-life fairytale.
The towers (originally lookout towers) are completely free to enter, apart from the upper ones, which can cost you around 1000 HUF to enter during the summer months. You will see the best views of Budapest city from inside them, so definitely do not miss out on this one.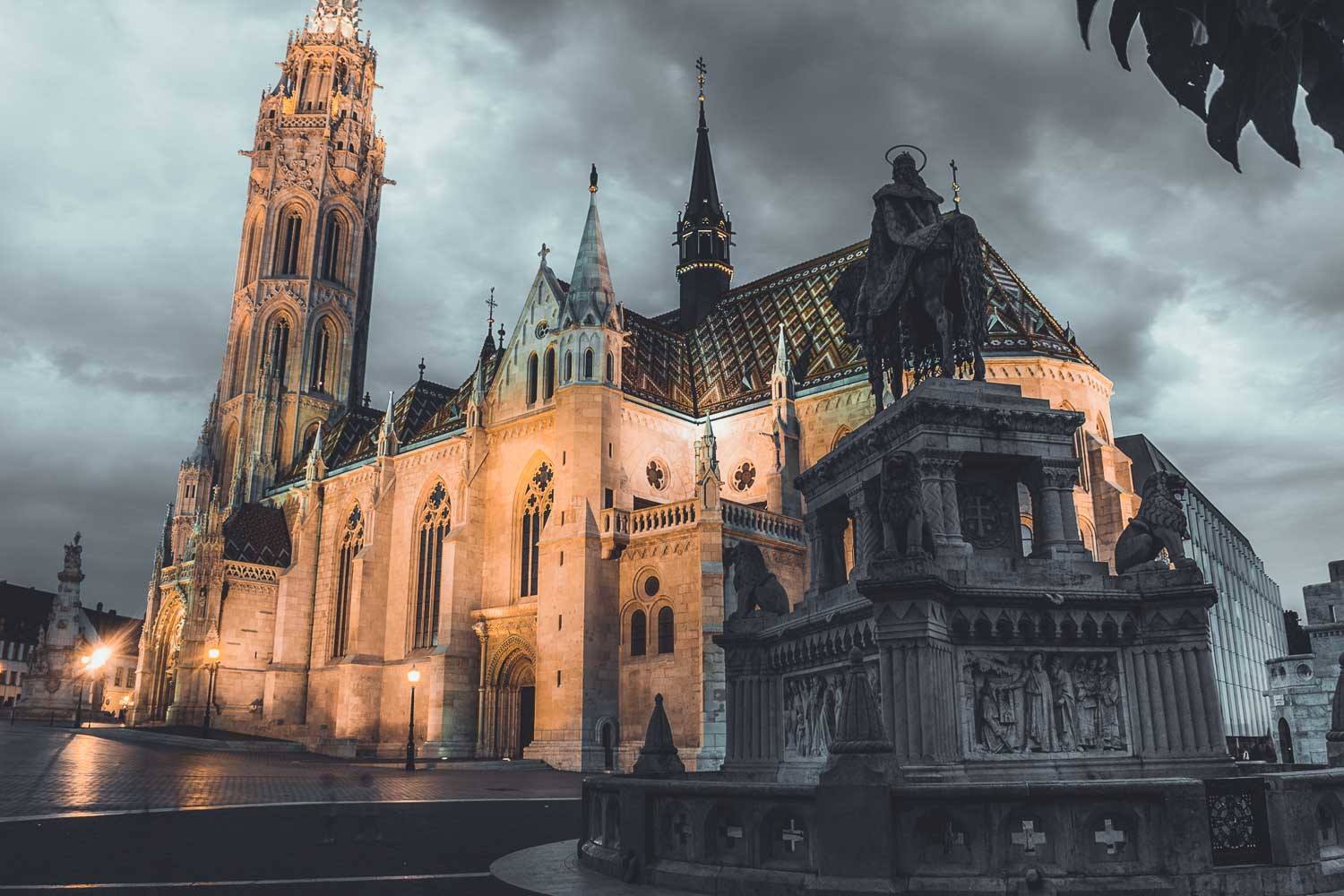 ---
HOUSE OF TERROR
The House of Terror is a former political prison that is now converted into a museum. The name is apt as here you can learn a lot more about how Hungary was affected during and after World War II by the Nazi and communist regimes.
Some parts of the museum still feel very true to life, and the atmosphere is dark. Sections allow you to learn about the torture and pain that the prisoners experienced. This includes parts where you can enter the old prison cells and see for yourself how small and cramped they were.
Take this House of Terror guided tour to visit the museum for yourself.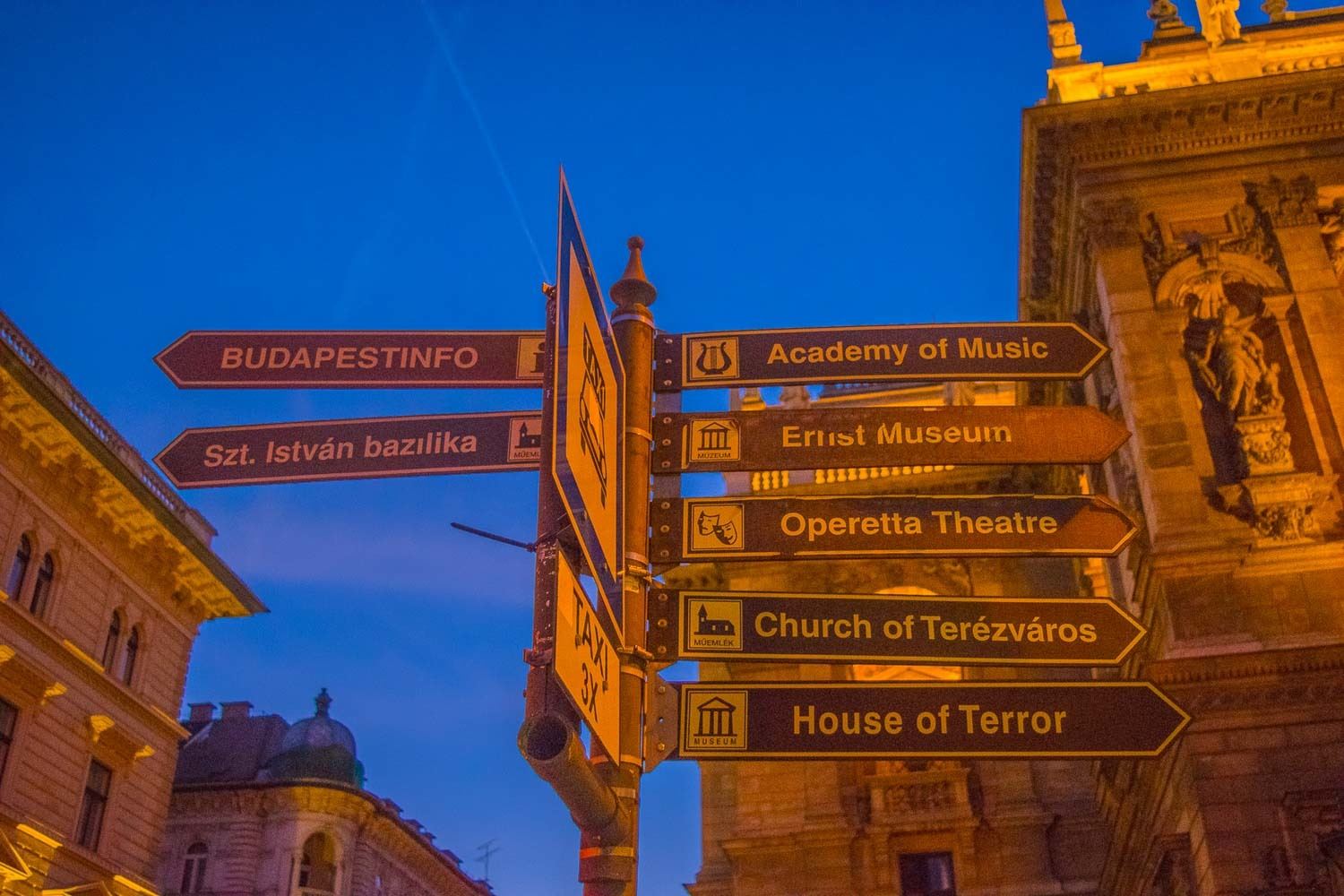 ---
EXPERIENCE AN ESCAPE ROOM
What many people don't realize is that Budapest is where live escape room games first began, with the world's first ever one opening up in Budapest in 2011. Today the city is filled with many different varieties of escape rooms, making Budapest renowned for them.
There is something for everyone. A bank robbery scene, catching a serial killer, escaping a mad surgeon, and at times finding yourself laying inside of a narrow coffin and being transported from one room to the next!
My personal favorites were the 'Claustrophobia' and 'E-Exit' rooms. But they're all fun, and the excitement of trying to race against the clock to complete the puzzles before you get locked in all adds to the tense and manic atmosphere. Lots of laughs are guaranteed!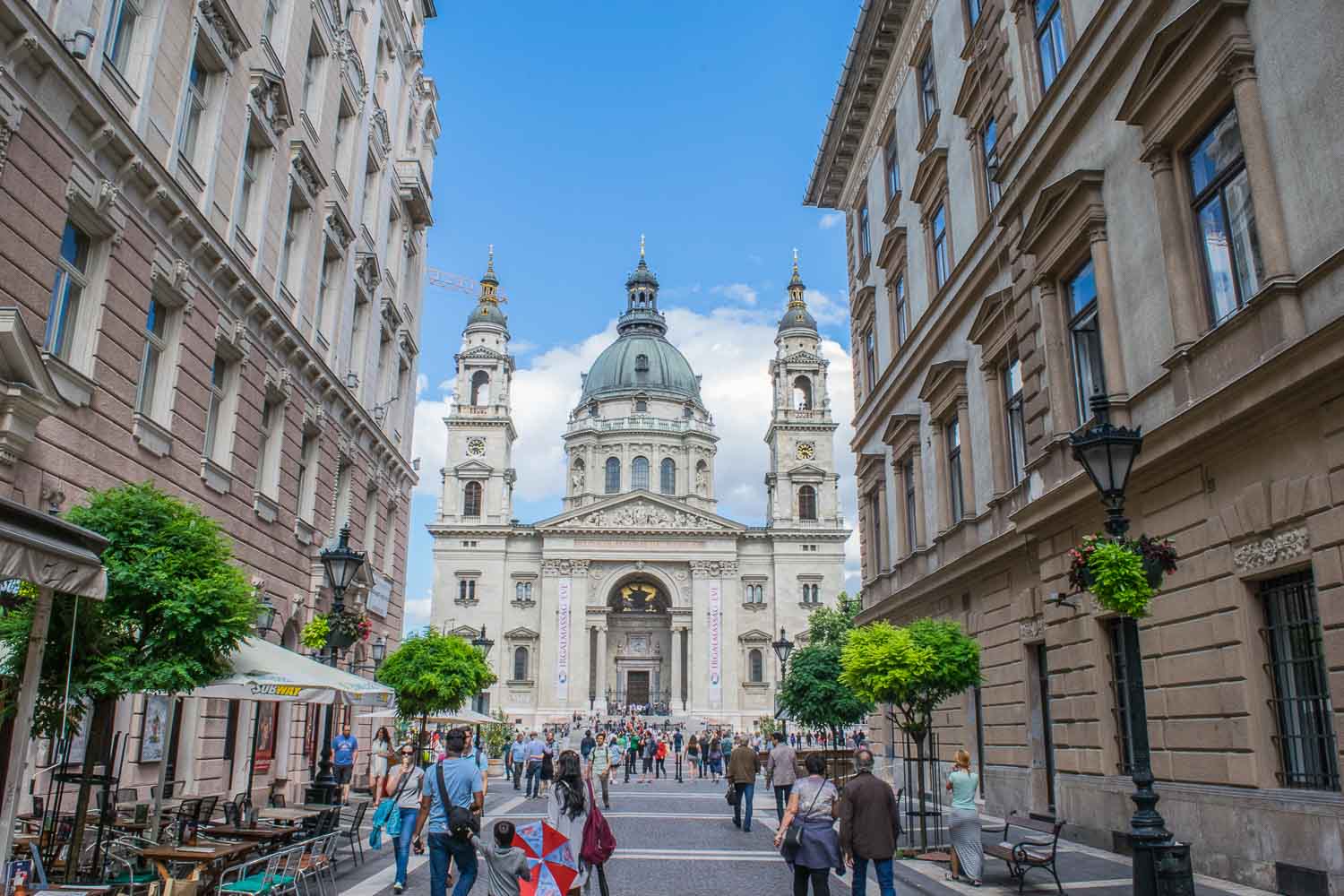 ---
WALK ALONG THE DANUBE PROMENADE
View the city by walking across the bridges that separate Buda and Pest, making sure not to miss the famous sights in between.
There is a brilliant view of the Hungarian Parliament building from across the Danube River, standing on Buda's side. From the Pest side, you can view Buda Castle, The Liberty Statue, and Fisherman's Bastion. Don't forget to visit the heartbreaking holocaust memorial 'Shoes on the Danube Bank' on the Pest side of the Danube Bank.
Tip: Start your Budapest nightlife by grabbing a beer and a pizza to go, and chill out on the beautifully lit-up Chain Bridge once it gets dark. See the city so beautifully lit up in a golden glow by night as you watch the boats go past.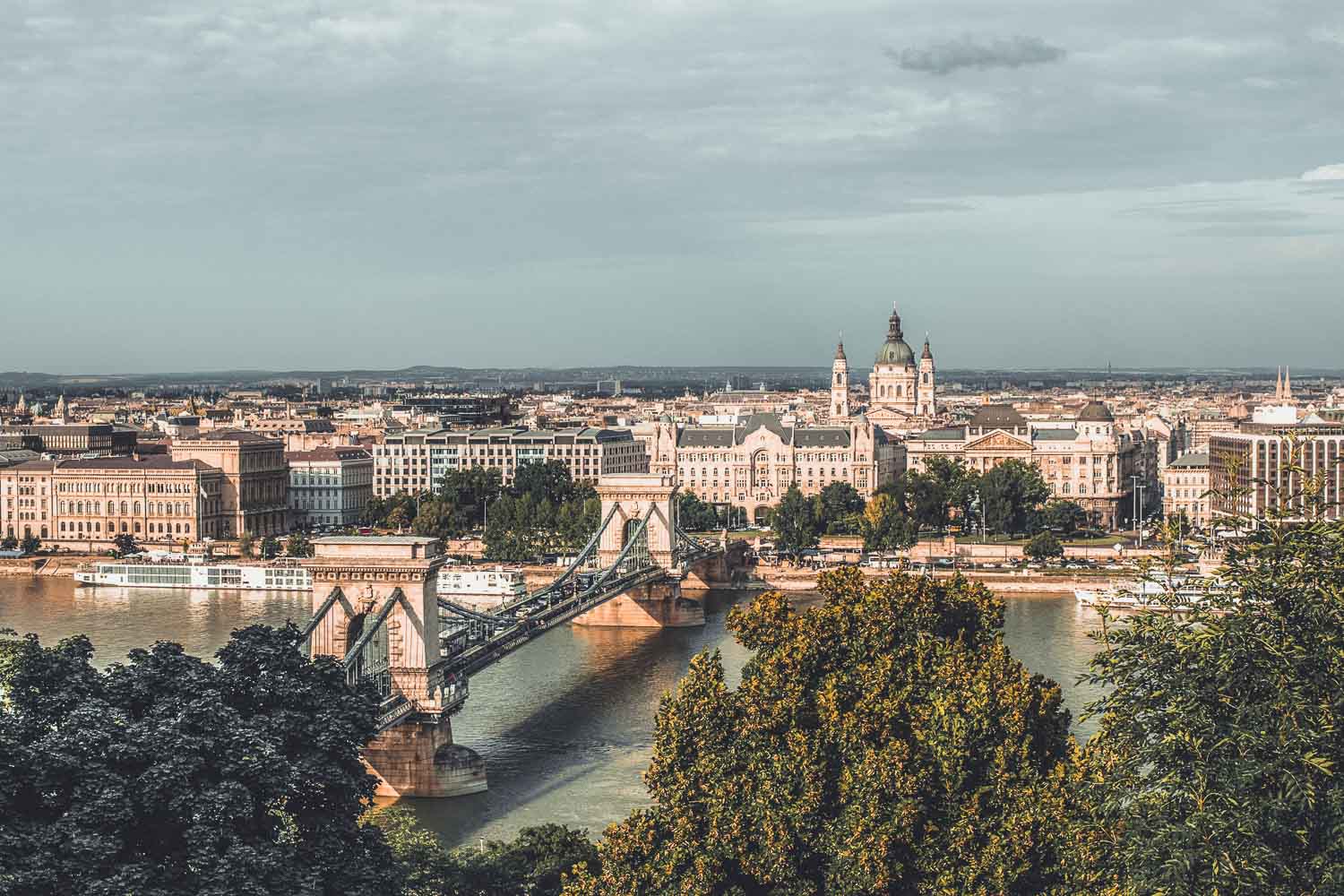 ---
HEROES SQUARE AND THE CITY PARK
Heroes Square is a large space on Andrássy Avenue between some busy roads, which features a large iconic monument. The area is always very crowded with tourists and sometimes street performers. Often you will see school children learning how to roller-skate there too.
There are a variety of historical figures, including depictions of the Seven Chieftains of the Magyars, who are believed to have led the Hungarian people from central Asia to the Carpathian basin. And The Archangel Gabriel, who sits at the top of the central pillar, holding the Hungarian crown.
Situated behind Heroes' Square is my favorite park in Budapest, The City Park. It also happens to be one of Hungary's World Heritage Sites and allows tons of time for strolling, cycling, or jogging around the grounds. Located in the park is also a boating lake, which in the winter is turned into one of Europe's largest artificial surface ice skating rinks.
Take this guided walking tour to see both up close.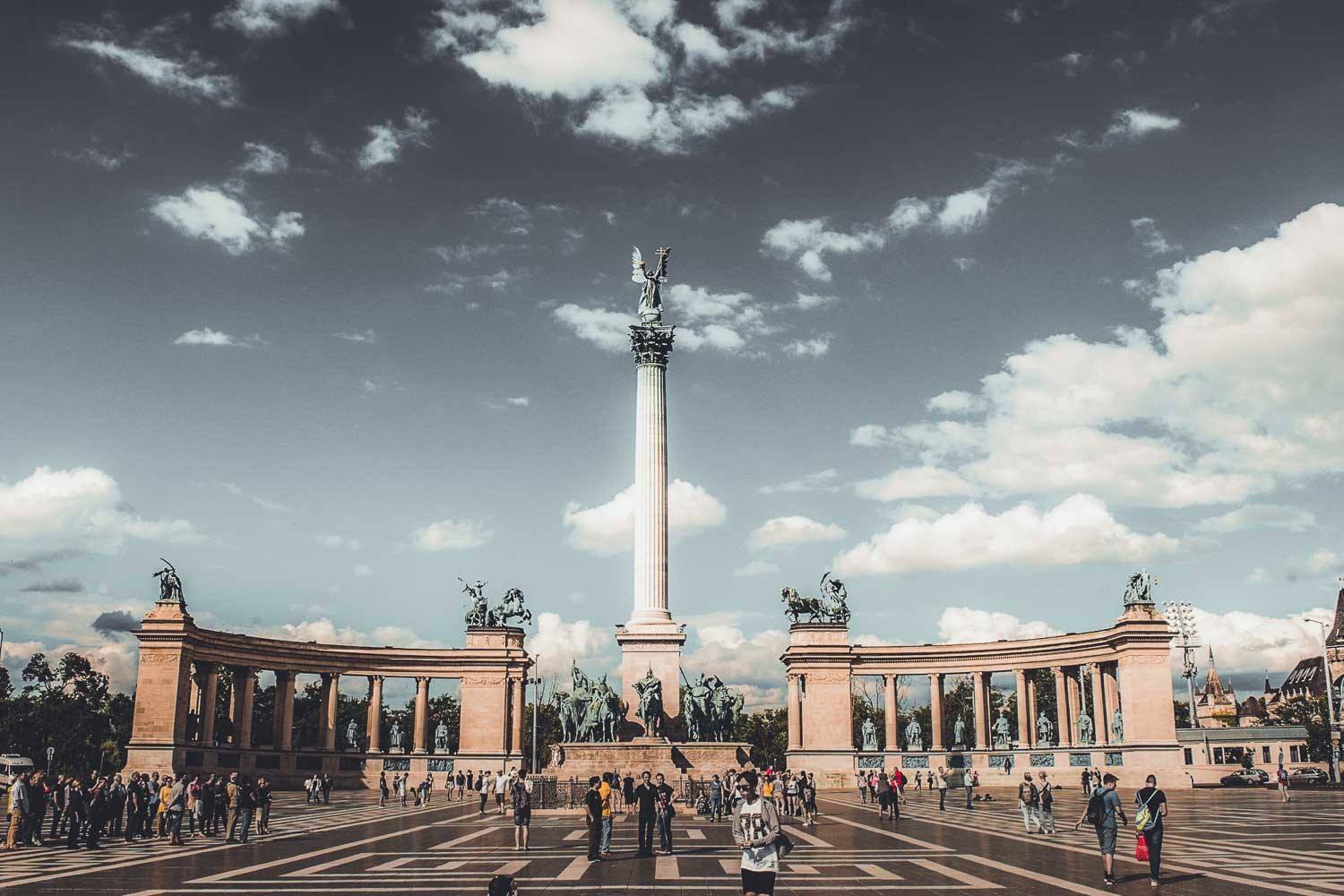 ---
HUNGARIAN PARLIAMENT BUILDING
As one of the city's most famous landmarks and the third-largest parliament building in the world, you cannot miss seeing the Parliament House on your trip to Budapest.
The building is known for its Beautiful white Gothic Revival architecture, so it makes for the perfect photo from all angles. View it from across the river or even closer up from the grounds around the building.
It's also definitely worth it to take a tour like this one and get to see Crown Jewels inside.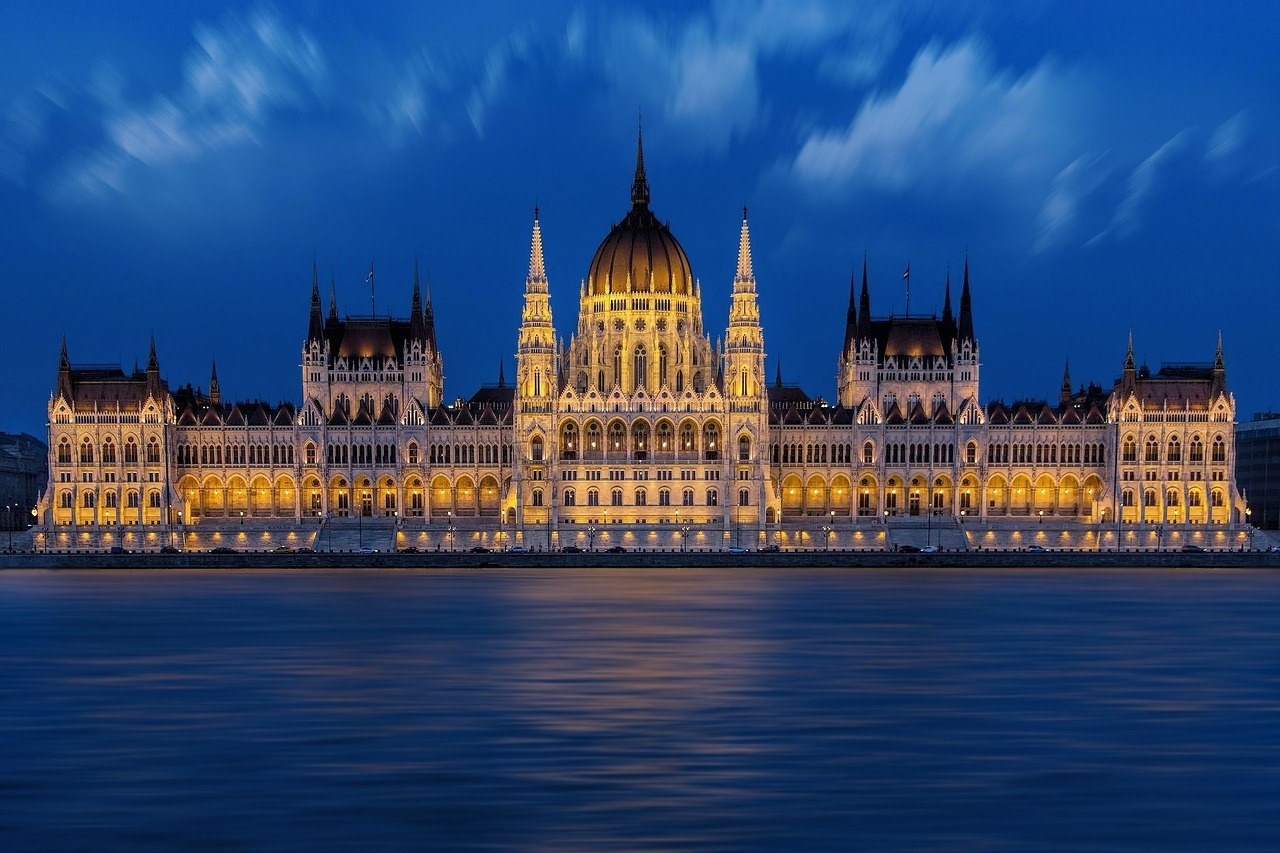 ---
CLIMB UP GELLÉRT HILL TO SEE THE LIBERTY STATUE
From up here, you can see all the way across the Danube. Liberty Statue sits on top of a steep hill climb and, once you get to the top, displays incredible panoramic views of the entire city.
Seeing the Liberty Statue up close was much larger than I ever imagined it would be and was well worth the hill climb.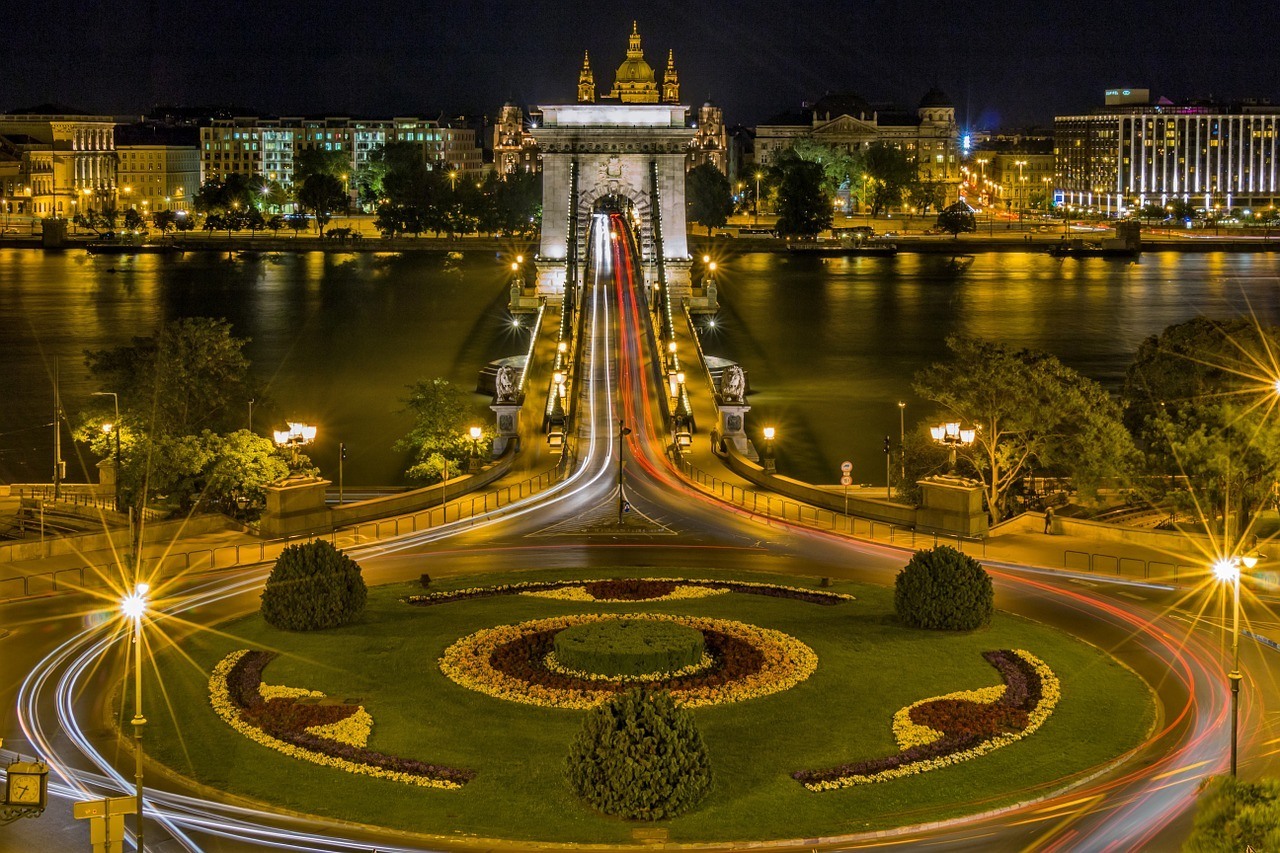 ---
INVISIBLE EXHIBITION
This is yet another unique and interactive experience in Budapest.
Take an hour out of your day to experience what it's like to live with blindness. A guide will take you through various settings in complete darkness.
Settings include crossing the road, taking a bus, and general day-to-day activities. And the famous 'Invisible Italian Dinner,' where you will dine in complete darkness and eat authentic Italian food in a great atmosphere!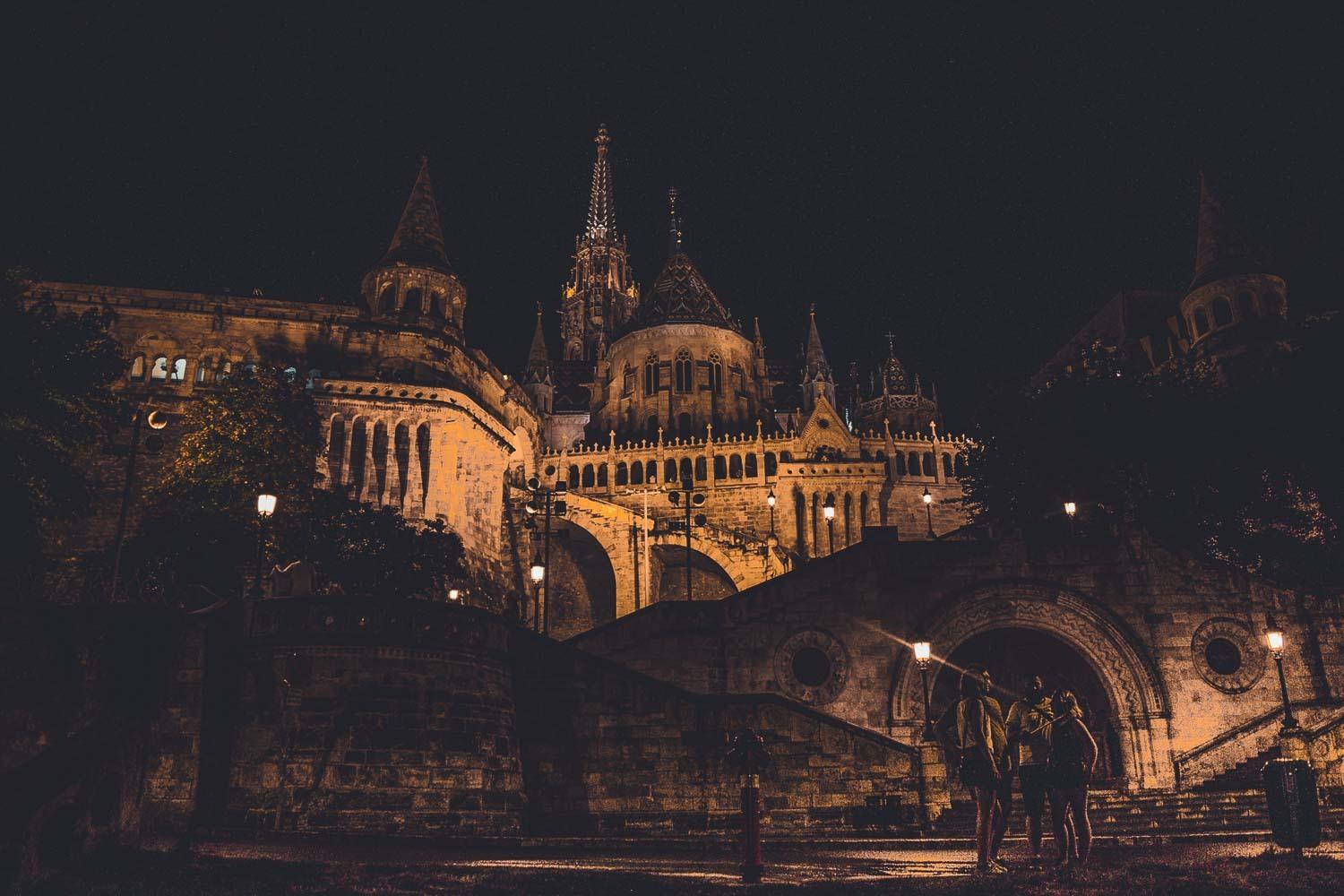 ---
DAY-TRIP TO SZENTENDRE
If you fancy getting away from the busy city for a few hours, a trip to the cute little town of Szentendre is the perfect little escape. At just a short train ride away, Szentendre has so much to offer.
Home to a huge selection of independent restaurants and food stands, you definitely won't be out of options for delicious food. The town is also filled with many unique shops selling all kinds of homemade and local crafts.
There are quaint cobblestone streets, and flower boxes scatter the sidewalks, all while being along the River Danube. This means it's also accessible by boat from Budapest city if you also fancy a cruise.
This half-day Szentendre tour includes all of the town's best features and a cruise too!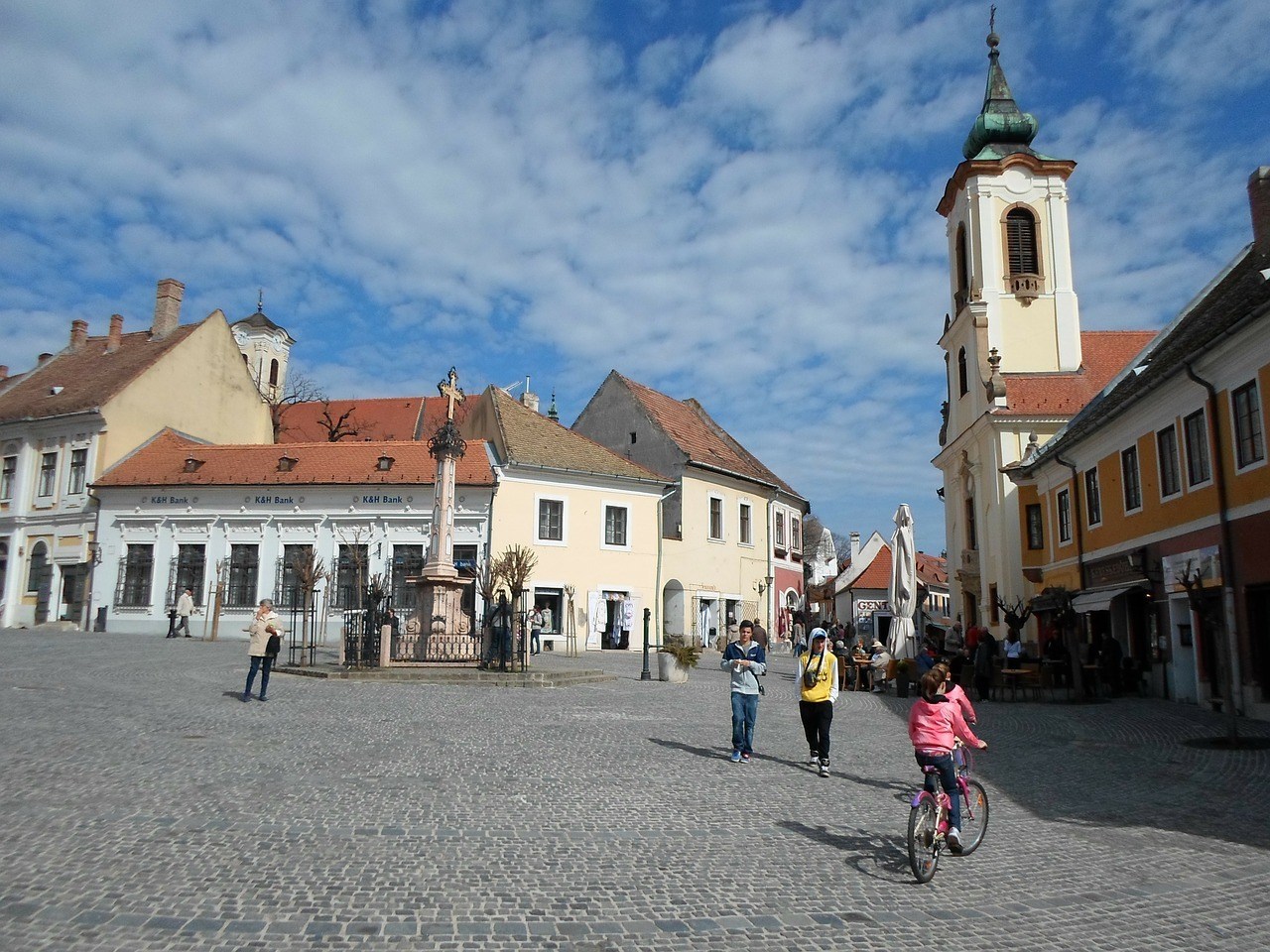 ---
FOOD & DRINK RECOMMENDATIONS FOR 2 DAYS IN BUDAPEST
MAZEL TOV BUDAPEST: EAT MIDDLE EASTERN IN BUDAPEST'S JEWISH QUARTER!
Like the Budapest ruin bars but not quite, Mazel Tov Budapest is basically an upscale version of the famous pubs scattered around Budapest. It's in the historic Jewish quarter where many Hungarian Jews and Jewish history are celebrated.
So, it's no surprise that alongside the beautifully made cocktails, and local Hungarian wines, you'll also find many exciting Israeli and Mediterranean dishes with exceptional service.
Still at an affordable price, as you would expect in Budapest, this place really has an amazing atmosphere and vibe. From the rustic exterior, sparkling fairy lights, and an abundance of greenery hanging from the walls to the open building setting. This place is definitely worth a visit for a nice evening meal.
Tip: Make a reservation because Mazel Tov Budapest place is always full!
---
EAT LIKE A LOCAL AT BUDAPEST CENTRAL MARKET HALL
Inside an old, restored gothic-style tunnel is The Central Market Hall. It is the oldest and largest indoor market in Budapest!
Selling a variety of different local foods at an incredibly cheap price. It's super easy to find and is only a minute's walk from the famous Chain Bridge. Perfect for lunch.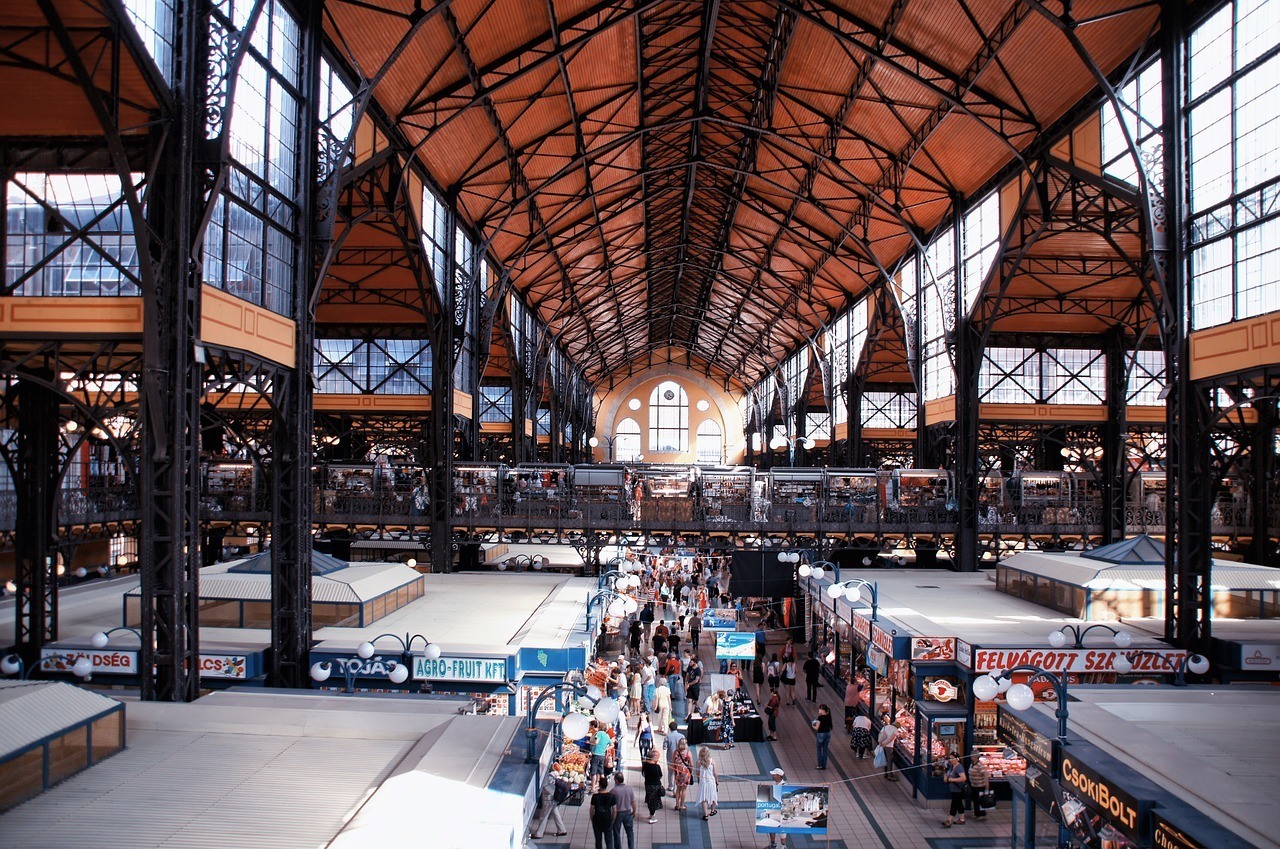 ---
INDULGE IN SOME YUMMY SQUARE DONUTS AT BOX DONUT
They come in a square shape, there are dozens of flavors to choose from, and the coffee is colorful and loaded with whipped cream. This was my all-time favorite sweet treat in Budapest. It's relaxing, full of choices, and it's perfect for a snack.

---
CHECK OUT THE FAMOUS HUMMUS BARS.
Another favorite of mine. What traveling millennial doesn't love hummus? Make it into a bar, and you can't not check it out at least once.
There are many scattered around the city, so you can't miss them. The menu boasts a variety of hummus dishes such as Turkish salad, falafel, roasted eggplant, peppers, and so on — with hummus being the main attraction of the dish. They also serve Pitas, soups, salads, and other small meals.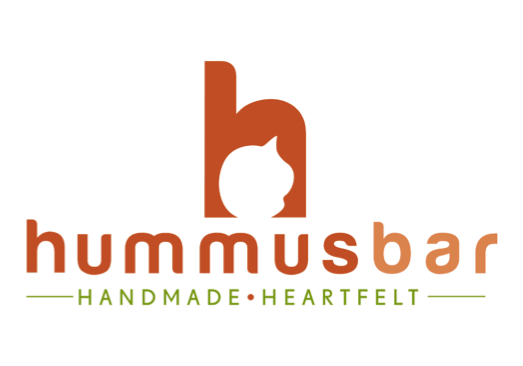 ---
WHAT TO DO IN BUDAPEST IN 2 DAYS AT NIGHT
I'm going to let you in on a little secret. The best thing to do in Budapest come nightfall is just enjoy the views, drinks, and people around you. This ensures a jovial time no matter what time of the year you visit.
PARTY THE NIGHT AWAY INSIDE THE ICONIC BUDAPEST RUIN BARS!
If there is one thing Budapest is particularly famous for, it's the buzzing nightlife. Fun crowds of young people from all across Europe flock to the city for cheap beer and endless parties inside Budapest's iconic Ruin Bars.
What are essentially dilapidated pre-war buildings have been made into various nightlife venues.
They all have different and unique themes. By the next morning, It will be hard to even remember which bars you visited! Mostly you will just know it by the visual interior. i.e., the circus-themed one, the jungle-themed one, or the one with hundreds of mirrors all over the wall. 'Did it have lots of umbrellas hanging from the ceiling? Yeah, it was that one!
There are so many different bars to choose from, but my favorite and also by far the biggest and most popular Ruin Bar in Budapest is Instant and Fogas Ház. With 18 bar counters and seven dance floors within five different establishments, every room has a different theme, and every night is a different kind of party. You are guaranteed to have an amazing time and an unforgettable experience.
Check out this article, "11 Best Nightlife Spots in Budapest'" for a bit more information on how to spend your night drinking and dancing!
"Ruin bars may sound suspect, but don't be deterred. When it comes to nightlife in Budapest, there's no place better."
The Ultimate Budapest Nightlife Guide
---
BUDAPEST TRAVEL TIPS
A Budapest itinerary guide wouldn't be complete without these few tips to help you have the best possible time in Eastern Europe!
DON'T FORGET YOUR PASSPORT OR STUDENT ID!
Like many European cities, Budapest offers a lot of discounts for young people and EU citizens. The House of Terror Museum, for example, gives a half-price discount to those under 26 years of age. And the Budapest Parliament building offers tours free of charge to EU citizens. Student discounts are also offered in certain places around the city.
I personally never leave the hotel without my passport or student ID card, just in case there is a discount I can grab.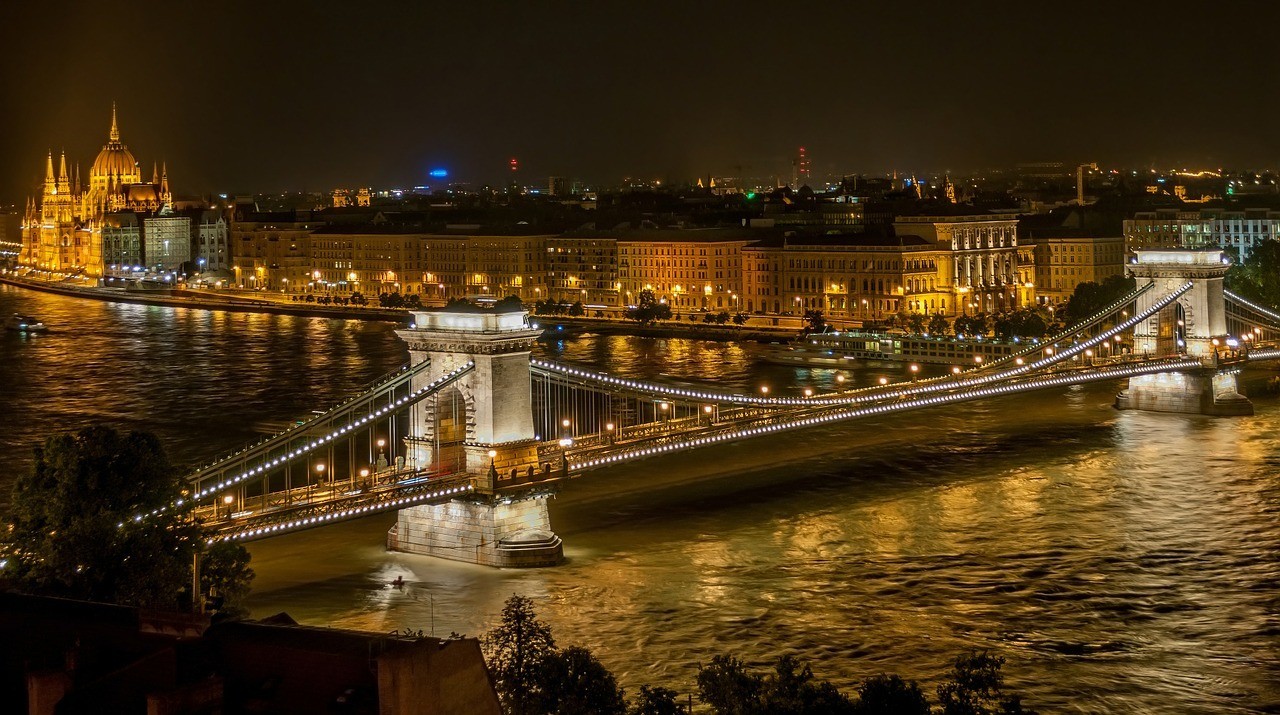 ---
UNDER 26S TRAVEL CHEAP
Similar to the above tip, Hungary offers heavily discounted train services to anyone aged 27 and under. This is perfect when taking day trips out of the city.
I personally took advantage of this discount when going to the small Hungarian town of Visegrad or on my day trip to Bratislava, for example.
Simply select the young person option when buying your train ticket. Don't forget to bring your passport along because there is a high chance you will be asked to prove your age.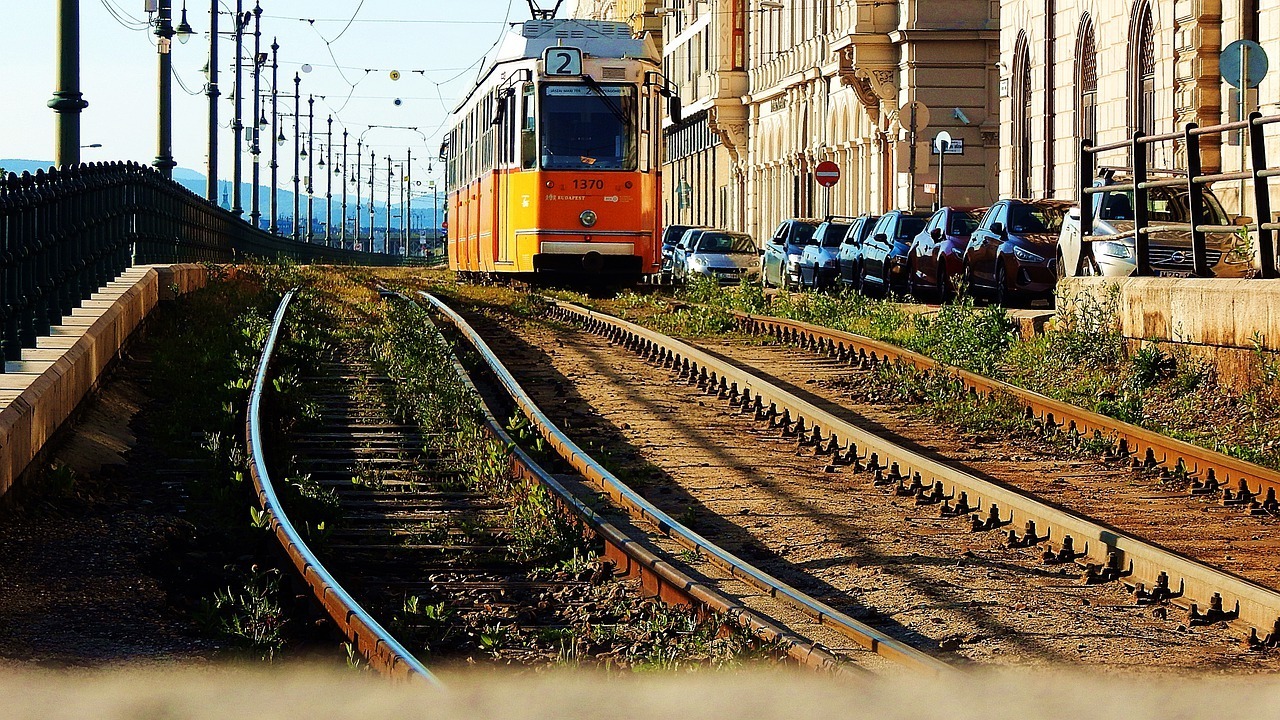 ---
TAKE A FREE WALKING TOUR
The free walking tour of Budapest is the perfect way to see the city on foot and to also learn a lot about the city with the luxury of having an experienced guide.
Free Budapest Tours have two different options; a 10:30 am morning tour and a 2:30 pm afternoon tour. So it shouldn't be too hard to fit into your busy schedule.
Each tour is 2.5 hours long and highlights all of the most important parts of the city. A definite must-do!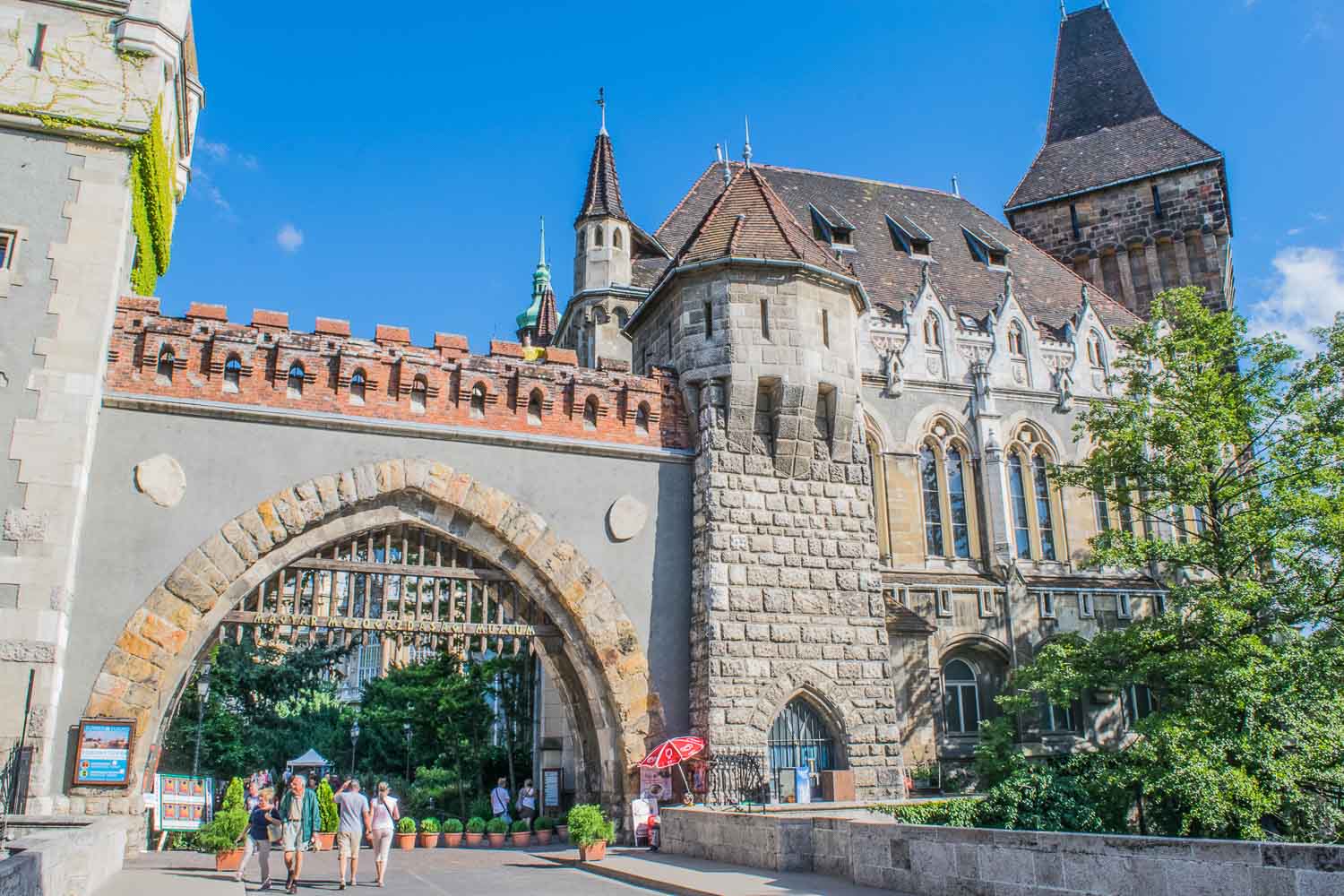 ---
AM I MISSING ANYTHING FROM THESE 2 DAYS IN BUDAPEST ITINERARY?
There really is a whole lot to fit in for only two days, but I'm sure you'll fall in love with the city just as much as I have!
If you've been to Budapest recently and think I need to add something to my article, then feel free to reach out and let me know. I love keeping these two-day itineraries up to date with the best information.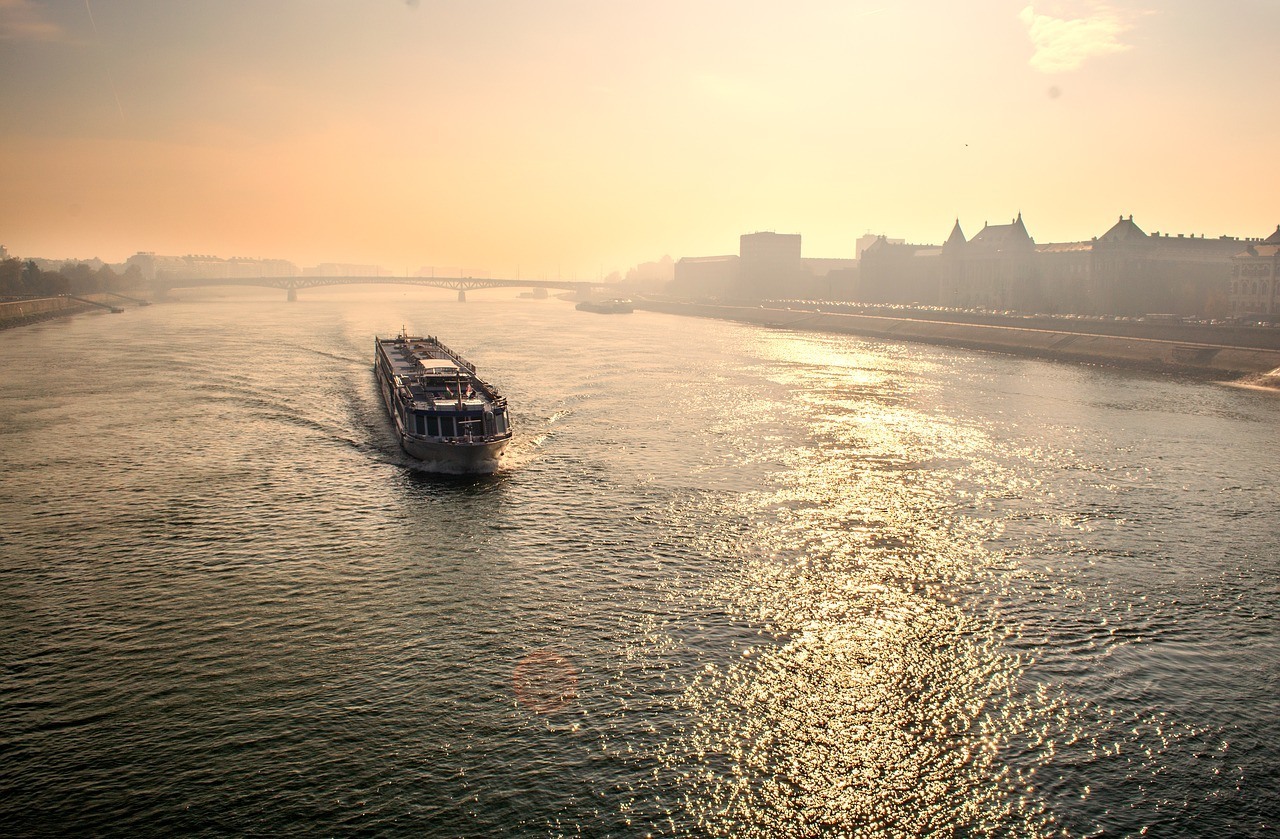 ---
PLANNING A TRIP TO HUNGARY & EUROPE?
Check out a few of my other favorite articles about traveling around this beautiful continent! I've spent several years living and working around Europe, and there's a big part of me that thinks I'll be spending a lot more of my life there.
I've seriously contemplated moving back to Budapest, but I guess we'll just have to wait and see what happens, lol.
Further reading:
The 20 Best Techno Festivals In Europe In 2023
2 Days In Berlin | How To Spend 48 Hours Exploring Berlin
2 Days In Prague Itinerary: What To Do & See In Prague In 48 Hours
How To Spend The Perfect Weekend In Rome | Itinerary & Travel Guide
The 10 Best Things To Do in Port Ercole
30 Music Festivals in Europe to Experience Before You Die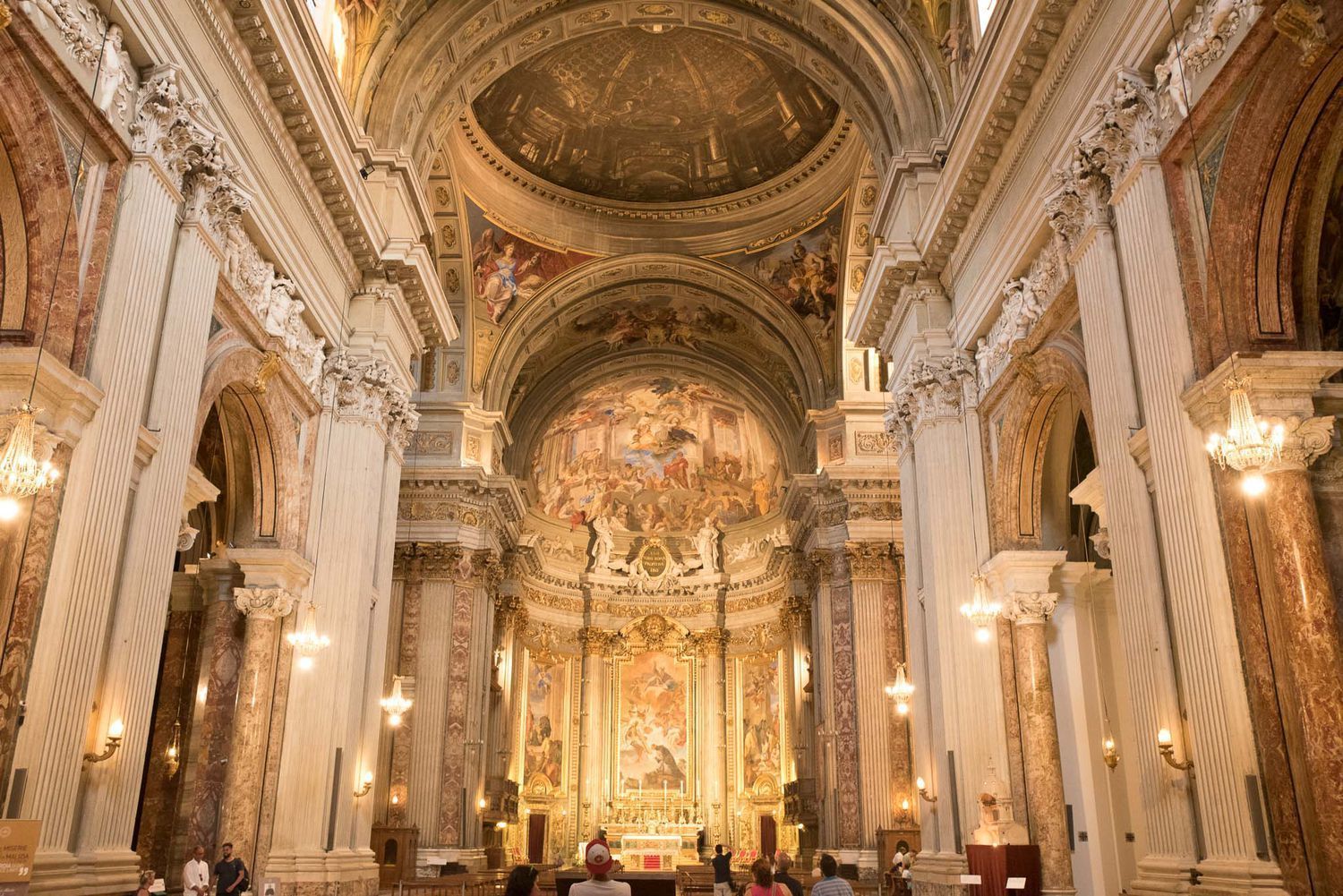 ---
THANKS FOR READING MY GUIDE ON WHAT TO SEE IN BUDAPEST IN 2 DAYS!
SHARE THIS 2 DAYS IN BUDAPEST ARTICLE WITH YOUR TRAVEL SQUAD!
https://www.jonesaroundtheworld.com/wp-content/uploads/2019/07/2-Days-in-Budapest-Itinerary.jpg
1500
2250
Dave
https://www.jonesaroundtheworld.com/wp-content/uploads/2017/03/logotry-1-1-300x106.png
Dave
2019-07-09 17:34:09
2023-05-18 16:42:07
2 DAYS IN BUDAPEST | 48 HOURS IN BUDAPEST ITINERARY